Scroll down for English explanations - alternates with German explanations.

Gerade zurück aus Hawaii (CARNIVAL SPIRIT) musste ich natürlich sofort eine wieder eine Kreuzfahrt buchen. Himmelfahrt 2012 gab es zum Zeitpunkt der Buchung nur zwei Alternativen: EUROPA oder MEIN SCHIFF 2. EUROPA wegen der Spendengala unbezahlbar und MEIN SCHIFF 2 eigentlich auch nicht besser: 200,00 EUR pro Nacht für eine Außenkabine mit Sichteinschränkung. Den besonderen Termin haben sie sich gut und gerne bezahlen lassen. Es war allerdings ein Vollcharter von TUI Leisure Travel (Mutter der TUI-eigenen Reisebüros und auch nur hier buchbar - daher lief die Buchung über das Hapag-Lloyd Reisebüro in Hannover Hauptbahnhof, wo ich zufällig vorbeikam). Im Vorfeld gab es allerdings viel Hick-Hack: Reisebestätigung von TUI Cruises kam nicht, dann Name falsch geschrieben, aber Korrektur dauerte auch mehrere Wochen. Und dann eines Tages kamen die Unterlagen... Igitt... was war das denn für eine Farbe? Über den persönlichen Gruß unseres Reisebüros in Hannover habe ich mich jedoch sehr gefreut.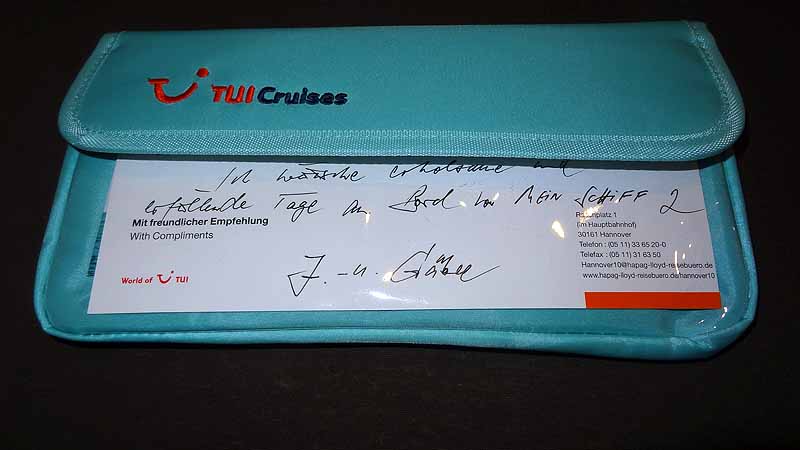 Just back from Hawaii (CARNIVAL SPIRIT) I need to book a new cruise immediately. Around Ascension Day 2012 there were at the time of booking only two options: EUROPA (best cruise ship according Douglas Ward 5*) or MEIN SCHIFF 2 (the former CELEBRITY MERCURY). EUROPA was unaffordable due to charity event and honestly MEIN SCHIFF 2 was not much better either: 200.00 EUR/night for an obstructed oceanview. They let you pay for the special sailing date. It was a full charter of TUI Leisure Travel (TUI is the word's largest travel operator and they run their own chain of travel agencies and you could book it only exclusively with their own agencies - So the booking went through the Hapag-Lloyd travel agency in Hanover where I passed by coinfidance). But we had a lot of problems before we could sail: no booking confirmation came from TUI Cruises (50% Royal Caribbean), typo in the name and many weeks went before they corrected it. One day the tickets came... ugh... what kind of color was this? But I was glad to get the personal greetings from the travel agent.

We have not gotten so much paper work by mail... we were in the ages of e-tickets...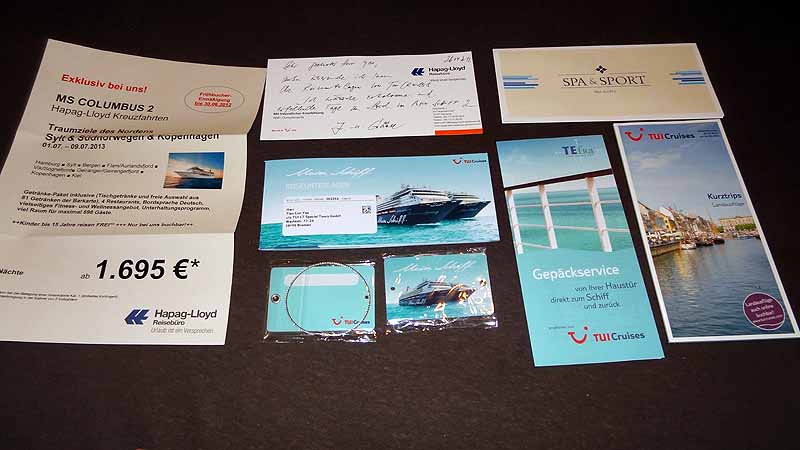 Soviel Papier per Post haben wir schon lange nicht mehr bekommen... im Zeitalter von e-Tickets...
Echte Schiffsticket...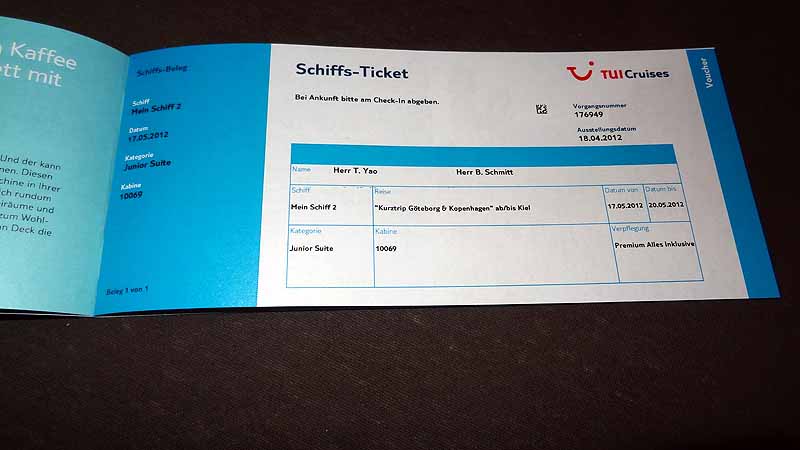 True cruise tickets...

Strange: the late start of the check-in: 15.00 hrs. So we were used to be mostly at the cruise terminal around 10.00 hrs. And the end of the check-in was normally 15.00 hrs. These kind of information should arrive with you much earlier: arrangements to get to and from the ship.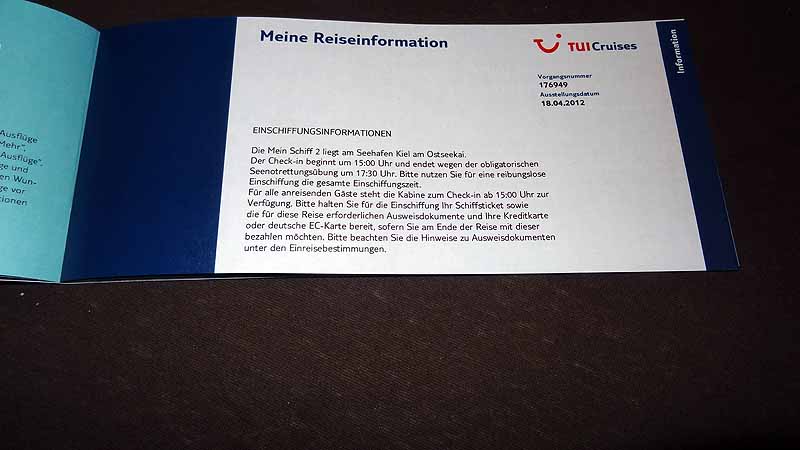 Ungewöhnlich: der späte Check-In-Beginn um 15.00 Uhr. Sind wir doch i. d. R. gewohnt, dass wir schon so um 10.00 Uhr meistens am Cruise Terminal sind. Und Ende um 15.00 Uhr. Das sind Informationen, die müssen viel früher kommen: für die Arrangements der An- und Abreise.
Nur dieses Mal war es nicht ganz schlimm, weil wir einen Teil mit dem Auto angereist sind. Da wir schon gelesen haben, wie voll die Züge ab Kiel Richtung Hamburg sein können, wenn Ausschiffung ist, haben wir für Bruno ab Hamburg-Altona reserviert, so dass er in Ruhe zusteigen konnte.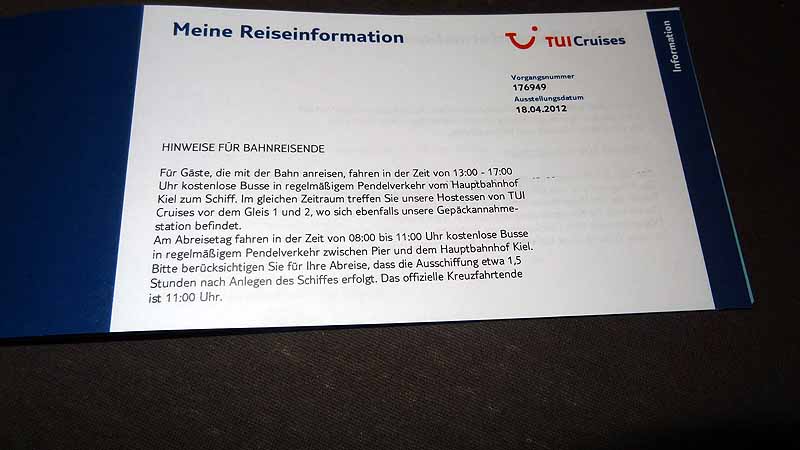 Only this time it was not so bad because we used the car for a part of our voyage. As we read about the full Hamburg-bound trains out of Kiel on days of debarkation we arranged seat-reservation from Hamburg so he could get on the tree without hazzle.

Prepared baggage tags...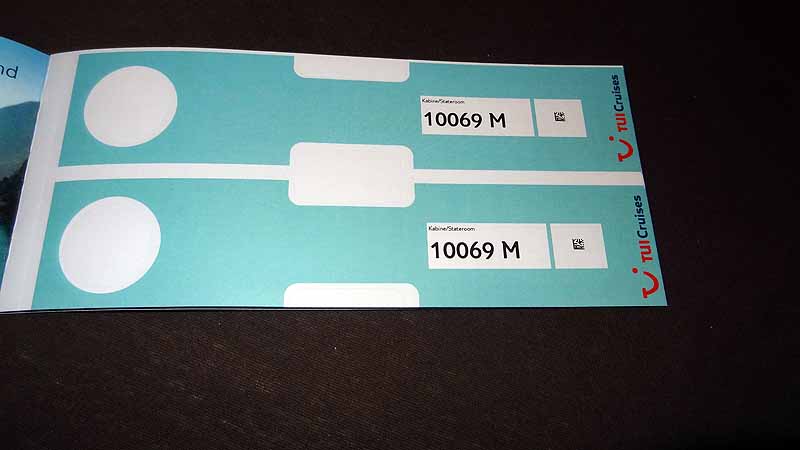 Vorgedruckte Kofferanhäger...
Sogar personalisiert...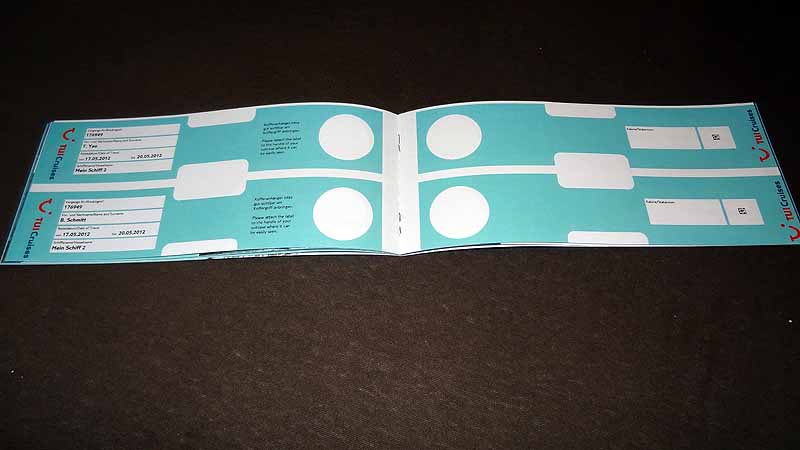 Even personalized...

Immigration information... ID-card was sufficient... The only advantage to go with a German cruise line: no discussion what you can do in Europe with a German ID-card.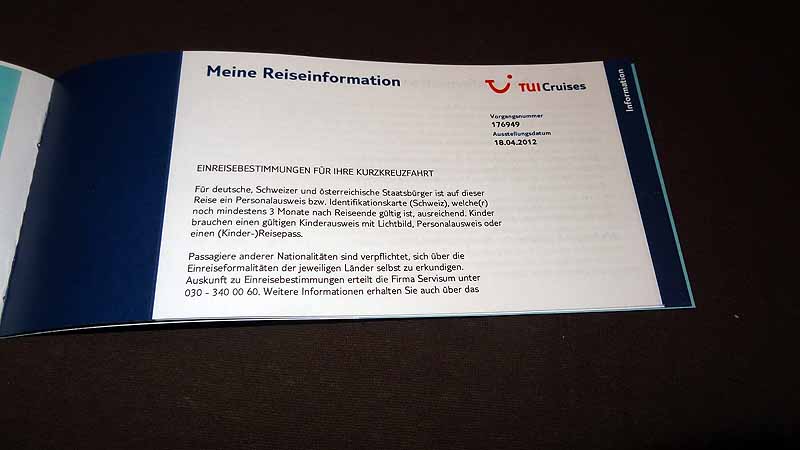 Einreisebestimmungen... Personalausweis genügt... Es hat auch Vorteile mit einem deutschen Unternehmen zu fahren: keine Diskussionen, was man alles mit einem deutschen Personalausweis in Europa anstellen kann.
Am Tag vor Himmelfahrt lief es alles andere als gut: Ich startete direkt von einer Geschäftsreise. Mein Kollege setzte mich in Bad Oeynhausen ab, damit ich Hannover schneller mit dem IC erreiche und er nicht quer durch Hannover fahren musste. Leider endete die Fahrt bereits in Haste vor den Toren Hannovers wegen eines Notarzteinsatzes. Alle sollten in die S-Bahn umsteigen, die allerdings einen Riesenbogen um Hannover machte und so kam ich ca. eine Stunde später in Hannover an als geplant. Kaum saßen wir in der S-Bahn konnten wir im Internet verfolgen, dass unser Zug doch dann weitergefahren ist...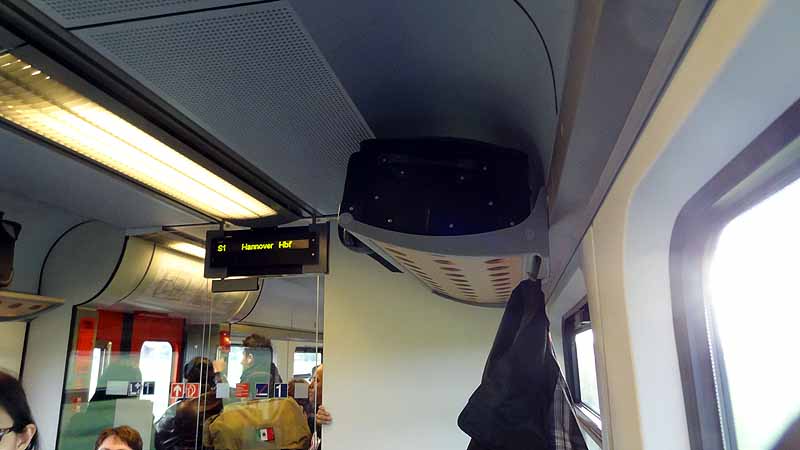 The day before ascension day it did not go well: I started directyl from a business trip. My collegue delivered me at a small place in Bad Oeynhausen to make me reaching Hanover much more faster by an IC-long-distance-express-train and he did not need to go through the city of Hanover. But my ride just terminated at the city limit of Hanover due to an emergency they had alongside the rails. So all of us should move to a local commuter train which went to Hanover by a big loop around Hanover and reached the town about an hour later. I just found a seat in the commuter train and found out in internet that our train continued the ride...

I met Bruno in Hanover who was stucked in traffic congestion and arrived just few minutes before him. A portion of sushi was exactly we need to recreate.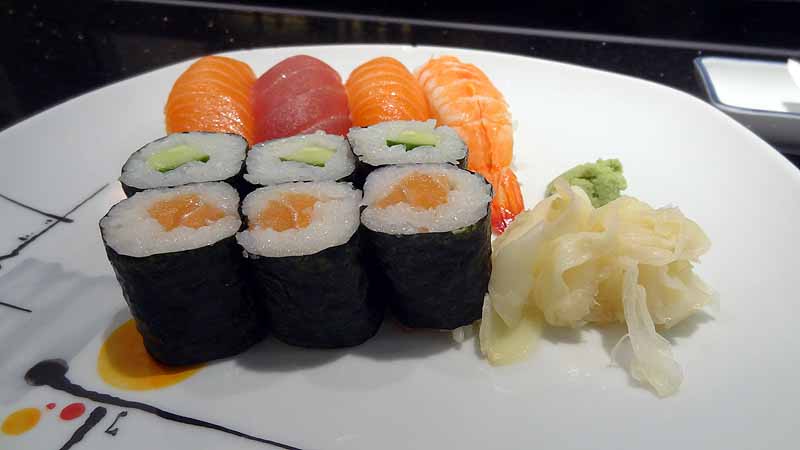 In Hannover habe ich mich mit Bruno getroffen, der allerdings auch im Stau hing und daher auch nur wenige Minuten vor mir da war. Eine Portion Sushi war nun genau das richtige zum Aufbauen.
Tokyo Sushi im Untergeschoss des Hauptbahnhof Hannovers.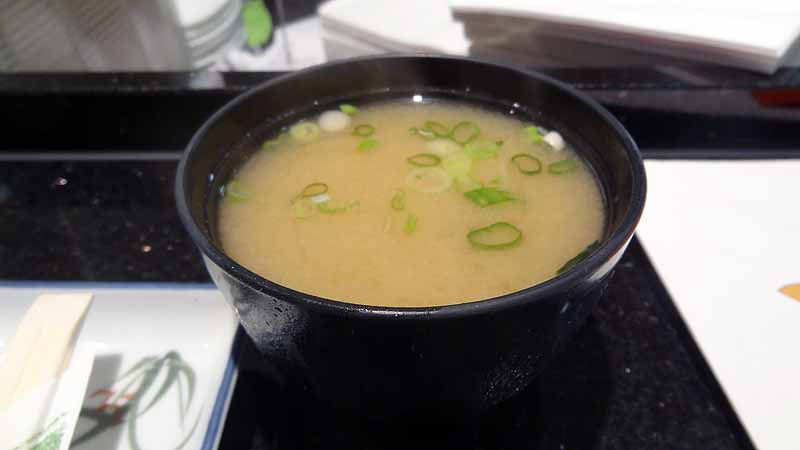 Tokyo Sushi in the basement of Hanover Central Station.

They pampered us always with some little extras: like marinated cucumber.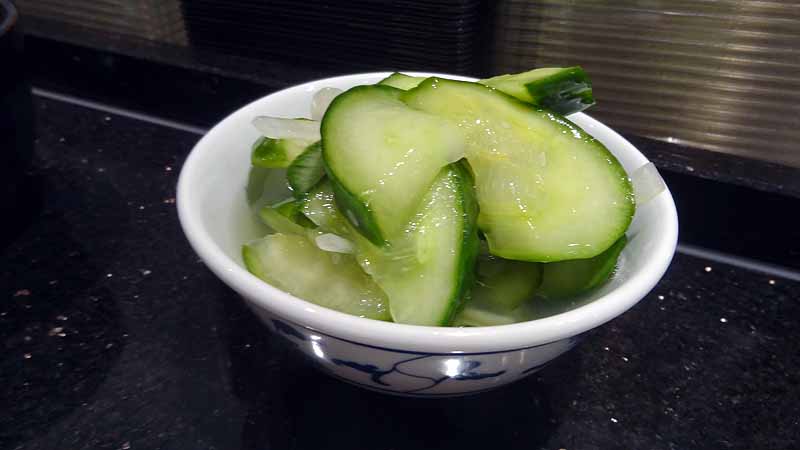 Wir werden immer mit irgendwelchen kleinen Extras verwöhnt: z. B. eingelegte Gurken.
So stärken wir uns erstmal bevor es weiter nach Kiel ging.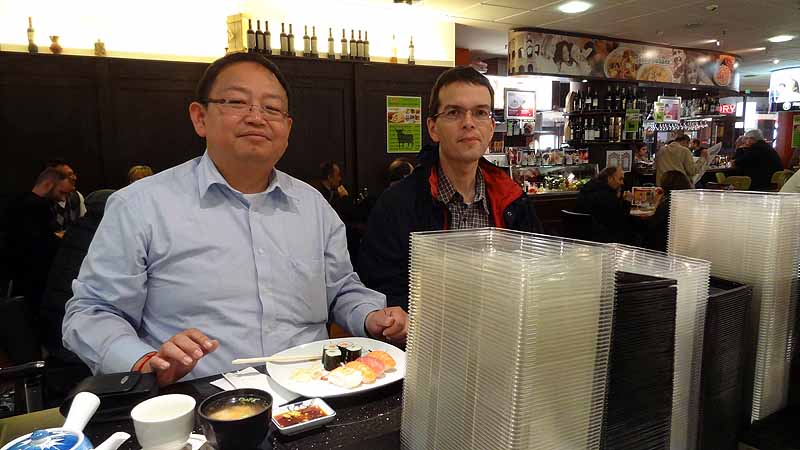 So we had some food before we headed for Kiel.

Around midnight we arrived finally our hotel in Kiel: The Steigenberger Conti-Hansa Hotel. The offered a cruiser-package: incl. breakfast, baggage transfer and reduced parking (8.00 EUR per night - 2012).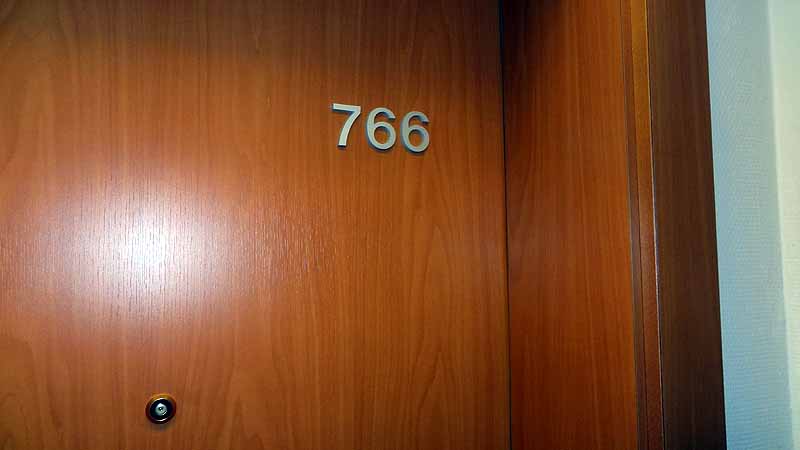 Gegen Mitternacht erreichen wir endlich unser Hotel in Kiel: Das
Steigenberger Conti-Hansa Hotel
. Es bietet eine Kreuzfahrer-Pauschale an: inkl. Frühstück, Gepäcktransfer und verbilligtem Parken (8,00 EUR pro Nacht - 2012).
Gut... man könnte mal wieder renovieren... aber alles sauber...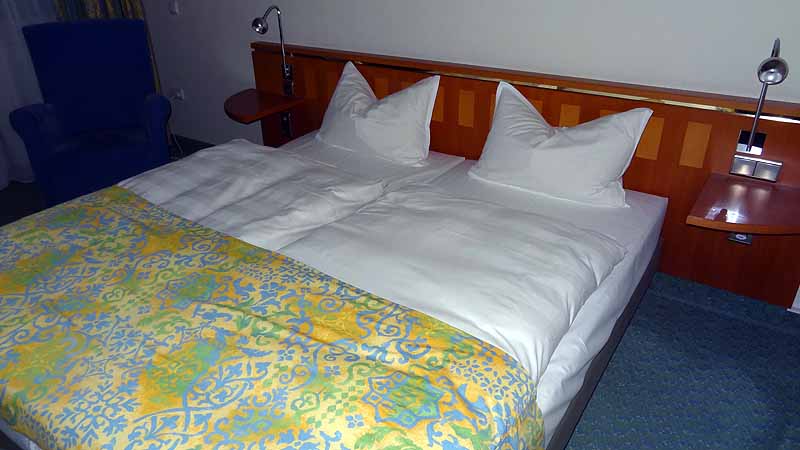 Good... you could renew the rooms... but everything was clean...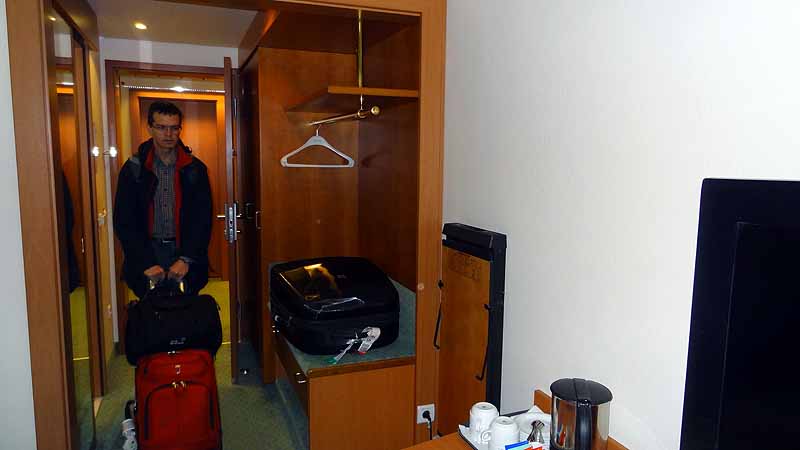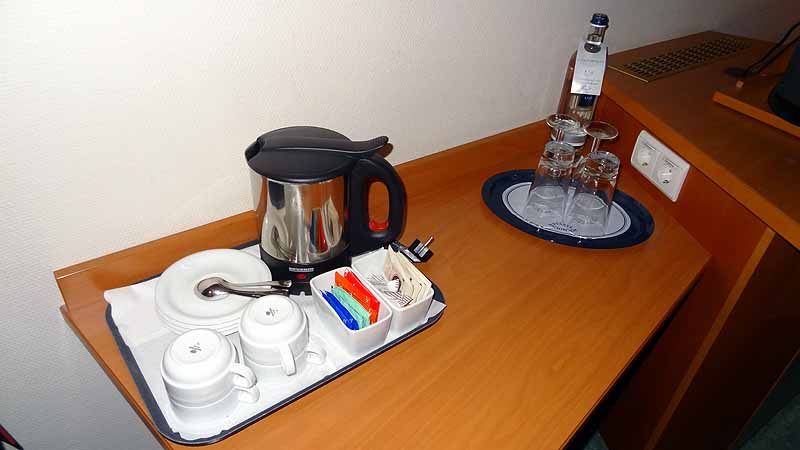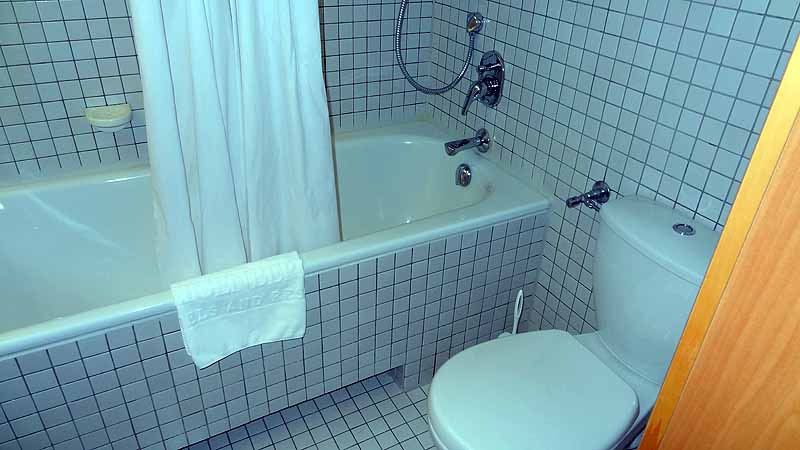 Ich hatte ein bestimmtes Zimmer bestellt...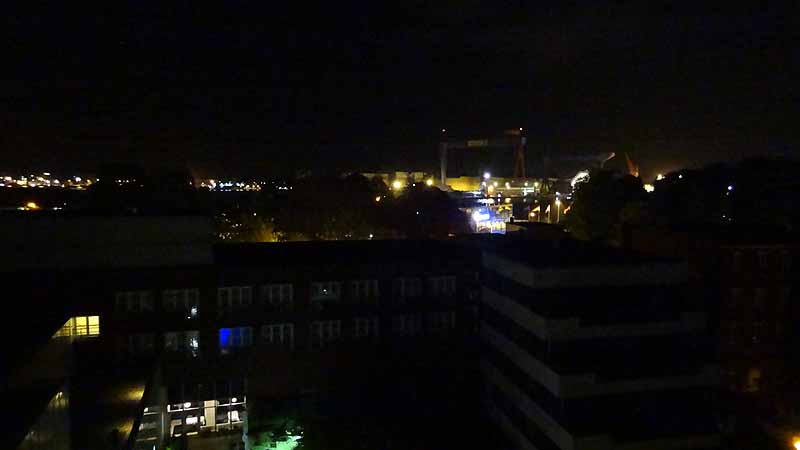 I ordered a specific room...

with a direct view to the cruise terminal Ostseekai... Good Night... The alarm was set for 04.00 hrs.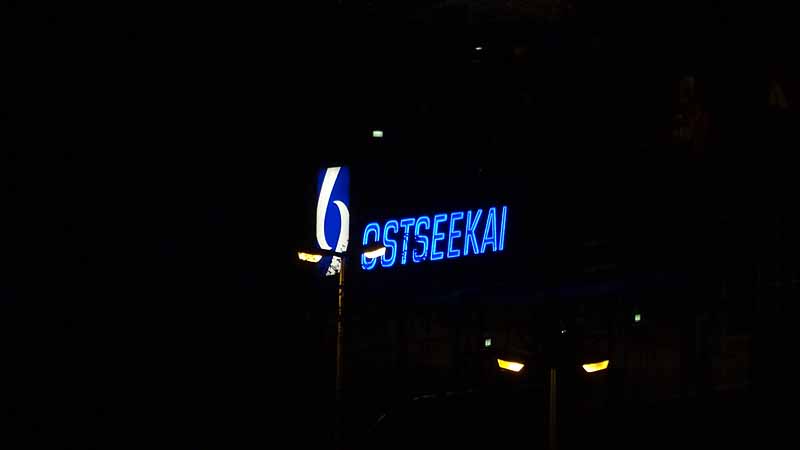 Mit direktem Blick zum Ostseekai... Gute Nacht... Der Wecker steht bereits auf 04.00 Uhr.