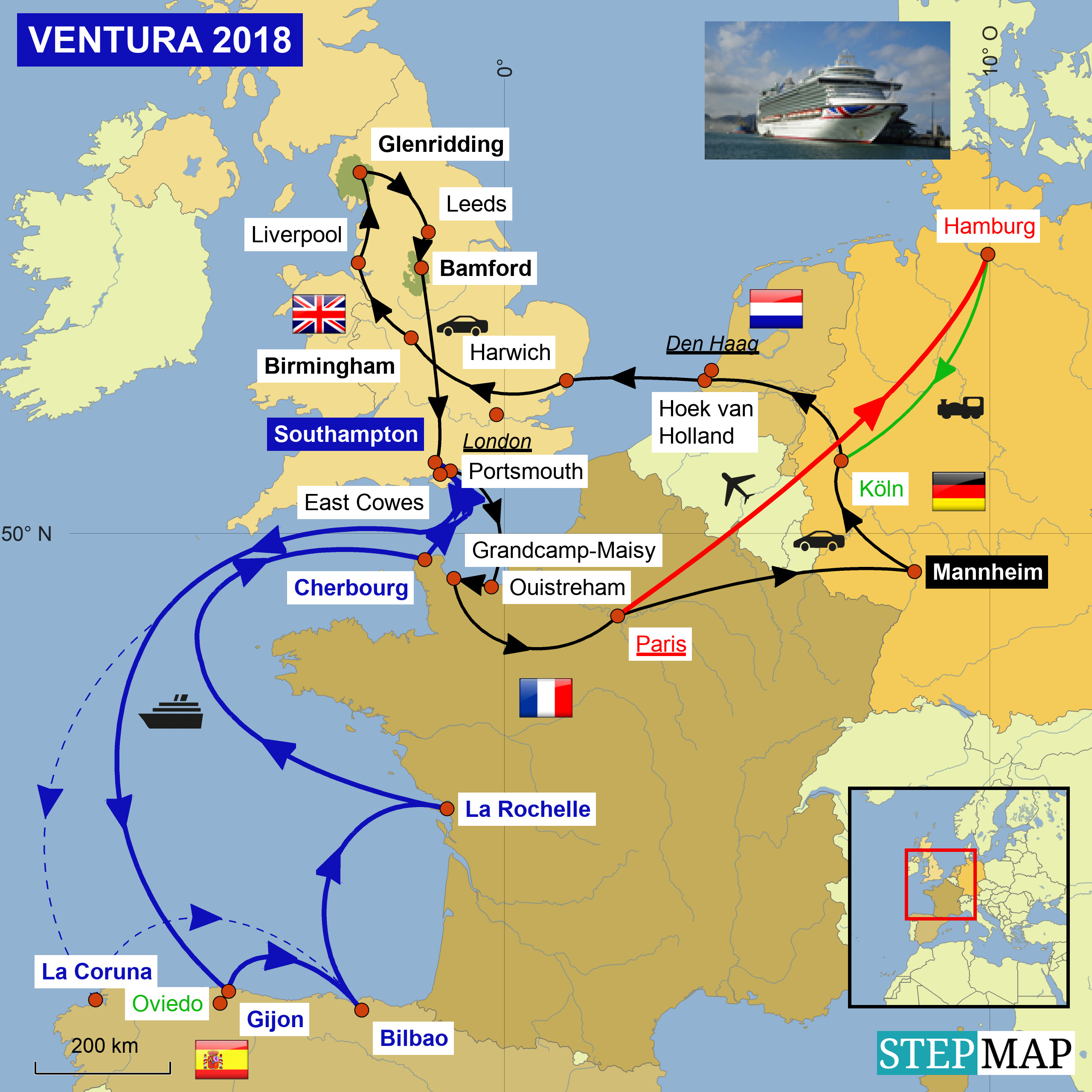 Wir werden unsanft geweckt. Es hatte schon ziemlich gedauert, bis dass wir nach Einschiffung die Kabinen beziehen konnten und durch ein frühes unsanftes Wecken (bei Stena haben sie es ganz toll gemacht!), will man sicherstellen, dass wir schon raus sind, damit sie wieder die Kabinen haben, um sie für die Rückfahrt fertigzumachen. Unsere manuellen Uhren müssen wir nicht umstellen. Allerdings doch unsere Smartphones. Durch die Schiffszeit hatten wir die automatische Anpassung der Ortzeiten abgeschaltet und jetzt müssen wir sie wieder einschalten. Wir sehen die NORMANDIE ja im April 2019 wieder.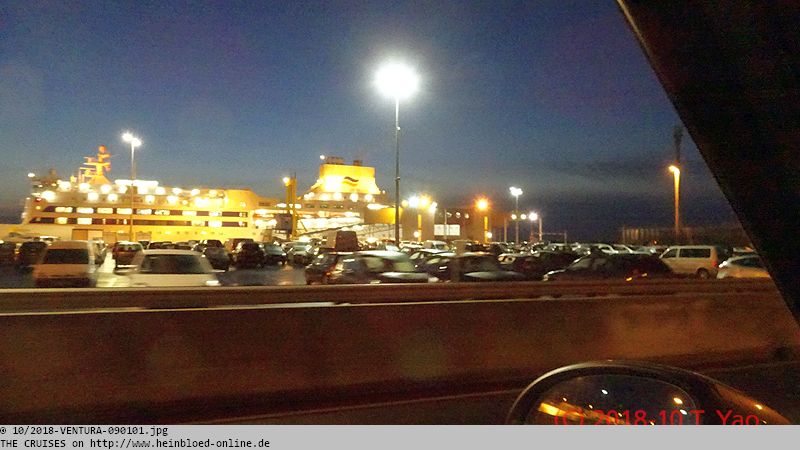 We were woken up in a very rough way. It took a while before we could enter our cabins after debarkation and with the help of a rough wake-up (they did it with Stena in a wonderful way!), they wanted to make sure that you vacated them that they could start cleaning for the return trip. Our manual watches, we did not need to adjust. But our smartphones. Due to the ship's time, we deactivated the automatic adjustment of local times, and now we had to turn it on again. We would see NORMANDIE in April 2019 next time.

Great Britain was never part of the Schengen-treaty regarding the border inspections. But here we could see what we should expect with the Brexit when also the examination of goods might return. I did not have such a long queue in Europe since the mouth and feet disease outbreak in 2006.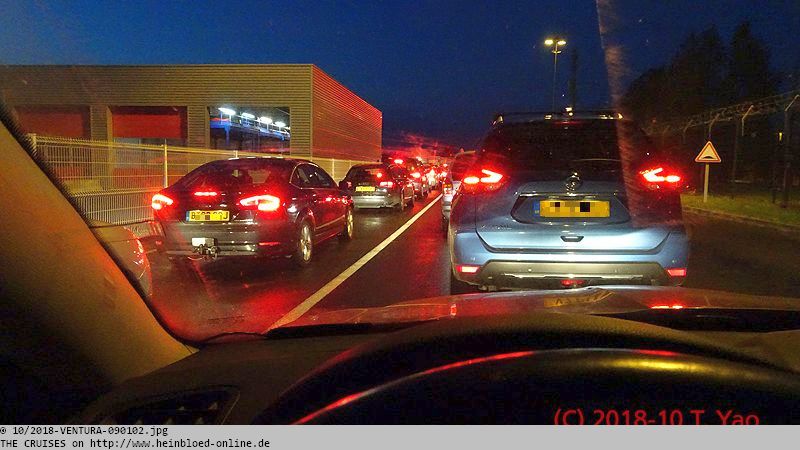 Großbritannien ist ja eh nicht in dem Teil Grenzkontrolle des Schengen-Abkommens. Aber hier sehen wir schon, was uns eines Tages mit dem Brexit bevorsteht, wenn auch die Warenkontrollen wieder kommen. So eine lange Schlange habe ich schon lange nicht mehr innerhalb Europas erlebt: zuletzt beim Ausbruch der Maul- und Klauenseuche 2006.
Wir sind übrigens nicht in Caen, sondern in Ouistreham. 18 km liegen beiden Orten. Mit einem Kanal bzw. Fluß verbunden.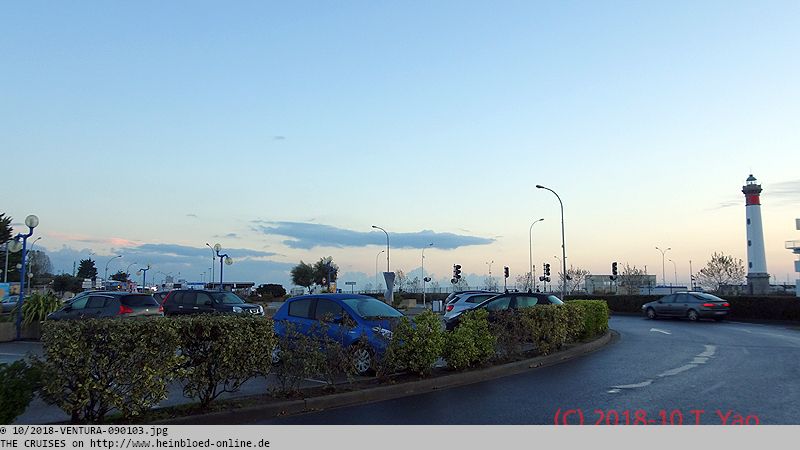 We were by the way not in Caen, France but in Ouistreham, France. About 11 miles both places were apart. Connected by a canal and a river.

We were surprised at this time: the restaurant Le Phare was already fully illuminated, and so we stopped here. They were prepared to accept the breakfast guests from the ferry. But they only had the typical continental French sweet breakfast.

Wir sind verwundert um diese Zeit: Das Restaurant
Le Phare
ist bereits hell erleuchtet und so halten wir hier. Sie sind voll auf die Frühstücksgäste vom Schiff eingestellt. Allerdings gibt es nur typisch kontinentales französisches süßes Frühstück.
Ich habe oft gelesen, dass sie für die Amerikaner und Kanadier bei Kreuzfahrten eine große Rolle spielen: die
D-Day-Strände
. Wir fahren sie entlang. Das ist wohl eine sehr persönlich-emotionale Sache, wenn man sie besuchen will, die mit sehr individuellen Erinnerungen verbunden ist. Schöne Landschaft.

I read many times that they played an important role for Americans and Canadians when they were cruising: the D-Day-Beaches. We drove along. It was more a personal-emotional item if you liked to see them, which were linked with very individual memories. A beautiful landscape.

Our tour ended in Grandcamp-Maisy. Here the World Peace Statue of the Chinese artist Yao was expecting us. NO - it is not me and no family ties. In April 2019 we would deliver Bruno's parents here to let them spend here for a couple of days and having some fresh air while we were heading for MARCO POLO. We were sure that Bruno's parents would have a sufficient quantity of fresh air here.

Unsere Tour endet in Grandcamp-Maisy. Hier erwartet uns eine
Weltfriedensstatue
des chinesischen Künstlers Yao. NEIN - ich bin es nicht und er ist wohl auch nicht mit mir verwandt oder verschwägert. Im April 2019 werden wir Brunos Eltern hier im Ort für ein paar Tage zum Frischeluft-Schnappen unterbringen, während wir weiter zur MARCO POLO reisen. Frische Luft werden Brunos Eltern hier mehr als genug haben.
Da uns leider die Zeit ein wenig davonrennt, gibt es doch nur etwas an der Autobahn, um etwas zu essen.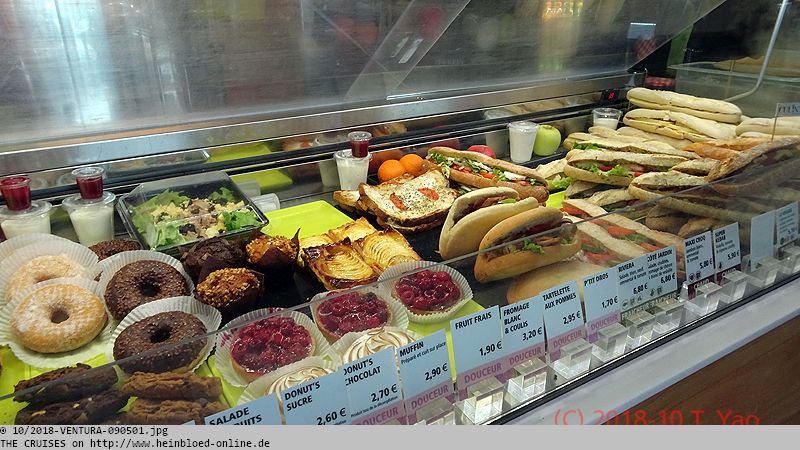 Since time was flying we could only have some quick bites alongside the highway.

The Croque Monsieur was not the hit.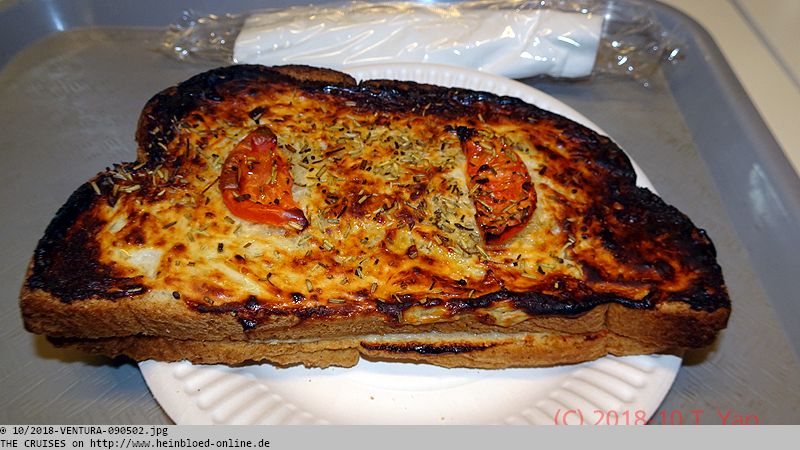 Der Croque Monsieur ist nicht der Hit.
Später ein frischgegrilltes Hacksteak ist auch eine Tortur.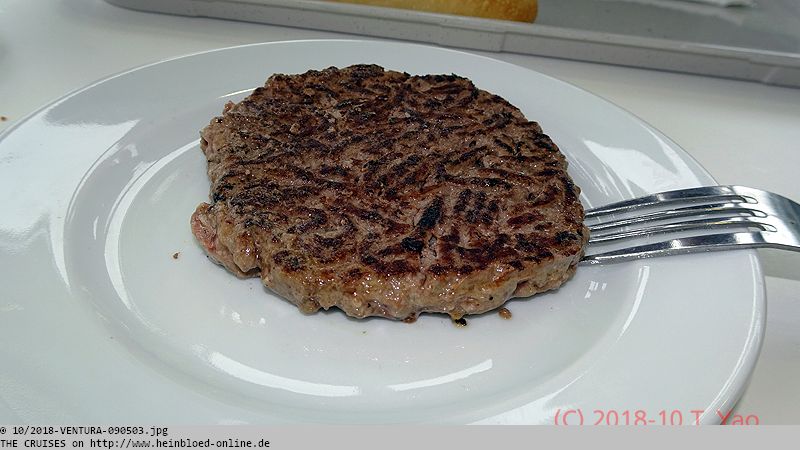 Later, the freshly grilled cutlet, was a torture too.

So our day later ended with a Fish King at Burger King.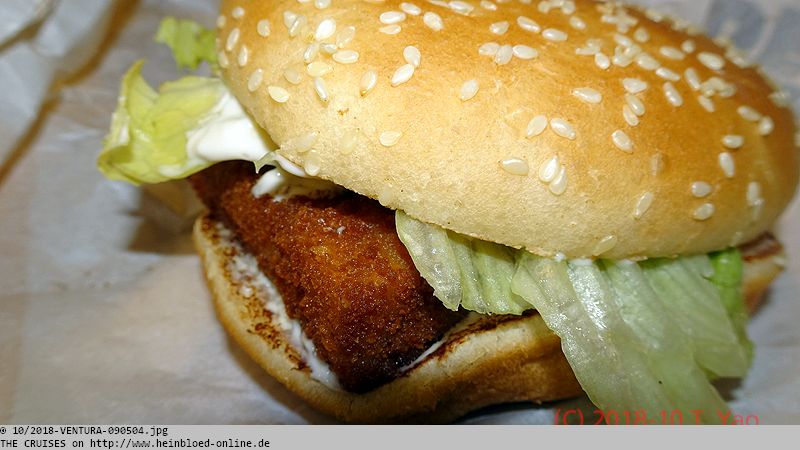 Also endet das ganze später unterwegs bei einem Burger King bei einem Fish King.
Und mit mir als King of the Seas.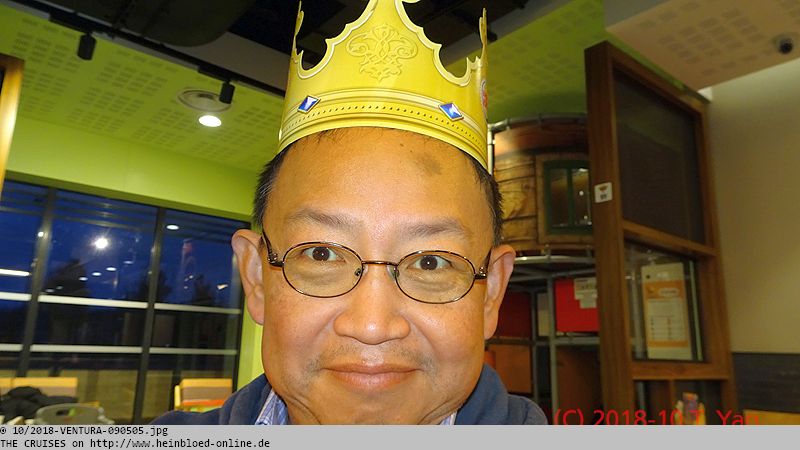 And with me as the King of the Seas.

We passed Gennevilliers, France and with one of my former employers.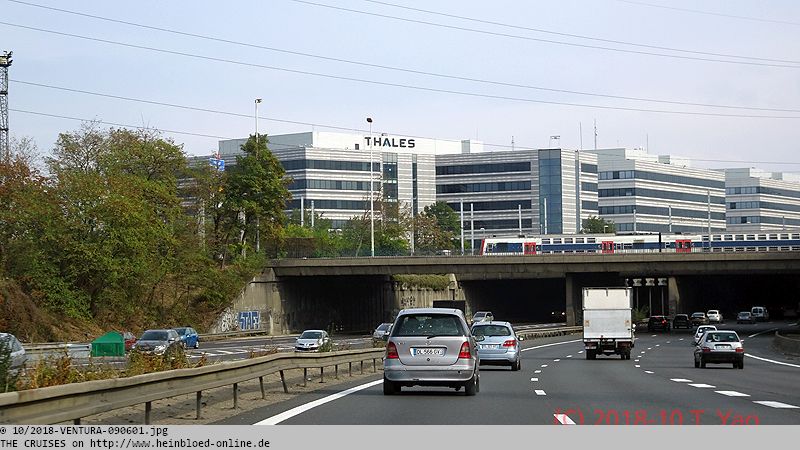 Wir fahren in Gennevilliers vorbei und kommen an einem meiner früheren Arbeitgeber vorbei.
Und am
Stade de France
in Saint-Denis: Vor drei Jahren war hier das Attentat während des Freundschaftspiels Frankreich - Deutschland während im Musikclub Bataclan und einigen Cafés noch mehr Attentate verübt wurden.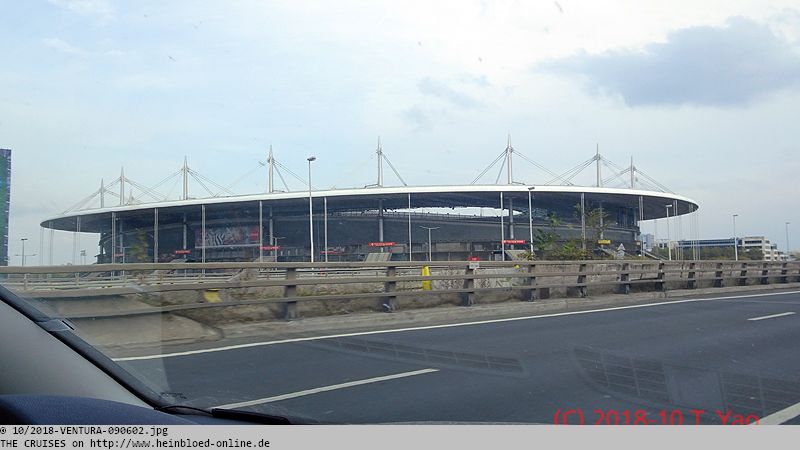 And at the Stade de France in Saint-Denis, France: three years ago they had here the terrorist attack during the soccer friendly France vs. Germany while in the Musicclub Bataclan and some cafés more terrorist attacks were committed.

Due to the roof-top-box, the journey ended spontaneously at Roissypole at Charles-de-Gaulle-Airport in Roissy, France. We really would love to deliver Sigi at Terminal 1. But the problem was: you could not stop anywhere with your private car at the terminal - you could only go into the garage. There we could not go because of the roof-top-box. So we could only let Sigi leaving here and she needed to use the CDGVAL to get to Terminal 1.

Wegen der Dachbox endet die Fahrt abrupt in Roissy am Roissypole des Flughafens Charles-de-Gaulle. Wir hätten gerne Sigi am Terminal 1 abgesetzt. Problem: man darf nirgends am Terminal mit einem Privatauto anhalten - nur in die Tiefgarage darf man. Dort dürfen wir jedoch nicht mit der Dachbox rein. So können wir Sigi nur hier absetzen, und sie muss mit der
CDGVAL
rüber zum Terminal 1 fahren.
Wir fahren schnell in Heidelberg vorbei und werden die Dachbox, nachdem wir sie selbst demontieren, wieder los. Meine Kaution bekomme ich erst wieder, als ich nachfrage.

We quickly drove to Heidelberg, Germany and returned after we removed it ourselves. My deposit I got only back after I asked.

At home, a nice surprise was waiting for me: Original Mozart balls (NOT Mozart's balls!!!) - produced in an artisan way by the pastry store Fürst in Salzburg, Austria. Thanks to Annette. The perfect support for writing the blog: every day = one ball.

Zu Hause erwartet mich ein große Überraschung:
Original Mozartkugeln
- handwerklich bei der Konditorei Fürst in Salzburg hergestellt. Vielen Dank an Annette. Die perfekte Unterstützung, um den Blog zu schreiben: jeder Tag = eine Kugel.
Das kam zum Glück: die belgischen Pralinen von P&O sind ungenießbar.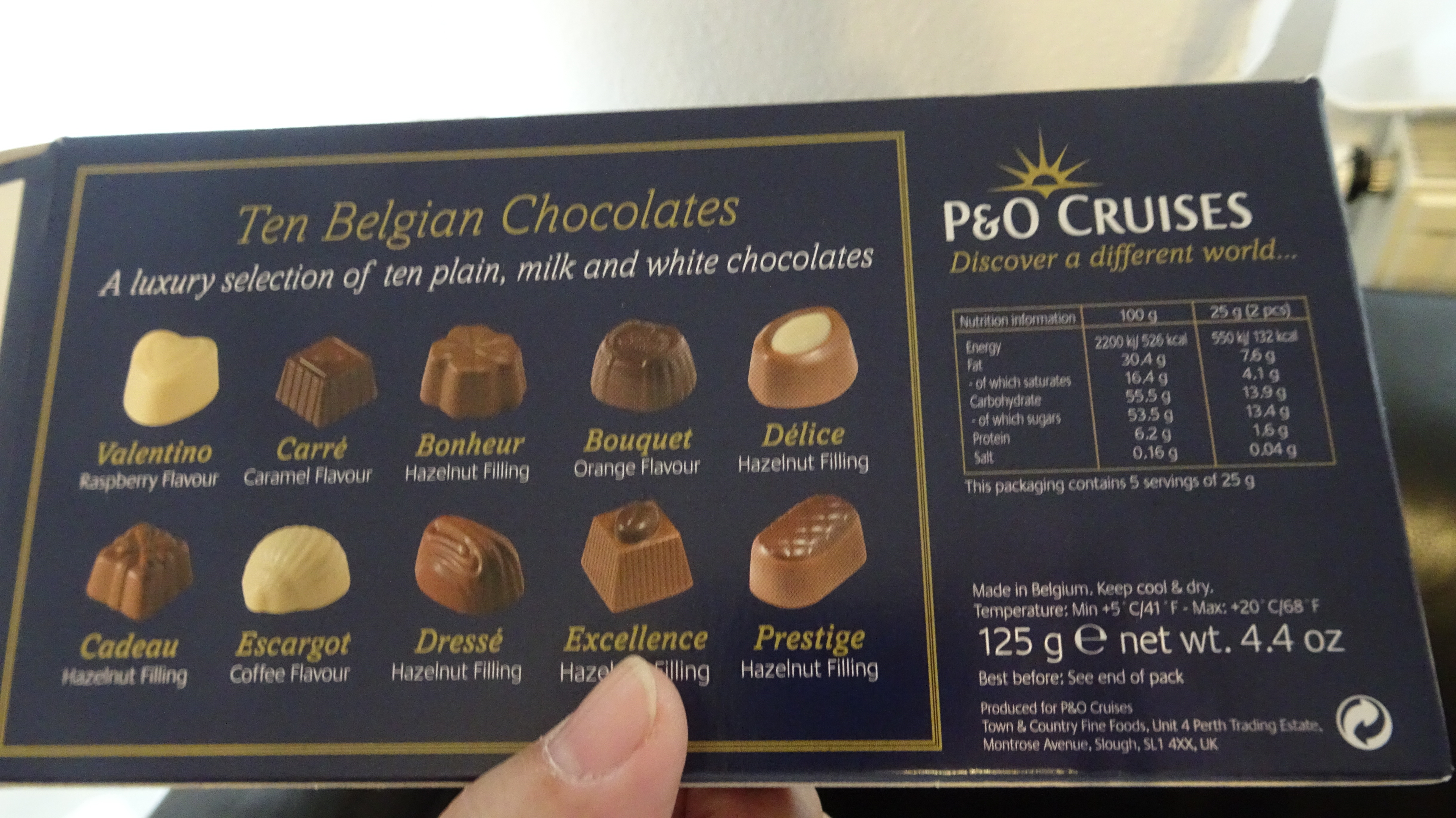 We had luck, that they came: the Belgian chocolate from P&O were inedible.

Belgian chocolate made in England: should not they call them chocolate Belgian style?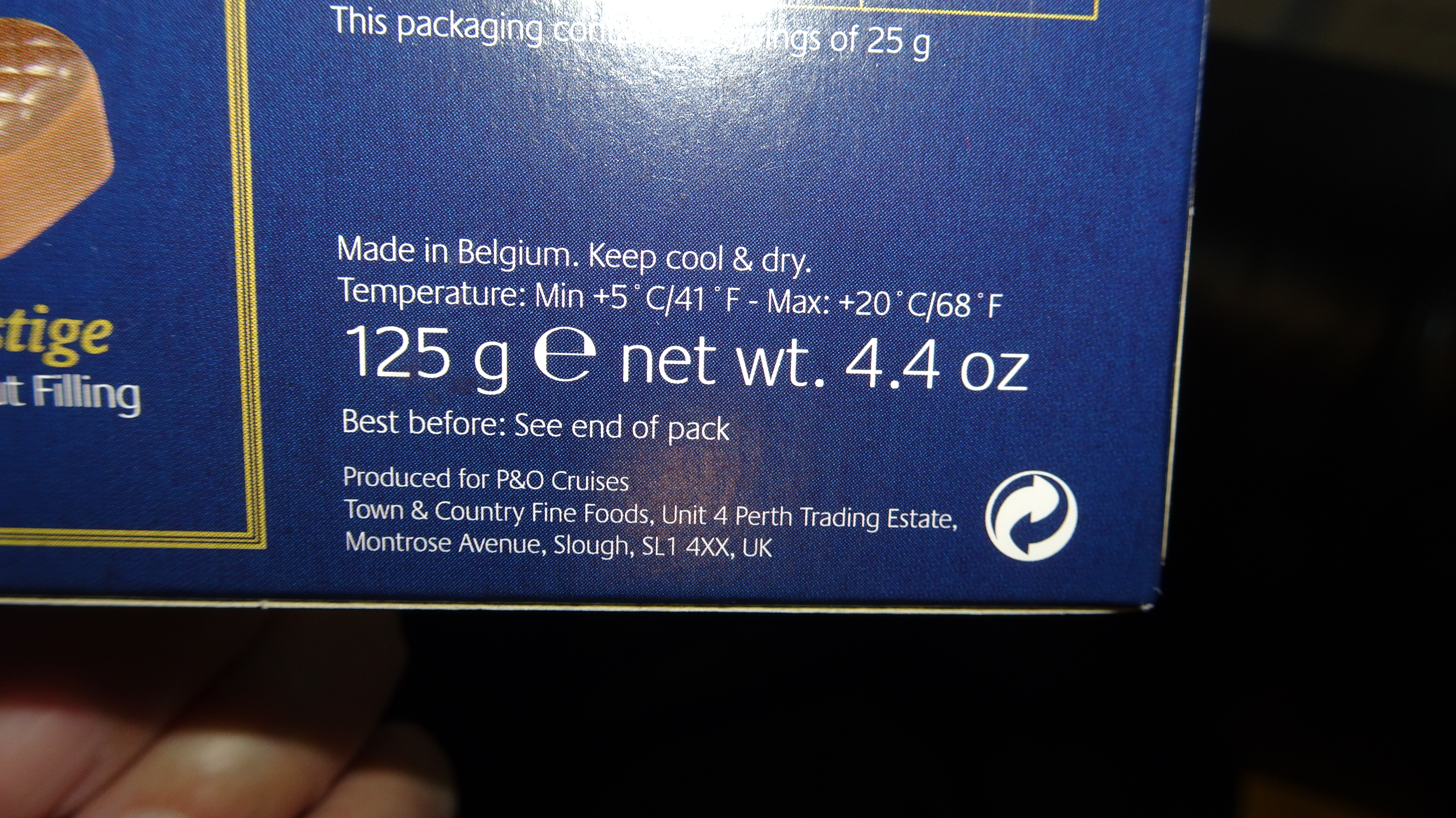 Belgische Schokolade in England hergestellt: sind das dann nicht Pralinen Belgischer Art?
Den fiesen Geschmack bekomme ich nur meinem kleinen Stückchen Blue Stilton wieder los, den ich zufällig in einer Käsetheke entdecke. Aber wie werde ich jetzt den Geschmack vom Blue Stilton wieder los?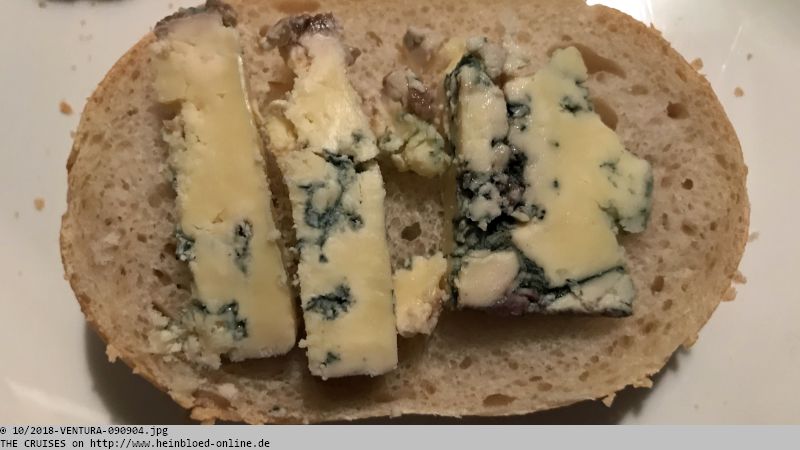 I need to have something to get the bad taste out of my mouth: If found by coincidence some Blue Stilton in a cheese outlet. But how do I get the taste of Blue Stilton now out of my mouth?
Die anderen Reisen in diesem Blog/
The other voyages in this blog: