Scroll down for English explanations - alternates with German explanations.

Direkt gegenüber vom Königlichen Theater ist das Kaufhaus
Magasin du Nord
.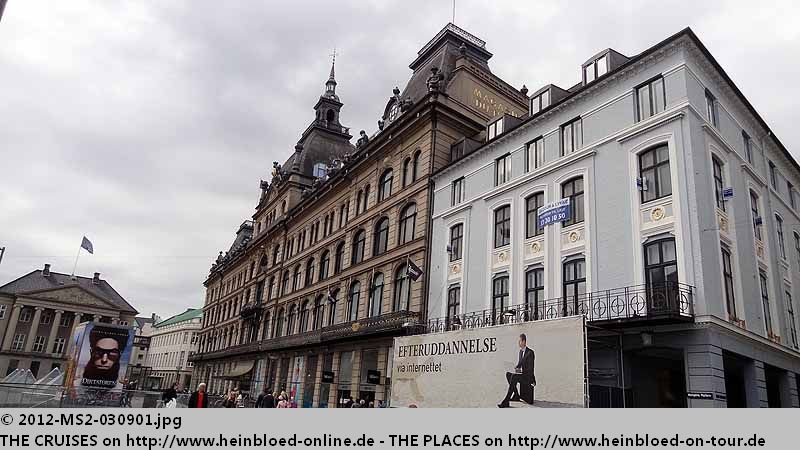 Just opposite of the Royal Theater you find the department store Magasin du Nord.

Let go to the 5th floor.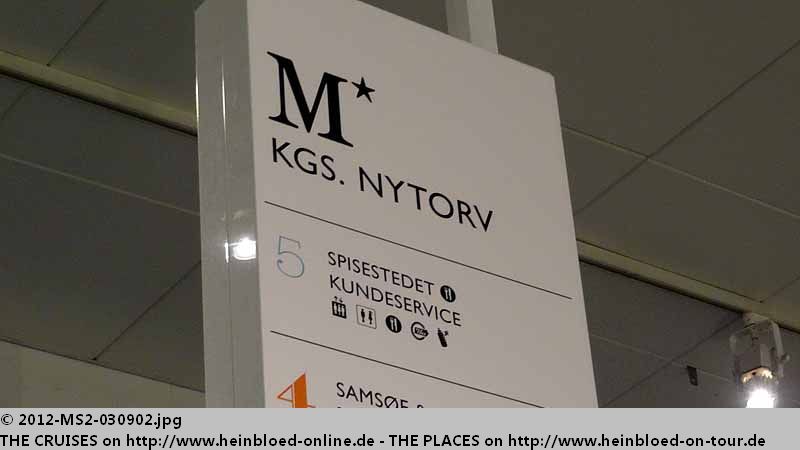 Auf in die 5. Etage.
Oder in den Keller, um etwas Essbares zu finden.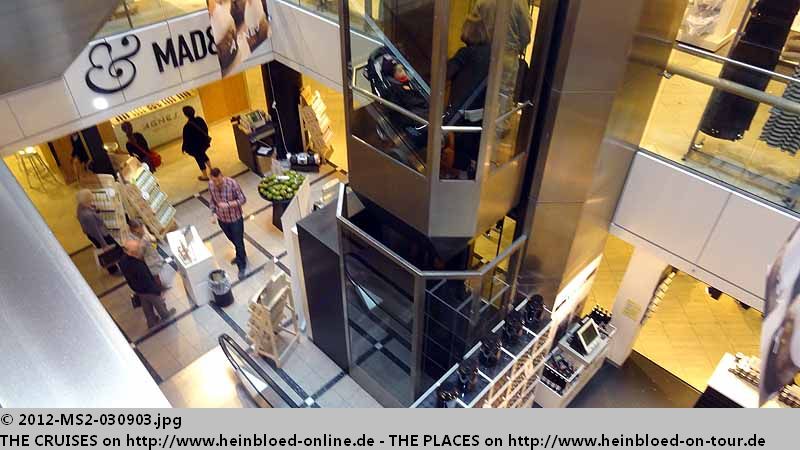 Or in the basement where you find a lot of food.

In the 5th floor you find a self-service restaurant.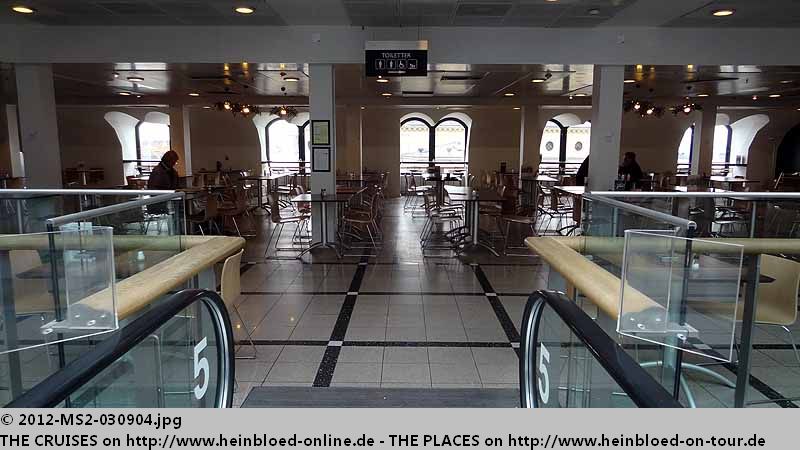 Oben in der 5. Etage befindet sich ein SB-Restaurant.
Und dort hat man einen schönen Ausblick auf Kongens Nytorv.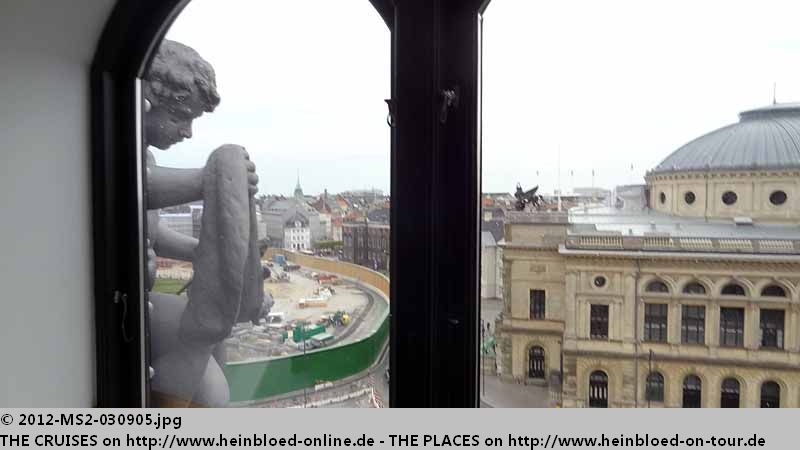 From here you have a nice view to the Kongens Nytorv.

As it was Saturday again Ida Davidsen was closed. So I need to grab here a Smörrebröd (= Danish open face sandwich).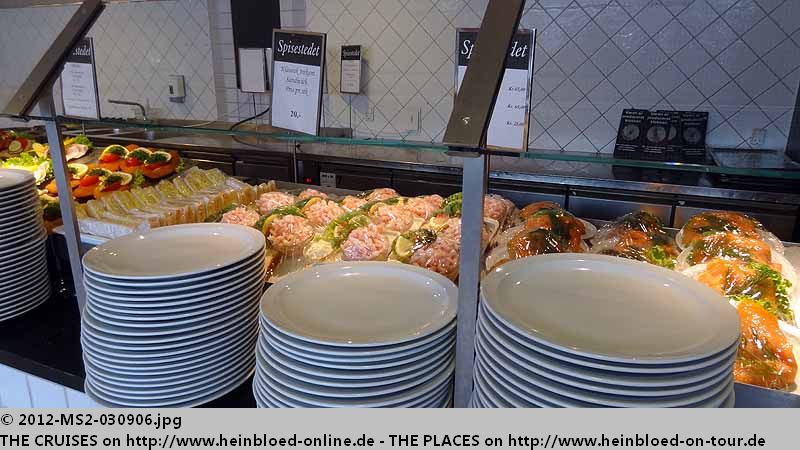 Und da mal wieder samstags ist, hat
Ida Davidsen
zu. Also musste ich mir hier ein Smörrebröd holen.
Lecker...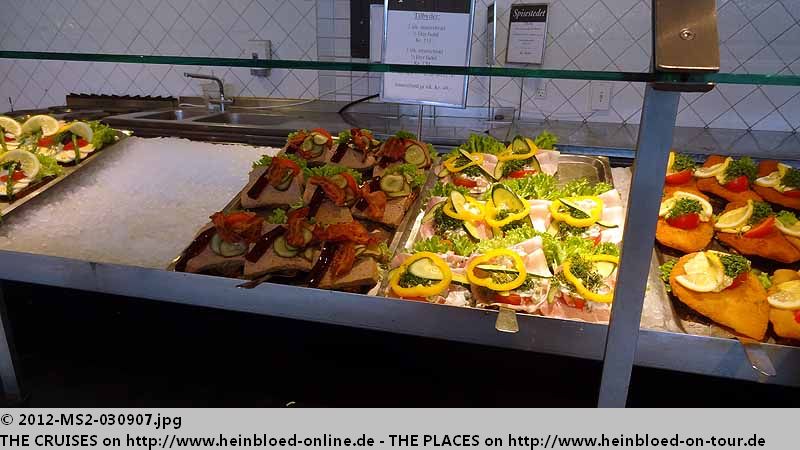 Yummy...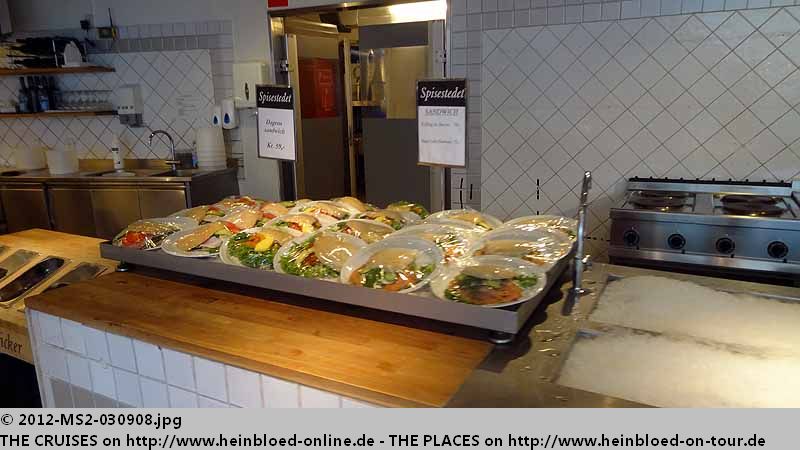 There was something sweet for the lovers of sweat treats...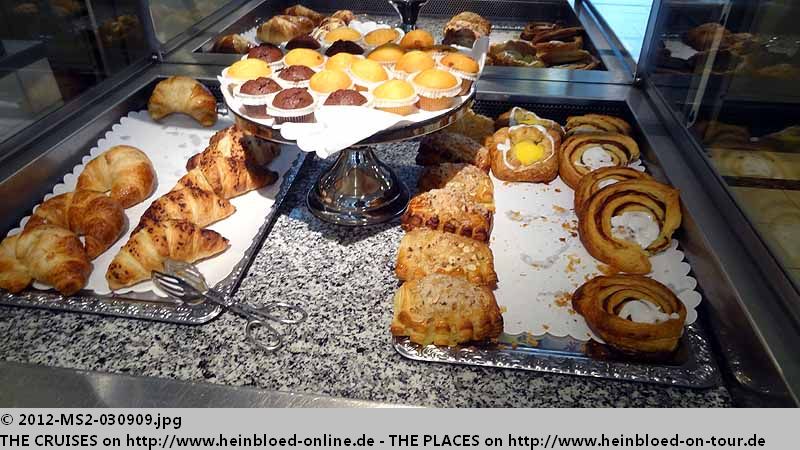 Es gibt auch Leckeres für die Süßen unter uns...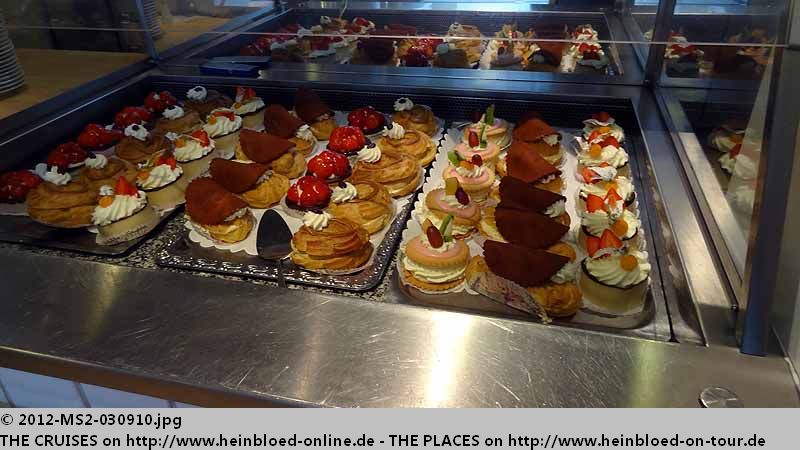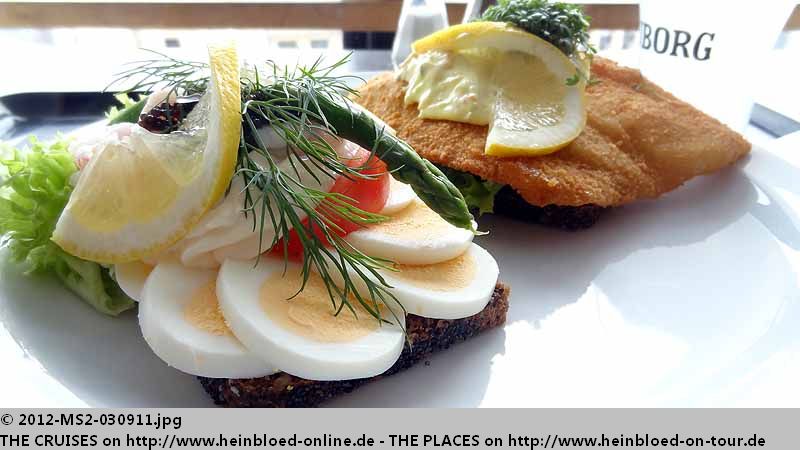 Hier gibt es auch kostenlos WLAN.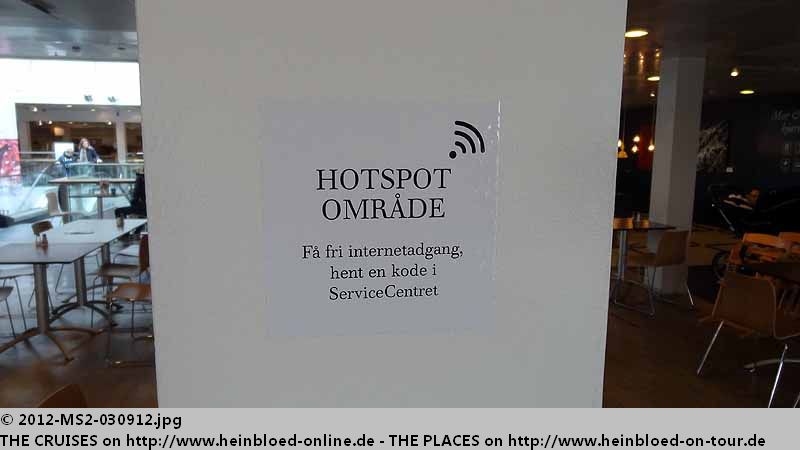 Here you get complimentary WiFi.

All you need to do is walking in the Service Center and get an access code.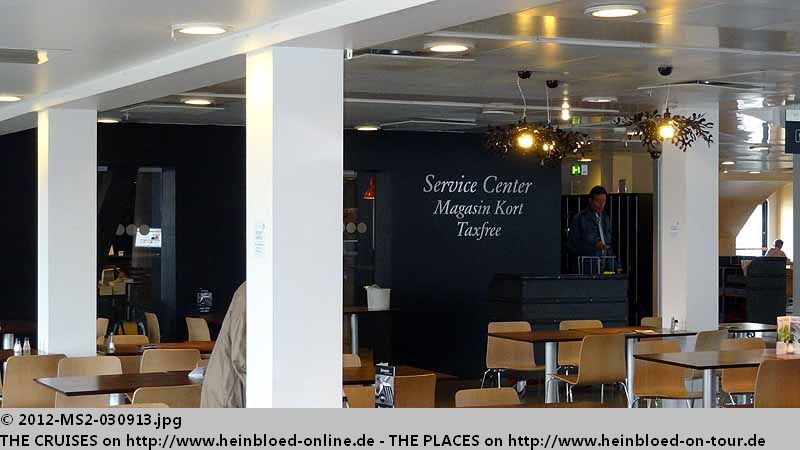 Einfach in das Service Center gehen und sich einen Zugang holen.
Da wir nach dem Snack eh zur Metro wollen, müssen wir in den Keller.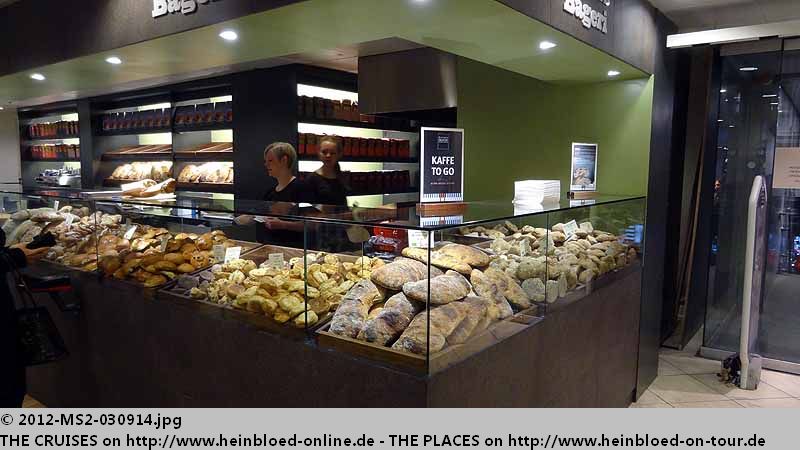 As we wanted to go by metro after the snack we had to see anyway the basement.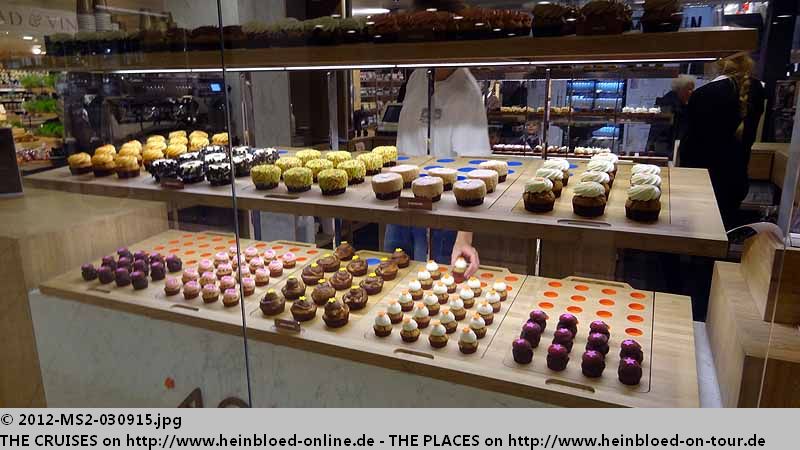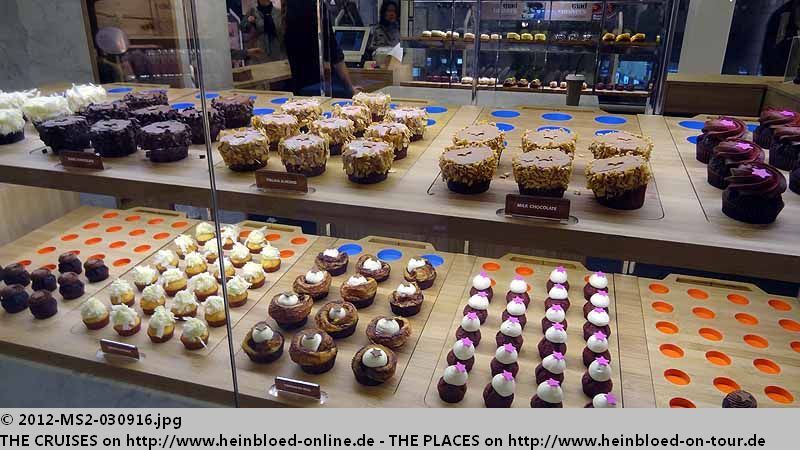 Bruno discovered there a portafilter coffee machine and was looking for a great cappucino but unfortunately the milk foam device was broken so he had only coffee.

Bruno hat dort eine Siebträgerkaffeemaschine entdeckt und freut sich auf einen Cappucino, aber leider ist das Aufschäumteil defekt, so dass es nur Kaffee gibt.
Ich probiere diese Limonade stattdessen. Sieht so retromäßig aus.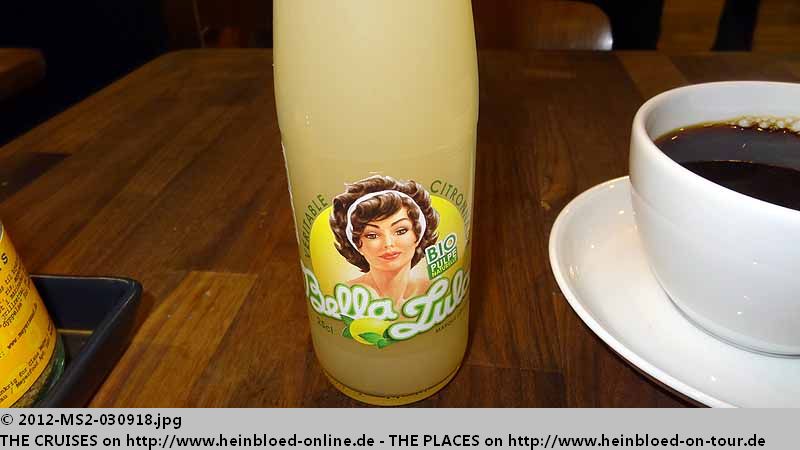 I tried the lemonade instead. Looks very retrolook.

Although we did not like too much on the ship: there were few nice crew-members. For them we bought some sweet treats for their great service.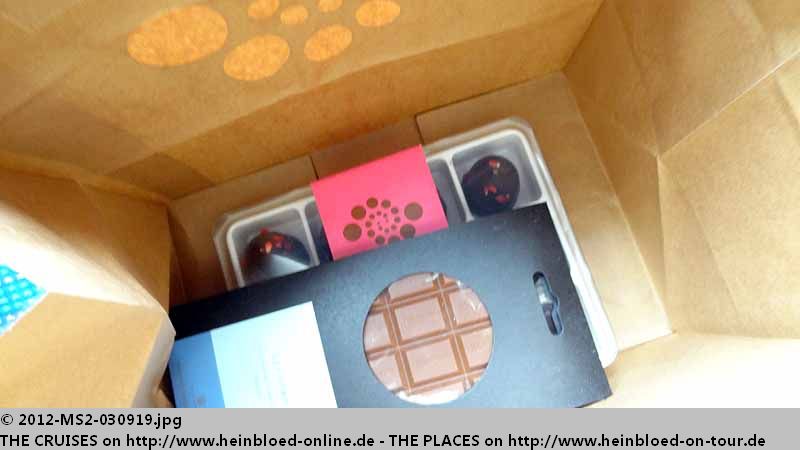 Obwohl wir es auf dem Schiff nicht so mögen: es gibt auch sehr nette Crew-Mitglieder. Für die kaufen wir ein paar Süßigkeiten, um uns für den tollen Service zu bedanken.
Direkt geht es weiter zur Metro und wir kaufen erst mal Karten: wir wollen kurz Richtung Flughafen und dort dann über die Stadt zurück zum Hafen. Flughafen sind von der Stadt aus: 3 Zonen. Alternativ: auf der
Webseite der Metro
kaufen und sich auf sein Mobiltelefon schicken lassen.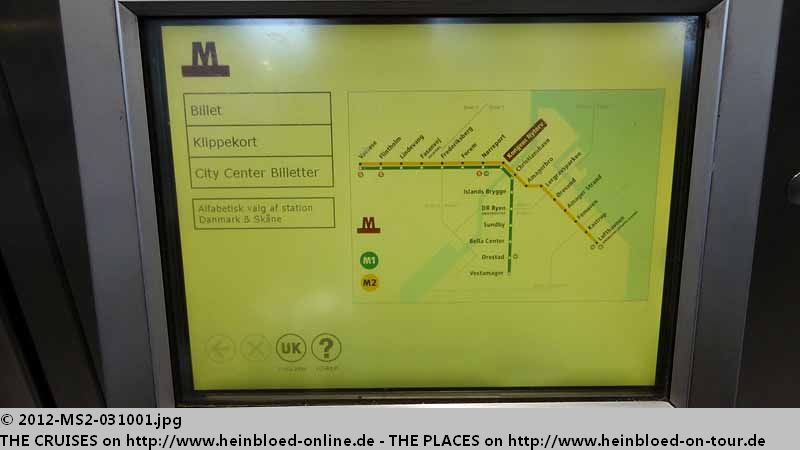 We could walk over directly to the Metro and we bought tickets: we wanted to go towards the airport and then trough the city back to the port. The airport is three zones away from the city. Alternatively: buy your ticket on webseite of the Metro and let it send to your mobile phone.

As we wanted to have a card for multi-ride we had to choose "Cards".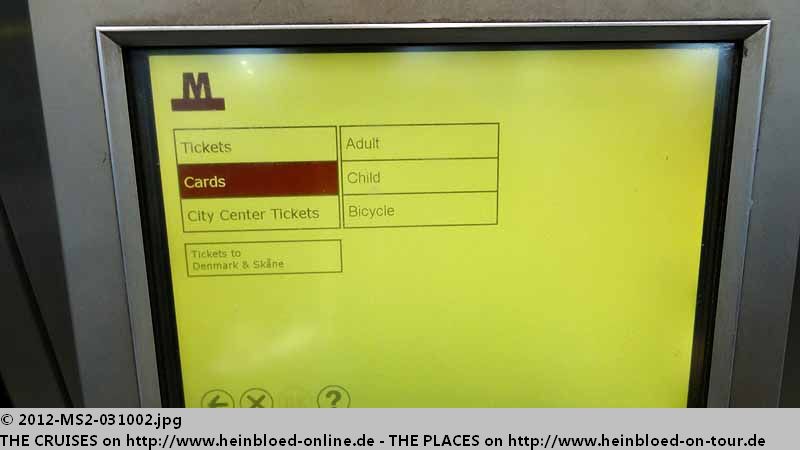 Da wir eine Streifenkarte wollen "Cards".
Erwachsene "Adult". Danach "2 Zones"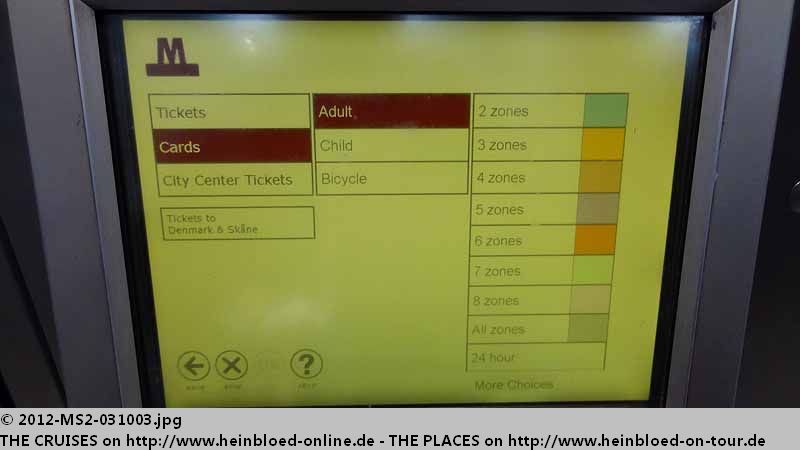 "Adults". Then "2 zones".

145 DKK (2012).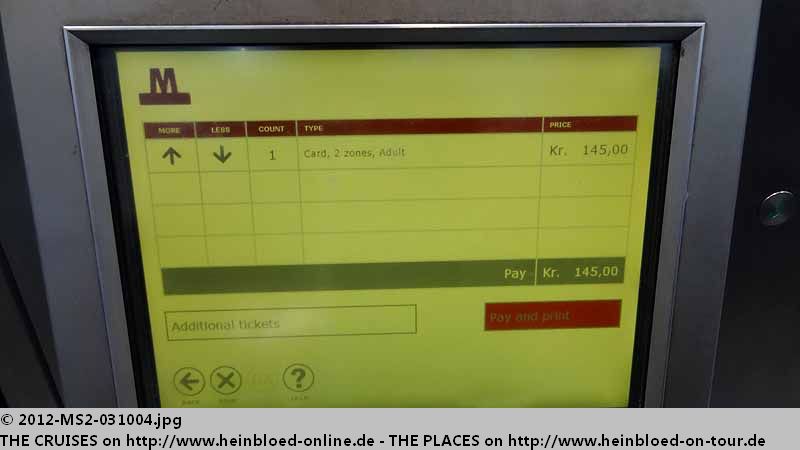 145 DKK (2012).
Gibt 10 Streifen. 4 Einzelfahrten (à 36,00 DKK / 2012) wären 144,00 DKK gewesen. So haben wir 1 DKK zwei Streifen noch für 2 Zonen. Hätten wir eine Streifenkarte für 3 Zonen gekauft wären es 190,00 DKK (2012) gewesen. Aber dann hätten 6 Streifen für 3 Zonen übrig gehabt. Und das Minimum innerhalb Kopenhagens sind 2 Zonen...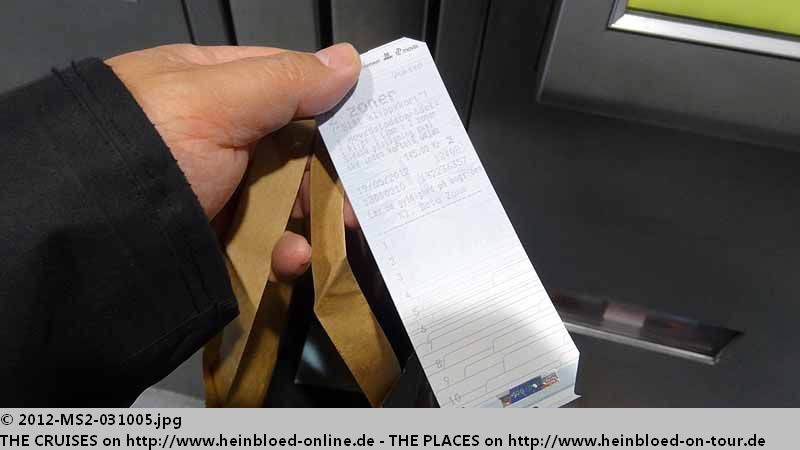 So 10 journeys. 4 single journeys (@ 36.00 DKK / 2012) would be 144.00 DKK. So we have for 1,00 DKK more two journeys for 2 zones. Should we bought a card for 3 zones it would be 190,00 DKK (2012). So 6 journeys would be left for 3 zones. But minimum in Copenhagen are 2 zones...

You need to punch, validate, cancel the ticket: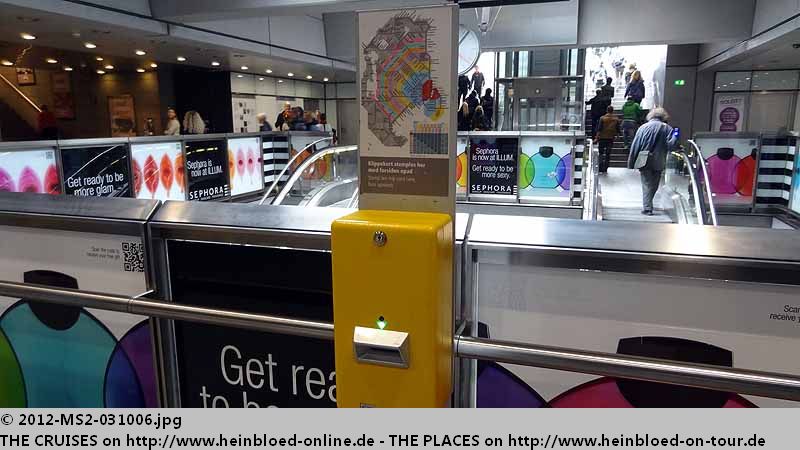 Vor Antritt entwerten:
Pro Person und pro 2 Zonen ein Feld. Da wir zu zweit sind und zum Flughafen (3 Zonen) wollen, also insgesamt 4 Felder. Nichts knicken oder ähnliches. Er merkt sich das und beißt sich immer ein Stück selbst ab. Also einfach rein.

Per person and per 2 zones one section. As we were two and want to go to the airport (3 zones) we need four sections. No need to fold or somthing. The ticket reminds it and just cut a piece. So just put it in.

2 1/2 minutes to wait until the train arrives.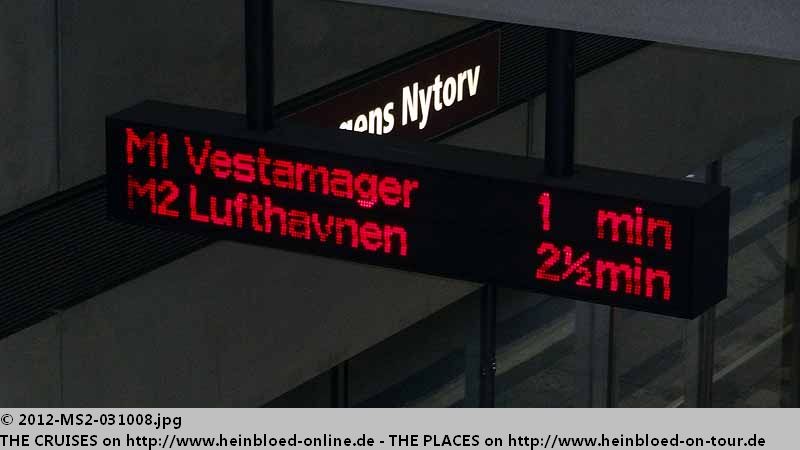 In 2 1/2 Minuten kommt die Bahn.
Man kann nur die M2 zum Flughafen nehmen. Beide Bahnen teilen sich an der nächsten Station.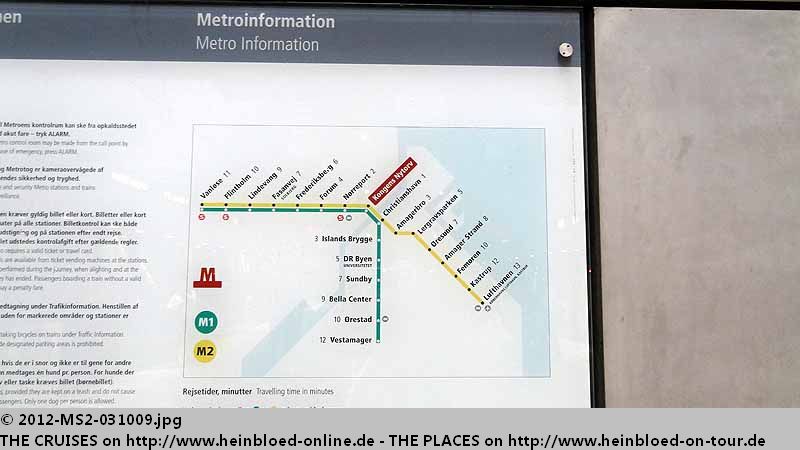 For the airport you can only use M2. They will split the next station.

A ghost train. No driver.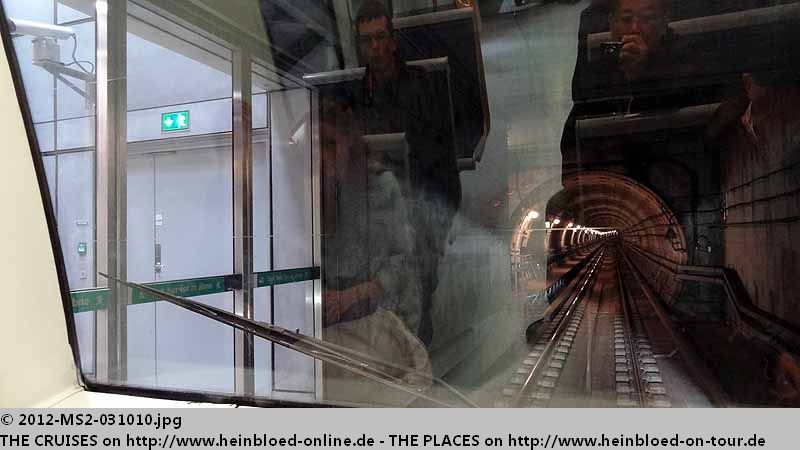 Eine Geisterbahn. Ohne Fahrer.
Wir wollen uns mal die Situation an dem Hotel angucken, in dem wir im Herbst übernachten.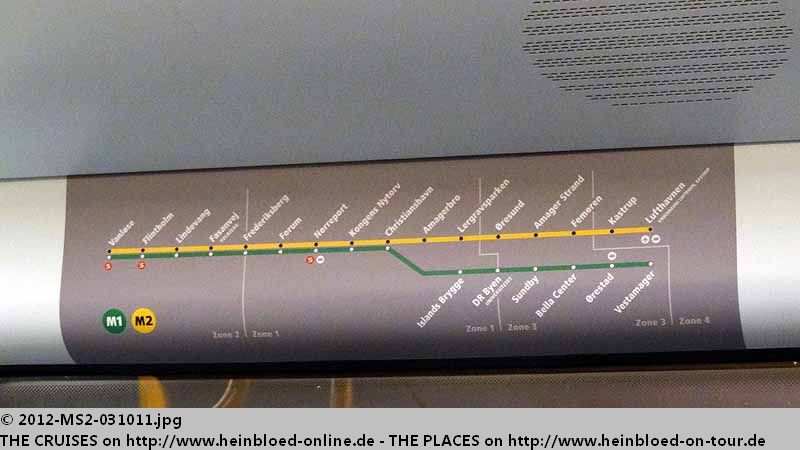 We want to see around the situation at our hotel where we stay in fall.

It should be next to the Femören station, i. e. from Kongens Nytorv you need only one section. But we would need the next section to get to the airport.

Es liegt an der Station Femören, d. h. man wäre mit einem Streifen vom Kongens Nytorv ausgekommen. Dann hätten wir wieder einen Streifen für die Fahrt zum Flughafen erneut gebraucht.
Irgendwann geht es nach oben.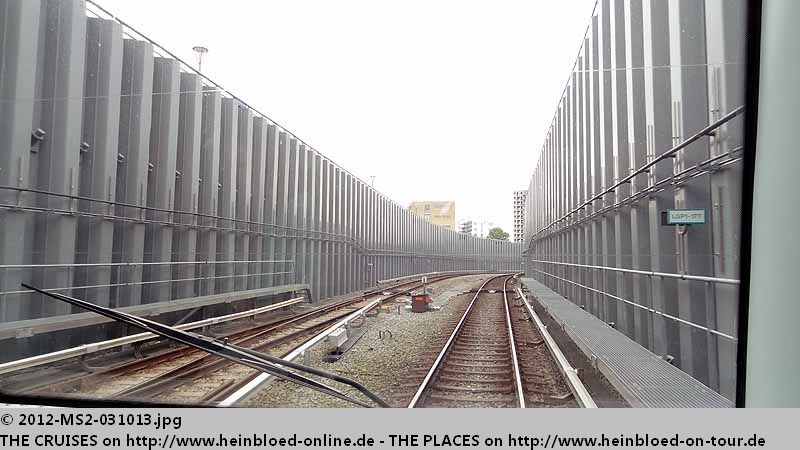 At a certain point we arrived the surface.

Arrived at the Metro-station. Our hotel does not offer a shuttle service.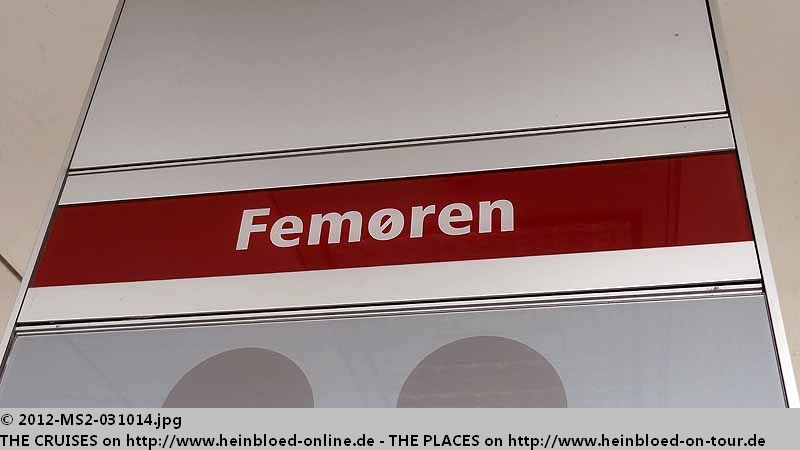 An der Metro-Station angekommen. Unser Hotel bietet nämlich keinen Shuttle-Service an.
O.K. das
Park Inn
ist wirklich gut fußläufig von der U-Bahn erreichbar. 2 Zonen einfach: 24 DKK (2012).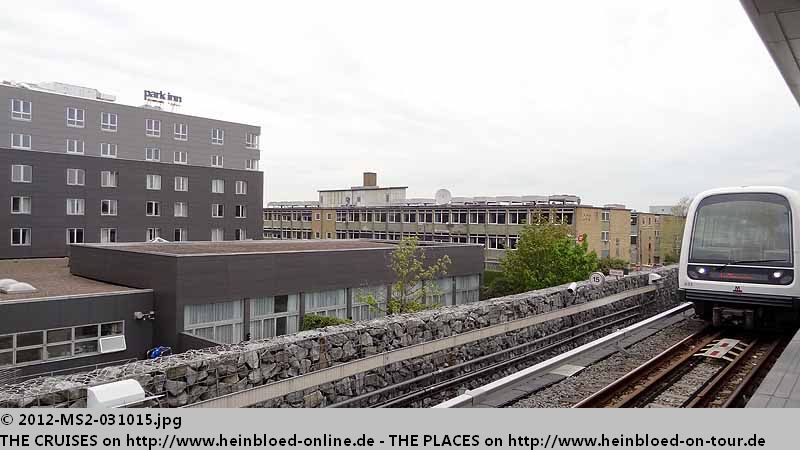 O.K. - The Park Inn is really a footwalk away from the Metro. 2 zones one-way: 24 DKK.

I think we can handle it ourselves.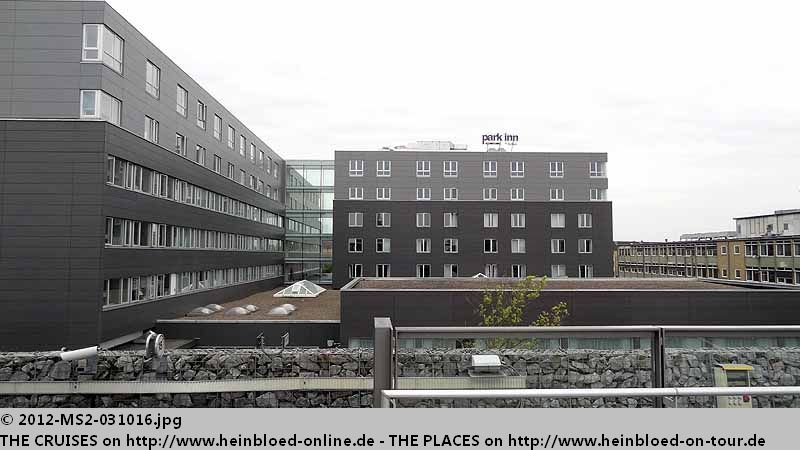 Schaffen wir wohl selbst.
Mit Fahrstuhl.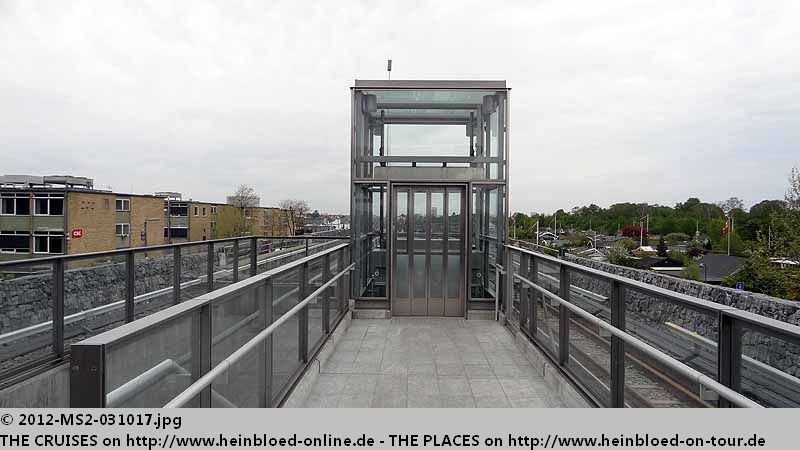 With elevator.

2 Stops away from the airport.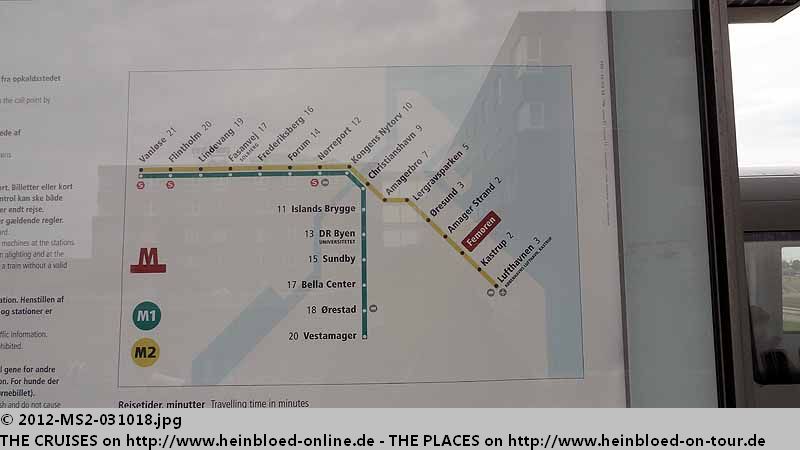 2 Haltestellen vom Flughafen.
Wir kommen Freitag nachts an und dann führt die Metro noch alle 15 Minuten.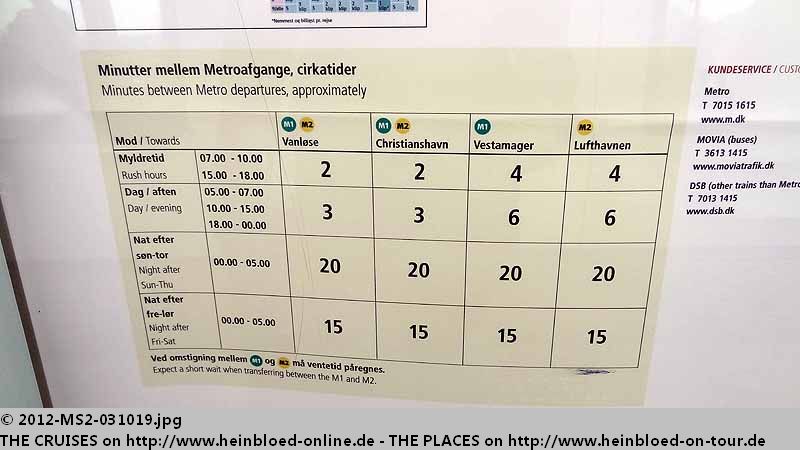 We arrive Friday Night so the Metro still runs every 15 minutes.

And here the map of the zones to find the right tickets.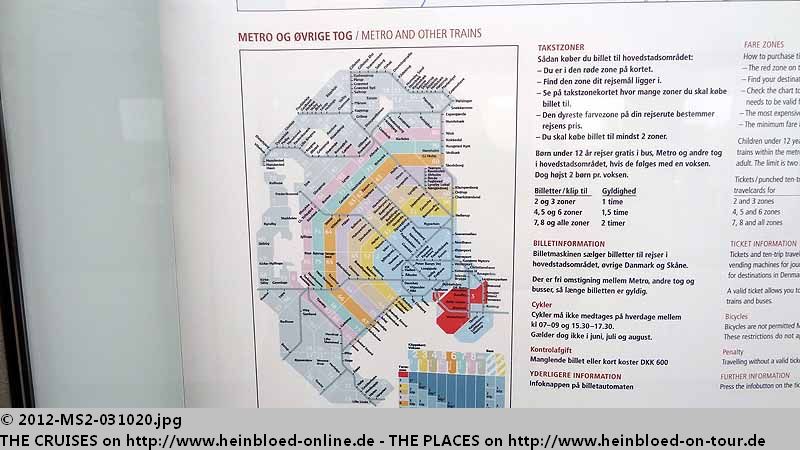 Und der Zonenplan, damit man weisst, wie man die Streifenkarte einsetzt.