Meine Multi-Tasking-Fähigkeit ist doch um 05.00 Uhr früh sehr stark eingeschränkt. So komme ich nur wenige Sekunden zu spät zum Anleger, um die AIDAsol zu fotografieren und viel ärgerlicher: ich habe die SD-Karte im Rechner gelassen. So entstehen einige Aufnahmen mit Hilfe des iPhones. Der kommt mit der Dämmerung nicht ganz so gut klar.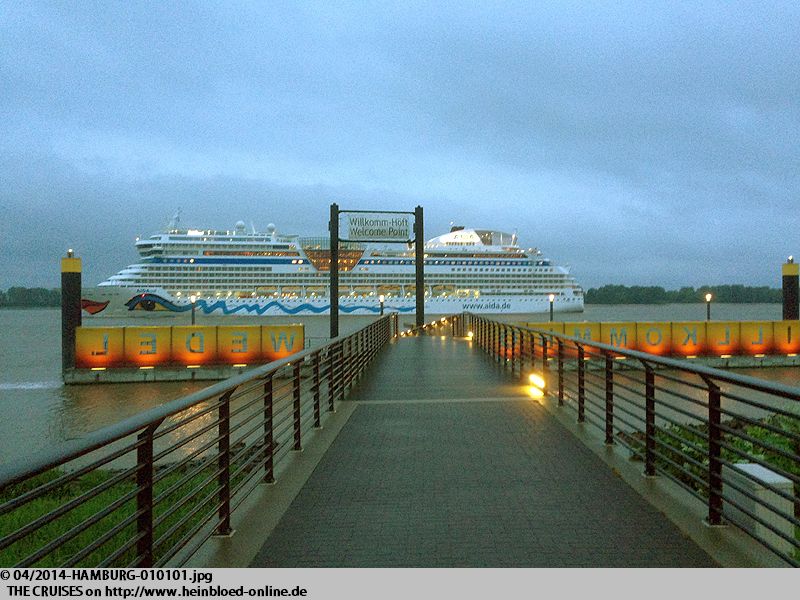 My multi-tasking-ability was very limited at 05.00 hrs early in the morning. So I arrived few seconds too late to take pictures of AIDAsol and more angry: I left the SD-card in the computer. So the only chance was taking pictures with the iPhone. But with the twilight the iPhone had a lot of problems to take good pictures.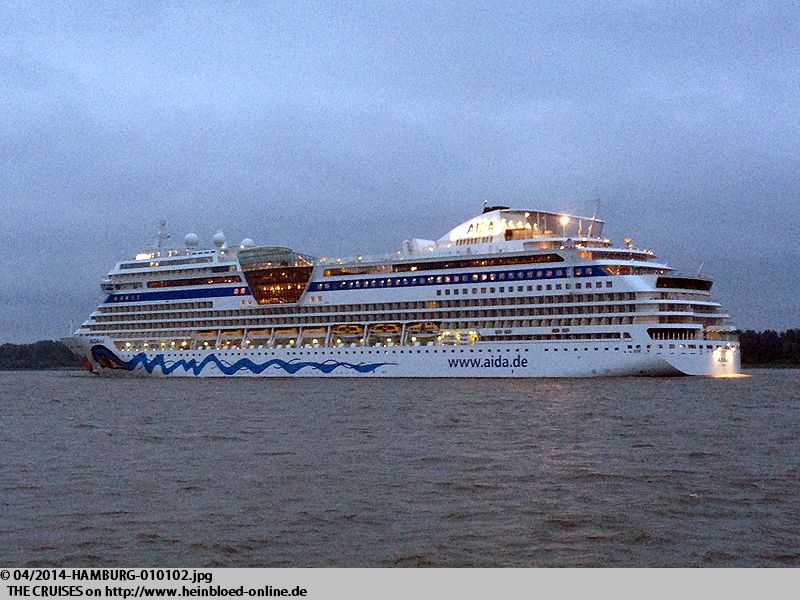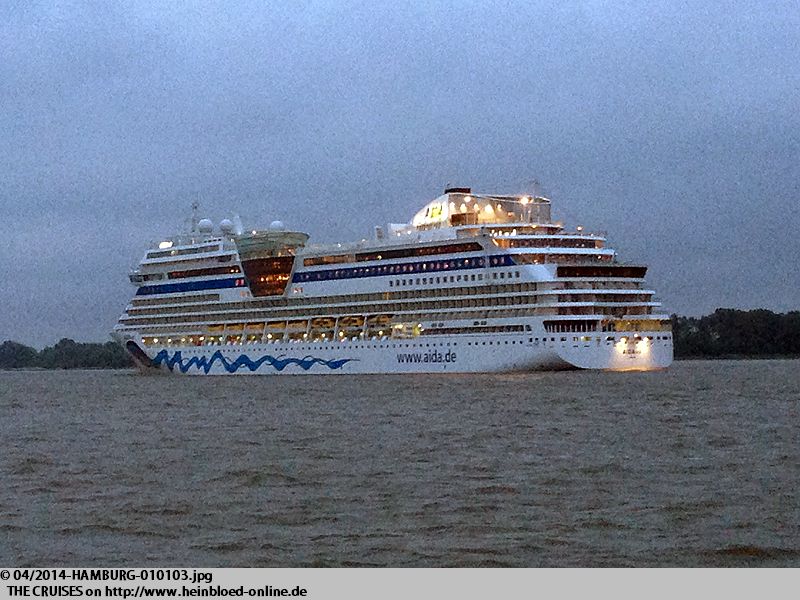 And MEIN SCHIFF 1 (former CELEBRITY GALAXY) was just following. Very angry on the SD-card.

Und direkt danach folgt MEIN SCHIFF 1. Sehr ärgerlich mit der SD-Karte.
Hier am
Schulauer Fährhaus
hat man wirklich eine gute Möglichkeit zum Fotografieren. Tagsüber wird jedes Schiff mit der Hymne und Flagge begrüßt bzw. verabschiedet. Die meisten Kreuzfahrtschiffe laufen i. d. R. morgens so früh ein, dass man leider nichts davon mitbekommt. Höchstens beim Rausfahren, wenn es nicht zu spät ist.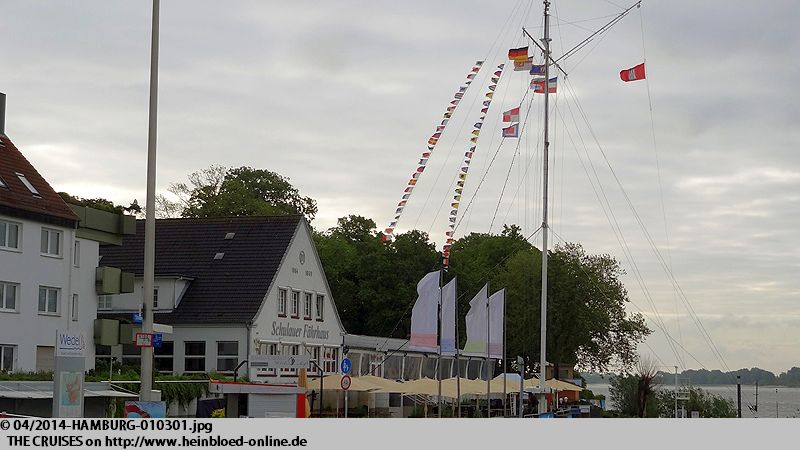 Here at the Schulau Ferryhouse you really had a good option to take pictures. During the daytime every ship will be welcomed or bid fare-well by playing the national anthem and flying the flag. Most cruise ships arrives early in the morning that you will not notice. Normally only when you leave the port subject you are not too late.

Even weather protected.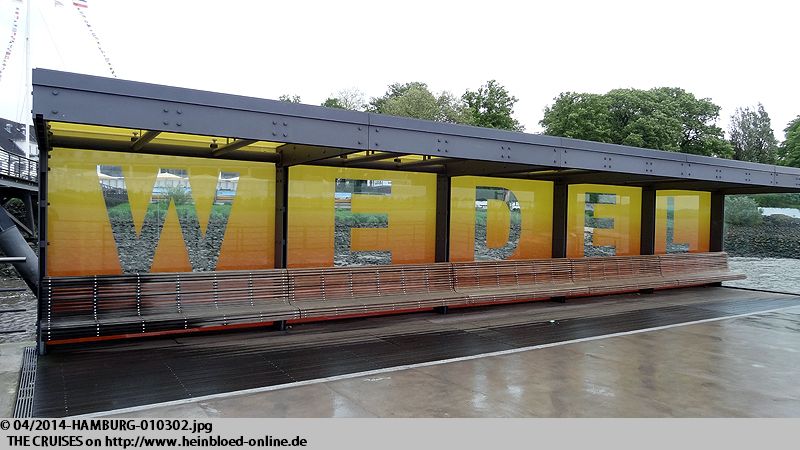 Sogar wettergeschützt.
Ich war ja schon mal vor einigen Stunden hier... und habe ja die schlechten Aufnahmen von der AIDAsol und MEIN SCHIFF 1 gemacht. Aber die Kapitäne müssen meinen Zorn erhört haben und nochmals gedreht haben, um nochmals für mich vorzufahren. AIDAsol und MEIN SCHIFF 1 tauchen nochmals als AIS-Signal auf der Elbe auf.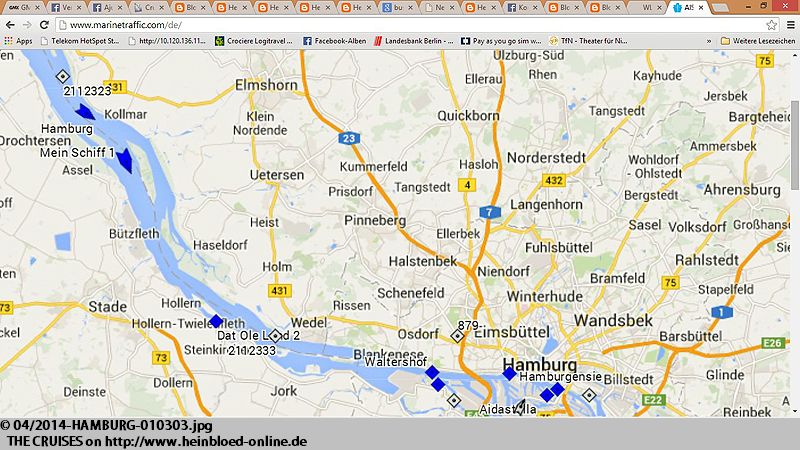 I was here few hours ago... and I took the bad shots of AIDAsol and MEIN SCHIFF 1. But the Captains obviously heared my anger and turned around to pass my location again. AIDAsol and MEIN SCHIFF 1 appeared again as AIS-signal (Sattelite-Signal) on the river Elbe.

Interesting... AIDAsol just passed by as AIS-Signal on the display... a ghost ship...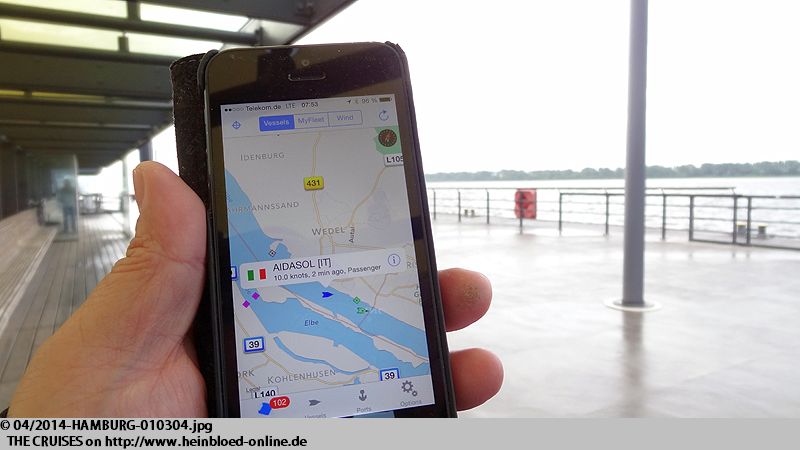 Interessant... Die AIDAsol fährt an mir als AIS-Signal auf dem Display vorbei... ein Geisterschiff...
Und das gleiche nochmals mit der MEIN SCHIFF 1... wieder ein Geisterschiff... Eine Familie wartete aufgrund der AIS-Signale und ich musste ihnen die Bilder auf meinem iPhone zeigen, die ich vor mehreren Stunden geschossen hatte. Sie haben traurig den Ort verlassen.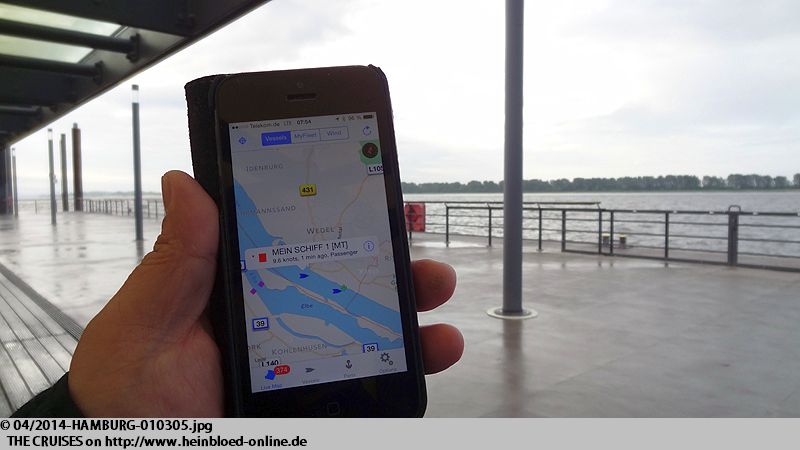 Same again with MEIN SCHIFF 1... again a ghost ship... A family was waiting because of the signal and I had to show them my pictures on my iPhone with the shots which I had taken few hours earlier. They left very sadly the location.

So I called my own picture to see the two ships passing by.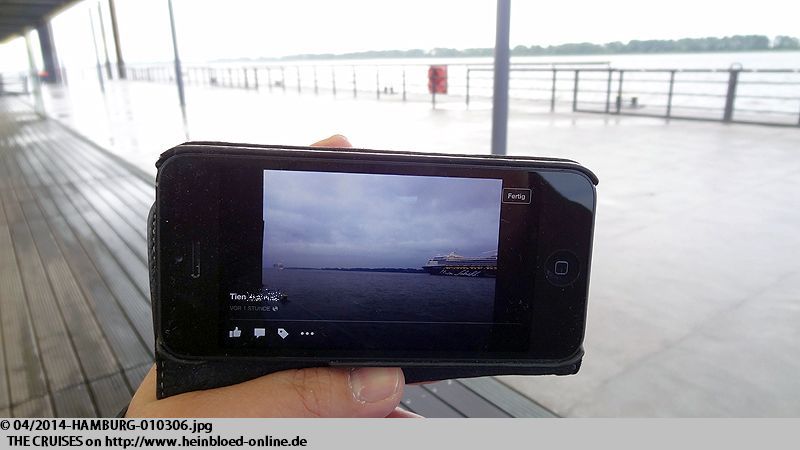 Also rufe ich mir mein eigenes Bild auf, damit doch die beiden Schiffe an mir vorbeifahren.
Sogar die Enten kommen zum Shipspotten vorbei.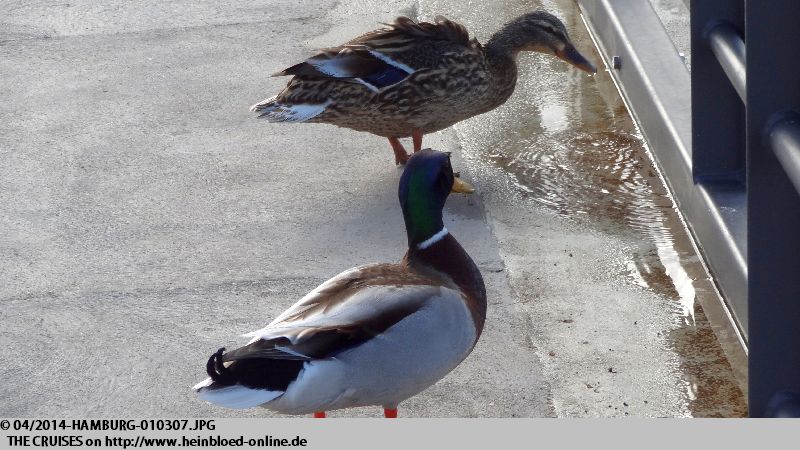 Even the ducks came by for shipspotting.

So we went back for breakfast.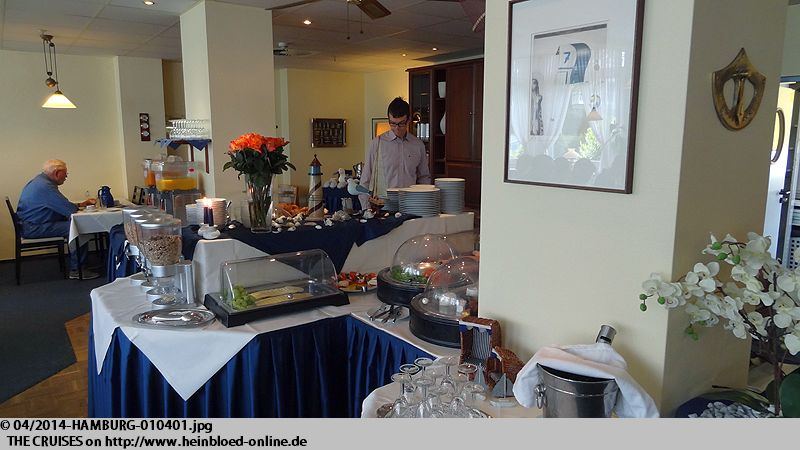 So laufen wir zurück zum Frühstück.
Das Hotel wirbt mit seinem Frühstücksbüffet.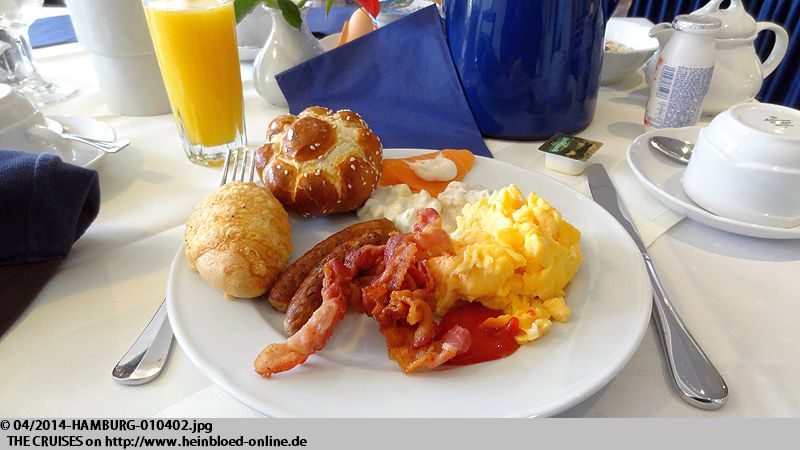 The hotel advertised with their breakfast buffet.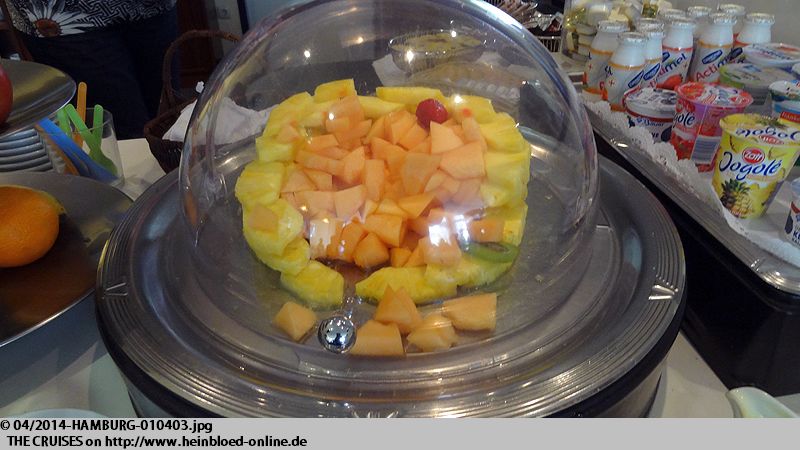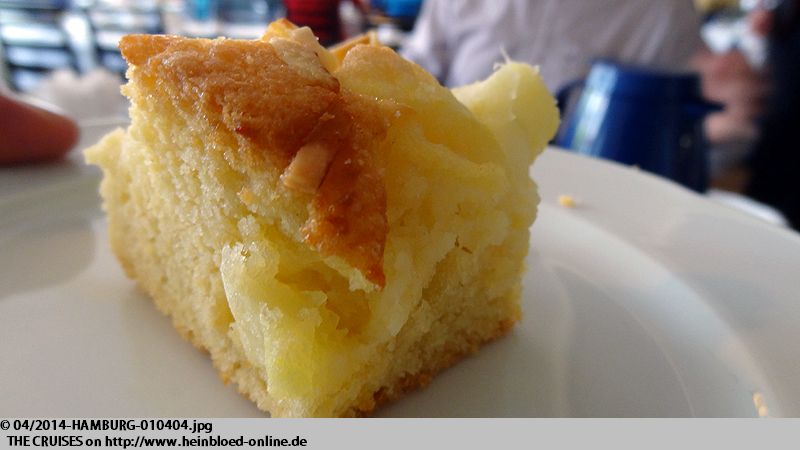 But were totally right: the breakfast buffet was really nice. Many items were arranged for presentation with passion and many items were housemade.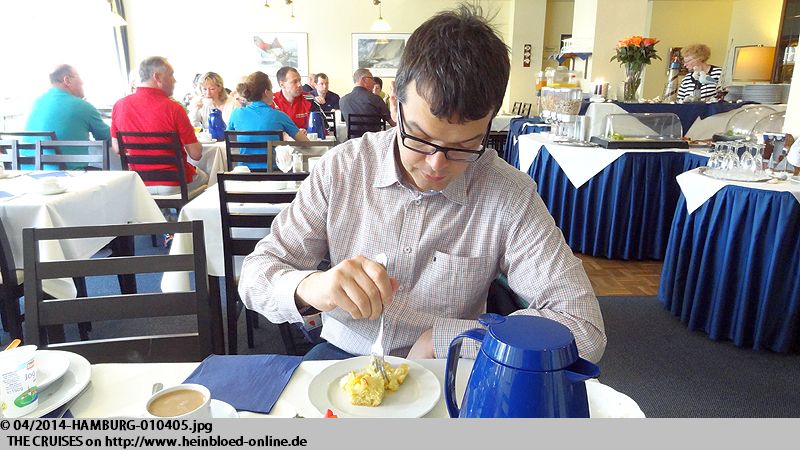 Aber da haben sie vollkommen Recht: Das Frühstücksbüffet ist wirklich toll. Viele Sachen werden mit sehr viel Liebe angerichtet und auch vieles ist selbsthergestellt.
Und dann kommt sie: die HAMBURG.

And then she came: HAMBURG.

Formerly C. COLUMBUS of Hapag-Lloyd. Then in Montréal. The Great Lakes are calling. That was why we were interested how it would be onboard.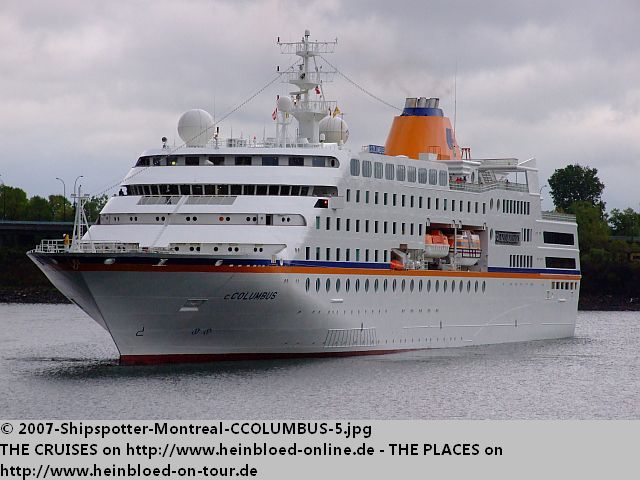 Ehemals C. COLUMBUS von Hapag-Lloyd. Damals in Montréal. Die Großen Seen reizen. Deswegen wollen wir mal sehen, wie es an Bord zugeht.
Wieder geht es zum Anleger in Wedel zurück. Just als wir kommen, kommt die HALUNDER JET, um die Helgoland-Ausflügler einzusammeln.

Again we went to the pier in Wedel. Just when we arrived HALUNDER JET arrived too to collect the guests for the island of Helgoland, Germany.

But we were here to see the arrival of ALBATROS (former CROWN, NORWEGIAN STAR, ROYAL ODYSSEY, ROYAL VIKING SEA)

Aber deswegen sind wir hier am Pier. Die Einfahrt der ALBATROS.
Und ARTANIA.

And ARTANIA.

An old friend. We knew her when she was ARTEMIS and went for P&O.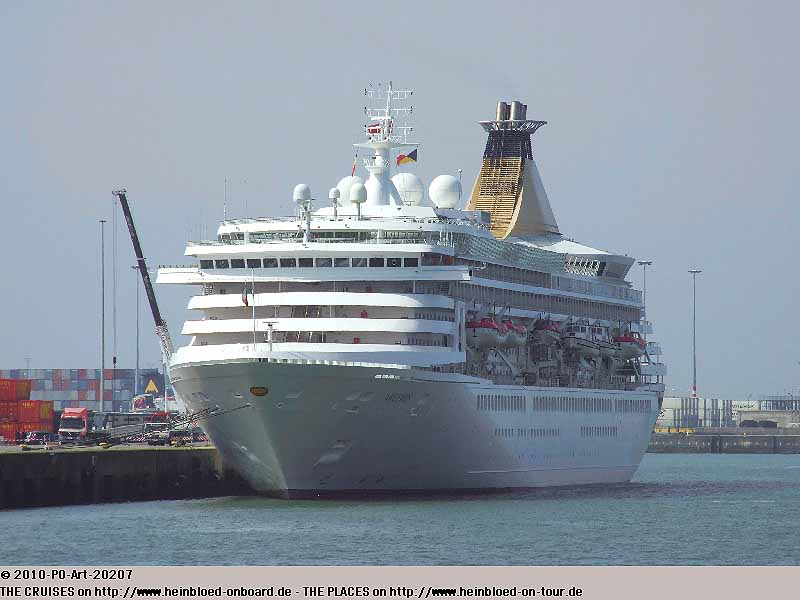 Eine alte Freundin. Wir kennen sie noch als ARTEMIS, als sie noch für P&O fuhr.
Wegen des Hafengeburtstags nehmen die Parkhäuser im Hafen keine Reservierungen von Kreuzfahrern an. So stellen wir uns im
Parkhaus am Hauptbahnhof
unter.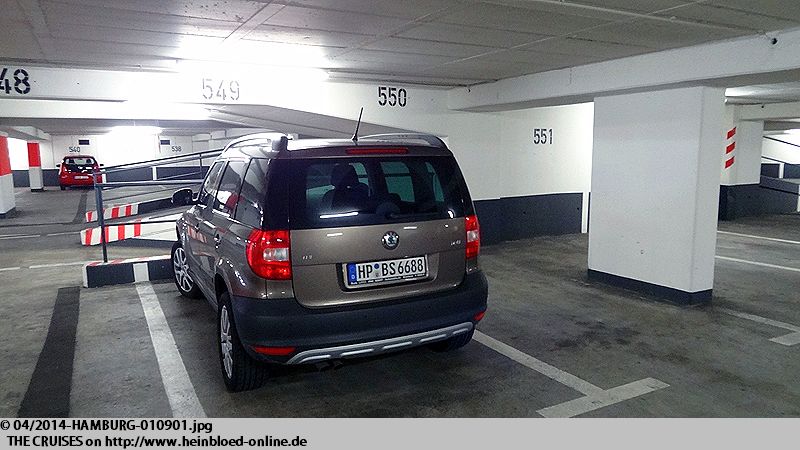 Due to the port anniversary the parking garages in the port area did not accept bookings of cruiser. So we used the parking garage of the central station.

It is a little hidden.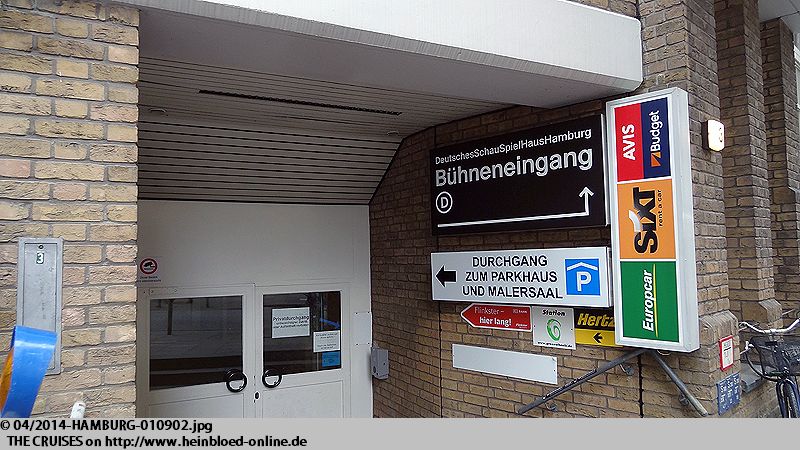 Es ist ein wenig versteckt.
Für nur 8,00 EUR pro Tag (2014) parken wir hier.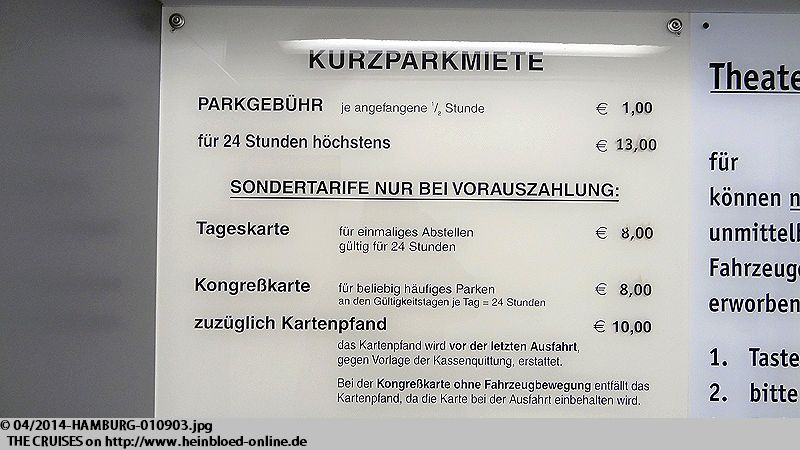 For only 8.00 EUR per day (2014) we could park here.

We went first for lunch. I wanted to have a good won-ton-soup and so we went to the Dim-Sum-House "China". I knew the restaurants already for many years before they became popular because of a TV-docu-soap. And it is so good that the Chinese Consulate hosts their banquettes right here.

Wir gehen erst mal zum Mittagessen. Ich will endlich eine gute Wan-Tan-Suppe und so gehen wir in das
Dim-Sum-Haus "China"
. Ich kannte es schon seit vielen Jahren, bevor es durch das Fernsehen bekannt wurde. Und es ist so gut, dass auch der chinesische Konsul hier seine Bankette gibt.
Das Restaurant liegt echt gut: Direkt gegenüber vom Hauptbahnhof (Ausgang Kirchenallee). Hier sehen wir auch, wie die anderen Gesellschaften ihre Passagiere einsammeln.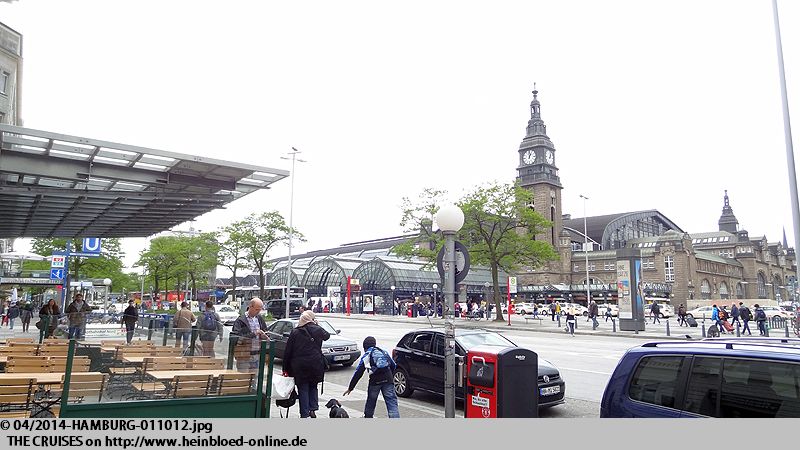 The location of the restaurant was really central: just adjustant to the central station (Kirchenallee exit). Here we could see how the other companies were collecting their guests.

We could go now the tour with the Maritime Circle Line. But Bruno said that we would not stay dry during the tour...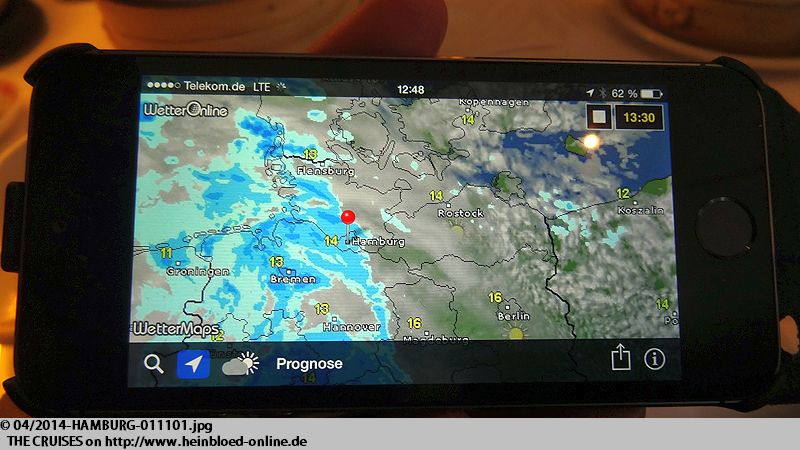 Wir könnten jetzt mit Maritime Circle Line Tour fahren. Aber Bruno meint, dass wir wohl die Tour nicht trocken überstehen würden...
So gehen wir direkt vom Parkhaus direkt rüber zum
ZOB Busbahnhof
.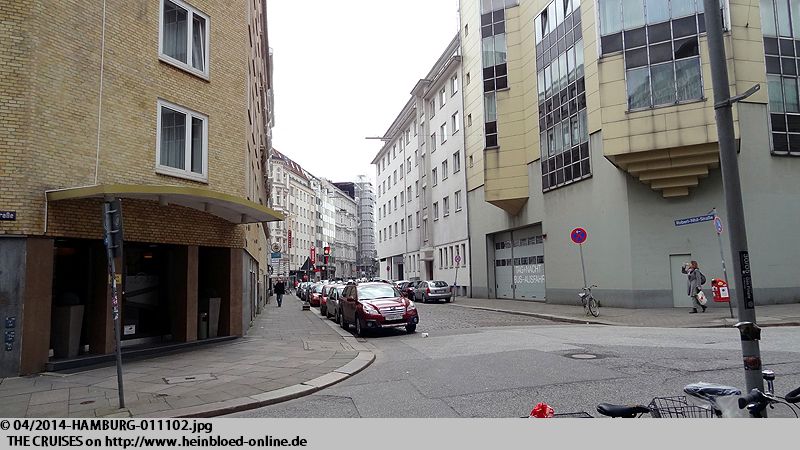 So we went directly from the parking garage to the bus terminal.

Within five minutes we arrived.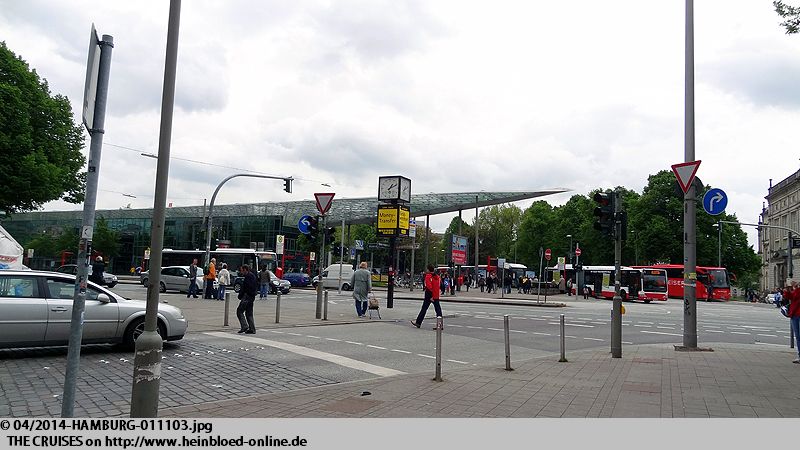 In fünf Minuten sind wir da.
Hier werden auch schon von einer Vertreterin von
Plantours
erwartet.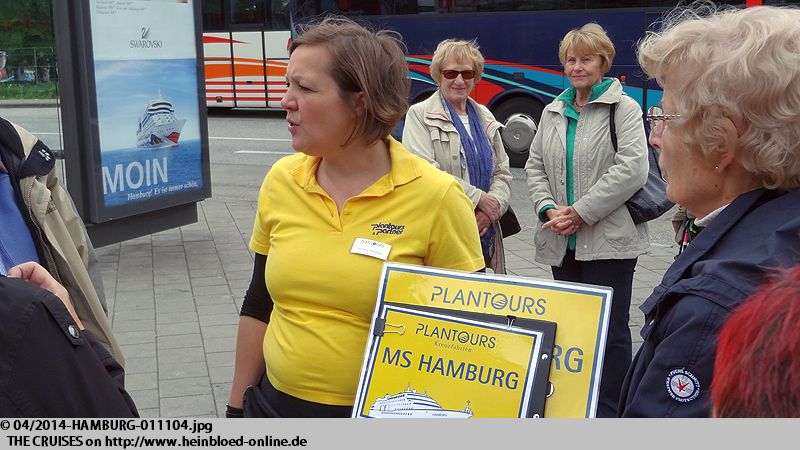 Here a representative of the tour operator Plantours were waiting.

She was looking for further passengers.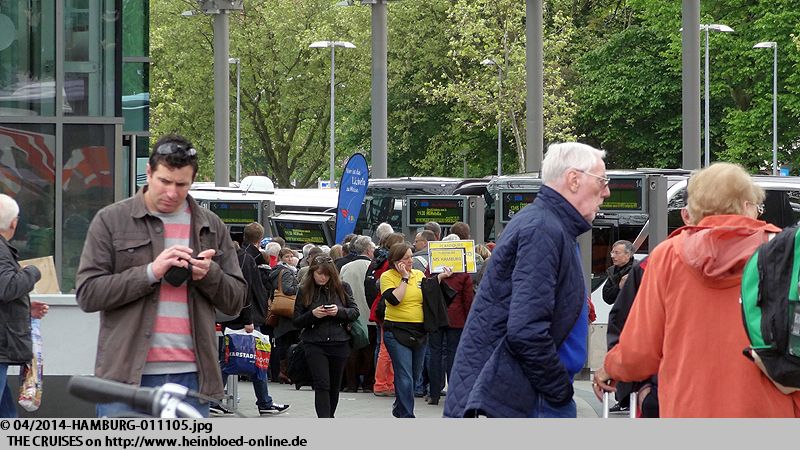 Sie sucht schon mal nach weiteren Gästen.
Sicherheitshalber guckt man auch in Schlangen der AIDAsol...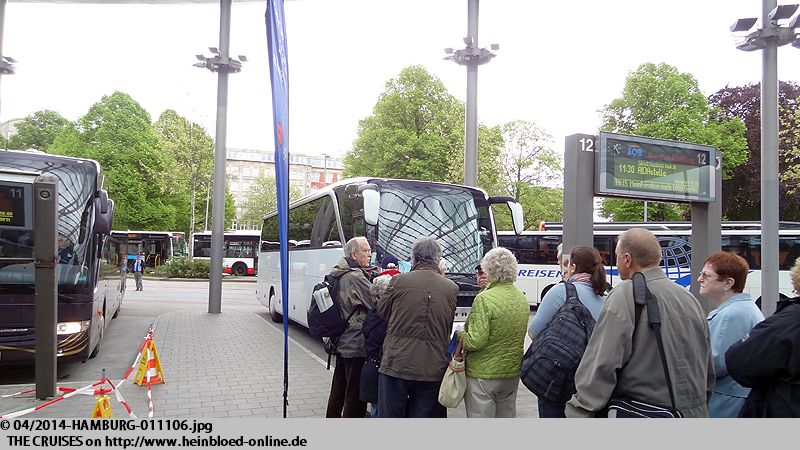 To be safe she checked also the lines for AIDAsol...

... and AIDAstella if there would not be anyone who was there by mistake.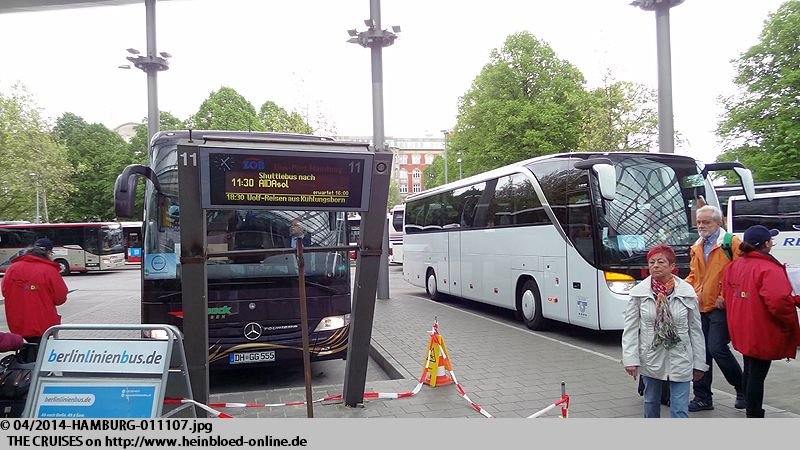 ... und AIDAstella nach, ob sich nicht jemand verirrt hat.
An unserem Bussteigen stehen noch die Busse für die Hafenrundfahrt mit dem Bus:
Auge im Auge mit den Giganten
, die auch in den
HHLA Container Terminal Altenwerder
führt, in der alles vollautomatisiert läuft. Die Tour lohnt sich wirklich.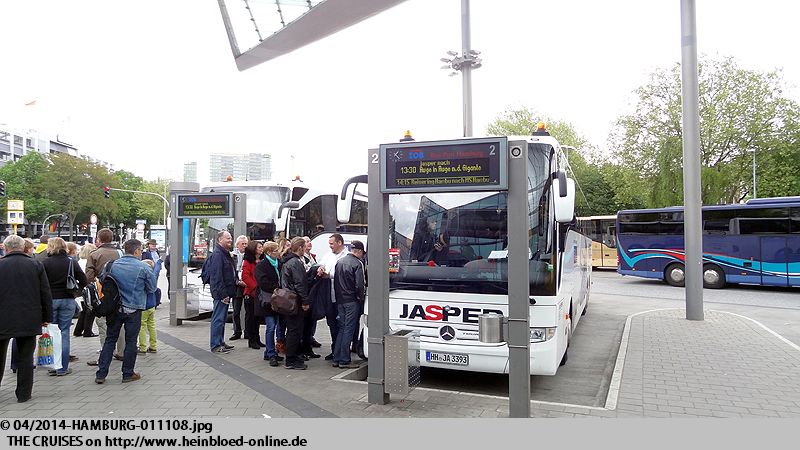 At our bus berths there were still the wating the busses for the port tour by bus: Face to face with the giants, which also takes you to the HHLA Container Terminal Altenwerder which is operated fully automated. A tour which is worth to do. Unfortunately the public tours are only conducted in German language. Even you would not understand you will see a lot and very much impressed.

To allow the representative to move around and find other guests I helped her to hold one sign.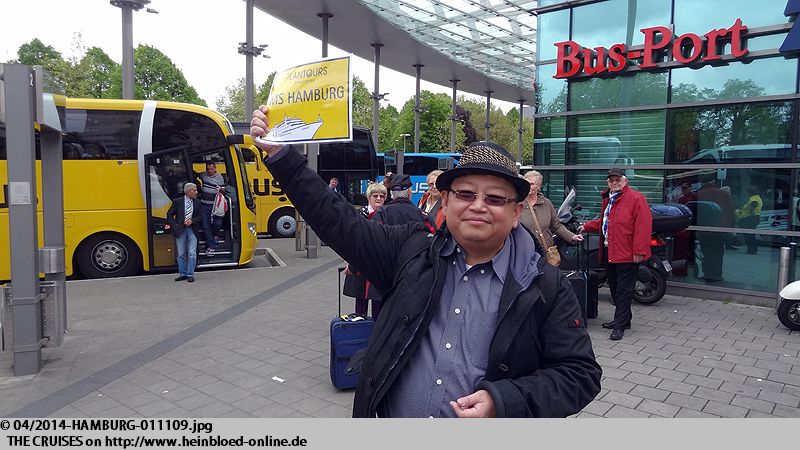 Damit die Reiseleisterin sich ein wenig frei bewegen kann, um nach weiteren Gästen Ausschau zu halten, halte ich ein Schild in die Höhe.
Als der erste Bus zum Einsteigen bereit ist, findet Sodom und Gomorra statt. Wir entschließen uns sofort den ersten Bus fahren zu lassen. Irgendwie habe ich allerdings den Eindruck, dass ich auf der falschen Fahrt bin. Entweder das angekündigte Programm passt nicht zum Publikum oder das Publikum nicht zum angekündigten Programm... Ich habe mich allerdings wohl als einziger auf das Programm vorbereitet...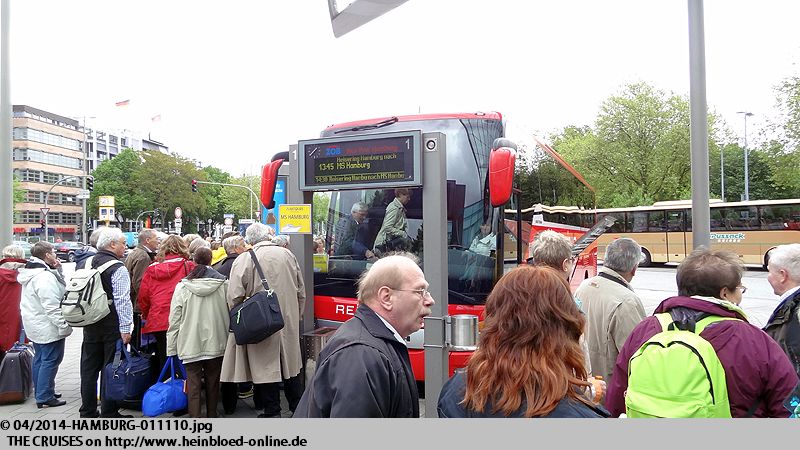 When the first bus was ready for boarding it was like Sodom and Gomorrah. We decided immediately to skip the first bus. Somehow I had the impression I was not on the right voyage. I was not sure if the published programme did not fit the audience or the audience did not fit to the published programme... Obviously I was the single one who was preparing for the tonight's programme.

Nobody was taking care of the published schedule. Just when a bus was full they left.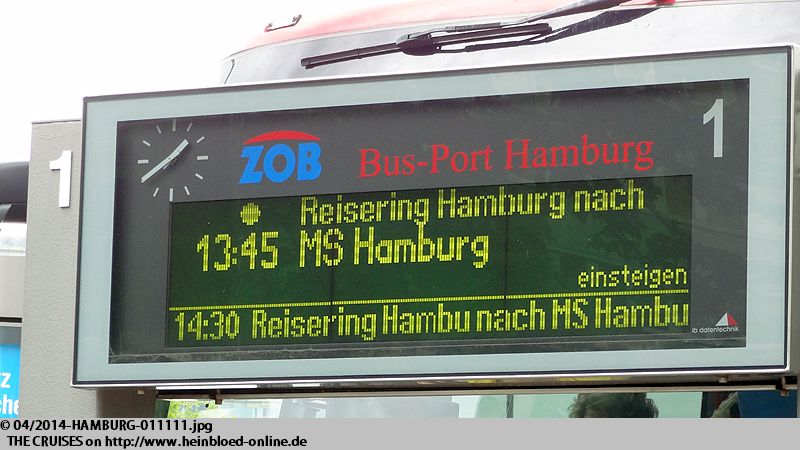 An den Fahrplan hält sich zum Glück keiner. Sobald ein Bus voll ist, geht es los.
Wir haben allerdings Glück, dass der 2. Bus gar nicht voll wird und daher haben wir Platz.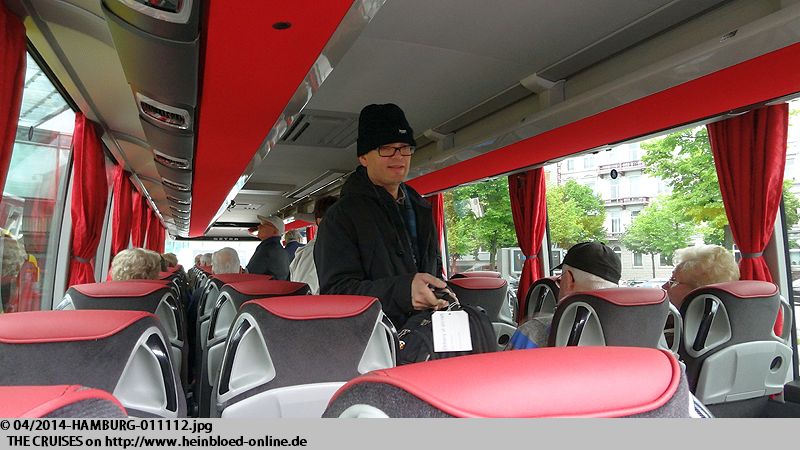 We had luck that the 2nd bus was not full at all and so we could spread out.

Before 14.00 hrs we were already leaving although 14.30 hrs was displayed.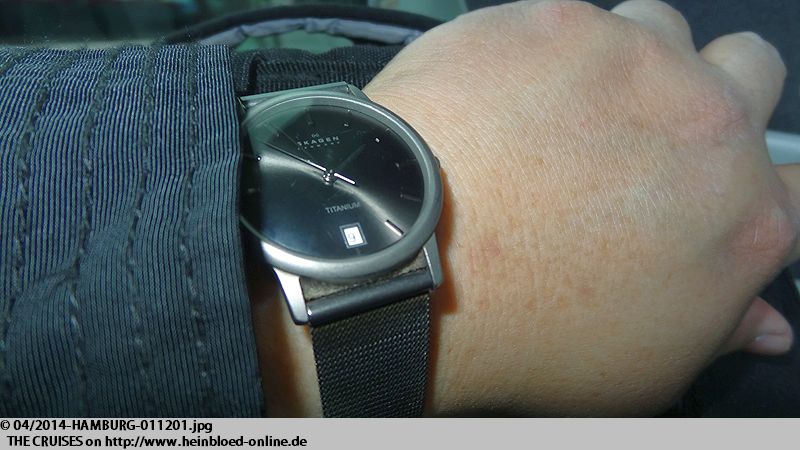 Vor 14.00 Uhr fahren wir bereits ab, obwohl 14.30 Uhr auf der Anzeige stand.
Wir kommen gut durch den Elbtunnel und sind daher sehr schnell in Finkenwerder. Hier sind sogar die Valet-Park-Dienstleister von Kühne und Nagel da.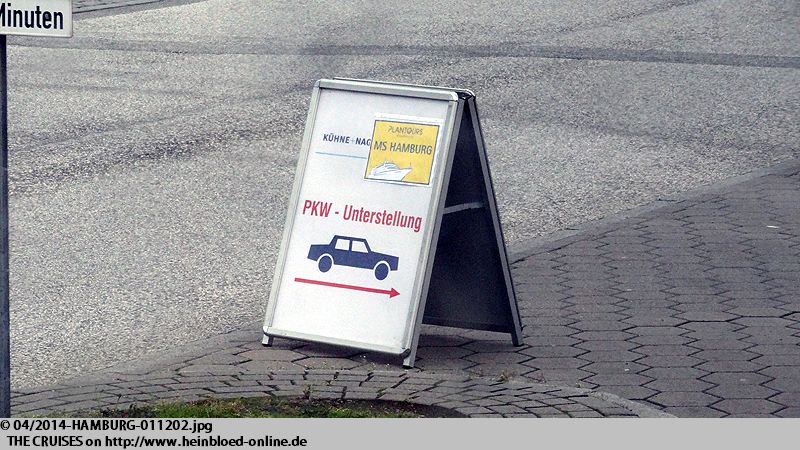 We had luck to pass the river Elbe tunnel very quickly and so we arrived quickly in Finkenwerder, a former fishermen village but today part of Hamburg. Here you could find the valet-parking-provider Kühne und Nagel.

Now I was curious how it wourd work with Airbus. It was the very first time that a cruise departs at Airbus.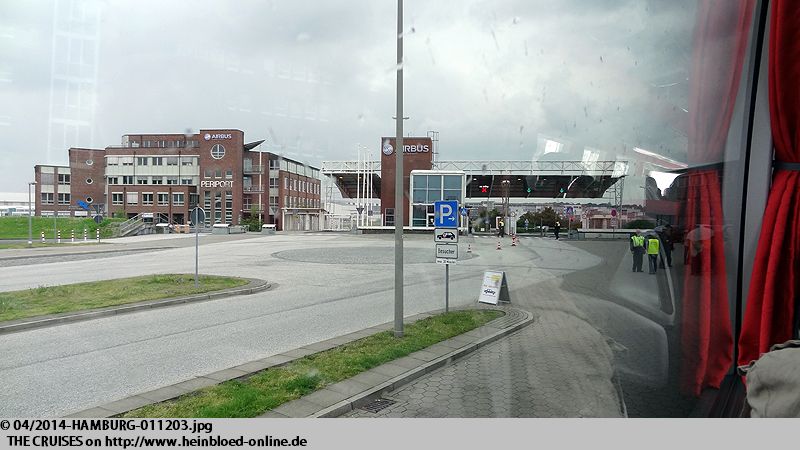 Jetzt bin ich mal gespannt, wie es hier bei
Airbus
weiterläuft. Es war das allererste Mal, dass ein Kreuzfahrtschiff von Airbus fährt.
Bevor wir im Werk einfahren, werden wir vom Concierge begrüßt.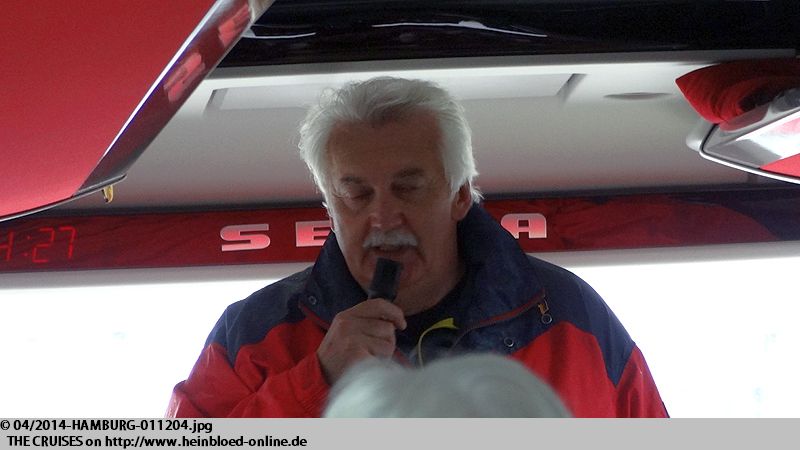 Before we entered the plant we were welcomed by the Concierge.

But here we experienced a bad surprise. We were told that we had no access anymore to our bag in the trunk. We had only a small trolley and did not attached a bag tag because we assumed that we get back the bag and carry it ourselves onboard.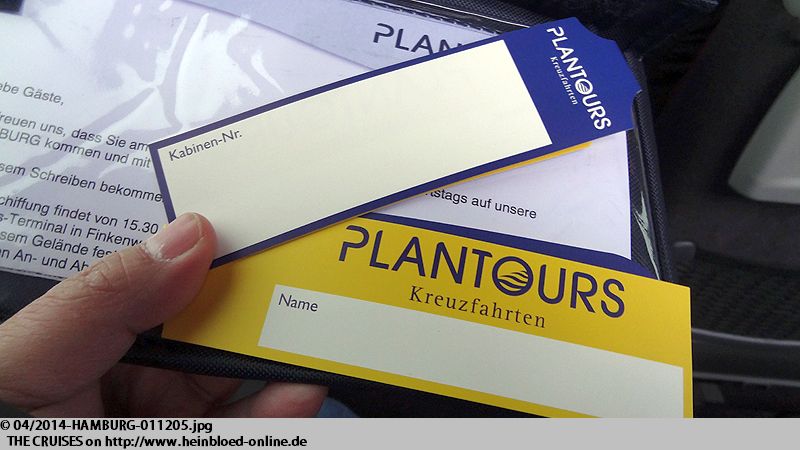 Allerdings erleben wir eine böse Überraschung. Uns wir mitgeteilt, dass wir nicht mehr an die Koffer im Gepäckraum herankommen. Wir haben ja bloß einen Mini-Koffer mit und keinen Gepäckanhänger vom Schiff drangemacht, weil wir davon ausgegangen sind, dass wir den Koffer wiederbekommen und selbst an Bord schleppen.
So nah sind wir noch nicht dem Beluga nahegekommen. Damit werden die Teile des Airbus 380 zwischen den Produktionsstätten geflogen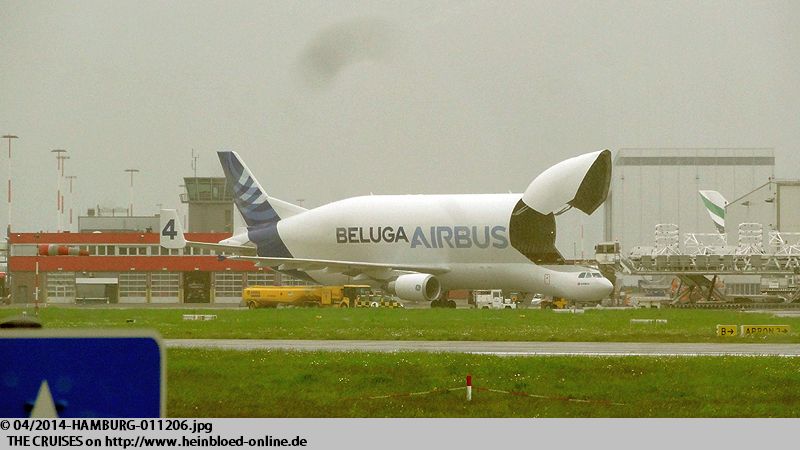 We have never got close to the Beluga. They move with this aircraft the parts of the Airbus 380 between the different plants.

And now it started to rain cats and dogs... And now my tour by Maritime Circle Line would be already terminated... For this bad weather forecast Bruno need to make a double round... So I missed AIDAstella!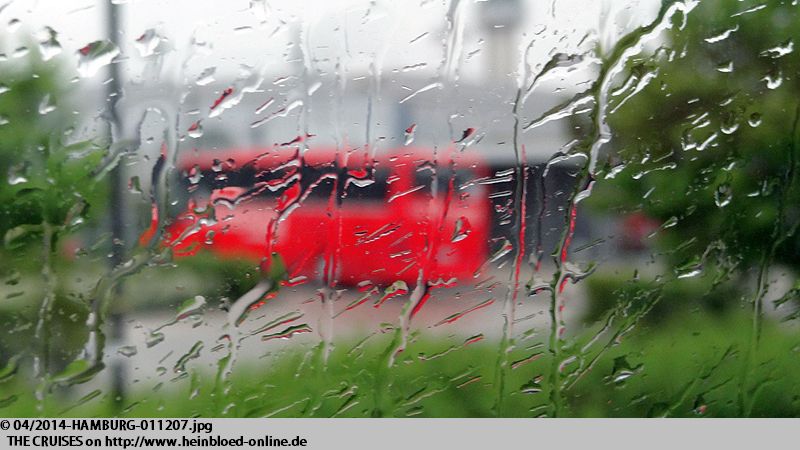 Und jetzt fängt es in Strömen an zu regnen... Und jetzt wäre meine Rundfahrt mit der
Maritime Circle Line
längst vorbei gewesen... Für die schlechte Wetterprognose muss Bruno das nächste Mal eine doppelte Runde mitmachen... Nun habe ich deswegen die AIDAstella verpasst!
Wir müssen auf dem Parkplatz im Bus warten, bis dass der 1. Bus wieder losfährt. Aber das waren nur wenige Minuten, die wir warten müssen. Als wir dann vorfahren, bitten wir den Fahrer darum, dass wir noch mal an das Gepäck randürfen, aber der ist wenig begeistert und dafür sehr mitteilungsbedürftig...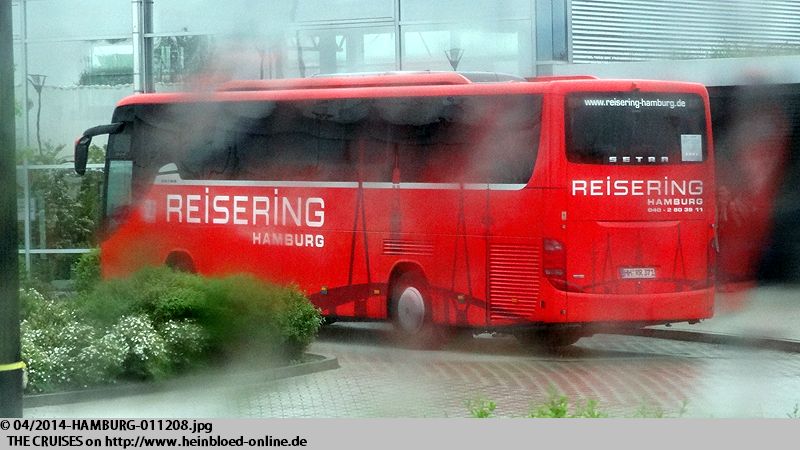 We need to wait in the bus on the parking lot until the 1st bus was leaving. But we had to wait only few minutes only. When we arrived finally we asked the driver to give us an access to our bag but he was not very much exited and loved to communicate...

In the airport terminal Hamburg-Finkenwerder they handle the corporate flights of Airbus and there we were also security screened as well as our bags.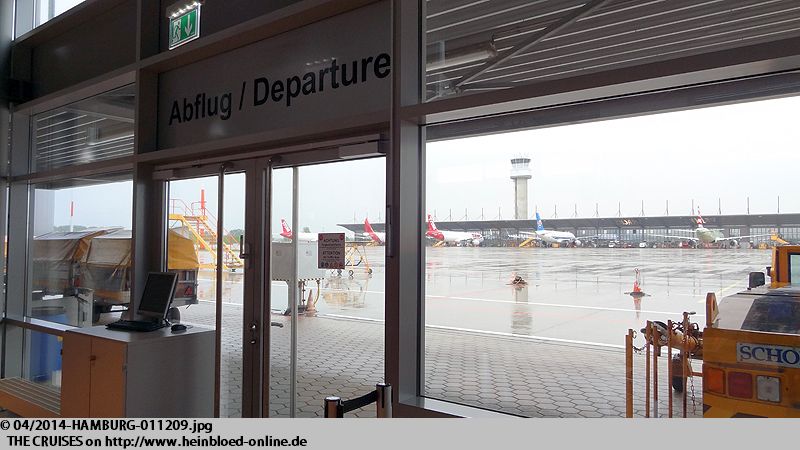 Im Flughafen-Terminal Hamburg-Finkenwerder, wo die Werksflüge von Airbus abgefertigt werden, werden auch wir abgefertigt, d. h. wir und unser Handgepäck wird hier durchleuchtet.
Als wir durch sind, müssen wir in der Abfluglounge warten, bis auch der letzte durchleuchtet wurde und dann geht es wieder in den Bus.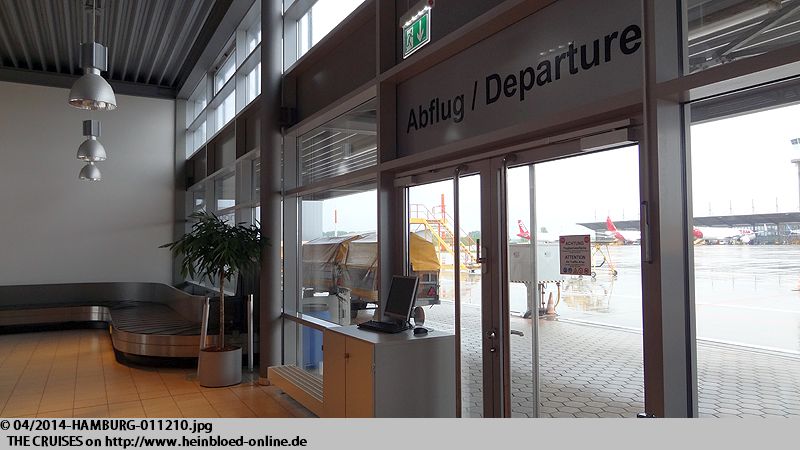 When we were finished we had to wait in the departure lounge until the very last was screend too and we headed back to the bus.

We were driving across the plant but due to the rain showers we could see very much nor could we take good photos.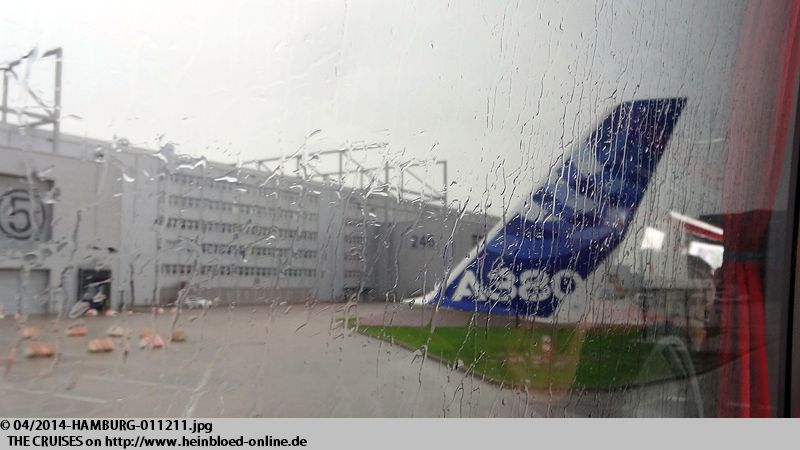 Wir fahren noch kreuz und quer über das Werksgelände, nur leider können wir wegen des Regenschauers nicht sehr viel sehen und fotografieren.
Dann halten wir und unser Gepäck wird ausgeladen und hier durchleuchtet, bevor es an Bord gebracht wird.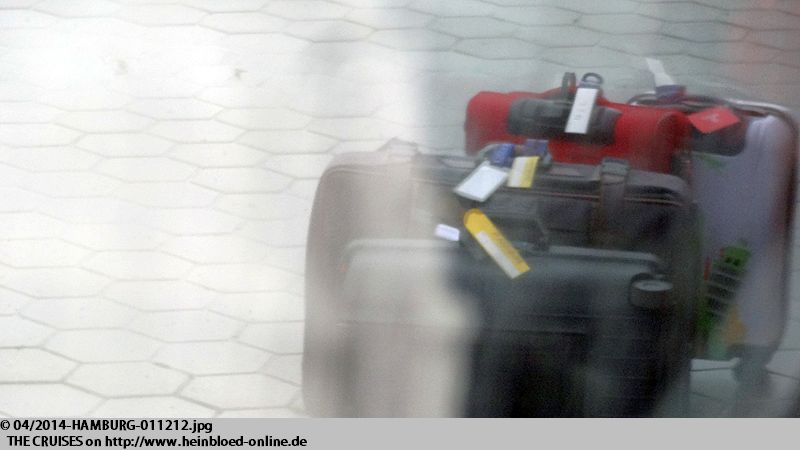 Then we stopped and our bags were unloaded and screened here before they loaded them onboard.

In front of the ship you had a Super-Guppy which was the predecessor of the Beluga.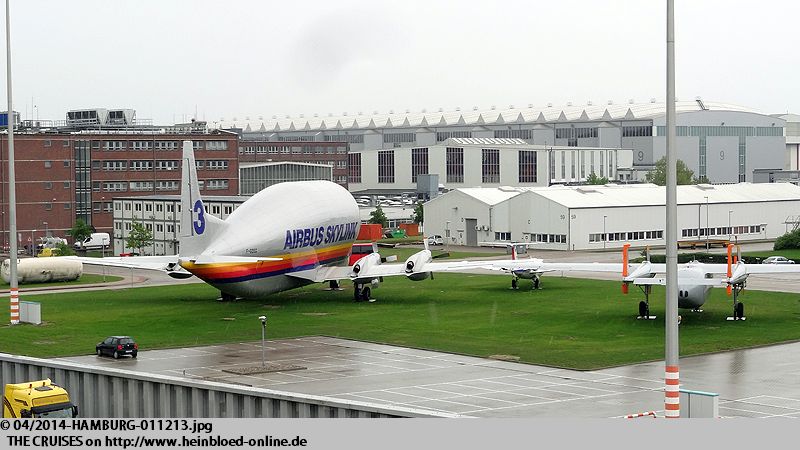 Vor dem Schiff steht noch der Vorgänger des Belugas: der Super-Guppy.
Und das war der Anleger bei Airbus.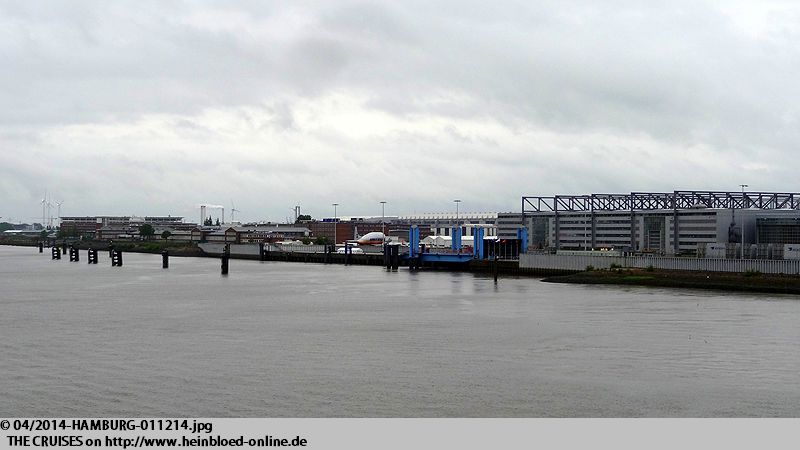 And this was the pier with Airbus.