Scroll down for English explanations - alternates with German explanations.

Bruno hatte Glück. Die Hafenrundfahrten fangen in Kiel nicht so früh an. Nichts desto trotz wurde ihm nicht erspart auf die Fähre nach Laboe zu müssen, bloß damit ich fotografieren kann.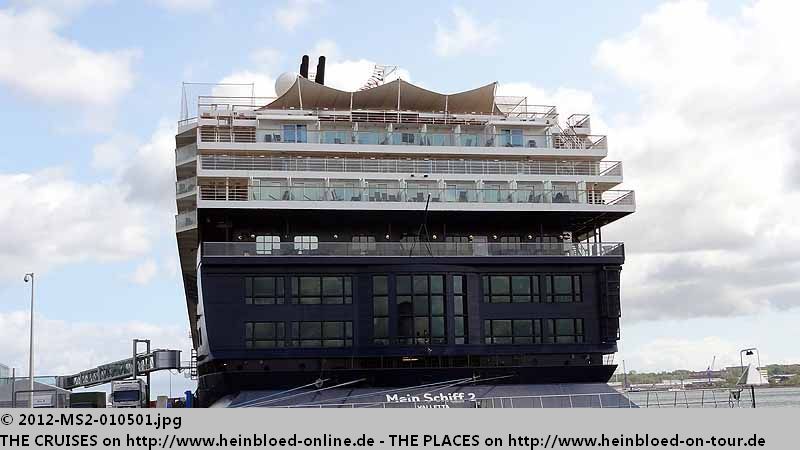 Bruno had luck. The harbour cruises in Kiel do not start so early. But nevertheless he had to join me on the ferry service to Laboe just to enable me to take some pictures.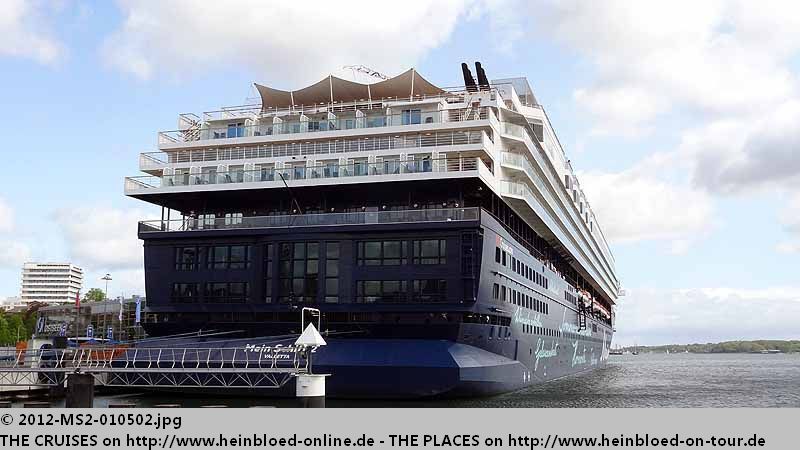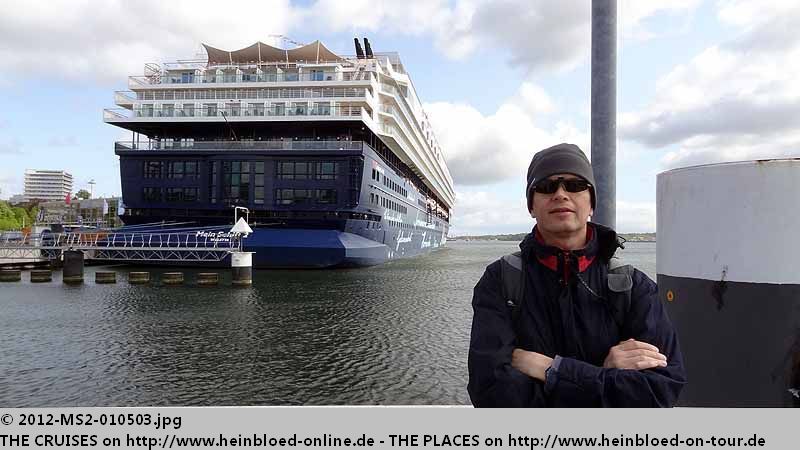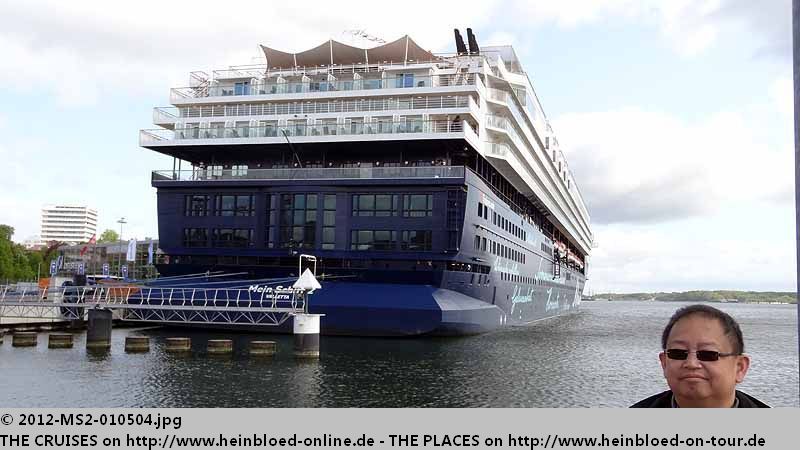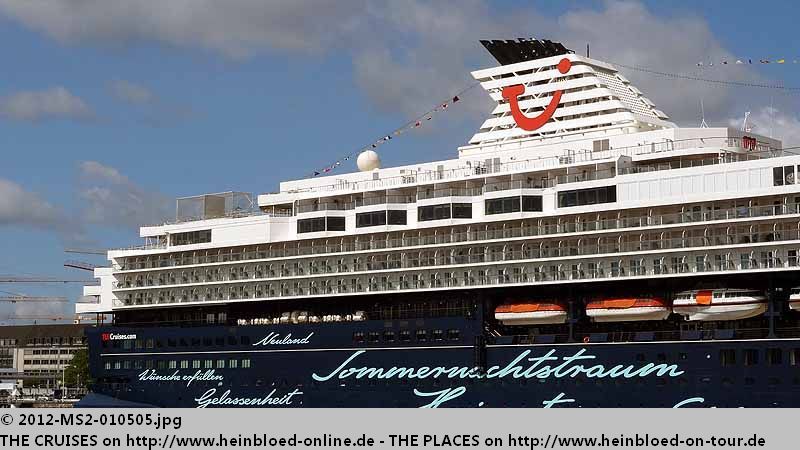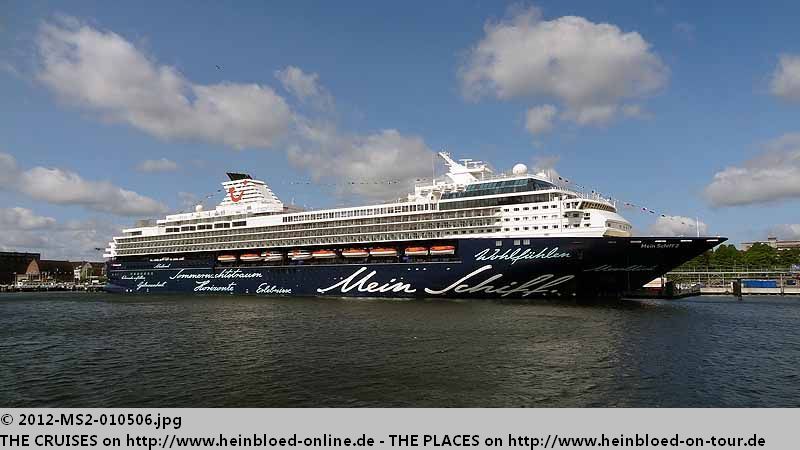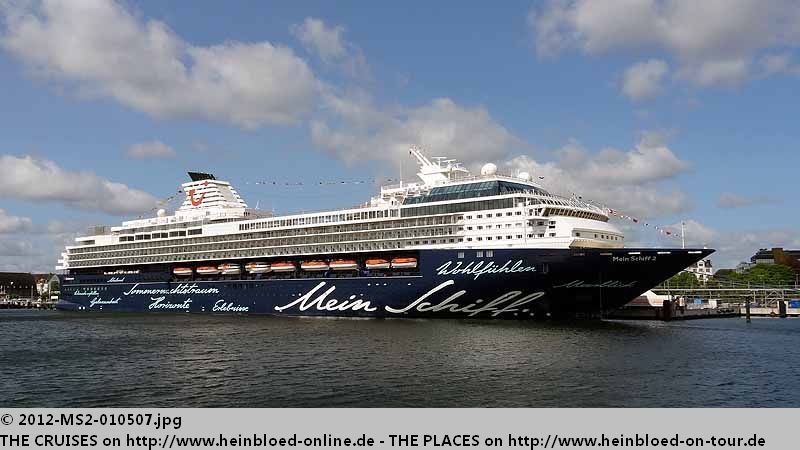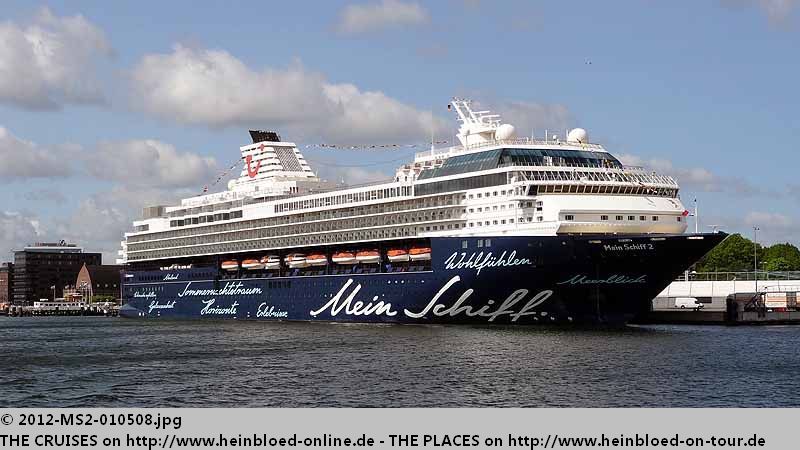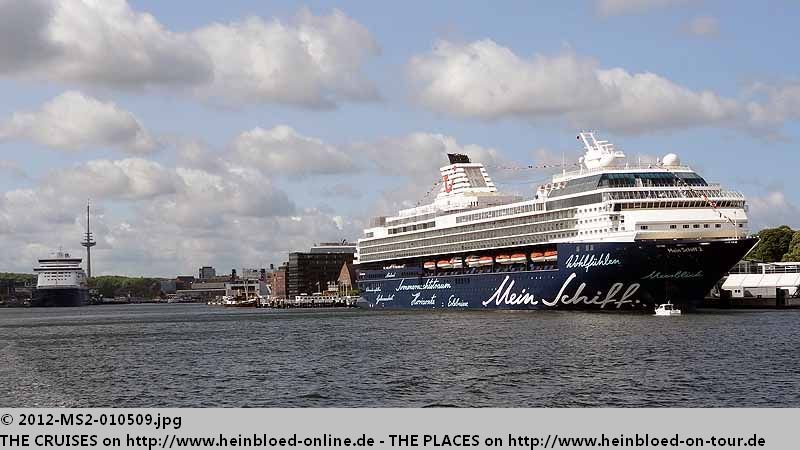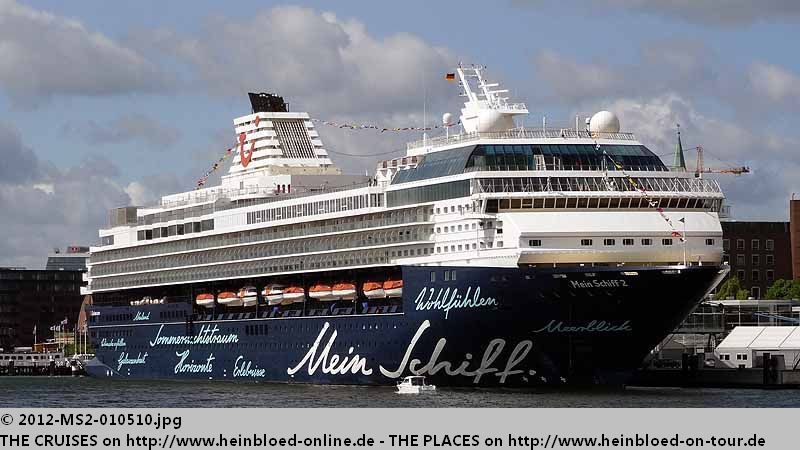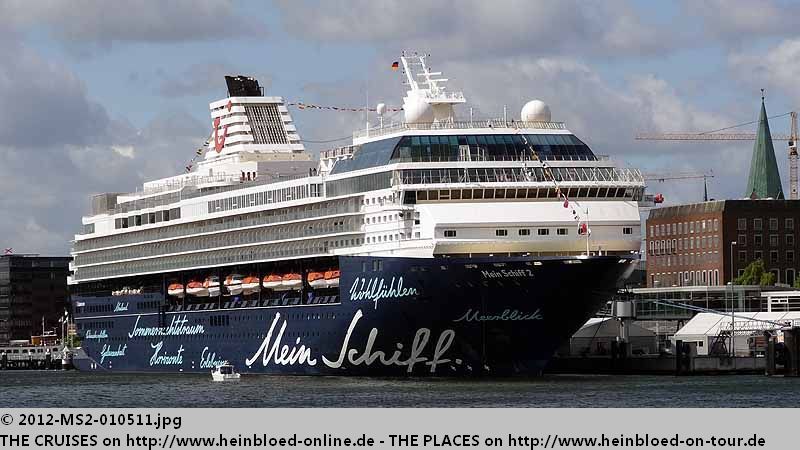 We met with Udo and Ulrike Spanke (from Facebook or a German cruisers' forum). So we went into Seaside 61.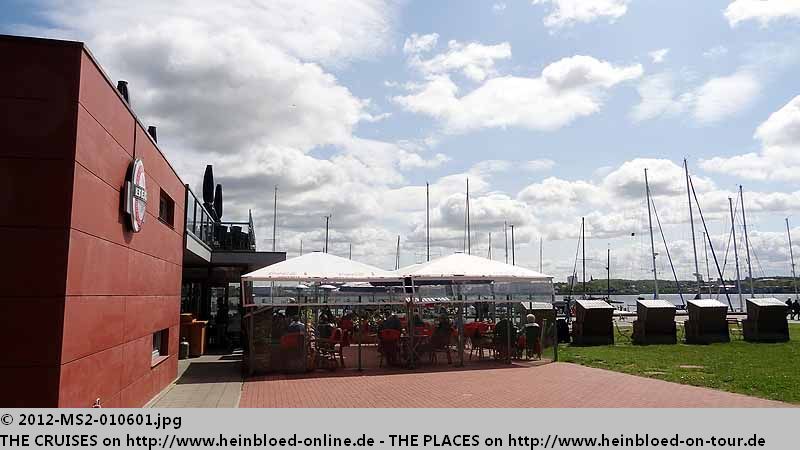 Wir haben uns mit Udo und Ulrike Spanke (aus Facebook bzw. "die zwee" aus
kreuzfahrten-treff.de
) verabredet. So setzen wir uns ins
Seaside 61
.
In der Nähe vom Ostseekai.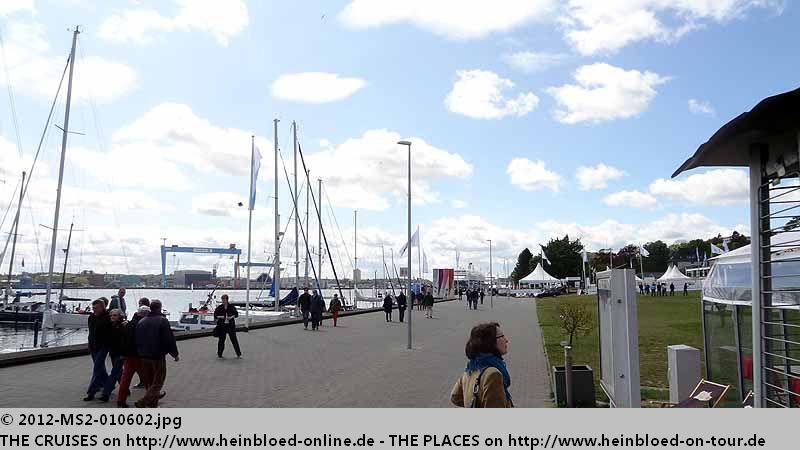 Just close to our cruise terminal.

By the way on the ferry it was more like hell that day.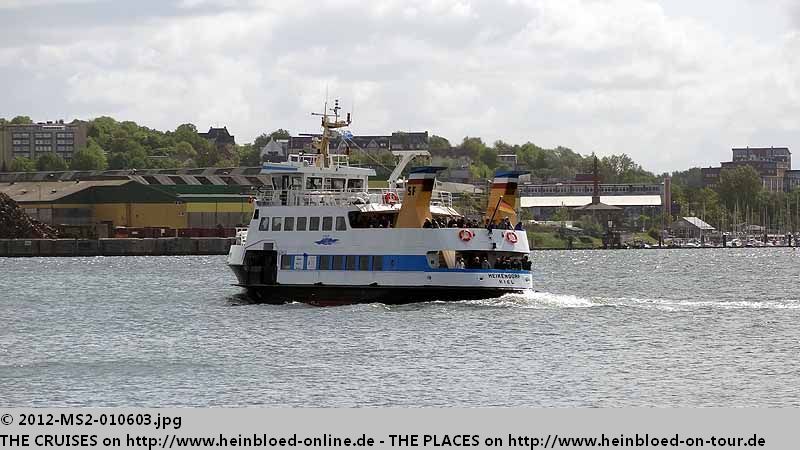 Auf der Fähre war übrigens die Hölle los.
Vatertag.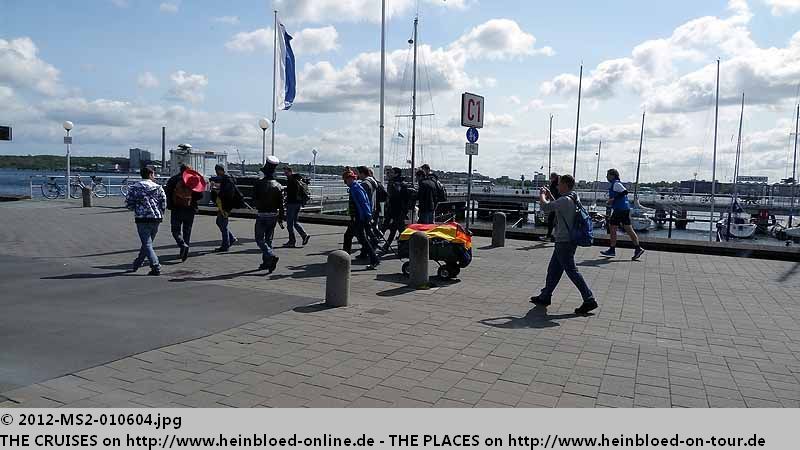 Ascension day in Germany is Father's day, i. e. many male groups walking with a little trolley full of beer and other alcohol and amusing somehow...

With some coffee and some waffles we just enjoyed a good treat.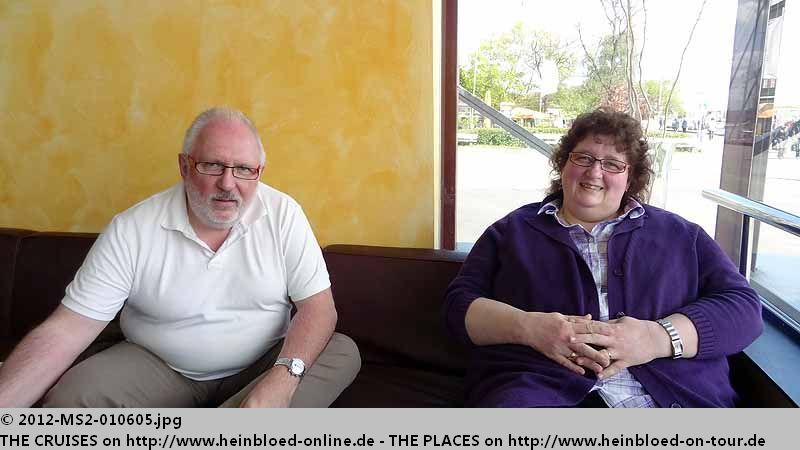 Bei Kaffee und Waffeln lassen wir es uns gut gehen.
Aloha... nach unserer Hawaii-Reise sind wir besonders neugierig, was daran hawaiianisch sein soll.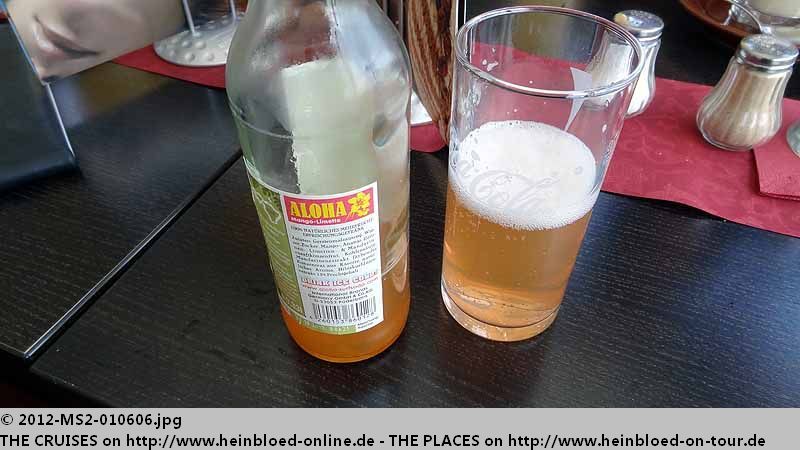 Aloha... after our voyage to Hawaii we were curious what was Hawaiin with this drink.

Hmm... Somehow I could not remember to find something like this in Honolulu...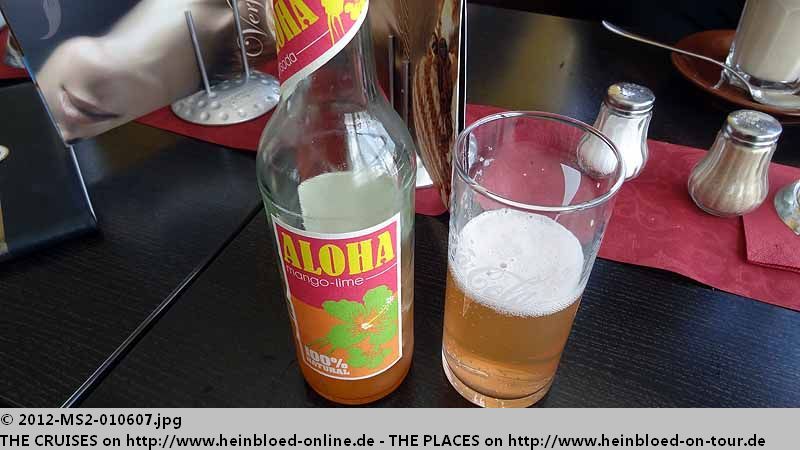 Hmm... In Honolulu gab es so etwas nicht...
Da wir noch bis zur Einschiffung Zeit haben, schlagen sie vor, dass wir uns mal kurz zum Nord-Ostsee-Kanal fahren. Aber auch dort nur Vatertagsausflügler...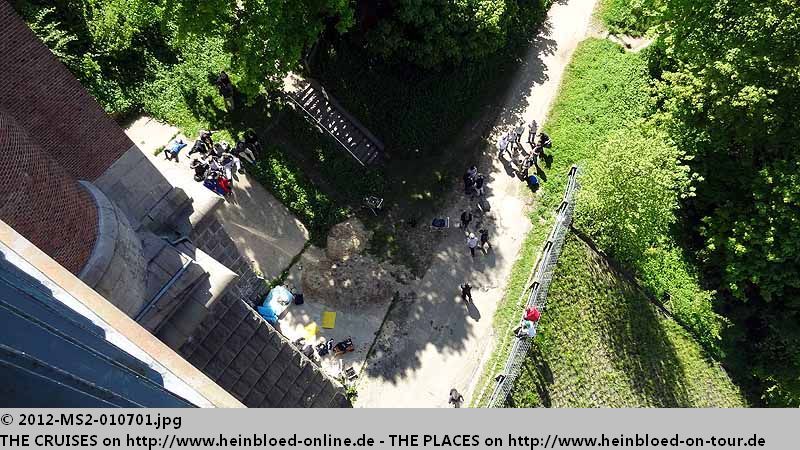 As we had plenty of time until embarkation they suggested to have a sneak at the Kiel-Canal. But there only groups enjoying Father's Day.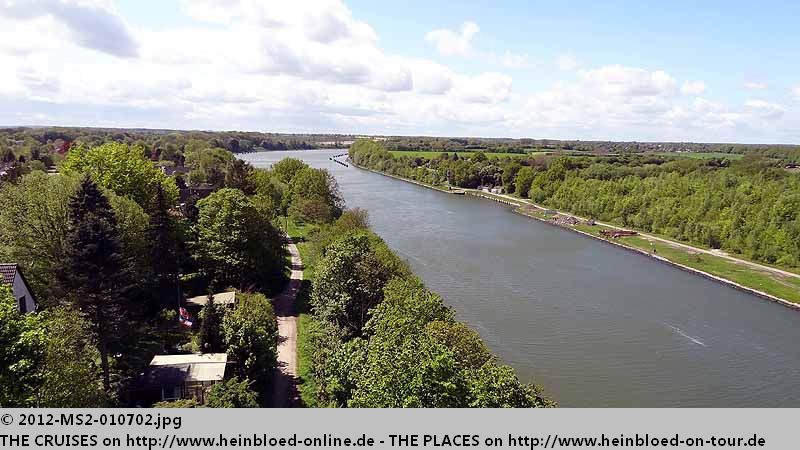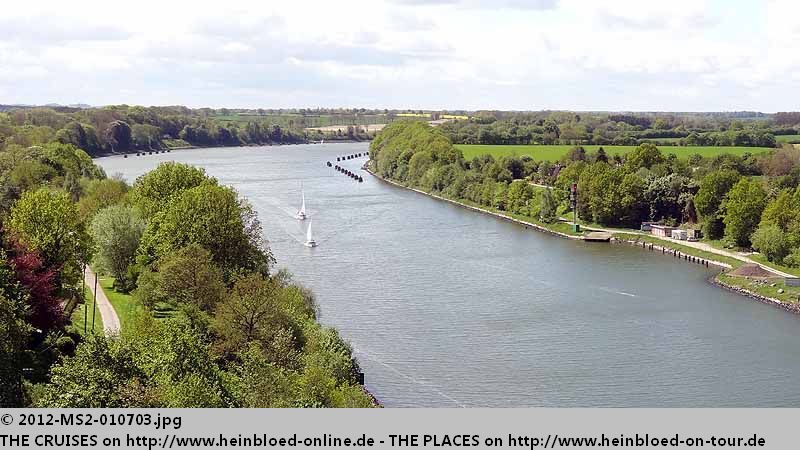 We went to one of the bridges crossing the Kiel-Canal.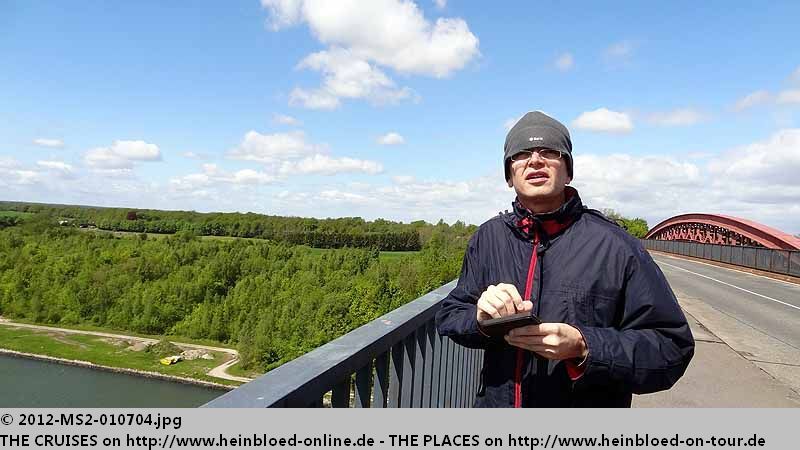 Wir befinden uns auf der Alten Levensauer Hochbrücke.
Sogar mit der Bahn kann man hierher.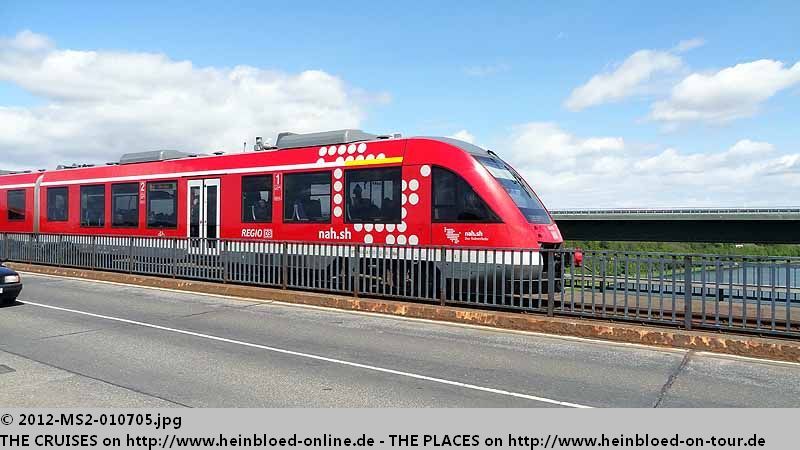 You could see this if you come by train.

Ulrike and Guido gave us a short tour through the Navy Yard before they drop us off at the cruise terminal. I can only recommend all cruisers to use the opportunity to use the great incoming serive... It was nice to meet them again. Thanks again. Insinde we had some juice or tea for welcome.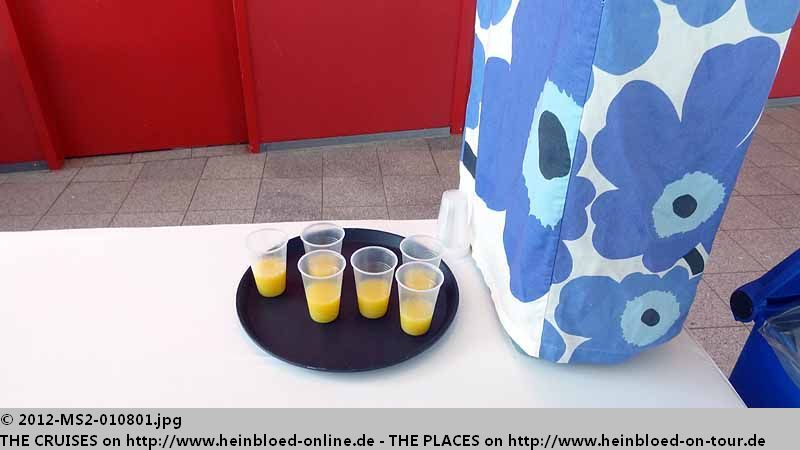 Ulrike und Guido haben uns noch nach einer kurzen Tour durch den Marinestützpunkt zum Cruise Terminal gebracht. Ich kann nur allen Cruisern raten, diesen tollen Incoming-Service wahrzunehmen... Es war schön, dass man sich mal wiedergesehen hat. Vielen Dank. Drinnen gab es Saft und Tee zur Begrüßung.
Ich hatte übrigens vergessen zu erwähnen, dass ich umgebucht hatte: Deswegen dürfen wir erst nach einer Kontrolle in die Schlange für den bevorzugten Check-In.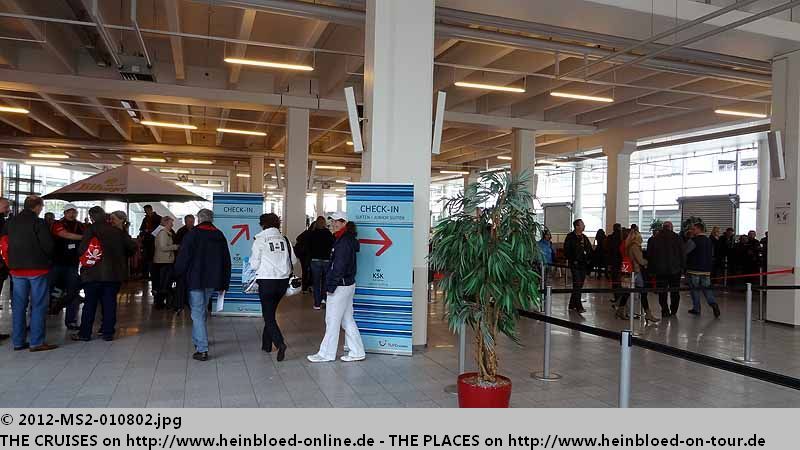 By the way I forgot to mention that I rebooked: So we were allowed after a ticket check to skip the queue for preferred check-in.

But first you need to sanitize your hands "voluntary". Not a must like with others when you enter the ship.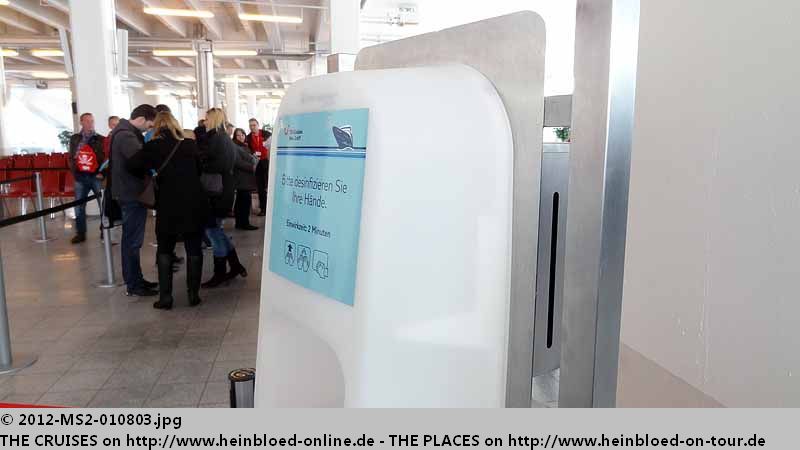 Aber zunächst musste man "freiwillig" Hände desinfizieren. Nicht wie bei anderen ein Muss, bevor man das Schiff betritt.
Es gibt für den bevorzugte Einschiffung dann keinen eigenen Schalter, sondern man wurde halt als nächster auf den nächsten freien Schalter geschickt und die andere Schlange musste warten.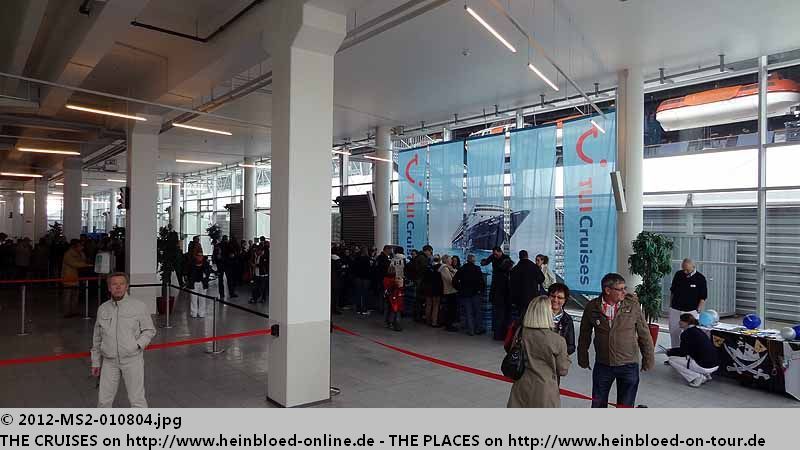 There were no dedicated counters for preferred check-in just the next available counter is yours and the other queue must wait.

Very classic style... It was good: Also banking cards were accepted to pay.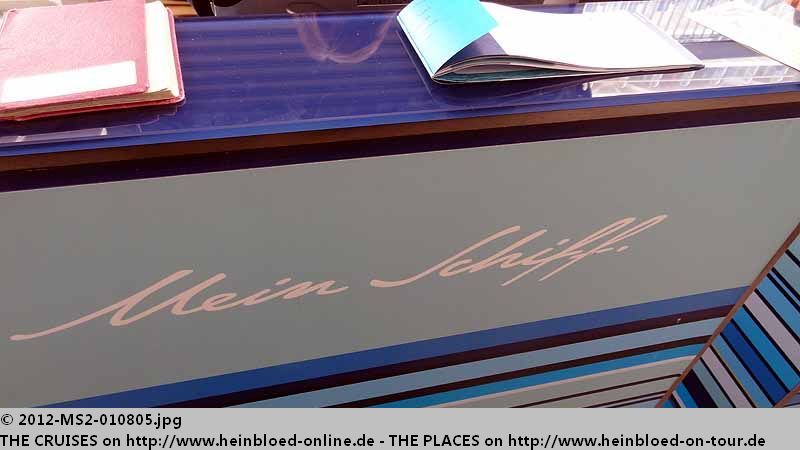 Ganz klassisch... Gut war: Auch die EC-Karte (oder heute maestro- oder girocard) wurde als Zahlungsmittel akzeptiert.
Damit wir und auch jeder, der unsere Karte findet oder klaut, unsere Kabine findet und ausräumen kann: Die Kabinennummer wird praktischerweise aufgedruckt. Der goldene Streifen unterscheidet die Karte von anderen. (Also immer einen Gold-Edding mit auf die Reise nehmen...).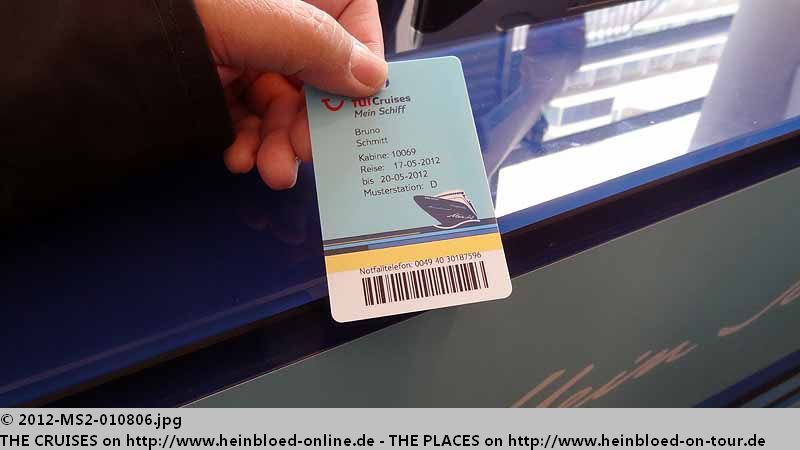 To enable everyone who find or steal our card to find our cabin to steal: They printed the cabin number on the cards. There was a difference to other cards: the golden stripe. (So have a golden marker with you when you travel...).

Deck map and what we should do or not to do the rest of the day.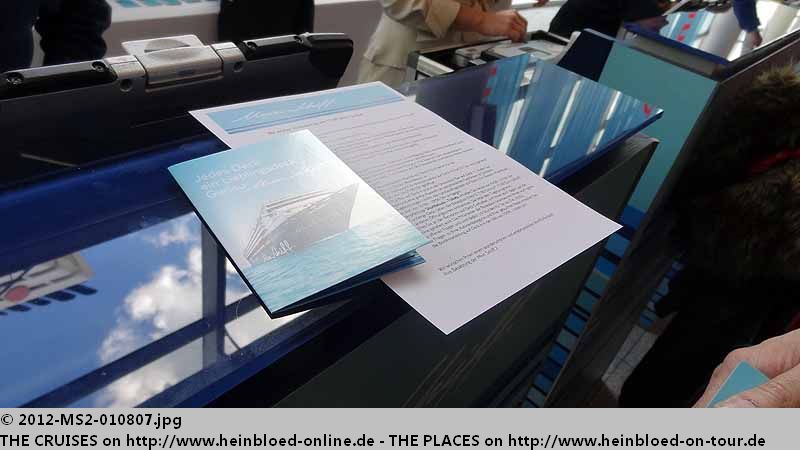 Deckplan und was wir heute zu tun und zu lassen haben.
Und dann geht es auch schon gegen 13.30 Uhr hoch. Also nichts mit Check-In-Start um 15.00 Uhr.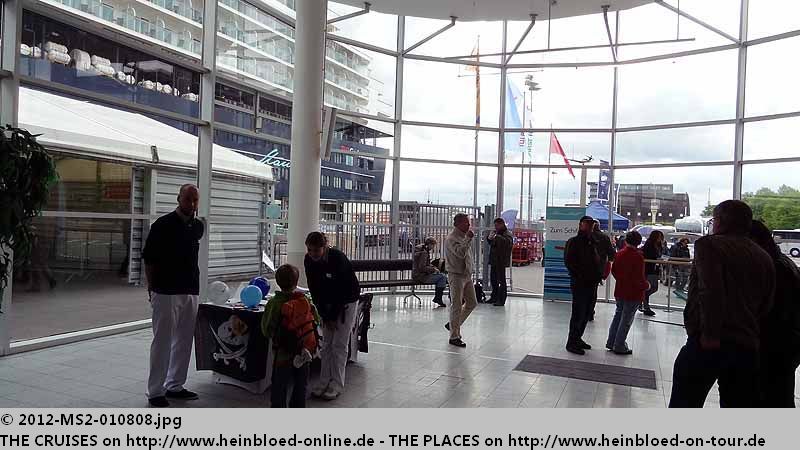 Around 13.30 hrs we could already board the ship. So it was not true that check-in commeneces at 15.00 hrs.

MEIN SCHIFF means "my ship"... and ZUM SCHIFF means "to the ship". Was MEIN SCHIFF 2 now ZUM SCHIFF?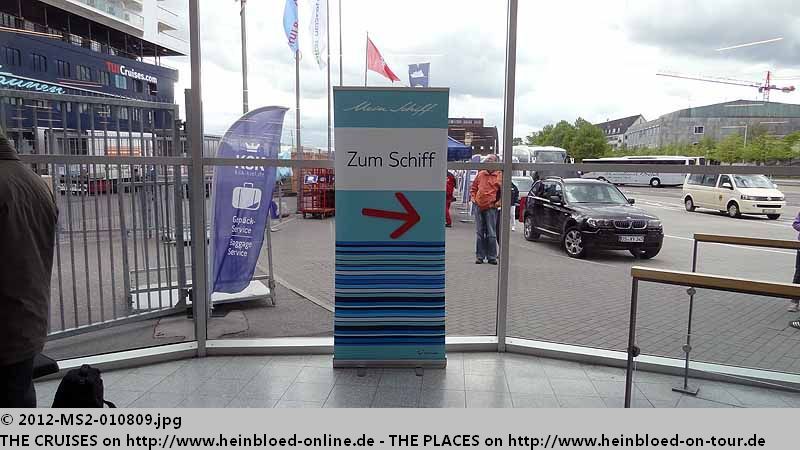 Heißt MEIN SCHIFF 2 jetzt ZUM SCHIFF?
Bruno nutzt die Zeit auf der Rolltreppe, um sich schon mal alles durchzulesen.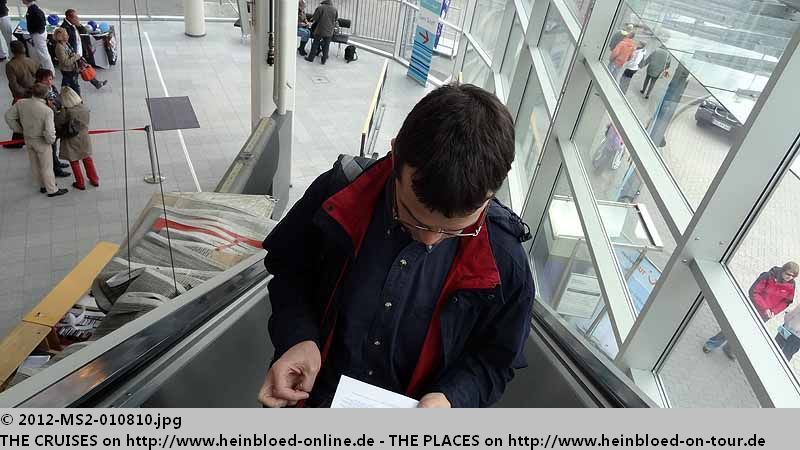 Bruno used the time on the escelator to read all instructions.

Although you can walk on board (after a baggage check): some preferred to wait. Therw was a coffee bar available.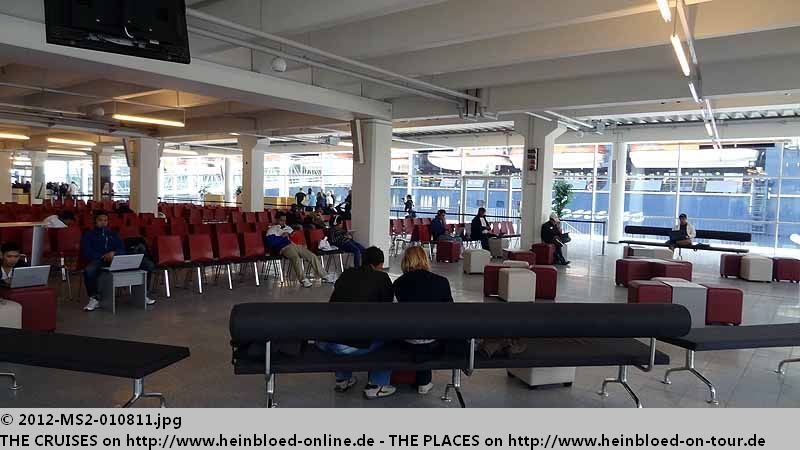 Obwohl man schon an Bord darf (nach einer entsprechenden Gepäckkontrolle): Manche warten noch. Eine Kaffeebar steht oben zur Verfügung.
TUI Leisure Travel (und deren Marken) heißen uns willkommen... Stimmt... die müssen ja dann einen auf den Deckel kriegen, wenn was nicht gepasst hat, statt TUI Cruises...

TUI Leisure Travel (and their brands) welcomed us... right... I need to claim a file with them if something was wrong instead with TUI Cruises.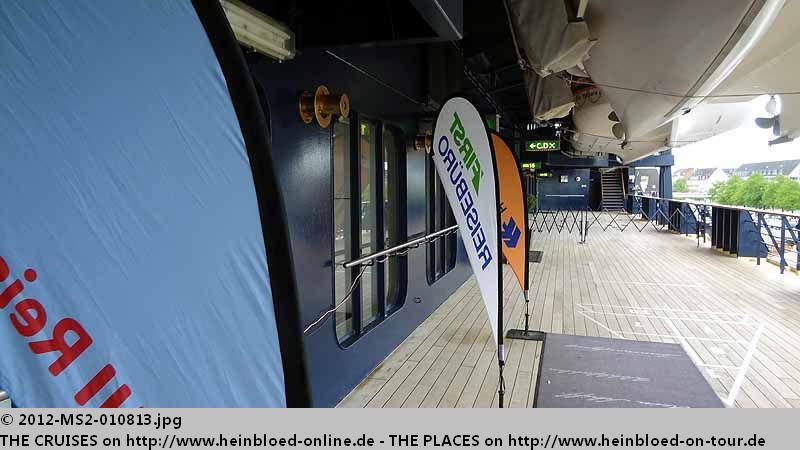 Draußen strömen neue Gäste mit Bussen, in Autos nach.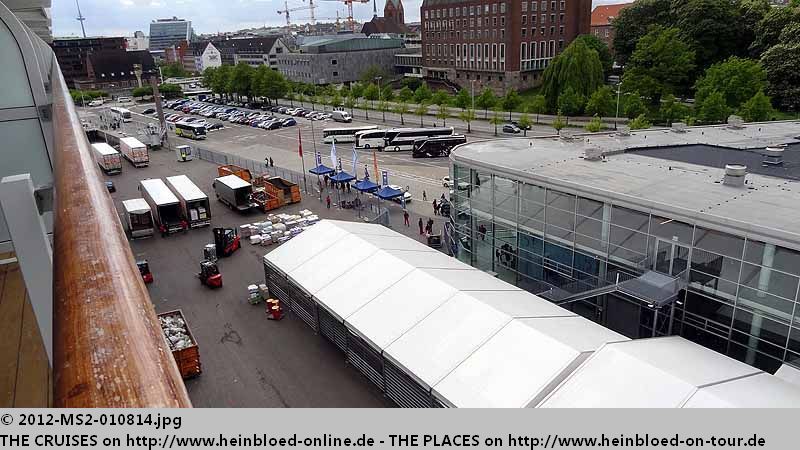 Outside the buses and cars arrived with many new guests.

The photographers must read the ZAANDAM-Blog before as I wrote that they hate them. They did not bother me. Or maybe it was that they thought I was a crew-member? We had no single photo of us.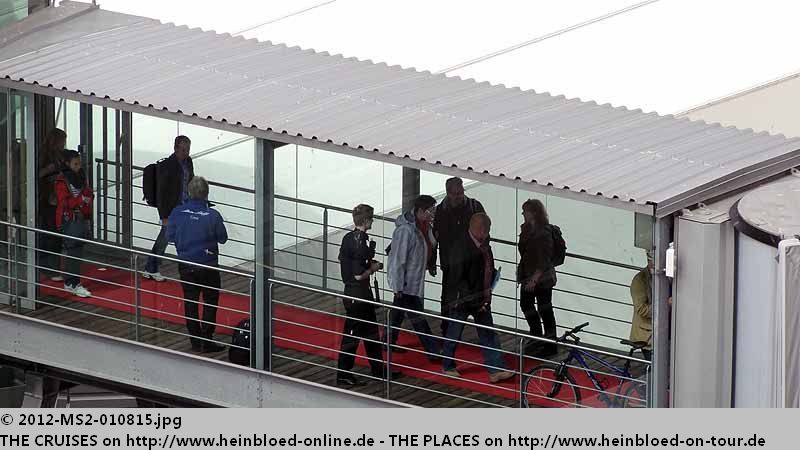 Die Fotografen müssen wohl meinen ZAANDAM-Blog gelesen haben, dass ich sie alle verflucht habe. Sie lassen mich in Ruhe. Oder lag es daran, dass sie mich für ein Crew-Mitglied halten? Es gibt nämlich kein einziges Foto von uns...
18.00 Uhr Seenotrettungsübung... und 18.45 Uhr Willkommens-Sekt... Wäre es nicht so kalt gewesen: ich wäre in der Hängematte geblieben...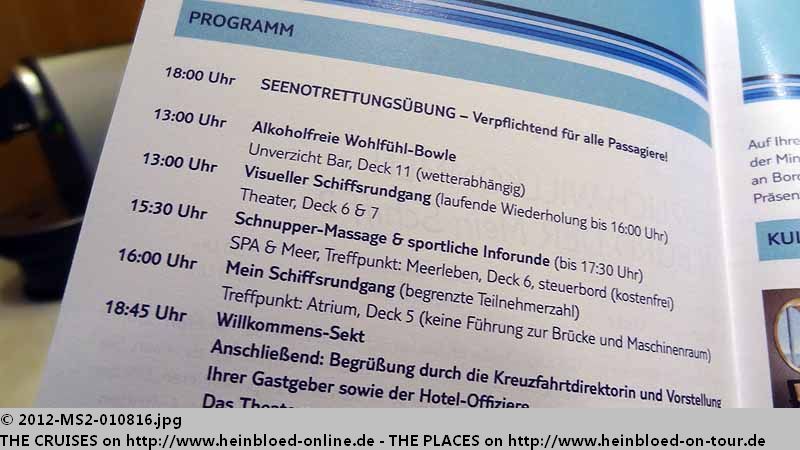 18.00 hrs Life drill... 18.45 hrs welcome drink... would not it be so cold: I would have stayed all time in the hammock.