Scroll down for English explanations - alternates with German explanations.

Bewusst haben wir den Anpfiff abgewartet. Unten erwartet uns ein Käsebüffet.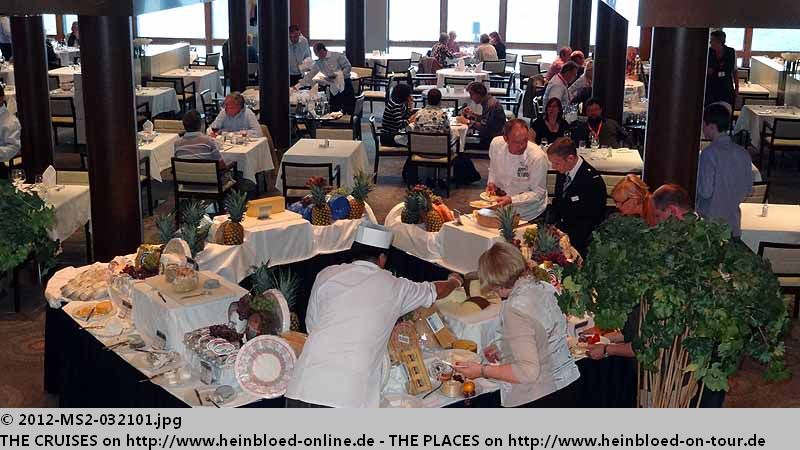 So we waited for the beginning of the game. Downstairs there was a cheese buffet.

The best tables at the aft were reserved. Again back to their original information: we do not reserve - every guest should the chance to choose the best table.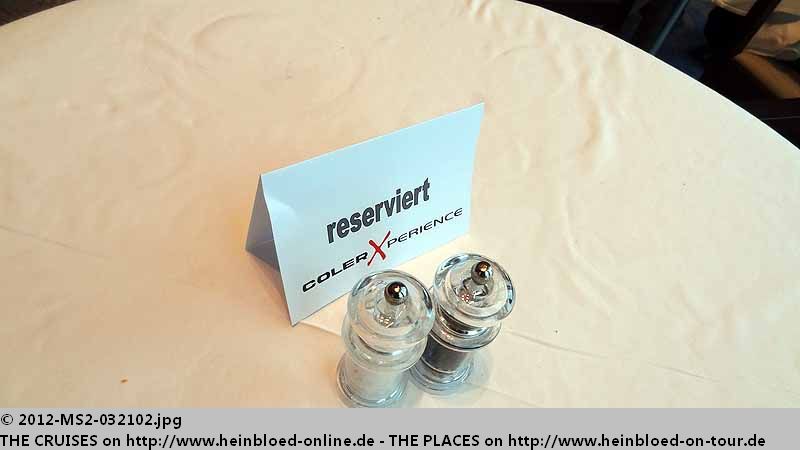 Die besten Plätze am Heck waren reserviert. Soviel zum Thema: wir reservieren nicht - jeder Gast soll selbst Gelegenheit haben sich den schönsten Tisch auszuwählen.
Offensichtlich durften die Gäste hier sich zu zweit vorher an einen 4-er-Tisch setzen, was uns ja zwei Tage vorher untersagt wurde. Denn anders kann ich mir nicht erklären, dass offensichtlich von diesem Tisch nur wohl abgeräumt wurde und dann nicht wieder neu eingedeckt wurde.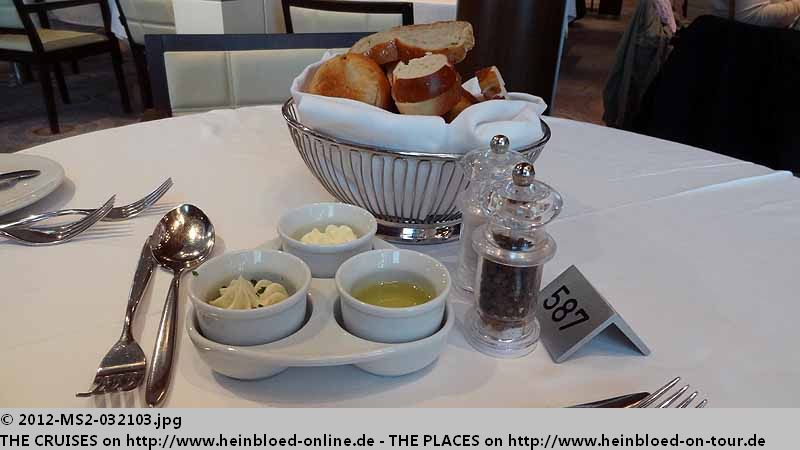 Obviously 2 guests were allowed to sit on a table for 4 which they did not agree for us 2 days ago. This would be for me the only explaination why the table is set for 2 only and only for 2 persons the table was cleared.

As the pictures from two days ago do not exist anymore: that was the typical 2-menu-selection.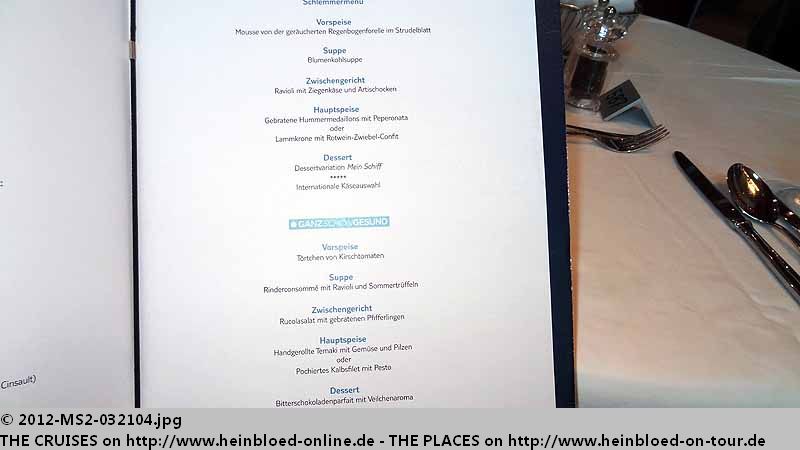 Da die Bilder ja vor zwei Tage weg sind: Es gibt zwei Auswahlmenüs.
Von denen es dann jeweils zwei Hauptgänge zur Auswahl gibt.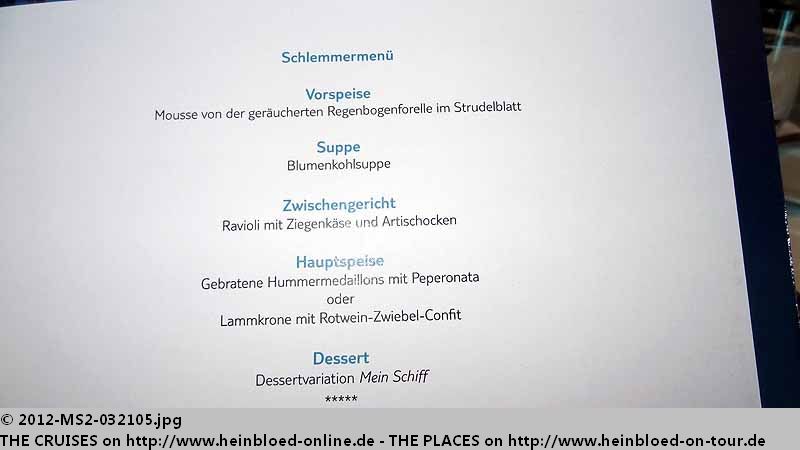 Each of the menu offers two entrees.

But you can easily combine between the menus.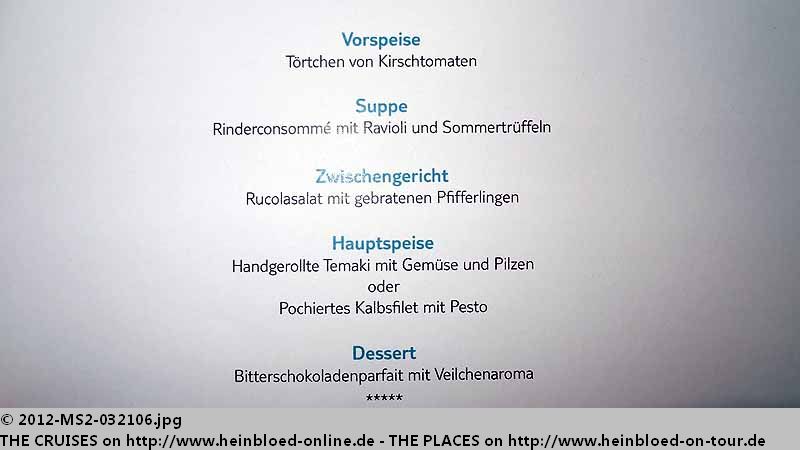 Man kann sich aber beliebig alles kombinieren.
Dann wie gesagt: die besseren Weine sind im all inclusive nicht all inclusive und müssen extra bezahlt werden.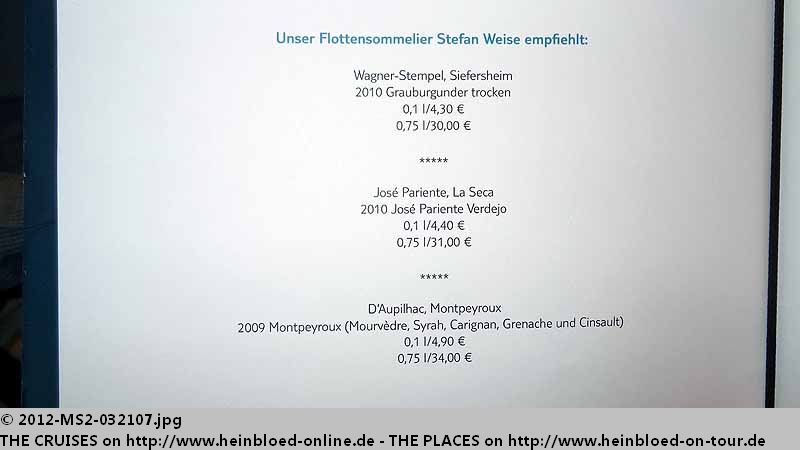 As said before: the better wines are not all inclusive in an all inclusive offer and need to be paid extra.

It took about 30 minutes before the first course came. Normally it is quite helpul to place the watch in the center of the table. But neither the waiters nor the "hosts" were very much interested.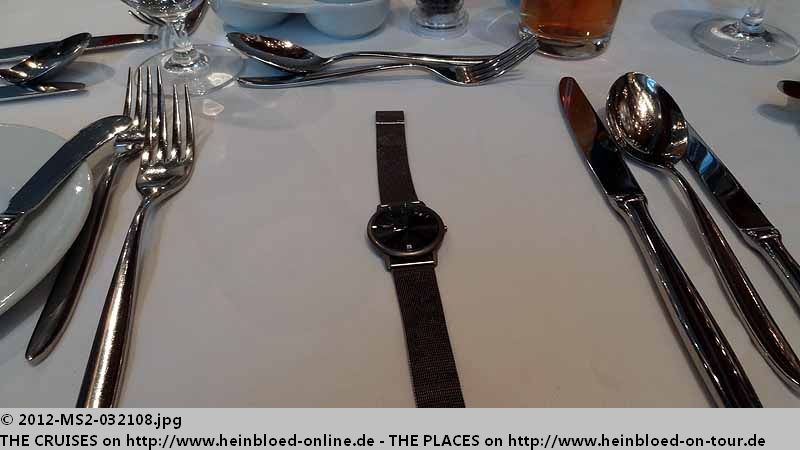 Es dauert ca. 30 Minuten bevor der 1. Gang kommt. Normalerweise hilft es, wenn man demonstrativ die Uhr den Tisch legt. Aber hier interessiert es weder die Kellner noch die "Gastgeber".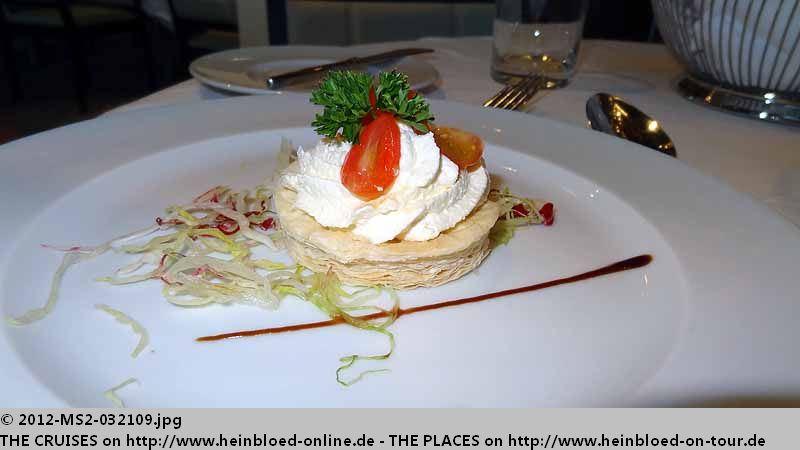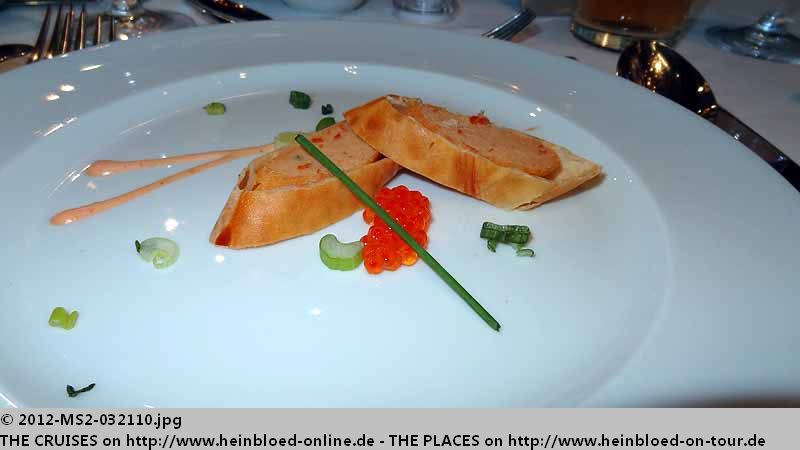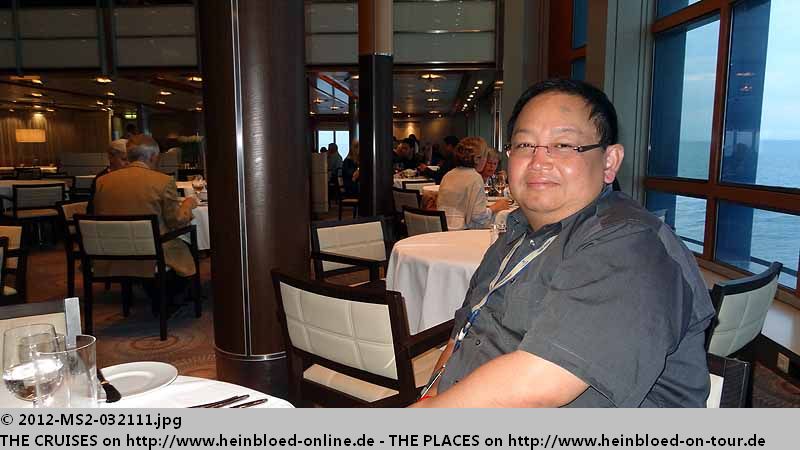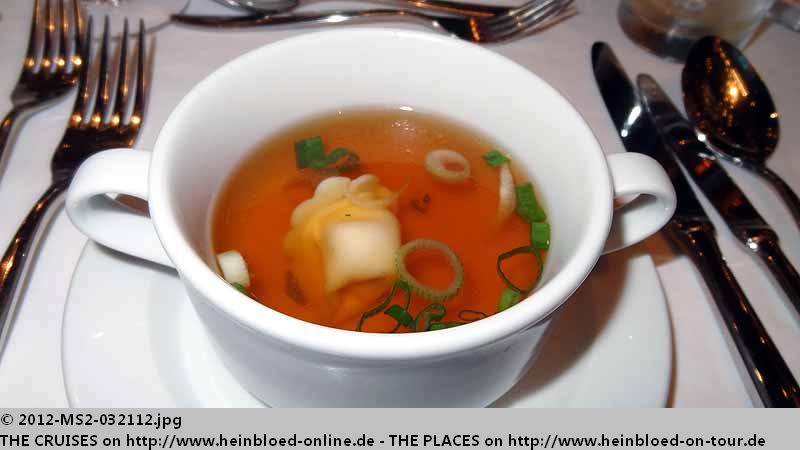 Mal wieder ist das Glas leer und so lange es nichts extra kostet, kommt mal wieder niemand vorbei. Uhr auf den Tisch und Blitzlicht auf das leere Glas: das hat geholfen...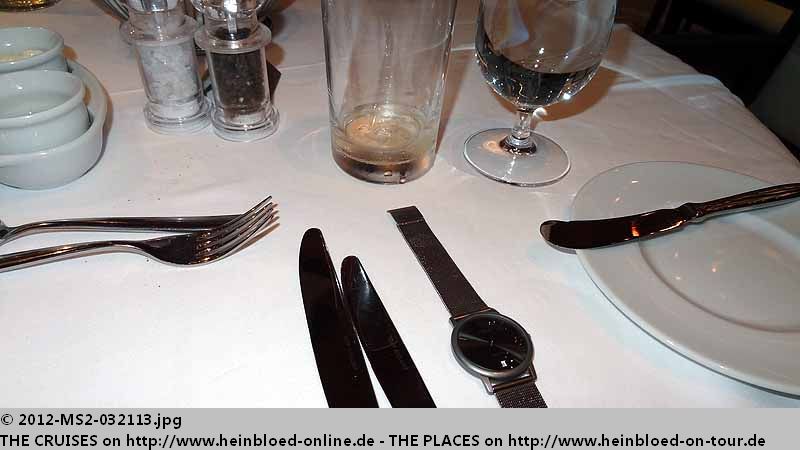 Again my glass was empty and as long as it does not cost anything nobody showed up for a refill. But the watch next to the glass and using the flash helped a lot...

And again we need to use this trick to get something... Slowly it became more and more uncomfortable as they did not set the tables for dinner but for breakfast.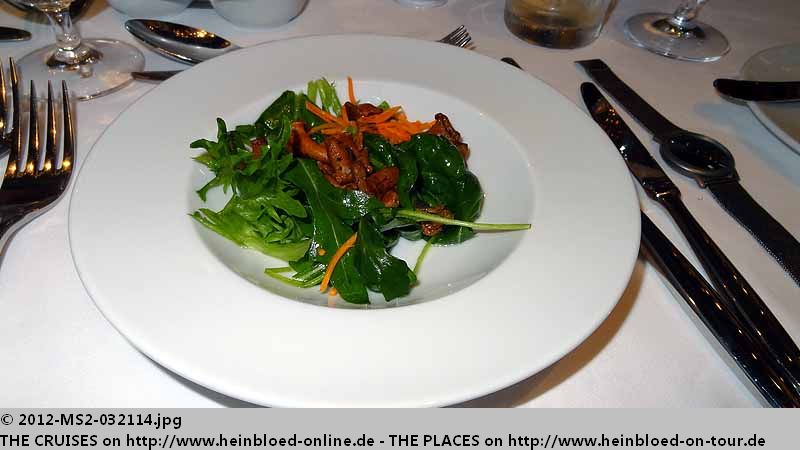 Und wieder müssen wir den Trick anwenden, um etwas zu bekommen... Um uns herum wird es langsam ungemütlich: es wird nämlich rundum nicht mehr für das Abendessen gedeckt, sondern für das Frühstück.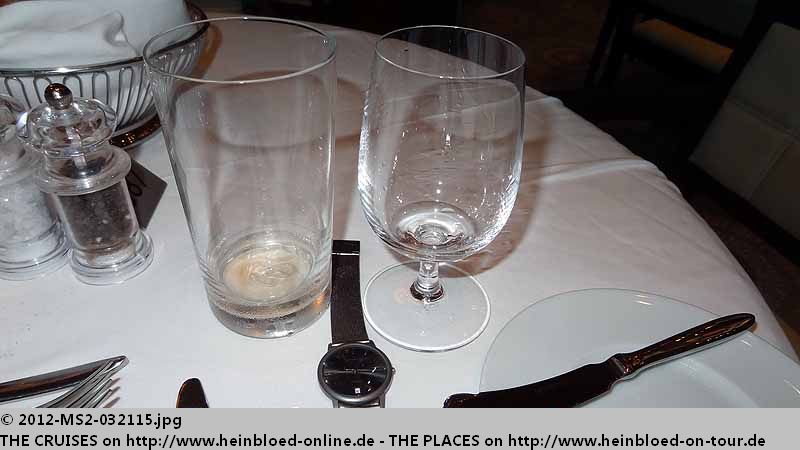 Medaillon of lobsters... It was a joke. This was no zoom. Two bites and everything was gone.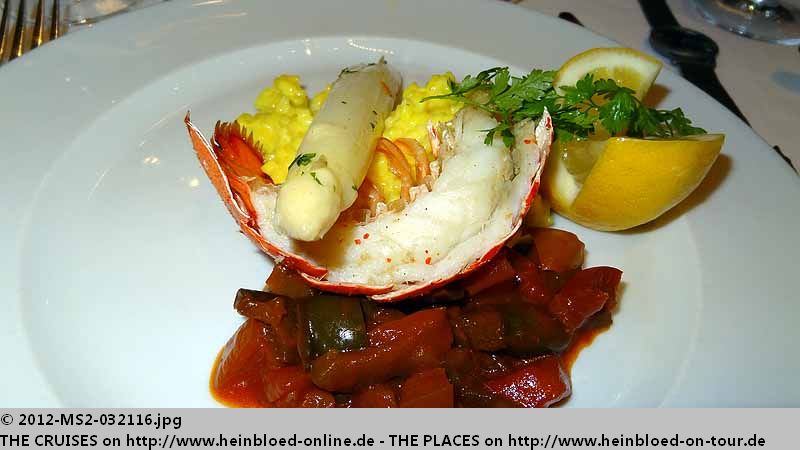 Hummermedaillons... Das war ein Witz: Ich habe nicht gezoomt. Mit zwei Bissen ist er tatsächlich aufgegessen.
Und man nimmt ihn hier nicht aus, sondern lässt einfach die Verdauungsorgane drin...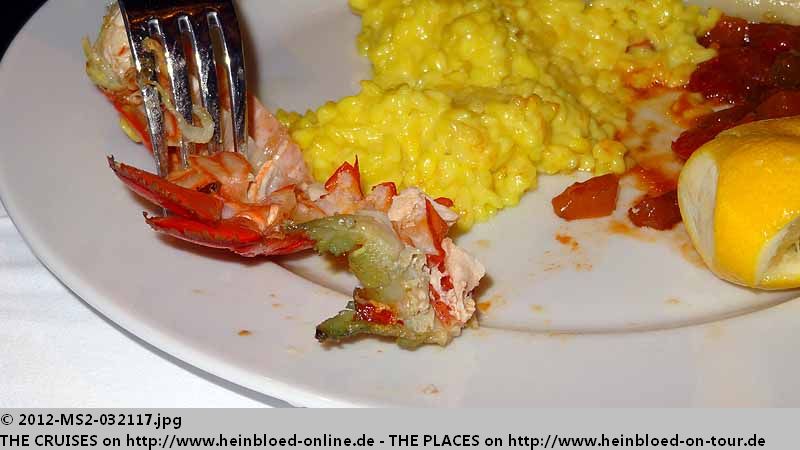 They did not make the effort to take it from the shell but they did not make either the effort to remove the digestive ogans.

Just to compare: that was an "adult" lobster looked like.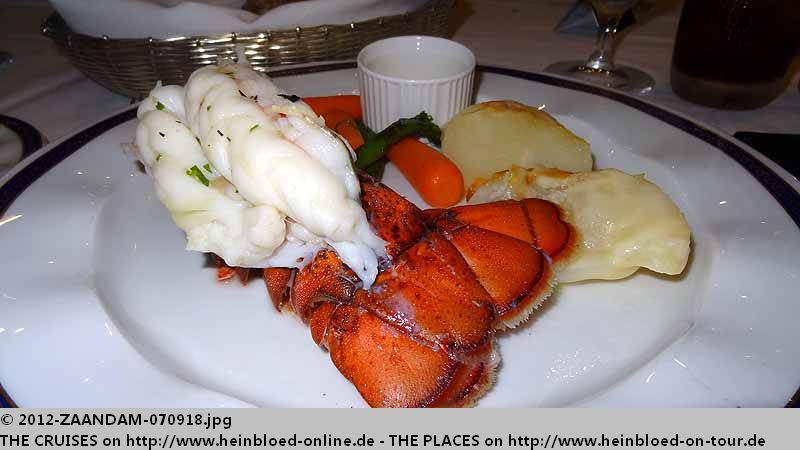 Zum Vergleich: so sieht ein "erwachsener" Hummer aus.
Und dieser wird als Serviceleistung auch aus der Schale befreit.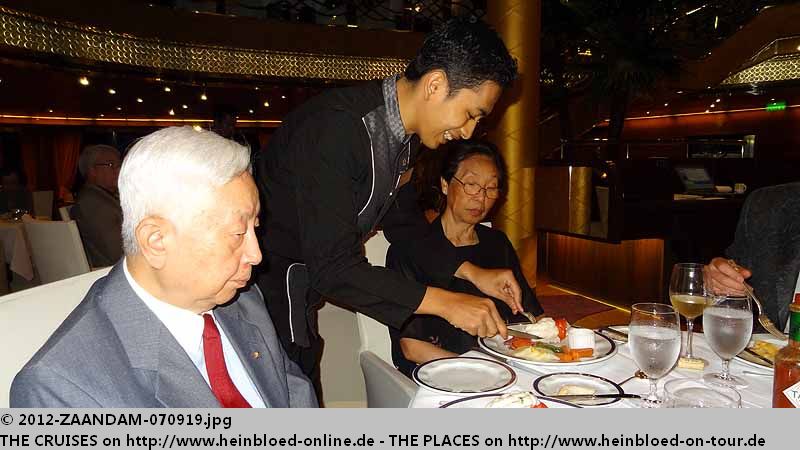 As service they lobster was taken out the shell.

We did not take any dessert as we did not want to return to our cabin at midnight. We told it our "hosts" and they offered us to get another portion. We were not interested to wait another 30 minutes to see how we dislike the lobster we went to Cliff 24 to have a "Curry-Wurst" (Germany's National Food: Grilled Sausage with tomato-sauce, spices, curry). They prepared it the Rhineland style: with a pre-poiled white sausage. It was really good.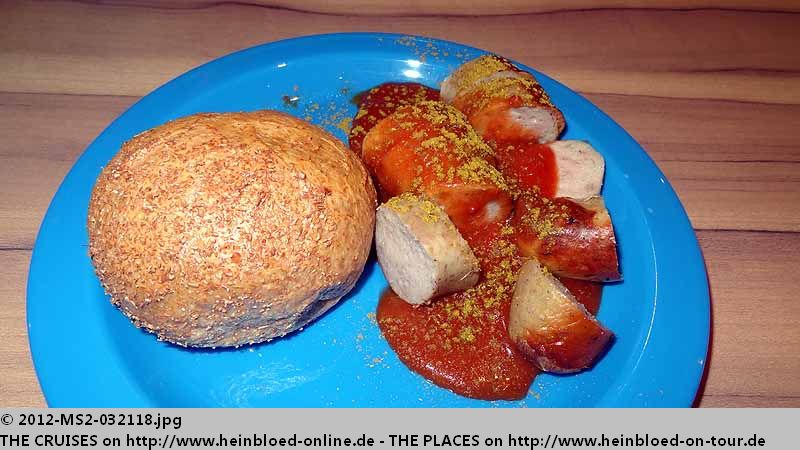 Auf das Dessert verzichten wir, da wir nicht erst um Mitternacht wieder in der Kabine sein wollen. Unsere Kritik bei den "Gastgebern" wird mit dem Angebot begegnet, dass wir noch eine Portion haben können. Da wir aber keine Lust haben, nochmals 30 Minuten zu warten, damit uns der Appetit vergeht, gehe ich lieber ins Cliff 24 eine Curry-Wurst essen. Die wird sogar auf die rheinische Art gemacht: mit einer gebrühten Bratwurst. Und die war richtig gut.
In der Kabine freuen wir uns auf die Ausschiffungsunterlagen. Und zwar richtig.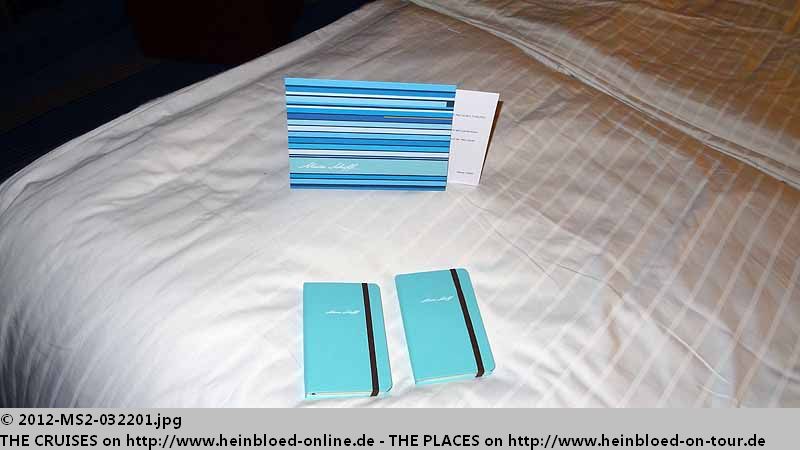 In the cabin we were happy to have the debarkation records.

For farewell we got some chocolate from Wagner. We thanked our steward with an additional tip, chocolate and the offer that he can do our beds while we go for breakfast. He was really good.

Zum Abschied gibt es sogar noch Pralinen von Wagner. Wir hatten übrigens auch uns mit zusätzlichem Trinkgeld, Schokolade und dem Angebot, dass unsere Betten schon während wir beim Frühstück sind, bei unserem Steward verabschiedet. Der war auch echt gut.
Leider werden wir uns nicht so schnell sehen.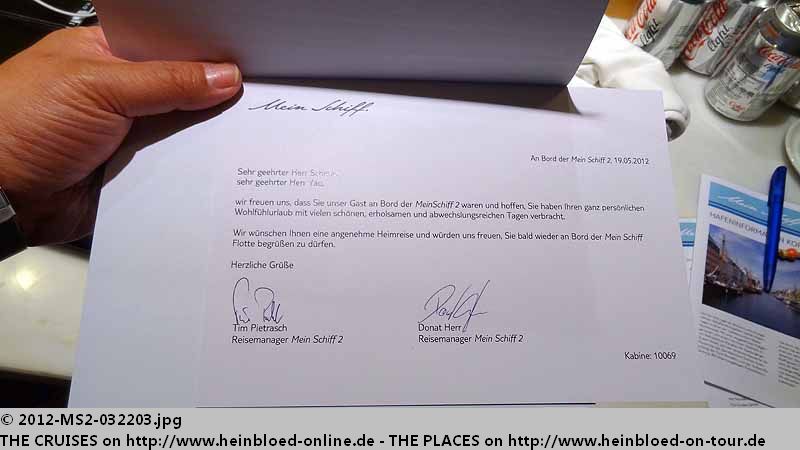 But we will not see us so soon again.

All inclusive... but they asked for volutary tips.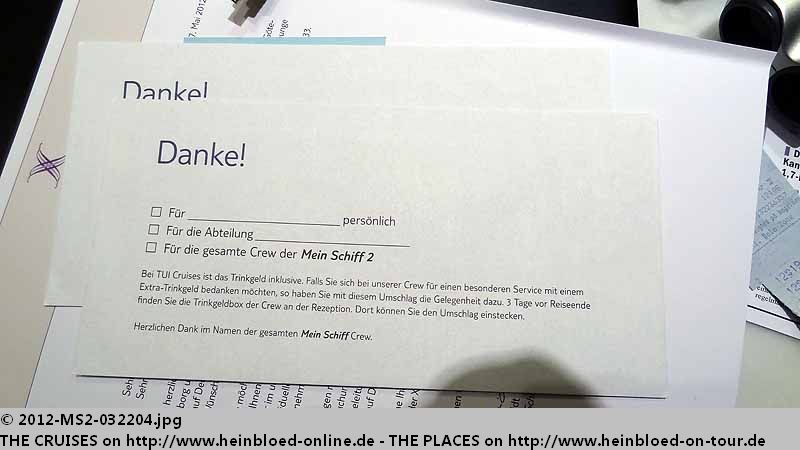 Soviel zum Thema all inclusive... Aber es ist ja freiwillig.