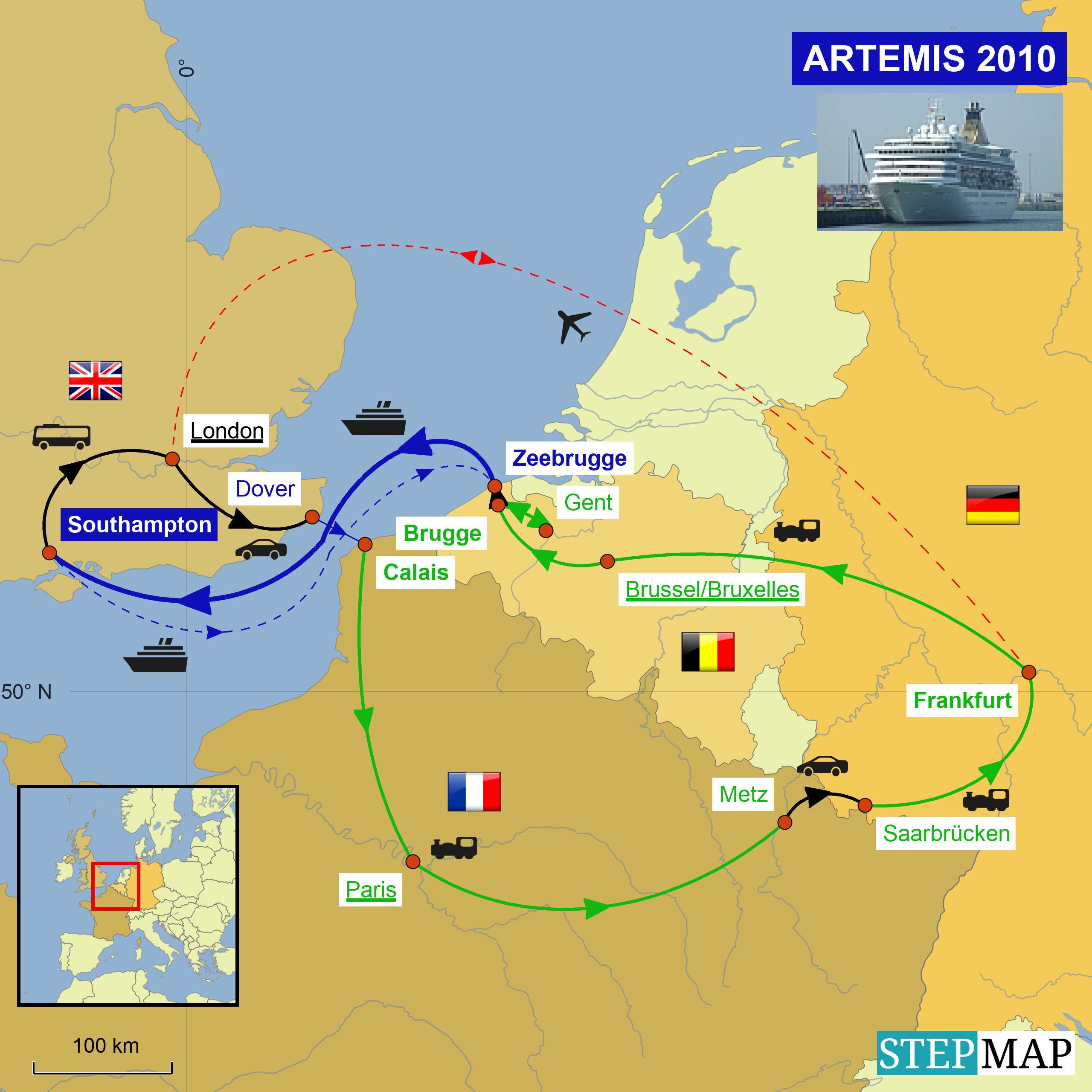 Da wir am Vorabend sehr spät angekommen sind, hatten wir keine Lust mehr gehabt, die Gegend um das Hotel näher zu erkunden. Erst beim Blick aus dem Fenster fiel uns erst auf, dass wir direkt an einem Kanal sind. Um uns im Sommer vor den Mücken zu schützen, sind die Fenster zum Glück mit Fliegengitter ausgestattet.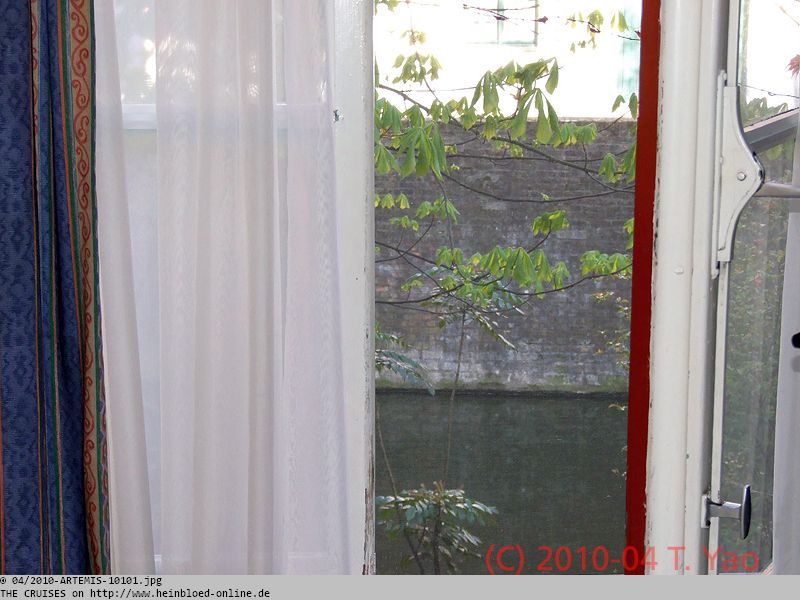 As we arrived very late the day before we did not like to check around the area of our hotel. When we looked out the window, we saw that we were located next to the canal. To prevent us from mosquitos they equipped the windows with fly screens.

You find the breakfast in the breakfast room or in the saloon.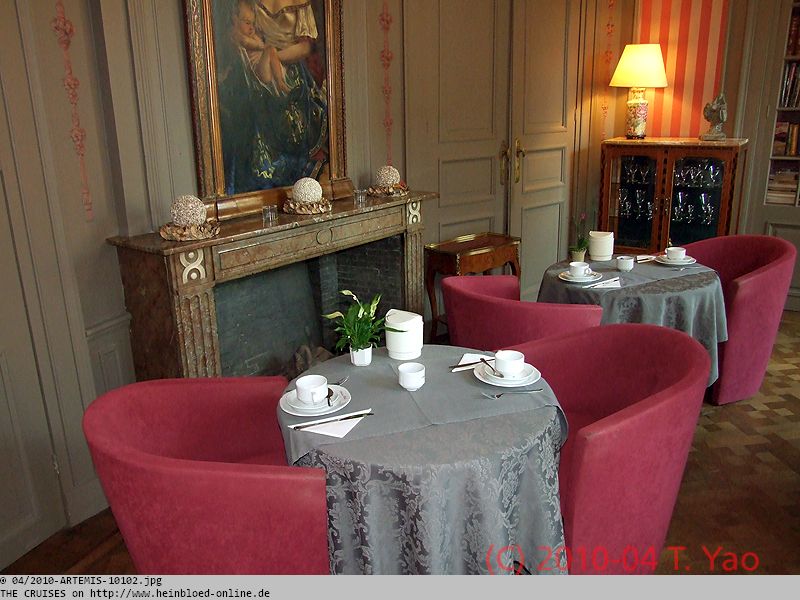 Das Frühstück findet entweder im Frühstücksraum oder im Salon statt.
Unser Nachtportier meinte, dass er persönlich das Brot bäckt...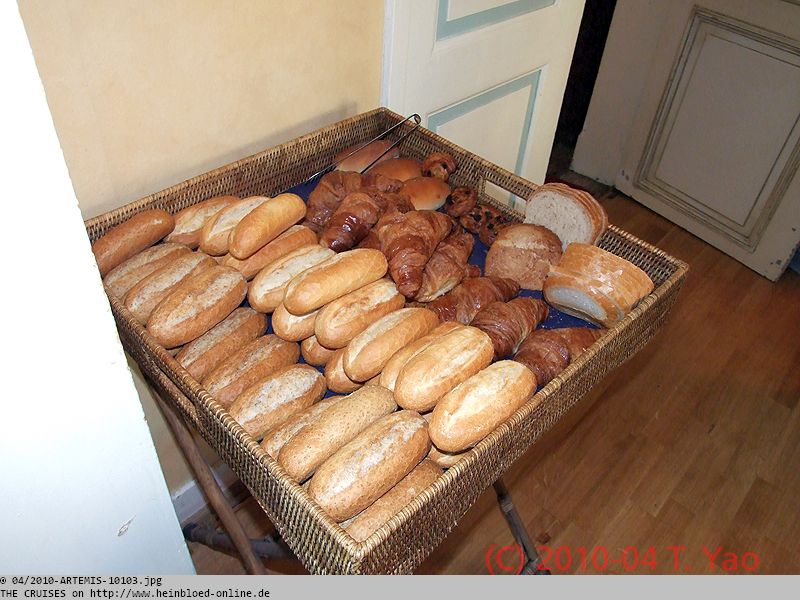 Our night receptionist told us that he baked the bread by himself.

You find everything for a German flavor like we used to have at home.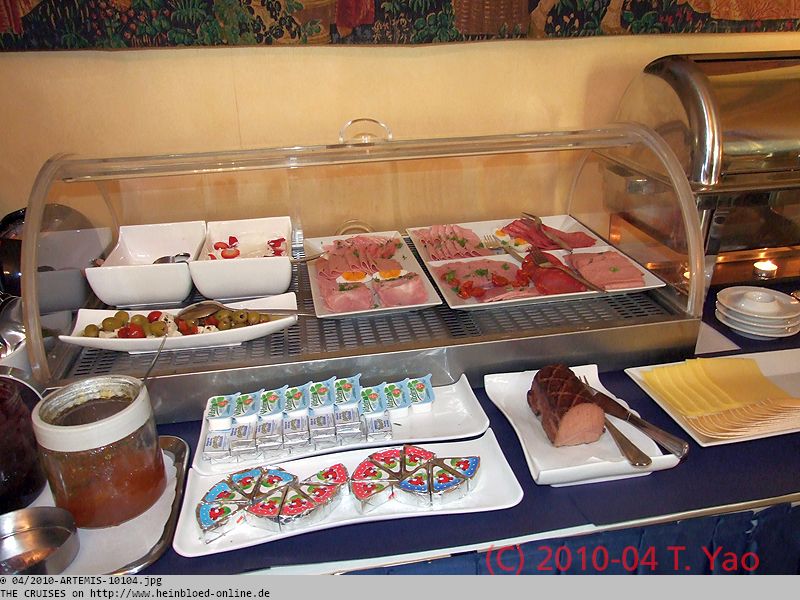 Alles da, was der deutsche Gaumen mag.
Auch warme Sachen, wie Rührei und Speck und so "furchtbare" Sachen, wie Frühstückcerealien.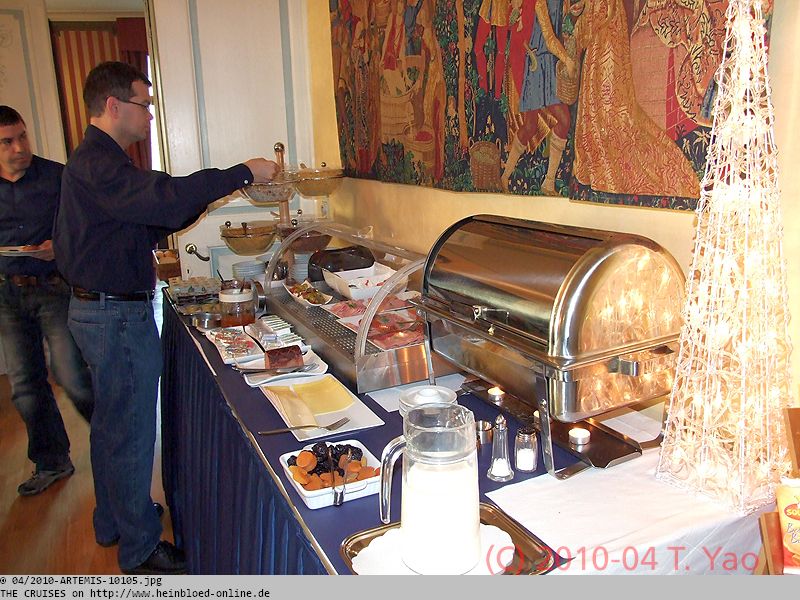 But also hot breakfast like scrambled eggs and bacon and things I hate personally like breakfast cereals.

That's the hotel looks from outside.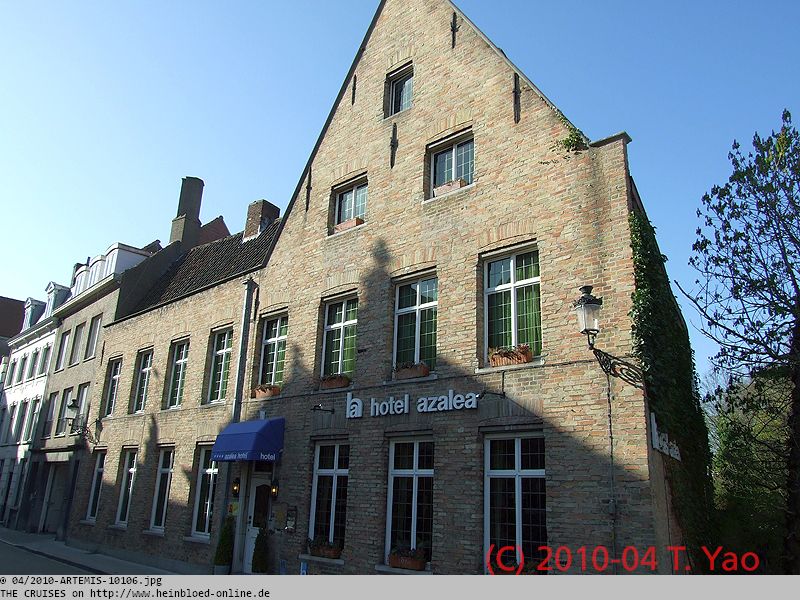 So sieht das Hotel von außen aus.
Und die Distanzen zu den Attraktionen in Brügge sind ziemlich gut.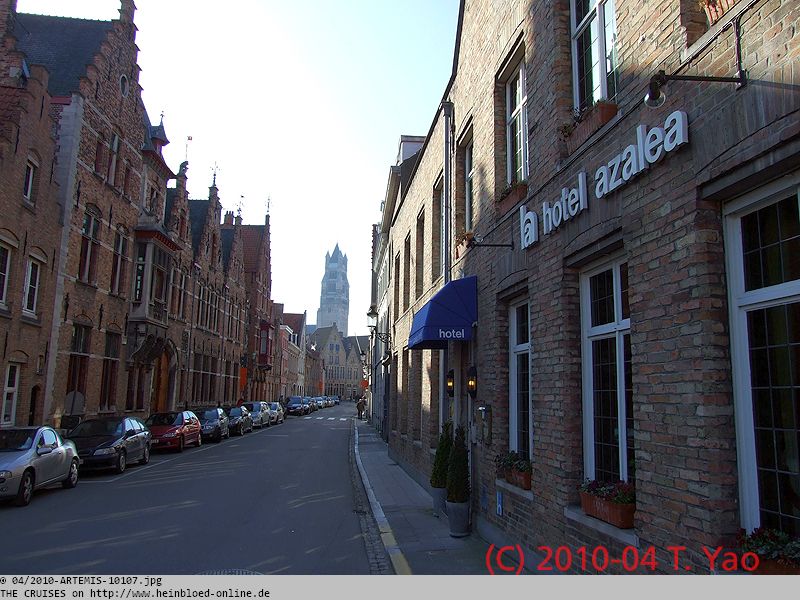 The distances to Bruges attractions are quite walkable.

It was very calm at this canal.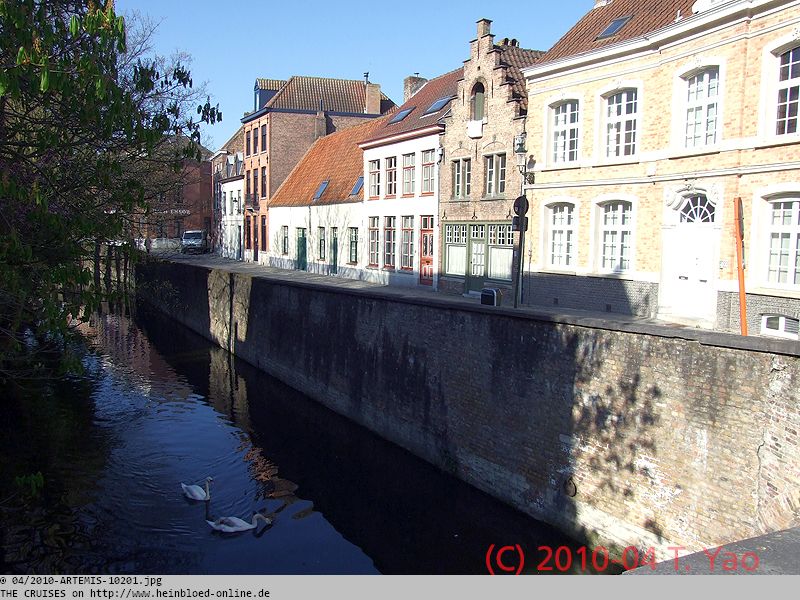 Schön ruhig am Kanal.
Nur das sanfte Gleiten der Schwäne im Kanal können wir neben allen Geräuschen, die unsere Zimmernachbarn produzieren, wahrnehmen.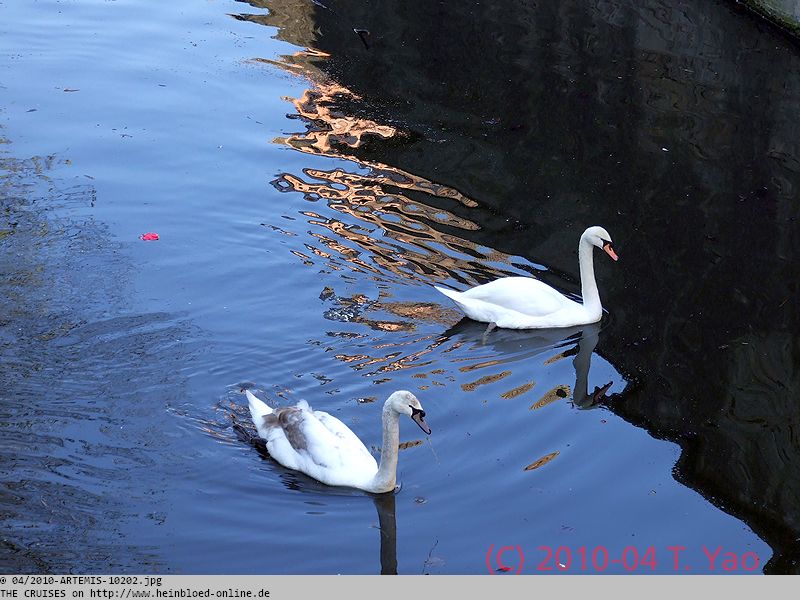 Only the gliding of the swans in the water we could hear besides the noises our room-mates next to our room made.

The night receptionist told us to go to Zand because the weekly market was held. You could smell the roasted chickens for which people were queuing up. And here we started our Plan B. We contacted already P&O on Friday that we will embark maybe in Zeebrugge if we would have no chance to make it right on time to Southampton. We got all necessary information of the port agent whom we should contact ahead. He registered us at the port gate as we would not have any cruise cards. So we did all sightseeing which was planned for Sunday during our call in Zeebrugge one day ahead. And while the ship is in port, we will enjoy the ship.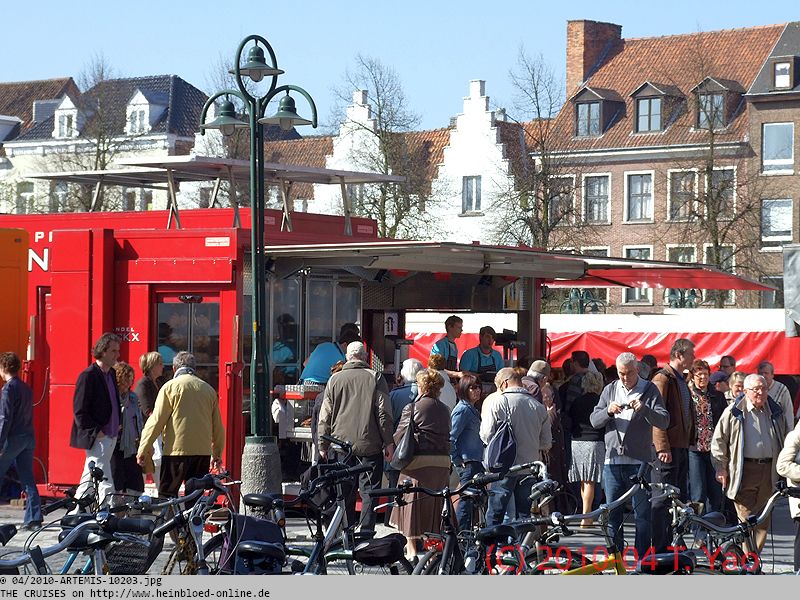 Der Nachtportier hat uns gesagt, dass wir unbedingt zum Zand gehen sollten, weil dort Markt ist. Dort duftet es schon nach Grillhähnchen, für die die Leute anstehen. Und hier beginnen wir Plan B. Mit P&O haben wir bereits am Freitag abgesprochen, dass wir ggfls. erst in Zeebrügge zusteigen, falls wir keine Chance haben rechtzeitig nach Southampton zu kommen. Wir haben dann alle Information über den Hafenagenten bekommen, mit dem wir uns in Verbindung setzen sollten. Dieser hatte uns dann am Hafentor angemeldet, da wir ja keine Cruisecards hatten. So haben wir also alle Besichtigungen, die wir für Sonntag geplant haben, vorgezogen. Und am Sonntag werden wir während der Liegezeit das Schiff genießen.
Aus dem Internet haben wir uns einen Spaziergang heruntergeladen, den die
Touristeninformation im Internet
bereitgestellt hat.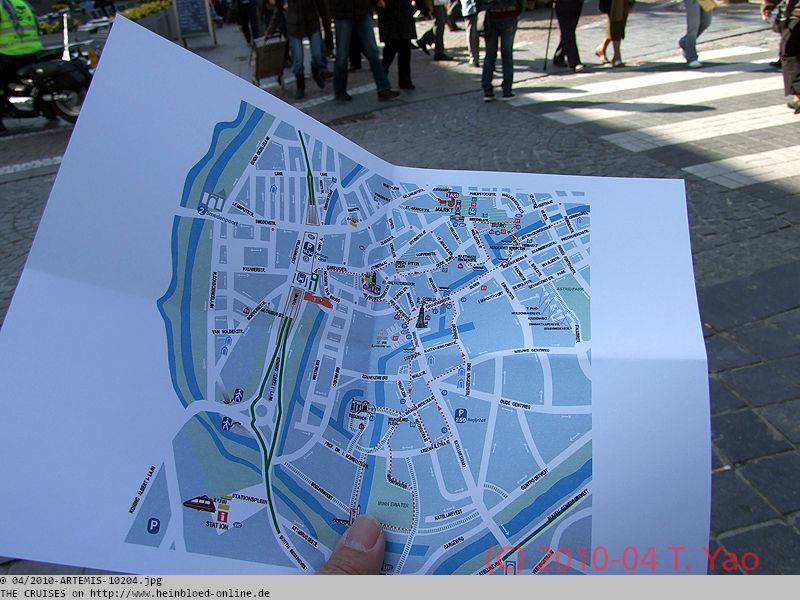 We downloaded a walking tour suggestion which you can find on the website of the tourist information in internet.

By coincidence, we also passed the Chinese restaurant of my grand uncle. But now I understand why he always bought duvets in Germany when he visited us. As the restaurant did not open yet and letting my parents first come to see them again, we did not try to go in.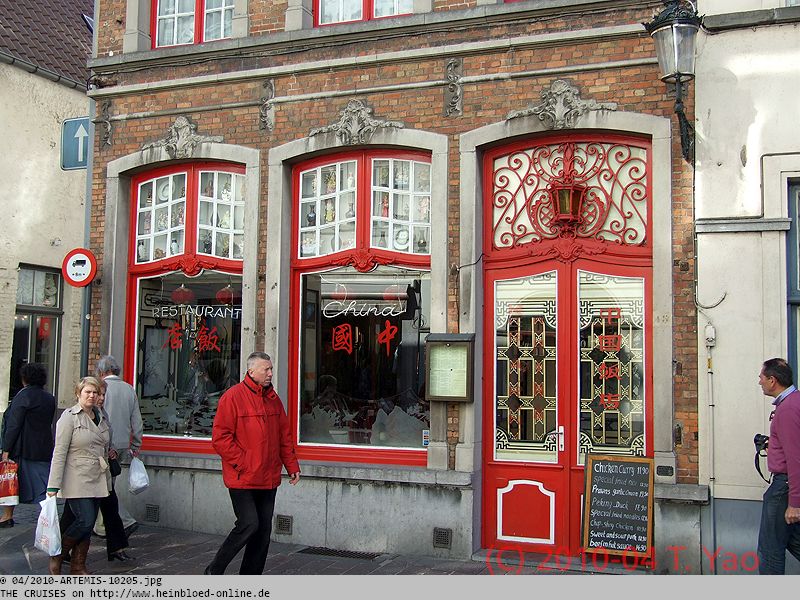 Zufällig kommen wir auch am China-Restaurant meines Großonkels vorbei. Ich kann nun auch verstehen, warum er bei uns in Deutschland immer die klassichen Betten und Decken gekauft hat. Da das Restaurant noch zu hat und ich doch besser dem Besuch meiner Eltern nicht vorgreifen will, verzichten wir auf einen Besuch.
Wir spazieren daher einfach mal weiter.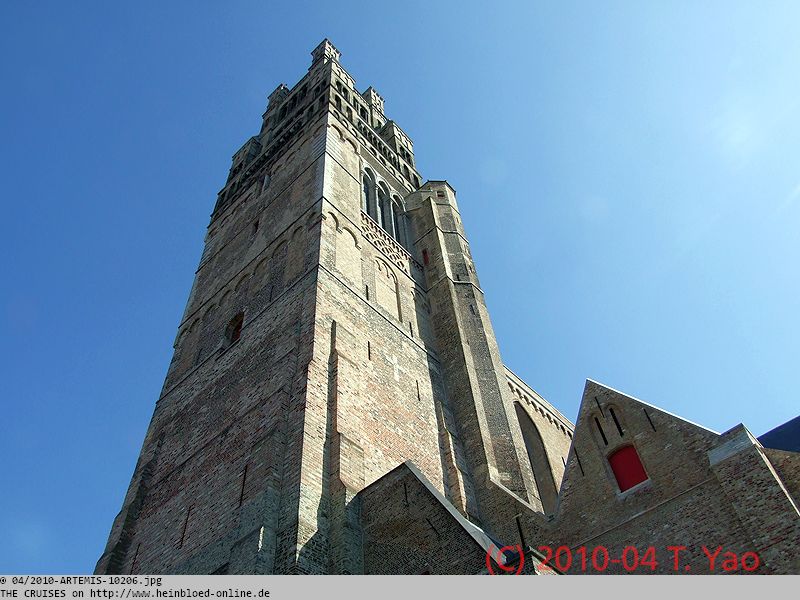 We continue to walk.

From the three international Belgian chocolate brand I prefer Neuhaus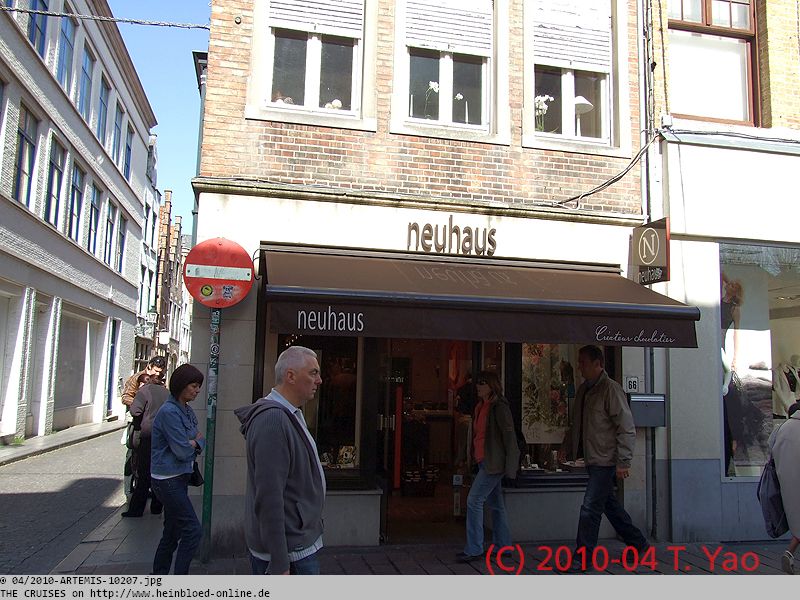 Von den mir bekannten drei internationalen belgischen Pralinenmarken, ziehe ich
Neuhaus
vor.
Die belgische Freundin eines Mitarbeiters hat uns diesen Laden vorgeschlagen, damit wir eine echte heiße Schokolade trinken:
The Old Chocolate House
.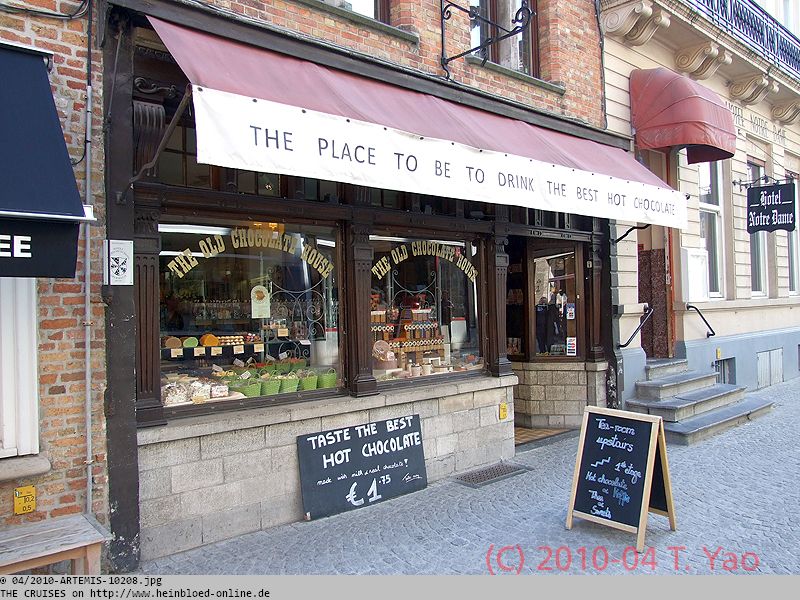 The Belgian girl friend of one my employees told us to see this place to have a true hot chocolate milk: The Old Chocolate House.

A genuine treasure box for chocolate lovers from outside.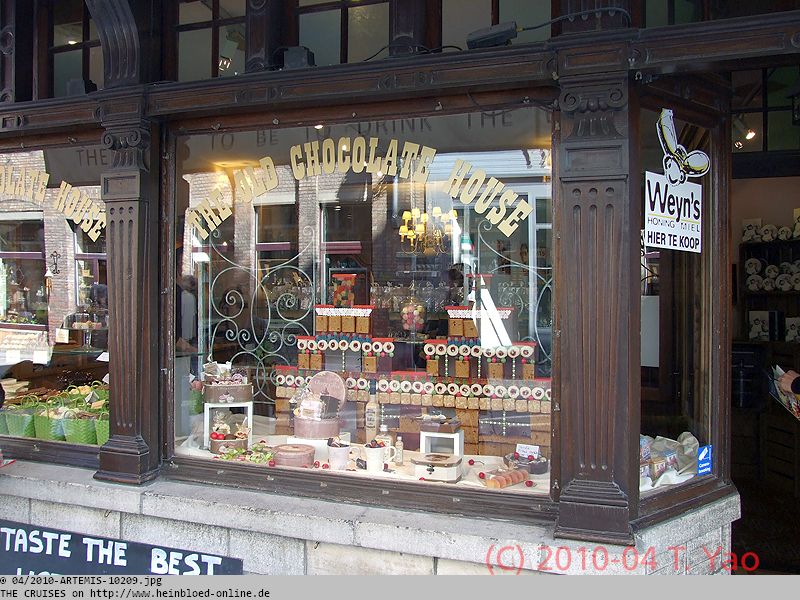 Für Schokoladenliebhaber bestimmt eine Schatztruhe von außen...
... und innen....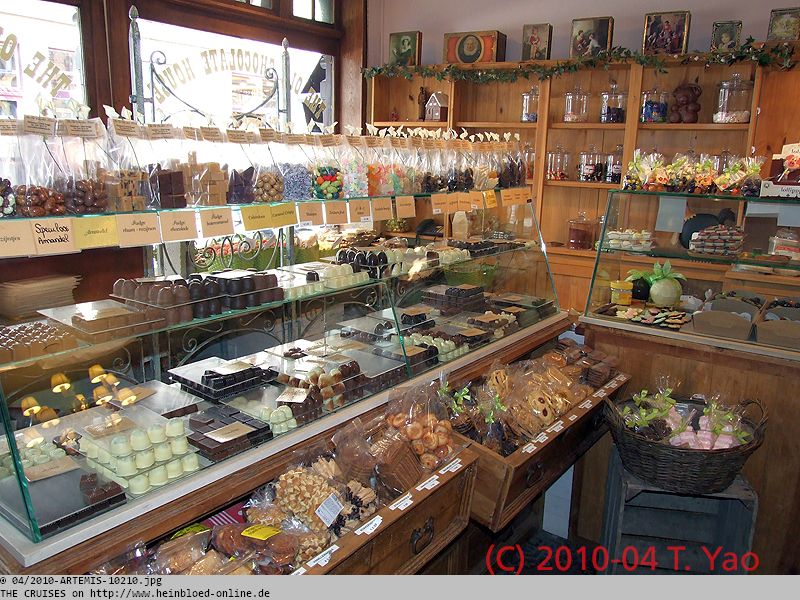 ... and inside...

Above there is a lovely tea-room.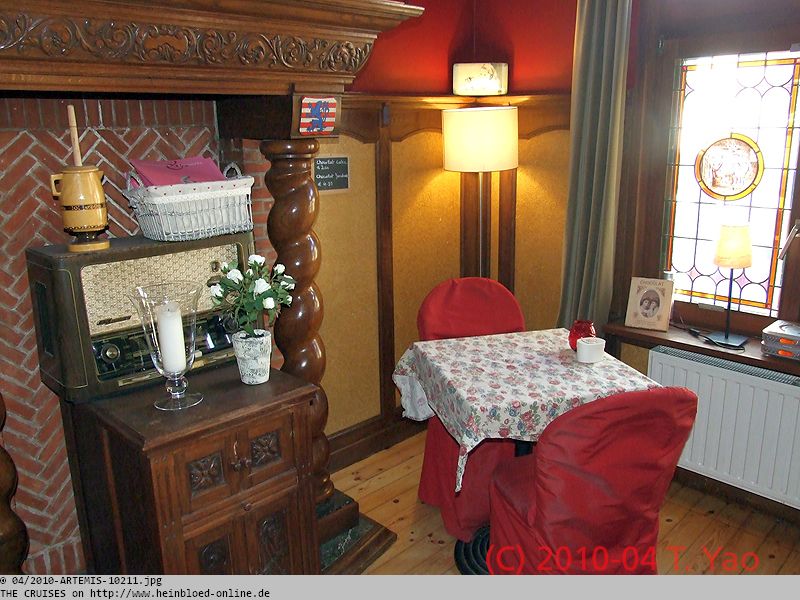 Oben gibt es eine nette Teestube.
Dann haben wir einen fatalen "Fehler" gemacht: wir haben das all-in-Gedeck bestellt.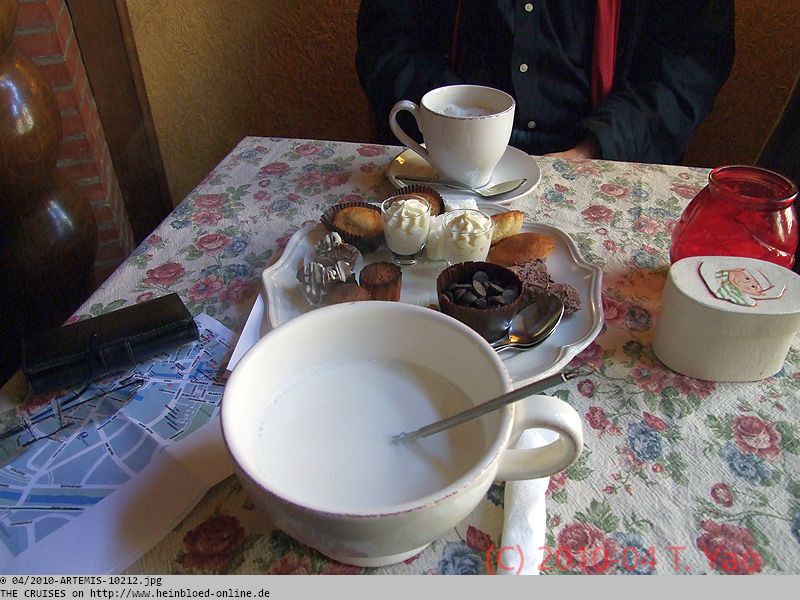 Then we made a big "mistake" by ordering an all-in-cover.

There are my chocolate-pallets, and you need to put them into them into the hot milk and stir yourself. We should not have any breakfast in the hotel. The white mousse au chocolate was a dream but nothing for 11.00 hrs in the morning.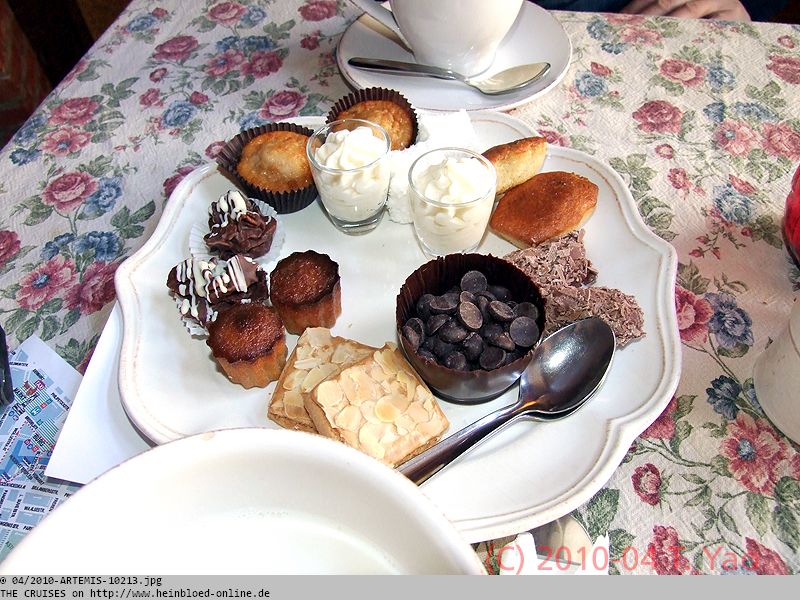 Da liegt meine Schokolade-Pallets zum Einrühren in die heiße Milch und alles andere zum Probieren. Hätten wir bloß im Hotel nicht gefrühstückt. Die weiße Mousse war ein Traum, aber nichts für 11.00 Uhr morgens.
Man bekommt also einen kleinen Rührbesen. Und rührt sich selbst die Schokoladen-Pallets rein, die es als Milch-, weiße und dunkle Schokolade gibt. Eine Tasse reicht allerdings für eine Familie im Sommer. Im Winter brauche ich die Größe alleine.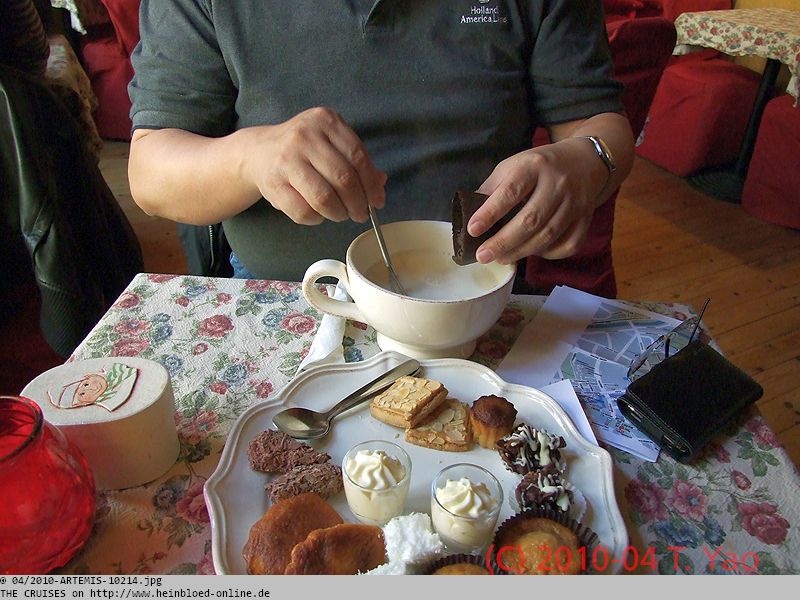 You got a small beater. And you can order the chocolate pallets in white, milk or dark chocolate. In the summertime, this cup will be enough for a whole family. But in winter I can handle it alone.

I felt so sorry that I was stuffed. Who has the honor to represent Belgium at the Shanghai World Expo 2010 must be right: Dumon but no way to try any bite more.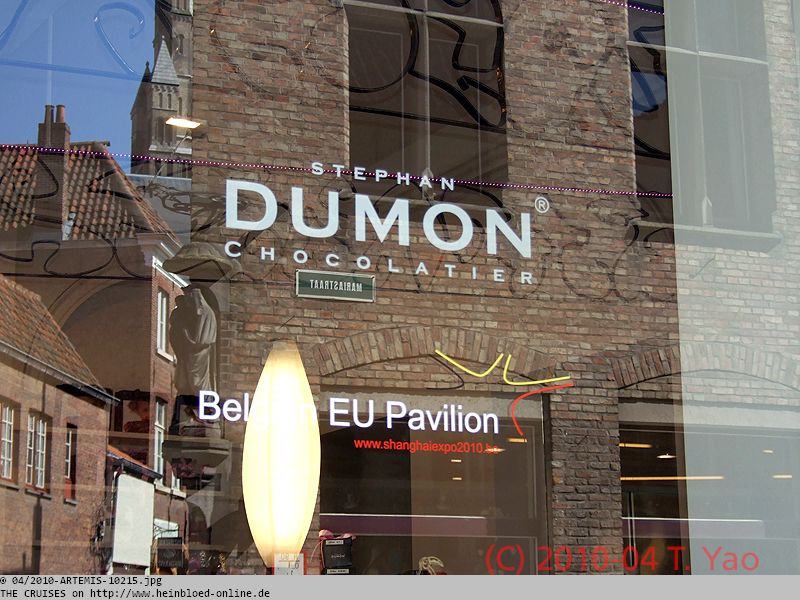 Schade, dass wir schon so voll waren. Wer die Ehre hat, auf der Weltausstellung 2010 in Shanghai Belgien zu vertreten, muss bestimmt gut sein:
Dumon
. Aber wir waren zum Platzen voll.
Weiter geht es mit unserem Spaziergang.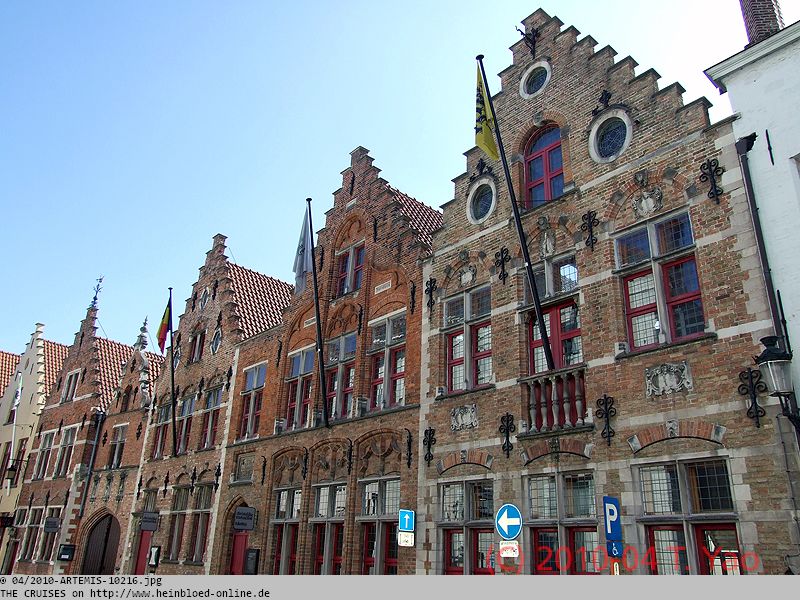 Let's continue with our walk.

If you want to buy the best souvenirs you just must follow Japanese tourists. You are in Heidelberg or Rothenburg ob der Tauber: just follow Japanese signposts to obtain the best of the country like here with Belgian lace: Irma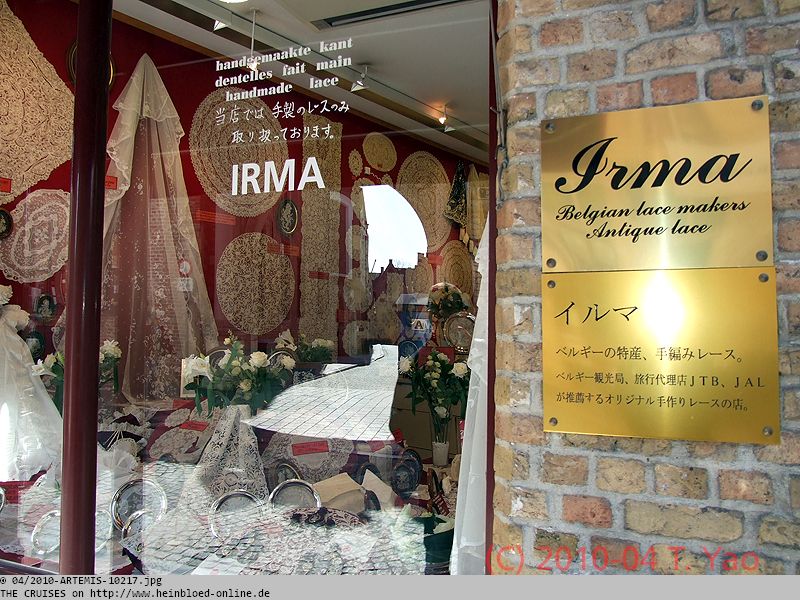 Japaner sind dafür bekannt, dass sie als Souvenirs nur das beste kaufen. In Heidelberg oder Rothenburg ob der Tauber: Japanische Schilder sind immer zielführend, wenn man das Beste eines Landes will, wie z. B. Brüsseler Spitzen:
Irma
.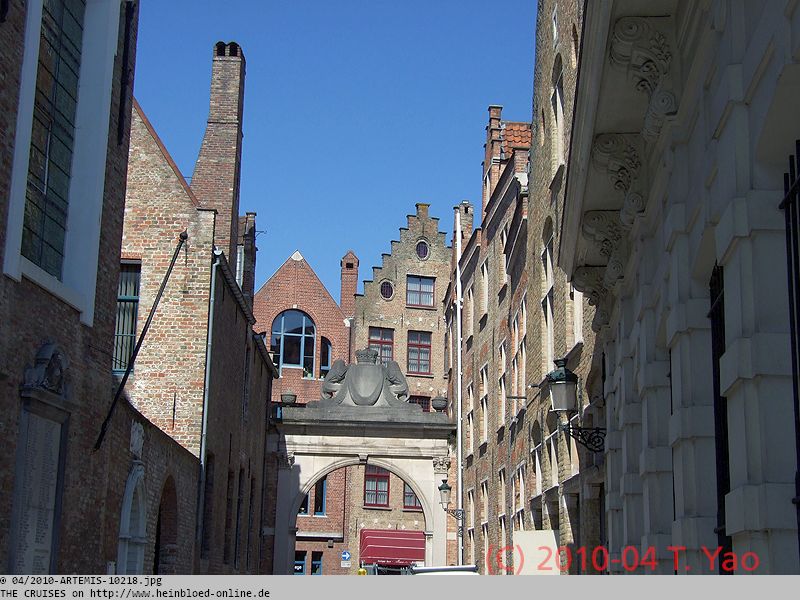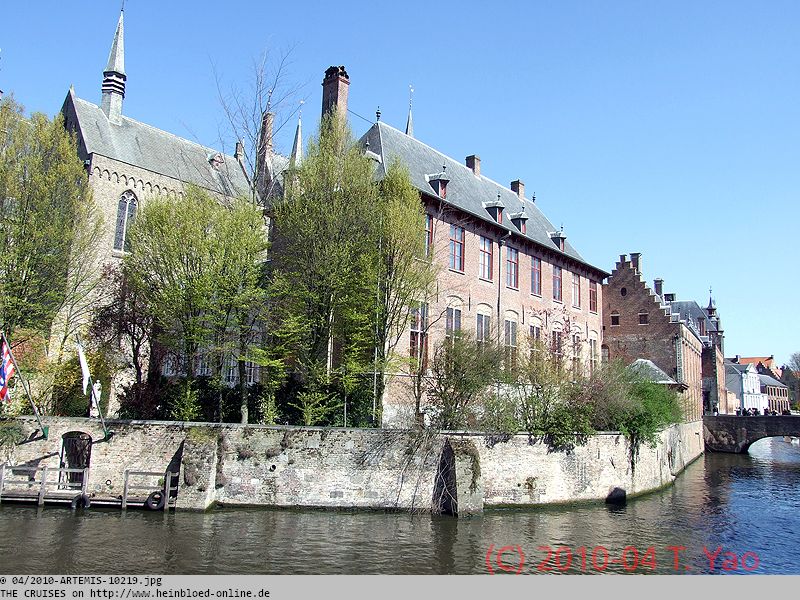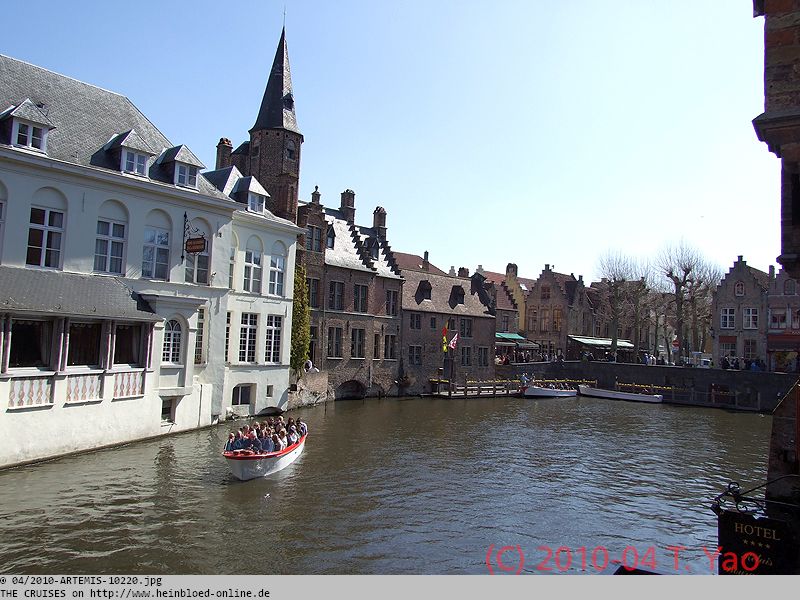 Etwas für Leute mit einem guten Gedächtnis: prägt euch mal das Boot ein...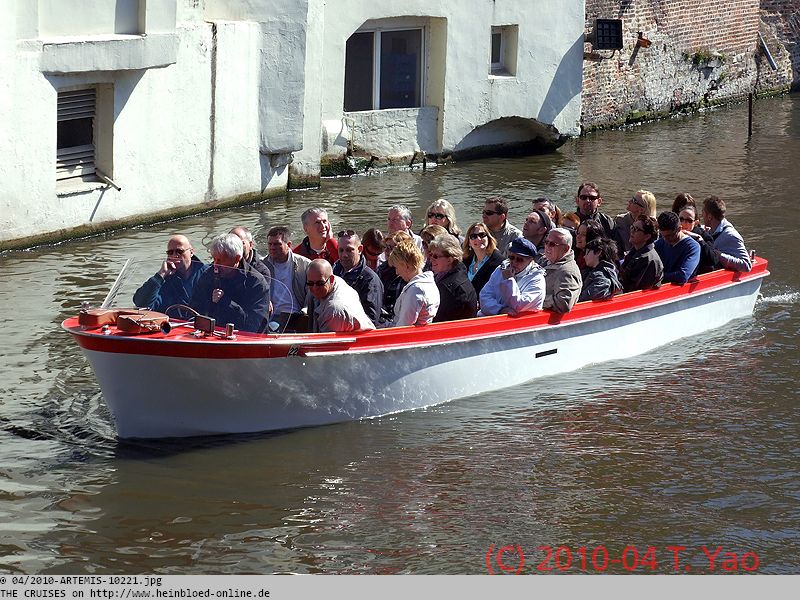 Something for people with a good memory: keep this boat in your mind for later.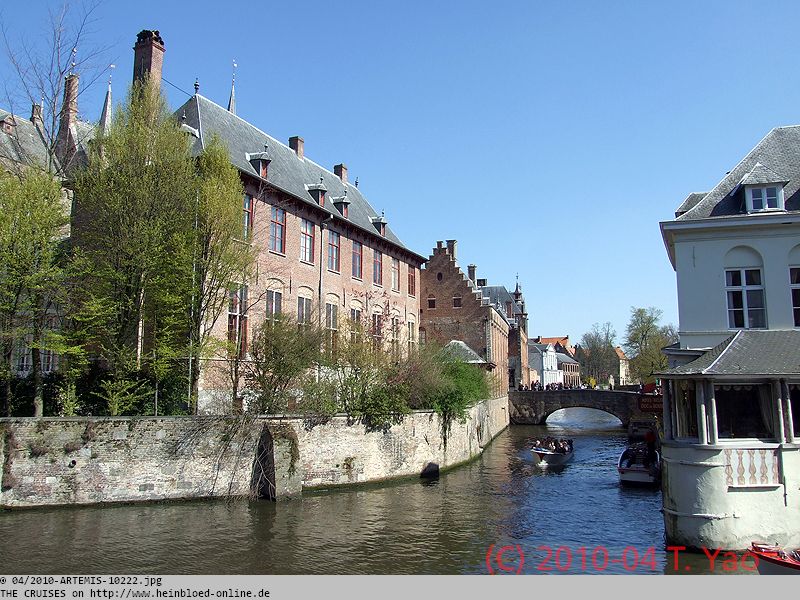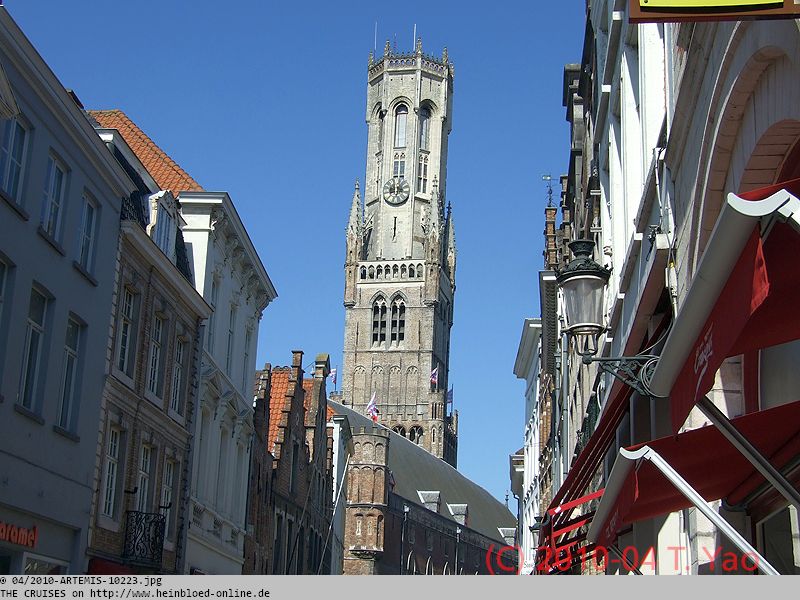 Die Belgier sind gute Genießer und es duftet in allen Straßen nach frischgebackenen belgischen Waffeln. Wieso gab es sie eigentlich nicht beim Frühstück???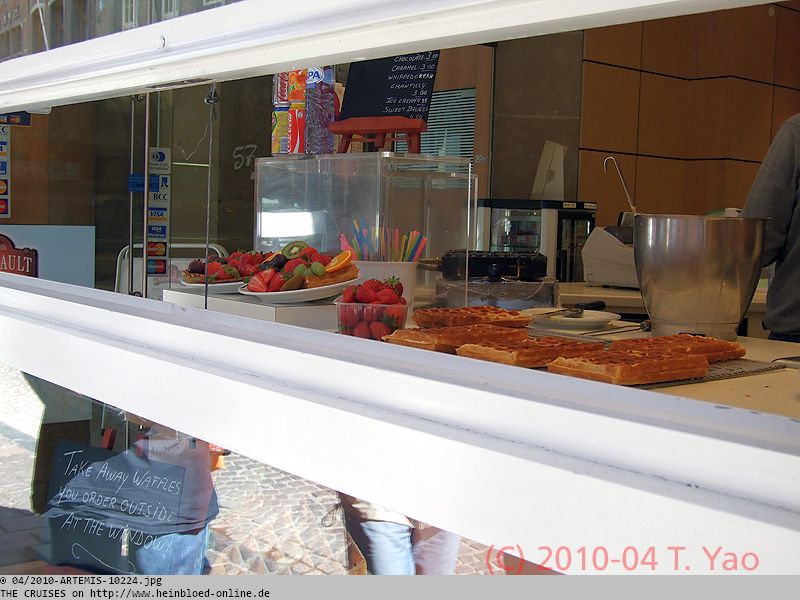 The Belgians are good gourmets, and you can smell in all streets the smell of Belgian waffles. Why did not we have them for breakfast???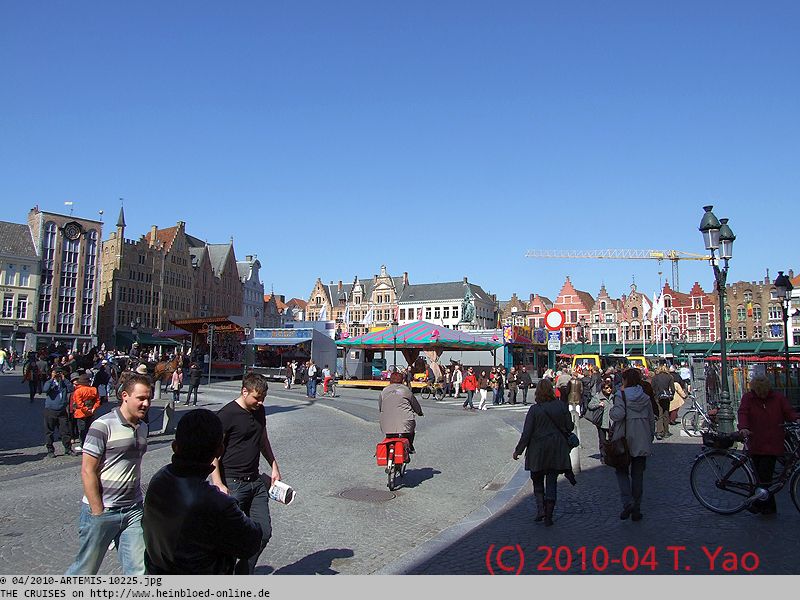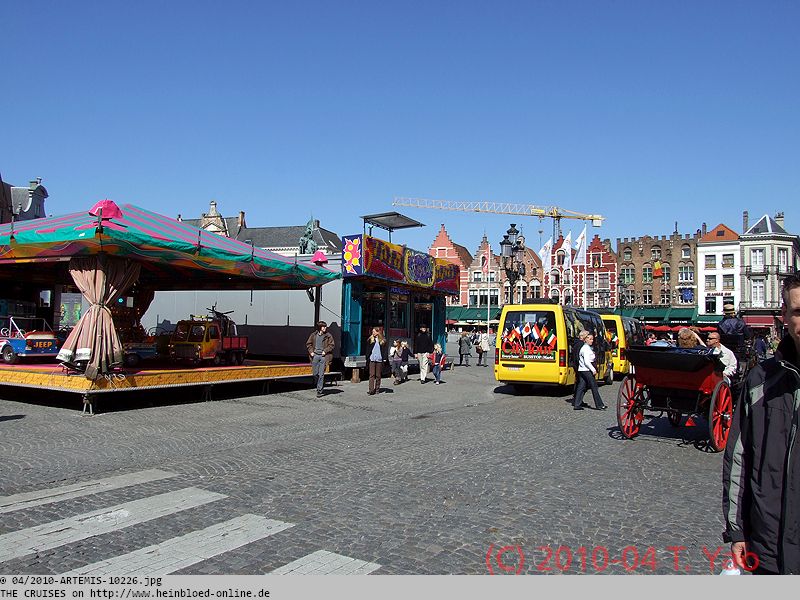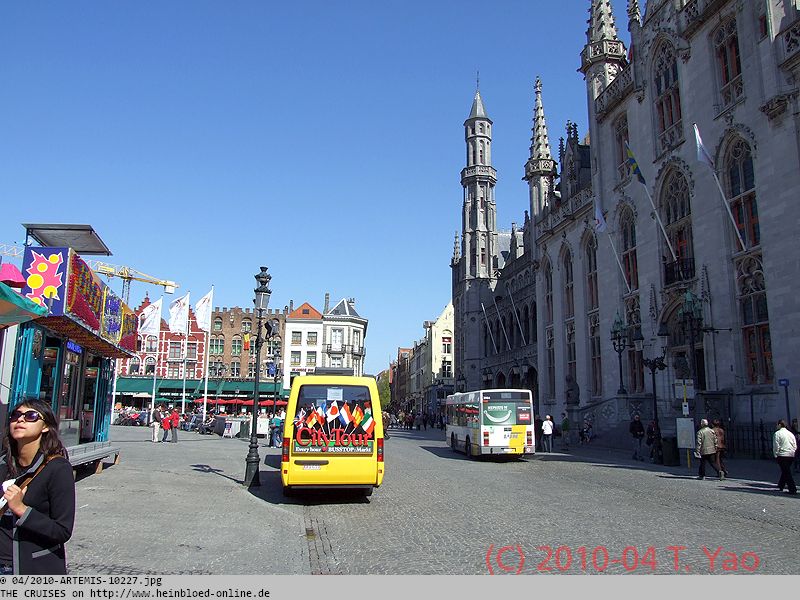 Käthe Wohlfahrt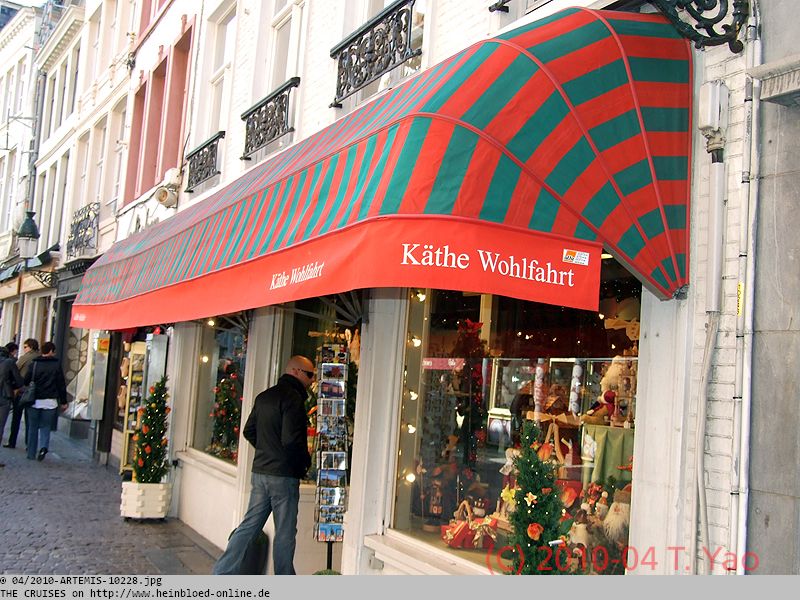 Käthe Wohlfahrt
Deutsche Weihnachtsromantik das ganze Jahr - nun auch in Brügge für alle diejenigen, die 14 Ländern 4 Tagen es nicht schaffen, auch noch in Rothenburg ob der Tauber vorbeizukommen.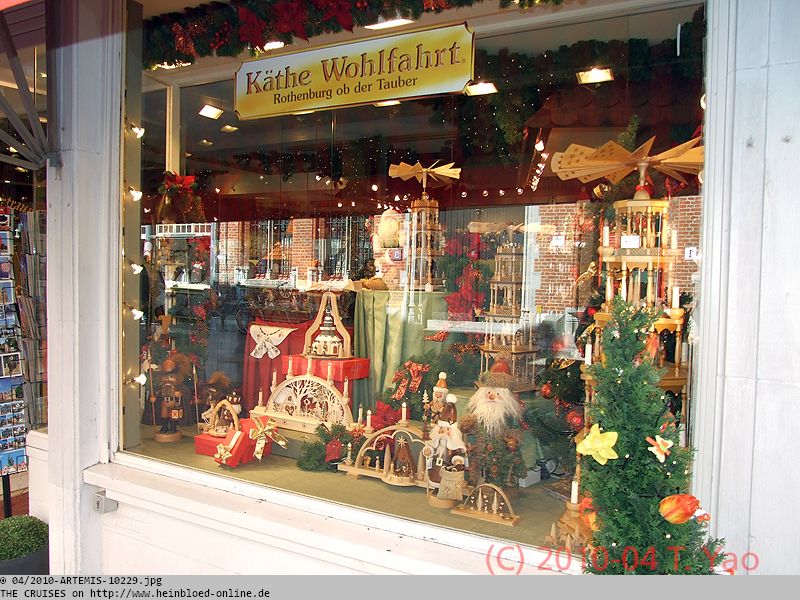 German Christmas romance all over the year - now also in Bruges for all who did 14 countries in 4 days but had no chance to see Rothenburg ob der Tauber.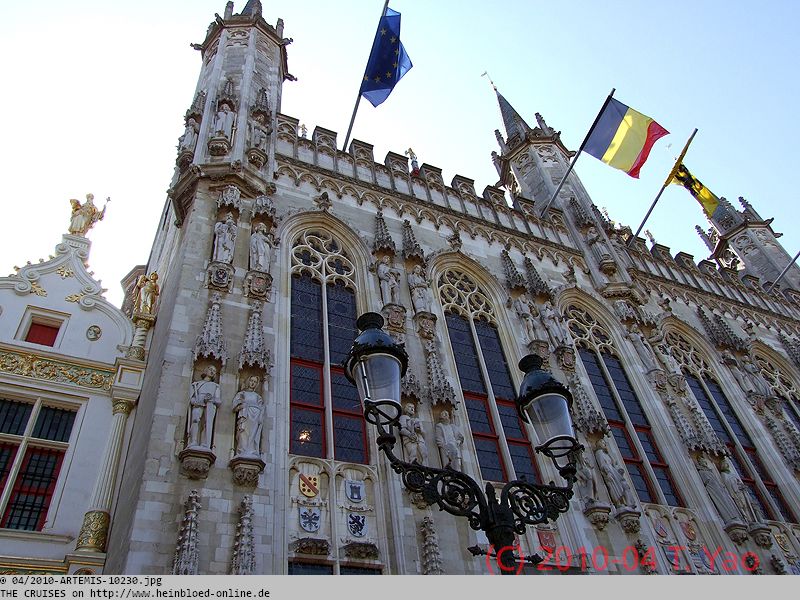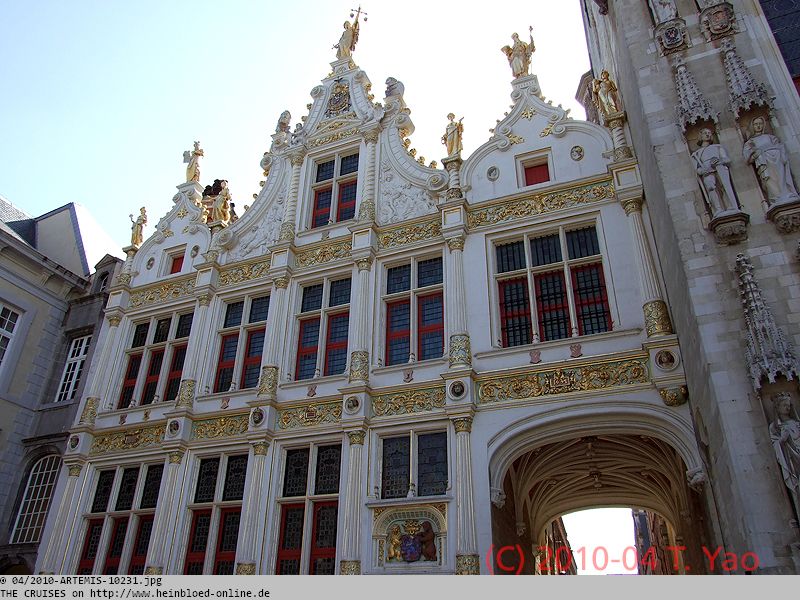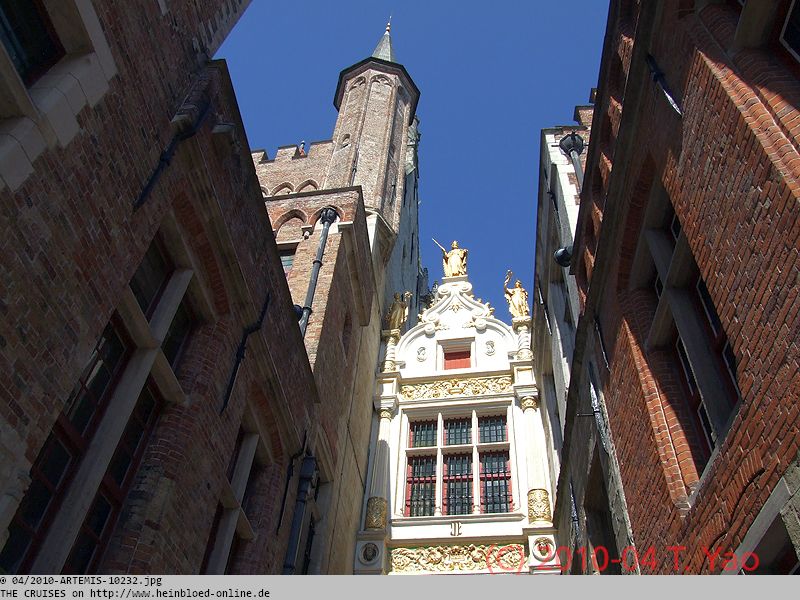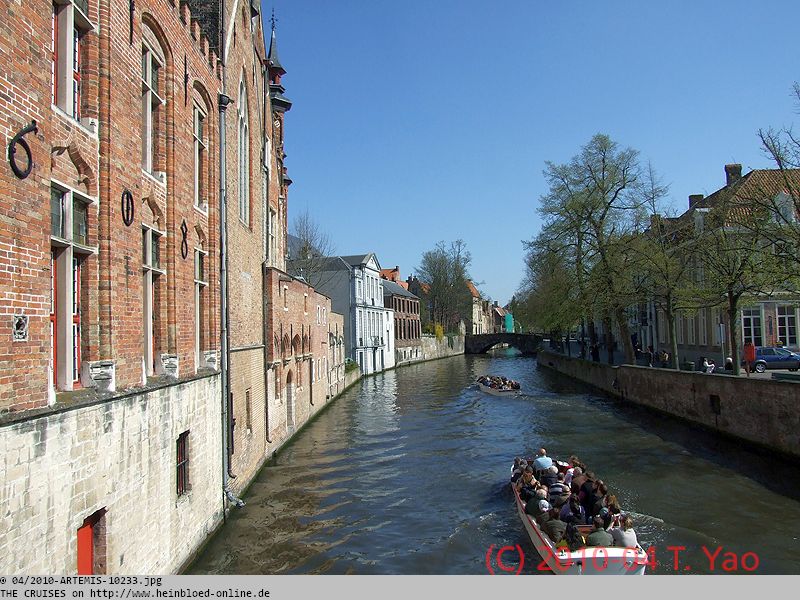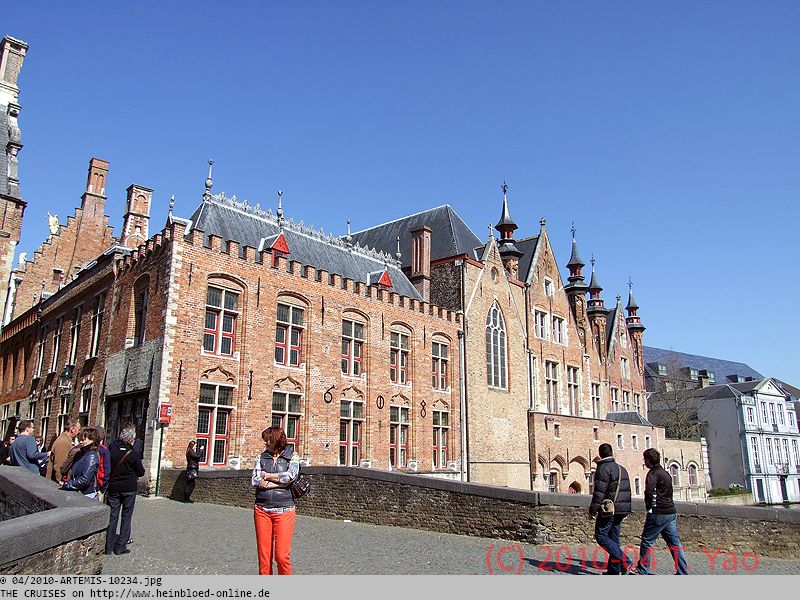 Der Preis für die Bootsfahrt: 6,90 EUR für 30 Minuten. Bitte mal merken...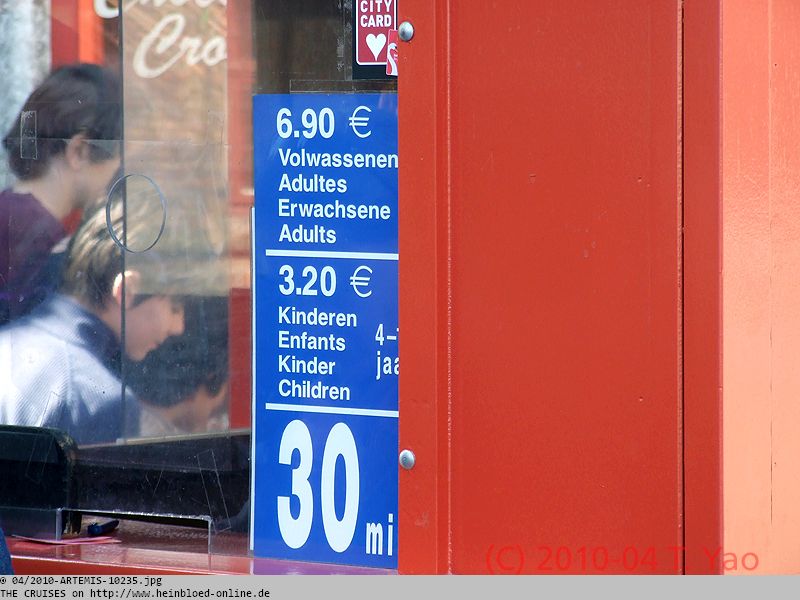 The ride on a canal boat costs 6.90 EUR for 30 minutes... just keep it in mind for later...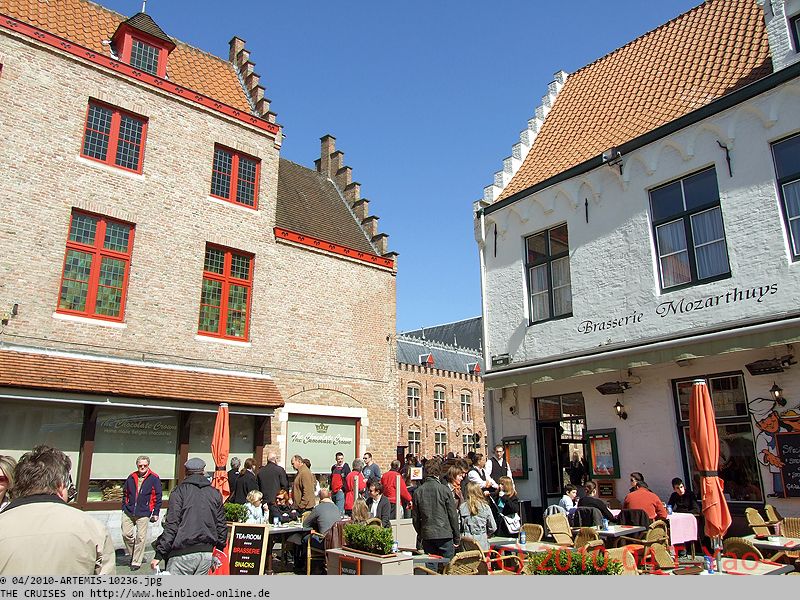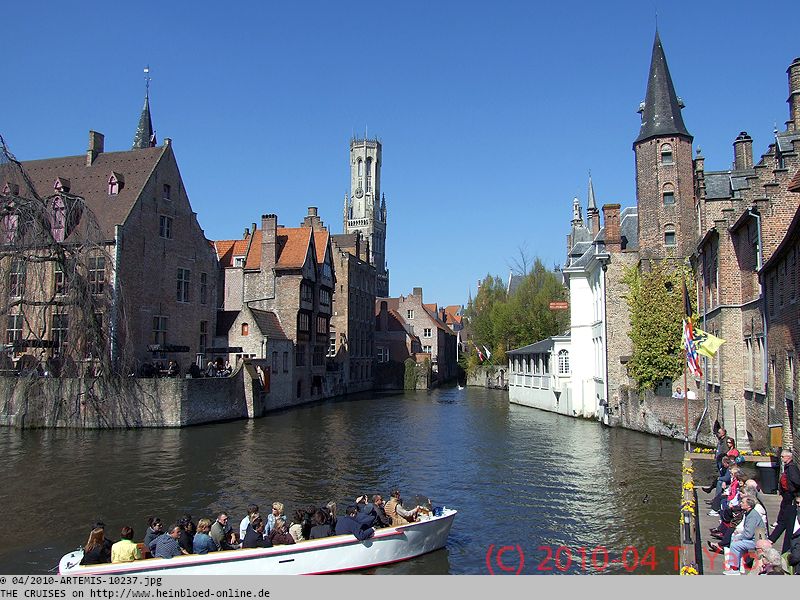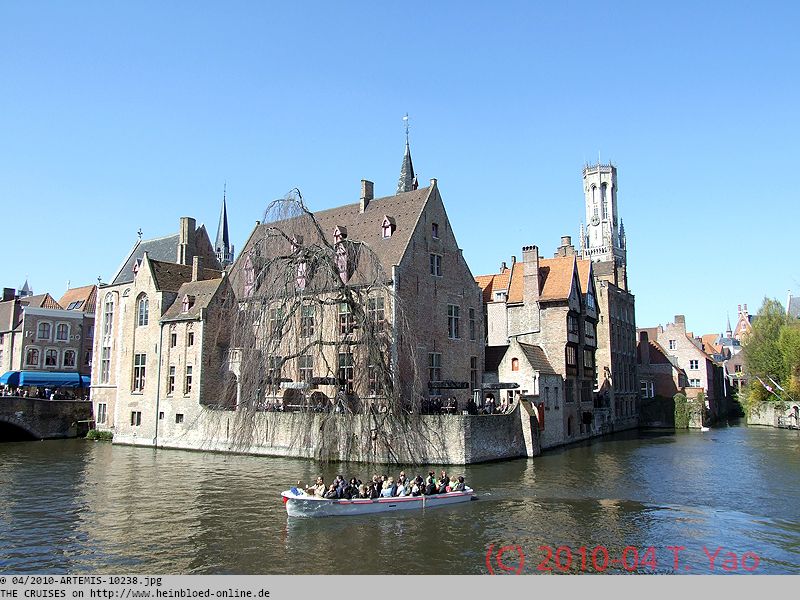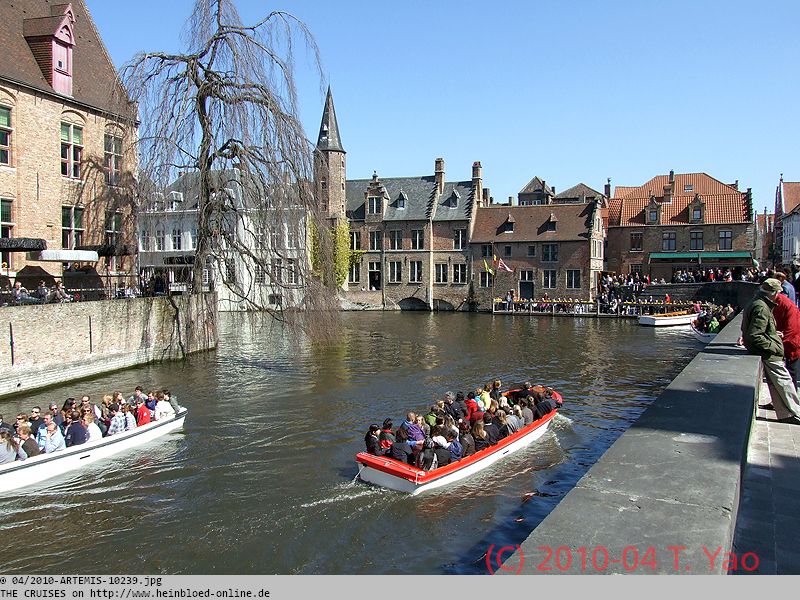 Regarding the food I think personally that the Belgians are the better "French"...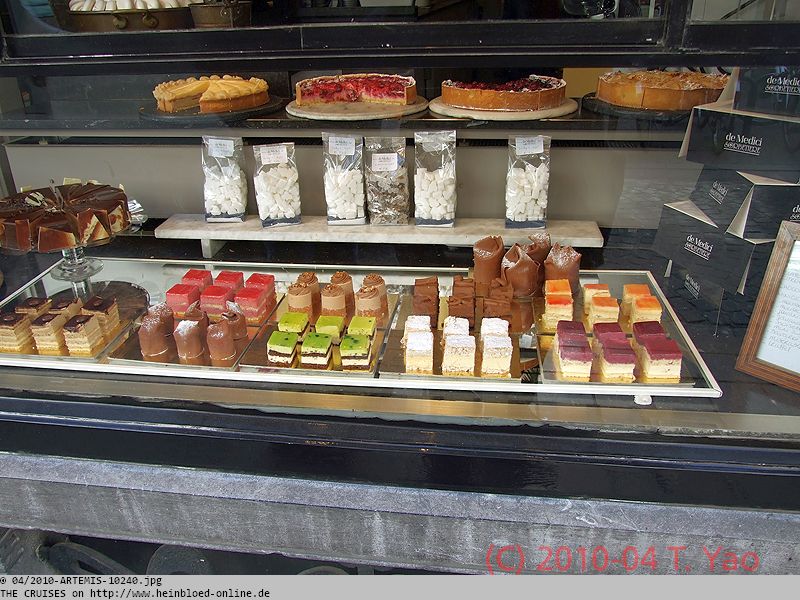 Was Essen betrifft finde ich persönlich, dass die Belgier die besseren Franzosen sind...
Daher keinesfalls schon in den erstbesten Laden laufen, sondern erst mal ein paar Geschäfte gucken, bevor man reingeht. Man wird süchtig.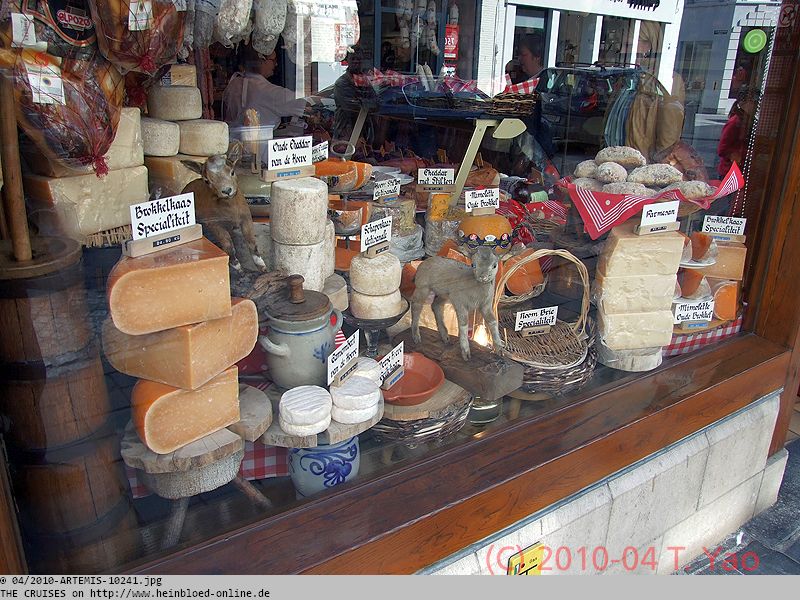 So you should go to the first best store to buy something but to watch and try in a few stores before you buy something finally. You get an addict.

Another option to Godiva and Neuhaus on the international market: Leonidas. But that's a question of personal flavor and taste. Ask three different friends, and you get three different answers.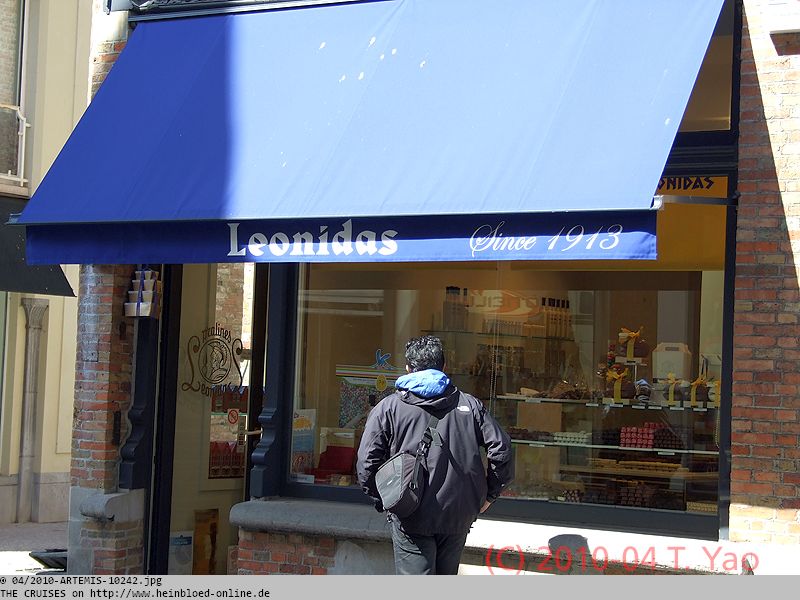 Eine der Alternativen zu Godiva oder Neuhaus international:
Leonidas
. Aber das ist reine Geschmacksache. Fragt drei Leute und ihr bekommt drei unterschiedliche Antworten.
Bei soviel Schokolade in Brügge, braucht man eine herzhafte Abwechslung. Es war so voll in Brügge, dass wir dann nach Gent "geflohen" sind.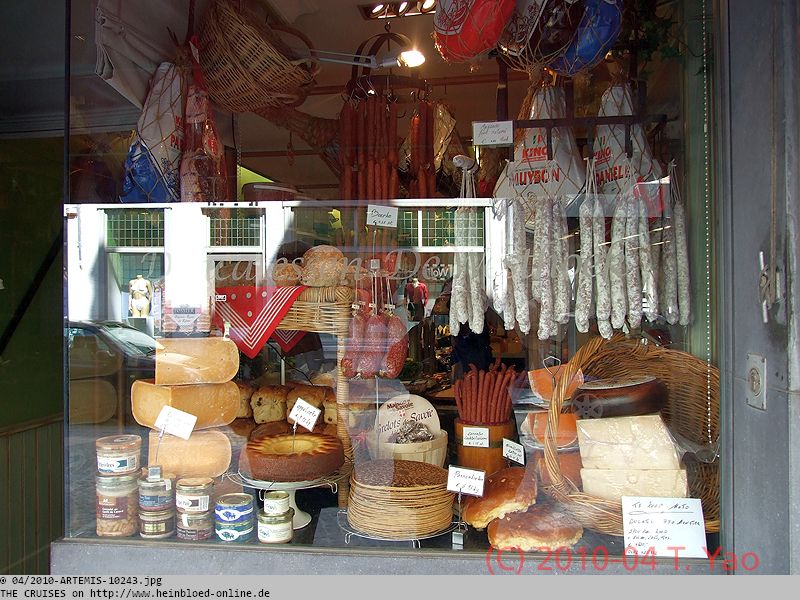 With so much chocolate in Bruge you need a hearty alternative. It was so jampacked in Bruges around noon that we "escaped" to Ghent.
Die anderen Reisen in diesem Blog/
The other voyages in this blog: