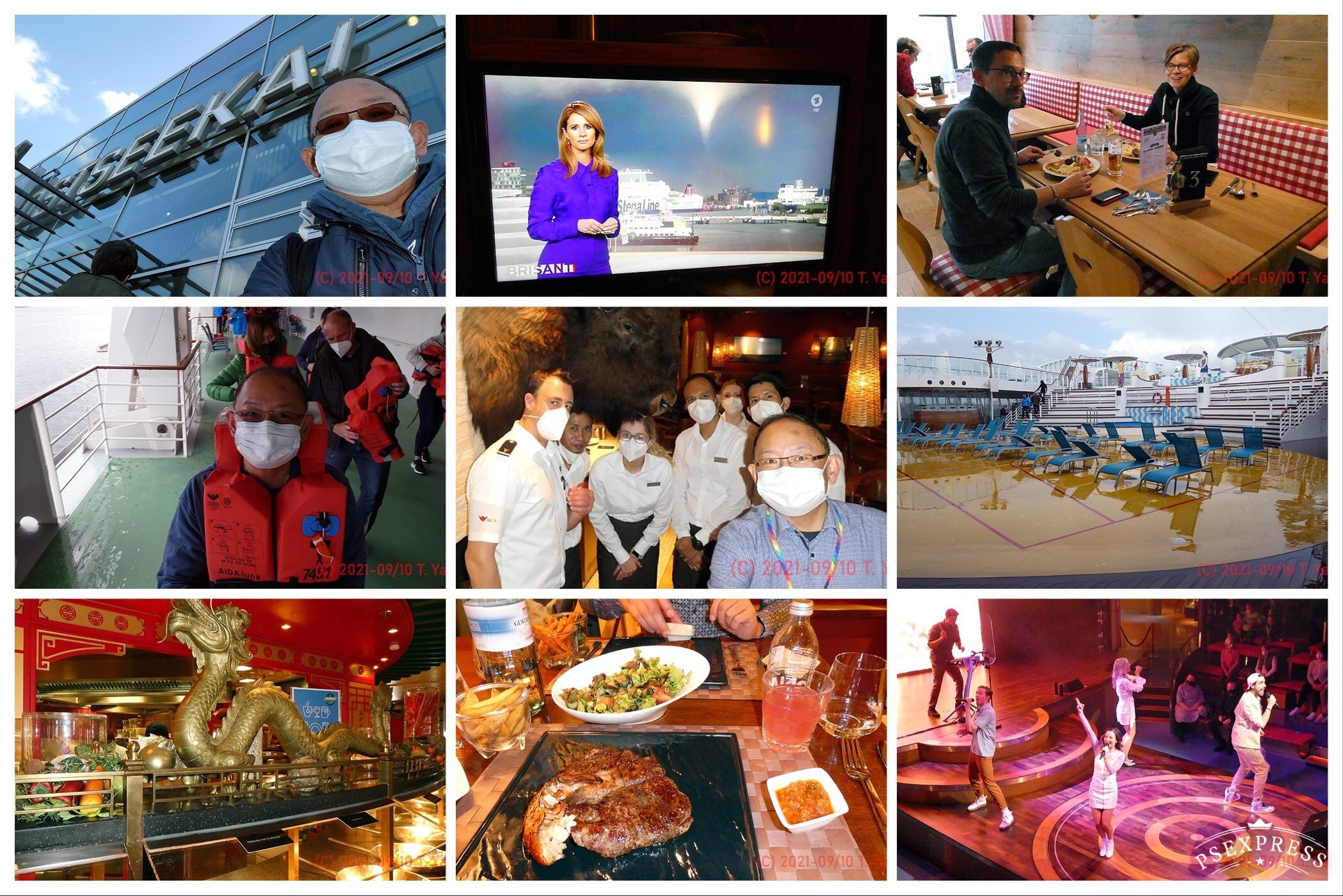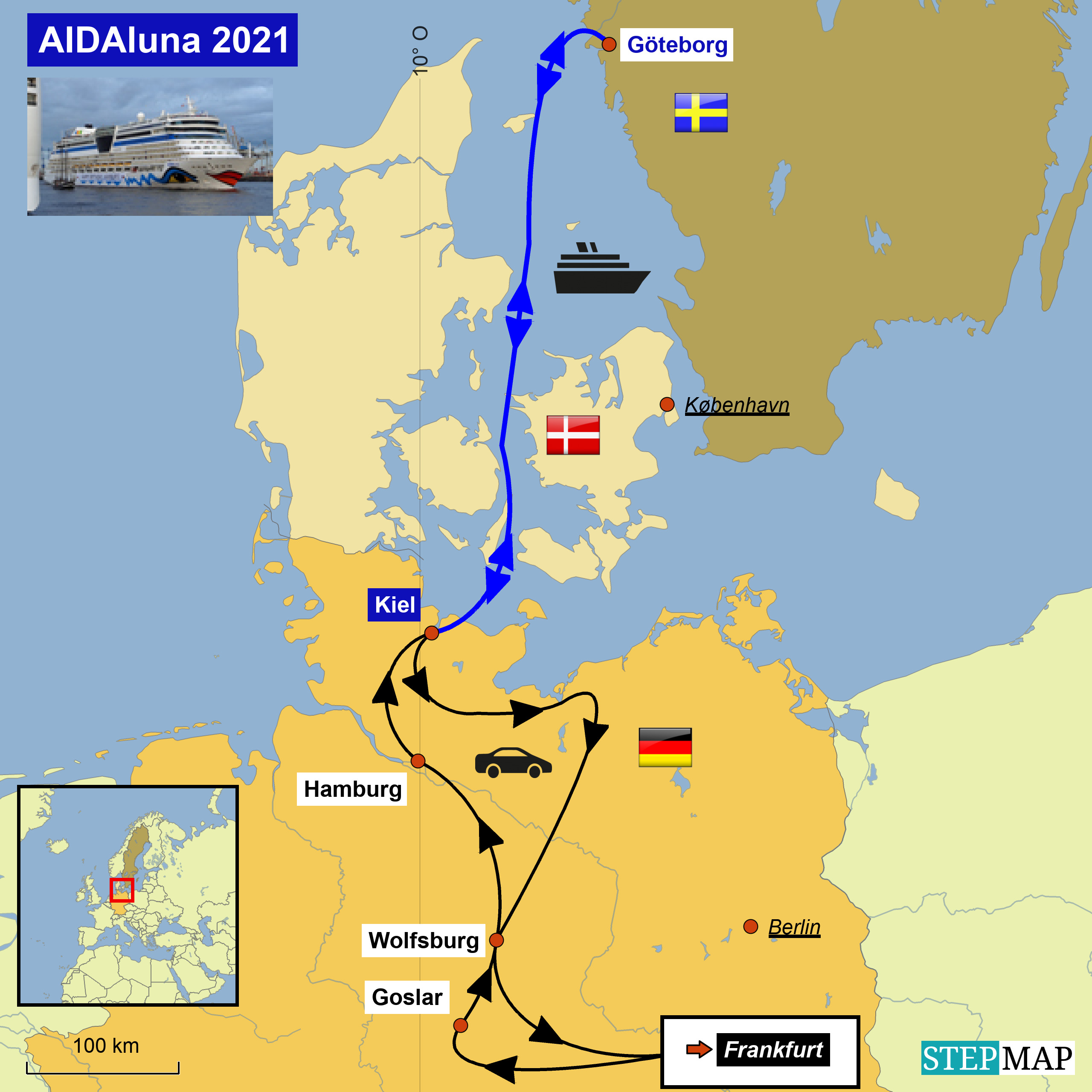 Für unser Frühstück mussten wir Abend zu vor ein Zeitfenster buchen. Wir finden alles, was wir brauchen. Nur laktosefreie Milch gibt es leider nicht. Für einen Morgen geht es.

We had to book a time slot for our breakfast in the evening. We can find everything we need. Unfortunately, there is no lactose-free milk. It works for one morning.

There is enough parking space for the guests here.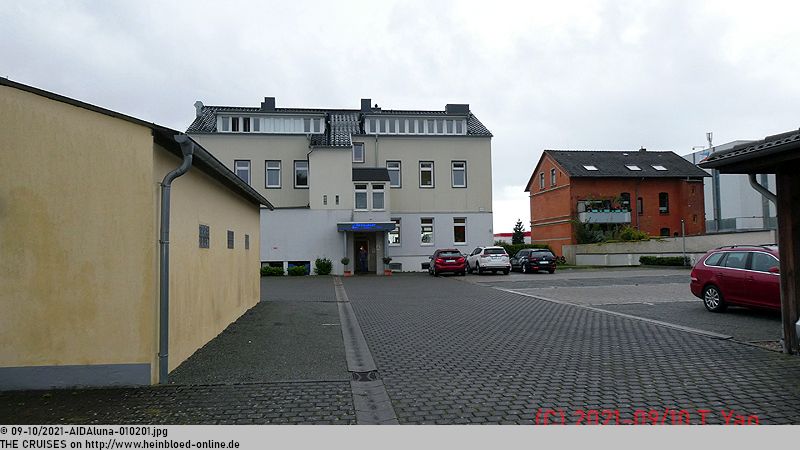 Hier gibt es genug Parkplätze für die Gäste.
Und für Kreuzfahrer, die hier während der Kreuzfahrt parken, gibt es eigene Parkplätze. Wir hatten ja in Erwägung gezogen, die Fahrräder mitzunehmen. Diese hätten wir in der Garage abstellen dürfen. Wegen der Wettervorhersagen, haben wir aber die Fahrräder doch zu Hause gelassen.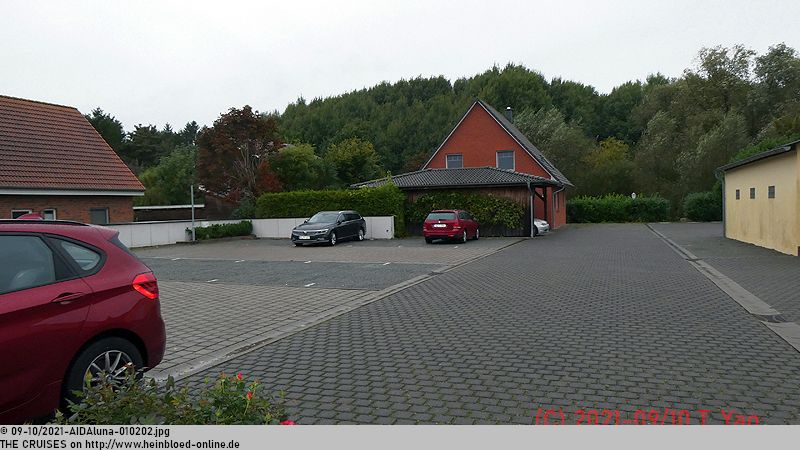 And there is a dedicated parking space for cruise passengers who park here during the cruise. We had considered taking the bikes with us. We should have parked them in the garage. Because of the weather forecast, we left the bikes at home.

A taxi will take us to the cruise terminal. We are unlucky with the driver: he is not interested in the separate agreements between the Hotel Kieler Förde and the taxi company Mare Taxi. He messes with security at Ostseekai Terminal because he does not want a parking ticket. They do not let him drive up without further ado. He is only allowed to drive up when he takes the parking ticket with him.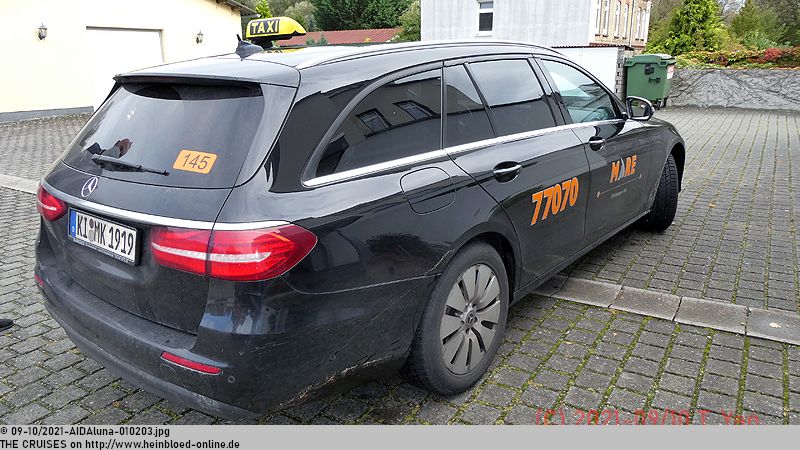 Wir werden mit dem Taxi zum Kreuzfahrterminal gebracht. Mit dem Fahrer haben wir Pech: die Sondervereinbarungen zwischen dem
Hotel Kieler Förde
und dem Taxiunternehmen
Mare Taxi
interessieren ihn nicht. Mit der Security am
Ostseekai
legt er sich an, weil er kein Parkticket möchte. Sie lassen ihn kurzerhand nicht vorfahren. Erst als er das Parkticket mitnimmt, darf er vorfahren.
Obwohl er uns sagt, dass er schon vier Mal, die Tour zwischen Hotel und
Ostseekai
gefahren sei: er hat keine Ahnung, wo man die Gäste für die Gepäckabgabe absetzen muss und würde uns am liebsten mitten auf dem Parkplatz absetzen. Aber wir weisen ihn ein.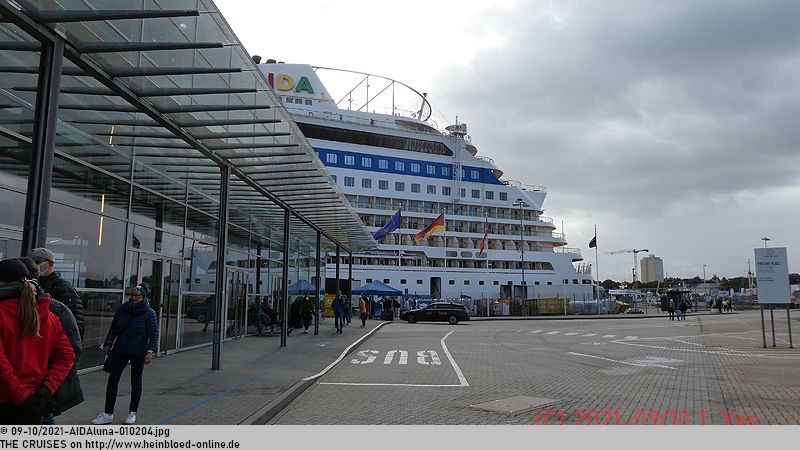 Although he tells us that he has already driven the tour between the hotel and Ostseekai Terminal four times: he has no idea where to drop off the guests and would like to drop us off in the middle of the parking lot. But we instruct him.

We see that a free shuttle is also offered between the central train station and Ostseekai Terminal. The next time we catch such a stupid driver, we will take the bus to the central train station and switch to the shuttle. We look around. The line for the first check-in window at 11:25 hrs. is already waiting. Everyone who does not belong to the 11:25 hrs time window will be sent away. Everything is checked right at the entrance. And the PCR test is carried out in several steps. But they could not find my test tube so that some of us overtook us in the queue and now four employees after my tube. Except for this mishap, it works very well. It continues to embark. At the baggage check, I am asked several times whether I am a crew member. They noticed my pliers to punch a slot in the card. And also multiple sockets. But since my has two USB ports and two Euro plug slots, you can see that it is only for weak electricity users, I can keep it. I am now very grateful that it was delivered incorrectly back then. It has saved my life many times.

Wir sehen, dass auch ein kostenloser Shuttle zwischen Hauptbahnhof und
Ostseekai
angeboten wird. Das nächste Mal, wenn wir so einen blöden Fahrer erwischen, dann nehmen wir den Bus zum Hauptbahnhof und steigen in den Shuttle um. Wir gucken uns um. Die Schlange für das erste Check-In-Fenster 11:25 Uhr steht bereits. Es wird jeder fortgeschickt, der nicht zum Zeitfenster 11:25 Uhr gehört. Es wird alles schon direkt am Eingang geprüft. Und in mehreren Schritten geht es zum PCR-Test. Aber sie finden mein Teströhrchen nicht, so dass uns einige nach uns an der Schlange überholen und mittlerweile vier Mitarbeiter nach meinem Röhrchen. Bis auf diese Panne, klappt es sehr gut. Weiter geht es zur Einschiffung. An der Gepäckkontrolle werde mehrfach gefragt, ob ich Crewmitglied bin. Meine Zange, um einen Schlitz in die Karte einzustanzen, fällt auf. Und auch eine Mehrfachsteckdose. Aber da meine zwei USB-Ports und zwei Eurostecker-Plätze hat, sehen sie dass es nur für schwache Stromnutzer ist, darf ich es behalten. Ich bin jetzt sehr dankbar, dass es damals falsch geliefert wurde. Es hat mir schon oft das Leben gerettet.
Als wir gegen 12:00 Uhr an Bord gehen, steht unser Gepäck schon vor der Kabine. Klasse: wir haben jetzt ca. 90-120 Minuten Quarantäne in der Kabine. Dann können wir in Ruhe auspacken.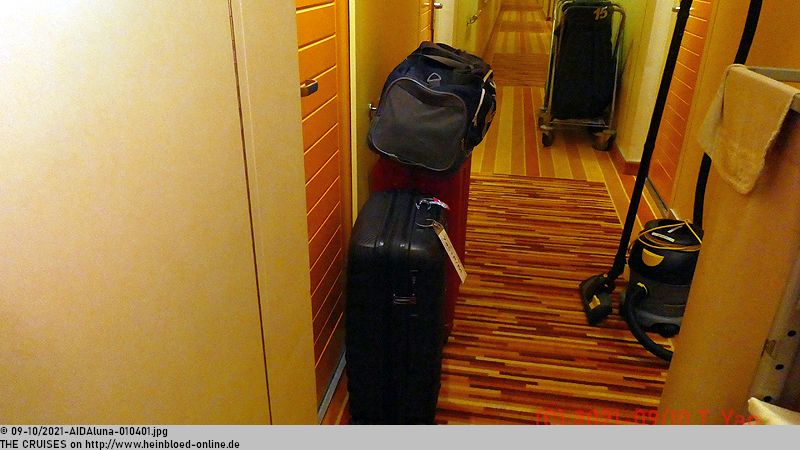 When we get on board around noon, our luggage is already in front of the cabin. Great: we now have about 90-120 minutes of quarantine in the stateroom. Then we can unpack in peace.

First, we want to see what we get and whether we like the product. There was neither an upgrade nor an upsell offer. We booked the cheapest category: we do it the most with companies we have never been with before. We booked with Sonnendeck-Seereisen, who was taking care of everything for us. But it will be fine for three nights.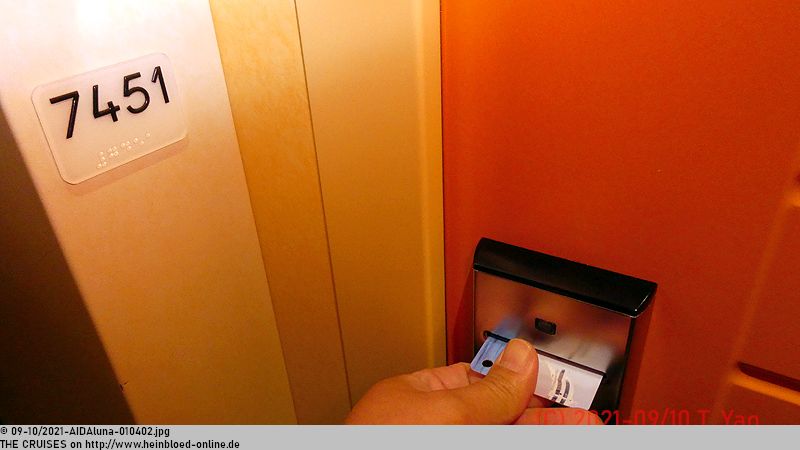 Wir haben die preiswerteste Kategorie gebucht: bei Gesellschaften, mit denen wir noch nie unterwegs waren, machen wir es meistens. Gebucht haben wir über
Sonnendeck-Seereisen
, die sich um alles gekümmert haben. Wir wollen zunächst sehen, was wir bekommen und ob uns das Produkt gefällt. Es gab weder ein Upgrade noch ein Upsale-Angebot. Aber für drei Nächte wird es schon gehen.
Zum Glück kein Doppelbett mit einer großen Decke, sondern zwei Einzelbetten und zwei Einzeldecken. Perfekt.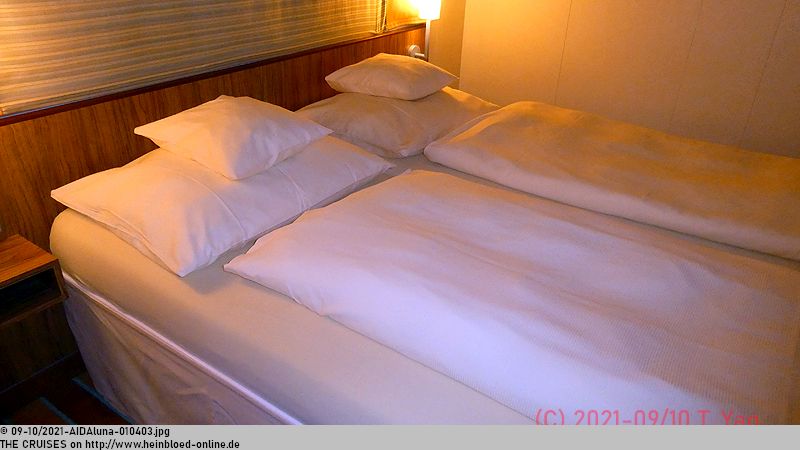 Fortunately, not a double bed with a large blanket, but two single beds and two single blankets. Perfect.

We booked a Segafredo coffee machine in advance. Although I booked coffee and espresso capsules mixed, we only got espresso. Otherwise, we notice: the ship is from a different generation: no sockets or USB ports on the bed. Hardly any storage space on the bed. Otherwise, there is a lot of storage space. We try out a wireless router that can also continue to split the signal. It worked well in the hotel before. Not all of our devices have Bluetooth, and so we cannot use Bluetooth tethering that way. However, we found that we can use two devices at the same time anyway. That does not always work well because you have to log out and log in again from time to time. But somehow, it works. There is water for sale. The carafe from the stories that you can tap water yourself probably no longer exists. The air conditioning works well, and we do not have to tape anything, as this construction, like a four-poster bed, means that nothing is blown directly onto our face. AIDA does not have a turn-down service in the evening.

Wir haben vorab eine
Segafredo
Kaffeemaschine gebucht. Obwohl ich allerdings Kaffee und Espresso-Kapseln gemischt gebucht habe, bekommen wir nur Espresso. Ansonsten merken wir: das Schiff ist aus einer anderen Generation: keine Steckdosen oder USB-Ports am Bett. Kaum Ablagefläche am Bett. Ansonsten ist aber sehr viel Staufläche vorhanden. Wir probieren einen WLAN-Router aus, der auch weiter das Signal splitten kann. Im Hotel zuvor hat es gut funktioniert. Nicht alle Geräte von uns haben Bluetooth und so können wir Bluetooth-Tethering nicht so nutzen. Allerdings stellen wir fest, dass eh zwei Geräte gleichzeitig nutzbar sind. Das klappt nicht immer gut, weil man sich zwischendurch auch mal neu ab- und anmelden muss. Aber irgendwie geht es. Es gibt Wasser zum Verkauf. Die Karaffe aus den Erzählungen, dass man sich selbst Wasser zapfen kann, gibt es wohl nicht mehr. Die Klimaanlage funktioniert gut und wir müssen nichts abkleben, da durch diese Konstruktion wie ein Himmelbett wird nichts direkt auf unser Gesicht geblasen. Einen Turn-Down-Service abends gibt es bei AIDA nicht.
Im Bad finden wir das Schild "evacuated" an der Tür: wie funktioniert das? Wir sind aber ansonsten sehr begeistert: sehr vorbildlich mit sehr viel Platz. Hier können sich viele andere Gesellschaften einen Scheibe abschneiden. Sehr schön: die Handtücher in zwei Farben, damit man sie auseinander halten kann.

In the bathroom, we find the sign "evacuated" on the door: how does it work? But otherwise, we are very enthusiastic: very exemplary with a lot of space. Many other companies can learn from this. Very nice: the towels are in two colors so that you can tell them apart.

We have something to drink with us because it was recommended to us by other cruisers at the German cruiser forum kreuzfahrten-treff.de. But since there is water to be taken or bought in the cabin, that was unnecessary. Especially since the prices are reasonable: a large bottle costs only 2.50 EUR (including service charge).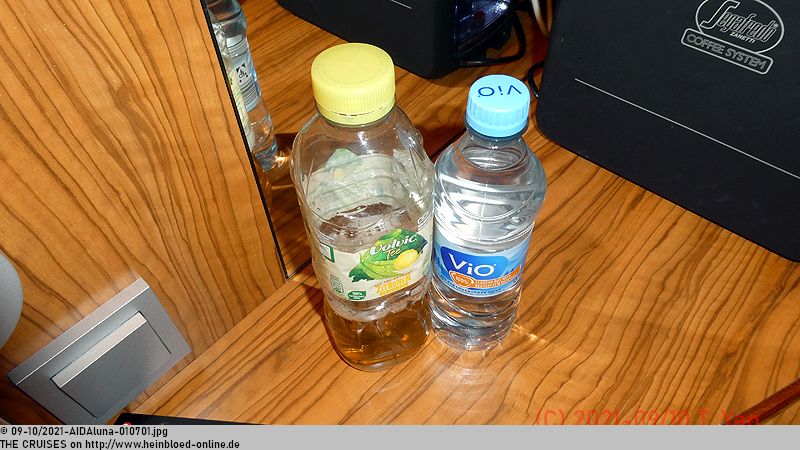 Wir haben etwas zu trinken mit, weil uns das im kreuzfahrten-treff.de von anderen Kreuzfahrern empfohlen wurde. Aber da Wasser zur Entnahme bzw. Kauf in der Kabine steht, war das unnötig. Zumal es doch anständige Preise sind: eine große Flasche kostet nur 2,50 EUR (inkl. Servicecharge).
Aber zum Glück haben wir ja auch die Kaffeemaschine in der Kabine und können uns einen Espresso machen.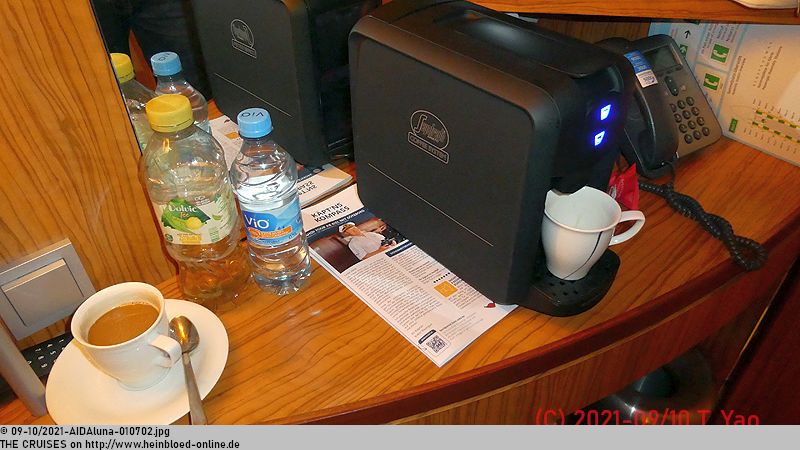 Fortunately, we also have a coffee machine in the cabin and can make an espresso.

We have chocolate from Läderach from Switzerland with us, which we got as a present in Hamburg, and my mother gave me cheese biscuits from Café Heinemann beforehand.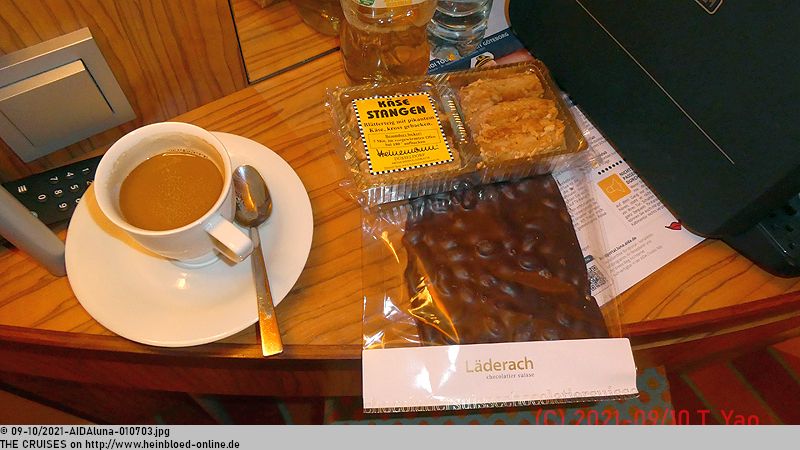 Wir haben Schokolade von
Läderach
dabei, die wir in Hamburg geschenkt bekommen habe und von meiner Mutter habe ich zuvor Käsegebäck von
Café Heinemann
bekommen.
So hänge ich noch ein paar Minuten in meiner Quarantäne-Ecke, aber sehr bald kommt schon die Ansage, dass die Gruppen 1 und 2 die Kabinen verlassen dürfen.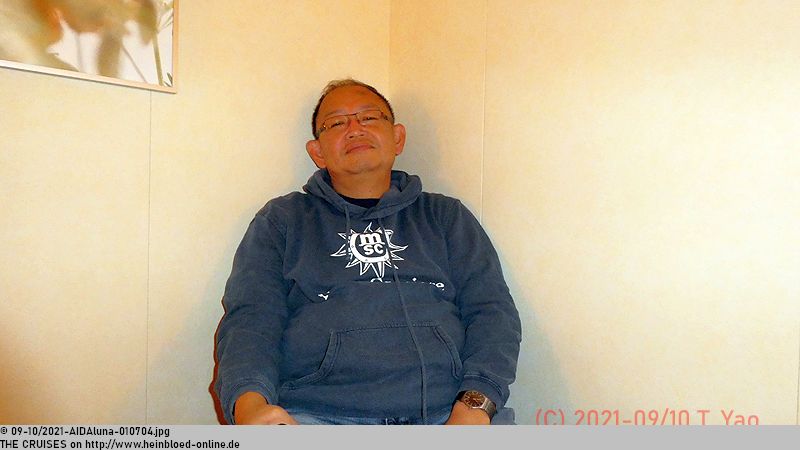 So I hung in my quarantine corner for a few minutes, but very soon, the announcement came that groups 1 and 2 were allowed to leave the cabins.

13:25 hrs. It is earlier than I thought.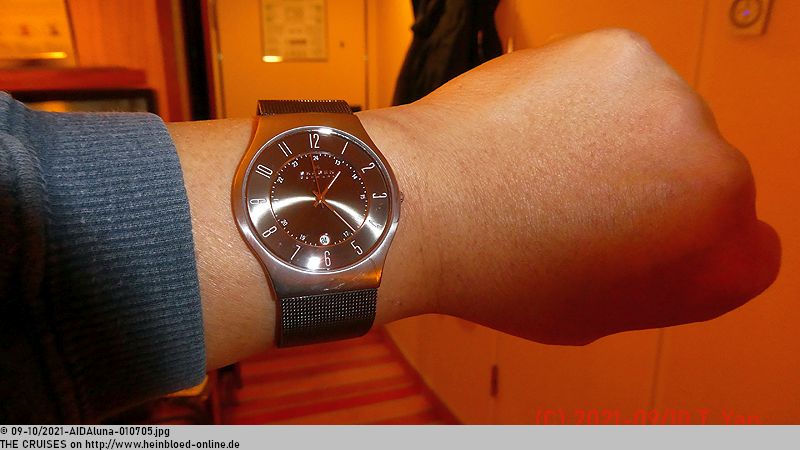 13:25 Uhr. Es ist früher als ich angenommen habe.
Wir müssen direkt zur Seenotrettungsübung, die in Kleingruppen an der Sammelstation stattfindet.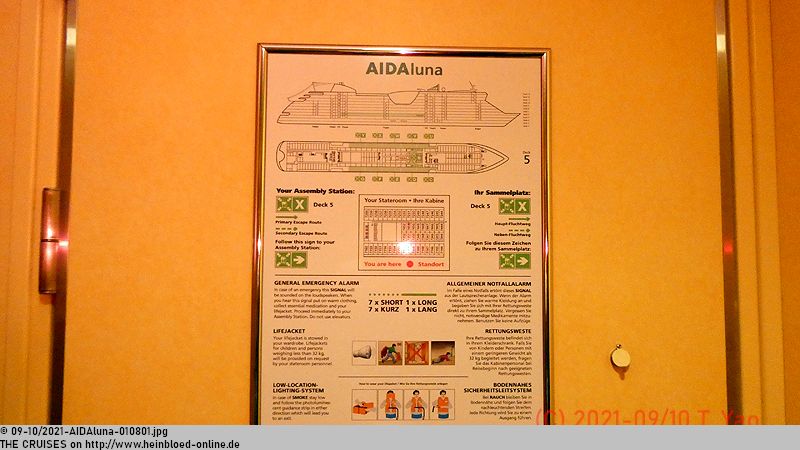 We have to go straight to the life drill, which takes place in small groups at the assembly station.

Here it should go to our muster station X on the port side promenade deck.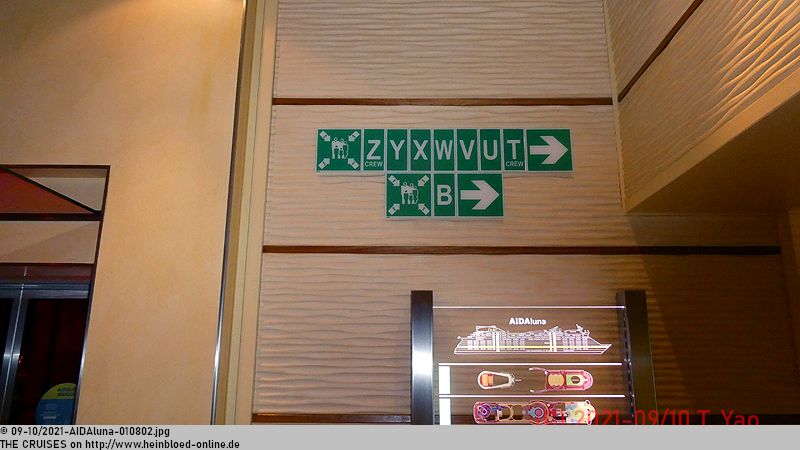 Hier müsste es zu unserer Sammelstation X auf das Backbord-Promenadendeck gehen.
Da über das Promenadendeck auf der Backbordseite die Einschiffung stattfindet, müssen wir nicht zu unserer Sammelstation X, sondern auf die Steuerbordseite.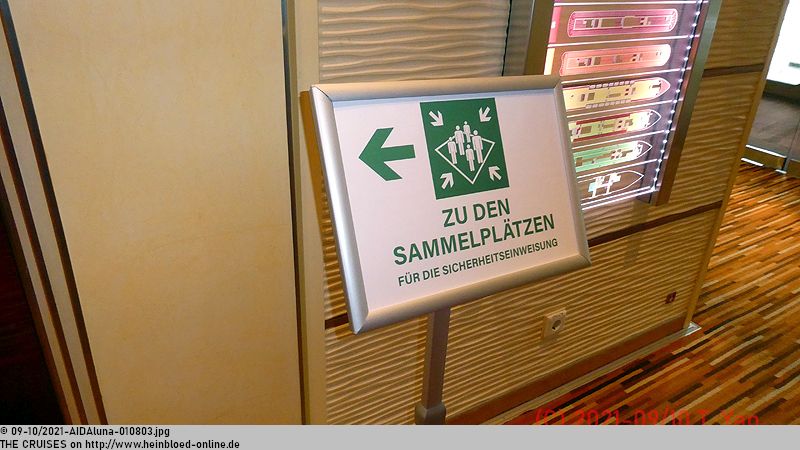 Since embarkation takes place via the promenade deck on the port side, we do not have to go to our muster station but to the starboard side.

It is so highly relaxed. But we are lucky that it is not raining and windy now.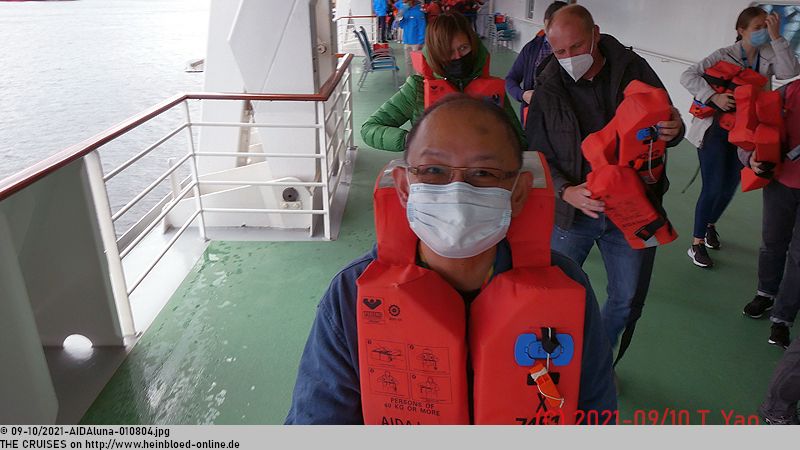 Das läuft so extrem entspannt. Wir haben aber Glück, dass es jetzt nicht in Strömen regnet und windet.
Nun kommt die Achillessehne der Fahrt: das SB-Restaurant Weite Welt. Aber wir erleben nicht mit, dass vor Öffnung bereits Schlangen von Menschen davor stehen: es ist bereits alles geöffnet und zum Zeitpunkt der Ankunft sehr entspannt. Später, als die großen Gruppen kommen, wird doch es doch schlimm: unser Nachbartisch fängt an, alles "umzubauen" und zu "renovieren"! Auf einmal hatte ich beim Zurückrücken die Stühlesammlung des Nachbartischs im Rücken. Sie haben sich ihre Tischordnung ohne Rücksicht auf andere Tische einfach umgebaut. Der Service am Tisch beschränkt sich auf den Austausch von stillem Wasser gegen sprudelndes Wasser. Wein möchten wir keinen. Die Kellner heißen "Wünscheerfüller". Sonst wird nur abgeräumt. Alles andere müssen wir uns selbst holen. Das Angebot sieht auf den ersten Blick sehr gut aus, aber insgesamt gibt es drei Gebratene-Nudel-Gerichte zur Auswahl. Ein chinesisches Büffet sollte mehr können. Irgendwann wird es uns doch zu voll hier und zu unruhig hier. Wir wollen lieber woanders einen Kaffee trinken gehen. Im Programm steht, dass es auch ein Büffet-Restaurant mit Tischservice gibt. Ist wohl wie bei
IKEA
: die jenigen, die mit Selbertransport und Aufbau der Möbel bei
IKEA
großgeworden sind, mögen immer noch den Stil, aber nicht mehr die Schlepperei. Hier gibt es auch einen Transport- und Aufbauservice. Ich denke, dass es hier nicht anders ist: nicht jeder, der vor zehn Jahren gerne am Büffet war, möchte immer noch selbst zum Büffet laufen. Lt. Tagesprogramm steht es nicht offen, aber auf mich macht es schon den Eindruck, dass es hier auch einen Betrieb mittags gab.

Now comes the Achilles tendon of the journey: the self-service restaurant "Weite Welt" (Wide World). But we do not experience that queues of people are already standing in front of the opening. Everything is already open and very relaxed at the time of arrival. Later, things worsen when the big groups come: our table next to us starts to "rebuild" and "renovate" everything! Suddenly when I moved back, I had the collection of chairs from the following table in my back. You have simply rearranged your table arrangement regardless of other tables. The service at the table is limited to the exchange of still water for sparkling water. We do not want wine. The waiters are called "wish fulfillers". Otherwise, only clearing away. We have to get everything else ourselves. The range looks very good at first glance, but there are three fried noodle dishes to choose from. A Chinese buffet should be able to do more. At some point, it gets too crowded here and too restless here. We would instead go for a coffee somewhere else. In the program, there is also a buffet restaurant with table service. It's like at IKEA: those who grew up with self-transport and assembly of furniture at IKEA still like the style, but no longer the haulage. There is also a transport and assembly service here. I think it's no different here: not everyone who enjoyed the buffet ten years ago still wants to walk to the buffet themselves. The daily program says that it is not open, but it gives me the impression of a lunch service here.

The "Almhütte" (Alpine Hut) has table service, but drinks must be paid for separately. Here we also see Verena and Dennis again, whom we know from kreuzfahrten-treff.de. We were already on the road together at QUEEN ELIZABETH 2012 (2) and NORWEGIAN JADE 2018.

Die "Almhütte" mit Bedienung am Tisch, allerdings müssen die Getränke extra bezahlt werden. Hier sehen wir auch Verena und Dennis wieder, die wir aus kreuzfahrten-treff.de kennen. Gemeinsam waren wir schon auf der
QUEEN ELIZABETH 2012 (2)
bzw.
NORWEGIAN JADE 2018
unterwegs.
Wir sehen uns an Bord um. Draußen ist nichts los: es regnet in Strömen!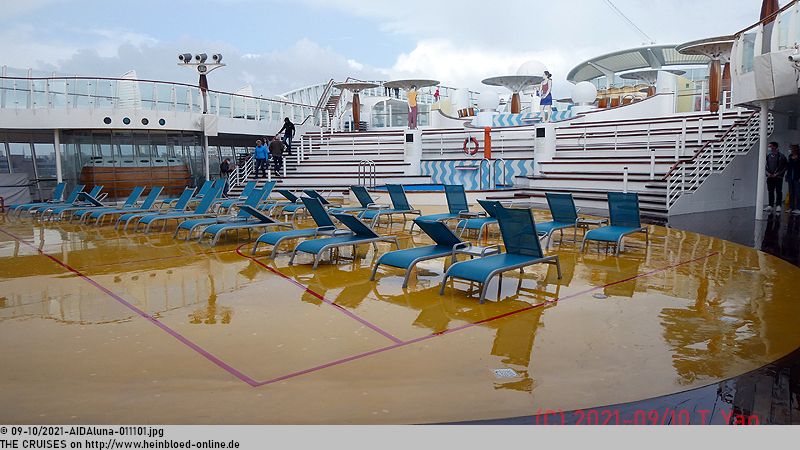 We look around on board. Nothing is going on outside: it is pouring rain!

A film was supposed to be shown here tonight, but it should be too wet and cold.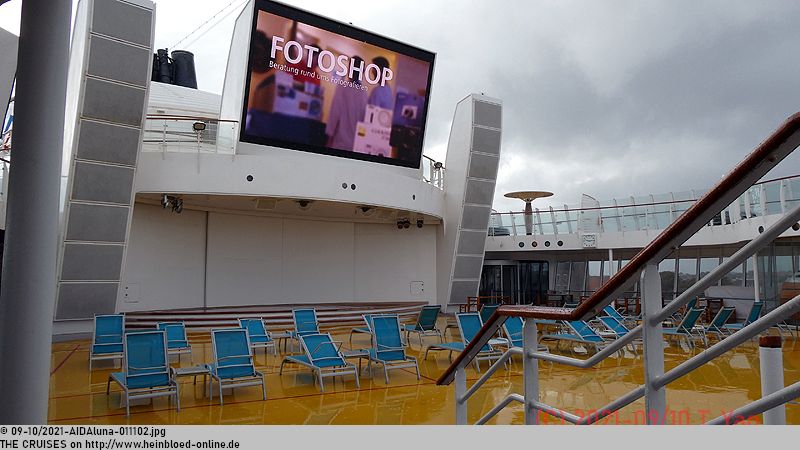 Heute Nacht sollte hier ein Film gezeigt werden, aber das dürfte wohl zu nass und kalt werden.
Wir suchen eine Kaffeebar mit einer Baristamaschine. So etwas gibt es nicht an Bord. Selbst der
Starbucks
-Kaffee im Café Mare wird in einem Vollautomat hergestellt. An der AIDA Bar gibt es
Lavazza
aus einem Vollautomat. Aber der Zustand wirkt schon erschreckend. Laktosefreie Milch ist da. Aber keiner mit Baristaausbildung, der zumindest den Cappuccino hübsch anrichtet. Kuchen nehmen wir keinen.

We are looking for a coffee bar with a barista machine. There is no such thing on board. Even the Starbucks coffee in Café Mare is made in a fully automatic machine. At the AIDA Bar, there is Lavazza from a fully automatic machine. But the condition looks terrifying. Lactose-free milk is here. But no one with a barista training who at least prepares the cappuccino nicely. We do not take the cake.

We keep looking around on board. There is even a laundromat. It is officially closed but still accessible. We also understand that no upgrade or upsell is possible: some decks are locked for quarantine and crew and are not for sale.

Wir sehen uns an Bord weiterhin um. Es gibt sogar einen Waschsalon. Offiziell ist er geschlossen, aber doch zugänglich. Nun verstehen wir auch, dass es kein Upgrade bzw. Upsale möglich ist: ein Teil der Decks ist für Quarantäne und Crew gesperrt und steht nicht zum Verkauf.
Ein Besuch in der öffentlichen Herrentoilette. Sogar die Papierhandtücher im Spender sind mit einem Dreieck gefaltet.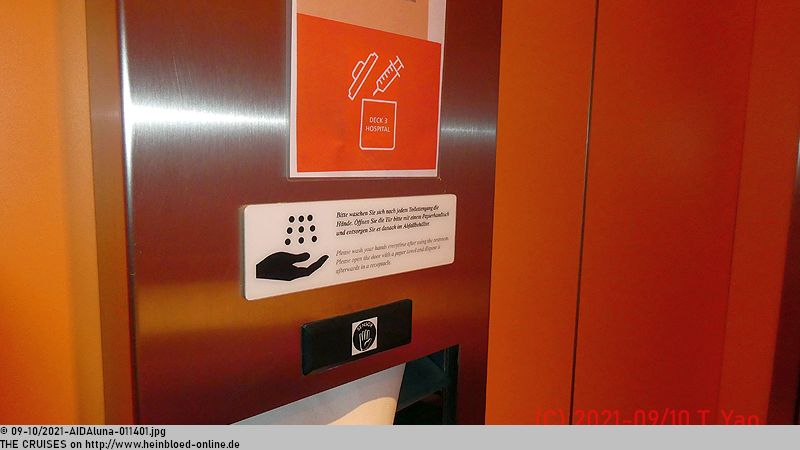 A visit to the men's public toilet. Even the paper towels in the dispenser are folded with a triangle.

I think the colors on the sink are terrible.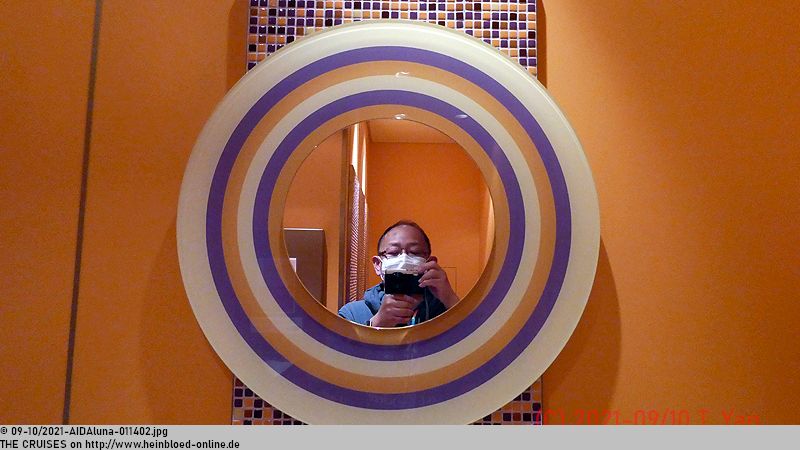 Die Farben am Waschbecken finde ich schrecklich.
Es ist eine Zeitreise. Willkommen im Jahr 2009. Ist das Schiff schon zwölf Jahre alt?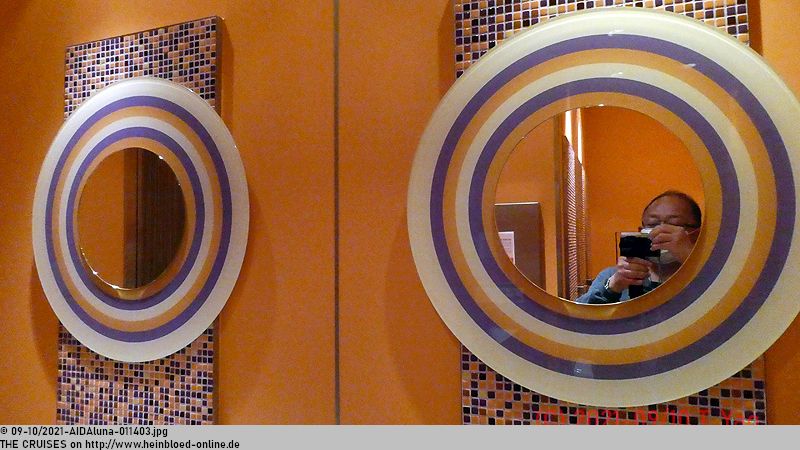 It is a time journey. Welcome to 2009. Is the ship twelve years old?
Die anderen Reisen in diesem Blog/
The other voyages in this blog: