Scroll down for English explanations - alternates with German explanations.

Ich wache mitten in der Nacht auf, weil irgendwo randaliert wird. Abgesehen davon habe ich Hunger. Den Besuch im Cliff 24 finde ich unangenehm: es ist arschkalt und es ist eigentlich so gut wie nichts mehr da. So habe ich Glück, dass ich noch einen Hot Dog bekomme.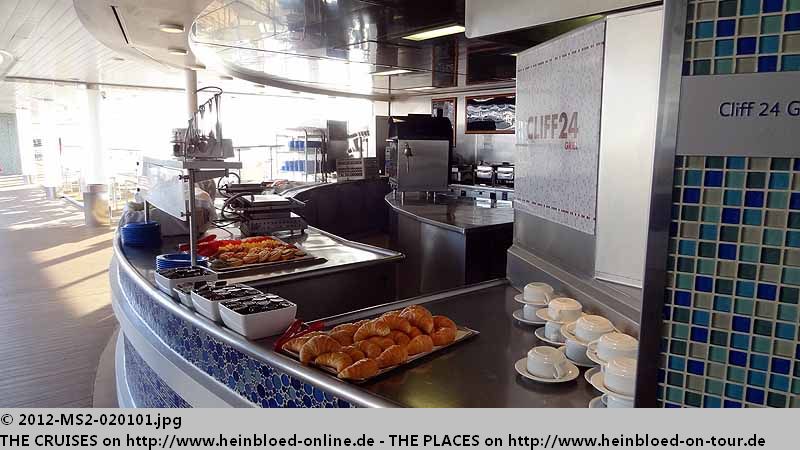 I woke up in the middle of the night because it sounded like some riots. But anyhow I was hungry. I did not like the visit of the Cliff 24-venue: it was cold and they had more or less nothing. So I was lucky that I could still get a hot dog.

It was good to find all the shoe shine machines which were allocated all over the ship. But the shoe shine service with Holland America was much better.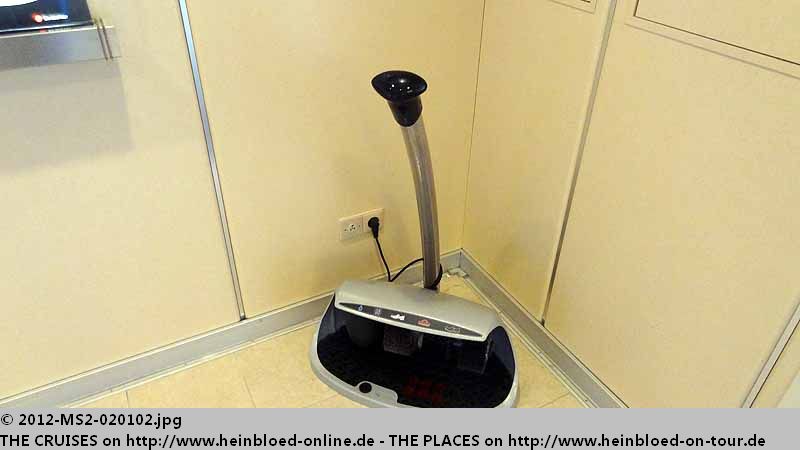 Gut finde ich die Schuhputzautomaten die über das Schiff verteilt sind. Besser finde ich allerdings den Schuhputzservice bei Holland America.
Weggefallen sind die Anzeigen an den Decken, bei denen man auf der CENTURY sofort sehen konnte, welcher Fahrstuhl als nächster kommt. Diejenigen, die immer beide Knöpfe drücken, weil es ja schneller geht, sind aber subjektiv stärker vertreten als auf anderen Schiffen, die ich kenne.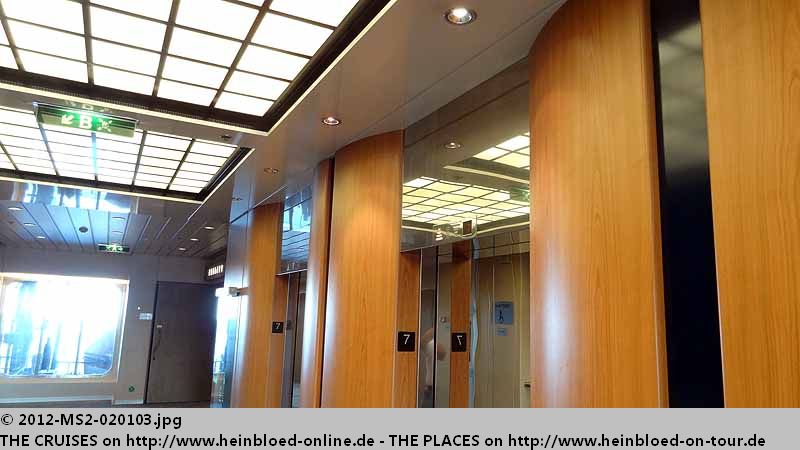 There were no more displays on the ceiling which we knew from CENTURY so you could see immediately which would the next available elevator cabin. I had the personal impressions that the share of those people who always pressed both bottons (up and down) was much higher than than on other ships I knew.

It was Father's Day. Around 02.30 hrs it looked like some trouble. One guests pee all over the lavatories because he was really out of control. A nurse and a wheelchair came but finally they escorted the guest back to his room.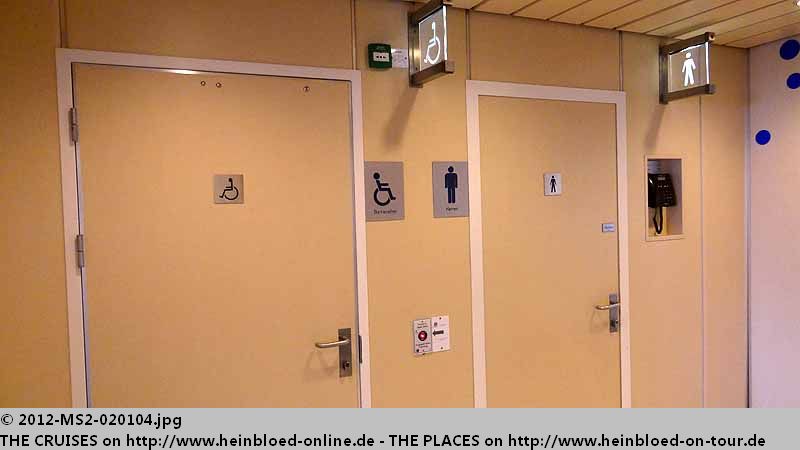 Es war Vatertag. Um 02.30 Uhr ist helle Aufregung. Ein Passagier hat wohl alles voll uriniert, weil er sich nicht mehr unter Kontrolle hatte. Schwester und Rollstuhl kommen, aber der Passagier wird nur noch in seine Kabine gebracht.
Über uns ist nur die Damentoilette. Fand dort vielleicht eben eine Damen-Catchen statt, von dem ich wach geworden bin?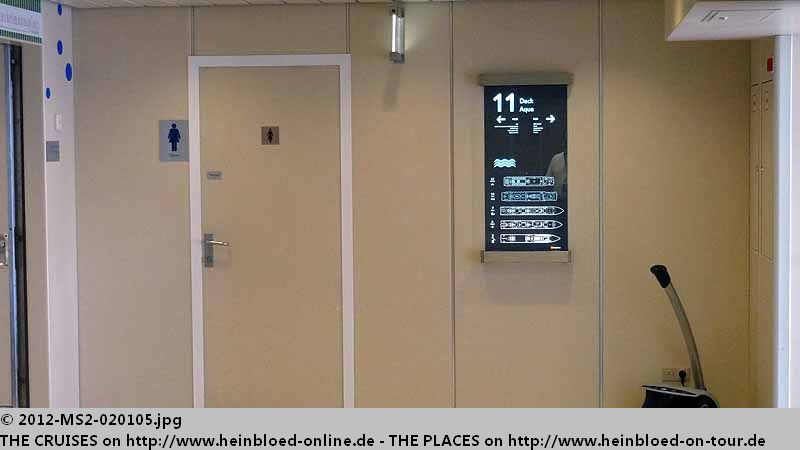 But above our cabin there was the Ladies' room. Maybe they had a Ladies' Catching event there which made me waking up.

When I wanted to edit the pictures of the last night I found out that the SD-memory card was damaged. A first trial to rescue the pictures was not successful. But later at home we cannot rescue any picture either.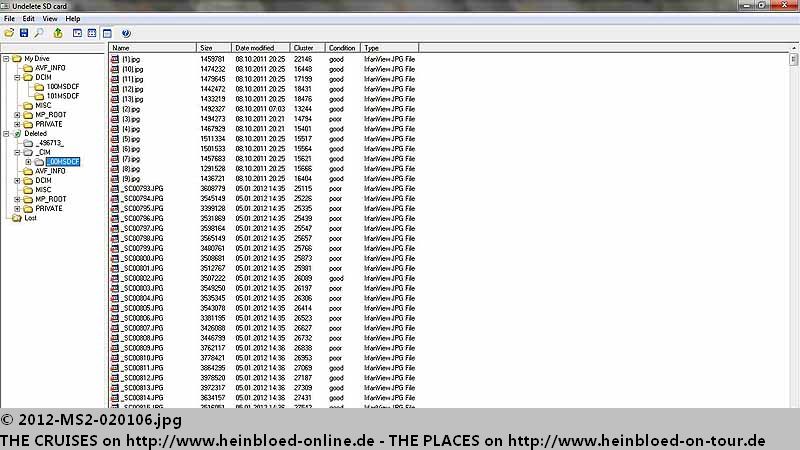 Als ich morgens die Bilder des letzten Abends bearbeiten will, stelle ich leider fest, dass die SD-Karte beschädigt ist. Ein erster Rettungsversuch mißlingt leider. Aber auch zu Hause können wir später nichts mehr retten.
Das Theater hatte ich auf der CENTURY nie gesehen. Daher habe ich hier keine Vergleichsmöglichkeiten.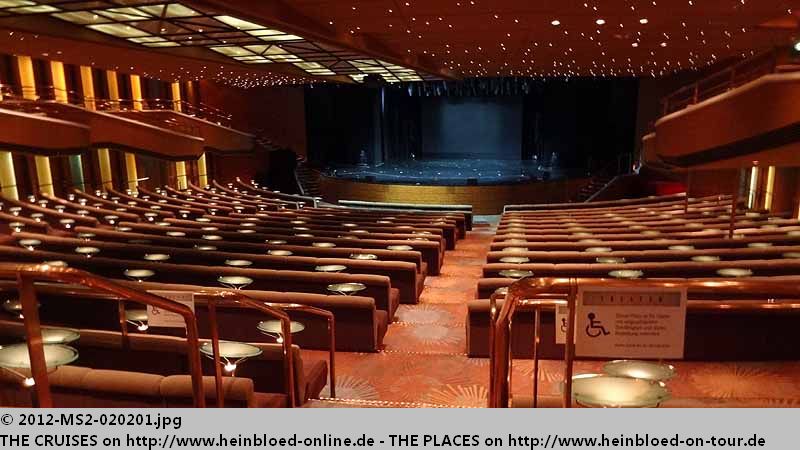 I never had an occassion to see the theater on CENTURY. So I cannot compare.

The Atrium.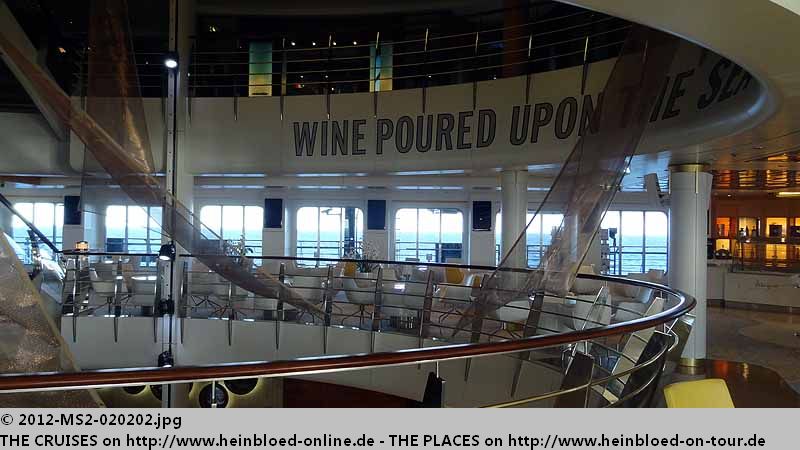 Das Atrium.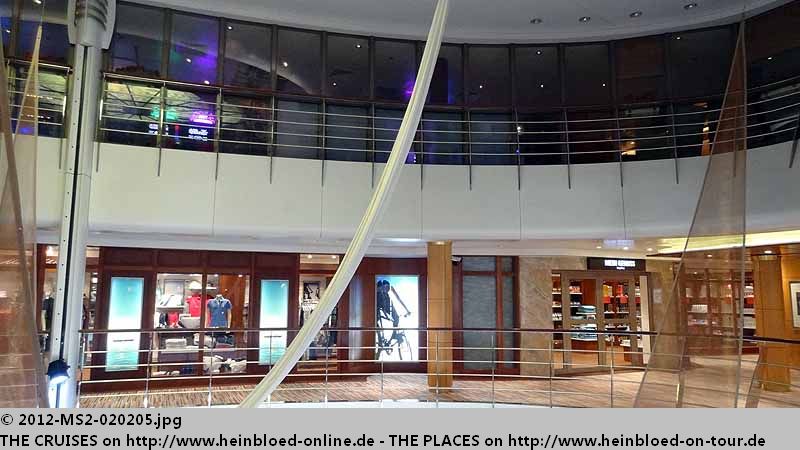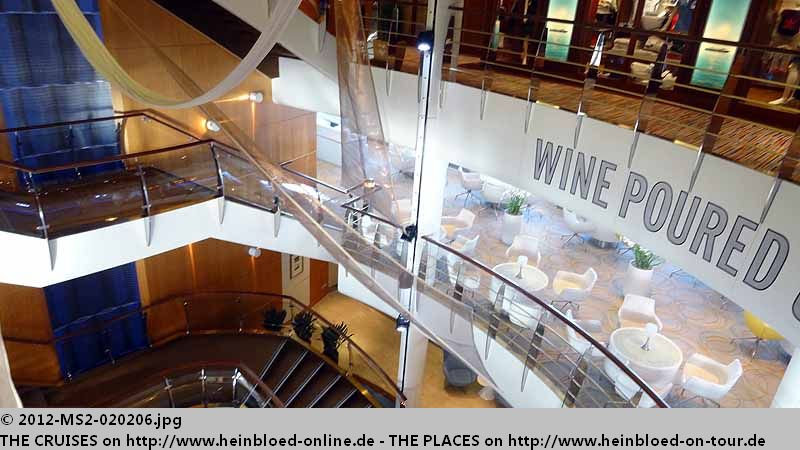 Beim Fotografen werden die Bilder nicht mehr in Papierform angezeigt, sondern nur noch digital.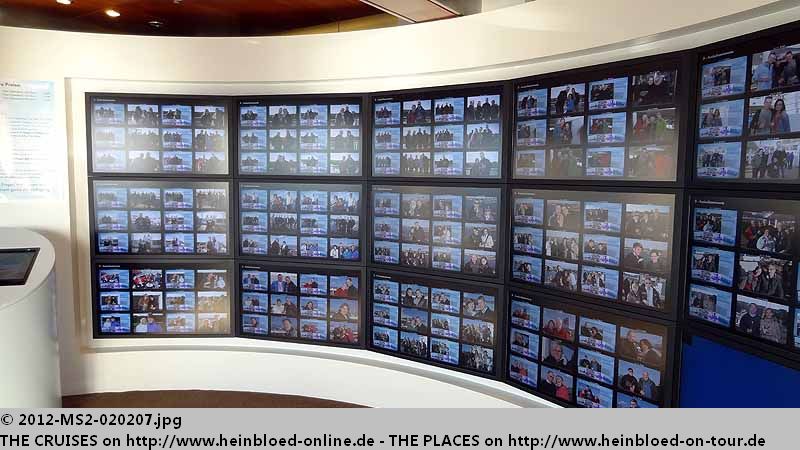 They do not show anymore the pictures as print but as digital.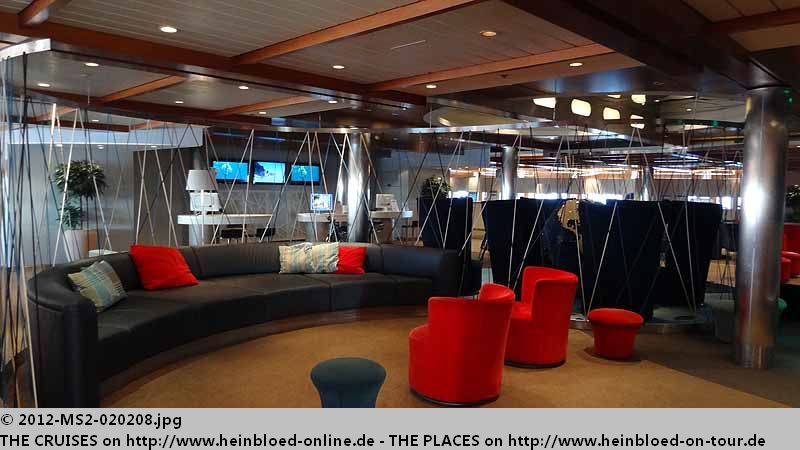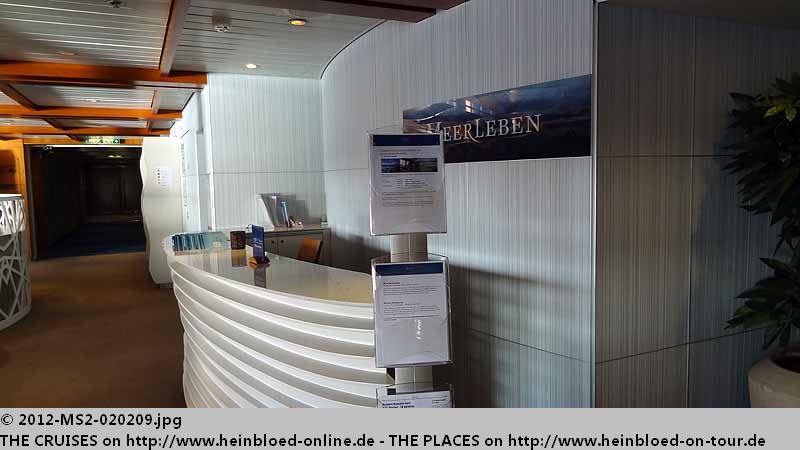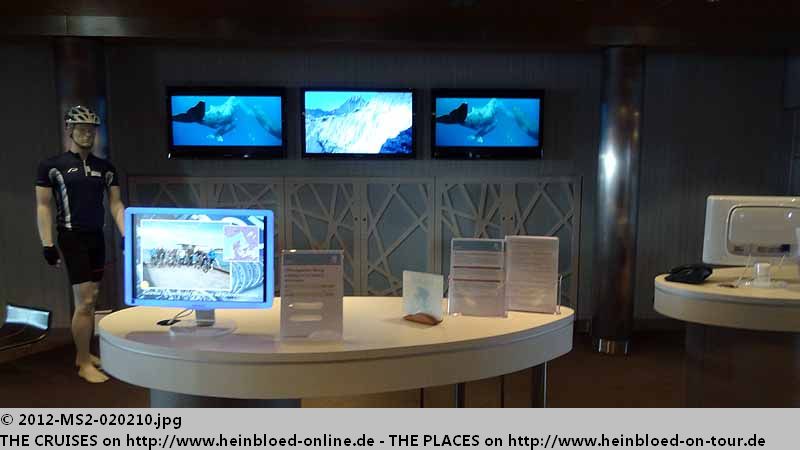 Für zu Hause kann man sogar das Rad erwerben, mit denen die Radausflüge durchgeführt werden.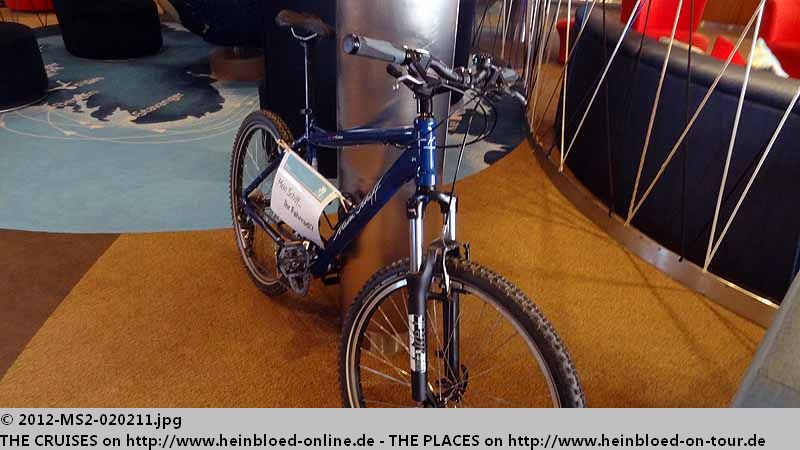 For your home you can buy the bike which you used for the shore excursion tours by bike.

The "Meeresmaler" (= Sea painters / against fee you can learn how to paint). Nothing for me.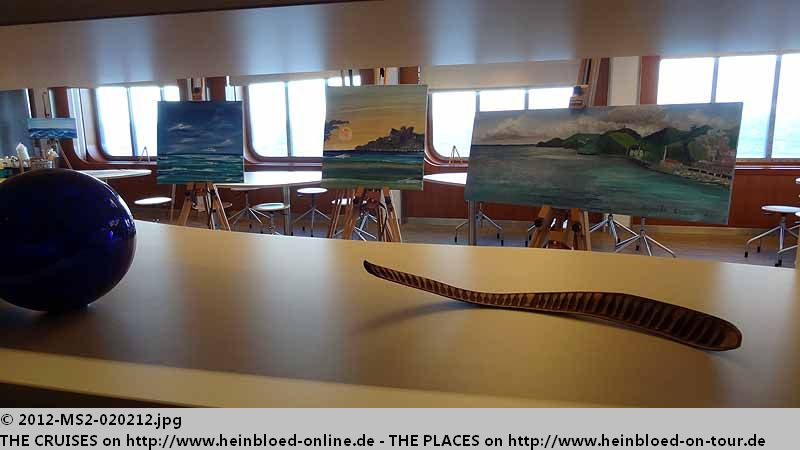 Die Meeresmaler. Nichts für mich.
Die Blaue Welt Bar Apéro: direkt vor dem Eingang des Atlantik Restuarants auf Deck 5 und 6. An eine Bar an dieser Stelle kann ich mich auf der CENTURY gar nicht erinnern. Aber ich finde es gut. Wenn man einen Pager hätte, um hier auf einen freien Tisch zu warten... Aber das gab es ja gar nicht.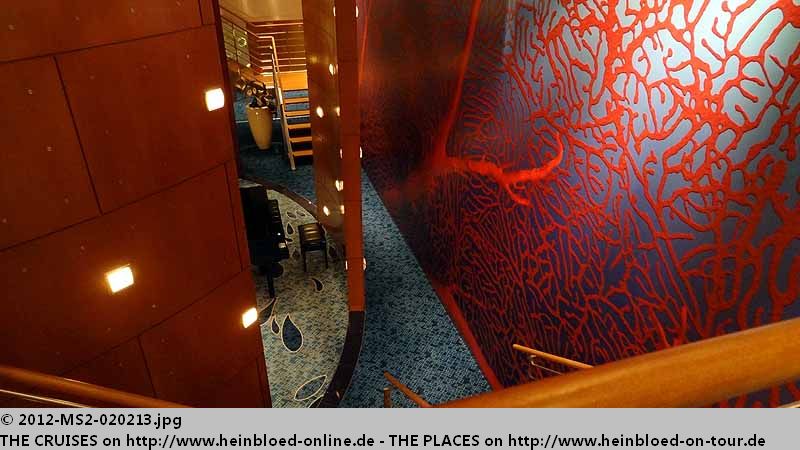 The Blaue Welt Bar Apéro (= Blue World Bar Apéro = Swiss version of before dinner drink): just in front of the entrances to the Atlantik (= Atlantic) Main Dining Room on Deck 5 and 6. I could not remember that there was any bar on CENTURY. But I liked it subject you would have a pager to wait here for a vacant table... but there was none.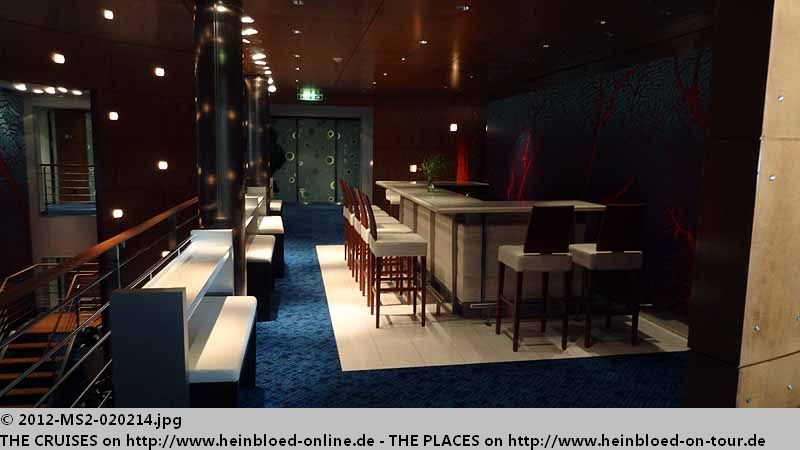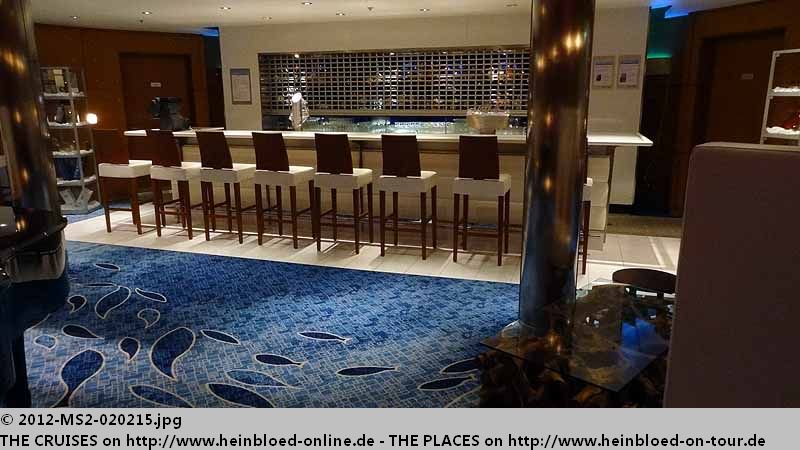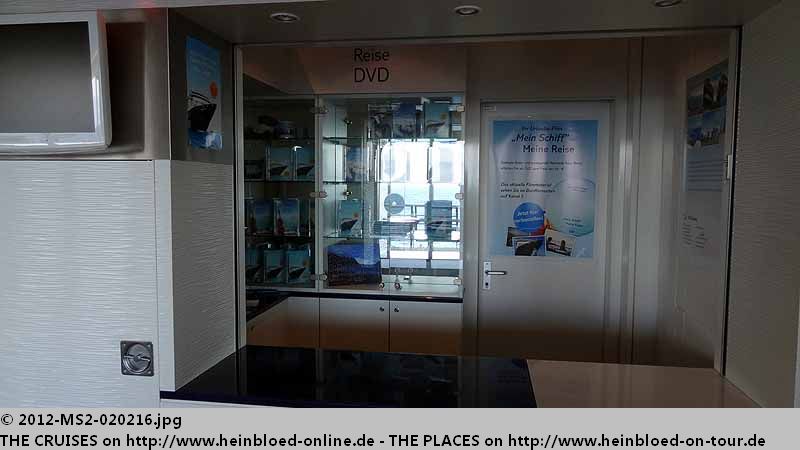 Die Rezeption befindet sich an der Stelle, die mir von der CENTURY vertraut war.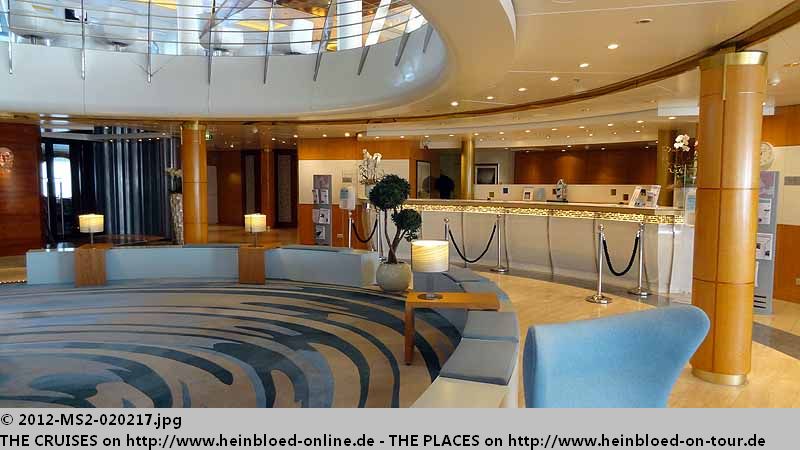 The front desk was located at the same location like I remember from CENTURY.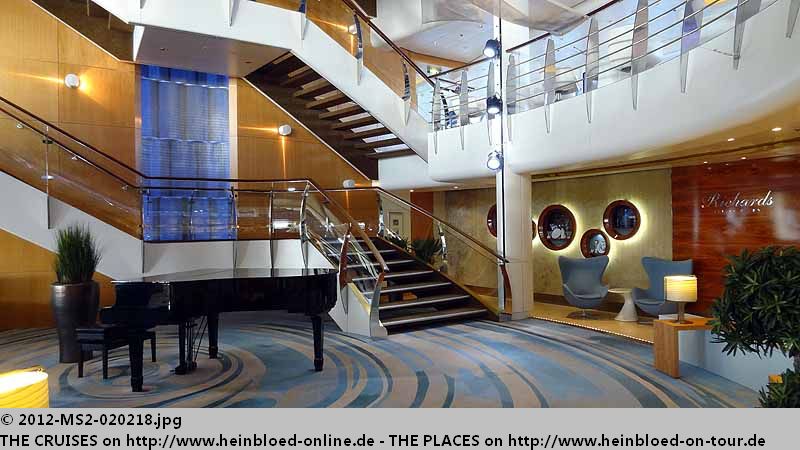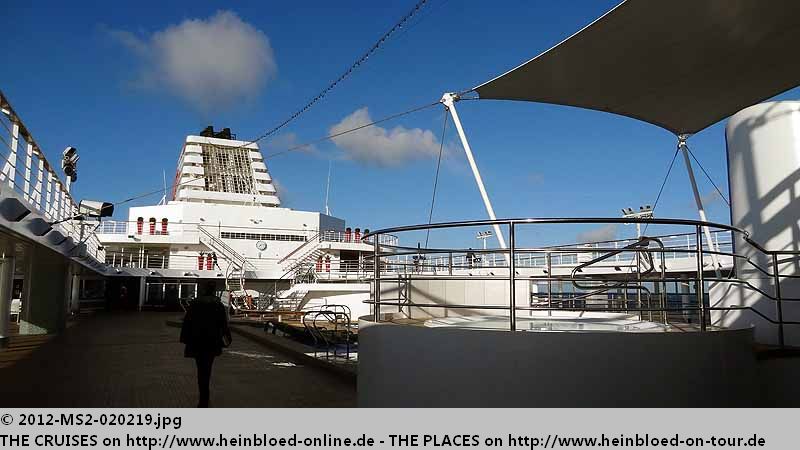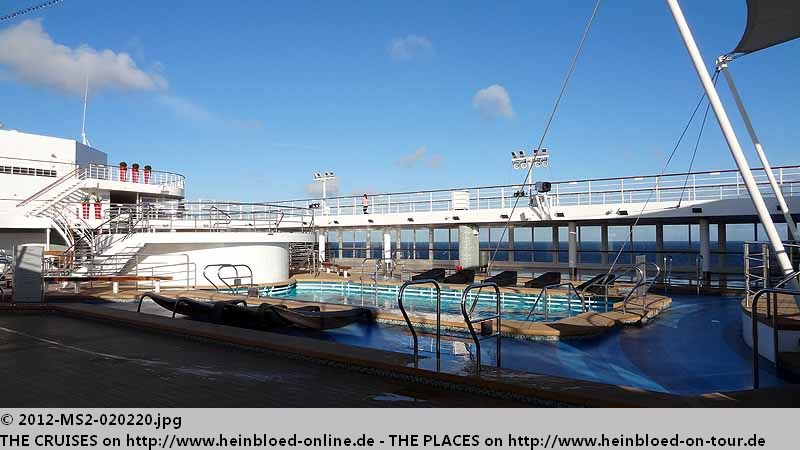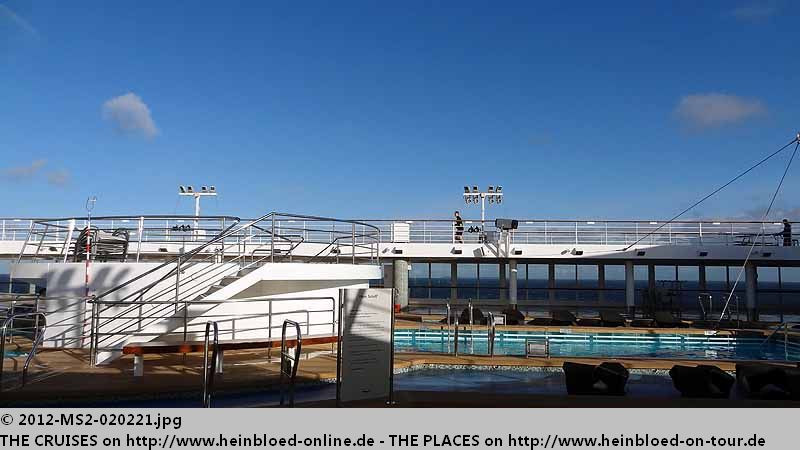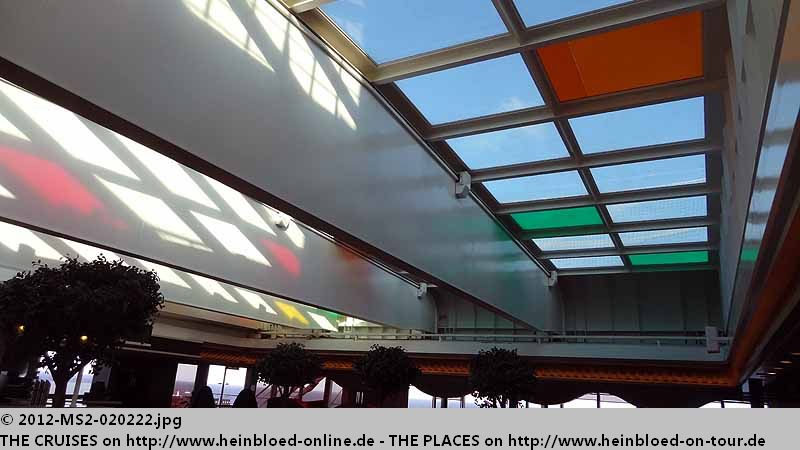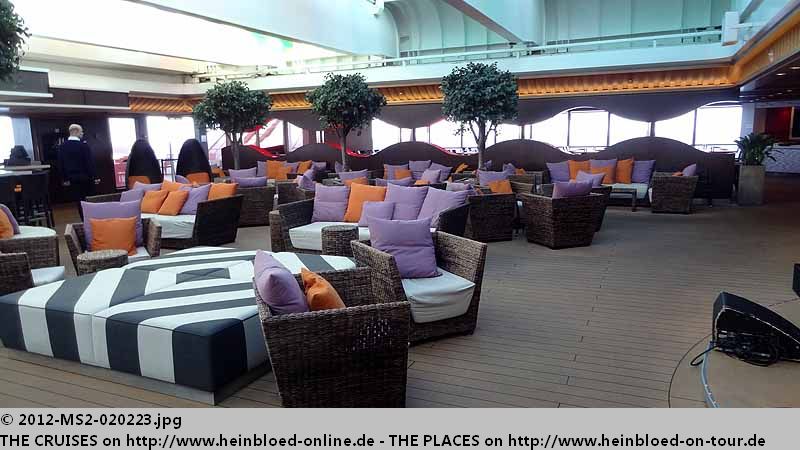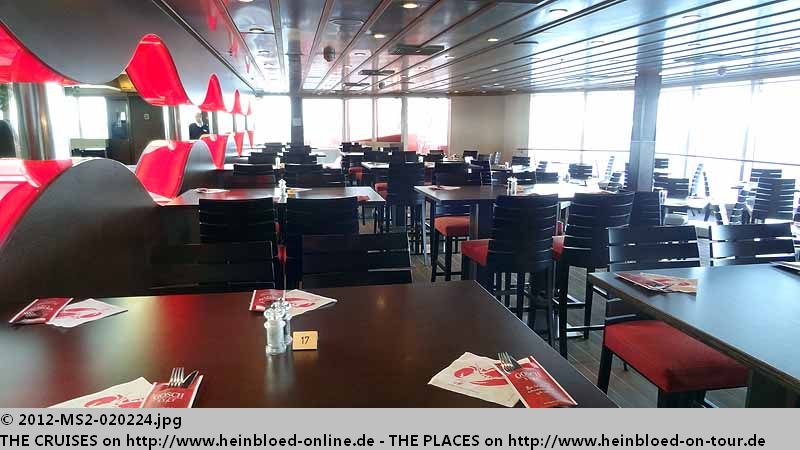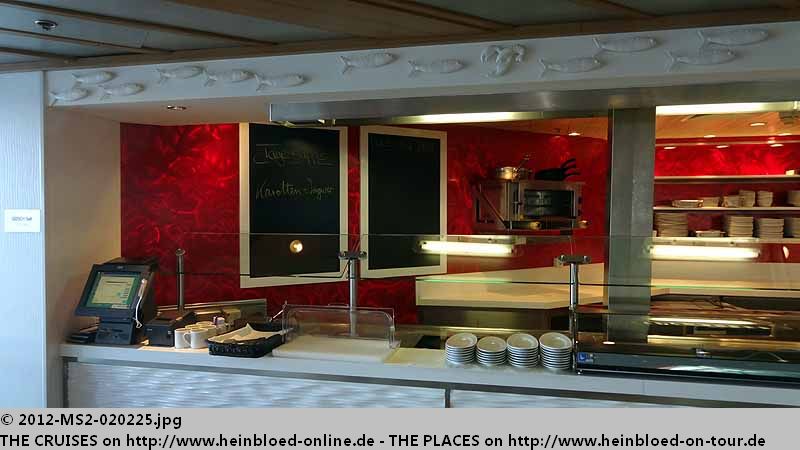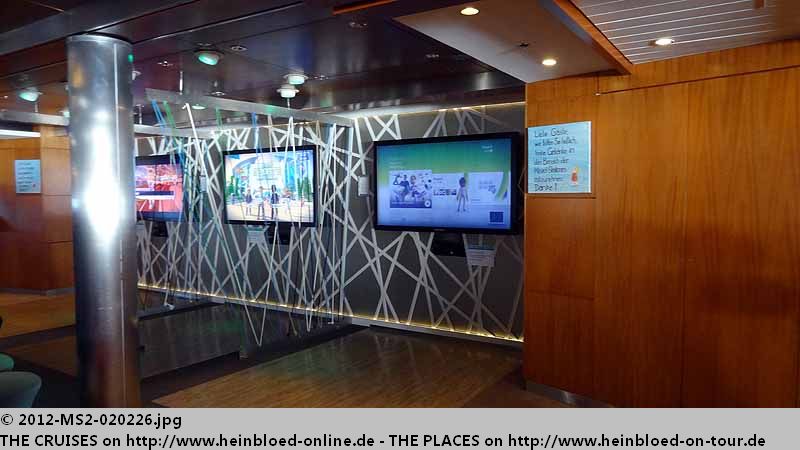 Die Rolltreppe ist ja immer noch da. Da hätte ich eigentlich gedacht, dass sie beim Umbau entfernt worden wäre.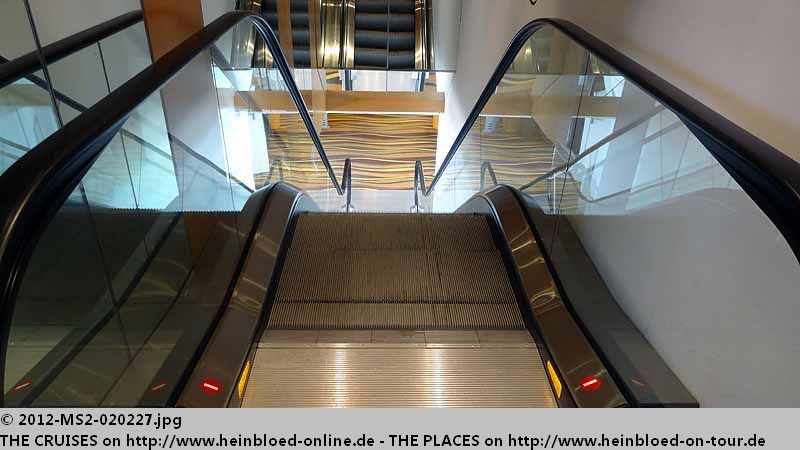 The escelator was still there. Due to the changes I guessed that the escelator would have been taken out.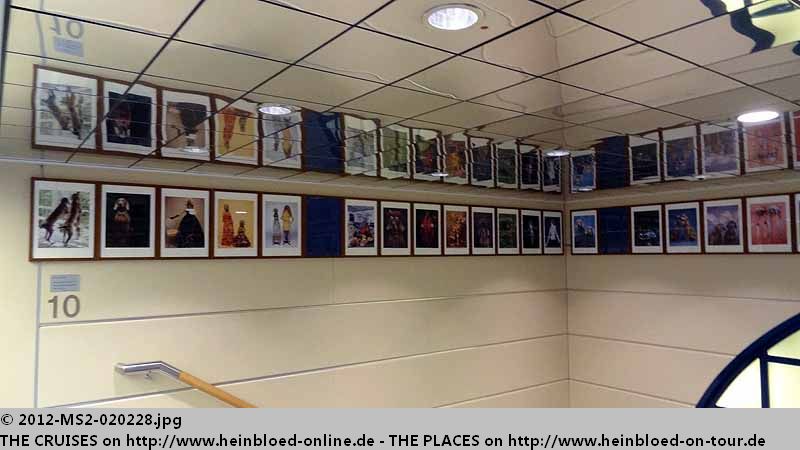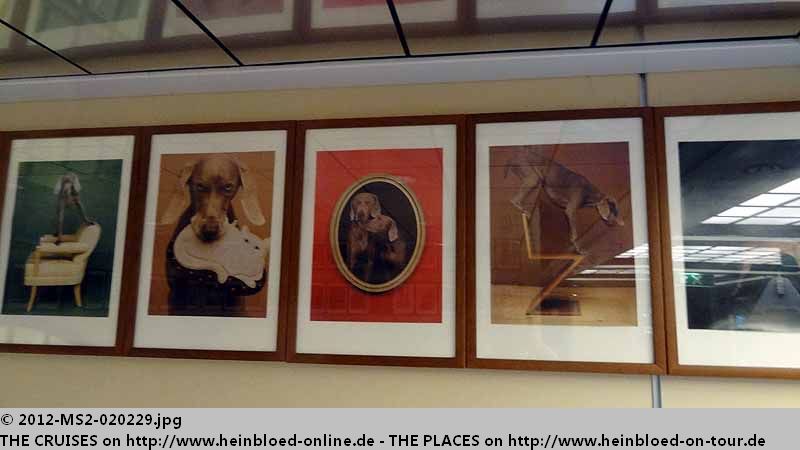 There was only one show. Not two like with other lines.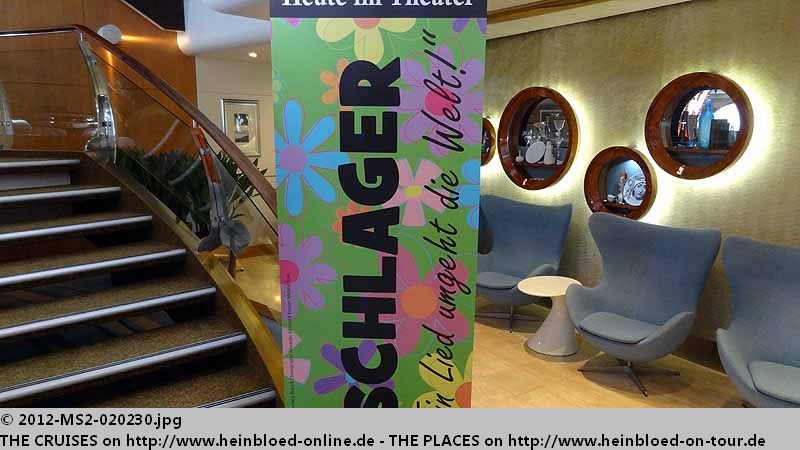 Es gibt nur eine Show. Nicht zwei, wie bei anderen Gesellschaften.
Gothenburg? Wieso englisch auf einem deutschsprachigen Schiff: Göteborg. Sonst müsste es auch Copenhagen heißen. Interessant, dass man nicht nur mit der Schiffskarte zahlen kann.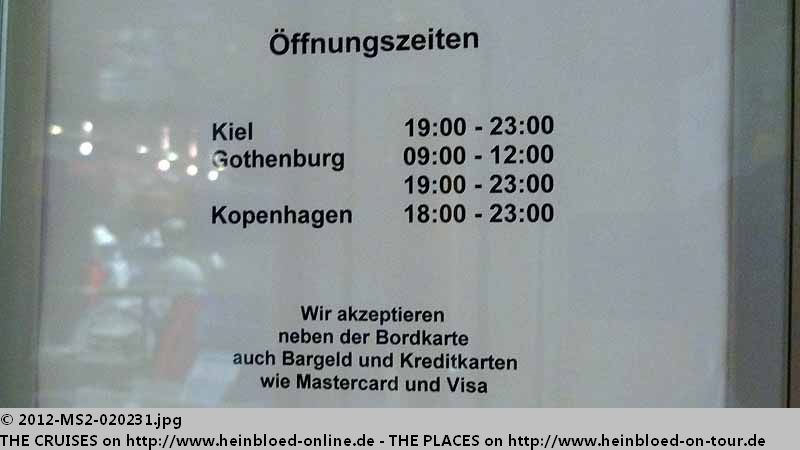 Gothenburg? Why English on a German speaking ship: Göteborg. Otherwise it should read Copenhagen. Interesting to learn that you cannot only pay with your ship's card.

A friend on facebook asked to buy him a CD: I guess he was talking of the German actress Hannelore Elsner...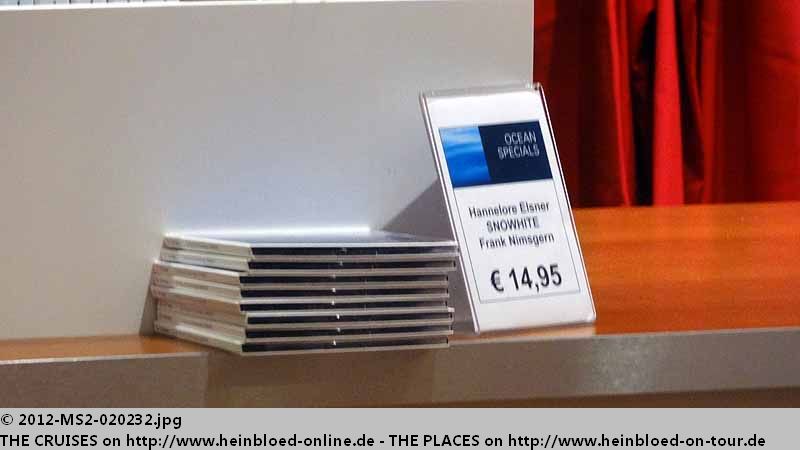 Die CD, die Udo Wermelskirchen (aus Facebook) wohl wollte: Hannelore Elsner...
oder war es diese hier... Über Hannelore Elsner wird er sich bestimmt auch freuen, wenn es die falsche ist.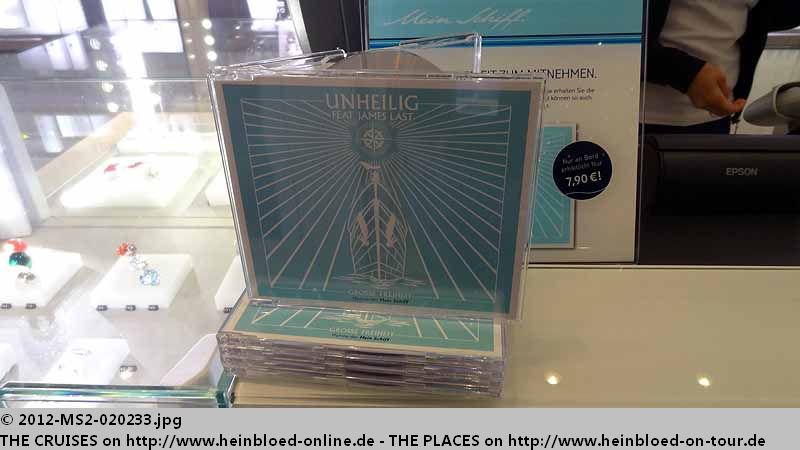 or was he talking about this one (the set sail song)... I think he might be happy to get one from Hannelore Elsner.