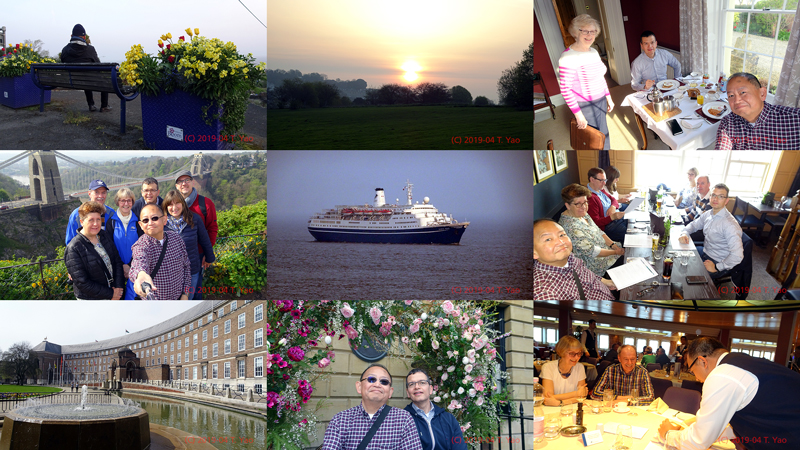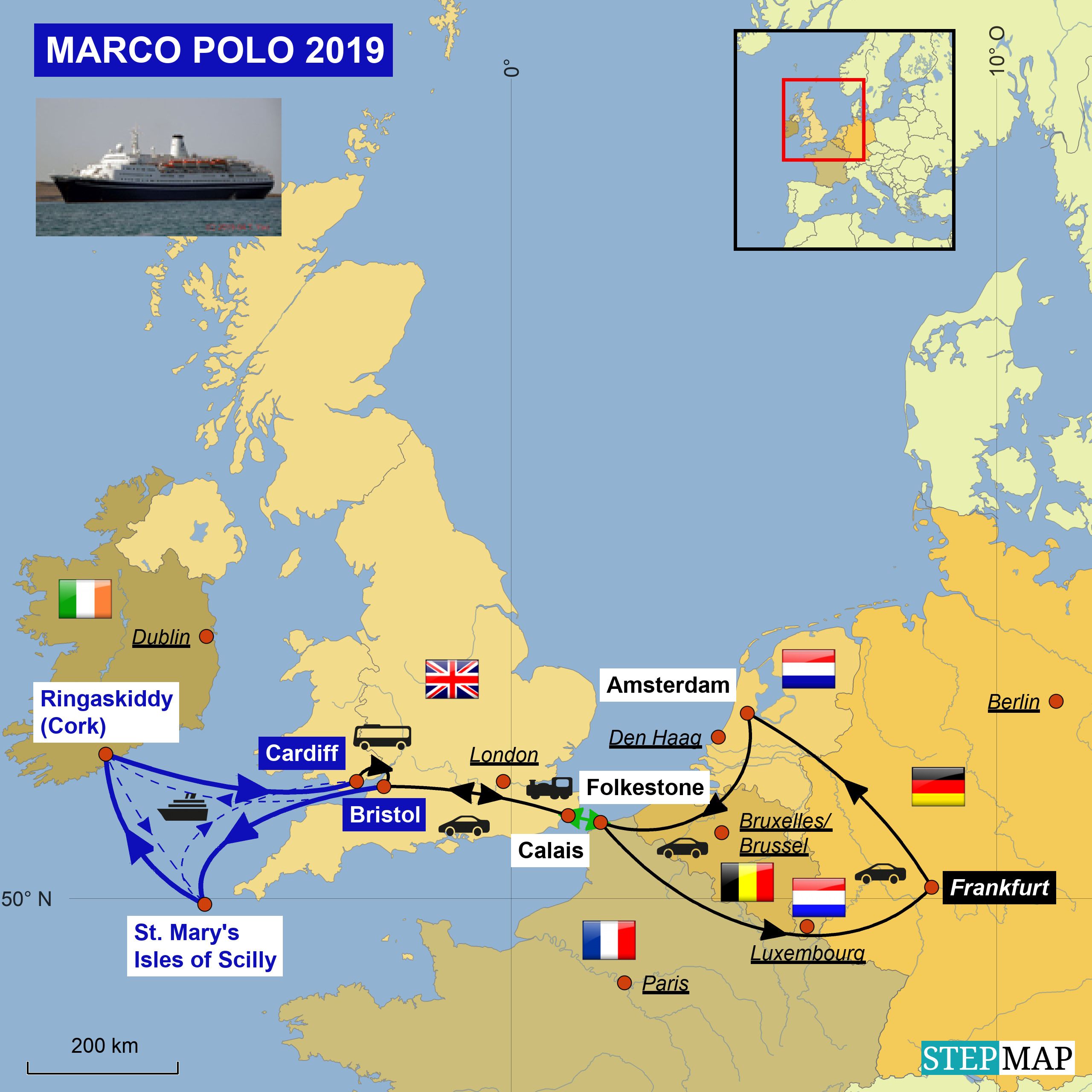 Der Mond geht unter. Der Tag erwacht. Es sind auch einige schon mit ihren Hunden unterwegs.

The moon was setting. The day awakened. Some were already walking around with their dogs.

One block away from the Avon View Bed and Breakfast, they had a bench with the best view over the Avonmouth.

Ein Block vom
Avon View Bed und Breakfast
entfernt, gibt es eine Bank, mit bestem Blick auf die Avon-Mündung.
Über der Stadt Bristol und den Hafenbereich von Avonmouth geht die Sonne auf.

Over the city of Bristol and the port area of Avonmouth the sun was rising.

I followed the recommendation of the port company and drove to The Windmill Inn.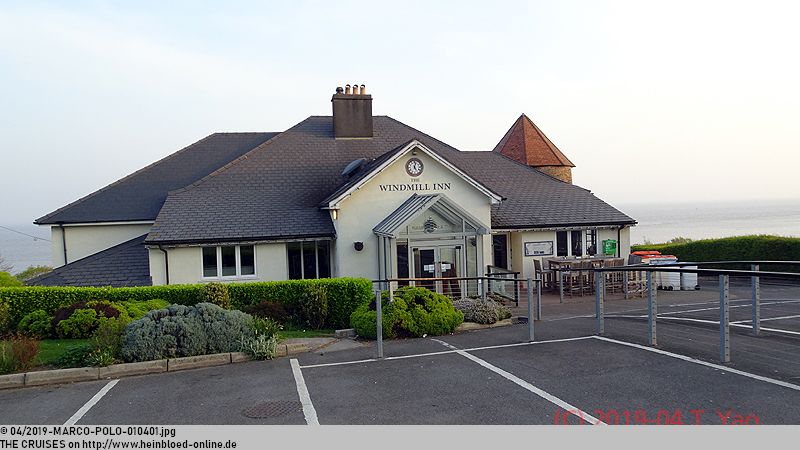 Ich folge der Empfehlung der
Hafengesellschaf
t und fahre zu
The Windmill Inn
.
Von hier soll ich gut die Einfahrt der MARCO POLO verfolgen können.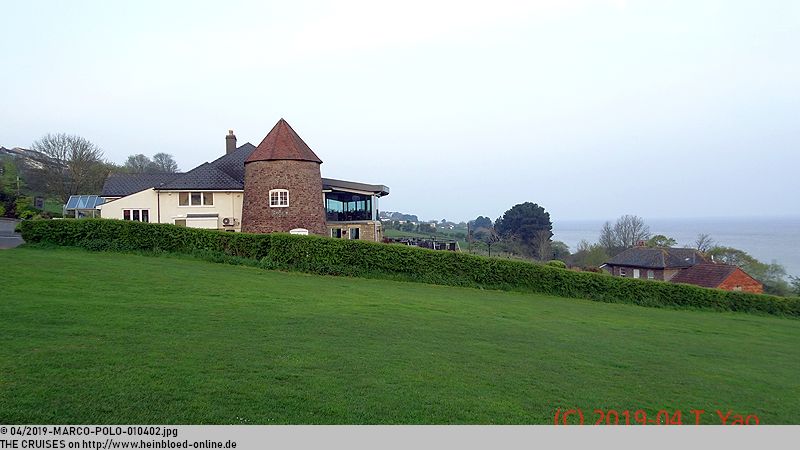 From I should have the best place to follow the arrival of MARCO POLO.

And now she was there: she was staying all night in front of the mouth and entered this morning and passed me.

Und da ist sie dann: sie lag den ganzen Abend vor der Mündung und fährt erst heute Morgen an mir vorbei.
Zurück in unserer Unterkunft erwartet uns unsere Gastgeberin Kate mit einem hausgemachten englischen Frühstück. Sogar die Marmelade ist hausgemacht.

Back in our accommodation, our host Kate were expecting us with homemade English breakfast. Even the marmalade and jam were housemade.

Through a taxi broker company, we booked a van. The prices were partly very outrageous. Somewhat, they wanted a double price. And when you did not want to book, because you found some someone cheaper, they would it offer it nearly for the same level of the price.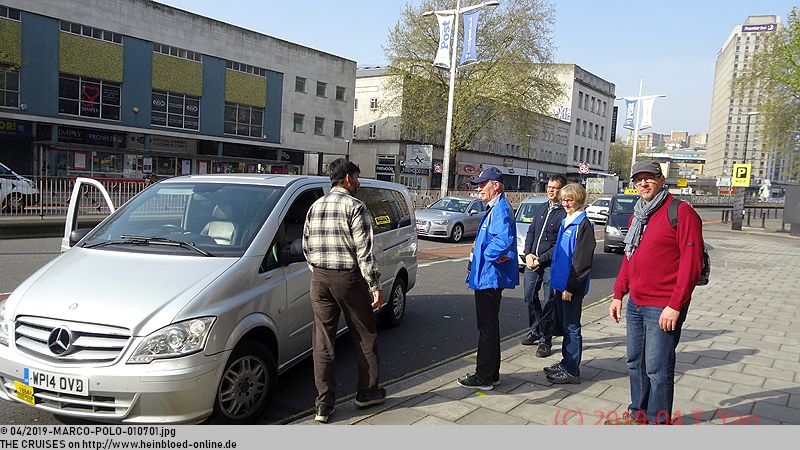 Über eine Taxi-Vermittlungsagentur haben wir einen Van gebucht. Die Preise sind richtig unverschämt. Z. T. haben sie das doppelte verlangt. Und als man nicht buchen wollte, weil man einen günstigeren gefunden hat, hätten sie fast zum gleichen Preis angeboten.
Uber war leider nicht möglich: max. 6 Passagiere. Wir sind jedoch sieben: unsere Fremdenführerin damals in Bath Ingrid, die wir nach der
OCEAN PRINCESS 2015
hatten, ist wieder bei uns.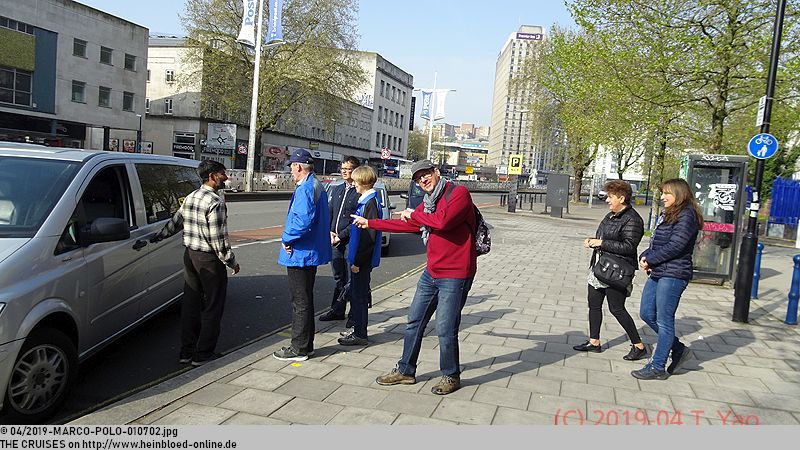 It was impossible to book Uber: max. 6 passengers. But we were seven: our tour guide Ingrid whom we knew from a previous in Bath, England after our sailing on OCEAN PRINCESS 2015, was joining us.

So the other six were sitting in the aft.

So sitzen die 6 hinten.
Und ich vorne.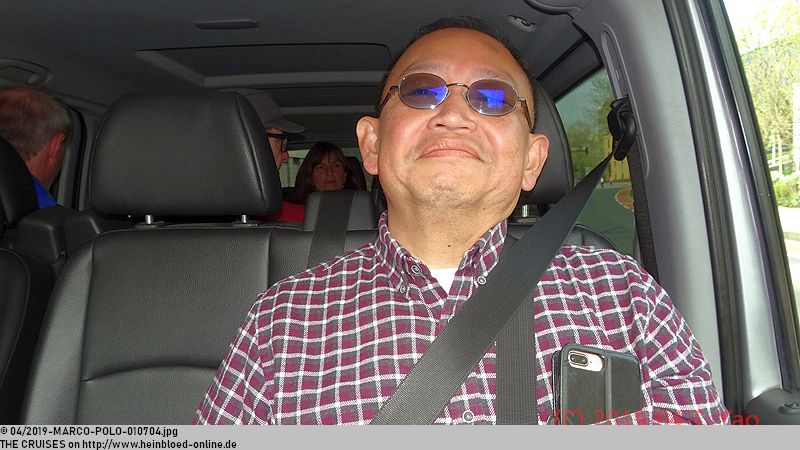 And I was sitting in the front.

With our driver Nadin. I noted his phone number that he might collect us again to take us back to our car in the parking garage St James Barton or the others to their Hotel Hampton Inn by Hilton and to drive them thereafter to the cruise terminal.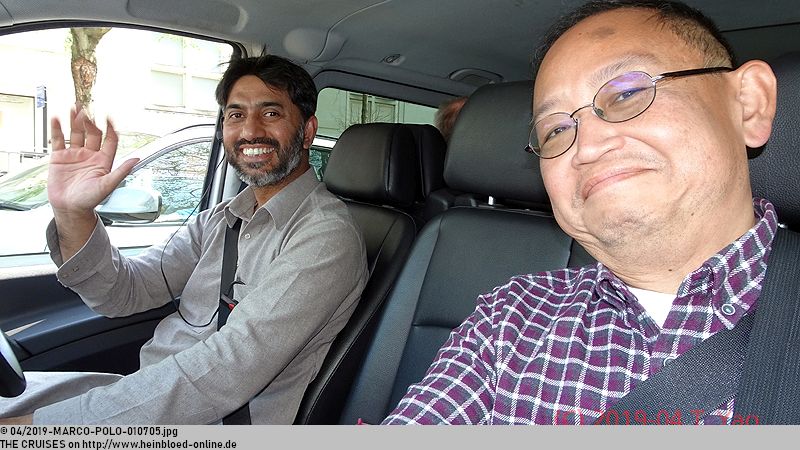 Bei unserem Fahrer Nadin. Seine Telefonnummer habe ich mal notiert, damit er uns später abholen kann und uns zum Auto im
Parkhaus St James Barton
bzw. das Hotel der anderen
Hampton Inn by Hilton
zurück und danach zum
Cruise Terminal
fahren kann.
Ingrid vertritt die Ansicht, dass man Bristol nicht besucht hat, wenn man nicht auch die
Clifton Suspension Bridge
besucht hat. So schlägt sie vor, dass wir einmal mit dem Taxi hinfahren, um dann von hier aus zurücklaufen können. Wir erfahren viel über die Geschichte, Architektur und Hintergründe der Brücke, und wie sie das Leben in Bristol verändert hat. Bruno und ich sind ja bereits zwei Mal über die Brücke am Vortag gefahren und mussten dafür bezahlen.

Ingrid claimed that you did not visit Bristol unless you also visited the Clifton Suspension Bridge. So she suggested that we go one way by taxi, and then walk back from here. We learned a lot about the history, architecture, and background of the bridge, and how it changed life in Bristol. Bruno and I already crossed the bridge twice the day before and had to pay for it.

Slowly we were heading back, and we learned a lot about life in Bristol. On the way, I offered a little snack of Café Heinemann, Germany, for each of us. The Champagne-Truffle in the shape of an Easter egg and with dark chocolate was previously awarded as world's best Champagne-Truffle. Ingrid also came originally from the Rhineland, Germany, and was delighted. We passed the former cable car Clifton Rocks Railway, which took someone down to the river banks. In front of The Ivy Clifton Brasserie, we had to take some wonderful pictures of the lovely flower arrangements. The walk took us passing Buckingham Chapel. At Wetherspoon, I thought of the actress Reese Witherspoon, but she was spelled with the letter I, as I later researched. Street artist Banksy painted this Graffiti Well-Hung Lover, which unfortunately was attacked by someone else with paint bombs. I liked the idea that the naked lover hangs by the window while the husband was looking for him.

Langsam geht es zurück und wir erfahren viel über das Leben in Bristol. Auf dem Weg gibt es für alle eine kleine Stärkung von
Café Heinemann
. Deren
Champagner-Trüffel
in Form eines Ostereis und in Zartbitter wurde schon mal früher als weltbester Champagner-Trüffel ausgezeichnet. Ingrid kommt auch aus dem Rheinland und freut sich hierüber. Wir kommen an der ehemaligen Seilbahn
Clifton Rocks Railway
vorbei, die zum Ufer führte. Vor
The Ivy Clifton Brasserie
nutzen wir die Gelegenheit ein paar schöne Bilder mit dem herrlichen Blumenarrangements zu machen. Der Spaziergang führt uns an der
Buckingham Chapel
vorbei. Bei
Wetherspoon
denke ich an die Schauspielerin Reese Witherspoon, aber sie schreibt sich mit I, wie ich später bei Recherchen feststelle. Der Straßenkünstler
Banksy
hat dieses Graffiti
Well-Hung Lover
gemalt, das leider durch einen anderen mit Farbbomben attackiert wurde. Mir gefällt die Vorstellung, dass am Fenster der nackte Liebhaber hängt, während der Ehemann nach ihm Ausschau hält.
Bei
Caffe Nero in der Regent Street
machen wir eine Kaffeepause.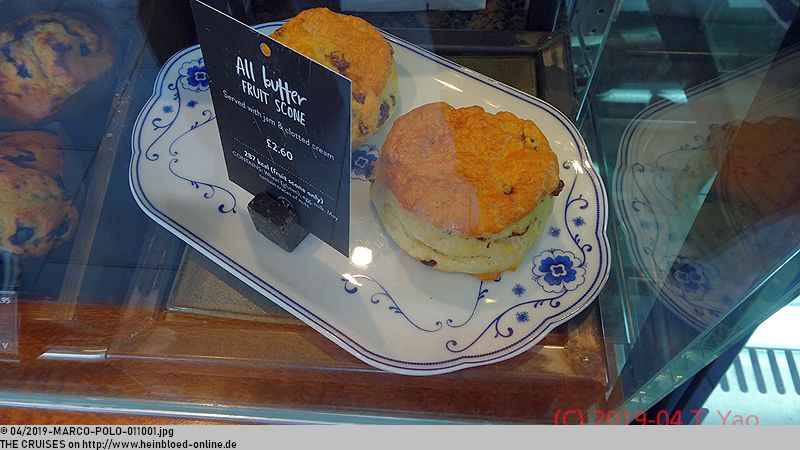 At Caffe Nero in the Regent Street we made a brief coffee stop.

But it took longer because the branch manager was very chaotic and the queue became longer and longer.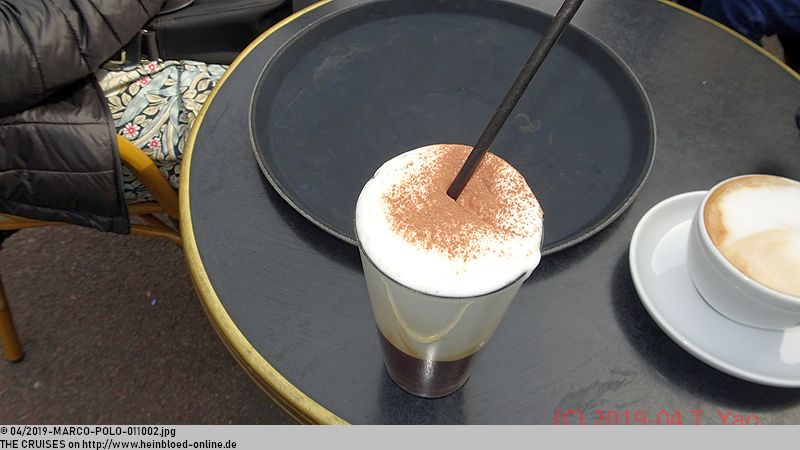 Leider fällt sie länger aus, weil die Filialleitung sehr chaotisch sich verhält und so die Schlangen immer länger werden.
Es ist jedoch schönes Wetter, das in der Prognose gar nicht vorhergesagt wurde. Ich mag vor allem das Leben in der Boyce's Avenue, in der wir sitzen und später durchlaufen. Tolle Geschäfte.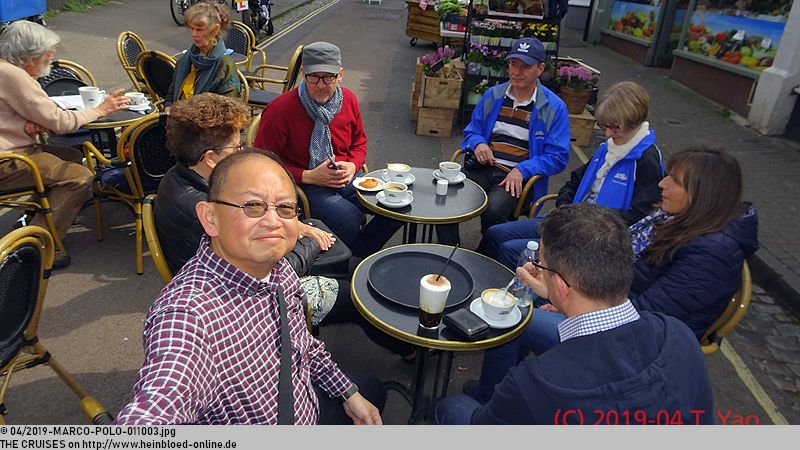 But we had lovely weather, which was not forecasted so far. I loved the life of Boyce's Avenue, we were sitting in and later walking through. Lovely shops.

We continued by passing the buildings of the University. A pretty young life mirrored in the impressions of the city.

Weiter geht es an den Gebäuden der
Universität
vorbei. Ein recht junges Leben spiegelt sich auch im Stadtbild wieder.
Die
Kathedrale von Bristol
und das
Rathaus
liegen sehr eng beieinander. Das königliche Einhorn auf dem Rathaus darf mit Erlaubnis der Königin geführt werden, weil es ihr in Bristol besonders gut gefallen hat.

The Bristol Cathedral and the City Hall were close to each other. The Royal Unicorn on the town hall building was installed by permission of the Royal Court because she liked it here very much in Bristol.

We continued through former harbor areas "@Bristol" (today: We The Curious) around Millenium Square and Waterfront Square, which today invited to shopping, entertainment, relaxing, or into the Aquarium. In the city, we met as Graffiti Wallace and Gromit, or Shaun the Sheep. The films were produced at Aardman Animation Studios here in Bristol. As it happened, our tour ended almost on King Street. There we had dinner yesterday. Our restaurant of yesterday Cathay Rendezvous was housed in the historical building of the former library. Right next to it was the Merchants' Hall (the former seat of Society of Merchant Venturers), which today housed the Merchants Almshouse. Ingrid gave us some more explanation about the Bristol Old Vic Theater. Because of the crowds last night, we ran past a pub yesterday without further notice: Llandoger Trow (The pub was closed End April 2019). The pub was directly linked to world literature. The Admiral Benbow Inn in "The Treasure Island" by Robert Louis Stevenson has been adapted from here. And Daniel Defoe met Alexander Selkirk here and was his inspiration for the novel "Robinson Crusoe". I did not expect much from Bristol, but Ingrid made it outstanding again: to get me excited about Bristol. Soon we would make an appointment for Cardiff, Wales.

Weiter geht es durch ehemalige Hafenquartiere "@Bristol" (heute:
We The Curious
) rund um Millenium Square und Waterfront Square, die heute zum Shopping, zur Unterhaltung, Verweilen oder in das
Aquarium
einladen. In der Stadt begegnen uns als Graffiti
Wallace und Gromit
bzw.
Shaun das Schaf
. Die Filme entstehen in den
Aardman Animation Studios
hier in Bristol. Wie es der Zufall will: unsere Tour endet quasi an der King Street. Dort haben wir gestern zu Abend gegessen. Unser Restaurant von gestern
Cathay Rendezvous
ist in dem historischen Gebäude der ehemaligen Bibliothek untergebracht. Direkt daneben ist die Halle der Kaufleute (damals Sitz der Society of Merchant Venturers), in dem heute das
Merchants Almshouse
untergebracht ist. Ingrid gibt uns noch ein paar Erläuterungen zu dem
Bristol Old Vic
Theater. Wegen der Menschenmassen gestern abend sind wir an einem Pub gestern ohne weitere Beachtung vorbeigelaufen: Llandoger Trow (Das Pub wurde Ende April 2019 geschlossen). Das Lokal ist unmittelbar mit der Weltliteratur verbunden. Das Admiral Benbow Inn in "
Die Schatzinsel
" von Robert Louis Stevenson wurde von hier adaptiert. Und Daniel Defoe hat hier Alexander Selkirk getroffen und war seine Inspiration für den Roman "
Robinson Crusoe
". Ich habe wenig von Bristol erwartet, aber das Ingrid wieder hervorragend gemacht: mich von Bristol zu begeistern. Demnächst sind wir dann für Cardiff verabredet.
Gemeinsam gehen wir noch zum Mittagessen in der Räucherkammer
The Hole in the Wall
am Queen Square. Typisches Pub: Restaurantbetrieb mit Bedienung oder Bestellung und Bezahlung an der Bar, wenn man im Pubbereich oder draußen essen will. Für uns haben sie oben im Restaurantbereich reserviert. An dem Tag läuft hier wohl einiges schief und sogar die Rauchmelder gehen los. Nach dem sie wohl festgestellt haben, dass man keinem Gast mehr zumuten kann, im Restaurant sich aufzuhalten, werden wir im Pub-Bereich bedient. Uns erwartet eine zeitgemäße britische Küche: ich nehme ein leckeres Hummer-Shrimps-Sesambrötchen. Wir haben Ingrid wie damals in Bath auch wieder eingeladen, um uns für ihre tolle Führung zu bedanken.

Together we went for lunch in the smokehouse The Hole in the Wall on Queen Square. Typical pub: restaurant service with table-service or ordering and paying at the bar, if you wanted to eat in the pub area or outdoor. For us, they set up a table upstairs in the restaurant area. On that day, it went a lot wrong here, and even the smoke detectors went on. After they realized that you could no longer keep any guests staying in the restaurant, they also served in the pub area. We expected a contemporary British cuisine: I took a delicious lobster-shrimp-sesame bun. We invited Ingrid, as in Bath, to thank her for her great leadership.

The cruise terminal was in the middle of the industrial port. With the driveway and the baggage collection, it worked very well. Since there were so few ships, a warehouse was used as a cruise terminal. There was even WiFi for guests. Just below the prohibition sign that you should not drink and eat anything, they had a vending machine for drinks and snacks. Bristol called itself the First European Green Capital of the United Kingdom. Is there a need to understand everything now - or is not?

Das
Cruise Terminal
ist mitten im Industriehafen. Mit der Vorfahrt und der Gepäckübernahme klappte es sehr gut. Da hier so wenige Schiffe ablegen, wird eine Lagerhalle als Cruise Terminal genutzt. Es gibt sogar WiFi für Gäste. Direkt unterhalb des Verbotsschild, dass man nichts trinken und essen darf, steht ein Verkaufsautomat für Getränke und Snacks. Bristol bezeichnet sich selbst als die erste europäische grüne Hauptstadt des Vereinigten Königreiches. Das muss ich jetzt nicht alles verstehen - oder?
Gebucht hatten wir dieses Angebot über
Louise
von
Victoria Travel
, die unter der Marke
https://www.cruise.co.uk
die Kreuzfahrten verkaufen. Der Service läuft gut. Hier bekommen zusätzlich noch die Unterlagen, die wir hätten auch herunterladen können, wie Wissenwertes, Parktickets und Gepäckanhänger per Post zugesendet.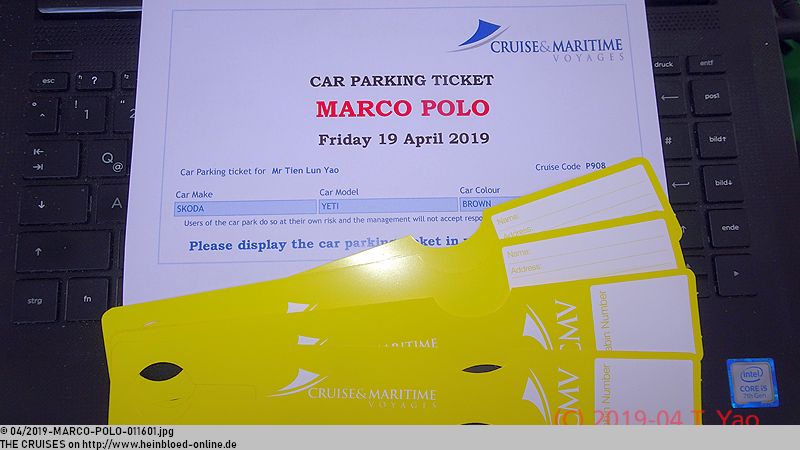 We booked this offer through Louise of Victoria Travel, which sold the cruises under the brand https://www.cruise.co.uk. The service was going well. Also, all documents, such as FAQs, parking tickets and luggage tags, were sent by post in addition to the download version.

With the parking, it worked very well: we were parking directly across from the Bristol Cruise Terminal. No lots could be booked for Cardiff. And the shuttle between Bristol City Center and Cruise Terminal, which was published on their homepage under "Manage my Cruise", was not offered for this cruise.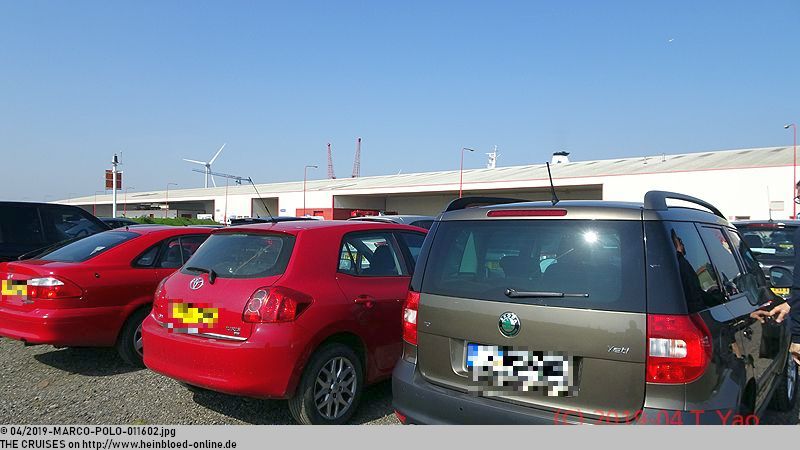 Mit dem Parken klappt es sehr gut: wir stehen direkt gegenüber vom Bristol Cruise Terminal. Für Cardiff können keine Plätze gebucht werden. Und der Shuttle zwischen Bristol Innenstadt und Cruise Terminal, der auf der Homepage im Abschnitt "Manage my Cruise" steht, wird für diese Kreuzfahrt nicht angeboten.
In den Unterlagen, die wir uns herunterladen konnten, gab es bereits fertig beschriftete Gepäckanhänger. Die musste man allerdings selbst ausdrucken und falten. In der ersten Fassung standen keine Zeiten. Nun wird erst veröffentlicht, dass der Bus um 11:30 Uhr geht, und man bis 11:00 Uhr von Bord gehen soll. Vorweg: die Organisation von CMV zwischen Verwaltung und Schiff lässt manches zu wünschen übrig. Mit drei Buchungen auf drei unterschiedlichen Decks bekommen wir drei Check-In-Zeiten zugeteilt. Auf Nachfrage heißt es jedoch, dass wir jeder Zeit später an Bord dürfen, aber nicht früher. So sollen wir uns bitte an die späteste Zeit der drei Zeiten orientieren. Da ich keine Lust habe, mich einzureihen, bleiben wir kurzerhand sitzen, bis dass die Schlange nur noch sehr kurz ist, während sich die anderen einreihen. Sie haben Glück und werden an Land eingecheckt. Um sich einen Überblick zu verschaffen, welche Gäste noch fehlen, werden uns vorab schon die Bordkarten ausgehändigt. Kurz bevor wir dran sind, bricht das landseitige EDV-System zusammen. Es wird entschieden, dass wir an Bord eingecheckt werden. Deswegen muss erst mal hier alles abgebaut werden und neu an Bord aufgebaut werden. Ich bin der letzte Gast, der an Bord geht.

We were able to download the documents including ready-to-use luggage tags. But you had to print and fold it yourself. In the first version, there were no times indicated. Now it was only shown that the bus should depart at 11:30 hrs, and you would need to leave until 11:00 hrs off the ship. First: the organization of CMV between administration and ship requested more coordination. With three bookings on three different decks, we got three check-in times. On request, however, we were told that we could board any time later, but not earlier. So we should orient ourselves to the latest time of the three times. Since I did not feel like queuing, we sat there without further ado, until the queue was only very short while the others lined up. They were lucky and were checked in ashore. To get an overview which guests which still missing, they handed us the ship cards in advance. Just before we made there, the shoreside IT system collapses. They decided that we should be checked in onboard. That was why everything has to be dismantled and rebuilt onboard. I was the very last guest walking onboard.

We were escorted in small groups onboard. Until the beginning of the life drill, not all guests were checked in. But we were not the last since we used the stairs. Other guests, who came earlier onboard, still were waiting for the elevators.

In kleinen Gruppen werden wir an Bord geführt. Bis zum Beginn der Seenotrettungsübung sind noch nicht alle Passagiere eincheckt. Wir sind jedoch in dem Fall nicht die letzten: weil wir die Treppe nutzen. Andere Gäste, die vor uns an Bord gehen, warten immer noch auf den Fahrstuhl.
Wir werden am Ausflugsschalter abgefertigt.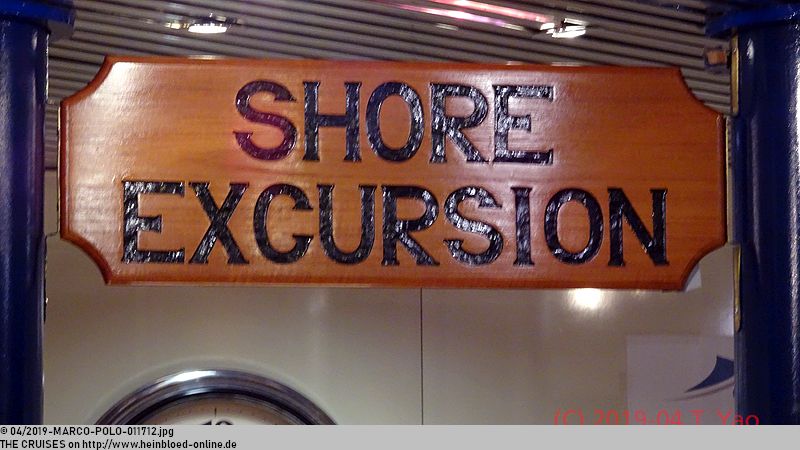 They handled us at the shore excursion desk.

Here, the chaos was reigning, but of all them who were waiting downstairs, were now around to escort us to the cabins and to guard that none would leave the area before he was checked-in.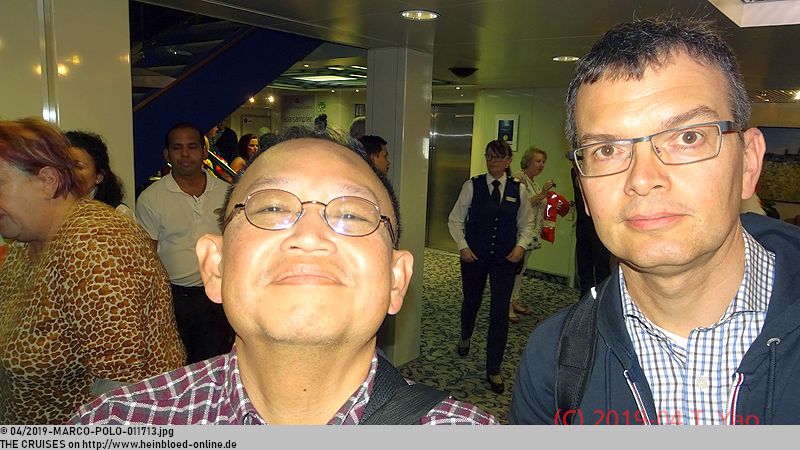 Hier herrscht Chaos, aber alle die bisher unten gewartet haben, um uns in die Kabinen zu bringen, sind jetzt hier oben und achten darauf, dass niemand von uns diesen Bereich verlässt, bis dass er eingecheckt ist.
Naja... eigentlich ist das ja nur ein Sprung rüber auf die andere Uferseite von Bristol, England nach Cardiff, Wales.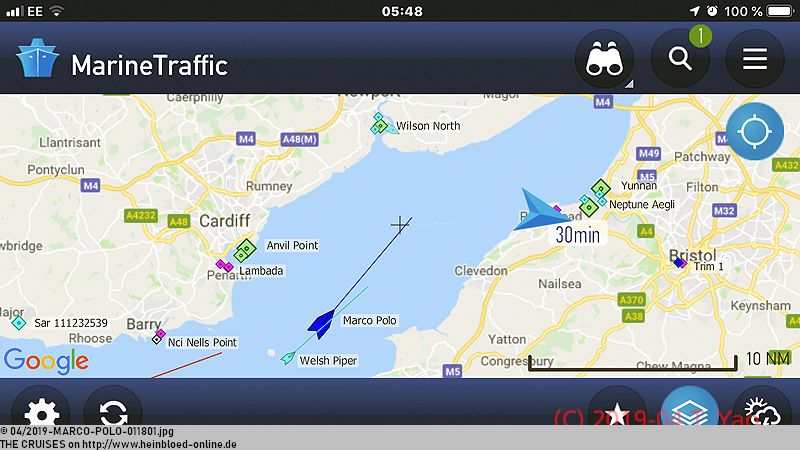 Well... actually, it was just a hop on the other side of the banks from Bristol, England to Cardiff, Wales.

There was a 2-for-1 special offer for this trip. https://www.cruise.co.uk was always a bit cheaper than the prices of the original provider, but you had to settle much earlier in the final payment. As the UK participated in the SEPA payment system, but you needed to pay in GBP, you always lost something to the banks as they earned for the conversion from EUR to GBP. Louise was very cooperative and refrained from later payment of the difference.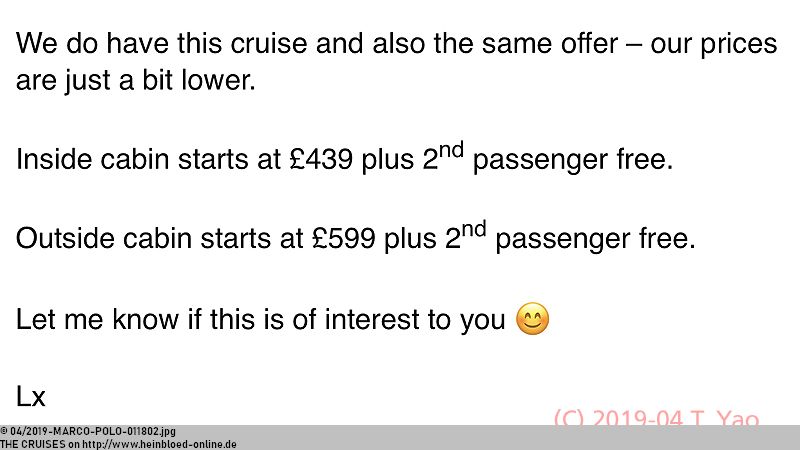 Für diese Reise gab es ein 2-für-1-Sonderangebot.
https://www.cruise.co.uk
sind immer einen Tick günstiger als die Preise der Veranstalter, dafür muss man aber auch sehr viel früher die Schlussrechnung begleichen. Da Großbritannien am SEPA-Zahlungsverfahren teilnimmt, aber man in GBP zahlen muss, verliert man immer etwas an die Banken, die an der Umrechnung vom EUR in GBP verdienen.
Louise
ist uns jedoch sehr entgegen gekommen und verzichtet auf einen nachträglichen Ausgleich.
Bei der deutschen CMV Tochter
Transocean
wird diese Reise nicht angeboten.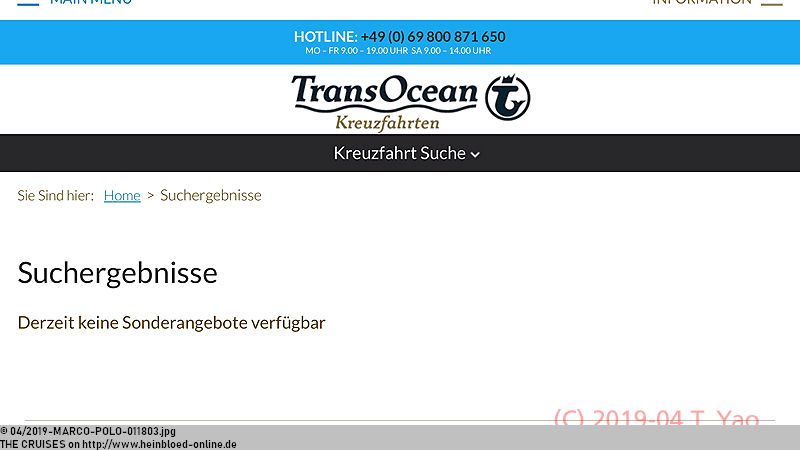 With the German subsidiary of CMV Transocean, the voyage was not offered.

From outside, MARCO POLO looked like a ship - not like a floating hotel resort.

Von außen sieht die MARCO POLO wie ein Schiff aus - eben nicht wie ein schwimmendes Hotelkomplex.
Vor wenigen Tagen bekomme ich ein Hinweis von unserer Fremdenführerin, dass es wohl eine Hafenrotation gibt. Auf Nachfrage bei CMV: nein - das gibt es nicht. Sicherheitshalber bitte auch
Louise
über die Reisebürobetreuung nachzufragen: nein - keine Änderungen.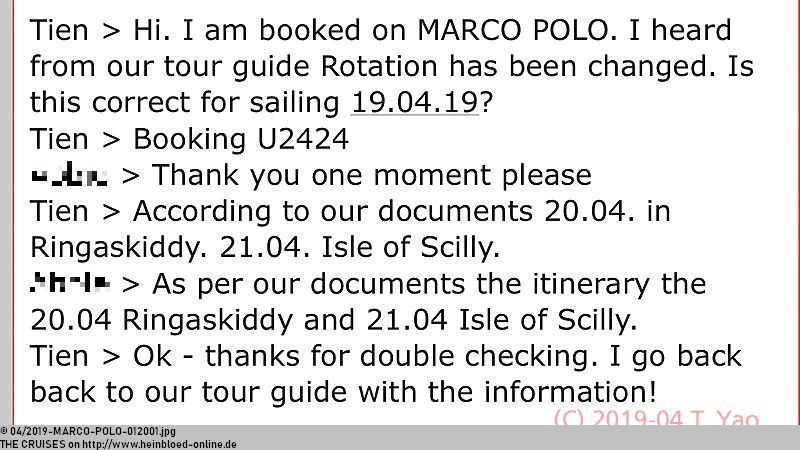 A few days ago, I got an information from our tour guide, that we should have a port rotation. By request with CMV: no - there was not any. To be safe, I also asked Louise to double check with the travel agent hotline: no - no changes.

Somehow strange onboard: during the check-in at the shore excursion desk: the tours looked somehow very strange on the list.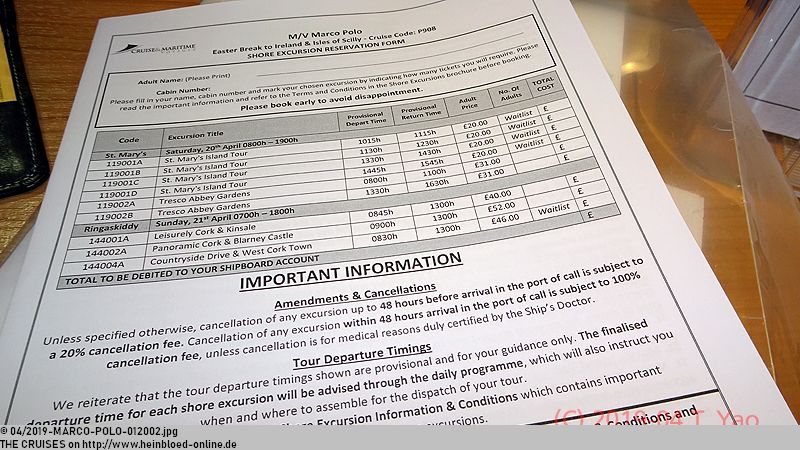 An Bord etwas komisch: Während des Eincheckens am Ausflugsschalter: die Ausflüge sehen auf der Liste etwas merkwürdig aus.
In der Kabine: so liegt das Tagesprogramm aus. Wir haben aber gar keine Zeit, reinzugucken und müssen sofort zur Seenotrettungsübung.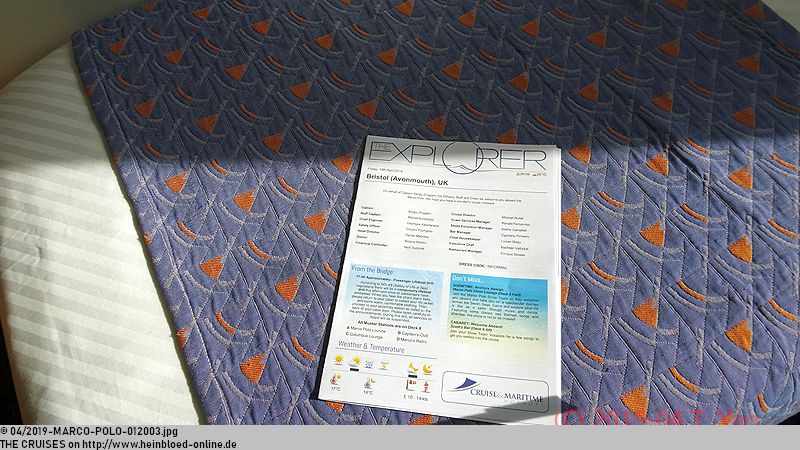 In the cabin: the daily program was displayed like this. We had no time to have a look inside and needed to head on for the life drill immediately.

And in the center was this letter. It was about 17:00 hrs on Good Friday: how should we reach the car rental in Cork, Ireland now? How should we contact our guide in St. Mary's, England now? During the life drill, we were not allowed to make a phone call. And then we set sail, and we had early seating. Somehow we managed it. Unfortunately, only one point had to be withdrawn: a visit to a private garden in the Cork area: Hillside Gardens. Here we booked a particular tea time. And unfortunately, the English Market in Cork would also be closed. On board, I was told that it could not be possible that our guide on the Isles of Scilly already knew about for days. The captain spontaneously decided today. For this, he did not have to coordinate with the CMV head office. I respected the decision of the captain for the conclusion that applied to safety. However, I did not appreciate the disrespect of the passengers, in such communication. The call center should ask after getting inquiries from guests more precisely in the fleet management, and the onboard should be able to inform while waiting in the cruise terminal and also by public announcements in the terminal and on board about this change. Besides, such a piece of paper should not be hidden in the daily program but put it conspicuously separately. Others also informed by SMS and e-mails. I felt abandoned and therefore did not feel well on board!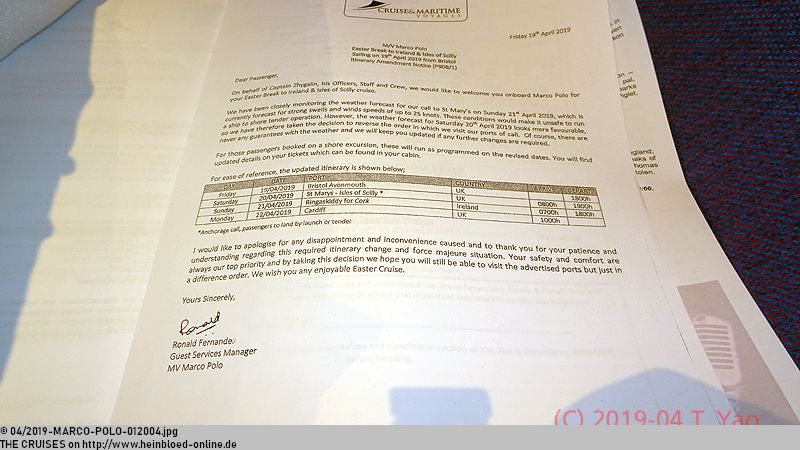 Und in der Mitte liegt dieser Brief. Wir haben ca. 17:00 Uhr am Karfreitag: wie sollen wir jetzt die Autovermietung in Cork erreichen? Wie sollen wir jetzt unsere Fremdenführerin in St. Mary's erreichen? Während der Seenotrettungsübung darf man nicht telefonieren. Und danach laufen wir aus und wir haben erste Tischzeit. Irgendwie schaffen wir es. Leider muss nur ein Punkt gestrichen werden: der Besuch in einem Privatgarten in der Umgebung von Cork:
Hillside Gardens
. Hier hatten wir eine private Tea-Time gebucht. Und leider hat auch der
English Market
in Cork geschlossen. An Bord teilt man mir mit, dass es unmöglich sein kann, dass unsere Fremdenführerin auf Isle of Scilly es schon seit Tagen wissen könne. Der Kapitän hat sich ganz spontan erst heute entschieden. Dafür braucht er sich nicht mit der CMV Zentrale abzusprechen. Ich respektiere die Entscheidung des Kapitäns für die Entscheidung, die der Sicherheit gilt. Ich respektiere jedoch nicht die Respektlosigkeit gegenüber den Passagieren, in man so kommuniziert. Die Call-Center hätte bei Nachfragen durch Gäste genauer beim Flottenmanagement nachfragen müssen und die Bordleitung hätte ja schon während der Wartezeit im Cruise Terminal informieren können und auch durch Ansagen im Terminal und an Bord über diese Änderung informieren können. Außerdem versteckt man so einen Zettel nicht in das Tagesprogramm, sondern legt es auffällig separat aus. Bei anderen wird man auch durch SMS und E-Mails informiert. Ich fühle mich im Stich gelassen und fühle mich daher auch nicht wohl an Bord!
Wir haben ja Garantie-Außen gebucht und können mit der Zuteilung mehr als zufrieden sein: Premium Twin der Kategorie 12. Es gibt nur noch drei höhere Deluxe Kategorien. Kabine 824 auf Deck 11.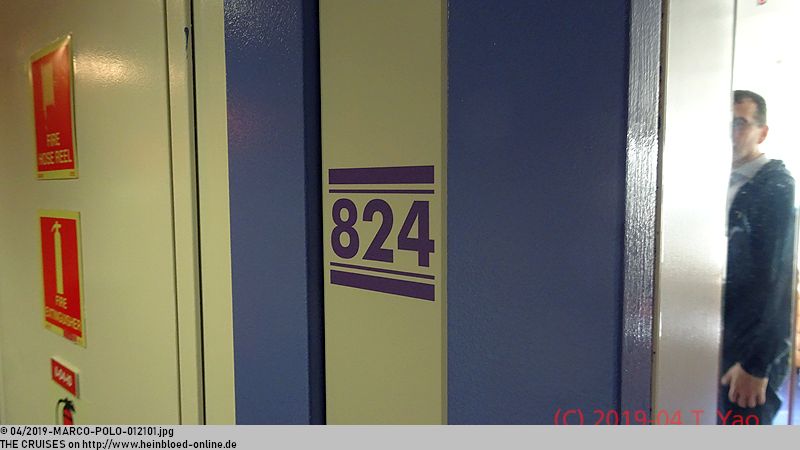 We booked a guarantee oceanview cabin, and could be more than satisfied with the allocation: Premium Twin of category 12. There were only three higher Deluxe categories. Cabine 824 on Deck 11.

Our bags already arrived. They had enough time.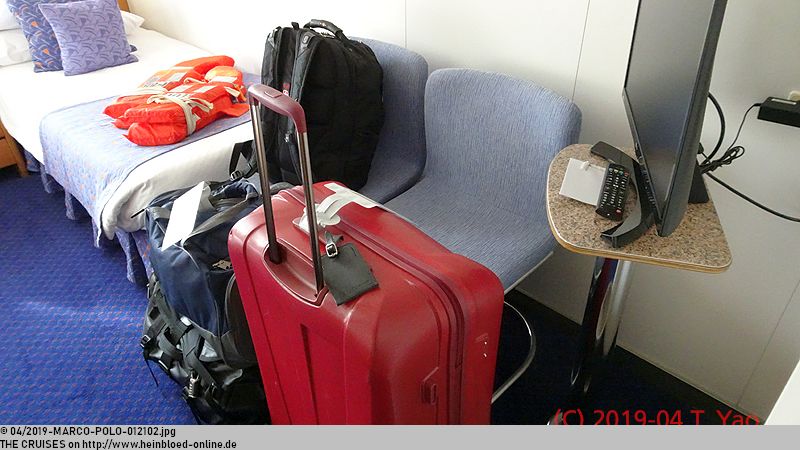 Unser Gepäck ist bereits da. Sie hatten ja auch Zeit genug.
Sehr schön: zwei Fenster und jede Menge Schubladen. Für Bruno perfekt: ein Oberbett zum Umklappen als Schutz gegen Zugluft aus der Lüftung der Klimaanlage an der Decke.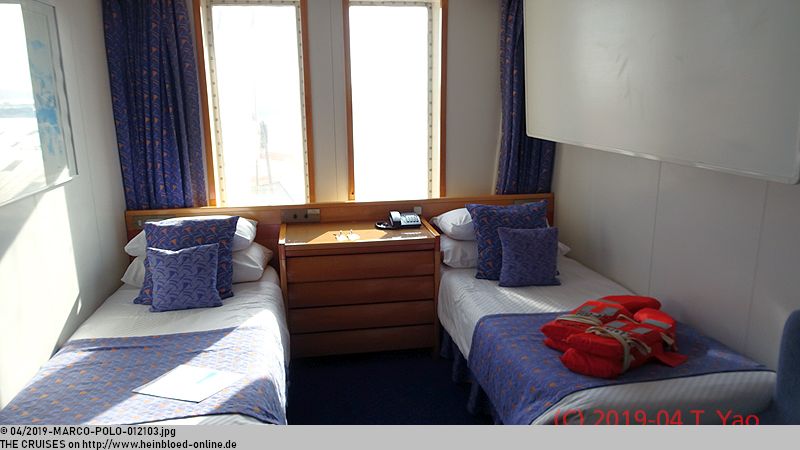 Very nice: two windows and plenty of drawers. For Bruno perfect: an upper Pullman bed to protect against the breeze from the air conditioning outlet at the ceiling.

Well. It was an obstructed view. But it was not so bad.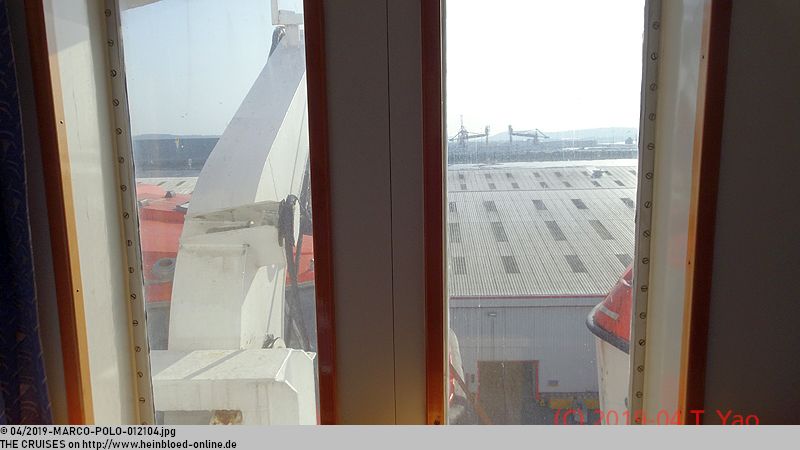 OK. Eingeschränkter Ausblick. Es hat uns aber nicht so schlecht getroffen.
Wir haben sogar eine Sitzecke.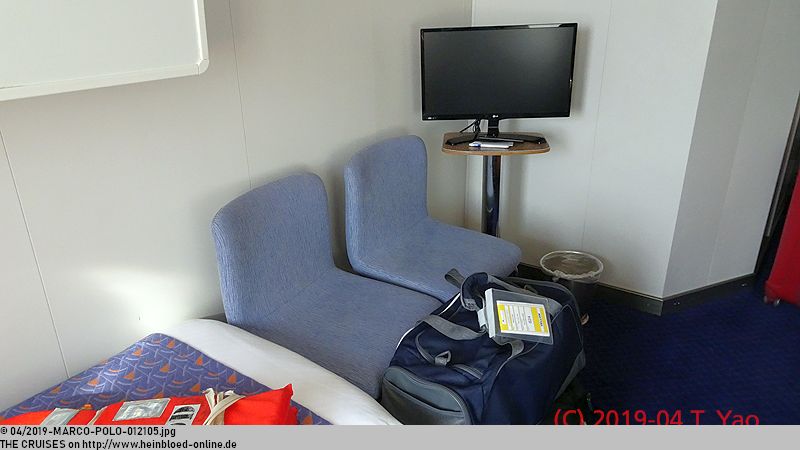 We even had a sitting corner.

As usual with older ships: keys instead of cards to lock. MARCO POLO went for the British market, but the British guests had to carry adapters since there were only US flat plugs 110 V or European three-pole plugs 220 V. The drink prices of the mini-bar were moderate. The costs for food from the cabin service was excessive for my taste. However, I did not understand why fruits and cakes needed to be listed under the category of cheese. There was only continental breakfast available for free in the cabin. Otherwise, you needed to pay something for the premium breakfast, if you wanted some fresh fruits and/or hot breakfast items. From cabin category Deluxe, you did not have to pay extra. We were in a premium cabin, but we could not have a premium breakfast for free. Maybe that was why they should better call it a Deluxe Breakfast. For me incomprehensible: it was possible to pre-order typical duty-free goods, although it was an intra-Community cruise. There was no Brexit yet. Most of all, I was happy about the many drawers.

Wie bei älteren Schiffen üblich: Schlüssel, statt Karten zum Abschließen. Die MARCO POLO fährt für den britischen Markt, aber die Briten müssen Adapter mitführen, da es nur US-Flachstecker 110 V oder Euro-Schuko-Stecker 220 V gibt. Die Getränkepreise der Mini-Bar sind moderat. Die Preise der Speisen vom Kabinenservice sind für meinen Geschmack überhöht. Was allerdings Früchte und Kuchen unter der Rubrik Käse zu suchen hat, verstehe ich allerdings nicht. Kostenlos gibt es nur kontinentales Frühstück in der Kabine. Sonst zahlt man etwas für das Premium Frühstück, wenn man frische Früchte oder/und warme Speisen haben möchte. Ab Kabinenkategorie Deluxe muss man nichts extra zahlen. Da wir in einer Premium Kabine sind, können wir aber kein Premium Frühstück kostenlos haben. Vielleicht hätten sie es daher eher Deluxe Frühstück nennen sollen. Für mich unverständlich: es können typische zollfreie Waren vorbestellt werden, obwohl es eine innergemeinschaftliche Kreuzfahrt ist. Es ist ja noch kein Brexit. Am meisten freue ich mich über die vielen Schubladen.
Im Bad eine große Überraschung: keine Vacuum-Toilette!

In the bathroom, we had a big surprise: no vacuum-toilet!

We headed for the life drill. We noticed that they checked the cabins if they were empty. In the end, we had to leave for the lifeboat outdoor: including forming of a chain by holding the shoulder of your front man.

Es geht zur Seenotrettungsübung. Wir bekommen die Kontrollen mit, ob die Kabinen leer sind. Zum Ende müssen wir zum Rettungsboot raus: mit Kettenbildung durch Festhalten an der Schulter des Vordermanns.
Die nächste böse Überraschung erwartet uns im Restaurant. Eigentlich hatten Christina, Axel, Marc und Susan ihre Buchungen verknüpfen lassen, um gemeinsam ein Tisch zur 1. Tischzeit zu bekommen. Wir haben uns erst später dazu entschlossen. Wir haben es
Louise
von
https://www.cruise.co.uk
mitgeteilt. Die haben die Verknüpfung der Buchungen bestätigt. Ich habe mit der CMV-Zentrale gesprochen. Die bestätigen das auch. Aber an Bord werden Marc und Susan an einem anderen Tisch platziert. Wir wenden uns an den Maître D' und er teilt uns mit, dass an Bord nur die Verbindung der Buchung mit Christina, Axel und uns bekannt ist. Wir bekommen einen 10-er Tisch zu sechst, was ziemlich blöd ist. Aber da kein weiterer zugesetzt ist, freunden wir uns später damit an. Mit unseren Kellnern haben wir Glück: I Putu Pramana und I Wayan Ada Astika sind unsere 1 1/2 Kellner, die sich sehr gut um uns kümmern. Der Hilfskellner wird zwischen zwei Servicestationen aufgeteilt. Es gibt an allen Tagen nur Soft-Brötchen. Vorab für Suppenkaspers wie mich: Die Suppen schmecken manchmal an Seniorenheim, damit sie in eine Schnabeltasse gehen. Die klare Suppen muss man etwas am Tisch nachwürzen. Die Vorspeisen finde ich alle ziemlich gut. Gleiches gilt für die Hauptspeisen und Desserts. Etwas befremdlich: ich frage nach einer Getränkekarte und mir wird erklärt, dass ich hier im Restaurant nur Wein, Bier, Wasser und die üblichen Limonaden bekommen kann. Alles weitere muss ich mir selbst außerhalb des Restaurants besorgen. Da ja unser Tisch nicht vollbesetzt ist und daher etwas Luft und Zeit übrig bleibt, bevor die 2. Tischzeit beginnt, gibt es noch am Schluss ein paar Zaubertricks von unserem Kellner I Putu.

The next bad surprise awaited us in the restaurant. Actually, Christina, Axel, Marc, and Susan had their bookings associated with getting together a table for the early sitting. We decided later. We communicated it to Louise of https://www.cruise.co.uk. They confirmed the association of the bookings. I talked to the CMV head office. They confirmed that too. But on board, Marc and Susan were allocated at another table. We addressed to the Maître D', and he said, that he only got the information that Christina, Axel, and our booking were associated. Immediately, we got with 6 a table for 10, which was pretty unpleasant. But since nobody else was joining, we became familiar later. We had luck with our waiters: I Putu Pramana and I Wayan Ada Astika were our 1 1/2 waiters, who took care of us very well. The assistant waiter was shared between two service stations. There were only soft rolls on all days. In advance for soup lovers like me: The soups sometimes tasted like at a senior nursery so they could be served in a sippy cup. The clear soups you had to season a little at the table. The appetizers were all pretty good. The same applied to the main courses and desserts. Somehow strange: I asked for a drinks menu, and I was told that I could only get wine, beer, water, and the usual sodas here in the restaurant. Everything else I had to get myself outside the restaurant. Since our table was not fully occupied and therefore some breaks and time were left before the late sitting began, we were entertained with some magic tricks by our waiter I Putu at the end.

The air conditioning occurred anger: it was freezing cold. We informed our cabin steward Standly but had to search on another deck because his work was so oddly split up. We tried to call: but the receiver did not connect anymore. In the meantime, the air conditioning warmed finally. About three hours after the report, a technician came by and knocked us out of bed. I was awake since 04:00 hrs, and I was pretty tired.

Ärger macht die Klimaanlage: es ist eiskalt. Wir informieren unseren Kabinensteward Standly, den wir auf einem anderen Deck suchen müssen, weil es so merkwürdig aufgeteilt ist. Wir versuchen anzurufen: allerdings lässt der Hörer sich nicht mehr verbinden. Zwischenzeitlich wärmt die Klimaanlage doch endlich. Etwa drei Stunden nach der Meldung, kommt ein Techniker vorbei und klopft uns aus dem Bett. Ich bin ja bereits seit 04:00 Uhr wach und bin ziemlich müde.
Die anderen Reisen in diesem Blog/
The other voyages in this blog: