Scroll down for English explanations - alternates with German explanations.

Wir hatten es nicht eilig von Bord zu kommen und gehen erst mal in das Atlantik Restaurant zum Mittagessen.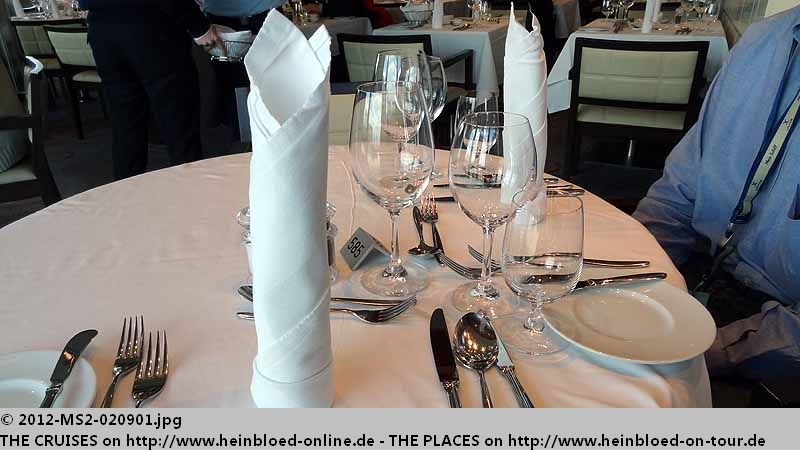 We were not under time pressure to get from the ship and went to the Atlantik MDR to have lunch.

As yesterday's picture were lost I would like to explain here few more details we I could not tell the day before. The third little bowl which you cannot see under the napkin was the olive oil. For my taste too less.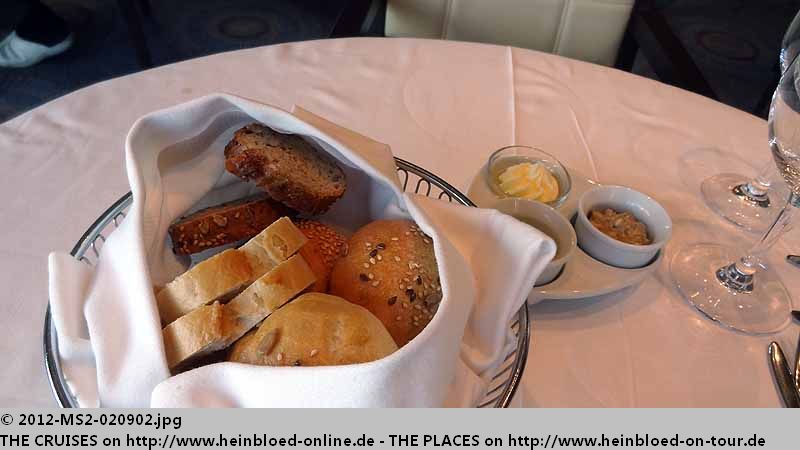 Da ja die Bilder gestern verloren gegangen sind, erkläre ich auch einige Details, die ich gestern nicht so erklären konnte. Das dritte Schälchen, das man wegen der Serviette nicht sieht, ist Olivenöl. Aber immer zu wenig für unseren Geschmack.
Die Mittagskarte - kleiner als die Abendkarte. Nun nicht als zwei Menüvorschläge dargestellt, sondern eines.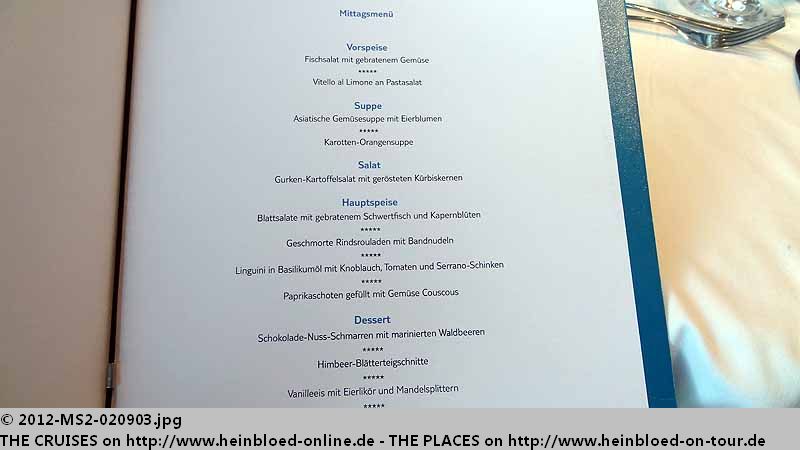 The lunch menu - smaller than the dinner menu. Now not presented like two different menus but just one.

The service stations of the wine stewards. Right you can identify the still water.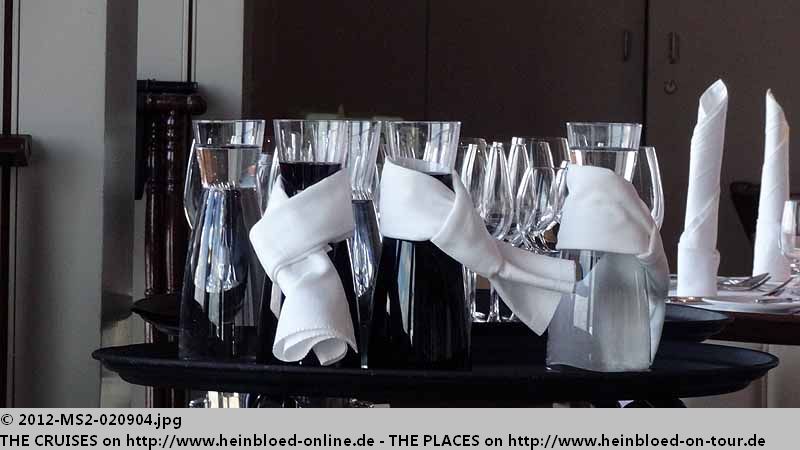 Die Servicestationen der Weinkellner. Rechts das stille Wasser.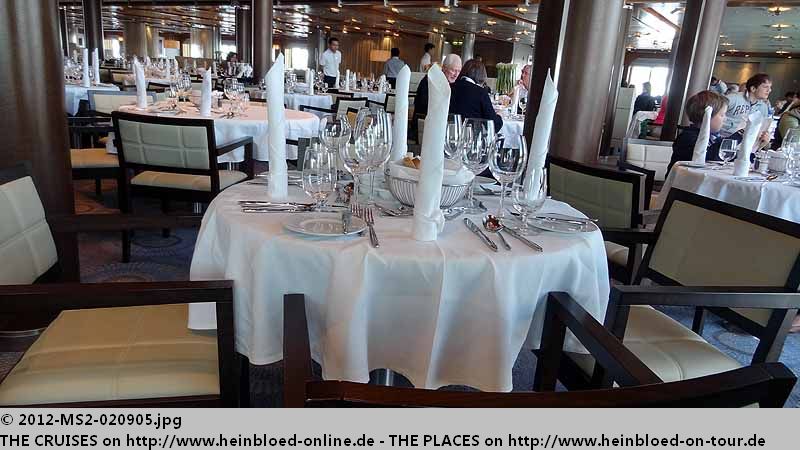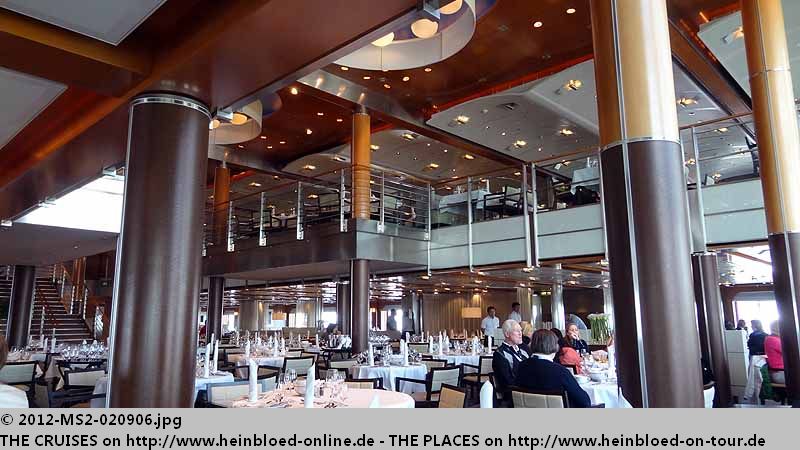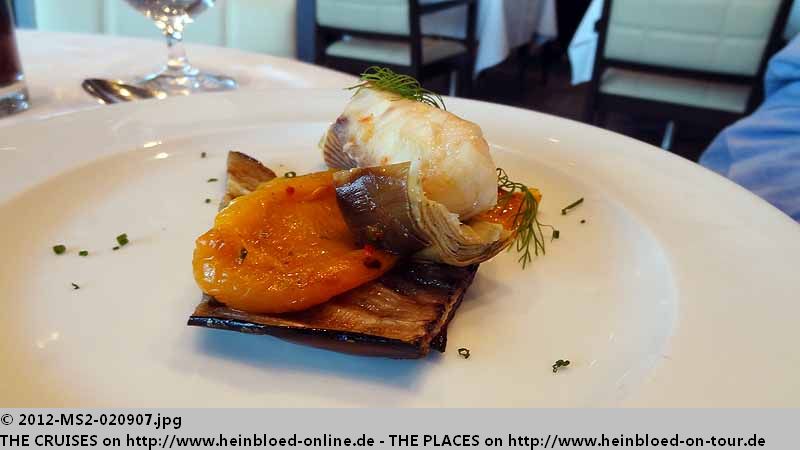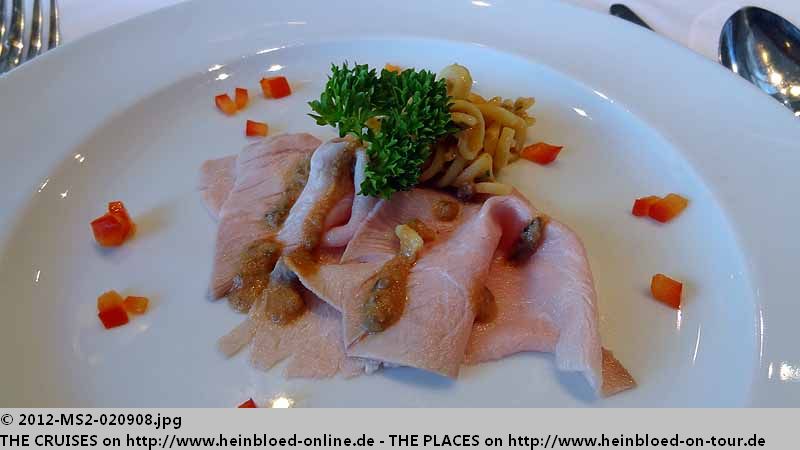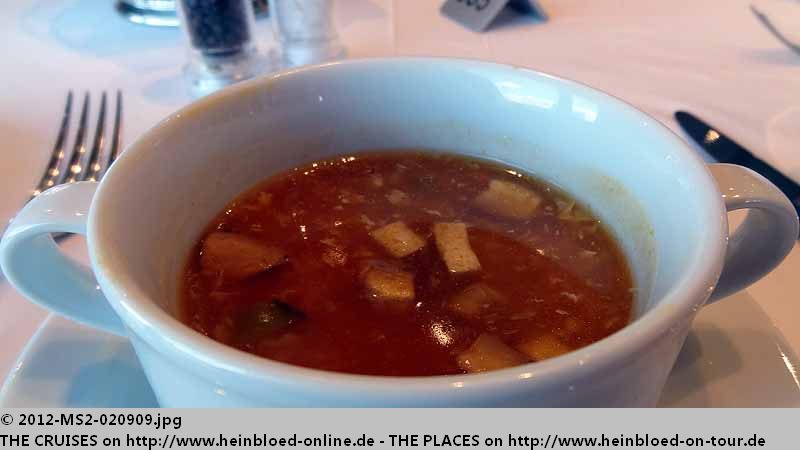 Due to technical problems with the gangway the ship was cleared at 13.25 hrs.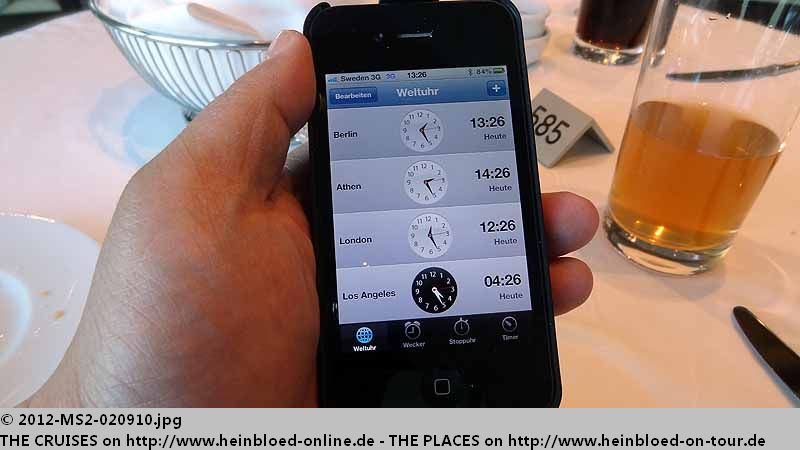 Wegen technischer Schwierigkeiten mit der Gangway wird das Schiff erst um 13.25 Uhr freigegeben.
Also an eine Rinderroulade kann ich mich erinnern. Aber anscheinend gab es erst jetzt mittags und nicht gestern Abend. Daher keine Ahnung mehr, was es gestern Abend gab. So aufregend kann es nicht gewesen sein, dass ich es schon vergessen habe. Aber die Rinderroulade war nicht so meins.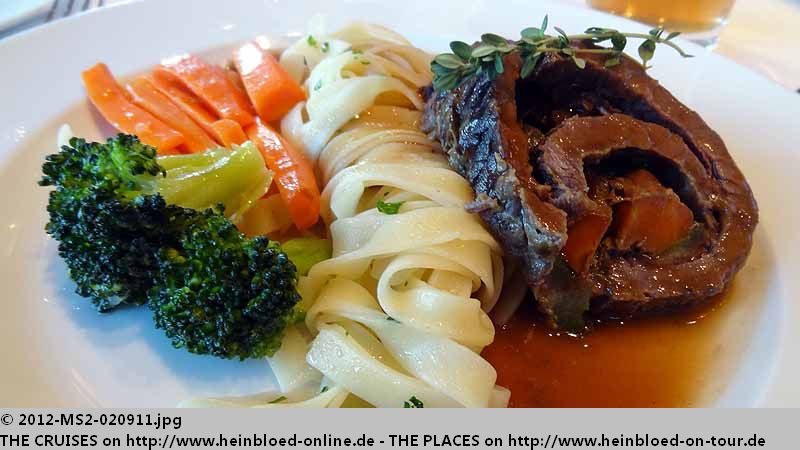 I remembered a Beef Olive. But we had it for lunch and not last night for dinner. So idea what I had last night for dinner. But it could not be so exiting that I forgot it already. But the Beef Olive was not mine.

We had few waiters in good memories because the set the table with white gloves.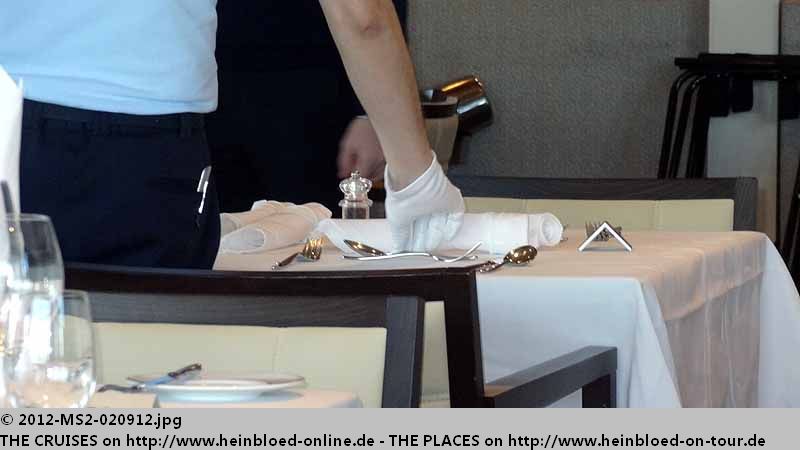 Einige Kellner fielen positiv auf, weil sie mit weißen Handschuhen eingedeckt haben.
Diese Mauer wird immer als Ablage benutzt, auch als Ablage für die Salz- und Pfeffermühlen, die dann nicht gereinigt werden...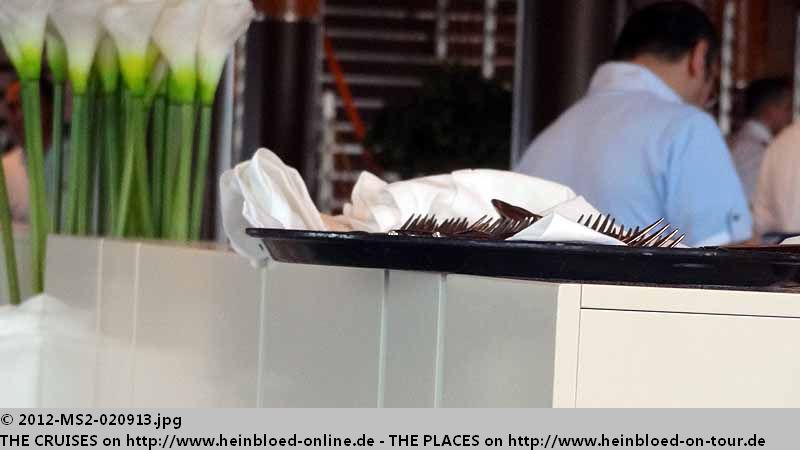 This wall was used to place salt- and pepper mills and which was not cleaned thereafter.

You only need such sings because they do not allocate and escort you to the seats.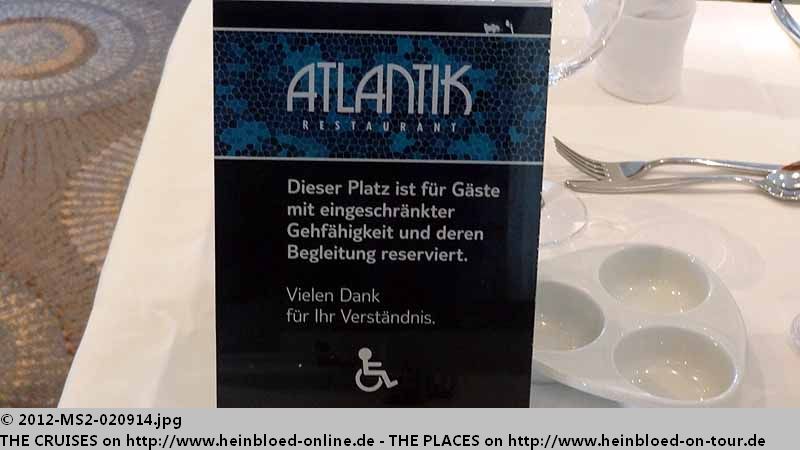 Solche Schilder werden ja nur benötigt, weil ja eben keine Plätze zugewiesen werden und man nicht an den Tisch geführt wird.
Solche Separées fand ich ganz nett gemacht.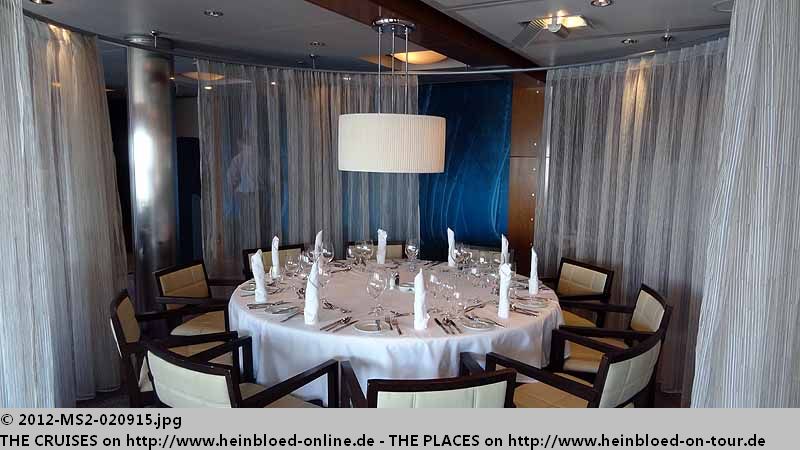 Such separées were very nice.

Here they explained what a host is and what might be the difference to a "simple" Maître. They should know more than just a plain Maître.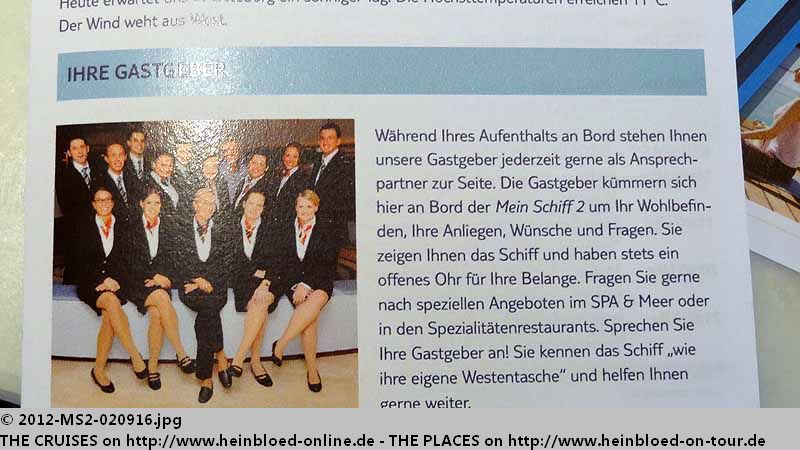 Hier die Erläuterung, was der Unterschied zwischen Gastgeber und Maîtres.
An der Rezeption gab es auch einen Geldwechselservice. Die Unterscheidung damals auf der CENTURY zwischen Zahlmeister und Rezeption gibt es nicht mehr.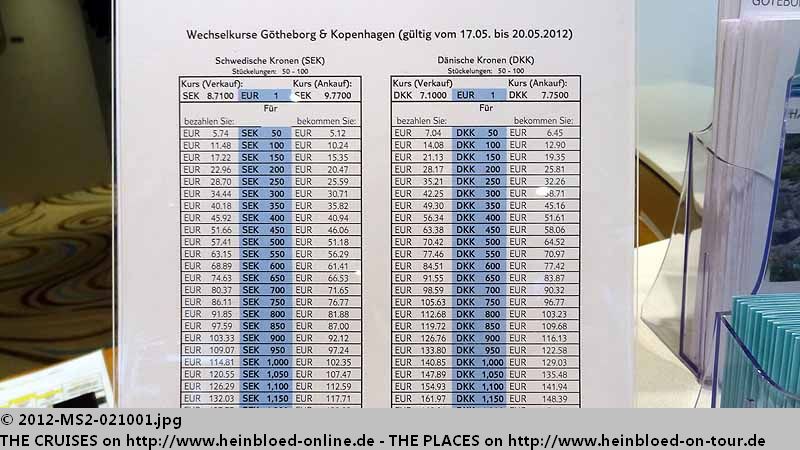 The front desk offered a money exchange service. Not like on the CENTURY where you had the purser's office for money matters and the front desk for other matters.

Here at the front desk you get additional information for the single ports. But those were not delivered to your cabin.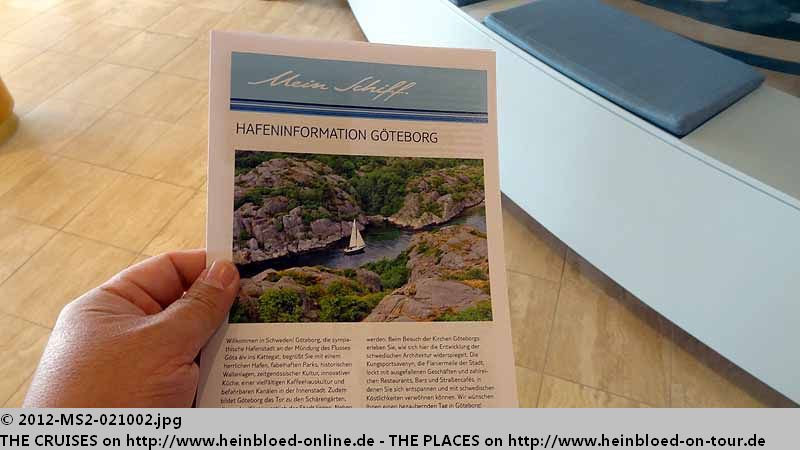 An der Rezeption gibt es noch Zusatzinformationen für die Häfen. Leider wird es nicht in die Kabine zugestellt.
Obwohl wir bereits vor ca. einer Stunde angelegt hatten, gibt es lange Schlangen um von Bord zu kommen.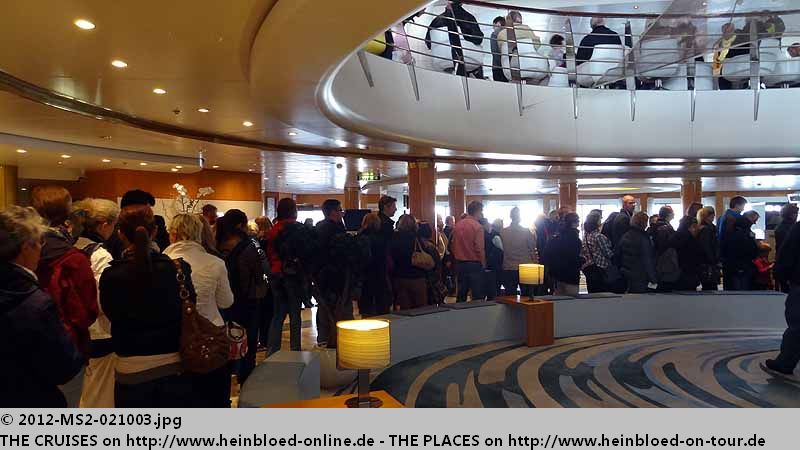 Although we docked already one hour ago there were still long queues to get from the ship.

I have not seen such a gangway before on any ship. Was there no tide here in Gothenburg?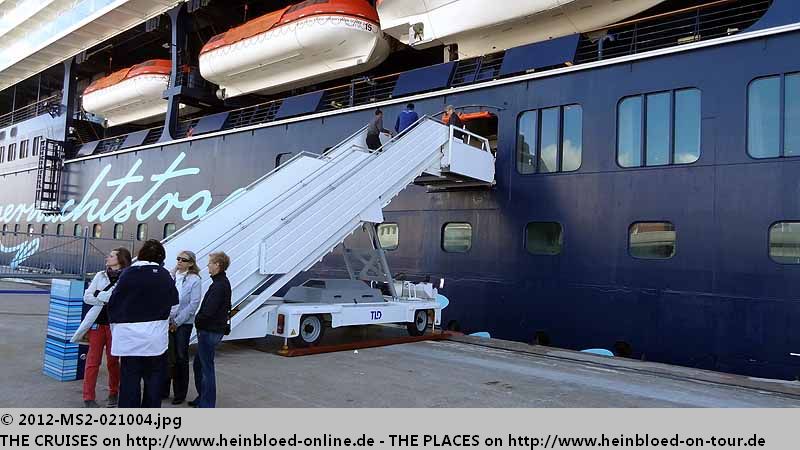 So eine Gangway an einem Schiff sehen wir zum ersten Mal. Gibt es hier keine Tide mehr in Göteborg?
Das ist alles. Mehr Cruise Terminal gibt es nicht. Ein Souvenirshop und eine Dame von der Touristeninformation, die Stadtpläne verteilt.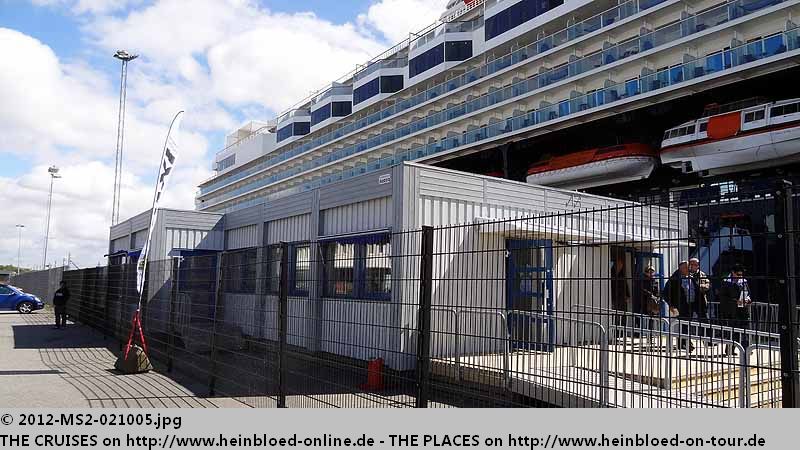 That was all. No more cruise terminal to find. A souvenir shop and a lady from the tourist office who distributed maps.

The shutlle of TUI Cruises.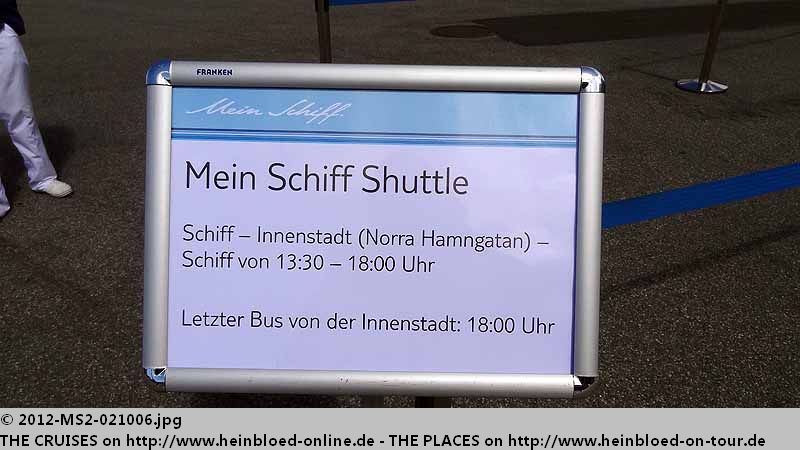 Der Shuttle von TUI Cruises.
Aber auch dort entstehen Schlangen.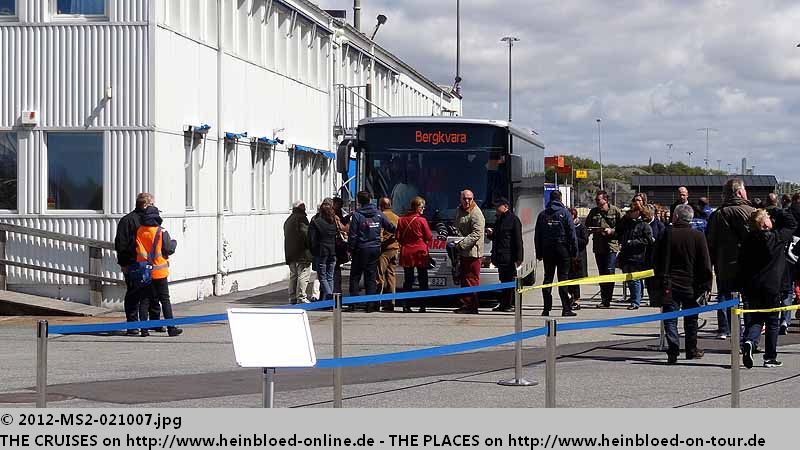 But even here you had to queue.

You should read on the daily programme: Taxis would be available in sufficient numbers. A good reason to leave the queue of the shuttle to find a taxi. A little strange: there was no phone number of the port agent but of the ship.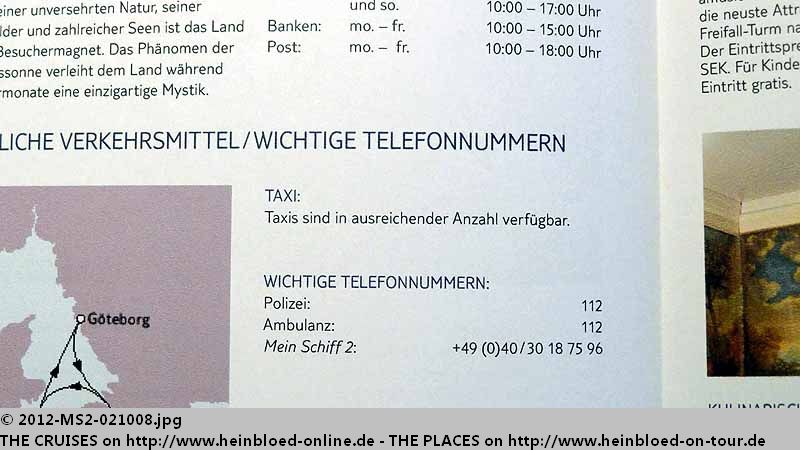 Man achte auf den Hinweis: Taxis sind in ausreichender Zahl vorhanden. Grund für einige auf den Shuttle zu verzichten und die Schlange zu verlassen. Ungewöhnlich: es gibt nicht die Nummer des Agenten, sondern vom Schiff.
Weil unser Schiff zu groß ist, sind wir 20 Minuten vom Zentrum entfernt in Arendal.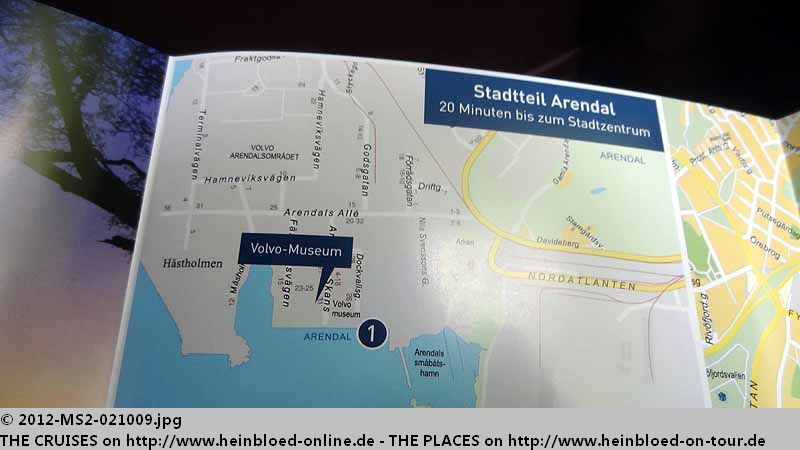 Because our ship was too large we had to berth 20 minutes away from the city center in Arendal.
There were no sufficient taxis around. Just one but the driver preferred to have his break. We were told that the call center was not informed that a ship should arrive. Did they try to sell more shuttle-tickets? They called for more taxis but it took a while. They do not offer taxi-tours like other cities are doing it. While we were waiting we mentioned that we were interested in a Taxi-Tour they called one driver who is specialized in such tours. Because one taxi was already on the way to collect us we were forced to use it although the driver was not prepared to offer tours.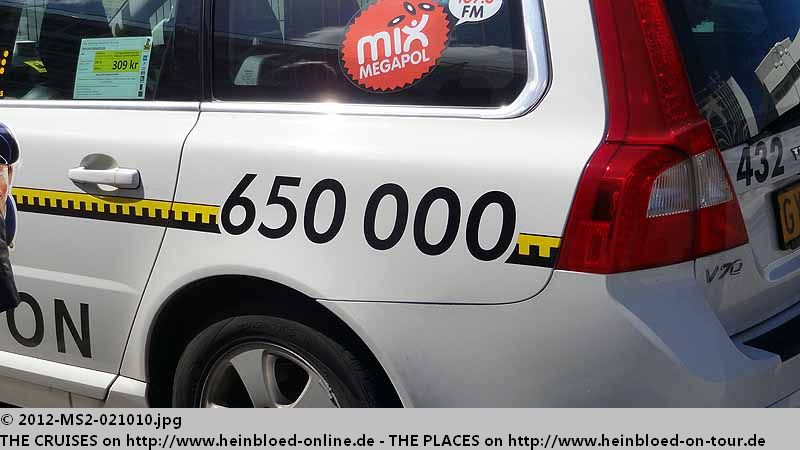 Mit ausreichenden Taxis ist nicht. Es steht ein Taxi da, dessen Fahrer jedoch lieber seine Pause macht. Uns sagt man, dass der Taxizentrale nicht Bescheid gegeben wurde, dass das Schiff kommt. Wollte man lieber seine Shuttle-Tickets verkaufen? Es werden weitere Taxis heran gerufen und das dauert. Taxi-Touren wie in anderen Städten werden nicht angeboten. Als wir mal während der Wartezeit erwähnen, dass wir eigentlich eine Tour machen wollen, wird noch ein Taxi gerufen, der wohl auf solche Touren spezialisiert ist. Aber weil schon ein anderes Taxi für uns unterwegs werden wir gezwungen, das erste Taxi zu nehmen, obwohl der Fahrer nicht auf eine Tour vorbereitet ist.
Für diejenigen, die nicht fahren wollen als Alternative: Direkt vor dem Cruise Terminal ist das
Volvo-Museum
.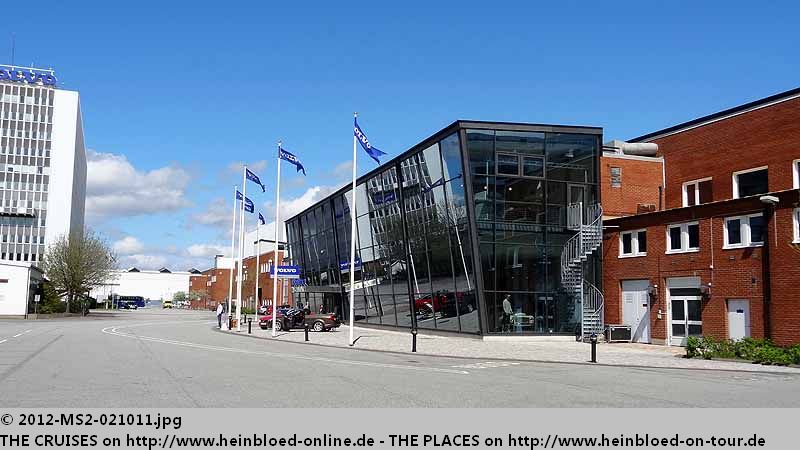 For all those who were not interested to have a longer ride: just in front of the cruise terminal you find the Volvo-Museum.

Now we were asked what we would like to see. Normally I am well prepared for a cruise. But this time I did not perepare anything. That was why I wanted to do a taxi-tour. It would be nice to see the archipelago like on the port folder. But the taxi driver that we were already there and there was nothing more to see. He took us to a hill to get an overview.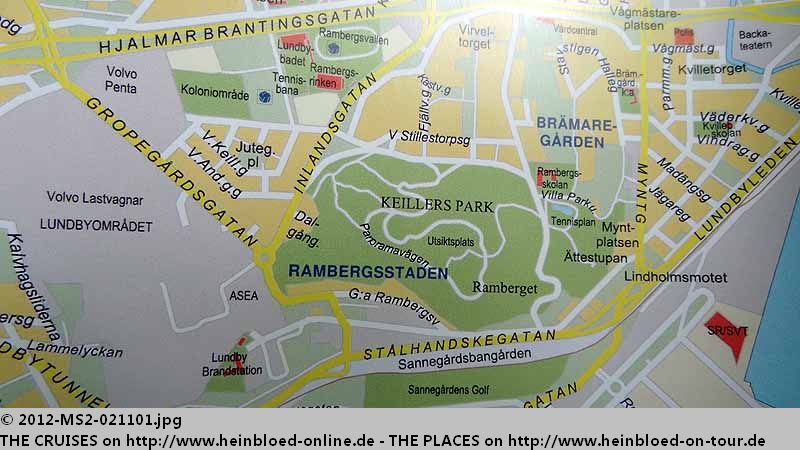 Nun wurden wir gefragt, was wir sehen wollen. Normalerweise bereitete ich mich auf eine Kreuzfahrt intensiv vor. Auf diese habe ich mich nicht vorbereitet. Deswegen wollte ich ja eine Taxi-Tour machen. Gereizt hätten uns die im Hafenfaltblatt erwähnten Schärengärten. Aber da meint der Taxifahrer, dass wir hier schön wären und nichts zu sehen gäbe. Er fährt uns zu einem Berg, um uns einen Überblick zu verschaffen.
Der Berg heißt Rabenberg, weil viele Raben sich auf dem Berg aufhalten.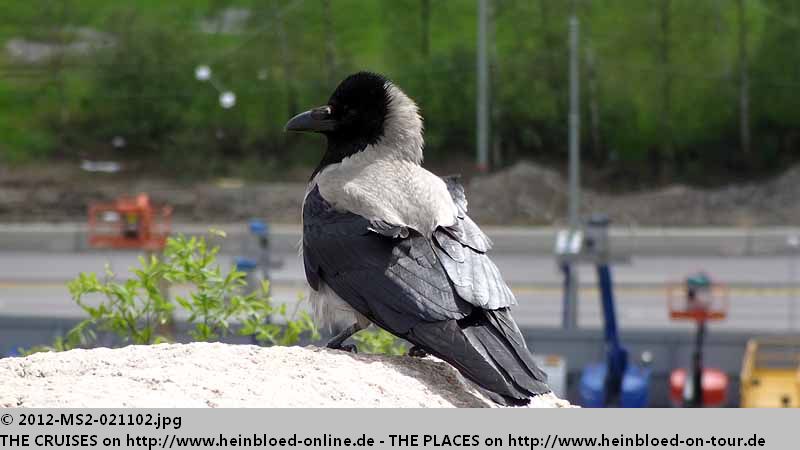 The hill was called the raven hill because there were many ravens on the hill.

A first look over Gothenburg.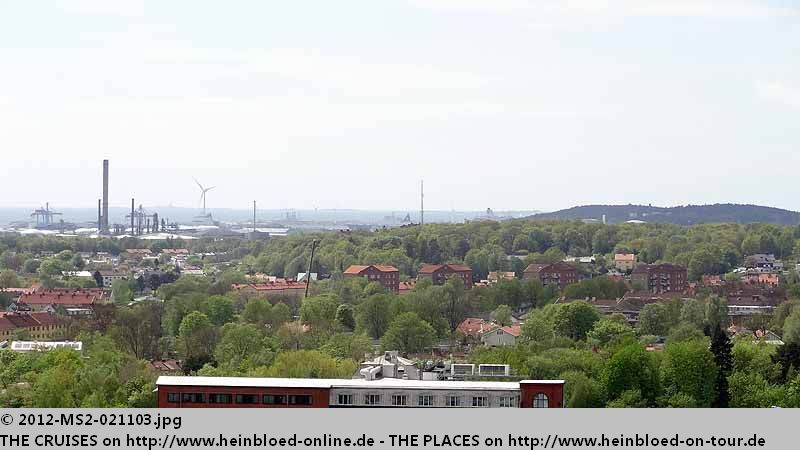 Ein erster Blick über Göteborg.