Scroll down for English explanations - alternates with German explanations.

Good Morning from Edinburgh!
Der Pre-Cruise-Tag ist schnell erzählt, weil er ja spät begann:
Und wieder mit Zusatzgepäckkontrolle an den Ausgängen B30-33 in Frankfurt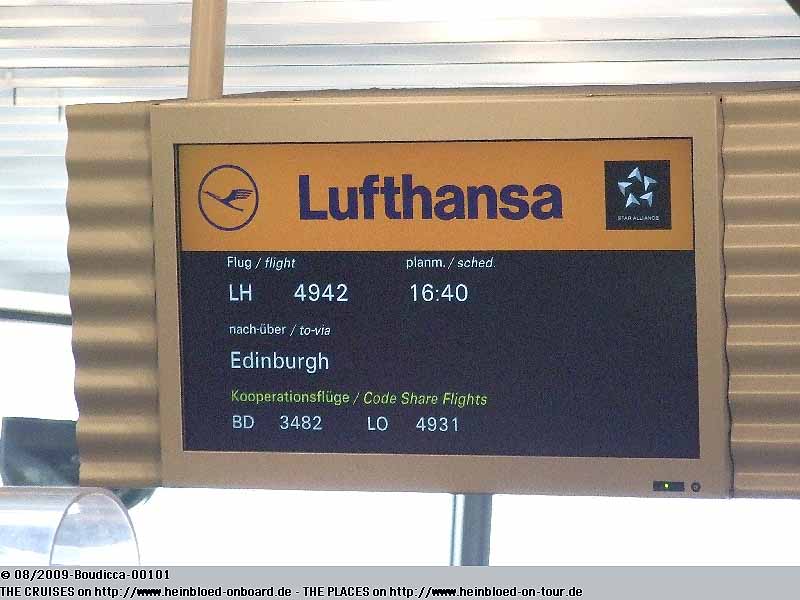 The Pre-Cruise-Day was short as it started very late.

And again with additional baggage check at the gates B 30-33 in Frankfurt.

The nice part of the flight was that we got a 2-seat-row due to my status with Lufthansa as one seat was missing.

The flight was fully booked.

We had a Japanese Orchestra onboard.

They did not understand any English.

Only standby-passengers were announced to forward to the exit desk. But the whole group went to the exit and blocked it.

So the additional ID-check need to find a way to get between the group and the exit.

They gave up to explain that they should take seats again and let them down for the first bus.So we went with the 2nd bus to our aircraft. All overhead bins were full. Which musician will check his instrument as checked baggage. And we did not have a solist but a whole orchestra...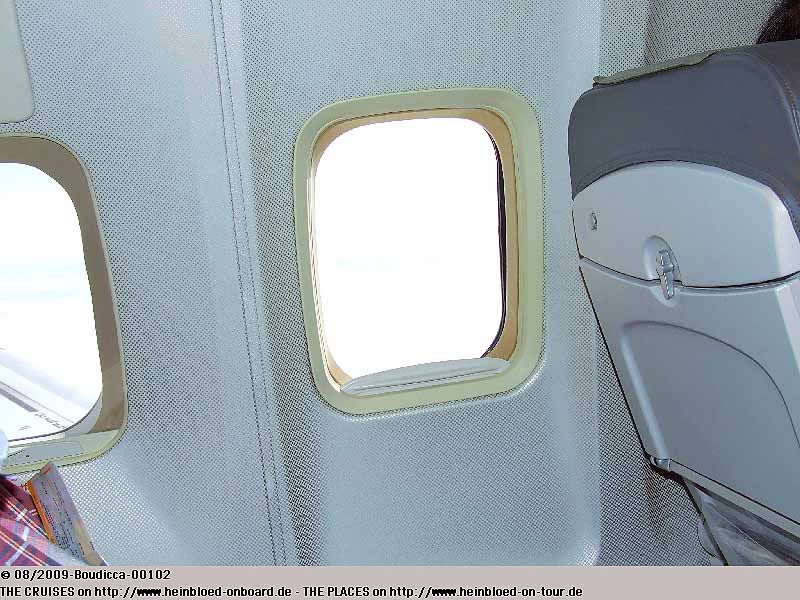 Das angenehme an dem Flug dieses Mal, war wir aufgrund meines Statuses bei Lufthansa Zugang zu der 2-er-Reihe beim Fenster hatten und daher ein Platz hier fehlte.
Der Flug war ausgebucht.
Ein japanisches Orchester war mit.
Sie verstanden kaum Englisch.
Eigentlich wurden nur die Standby-Passagiere zum Ausgang ausgerufen, aber mangels Verständnis ist die gesamte Reisegruppe aufgesprungen und hat den Ausgang besetzt.
Deswegen musste die Ausweisüberprüfung irgendwie gucken, wie sie sich wieder zwischen die Gruppe und dem Ausgang platziert.
Man hatte sehr schnell aufgegeben der Gruppe zu erklären, dass sie sich wieder hinsetzen mögen. So fuhren sie mit dem 1. Bus zum Flugzeug.
Wir sind mit dem 2. Bus zum Flieger gekommen und alle Handgepäckfächer waren natürlich voll Musikinstrumente. Welcher Musiker übergibt auch sein Musikinstrument einer Airline??? Nur hatten wir nicht einen Solisten an Bord, sondern ein ganzes Orchester.
Unser Pilot hat ein wenig die Orientierung verloren:
wir fliegen zwischen Amsterdam und Newcastle über die Ostsee (auch in der englischen Wiederholung)...
Trotzdem haben wir es geschafft pünktlich angzukommen.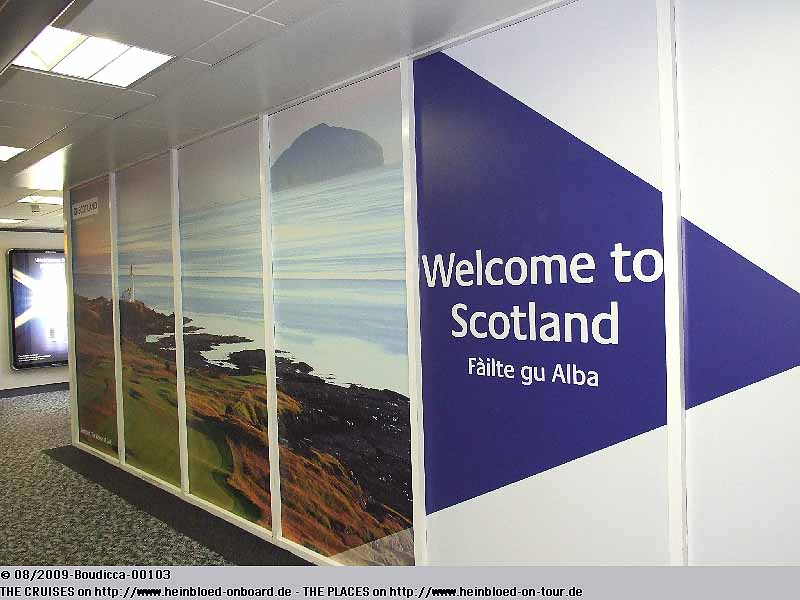 Our pilot lost somehow the orientation.

On the part from Amsterdam to Newcastle we should fly over the Baltic Sea (same in the German announcement)...

But we made it.Our 50 kgs baggage made it too. One bag was 24.5 kgs which will occur trouble with British Airways...

As there was no Iris-Check we entered UK on the classical way. The immigration officer confirmed confirmed that there might be strik on August 05. We hope to get scheduled from the ship as we need to catch our flight to Heatrhow. I think also for a German cruise-mate (arosablau) who need to enter UK at Heathrow airport.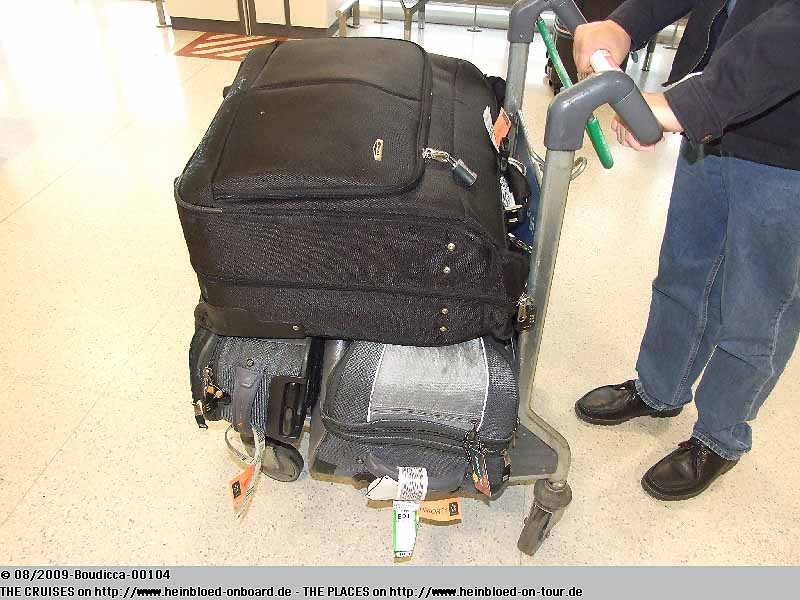 Unsere 50 kg Gepäck haben es auch geschafft. Nur ein Kofferr wog 24,5 kg, was bestimmt für Ärger auf dem Flug mit British Airways sorgt.
Mangels Iris-Kontrolle am Flughafen reisen wir klassisch an. Der Immigration-Officer bestätigt mir, dass es 05. August tatsächlich zum Streik kommen kann. Hoffentlich kommen wir pünktlich in Newcastle vom Schiff, um unseren Flieger nach London zu erreichen. Ich denke auch an arosablau, ob er überhaupt in Heathrow einreisen kann.
Agnes und John erwarten uns. Sie ist am Bein Fuß verletzt und ist trotzdem gekommen und darüber freuen wir uns besonders.
Leider erwartet uns auch typisches schottisches Wetter: Regen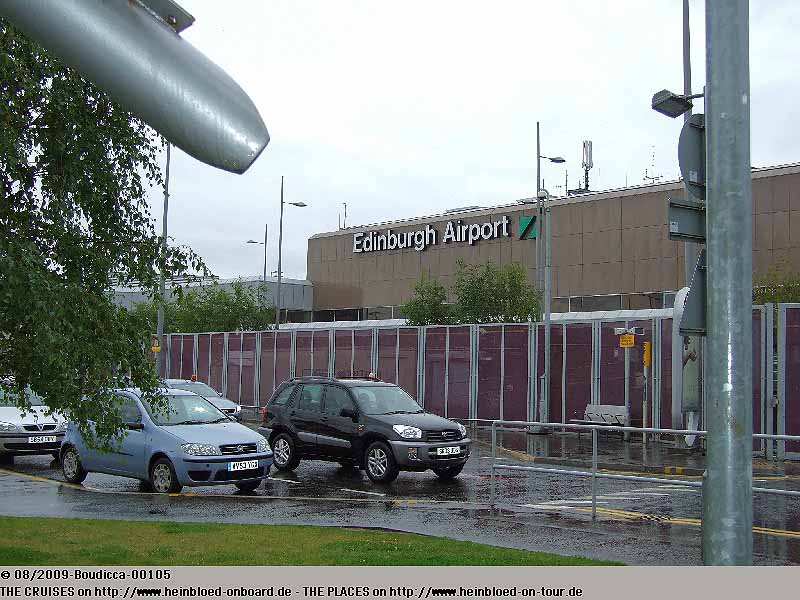 Agnes and John were expecting us. She has an injury at her feet and came to see us what was absolutely great for us.

Unfortunately typical Scottish weather was expecting us as well: rain.

They took us to South Queensferry. Some cruisers might know the place. There we went to Hawes Inn.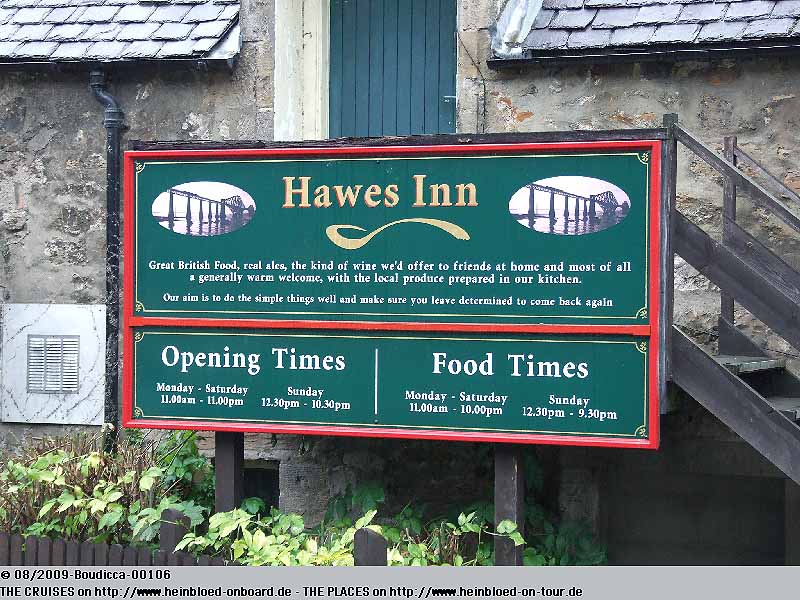 Agnes und John fahren mit uns nach South Queensferry. Einige Kreuzfahrer kennen sicherlich den Ort. Dort geht es zum Hawes Inn.
Zwischen der Eisenbahn- und der Autobahnbrücke über die Forth liegt das Restaurant.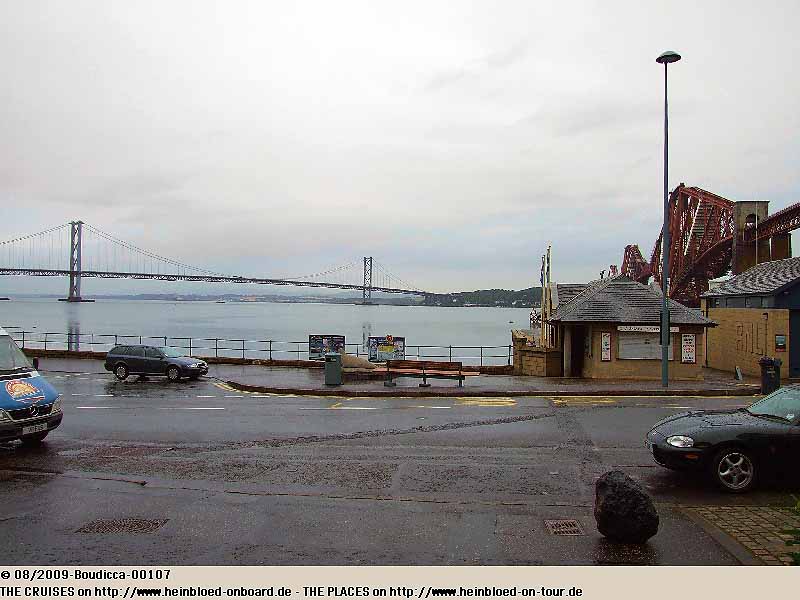 The restaurant is located between the highway- and railway-bridges over the Forth-River.We can also already see our cruise terminal in Rosyth. A ferry journey from Zeebrügge would also have been possible us to get to Rosyth.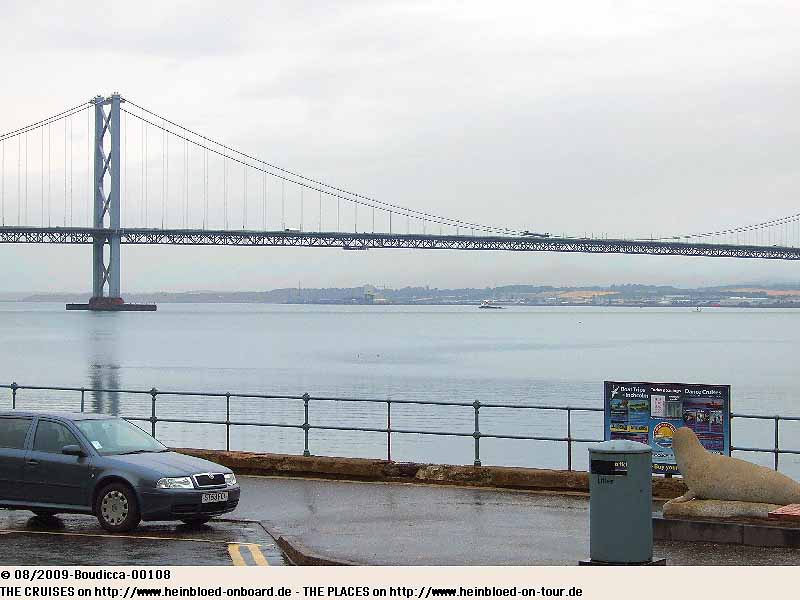 Wir können schon rüber nach Rosyth zu unserem Cruise Terminal rübergucken. Über Zeebrügge hätten wir auch mit der Fähre anreisen können.
Das Restaurant liegt direkt unterhalb der Eisenbahnbrücke, so denkt man schon gelegentlich, dass man im Speisewagen isst.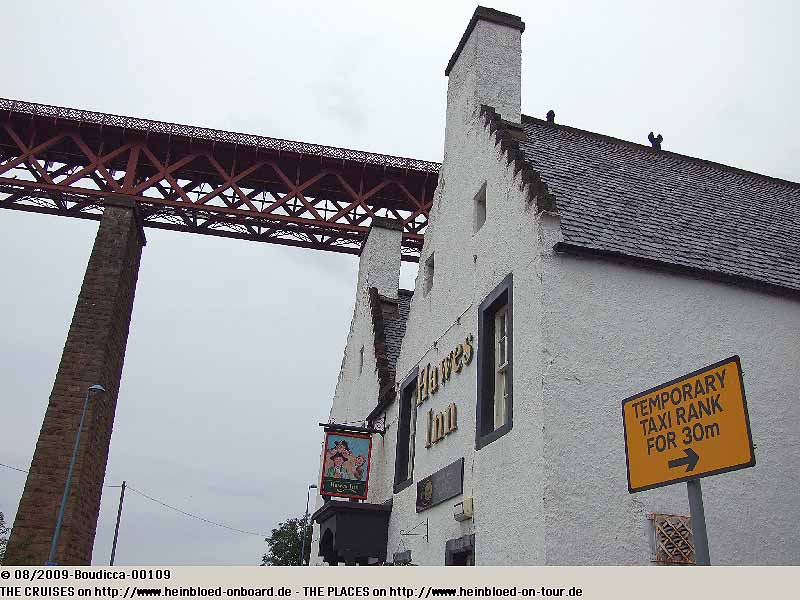 The restaurant is just underneath the railways bridge so sometimes you had the feeling to dine in the restaurant car.

But some of you maybe remember this bridge: The cruise ships anchors right of the bridge and left of the bridge you see the pier for the tenderboats.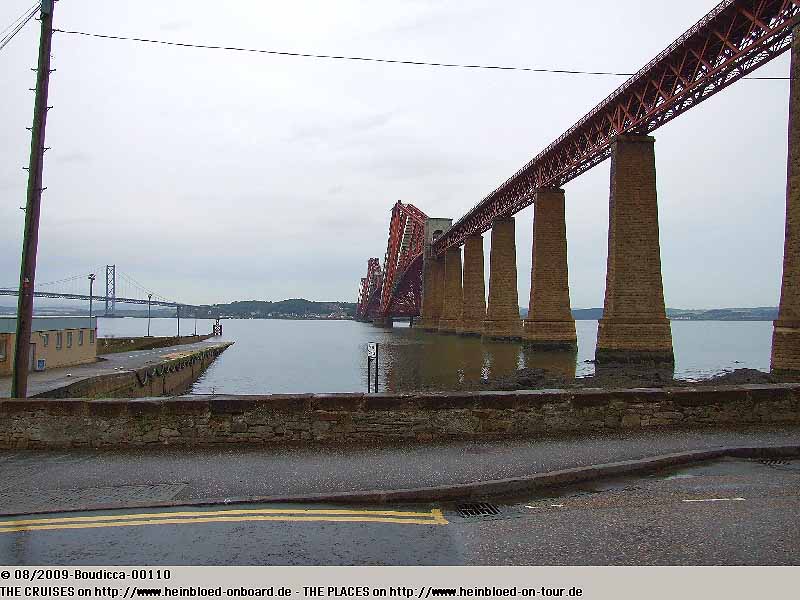 Vielleicht erkennt ja auch der eine oder andere diese Brücke: Oft tendern die Kreuzfahrtschiffe rechts von der Brücke und links ist der Tenderbootanleger.
Wir genießen jedoch einen netten und leckeren Abend mit landestypischen Spezialitäten.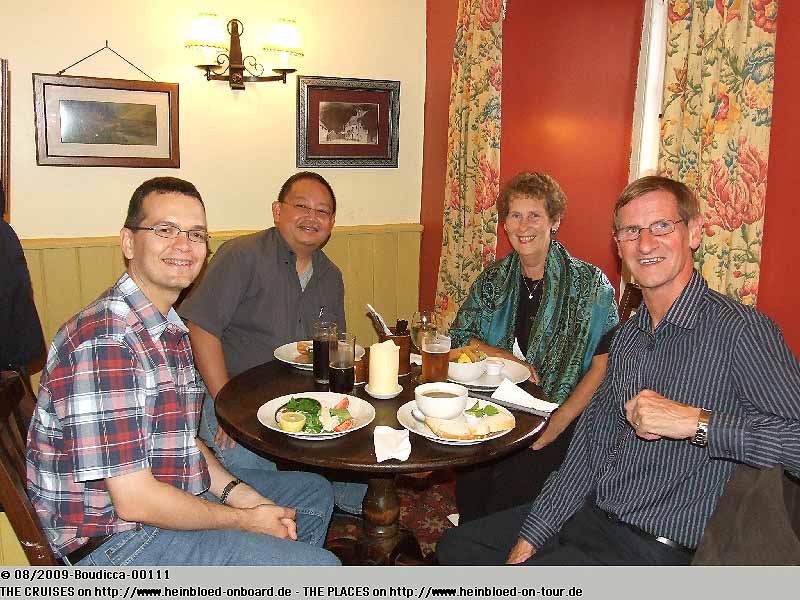 But we enjoyed a very nice and tasty dinner with authentic national food.

Of course we were talking about cruises and they told how nicely they were treated by our crew-friends on NORWEGIAN JADE. But more once we are back in Germany.

Our waitress was very funny and she heared that we were talking about cruising. She told us about her booking on CELEBRITY EQUINOX and looks forward for her balcony. I show her the pictures which I took from CELEBRITY EQUINOX at the ship yard in Papenburg, Germany and told her about the tender boats which might obstruct the view so that she can make right selection.

The rest of the night: We went out our hotel (Express by Holiday Inn at the Royal Mile - nothing special - like any Express by Holiday Inn in Germany as well) and have a drink there at the bar as it was still raining. Due to time difference and we waked-up early due to work we were very tired. So we left Edinburgh for the next day. But the first impressions were great what we saw on the way to the hotel.

HeinBloed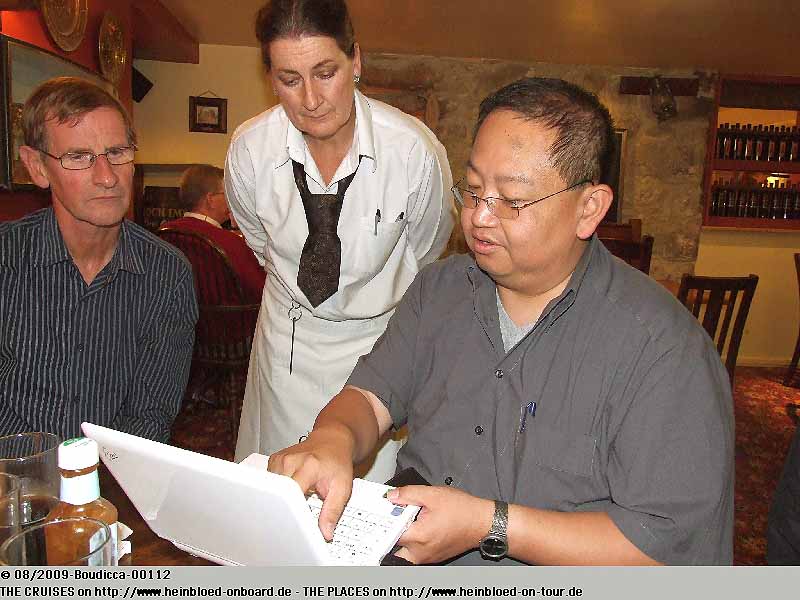 Natürlich unterhalten wir uns über die Kreuzfahrten und sie erzählen uns, wie nett sie von unseren Crewfreunden auf der NORWEGIAN JADE behandelt wurden. Davon aber mehr, wenn wir zurück in Deutschland sind.
Unsere Kellnerin war recht lustig und hatte mitbekommen, dass wir Kreuzfahrer sind. Sie outet sich mit Ihrer CELEBRITY EQUINOX-Buchung und freut sich auf ihren Balkon. Ich zeige ihr die Bilder von CELEBRITY EQUINOX aus Papenburg und erläutere ihr, bei welchen Balkon sie ggfls. aufpassen muss, wenn Sie kein Tenderboot vor dem Balkon haben will.
Der Rest ist schnell erzählt: Wir fahren ins Hotel (Express by Holiday Inn in der Nähe vom Royal Mile - nichts aufregendes - wie in einem Express by Holiday Inn auch in Deutschland) und nehmen dort noch einen Drink, weil es immer noch regnet. Durch die Zeitumstellung uns unser frühes Aufstehen wegen der Arbeit gehen wir doch bald ins Bett. Edinburgh wollen wir uns am Morgen angucken. Die ersten Eindrücke waren toll.
HeinBloed