Scroll down for English explanations - alternates with German explanations.

Weiter geht es zum Flughafen.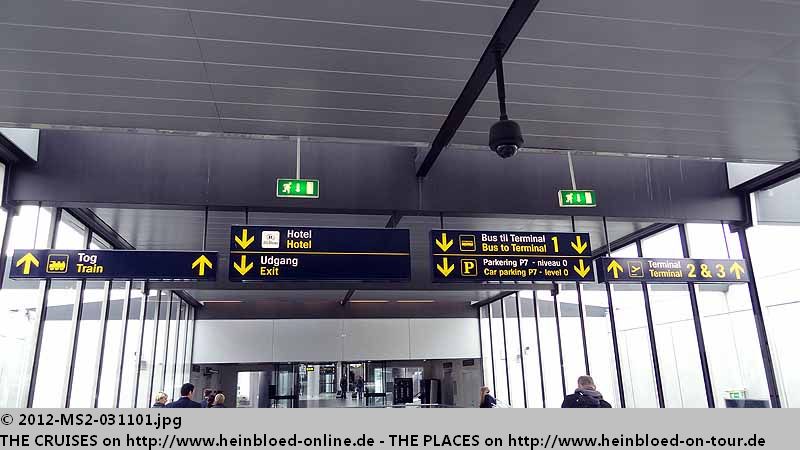 We continued for the airport.

The Hilton is just next to the terminal. But all prices excl. breakfast. Let us stay at Park Inn.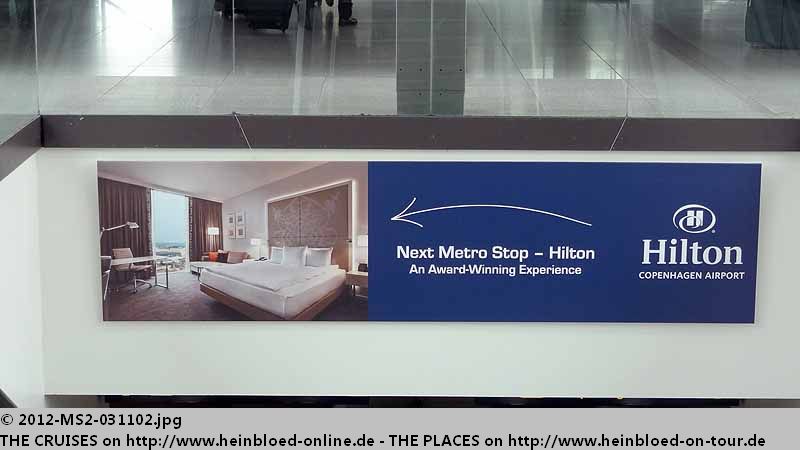 Das
Hilton
ist direkt im Terminal. Aber alle Preise ohne Frühstück. Bleiben wir lieber im Park Inn.
Terminal 3: Wir fliegen mit Lufthansa zurück. So können wir bei SAS frühzeitig das Gepäck abgeben und ggfls. nochmals in die Stadt fahren. Gleiches gilt auch für Gäste von Air Canada.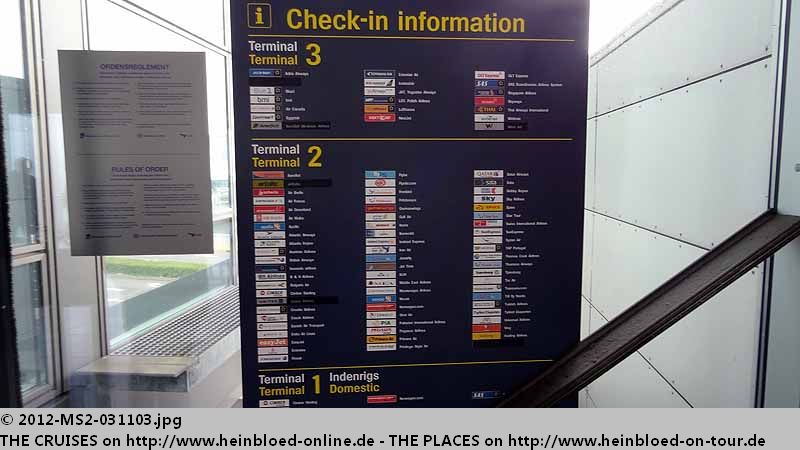 Terminal 3: we are flying back by Lufthansa. So we could hand over the bags earlier with SAS and return to the city. Same for guests going Air Canada.

Here you can already check-in yourself and then drop off your bags.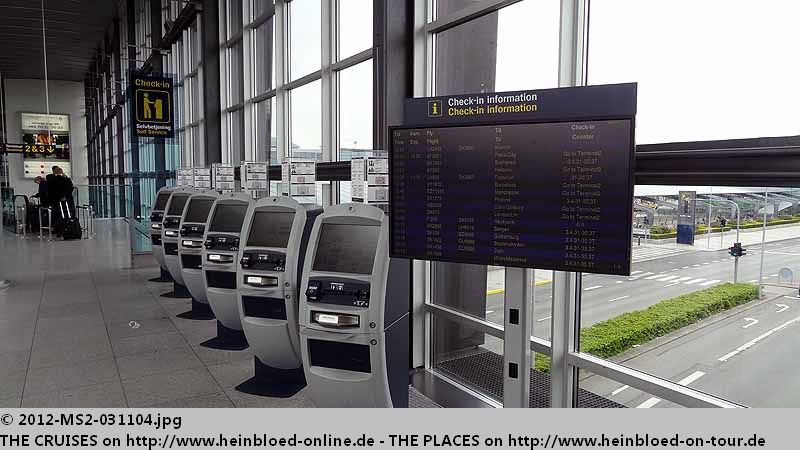 So kann man hier bereits einchecken und braucht nur noch das Gepäck abzugeben.
Runter zum Terminal.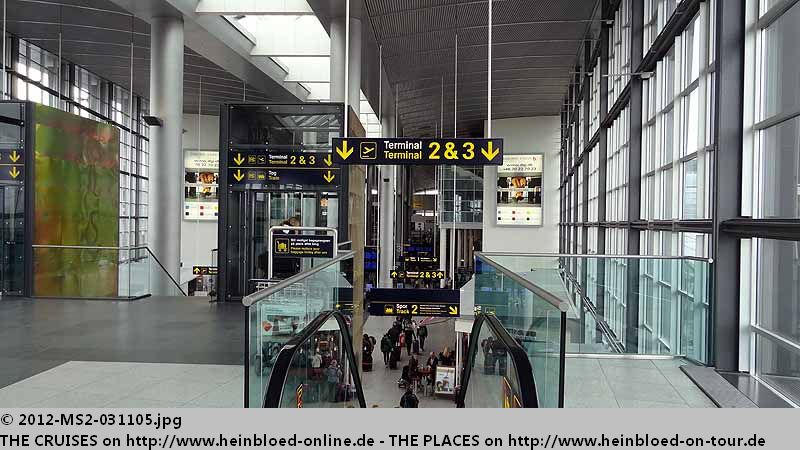 Down to the terminal.

Here you also find the office of the Danish Railways (DSB) where you can get all kind of tickets.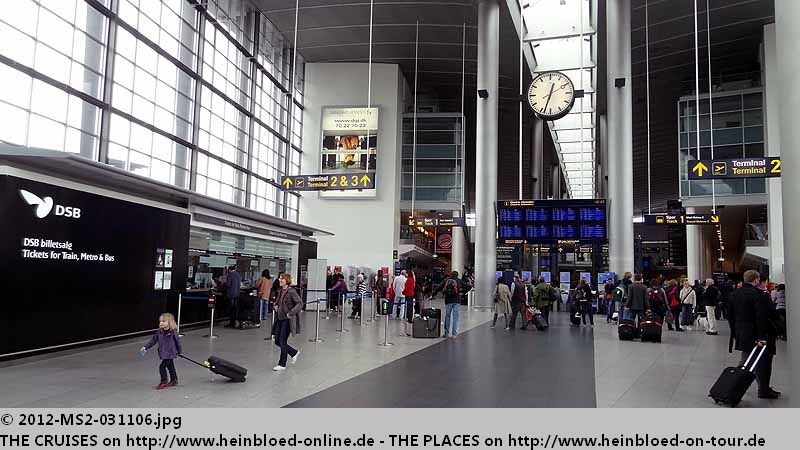 Hier ist auch der DSB-Bahnhof, bei dem man alle Fahrkarten bekommt.
Wir wollen aber zurück nach Kopenhagen. So geht es auf Gleis 2.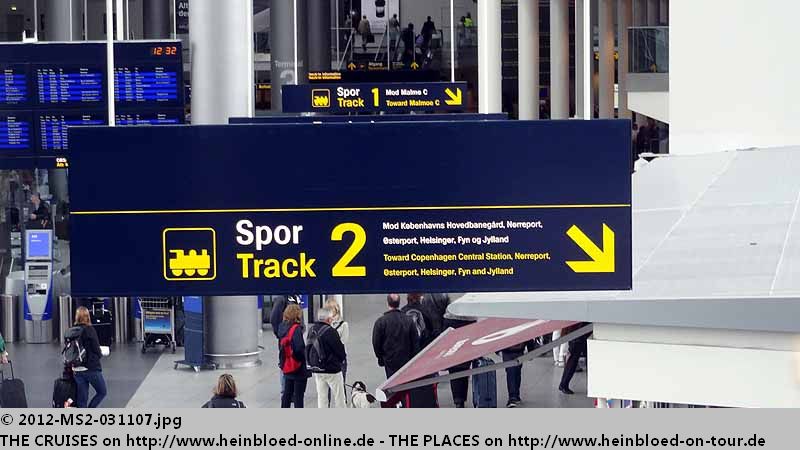 We want to return to Copenhagen. So we need to go down to track 2.

Again we need 4 sections of our card.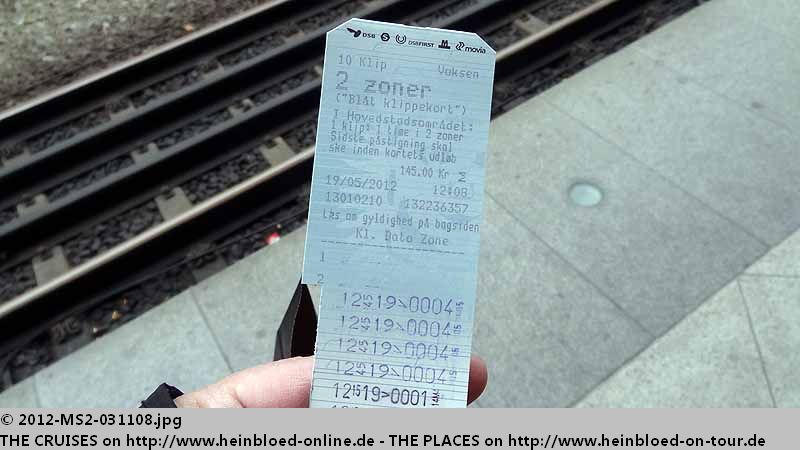 Wieder vier Streifen entwerten.
Es geht zurück.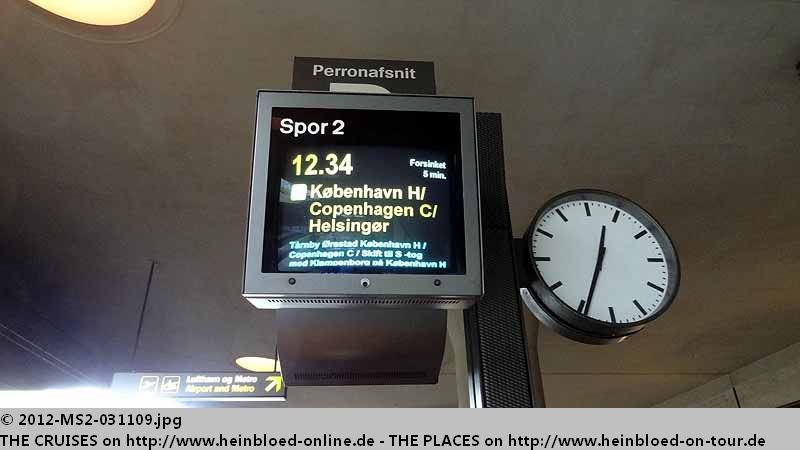 Let's return.

The service is very frequent.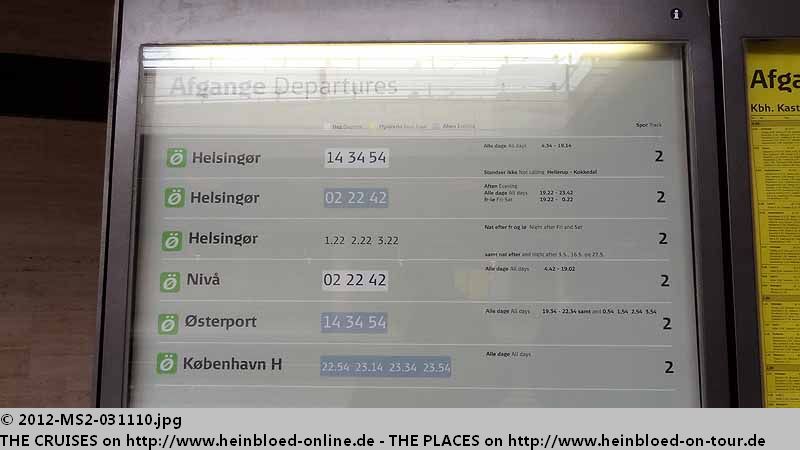 Die Züge kommen sehr häufig.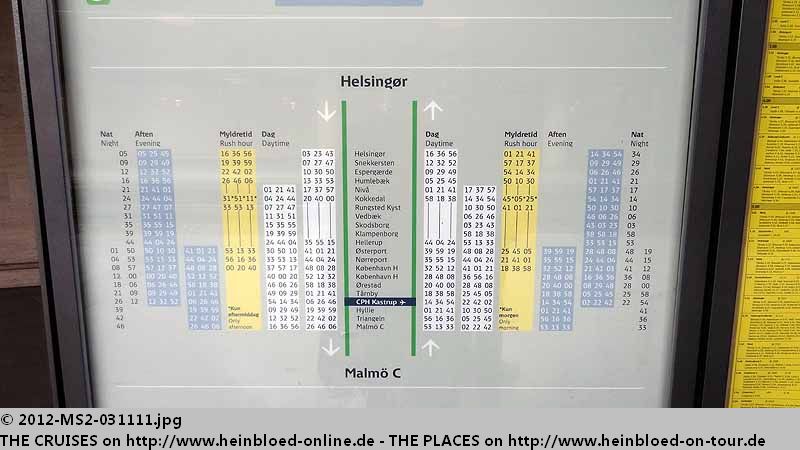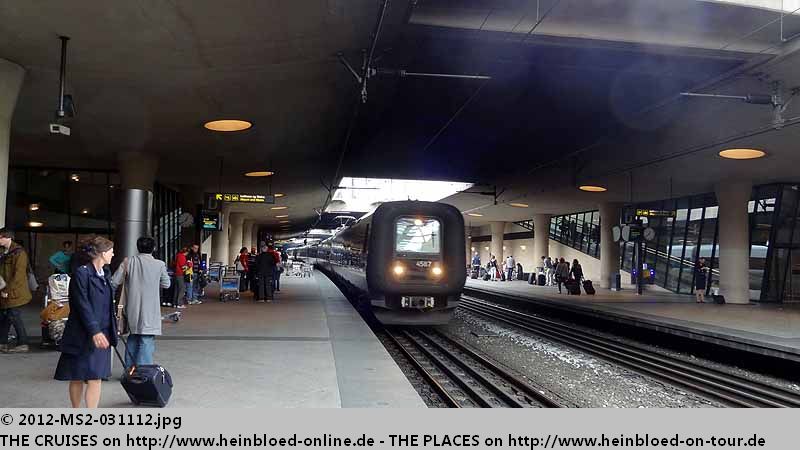 Unser Zug fährt nur bis Kopenhagen Hauptbahnhof.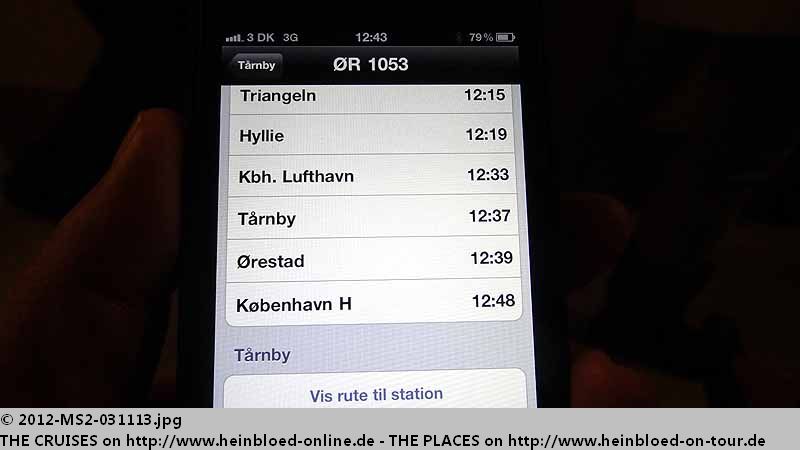 Our train terminated at Copenhagen Central Station.

Other trains for Helsingör also stops at Österport station. From you can walk easily to the Langelinie Terminal (about 12-15 minutes) or you take the bus or you get here a taxi to Frihavn or you change to the commuter trains (S-tog) to Nordhavn. From there you need about 20 minutes to walk to Frihavn. The bus to Frihavn only runs on weekdays.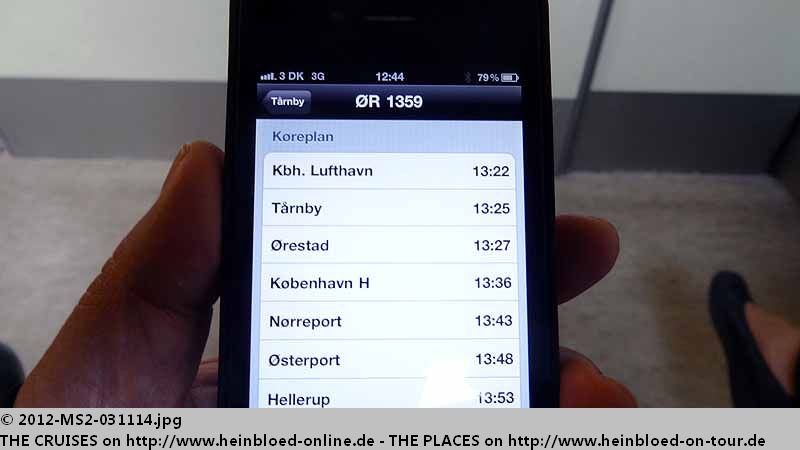 Nur andere fahren weiter nach Helsingör und halten am Bahnhof Österport. Von hier geht es schnell zu Fuß nach Langelinie (ca. 12-15 Minuten) oder mit dem Bus oder man bekommt hier ein Taxi zum Frihavn oder man steigt hier in die S-Bahn zum Nordhavn um, um von dort aus zum Frihavn zu laufen (ca. 20 Minuten). Der Bus nach Frihavn fährt nur wochentags.
Bald kommen wir am Hauptbahnhof an.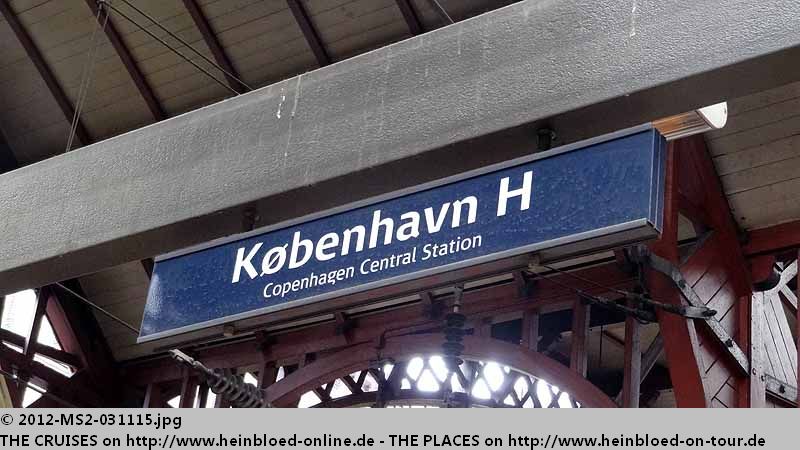 Soon we arrive at Copenhagen Central Station.

Up to the station hall.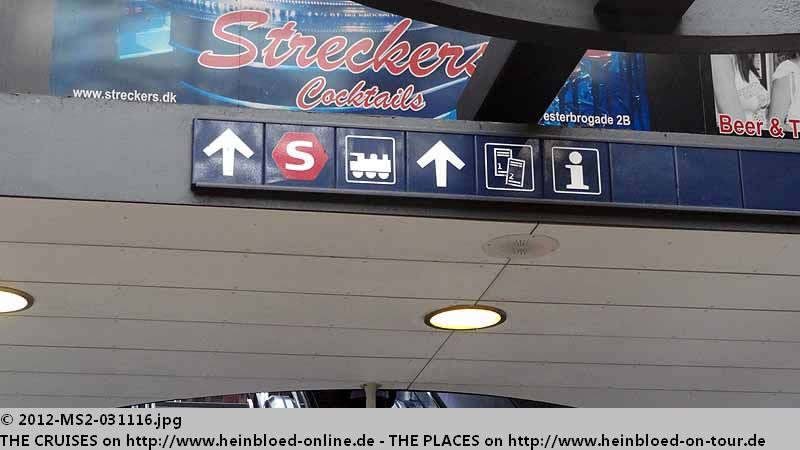 Hoch in die Halle.
Und mal gucken, wie es jetzt bei der Gepäckaufbewahrung aussieht.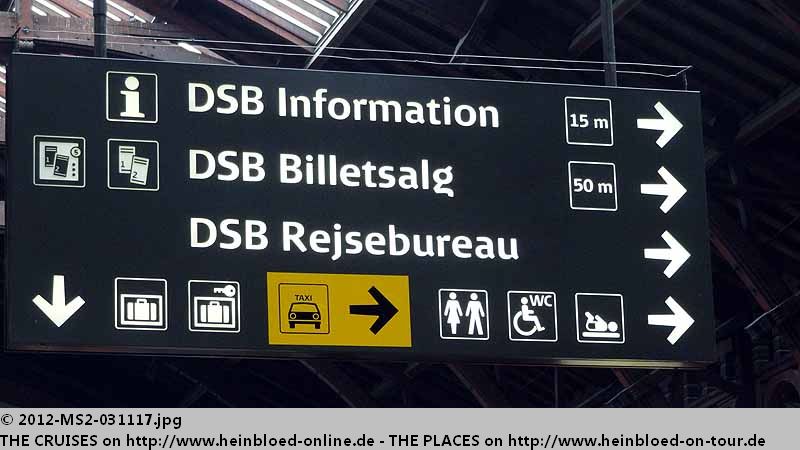 Let's see how it looks like now with the baggage storage.

Now it's 5 DKK if you need to see the toilet...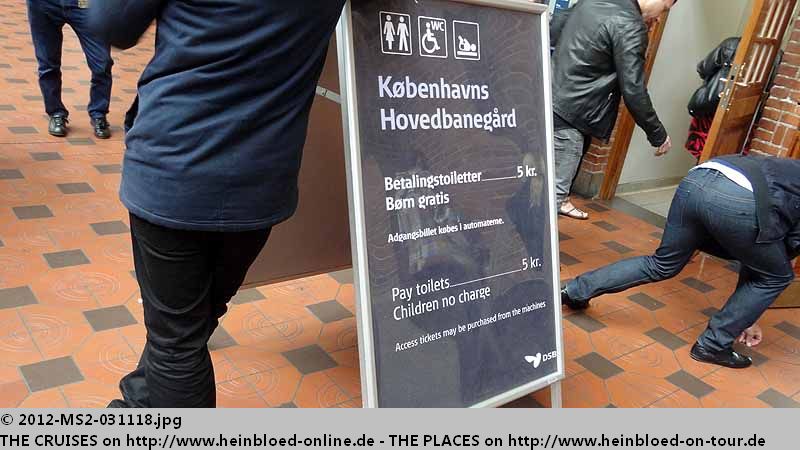 Kostet jetzt schon 5 DKK, wenn man auf die Toilette will...
Und weiter zur Gepäckaufbewahrung.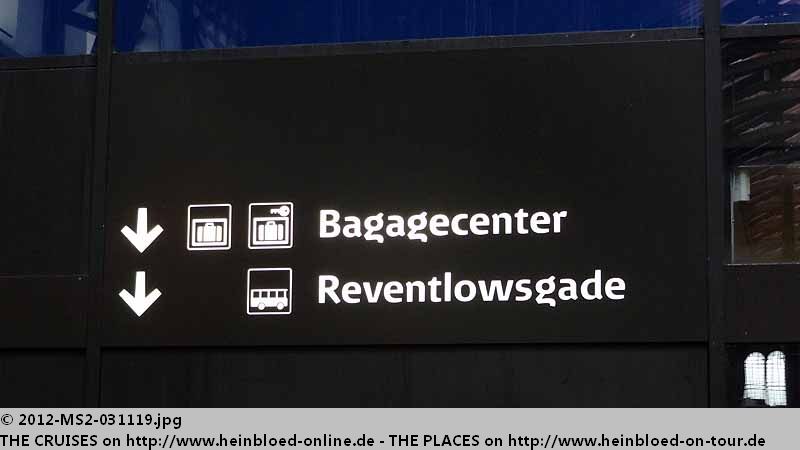 But let us continue to the baggage center.

Caution: it is not open round the clock.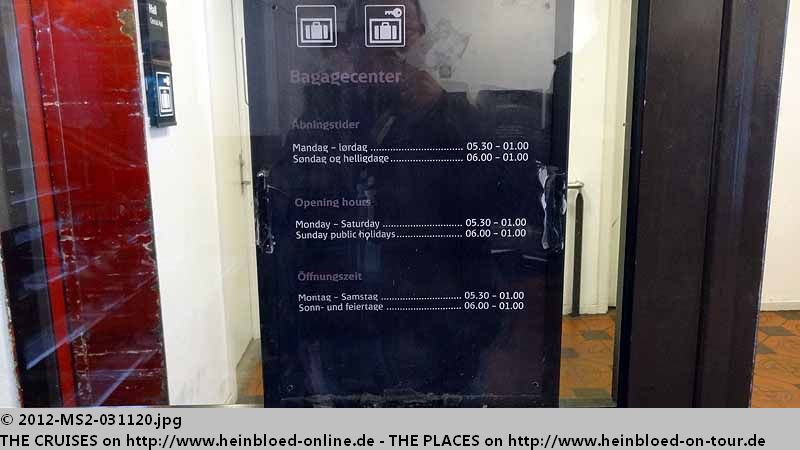 Achtung: Nicht rund um die Uhr geöffnet.
Die Schließfächer kosten zwischen 50,00 und 60,00 DKK (2012), je nach Größe.

The prices for the lockers vary between 50.00 and 60.00 DKK (2012), a question of the size.

If you want to get out without storing your bags: Find this sign.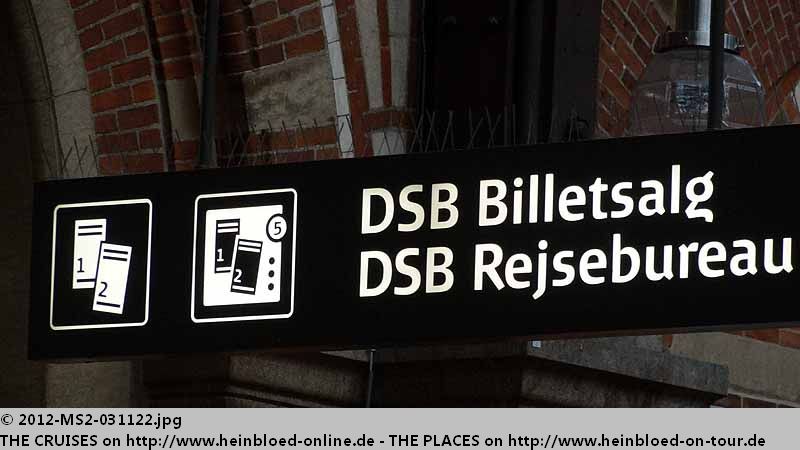 Falls man nicht zur Gepäckausgabe will, sondern direkt raus: Dieses Schuld suchen.
Dann kommt man hier am Hauptausgang raus.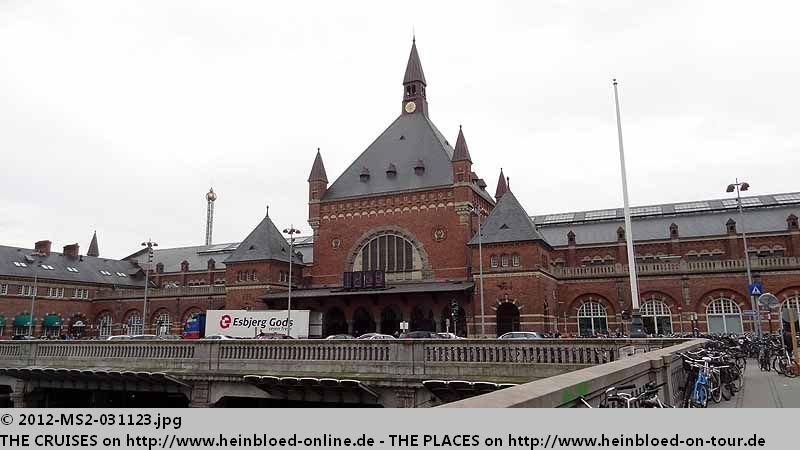 Then you leave here from the main exit.

But we left the train station next to the baggage cneter: Reventlowgaade.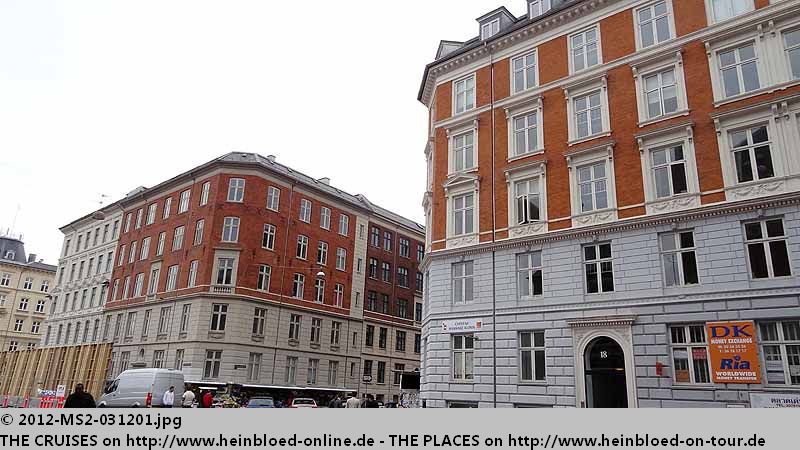 Aber wir gehen direkt neben der Gepäckaufbewahrung raus: Reventlowgaade.
Früher mal direkt im Rotlichtdistrikt.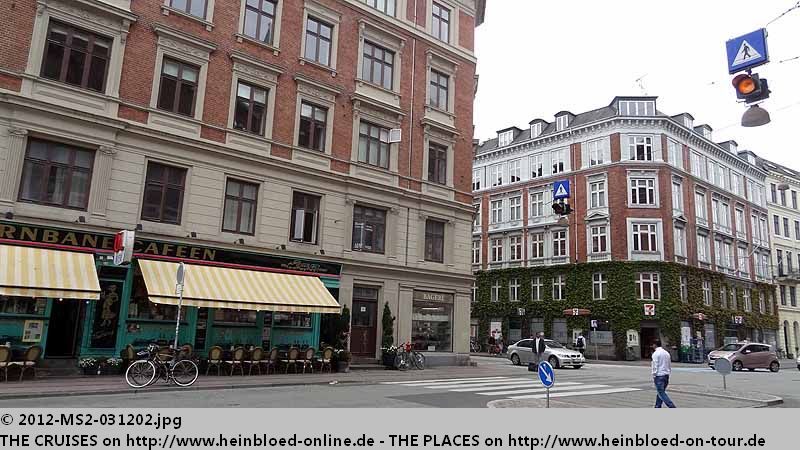 Earlier it was here the Red Light District.

But now it looked total different.

Aber das scheint sich geändert zu haben.
So gehen wir aber wieder vor den Haupteingang um die Haltestelle zum
Bus 26
zu suchen.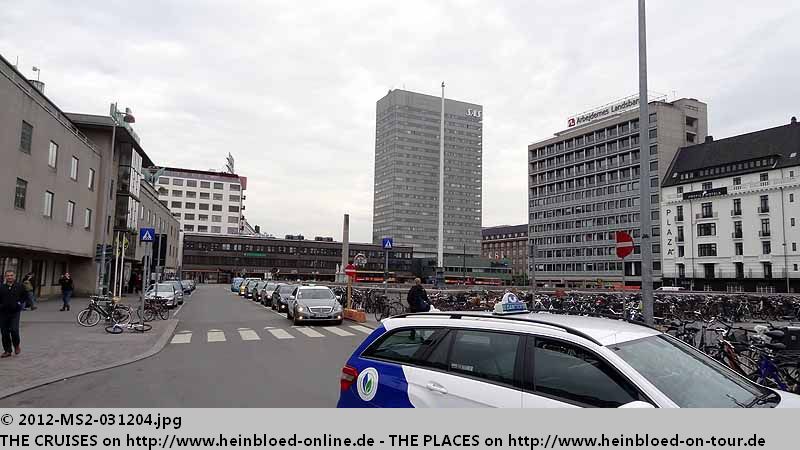 But we made a turn to get back to the main exit to find the bus stop for Bus 26.

Normally the bus stops here on the bridge.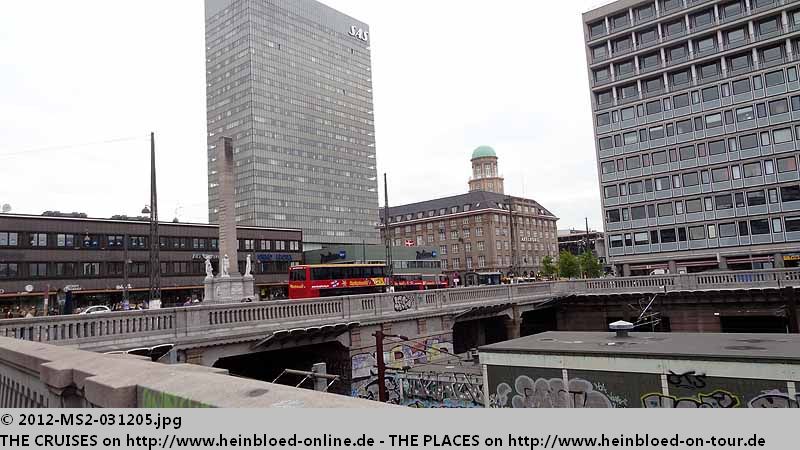 Normalerweise hält sie direkt auf der Brücke.
Aber im Moment ist die Haltestelle aufgehoben. Linie 26 fährt im Moment in der Parralelstraße Ved Vesterport ab.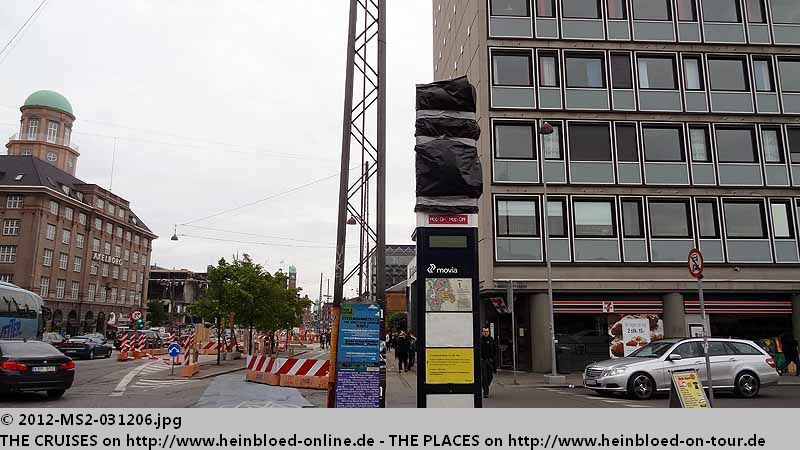 But currently this stop was cancelled. Bus 26 ran at this time from the next block at Ved Vesterport.

We used the occassion to walk towards the Town Hall. Opposite you find the tourist information.

Wir nutzen die Gelegenheit zum Rathaus zu laufen. Gegenüber ist die
Touristeninformation
.
In dieser Richtung liegt in Laufweite das
Marriott Hotel
. Rechts ist der Hauptbahnhof und gegenüber Tivoli.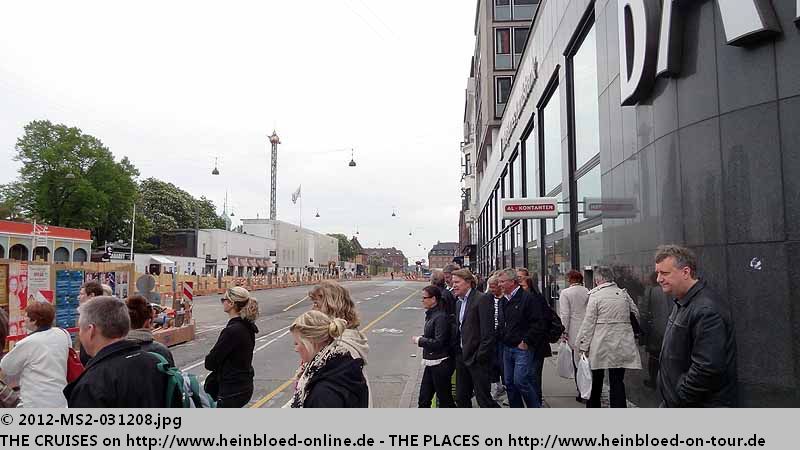 In this direction you find in walking distance the Marriott Hotel. On the right hand you find the Central Station and opposite you find Tivoli.

True city renewal.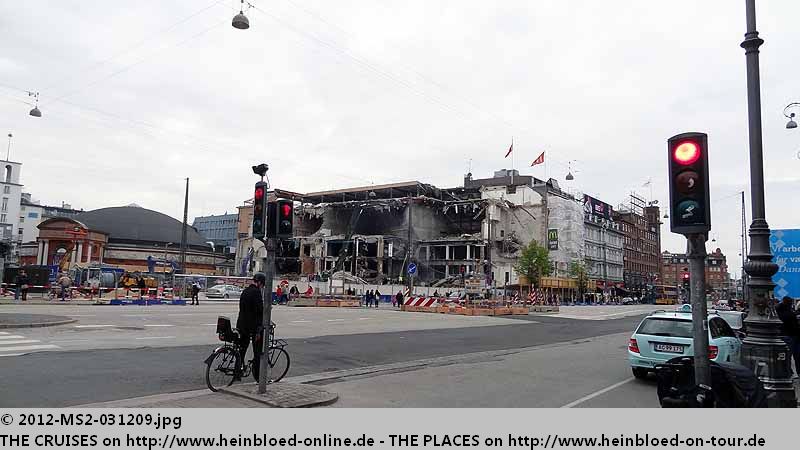 Echte Stadterneuerung.
Zum Glück gibt es noch das
Tivoli
.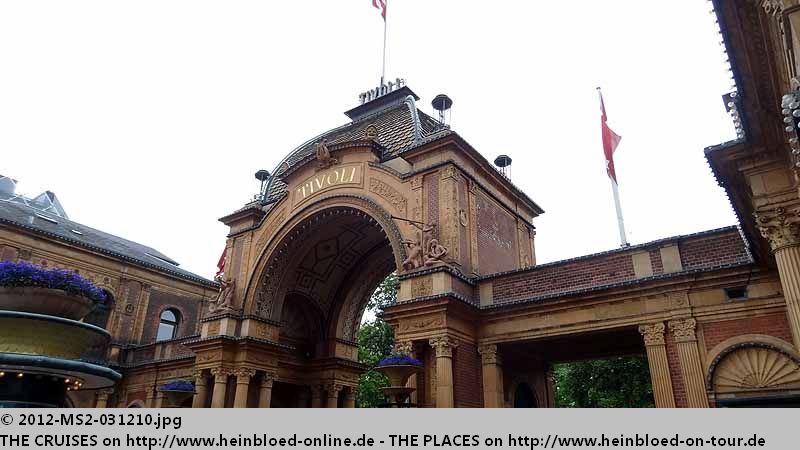 But the Tivoli is still there.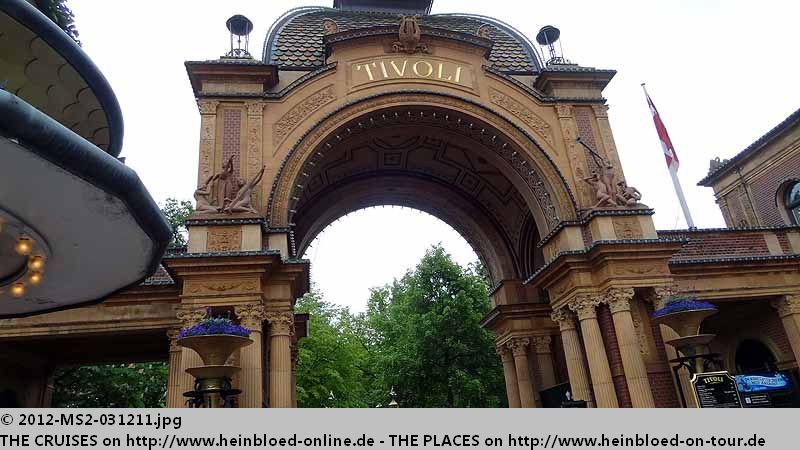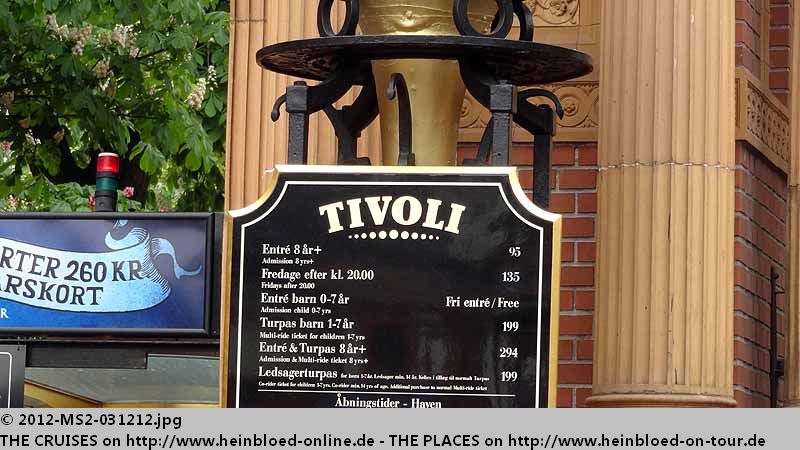 At the Town Hall Square: a giant construction site for the Metro.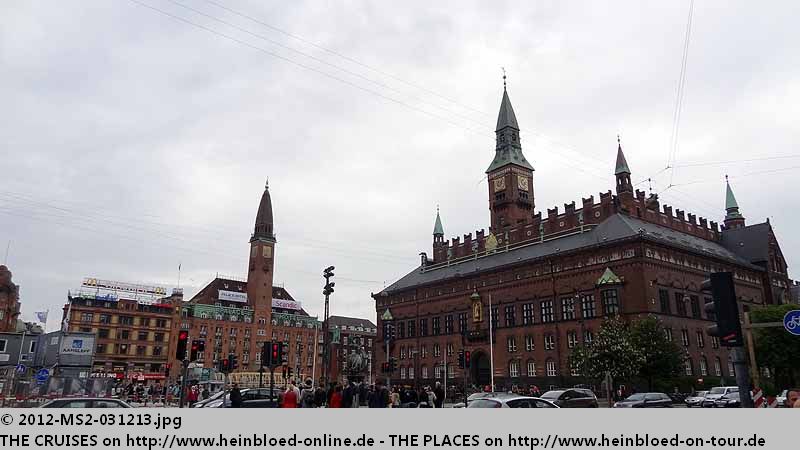 Am Rathausplatz: auch eine Metro-Großbaustelle.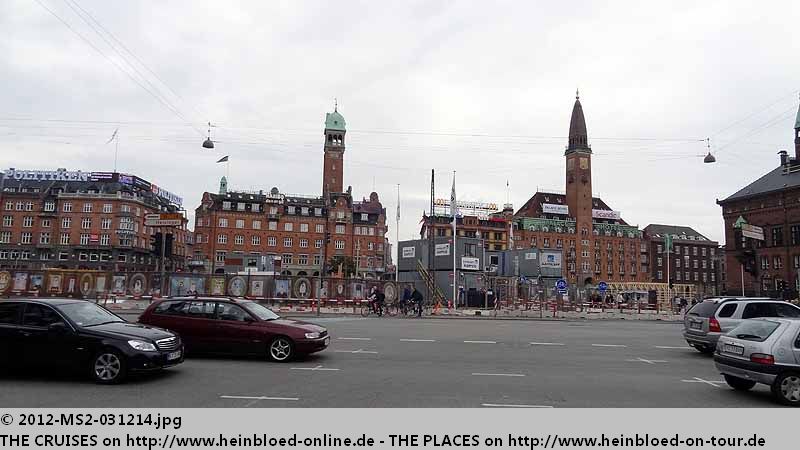 The Tower of the Town Hall which you can visit.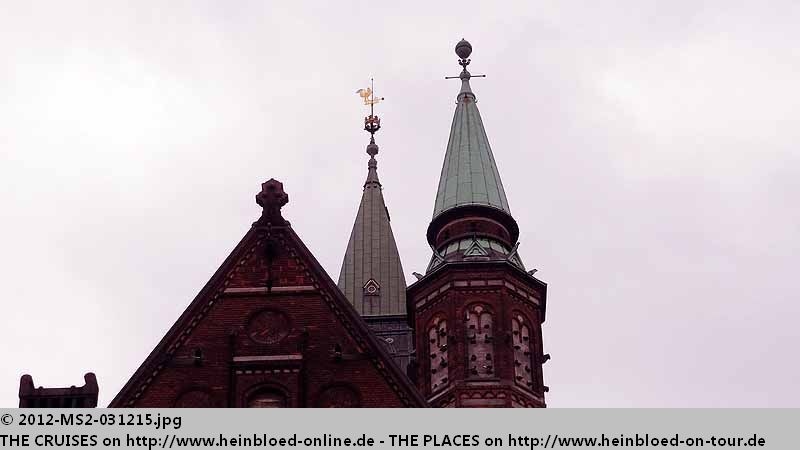 Der Turm des
Rathauses
, den man übrigens besuchen kann.

Die Tauben sind immer noch da, wie damals bei der Olsen-Bande.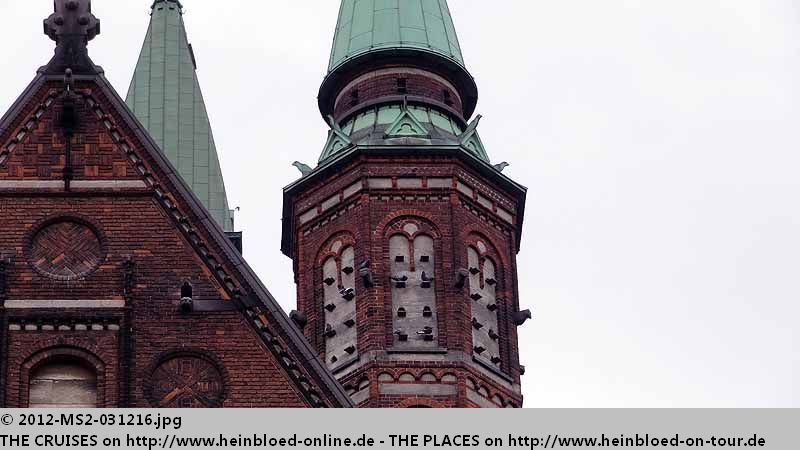 The pigeons were still there - like with the Olsen-Gang-Movies (Danish popular movies mostly from the 70/80s)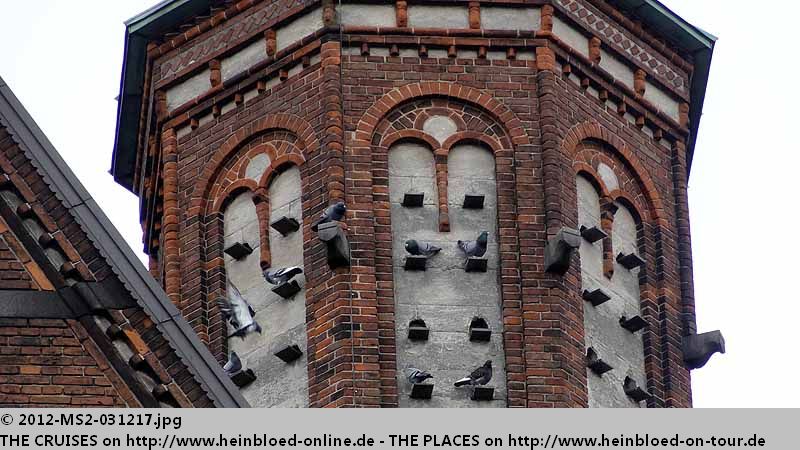 Und Hans Christian Andersen ("Wonderful Copenhagen" mit Danny Kaye) guckt immer auf den Seiteneingang des Tivolis rüber.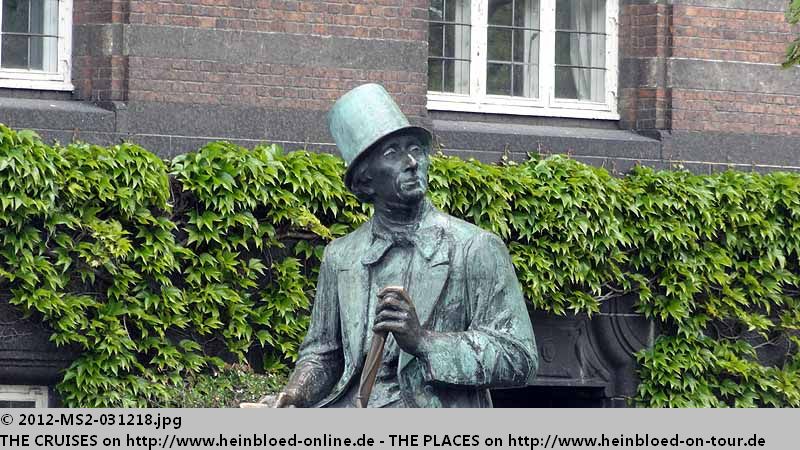 And Hans Christian Andersen ("Wonderful Copenhagen" with Danny Kaye) is still facing the side entrance of the Tivoli.

I remember as child we entered here the Tivoli.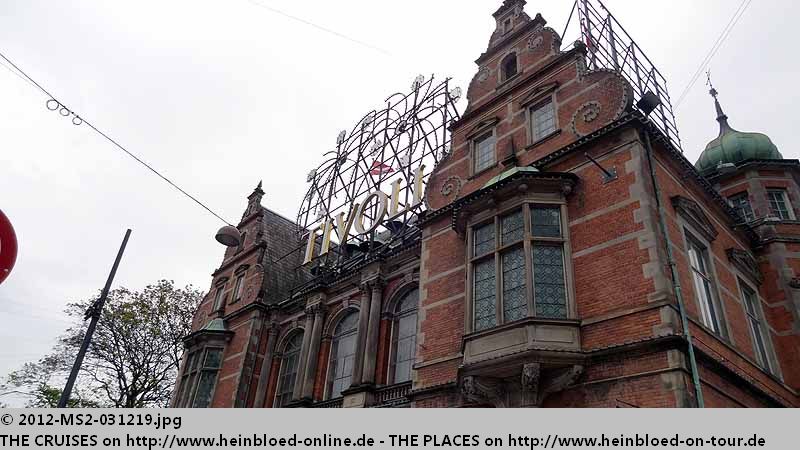 Als Kind bin ich damals von dieser Seite reingegangen.