Scroll down for English explanations - alternates with German explanations.

Unsere Kabine hatte einiges zu bieten. Anscheinend gab es eine neue Klimaanlage. Mit der CENTURY verbinden uns die Erinnerungen, dass wir so ein quadratisches Teil hatten, das wir versucht hatten, mit Handtüchern vollzustopfen. Aber hier war es wirklich angenehm, da nicht kalt und auch zugfrei war.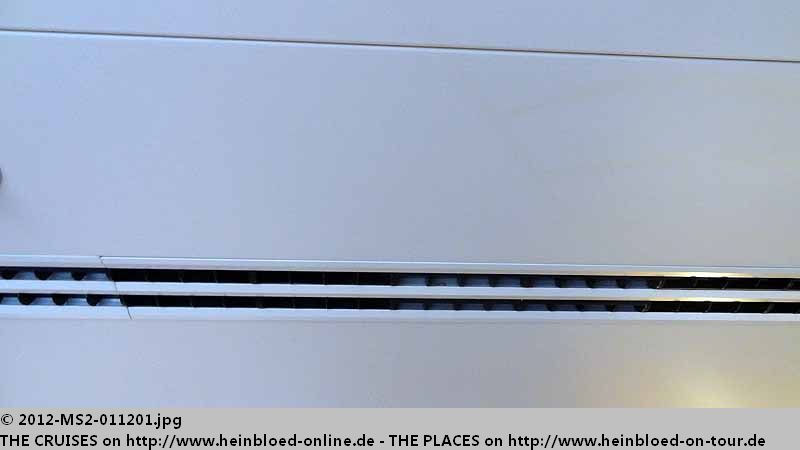 Our cabin offered a lot. Obviously they had a a new air condition. We only had a very square version in our CENTURY memories which we had to fill with a lot of towels. But here it was not breezy or cold.

That was why we were so surprised that they did not add a new temperature control device but still had the old one in Fahrenheit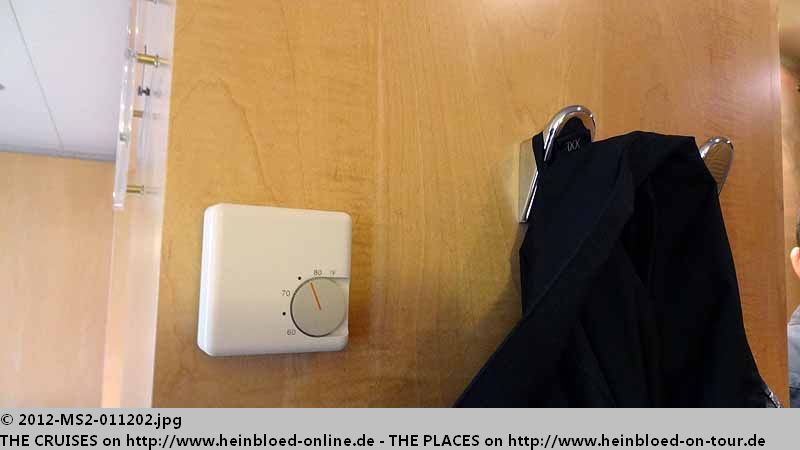 Deswegen verwunderte uns auch, dass man kein neues Thermostat spendiert hat, sondern immer noch das alte Teil in Grad Fahrenheit... Kleine Orientierungshilfe für nachfolgende Kreuzfahrer.
Für alle die es warm mögen: 26°C entsprechend 79 F.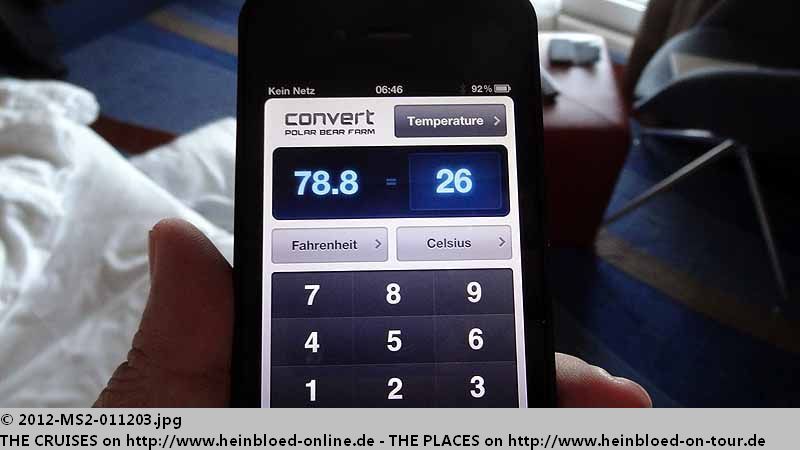 For all who liked it warm: 79 F (= 26 Centigrade)

I normally set the temperature in the hotels on 72 F (= 22 Centigrade).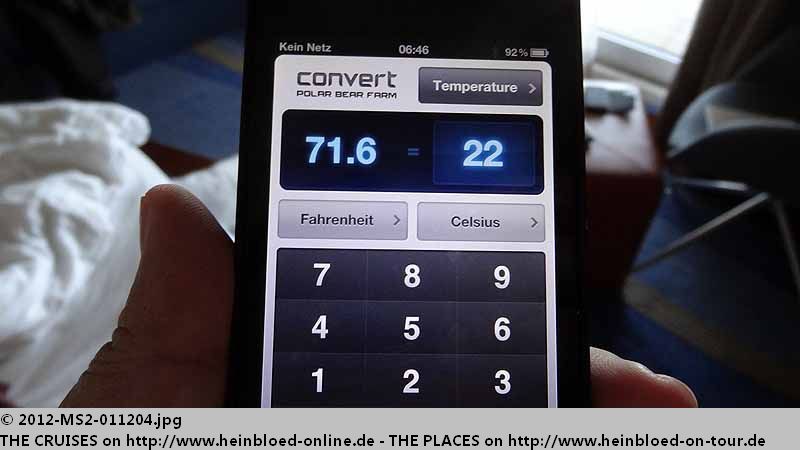 Ich stelle i. d. R. in US-Hotels immer auf 72 F = 22° C.
Oder die es lieber kühler mögen, z. B. im Auto wenn die Sonne reinknallt: 65 F = 18° C.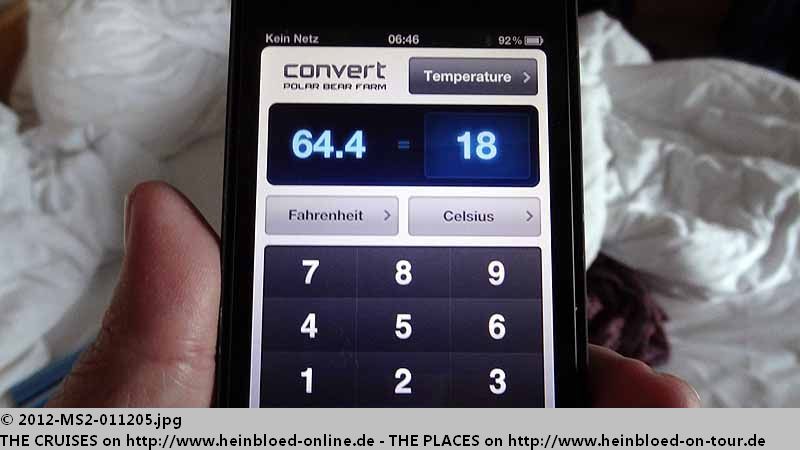 But who likes it cool: like you had full sunshine in your car: 65 F (= 18 Centigrade).

The mini-bar was set at the beginning of the cruise and all is ours. Only the refill will be charged.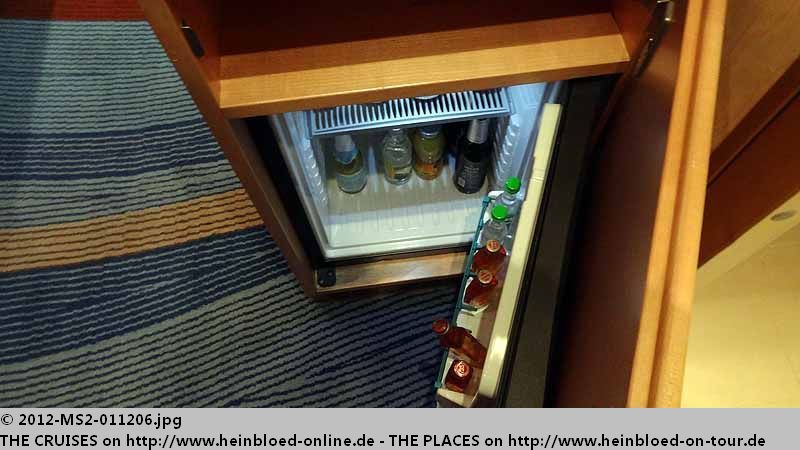 Die Mini-Bar in der Junior-Suite wird einmal aufgefüllt und alles ist unser. Nur die Wiederbefüllung wird berechnet.
Aber warum bloß Gerolsteiner - Igitt. Für mich ein seriöser Grund zur Reiseleitung zu gehen und sich sofort zu beschweren und entgangene Urlaubsfreude einzuklagen...

But why Gerolsteiner (a German brand we dislike). For me this would be reason to walk to the tour operator's agent and to claim because I lost my happiness.

As we were well prepared ourselves we had our Evian Water with us.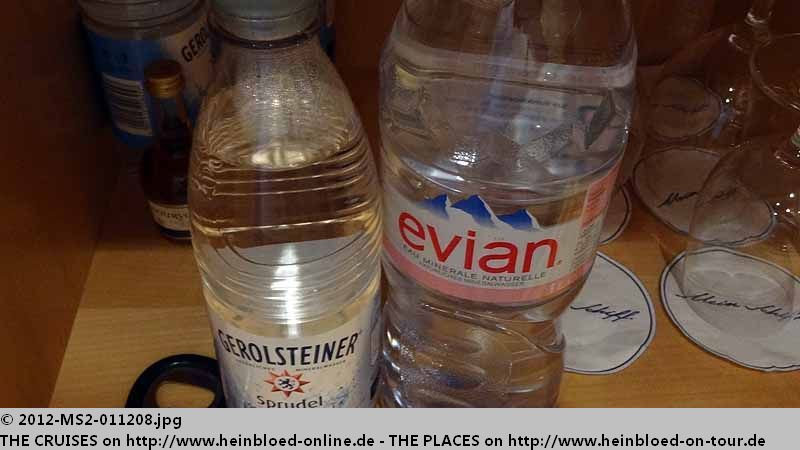 Oder wir bereiten uns einfach selbst vor und haben unser Evian-Wasser mit.
Platz hatten wir auf jeden Fall ausreichend und sogar die tollen Kleiderbügel, die man auch zu Hause einsetzen kann (NEIN - Ihr braucht jetzt nicht nochmals nachzuzählen... wir haben keine mit nach Hause genommen...).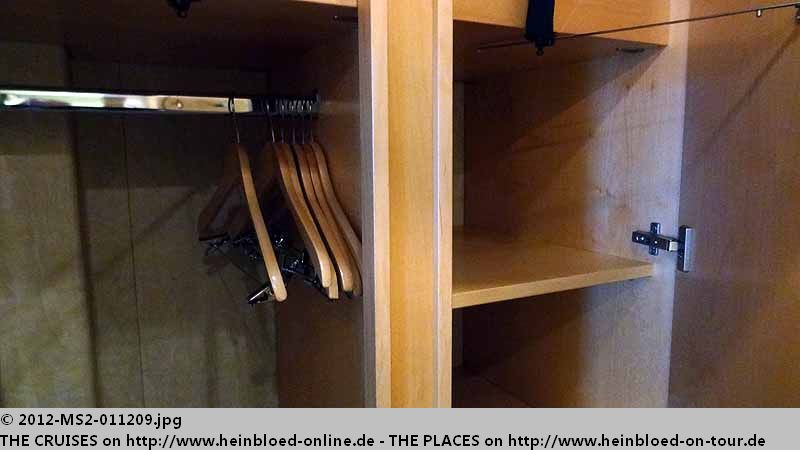 We had more than enough space and really good coat hangers which you can also use at home (NO - you must not count again... we did not take any home...).

The Nespresso Capsule... We missed George Clooney... In the Junior Suite you get as many as you want. In "standard" cabins you had only one capsule per day and person for free.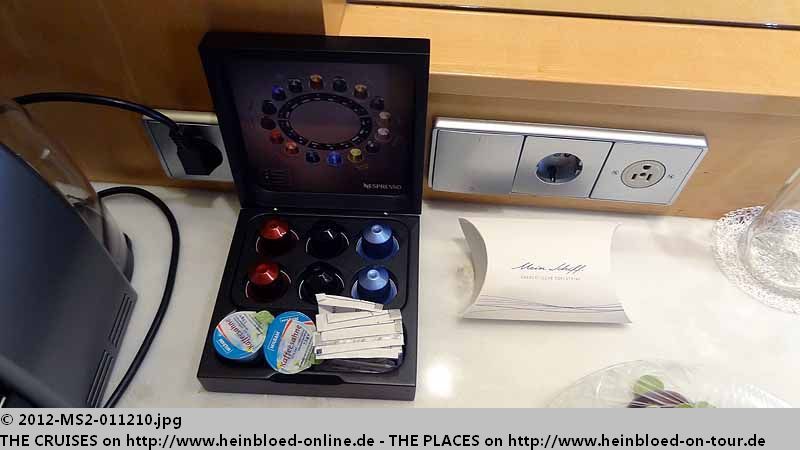 Die Nespresso Kapseln... Fehlte bloß George Clooney... In der Junior-Suite, soviel wie wir wollen. In "normalen" Kabinen bloß eine Kapsel pro Tag und Person frei.
Sogar eigenen Süßstoff. Das gibt es doch sehr selten.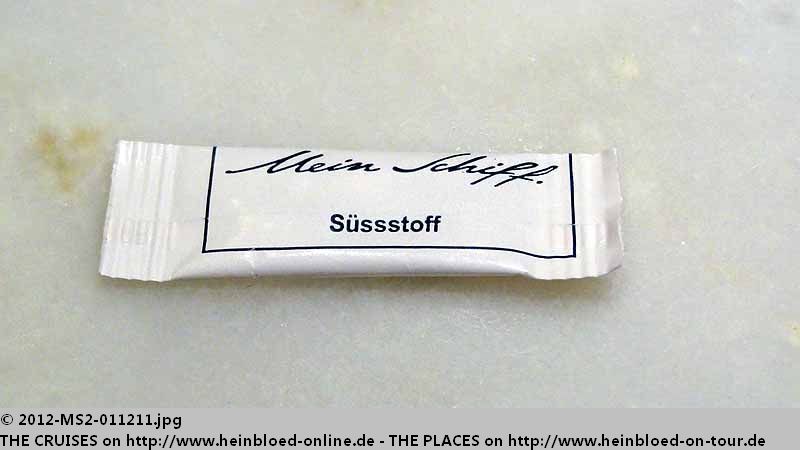 Even they had sweetener in their design. You will not find this very often.

It was good to have one US-adapter with you so you can use all power outlets. Stones... for our well-beeing or us or of the water.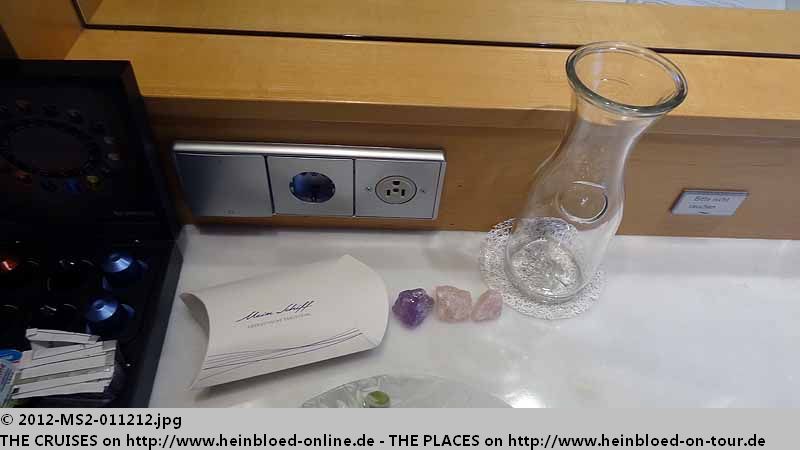 Gut ist, wenn man einen US-Stecker mitnimmt, um alle Steckdosen nutzen zu können. Steine... für das Wohlbefinden von uns oder dem Wasser?
Vor unserer Kabine steht der Wasserspender...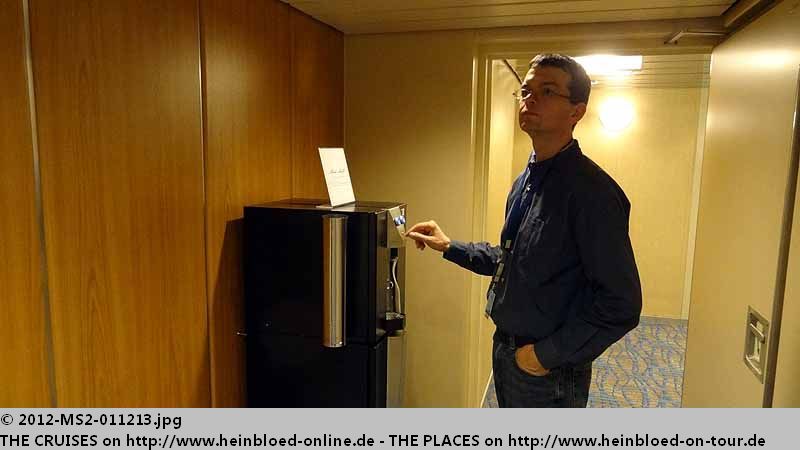 In front of our cabin we had a water dispenser...

And then you place the stones into the water and later you can take them home...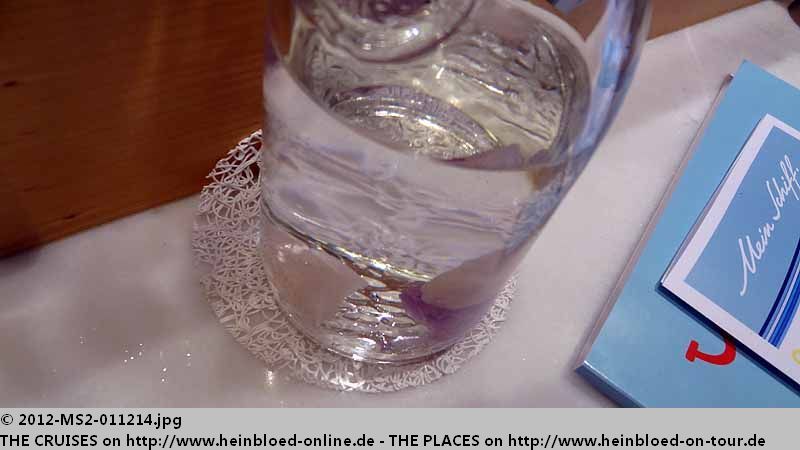 Und dann legt man die Steine ins Wasser und darf sie mit nach Hause nehmen...
Der Tresor sieht aber fast schon so aus, als ob er zu Chandris (Vorgänger von Celebrity)-Zeiten eingebaut wurde... Leider funktioniert er nur mit einer 6-stelligen Kombination. Wir haben eine 4-stellige eingegeben und darauf hin ging gar nichts mehr. Wir haben wie in diesen Fällen üblich die Rezeption angerufen und bekamen erst mal am Telefon einen "Einlauf", was wir vor 15.00 Uhr in der Kabine zu suchen hatten. Ungewöhnlich... hat bisher in 47 Fahrten vorher auch noch keiner gewagt, uns so etwas zu fragen. Wir haben erklärt, dass wir vorher den Steward gefragt hattten und dieser uns gesagt hat, dass er fertig sei und wir gerne schon unsere Wertsachen einschließen können. Und da ist es eben passiert. Uns wird noch erklärt, dass es noch wichtigere Kunden gibt, die zunächst die Dame, die den Tresor aufschließen kann, zu betreuen und wir warten müssten... Spätestens jetzt war uns wieder klar: wir waren ja nicht mit Holland America oder Norwegian unterwegs: wir sind auf einem deutschen Schiff unterwegs... Da herrscht noch Zucht und Ordnung und Gäste werden noch diszipliniert...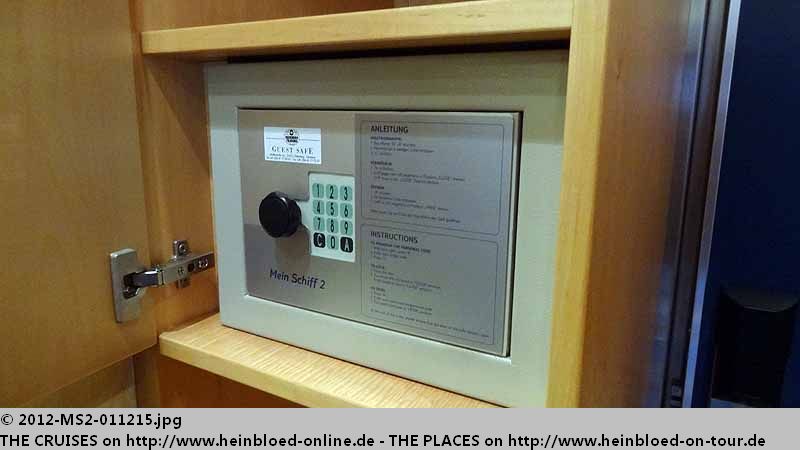 The safe appeared like it was already here when Celebrity was Chandris... Unfortunately you need to enter a 6-digit-code. We entered a 4-digit one and then nothing went. Like usually we called the front desk and first we got a claim what we were doing in the cabin before 15.00 hrs. Strange... in 47 cruises before no one ever had the heart to ask something like this. We explained that we asked our steward before and were told that we could lock our valuables. And then it happened. They explained that there were guests which were more important but us and the lady who was in charge to help need to take care of them first before she could come and we had to wait... Now we remembered that we were not on Holland America or Norwegian: we were on a German ship... Law and order was part of the ship's philosophy and so guests need to learn discipline...

We used the waiting time to find the 3rd reason not to go on TUI Cruises again... Bruno is working for Nintendo...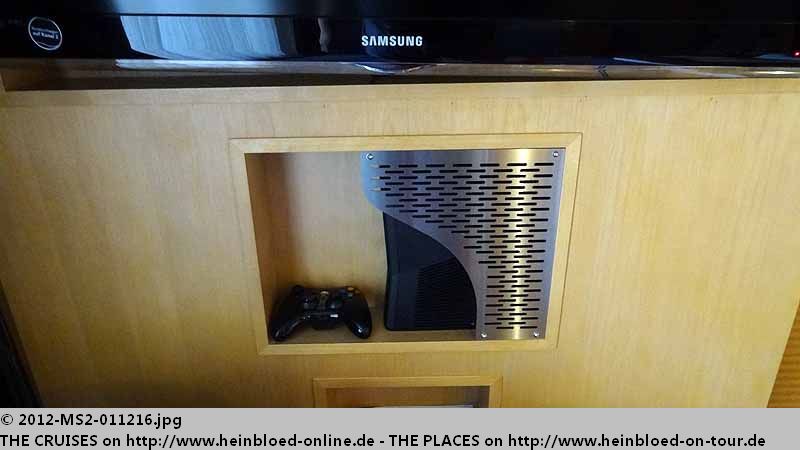 Die Wartezeit nutzen wir, um den 3. Grund zu suchen, um nicht wieder TUI Cruises buchen zu müssen... Bruno arbeitet doch bei Nintendo...
Und solche Aufnahmen (Bruno mit einer xbox oder ist das eine Playstation - ich weiss es gar nicht...) könnten ja schädlich für seine Karriere bei Nintendo sein.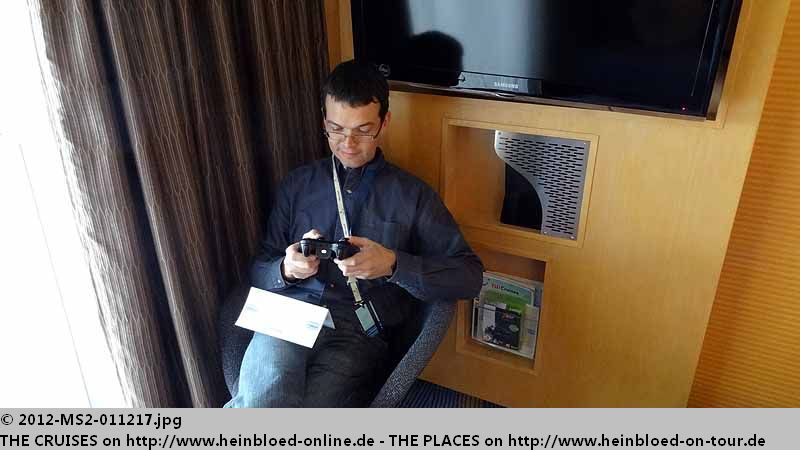 And such pictures (Is Bruno having a xbox or with a Playstation? - I have no idea...) could be dangerous for his carreer with Nintendo.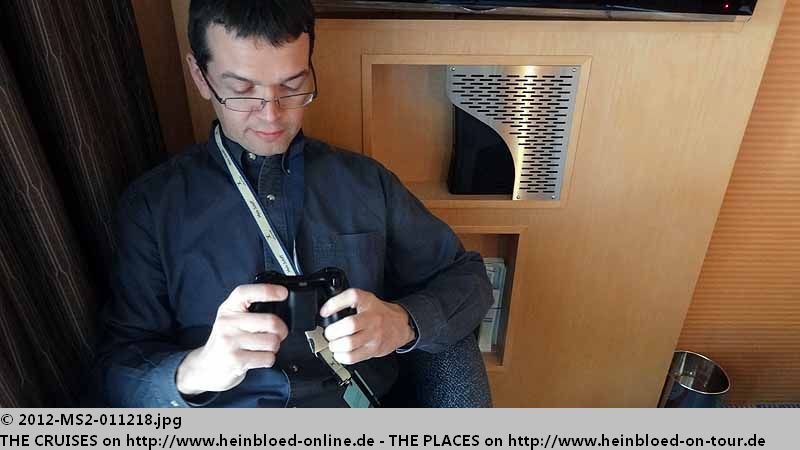 Die angebotenen Spiele waren wohl schon so alt, dass kein Gast vor uns sich die Mühe gemacht hat, die Folien der Spiele zu öffnen...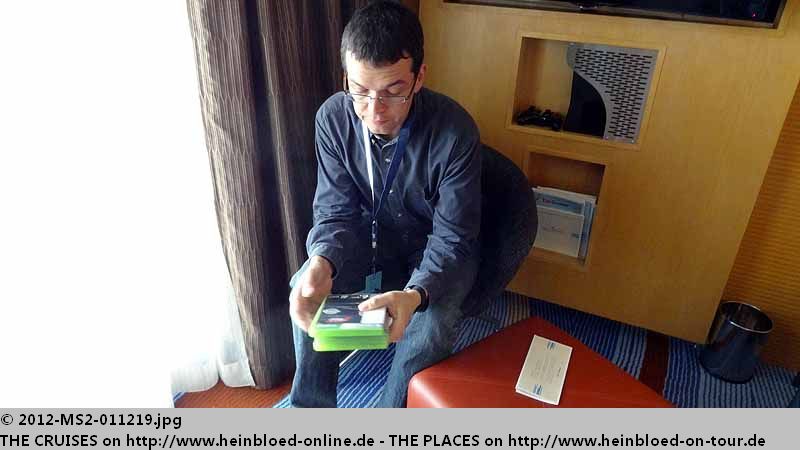 The game they offered were so old that no guests ever used them before as the foil were still untouched.

I think it would be better to have the mirrors on the ceiling to see ourselves during having s...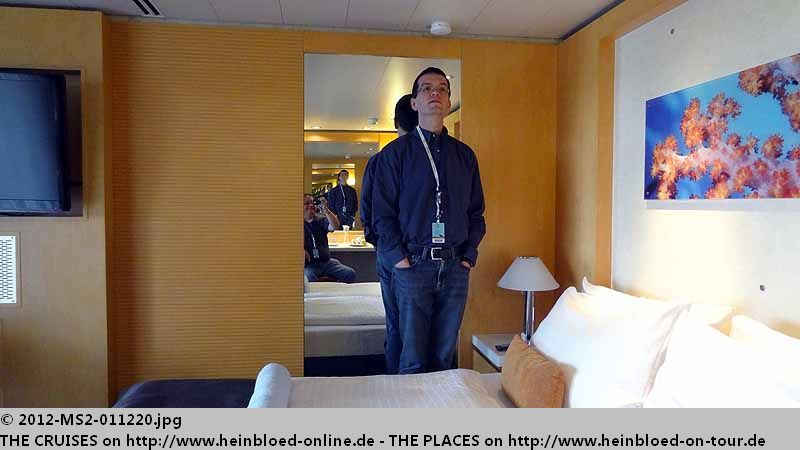 Ich finde, dass man sich beim S... besser zusehen kann, wenn die Spiegel an der Decke angebracht werden...
Aber hier gegenüberliegend war es doch etwas ungewöhnlich...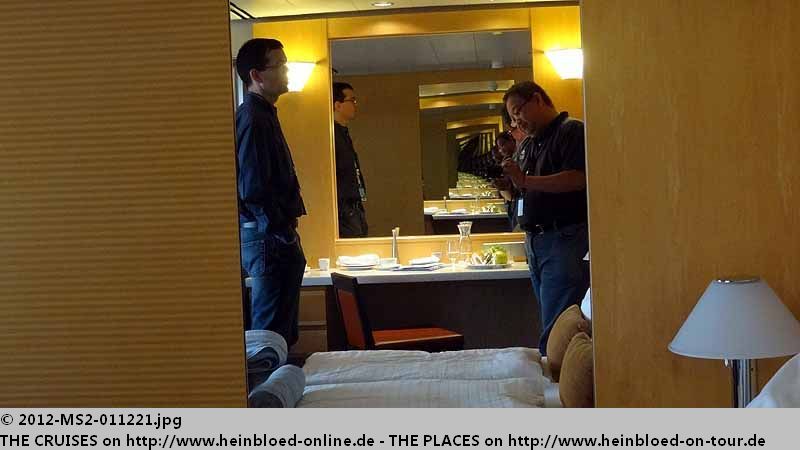 But it was a little strange to have them here adjustent.

We were wondering about the time which was displayed actually... but the space behind the glas was so narrow that none adjusted the time although the clock was three hours ahead of actual time. And if your ship calls port in different time zones it might be difficult for your steward to change the time in every cabin. Or did anyone in the control tower forget to change? Or are there no radio-controlled clocks? Are there different frequencies when you change the time zone?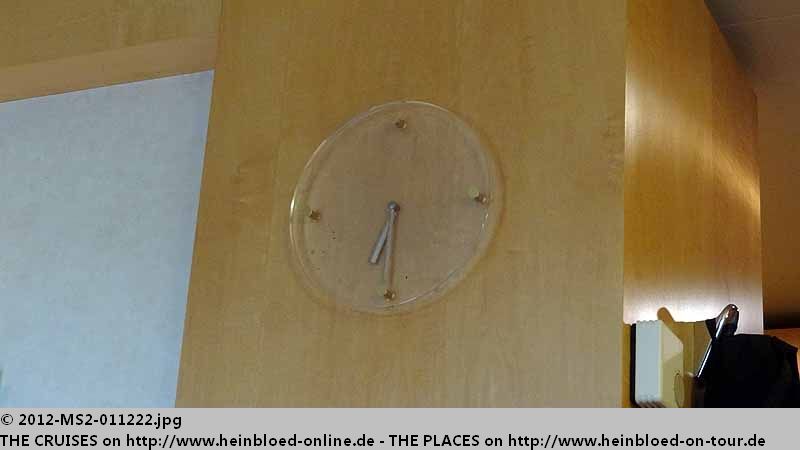 "Die Uhr geht vor, du kannst noch bleiben. Ein paar Minuten und noch länger..." Ach ja damals noch Jürgen Marcus... Nur war der Raum hinter der Glasscheibe so eng, dass niemand die Zeit anpasst, obwohl die Uhr ca. 3 Stunden vorgeht. Und wenn man verschiedene Zeitzonen hat, wird das bestimmt ein Akt für den man einen zusätzlichen Steward einstellen kann. Oder hat jemand in der zentralen Steuerung "geschlafen"? Oder gibt es keine Funkuhren, die man nutzen kann? Mit unterschiedlichen Frequenzen, wenn man Zeitzonen wechselt?
Internet in der eigenen Kabine - GIBT ES NICHT - auch nicht 2012. Wir sind landseitig Selbstversorger über die Mobilfunknetze, aber das war wirklich ein Armutszeugnis.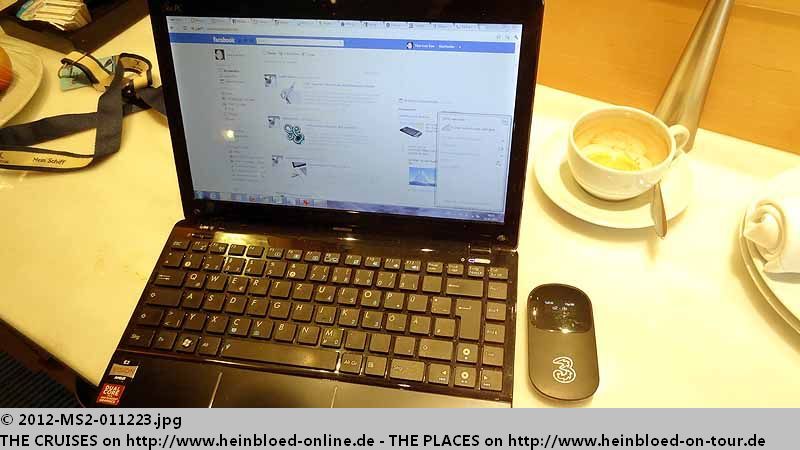 Internet in your cabin - NOT EXISTING - even not 2012. Shoreside we can help ourselves through the mobile phone networks but that was really poor.

Our charger for our SONY-battery which we bought in Angkor Wat had a US-flat-socket. So we can use the US-power-outlet.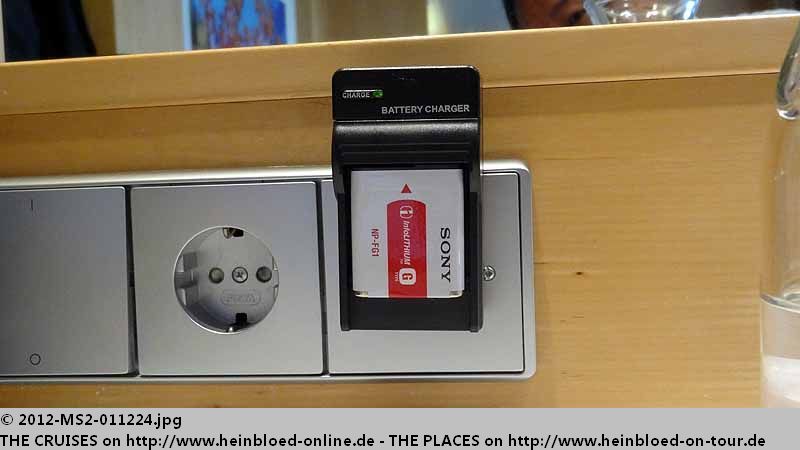 Unser Ladegerät für den SONY-Akku, den wir in Angkor Wat gekauft haben, hat ja zum Glück einen US-Flachstecker. So können wir sinnvoll, die US-Steckdose nutzen.
Die Vase bleibt leer. Obwohl heute Vatertag ist (keine Blumengeschenke für den Mann - sondern nur für die Frau) und obwohl wir trotz korrekter Manifesteingabe als Mann und Frau geführt werden: wir bekommen keine Rose für die "Frau", wer immer sie von uns auch sein mag...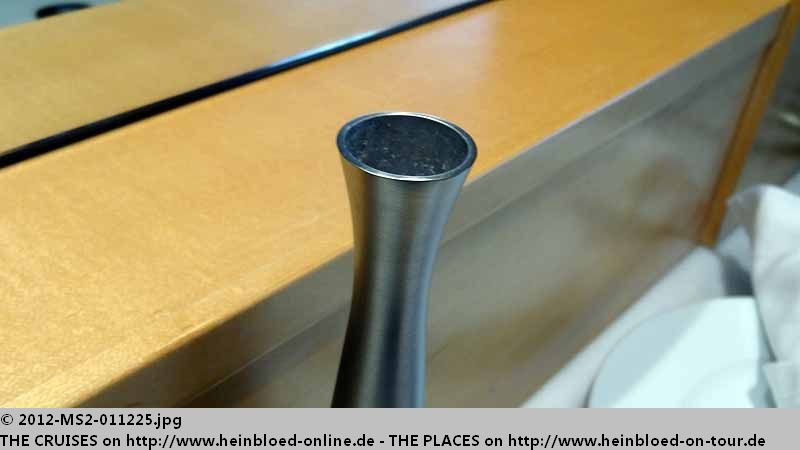 The vase remained empty. Although it was Father's Day (no flower gift for men only for women) and although they treated us man and woman even with correct manifest information: no rose for the "woman" whoever of us it should be...

So many mails like they must learn from Norwegian... You can check the lanyards to see who is staying in a suite. You can rent them from us (incl. gold marker) as future cruiser...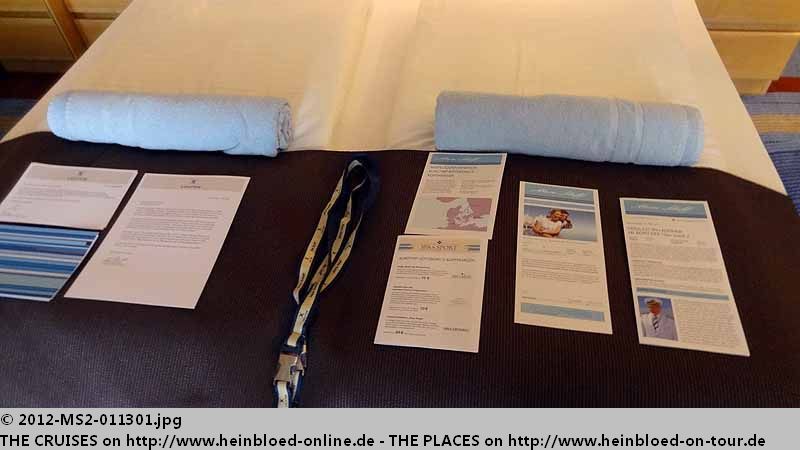 Die viele Post haben sie sich von Norwegian abgeguckt... An den Lanyards (Halsbänder) kann uns als Suitengäste auseinander halten. Wir vermieten sie für künftige MEIN SCHIFF-Fahrer (inkl. Gold-Edding)...