Scroll down for English explanations - alternates with German explanations.

Der erste Blick aus dem Fenster: Das Hotel hat vergessen die Bäume an der Straße zu stutzen und der Aufbau für die Klimaanlage ist auch nicht abgebaut... Die hatten mir doch einen unverbauten Blick auf das Schiff versprochen...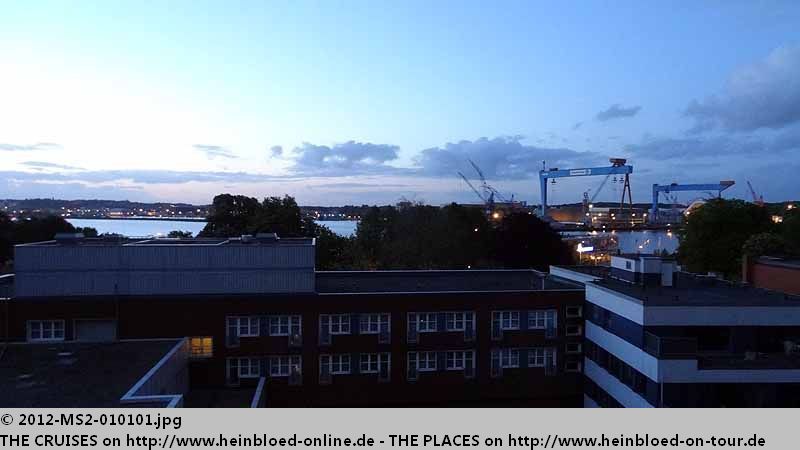 The first view from the window: The hotel forgot to cut the trees along the street and should have lifted away the air condition on the roof... They promised me an unobstructed view to the ship...

39 F - if I would open now the window I would force the divorce with Bruno... What might be more important now: MEIN SCHIFF 2 or Bruno's undisturbed sleep?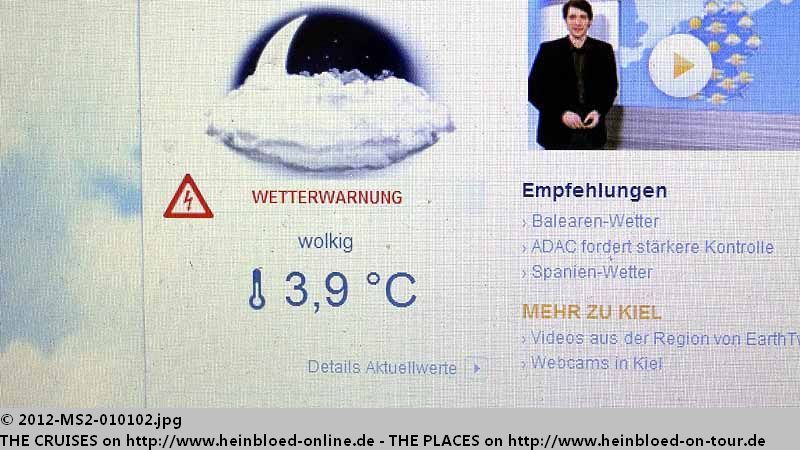 3,9°C - Wenn ich jetzt das Fenster aufreiße, dann könnte es zur Scheidung zwischen Bruno und mir kommen... Was ist jetzt wichtiger: MEIN SCHIFF 2 oder Brunos ungestörter Schlaf?
Über
Kielmonitor
kann ich sekundengenau die Lage des Schiffes verfolgen. So werde ich erst last minute das Fenster aufreißen.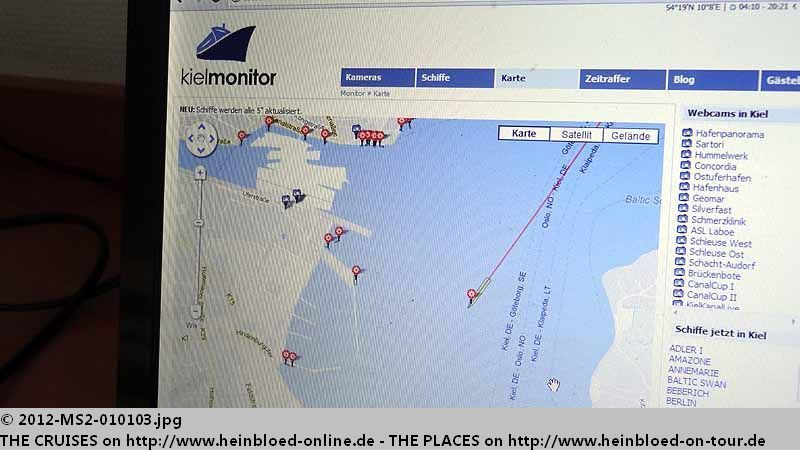 On Kielmonitor I could check second by second the location of the ship. So I decided to open the window the last minute.

But now the sun appeared and so I had backlight...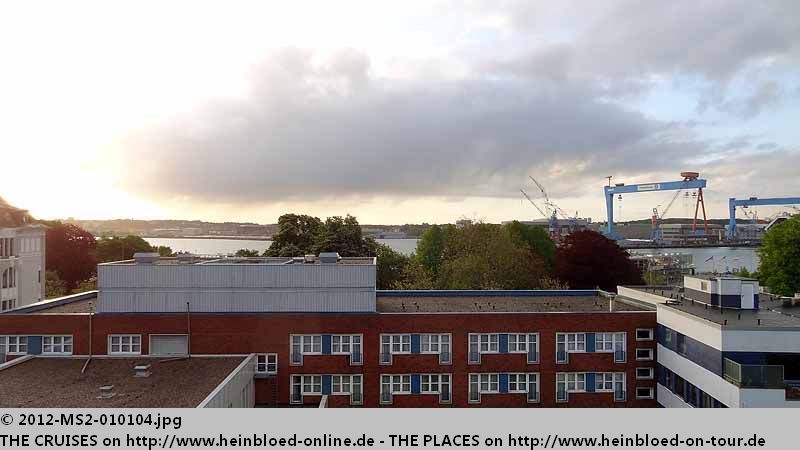 Und nun muss natürlich im Gegenlicht die Sonne rauskommen...
Lt. Karte sollte sie da sein... aber noch nichts...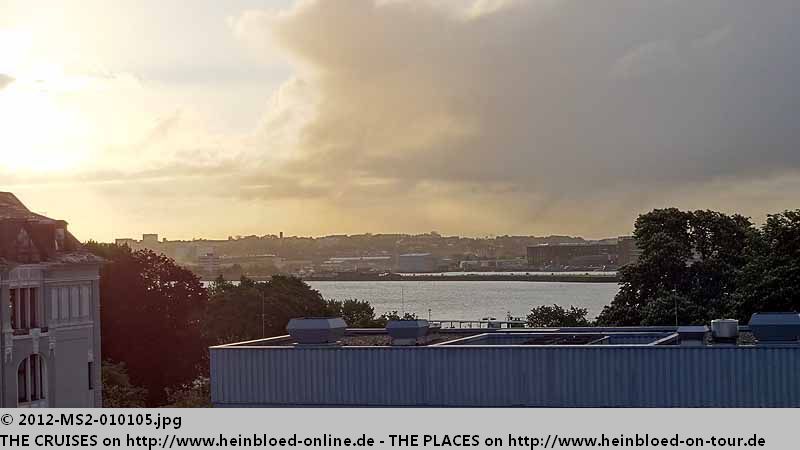 According to the map she should be there... but nothing.

But now...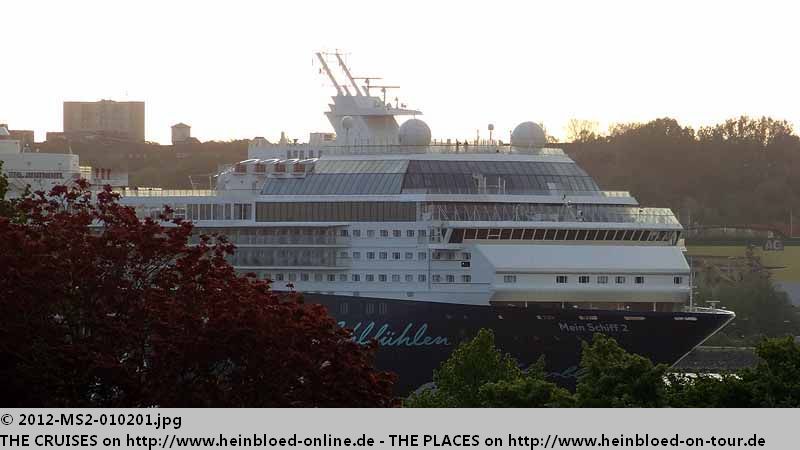 Aber jetzt...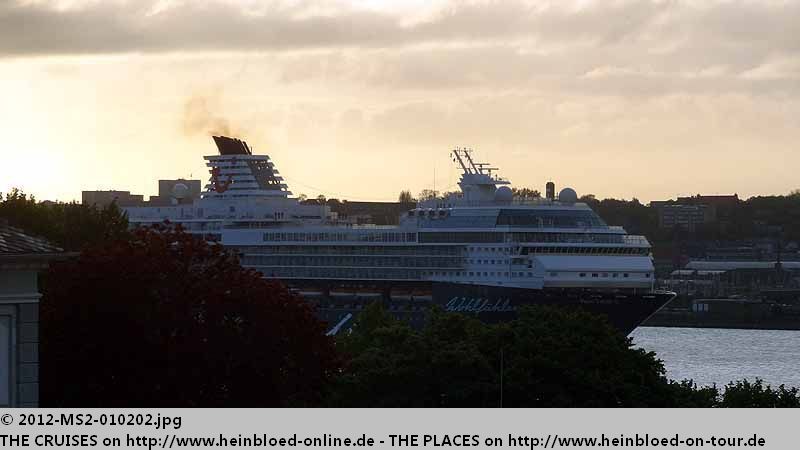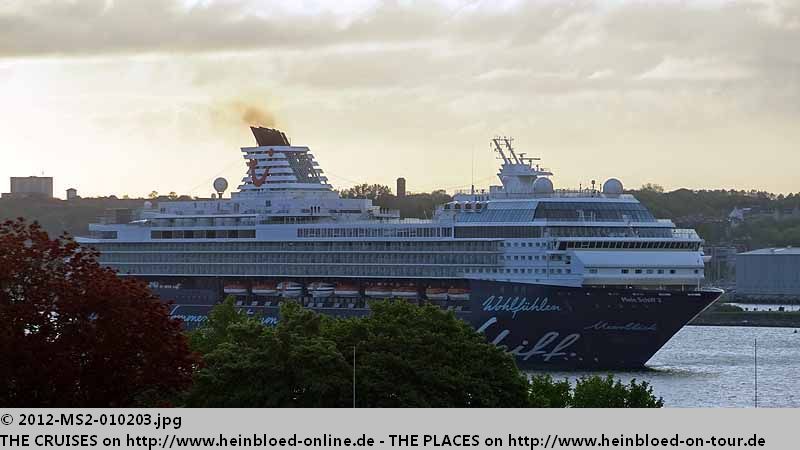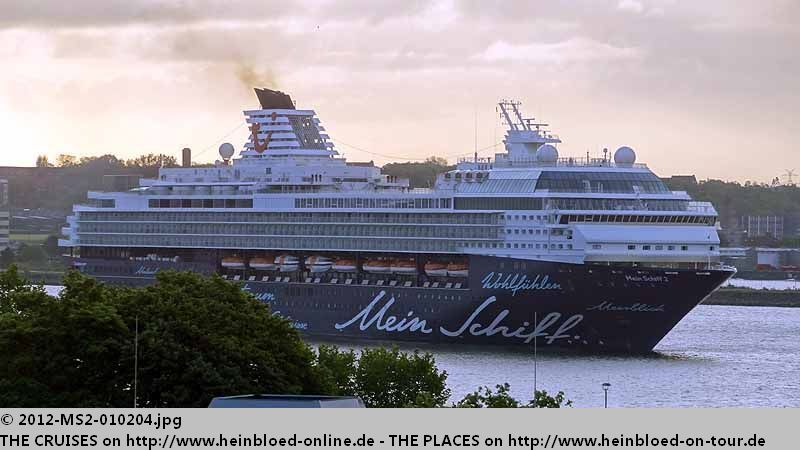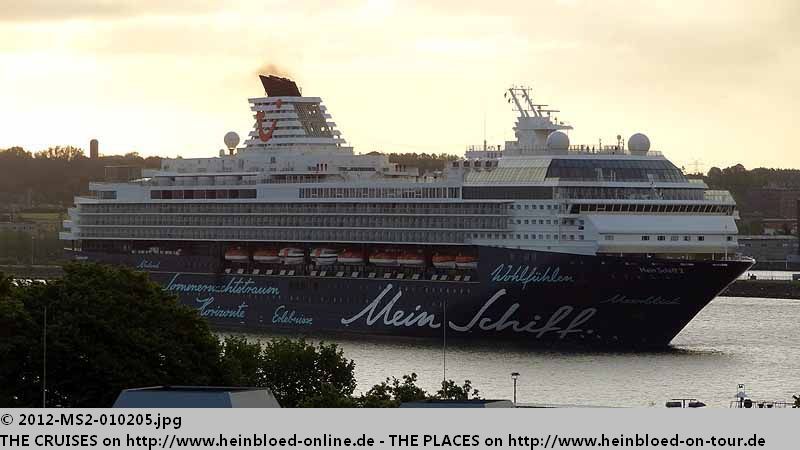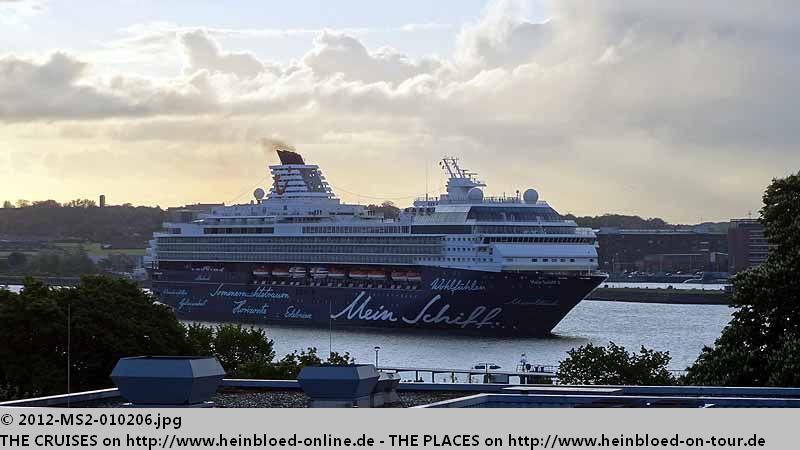 And the hotel kept their promise: for a moment I had an unobstructed view.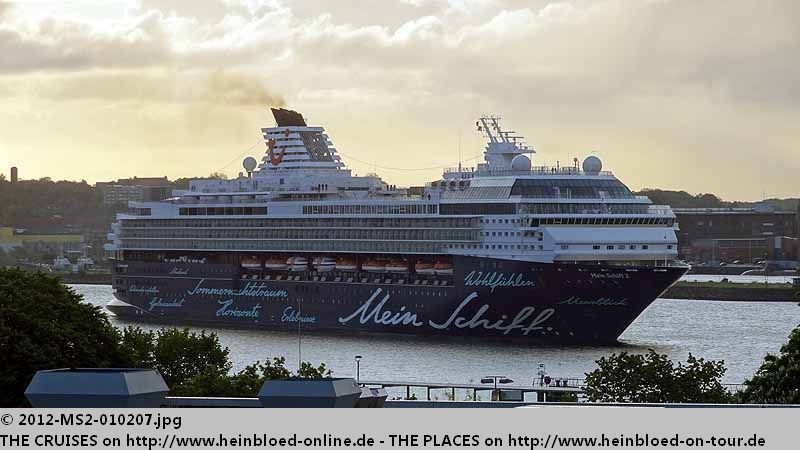 Und das Hotel hat Wort gehalten: für einen Moment einen unverbauten Blick.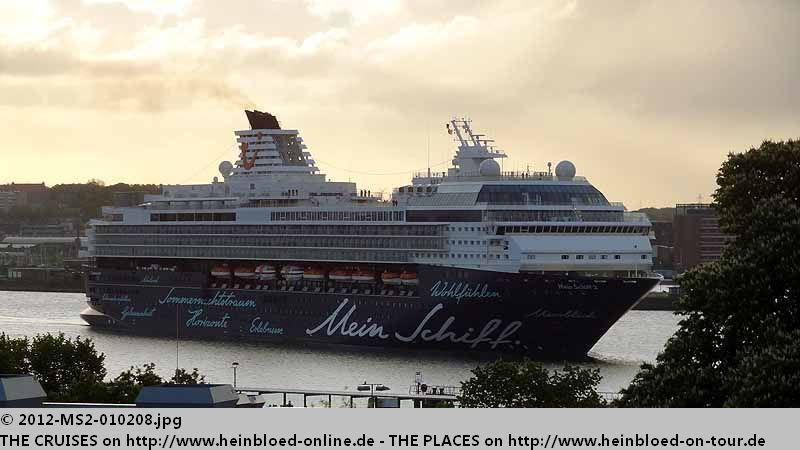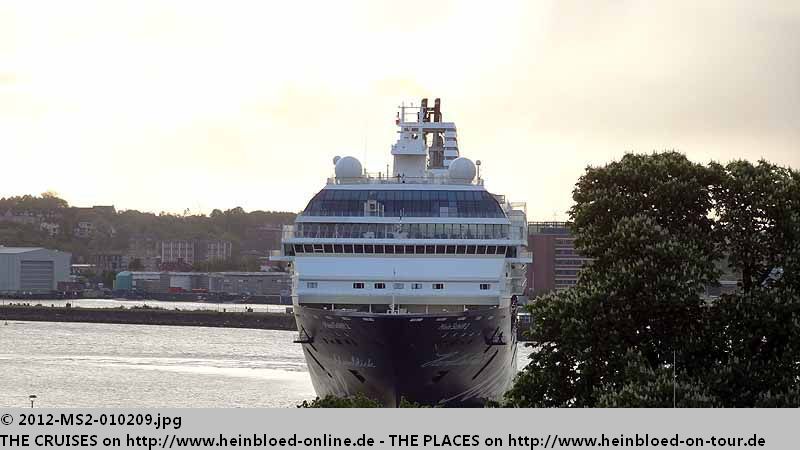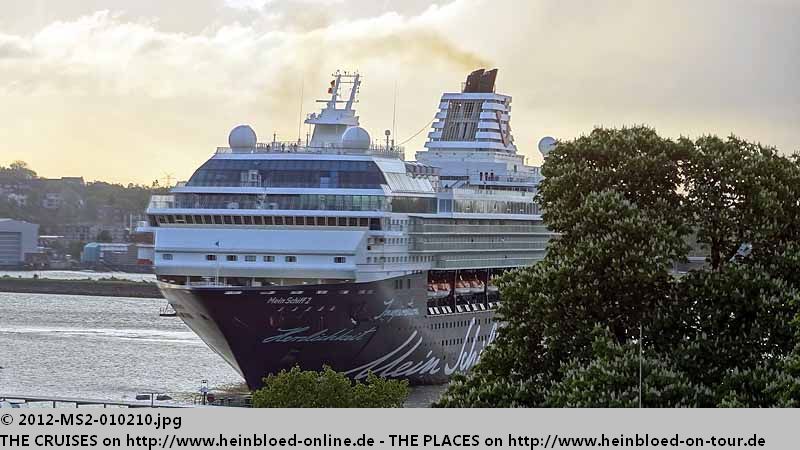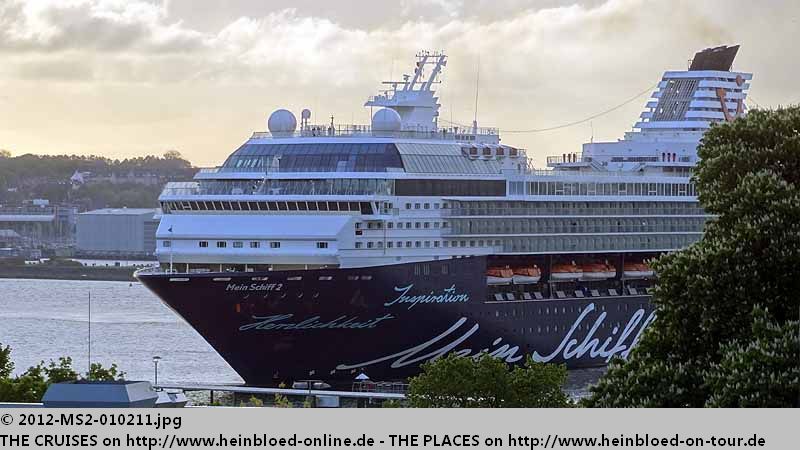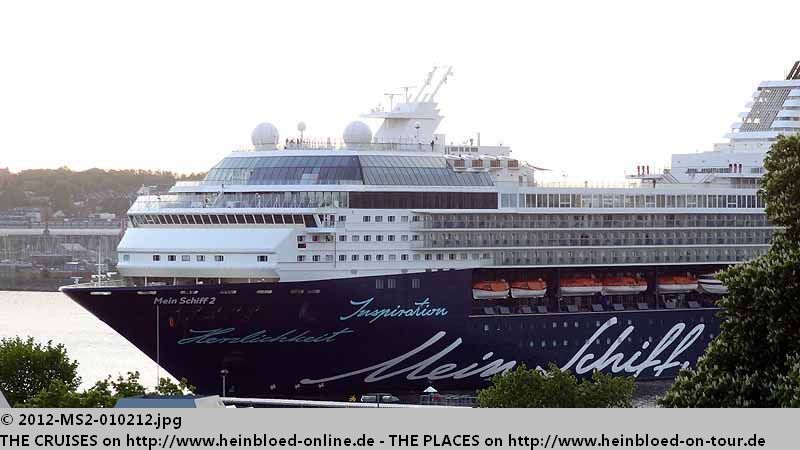 They all need to get off from the ship...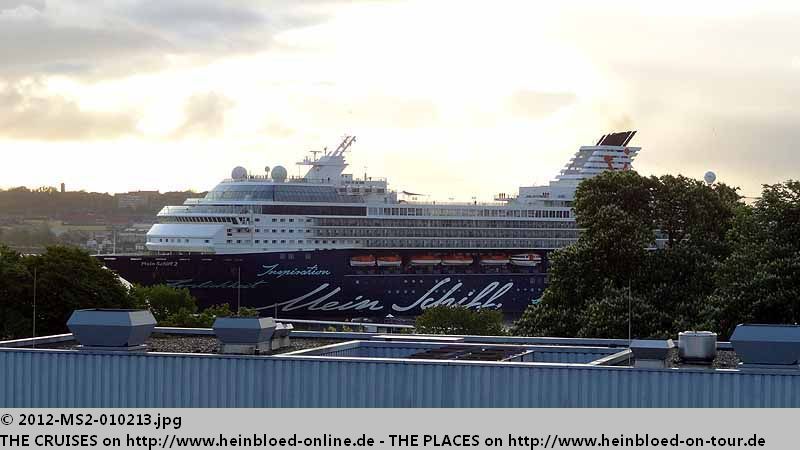 Die müssen mal alle von Bord...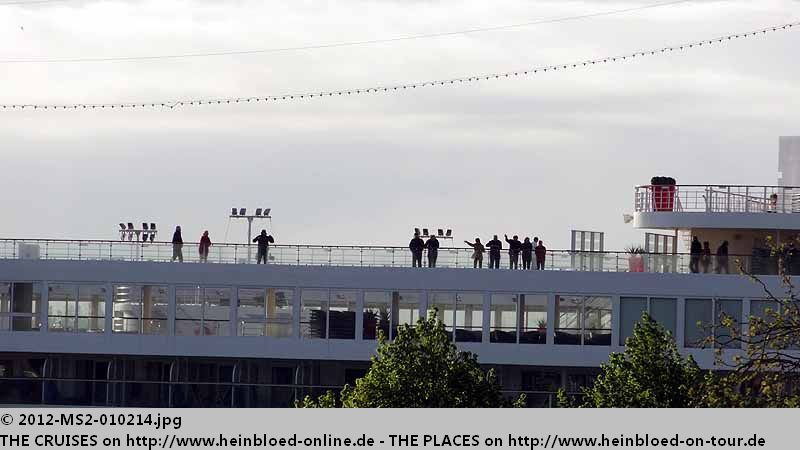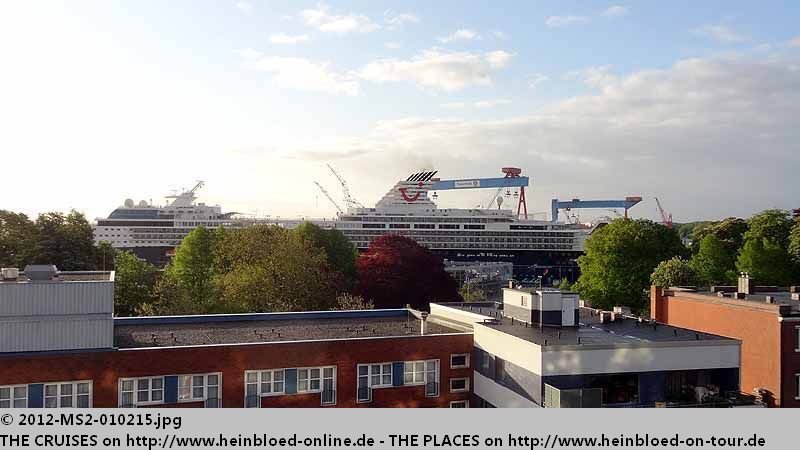 Und unsere Kabinen sind ganz einfach zu finden: Die Damenklos sind weiß... und wir sind direkt darunter...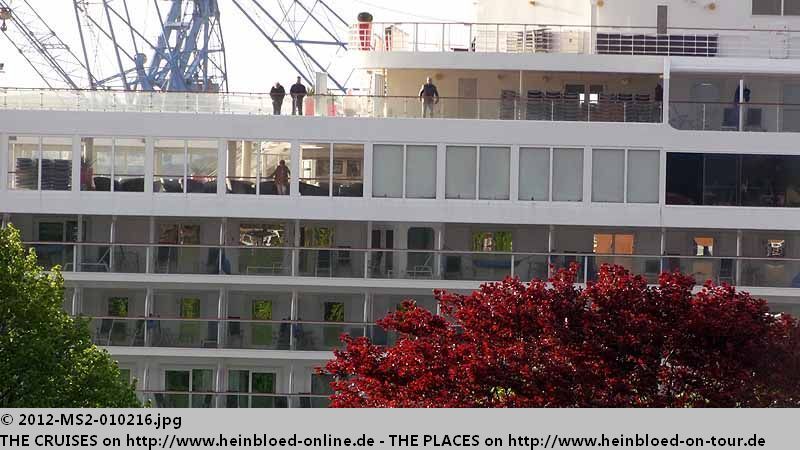 And it was very easy to identify our cabins: the ladies' room were white... and we were just below...

That should be the "Isle of comfort" and the X-Lounge (Lounge for suite-guests).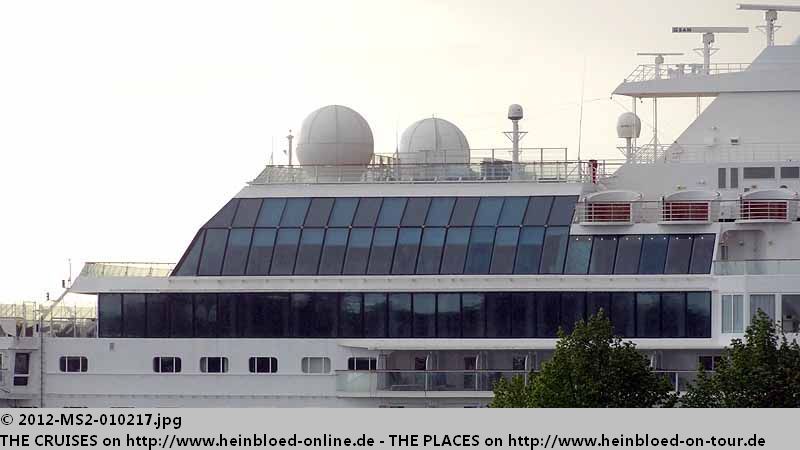 Das müssen wohl die Wohlfühlinseln und die X-Lounge sein.
Vom Schiff aus kann ich dann später auch unser Hotelzimmer sehen.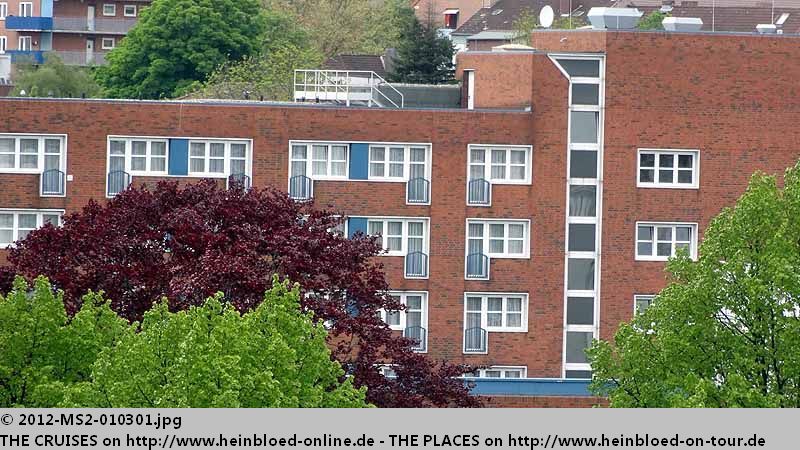 Later I could see the hotel room from our ship.

But let's have breakfast first.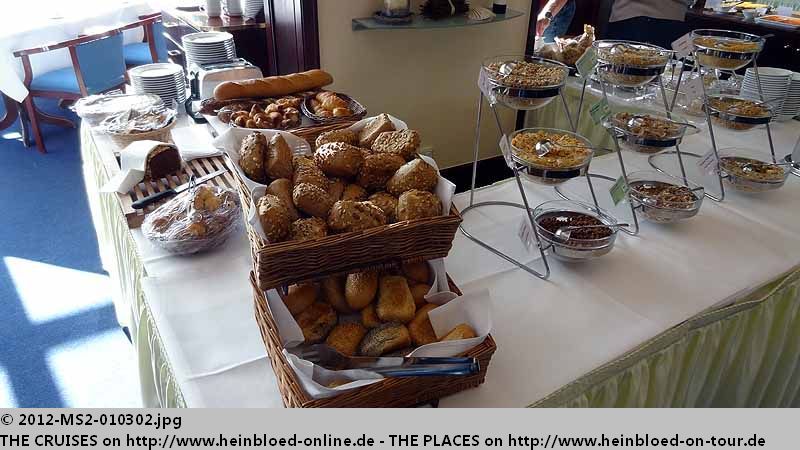 Aber nun einmal zum Frühstück.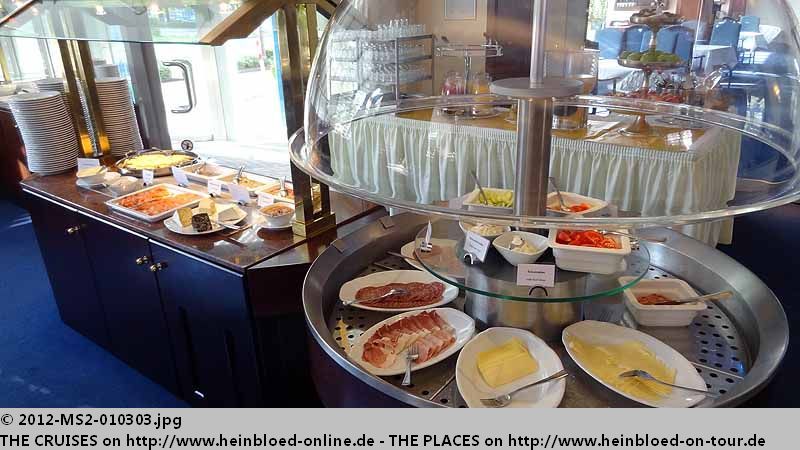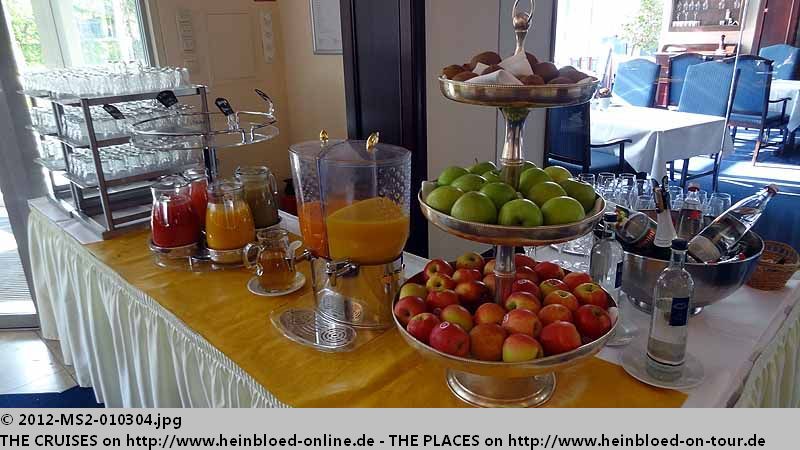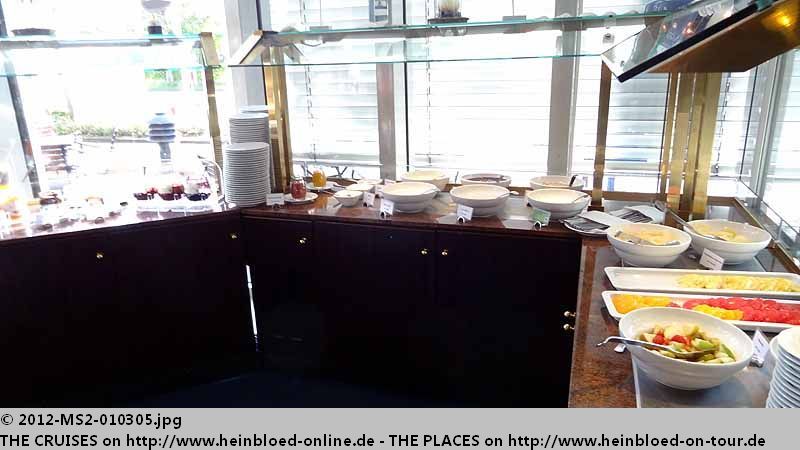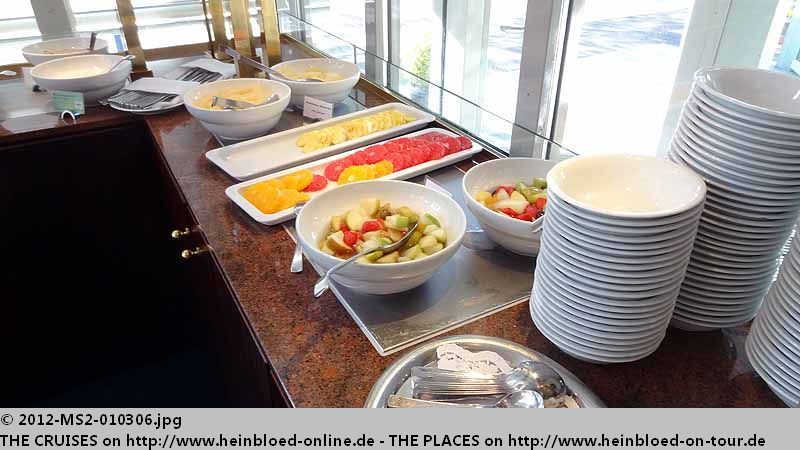 Es gab sogar Cola zum Frühstück.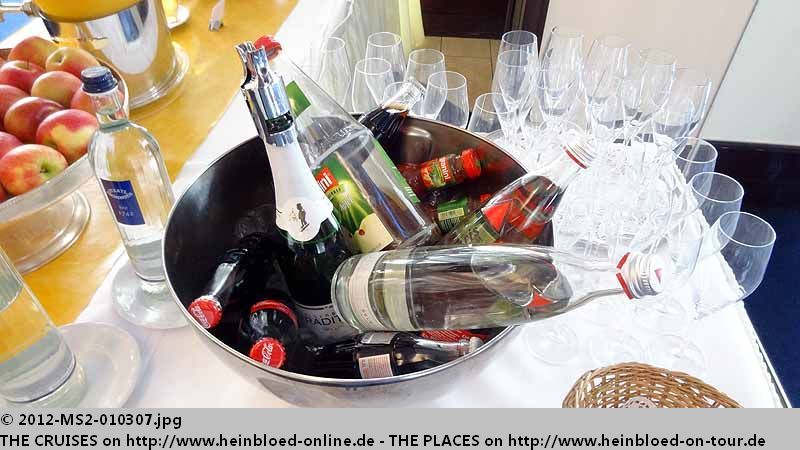 They even had Coke for breakfast.

We walked the 50 yards to the cruise terminal.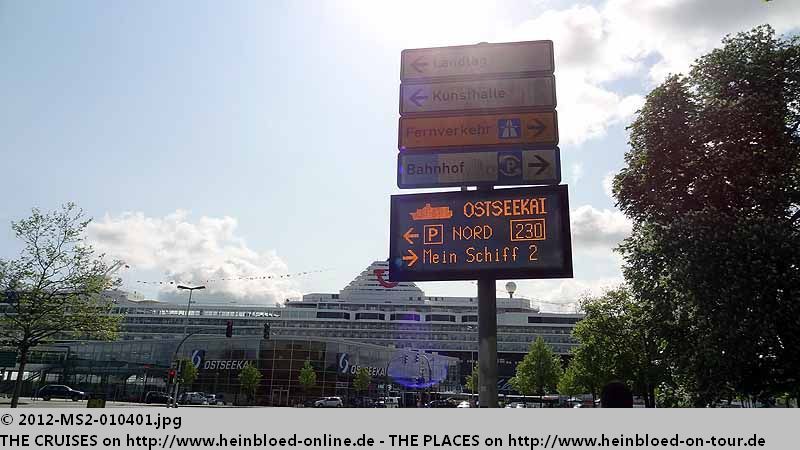 Die 50 m zum Ostseekai laufen wir.
Zum Glück haben wir im Hotel geparkt. Hier hätte es 14,00 EUR pro Tag (2012) gekostet.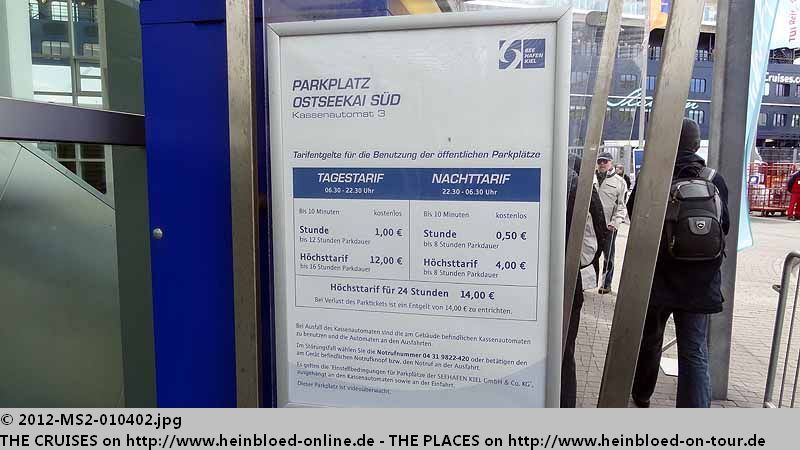 We were lucky to park in the hotel. Here it should be 14.00 EUR per day (2012).

And there were still buses to the central station. There were still debarking guests.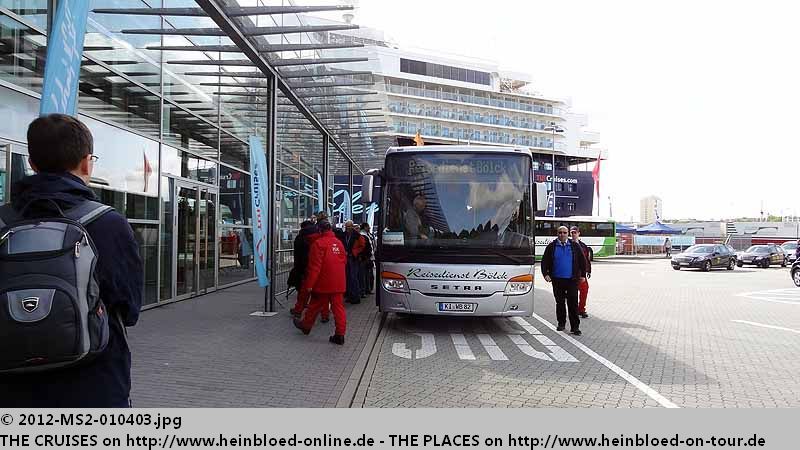 Und da fahren immer noch Busse zum Hauptbahnhof. Es schiffen immer Gäste aus.
Die 100 m mussten wir nun unser Gepäck nicht selbst tragen, aber um 10.30 Uhr ist die Gepäckannahme schon mal besetzt.

We did not need to carry our bags for about 100 yards but around 10.30 hrs the baggage acceptance was already occupied.