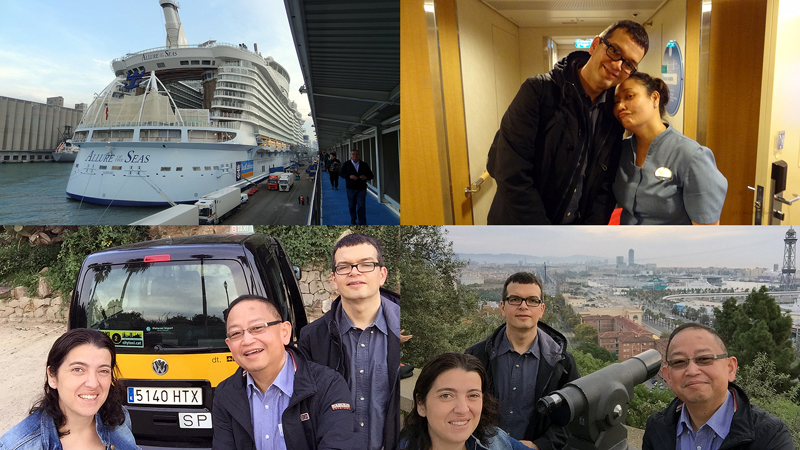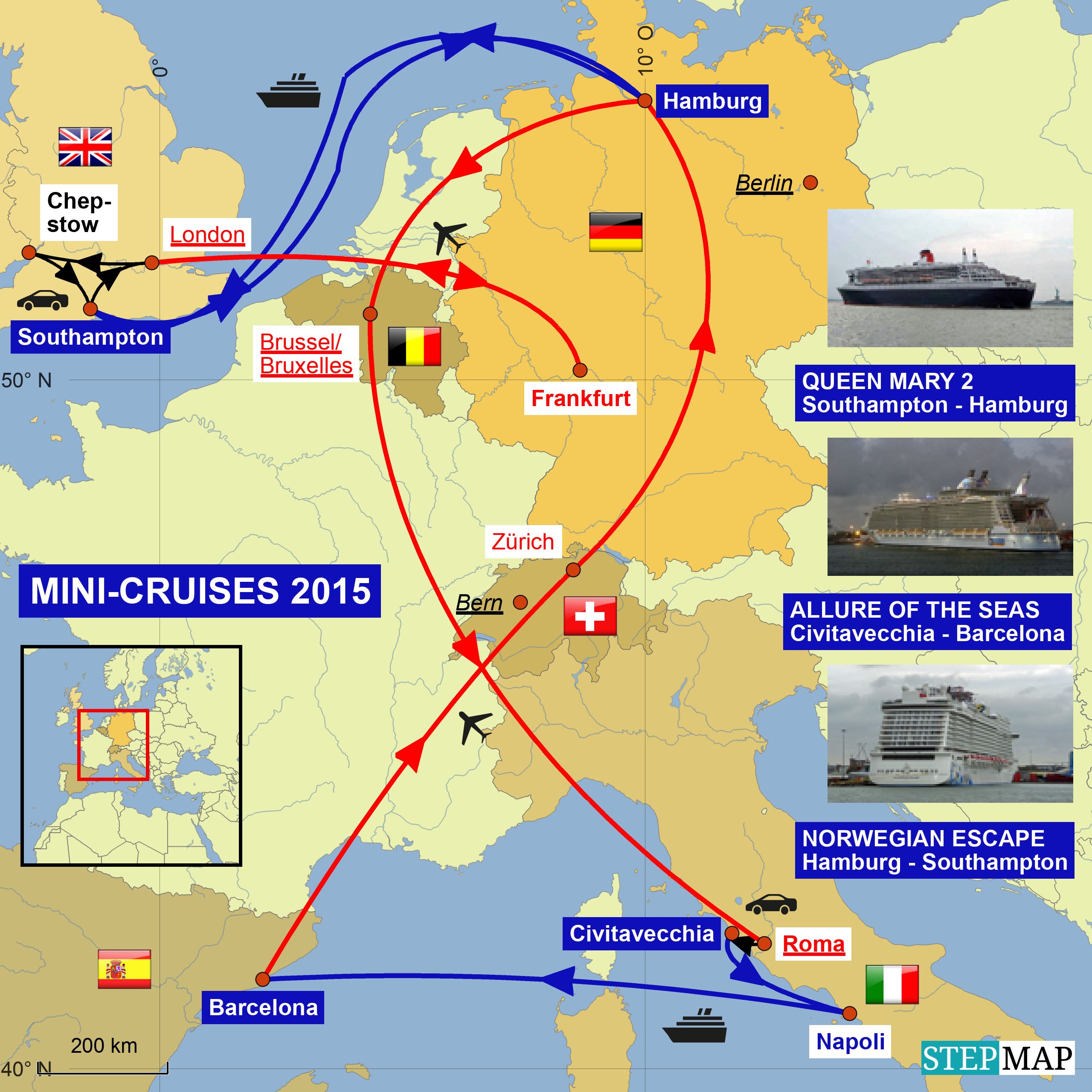 Leider stand etwas falsches auf der
Homepage von den Hafenbehörden in Barcelona
. NORWEGIAN EPIC hätte nach uns kommen müssen, aber leider hat sie sich vorgedrängt und fährt vor uns nach Barcelona rein. So habe ich keine Chance Mustafa, Richard, Bon und Daniel zu winken, die an Bord sind.

Unfortunately, something was wrong on the homepage of the port authorities in Barcelona, Spain. NORWEGIAN EPIC should come after us, but unfortunately, she pushed forward and went in front of us to Barcelona. So I had no chance to wave Mustafa, Richard, Bon, and Daniel on board.

Unfortunately, I was by mistake on a too high deck (Solarium) to photograph NORWEGIAN EPIC. But here it was just stupid to take pictures.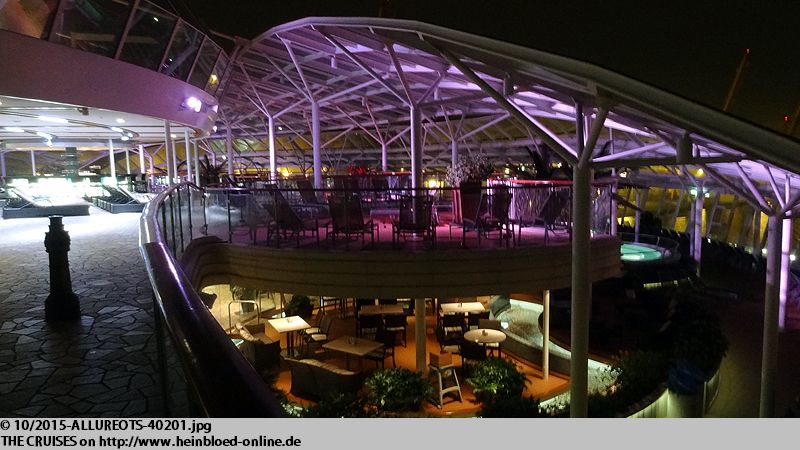 Ich irre leider auf einem zu hohen Deck (Solarium) herum, um die NORWEGIAN EPIC zu fotografieren. Aber hier ist es nur blöd zum Fotografieren.
Um 05:30 Uhr beginnt das Frühstück im Windjammer Marketplace. Um 05:00 Uhr stehen schon die ersten an. Als um 05.30 Uhr aufgemacht wird, wird nur eine Seite aufgemacht. Es kommt zu riesigen Schlangen. Man hätte ja auch an den Gast denken können, um ihm die letzten Momente an Bord schöner zu machen.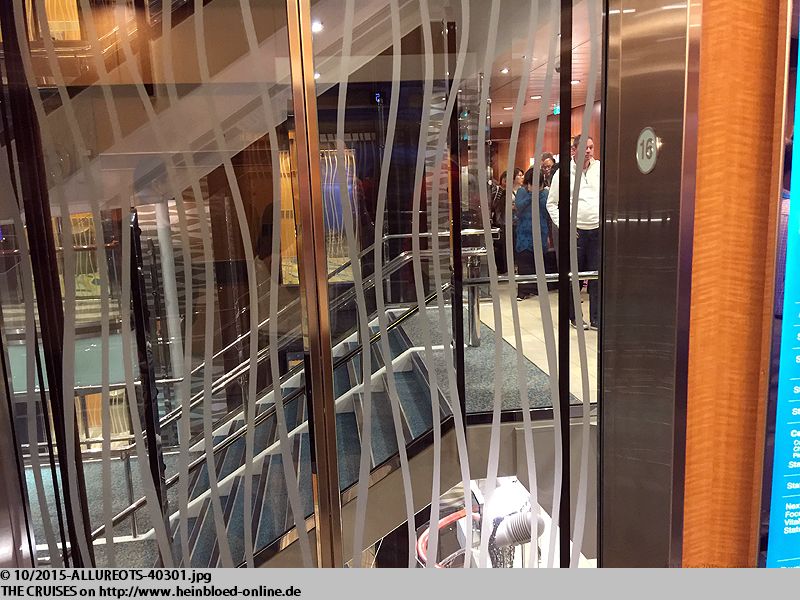 At 05:30 hrs breakfast started at the Windjammer Marketplace. At 05:00 hrs were already the first guests waiting. When it opened at 05:30 hrs, only one side was opened. It came to a huge queue. Someone could also think of the guests to make the last moments on board more pleasant.

Since I no longer wanted Bruno to go again to the Windjammer Marketplace, I took as a precaution the tray from the cabin service. Many guests asked me where I got the tray from.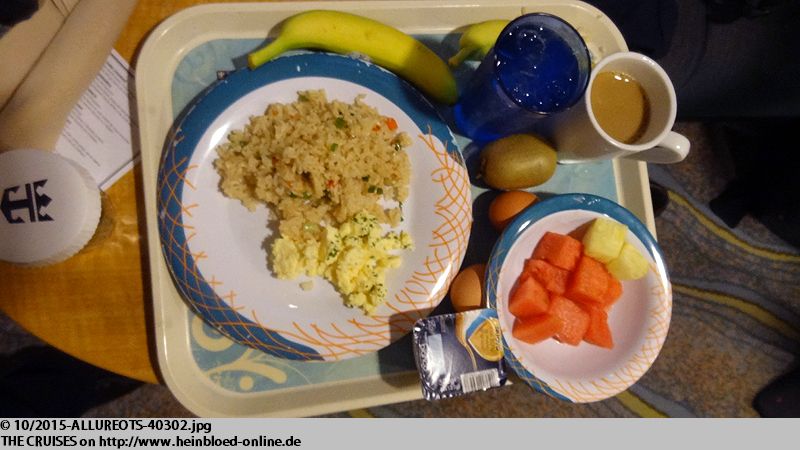 Da ich Bruno nicht mehr zumuten möchte, nochmals in den Windjammer Marketplace zu gehen, hatte ich vorsorglich das Tablett vom Kabinenservice mitgenommen. Viele Gäste fragen mich, woher ich das Tablett hätte.
Da wir leider dringendst zum
Flughafen El Prat
müssen, kann ich nur doch die Einfahrt der COSTA FAVOLOSA abwarten.

Since we had to get urgently to El Prat airport, I could only wait for the arrival of COSTA FAVOLOSA.

I was always looking for the menu for the cabin breakfast. But that was not available on the TV screen. It worked with a classical hanger at the door.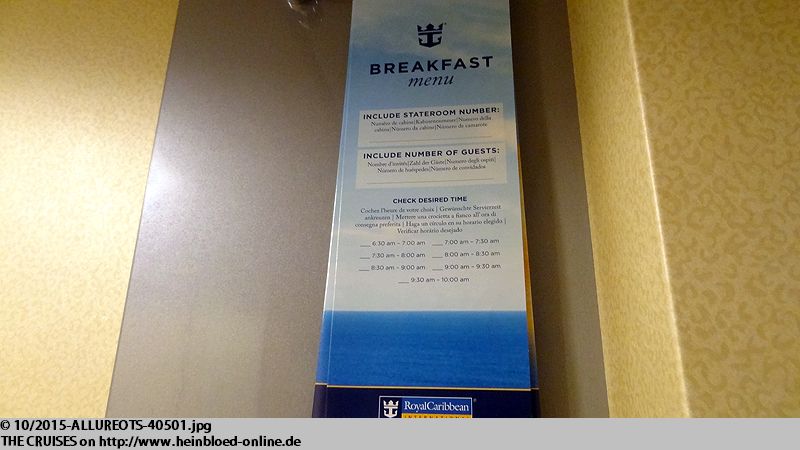 Ich hatte immer die Karte für das Kabinenfrühstück gesucht. Das gab es gar nicht im Fernseher. Das lief noch klassisch mit dem Aufhänger.
Der Abschied von Nina fällt uns schon schwer. Wir erklären ihr, dass eigentlich sie einer der wenigen Gründe wäre, mal wieder Royal Caribbean zu fahren und das uns dass Schiff zu laut und zu groß ist. Sie meint, dass wir das nächste Mal es mit der Radiance-, Vision- oder Sovereign-Klasse es mal versuchen sollten. Im Grunde hat sie ja Recht. An die
JEWEL OF THE SEAS 2008
denke ich irgendwie auch gerne zurück. Kann man statt Garantie-Kabine auch Garantiert-Nina-Kabine buchen???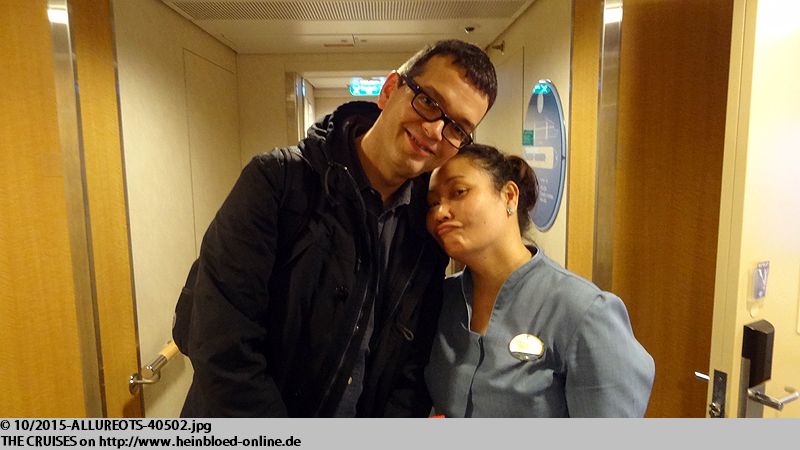 The farewell to Nina was already hard for us. We explained to her that actually that she would be one of the few reasons to go again on Royal Caribbean. For us, the ship was too loud and too big. She recommended us to try the Radiance, Vision, or Sovereign class next time. In fact, she was right. Somehow, I also liked to think back to the JEWEL OF THE SEAS 2008. Can we book a Nina-Guaranteed-Cabin instead of a Guarantee Cabin?

The invoice was there. Everything was excellent.

Die Rechnung ist da. Alles gut.
Die Anzeigen funktionieren gut.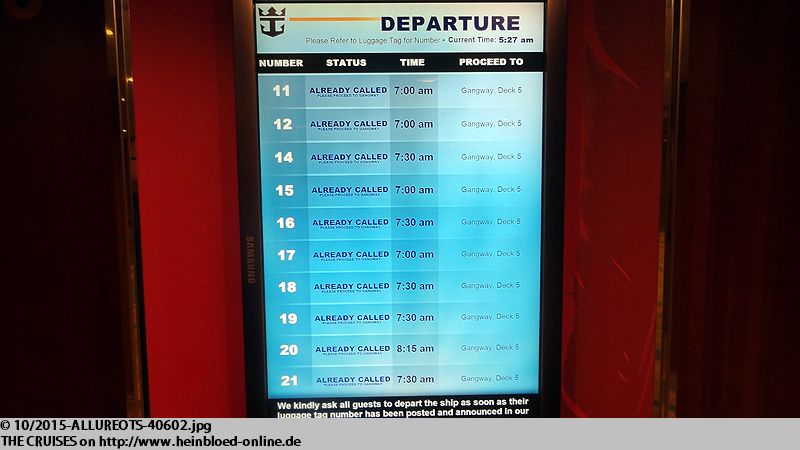 The displays worked well.

The disembarkation was organized, FIRST CLASS. This could be something, to learn from to do it the same way on NORWEGIAN ESCAPE 2015 a few days later. Owing to the size of the ship: Odd disembarkation numbers left to terminal B and right to terminal C.

Die Ausschiffung ist ERSTKLASSIG organisiert. Daran hätten sie sich eine Scheibe für die
NORWEGIAN ESCAPE 2015
abschneiden und ein paar Tage später umsetzen können. Aufgrund der Größe des Schiffes: Ungerade Ausschiffungsnummern links zum Terminal B und gerade rechts zum Terminal C.
Aber die Wege sind wieder so lang... Das Schiff ist einfach zu groß.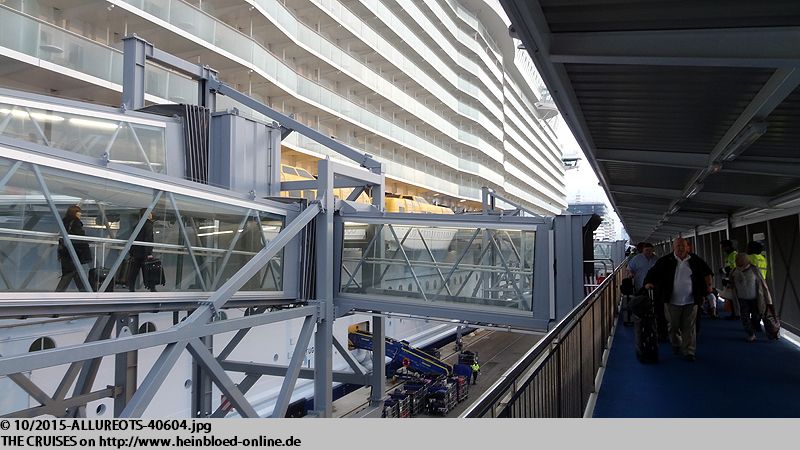 But the ways were again so long... The ship was just too large.

One more time to see our cabin.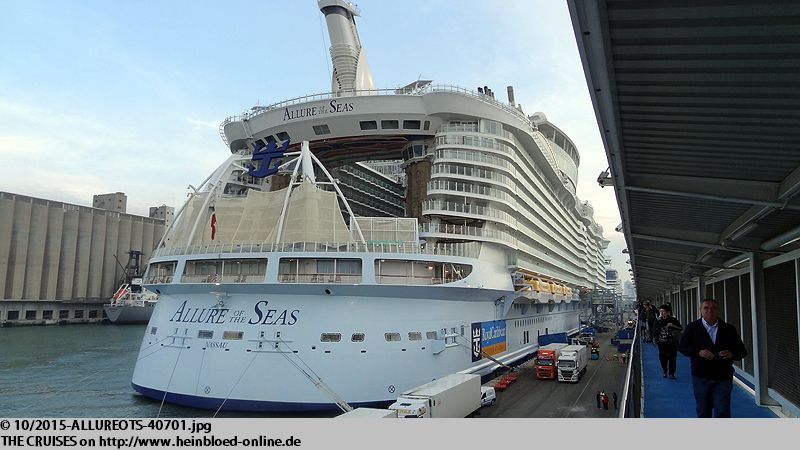 Noch einmal unsere Kabine sehen.
Und nochmals vom Flugzeug aus Abschied nehmen.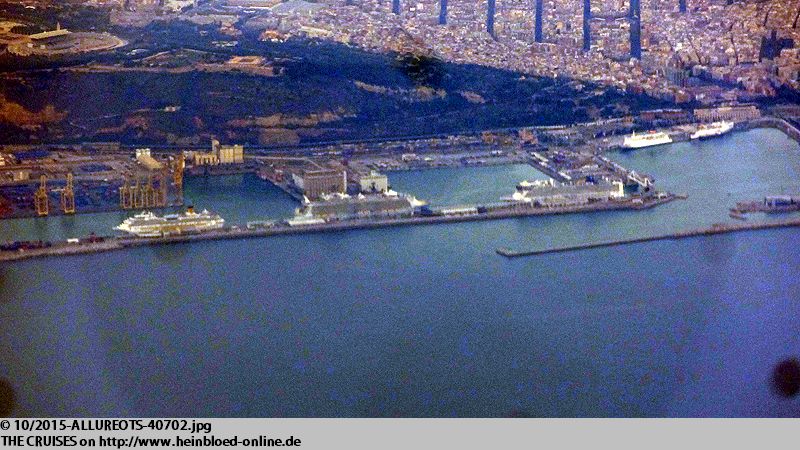 And bidding farewell one more time from the plane.

Bags and Go: We used their service once ourselves before on NORWEGIAN EPIC 2012. Worked excellent.

Bags and Go
: Wir haben mal diesen Service selbst mal nach der
NORWEGIAN EPIC 2012
genutzt. Hat gut funktioniert.
Ist wirklich praktisch, wenn man einen späten Flug hat.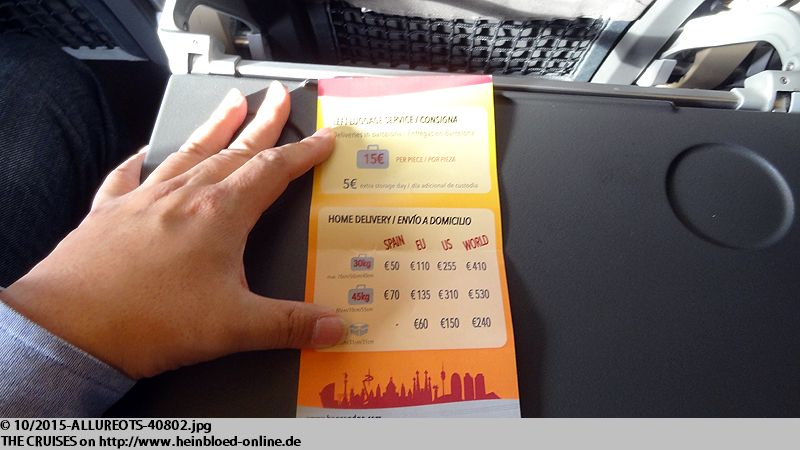 It was very practical, when you had a late flight.

Online-Bookings were cheaper.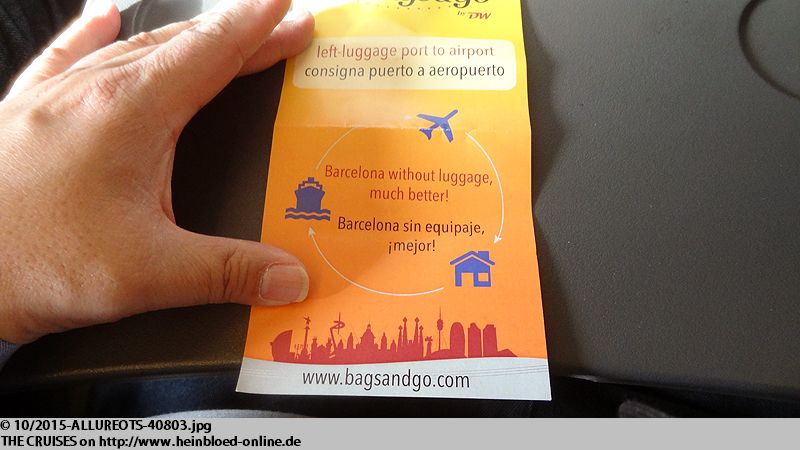 Online-Buchungen
sind günstiger.
Gaudi gehört zu Barcelona, Messi gehört zu Barcelona. Und unsere Taxifahrerin
Eva
gehört zu Barcelona.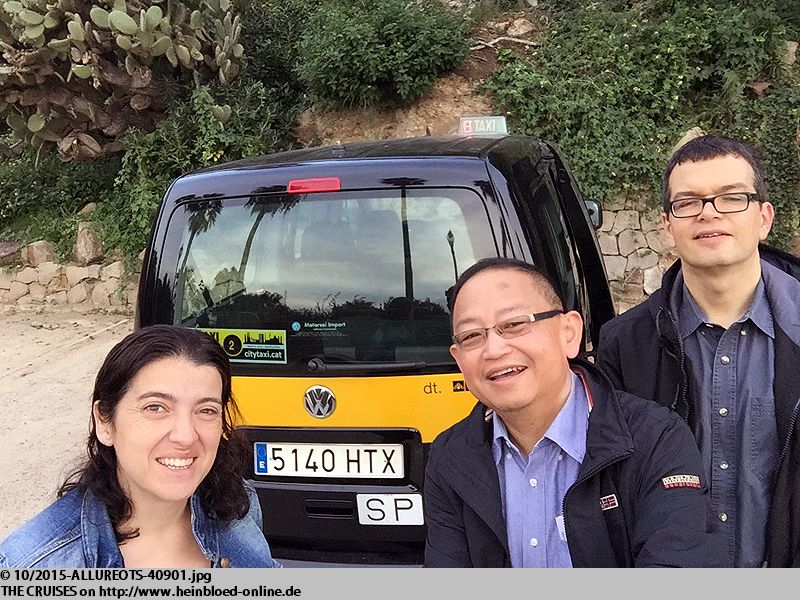 Gaudi was part of Barcelona, Messi was part of Barcelona. And our taxi driver Eva was part of Barcelona.

It fit perfect. We needed to get early to the airport, and Rene booked her later for 10:00 hrs. On the way to the airport, we stopped at the parking on Montjuic Hill, where I usually took pictures.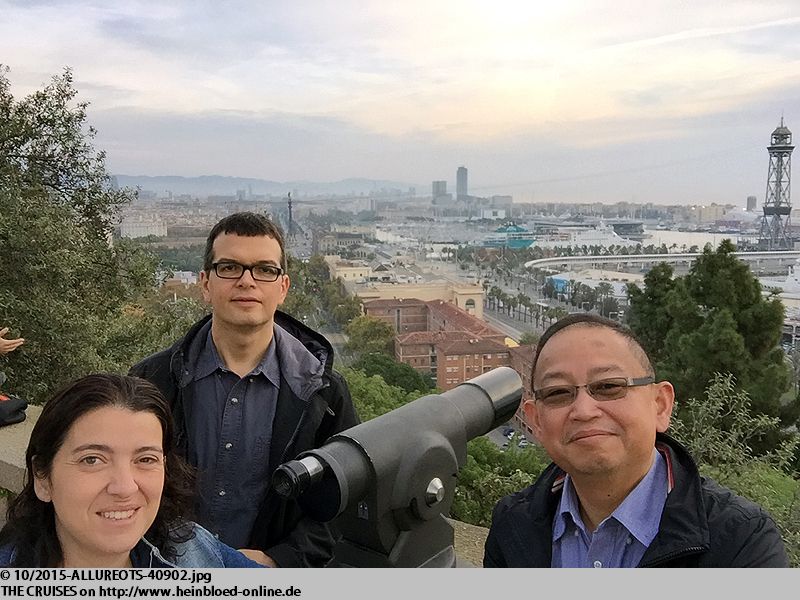 Das passt perfekt. Wir müssen früh zu
Flughafen
und Rene hat sie später für 10.00 Uhr gebucht. Auf dem Weg zum
Flughafen
halten wir kurz oben am Parkplatz auf dem Montjuic, wo ich normalerweise immer fotografiere.
Nur an MEINER Ecke steht jetzt die
Bar Martinez
... Grrrr....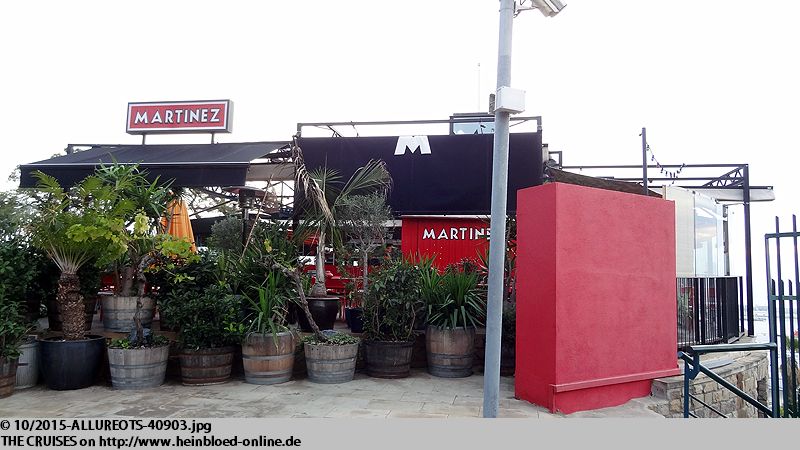 But on MY corner now, was now the Bar Martinez... Grrrr....

That day was Sunday. We had three pieces of luggage in the trunk, and we went from the port to the airport. Including tip, it was about 50.00 EUR. You could also a flat rate between port and airport. But we got Eva and were on time for departure at Terminal 1. Before I took the T3 port bus, L3 subway, R2Nord Cercanias commuter train, and bus. And the stop on top of Montjuic was not possible either.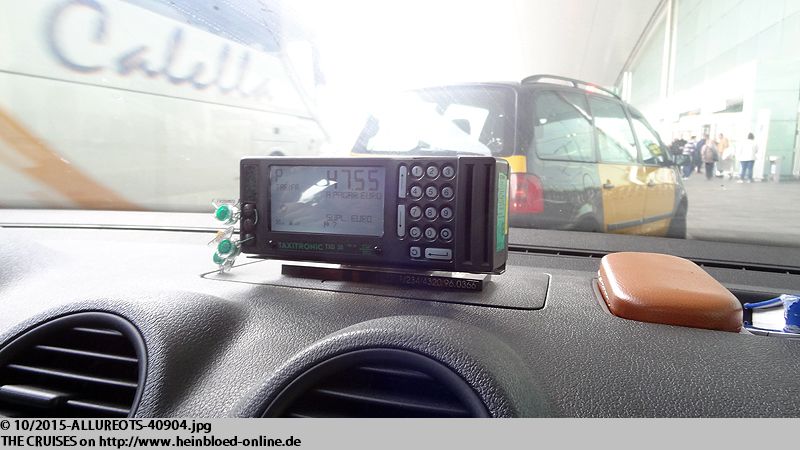 Heute ist Sonntag, wir haben drei Gepäckstücke im Kofferraum und wir fahren vom Hafen zum
Flughafen
. Mit Trinkgeld also 50,00 EUR. Man kann auch die
Flat Rate zwischen Hafen und Flughafen
nutzen. Aber wir wollen Eva und sind pünktlich zum Abflug am
Terminal 1
. Bevor ich den
T3 Hafenbus
,
U-Bahn L3
,
Cercanias S-Bahn R2Nord
und
Bus
genommen hätte. Und der Halt oben auf dem Montjuic auch nicht möglich gewesen.
Sehr schnell schaffen wir es durch die Sicherheitskontrolle. Das ist wirklich gut organisiert im
Terminal 1
.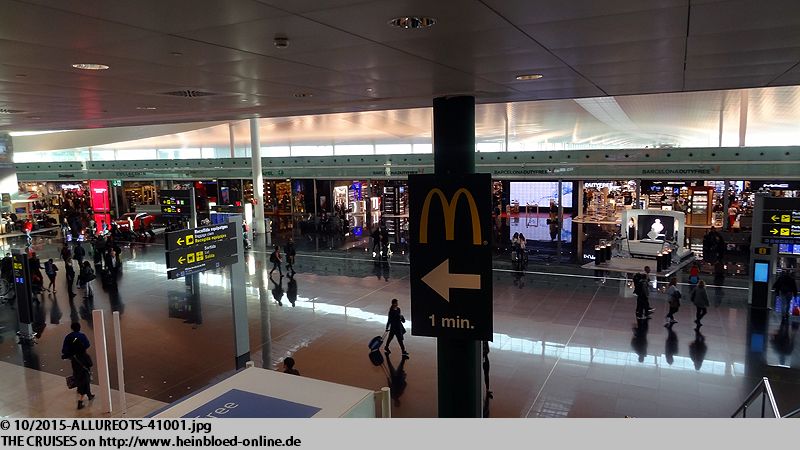 We made it very fast through the security check. It was well organized at Terminal 1.

So we could catch up the breakfast with more calmness.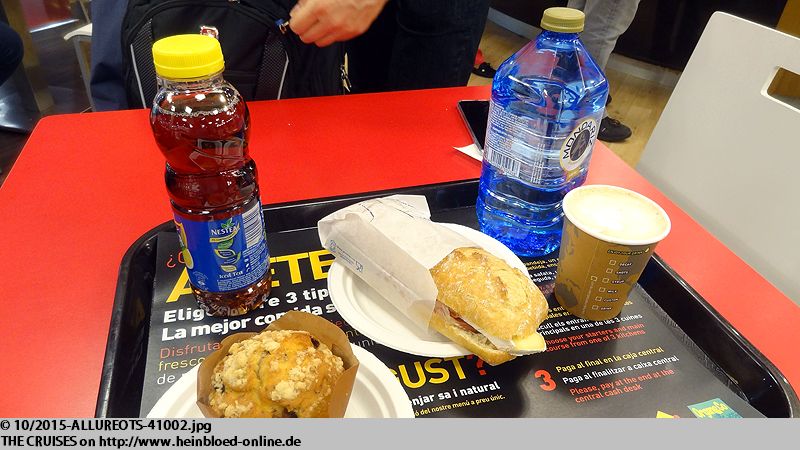 Wir können daher das Frühstück in Ruhe nachholen.
Bald wird auch schon unser Flug aufgerufen. Weil
Brussels Airlines
unseren Flug gestrichen hat und mit dem nächsten erst um 20:00 Uhr in Hamburg angekommen wären, wurden wir kurzerhand auf die
Swiss
umgebucht. Das ist das gute, wenn man ein paar Euros mehr zahlt. Ich denke nur an
easyJet
bei der
NORWEGIAN GEM 2007
damals zurück, die bloß meinten: "Hier haben Sie unsere Telefonnummer von der kostenpflichtigen Hotline. Rufen Sie dort an, um sich das Geld wieder zurücküberweisen zu lassen. Lassen Sie sich Zeit, da es eh ein paar Wochen dauert. Bis dahin können Sie bei mir neue Tickets für den Flug in drei Tagen kaufen. Eher bekomme ich Sie nicht gebucht.".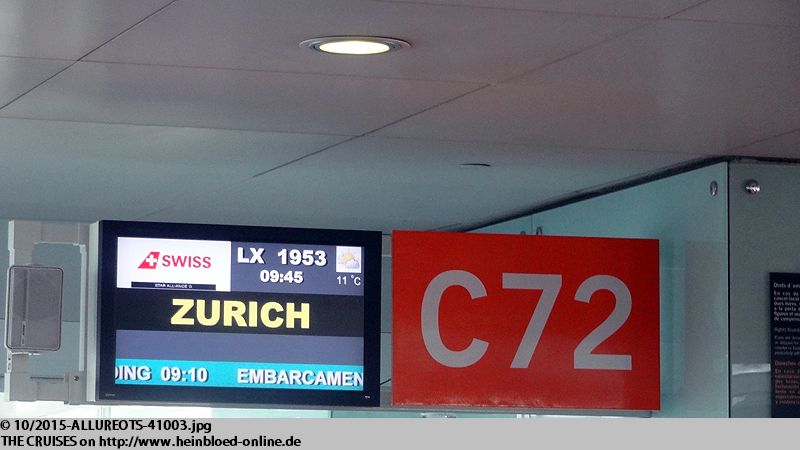 Soon our flight was called. Because Brussels Airlines canceled our flight and arrived in Hamburg the next time at 20:00 hrs, we were rebooked on Swiss. That was the good thing if you paid a few Euros more. I just thought back to easyJet to get on NORWEGIAN GEM 2007 then. They just said, "Here you have our phone number from the paid hotline. Call there to have the money sent back to you. Take your time as it would take a few weeks until you would get the refund. Meanwhile, you could buy new tickets for the flight in three days. No earlier option, I could get you booked.".

From above we could see MSC ORCHESTRA approaching Barcelona.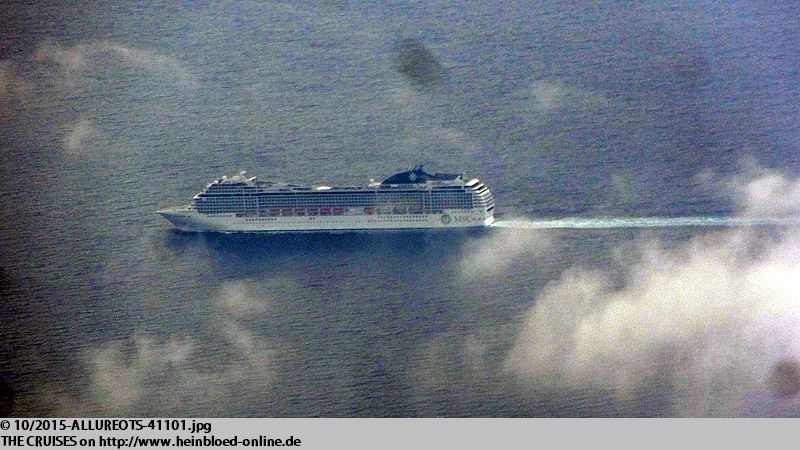 Wir können noch die MSC ORCHESTRA im Zulauf auf Barcelona von oben sehen.
Das ist eine echte Schande: Barcelona ist so eine tolle Stadt und so wenig Zeit mit MSC.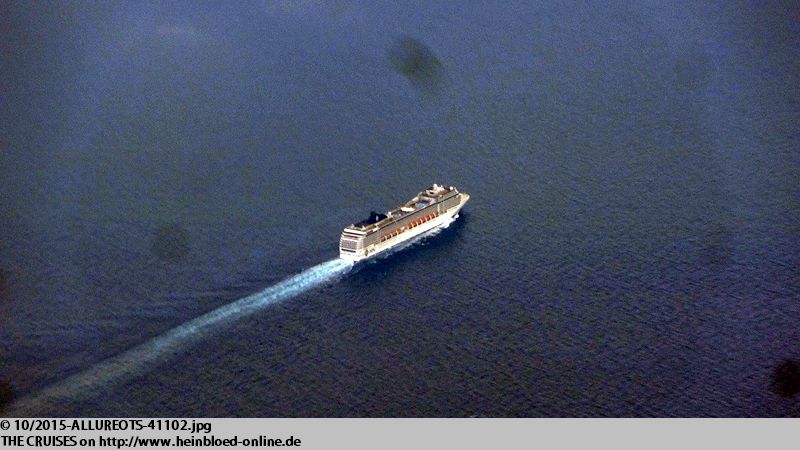 That was really a shame: Barcelona was such a great city and so less time with MSC.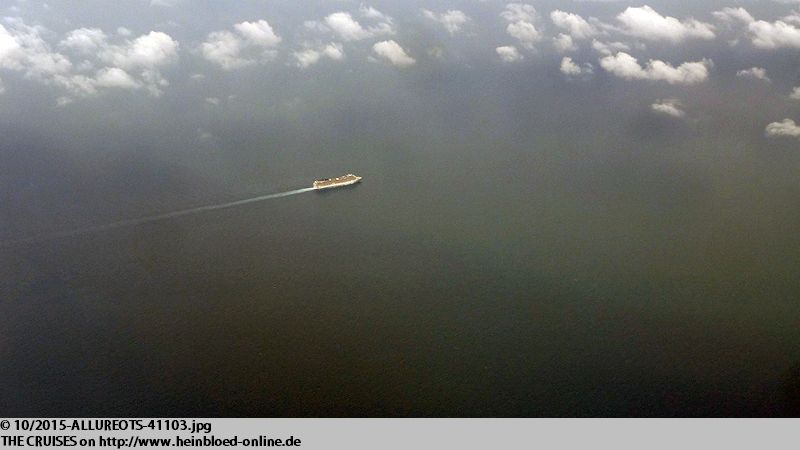 Noch ein letzter Blick über Barcelona.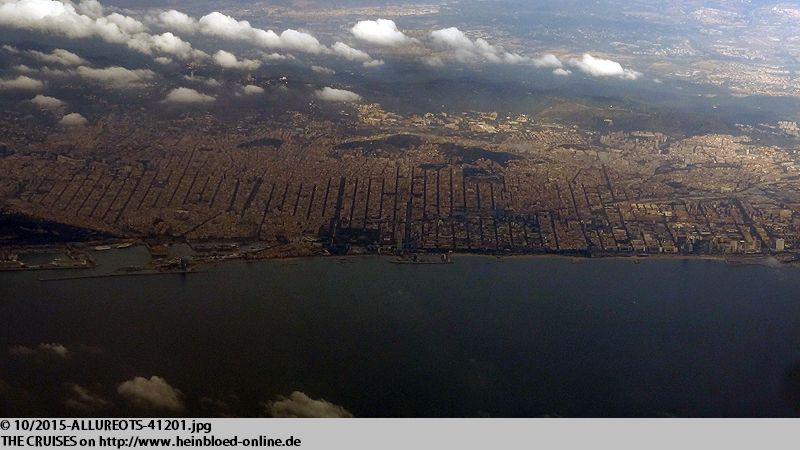 One more view over Barcelona.

Luckily we already had breakfast. On board of Swiss, they had Nescafé, and a Schoggibrödli (Swiss chocolate roll). But it was not a pain au chocolat (French chocolate roll). How I was looking forward to the extension of my tram route to France out of Basle, Switzerland. Then I would have direct access to French bakeries.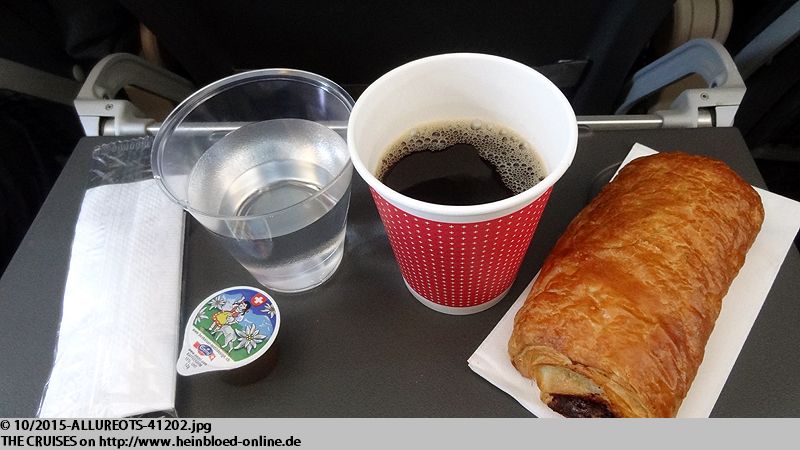 Zum Glück haben wir schon gefrühstückt. An Bord der
Swiss
gibt es Nescafé und ein Schoggibrödli. Ist aber kein Pain au Chocolat. Was freue ich mich schon, wenn meine Tram in Basel nach Frankreich verlängert wird. Dann habe ich direkten Zugang zu französischen Bäckereien.
Der Abschnitt der Reise endet gleich in Zürich. Der nächste Teil nach Hamburg wird dann der
NORWEGIAN ESCAPE 2015
zugeordnet. Also bis bald aus dem Norwegian-Blog heraus.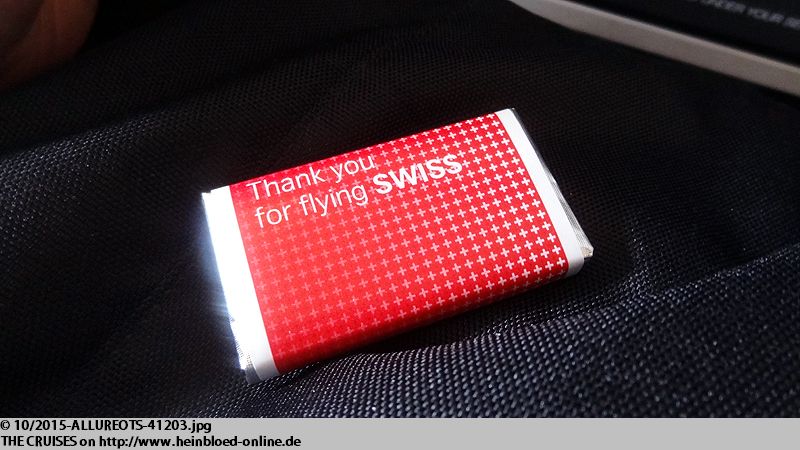 This section of the journey would end soon in Zurich, Switzerland. The next part to Hamburg, Germany, would be assigned to NORWEGIAN ESCAPE 2015. See you soon from the Norwegian blog.
Die anderen Reisen in diesem Blog/
The other voyages in this blog: