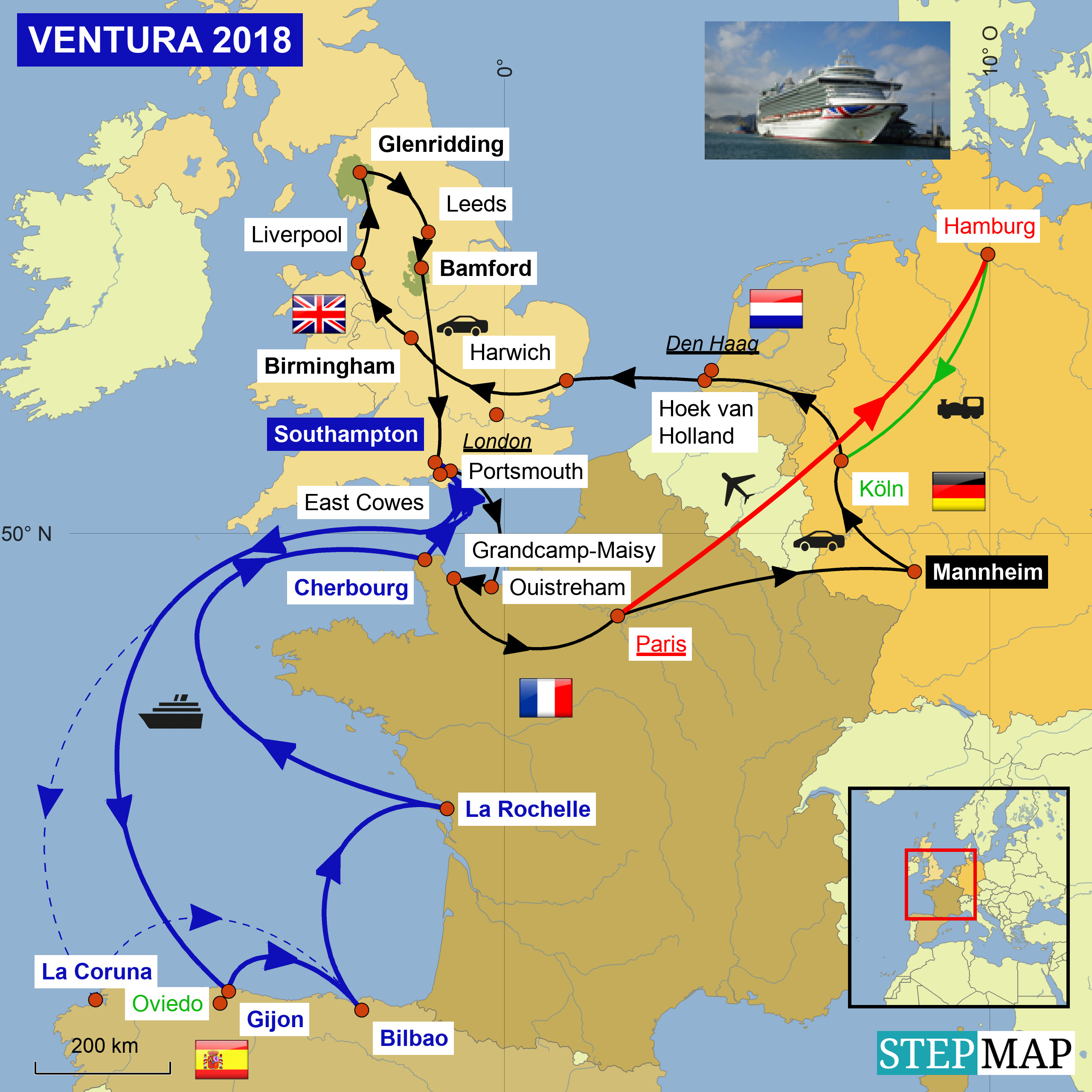 Auch im Peak District trifft der Himmel auf die Erde. Nur ohne den Sonnenschein wie zuvor im Lake District: das war schöner.

Also in the Peak District the sky met the earth. But without the same nice sunshine like in the Lake District, which was nicer.

We had a guest for breakfast: many years ago in Goslar, Germany I used our Sheffield, England office to get cruise-catalogs from Great Britain. Helen and I knew each other from our work. Sheffield was on the way from Leeds to Southampton, England. I wanted to surprise her in the office, but a few days before, I read on Facebook, that they closed her office. I tried to make the personal acquaintance of Helen because she helped me to discover very early the English cruise market. So I invited her for breakfast. Thanks again for that. Together we enjoyed a lovely breakfast and talked about our shared time in the same company.

Wir haben einen Frühstücksgast: vor vielen Jahren in Goslar nutze ich unser Büro in Sheffield, dass ich an die Kreuzfahrt-Kataloge aus Großbritannien komme. Helen und ich kennen uns von unserer Arbeit. Sheffield liegt auf dem Weg zwischen Leeds und Southampton. Ich will sie überraschen im Büro überraschen, aber wenige Tage zuvor lese ich auf Facebook, dass das Büro dort geschlossen wurde. Ich möchte Helen gerne kennenlernen, weil sie mir geholfen hat, dass ich sehr früh für mich den englischen Kreuzfahrtmarkt entdeckt habe. Deswegen lade ich sie zum Frühstück ein. Dafür nochmals vielen Dank. Gemeinsam genießen ein schönes Frühstück und sprechen über unsere gemeinsame Zeit im selben Unternehmen.
Ich sehe mich nochmals um und weiß jetzt warum hier es keine negativen Beiträge auf TripAdvisor gibt: das Haus ist auf Hunde eingestellt.

I looked one more time around and noticed the reasons why they did not have bad reviews on TripAdvisor: the inn was well prepared to cater dogs.

On the half way to Southampton, was Oxford, England. We need to withdraw a planned visit. The roads were full!!! In the opposite direction, the congestion was endless. So we visited The Perch, where we could eat very lovely. The restaurant had a beautiful beer garden, and you could order and pay at the table. When we arrived we had luck: one table was available. We walked to the backside to the banks of the river Thames to see the silhouette of Oxford.

Auf dem halben Weg nach Southampton liegt Oxford. Auf einen Besuch in der Stadt verzichten. Die Straßen sind voll! In Gegenrichtung steht alles. Wir besuchen daher
The Perch
, in dem wir ganz toll essen können. Das Restaurant hat einen sehr schönen Biergarten und kann hier am Tisch bestellen und bezahlen. Als wir ankommen, haben wir sehr viel Glück: ein Tisch ist noch frei. Wir laufen auch kurz nach hinten an das Ufer der Themse, um den Ausblick auf die Silhouette Oxfords zu genießen.
Wir fahren nach Hamble, das auf dem halben Weg zwischen Southampton und Portsmouth liegt. Ich wollte mal von der anderen Seite fotografieren. Von der Hythe Seite kenne ich ja alles. Wir übernachten im
Hamble Bed und Breakfast
. Alles etwas großzügiger als in Glenridding. Bei Bedarf (man bleibt mehrere Nächte), dann gibt es wohl auch "mobile Möbel". WLAN ist kein Problem. Allerdings lerne ich den Unterschied zwischen "private bathroom" und "en-suite-bathroom" kennen: wir haben ein eigenes Badezimmer, müssen aber den Flur laufen. Etwas, was ich gar nicht mag. Die Ausstattung ist sehr neu und sehr schön. Der richtige Ort für Segler. Alles ist sehr maritim eingerichtet.

We went to Hamble, England which was on the halfway between Southampton and Portsmouth, England. I wanted to have some pictures from the other side. From the Hythe side, I knew everything. We stayed overnight in Hamble Bed and Breakfast. Everything was more spacious than in Glenridding. On request (you stayed multiple nights), you could get some "mobile types of furniture". WiFi was no problem. But I learned the difference between a "private bathroom" and an "en-suite bathroom": we had a bathroom of our own, but we needed to cross the corridor. Something, I did not like. It was newly furbished and very nice. The perfect place for sailors. Everything was decorated very maritime style.

We walked 20 minutes to the beach and were right on time there to see the sunset.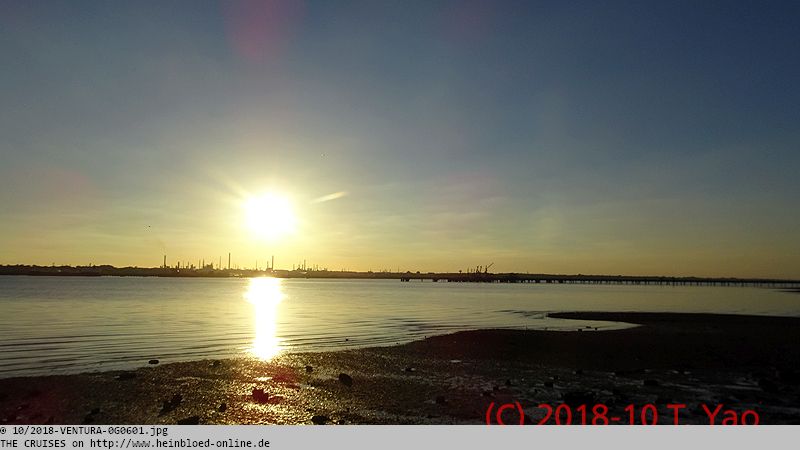 Wir laufen 20 Minuten zum Strand und sind rechtzeitig zum Sonnenuntergang da.
Gegenüber ist ein Chemiewerk.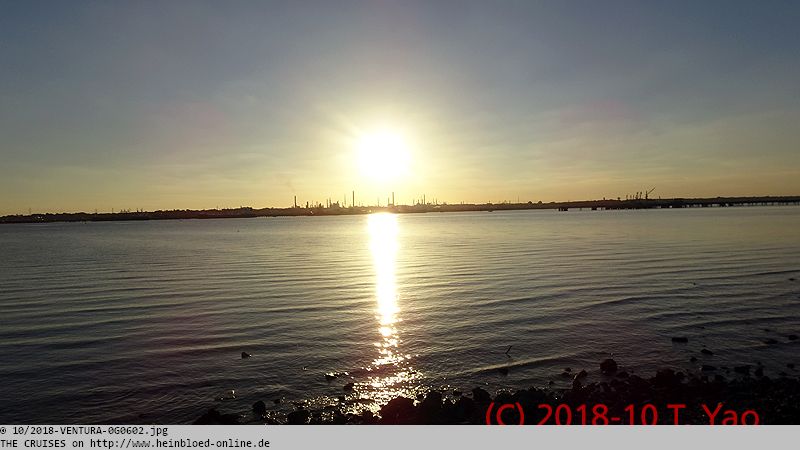 Opposite was a chemical plant.

Unfortunately, the cruise ships were all delayed. I ignored all traffic rules to be here on time.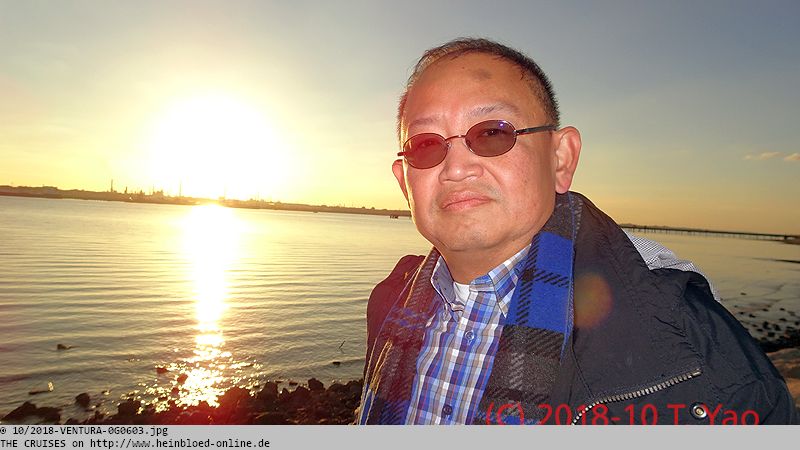 Leider verzögern sich die Kreuzfahrtschiffe auch. Ich habe so gegen sämtliche Verkehrsregeln verstoßen, um pünktlich hier zu sein.
Besonders schön ist es nicht, ob es hier einen Strandabschnitt und einen Yachthafen gibt.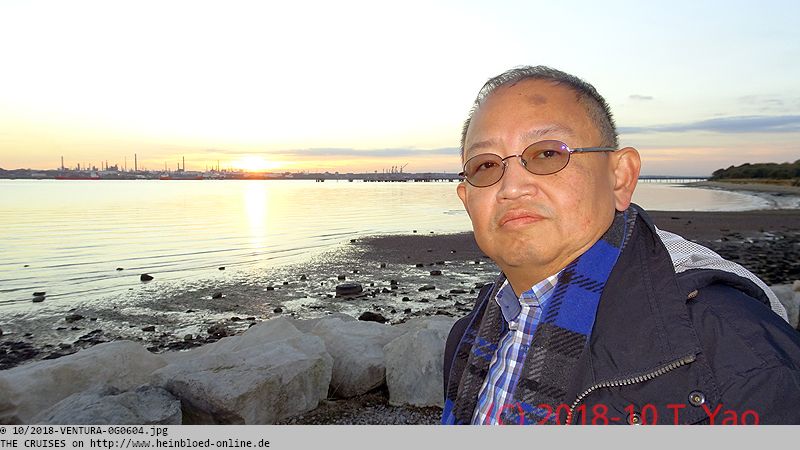 It was not very beautiful here around, although there was a beach and a marina around.

The others made a walk while I was waiting for the cruise ship.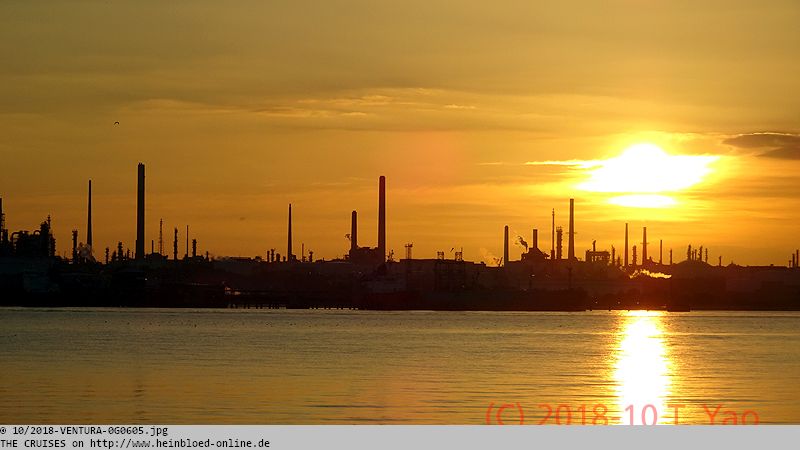 Die anderen gehen spazieren, während ich auf die Kreuzfahrtschiffe warte.
Die SAGA SAPPHIRE kommt. Ich erwische gerade noch in einer schönen Stimmung. Aber die anderen Schiffe kommen nicht.

The SAGA SAPPHIRE came. I just caught it in a lovely atmosphere. But the other ships did not come.

We let a taxi came to pick us up. Uber was not available. And Tony had already off and had no other driver around. In Southampton, I could take pictures of AZURA.

Wir lassen uns mit einem Taxi abholen. Uber ist leider nicht verfügbar. Und Tony hat schon Feierabend und hat auch sonst keinen Fahrer in der Nähe. In Southampton gibt es noch Bilder von der AZURA.
Am Mayflower Park entstehen noch sehr viele schöne Bilder von der NAVIGATOR OF THE SEAS. Dabei hasse ich das Schiff seit unserer Reise auf
NAVIGATOR OF THE SEAS 2009
.

In the Mayflower Park I could make nice pictures of the NAVIGATOR OF THE SEAS. Although I hate it after our voyage on NAVIGATOR OF THE SEAS 2009.

I quickly went with the Hythe Ferry to get on the other side of The Solent.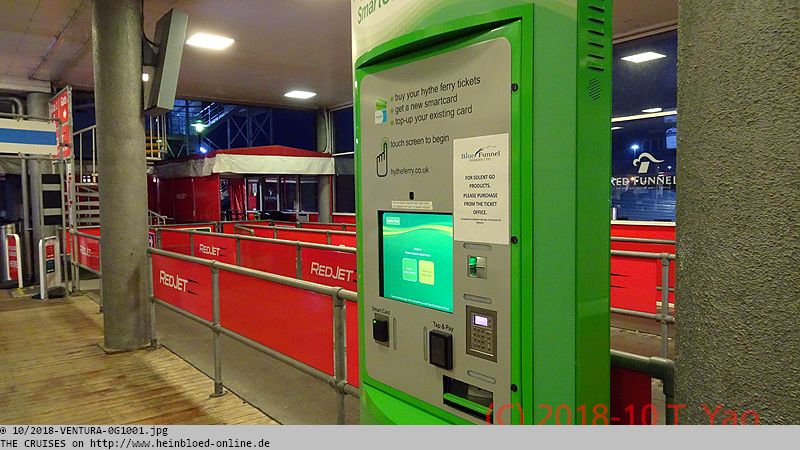 Ich fahre noch schnell mit der
Hythe Fähre
auf die andere Seite der Solent.
Zum Glück gibt es ja nicht mehr den Parkscheinautomaten als Fahrkartenautomat, bei dem man jede Menge Münzen brauchte, sondern kann das Ticket mit Kreditkarte bezahlen. Ich erwische die letzte Fahrt, bei der ich heute Abend auch wieder zurück nach Southampton kommen.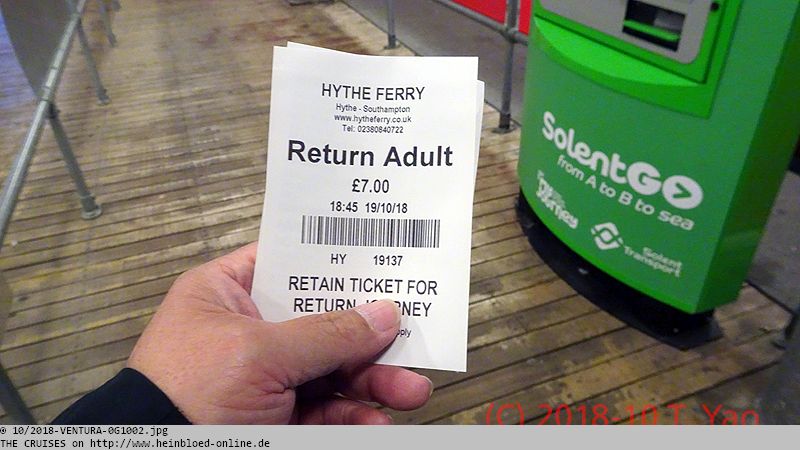 Luckily, they did have the park ticket machine anymore for the ticket sale when you need coins only, and now you could buy the ticket by credit card. I caught the last ride which allowed to get back to Southampton that night.

I walked later from the pier to our meeting point. The baggage storage with Mail Boxes etc. was still existing. But they were not open on Sundays. With Oceans Southampton, it was also possible on Sundays, and you could get magnets for the refrigerator in German. In the city, they set up a giant wheel.

Ich laufe später vom Pier zum Treffpunkt. Die Gepäckaufbewahrung beim
Mail Boxes etc.
gibt es immer noch. Aber sie haben sonntags nicht auf. Bei
Oceans Southampton
geht es auch sonntags und man bekommt auch Kühlschrankmagnete auf deutsch. Im Ort ist ein Riesenrad aufgebaut.
Zum Abendessen gehen wir in die
Coriander Lounge
. Irgendwie ist es zu groß geworden. Wir sitzen dieses Mal unten. Und es herrscht ziemlicher Durchgangsverkehr. Auch sind sie nicht mehr so freundlich wie früher, als sie noch mehr gestresst waren. Ein paar indische Sachen fehlen auf der Karte, z. B. den indischen Milchtee Chai. Ansonsten ist das Essen immer noch lecker und gut. Mit
Uber
geht es zurück in unsere Betten.

For dinner we went to Coriander Lounge. Somehow they became too large. We sat this time downstairs. And it was too much through traffic. And they were not so friendly anymore since they were more stressed. Some Indian items were missed on the menu like an Indian Milk Tea Chai. Apart from that, it was very yummy and good. By Uber, we went back to our beds.
Die anderen Reisen in diesem Blog/
The other voyages in this blog: