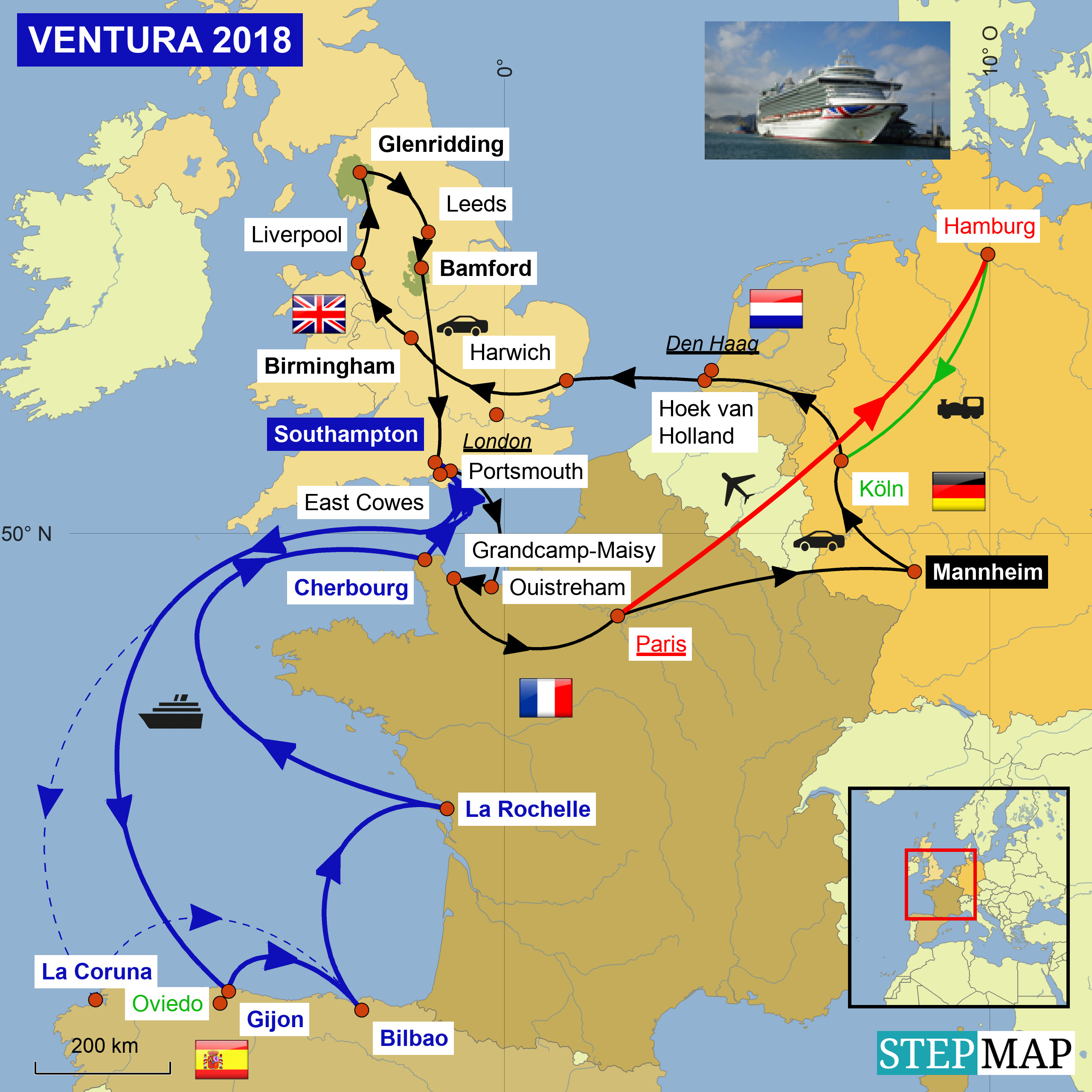 Ankunft in Harwich. Leider kein Kreuzfahrtschiff im Hafen.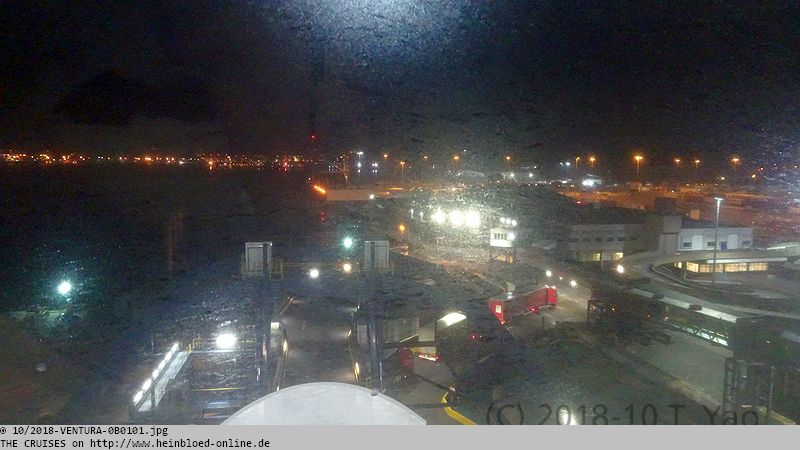 Arrival in Harwich, England. No further cruise ship in port.

One last view towards STENA BRITANNICA. I could not develop any relation to ferry ships, and so I did not look for a place to take better pictures of the boat.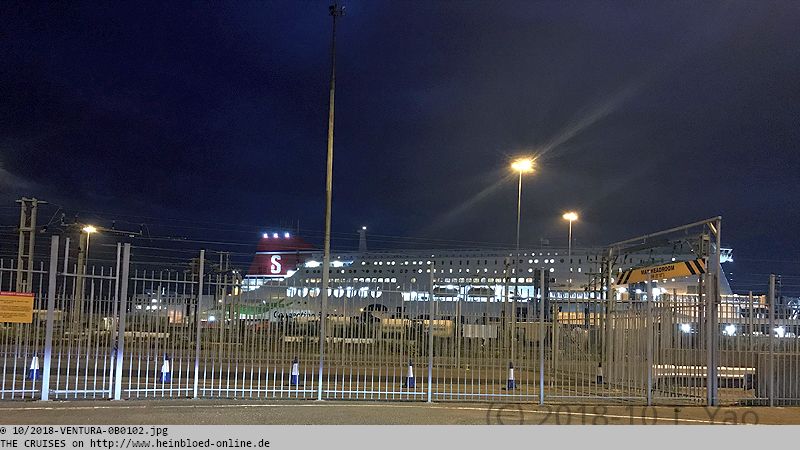 Noch ein letzter Blick zur STENA BRITANNICA. Ich entwickele keine Beziehung zu Fährschiffen, und so suche ich auch keinen Ort, um bessere Bilder vom Schiff zu machen.
Ich muss daran denken, links zu fahren.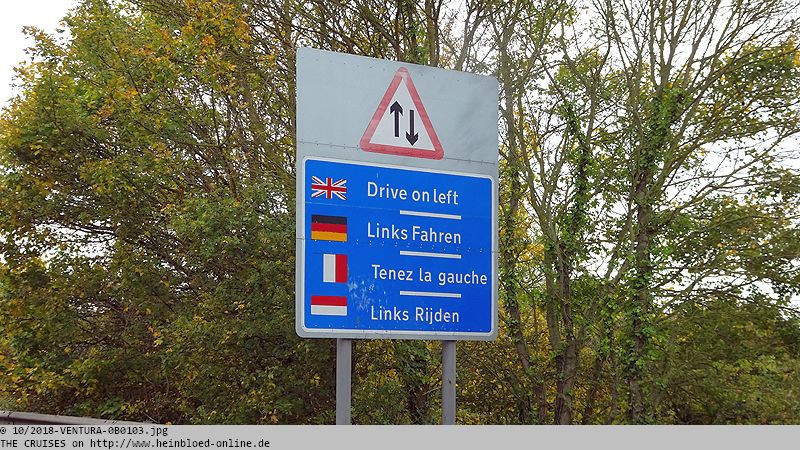 I had to remember to drive on the left side.

We needed to have something done in the roof box. That was not so easy, while we still were on the ferry and it was so busy.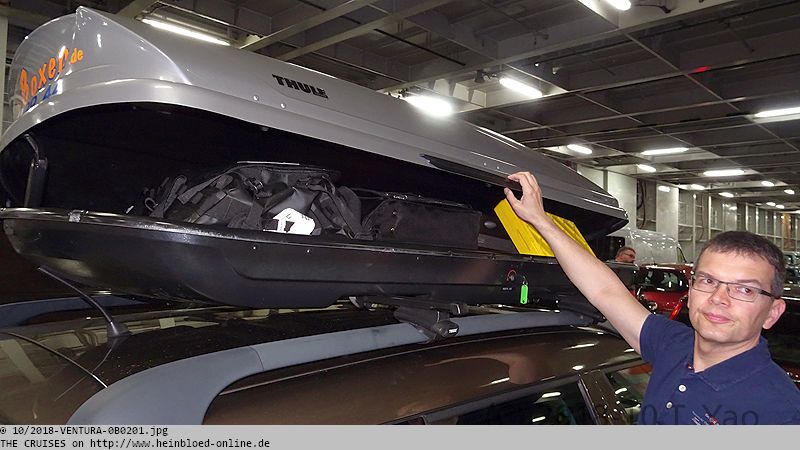 Wir müssen mal zwischendurch an die Dachbox. Gar nicht so einfach, wenn man noch auf der Fähre ist und soviel Betrieb ist.
Hinten im Kofferraum geht auch nichts mehr rein.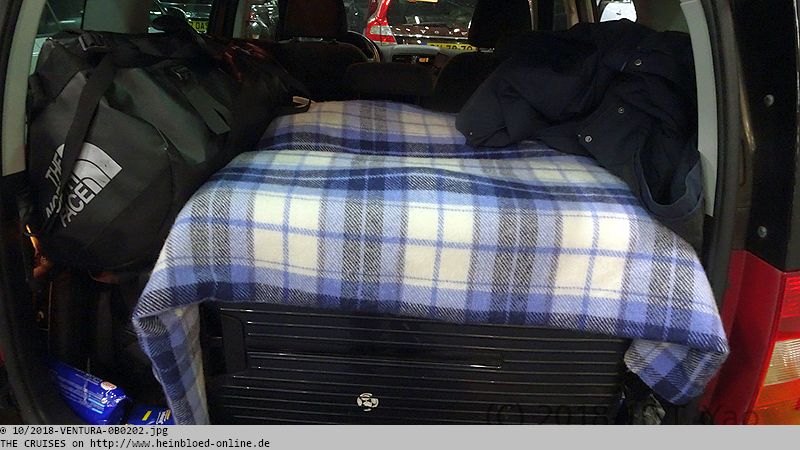 Nothing more would fit into the trunk.

We did not have breakfast onboard. At Brewers Fayre The Mayflower in the Hotel Premier Inn we could get breakfast so early in the morning. They were accommodating: Sigi and Bruno only wanted to have some boiled eggs but a hot meal. They did not charge extra. I made acquaintance with Bubble and Squeak. That did not meet my imagination of healthy food.

Wir haben nicht an Bord gefrühstückt. Im
Brewers Fayre The Mayflower
im Hotel Premier Inn bekommen wir so früh schon Frühstück. Sie waren sehr nett: Sigi und Bruno wollten kein warmes Frühstück, sondern nur ein paar gekochte Eier. Die haben sie dann aber nicht extra berechnet. Ich mache Bekanntschaft mit Bubble and Squeak - ein englisches Resteessen. Diese Fassung entspricht nicht meinen Gesundheitsvorstellungen.
Ankunft in Cambridge. Ich bin fast wahnsinnig geworden. Jeder Betreiber eines Parkautomaten hat auch eine eigene App. Z. T. bekommt man sie aber nur als britischer AppStore-Kunde. Sonntag Morgen 10:00 Uhr - es ist mir jetzt egal. Ich bleibe jetzt hier stehen.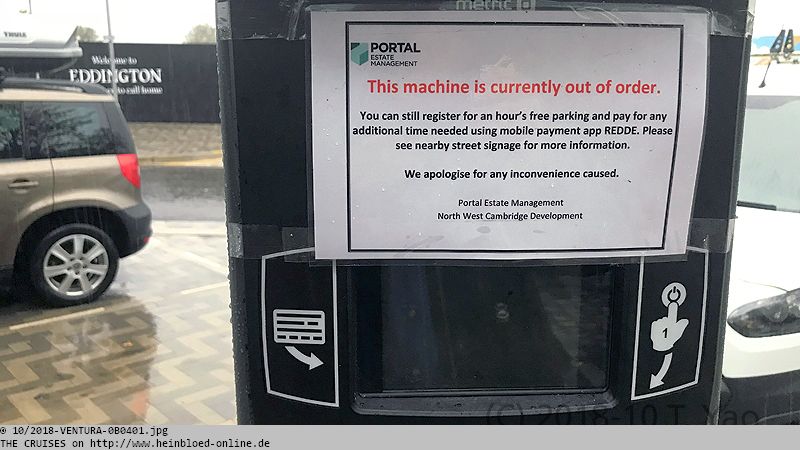 Arriving in Cambridge, England. I was becoming mad. Every parking operator used a different App. Sometimes you could only get it as a UK-AppStore-Customer. Sunday morning 10:00 hrs - I did not take care. I parked.

We need to look around with the English lemonade.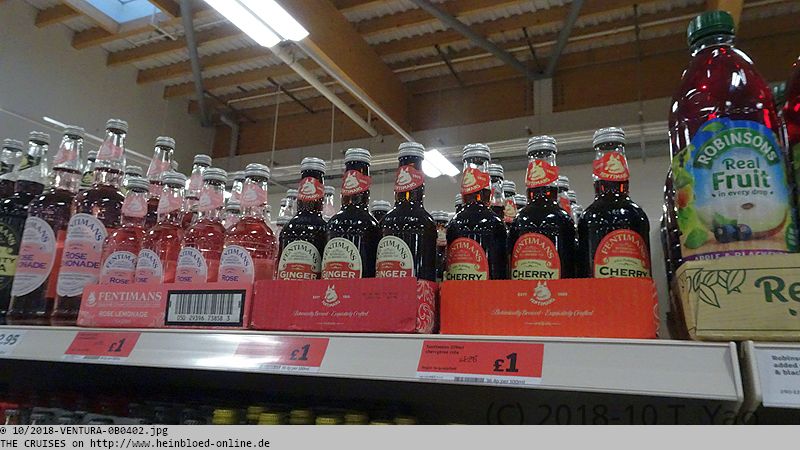 Wir müssen uns bei den englischen Limonaden umsehen.
Und es gibt dann Cherry Cola und kleine Mixer Dosen mit Schweppes.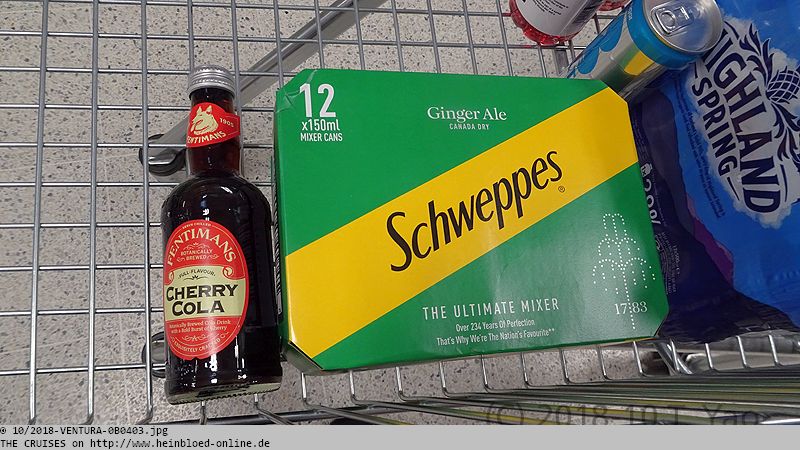 And they had Cherry Cola and small mixer cans with Schweppes.

Meanwhile, another car was parked next to ours. The dog was so shaggy and cute.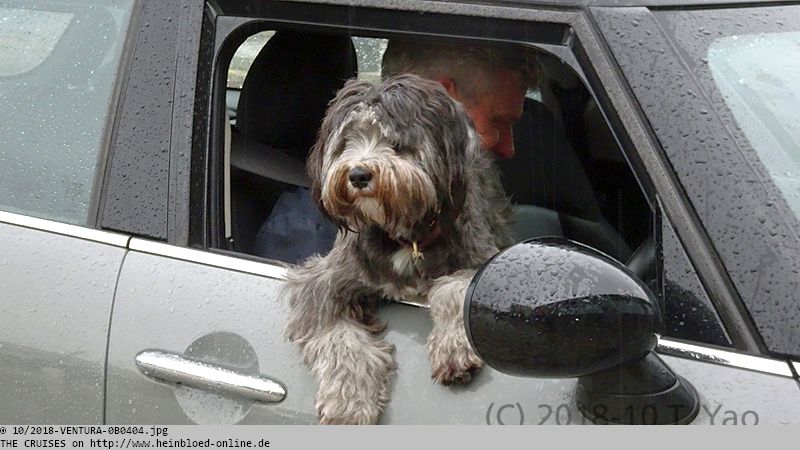 Zwischenzeitlich parkt ein anderes Auto neben meinem. Der Hund ist aber auch zu knuffig.
Da praktisch "nebenan" der
Park and Ride-Parkplatz Madingley Road
ist, und wir hier nur die Fahrkarten zahlen müssen, bleiben wir hier stehen: 8,50 GBP für eine Gruppen-Tageskarte (2018). Obwohl eigentlich nur 2,10 m Höhe beschildert, komme ich zu meinem Erstaunen trotzdem durch. In der Stadt habe ich eher die Befürchtung, dass ich u. U. in ein Parkhaus muss und dann gar nichts mehr geht. Es geht aber sehr gut mit dem Bus rein und wieder raus.

Practically "next" to us was the Madingley Road Park and Ride Parking and you only need to pay for the bus tickets. So we stayed: For 8.50 GBP you bought a group, day pass (2018). Although they displayed to hight restriction of 2.10 m, I was surprised to pass without problems. In the city center, I was afraid that I had to go into a garage and nothing would work. It was pretty easy to take the bus into the old town and out again.

Since it was a little wet, we went for another cup of coffee into Café Rouge. Added by a croissant. We liked it very much inside. And very lovely dispensers in the restrooms.

Da es gerade etwas nass ist, gehen wir nochmals eine Tasse Kaffee im
Café Rouge
trinken. Dazu ein Croissant. Innen gefällt es uns sehr gut. Und tolle Spender in den Waschräumen.
Als ich einen Tag später auf Facebook meine Bilder von Cambridge poste, meldet sich unser Blue Badge-Führerin Ulla aus London: sie war auch da. Wir kennen sie von unseren Touren in London nach der
OCEAN PRINCESS 2015
und
QUEEN MARY 2 2017
. Offensichtlich ist an unserem Café vorbeigelaufen, als wir drinnen gesessen haben. Schade, dass aus Datenschutzgründen, die Facebook-Funktion abgeschaltet wurde, dass man Freunde, die sich in der Nähe befinden, nicht mehr angezeigt werden.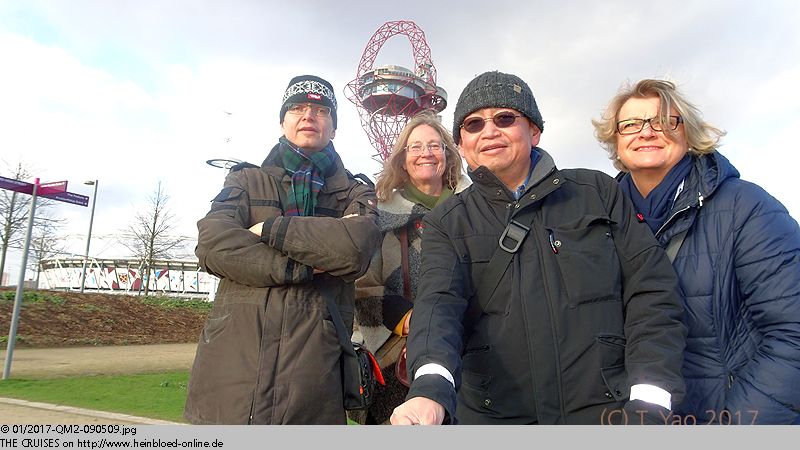 When I posted one day later my pictures of Cambridge on Facebook, our Blue Badge tour guide Ulla from London, England reported that she was also there. We knew her from our tours in London after OCEAN PRINCESS 2015 and QUEEN MARY 2 2017. She was passing the café while we were sitting in. So sad that due to data protection the previous Facebook-function was removed which showed that friends were near around.

We walked a little through the city and went in between one of the typical College-T-Shirt-Shops to buy something. It was sad that it became wet from time to time.

Wir laufen ein wenig durch die Stadt und gehen zwischendurch in einem typischen College-T-Shirt-Laden einkaufen. Schade, dass es zwischendurch immer wieder nass wird.
Das Trinity College lockt uns rein. Leider dürfen wir nur in den Innenhof. In die Gebäude selbst dürfen wir nicht. Die Herren in Mackintosh und Melonen wachen darüber, aber sie sind auch sehr nett und stellen sich gerne für ein Selfie zur Verfügung. Wenn ein Original Mackintosh nicht unbedingt 1.000 EUR etwa kosten würde, würde ich mir ja glatt einen holen.

The Trinity College attracted our attention and pulled us in. Unfortunately, we were only allowed to see the inner court. Some gentlemen in Mackintosh and Derby were guarding, but they were also very friendly and open for a selfie. If an original Mackintosh would not be around 1,200 USD, I would already buy one.

We headed on and stopped in between at a Starbucks to have a cup of coffee and some salad.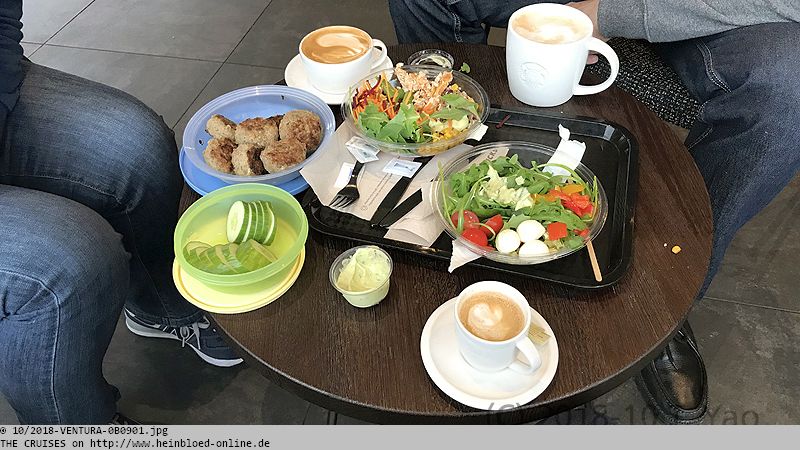 Wir fahren weiter und halten zwischendurch mal in einem Starbucks an, um hier einen Kaffee zu trinken und ein wenig Salat zu essen.
Da können wir praktischerweise Sigis hausgemachte Frikadellen dazu essen, ohne dass es weiter auffällt. Die andere Alternative wäre der Burger King gewesen. Da wäre bestimmt aufgefallen, dass diese Frikadellen nicht von denen stammen.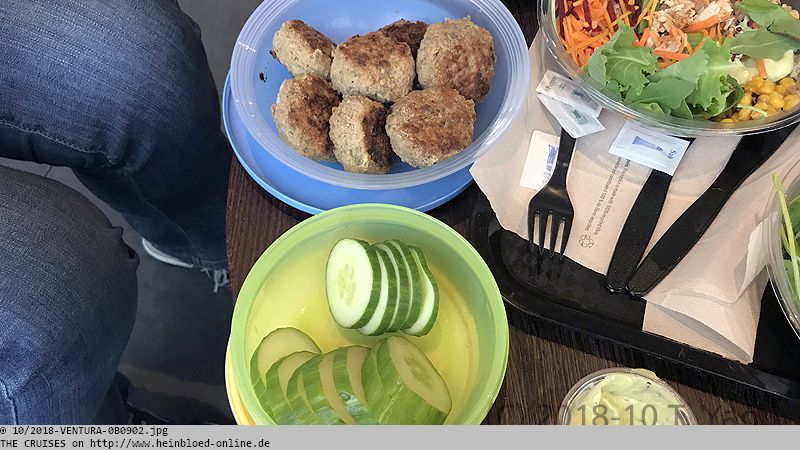 Since we had on top some of Sigi's homemade meat loaves, it was good that they did not attract so much attention. Otherwise, it would be a Burger King. But they would notice that the meat was not from them.

We had to pass near Stratford-upon-Avon, and it would be an excellent occasion to follow the trails of William Shakespeare. I really loved to visit Anne Hathaway's Cottage. Her name was spelled the same way as one of the US actresses, and she was the wife of William Shakespeare. The gloomy forecast made us coming back again and to withdraw a visit that day. Starting a vacation with a cold was not a good idea.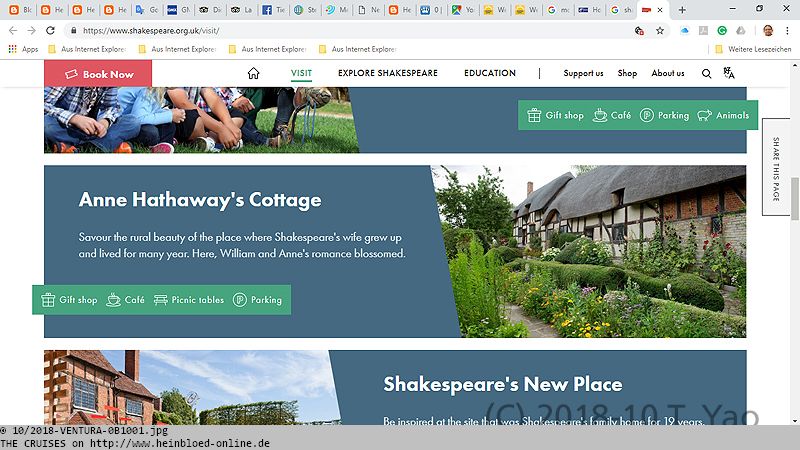 Wir fahren eigentlich beinahe in Stratford-upon-Avon vorbei und es wäre eine gute Gelegenheit gewesen sich auf die Spuren von William Shakespeare zu begeben. Ich hätte sehr gerne
Anne Hathaways Hütte
besucht. Sie schreibt sich genauso, wie die US-Schauspielerin und war die Ehefrau von William Shakespeare. Die trüben Aussichten sorgen dafür, dass wir mal wiederkommen müssen und auf den Besuch heute verzichten. Mit einem Schnupfen im Urlaub zu starten ist blöd.
Wir sind in Birmingham angekommen. Wegen der Dachbox müssen wir einen nicht-überdachten Parkplatz suchen. In der Nähe des BT Towers finden wir einen öffentlichen Parkplatz.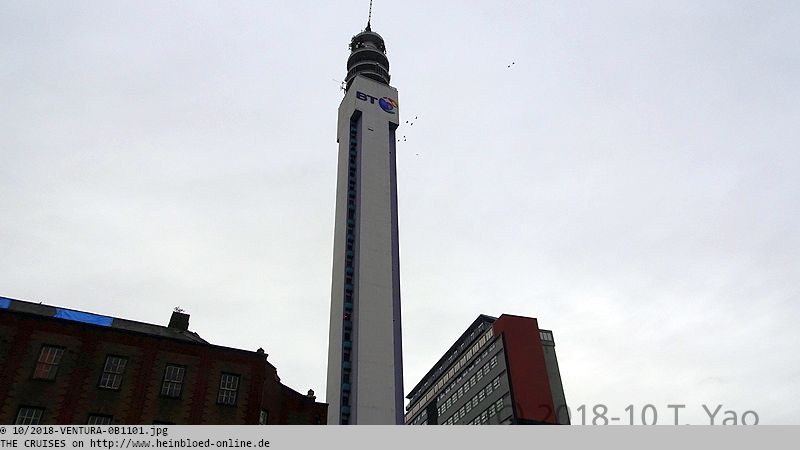 We arrived in Birmingham, England. Due to the roof box, we need to find non-covered parking. Close to the BT Tower, we found public parking.

Problem: we did not have sufficient change to pay overnight. The app did not allow registration with a German phone number. So I need about 20 minutes to explain all details to a voice computer and made the payment.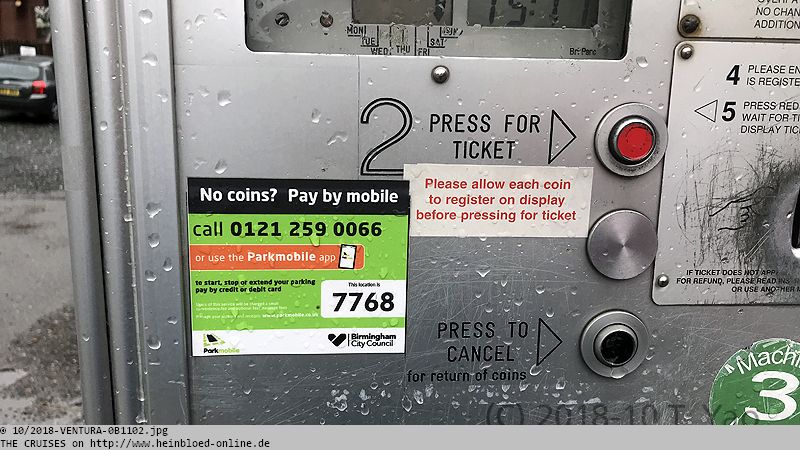 Problem: wir haben kein ausreichendes Kleingeld, um Übernacht zu bezahlen. Die App lässt eine Registrierung mit einer deutschen Telefonnummer nicht zu. Und so brauche ich fast 20 Minuten, um alle Daten mit einem Sprachcomputer durchzukauen und bis ich alles bezahlt habe.
Zum Glück sind wir nicht selbst in die Stadt weiterfahren. Unser Uber-Fahrer hat nämlich auch Probleme in die Stadt zu kommen: Es findet ein Marathon-Lauf statt.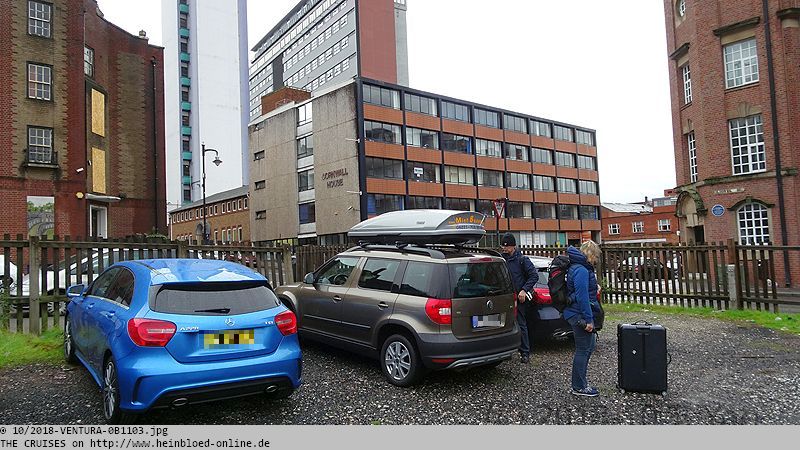 We had luck that we did not drive ourselves into the city. Our Uber-driver also had problems to get us into the city: They had that day a marathon run in the city.

We stayed at the Holiday Inn Express Birmingham City Center.

Wir wohnen im
Holiday Inn Express Birmingham City Center
.
Schöne Zimmer.

Lovely rooms.

NORWEGIAN JADE 2008: A waiter chat up because I wore a t-shirt of the competitor.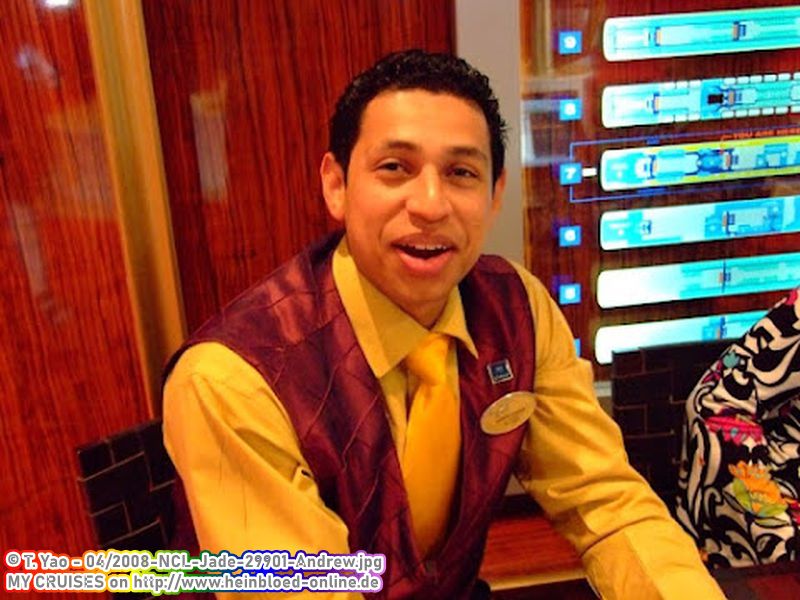 NORWEGIAN JADE 2008
: Ein Kellner macht mich an, weil ich das T-Shirt der Konkurrenz trage.
NORWEGIAN JADE 2011 (1)
: Derselbe Kellner schenkt mir sein T-Shirt, damit ich endlich ein T-Shirt von NCL trage.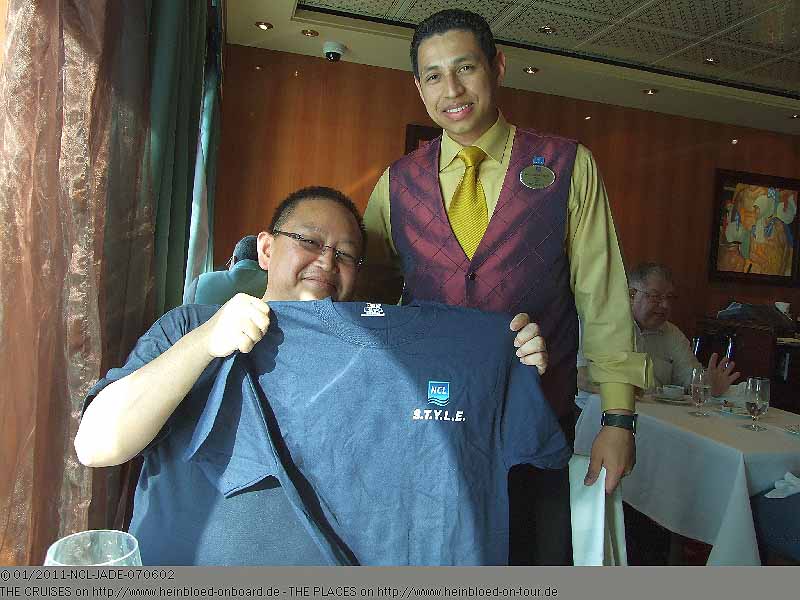 NORWEGIAN JADE 2011 (1): The same waiter gave me one of his t-shirts, that I could wear a t-shirt of NCL.

NORWEGIAN BREAKAWAY 2013: His today's wife gave us two t-shirts of the opening season of NCL.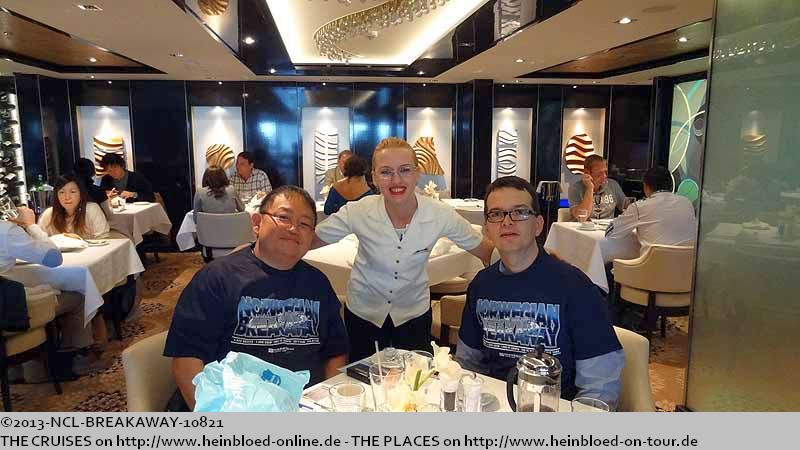 NORWEGIAN BREAKAWAY 2013
: Seine jetztige Frau schenkt uns zwei Eröffnungs-T-Shirt von NCL.
Heute sind beide nicht mehr bei NCL und leben in Birmingham. Trotzdem unvergessen. Mich werden sie als "Gast" nicht mehr los, auch wenn sie schon längst bei NCL nicht mehr arbeiten: Andrew und seine Frau Valentina. Sie kann leider nicht dabei sein.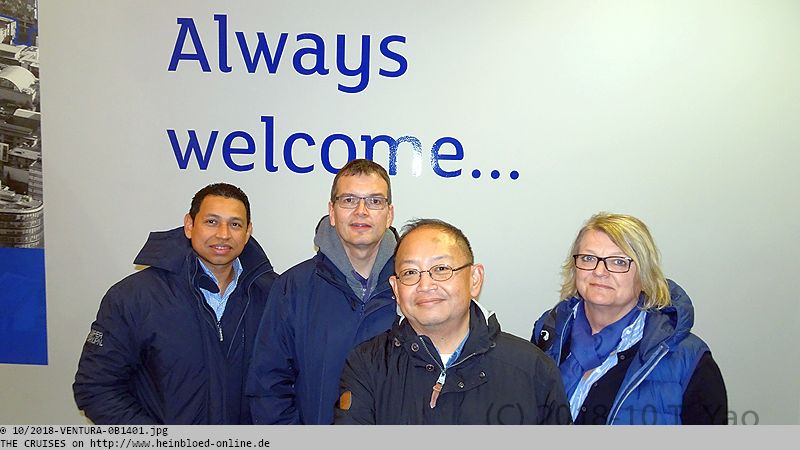 Nowadays both were not anymore with NCL and were living in Birmingham. But still unforgettable. They could not get rid of me as "guest" anymore; even they were no more working for NCL: Andrew and his wife, Valentina. She could not join us tonight.

Since he called her daughter always Princess I needed to find an appropriate bag to carry the gift for her.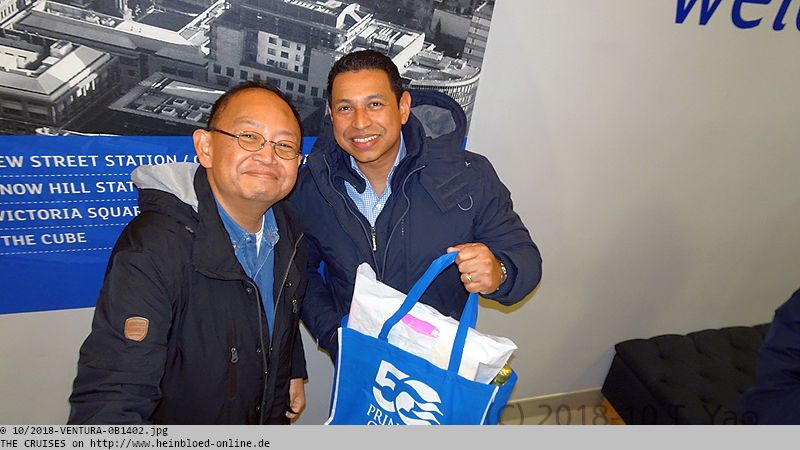 Da er seine Tochter immer Princess nennt, muss ich das Geschenk für die Tochter natürlich in eine passende Tasche tragen.
Schließlich ist ja schon eine Kreuzfahrtgesellschaft nach seiner Tochter benannt worden: Princess Cruises.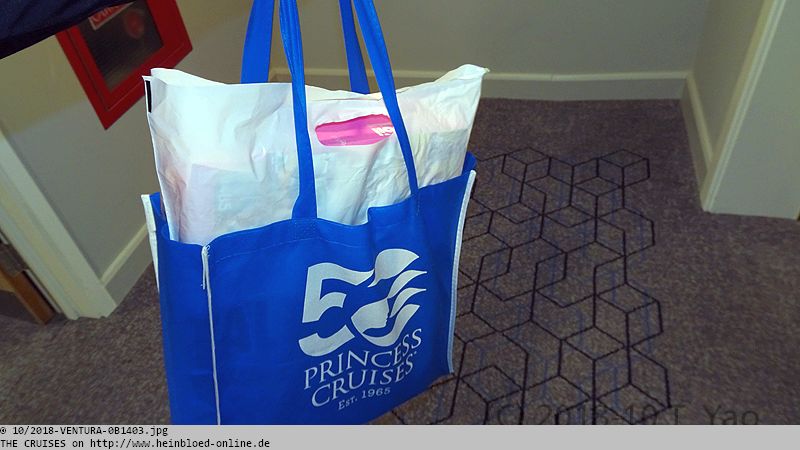 After all a cruise line was already named after her: Princess Cruises.

The location of the hotel was very convenient: close the building area of The Cube or Mailbox. In Aluna, we went to have a drink and later we went to Miller & Carter to have dinner there. We also talked on subjects like Brexit and what would be in the British hospitality industry if all Eastern European needed to leave the country then. It would be like now with this branch of Miller & Carter. We were used to experiencing from the cruise ships, and we had thankfully the crew-members from Asia, Eastern Europe and the Caribbean and how it worked high professionally and friendly. Tonight we experienced a British team which was exclusively served, and we were missing the excellent, friendly, engaged service we knew from the cruise ships. It was so sad that Valentina could not be with us. But one more reason to include Birmingham again in our travel plans.

Die Lage des Hotels ist sehr praktisch: in der Nähe der Gebäudekomplexe The Cube bzw. Mailbox. Im
Aluna
gehen wir zunächst etwas trinken und anschließend in das Steakhaus Miller & Carter, um dort noch etwas zu essen. Wir unterhalten uns auch über Themen wie Brexit und was in der britischen Gastronomie wäre, wenn alle Osteuropäer sofort das Land verlassen müssten. Es würde vermutlich so werden, wie jetzt in dieser Filiale im
Miller & Carter
. Wir sind ja schon von den Kreuzfahrtschiffen sehr daran gewöhnt, wie dank der Crew aus Asien, Osteuropa und der Karibik, es immer so professionell und freundlich es abläuft. Heute Abend merken wir an dem britischen Personal, das ausschließlich bedient, wie wir uns einfach an tollen, freundlichen, engagierten Service gewöhnt haben. So schade, dass Valentina nicht mit dabei sein konnte. Aber ein Grund mehr Birmingham wieder in unsere Reisepläne einzubauen.
Die anderen Reisen in diesem Blog/
The other voyages in this blog: