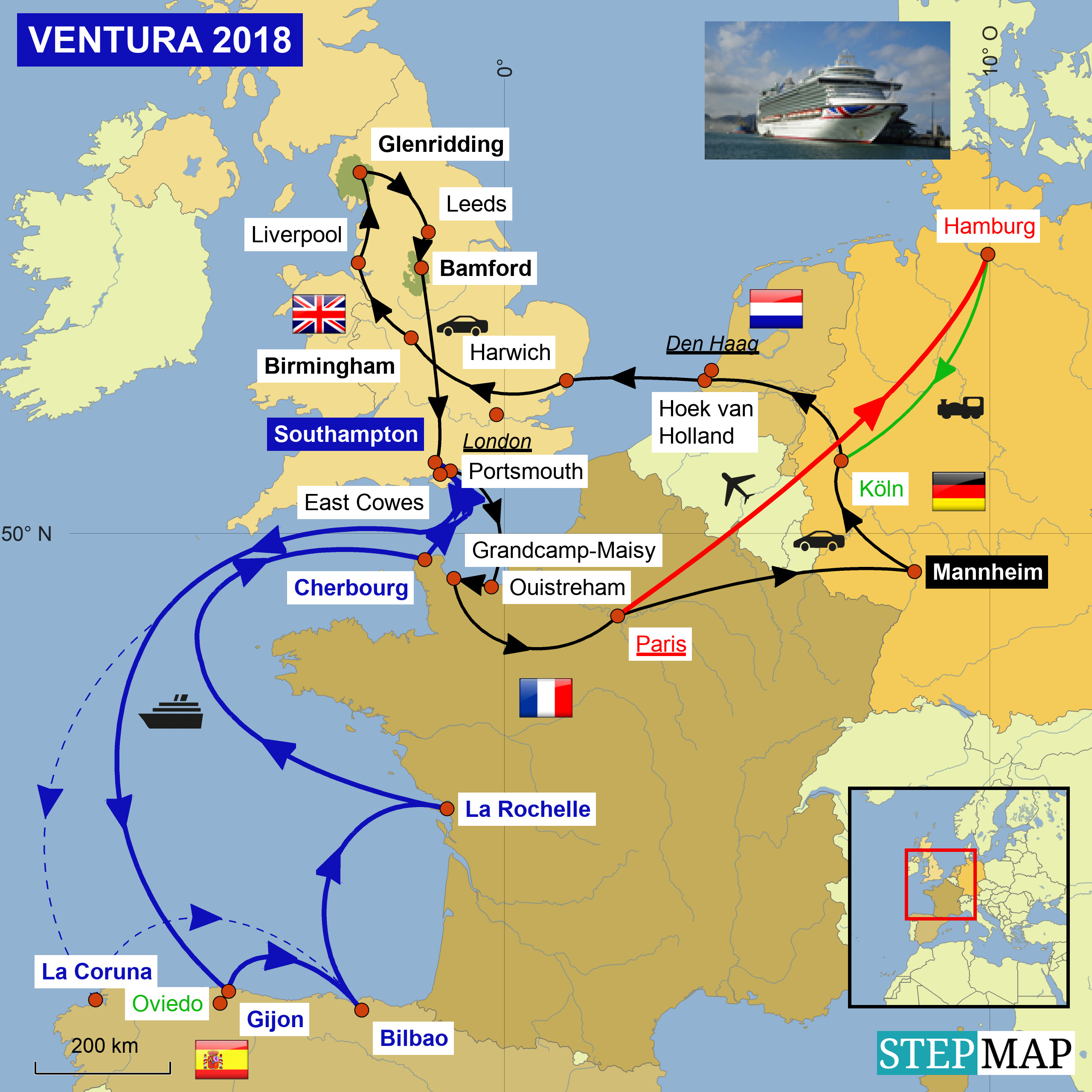 Ein Großteil der Reise sind wir ja zu dritt im Auto. D. h. wir brauchen mehr Stauraum. Statt Mietwagen, nehmen wir wieder nur eine Dachbox. Das ist billiger als ein größeres Auto zu mieten.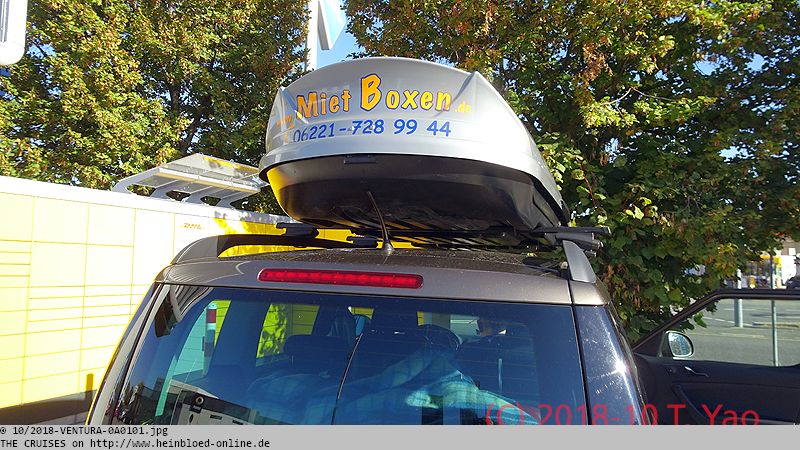 A larger part of the voyage we would be a party of three in the car. I.e., we would need more storage. Instead of a car rental, we retook a roof box. It was cheaper than to rent a larger car.

First, we went to the regional association of wineries of our wine region Hessische Bergstraße (Hesse part of the "Mountain Road" - an expression already used by the ancient Romans). Since we had the car with us, we could buy some presents here. No problems we should have with weight restrictions of the baggage or with liquids. With a size of 450 hectares, it was the smallest wine region in Germany, but an excellent one. Outside Southern Hesse you would not find too much you could buy from here.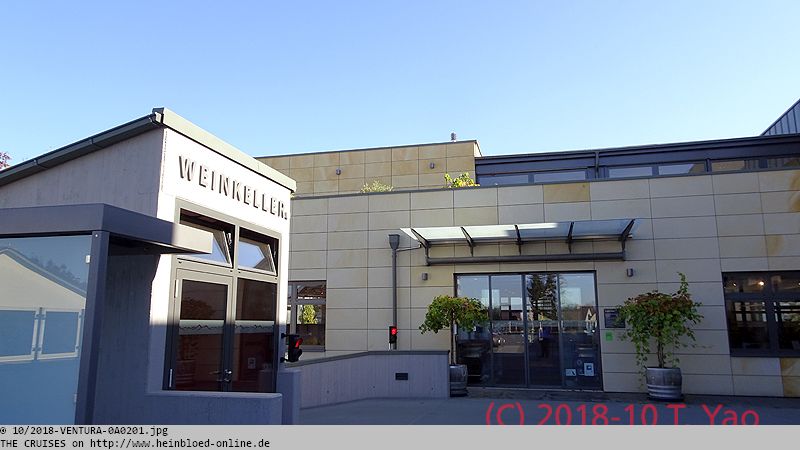 Zunächst geht es zur Winzergenossenschaft Hessische Bergstraße. Da wir das Auto mithaben, können wir noch Geschenke hier besorgen. Keine Probleme mit der Gewichtsbeschränkung beim Gepäck oder mit Flüssigkeiten. Mit 450 ha ist die Hessische Bergstraße das kleinste Weinanbaugebiet in Germany, aber ein sehr feines. Außerhalb Südhessens findet man nämlich kaum den Wein von hier im Angebot.
Wir fahren nach Köln Hbf, um uns mit Sigi zu treffen. Eigentlich war geplant sie in Bonn zu treffen, weil man dann nicht so durch die Stadt muss. Aufgrund des Feuers auf der ICE-Strecke zwischen Köln und Frankfurt am Vortag, ist jedoch Chaos. Jede Minute weiter in Richtung Süden bedeutet weitere Verspätungen für den Zug, da Bonn auf der Umleitungsstrecke liegt.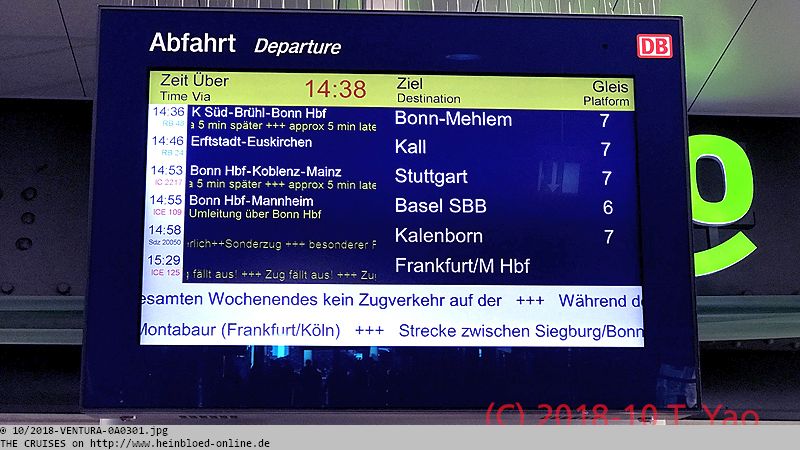 We went to Cologne Central Station to meet Sigi there. Initially, we planned to pick her up in Bonn, since it would be easier to cross the city. Due to a fire on the high-speed rail line between Cologne and Frankfurt the day before, there was just chaos. Any further yard Southbound would mean additional minutes of delay since Bonn was en route of the deviation.

Her train arrived.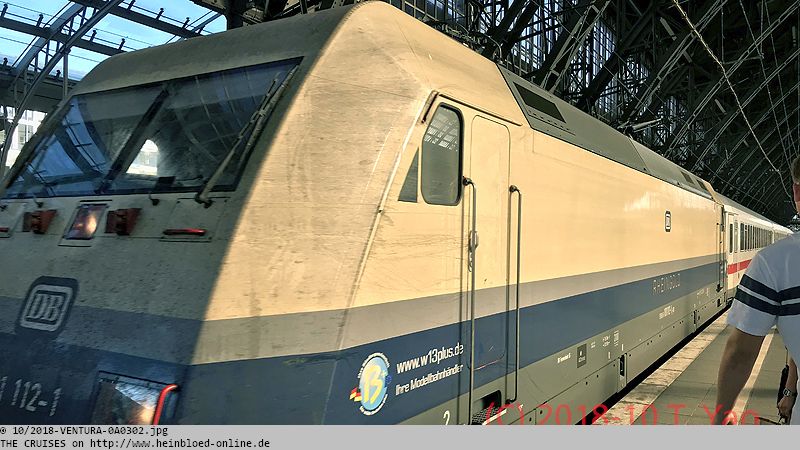 Da kommt ihr Zug.
Und schnell verschwinden wir gemeinsam aus dem Chaos im Bahnhof. Fast alle Züge haben so 90 Minuten Verspätung und dementsprechend ist es voll auf den Bahnsteigen.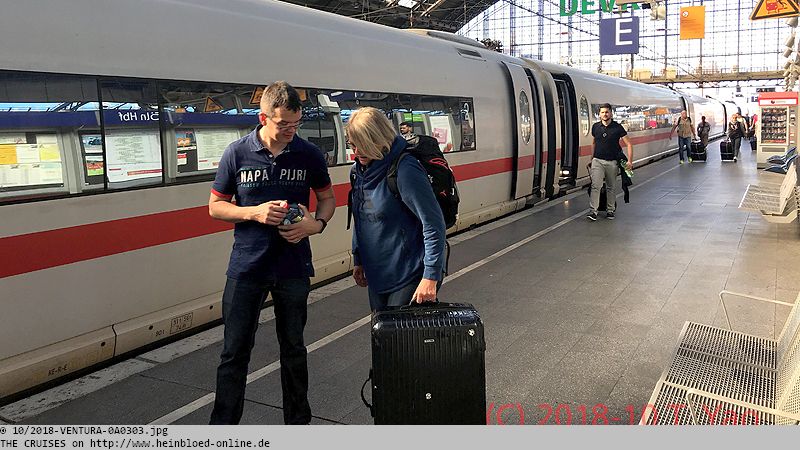 And quickly we disappeared from the platform off the chaos in the station. All trains mostly had 90 minutes delay, and so it was jam-packed on the platforms.

We had no problems on the road.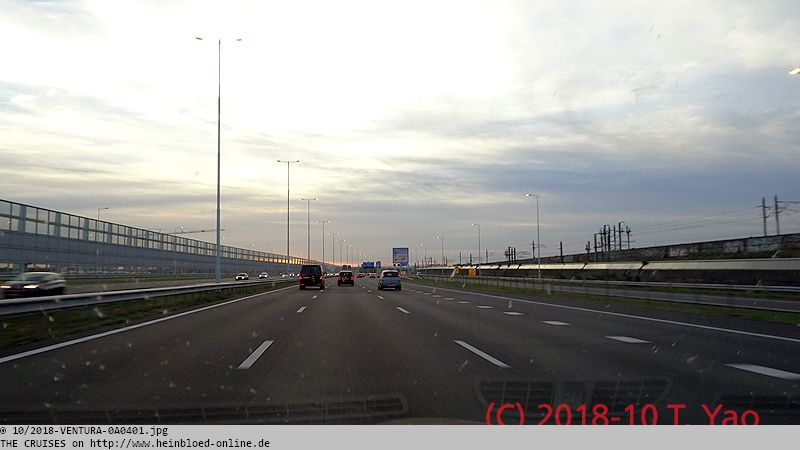 Wir kommen sehr gut durch.
Leider kommen wir nur wenige Minuten zu spät in Hoek van Holland an, um den Sonnenuntergang am Meer zu erleben.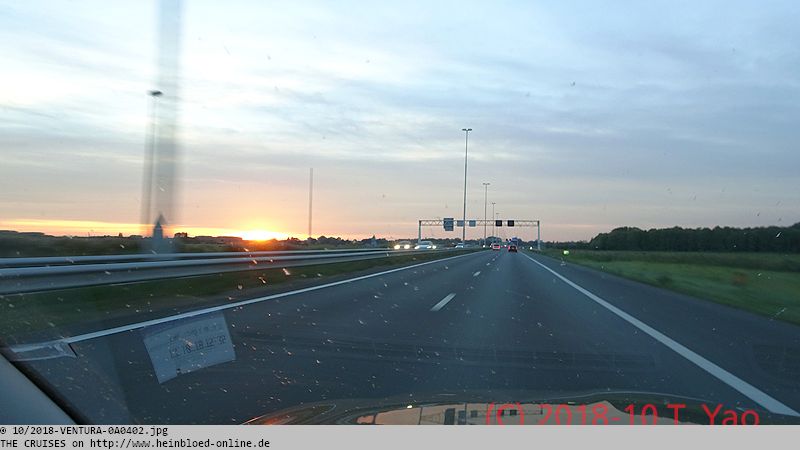 Unfortunately, we arrived a few minutes too late in Hook of Holland, The Netherland, to see the sunset at the seaside.

Too sad.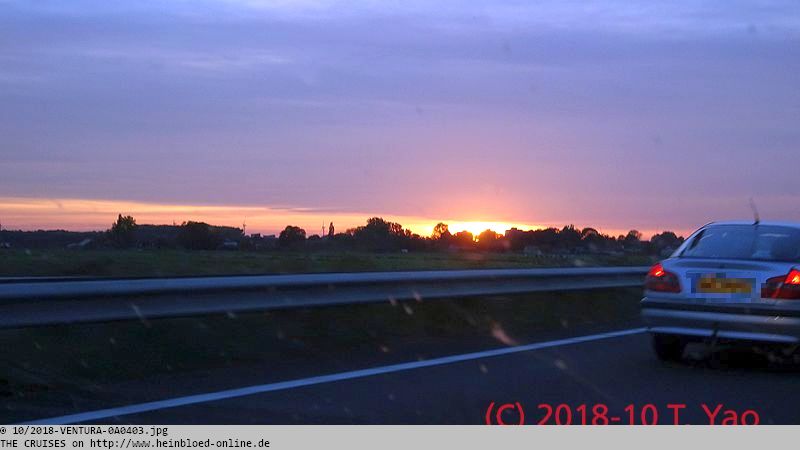 Schade.
Sigi und ich kennen uns seit mehr als 30 Jahren. Bei der Arbeit für eine Reederei (leider ohne Kreuzfahrtabteilung) haben wir oft mit den europäischen Kollegen zu tun. So bietet sich es an, dass wir in Hoek van Holland Thomas (gemeinsam mit Marco) zum Essen treffen und über alte Zeiten sprechen. Man sollte sich wundern, wenn alle anderen Restaurants Samstag abends nicht mehr reservierbar sind, aber dieses hier. Sigi habe ich zuvor nichts erzählt. Ich kam mir vor, wie damals in der Show "Das ist ihr Leben!" und man so Überraschungsgäste zusammenführt. Schade, dass wir nicht mehr Zeit hatten.

Sigi and I knew each other for more than 30 years. Since we worked for a shipping company (unfortunately without a cruise division), we had frequent contacts with our European colleagues. So it would fit perfectly, to meet Thomas (together with Marco) in Hook of Holland for a dinner and talk of the good old times. You should wonder if all the other restaurants in town did not accept any bookings for Saturday night but this one. I did not tell Sigi anything before. I felt like the show master in "That was your life!" when you put you together with the person of the night with a surprise guest. So sad, that we did not have more time.

Too bad, that there was an extended check-in-time for the Stena-ferry towards Harwich, England. We were the last, who arrived on board of STENA BRITANNICA. A few minutes after we came they closed the ramps.

Leider gilt eine längere Check-In-Zeit für die
Stena-Fähre
nach Harwich. Wir sind die letzten, die an Bord der STENA BRITANNICA eintreffen. Wenige Minuten nach unserer Ankunft, wird auch die Ladeklappe geschlossen.
Wir haben eine Bugkabine gebucht. Irgendwie freue ich mich schon auf unsere Kabine auf der VENTURA.

We booked cabins at the bow. But somehow I was looking forward to our cabin on VENTURA.
Die anderen Reisen in diesem Blog/
The other voyages in this blog: