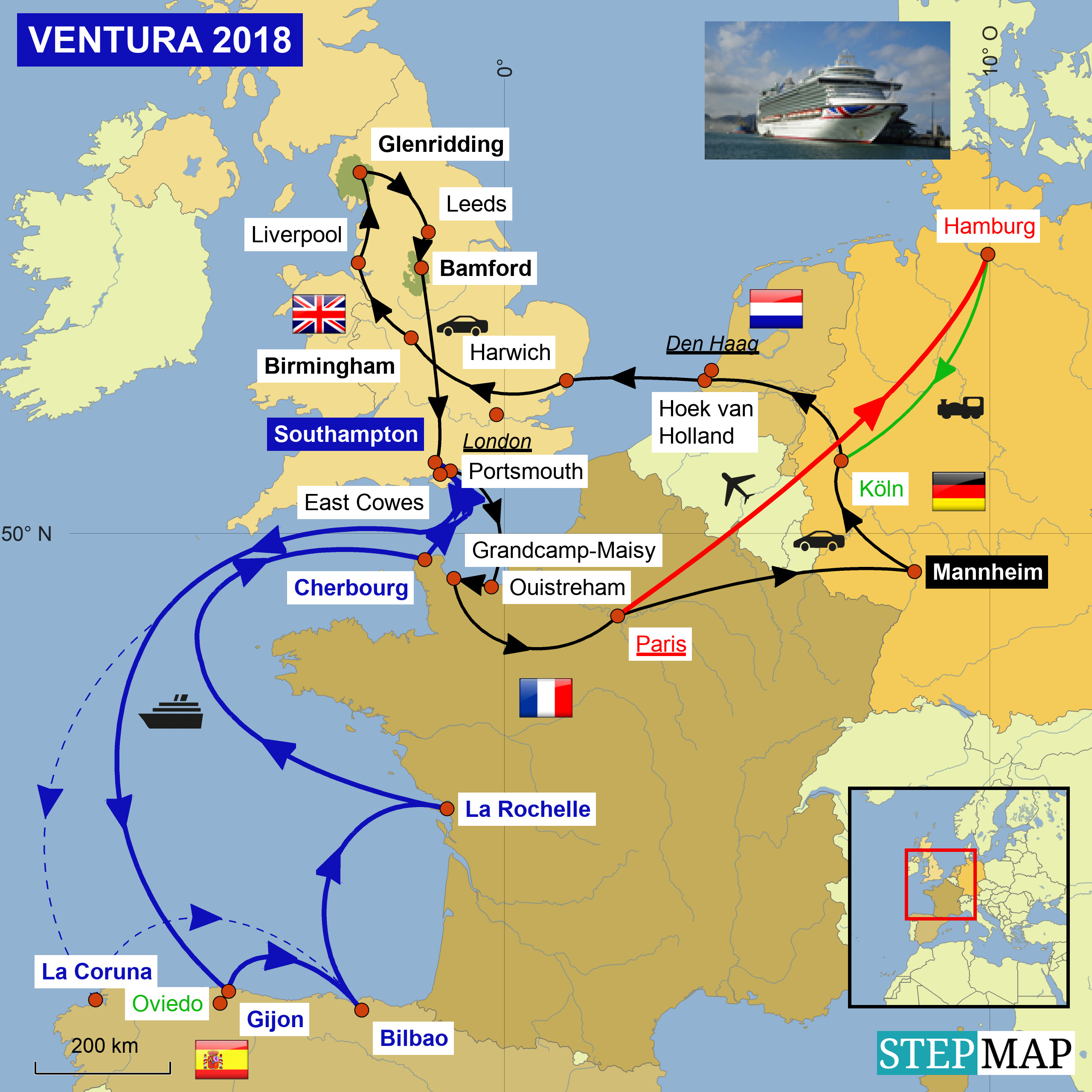 Mein nächtlicher Streifzug beginnt. Erstaunlich tolles Angebot für eine Foto-Flatrate. Und ein tolles Angebot von Apple-Produkten. Schade, dass es sich um eine innergemeinschaftliche Kreuzfahrt handelt, und so die Mehrwertsteuer noch drauf kommt. Aber bald kommt ja der Brexit... Mal das Bild von gestern von der VENTURA im Detail.

My nighty ramble started. They had surprising good offers for a photo-package-flat rate. They had a nice selection of Apple products. It was so sad that it was an intra-EU-cruise, so you had to add the VAT on top. But soon we should have the Brexit... Let me see yesterday's picture of VENTURA in detail.

The alternative dining venues. East. Glasshouse. And here very good: they had signs that certain areas were reserved for consuming guests.

Die Zuzahlrestaurants. East. Glasshouse. Und hier sehr gut: Es gibt extra Schilder, dass bestimmte Bereiche nur für verzehrende Gäste.
Damals auf der
VENTURA 2008
gab es das Zuzahlrestaurant Ramblas. Nun ist es das Glasshouse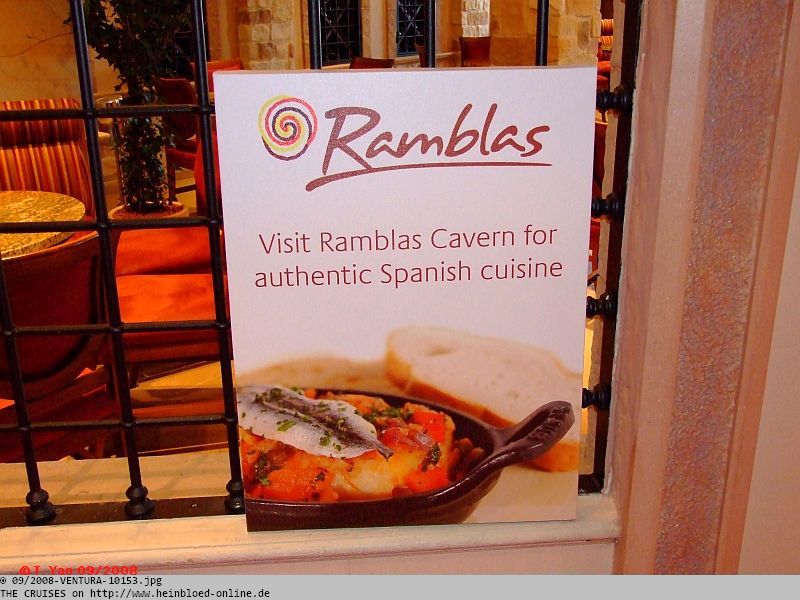 Then on VENTURA 2008 it was the alternative dining venue Ramblas. Now it was the Glasshouse.

What I liked very much: additionally to the arena theater, they had two more lounges with two show stages The Tamarind Lounge or Havana.

Was mir sehr gut gefällt: zusätzlich neben dem arena-Theater gibt es noch zwei Loungen mit zwei Showbühnen The Tamarind Lounge bzw. Havana.
Außerdem gäbe es noch die Bars ohne Showbühnen, wie z. B. Red, in der wir gestern Abend schon saßen. The Exchange in Anlehnung der großen Eisenbahnzeit in England. Und Fortunes als Teil des Casino.

They also had some more bars without show stages, like the Red, where we had a drink last night. The Exchange was designed after the high times of railways in England. And Fortunes was part of the Casino.

The atrium, where they also offered some dance classes. In this area, you also found the shore excursion desk.

Das Atrium, in dem auch Tanzkurse gegeben werden. Im Bereich ist auch das Ausflugsbüro.
Ein erstes Frühstückchen im SB-Restaurant. Es gibt kein Congee. Aber ein Steak mit Eiern. Etwas, das ich sonst nur beim VIP-Frühstück bei NCL bekomme. Ich brauche Protein. Und auch tolle alternative Produkte für diejenigen, die nicht das "normale" essen können.

A first small breakfast in the self-service restaurant. They had no congee. But I could get a steak with eggs — something I could only get so far with the VIP-breakfast with NCL. I needed protein. And they had a great selection of alternative products, for those who cannot eat the "regular" food.

Initially, I wanted to go swimming, but the pool was not open so early in the morning. So I did Walk-a-Mile, although it was stupid. You were not allowed to walk outside the bow. And one part of the promenade of the port side was closed, so you needed to walk partly through the ship. Later, when the bow was open, Sigi and I tried the set up from the movie "Titanic". But the cinematographer in the helicopter said that it looked stupid since the bow had the shape of a clam and so it was over-roofed.

Eigentlich wollte ich ja schwimmen, aber der Pool ist morgens so früh gar nicht geöffnet. Also mache ich Walk-a-Mile, wobei das blöd war. Man durfte nicht an die Bugspitze außen herum laufen. Und ein Teil der Promenade auf der Backbord-Seite ist auch noch gesperrt, so dass man ein Teil immer durch das Schiff laufen musste. Später als die Bugspitze offen ist, probieren Sigi und ich die Stellung aus dem Film "Titanic" aus. Der Kamaramann im Hubschrauber sagt aber, dass das blöd aussieht, weil ja die Bugspitze so eine Muschelform hat, die überdacht ist...
Um die Runden zu zählen fehlt allerdings so ein Schild, wie hier damals auf der
KONINGSDAM 2016
. Aus Erfahrung: mit vier Runden liegt man nicht verkehrt. Störend sind immer bloß die Typen die immer "entgegengesetzt" laufen. Die meisten Schiffe haben ja auch noch Schilder, dass man entgegen des Uhrzeigersinns auf der Promenade laufen soll.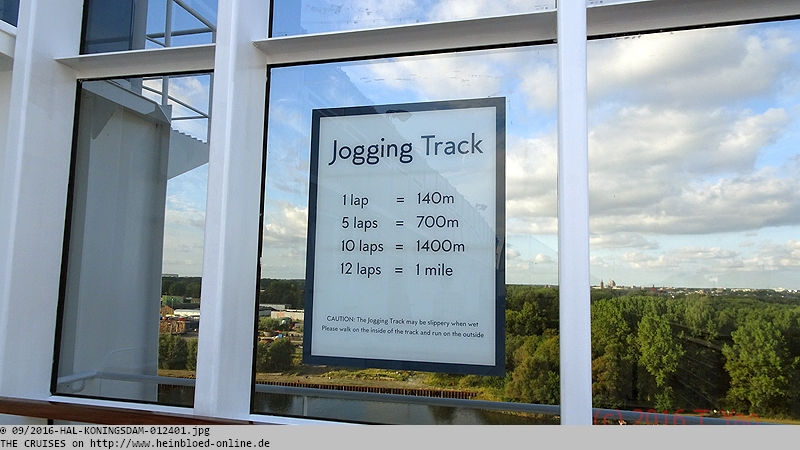 Too count the rounds, I was missing a sign like this, we had on KONINGSDAM 2016. From my experience: with four rounds, you could not make anything wrong. Somehow, it was annoying to have guys who walked "contrariwise". Most ships, I knew, had signs that you should walk anti-clockwise on the promenade.

On NORWEGIAN JADE 2018 we had a Restaurant Hostess called Jade. Now we supposed to call La Rochelle, and our cabin stewardess was Rochelle. So there was no need to learn too many names. The older I became, the more difficult it was to remember names. I was surprised at the "showerhead". A hardware chain in Germany sold everything with 20% discount. It reminded more to a bit of top of a garden hose to water the lawn. Our balcony was comfortably large. It was nice that we had an unobstructed view to the top and it was less nice since they had an unobstructed view on us from the top... so no possibility to be a nude sunbath...

Auf der
NORWEGIAN JADE 2018
war eine der Restaurant Hostessen Jade. Und nun laufen wir La Rochelle an und unsere Kabinenstewardess ist Rochelle. So müssen wir uns nicht an zuviele Namen gewöhnen. Im zunehmenden Alter wird es immer schwieriger sich Namen zu merken. Verwundert bin ich über den "Duschkopf". Haben die etwa den Praktiker Baumarkt leergekauft, als es eine 20% Aktion gab. Erinnert mit an den Aufsatz von Gardena, wenn man damit den Rasen wässert. Unser Balkon ist schön groß. Schön ist, dass wir einen freien Blick nach oben haben und weniger schön ist, dass andere einen freien Blick auf uns von oben haben... also keine Möglichkeit für FKK...
Zurück zum Duschkopf... auf der
GRAND PRINCESS 2018
gab es einen echten Duschkopf. VENTURA ist ja quasi auch eine englische "Stief-Schwester" der GRAND PRINCESS.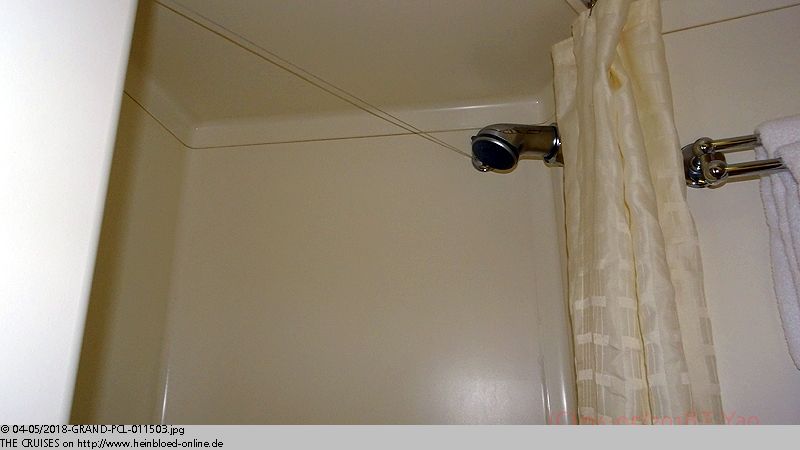 Back to the showerhead... on GRAND PRINCESS 2018 they had a real shower head. VENTURA was more or less an English "step-sister" of GRAND PRINCESS.

And on NORWEGIAN JADE 2018 we also had a hose to the showerhead although we had a bathtub. What were they thinking to save on such items? I was no lawn, which needed to be watered...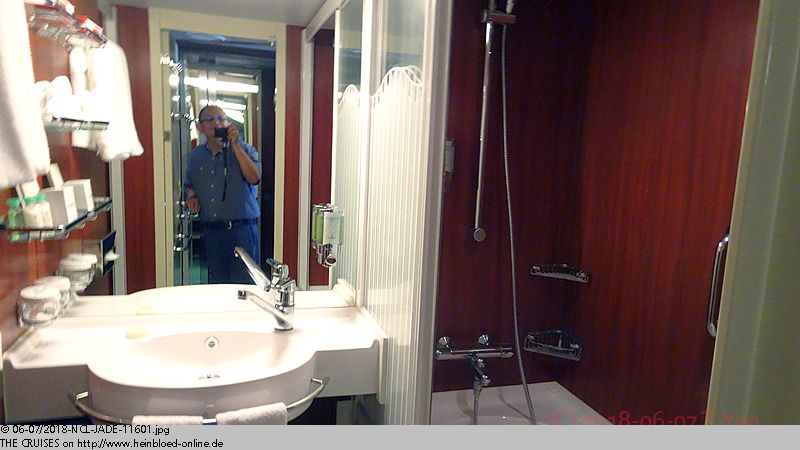 Und auch auf der
NORWEGIAN JADE 2018
gab es auch sogar einen Schlauch zum Duschkopf, selbst wenn man eine Badewanne hatte. Was denken die sich eigentlich dabei, bei solchen Sachen zu sparen. Ich bin doch kein Rasen, der gesprengt werden muss...
Auf zum Frühstück: Großbritannien, Mutterland der Orangen-Marmeladen und es gibt französische Orangen-Marmelade zum Frühstück. Und einen Toast-Ständer statt es in einem Körbchen mit Leinentuch abgedeckt zu servieren. Als wir nach Frischkäse fragen, merken wir bald den kulturellen Unterschied zwischen einem britischen und amerikanischen Schiff. Hier ist es ein Sonderwunsch. Beim Oberkellner Dallon bedanken wir uns und sagen ihm auch, dass wir von Joe und Tyson sehr begeistert sind.

Great Britain: motherland of marmalade and they had French marmalade for breakfast. And a toast rack instead of a basket and a linen cloth to serve. When we asked for some cream cheese, we could notice the cultural difference between a British and American ship. Here it was a special request. We need to thank Headwaiter Dallon and told him also how excited we were of Joe and Tyson.

I missed the helpful and practical teabag; we had on VENTURA 2008.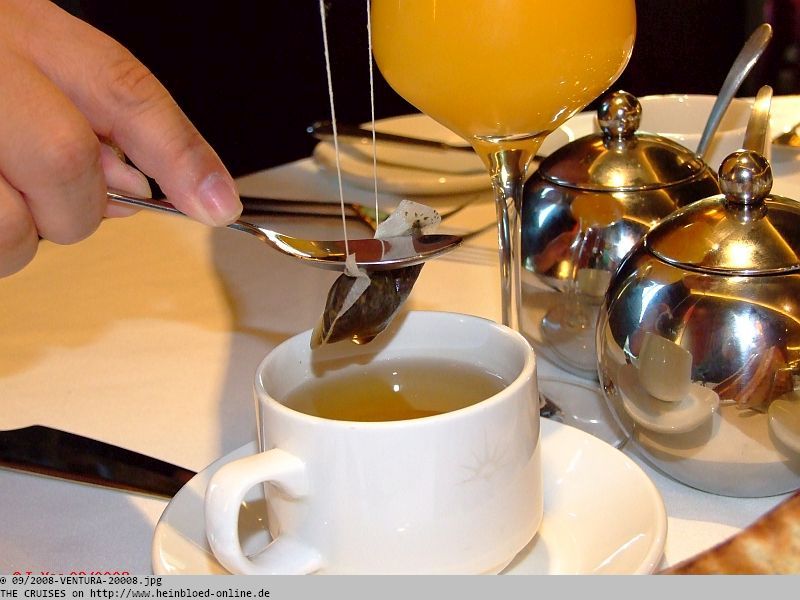 Ich vermisse jedoch den schönen praktischen Teebeutel, den es damals auf der
VENTURA 2008
gab.
Dafür liebe ich ja Holland America, wie damals auf der
EURODAM 2014
: ich bekomme eine Pittahaya, die es hier an Bord nicht gibt.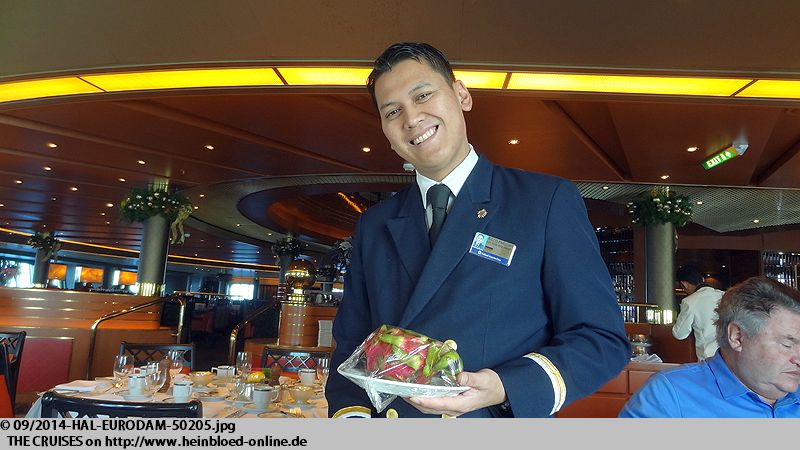 That was, why I loved Holland America for, like on EURODAM 2014: I got a dragon fruit, which they did not have onboard.

But even less exotic fruits were not sufficient onboard. No problem on GRAND PRINCESS 2018.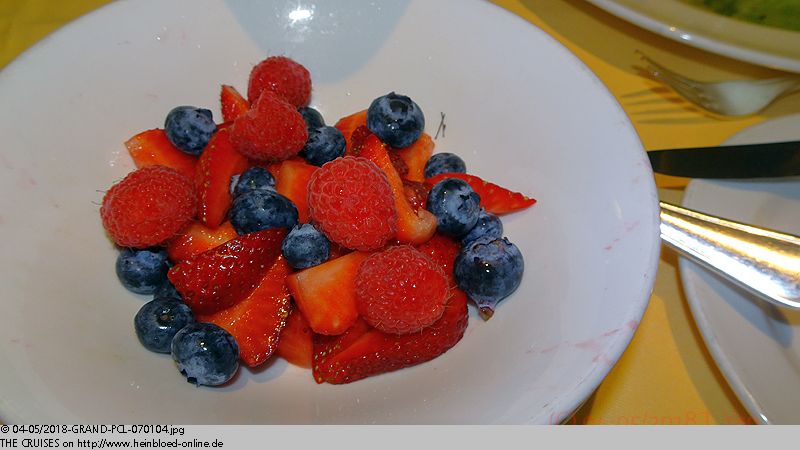 Aber selbst weniger exotische Früchte sind nicht ausreichend an Bord. Kein Problem wie hier auf der
GRAND PRINCESS 2018
.
Oder auch Heidelbeeren.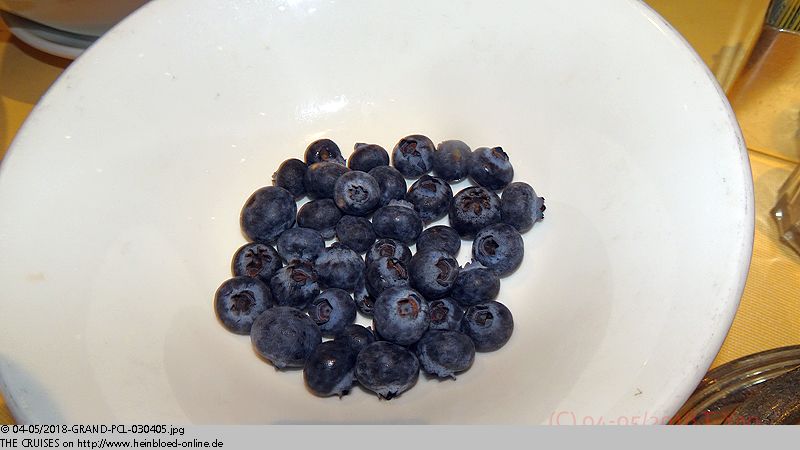 Or even blueberries.

On Princess' menu, you could find papaya.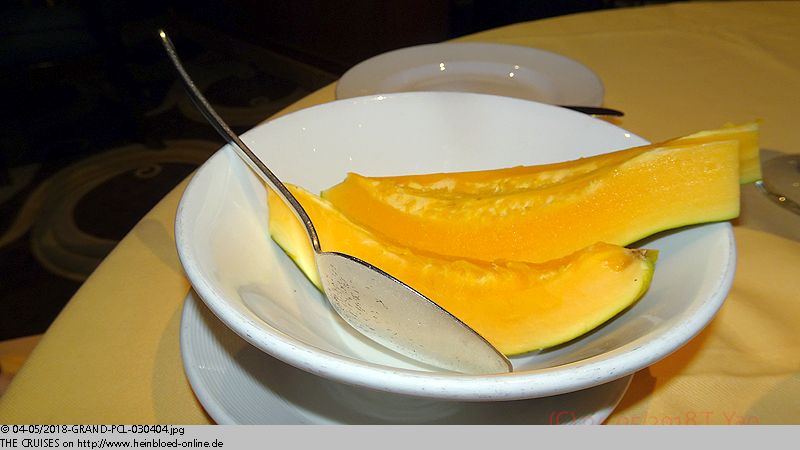 Aber auch Papaya steht auf der Karte von Princess.
Wieder bei Costa. Obwohl das Café Tazzine heißt. Wieder reservierte Plätze für konsumierende Gäste. Shalimar bietet uns Kaffeekarten an, die wir wohl auch auf anderen Schiffen nutzen können. Es steht ja ausdrücklich "P&O Ships" auf der Karte. Weniger schön: die Plakate, die man nur mit Tesa-Film billig angebracht hat. Irgendwie passt das doch nicht zu einem professionellen Kreuzfahrtschiff.

Again with Costa. Although the café was called Tazzine. Again they had reserved seats for consuming guests. Shalimar offered us coffee cards which we could use on other ships. It was mentioned "P&O Ships" on the card. What was less nice: the posters were fixed with some adhesive tapes. But that did not fit to a professional cruise ship.

We were heading for lunch. I was not very hungry. Again we got only soft rolls. After I found out, what "suet" was, my demand for British puddings was completed. So, I ordered a "Chinese Five Spices Chocolate Cake" because I was curious to learn what a Chinese chocolate cake supposed to be. But I did not know it either. For my taste, it was slightly overspiced. I needed some whipped cream to make it milder. It looked like that they could not get me some whipped cream extra since everything was fixedly prepared in the galley. So I got a peach Melba, and I should take the whipped cream from the top. The fresh peaches were quite refreshing, and so I ate them too.

Auf zum Mittagessen. Großen Hunger habe ich nicht. Wieder nur weiche Brötchen. Nach dem ich herausgefunden habe, was "Suet" bedeutet, ist mein Bedarf an britischen Puddings gedeckt. Ich bestelle daher einen "Chinese Five Spices Chocolate Cake", weil ich neugierig bin, was das für ein chinesischer Schokoladenkuchen sein soll. Aber den kenne ich auch nicht. Mir ist er etwas zu extrem gewürzt. Ich brauche etwas Schlagsahne zum Abmildern. Es ist wohl alles in der Galley so vorbereitet: extra Schlagsahne gibt es nicht. Ich bekomme kurzerhand einen Pfirsisch Melba und soll mir die Sahne runternehmen. Die frischen Pfirsische sind auch erfrischend und ich esse sie kurzerhand auch.
Man kann an Bord auch Blumen kaufen.

You could also buy onboard some flowers.

I booked at short-notice a new 2-nighter on Pentecost 2020 while I was onboard. You could only transfer the booking to the travel agent you had the actual booking on. There I got later an additional discount. Without the discount onboard and the additional discount, the fare would be at the same level as in Germany or Switzerland. After the two nights

Ich buche kurzerhand eine neue 2-Nächte-Fahrt über Pfingsten 2020 an Bord. Man kann die Buchung nur zu dem Reisebüro übertragen, mit der man aktuell gebucht hat. Dort bekomme ich später noch einen zusätzlichen Rabatt. Ohne den Bordrabatt und den zusätzlichen Rabatt sind die Fahrten genauso teuer, wie in Deutschland oder der Schweiz. Außerdem werden wir nach den zwei Nächten endlich Mitglied im Vielfahrer Club von P&O. Eine Kreuzfahrt reicht nicht aus, um Mitglied im Peninsular Club zu werden. I.d.R. gibt es keinen Rabatt für die Flüge, die bei Fly-Cruise inkludiert sind. Da könnte wieder eine Buchung in Deutschland interessanter sein.
Macmillan Cancer Support wird durch die Tea-Time unterstützt. Wir unterstützen das, obwohl wir es nicht von der Steuer absetzen können. Aber das Angebot zur Tea-Time gefällt mir ansonsten.

Macmillan Cancer Support was supported by the Tea-Time event. We supported them although we could not cut it from our tax. But I liked very much the selection they offered for tea-time.

Finally, I could wear my long black socks; I bought to wear with the tuxedo, and my legs would not be seen naked. In the atrium, Captain Marcin Banach from Poland was holding very gallantly and charming his speech. He introduced his senior officers.

Endlich kann ich meine schwarzen langen Socken anziehen, die ich extra für den Smoking gekauft habe, damit die Beine nicht nackt hervorgucken. Im Atrium empfängt Kapitän Marcin Banach aus Polen und hält sehr galant und charmant seine Rede. Er stellt seine Senioroffiziere vor.
Schade, dass es nirgends eine Tafel gibt, auf der man nachlesen kann, wer die Senioroffiziere sind, wie auf der
GRAND PRINCESS 2018
.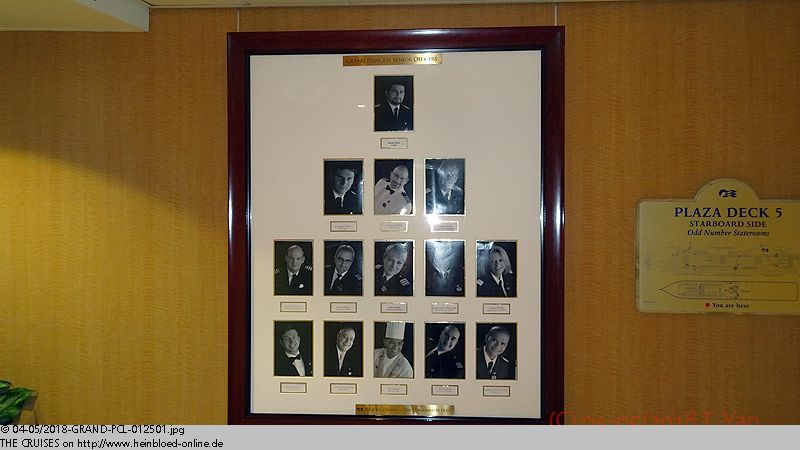 Sad, that they did not have a board, to see who were the senior officers onboard, like we had on GRAND PRINCESS 2018.

Since we were not sitting in our "usual" corner, we could observe the entrance: Male guests without jackets were denied to enter or supplied with jackets. One woman (lady would be the wrong word) kept four crew-members busy with her complaints. It was even too much for her husband, who escaped before the last course and did not return.

Da wir nicht in unserer "üblichen" Ecke sitzen, können wir den Eingang beobachten: Männliche Gäste ohne Jacket werden abgewiesen oder mit einem Jacket ausgestattet. Eine Frau (Dame wäre das falsche Wort) trägt ebenfalls zur Unterhaltung bei: sie beschäftigt vier Crew-Mitglieder mit Ihren Beschwerden. Ihr Mann flüchtet vor dem letzten Gang und kommt nicht wieder.
Wir gehen zur Show "Walk like a Man". Irgendwie kommt uns Show bekannt vor. Es gibt allerdings ein paar Änderungen, um noch einen zweiten Abend auszufüllen.

We went to the show "Walk like a Man". Somehow the show appeared familiar to us. But with some slight changes to fill out another evening with the show.

Recently, we saw the show on QUEEN MARY 2 2018.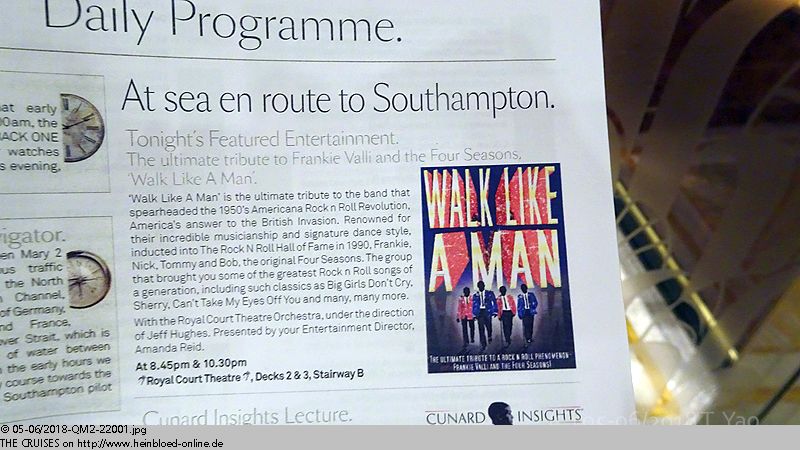 Erst vor kurzem haben wir die Show auf der
QUEEN MARY 2 2018
gesehen.
Und zwei der vier Sänger waren auch auf der Bühne der
QUEEN MARY 2 2018
zu sehen.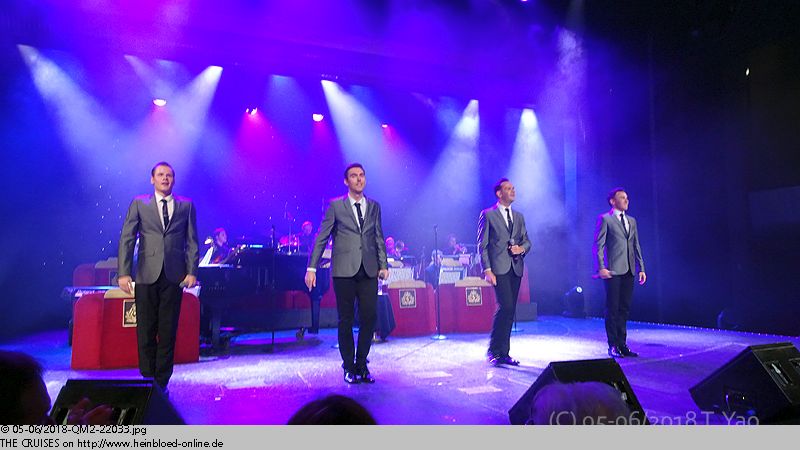 And two of the four singers were already on the stage on QUEEN MARY 2 2018.

We went for a short visit to the Metropolis. Here the band Synrg Duo was playing very good. So sad, that I could not make it another time to see their performance.

Wir gehen noch kurz ins Metropolis. Hier spielt ganz toll das Synrg Duo. Schade, dass ich es nicht mehr schaffe, nochmals zu einem Auftritt von denen zu kommen.
Schade, dass es die unterschiedlichen Karten nicht mehr gibt, wie damals auf der
VENTURA 2008
: London.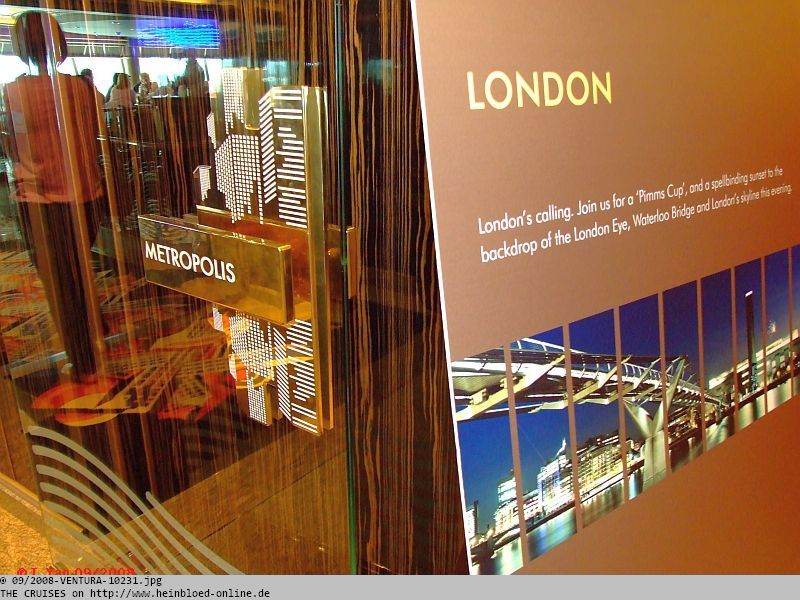 It was so sad, that they did not have the different menus anymore like on VENTURA 2008: London.

And on other days, they had New York.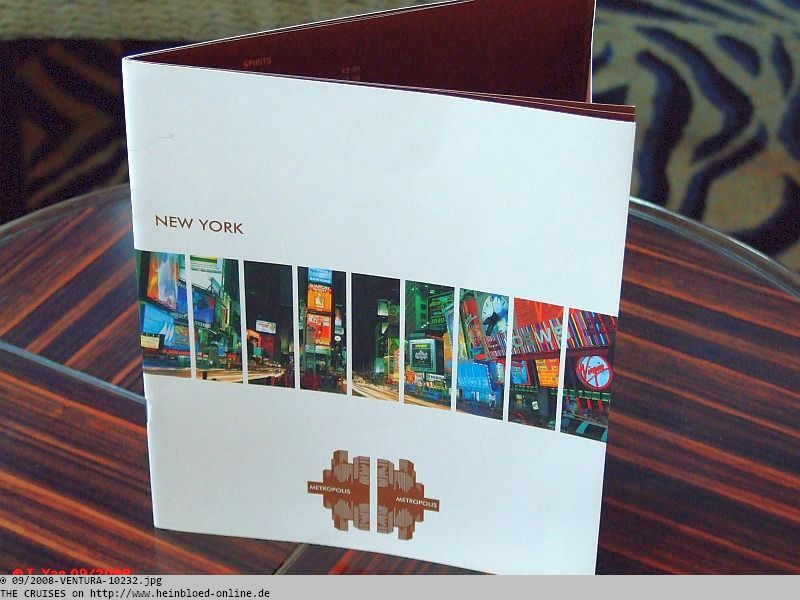 Und an anderen Tagen New York.
Und noch mehr schade: ein paar der Bildschirme sind leider defekt.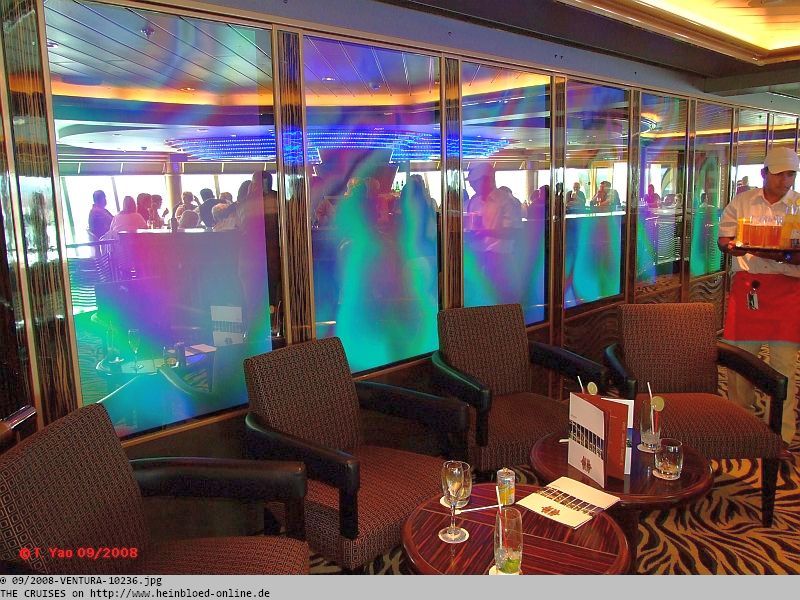 And that was extremely sad: some of the screens were unfortunately damaged.

We went quickly into the self-service restaurant. One part was operated as pop-up-restaurant The Beach House in the evening. It looked like fast food/Tex-Mex.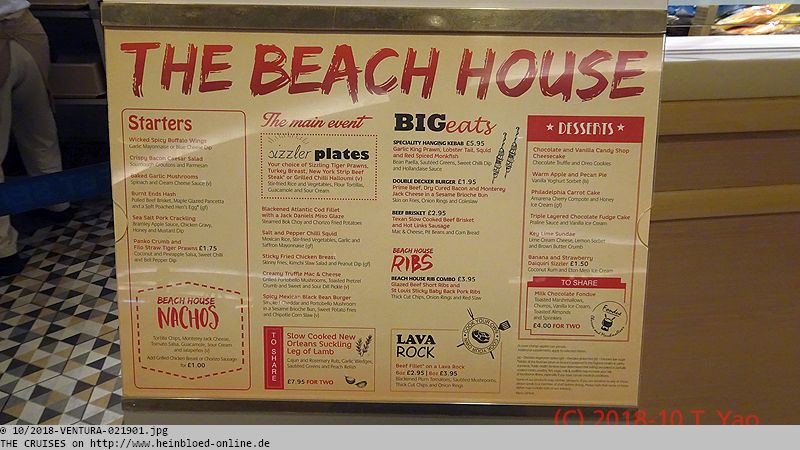 Es geht kurz in das SB-Restaurant. Ein Teil wird abends als Pop-Up-Restaurant The Beach House. Irgendwie sieht das sehr nach Fast Food/Tex-Mex aus.
Abends gibt es hier ein Mediterranes Büffet.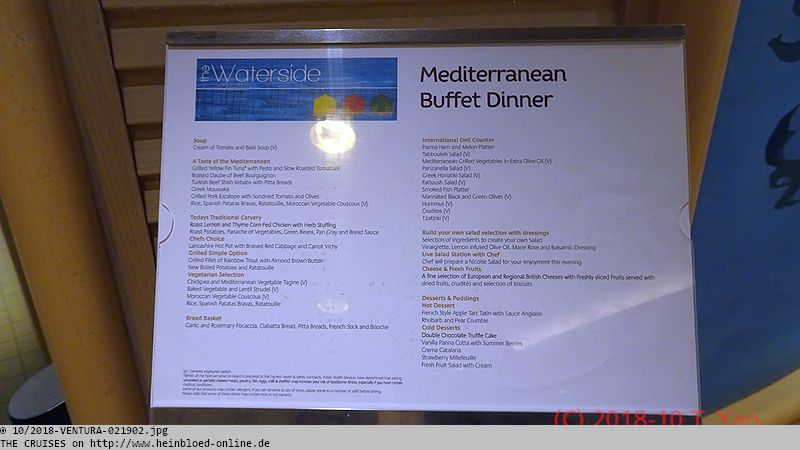 For dinner, they had a Mediterranean buffet.

I took some colt cut. Yummy.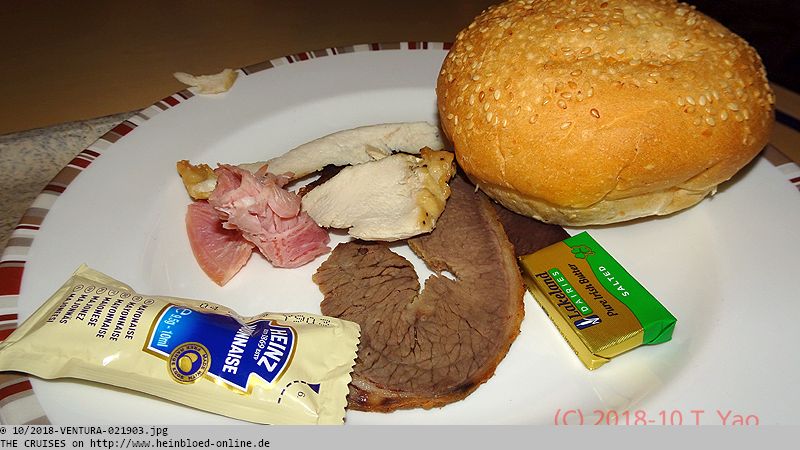 Ich nehme noch etwas kalten Aufschnitt. Lecker.
Die anderen Reisen in diesem Blog/
The other voyages in this blog: