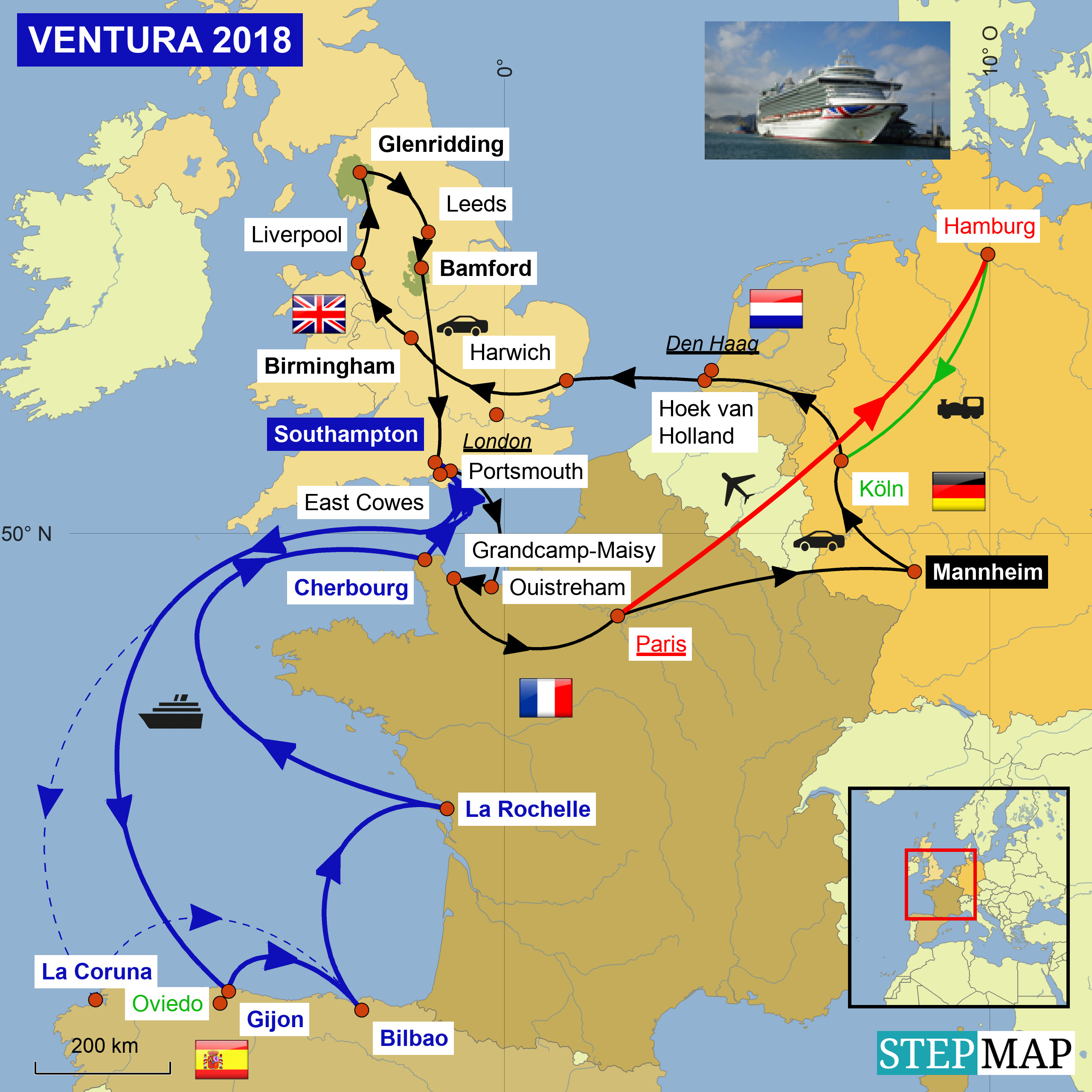 So lecker wie das Frühstück ist, so nett und hilfsbereit wie April und Mark sind, so schön wie auch der Aufenthaltsraum mit der Bar ist: es gibt doch ein paar Punkte, die etwas unangenehm aufgefallen sind: z. B. Verfügbarkeit von WLAN. Das ist einfach zu wenig ausgeleuchet für das Haus. Es fehlen Repeater! Nicht in jedem Zimmer ist WLAN verfügbar und es ist wichtig, weil es gerade für uns, neben des Münztelefons, die einzige Kommunikationsmöglichkeit nach draußen ist. Ich brauche keine Decke zum wärmen, sondern warme Luft. So bekommt es mir nicht so gut, wenn nachts die Heizungen zentral abgeschaltet werden und ich nur noch kalte Luft atme. Dann wäre da noch der verfügbare Platz im Zimmer: es fehlt ein Stuhl, Regale, in dem auch zusammengefaltete Herren-Hemden reinpassen, Schubladen für Wäsche und ein Kleiderschrank, den wir gerne für unsere Sachen genutzt hätten. Auch hätten wir gerne unsere Taschen unter das Bett verstaut. Das ist leider auch nicht möglich. Außerdem fehlen Steckdosen! Und eine Badezimmertür, bei der man sich die Hand nicht einklemmt, wenn man raus will. An einem Tag ist alles schön sauber und ordentlich und nachgefüllt. Am nächsten Tag, ist nur das nötigste gemacht. Von der Lage her, hat uns auch Tess bescheinigt, dass das Haus ein sehr guter Ausgangspunkt für einen Wanderurlaub im Lake District ist.

As yummy as the breakfast was, as lovely and friendly as April and Mark were, as cute as the lounge with the bar was: there were a few items, which attracted our attention wrongly: like availability of Wifi. It was broadcasted too bad. Repeaters were missing! Not every room had WiFi, and it was important because it was the only way to communicate outside but the payphone. I did not need additional blankets to warm up but warm air. So I could not stand it if the heating was centrally turned off and I could breathe only cold air. And the available space in the room: there was no chair, shelves, which fit for folded men's shirts, drawers for underwear and a closet, which we could use for our belongings. We really loved to stow our bags under the bed. But that was not possible either. Furthermore, power outlets were missing! And a bathroom door, your hand could not get caught, when you want to leave the bathroom. One day, everything was tidy and adequately. The next day, they made only the necessary. As Tess also confirmed: the location was one of the best for a hiking vacation in the Lake District.

That morning, they also had berries. Bruno's world was beautiful again. But not my world: no dragon fruit.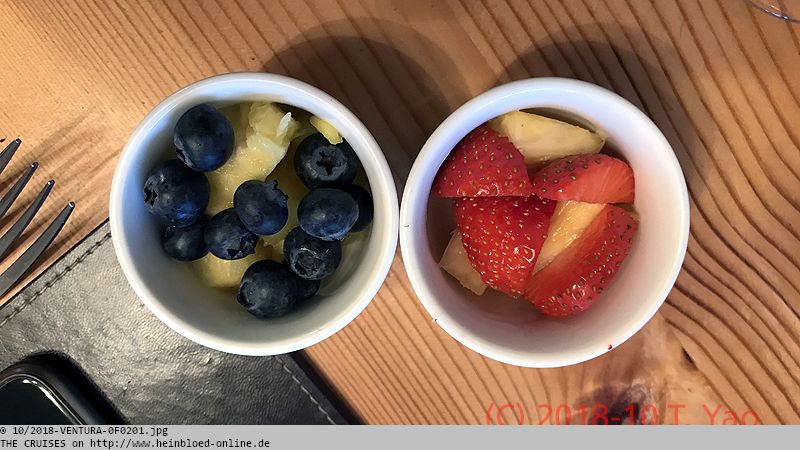 Heute Morgen gibt es sogar Beeren. Für Bruno ist die Welt wieder in Ordnung. Für mich nicht: Ich will eine Drachenfrucht!
Ich versuche mal ein vegetarisches Würstchen und es bleibt bei dem Versuch: ich habe den Eindruck, dass ich die ganze Zeit auf einem Heuhaufen kaue und komme mir vor wie ein Pferd. Wobei vom chinesischen Tierkreiszeichen bin ich ja einer.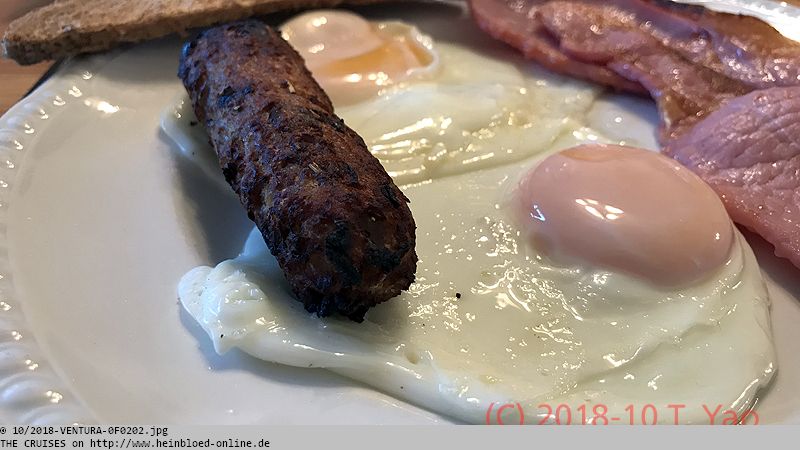 I tried a vegetarian sausage and it would stay with this single try: I had all the time the impression to chew all time on a piece of a bale of hew and felt like a horse. Although I am a horse in the Chinese zodiacs.

One more time over the Kingstone Passes out of the Lake District. We would keep the Lake District in perfect memories. That morning, the sky touched the earth and additionally the sunshine: it was uniquely beautiful. We also bid farewell from the red squirrels, which were specially protected. Hopefully, cruise port Barrow-in-Furness would wake up from its Sleeping Beauty suppression. Only a few single cruise ships were stopping here. One reason more to book "Around the British Isles" cruise.

Noch einmal geht es über den Kingstone Pass raus aus dem Lake District. Wir werden den Lake District in sehr guter Erinnerung behalten. Heute Morgen triff der Himmel auf die Erde und dazu der Sonnenschein, ist es einmalig schön. Wir verabschieden uns auch von den roten Eichhörnchen, die hier unter besonderem Schutz stehen. Hoffentlich erwacht der Kreuzfahrthafen Barrow-in-Furness aus seinem Dornröschenschlaf. Einzelne Schiffe halten hier wohl. Ein Grund wieder mal "Rund um die britischen Inseln" zu buchen.
MSC MUSICA 2008
: Wir treffen hier Judy und Lawrence aus Leeds. Dank Facebook bleiben wir locker in Kontakt. Wir sind mittlerweile auch MSC Yacht Club Fans wie sie. Und so kennen wir ihre Reisepläne. Und sie unsere.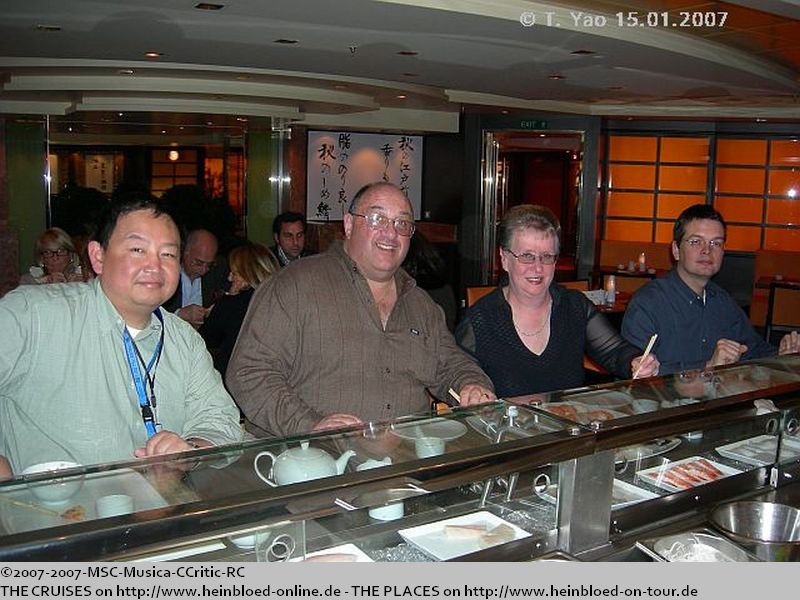 MSC MUSICA 2008: we met here Judy and Lawrence from Leeds, England. Thanks to Facebook, we stayed relaxed in touch. Meanwhile, we became also fans of MSC Yacht Club like them. And so we knew their travel plans. And they knew ours.

Our way towards Southampton, England took as through Leeds. So it was a good occasion to say hello with Judy and Lawrence. We wanted to have lunch with them. We went to The Fisherman's Lodge because we requested for a place with some food, we could not get in Germany.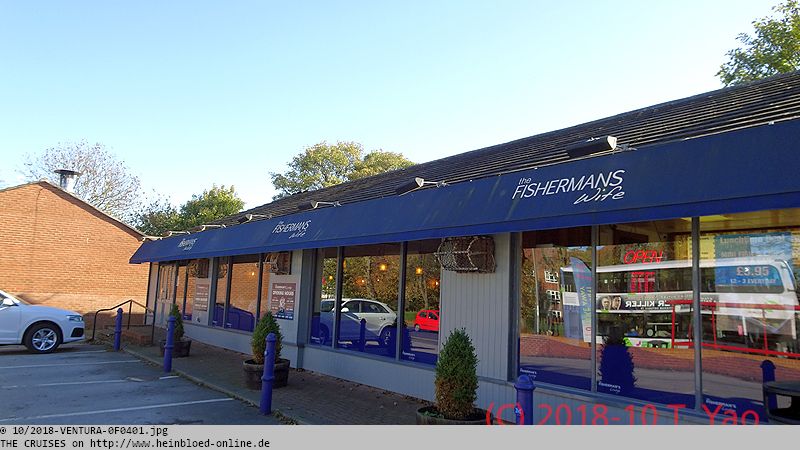 Unser Weg Richtung Southampton führt uns an Leeds vorbei. Deswegen eine gute Gelegenheit damit auch bei Judy und Lawrence vorbeizuschauen. Wir wollen gemeinsam zum Mittagessen. Da wir anfragen, ob wir in ein Restaurant gehen können, in dem es etwas gibt, was es in Deutschland nicht gibt, gehen wir in
The Fischerman's Lodge
.
Hier gibt es das britische Nationalgericht: Fish und Chips.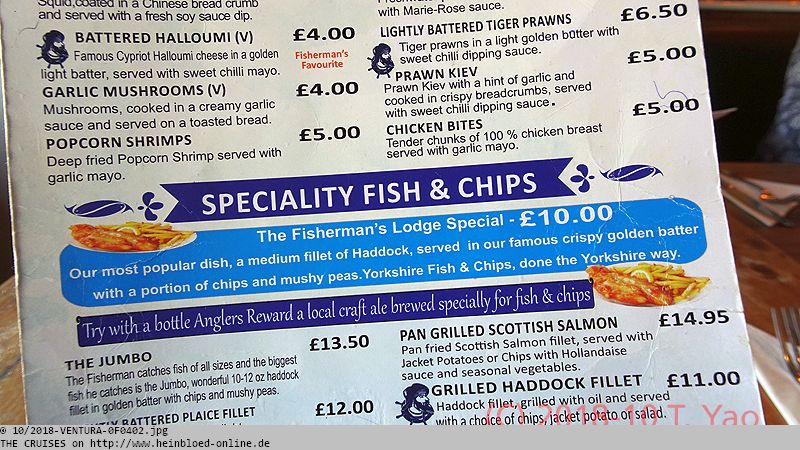 Here we had the British National Dish: Fish and Chips.

New for us: buttered toast was served.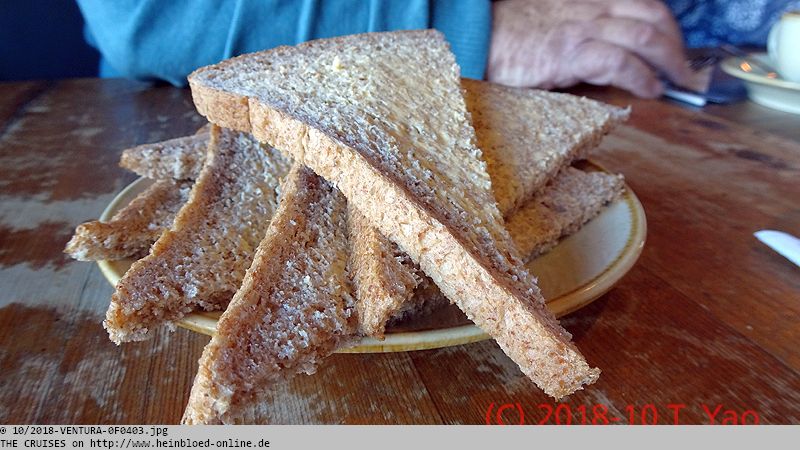 Neu für uns: gebuttertes Toast wird am Platz gereicht.
Hier lernen wir aber auch: Fisch und Chips ist nicht Fisch und Chips. So wie Kartoffelsalat in Deutschland zwischen Flensburg und Füssen komplett unterschiedlich zubereitet wird, so wird Fisch und Chips im Norden anders zubereitet als im Süden. Im Norden gibt es Schellfisch statt Kabeljau und eine andere Panade.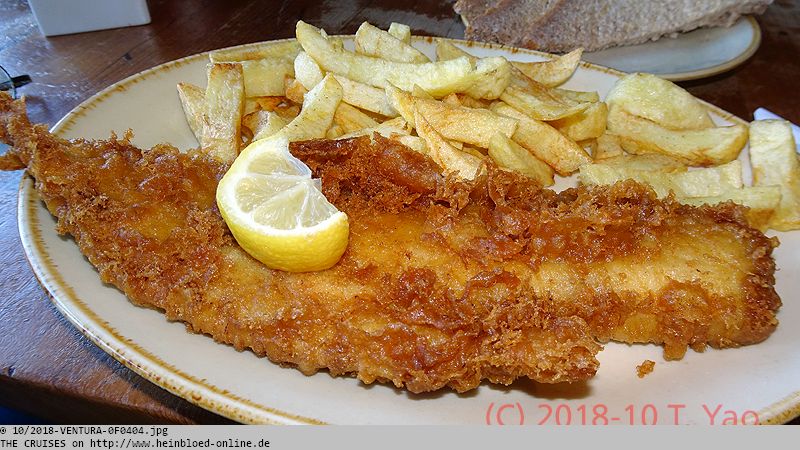 Here we learned: Fish and Chips was not Fish and Chips. Like potato salad in Germany between North and South were differently prepared. In the North, you get haddock but cod and a different batter.

Since we had Sigi with us, we wanted to take care of the bill. That was not acceptable for Judy and Lawrence. Also here it was again: your friends are our friends, and if we are in Germany in the future, you may invite us. Honestly, I did not know so many from our cruise friends, who would not say the same. That was why I liked to make so many friends with cruise-fellows. They were on the jump to the Caribbean. The next cruise was waiting.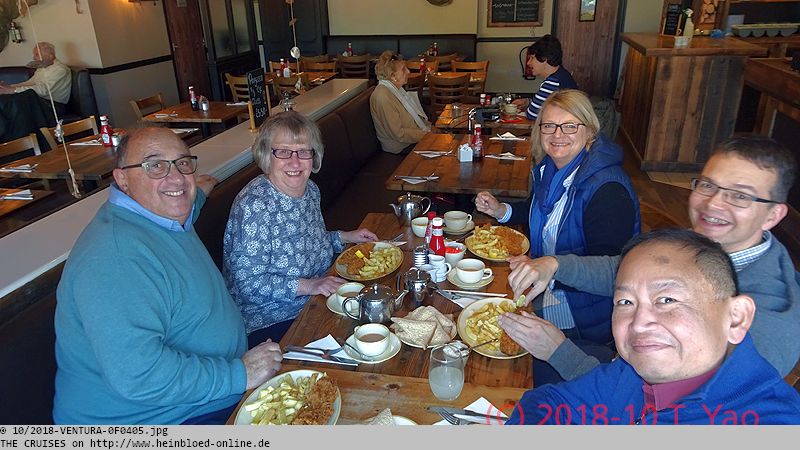 Da wir Sigi dabei haben, wollen wir die Rechnung übernehmen. Das kommt aber für Judy und Lawrence nicht in Frage. Es gilt auch hier: unsere Freunde sind auch deren Freunde und wenn sie mal in Deutschland sind, dann dürfen wir sie gerne einladen. Eigentlich kenne ich unter unseren Kreuzfahrtfreunden nur sehr wenige, die anders ticken. Deswegen gefällt es mir besonders gut, neue Freunde unter Kreuzfahrern zu machen. Sie sind selbst auf dem Sprung in die Karibik. Die nächste Kreuzfahrt wartet.
Eigentlich hätte es Richtung Nottingham gehen sollen, aber leider haben wir dieses Mal nicht so viel Glück, wie damals auf der
OCEAN PRINCESS 2015
: Obwohl Shirley und Godfrey schon länger nicht mehr The Maples Hotel in Hythe betreiben, stehen wir immer noch in Verbindung. Nur jetzt sind sie mit ihrer Familie gemeinsam in Urlaub gefahren. "
Visit Britain
" hat aber gute Arbeit geleistet und so interessiert es mich, ob nun der Peak District schöner ist, oder der Lake District. Daher fahren wir in den Peak District, um hier zu übernachten. Es ist nicht schöner, es ist nicht hässlicher, es ist halt anders. Wir kommen rechtzeitig an, um noch spazieren gehen zu können. Aber ich bin zu dünn angezogen: sobald man raus aus der Sonne ist, ist es hier sehr kalt.

Originally, we planned to head on towards Nottingham, England but that time we did not have so much luck as we had then with OCEAN PRINCESS 2015: although Shirley and Godfrey did not run anymore The Maples Hotel in Hythe, England, we still were in touch. But now they were traveling with their family to vacation. "Visit Britain" did a good job and so I was interested to know what was nicer: Lake District or Peak District. So we went to the Peak District to stay here overnight. It was not nicer. I was not uglier. It was different. We came right on time to make a walk. I was not adequately dressed: when you had no more sun, it was freezing then.

We stayed overnight in the Yorkshire Bridge Inn in Bamford, England. A charming inn.

Wir übernachten im
Yorkshire Bridge Inn
im Bamford. Ein sehr schönes Gasthaus.
Und sehr schöne Zimmer, bei den jemand mit sehr viel Liebe zum Detail alles eingerichtet hat. Und auch ausreichend Platz, um uns wirklich rundum wohl zu fühlen. Zwar wird auch hier die Heizung zentral abgestellt, aber sehr spät abgestellt und sehr früh wieder angestellt, so dass man mit der Kern-Schlafzeit wahrscheinlich eh nichts merkt.

And very nice rooms which were furbished with a lot of passion for details. And sufficient space to feel perfectly well. They also turned off the heating centrally, but it was turned off later and turned on very early so that you did not feel any difference but during the main sleep core time.

We also dined here. I ate on English ships Yorkshire Pudding before some times. But I did not get such a giant one. Mainly I did not get such one, which was so yummy. We were looking forward to our sleep since we must not dress up anymore to get back to our beds.

Wir essen auch hier zu Abend. Einen Yorkshire Pudding habe ich auf englischen Schiffen schon öfters gegessen. Aber ich habe noch nie so einen riesigen bekommen. Vor allem habe ich noch nie einen bekommen, der so lecker ist. Wir freuen uns auf den Schlaf danach und dass wir uns nicht nochmals anziehen mussten, um wieder in unsere Betten zu kommen.
Die anderen Reisen in diesem Blog/
The other voyages in this blog: