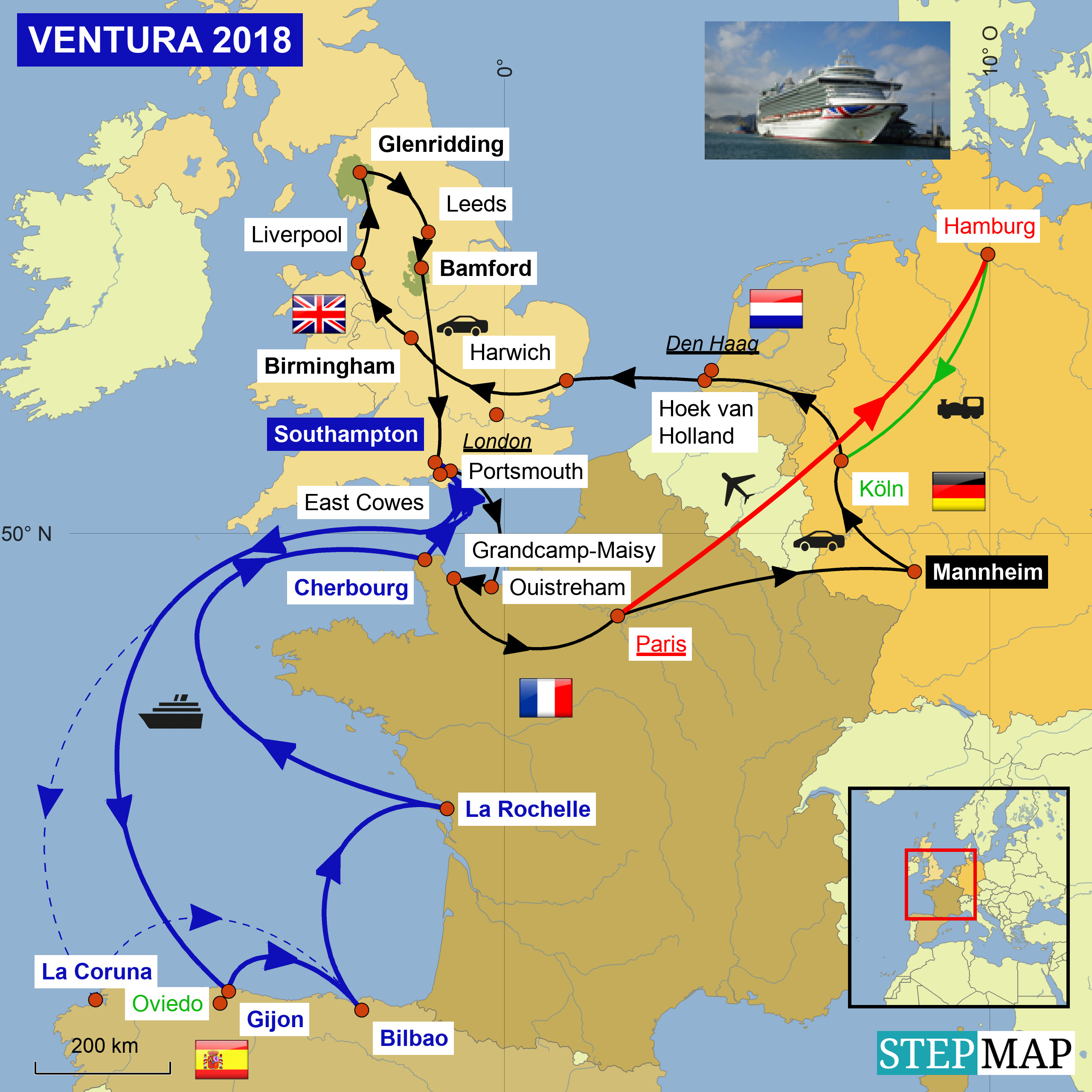 Wir sind ja sehr verwöhnt und messen immer andere Bed und Breakfast immer noch am Standard von Shirley und Godfrey aus The Maples Hotel in Hythe. Leider betreiben sie es ja nicht mehr. Also muss ich nun einen neuen Standard suchen. Nun müssen April und Mark zeigen, was sie zu bieten haben. Als Freund von warmen Frühstück bin ich sehr schnell überzeugt.

We were very indulged and still seize the standard of other Bed and Breakfast with those from Shirley and Godfrey from The Maples Hotel in Hythe, England. Unfortunately, they did not run anymore. So I needed to find a new standard. So April and Mark need to show that they could offer. As a friend of a hot breakfast, they could easily convince me quickly.

The view in the early morning was not very promising.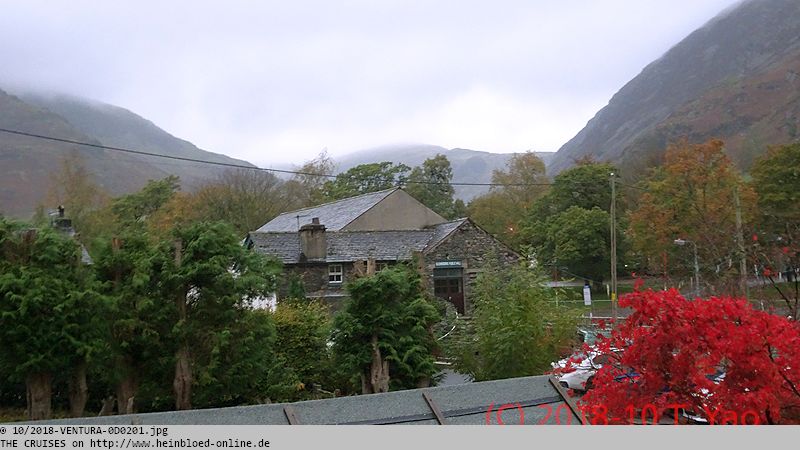 Der Ausblick am frühen Morgen ist leider gar nicht vielversprechend.
Ich trage meine neuen Wanderschuhe von
Keen
, die ich im
Outlet von Bächli
in Basel gekauft habe. Mein Kaufkriterium: möglichst preiswert - Farbe egal (wobei ich mich immer noch nicht an die Farbe gewöhnt habe). Als ich sie später meinem Kollegen zeige, ist er erstaunt, dass ich für so wenig Geld ein paar Schuhe von dieser Marke bekommen habe. Da mir die Marke nichts sagt, kann ich diese Aussage nicht beurteilen.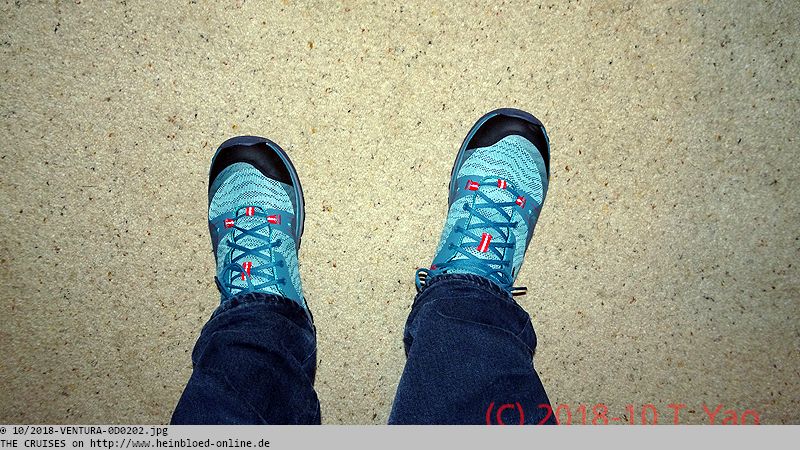 I wore my new hiking shoes by Keen which I found at the outlet store with Bächli in Basle, Switzerland. My criteria for purchase: the inexpensive the better - not care of the color (although I still did not become familiar with the color). When I showed them later my co-worker, he was surprised, that I could get them for that little price from this brand. Since I did not know the brand, I was unable to rate his comment.

We had the backpack of our last voyage on ASTOR 2015 with us.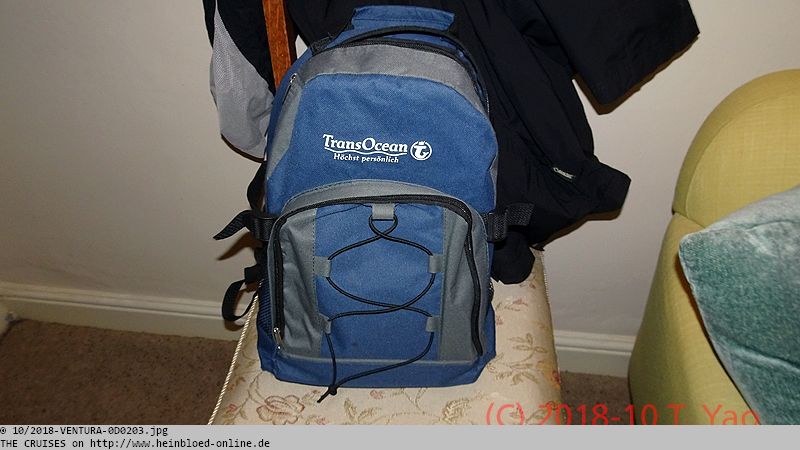 Der Rucksack von der letzten
ASTOR 2015
-Reise ist dabei.
Unsere private Tour durch den Lake District startet hier: wieder eine Blue Badge-Führerin und auch in deutsch:
Tess Pike
stellt uns zunächst den Lake District auf der Karte vor und schlägt für heute eine Tour vor. Auch Mark ist Fremdenführer, aber ich konnte ihn nicht auf der Seite der Blue Badge-Fremdenführer finden. Außerdem hätte ich vermutlich sowieso keinen Zusammenhang zwischen einem Fremdenführer und unserem Vermieter hergestellt.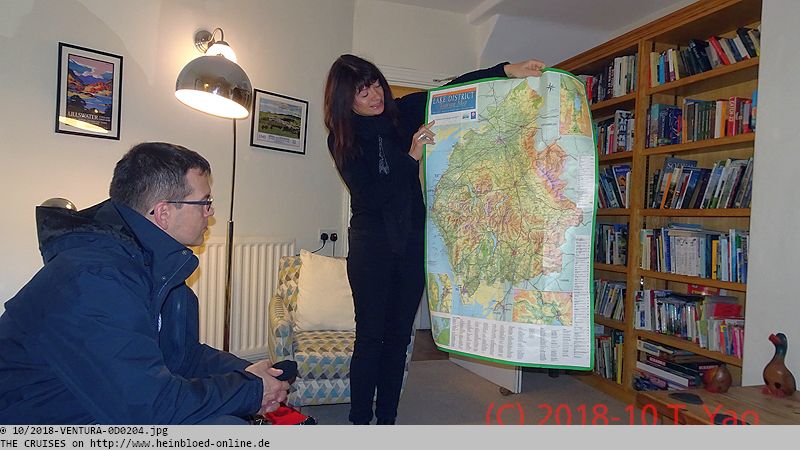 Our private tour through the Lake District started here: again a Blue Badge-Guide and in German: Tess Pike introduced us the Lake District on the map and made suggestions for a tour for that day. Mark was also Tour Guide-Guide, but I could not find him on the website of the Blue Badge-Guides. Furthermore, I might not see any connection between a Tour Guide and our landlord.

After a few minutes, we stopped already. National Trust-Members could park here for free. As Non-Members, we needed to pay for the parking, but still had free access to the waterfall of Aira Force. After 10 minutes I decided that I would never again go with Sigi, Bruno, and Tess on any tour and I would count in future on people, who preferred more not have rope car or aerial tram. It went up and down... no escalators! It was so lovely in Singapore before joining DIAMOND PRINCESS 2016: Watching a waterfall by using a lift up and going down by escalator... and now I should walk by myself... I hope that there would be a rope car in Iguazu, Brazil/Argentina...

Nach wenigen Minuten stoppen wir bereits. National Trust-Mitglieder parken hier kostenlos. Wir müssen als Nicht-Mitglieder das Parken bezahlen, aber der Zugang zu dem Wasserfall von
Aira Force
ist auch für uns gratis. Nach 10 Minuten beschließe ich jedoch, dass ich nie wieder mit Sigi, Bruno und Tess auf Tour gehe und lieber auf Leute setze, die einer Seilbahn oder Sessellift den Vorzug geben. Das geht ja rauf und runter... ohne Rolltreppen! Das war schön in Singapur vor der Reise auf der
DIAMOND PRINCESS 2016
: Wasserfall gucken mit dem Lift rauf und mit der Rolltreppe wieder runter... und jetzt soll ich selbst laufen... Ich hoffe, dass es in Iguazu eine Seilbahn gibt...
Ansonsten ist es sehr schön im Lake District herumzufahren.

Apart from that, I was really lovely to drive around in Lake District.

We passed the Dalemain farm. When we entered the court, an older gentleman fed birds out of his hand. The farm was well known because as a producer of marmalade-producer (only orange! Non-citrus fruits are jams!). They even sold it in Japan. We tried some and bought some. We had the luck to be on tour with our car. It was the appropriate souvenir from England. My favorite lover of marmalade was also around: Paddington Bear. Recently met before at London Paddington Station: after NORWEGIAN BREAKAWAY 2013 and OCEAN PRINCESS 2015. Here we also took a cup of tea to warm up quickly. It was not allowed to take any pictures in the tea room. Because of a reason, I did not expect to learn. In the process, it was lovely and cozy there.

Wir kommen am Gut
Dalemain
vorbei. Als wir das Gut betreten, füttert ein älterer Herr Vögel aus seiner Hand. Bekannt ist das Gut als Orangen-Marmeladen-Hersteller. Sie wird sogar in Japan verkauft. Wir probieren einige und kaufen auch einige. Zum Glück sind wir mit dem Auto unterwegs. Ein passendes Souvenir aus England. Und mein Lieblings-Marmeladen-Genießer ist auch vor Ort: der Paddington Bär. Zuletzt am Bahnhof Paddington getroffen: nach der
NORWEGIAN BREAKAWAY 2013
und
OCEAN PRINCESS 2015
. Hier nehmen auch noch schnell eine Tasse Tee, um uns aufzuwärmen. In der Teestube darf man nicht fotografieren. Ein Grund, den ich nicht vermutet hätte. Dabei ist es darin sehr schön und gemütlich.
Ich habe ein leicht gespaltenes Verhältnis zu Steinen, die im Kreis angeordnet sind. Wenn der Vorschlag kommt, dass wir
Stonehenge
wieder besuchen sollten, bin ich so der letzte, der "ja" schreit. Weder mein allererster Besuch vor der
VENTURA 2008
-Reise noch mein Besuch nach der
OCEAN PRINCESS 2015
-Reise konnten mich bislang überzeugen, dass ich das interessant finde. Deswegen: die Schulklassen, die hier zu Besuch sind, haben mehr Freude als ich, beim Besuch von
Castlerigg
. Die Aussicht und die Lage sind toll. Genau wie Stonehenge ist Castlerigg ein Ort unter der Verwaltung von English Heritage. Nur dass man hier kostenlos hinkommt.

I had a slight disturbed relationship to stones which were set as a circle. If someone suggested seeing Stonehenge again, I would be the last person, who would say "yes". Neither my very first visit before we sailed on VENTURA 2008 nor the last visit after our sailing OCEAN PRINCESS 2015 could convince me to find it interesting. Therefore: the classes of schools, who were here for a visit, had more pleasure here in Castlerigg but me. The view from here and the location were wonderful. Same like Stonehenge, Castlerigg was a location under the administration of English Heritage. Just that you could see it free of charge.

We headed for Kestwick, England to the Derwent Water. Due to strong winds (we were very close to the coast!), they suspended the maritime traffic since the piers were under the waterline! They had no train or carriage to take you around the lake. I should walk again. Again I found out, that I needed to find other co-travelers and tour-guides who disliked walking... But it was nice anyway.

Wir fahren weiter nach Kestwick zu
Derwent Water
. Wegen starker Winde (wir sind ja sehr küstennah!) ist der Bootsverkehr eingestellt und die Bootsstege stehen unter Wasser! Es gibt keine Bahn oder Kutsche, die um den See herumfährt. Ich soll schon wieder laufen. Wieder stelle ich fest, ich suche mir das nächste Mal Mitfahrer und Fremdenführer aus, die weniger lauffreudig sind... Schön ist es trotzdem hier.
Nächster Ort ist Grasmere.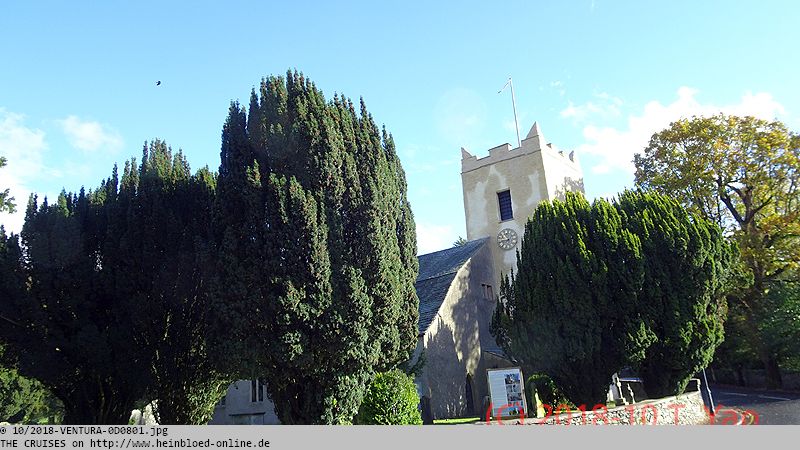 Next place was Grasmere, England.

The colors of the fall were visible on some spots. I needed to see again New England to compare.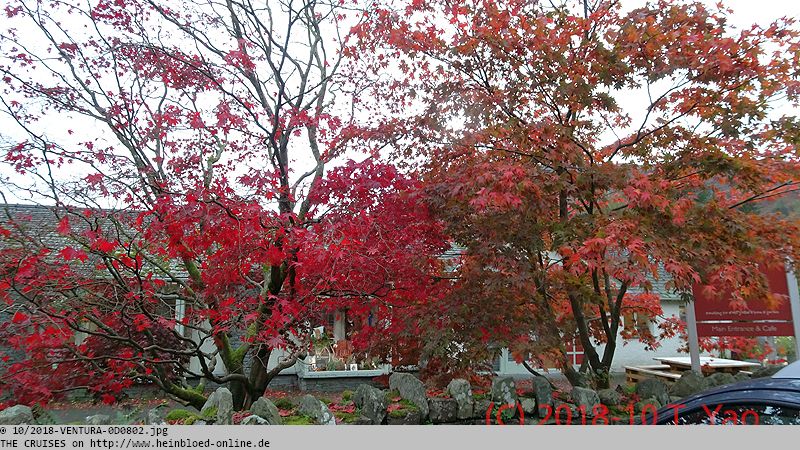 Die Farben des Herbst machen sich an manchen Stellen schon bemerkbar. Ich muss mal wieder nach Neu-England, um es zu vergleichen.
Es wird mal wieder Zeit etwas zu essen. Tess sucht das richtige Lokal aus:
Heidi's Café and Lodge im Brew
.
Illy
ist ja für Bruno zumindest der Garant für eine gute Mittagspause. Ein Ort, an dem Hunde aufmerksamer bedient werden, als Menschen... (Wenn im TripAdvisor ein Lokal negativ in England bewertet wird: meistens, weil der Hund nicht zugelassen ist.) Als Mensch muss ich mich selbst an die Theke begeben, um zu bestellen (Ein paar amerikanische Touristen sind wutentbrannt rausgerannt, nach dem sie das immer noch nicht mitbekommen haben... und eben nicht am Platz bedient wurden...) und als Hund bekomme ich alles zum Tisch gebracht. Mit dem Hund wollen sie ein Souvenirfoto machen. Ich muss wieder ein Selfie machen. Die Sandwiches sind zwar jetzt dreieckig und lecker... auch ich brauche bei den Maulsperren aus dicken Toastbrotscheiben anschließend einen Physiotherapeuten, der mein Kiefergelenk wieder einrenkt und meine Kaumuskeln massiert...

It was time to eat something again. Tess picked the correct place: Heidi's Café and Lodge in the Brew. Illy was at least the guarantor for a great lunch break from Bruno's point of view. A place where dogs were served with more attention than humans... (If you find on TripAdvisor any negative reviews in England: mostly because dogs were not allowed.) As a human, you needed to see the bar to order (Some American tourists were running out upset because they did not notice that they would not serve you at the table... but needed to order at the bar...) and as a dog you got everything served right at the table. They wanted to have souvenir photos with the dogs. But I needed to take my selfie. The sandwiches were again in a triangle shape and yummy... and I needed to have a massage therapist after eating those mouth blocks of thick slices of toast to give in my TMJ and to give my jaw muscle a massage...

A long time before I knew "Miss Potter", I saw on German TV, a feature of Japanese tourists in the Lake District, who bought something which was wrapped in greaseproof paper. Tess immediately knew what I was talking of: Sarah Nelson's Grasmere Gingerbread. Although the word gingerbread was mostly misused as a wrong translation for some German and Swiss biscuits: there was a huge difference between this and the German and Swiss biscuits. And in Germany and Switzerland, you would not find such a lovely place where they would sell their biscuits in traditional clothes. We had luck: right after about one minute, it was our turn. When we left, there was a giant queue. We had the luck that they also had nice containers to sell and they love to have selfies. The right place for us.

Lange vor "Miss Potter" hatte ich mal im deutschen Fernsehen schon mal einen Beitrag über japanische Touristen im Lake District gesehen, die etwas gekauft haben, das immer nur in Fettpapier eingewickelt wurde. Tess weiß sofort Bescheid, was ich meine:
Sarah Nelson's Grasmere Gingerbread
. Obwohl oft Gingerbread freizügig als Übersetzung für deutschen Lebkuchen, Printen oder Baseler Leckerlis herhalten muss: da liegen Welten dazwischen. In Deutschland und in der Schweiz gibt es keinen Ort, wo so schön in historischer Kleidung Lebkuchen, Printen oder Leckerlis verkauft werden. Wir haben Glück: wir kommen bereits nach ca. 1 Minute dran. Als wir rausgehen ist eine Riesenschlange. Es gibt zum Glück auch schöne Dosen zum Kauf und sie freuen sich über Selfies. Der richtige Ort für uns.
Es folgt dann eine schöne Fahrt über die tolle Landschaft des Lake Districtes zurück an den Ullswater See, an dem auch Glenridding liegt. Tess (und zuvor auch schon April und Mark) schlagen uns vor, dass wir abends unbedingt in einem der Restaurants in
The Inn on the Lake
essen sollten. Wir essen in der Orangerie. Später erklärt man uns: wir hätten die gleiche Auswahl auch in den anderen Bereichen des Hotels haben können. Es gibt noch ein vornehmes Restaurant im Hotel. Dafür sind wir aber nicht passend angezogen. Ich muss natürlich die Pastete probieren. Und wir haben Glück: Tess schlägt uns für morgen einen bekannten Ort vor, an dem wir Sticky Toffee Pudding probieren sollen. Zufällig findet sich im Magen eine kleine Lücke und wir probieren es heute schon: Ein sehr leckerer, sehr süßer 2-Komponenten-Kleber... und die Grundlage dafür, dass ich wieder zum Hotel zurücklaufen muss: es gibt hier weder einen öffentlichen Bus zurück zum Hotel, noch ein Taxi oder Uber... für 400 m. Ansonsten habe ich nichts zu meckern, außer das ich soviel laufen sollte. Die Wanderschuhe hatte ich mir zum Angucken gekauft. Nicht zum Laufen. Wenn das nicht gewesen wäre: ein wunderschöner Tag neigt sich dem Ende.

A beautiful ride through a magnificent landscape of the Lake District followed back to the Lake Ullswater. Tess (and before April and Mark did it too) recommended dining in one of the restaurants of The Inn on the Lake. We ate in the Orangery. Later they explained that we would have the same selection at the other spots of the hotels. There was also one more elegant restaurant in the hotel. But for that, we have not dressed appropriately. I needed to try the pie. And we had luck: Tess suggested to see the next day a famous place to try Sticky Toffee Pudding. By coincidence, a small gap was found in my stomach to fill, and so we tried that day: A very yummy, extremely sweet 2-component-glue... and the basic need for the walk back to the hotel: there was no public bus, nor a taxi or Uber... for 400 yards. Apart from that, there was nothing to complain, but I should walk so much. I bought the hiking shoes to watch them. Not for walking. Would not that would be: a beautiful day came to an end.
Die anderen Reisen in diesem Blog/
The other voyages in this blog: