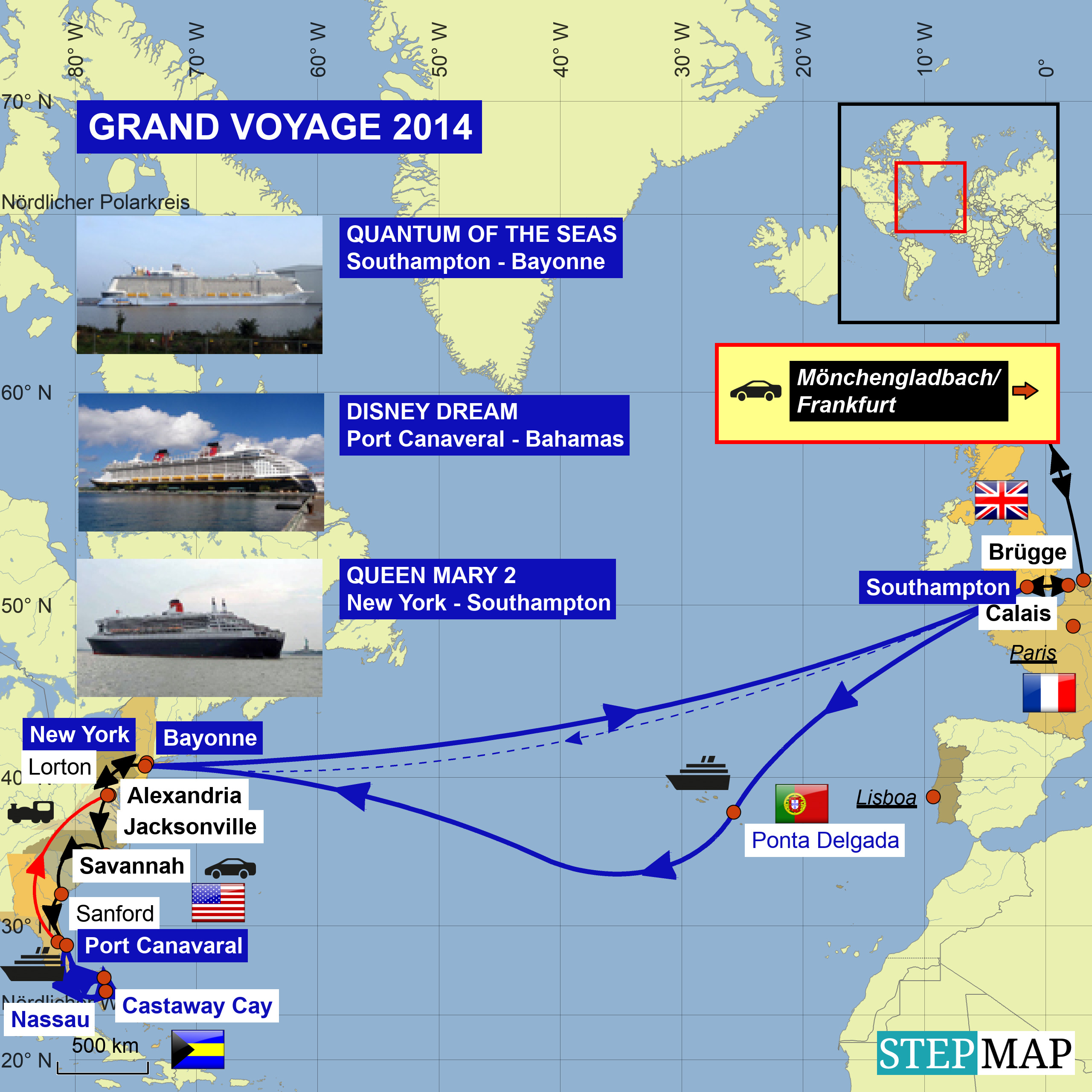 >

Noch eine letzte Runde an Bord. Noch einmal den Schornstein fotografieren.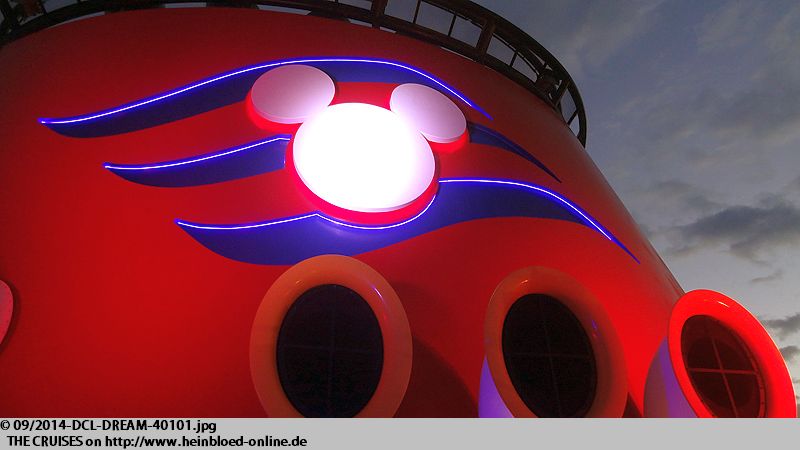 One more round on board. One more time taking a picture of the funnel.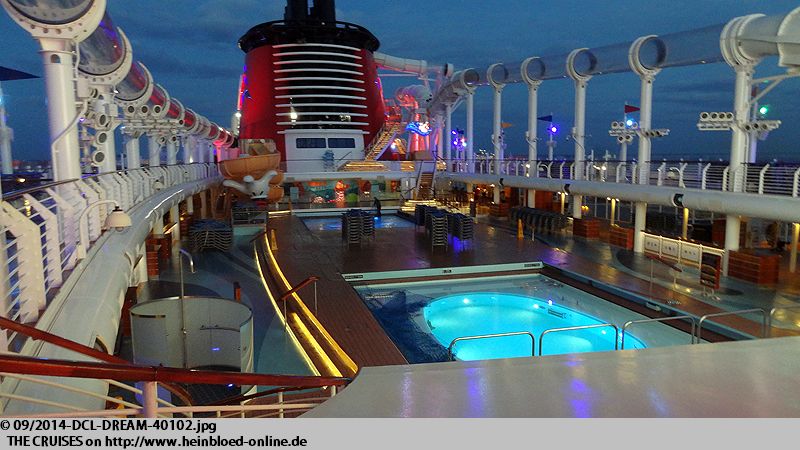 Hier oben ist also auch die Concierge-Lounge. Erstaunlicherweise sind die teuersten Kabinen immer als erste ausgebucht.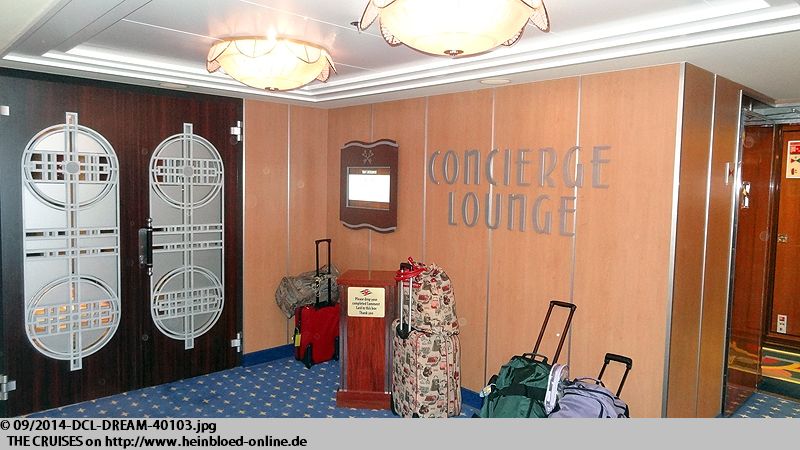 Here above they had also the Concierge-Lounge. To my surprise: the most expensive cabins were always the first, which were sold out.

The most costly items were the pictures. Apart from that, the invoice was in a typical budget.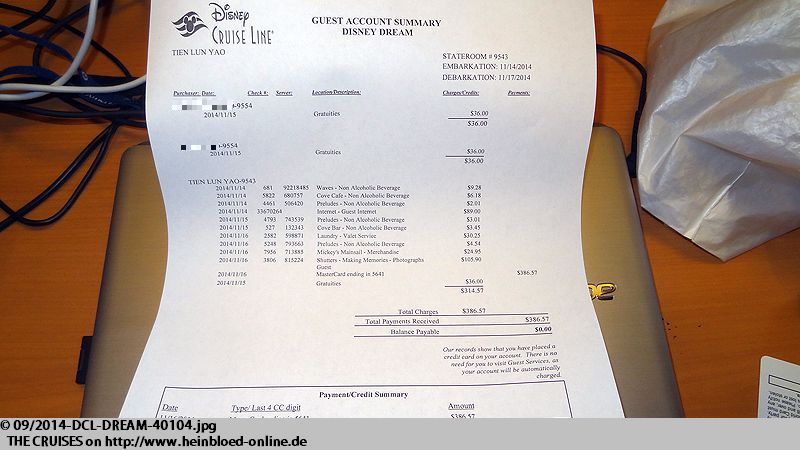 Die teuerste Position waren die Fotos. Sonst hielt sich die Rechnung in Grenzen.
Diejenigen, die selbst ihr Gepäck schleppen, dürfen das Schiff schon verlassen und werden entsprechend verabschiedet.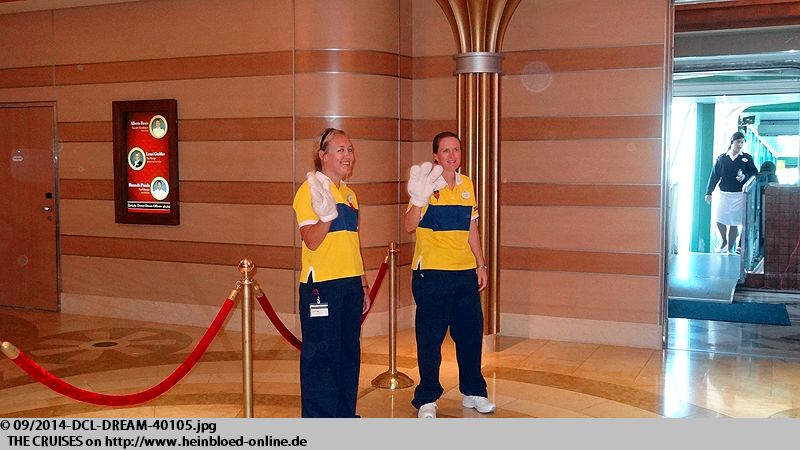 Those, who carried their bags themselves, were allowed to leave the ship and they were said farewell appropriately.

One more view to Port Canaveral, FL.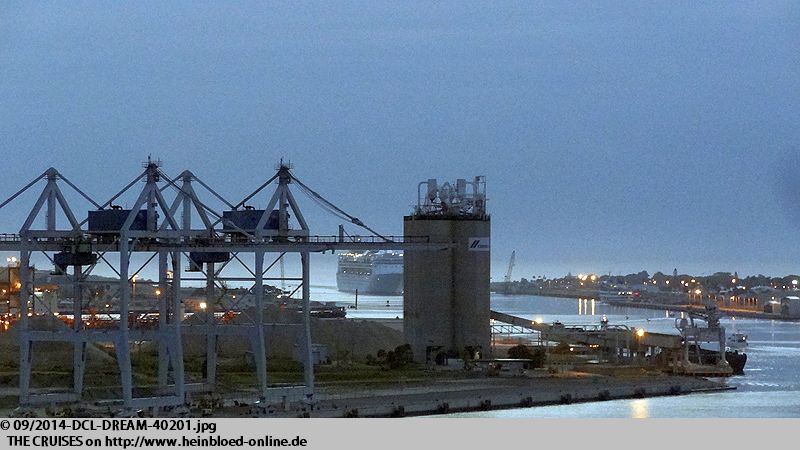 Noch ein Blick auf Port Canaveral.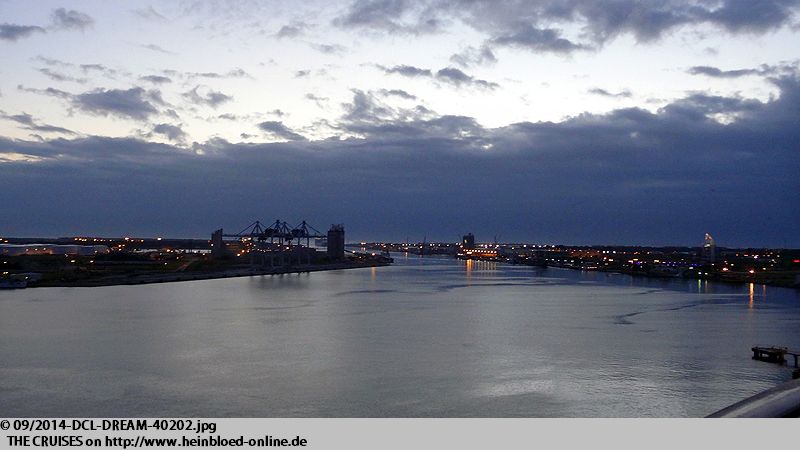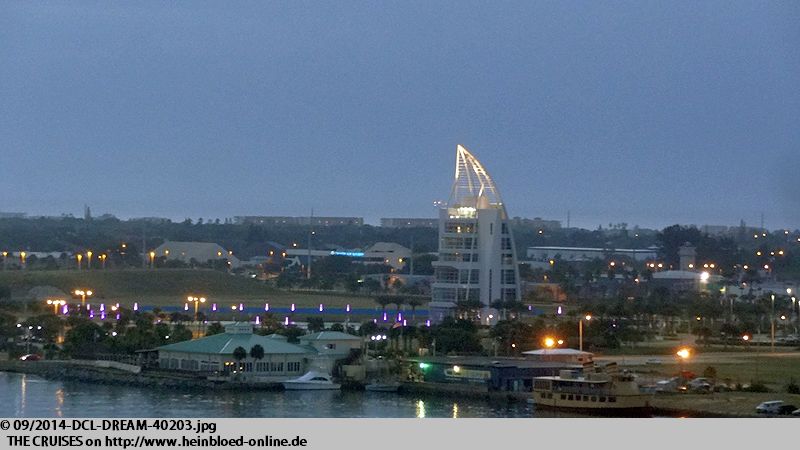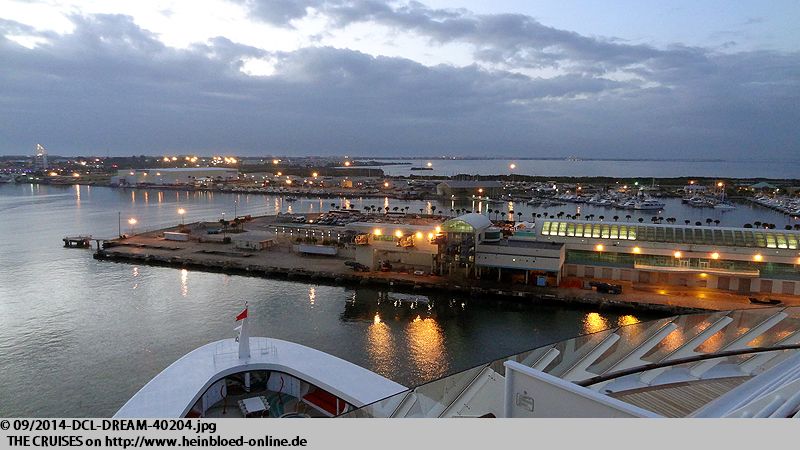 Heading for the last breakfast at 06:45 hrs early in the morning. That was long ahead of my time. They had a reduced selection so I could not get anymore my buckwheat-omelet. We had to say goodbye to Bertram and Marven.

Auf zum letzten Frühstück 6.45 Uhr frühmorgens. Das ist lange lange vor meiner Zeit. Zumal ich mein Buchweizen-Pfannkuchen nicht mehr bekomme, weil es nur ein reduziertes Angebot gibt. Wir verabschieden uns von Bertram und Marven.
Und dann läuft auch die ENCHANTMENT OF THE SEAS noch ein.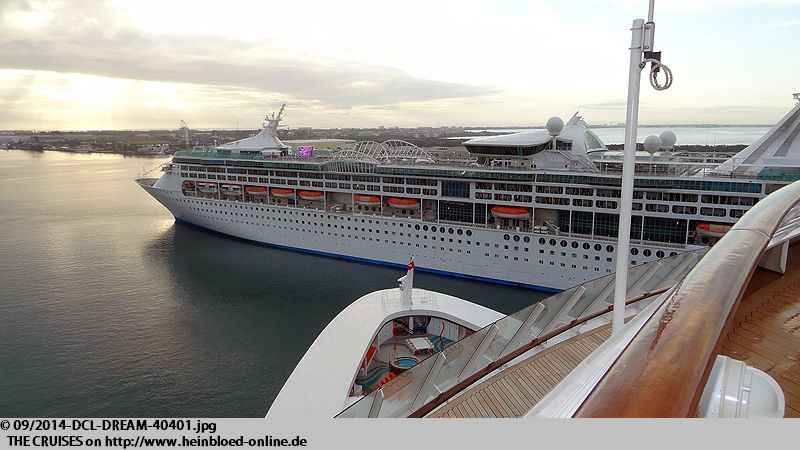 And then ENCHATMENT OF THE SEAS arrived too.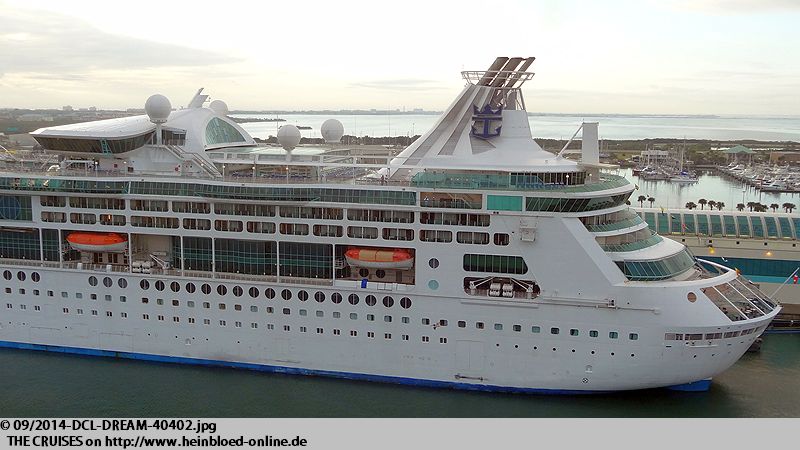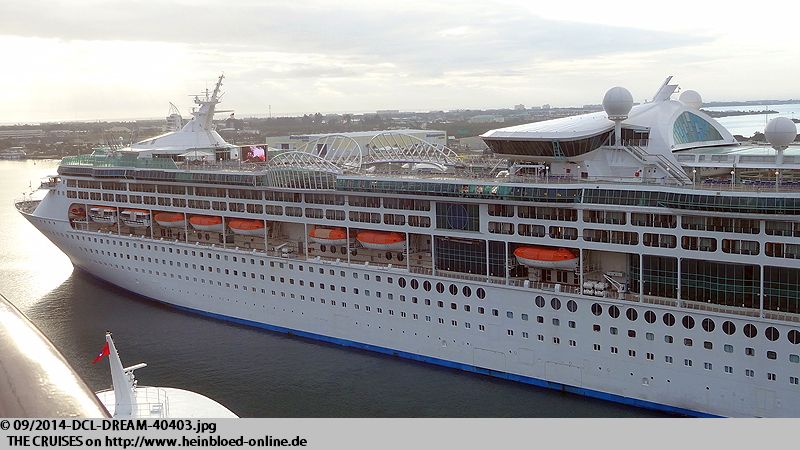 Time to say goodbye to my cousin Helena who lived in Florida and who would not come with us towards the North.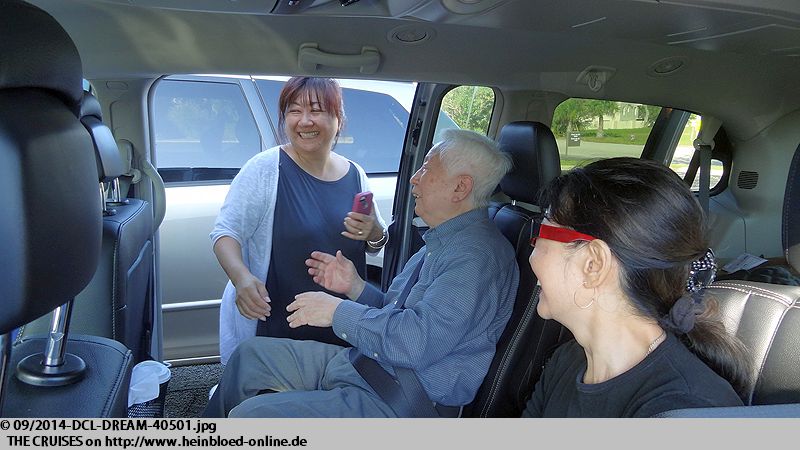 Zeit sich dann auch von meiner Cousine Helena zu verabschieden, die ja in Florida wohnt und daher nicht mit uns in den Norden zurückfährt.
Die Fahrt wurde dann richtig teuer. Ständig musste ich immer 1,00 USD Maut zahlen.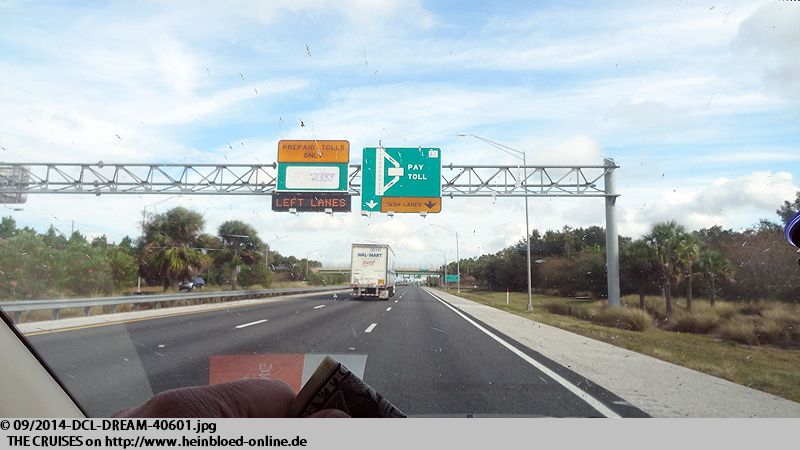 The ride should become really expensive. I had all the time to pay 1.00 USD toll.

One more time we went for lunch to Cracker Barrel. On the outward journey, my family liked it because they offered a certain kind of fresh vegetables.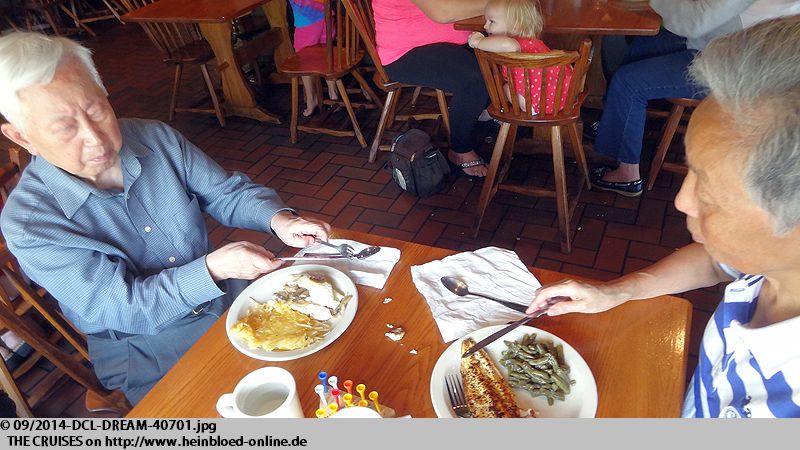 Ein weiteres Mal gehen wir zu
Cracker Barrel
essen. Auf der Hinfahrt fand meine Familie das gut, weil sie ansatzweise frisches Gemüse haben.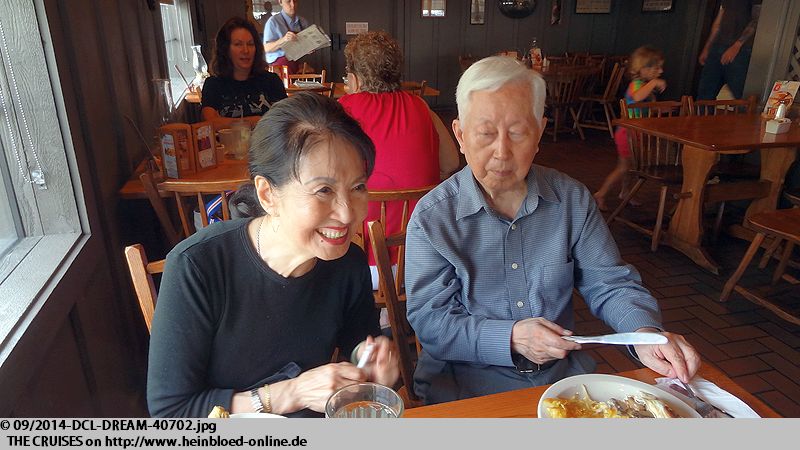 But I could take the meatloaf, so I stayed with the mash potatoes and salad.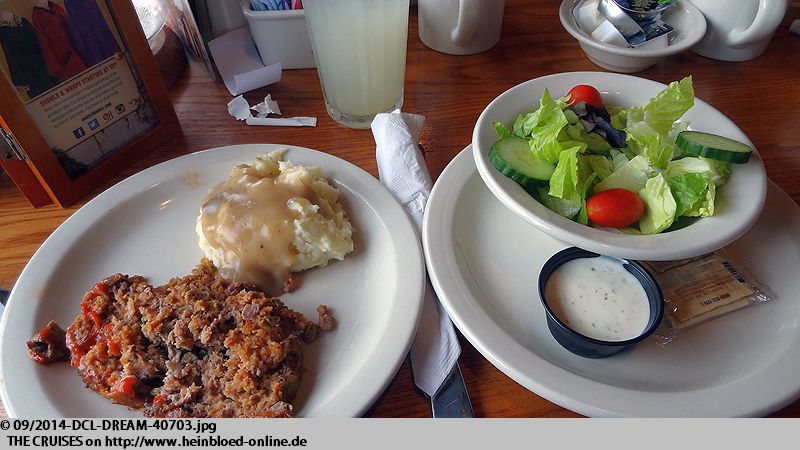 Aber auch den Hackbraten vertrage ich nicht so, so dass es bei Kartoffelbrei und Salat bleibt.
Da wir bereits in zwei Tagen wieder in New York sein müssen, habe ich uns heimlich auf den
Amtrak Auto Train
gebucht. Er startet in Sanford in der Nähe von Orlando. Von Port Canaveral braucht man etwas mehr als eine Stunde. Wir übergeben das Auto. Die Übernahme wird gefilmt, damit evtl. Schäden am Fahrzeug dokumentiert werden. Für 50,00 USD Aufpreis (2014) wird unser Auto als einer von den 25 ersten Autos am Zielbahnhof entladen. Das haben wir zwar kurzfristig angemeldet, aber das muss man direkt bei der Einfahrt auch sagen. So mussten sie mein Fahrzeug wieder vom Zug runterholen und in einen anderen Waggon verladen. Hier kann man nach Abgabe des Autos im Terminal warten oder mit einem Shuttle-Bus in den historischen Stadtkern von Sanford gefahren werden. Da aber draußen eine Unwetter-Front langzieht und es anfängt stark windig zu werden und zu regnen, bleiben wir einfach im Terminal. Hier gibt es kostenlos Internet und so nutze ich die Zeit, um ein paar Bilder hinaufzuladen.

Since we needed to be back in New York, I booked us secretly on the Amtrak Auto Train. It started in Sanford, FL near Orlando, FL. From Canaveral, you would need a little more than one hour. Here we handed our car over. They transfer was filmed to record potential damages on the vehicle. For 50.00 USD surcharge (2014) our car would be unloaded with the first 25 cars at the destination. We requested it at short notice, and I should say it when I checked-in at the entry. So they needed to get back the car and transfer it to a different railcar. You may await the transfer here in the terminal, or you could use a shuttle-bus to the historical town-center of Sanford. Since a thunderstorm should approach soon and it started to become windy and rainy, we stayed in the terminal. Here we had complimentary internet, and so I used the time to upload some pictures.

Around 14:00 hrs we were allowed to board the train.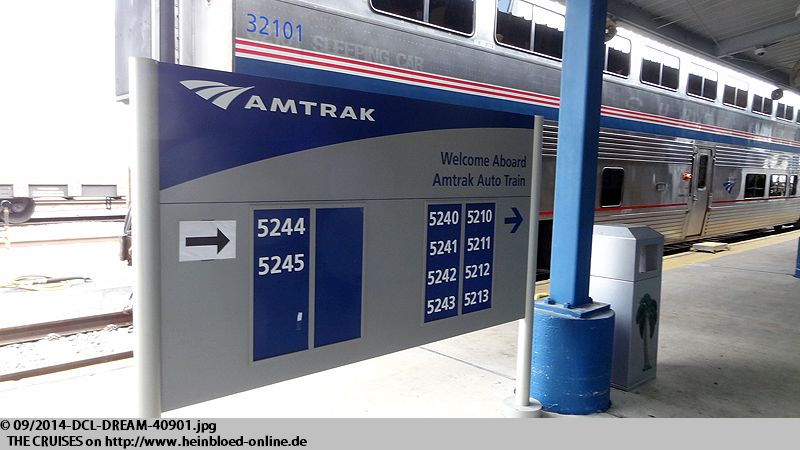 So gegen 14.00 Uhr dürfen wir auch an Bord.
Alles Superliner-Doppeldecker.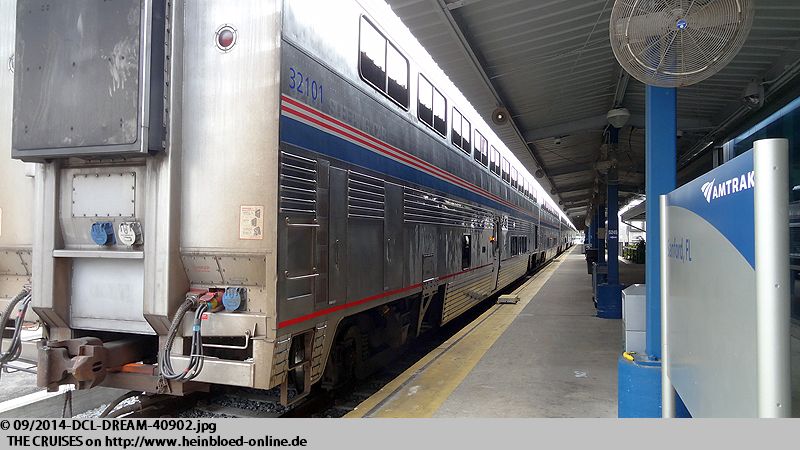 All Superliner-Doubledecker.

We were friendly welcomed by our steward Kevin who was accompanying us on our way to the North.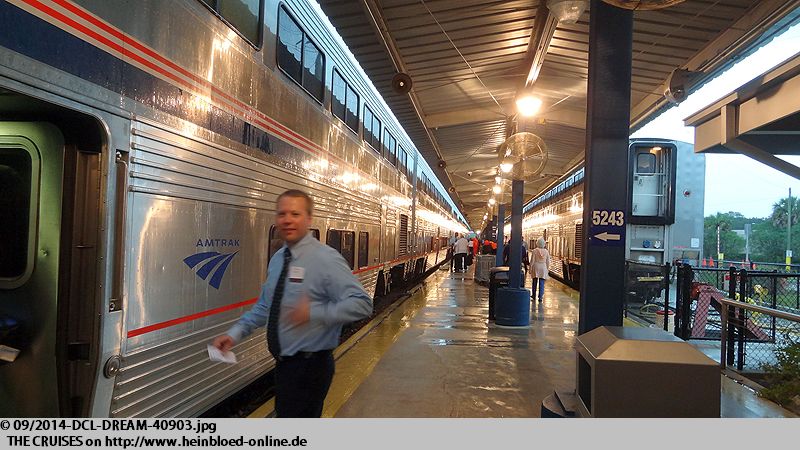 Wir werden freundlich von unserem Steward Kevin begrüßt, der uns auf dem Weg in den Norden die ganze Zeit begleitet.
Es gibt sogar einen Lounge-Wagen, allerdings ohne Panorama-Teil, wie damals auf "The Canadian" von VIARail (siehe
ISLAND PRINCESS 2013
).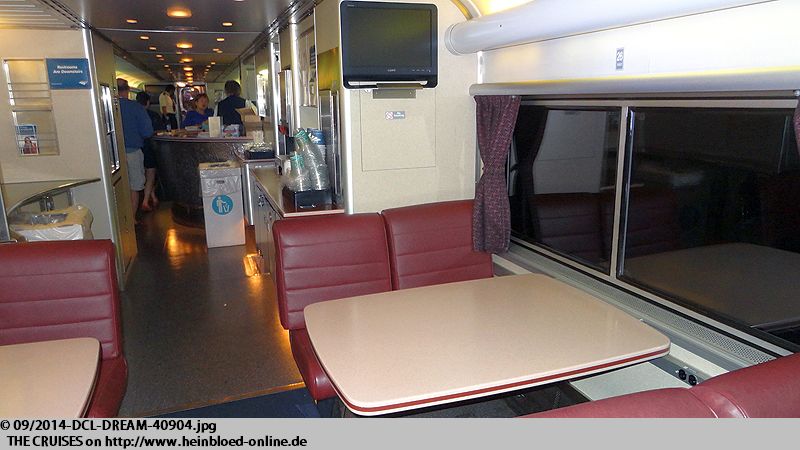 They even had a lounge-car but without a panorama-part like we had then on "The Canadian" of VIARail (see ISLAND PRINCESS 2013).

Here they had limited availability of internet but only in this car.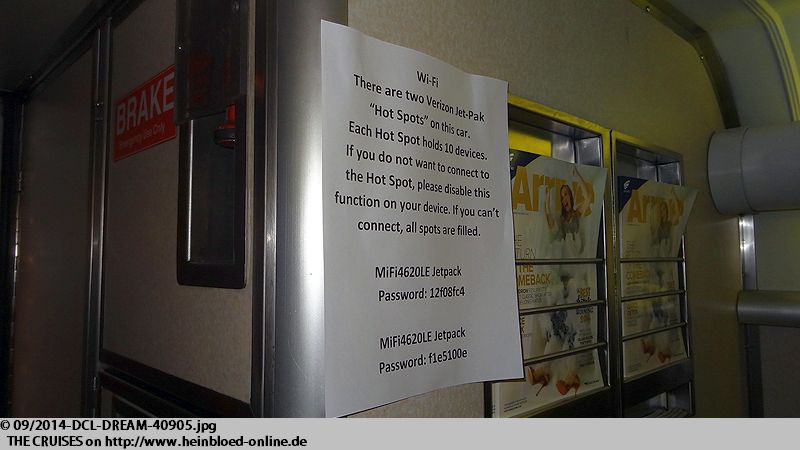 Hier gibt es sogar eine eingeschränkte Möglichkeit Internet zu nutzen, aber nur in diesem Wagen.
Ich habe für mich ursprünglich ein Roomette gebucht. Besteht aus zwei gegenüberliegenden Sitzen, die nachts zu einem Bett zusammengeschoben werden. Mit Gemeinschaftsbad und -toilette.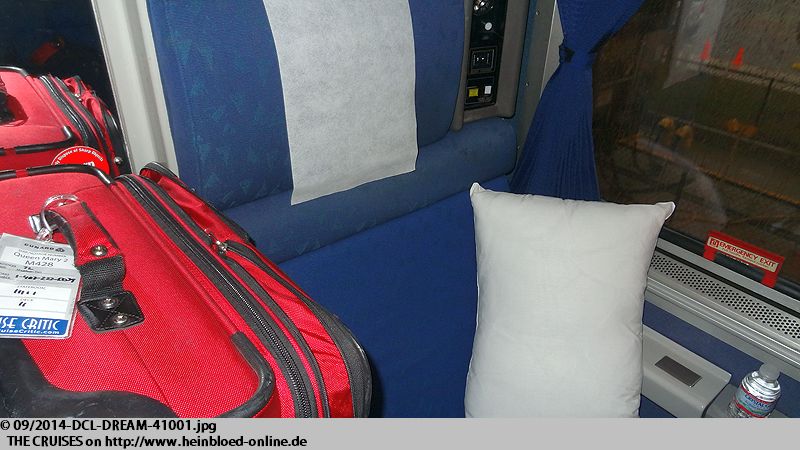 Initially, I booked a Roomette for me. It was two opposing seats which could be reclined in the night to a bed. With a shared bathroom and toilette.

But compared to Canada they had glass sliding doors but curtains.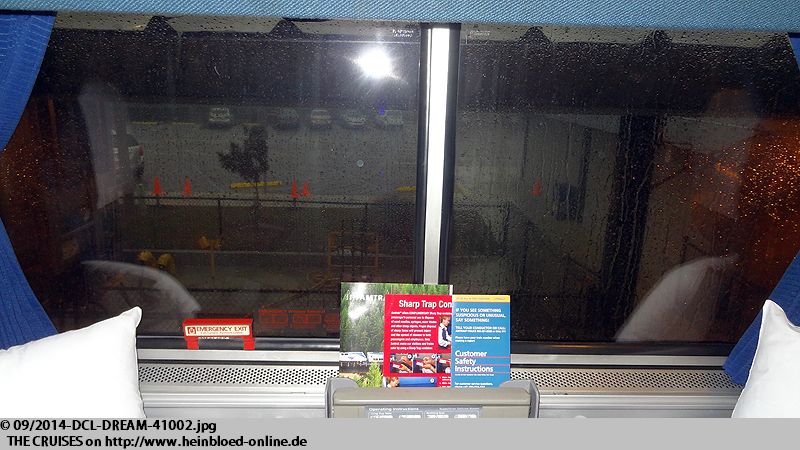 Im Gegensatz zu Kanada gibt es jedoch Glasschiebetüren und keine Vorhänge.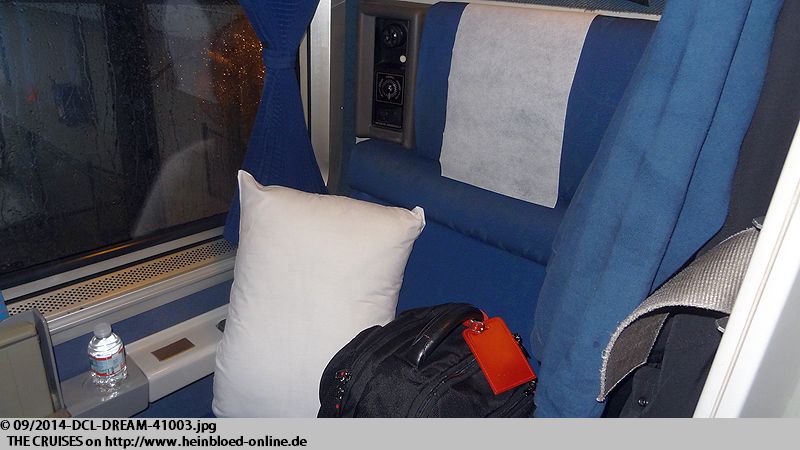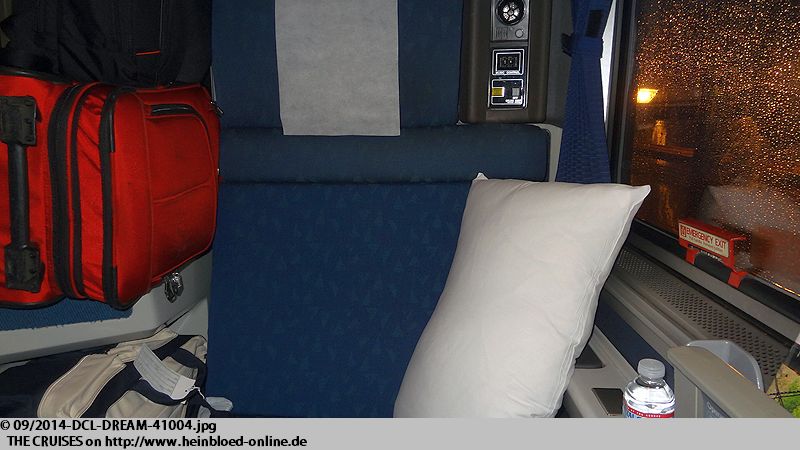 Dagegen habe ich meinen Eltern und meiner Tante jeweils ein Bedroom gebucht mit integrierter Dusche und WC. Nachdem die Kabine neben meinen Eltern frei ist, entschließe ich mich ein Upgrade zu kaufen und dorthin umzuziehen. Das ist aber last minute richtig teuer. Dafür kann ich gut schlafen und habe mein Bad. Die Verbindungstür überlasse ich den Rest meiner Familie, damit sie abends ihre letzte Pyjama-Party gemeinsam feiern können. Etwas blöd: man kann gar nicht die Kabinen von außen abschließen.

For my parents and my aunt I booked a bedroom with an ensuite shower and toilet. After the cabin next to my parents stayed vacant, I decided to buy an upgrade and moved there. That was quite expensive at the last minute. But I could sleep very well, and I had my bathroom. The connecting door I let my rest of the family used to celebrate their very last pajama-party. Somehow stupid: you could not lock the cabins from outside.

The dinner was included in the rate, but the Canadian VIARail was much better. Everything was served here on plastic. The banana was the only single fresh fruit, they had onboard. The presentation was not really family friendly - for my taste. Generally, the food was o.k.. But it was very American. But as wrap up you need to calculate: if you the costs for gas, toll, three hotel rooms, all the food on the way, it was not too bad to pay for a "driver" who went all night if you book early and not had the stupid idea to buy an upgrade at the last moment. The blog continues her with the QUEEN MARY 2 2014.

Das Abendessen ist im Preis inbegriffen, aber da war die kanadische VIARail besser. Alles wird hier in Plastik serviert. Die Banane ist die einzige frische Frucht, die an Bord ist. Deren Präsentation ist nicht unbedingt jugendfrei, nach meinem Geschmack. Insgesamt ist das Essen in Ordnung, aber eben sehr amerikanisch. Aber insgesamt muss man sagen: unter Abzug der Kosten für Benzin, Maut, 3 Hotelzimmer, unterwegs Essen ist das ganze für einen "Chauffeur", der einen über Nacht fährt, gar nicht mal so teuer, wenn man rechtzeitig bucht und nicht auf die blöde Idee kommt, wie ich, im letzten Moment ein Upgrade zu kaufen. Der Blog zu dieser Reise geht bei der
QUEEN MARY 2 2014
weiter.
Die anderen Reisen in diesem Blog/
The other voyages in this blog: