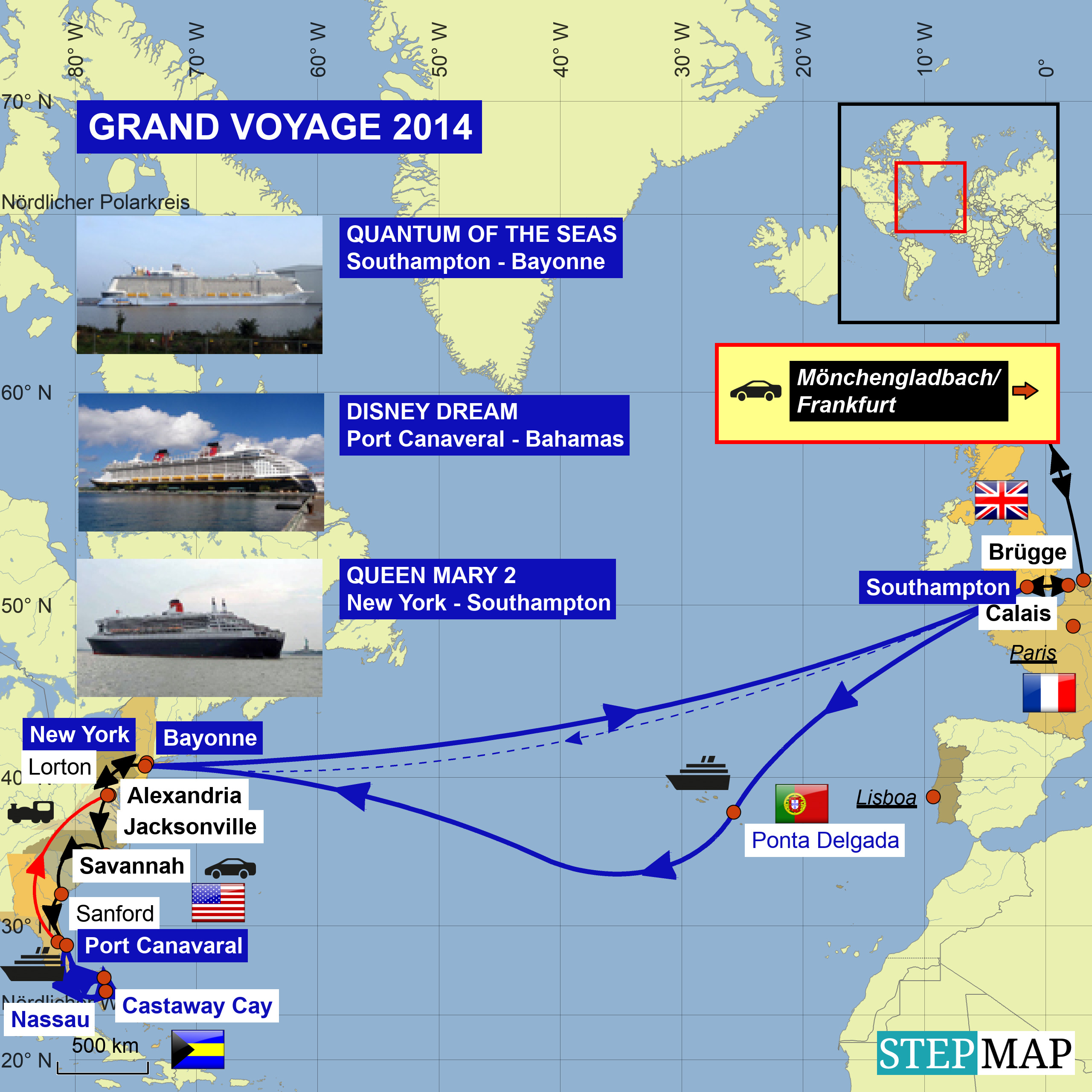 >

Auf der
QUANTUM OF THE SEAS 2014
hatten die Steuerbord-Kabinen den Blick auf ihren virtuellen Balkon auf die Steuerbordseite bzw. das gleiche mit Backbord. Hier auf der DISNEY DREAM sieht man die Bugansicht. So kann ich wunderbar sehen, welche Schiffe rein- und rausfahren, weil wir rückwärts in Nassau geparkt haben. Ich habe wunderbar geschlafen: nun weiß ich auch, warum Disney Kreuzfahrten so teuer sind: es gibt Bettwäsche mit 100% Baumwolle von
Frette
! Auf so etwas habe ich nicht geachtet, bis dass Günther und BJ mir auf der
ZAANDAM 2012
damals erklärt hatten, dass das etwas besonderes sei. Und auf der ZAANDAM gab es von Frette die Sachen nur im Pinnacle Grill. Ansonsten lasse ich Wäsche waschen. Meinen Douglas Ward bekomme ich auch zurück und zum allerersten Mal mit einer persönlichen Nachricht vom Kapitän. Meine Mutter würde gerne zwei Türschilder "Bitte aufräumen" für meine Nichten mitnehmen und ich einen Wäschebeutel (Bei HAL werden 15,00 USD auf die Rechnung gesetzt, wenn er weg ist). Ich "klaue" selten, sondern frage offiziell nach. Bevor ich wieder in meiner Kabine zurück war, lagen die Sachen bereits in meiner Kabine. Hier bekommen wir auch wieder Umschläge für Extra-Trinkgeld und auch eine Aufstellung, wie das automatische Trinkgeld aufgeteilt wird. Auch bekommen wir die Pläne für Castaway Cay (wird witzigerweiser wie der Schlüssel "Key" ausgesprochen). Ich vergesse meine Karte in der Kabine und bekomme eine neue. Und da steht dann auch die neue korrekte Tischzeit drauf.

On QUANTUM OF THE SEAS 2014 we had a starboard cabin the starboard-cabins had a view on their virtual balcony to the starboard side and the same was on the port side. Here on DISNEY DREAM, you had the view forward. So I could easily see in Nassau, the Bahamas which ships were entering or leaving the port, while we were docking backward. I slept wonderfully: No I knew why Disney cruises were so expensive: they had linen from Frette! I did not check this before until Günther and BJ explained on ZAANDAM 2012 then, and they told how special it was. And on ZAANDAM you got only Frette parts in the Pinnacle Grill. Apart from that, I let them laundry. My Douglas Ward was returned, and it was the very first time that a personal message was included by the Captain. My mother would like to have two "Service please"-door signs for my nieces and I would like to have a laundry bag (with HAL they would charge 15.00 USD if it disappeared). It was very rare that I "stole" something and mostly I was requesting officially. Before I could return to my cabin, they were already kept ready for me. Also, we got the maps for Castaway Cay (it was pronounced like a "key"). I forgot my card for my cabin, and I got a new one. Now also with the correct dining time.

I used the time to promenade on the open deck and to take pictures. Everywhere you had Christmas carols. It did not really fit the actual weather. At the pool, they kept supportive floating devices ready for the kids. I drank something from the complimentary offer and bought myself a ring to wear bottles. Unfortunately, it was too sort: for kids. Sad: I needed to find one with Norwegian. I saw with them something for adults for the belt also. Everywhere on the ship, they were working. On the adult deck, no more kids appeared anymore.

Ich nutze die Zeit am offenen Deck zu spazieren und zu fotografieren. Überall Weihnachtsmusik. Passt nicht so wirklich zu dem Wetter. Am Pool werden Schwimmhilfen für die Kinder bereit gehalten. Ich trinke etwas von dem kostenlosen Angeboten und kaufe mir noch so ein Tragering für Flaschen. Leider ist er zu kurz: Für Kinder. Schade: muss ich nochmals bei Norwegian gucken. Da habe ich mal so etwas auch für Erwachsene am Gürtel gesehen. Überall am Schiff wird gearbeitet. Auf dem Erwachsenen sind heute keine Kinder mehr zu sehen.
Ich gehe nur mal ins Cabanas, um mir das Frühstücksangbot mir anzusehen. Dort wird man direkt in der "passenden" Uniform begrüßt. Man kann auch draußen am Heck sitzen. Aber dort sind nur sehr wenige Tische. Viele Sachen, die nicht gewärmt oder gekühlt werden müssen, werden aufrecht präsentiert, damit die Kinder alles sehen und draufzeigen können. Eigentlich ein sehr normales Frühstücksbüffet, wie auf anderen US-Schiffen auch. Was ich nicht so mag: die vorgefertigten pochierten Eier, die in Förmchen hergestellt werden.

I went first to the Cabanas to see what they offered for breakfast. They were welcoming you in the "appropriate" uniforms. You could also sit in the aft. But there were not so many tables. Many items, which needed to be kept warm or cold, were presented upright so kids could see it and just point on. Actually, it was a quite standard breakfast buffet, like you could get on other US-cruise ships too. What I did not like so much: the pre-prepared poached eggs which were prepared in a form.

Because I was not hungry yet, I looked around at the AquaDuck. They had some maintenance for the moment, and later it was too full. If people were standing here at the stairs, you should expect about one-hour waiting time until you made it to the top. They strictly controlled the age and size-restrictions.

Weil ich noch nicht hungrig bin, gucke ich mich beim AquaDuck um. Dort finden aber im Moment Wartungsarbeiten statt und später ist es mir zu voll. Wenn die Treppe vollsteht, sollte man noch mit ca. einer Stunde rechnen, bevor man es schafft oben zu sein. Die Alters- und Größenbeschränkungen werden beim Zugang streng kontrolliert.
Für Nassau muss ich mich gut vorbereiten und auf
Marine Traffic
die Anzahl, die Namen und die Liegestellen der anderen Kreuzfahrtschiffe feststellen, die bereits im Hafen sind. Bald erscheinen sie auch als Silhoutte am Horizont: die Schiffe, der Hafen, die Stadt und das
Atlantis-Hotel
. Und auch ein neuer Strand wird entdeckt, der gerade neu bebaut und erschlossen wurde: Das
Baha Mar
(Derzeit ist nur das Casino bereits geöffnet - das Resort mit den Stränden wird erst Frühjahr 2015 eröffnet). Vielleicht ist das ja eine Alternative zu Atlantis, wenn wir mal wieder in Nassau sind.

For Nassau, I needed to be well prepared and to find out on Marine Traffic the number, the names, and the piers of the other cruise ships, which were already in port. Soon they appeared as a silhouette at the horizon: the ships, the port, the city, and the Atlantis-Hotel. And I also discovered a new beach, which was newly built and set up: the Baha Mar (Currently only the Casino was already open - the resorts with the beaches should be open in spring 2015). Maybe it would be an option to see Atlantis again when we would be next time here in Nassau.

The first ship, I could see was CARNIVAL ECSTASY. By the way, the pictures I took later the afternoon after the shore trip, were integrated into this slideshow.

Das erste Schiff, das ich sehe, ist die CARNIVAL ECSTASY. Bei der Gelegenheit sind die Bilder bereits in der Diaschau, die erst nachmittags nach dem Landgang entstanden sind.
NORWEGIAN SKY - endlich mal Bilder von ihr. Man kann ja kaum Bilder vom eigenen Schiff machen, wenn man selbst an Bord ist. So bin ich froh, dass ich so schon Bilder auf Vorrat machen kann.

NORWEGIAN SKY - finally some pictures of her. You could not make any pictures when you were yourself onboard. So I was happy to make some photos on a stock.

Well - I lost some weight, and so I did not appear anymore like a pot-bellied pig. But CARNIVAL FASCINATION did it since some balconies were added. We knew her from our sailing CARNIVAL FASCINATION 2008. Then she was recently renamed since she was named before FASCINATION only. But now you could not see anymore any differences.

Nun - ich habe doch etwas abgenommen und wirke nicht mehr wie ein Hängebauchschwein. Dafür aber die CARNIVAL FASCINATION, die ein paar Balkone zubekommen hat. Wir kennen sie von unserer Reise
CARNIVAL FASCINATION 2008
. Damals war sie frisch umbenannt und man sah ihr an, dass sie zuvor nur FASCINATION hieß, aber jetzt sieht man keinen Unterschied mehr.
Nach dem Shipspotting gehe ich in den Royal Palace zum Frühstück. Nach mir wird der Hauptzugang vom Atrium geschlossen, weil gleich dort die Vorbereitungen zur nächsten Veranstaltung beginnen. Man kommt aber auch durch die Seite rein und raus. Das Frühstücksangebot ist nicht besonders aufregend. Eben typisch für ein US-Schiff. Die Joghurts sind hier schon fertig und so süß, dass ich sie nicht essen kann. Wenigstens gibt es hier mein Kümmel-Misch-Brot (Rye-Bread).

After ship spotting, I went to Royal Palace for breakfast. After I entered, they closed the main access from the atrium, because soon they started with preparations of the next event. There was also a side way to get out and in. The breakfast offer was not very exciting. Very typical for an US-ship. The yogurts were already prepared, and they were so sweet that I could not eat them. At least they had here my rye-bread with caraway.

In the atrium, they had now the foto-shooting with the Disney-princesses. Cute. Just cute, how the little girls appeared in an appropriate dress. What was very nice: pictures were taken by the onboard photographer, but there was also someone who used the camera of the guests to take pictures.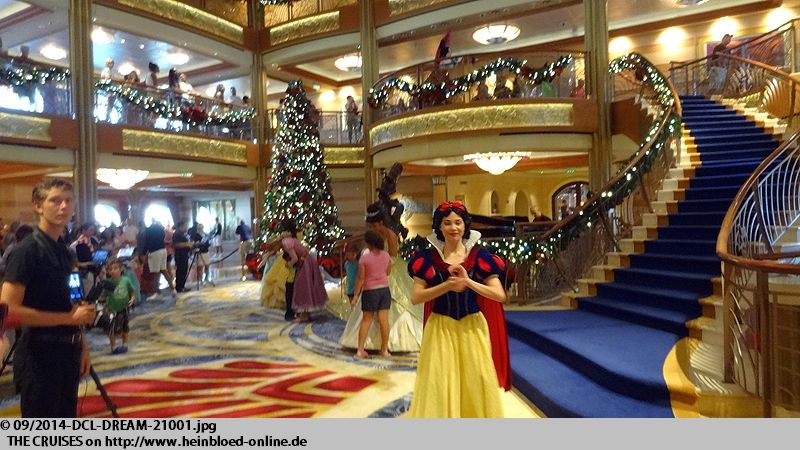 Im Atrium findet jetzt das Fotoshooting mit den Disney-Prinzessinnen statt. Goldig. Einfach goldig, wie die kleinen Mädels angezogen erscheinen. Was sehr schön ist: es werden Bilder vom Bordfotografen gemacht, aber es ist auch immer jemand da, der mit den eigenen Kameras der Gästen fotografiert.
Ein Lebkuchenhaus ist aufgestellt worden.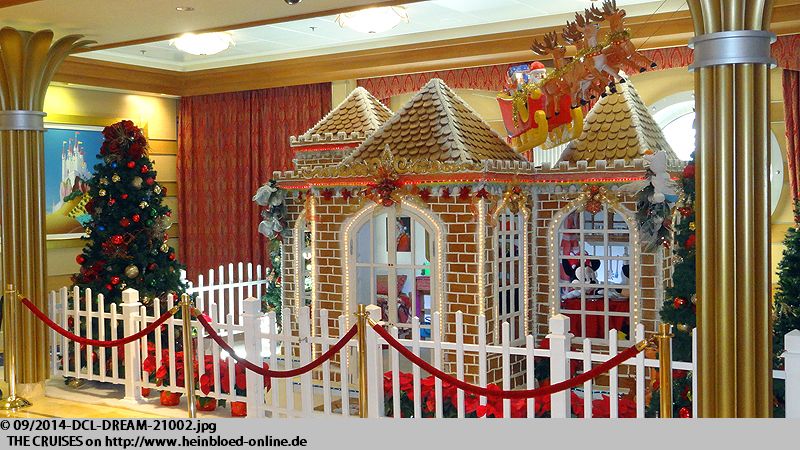 A gingerbread house was erected.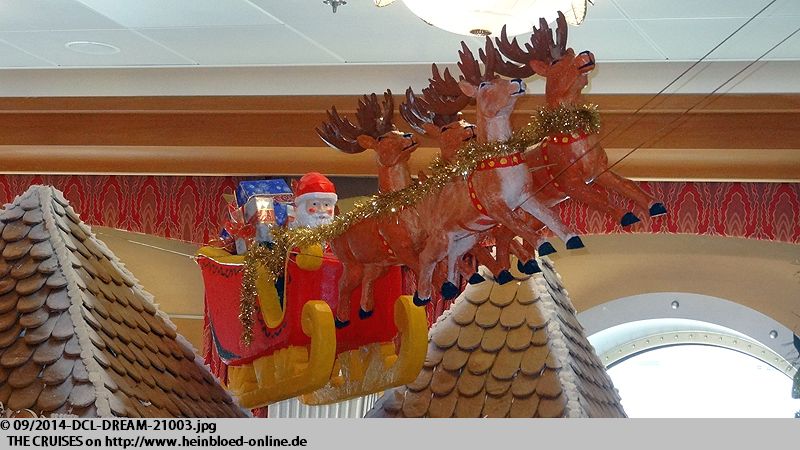 Später ergibt sich für mich die Gelegenheit ein paar Selfies vor dem Weihnachtsbaum zu machen.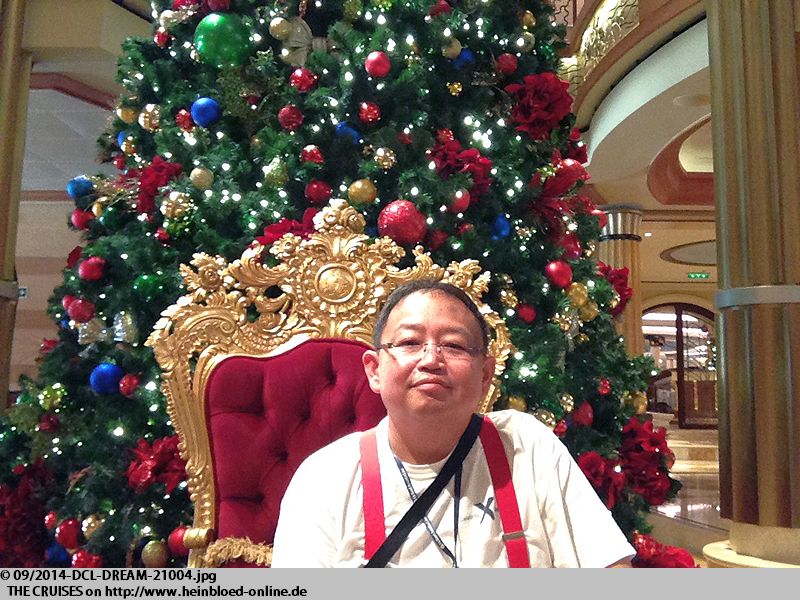 Later, I had to make some pictures of myself in front of the Christmas tree.

It was so giant that I had no chance to get it entirely on my photo.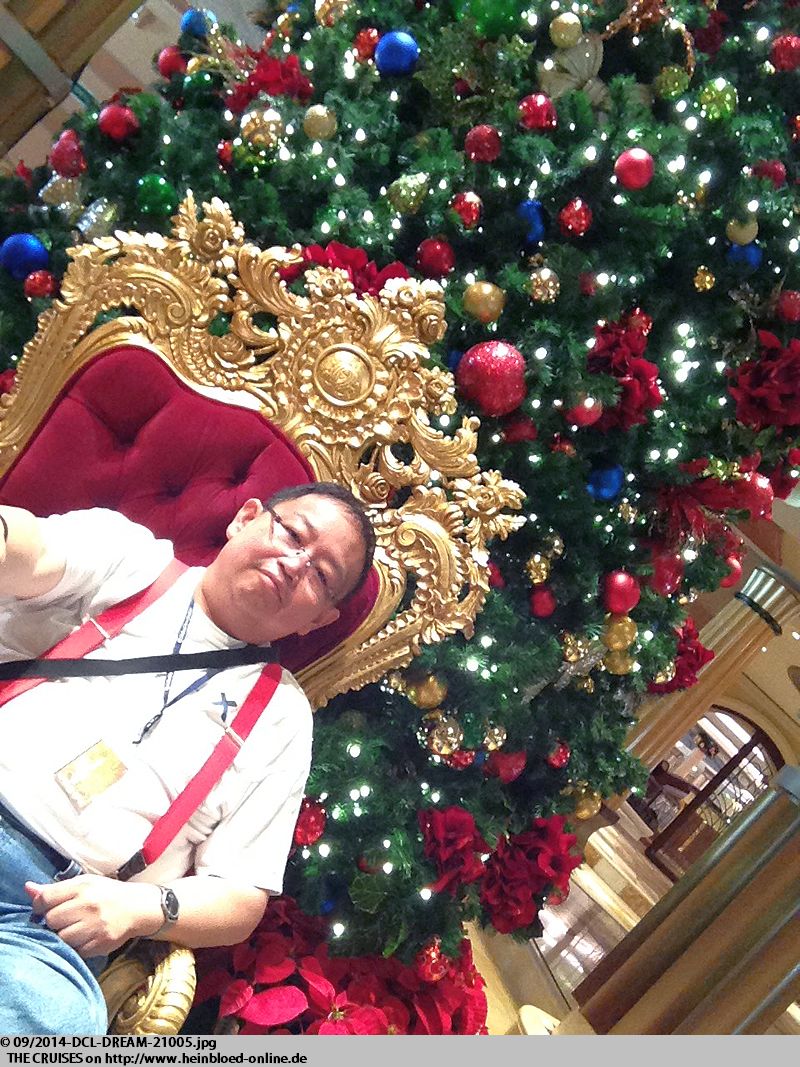 Der ist jedoch so groß, dass ich ihn komplett gar nicht auf das Bild bekomme.
Man kann sich sehr leicht zum Ausgang orientieren.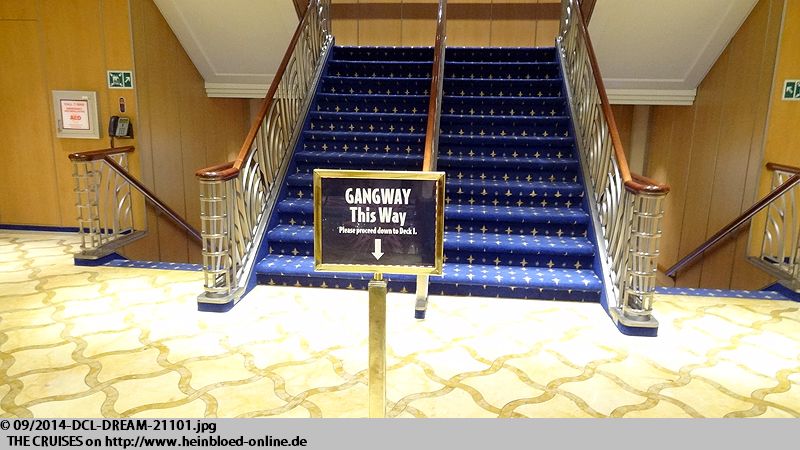 It was easy to find orientation to the exit.

Did you have actually 15 or 45 minutes time to be right on time onboard? They did not publish the sailing time but only the onboard time.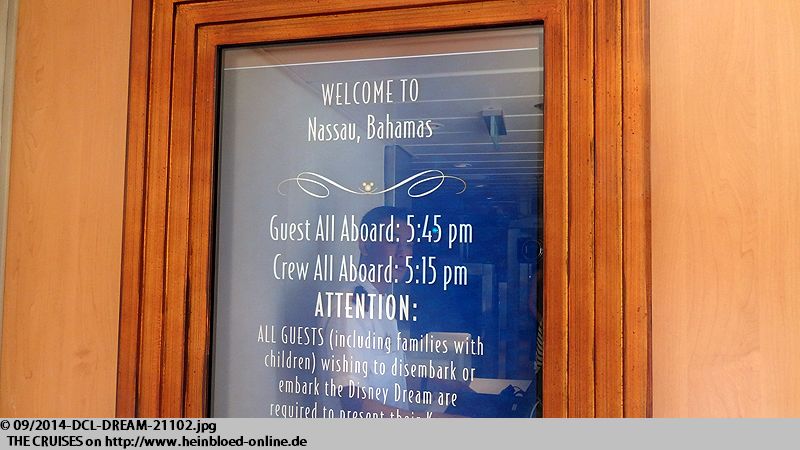 Hat man eigentlich 15 oder 45 Minuten vor Abfahrt Zeit, um rechtzeitig an Bord zu kommen? Es wird ja nicht die Abfahrtszeit veröffentlicht, sondern nur die Anbord-Zeit.
Noch ein paar Außenaufnahmen von der DISNEY DREAM.

A few more external pictures of DISNEY DREAM.

A few more selfies.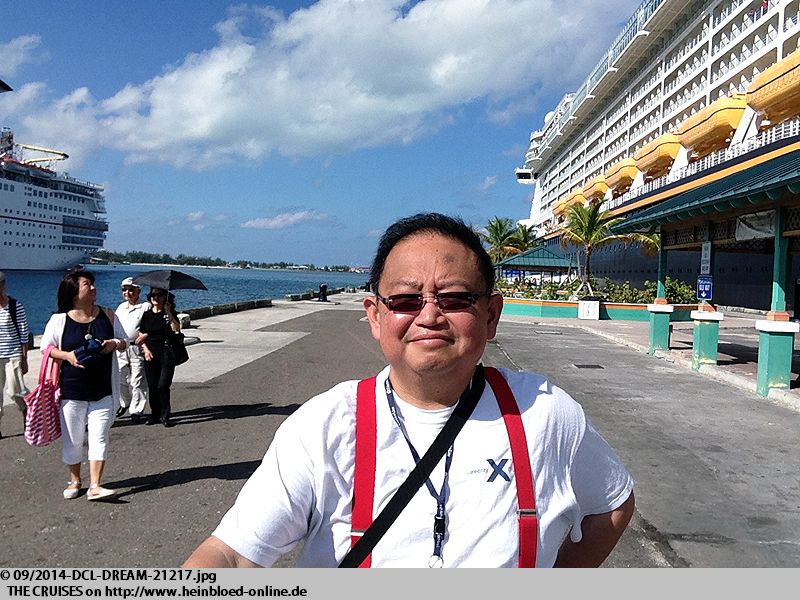 Noch ein paar Selfies.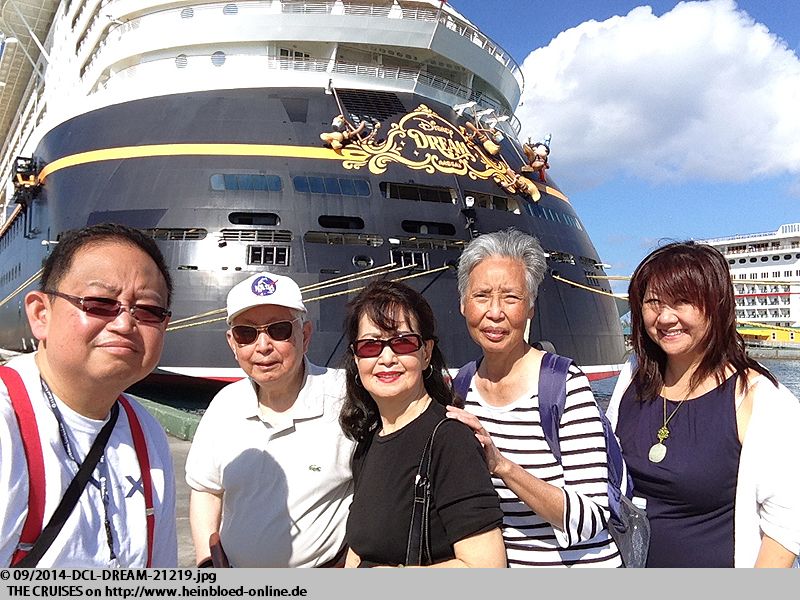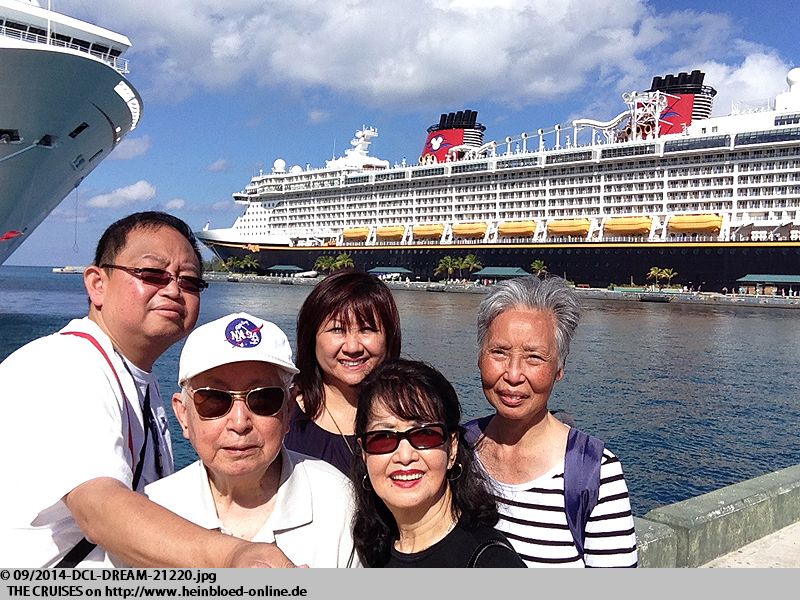 And some more from the pier in Nassau.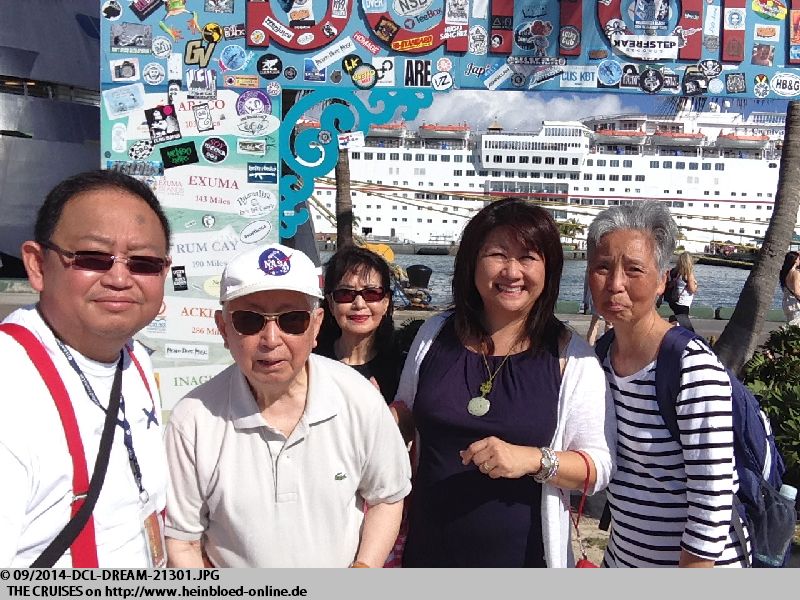 Und noch ein paar am Pier von Nassau.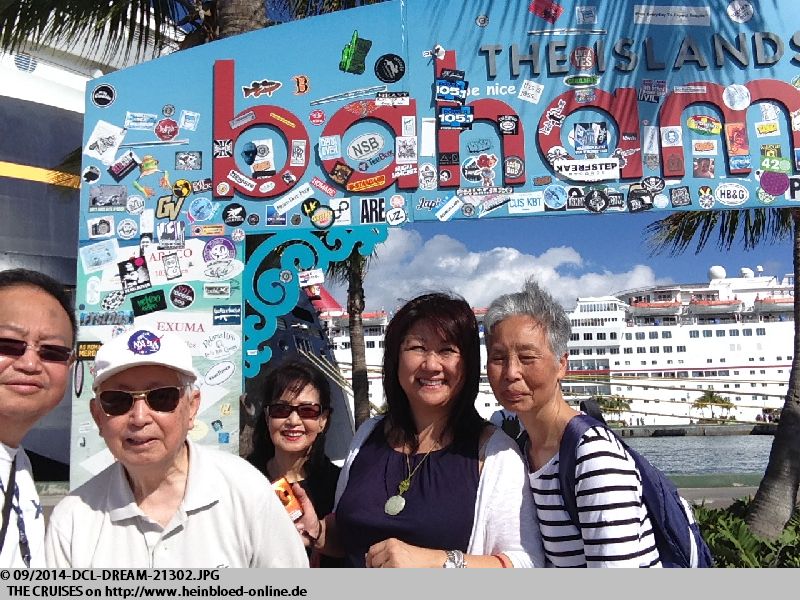 Unfortunately, they were refurbishing the cruise terminal. For all, who wanted to go to Atlantis, they offered for 4.00 USD/person (2014) a collective taxi or the ferry to Paradise Island. They offered us collective tours, and I wanted to have everything under our control. So we booked with Miss Barbara Edgecombe her taxi exclusively for us so I would be in our hand where and when to stop. The tour itself was not very exciting: alongside the coastline, in the wealthy district, in the poor district and up to Fort Fincastle.

Leider wird im Moment das Cruise Terminal umgebaut. Für alle diejenigen, die zum Atlantis-Hotel wollen, fährt für 4,00 USD/Person (2014) ein Sammel-Taxi oder die Fähre rüber nach Paradise Island. Uns werden Sammeltouren angeboten, aber irgendwie wollte ich lieber alles selbst unter Kontrolle haben. So buchen wir mit Miss
Barbara Edgecombe
ihr Taxi für uns alleine, so dass wir selbst alles in der Hand haben, wann und wie wir halten. Es ist aber eine wenig aufregende Tour: entlang der Küste, in das Reichenviertel, dann in das Armenviertel und dann rauf zu Fort Fincastle.
Hier halten wir, weil Miss Barbara sagt, dass man hier auf Toilette gehen kann, billig einkaufen kann und auf das Fort. Die anderen entscheiden für die Toilette und Shopping, aber ich entscheide mich für das Fort. Hier zahlt man 1,00 USD (2014) für den Eintritt. Und einen weiteren Dollar für den Führer im Fort, der die Ausstellungsräume erklärt. Mir geht es aber nur um den Blick auf die Schiffe im Hafen.

Here, we stopped, because Miss Barbara said that you could use the toilets here and could do cheap shopping, but I decided of the fortress. You pay 1.00 USD (2014) for admission. And another Dollar for the guide in the fort who explained the exhibition rooms. I was there to have the view on the ships in port.

One selfie was a must.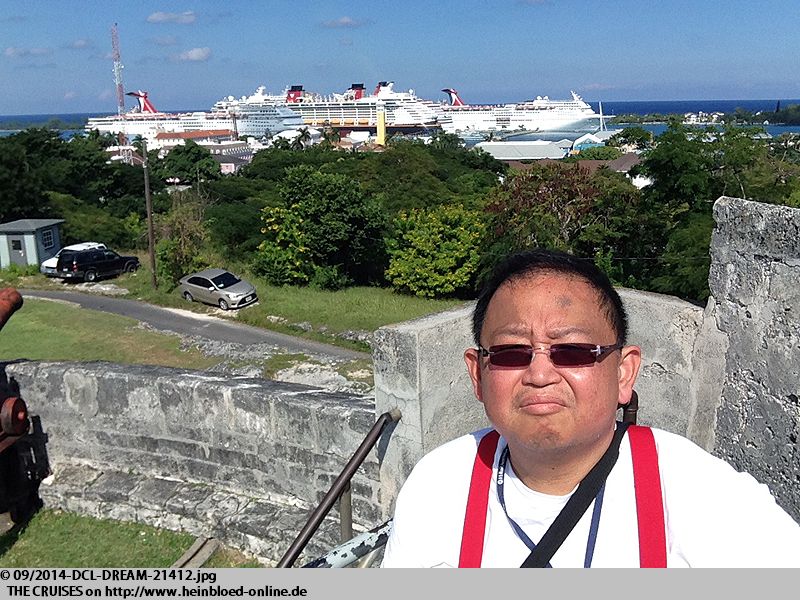 Ein Selfie muss sein.
Und hier sehe ich auch, wie die ENCHANTMENT OF THE SEAS in den Hafen reinfährt. Und ich muss jetzt fotografieren und später auch nochmals.

And here I could see, how ENCHANTMENT OF THE SEAS entered the port. And I needed to take pictures and again later.

Very soon, we continued. They also had carriages around.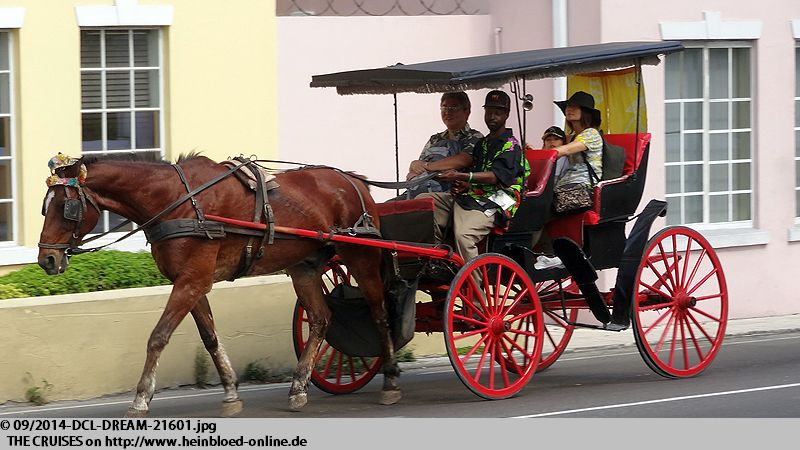 Sehr bald geht es auch weiter. Es sind auch Kutschen unterwegs.
Es gibt Straßenzüge in Nassau, die sind einfach "tot". Durch die Rezession ist dort kein einziges offenes Geschäft mehr.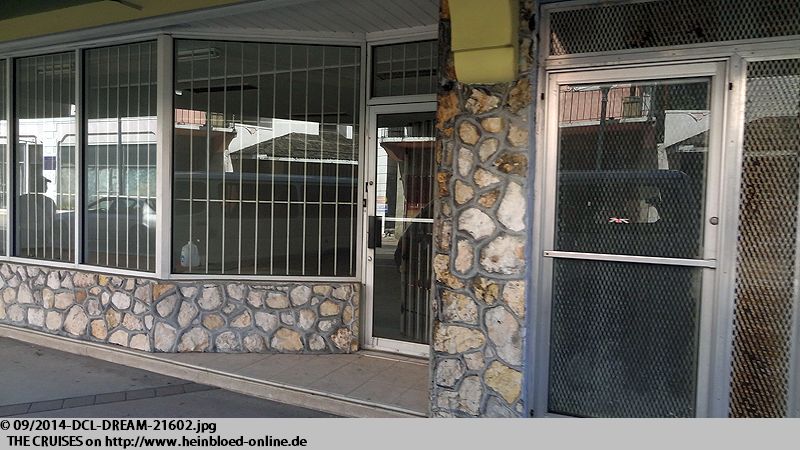 There were entire streets, which appeared simply "dead". Due to the recession, no single shop was open anymore.

We crossed the bridge over to Paradise Island where you could see the cruise terminal.

Es geht dann über die Brücke rüber auf Paradise Island mit Blick auf das Kreuzfahrtterminal.
Ab ins Atlantis.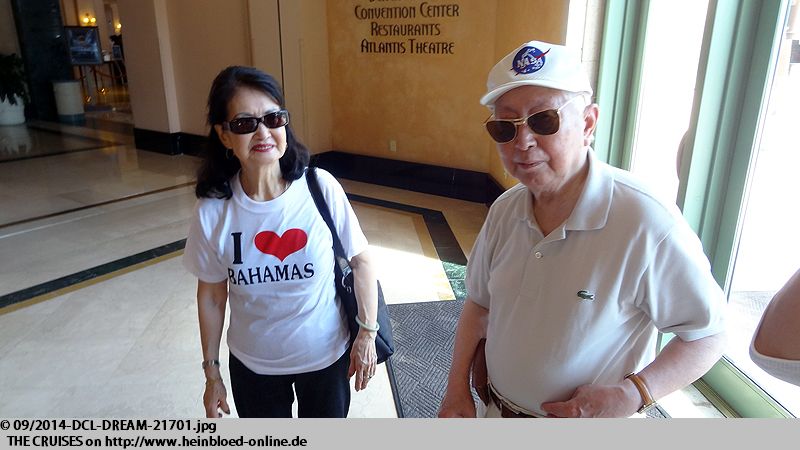 Heading for Atlantis.

I could not find so many changes since I was here the first time on CENTURY 2008.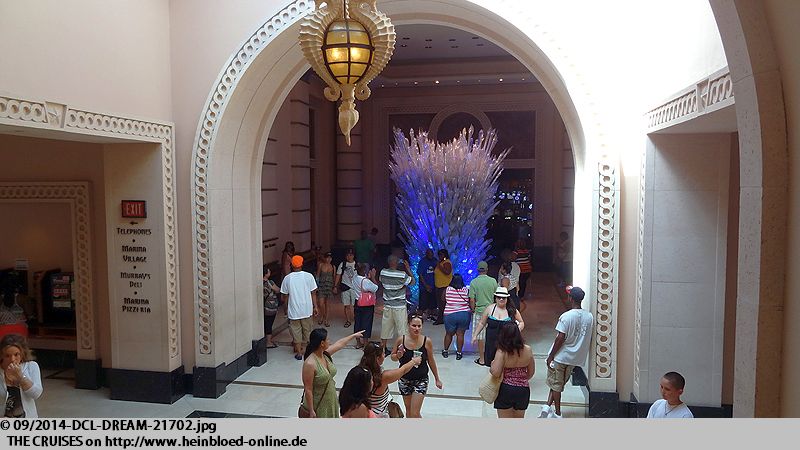 Nicht viel verändert seitdem ich zum ersten Mal hier mit der
CENTURY 2008
war.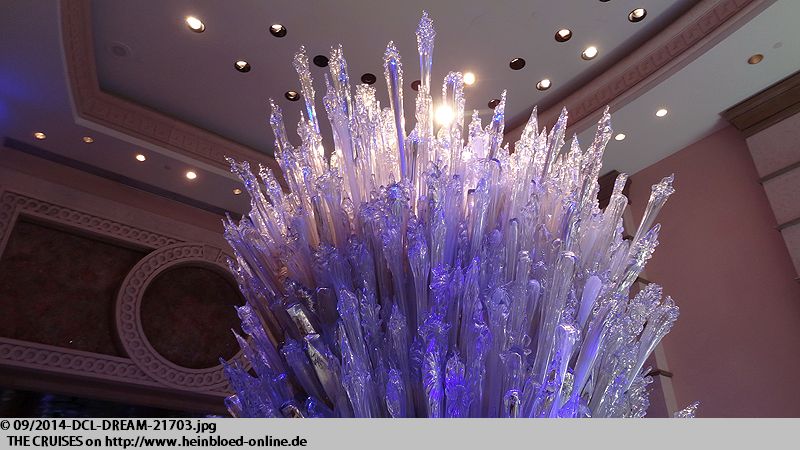 Still impressive: the glas-sculptures. Here the Crystal Gate von Dale Chihuly at the entrance to the casino.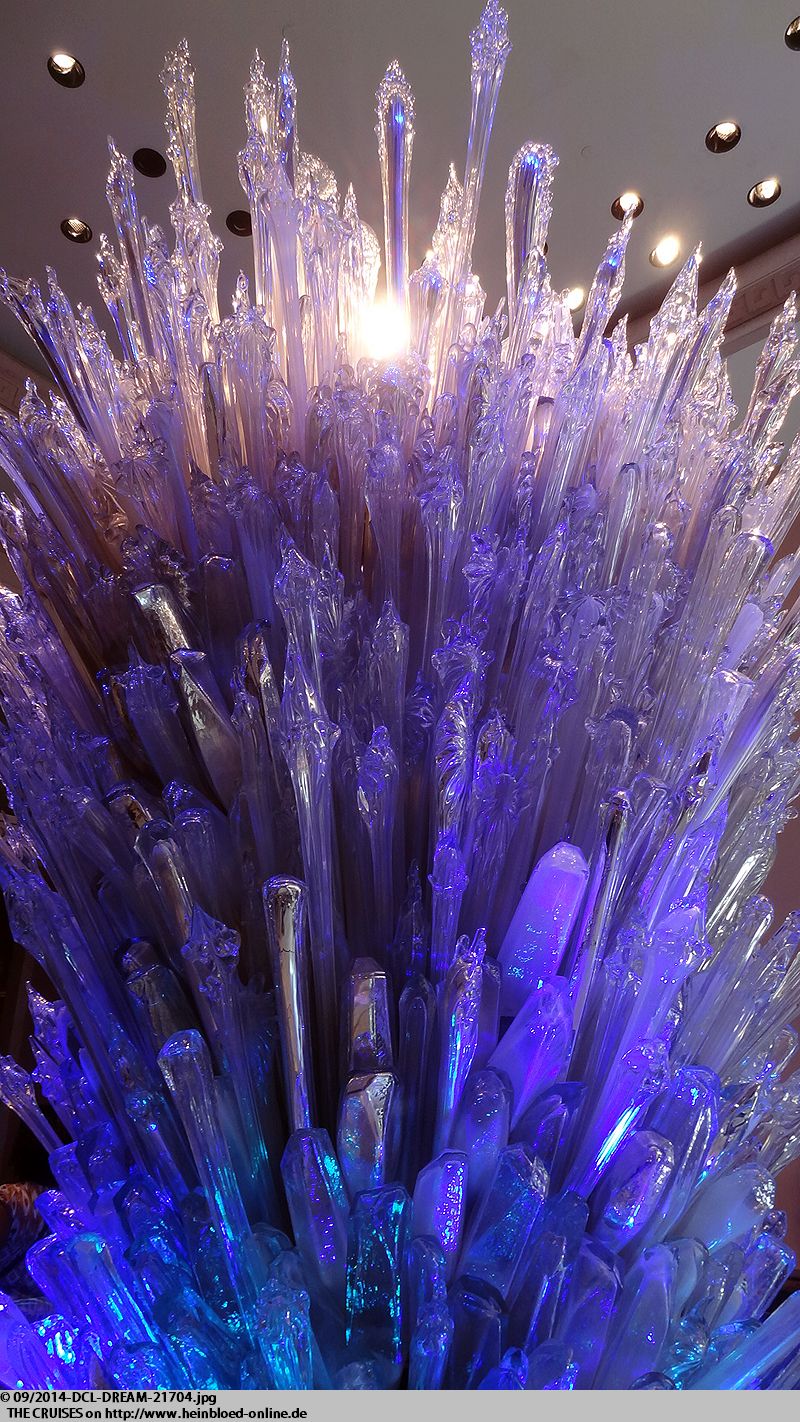 Immer noch beeindruckend: die Glas-Skulpturen. Hier das
Crystal Gate von Dale Chihuly
am Eingang vor dem Casino.
Auch meine Eltern wollen ein Bild haben.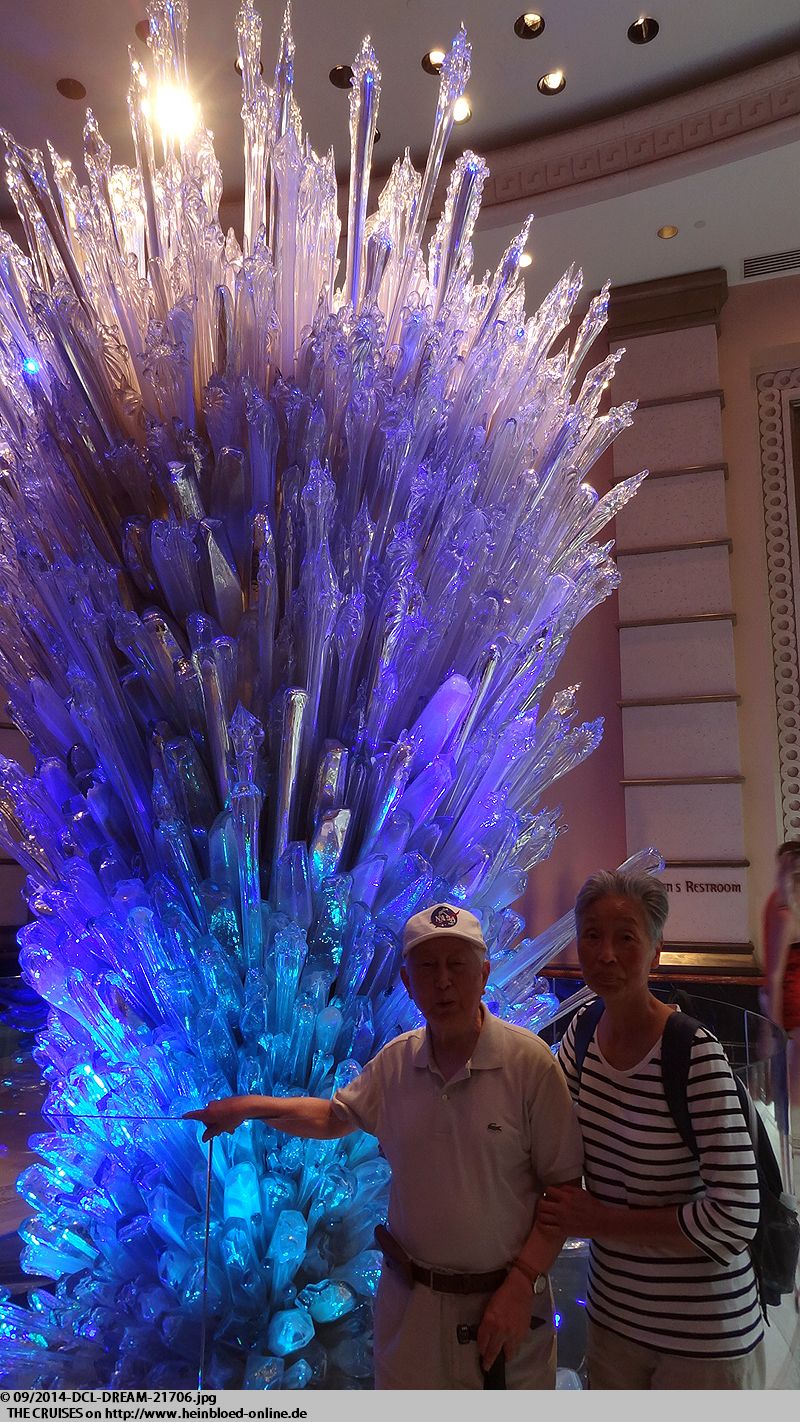 My parents wanted to have a picture too.

Like in (most) other casinos in the world, taking pictures in the casino was prohibited. It was to protect the gamblers. You were even not allowed to take pictures of your own parents. But you were allowed to take pictures of the further sculptures. After the casino, you had the hotel lobby with the access to the aquarium. But that area was exclusively for hotel residents. So you could not see anymore the nice café in front of the aquarium. But that was not existing anymore. So we went out to the terrace and checked for the day pass (I would need to have my beta-blocker, which stayed onboard when I learned the prices for a day pass...). So we were heading back slowly.

Wie in (fast) jedem anderen Casino auf der Welt, ist das Fotografieren im Casino verboten. Es dient dem Schutz der Spieler. Man darf noch nicht mal seine eigenen Eltern fotografieren. Allerdings darf man Bilder von den weiteren
Skulpturen
machen, die im Casino sind. Nach dem Casino folgt die Hotellobby mit dem Zugang zum Aquarium. Der Zutritt zu diesem Bereich ist nur noch Hotelgästen vorbehalten. Auch darf man nicht mehr in das schöne Café vor dem Aquarium. Das gibt es wohl nicht mehr. So gehen wir halt raus entlang der Terrasse und erkundigen uns nach den Tagespässen (meine Beta-Blocker, die ich jetzt gebraucht hätte, nach dem ich die Preise erfahren haben, sind an Bord...). So machen wir uns auf den Weg zurück.
Natürlich sind ein paar Selfies hier im Atlantis entstanden.

Certainly, few more selfies were taken here at Atlantis.

In front of the resort, many collective taxis were waiting and offered their services back to the cruise terminal for 4.00 USD (2014). While we were in the resort, Miss Barbara took some guests back and forth between the ship and the resort. That would explain why you could have only specific time frames for a stay at Atlantis or you could get a credit of 4.00 USD when the tour ended here.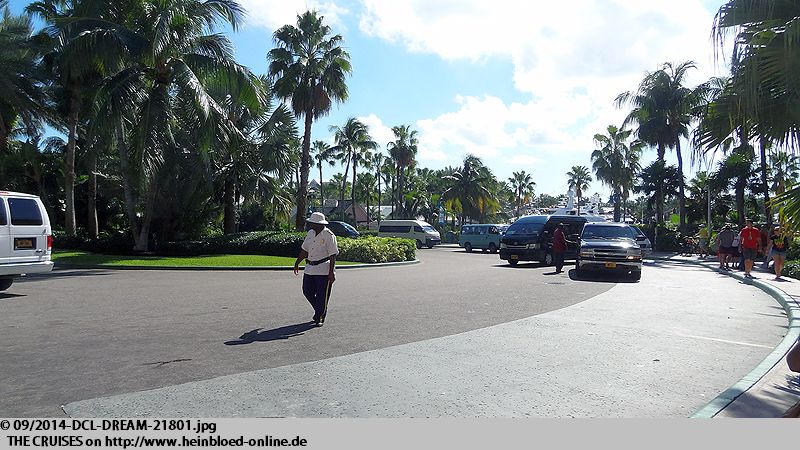 Vor dem Resort stehen eine Menge Sammeltaxis, die für 4,00 USD (2014) die Gäste zurück zum Cruise Terminal fahren. Während wir im Resort waren, ist wohl Miss Barbara zwischenzeitlich auch ein paar Runden zwischen dem Resort und den Schiffen hin und her gefahren. Das erklärt auch den Grund, dass nur bestimmte Aufenthaltsdauern am Atlantis möglich sind oder dass man einfach 4,00 USD Vergünstigung bekommt, wenn die Tour hier endet.
Am Cruise Terminal sind viele Stände aufgebaut.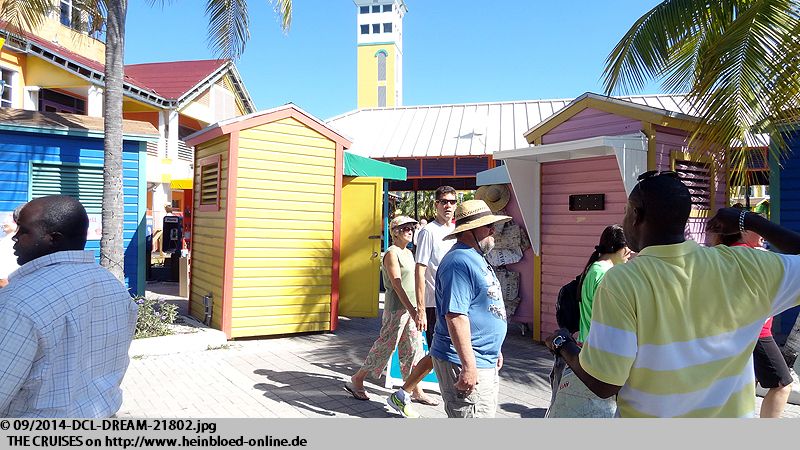 Many market booths were set up at the cruise terminal.

Reggae-music, which was played very nice. I was not so much a fan of. Here they also checked the passports at the pier access. But we could save the effort to get the visa. Nobody checked them ashore.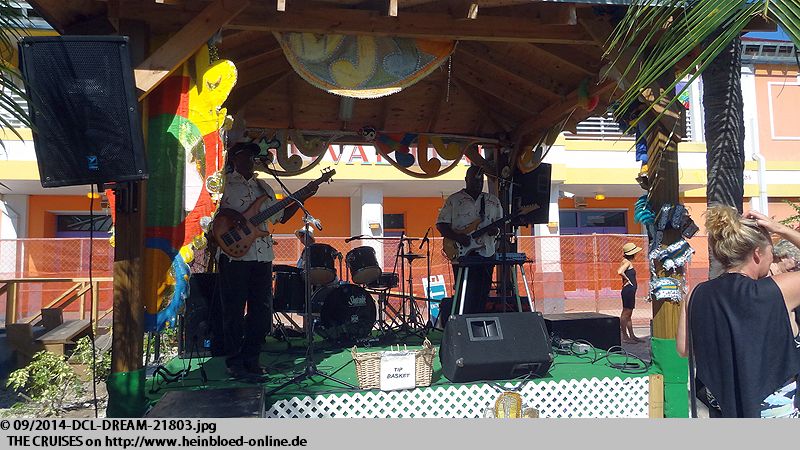 Reggae-Musik, aber sehr schön gespielt. Ich bin sonst nicht so ein Fan. Hier werden auch die Pässe beim Pier-Zugang kontrolliert. Nur die Visa hätten wir uns wohl schenken können. Die werden zumindest landseitig nirgendst kontrolliert.
Nicht nur ein Spender mit Handdesinfektion, damit es schneller geht.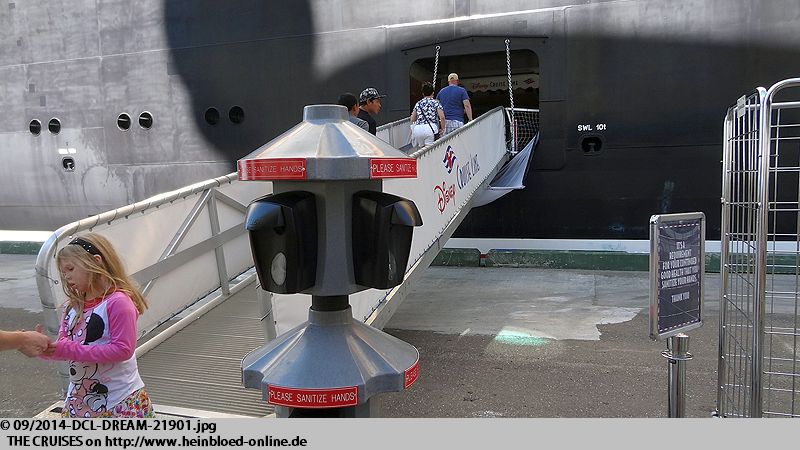 Not only one dispenser for sanitizer to make it more fast.

Here you could easily see, why Disney was more expensive than many other cruise lines.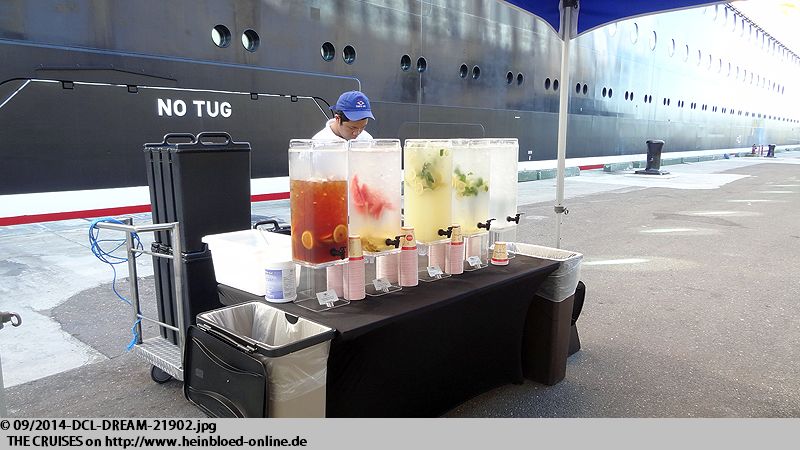 Hier merkt man auch, warum Disney teurer ist, als andere Kreuzfahrtgesellschaften.
Man bekommt eben nicht nur Wasser, bevor man an Bord kommt.

You did not get simply water before you entered the ship.

Outside, they were cleaning the hull nicely.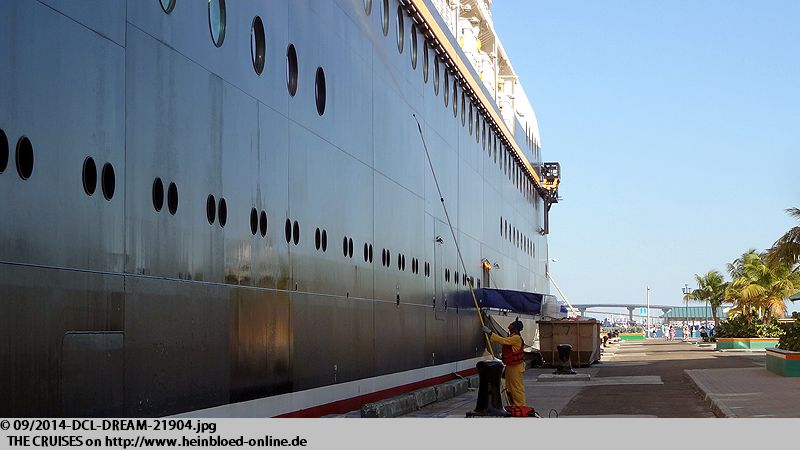 Außen am Schiff wird noch alles schön gereinigt.
Ich gehe schnell zum Royal Palace zum Mittagessen. Die Brotauswahl ist nicht außergewöhnlich.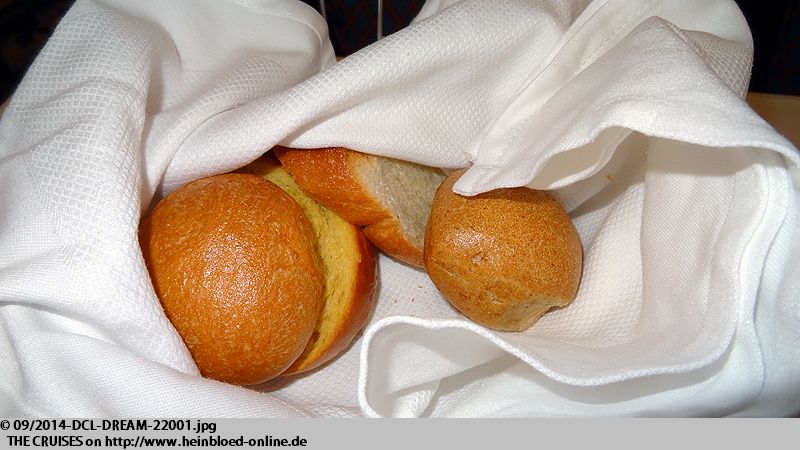 I went quickly to Royal Palace to have lunch. The selection of bread was not extra ordinary.

The cream of carrot soup was excellent that I took another one later.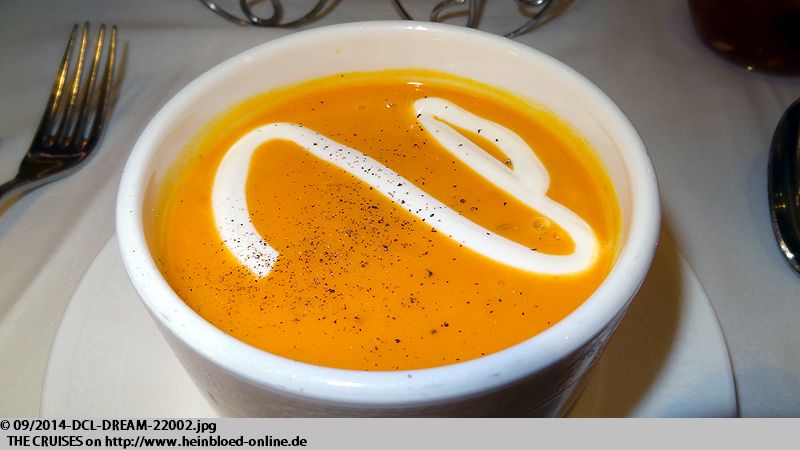 Die Möhrencremesuppe ist sehr gut, so dass ich sogar noch eine zweite später nehme.
Bei den Hauptgängen versuche ich mich am Hackbraten, aber ich lasse es nach einem Bissen und nehme nur das Kartoffelpüree.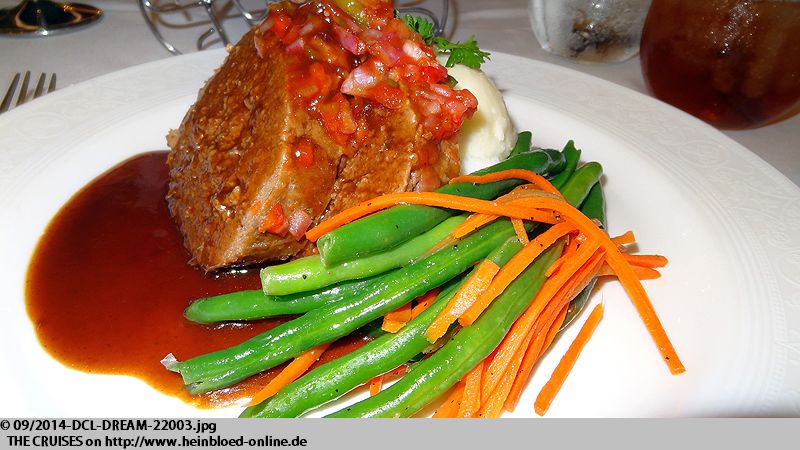 I tried the meat loaf as entree but after one bite I stayed with the mash potato.

Somehow the waiters were a little too "silly". I was not sure if you should not limit it to kids...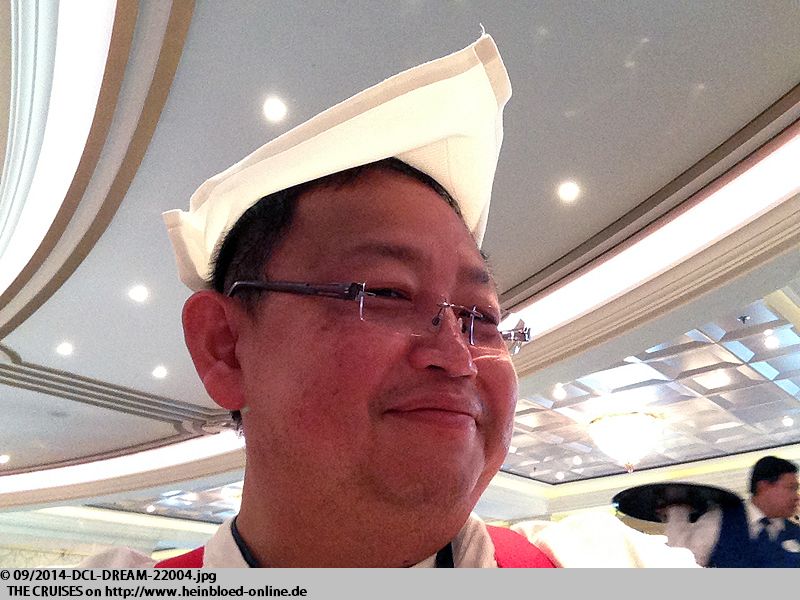 Irgendwie sind die Kellner doch manchmal zu "albern". Ich weiß nicht, ob man so etwas nicht nur auf die Kinder beschränken sollte...
Ich gehe nochmals raus, weil zwischenzeitlich die CARNIVAL BREEZE eingetroffen ist und unbedingt vor die Kamera will.

I went out again, since meanwhile CARNIVAL BREEZE arrived and wanted to be my model.

My parents told me that they had a great lunch buffet. So I quickly went to see, but only one pizza-outlet was still open.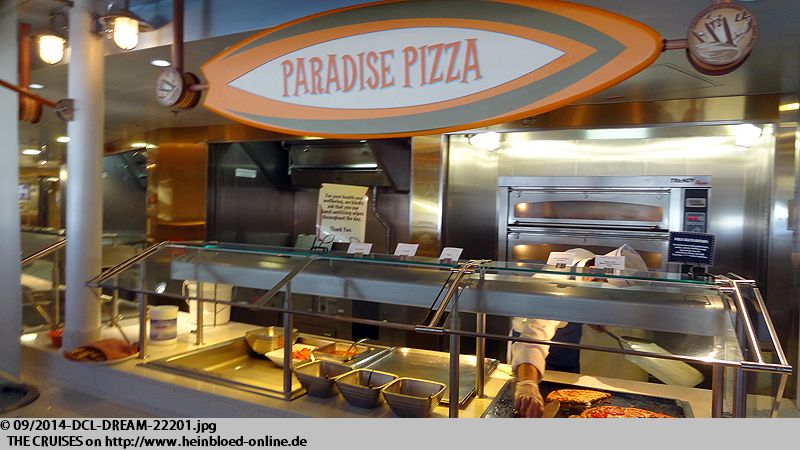 Meine Eltern erzählen mir, wie toll das Mittagsbüffet war. So gehe ich nochmals kurz gucken, aber als ich komme ist nur noch ein Pizza-Stand geöffnet.
Aber ebenfalls mehr für den amerikanischen statt dem italienischem Geschmack.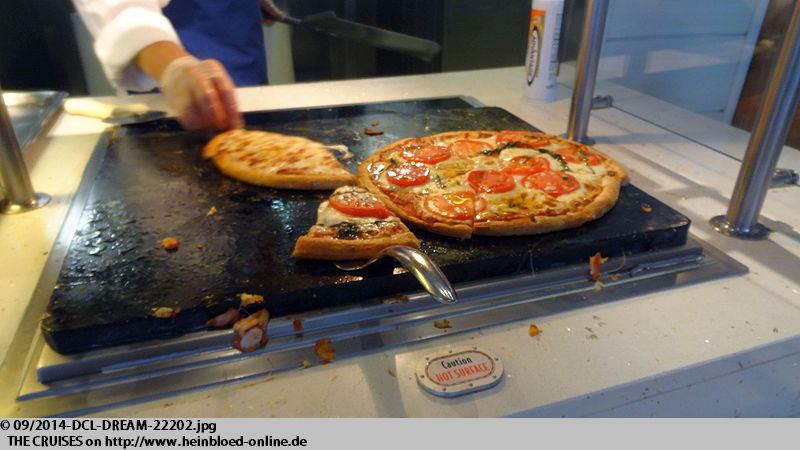 But again, it was more for the American but Italian taste.

For dinner in Cabanas, they started to set up the tables. It looked like an upgraded service.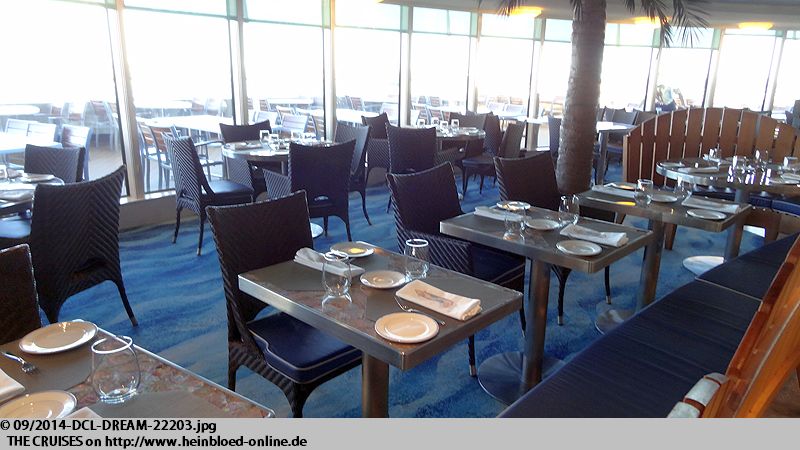 Für das Abendessen im Cabanas werden wohl die Tische eingedeckt. Scheint hier wohl einen gehobenen Service zu geben.
Sehr schön sind auch die Mosaiken. Und auch hier ein Disney-Motiv: Findet Nemo.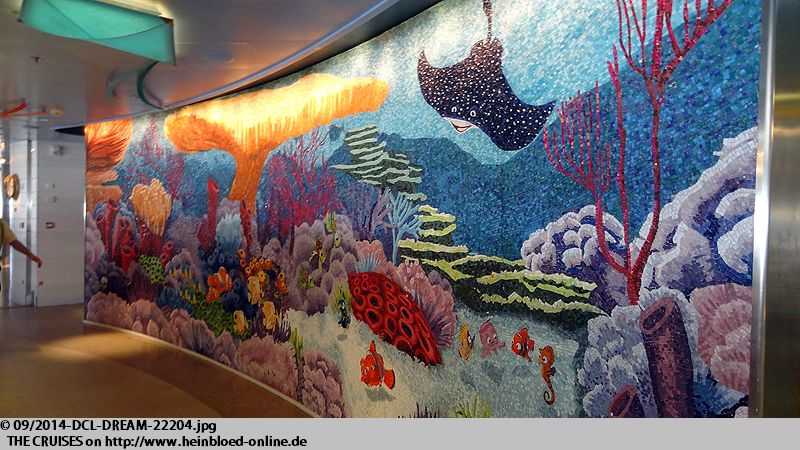 Very nice were the mosaics. And again something from Disney: Finding Nemo.

I went quickly to the gym since I wanted to use the scale.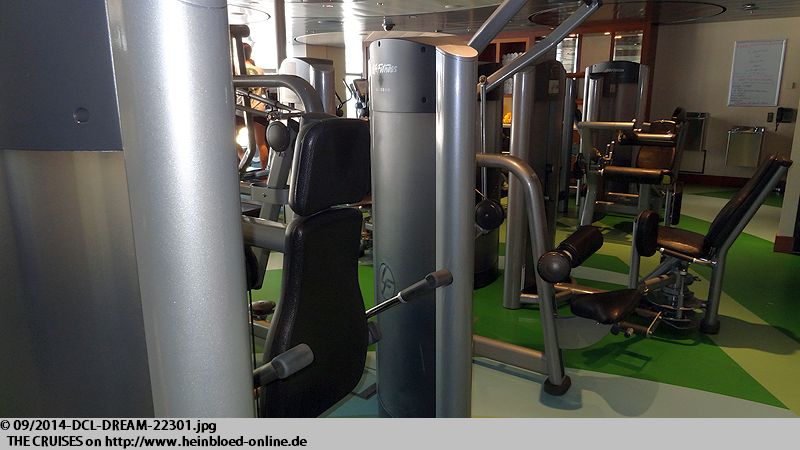 Ich gehe kurz ins Fitness-Studio, weil ich mich gerne mal wiegen würde.
Auch hier: es gibt hier mehr als auf anderen Schiffen: z. B. frisches Obst.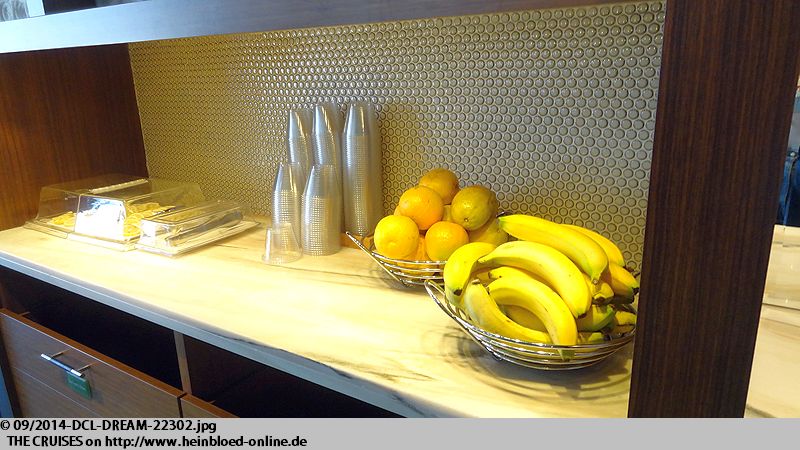 Here again: you get more than on other ships: like fresh fruits.

Since I could not see any scale, I asked in the spa.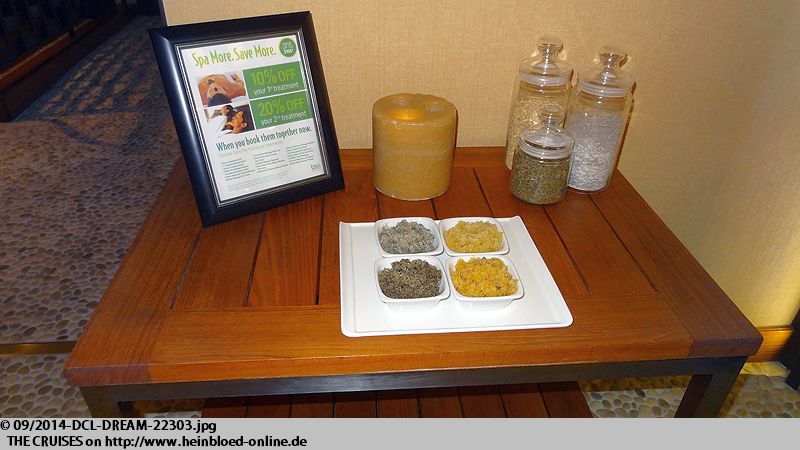 Da ich keine Waage finde, frage ich im Spa nach.
Man zeigt mir sofort die Waage.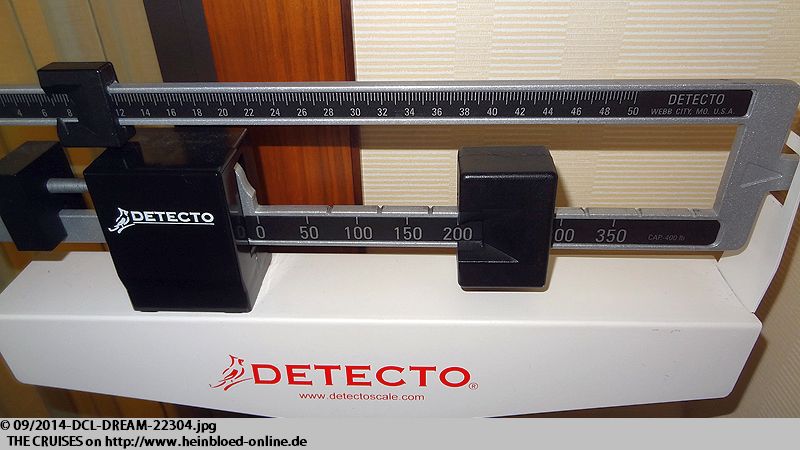 They showed me immediately, where to find one.

207 lbs = 94 kg... WOW - that was almost 10 kg since the end of the last cruise on NORWEGIAN JADE 2014 (2).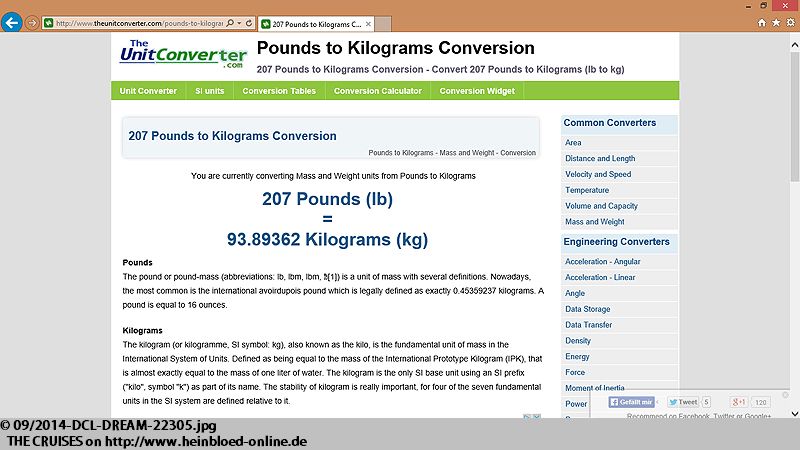 207 lbs = 94 kg... WOW - das sind knapp 10 kg seit Ende der Reise auf der
NORWEGIAN JADE 2014 (2)
.
Es wird ein Kabinenfrühstück angeboten, aber irgendwie nur auf Spanisch...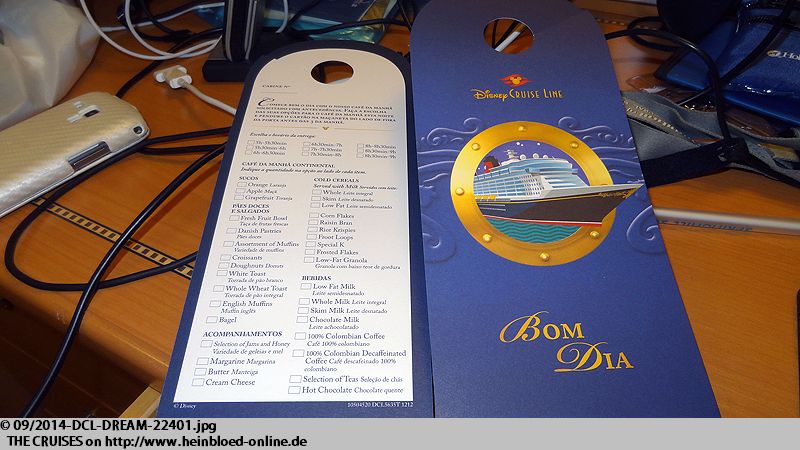 They offered a cabin breakfast, but only in Spanish.

The menu for the day selection, you found in the big book.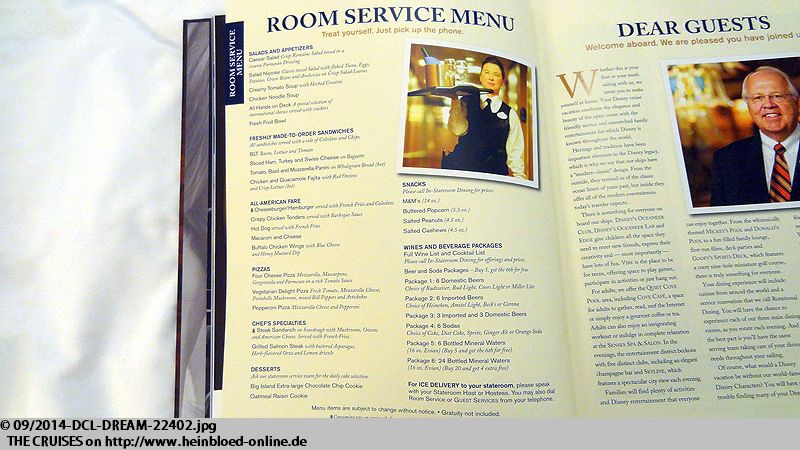 Die Speisekarte für das Tagesangebot findet sich im dicken Buch wieder.
Ich bestelle wieder Suppe und Obst.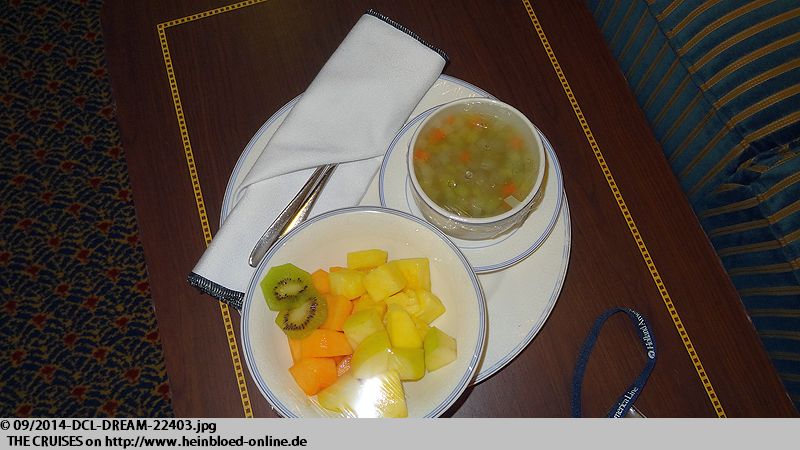 I ordered again soup and fruits.

I was very excited about the presentation on their internet services. I could use the service also on my own PC.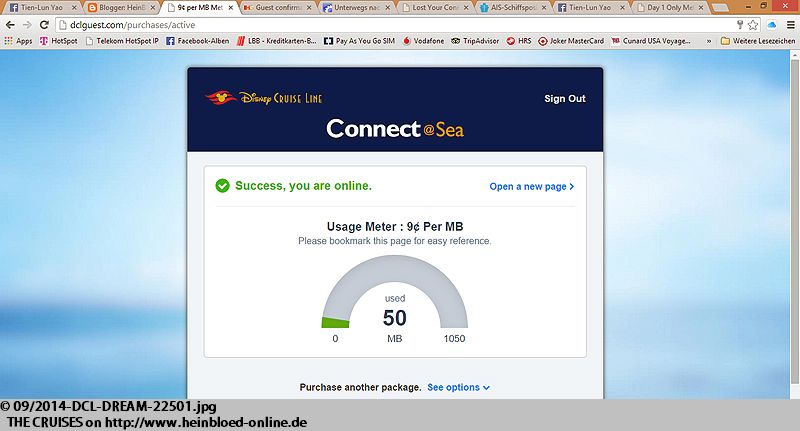 Ich bin von der Darstellung des Internet-Services begeistert. Den Dienst kann ich auch auf meinem PC gleichzeitig nutzen.
Mein Verbrauch wird mir sehr verständlich angezeigt.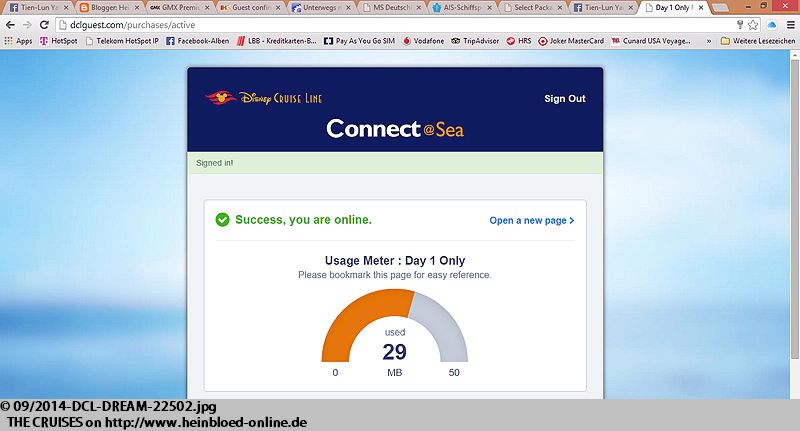 Certainly, the displayed always my actual usage.

They understood, that family fathers were also businessmen, who needed to be connected with their companies. So they allowed VPN-connections. You set up a tunnel into your Virtual Private Network, and within the private network, you moved around the world. So no uploads by FTP to my German server were allowed. But the VPN-tunnel would make it possible.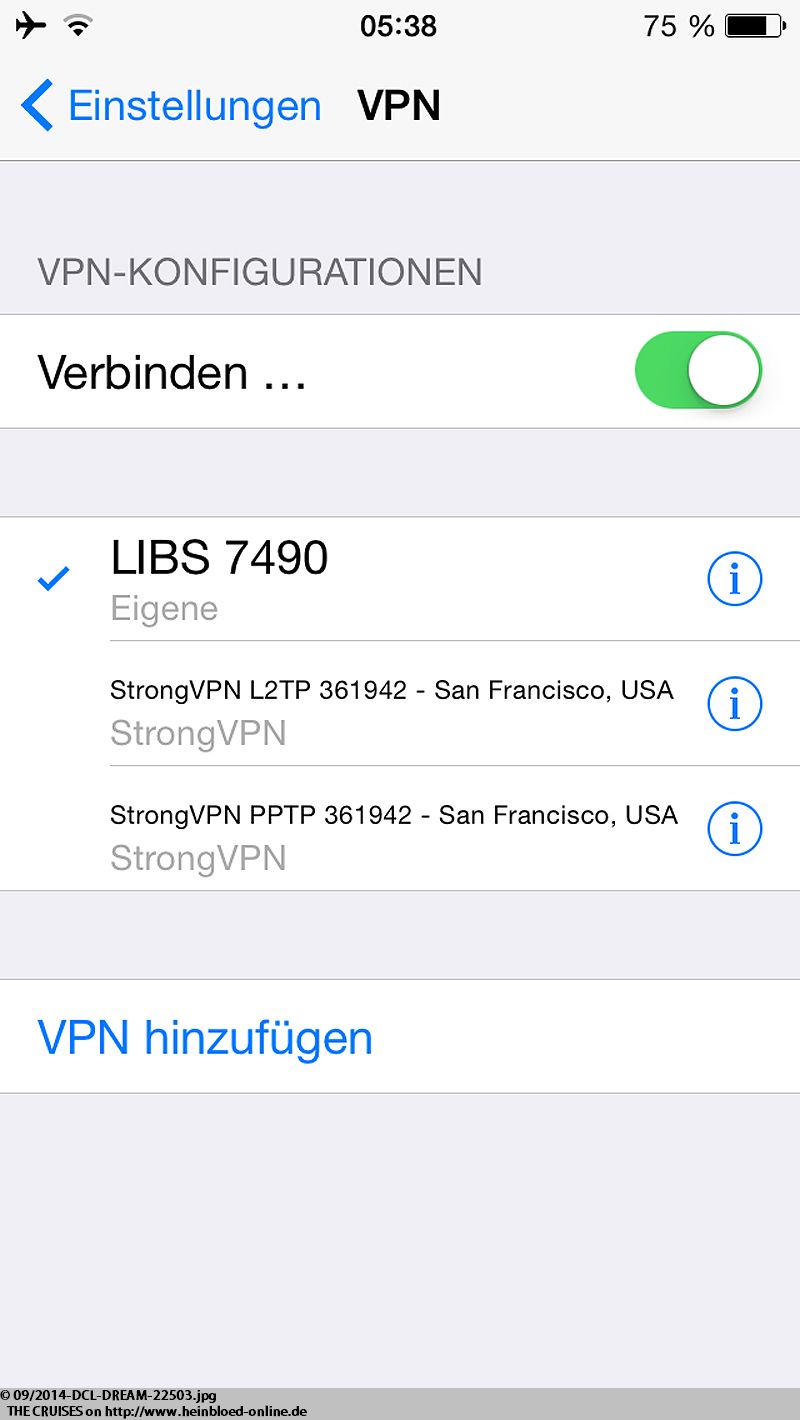 Sie haben es erkannt, dass Familienväter auch Geschäftsleute sind, die mit ihren Firmen verbunden bleiben müssen. So sind sog. VPN-Verbindungen zugelassen. Man baut sich einen Tunnel in sein Virtual Private Network und im privaten Netz bewegt man sich dann durch die ganze Welt. Dafür sind keine direkten ftp-Übertragungen auf den T-Online Server möglich. Der VPN-Tunnel würde es jedoch möglich machen.
Bruno hat es mir so eingerichtet, dass ich mich zu Hause in unsere Fritz-Box einloggen kann und von hier aus zu den normalen Telefontarifen anrufen kann. Da wir zu Hause allerdings eine Flatrate ins deutsche Festnetz haben, heißt es für mich nur die Minutenpreise ins Internet statt der teuren Preise mit Telekom oder dem Bordnetz nach Hause. Meine H2O-Karte kann ich auf den Bahamas nicht nutzen.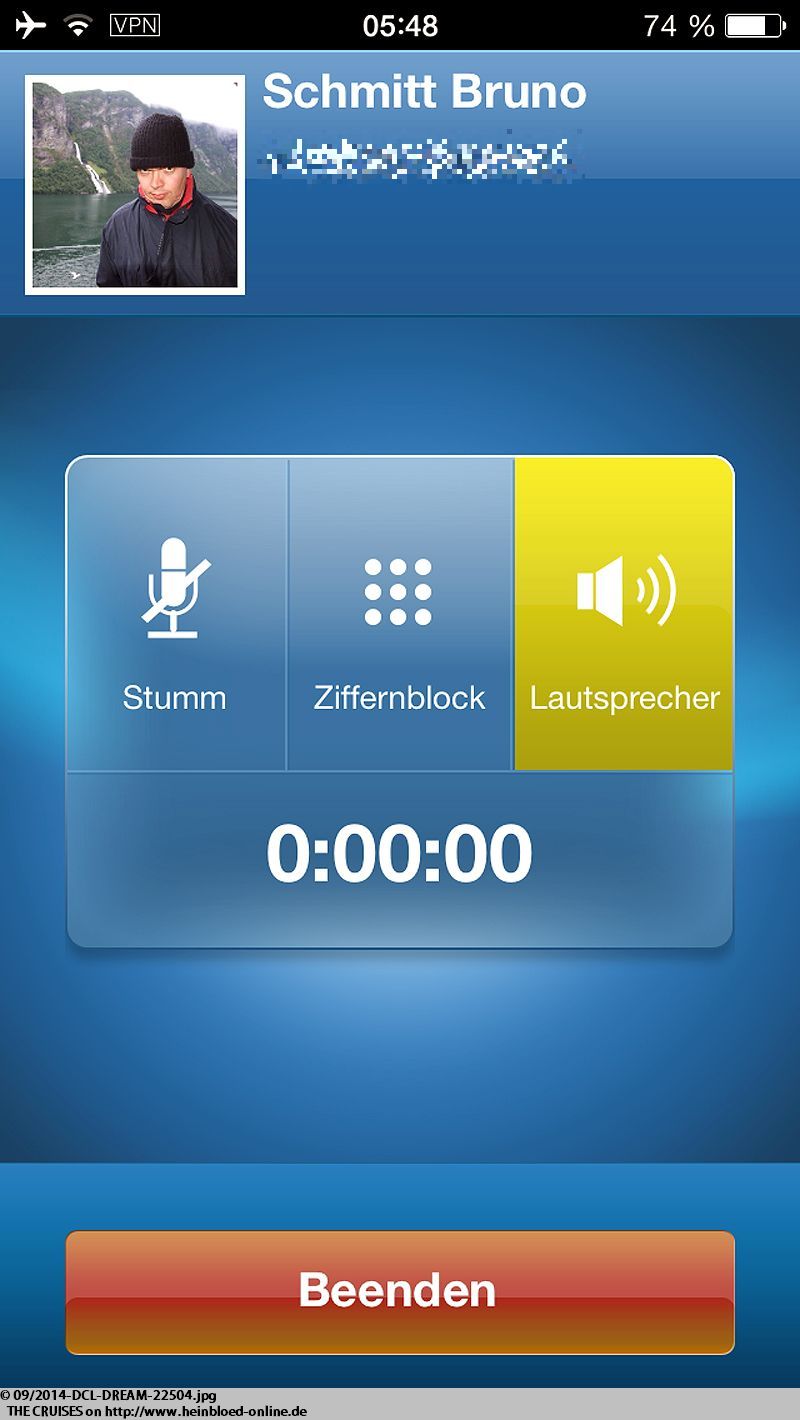 Bruno set it up for me, that I could get access to our home router and could call from here with the standard costs. Since we had at home a flat rate for the German wired network, I only paid the price per minute onboard but the expensive roaming or onboard rates. My H20-card did not work on the Bahamas.

The network was so well: it was possible to make FaceTime-Video calls. Nice to see Bruno again.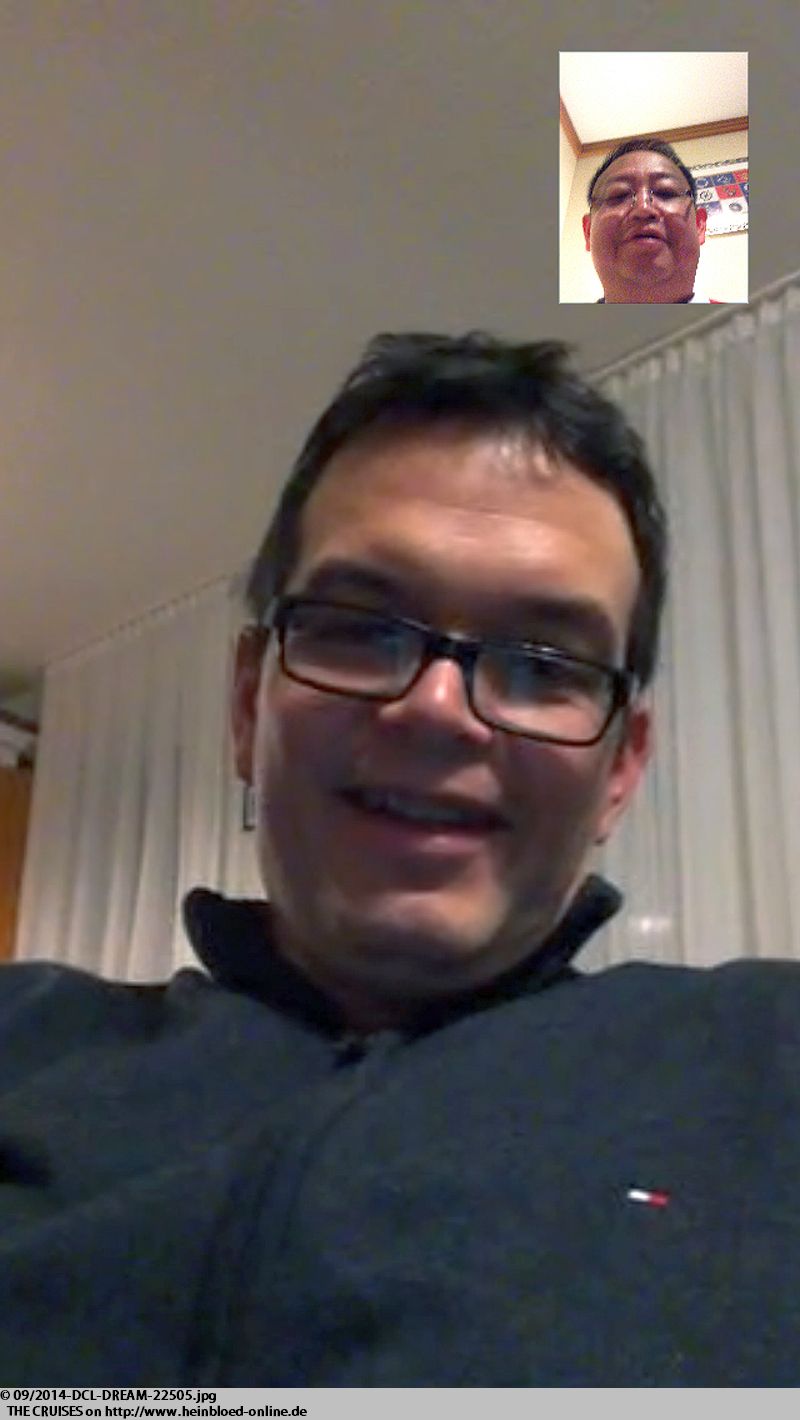 Das Netz ist so gut: es sind sogar FaceTime-Video-Anrufe möglich. Schön mal wieder Bruno zu sehen.
Bald geht es dann auch schon wieder raus.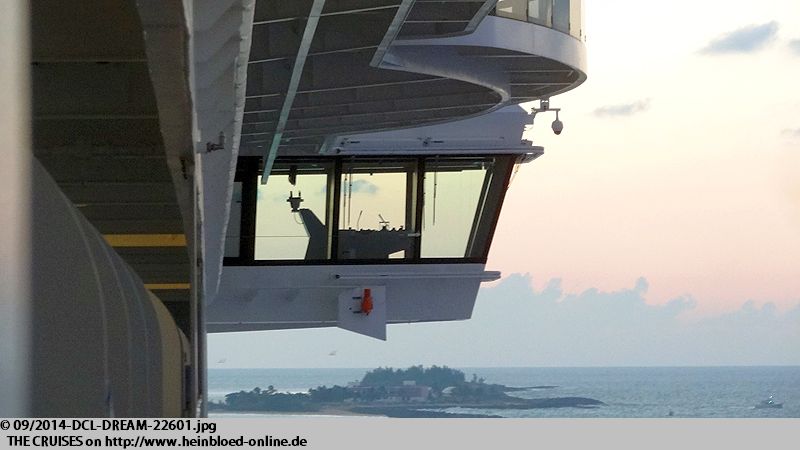 Soon we were leaving the port.

For dinner, we were well supplied: the red item on the bed was a headscarf for pirates: it was pirates night. We went to the Royal Palace. And it was unusually loud. I was somehow unhappy - somehow: we got a more extensive table: a table with was set for eight guests. Somehow that day nothing worked properly and did not meet my expectations. But the light therapy at the bar helped to forget. The food was good, but the selection in Enchanted Garden was better.

Für das Abendessen wurden wir zuvor vorbereitet: das rote Etwas auf dem Bett stellt sich als Piratentuch raus: Es ist Piratenabend. Wir sind im Royal Palace. Und irgendwie ist es hier ungewöhnlich laut. Ich bin aber unglücklich - irgendwie: wir haben einen größeren Tisch bekommen: ein Tisch, der für acht Personen eingedeckt ist. Irgendwie ist heute aber der Wurm drin und nicht alles klappt so, wie ich es mir gewünscht hätte. Aber die Lichttherapie an der Theke hilft dabei, das alles wieder zu vergessen. Essen ist gut, aber ich fand die Auswahl im Enchanted Garden besser.
Kommen wir zum Höhepunkt der Reise auf der DISNEY DREAM. Im Atrium stehen wieder alle Senior-Offiziere. Dieses Mal steht sogar Kapitän Thord Haugen da und spricht mich an, ob ich Mr. Yao bin und fragt auch auf Deutsch nach, wie es mir auf der QUANTUM OF THE SEAS war. Ich stelle ihm dann auch meine Eltern vor und mein Vater ist so begeistert, wie der Kapitän ihm auch ein paar persönliche Worte austauscht. Das hatte er auf der QUANTUM OF THE SEAS schmerzlich vermisst, weil dort der Kapitän nur persönliche Worte für die Gäste übrig hatte, die er von früher her kannte. Als mein Vater fragt, ob ein gemeinsames Foto möglich ist, kommt ein "Selbstverständlich". Und Gäste werden grundsätzlich in die Mitte platziert. So steht auf der anderen Seite Hotel Director Martin Kemp, der leider im Januar nicht an Bord ist, wenn wir wieder da sind. Insgesamt schlicht und einfach: Phantastique... (aus der Lufthansa-Werbung).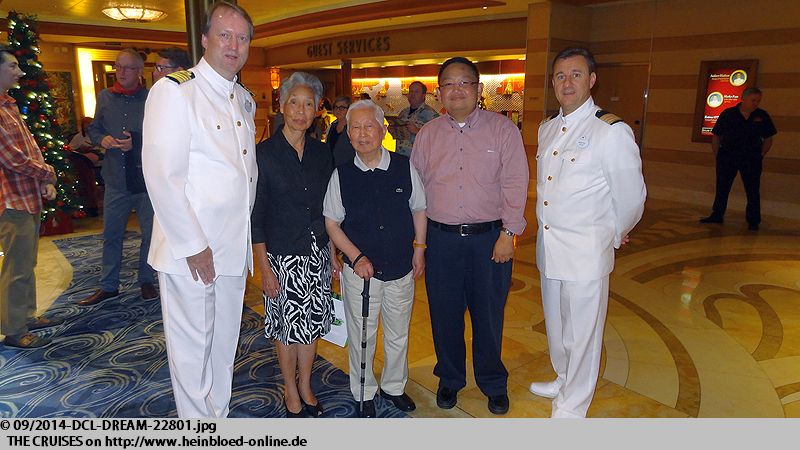 Let us come to the highlight of the voyage on DISNEY DREAM. In the atrium, all senior-officers were standing around again. This time Captain Thord Haugen stood there and asked me if I was Mr. Yao and asked in German how we liked it on QUANTUM OF THE SEAS. I introduced him to my parents, and my father was so excited of the way the Captain exchanged some words with him. He missed this treatment since the Captain on QUANTUM OF THE SEAS had only attention for guests he knew already. When my father asked if it would be possible to have a common photo, he was told "certainly". And guests were always put in the center. On the other side was Hotel Director Martin Kemp who would not be on board in January, when we were back. Simply wrapped up as fantastic.

My personal "hero" was Executive Housekeeper Alberto Besco, whom I told undoubtedly, how much I liked Omar's service.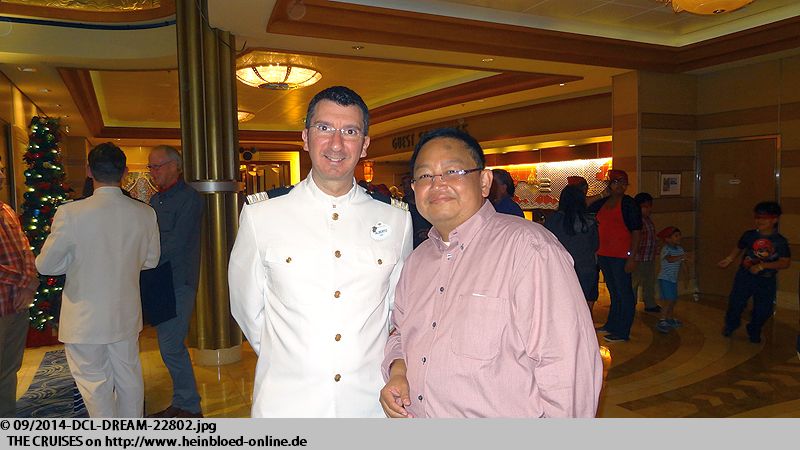 Mein persönlicher "Held" ist auch noch Executive Housekeeper Alberto Besco, dem ich dann auch natürlich sage, wie toll ich den Service von Omar finde.
Kommen wir mal zu Gründen, warum es unbedingt die DISNEY DREAM sein musste. Jeder von uns kennt "
Mary Poppins
". Wenige kennen die Autorin von Mary Poppins und die Geschichte, wie Walt Disney die Filmrechte von ihr kaufen wollte: P.L. Travers. Diese Geschichte wurde mit Emma Thomson und Tom Hanks in "
Saving Mr. Banks
" verfilmt. Eine Szene bei der ich weinen musste: P.L. Travers kommt zur Premiere ins damalig benannte Grauman's Chinese Theatre (am Hollywood Boulevard mit den ganzen Handabdrücken auf dem Platz vor dem Kino). Niemand schenkt ihr Beachtung und sie geht einsam den roten Teppich hoch. Und dann bietet Micky Mouse ihr an sie ins Kino zu eskortieren.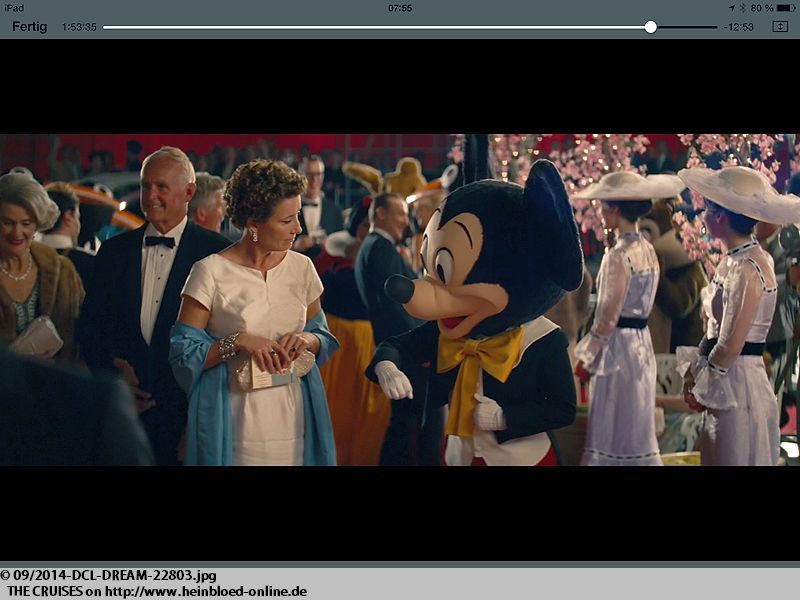 Let us come to the reasons, why everyone needs to go on the DISNEY DREAM. Each of us knows "Mary Poppins". Only a few knew the author of Mary Poppins and the story how Walt Disney bought the movie rights from her: P.L. Travers. The story was filmed with Emma Thomson and Tom Hanks in "Saving Mr. Banks". The scene I always needed to cry: P.L. Travers arrived for the premier show to the formerly called Grauman's Chinese Theatre (at the Hollywood Boulevard with all the handprints on the square in front of the cinema). Nobody gave her attention, and so she walked lonely the rep carpet up. And then Micky Mouse offered to escort her.

Micky hooked her arm, and together they went in.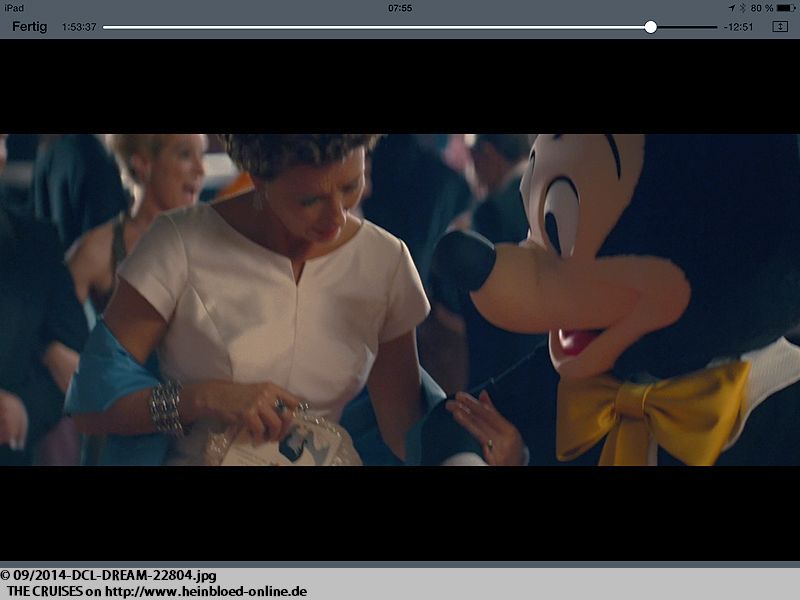 Micky hakt sich bei ihm unter und sie gehen gemeinsam rein.
An der Seite werden sie mit einem Knicks bzw. kurzer Verbeugung begrüßt. Niemand hat hier an Bord geknickst oder sich verbeugt, aber trotzdem war dieser Geist spürbar. Man kam sich überall herzlich willkommen und irgenwie doch sehr geehrt vor. Es ist ein tolles Gefühl, wenn man irgendwo reinkommt.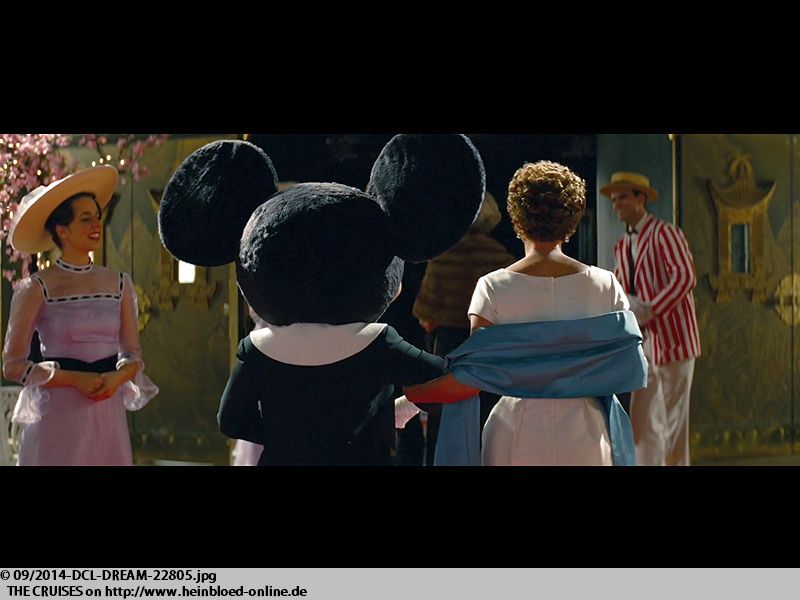 On the side, they were welcomed with a curtsey and a short bow. Nobody here onboard delivered a curtsey or a short bow, but you could feel the spirit. Everywhere you felt welcome and appreciated. It was a great feeling to arrive somewhere.

And now everyone was able to laugh: I wanted to have a picture with Micky Mouse and me: arm in arm, like with P.L. Travers and I got it.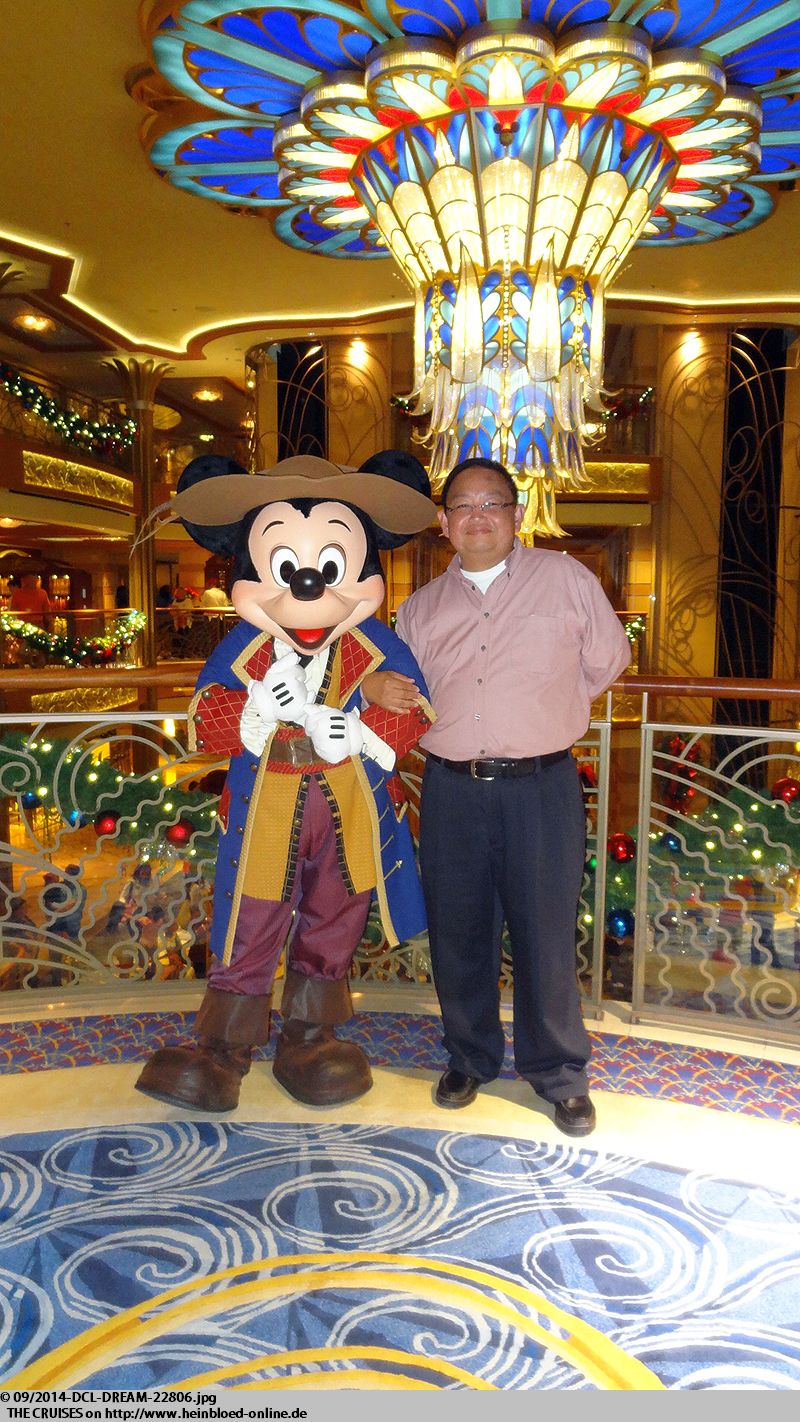 Und jetzt können gerne alle lachen: ich wollte so ein Bild mit Micky Mouse und mir: Arm in Arm, wie mit P.L. Travers und ich bekomme es.
Es werden Bilder vom Bordfotografen aufgenommen, aber es steht auch immer jemand bereit, der dich mit der eigenen Kamera fotografiert. Nach dem Fotoshooting denke ich, dass ich der glücklichste Gast auf der DISNEY DREAM bin. Ich erlebe mehr als nur eine schöne Kreuzfahrt und ich erlebe sehr schöne Momente des Glücks und wieder bin ich zehn Jahre jünger. Sie haben mir keine Kreuzfahrt verkauft, sondern ein Stück Glück.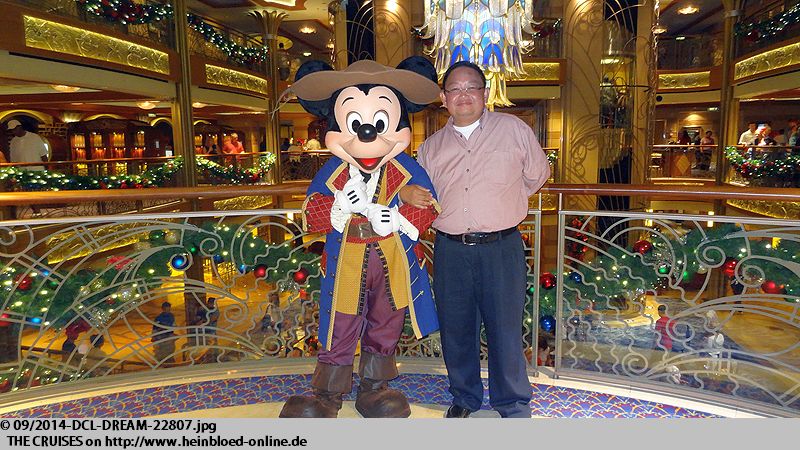 Board photographers took pictures and there were also someone available who took pictures with your own camera. After the photo shoot, I thought that I was the happiest guest on DISNEY DREAM. I experienced only a lovely cruise and nice moments of happiness, and again I was ten years younger. They did not sell me a cruise but a piece of luck.

I was sure that each guest would find a piece of luck here on board.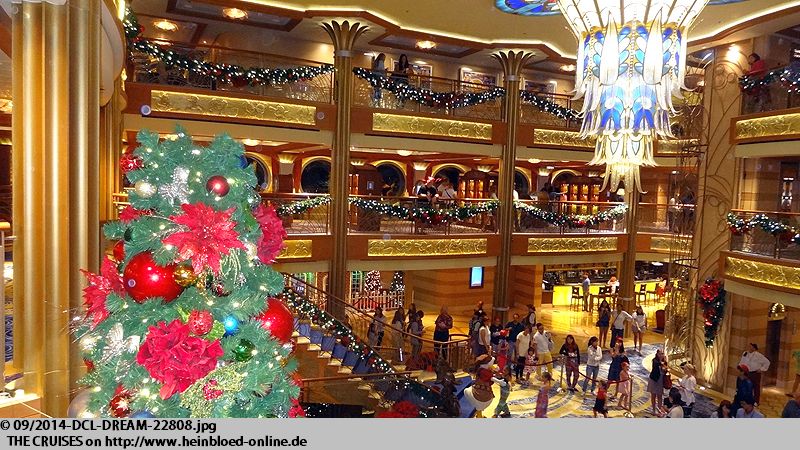 Und ich bin fest der Ansicht, dass jeder Gast ein Stückchen Glück an Bord findet.
Unten stehen sie an, um sich mit Daisy Duck fotografieren zu lassen und auch wenn du in die Kinderaugen schaust, wie glücklich sie sind, und wenn du dann in die Augen der Eltern siehst, wenn sie sehen, wie glücklich ihre Kinder sind, dann weiß man schon, warum eigentlich die Fahrten so teuer sind und selbst die teuersten Fahrten zu den Feiertagen immer sofort ausgebucht sind.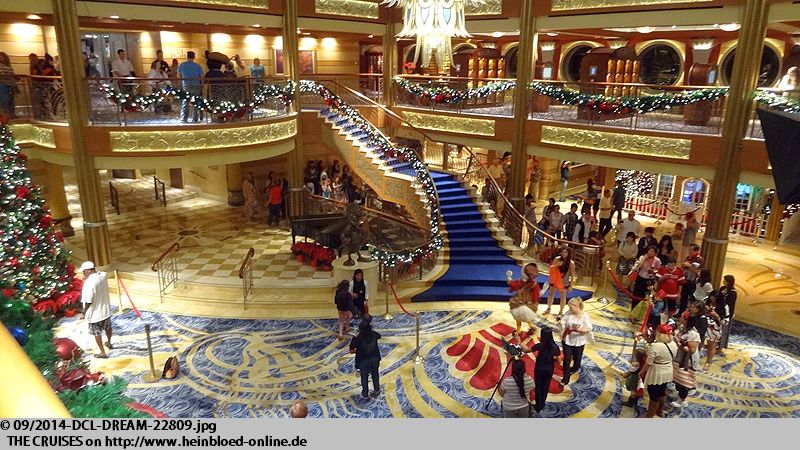 They were queuing up to have a picture with Daisy Duck and if you saw the eyes of the kids, how happy they were. And if you saw the eyes of the parents when they saw how happy their kids were, it was self-explaining why the voyages were so expensive and the most costly trips around the holidays were immediately sold out.

So it was only fun to see from above how they found the little piece of happiness.

So macht es einfach nur Spaß von oben den anderen zuzugucken, wie sie ein Stückchen Glück finden.
Dieses Atrium hat etwas magisches. Nochmals zurück zu Walt Disney: Die Menschen, die diesen Traum wahr gemacht haben, haben etwas tolles geschaffen: sei es auf der Meyer-Werft oder hier an Bord der DISNEY DREAM. Und auf einmal wird der beispielsweise der Ärger vorhin im Restaurant so klein und winzig, dass du nur noch an die schönen Momente an Bord denkst.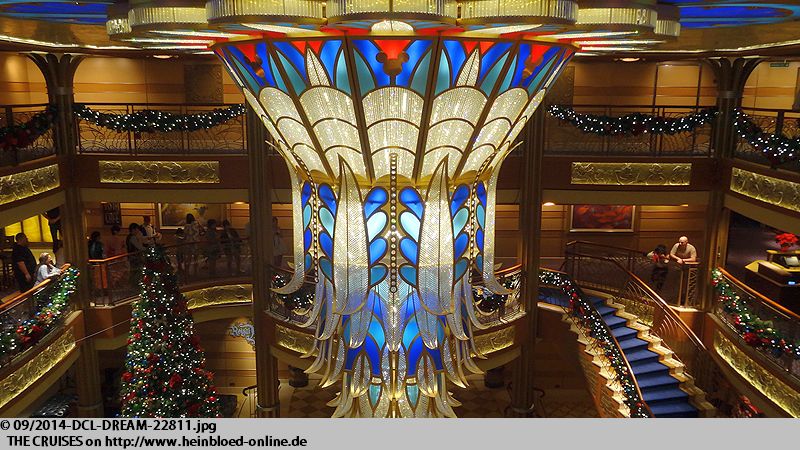 The atrium had something magic. Back again to Walt Disney: The people, who made this dream became true, created something wonderful: on the Meyer-Shipyard or here onboard on DISNEY DREAM. And the anger you had before in the restaurant became so small and tiny and you only remember the fond moments on board.

Disney's message was always: it was worth to fight for the good. Finally the bad would loose. Sometimes it was also a little too much. The musical "The Lion King" I left after the break in Hamburg, Germany. It was too much. The show "Villains" explained that there would not be the goods if there would be no bads. And so the "negative"-stars were in the center of the show. Concerning the sign on the balcony, I could take pictures without flash, but Cruise Director Christiaan said again: photography completely prohibited and everybody honored it because everyone was well instructed. Only when they had the final applause, I took some pictures. We sat at the balcony aside with adjustable seats but also with a lot of mothers who needed to speak with their kids loud. Disney and family-friendliness: a good education never hurt, and that included also respect to others who loved to see the show! But I could simply saw the rehearsal of the show again in my cabin on my TV set. So far "The Wind Beneath the Wings" was always the final scene from "Beaches" with Bette Midler and Barbara Hershey as Hillary Whitney Essex, who passed away and CC Bloom hold her hands while they were at the beach... but that the song was sung now by the "bad boys" of Disney, broke my heart. Apart from that the show as high again, especially as the audience was included differently into the play before the show started.

Disneys Botschaft ist immer: Es lohnt sich für das Gute zu kämpfen. Die Bösen werden am Schluss besiegt. Manchmal ist es auch ein wenig zuviel. Das Musical "Der König der Löwen" habe ich nach der Pause in Hamburg verlassen. Das war zuviel des Guten. Die Show "Villains" erklärt jedoch, dass das Gute nicht gäbe, wenn es nicht auch das Böse gäbe. Und so stehen die "Negativ"-Stars im Mittelpunkt dieser Show. Im Hinblick auf das Schild oben auf dem Balkon könnte ich ja fotografieren, weil ich ja ohne Blitz fotografiere, aber Cruise Director Christiaan sagt es nochmals: absolutes Fotografierverbot und es halten sich auch alle daran, weil es sich wohl rumgesprochen hat. Nur am Schluß beim Applaus habe ich dann doch fotografiert. Wir sitzen auf dem seitlichen Balkon und hier gibt es auch freibewegliche Sessel und leider auch Mütter, die meinen, dass man im Theater sich lautstark mit ihren Kindern unterhalten muss. Disney und Familienfreundlichkeit hin oder her: gute Erziehung hat bisher noch niemandem geschadet und dazu gehört auch Rücksichtnahme auf andere, die sich gerne in Ruhe die Show angesehen hätten! Ich habe mir später die Show einfach als Generalprobe nochmals in der Kabine auf meinem Fernseher geschaut. Bisher stand für mich "The Wind beneath my Wings" immer für die Schlussszene aus "Freundinnen" mit Bette Midler und Barbara Hershey als Hillary Whitney Essex stirbt und CC Bloom ihre Hand noch hält, während sie am Strand liegen... aber dass das Lied jetzt von den "Bösewichten" von Disney benutzt wird, bricht mir doch das Herz. Ansonsten ist die Show wieder erstklassig, zumal wieder das Publikum auf eine andere Weise vor der Show in die Show eingebunden wird.
Interessant ist auch das System in der Fotogallerie.

Interesting to see: the system with the photo gallery.

You tap your card to the scanner.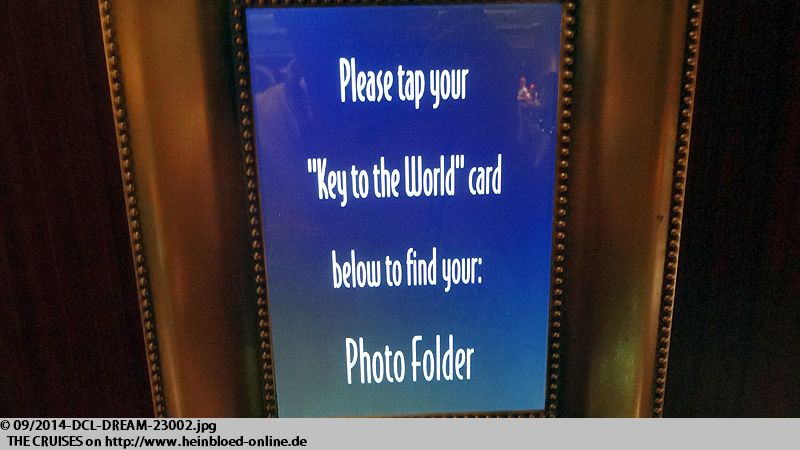 Man hält seine Karte an das Lesegerät.
Und schon bekommt man die Lage seines Ordners mitgeteilt.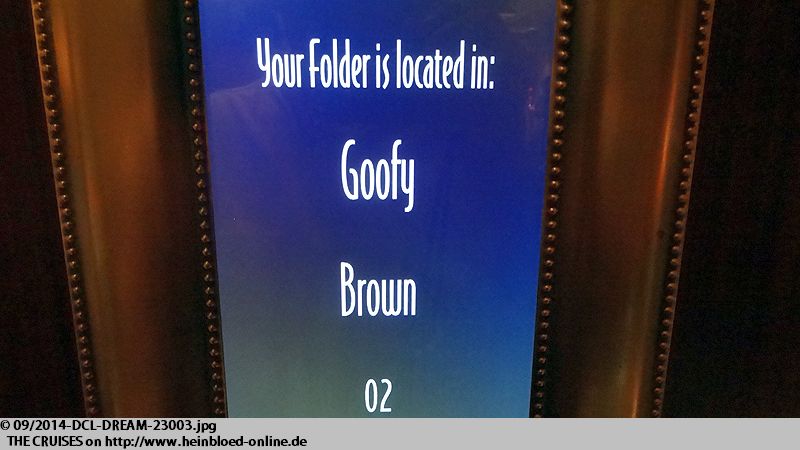 And you were told the location of your folder.

And then you walked to the place, and you should find here your pictures... Stupid was only when you had linked bookings: then they packed the images in any folder of any cabin and guess what happened you have no card of your fellow-cruisers with you to find out the location of the envelope.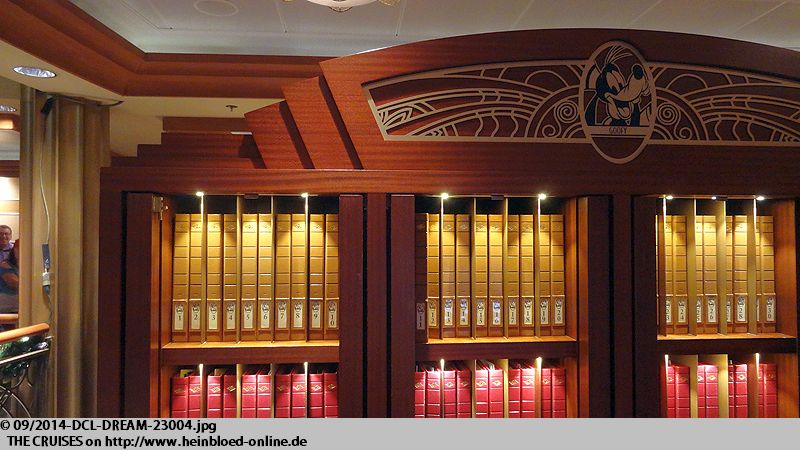 Und dann läuft man zu dem Ort hin und sollte seine Bilder finden... Blöd ist nur, wenn man verbundene Buchungen hat: dann packen sie die Bilder in irgendeinen der Ordner einer beliebigen Kabine rein und wehe du hast keinen Mitreisenden mit seiner Karte dabei, um die Lage des Ordners festzustellen.
Mit deren Angboten kann ich nicht so richtig etwas anfangen.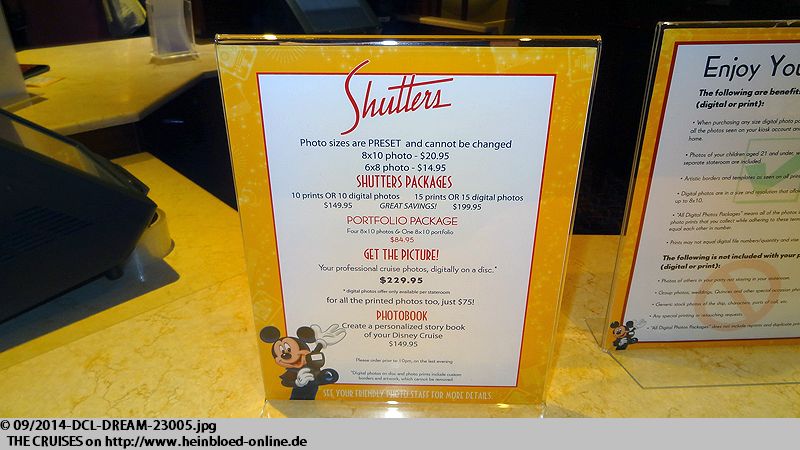 All other offers did not attracted my attention.

The D-Lounge was part of the mixed zone.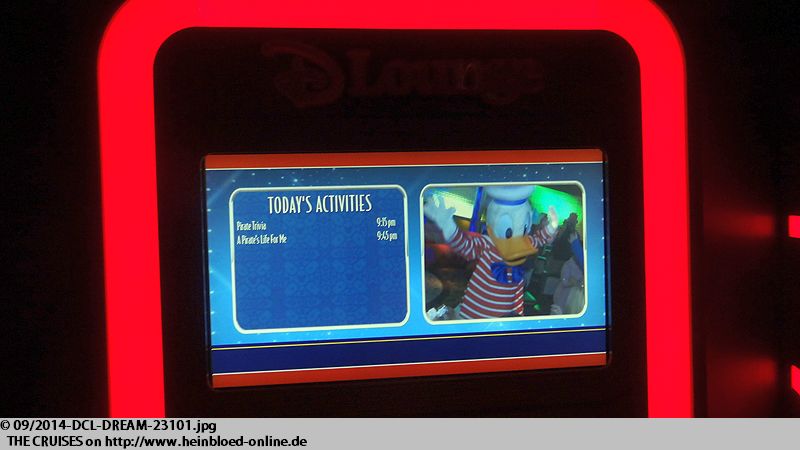 Die D-Lounge liegt in der gemischten Zone.
D. h. hier sind sowohl Kinder als auch Erwachsene willkommen.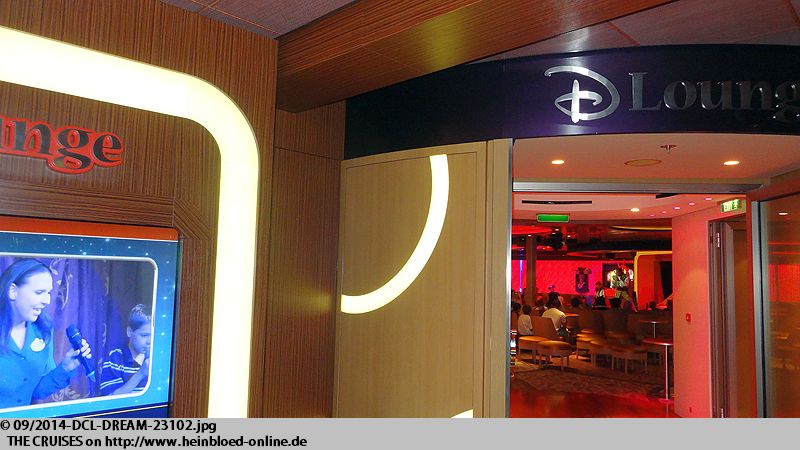 Which meant that kids and adults were welcome.

Actually, they still offered something suitable for the Pirates' night.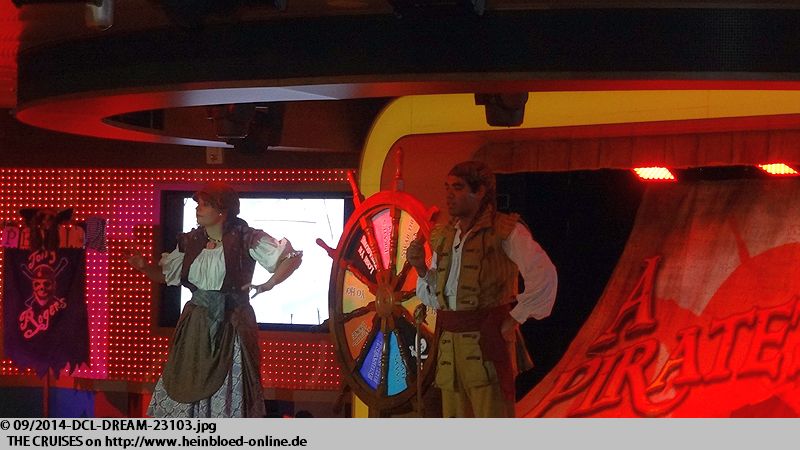 Drinnen findet im Moment noch etwas passendes zur Piratennacht statt.
Ich sehe mich in The District um. Die Zone nur für Erwachsene. Ein paar Lounges sind bis 21:00 Uhr auch für Personen unter 18 Jahren geöffnet, aber 21:00 Uhr werden auch sie hinaus gebeten. Dann sind die Erwachsenen unter sich. Es sind sehr schöne Bars und Lounges. Da aber noch 2. Tischzeit ist und draußen es recht warm ist und alle auf dem Pooldeck versammelt sind, ist derzeit wenig los. Übrigens sind die Toiletten auch sehr sehenswert.

I was looking around in The District. The zone was for adults only. Some of the lounges were also open for persons younger than 18 years until 21:00 hrs. But after 21:00 hrs they were kindly asked to leave. So the adults were now by themselves. They had very nice bars and lounges. Since it was still 2nd seating and outside it was still warm, most were assembled at the pool deck. By the way, even the public toilets were worth to see.

On the pool deck, they closed the pool and covered it. So many could sit on the floor were waiting for the Show "Pirates in the Caribbean" (adapted to the Disney-movie "Pirates of the Caribbean" with Johnny Depp as Jack Sparrow). They set up small stages to allow the characters to act between the audience. Since I did not see any of the movies, it was relatively dull to me, but all others had their fun.

Auf dem Pooldeck wurde der Pool zugefahren. So sitzen viele auf dem Boden und für die Show "Pirates in the Caribbean" (angelehnt an den Disney-Film "Fluch der Karibik" mit Johnny Depp als Jack Sparrow) wurden extra Podeste im Publikum aufgebaut, damit auch Figuren zwischen dem Publikum agieren. Da ich keinen einzigen Film dieser Reihe gesehen habe, finde ich es persönlich eher langweilig, aber der Rest hat sehr viel Spaß.
Die Inszinierung endet mit einem Feuerwerk auf hoher See.

They ended with a firework on the open sea.

And then you went to the Cabanas to the pirates' buffet which was too American for my style.

Und dann geht es ins Cabanas zu einem Piratenbüffet, das allerdings sehr amerikanisch ist.
Aber dennoch sehr schön dekoriert.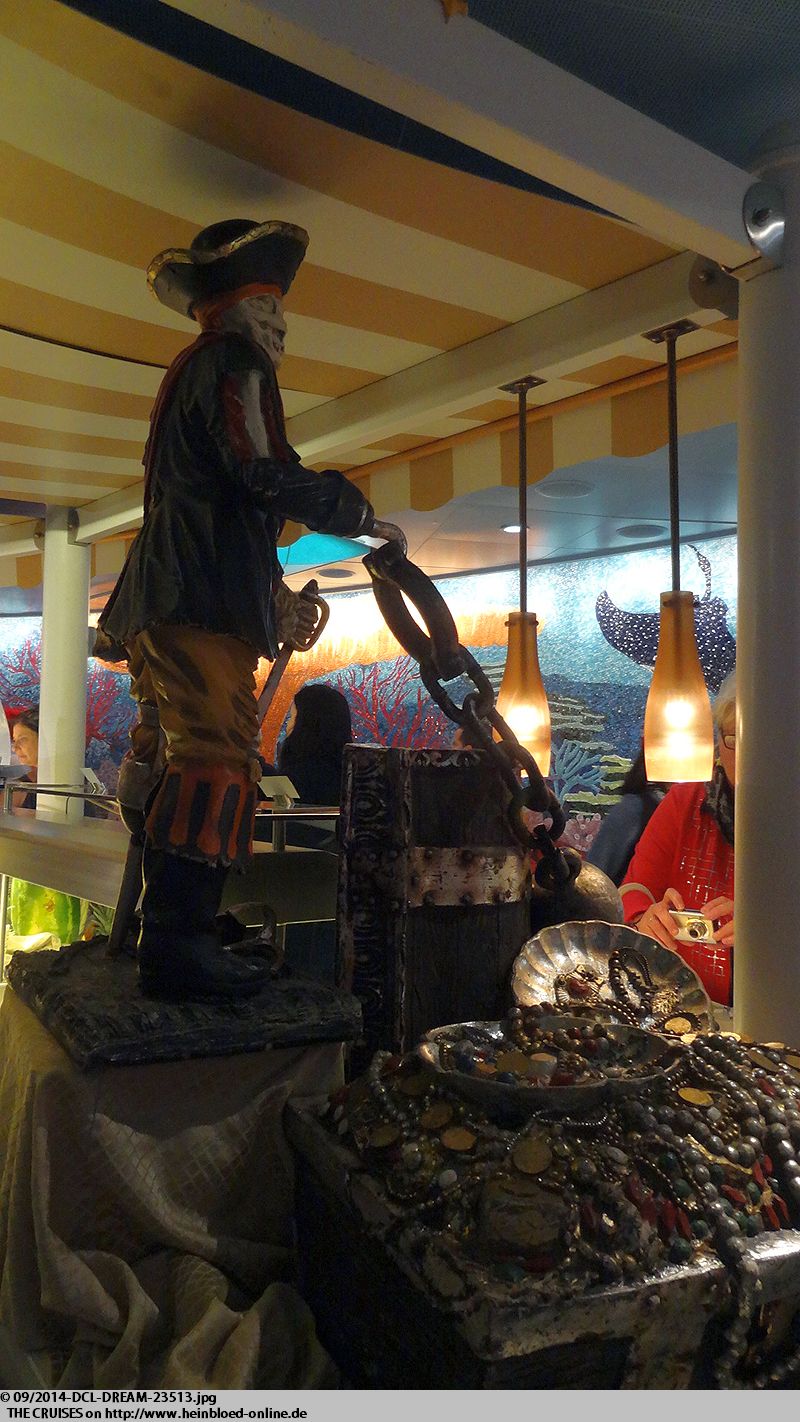 But still it was nicely decorated.

Outside it was party time.

Draußen ist Party-Time.
Fragt mich nicht wie: obwohl es nichts mehr für mich ist, weil ich nicht mehr rumhopse... aber die bisherigen Parties auf anderen Schiffen, erscheinen im Vergleich dazu an Kindergeburtstage... so abwegig ist das gar nicht... das ganze erinnert noch sehr an den Disney Club in der ARD aus meiner Jugendzeit oder High School Musical, als ich kein Jugendlicher mehr war. Und wenn an dieser Stelle Britney Spears, Christina Aguilera und Justin Timberlake (die US-Stars aus der US-Fassung des Disney Clubs: Micky Mouse Club) auf der Bühne aufgetaucht wären, hätte mich das auch nicht gewundert... Und wieder bin ich 10 Jahre jünger als zuvor, auch wenn ich nicht mitmache...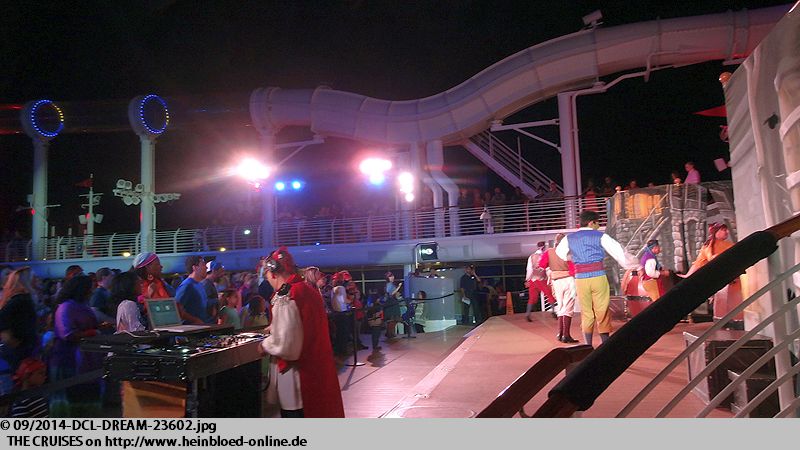 Do not ask me why: although it was nothing for me anymore because I did not hop on the dancefloors anymore: the parties on other ships appeared to me like kids' birthday parties... It was not so erroneous... it reminded to the Disney Club on German TV when I was young or later High School Musical when I was not so young anymore. If now Britney Spears, Christina Aguilera and Justin Timberlake (the US-stars of Micky Mouse Club) would appear on stage, I would not be surprised... And again I was 10 years older than before, although I did not join.
Die anderen Reisen in diesem Blog/
The other voyages in this blog: