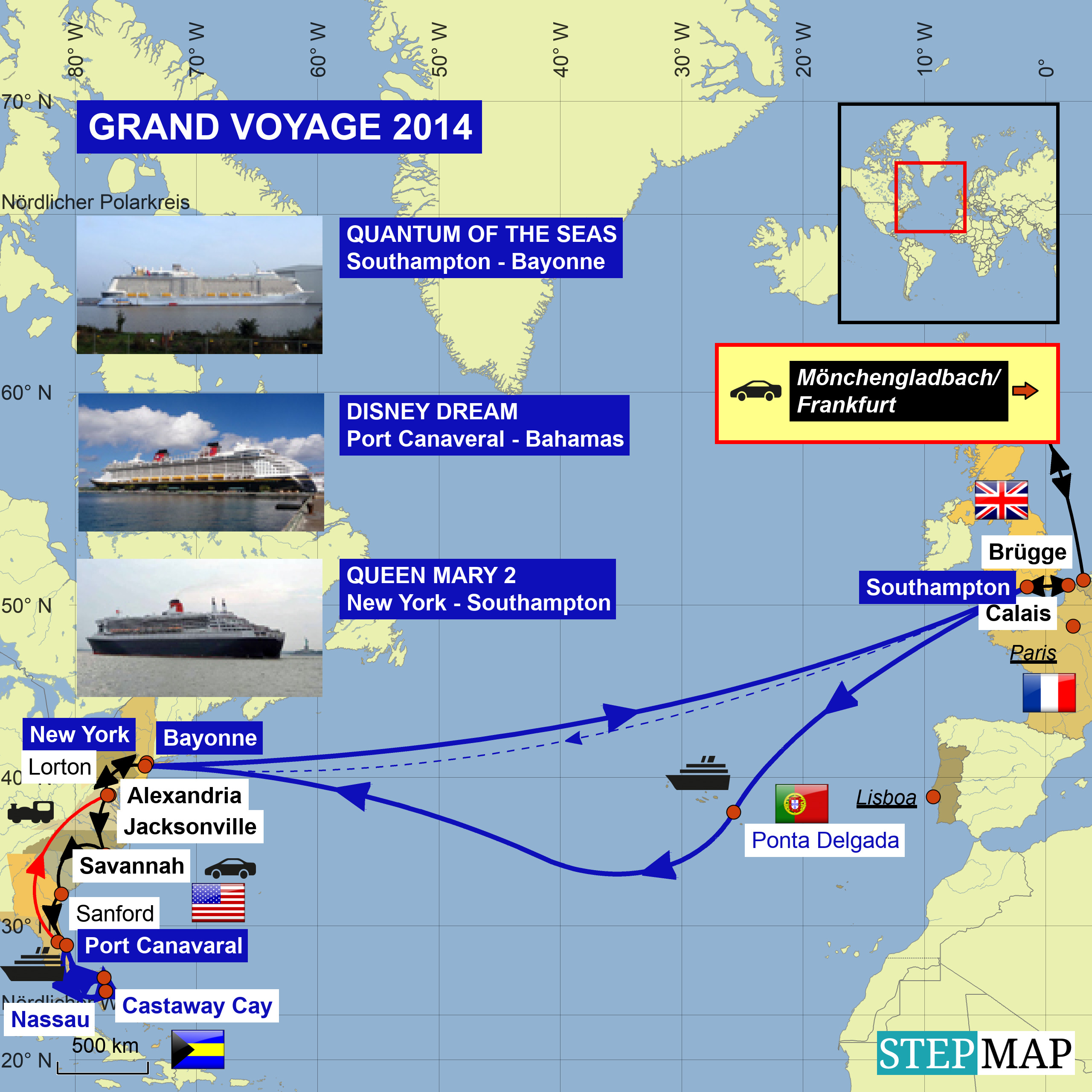 Das Weckerstellen hat sich gelohnt:
MEINE
DISNEY DREAM - oder besser MEIN NEUER LIEBLING.

Setting the alarm was it worth: MY DISNEY DREAM - or better MY NEW DARLING.

After that, the "alternative" came. Would we not be eight nights before on QUANTUM OF THE SEAS 2014, ENCHANTMENT OF THE SEAS would be one alternative. But that was too much at once. Although from the price, it was only 1/3 of the price level, what I paid on Disney.

Danach kommt die "Alternative". Wären wir nicht acht Nächte zuvor auf der
QUANTUM OF THE SEAS 2014
gewesen, wäre ENCHANTMENT OF THE SEAS eine Alternative. Aber das wäre jetzt zuviel auf einmal. Obwohl vom Preis her, hätte sie nur 1/3 von dem gekostet, was mich die Reise auf Disney gekostet hat.
Da es ja im Hotel kein Frühstück gibt und bisher auch noch nicht so klar ist, wann und wo meine Cousine zu uns stößt, suche ich in der Nähe ein günstiges, bodenständiges Lokal zum Frühstücken:
Zachary's Family Restaurant
.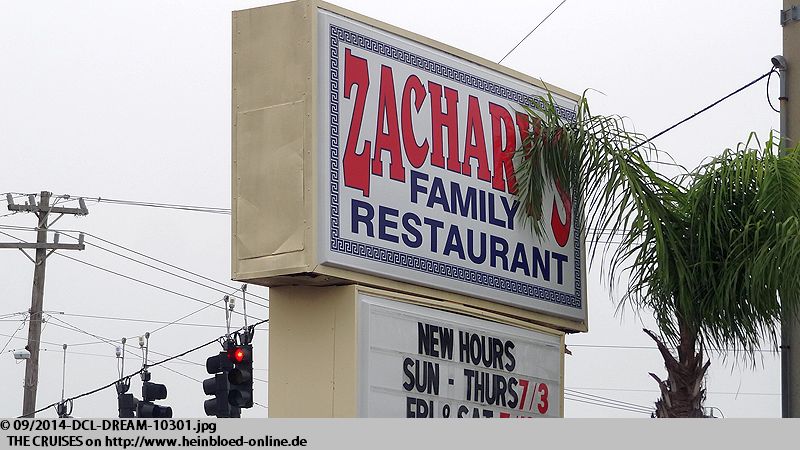 As the hotel did not offer any breakfast, and it was not so clear when and where my cousin would join us, I was looking for a fair, long-established restaurant for breakfast: Zachary's Family Restaurant.

The prices were good. And the restaurant had Greek roots. If I could, I would order all the menu from the top to the bottom and back. But it was clear to me: the last Greek dish was for the next months would the Souvlaki I had in Athens, Greece and this memory I needed to be happy and keep for the next 6-9 months when I was thinking of Greek food. Unfortunately, the had no Taramas (Fish caviar spread). But for that, I would consider another cruise with a call in Katakolon, Greece.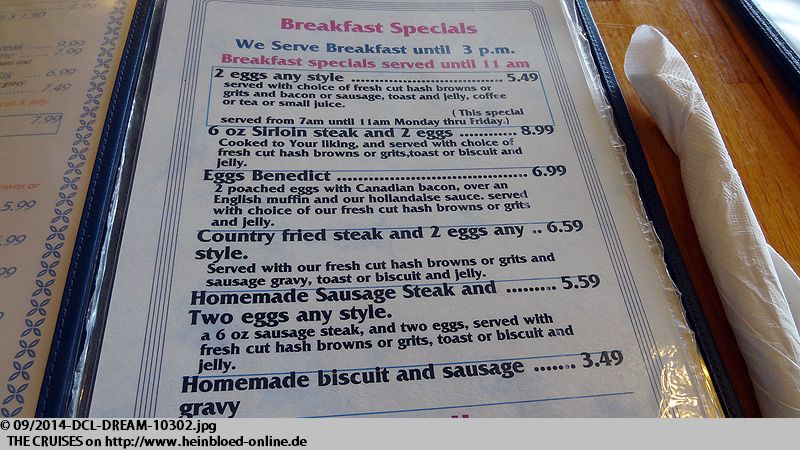 Die Preise sind gut. Und das Lokal hat griechische Wurzeln. Wenn ich gekonnt hätte, hätte ich sofort die gesamte Karte rauf und runter bestellt. Aber mir ist klar: das letzte griechische Essen für die nächsten Monate war mein Souvlaki in Athen und an diese Erinnerung werde ich mich die nächsten 6-9 Monate erfreuen müssen, wenn ich an griechisches Essen denke. Leider gab es bei ihm kein Taramas. Aber dafür würde ich dann noch wieder ein Kreuzfahrt in Erwägung ziehen, mit einem Stop in Katakolon.
Mein Vater hat neuerdings Freude an Eiweiß-Omelettes. Nur an die Größen in den USA muss man sich erst mal gewöhnen.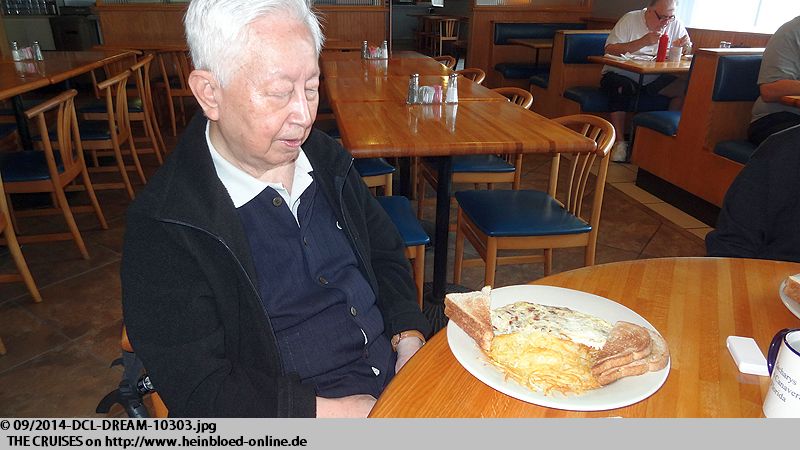 My father had now pleasure to have an egg-white omelet. But he needed to become familiar with the sizes in the USA.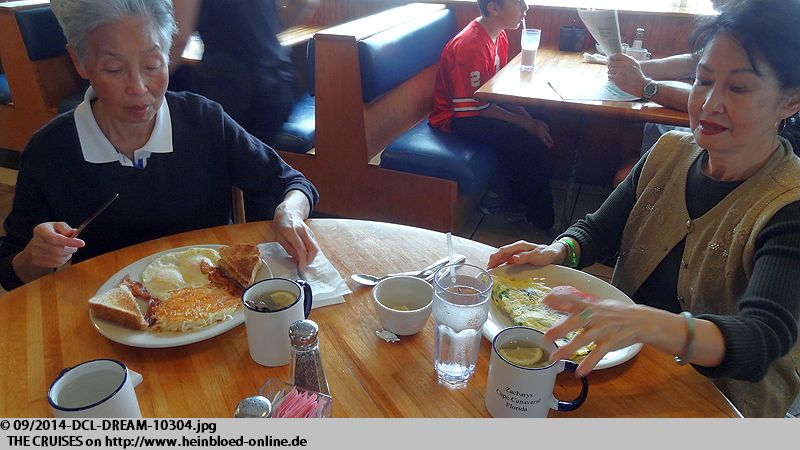 Ich versuche mich an Gravy ohne Biscuits. Aber mein Körper wehrt sich gegen soviel Fett auf einmal. Aber ich bin ja eh kaum hungrig, so spielt es keine Rolle, ob ich noch etwas anderes esse oder nicht.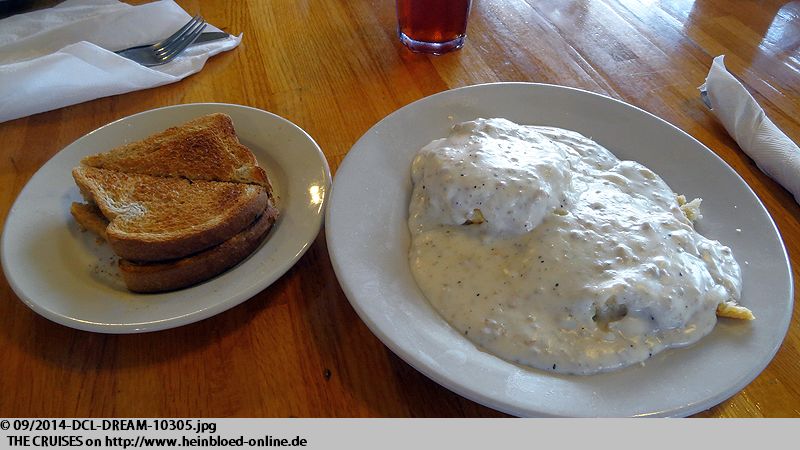 I tried to have gravy without biscuits. But my body refused to have so much grease at one time. But I was not hungry at all, so it was not significant if I ate something or not.

Here the Disney buses were going to the port.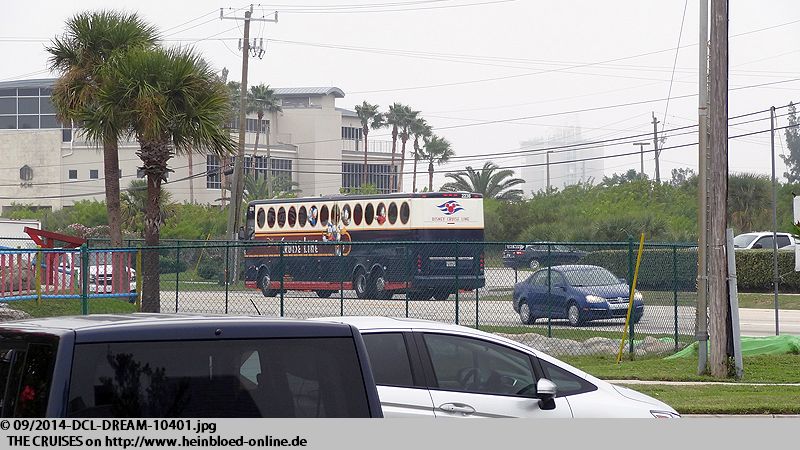 Hier fahren schon die Disney Busse zum Hafen.
Und am nächsten zum Hafen ist wohl dieser Hertz. Die anderen sind wohl auch alle in der Nähe, aber er ist wohl am nächsten. Das nächste Mal sind wir jedoch mit Alamo hier und die haben uns auch schon gesagt, dass sie einen kostenlosen Shuttle anbieten.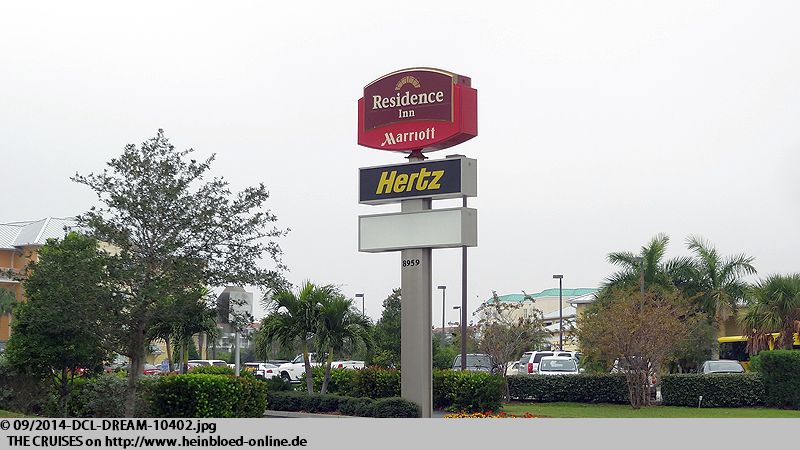 And next to the port, I assumed that was Hertz. The others were also close by, but that was the closest. The next time we would be here with Alamo, and we were told that they also provided a complimentary shuttle.

When we tried it the second time to drop off the bags successfully after breakfast. So we went relaxed to Merritt Square Mall. Maybe my cousin would make it to this place. I used the time to see Macy's. Here I got me a discount card for tourists. Still, you could get 10% for three days. Before, you could get 11% for 30 days. Never mind: you could get another one. You only needed to prove that you were a foreigner. I noted that my pants were sliding and wanted to my new jeans. I was stunned that I could buy a Tommy Hilfiger in 38. Before, I could only buy size 42. To allow me to wear 42-size jeans too, I bought some suspenders. My father found meanwhile other Chineses who ran a massage studio: the Oriental Chi. He wanted to have a massage treatment, but my mother and my aunt thought it might be too risky. I liked the idea, and for a little money I allowed him to have a back massage.

Beim 2. Anlauf nach dem Frühstück ist es uns tatsächlich gelungen unser Gepäck loszuwerden. So fahren wir entspannt zur Merritt Square Mall. Vielleicht schaffen wir es ja jetzt meine Cousine irgendwann hierher zu bekommen. Ich nutze die Zeit und gehe zu
Macy's
. Hier besorge ich mir zunächst einmal eine Rabattkarte für Touristen. Immerhin gibt es noch 10% für drei Tage. Früher gab es 11% für dreißig Tage. Ist auch egal: holt man sich halt einen neuen. Man muss nur nachweisen, dass man Ausländer ist. Ich merke, dass meine Hose immer mehr rutscht und will mir eine neue Jeans kaufen. Zu meinem Erstaunen bekomme ich sogar eine Tommy Hilfiger in 38 für mich. Früher konnte ich bloß 42-er Größen kaufen. Damit ich die 42-er Hosen auch weiterhin nutzen kann, kaufe ich mir noch ein Hosenträger. Mein Vater hat zwischenzeitlich andere Chinesen gefunden, die ein Massagesalon betreiben: das Oriental Chi. Er würde sich gerne massieren lassen, aber das stößt auf den Widerstand meiner Mutter und meiner Tante, die meinen, dass es zu gefährlich sei. Ich finde das aber gut und für wirklich wenig Geld gönne ich ihm eine Rückenmassage.
Ich bin aber nicht uneigennützig: so habe ich zumindest ihn beschäftigt, während ich mir selbst eine Massage gönne.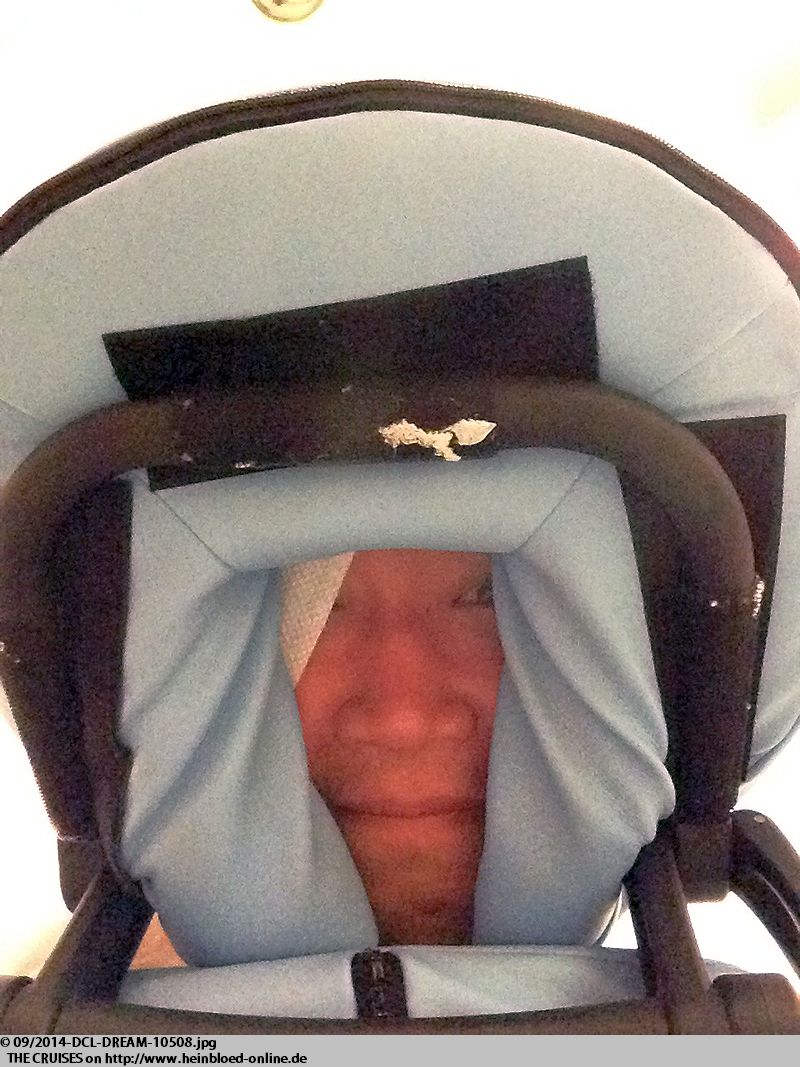 But that was not unselfishly of me because so he was kept busy while I had a massage myself.

My aunt found around the corner a nail studio which was also run by Chineses.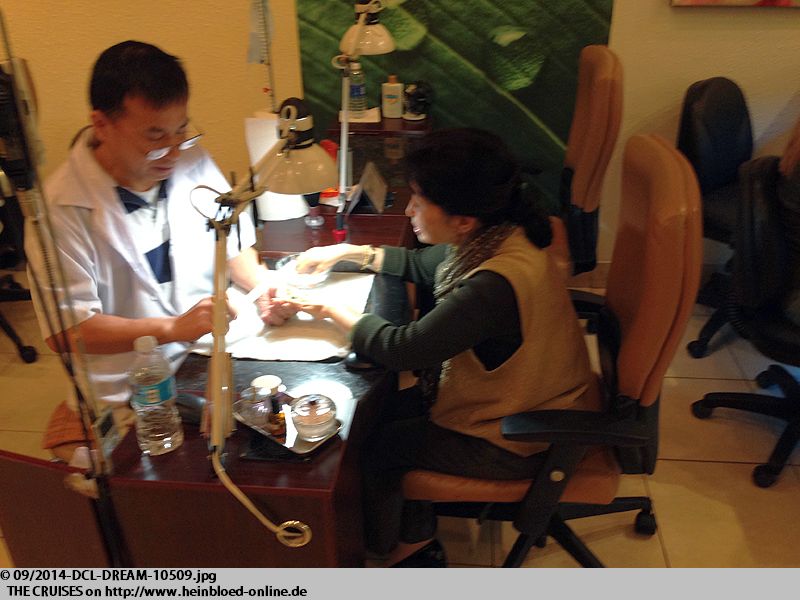 Meine Tante hat noch um die Ecke ein Nagelstudio gefunden, das auch von Chinesen betrieben wird.
Und so lässt sie sich es auch gut gehen.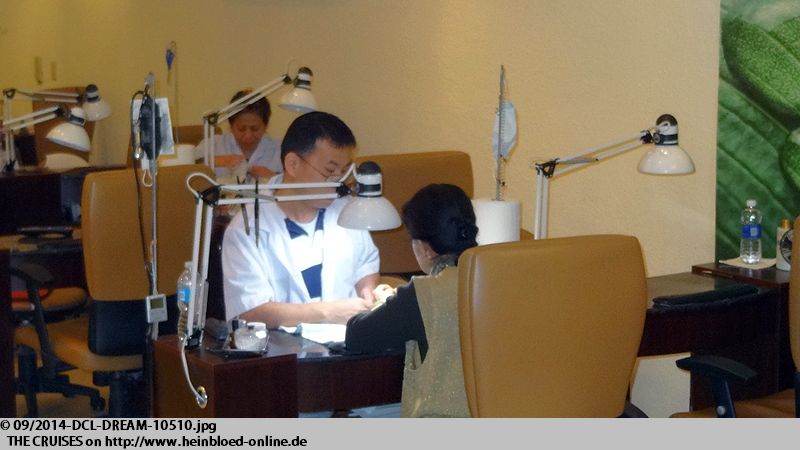 So she was pampering herself.

My mother interested more for the offer of VitaminWorld. We had luck: many products we could buy one and get one free. Due to an old membership which I signed many years ago, we got a 50 % discount on the remained. So I supplied myself for a little money Vitamin C, Magnesia, Zinc and Cinnamon, which was recommended by a waitress two days ago. Bruno got his oregano oil which was smelling bad, although the bottle was sealed.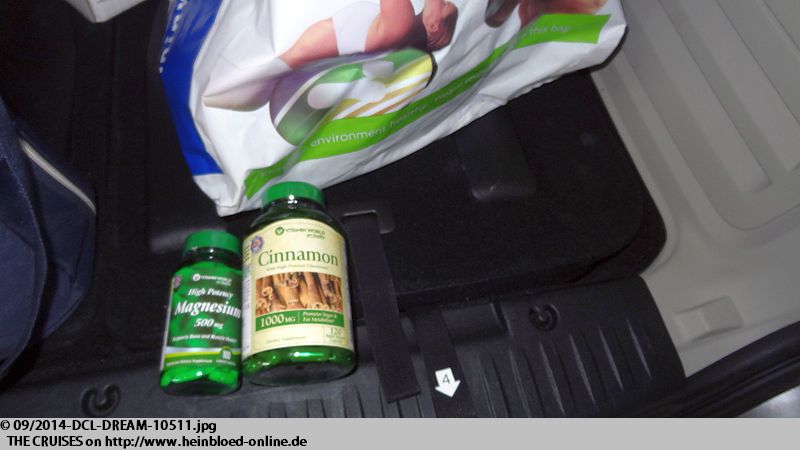 Meine Mutter interessiert sich lieber für das Angebot von
VitaminWorld
. Wir haben Glück: viele Produkte gibt es ein zweites Gebinde kostenlos dazu. Und aufgrund einer Uralt-Mitgliedschaft, die ich mal vor Jahren gezeichnet habe, bekommen wir 50% auf den Rest. So decke ich mich billig mit Vitamin C, Magnesium, Zink und Zimt ein, das mir ja durch die Bedienung vor zwei Tagen empfohlen wurde. Bruno bekommt sein Oregano Öl, das leider trotz versiegelter Flasche einfach nur stinkt.
Draußen am Auto sitzt ein Rabe auf dem Auto. Schon wieder "Die Vögel". Nur dieses Mal wird alles vollgekackt. Steckt man nun Geld für die Autowäsche eines Mietwagens? Was soll es: ich sehe es ja nicht, wenn ich im Auto sitze. Vielleicht geht in der Garage vom Cruise Terminal ja die Sprinkler-Anlage an und so wird das Auto mal gewaschen...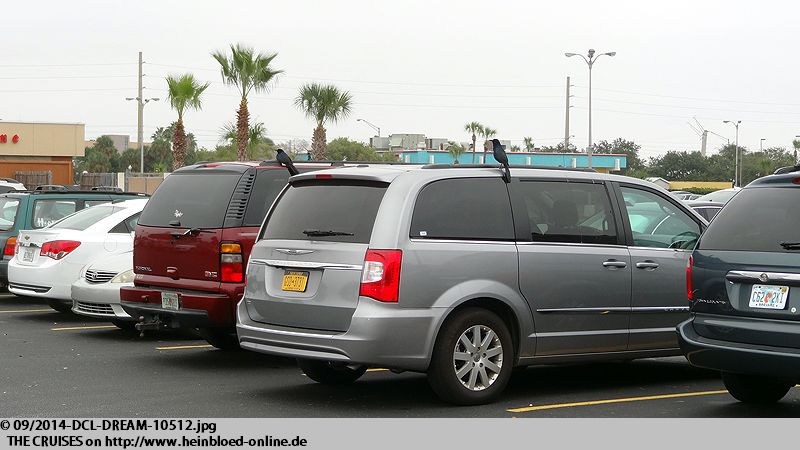 Outside, a crow was sitting on the car. Again "The Birds". But that time all were pooped. Should you pay for a car wash for a rented car? Who would care? I would not see it since I was sitting in the car. Maybe the sprinkler in the garage of the cruise terminal would turn on, and the car would be washed that way...

Because I only knew that I would not like to miss the ship and I had no idea how long everyone would need, I just went into the Ruby Tuesday in the mall.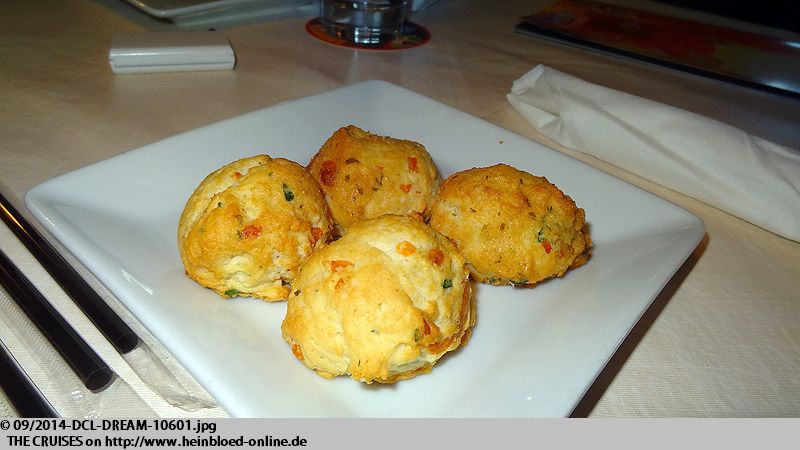 Weil ich nur weiß, dass ich das Schiff nicht verpassen werde, und keine Ahnung habe, wie lange jeder noch wo braucht, gehe ich kurzerhand in das
Ruby Tuesday
im Mall.
Ich mache es auf die chinesisch-spanische Tour und bestelle einfach jede Menge Vorspeisen, in der Hoffnung, dass jeder etwas für sich findet.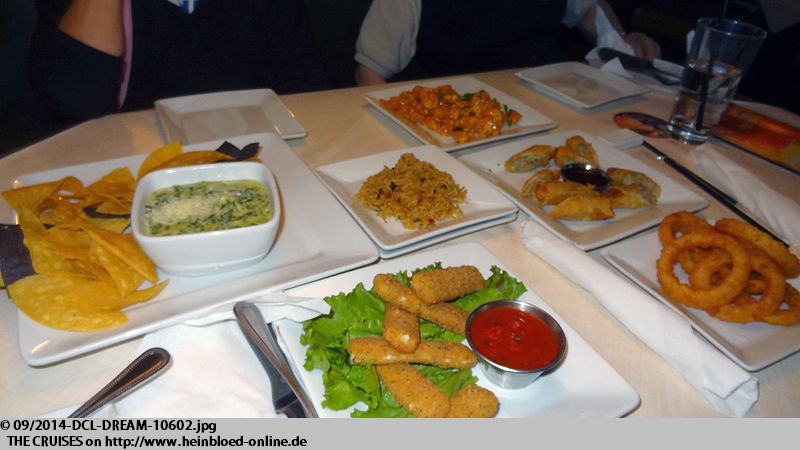 I made the Chinese-Spanish tour and ordered a lot of starters and hoped that everyone would find something for himself.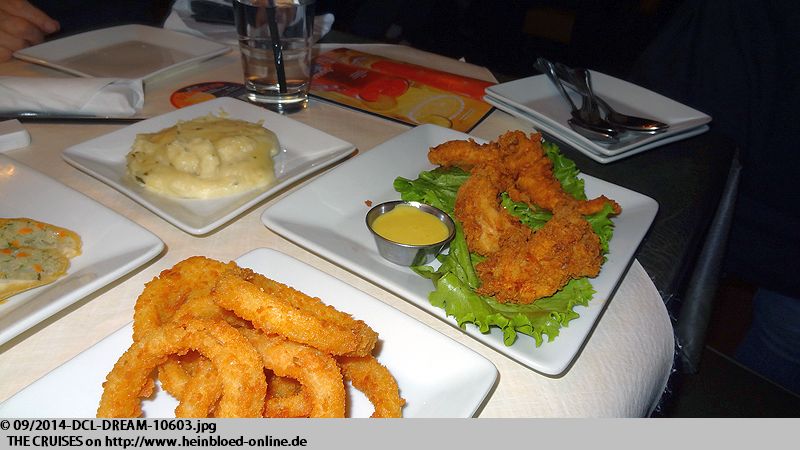 So fangen meine Eltern und ich schon mal an und warten... aber bis zum Ende der Mahlzeit ist tatsächlich meine Gruppe zusammen.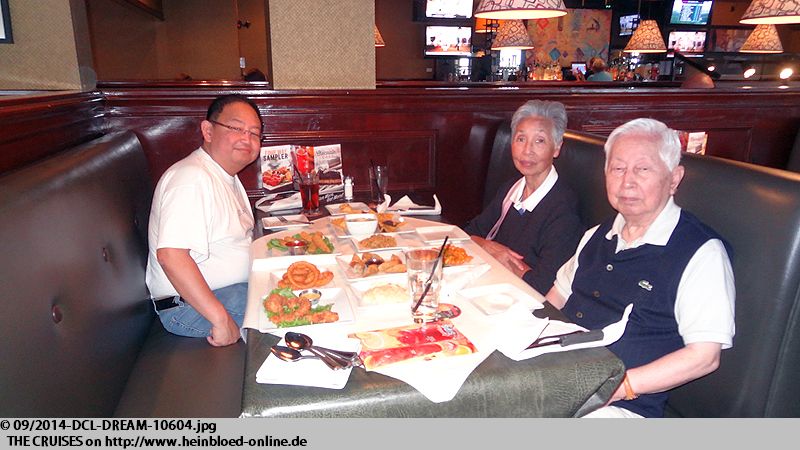 So my parents and I started to eat and waited... and until the end of the meal my group was finally completed.

Parking just opposite of the cruise terminal was 60.00 USD for three days which needed to be paid when you entered. From parking deck 3 you could get directly to the cruise terminal but when we arrived around 14:30 this entrance was already closed. So need to walk down to the street level and walk up again. The first admission check was done before you get access to the terminal. After that, you had the security check. Every company, which went every week or more, ran all terminals of their own. Disney designed it very well.

Das Parken direkt gegenüber vom Kreuzfahrt-Terminal kostet für drei Tage 60,00 USD, die man bei der Einfahrt errichten muss. Vom Parkdeck 3 kommt man direkt ins Kreuzfahrtterminal, aber als wir gegen 14.30 Uhr ankommen, ist dieser Eingang bereits geschlossen. So müssen wir runter auf das Straßenniveau und wieder rauf. Die erste Zutrittskontrolle findet statt, bevor man das Terminal erreicht. Danach kommt die Sicherheitskontrolle. Jede Gesellschaft, die wöchentlich und öfters fahren, haben ihre eigenen Terminals. Disney hat es sehr gut gestaltet.
Und direkt hinter dem Terminal sieht man schon die DISNEY DREAM.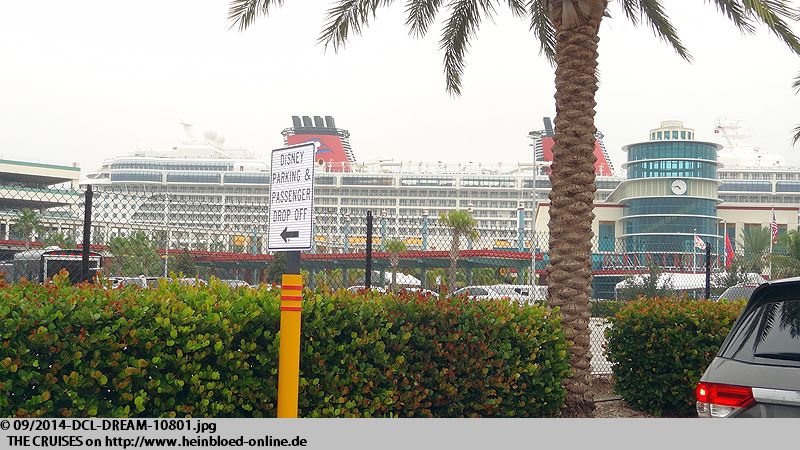 And right behind the terminal you could see DISNEY DREAM.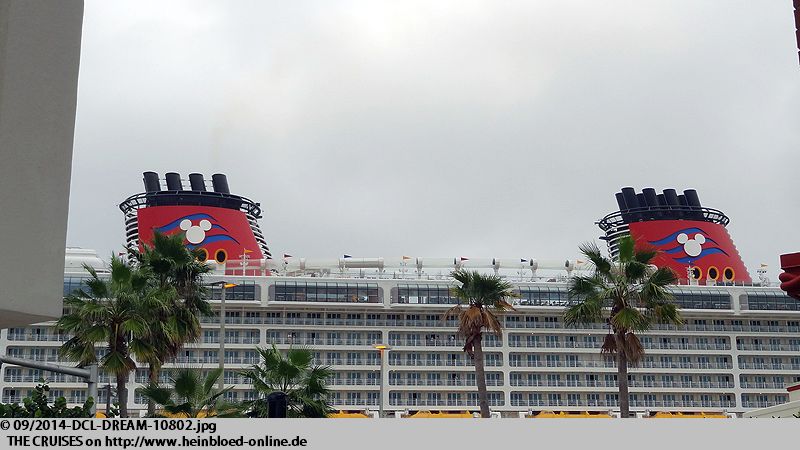 So kann man schön den Verlauf des Aquaducks sehen.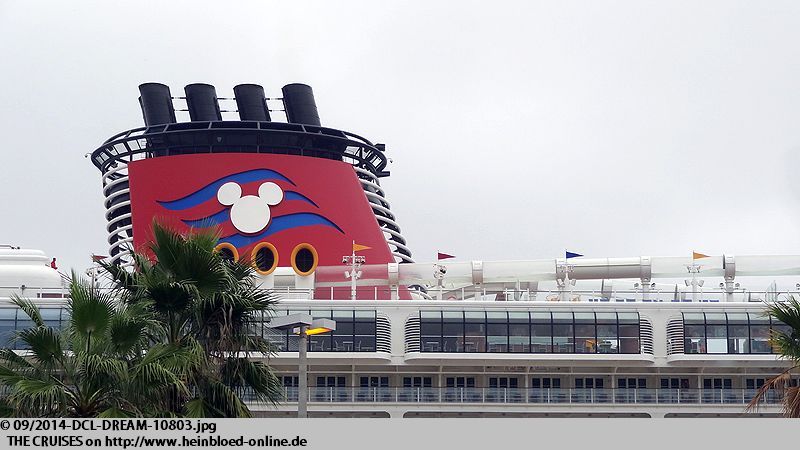 So you could see that the course of Aquaduck.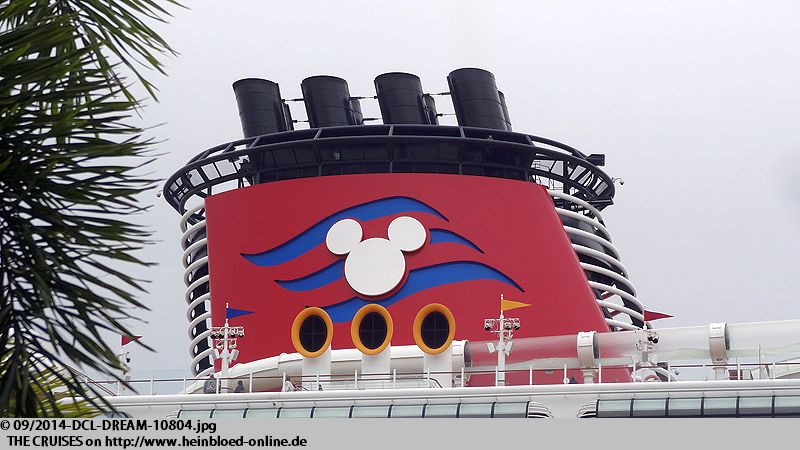 Wir haben 15:15 Uhr als Check-In-Zeit gewählt, aber es spielte keine Rolle. Wir haben Kopien der ESTA-Anmeldung, weil wir ja in die USA wieder einreisen. Wir haben den neuen Ebola-Fragebogen bekommen. Wir haben die Online-Check-In-Bestägigung. Und wir haben ein Handbuch von Disney bekommen inkl. der Gepäckaufkleber.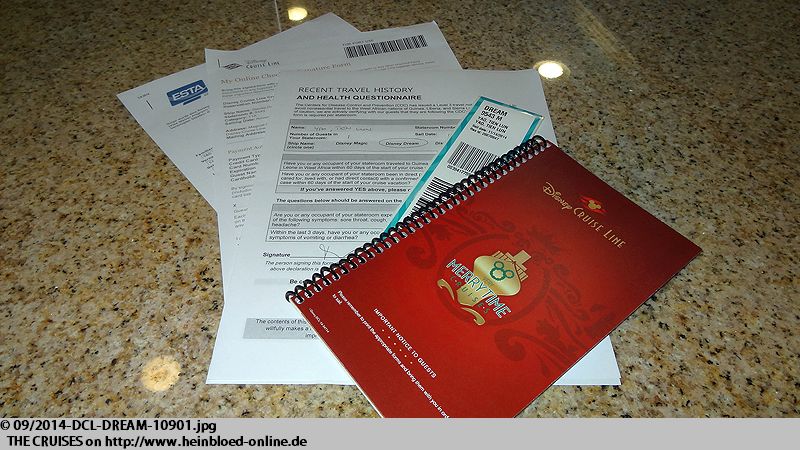 We chose 15:15 hrs as check-in-time but that did not play a big role. We had copies of our ESTA-registration because we would re-enter the USA. We got a new Ebola-questionnaire. We had an online-check-in confirmation. And we got a handbook from Disney incl. baggage tags.

Around 14:45 hrs it was entirely empty.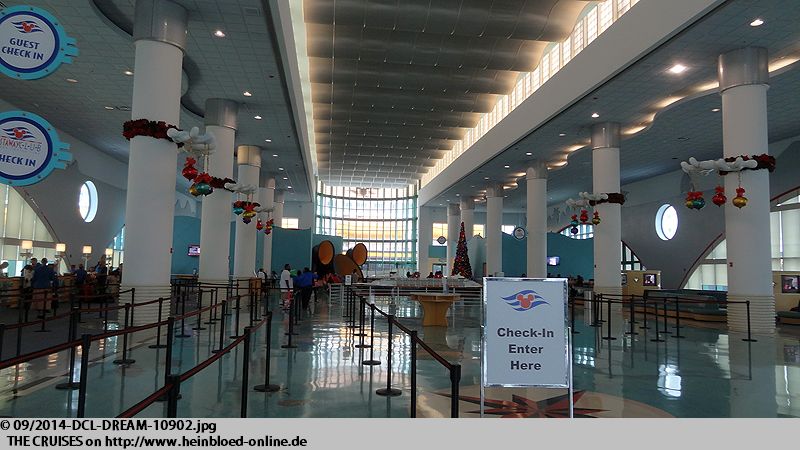 Gegen 14:45 Uhr ist es absolut leer.
Wir bekommen sofort das Programm: das macht ja schon einen ganz anderen Eindruck, als bei allen anderen.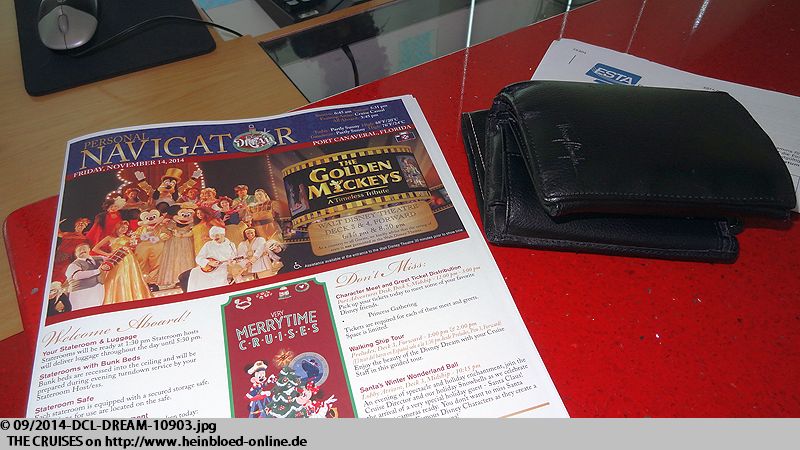 We got immediately the daily programme: it made a total different impression than with all others.

They had a problem: all stamps when we entered the US were missing in our passports. At the check-in-counters, there were only Florida-retired, and somehow they were hopelessly overwhelmed. It took longer and longer, and one check-in agent asked another retired co-worker to get my father a chair. You could feel that the one who was addressed was not willing to get a chair for a "younger" one, even my father had a walking stick. So the check-in agent walked by himself to get my father a chair. A supervisor came to take care of our embarkation. Because each single agents had problems, we were interrupted all the time, and later I interrupted the interruption and insisted on completing our boarding first.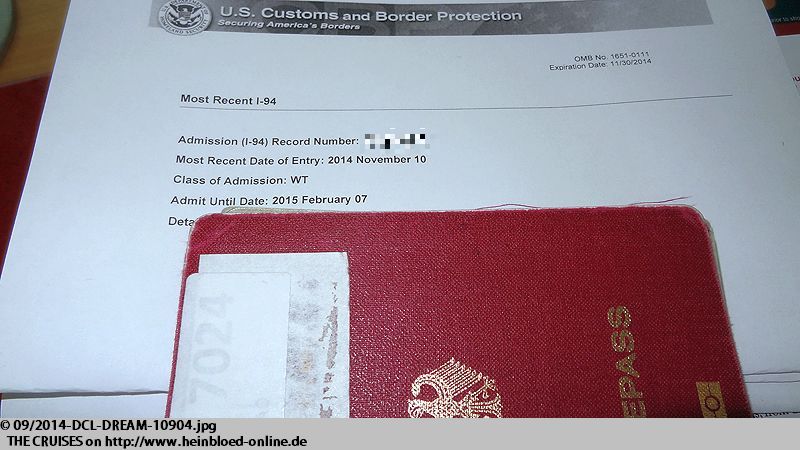 Es gibt ein Problem: es fehlen in allen Pässen die Einreisestempel. An den Check-In-Schaltern sind jedoch nur Florida-Rentner und irgenwie hofflungslos überfordert. Es dauert immer länger und unser Check-In-Agent bittet einen anderen Rentner-Kollegen doch meinem Vater einen Stuhl zu besorgen. Man merkt, dass der Aufgeforderte einem "Jüngeren" wohl keinen Stuhl holen möchte, trotz Gehstocks. So zieht der Check-In-Agent selbst los, um meinem Vater einen Stuhl zu besorgen. Ein Supervisor kümmert sich jetzt um unsere Einschiffung. Weil aber auch andere Agenten Probleme haben, werden wir ständig unterbrochen und irgendwann unterbreche ich die Unterbrechungen und bestehe darauf, dass wir zunächst fertig eingeschifft werden.
Das sind doch mal schöne Karten.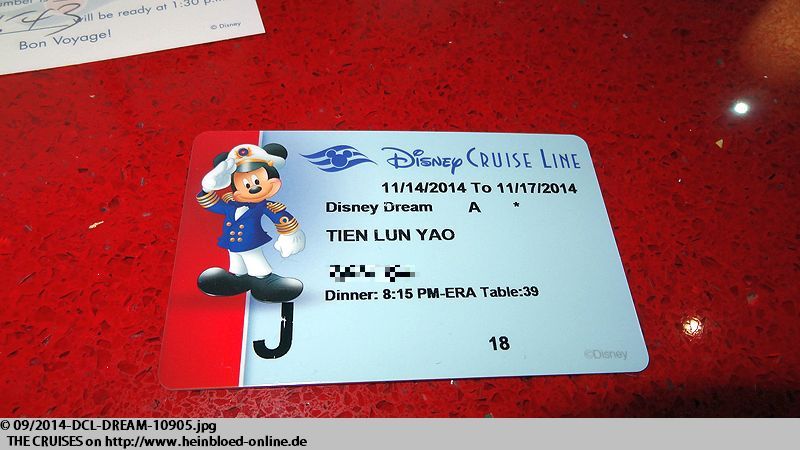 That were nice cards.

When we entered the Lobby, we were welcomed by name over the board loudspeakers, and everybody was applauding. Never before, we experienced that...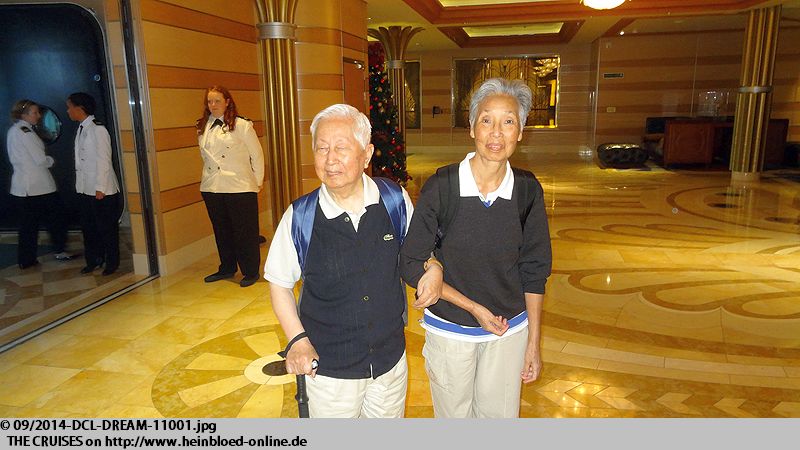 Als wir dann die Lobby betreten, werden wir namentlich auf dem Schiff über Bordlautsprecher begrüßt und alle klatschen. Noch nie zuvor haben wir das erlebt...
Der erste Eindruck ist erst mal WOW...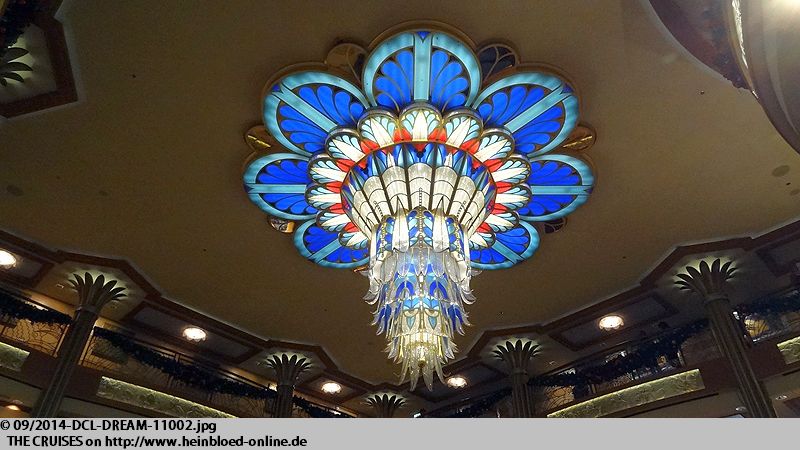 The first impression was just a WOW...

And we were right in the middle of the Christmas wonderland.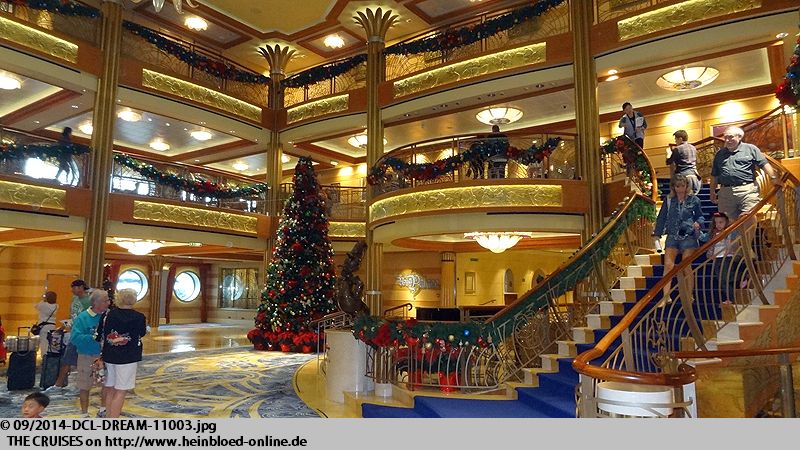 Und wir sind schon mitten im Weihnachtsland.
Die Fahrstühle sind sehr schön auf historisch getrimmt, aber auch einer der wenigen Mankos: für meinen Geschmack zu unterdimensioniert (Anzahl und Größe der Kabinen): weil viele ja mit Kinderwagen unterwegs sind oder eben nicht wollen, dass ihre Kinder zerdrückt werden, stellen viele Eltern sich schützend vor ihren Kindern, um einen gewissen Freiraum zu schaffen. Dadurch wartet man oft ewig, vor allem, weil ja feste Tischzeiten gibt.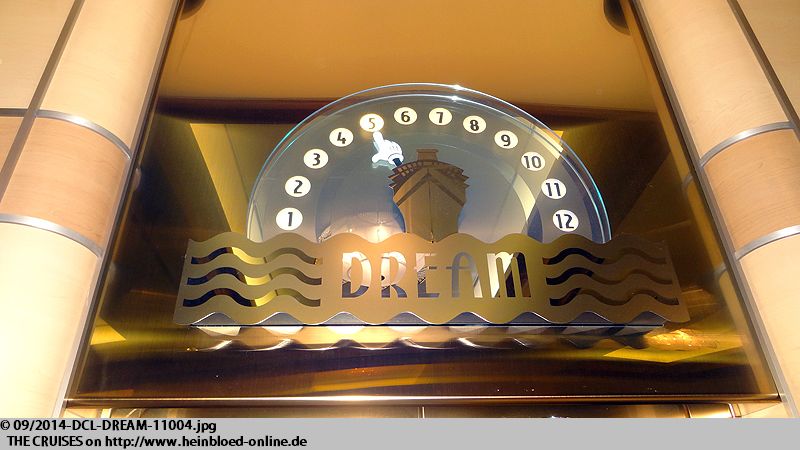 The elevators were designed historically and also very disadvantaged: for my taste a little under-dimensioned (number and size of the cars): because many had their strollers with them or did not want that their kids would be crushed, many parents were standing in front of their kids to have additional space. Many times, you had to wait an eternity, especially, since you had fixed dinner times.

I booked for my parents the cheapest balcony category. It was showy that the cabins appeared much smaller compared to the others we knew and only had queen size beds which could not be separated. Apart from that, the separated bathroom attracted our attention: toilets and shower were extra, so someone could use the restroom, while someone else could use the bath. Because there was also a sink too, someone could brush the teeth and wash in a limited way. That was more family friendly. The balcony was kept in a condition that you could also use it.

Meinen Eltern habe ich ja die günstigste Balkonkategorie gebucht. Es fällt auf, dass die Kabinen im Vergleich zu anderen sehr viel kleiner ausfallen und leider nur ein Queensize-Bett haben, das nicht trennbar ist. Ansonsten fällt das geteilte Badezimmer auf: Toilette und Bad sind getrennt, so dass auch jemand die Toilette benutzen kann, auch wenn das Bad gerade benutzt wird. Weil es dort auch ein Waschbecken gibt, kann notfalls einer sich auch dort die Zähne putzen und sich waschen. Das ist sicherlich familienfreundlicher. Der Balkon wird selbstverständlich in einem Zustand gehalten, das er auch nutzbar ist.
Ich selbst habe mir eine Innenkabine mit virtuellem Fenster gebucht. Ich habe fantastisch geschlafen. So dunkel habe ich wirklich schon lange nicht mehr geschlafen. Es gibt sogar eine Nachtlampe, damit es etwas beleuchtet ist. Auch hier wieder nur ein Queensize-Bett, das im Januar zu Problemen führen könnte, wenn Bruno und ich uns das teilen. Notfalls muss Bruno auf dem Sofa oder dem Pullmann-Bett schlafen. Gut ist der leere Kühlschrank, die 230 V-Eurosteckdose und die mobilen Telefone, die man kostenlos an Bord und auf Castaway Cay nutzen kann, um seine Familie besser unter Kontrolle zu halten... Gut für meine Mutter und weniger gut für mich: die Docking-Station für das iPhone 4. Meine Mutter hat mein altes iPhone 4 und ich brauche ein Lightning-Ausgang, aber warum auch immer: ich hatte mir zuvor einen Adapter gekauft und kann ihn daher nutzen. Gut oder nicht gut: immer im Auge des Betrachters: bis zur Seenotrettungsübung kann das Fernsehprogramm nicht abgeschaltet werden und es laufen Sicherheitsheitsinformationen in einer Endlosschleife. Weniger gut: Die Standardtemperaturen in der Kabine sind sehr viel niedriger eingestellt, so dass ich bei mir heizen muss, so dass ich mich wohl fühle. Für die Stromversorgung wird nochmals die Karte von der
QUANTUM OF THE SEAS 2014
genutzt. Es gibt kein Duschgel, aber ich hatte auch nicht gefragt, weil ich so viel von der QUANTUM OF THE SEAS mit hatte. Auch hier haben wir Garantie-Kabinen gebucht, aber im Gegensatz zu Royal Caribbean ist Disney diesbezüglich sehr kooperativ: der Bitte, dass wir in der Nähe zusammen wohnen wurde entsprochen: sogar so, dass wir den selben freundlichen Kabinensteward haben: Omar - der Schal ist Teil seiner Uniform während der Weihnachtszeit...

I booked for myself an inside stateroom with virtual window. I slept fantastically. So dark I did not have it before for a long time. They had a night lamp which made it slightly illuminated. Here again, they had only a queen size-bed which might occur problems in January, when Bruno and I would need to share it. For the worst case, Bruno would need to sleep on the sofa or on the Pullman bed. Good was the empty fridge, the 230 V-European power outlet, and the mobile telephone set, which you could use free of charge while you were onboard and on Castaway Cay to have better control of your family... Good for my mother but less good for me: the iPhone 4-Docking station. My mother had my previous iPhone 4, and I would need a lightning-output but why however: I bought before this voyage an adapter so I could use it. Good or less good: always from the individual point of view: until life drill, you could not turn off the TV-set, and they showed the safety information in an endless loop. Less good: the standard temperature in the cabin was set much lower, so I needed to heat to feel comfortable. For the power supply, I used the card of QUANTUM OF THE SEAS 2014 again. They had no shower gel, but I did not ask for some because I took so much from QUANTUM OF THE SEAS with me. I booked a guarantee cabin but comparing to Royal Caribbean, Disney was most cooperative: my request to have a stateroom close to my parents was granted so well that we, my parents and I, had the same friendly stateroom attendant: Omar - his scarf was part of his uniform during the Christmas season...

We stayed at the starboard side. By accident, I watched in the connecting hallway close my parents' cabin, and I saw their bags on the port side. Quickly I got and delivered them to their cabin.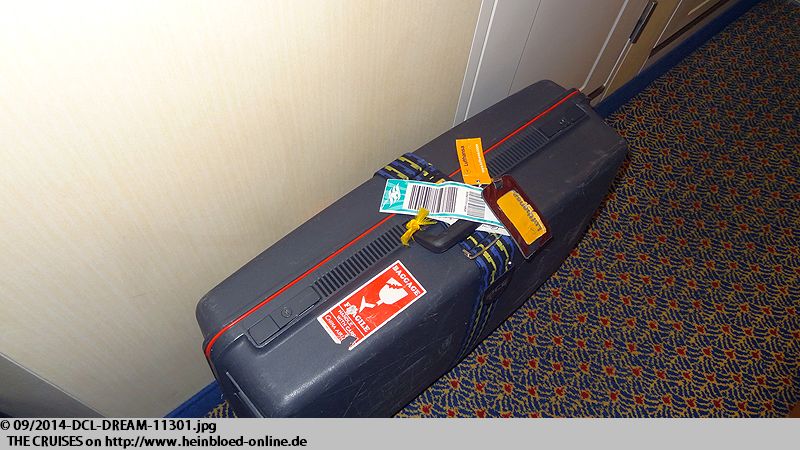 Wir wohnen auf der Steuerbordseite. Und zufällig gucke ich in einen Verbindungsgang in der Nähe der Kabine meiner Eltern und sehe dort ihren Koffer auf der Backbordseite. Schnell hole ich ihn selbst in die Kabine.
Meine Eltern müssen zur Seenotrettungsübung in das Buena Vista Theatre, das in erster Linie als Kino genutzt wird. Es laufen bereits die neuesten Disney-Filme hier, aber mir fehlt irgendwie die Lust und Zeit, um mich zwei Stunden reinzusetzen.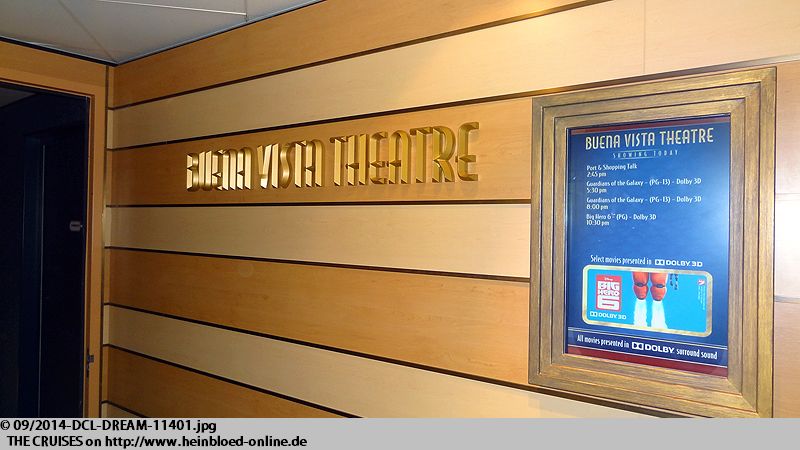 My parents needed to attend the life drill in the Buena Vista Theatre which was mostly used as a movie theater. Here they showed the most recent Disney-movies, but somehow I had no time and desire, to spend here for two hours.

But it was good that my parents could sit here.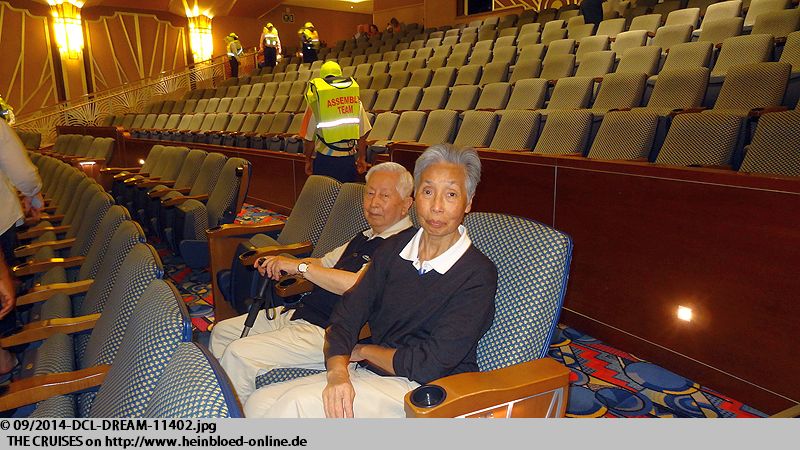 Zum Glück können meine Eltern hier sitzen.
Während ich in eine Gruppe komme, die draußen die Seenotrettungsübung abhält.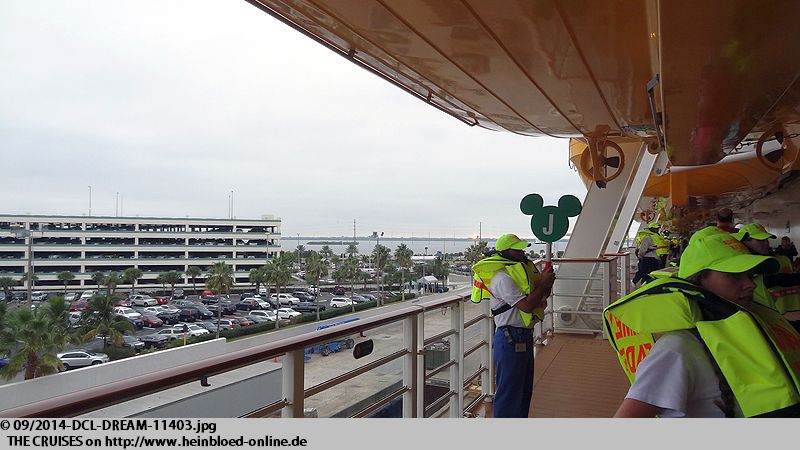 While I was in a group, which had to do the life drill outside.

But compared to QUANTUM OF THE SEAS they made sure that everyone could see everything. By the way: you would not find any life vests in the cabin. They would release them at the muster stations.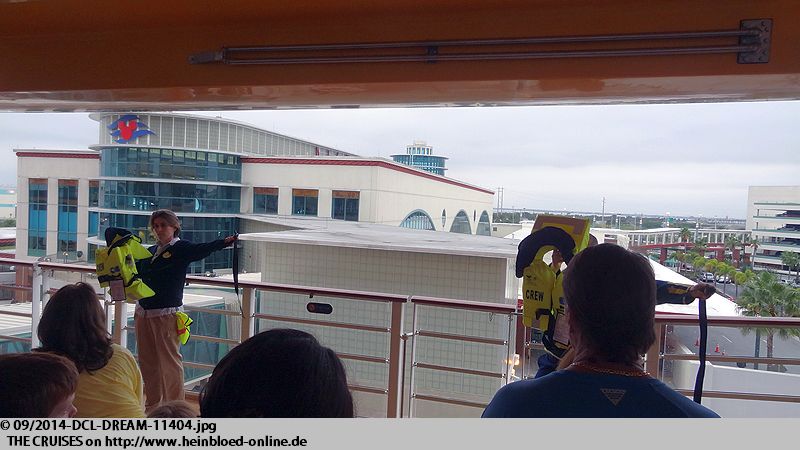 Es wird aber im Gegensatz zur QUANTUM OF THE SEAS sichergestellt, dass auch alle das sehen können. Übrigens: es gibt auf der DISNEY DREAM keine Rettungswesten in den Kabinen. Die Ausgabe erfolgt an der Rettungsstation.
Ich mag nicht sofort auf die Kabine, weil es ja eh wieder einen Stau bei den Fahrstühlen gibt. So gucke ich mich ein wenig um. Auf jeden Fall sind es die guten Auflagen auf guten Deckstühlen, die hier aufgestellt werden. Im hinteren Bereich gehe ich wieder rein und suche mir einen ruhigen Fahrstuhl. Gut ist der Übersichtsplan, der nach Funktionen angeordnet ist. So muss man nicht Deck für Deck lesen, um sein Ziel zu finden, sondern sucht nach dem Ziel und findet das Deck. Und überall findet man die Disney-Characteren.

I did not like to return immediately to the cabin because you would have a congestion at the elevators. So I was browsing around. Anyhow, I liked the cushions on the wonderful deckchairs. I the aft I went again in and was looking for a less busy elevator. Brilliant was the map which was designed by functions. So you did not need to check deck by deck to find your destination, but you checked for your destination and found the deck. And everywhere you had the Disney-characters.

We went for the sail away party on Deck 11. Here you could get ice-cream (complimentary) which I had to try and right next you could buy beverages, but you could also just ask for some ice water. The bow was the part of the adult's world. Only set sails there were few kids around to have a chance to watch forward. Within the area you had your pool of your own, bars and charming relax corners. Also, a separate area for guests of the concierge cabins was placed here. A lonely musician who was playing extremely good: Matt Bruno (best would be to check on Google for Matt Bruno Guitarist and being surprised of the result. I hoped that he would be still here in January. My family was looking forward to staying here in the relaxing corner, and my mother served them... I pampered myself with a non-alcohol cocktail. And AquaDuck was running during the Set Sail-Party. Only in the kids' pool with all the stars from Arielle, nobody was inside.

Wir gehen zur Sailaway-Party auf Deck 11. Hier gibt es sofort Eis (kostenlos), das ich sofort probieren muss und direkt daneben Getränke zum Kauf, aber man kann hier auch nach Eiswasser fragen. Der Bug gehört den Erwachsenen. Nur während der Ausfahrt sind ein paar Kinder da, um nach vorne gucken zu können. Innerhalb des Bereiches gibt es eigene Pools und Bars und schöne Lümmelecken. Auch der separate Bereich für Gäste der Concierge-Kabinen ist hier untergebracht. Ein einsamer Musiker, der verdammt gut spielt: Matt Bruno (am Besten mal unter
Google Matt Bruno Guitarist
eingeben, und über das Ergebnis staunen. Hoffentlich ist er noch im Januar da. Meine Familie freut sich in einer Lümmelecke und meine Mutter bedient sie auch noch... Ich gönne mir heute einen alkoholfreien Cocktail. Und AquaDuck läuft bereits während der Set Sail-Party. Nur im Kleinkinderpool mit den Stars aus Arielle ist noch niemand.
Wir gehen kurz in das Cabana's SB-Restaurant.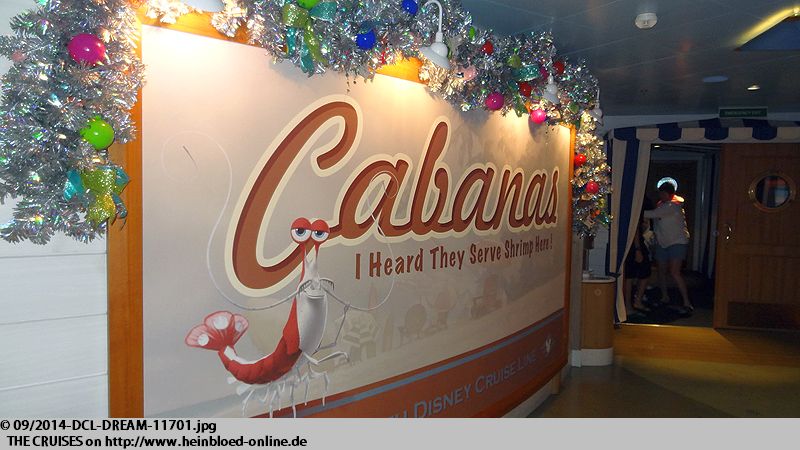 We went quickly into the Cabana's self-service restaurant.

But between the main meal times, nobody was around!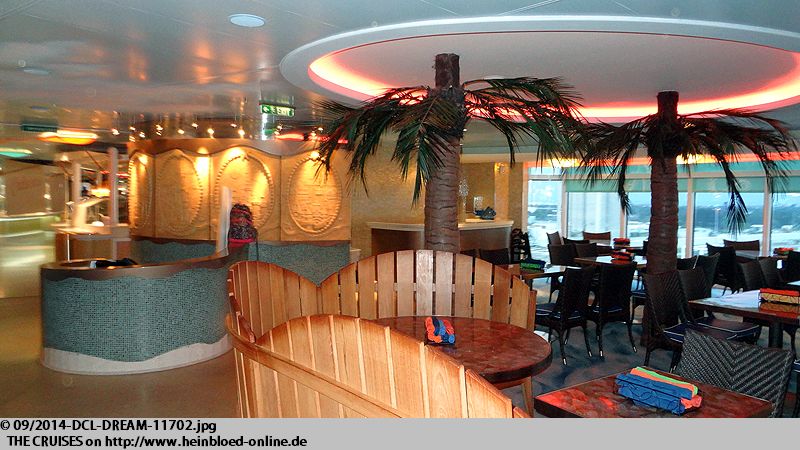 Hier ist jedoch zwischen den Hauptmahlzeiten gar nichts los!
Hier wird zwischen den Hauptmahlzeiten auch nichts angeboten.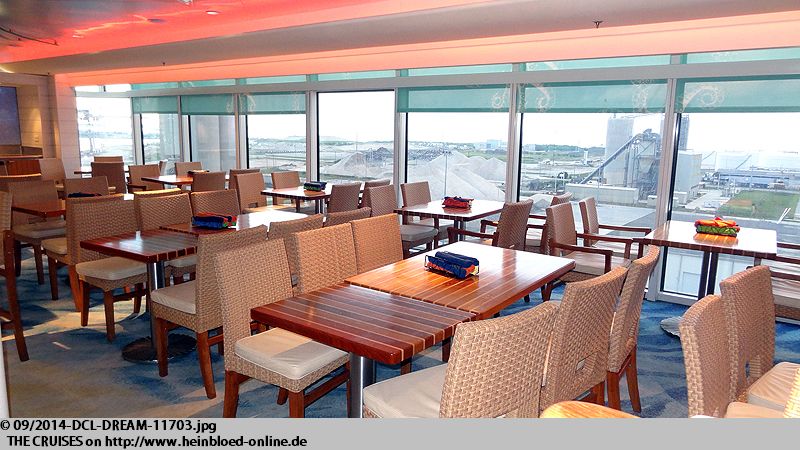 But they did not offer anything between the main meals.

Here was the same: all beverages at the buffet were complimentary.

Aber auch hier bekommt man sonst alle Getränke am Büffet kostenlos.
Auf dem Pool Deck bekommt man allerdings rund um die Uhr alle Getränke an der Getränkeausgabe kostenlos! Natürlich gibt es auch hier die Getränkeverkäufer mit Cocktails, Bier, Wein usw.. Die Essensausgabe von früh morgens bis spätabends erfolgt hier über die Schalter auf dem offenen Pooldeck mit Salat- und Beilagenbüffet. Überwiegend Sachen, die einen Amerikaner glücklich machen: viel Fast Food, aber auch ein paar gesunde Sachen, wie Obst. Hier finden wir auch die vielgepriesene Freundlichkeit der Crew, die wir bei der Einschiffung vermisst haben. So werde ich von einem Kellner angesprochen, ob ich nicht auch mal ein Bild gemeinsam mit meiner Mutter haben möchte.

On the pool deck you could get round around the clock some beverages for free! Certainly, you had also someone who was vending cocktails, beer, wine, etc.. The food outlet from early in the morning until late at night was handled through the counters at the open pool area with salad and side buffet. Mostly stuff, which made Americans happy: a lot of fast food but a few healthy options like fruits. Here you also found the praised friendliness of the crew, which we missed when we were embarking. So a waiter came and asked whether I would not want to have a picture with my mother.

I discovered for me the Cove Café in the kid's free zone. With illy coffee. And I got immediately a coffee-bonus card which Bruno would love to have. Price level like with Starbucks plus 15% service charge. But yummy.

Ich entdecke für mich das Cove Café in der kinderfreien Zone. Mit Kaffee von Illy. Und ich bekomme direkt eine Kaffee-Bonuskarte, über die sich bestimmt Bruno freut. Preisniveau wie bei Starbucks plus 15% Service-Charge. Aber lecker.
Und bei der Ausfahrt muss ich nochmals schnell raus: von dort habe ich also fotografiert.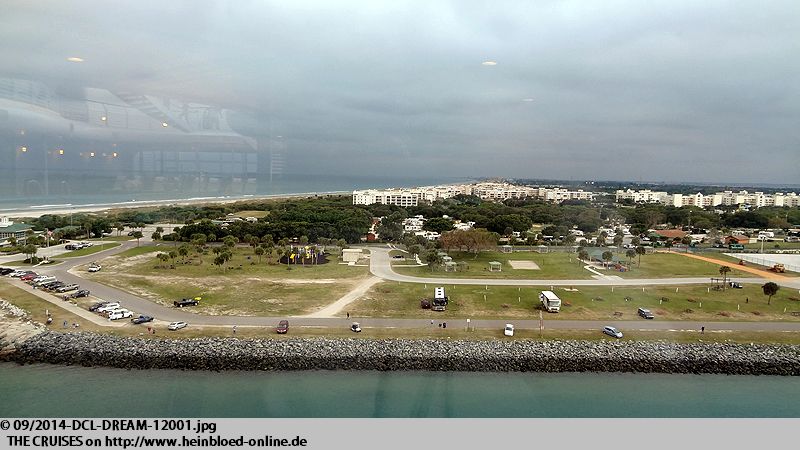 When we were leaving the port, I need quickly to get out and to take pictures: from there I made my shots.

There was my balcony.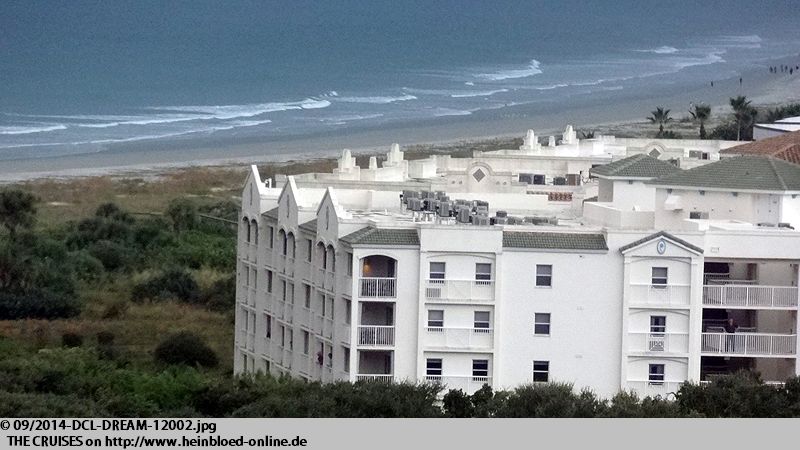 Da ist ja mein Balkon.
Einer der Sachen, die bei der Buchung komplett schief gegangen sind: die Tischbuchung. 5 Personen - 1. Tischzeit. Herausgekommen ist 2. Tischzeit, was ich nicht wollte, weil ich die Gewohnheiten meiner Eltern kenne und weil wir uns die ganze Zeit über die Begriffe Early Seating - Late Seating - Main Seating gezankt haben und anscheinend daher auch etwas unklar ist, was mit Main Seating gemeint ist. Fakt ist: wir sind dann zum Maître D' in die Sprechstunde gegangen und baten um einen Tisch in der 1. Tischzeit. Bei Disney läuft es etwas anders: man wechselt jeden Abend das Restaurant. Klingt nach Dynamic Dining auf der QUANTUM OF THE SEAS, aber hier ist es so: Die Rotation der Restaurants ist festgelegt, so dass 1/3 der Gäste für je eines der Restaurants zugeteilt ist. Man bekommt immer die "gleichen" Tisch (also den Tisch mit der selben Nummer) und die selben Kellner, die mit rotieren. Wir beginnen den ersten Abend im Enchanted Garden. Um es vorweg zu nehmen: das Essen ist sehr gut - auf einem Niveau, bei denen man bei manchen Gesellschaften schon zuzahlen müsste. Der Service ist nett und freundlich: Bertram und sein Assistent Marven. Und trotzdem gab es ziemlichen Ärger: wir bekamen zu fünft einen 4-er Tisch. Das wäre kein Ärger, wenn nicht sehr viele Tische, die z. T. größer waren und an denen fünf Personen sehr viel bequemer Platz gefunden hätten, leer geblieben wären. Man argumentierte, dass man diese Tische für große Familien freihalten würde, die alle heute Abend bestimmt im Palo oder Remy essen seien. Das ist ein klassisches Eigentor: ich hoffe bloß, dass ich am nächsten Tag große Familien am Nachbartisch sehe, die Kinder haben, die älter als 18 Jahre sind, sonst geht der Ärger mit der Restaurant-Leitung richtig los. Denn es sind keine Kinder im Palo oder Remy zugelassen...

One item which went totally wrong: booking the table. 5 persons - 1st sitting. We got 2nd sitting, which I never wanted because I knew the habits of my parents and because we had a fight on the expressions early seating - late seating - main seating and it was somehow unclear what was main seating. The fact was: we had to see the Maître D's consultation and asked for a table in the 1st sitting. With Disney it worked differently: you changed every night the restaurant. Sounded like Dynamic Dining on QUANTUM OF THE SEAS but here it was this way: the rotation of the restaurants was fixed so that 173 of the guests was allocated in each of the restaurants. We started our first night in Enchanted Garden. To tell it ahead: the food was delicious - like a level, you need to pay extra with other companies. The service was nice and friendly: Bertram and his Assistant Marven. But we still had anger: we got a table of 4 for a party of 5. That would not be annoying, would not there were many tables vacant around which could better fit for a party of 5 since they were larger. They argued that they kept the tables for bigger families who should be at Palo's or Remy's tonight for dinner. It was an own classical goal: I truly hoped that there would be many big families with a lot of kids 18+ next to us - otherwise the restaurant management would get some trouble with me. No kids were allowed in Palo or Remy.

In the atrium they had "party": first, they had Micky's Tree lighting Magic. After that, Enharmoniq was heating up the atmosphere. I never experienced this before: 2-years old were dancing with 80-years old to the rhythm of the music. Nothing special. Typical American favorites. It was the way, they were playing and singing, and it was pure fun which was infecting everyone! You could feel that Disney was an entertainment group and their strength - and they ran a cruise ship only "by the way". It was so much fun on board: as and 48-years old realist, I started to believe that Santa Claus was real: Just being here present, was making me 10, 20, 30, 40 years younger. But that therefore Disney was always strong: conveying feelings... like in the movie "Ratatouille", when they served ratatouille to the restaurant reviewer and he felt immediately like being home with his mother. And Jennifer Hudson from the movie "Dream Girls" was the appropriate godmother.

Im Atrium findet unterdessen "Party" statt: einerseits Micky's Treelightning Magic läuft. Danach heizen
Enharmoniq
die Stimmung auf. So etwas habe ich vorher noch nicht erlebt: da tanzen 2- und 80-Jährige zu der Musik. Nichts besonderes. Typisch American Favorites. Es ist nur die Art, wie sie musizieren und singen und einfach Spaß an Musik bringen, die ansteckt! Du merkst sofort, dass Disney ein Unterhaltungskonzern ist und da ihre Stärken sind - und ein Kreuzfahrtschiff nur "nebenbei" betrieben wird. Und es macht so viel Spaß an Bord: als 48-Jähriger Realist glaube ich wieder an die Realität des Weihnachtsmanns: ich fühle mich schon allein durch meine Anwesenheit 10, 20, 30, 40 Jahre jünger. Aber das ist ja die Stärke von Disney: Gefühle vermitteln... wie im Film "Ratatouille", als Ratatouille dem Restaurant-Kritiker serviert wurde und er sich sofort fühlte, wie bei seiner Mutter zu Hause. Und Jennifer Hudson aus dem Film "Dream Girls" ist natürlich die passende Taufpatin.
Manche mögen den Weihnachtsbaum amerikanisch-kitschig nennen. Ich finde ihn schön! Auch die Präsenz von Donald Duck als Bronze Statue mitten im Atrium: stört mich nicht mehr. Nur die schönen Fahrstühle stören mich nach wie vor noch, weil sie so klein sind. An einem Bildschirm wird die Schiffsführung vorgestellt. Nicht nur Herkunftsland, sondern auch ein bisschen mehr.

Some might call the Christmas Tree American-kitschy. I found it beautiful! Also the presence of Donald Duck as a bronze statue in the center of the atrium: did not bother me anymore. Only the lovely elevators were still disturbing me because they were so tiny. On the screens, they introduced the ship's management. Not only their countries of origin but some more.

And they stood there, every night in their historical-elegant-gala-uniforms and were available for their guests. There was not "I have no time for you" or Do-not-look-into-my-eyes gestures. Everyone could be addressed.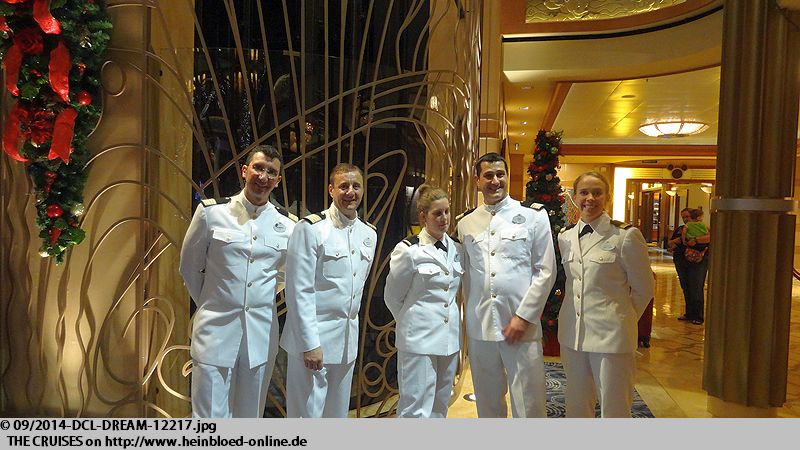 Und die stehen jeden Abend in ihren historisch-anmutenden-schönen Gala-Uniformen da und sind für ihre Gäste da. Da gibt es kein "Ich habe keine Zeit für Sie" oder bloß-nicht-in-Augen-gucken Allüren. Jeder ist ansprechbar.
Da einzige, was ich nicht so hundertprozentig verstanden habe: zu welchen Anlässen, muss man sich vorher anmelden, um mit den Disney-Charakteren zusammen zu kommen.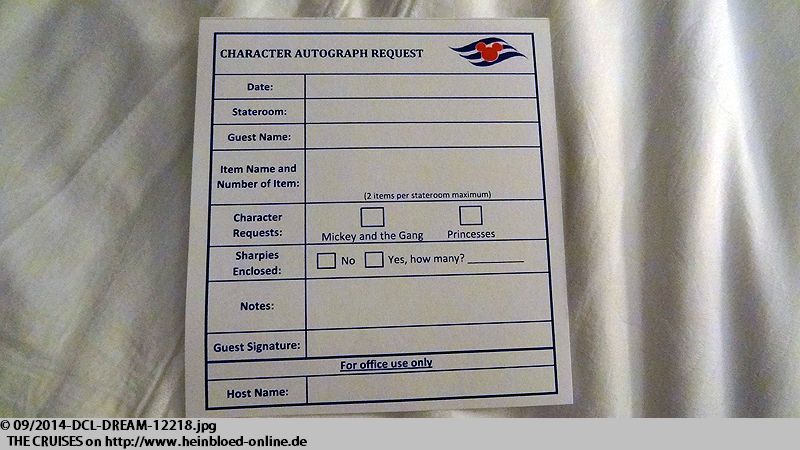 The only point, I did not understand correctly: which occasions, did you need register to get together with the Disney-characters.

My first Disney show: The Golden Mickys. The perfect opening. You felt like with the Oscar-show. In front of the theater, guests were interviewed (especially kids), and it was broadcast live into the theater. Same in the theater. It was a great feeling. And they sold on hawker's tray beverages and snacks. Then Crusie Director Christiaan Abbot and Captain Throd Haugen came on the stage to welcome the guests. In the theater, they strictly prohibited taking pictures. One was walking around, and when he saw a display, he came by to interrupt. I tried to negotiate. Unfortunately no. But they told me that I could take some pictures of my TV set. They showed all the time a record of rehearsal without the audience. It was also a kind of service for those who could not stay all the time or not at all because of the kids. In the show, you could experience that Disney packed all the competence of all departments into this show: even Disney CEO and stars were included. And again only good messages were transferred: "What would be if I am not good?" - "And what would be if you are good?" - Or songs in the show like "You've got a Friend in me". I just came out from the show with a great feeling.

Meine erste Disney Show: Die Golden Mickys. Eine perfekte Eröffnung. Man kam sich vor wie in einer Oscar-Verleihung. Vor dem Theater wurden Gäste (vor allem Kinder) interviewt und live ins Theater übertragen. Im Theater ebenfalls. Es war ein tolles Gefühl. Im Theater wurde mit Bauchläden Getränke und Snacks gekauft. Dann kamen Cruise Director Christiaan Abbott und Kapitän Thord Haugen auf die Bühne um die Gäste zu begrüßen. Im Theater herrscht striktes Fotografier-Verbot. Einer läuft wirklich ständig rum und sobald er eine Anzeige sieht, wird es sofort unterbunden. Ich hatte dann versucht zu verhandeln. Leider nein. Aber man machte mich darauf aufmerksam, dass ich doch mal ein paar Bilder von meinem Fernseher machen könnte. Dort läuft immer eine Aufzeichnung einer Generalprobe ohne Publikum. Ist auch als Service für diejenigen gedacht, die wegen der Kinder nicht vollständig oder gar nicht sonst zur Show könnten. Bei der Show merkt man eins: Disney hat die Kompetenz aller Abteilungen in diese Show gepackt: Selbst Disney-Vorstand und Disney-Stars werden eingebunden. Und natürlich werden nur positive Botschaften vermittelt: "Was wäre wenn ich nicht gut darin wäre?" - "Und was wäre wenn du gut darin wärst?" - oder eben die Lieder in der Show "You've got a Friend in me". Ich komme mit einem guten Gefühl aus der Show.
Jeder Gast darf 50 MB am 1. Tag kostenlos nutzen. Und ganz einfach. Man hat auch Zugriff auf die Disney Version von RoyalIQ. Nur anscheinend nicht ganz so viele Funktionen, aber dafür Funktionen, die gut funktionieren. Weniger ist manchmal mehr.

Every guest was allowed to use 50 MB on the 1st day. And it was easy. You also had access to Disney's version of RoyaliQ. It looked like that they did not have the number of functions but they functions which were working very well. Less was sometimes more.

And the good: more than one device could be used for one access. They merely add the single-use together.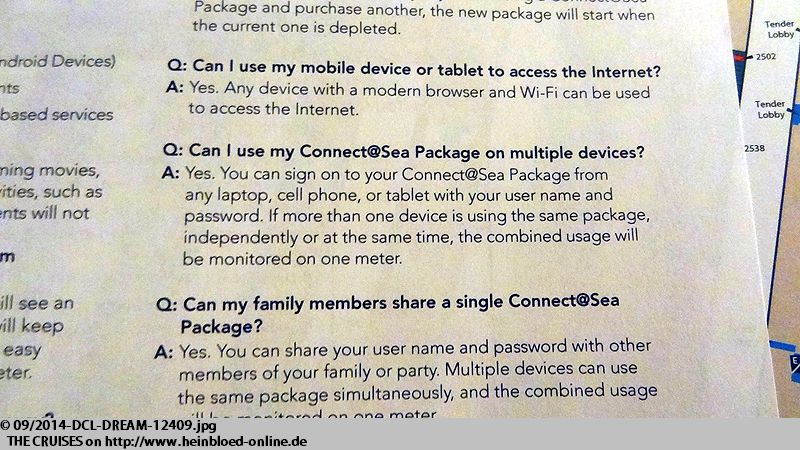 Und das Gute: es können mehrere Geräte den Zugang nutzen. Es wird einfach der Verbrauch zusammengerechnet.
Und anscheinend läuft auch die Kommunikation über Voice-over-IP - anders kann ich mir nicht erklären, wie man sonst im Flugmodus telefonieren kann.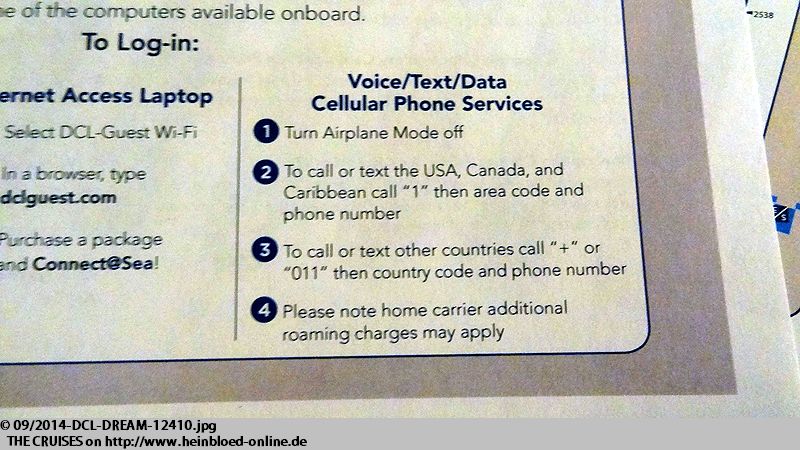 Obviously, the communication worked on Voice-over-IP - I had no other idea why you could make phone-calls while we were in the flight mode.
Die anderen Reisen in diesem Blog/
The other voyages in this blog: