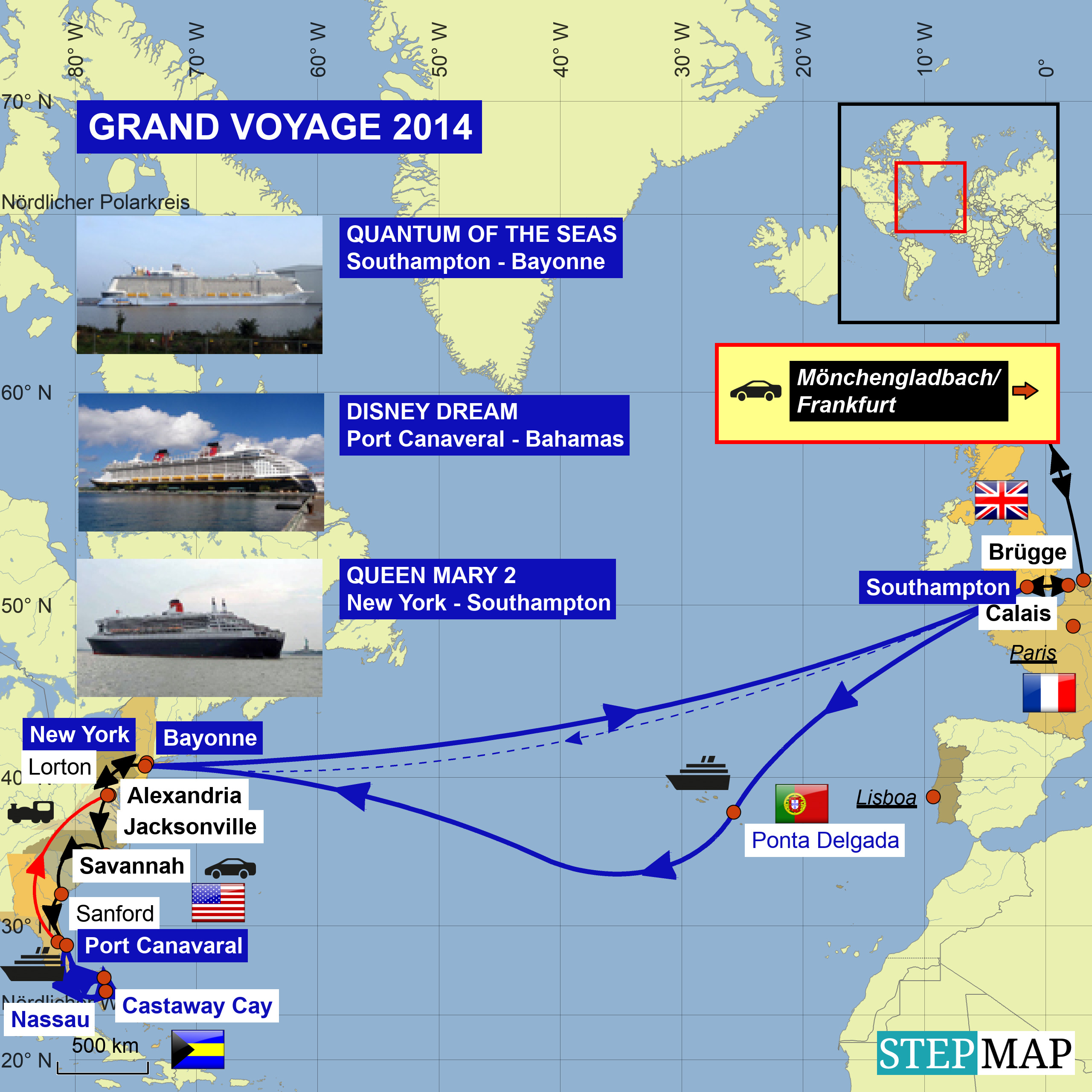 Zwar ist das auch hier ein Suites-Hotel, aber die Küche ist nicht so vollständig, wie in den Candlewood Suites. So wird hier Frühstück angeboten. Auch hier kann und will ich das meiste davon nicht essen. Auf jeden Fall findet hier noch eine ziemliche Diskussion später mit dem Management statt. Besonders ärgerlich: ich habe ausdrücklich gesagt, dass sie sofort abbuchen sollen, damit keine Beträge auf der VISA-Prepaid-Karte blockiert werden. Aber wie gesagt: die Dame von gestern Abend war zu neu und so werden wieder Beträge geblockt. Und damit ist mein Ziel Umrechnungsgebühren zu sparen wieder ad acta gelegt. Zumindest habe ich für mein Zimmer nichts bezahlt.

That was a suites-hotel too, but the kitchen was not as fully equipped, as the Candlewood Suites. So they offered breakfast. Here again, I did not want and can eat most of the food. Later I discussed with the management of the hotel. Very angry: I asked them to charge immediately and not to block amounts on my VISA-prepaid-card. But as said before: the agent last night was too new, and so it was held again. So my target to save conversion rate was withdrawn. At least I did not pay for my room.

Only driving three days was not what I wanted. I also wanted to see something. Just walking around was not possible since my father could not walk fast and my aunt had pain when walking. Last night I was told, that they offered actually after 10:00 hrs services of Royal Bike Taxi. But two were willing to show up at 08:00 hrs at the hotel: Tim and Dalton. They had the usual order: to be ambassadors for their city Savannah, GA. And they did it very well because they correctly completed each other. Also, they confirmed how excellent the food was with Mrs. Wilkes and how long you usually needed to queue to get a seat because they did not accept any reservations.

Nur drei Tage fahren will ich nicht. ich will auch etwas sehen. Herumlaufen ist nicht, da mein Vater ja nicht schnell gehen kann und meine Tante über Schmerzen beim Gehen klagt. Gestern Abend sagte man mir, dass sie eigentlich erst ab 10:00 Uhr die Dienste vom
Royal Bike Taxi
angeboten werden. Aber zwei haben sich doch gefunden, die bereit sind, um 08.00 Uhr zum Hotel zu kommen: Tim und Dalton. Auch sie haben die übliche Aufgabe: Botschafter der Stadt Savannah zu sein. Und sie machen es ganz toll, weil sie sich in ihren Ausführungen sehr gut ergänzen. Auch sie bestätigen, wie toll das Essen bei Mrs. Wilkes ist, aber auch wie lange man sich in der Regel anstellen muss, um einen Platz zu bekommen, weil keine Reseervierungen entgegen genommen werden.
Es ist ein schönes Tempo. So wie ich es früher vom Fahrradfahren in Berlin kenne: ein schönes Tempo, um viel in einer kurzen Zeit zu entdecken und ein schönes Tempo, um in Ruhe ohne Anhalten etwas sich ansehen zu können. So wie der Ausblick in diesen Park.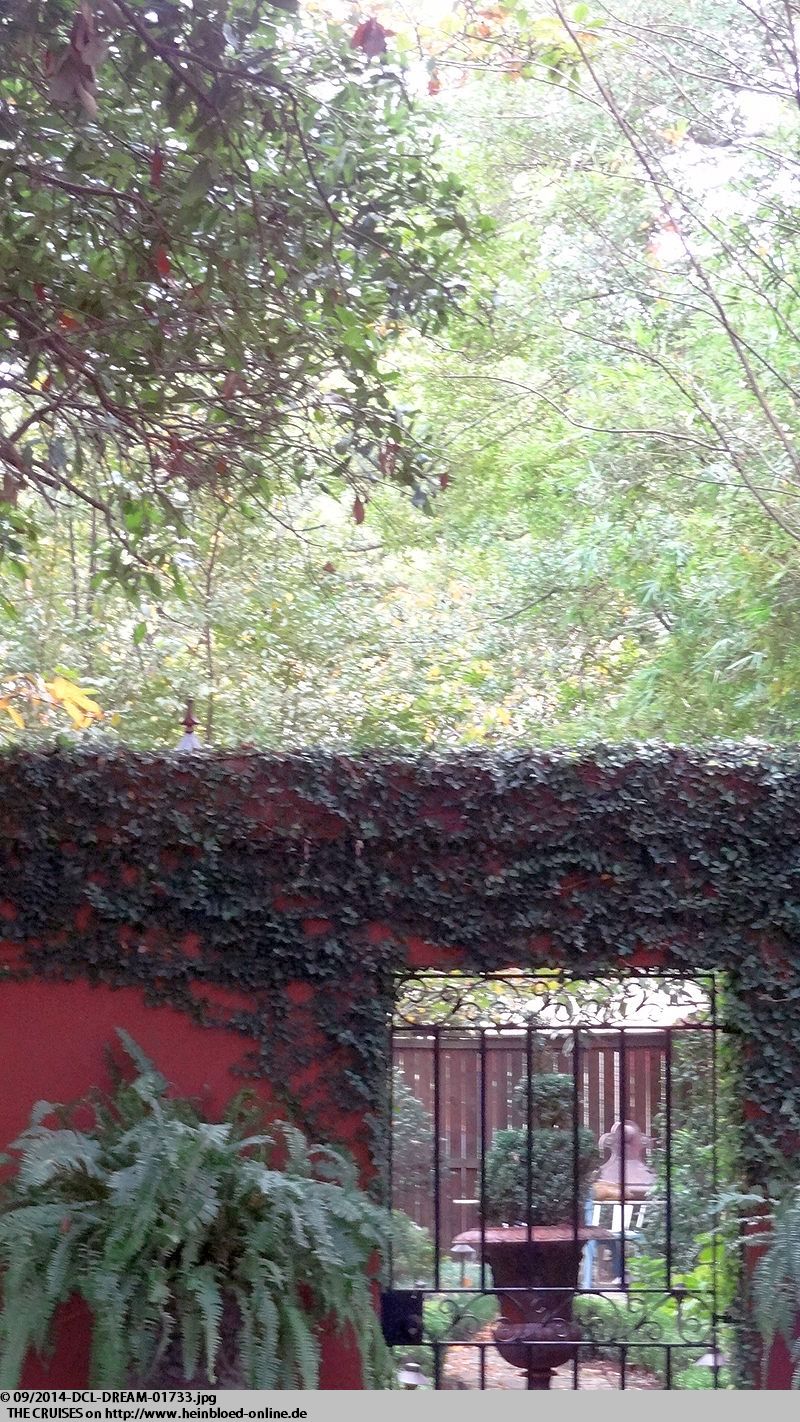 It was a nice speed. Like I remember from biking in Berlin, Germany: a suitable speed to discover a lot in a short time but also to have the time to see everything. Like the view of the park.

And the ride continued. It was so mild that there was no need to close the jackets.

Und die Fahrt geht weiter. Es ist so mild, dass man sich die Jacken nicht zu machen muss.
Auffällig ist die Architektur, die manchmal an Bauhaus erinnert. Schön sind das Design der Kino-Leuchtreklame, wie aus den 50-er/60-er Jahren.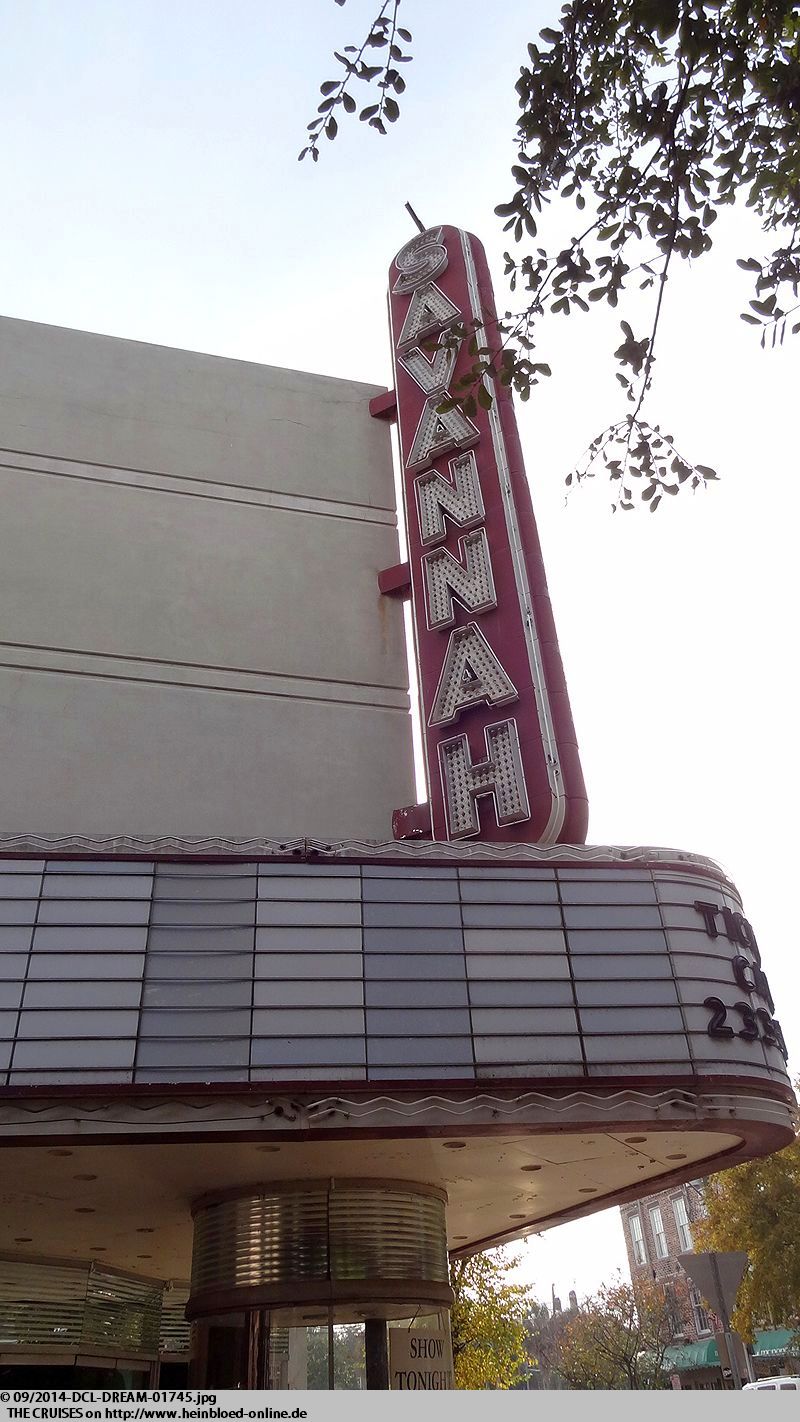 The architecture attracted my attention since it sometimes reminded to the Bauhaus-Style (German Modernism Style between World War I and II under Walter Gropius). Beautiful was the design of the movie theatre-neon sign in the style of the 50s and 60s.

Slowly, we had to get back to the car, which parked in front of the hotel. And this CVS Pharmacy should be the only one in the USA, which was not open around the clock... I thought that there should be more.

Langsam geht es zurück wieder zum Auto, das vor dem Hotel parkt. Und dieser CVS Pharmacy Laden soll der einzige in den USA sein, der nicht rund um die Uhr auf hat... Ich glaube, dass es davon noch mehr gibt.
Irgendwie erinnert das an das Capitol. Wir lernen später, dass Savannah auch mal Hauptstadt von Georgia war und daher auch so eine Infrastruktur einer Hauptstadt vorhanden ist.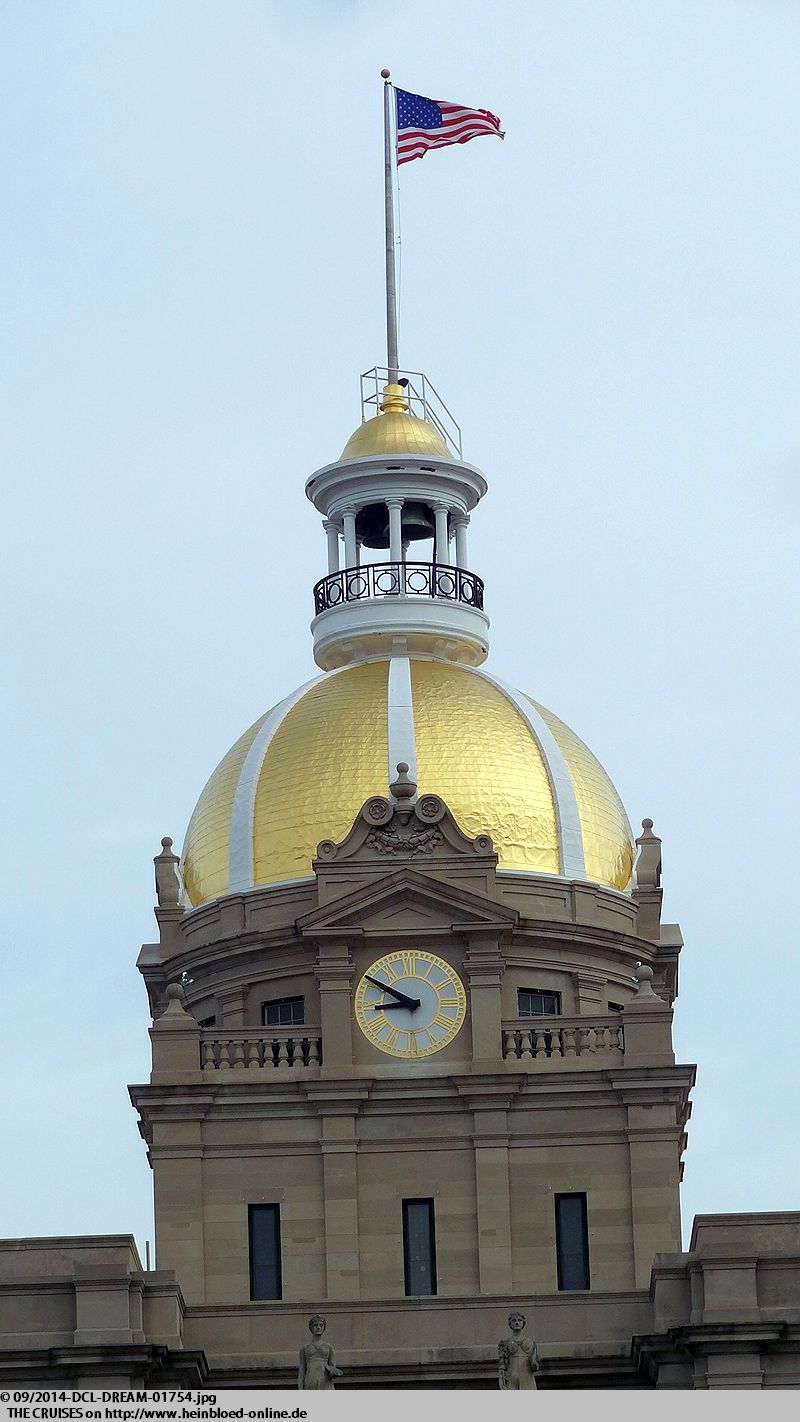 Somehow it reminded to the Capitol. Later we learned, that Savannah was capital of Georgia and so you had infrastructure like in a capital city.

In total it was an excellent tour, and both did a great job: should we ever be in Savannah, we would book both again to discover more.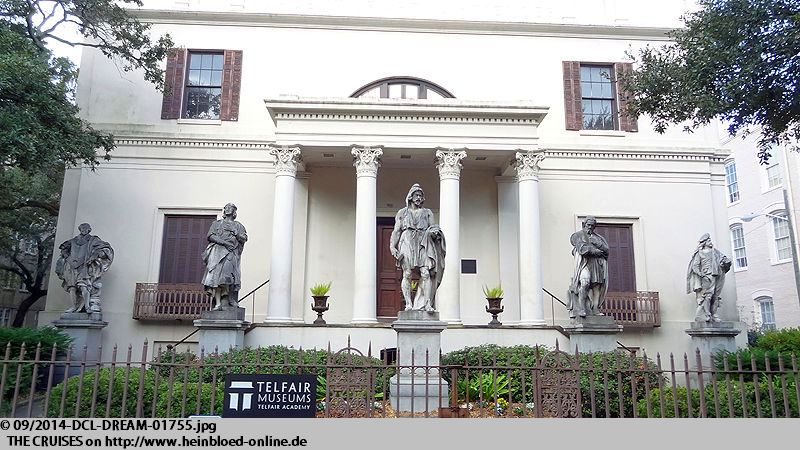 Insgesamt ist es eine nette Tour gewesen und beide haben die Aufgabe gut erfüllt: wenn wir mal wieder in Savannah sind, würden wir die beiden wieder bestellen, um mehr zu entdecken.
Innerhalb der Tour war dieser kleine Park am Chippewa Square etwas Besonderes: man gedenkt hier dem US-Dichter Dr. William A. Caruthers, aber das meine ich nicht.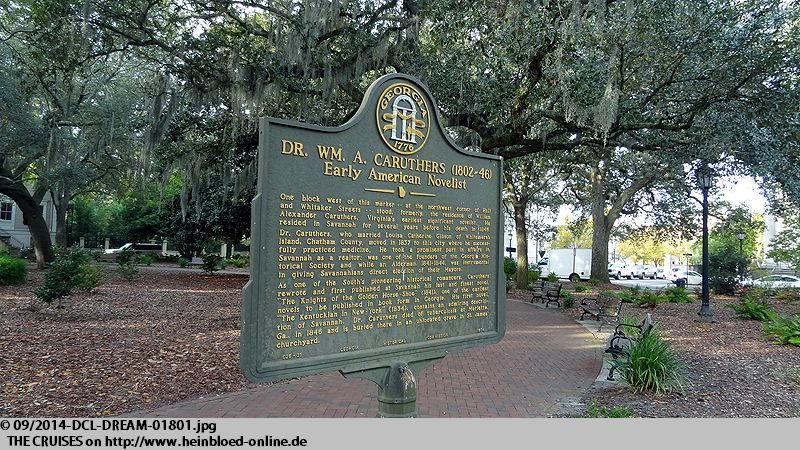 On this tour, this little park at the Chippewa Square was something special: here they reminded to US-poet Doctor William A. Caruthers, but that was not what I was talking about.

Unfortunately, the original bench was not here meanwhile anymore, but in a museum, but maybe you would still remember it: keyword chocolate... "Life is like a box of chocolates. You never know that you are gonna get..." ... Tom Hanks in Forrest Gump. Here, he was waiting for the bus and told the story of his life to the others who waited for the bus.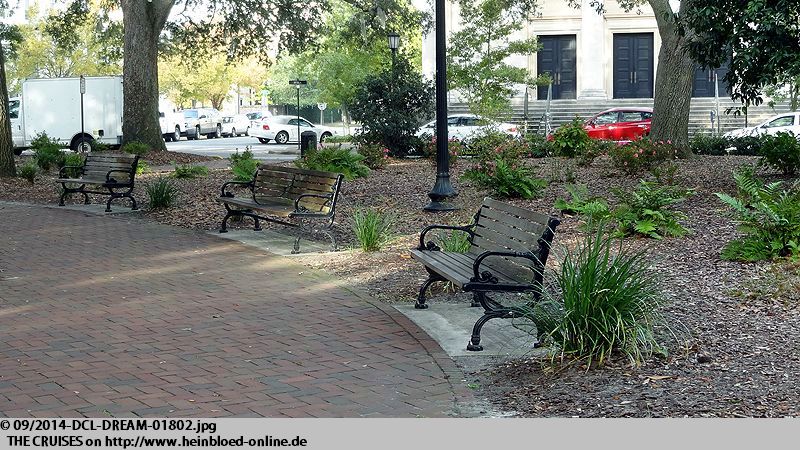 Leider steht die Original-Bank mittlerweile nicht mehr hier, sondern in Museum, aber vielleicht erkennt man es doch: Stichwort Pralinen... "Das Leben ist wie eine Pralinenschachtel. Man weiß nie, was man bekommt..."... Tom Hanks in Forrest Gump.
Hier wartet er auf den Bus und erzählt den anderen Wartenden seine Lebensgeschichte
.
Früher das Debi's - heute das Laurie's - deswegen durchgestrichen. Hier hat die Freundin von Forrest Gump Jenny gearbeitet und ihm im Fernsehen angefeuert.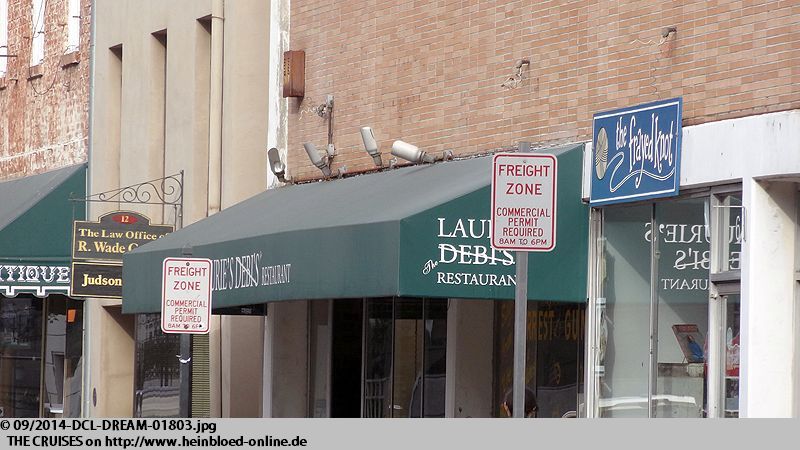 Before it was the Debi's - today it was Laurie's - so it was crossed out. Here, the friend of Forrest Gump Jenny worked here and cheered him on the TV.

It was time for the music on Georgia. Since the Olympic Games 1996 in Atlanta, GA, I knew, that there were many favorite songs on Georgia, but that one was my favorite: Gladys Knight & The Pips - Midnight Train to Georgia. And here in Georgia, it sounded different in your ears. Precisely the right song, when you start on the part of I-95 which connected Maine with Florida along the East coast.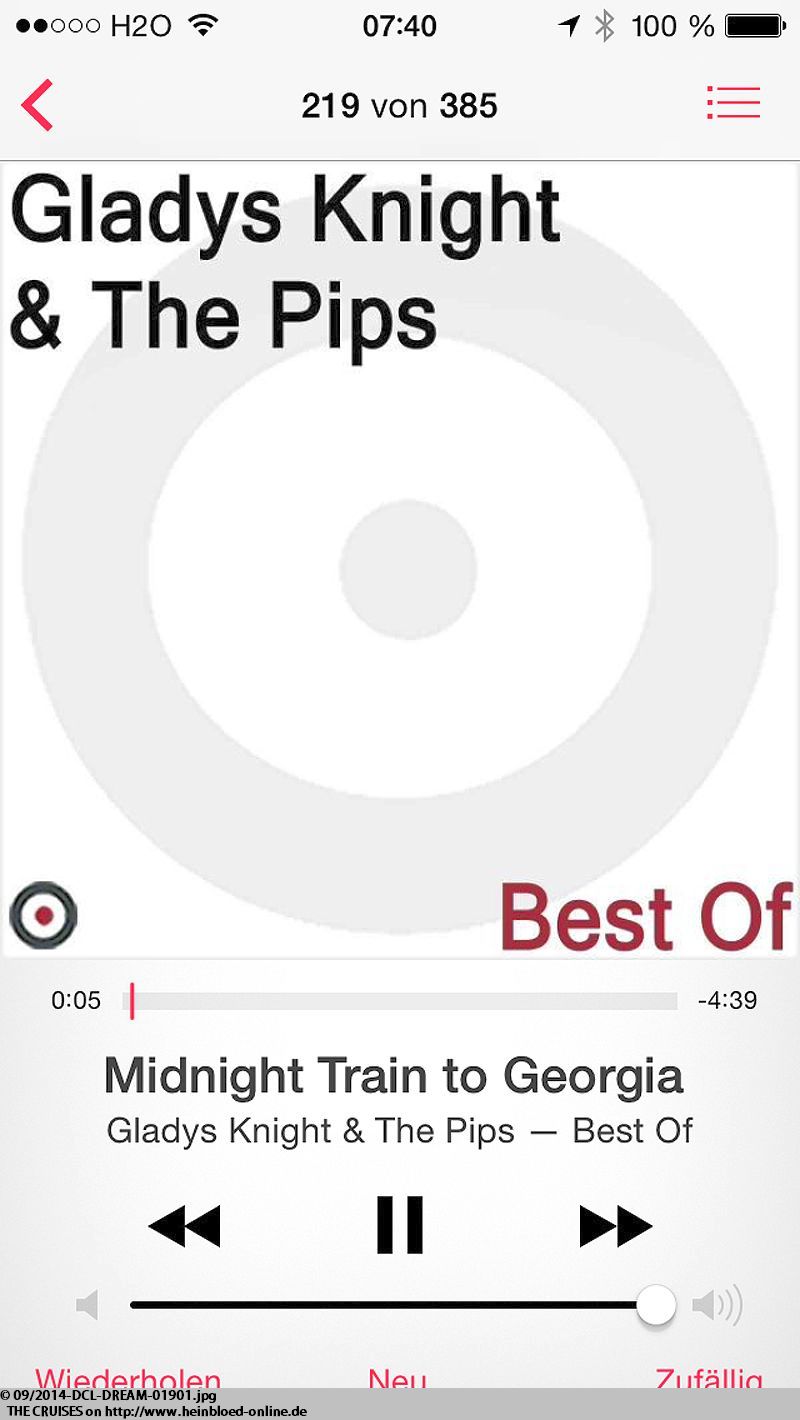 Höchste Zeit für Musik über Georgia. Seit den Olympischen Spielen 1996 in Atlanta weiß ich, dass es viele bekannte Lieder über Georgia gibt, aber das ist mein Favorit: Gladys Knight & The Pips -
Midnight Train to Georgia
. Und hier in Georgia klingt es ganz anders im Ohr. Genau das richtige, denn es geht jetzt zum Teil auf die I-95, die ja Maine mit Flordia entlang der Ostküste verbindet.
Ich hatte mich direkt auf dem Schiff gemeldet, und um Hilfe bei der Rücksendung meiner Hemden gebeten. Sicherheitshalber rufe ich in Miami an. Das Schiff ist ja noch in New York und ich bin ja in wenigen Tagen auch wieder in New York. Da müsste doch ein Arrangement möglich sein. Hier erfahre ich jedoch: aus Sicherheitsgründen wird nichts an Kleidungsstücken zurückgeschickt, das man lose in der Kabine findet. Hätte ich jedoch den ganzen Koffer in der Kabine gefunden, der allerdings nicht die Schublade gepasst hätte, in der die Hemden lagen, dann hätten sie ihn gerne für mich weitergeschickt. Ich ärgere mich, dass es zwei schöne Hemden waren. Der Ärger ist aber nicht so groß, weil ich zwischenzeitlich so viel abgenommen habe, und in den Hemden schwimme. Trotzdem ein weiterer Punkt, mich mit Buchungen bei Royal Caribbean zurückzuhalten und sie lieb zu haben. Ich bin ja kein Aktionär mehr von Royal Caribbean seit unserer Reise auf der CELEBRITY EQUINOX 2010. Deswegen habe ich kaum Trennungsschmerzen. Bruno hat mal eine Holland America Umhängetasche vergessen. Diese wurde leider nicht gefunden. Da gab es ein freundliches Schreiben und ein kleines Bordguthaben, damit wir auf der nächsten Reise, uns eine neue Tasche kaufen können... Das nenne ich Service. Neue Schiffe mit all den Innovationen müssen bezahlt werden und guter Service kostet nun einmal Geld. Aber vermutlich werden wir die KONINGSDAM irgendwie auf der nächsten Reise auf der EURODAM mitbezahlen müssen...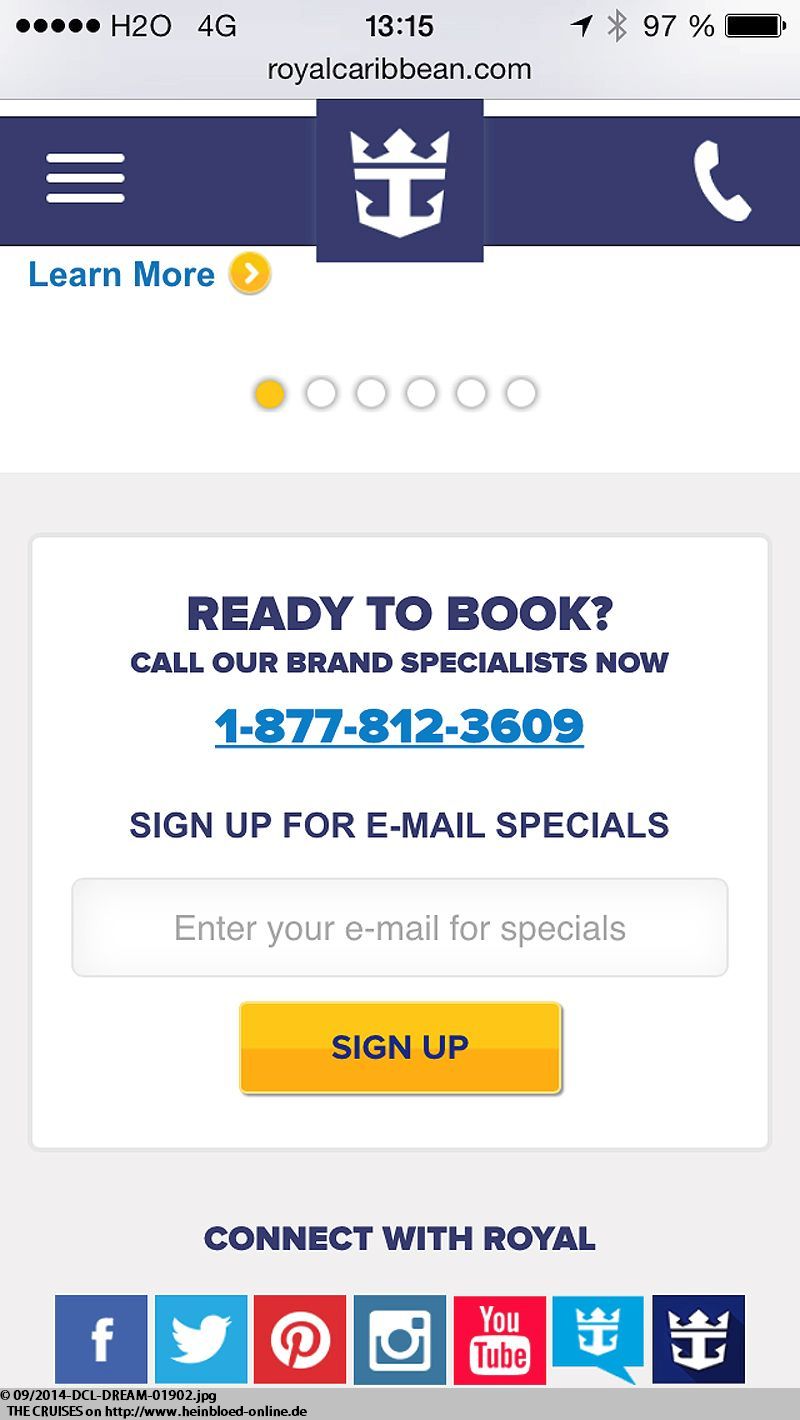 I contacted the ship to ask for help to get back my shirts. To be safe, I called in Miami. The ship was still in New York, and I would be back in New York in a couple of days. A special arrangement should be possible. But I had to learn: due to safety reason no clothes would be returned which they found in the cabins. Should I left a complete bag, which did not fit into a drawer, where I stored my shirts, they would send it back to me. I was upset because it was two nice shirts. But the anger was not too large, since I lost so much weight, that I could swim in the shirt. Anyway, another point that I was pulling myself back to book Royal Caribbean again and to love them. I was not more shareholder of Royal Caribbean since our voyage on CELEBRITY EQUINOX 2010. So I had no pain to separate from them. Bruno forgot a little bag with Holland America. They did not find it. They sent us a friendly letter and a small on-board-credit for our next cruise to buy a new bag... That had to be called service. New ships with all the innovations needed to be paid and great service cost money. So we had to pay for KONINGSDAM somehow with our next voyage on EURODAM...

Our next way took us to one of my favorite chains in the USA: Cracker Barrel Old Country Store. In the USA you visit a restaurant of one chain to have one menu, and you see another restaurant of another chain, and you get exactly the same... Tasted all the same way... With Cracker Barrel you got more homestyle cooking, and you could have all day breakfast. It was always enjoyable: you could ask for vegetables which did not look like the standard mix which get in all other restaurants. Apart from that, there was a lot to discover in their stores.

Unser nächster Weg führt uns in einer meiner Lieblingsketten in den USA:
Cracker Barrel Old Country Store
. In den USA bekommt man in einem Restaurant einer Kette ein Menü... und dann geht man in ein Restaurant einer anderen Kette und bekommt schon wieder das gleiche... Schmeckt alles irgendwie gleich... Bei Cracker Barrel bekommt man mehr Hausmannskost und kann beispielsweise den ganzen Tag frühstücken. Sehr schön ist auch immer: man kann nach Gemüse fragen, das nicht immer aussieht, wie die Einheitsmischung, die man in allen anderen Restaurants bekommt. Nebenbei gibt es in den Läden immer viel zu entdecken.
Übrigens sind wir wieder in Jacksonville. Dieses Mal aber nicht in North Carolina, sondern bereits in Florida.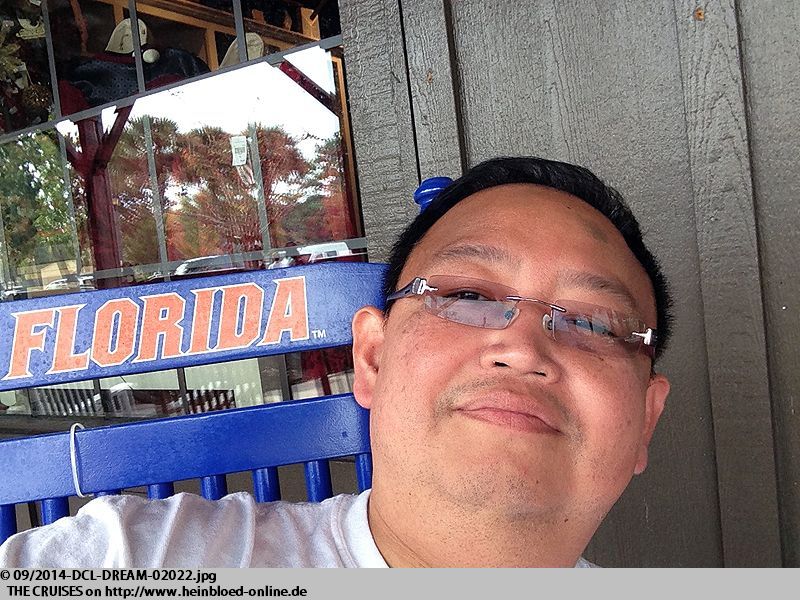 By the way, we were again in Jacksonville. That time not in North Carolina but in Florida.

The last lag to Port Canaveral, FL I did not stop for my aunt and my father to see the toilet. The target: the Holiday Inn Club Vacations Port Canaveral Beach Resort. I booked a villa in the Oceanfront Villa building because they had two bedrooms and two bathrooms. In total, up to 8 guests could stay in a villa. The villas were not in the main building, but in the Oceanfront Villa building and you could park directly right at the building. We got tapes to use the resort. But we did not apply. You could stay at the day of departure in the resort but be not allowed anymore to use the rooms. My Platinum membership was not useful here: no extended check-out in a Club Vacations Beach Resort but only in classical hotels.

Die letzte Etappe nach Port Canaveral bin ich dann ohne Toiletten-Halt für meine Tante und meinen Vater gefahren. Das Ziel: das Holiday Inn Club Vacations Port Carnaveral Beach Resort. Ich habe eine Villa im Oceanfront Villa Gebäude gebucht, weil es dort zwei Schlafräume und zwei Badezimmer gibt. Insgesamt können bis zu 8 Gäste in so einer Villa wohnen. Diese Villen liegen nicht im Haupthaus, sondern im Oceanfront Villa Gebäude und dort kann man direkt am Haus parken. Wir bekommen Bänder, um die Anlage nutzen zu können. Nur wir nutzen sie nicht. Man darf auch am Abreisetag den ganzen Tag noch in den Anlagen verbringen, nur die Zimmer nicht mehr nutzen. Meine Platinum-Mitgliedschaft nützt hier jedoch nichts: eine verlängerte Nutzung der Zimmer gibt es nicht in den Club Vacations Beach Resorts, sondern nur in den klassischen Hotels.
Nach den letzten Nächten habe ich jedoch beschlossen, dass ich nicht auf dem Sofa schlafen will und meinen eigenen Rückzugsbereich brauche. Ich buche mir ein Einzelzimmer. Weil die Buchungslage es zulässt und jemand gesehen hat, dass ich noch die Villa will, bekomme ich für mich alleine eine eigene Villa mit einem Riesenunterschied: der Eckbalkon, der sich später als unbezahlbar herausstellt. Ansonsten ist alles gleich. Ideal mit Familien, die in Port Canaveral auf ein Schiff wollen. Bloß Frühstück gibt es nicht im Resort, weil jeder dafür seine Küche hat und normalerweise auch alles voll hat im Kühlschrank und länger als eine Nacht bleibt. Eine Badewanne hat sogar eine Whirlpool-Funktion, die ich später auch nutze.

After the last nights, I decided that I did not want to sleep on a sofa and needed my own retreat room. Because the booking situation allowed it and someone saw that I wanted to have a villa of my own, I got one with a giant difference: the balcony at the corner, which was priceless. Anything else was the same. Best for families, who wanted to go on a ship. But they had no breakfast since each one had a kitchen and usually, they had a full fridge if they would stay longer than one night. One bathtub had a jacuzzi function which I used later.

The balcony at the corner allowed me a view towards two directions: to the open sea and the access channel, which connected the open sea with Port Canaveral. And it would be too sad to have such a balcony, and you could not use it to do ship spotting because your family needed all the time to see the toilet... So I could follow CARNIVAL SENSATION while leaving the port.

Der Eckbalkon ermöglicht mir den Blick in zwei Richtungen: auf die offene See und auf den Zufahrtskanal, der die offene See und Port Canaveral verbindet. Und es wäre doch zu schade gewesen, so einen Balkon zu haben, und man hätte ihm zum Shipspotting nicht nutzen können, weil die Familie ständig eine Toilette unterwegs braucht... Deswegen erlebe ich so schön die Ausfahrt der CARNIVAL SENSATION.
Die Häuser sind mit einem Shuttle-Dienst verbunden. Es ist zum Glück so warm, dass man keine Jacken braucht.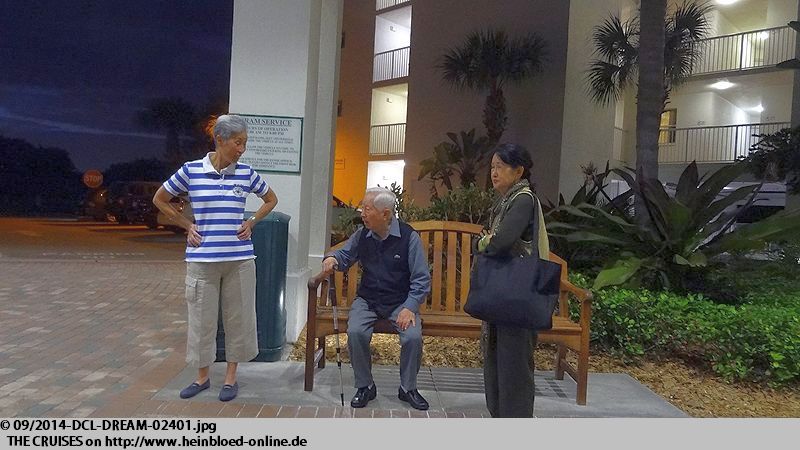 The buildings were connected with a shuttle service. We had the luck that it was so warm that you would not need any jacket.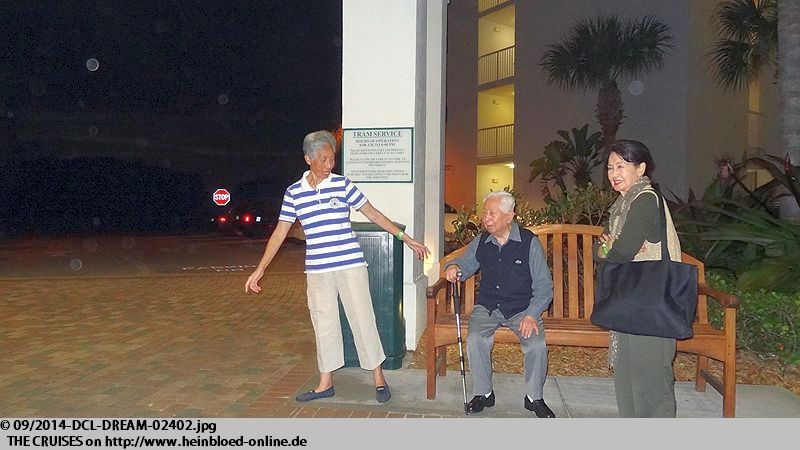 Bald kommt schon die Tram (warum auch immer sie so in den USA genannt wird: weder Schienen noch einen Stromabnehmer...) und es geht rauf.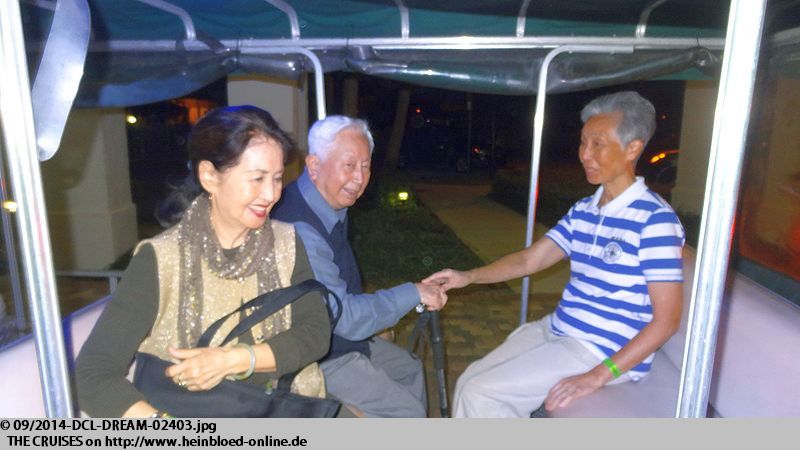 Soon the tram arrived (no idea why they called it this way since there were no rails and neither electric catenary nor current collector...) and we boarded.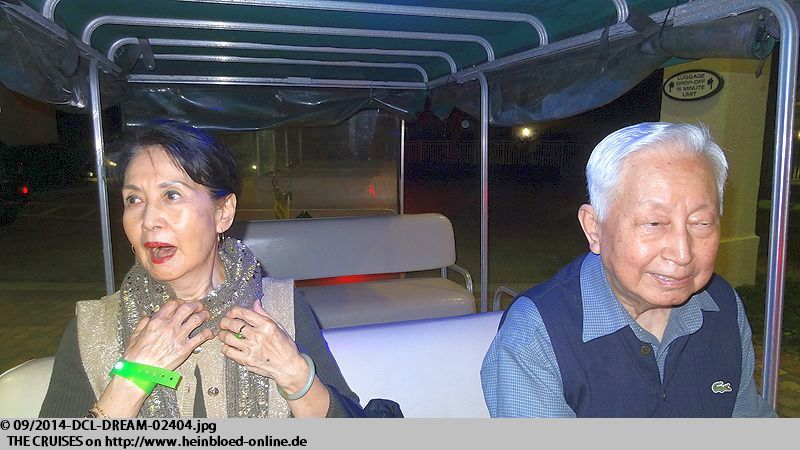 Das ist übrigens April, die mich eingecheckt hat, und ihr habe ich wohl diese wunderbare Villa zu verdanken. Sie erläutert mir, dass ich gerne meinen Wagen kostenlos im Parkhaus der Anlage für die Dauer der Kreuzfahrt lassen darf und sagt mir, wann die kostenlosen Shuttle zum Hafen fahren. Aber ich stehe vor dem Problem, dass wir noch auf jemanden warten und das eventuell unsere Flexibilität stark einschränken würde.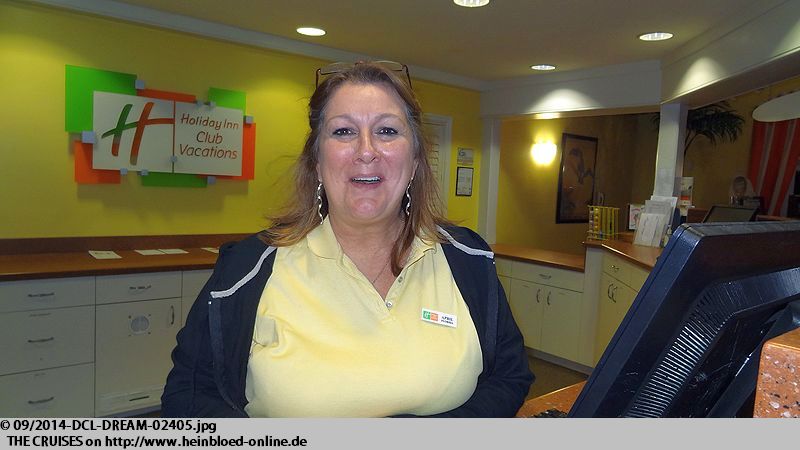 By the way, that was April, who checked me in and I needed to thank her for the beautiful villa. She explained that I could leave here my car free of charge in the resort for the duration of the cruise and told me when the shuttle would go for the port. But I had the problem, that we were still expecting someone and eventually it would restrict our flexibility.

Now we made it have a look around in the lobby of the main building.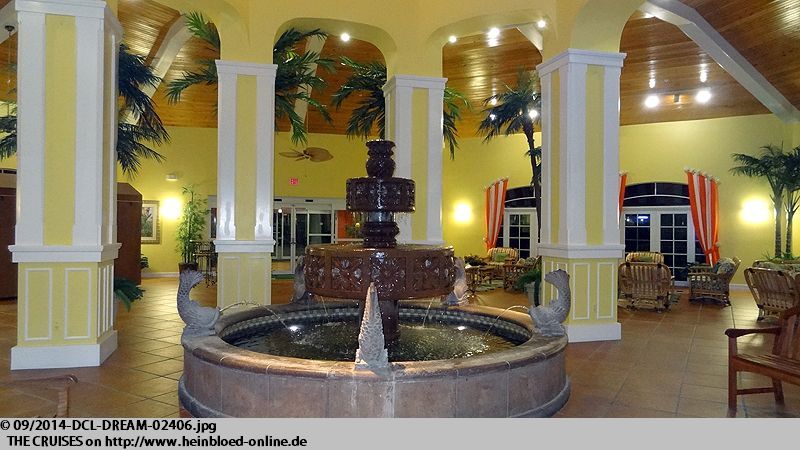 Nun schaffen wir es auch mal uns in Ruhe in der Lobby des Haupthauses umzusehen.
Port Canaveral bedeutet natürlich auch die Nähe zur NASA in Cape Canaveral, die man hier im Hotel auch wiederfindet. Allerdings ist das Besucherzentrum noch rund eine Stunde Autofahrt entfernt.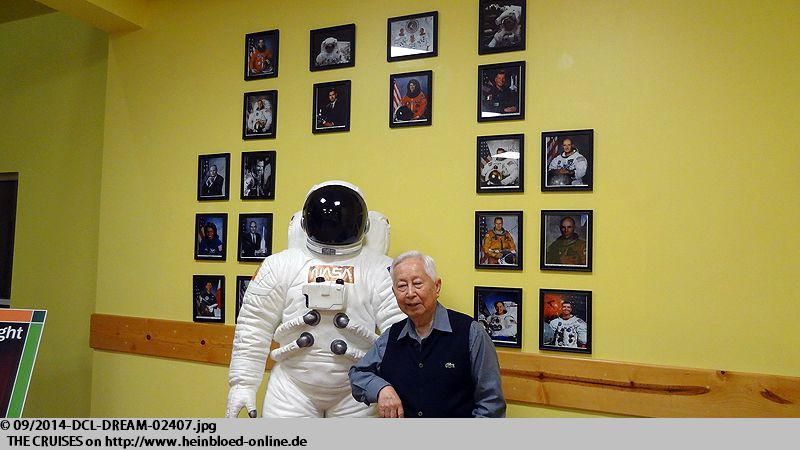 Port Canaveral always meant that the hotel was close to the NASA in Cape Canaveral and you could see it in the hotel. But it the visitor center was about one hour away.

We stayed in the hotel restaurant XXX for dinner, so we were flexible.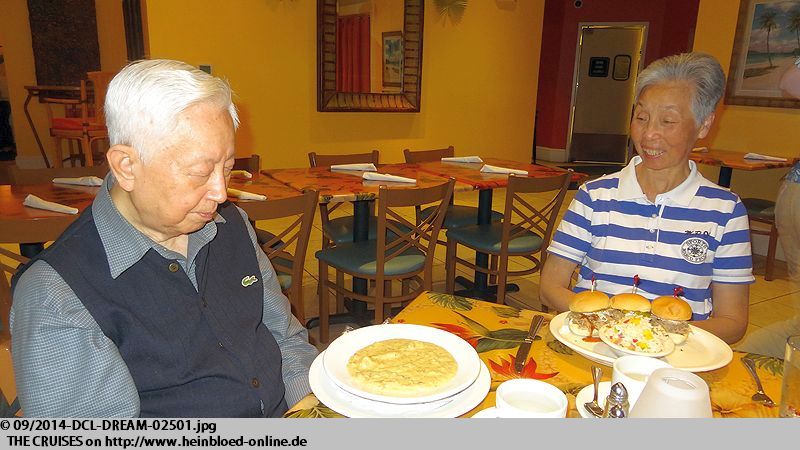 Wir bleiben im Hotelrestaurant XXX zum Essen, so dass wir flexibel sind.
Nichts aufregendes: typisch amerikanische Durchschnittskost.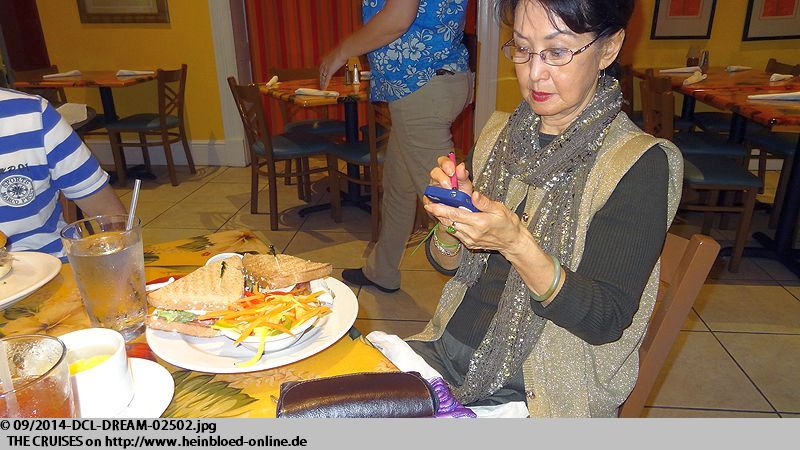 Nothing special: typical American average food.

I had fish creme and a portion of mashed potatoes for me again.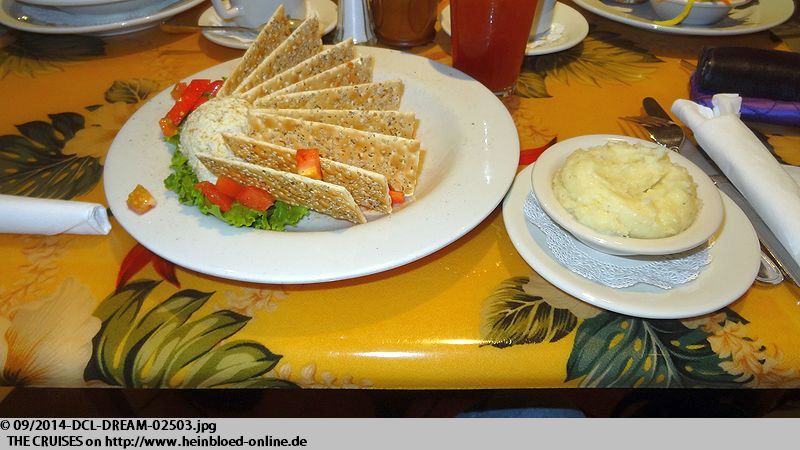 Für mich gibt es mal wieder Fischcreme und eine Portion Kartoffelbrei.
Meine Cousine Helena hatte geplant, kurz mit ihren Kindern vorbeizukommen, damit wir sie kennenlernen. Das hätte aber eine 2-stündige Fahrt nach Port Canaveral hin und später wieder zurück bedeutet, da die Kinder am nächsten Tag zur Schule müssen. Für Amerikaner ist das immer "schnell mal um die Ecke". Ich bin europäischer Realist und schlage daher eine Facetime-Sitzung auf meinem iPad vor. Vier Stunden Fahrt zum Shipspotting: ja... vier Stunden Fahrt, um mal Hallo zu sagen: nein...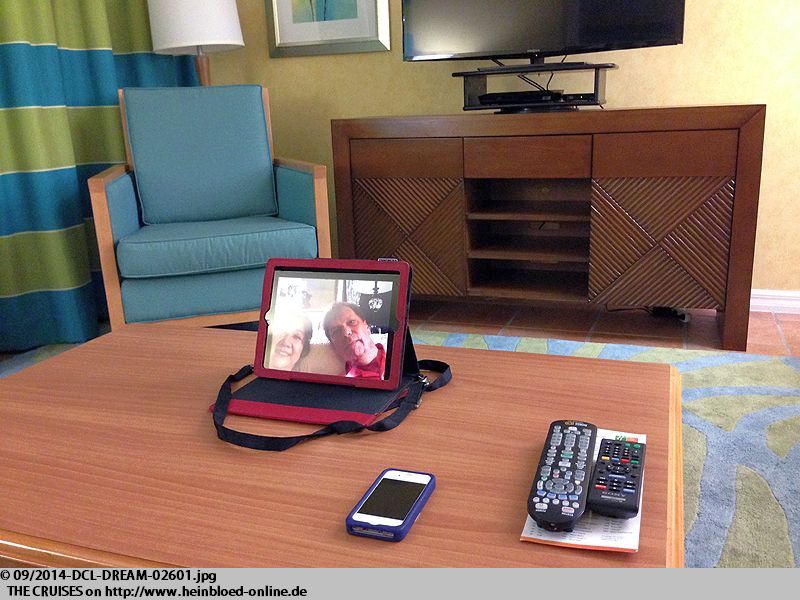 My cousin Helena planned to come by with her kids to make the acquaintance. But that would mean a drive of two hours to Port Canaveral and back again, and the kids needed to see the school the next morning. For Americans, it was again "around the corner". I was European realist and suggested to have a Facetime-Meeting on my iPad. Four hours to go for ship spotting: yes... four hours to say hello: no...

So it was entirely convenient that none of us needed to be prepared for visitors and all could see the 16 beds we had...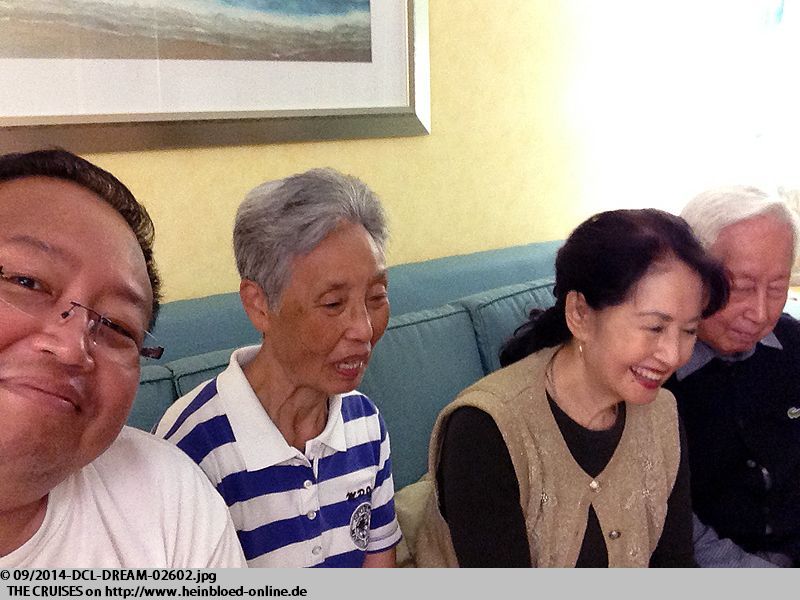 So ist es insgesamt auch sehr praktisch, dass niemand mehr lange auf Besucher warten müssen und alle früh zu den 16 Betten können...
Die anderen Reisen in diesem Blog/
The other voyages in this blog: