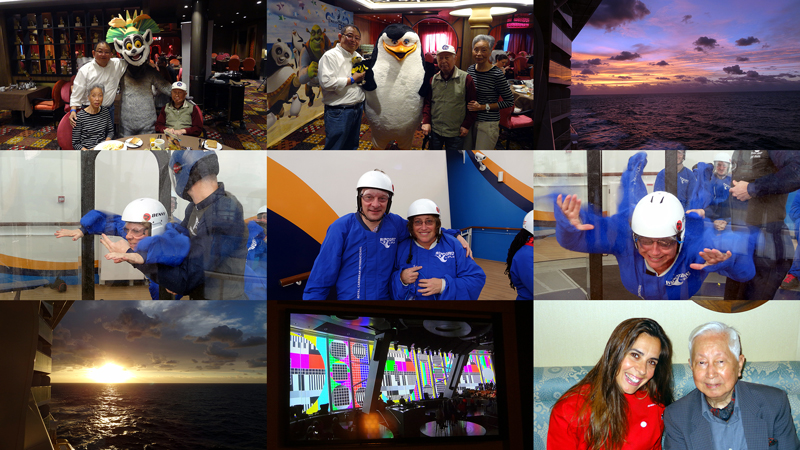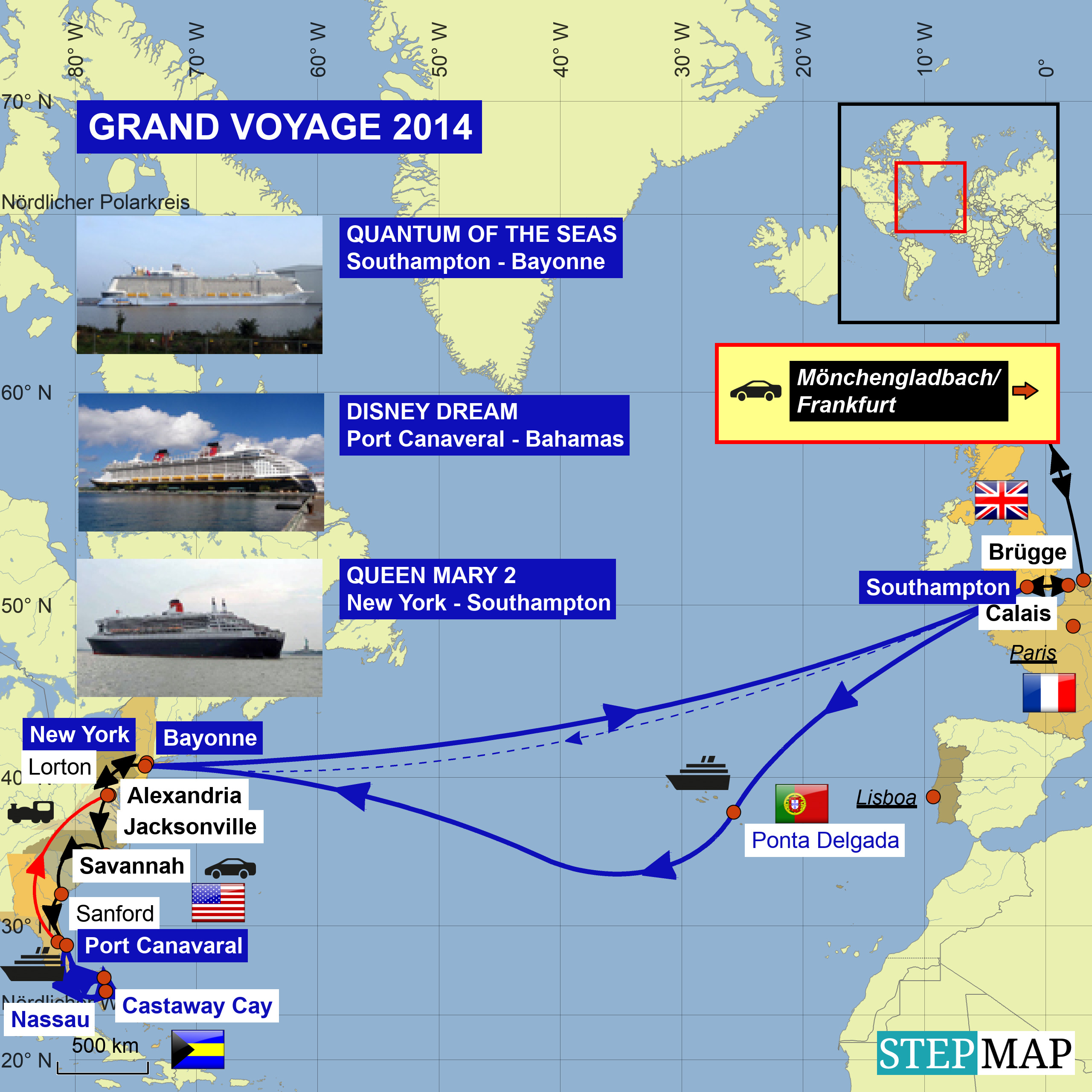 Mit dem Weckruf klappt es gut. Es klappt tatsächlich, auch wenn in der Nacht Zeitumstellung war. Aber wie gibt man eigentlich die 2b-Stunde ein??? 02:00 Uhr gibt es ja doppelt, wenn man von 03:00 Uhr auf 02:00 Uhr umstellt: 02a:00 Uhr und 02b:00 Uhr.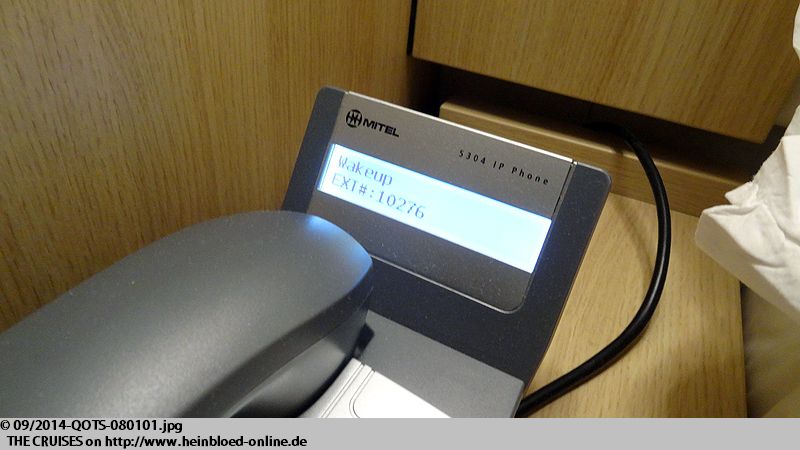 It worked well with the wake-up call. It also worked, even there was a time change during the night. But how would you actually enter the 2b-hour??? They would twice 02:00 hrs when setting your clock back from 03:00 hrs to 02:00 hrs: 02a:00 hrs and 02b:00 hrs.

A lovely morning began.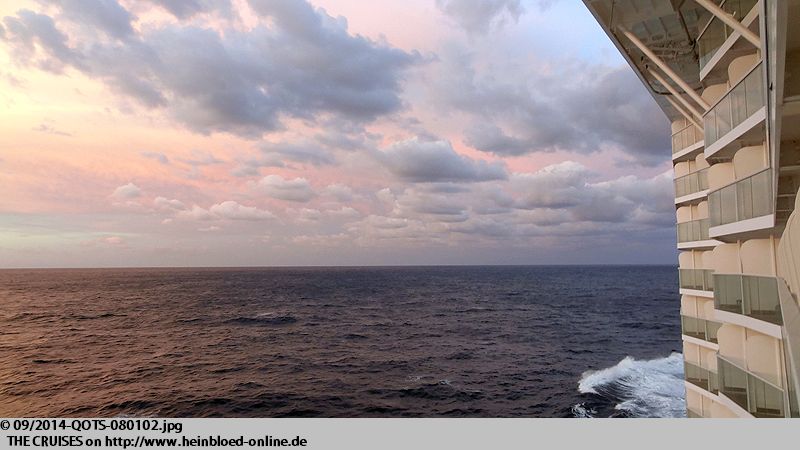 Ein schöner Morgen beginnt.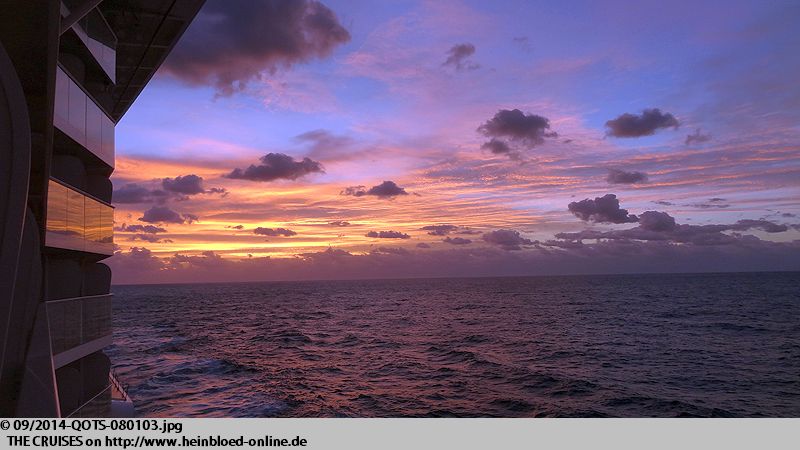 Aother beautiful sunrise.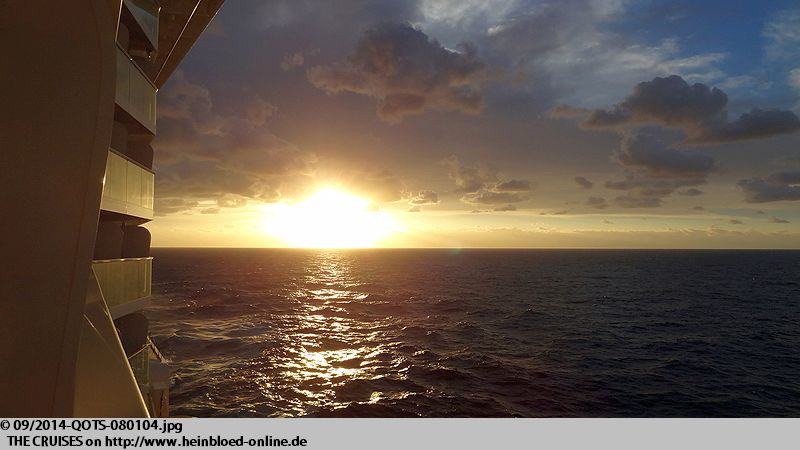 Und nochmals ein schöner Sonnenaufgang.
Heute entdecke ich auf der Smoothie-Liste von Devin Alexander auch Smoothies mit Whey-Proteein. Perfekt für mich.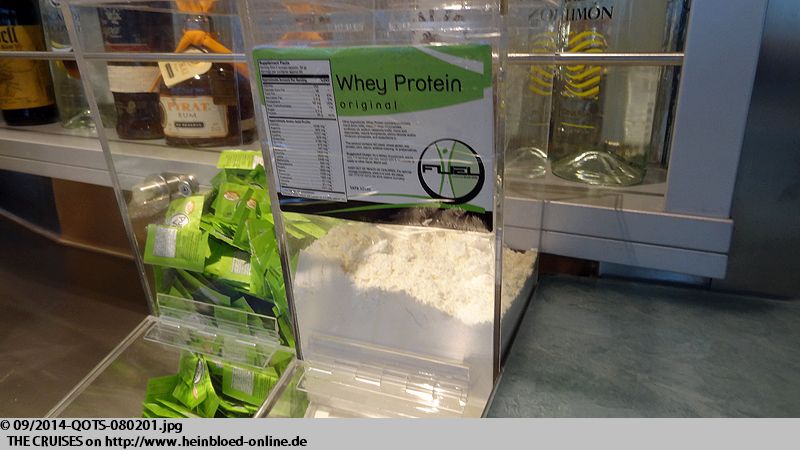 That day, I discovered on the smoothie-list of Devin Alexander some smoothies with whey protein. Perfect for me.

It was sweetened with agave nectar. So sad, that I discovered on the last day at sea.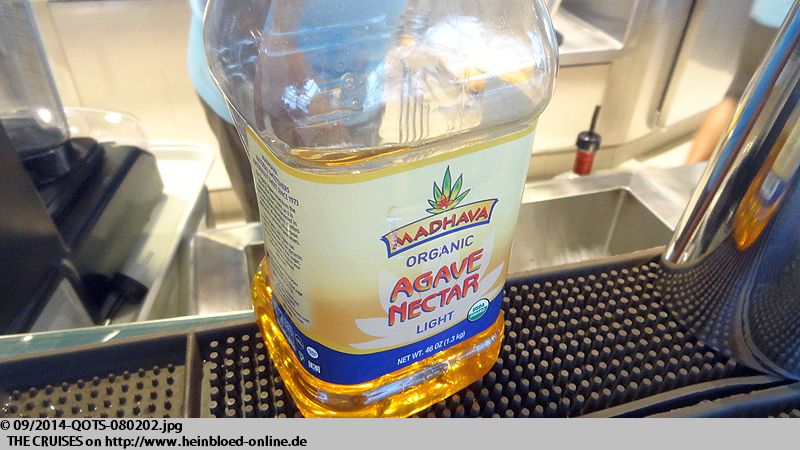 Es wird mit Agave-Nektar gesüßt. Sehr schade, dass ich es erst am letzten Seetag entdecke.
So genieße ich meinen letzten Proteein-Smoothie. An der Solarium Bar treffe ein Pärchen aus Frankfurt (Main) und als ich erwähne, dass ich aus dem Odenwald sei, meinen sie nur zu mir, dass so ein Schiff für mich doch ganz besonderes sein muss... Gelangweilt antworte ich, dass es für mich meine 68. Kreuzfahrt ist und ich auch nicht das erste Mal auf der ersten Reise eines Schiffes bin...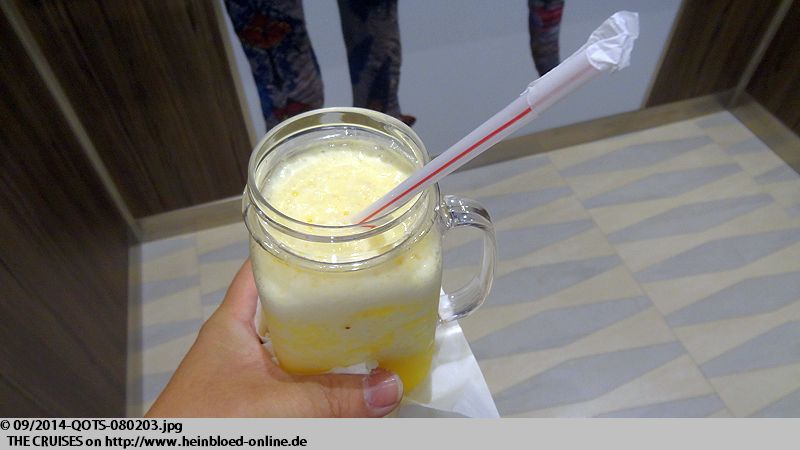 So I enjoyed my last protein smoothie. At the solarium bar, I met a couple from Frankfurt on Main, Germany and when I mentioned that I was from the Odenwald Highlands, they only said to me that such a ship must be extraordinary for me... I was bored and answered that it was for me my 68th cruise, and it was not the first time on a maiden voyage of a ship... It was like someone from Manhattan would treat someone from New Jersey countryside.

This morning we went again to the Dreamworks Cast breakfast. We should not be charged. Yet, for comparison: the free chocolate croissant and why should pay for a chocolate croissant in La Patisserie for 1.15 USD (2014 incl. 15% service charge). This time I got scrambled eggs with herbs and needed to become familiar with Grit. No thanks! Semolina pudding in Germany tasted better. Now there were the right stars: two from Madagascar and Kung Fu Panda.

Heute morgen dürfen wir nochmals zum Dreamworks Cast Frühstück. Uns wird nichts berechnet. Nochmals zum Vergleich: das kostenlose Schoko-Croissant und warum es sich lohnt für 1,15 USD (2014 inkl. 15% Service-Charge) ein Schoko-Croissant in La Patisserie zu kaufen. Dieses Mal bekomme ich mein Kräuter-Rührei und lerne Grit kennen. Nein - Danke! Griesbrei in Deutschland schmeckt doch besser. Nun sind auch die richtige Stars da: zwei aus Madagascar und Kung Fu Panda.
So bekommen wir auch die Bilder mit Stars, die wir kennen.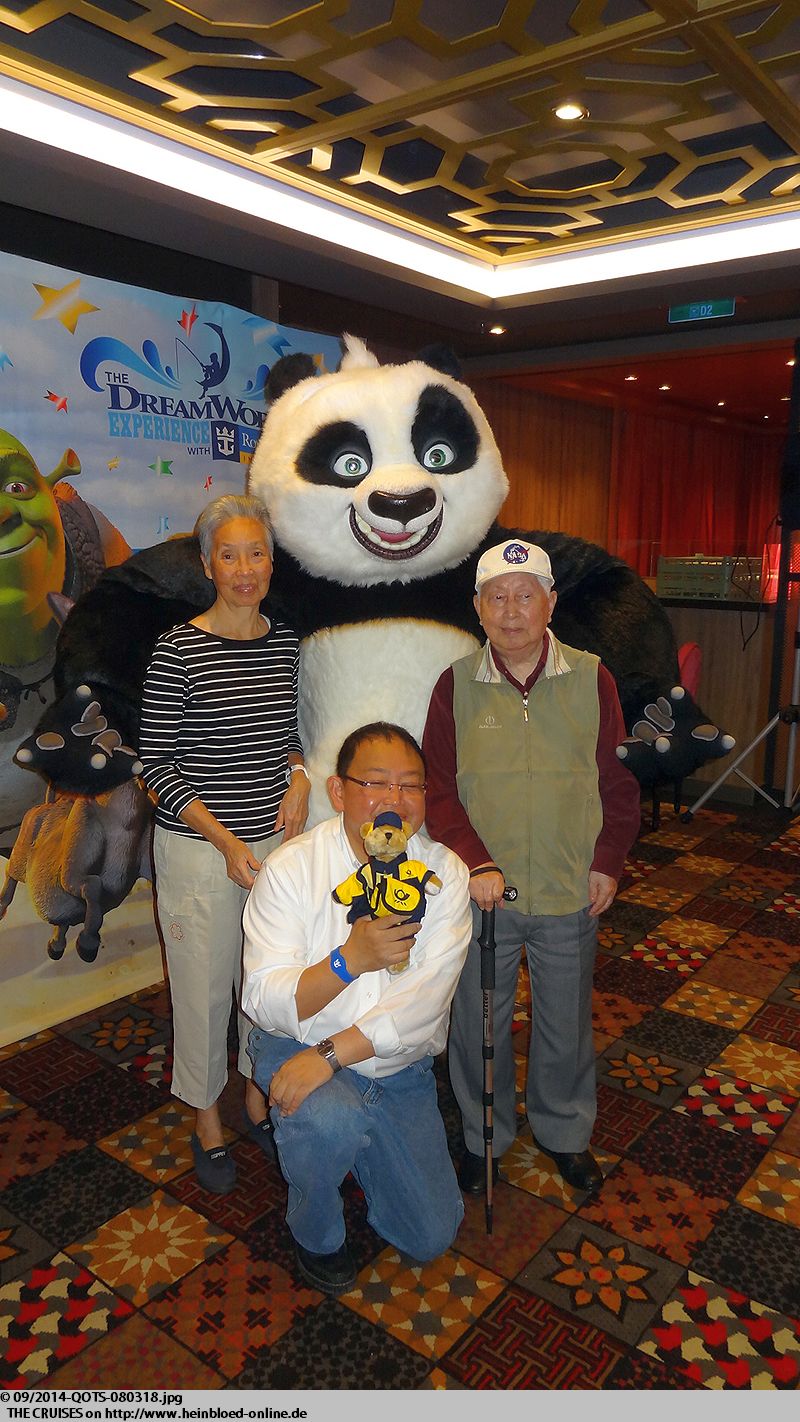 So we got the pictures with all the stars, we knew.

I was still discovering something new.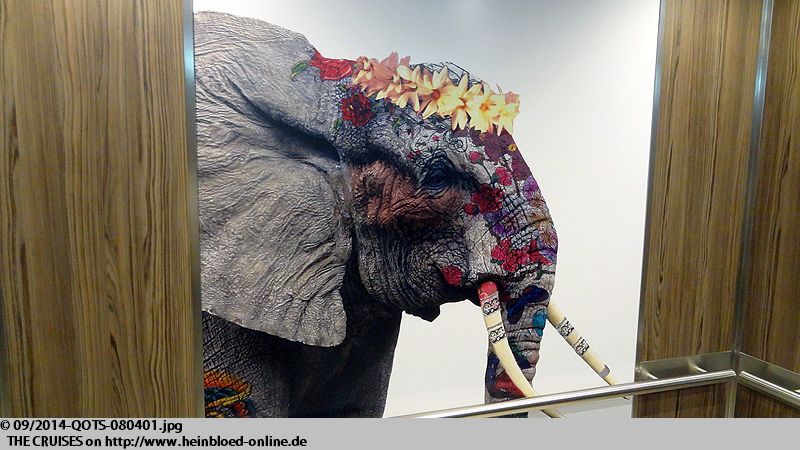 Ich entdecke immer wieder neues.
In der Royal Esplanade wird eine Aufführung vorbereitet, aber wie immer bekomme ich das Ergebnis später nicht mit.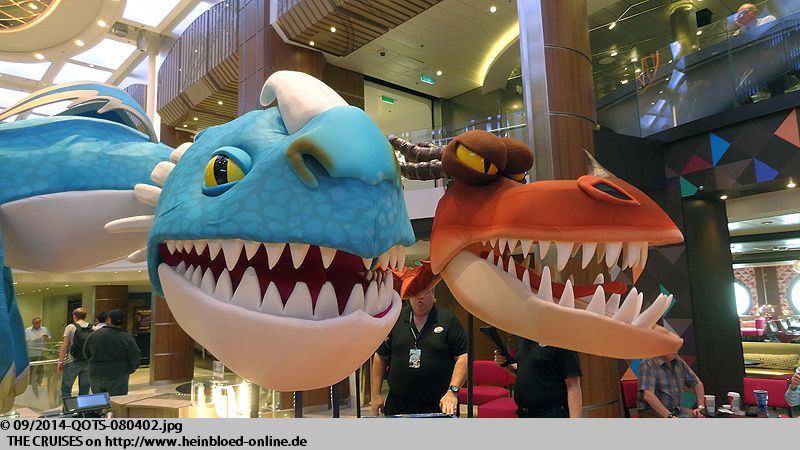 In the Royal Esplanade, they were in preparation for a performance, but I could not make it see the final results later.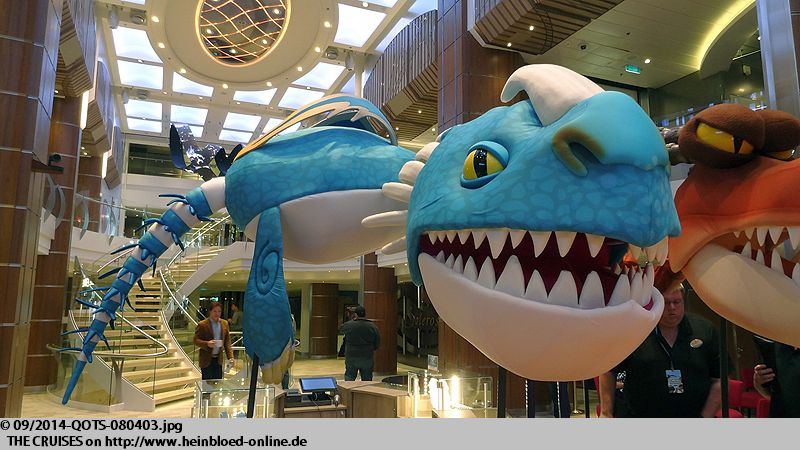 Gestern waren ja die offenen Decks geschlossen und auch RipCord-Termine entfielen. Heute lässt das Wetter wieder Termine zu. Ich gucke wieder zu. Viele Senioren. Einige trauen sich nur für wenige Sekunden, aber sie haben es versucht. Sehr nett: der Schulungsleiter zeigt hier auch am Schluss der Runde sein eigenes Können.

Yesterday, the open decks were closed and also RipCord appointments were canceled. Today the weather allowed appointments again. I was watching again. Many seniors. Some only dared for a few seconds, but at least they tried. Very nice: the trainer also showed his own skills here at the end of a session.

Carolyn and Teijo came to the "flight". And I was warned directly, that I should not publish any pictures... But it was so loud - the wind was so strong, and I probably did not hear that... But there was someone from the RCI board... I was curious to see if someone would recognize them here on the pictures.

Carolyn und Teijo kommen zum "Flug". Und ich werde direkt vorgewarnt, dass ich ja keine Bilder veröffentliche... Aber ist war so laut - der Wind ist so stark und ich höre das wohl nicht... Sie hatten aber auch jemand vom RCI-Vorstand dabei... Mal gucken, ob sie hier auf den Bildern erkannt werden.
Solche VIPs dürfen ein wenig mehr. Sie haben eine kleine sehr kleine Gruppe und so dürfen sie nochmals rein, mit Unterstützung auch ein wenig höher als die anderen. Nur einer kommt ohne den Schulungsleiter aus.

Such VIPs were allowed a little more. They had a small, tiny group and so they were allowed to go back in, with slightly higher support than others would get. Only one man could do without the trainer.

After that, the supervisor of the instructors showed his skills.

Und danach zeigt auch dieser Schulungsleiter, was er alles so kann.
Carolyn und Teijo sehen ganz glücklich aus.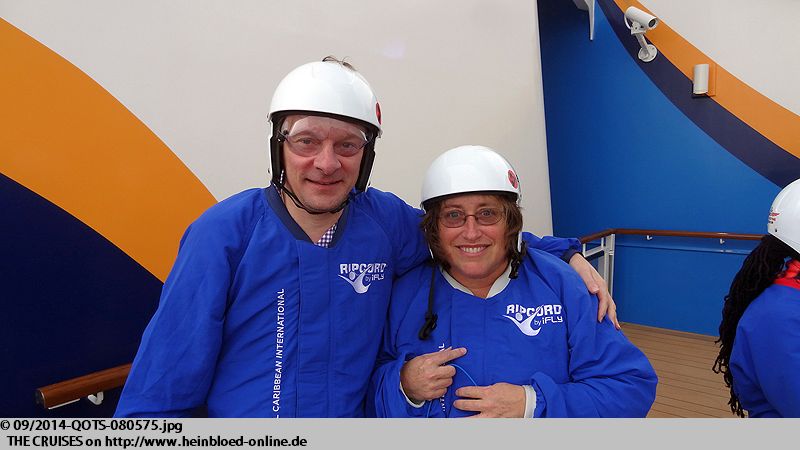 Carolyn, and Teijo seemed to be very happy.

I gave Teijo my Finnish tie with the Finnish lion. He certainly could wear it better than I could.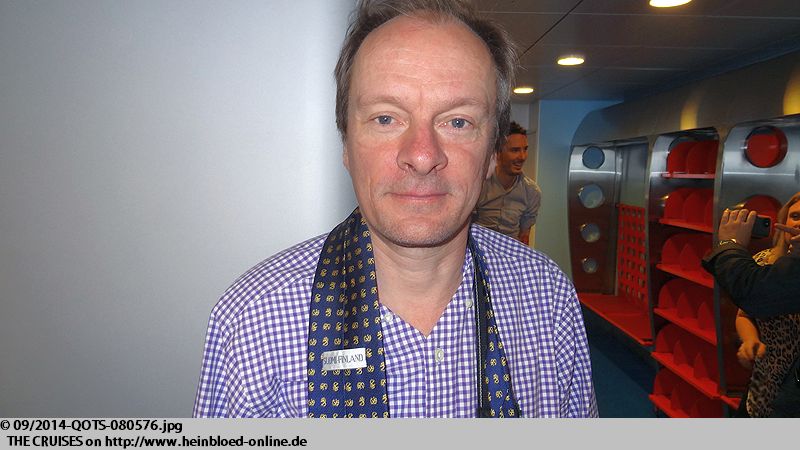 Ich schenke Teijo noch meine finnische Krawatte mit dem finnischen Löwen. Er kann sie sicherlich besser tragen, als das ich es könnte.
Das schöne Wetter nutze ich, nochmals bei FlowRider zuzusehen.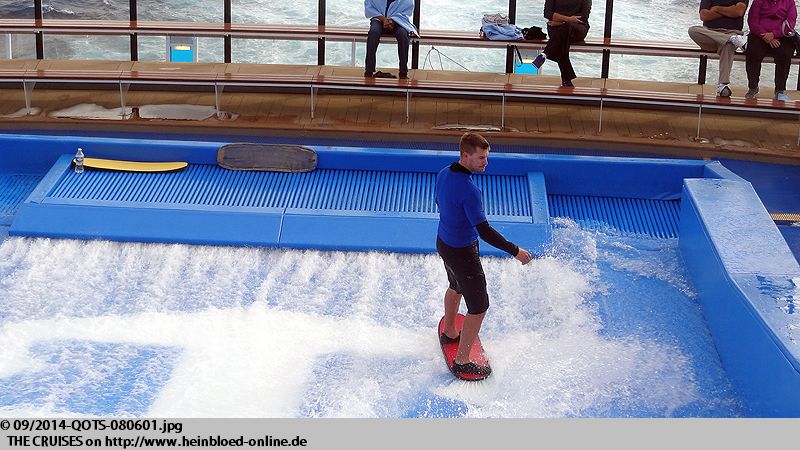 I used the lovely weather to watch again FlowRider.

Maybe, I could try both on ANTHEM OF THE SEAS in April.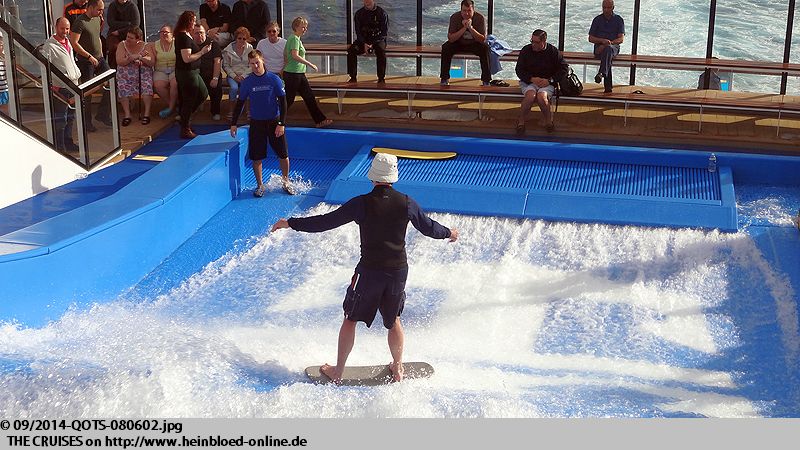 Vielleicht kann ich beides ja im April auf der ANTHEM OF THE SEAS ausprobieren.
Als ich in die Kabine zurückkomme: Das Zollformular ist da. Und Umschlage für zusätzliches Trinkgeld. Meine Eltern haben Ausschiffungsnummer 34.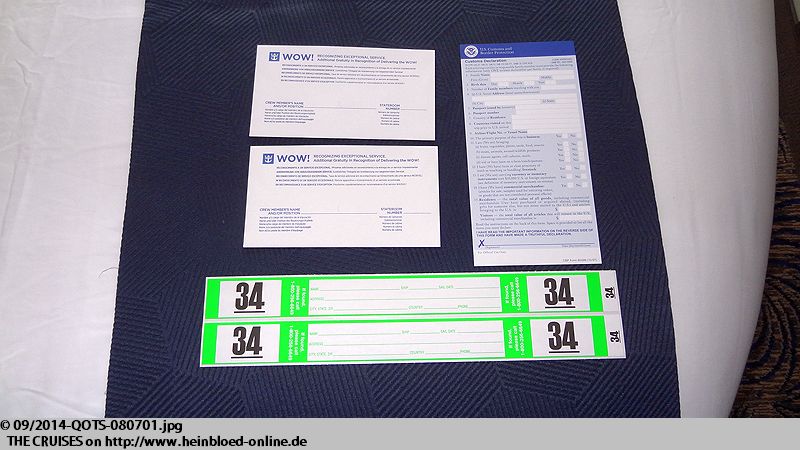 When I returned to my cabin: we got the customs form. And envelope for addtional tips. My parents had debarkation number 34.

And I got number 19.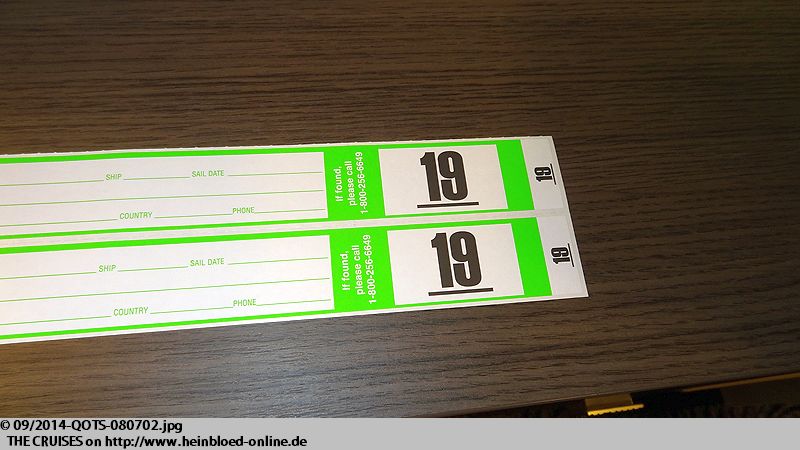 Und ich Nummer 19.
Das haben sie wieder sehr gut gemacht: wir haben verbundene Buchungen und da wird nicht darauf geachtet, dass man zusammen vom Schiff kommt. Ich beschaffe mir kurzerhand zusätzliche für Nummer 34. Nummer 19 ist mir zu früh. Was ich bei den anderen liebe und was ich bei Royal Caribbean hasse: Die anderen Fragen mich zuvor, wann und mit wem ich von Bord möchte oder sie überlassen mir selbst die Wahl, wie bei Norwegian.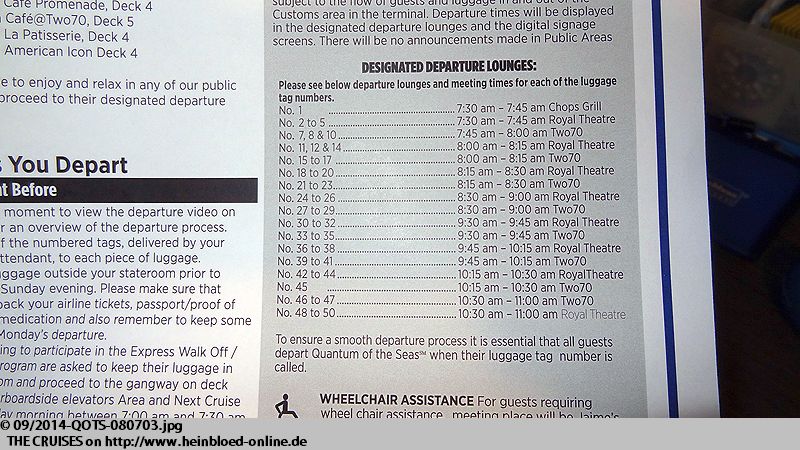 They did it very well again: we had associated bookings, and there was nobody paying attention that we should get off together from the ship. I went to grab another extra for number 34. Number 19 was too early for me. What I loved about the others and what I hated about Royal Caribbean: The other asked before, when and with whom I would like to disembark, or they left the choice up to me, like Norwegian.

That would be nice. We would enjoy a special arrival in New York, NY. Only one little thing might not work: Letting the light in the cabin turned on without a keycard in the keycard-slot. Luckily we had WOW-wristbands or the DHL Packstation card.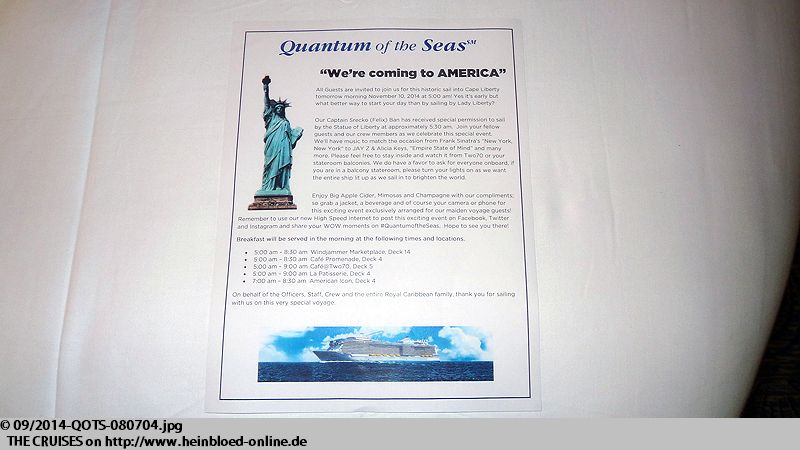 Das ist ja schön. Wir werden einen besondere Einfahrt nach New York genießen. Nur eine Kleinigkeit funktioniert unter Umständen nicht: Licht in der Kabine brennen lassen ohne Schlüsselkarte im Schacht. Zum Glück haben wir ja WOW-Bänder oder die DHL-Packstation-Karte.
Mittags gehen wir in das Izumi essen. Eigentlich ist es für den Abend geplant, aber wir haben Glück und noch ein Tisch im Devinly Decadence bekommen. Es hieß eigentlich zu vor, dass keine Reservierungen angekommen werden, aber ich stelle fest, dass eine Liste vorab angelegt wurde. Das heißt: wir hätten auch Pech haben können. Entweder man nimmt nur Walk-Ins oder man nimmt Reservierungen an. Wir haben auch hier Pech: vieles, was wir gerne bestellt hätten, haben sie nicht. Begründung: das bekommt man in Deutschland nicht zu kaufen... wie z. B. asiatische Nudeln. Darauf muss ich lachen: Bei
Vinh-Loi
im Klosterwall in Hamburg hätten sie alles bekommen. Hier habe ich ja schon eingekauft, als ich noch Student war und als Praktikant in Hamburg gearbeitet habe. Und bei
Jamie's Italian
steht eine Nudelmaschine und es sind viele viele asiatische Köche an Bord, die ja wohl hoffentlich wissen, wie man asiatische Nudeln macht... Daher gibt es für meine Eltern japanische Udon-Nudeln und Sushi und für mich Tofu-Salat und Sashimi. Eine gemischte Dessertplatte teilen wir uns zu dritt. Über den Hinweis mit dem Trinkgeld bin ich mal wieder verwundert und über den 20%-igen Nachlass freue ich mich sehr. Ohne den Nachlass wäre es fast so teuer, wie auf der Straße, so dass sich der Besuch von den Kosten her eigentlich nicht lohnt. Es wird im Übrigen alles à la carte berechnet.

At noon we went to eat at Izumi. Actually, it was scheduled for the evening, but we were lucky and got another reservation for Devinly Decadence. Initially, they told me that they did not get any reservation from me. But I noticed that a list was created in advance. That meant: we could be unlucky. Either they only accepted walk-ins or bookings. We had bad luck here too: many dishes, we would like to order, were not available. Reason: you could not get the ingredients in German... like Asian noodles. I had to laugh out loud: they could buy everything at Vinh-Loi in Hamburg, Germany. Here I purchased already when I was a student and worked as a trainee in Hamburg. And at Jamie's Italian, they had a pasta machine, and there were many Asian chefs on board who hopefully knew how to prepare Asian noodles... So for my parents, we ordered Japanese udon noodles and sushi, and for me tofu salad, and sashimi. We three shared a mixed dessert plate. About the notice with the tip, I was again surprised and about the 20% discount I was delighted. Without the deduction, it would be almost as expensive as on the street so the visit would not be worth the expense. By the way, everything was charged à la carte.

On the last day, my father insisted on having a model ship. I bought a size L QUANTUM OF THE SEAS T-shirt to be ready for Day X if it would fit. An elevator was still out of order. Yet they had no car scooters. They only ran while almost everyone was sitting at dinner. There were sports broadcasts on television as board entertainment. The solarium was also lovely at night, and today, on the last evening, the Bionic Bar was also running occasionally.

Am letzten Tag besteht mein Vater doch auf ein Modellschiff. Ich kaufe mir noch ein QUANTUM OF THE SEAS-T-Shirt in Größe L, um schon mal auf den Tag X vorbereitet zu sein, wenn es passt. Ein Fahrstuhl hängt immer noch fest. Immer noch keine Auto-Scooters. Laufen nur während fast alle beim Abendessen sitzen. Dafür gibt es Sportübertragungen im Fernsehen als Bordunterhaltung. Sehr schön ist auch nachts das Solarium und heute am letzten Abend läuft zeitweise auch die Bionic Bar.
Wir gehen uns die Bilder ansehen, die wir abgelegt haben.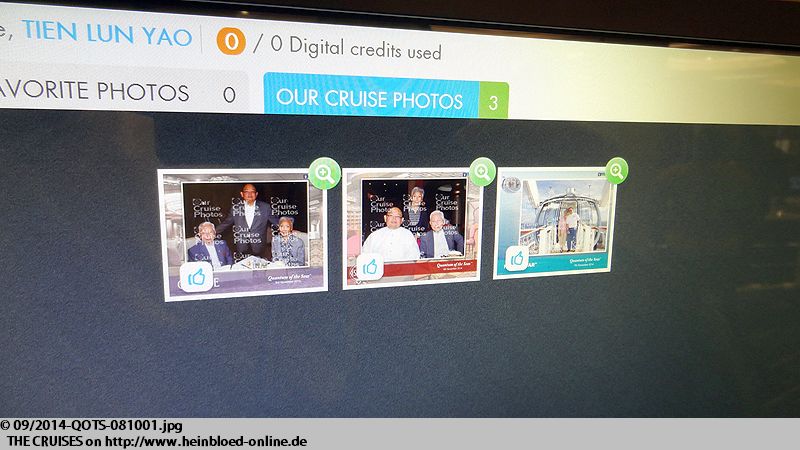 We went to see the pictures, we put in our folder.

And now, they started to order the prints for the pictures.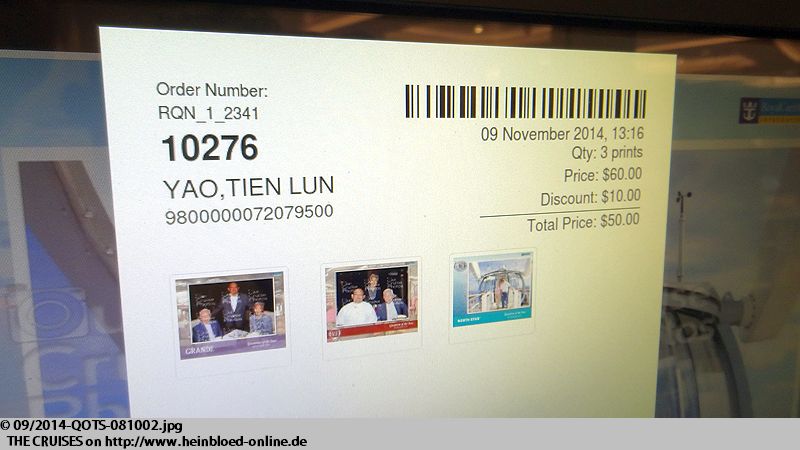 Und erst jetzt wird der Produktionsauftrag erstellt.
Abends sind dann die Bilder zur Abholung bereit. Die Aufteilung ist eine geniale Idee, wenn alle Theken auch besetzt wären.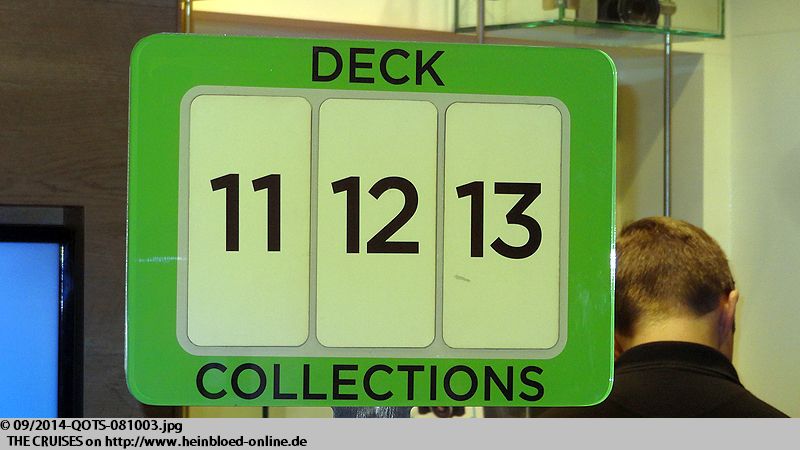 In the evening, the photos were ready for collection. The set up was smart, but only if all counters would be occupied.

One more view to check the selection in the Promenade Café.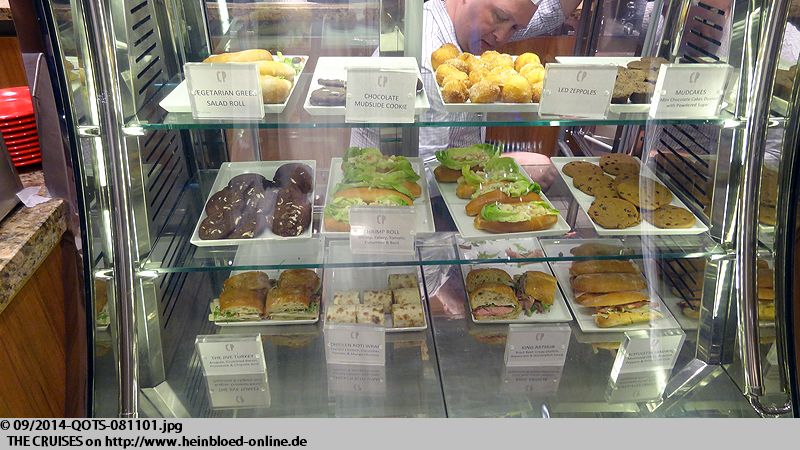 Noch einmal ein Blick, was es im Promenaden Café gibt.
Und noch einen Blick, was bei Sorrento's gibt.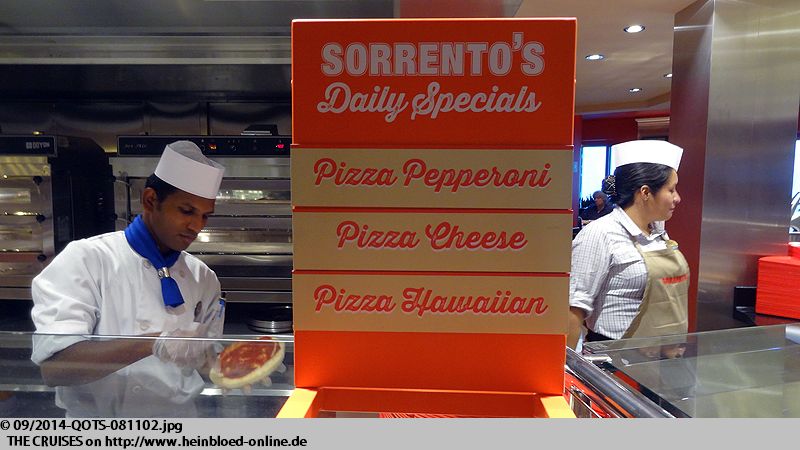 And also a check, what food they had with Sorrento's.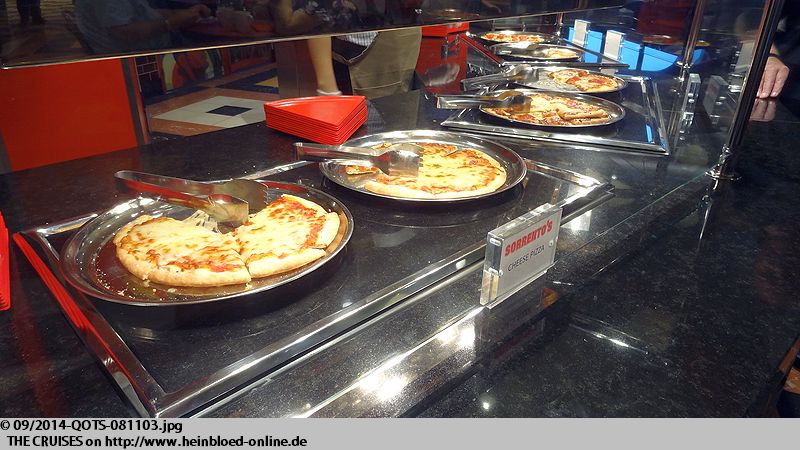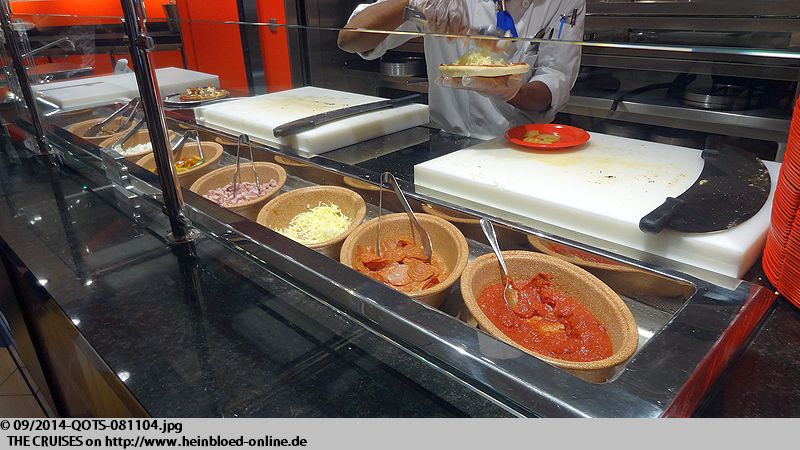 Oh how cute... Catarina Valente (an Italian-Swiss singer from the 50s/60s which was also very popular in German since she also performed in German)...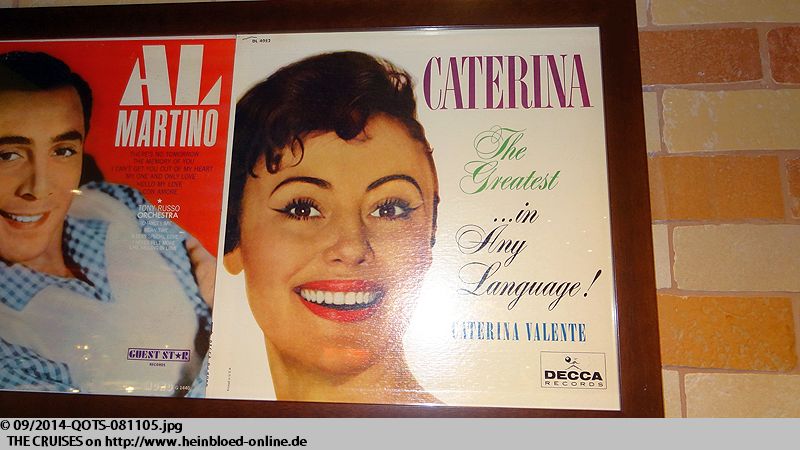 Oh wie schön... Catarina Valente...
Ich werde auf cruisecritic.com gefragt, ob es einen Unterschied zwischen einem Hot Dog von
Johnny Rockets
und vom Seaplex Dog House. Deswegen besorge ich mir nochmals einen Hot Dog von
Johnny Rockets
und stelle fest, dass keine 15% Service-Charge mehr erhoben wird. Und danach besorge ich mir noch einen Hot Dog vom Seaplex Dog House und noch zusätzlich einen The Big Apple (Hühnchen und Apfel), Thüringer und mangels Smoke House (geräucherte Bratwurst) gab es eine Weißwurst. Also der Unterschied zwischen
Johnny Rockets
und Coney Island vom Seaplex Dog House ist der Festigkeit. Ich drück mich mal so aus... Coney Island ist eben die Version vor Einnahme von
Viagra
und
Johnny Rockets
nach der Einnahme von
Viagra
. Die Erkenntnis hilft mir später weiter, weil ich weiß, dass wohl
Nathan's Famous
Hot Dogs für mich wohl geeignet sind, weil sie weich sind. Diese Hähnchenbratwurst mit Apfel ist nicht mein. Thüringer schmecken in Thüringen einfach besser. Die Weißwurst finde ich allerdings gut. Sie ist nämlich auch schon weich, so dass ich davon noch zwei Bissen essen kann.

I was asked on cruisecritic.com if there was a difference between a hot dog from Johnny Rockets and the Seaplex Dog House. That was why I got another hot dog from Johnny Rockets and noticed that no 15% service charge was charged anymore. And then I got me a hot dog from the Seaplex Dog House and additionally The Big Apple (chicken and apple), Thuringian and lack of Smoke House (smoked sausage), there was a white sausage. So the difference between Johnny Rockets and Coney Island from Seaplex Dog House was the consistency. I would express it in my way... Coney Island was just the version before taking Viagra and Johnny Rockets after taking Viagra. The knowledge helped me later because I know that probably Nathan's Famous hot dogs would be suitable for me because they would be soft. This chicken bratwurst with apple was not mine. Thuringians just tasted better in Thuringia, Germany. I thought the white sausage (Weisswurst) was good. It was already soft so I could eat two more bites of it.

I was greeted in the Windjammer Café with the words "Welcome to the Tea Time". I asked if he was severe and sent me to the bar at the end of the cafe at the back of the stern. You got at the bakery station namely only biscuits, and then they had still all the show cakes in the display. At the rear, there was only one fruit, sandwich and omelet station. Well. I preferred tea-time like we had with Cunard on QUEEN ELIZABETH, Princess on ISLAND PRINCESS 2013, and Holland America on RYNDAM 2013...

Mit den Worten "Welcome to the Tea-Time" werde ich im Windjammer Café begrüsst. Ich frage nach, ob er das ernst meint und schickt mich bis zur Bar am Ende des Cafés ganz hinten am Heck. Man bekommt an der Bäckereistation nämlich nur Kekse und dann sind noch die ganzen Schautorten in der Auslage. Am Heck gibt es nur eine Obst-, Sandwich- und Omelettestation. Nun gut. Tea-Time mache ich dann doch lieber bei Cunard auf der
QUEEN ELIZABETH 2012
, Princess auf der
ISLAND PRINCESS 2013
, und Holland America auf der
RYNDAM 2013
...
Rechtzeitig vor dem Kofferpacken bekomme ich noch meine Wäsche zurück. Es ist nur 40 US-Cent teurer als der Wäschebeutel, aber ich bekomme ihn zu meinem bevorzugten Zeitpunkt und es sind auch Sachen drin, die nicht im Wäschebeutel-Angebot inkludiert sind.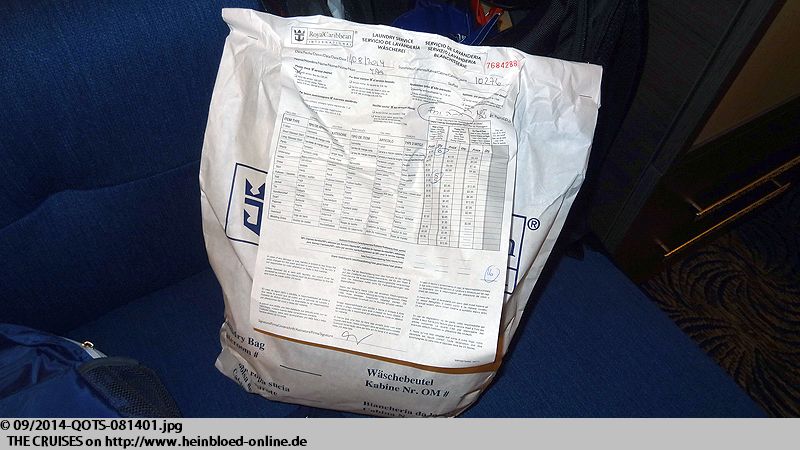 In time for the suitcase packing, I got my laundry back. It was only 40 cents more expensive than the laundry bag offer, but I got it back at my preferred time, and there were also items included that were not part of the laundry bag offer.

One more time an animal.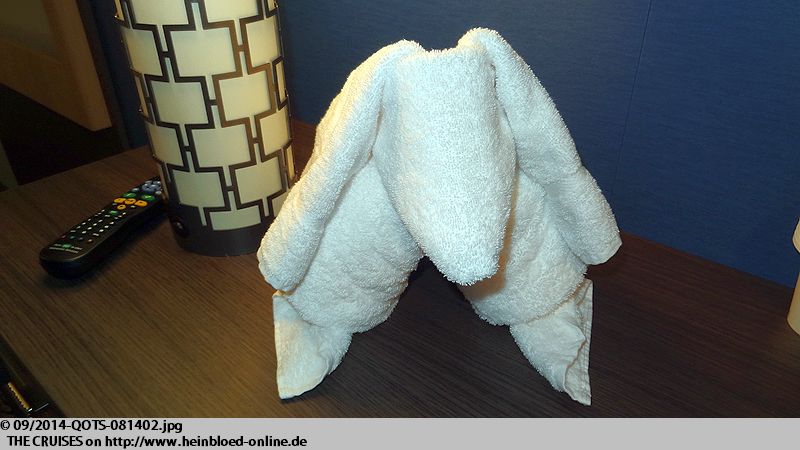 Noch einmal ein Tier.
Und zu meiner Verwunderung (obwohl ich es nicht brauche): Es gibt wohl Eis in den Kabinen. Warum hatte ich nicht so ein Schild?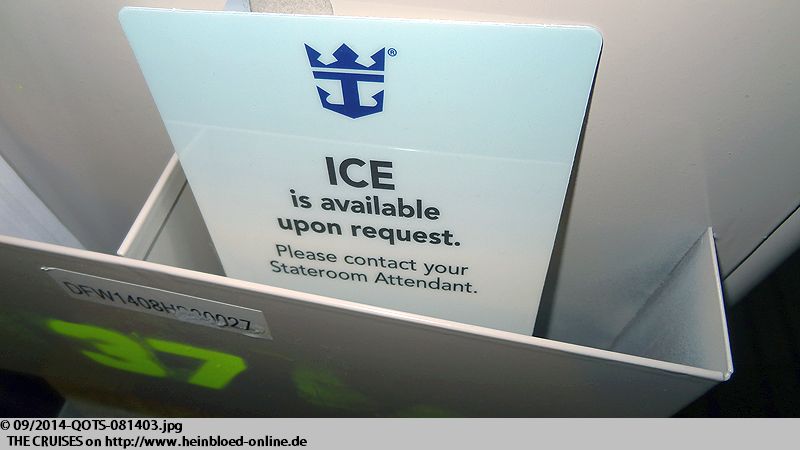 Obviously, they had an ice-bucket service in the staterooms. Why did not I have such a sign?

For the last dinner, we went to Devinly Decadence. Surprisingly, how they made the buffet disappear behind a big curtain. Unfortunately, here again: one or the other could not be offered, unfortunately, because the ingredients went out. With the service we had some bad luck in the evening: what I did not like at all: if they returned the cutlery back on the tablecloth. But we were fortunate in other respects: My father was very proud that he got a picture together with Devin Alexander. So my own dad was trying to have MY new girlfriend. I was delighted because she was providing some nutritional advice and had a talk about stevia: only for drinks. The "steak" was again something for anorexics but with the asparagus just no carbohydrates (except the sugar in the asparagus). I only took the raw tuna from the tacos and some of the "goulash soup without goulash" (it just looked like that, but it was completely different). The cover charge for dinner was 25.00 USD (2014). A last great evening came to an end. After my return, I already booked a table for the ANTHEM OF THE SEAS, but I noticed that it was just called the Solarium Café, a different menu was shown and would cost only 20.00 USD. It would be a pity if there would be no offer from Devin Alexander on ANTHEM OF THE SEAS. For me it was one of the culinary highlights of the ride. Also, Silk and Chic were already booked for the voyage on ANTHEM OF THE SEAS.

Zum letzten Abendessen geht es ins Devinly Decadence. Überraschend, wie man das Büffet hinter einem großen Vorhang verschwinden lassen kann. Leider auch hier wieder: das eine oder andere kann leider nicht angeboten werden, weil die Zutaten ausgegangen sind. Mit dem Service haben wir etwas Pech am Abend: was ich ja überhaupt nicht mag: wenn man mir das Besteck wieder auf die Tischdecke zurücklegt. Dafür haben wir in anderer Hinsicht Glück: Mein Vater ist ganz stolz, dass er gemeinsam ein Bild mit Devin Alexander bekommt. Mein eigener Vater versucht also mir MEINE neue Freundin auszuspannen. Ich bin ganz stolz, weil sie mit etwas Ernährungsberatung macht und sich zum Thema Stevia austauscht: Nur für Getränke. Das "Steak" ist ja wieder etwas für Magersüchtige, aber mit dem Spargel eben keine Kohlenhydrate (außer der Zucker im Spargel). Ich nehme mir nur den rohen Thunfisch aus den Tacos und etwas von der "Gulaschsuppe ohne Gulasch" (sieht nur so aus, aber komplett anders gewürzt). Die Zuzahlung beim Abendessen wird leider erhoben: 25,00 USD (2014). Ein letzter toller Abend geht zu Ende. Nach meiner Rückkehr buche ich bereits für die ANTHEM OF THE SEAS einen Tisch und stelle aber fest, dass es lediglich Solarium Café heisst, eine andere Speisekarte angezeigt wird und auch nur 20,00 USD kostet. Es wäre echt schade, wenn es das Angebot von Devin Alexander auf der ANTHEM OF THE SEAS nicht geben würde. Für mich ist es einer der kullinarischen Höhepunkte der Fahrt. Auch sind bereits Silk und Chic für die Fahrt auf der ANTHEM OF THE SEAS gebucht.
Nach dem ich Koffer gepackt habe, gucke ich mir noch eine Präsentation im RCI-TV an. Der Unterhaltungsvorstand von Royal Caribbean Neil Weir präsentiert hier in einer Aufzeichnung ein paar Höhepunkte über die Entstehung und Show-Möglichkeiten des two 70°. Ist sehr interessant. Ich wünsche mir, dass ich bei der Live-Präsentation dabei gewesen wäre.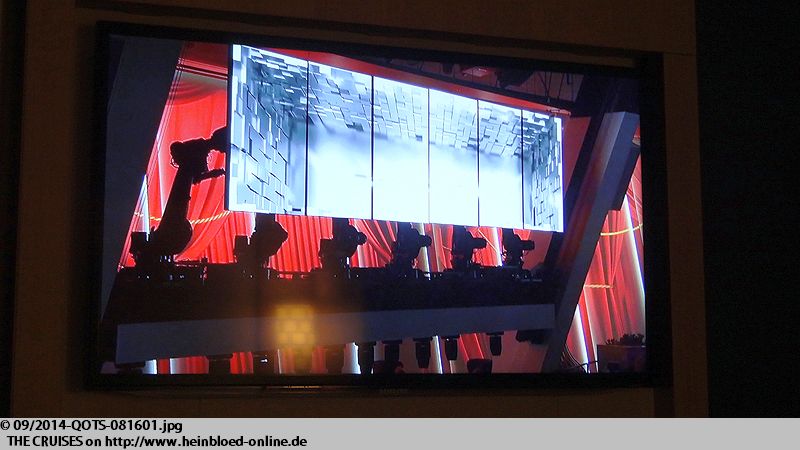 After I packed my bags, I watched a presentation on RCI-TV. The entertainment board of Royal Caribbean Neil Weir presented here a few highlights about the creation and show possibilities of the two 70°. It was very interesting. I wished I could have joined the live presentation.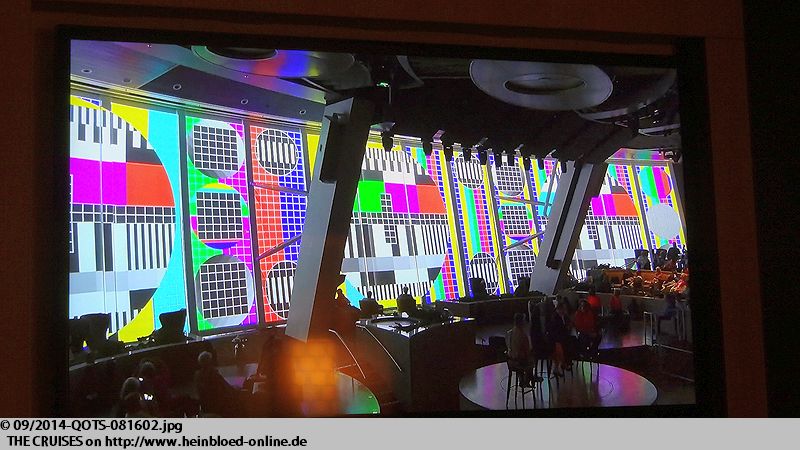 Speziell diese Animation mit dem Orchester unter dem Meer ist faszinierend.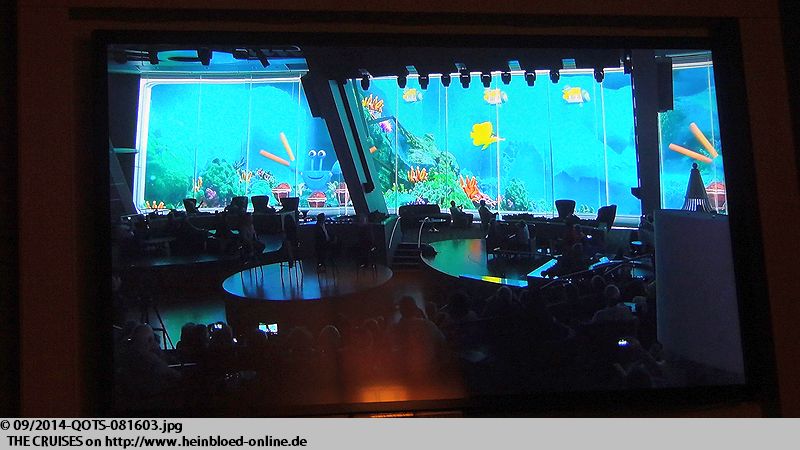 Especially the animantion with the orchestra under the sea was fascinating.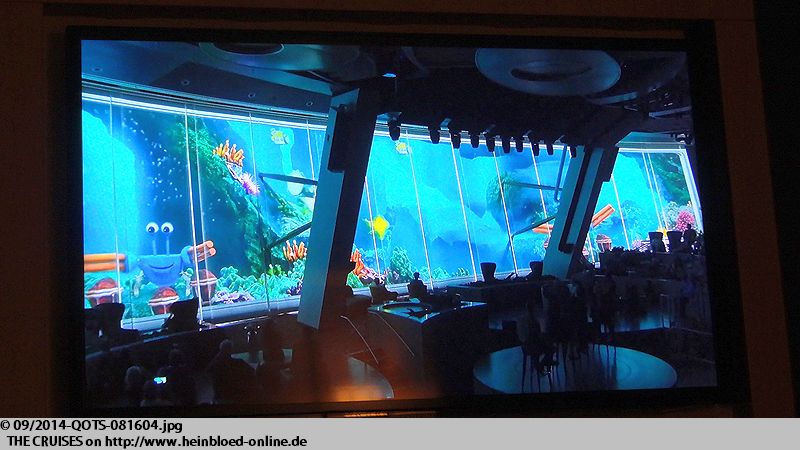 Die anderen Reisen in diesem Blog/
The other voyages in this blog: