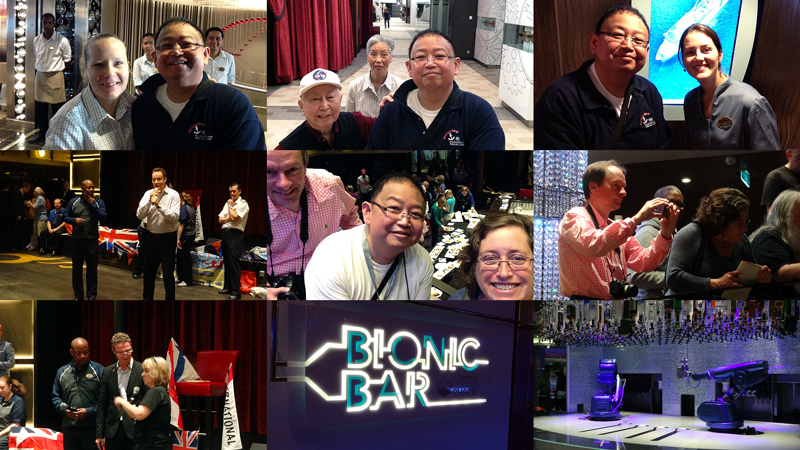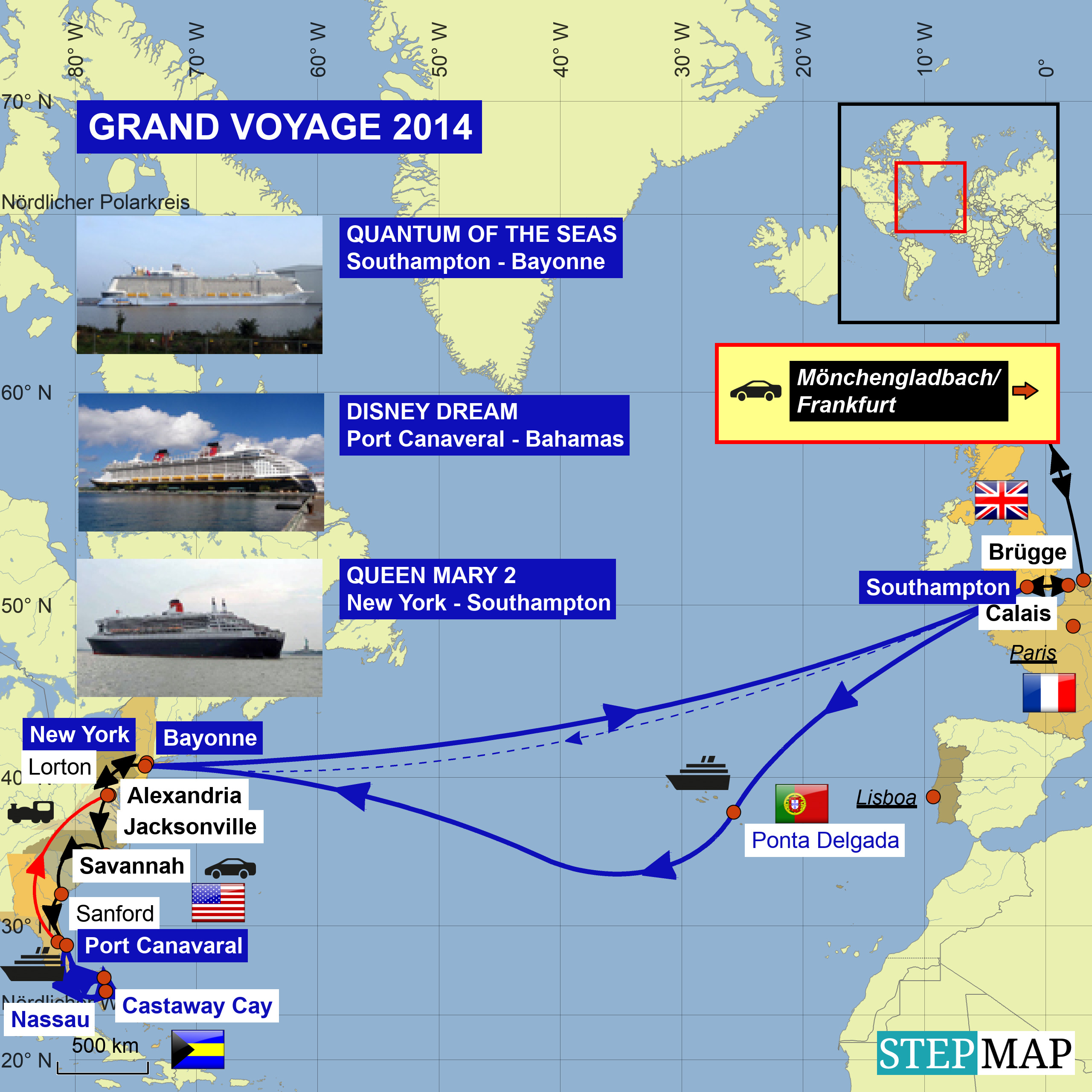 Meine Eltern frühstücken immer im SB-Restaurant. So hat es mich große Mühe gekostet meine Eltern davon abzuhalten, dort heute zu frühstücken und bis 08:00 Uhr zu warten. Mit dem Abbuchen ist ja Royal Caribbean immer sehr schnell. Leider steht nirgendst, in welchem Restaurant das Frühstück stattfindet.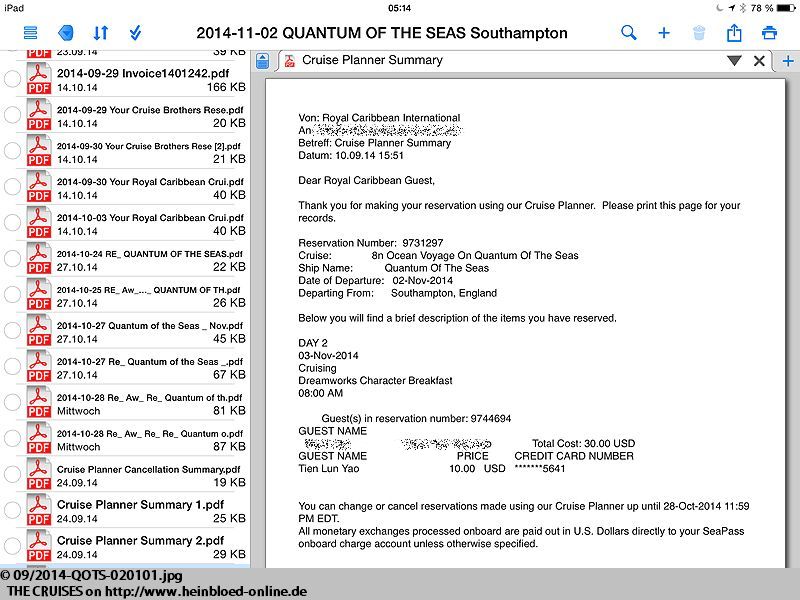 My parents always had breakfast in the self-service restaurant. So it took a lot of effort to stop my parents from having breakfast there and waiting until 08:00 hrs. With the charging, Royal Caribbean was always very fast. Unfortunately, there was nowhere in which restaurant the breakfast took place.

In the daily programme, there was nothing published.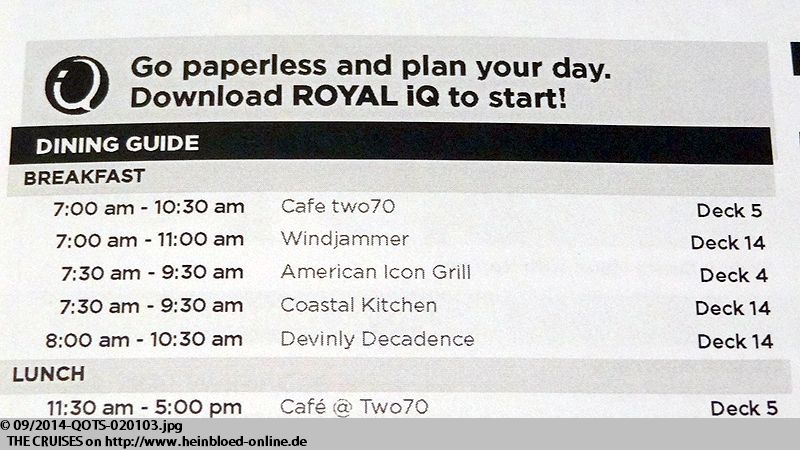 Im Tagesprogramm steht nichts.
Auf dem Fernseher steht zwar der Termin, aber auch ohne Ortsangaben.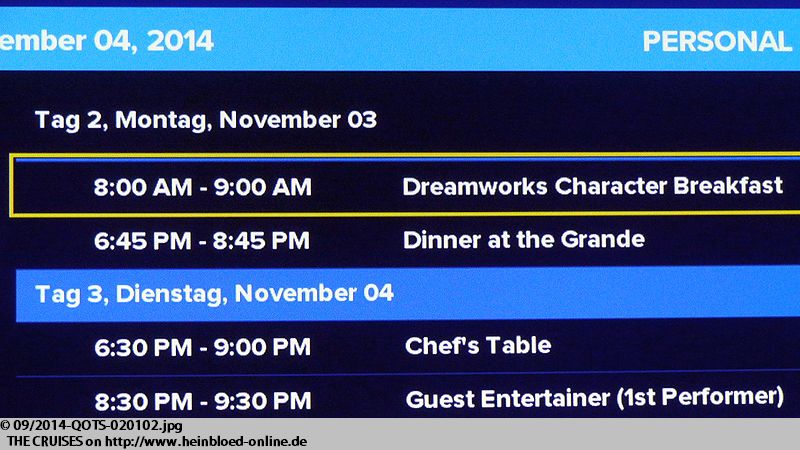 On the screen, you had the time but no location.

And on Royal IQ: the booking was confirmed but no location either.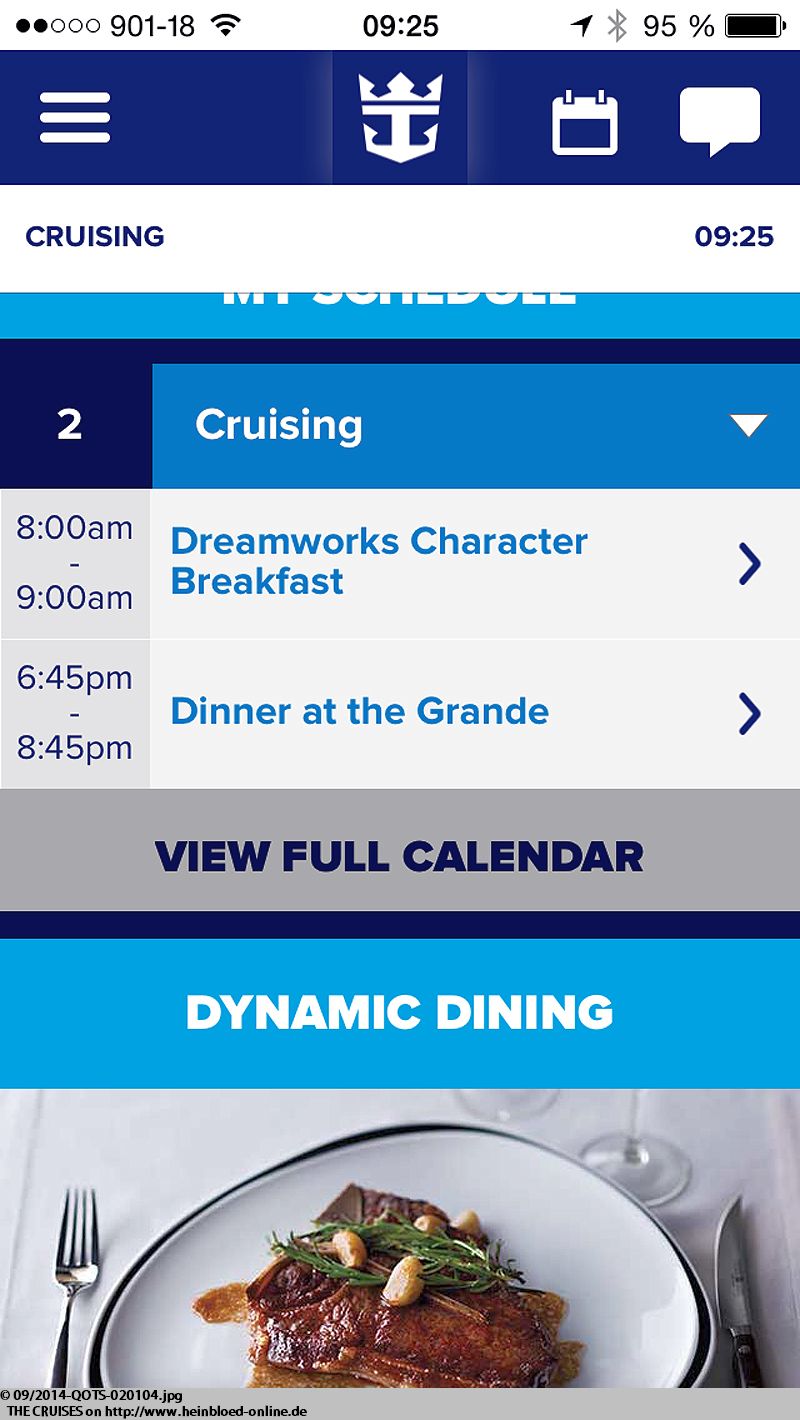 Auch im Royal IQ: Termin wird bestätigt, aber auch keine Ortsangabe.
Den ganzen Abend zuvor habe ich gerne versucht, die Restaurant-Hotline anzurufen: 7000. Sie haben entweder nicht abgenommen oder kurz abgehoben und dann sofort wieder eingehängt.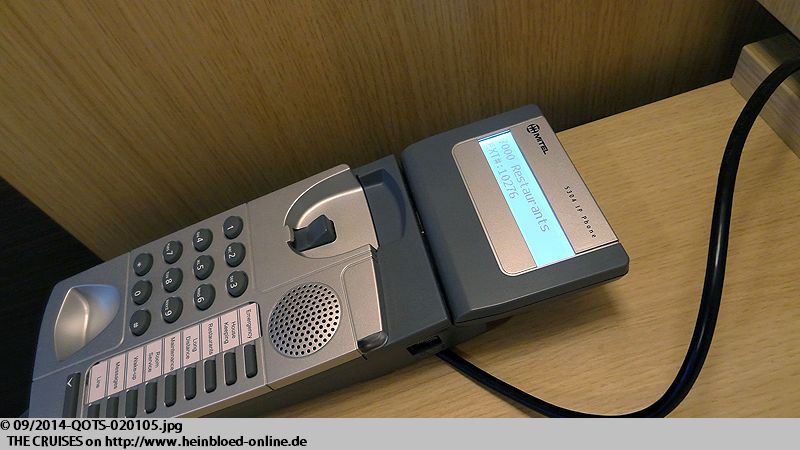 The night before, I tried all the time to call the restaurant-hotline: 7000. None picked up the receiver or just picked up to hang up immediately.

At 03:16 hrs someone from Guests Services answered the call: It would be in the Silk Restaraunt.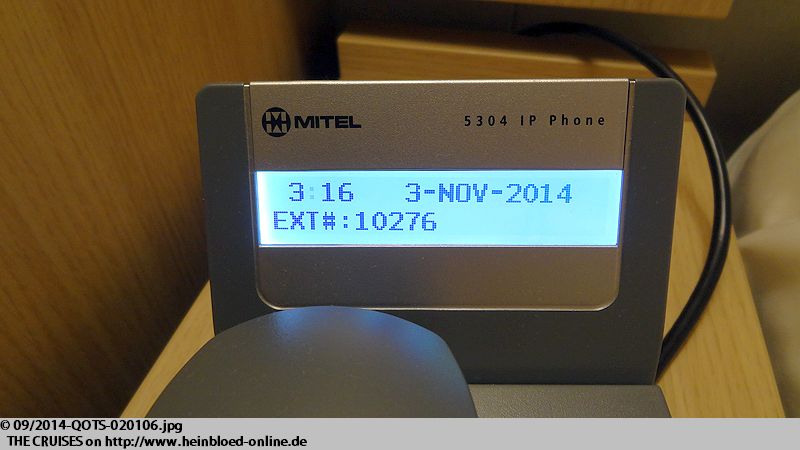 Um 03:16 Uhr erreiche dann dann jemanden von den Guest Services: Es findet im Restaurant Silk statt.
Im Fernsehen funktioniert dann zwischendurch gar nichts mehr.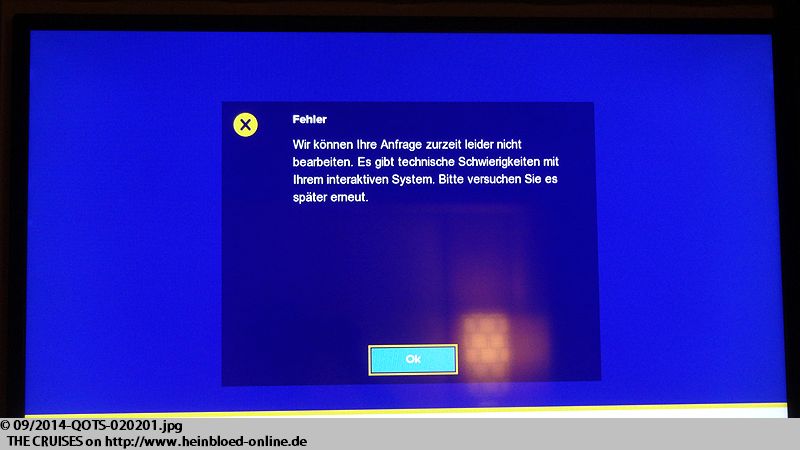 On TV, nothing was working anymore in between.

Or the gear was turning around all the time.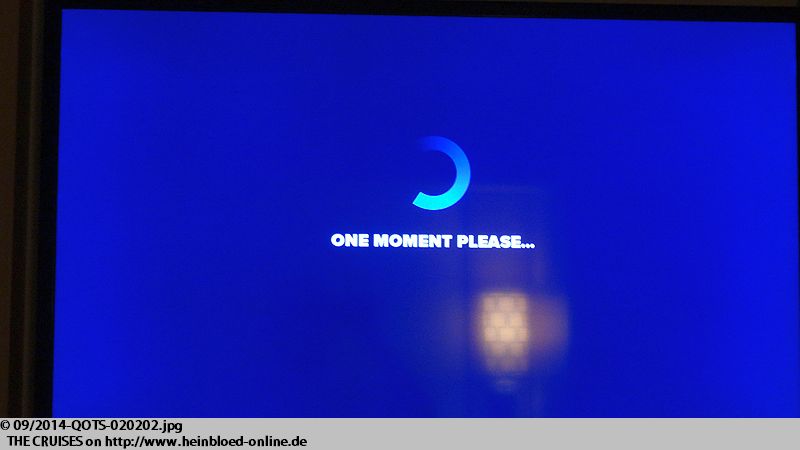 Oder das Rädchen dreht sich ewig.
Leider ging nirgends hervor, dass man eigentlich nur ein Gerät an Royal IQ anschließen kann. So fordere ich einen neuen Code für mein iPad an.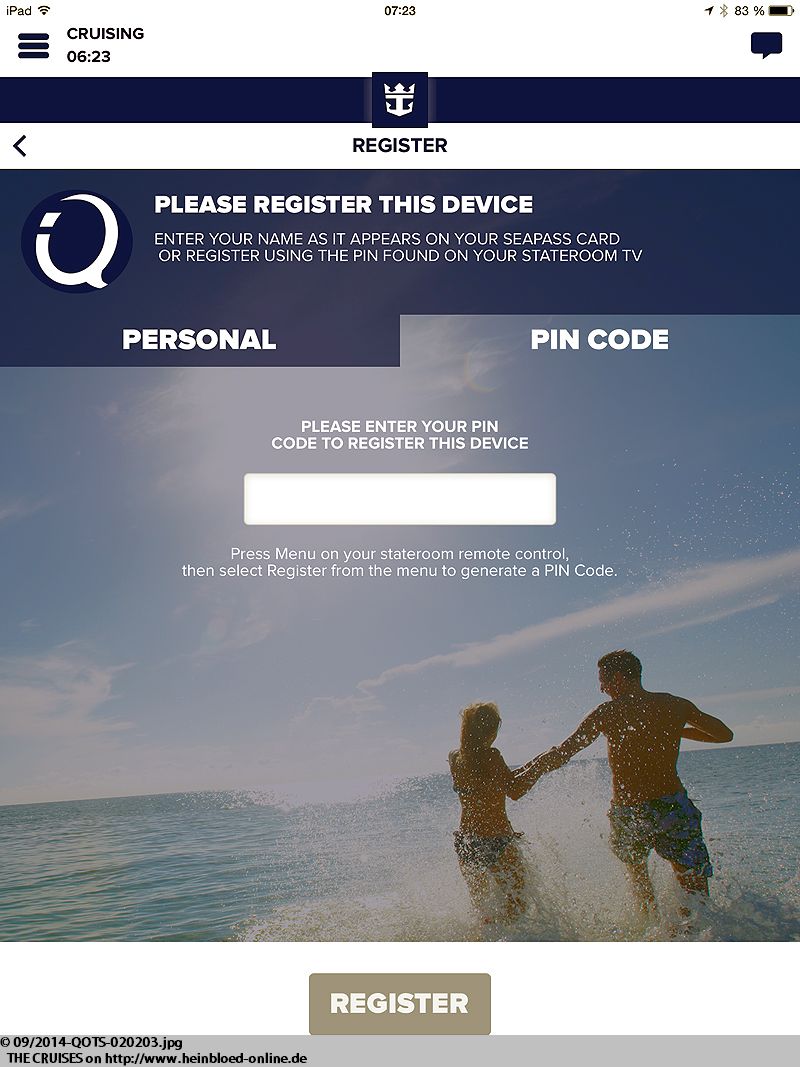 Unfortately, it was nowhere mentioned that only one device could be linked with Royal IQ. So I had to request another code for my iPad.

But I got the notification, that one device was already registered.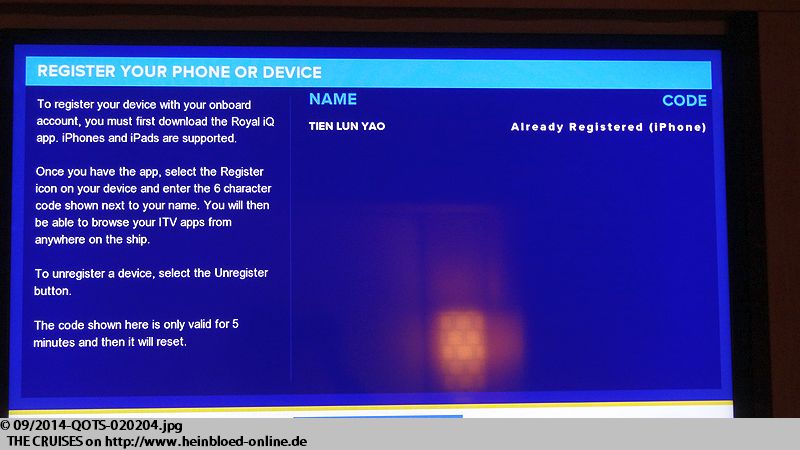 Aber ich bekomme die Mitteilung, dass schon ein Gerät registriert ist.
Und auf einmal wird angezeigt, dass man sich wieder anmelden muss.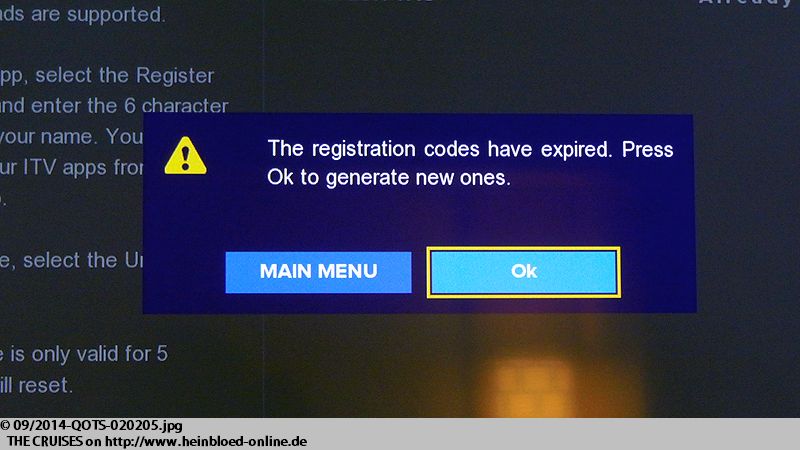 And suddenly it was shown again, to sign in.

So you had to start registration again.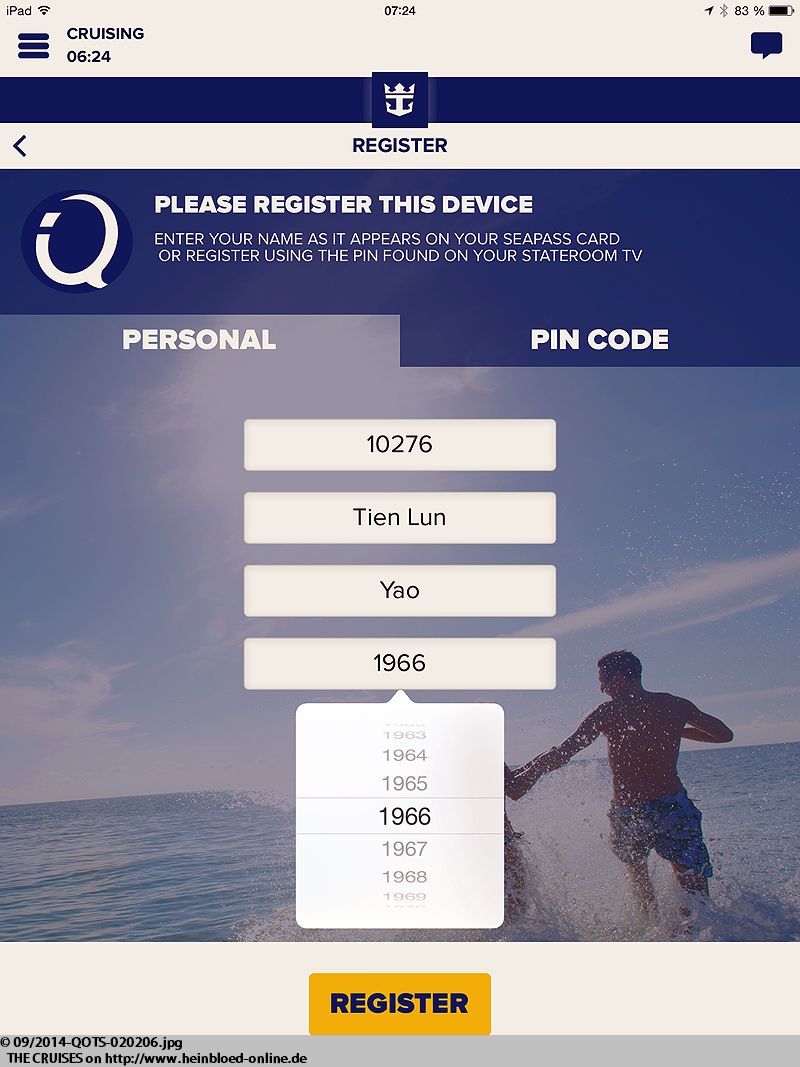 Die Anmeldung geht also von vorne los.
Und nun versuche ich noch eine Karte für Mamma Mia zu buchen, aber man kann noch nicht für andere aus anderen Kabinen buchen. Hierzu muss man das nächste Update abwarten.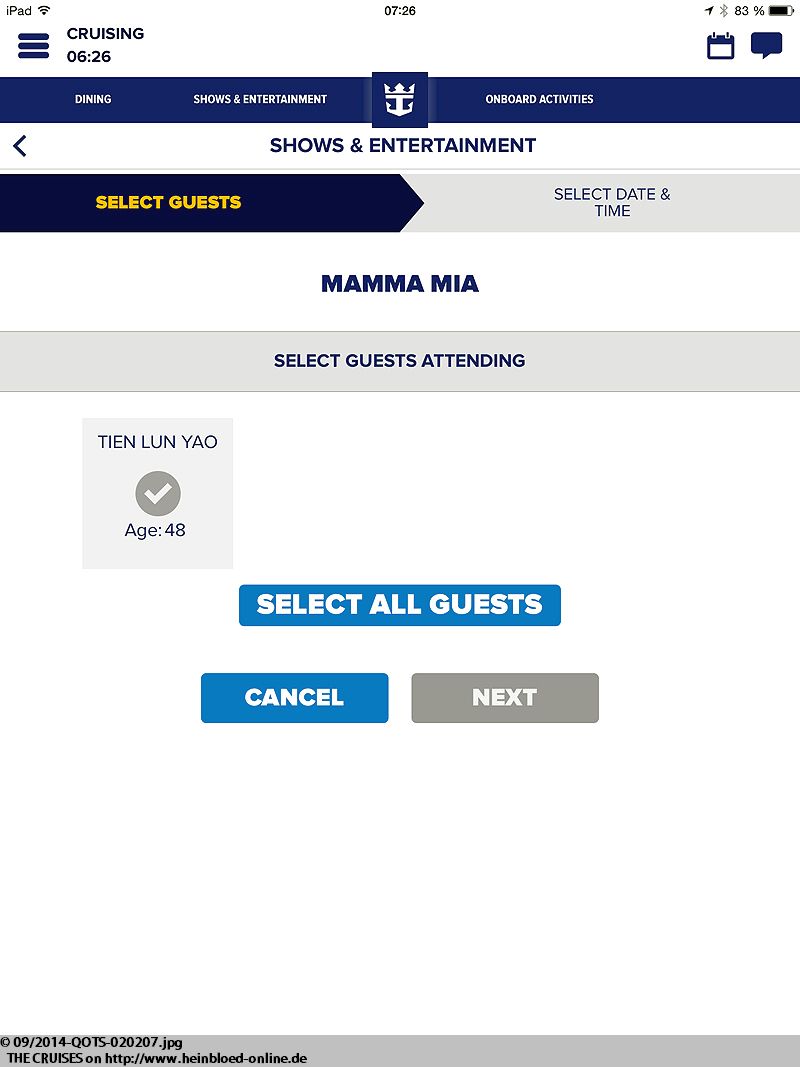 And now I was trying to book a ticket for Mamma Mia, but it was not yet possible to book for others from another cabin. So you had to wait for the next update.

Even thus, it did not work.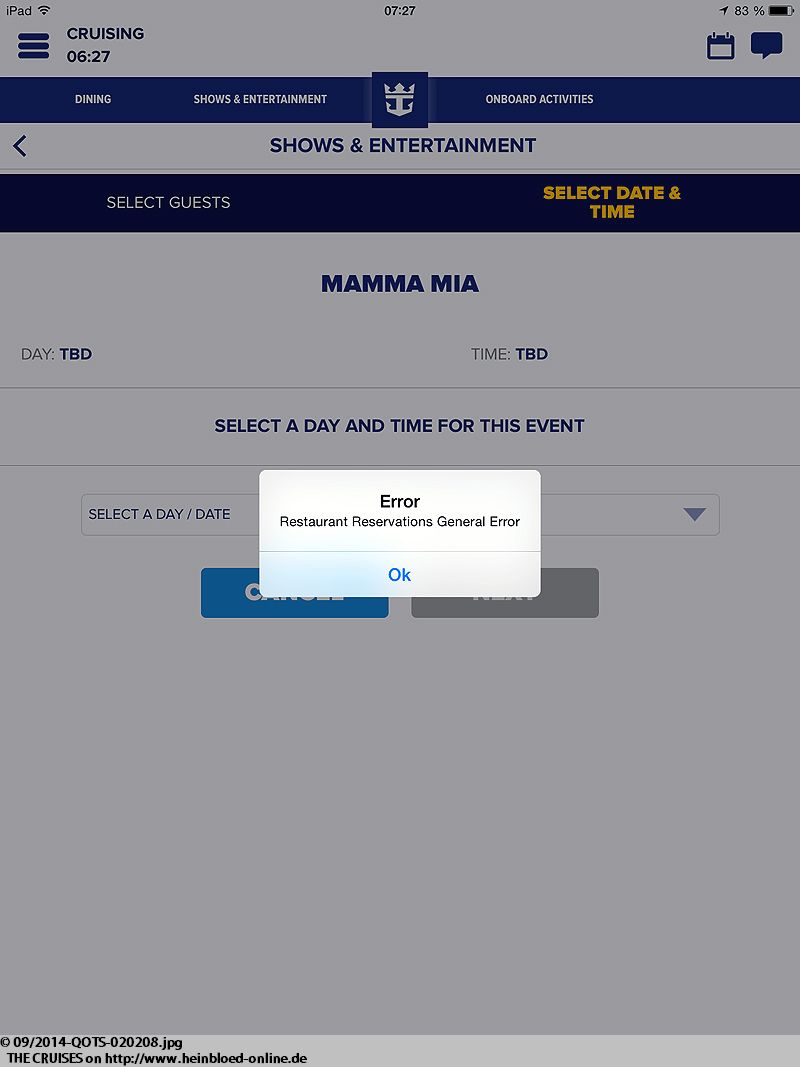 Und es funktioniert trotzdem nicht.
Und zur Abwechslung kann man mal wieder gar nichts sehen.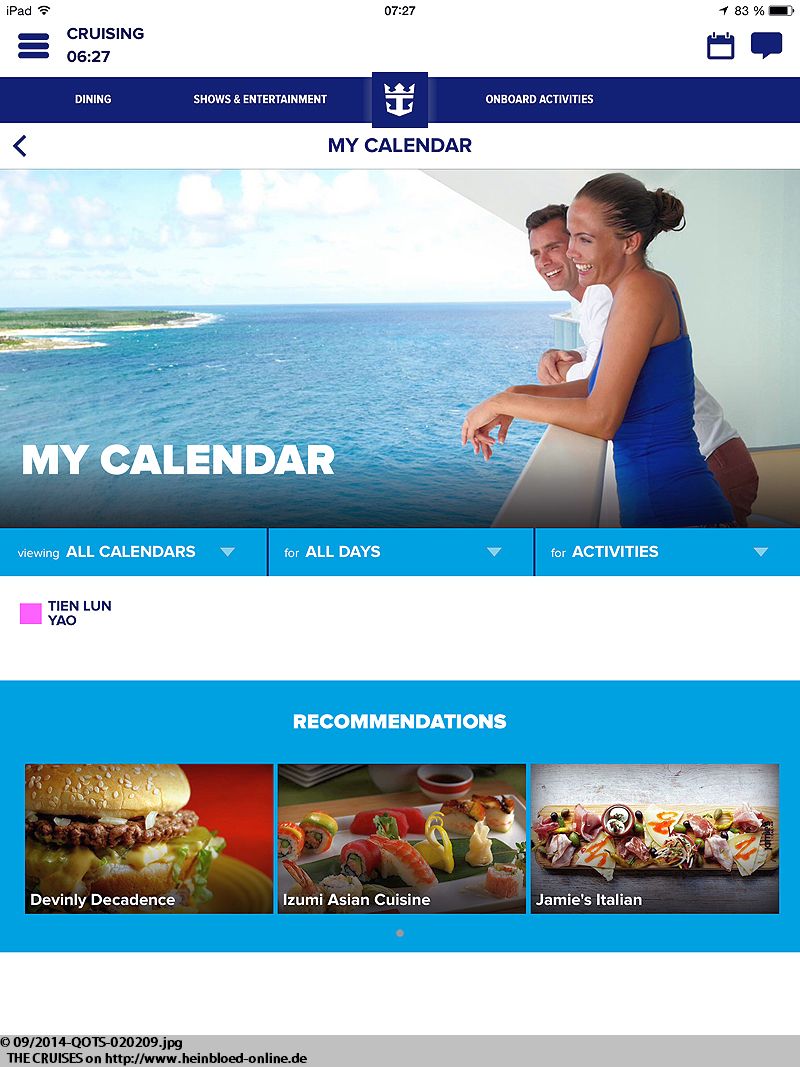 And to have a variation, you could not see anything again.

We were in front of the Silk at 07:45 hrs. Many families with children were already waiting in line. We were informed that unfortunately the system "forgot" to notify the ship that for this morning reservations were accepted and the bill was settled. There were therefore neither waiters nor Dreamworks characters available. We should contact Guest Services. Since I had no intention to line up again, they heard from me some less kind words ... When the new dates would bed set, I should get a call.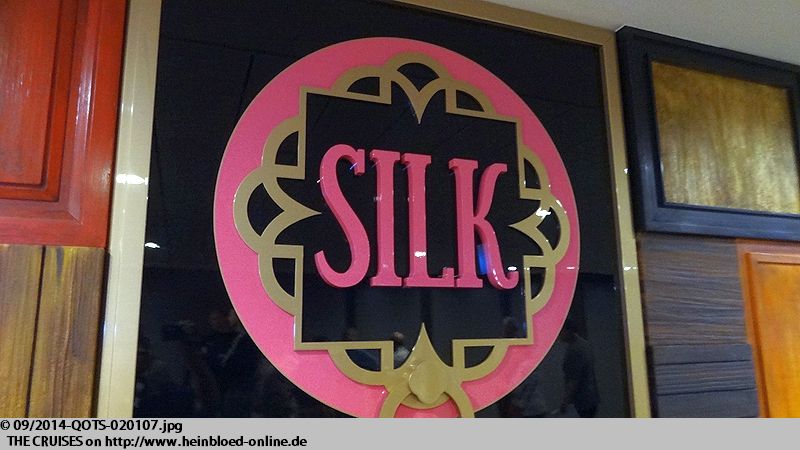 Wir finden uns um 07:45 Uhr vor dem Silk ein. Viele Familien mit Kinder warten schon in der Schlange. Man informiert uns, dass leider das System "vergessen" hat, das Schiff zu informieren, dass für heute Morgen Reservierungen angenommen und abgerechnet wurden. Es stehen daher weder Kellner noch Dreamworks-Figuren zur Verfügung. Wir sollten uns doch bitte an den Guest Services wenden. Da ich nicht die Absicht hatte, hierzu mich anzustellen, gab es ein paar passende Worte... Als die neuen Termine feststehen, werde ich dann angerufen.
An diesem Morgen ist Selfie-Time: Irina Kalchenko ist ganz begeistert vom Selfie-Stick und will mit auf das Bild. Sie arbeitet gegenüber vom Silk im American Icon. Hier wird auch Frühstück und Mittagessen serviert.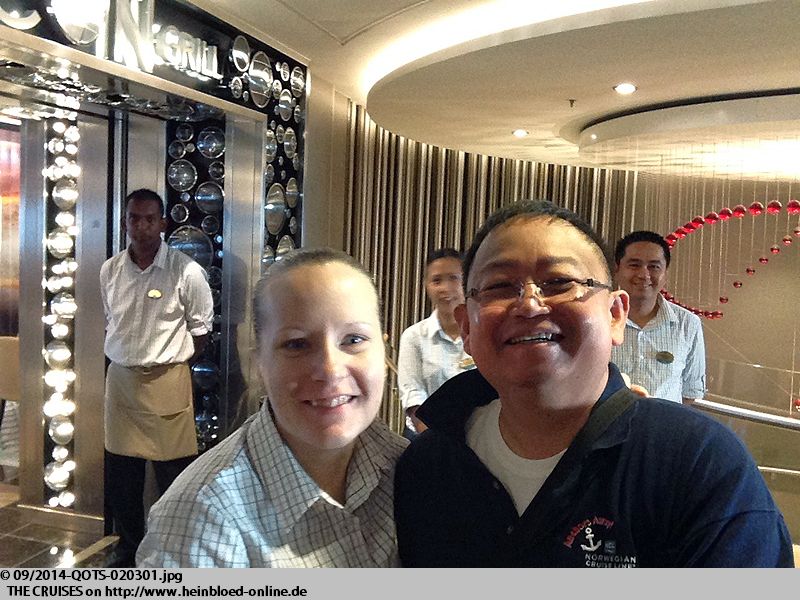 This morning, it was selfie-time: Irina Kalchenko was excited of the selfie-stick and wanted to join me on my picture. She worked opposite of the Silk in American Icon. Here, they also served breakfast and lunch.

The leather-covered menu looked very elegant.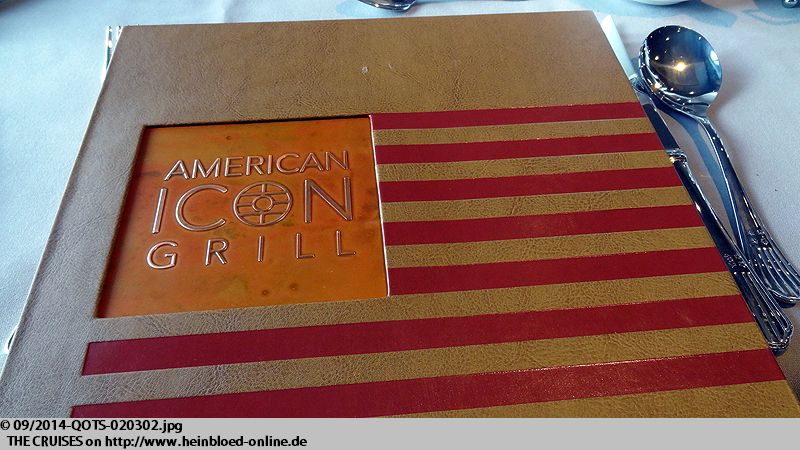 Die ledergebundene Speisekarte sieht edel aus.
Wir bekommen einen schönen Tisch direkt am Fenster.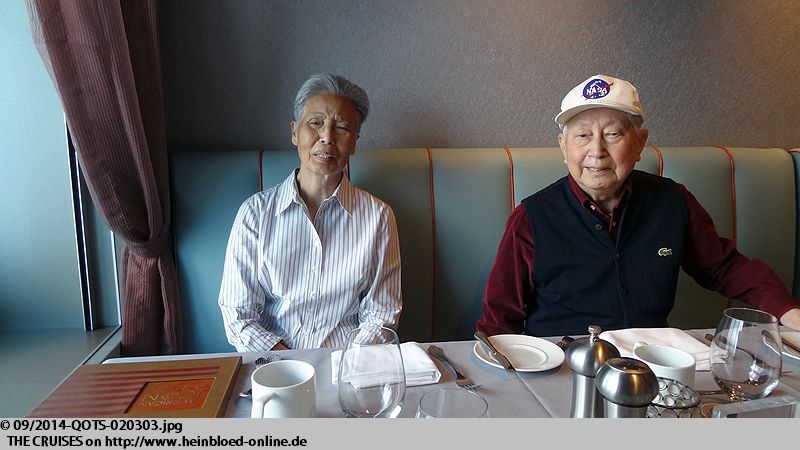 We got a nice table right at the window.

The selection was "normal" for an US-cruiseship.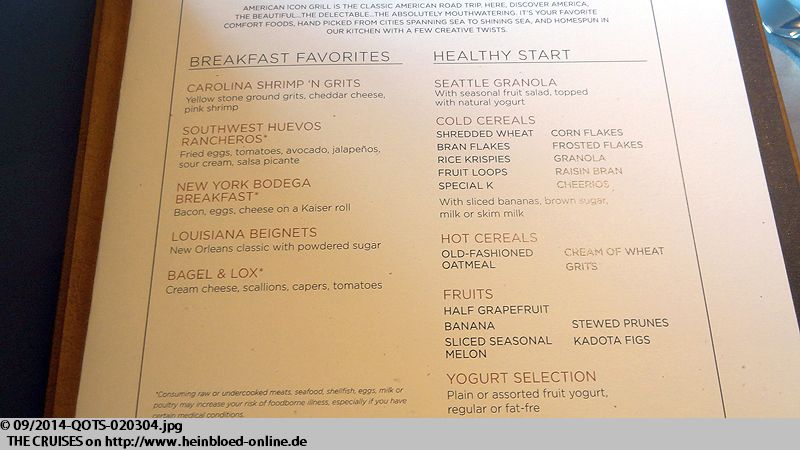 Die Auswahl ist "normal" für ein US-Kreuzfahrtschiff.
Einfach auf das Bild klicken, um zu vergrößern.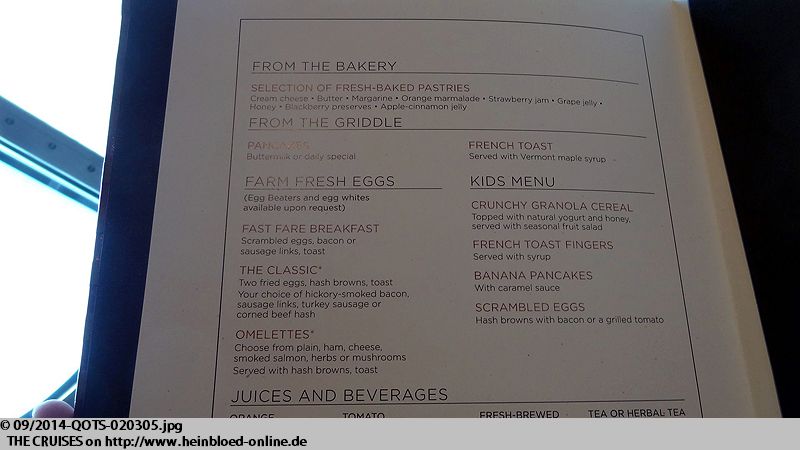 Just click on the picture to enlarge.

Like five years ago on NAVIGATOR OF THE SEAS 2009: no cranberry-juice.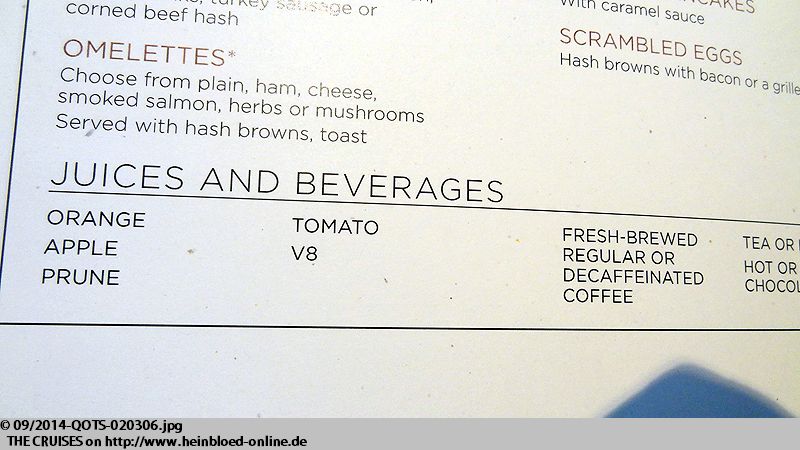 Wie vor fünf Jahren auf der
NAVIGATOR OF THE SEAS 2009
: kein Cranberry-Juice.
Man freut sich immer wieder als Gast, wenn man sich aus den Resten bedienen darf...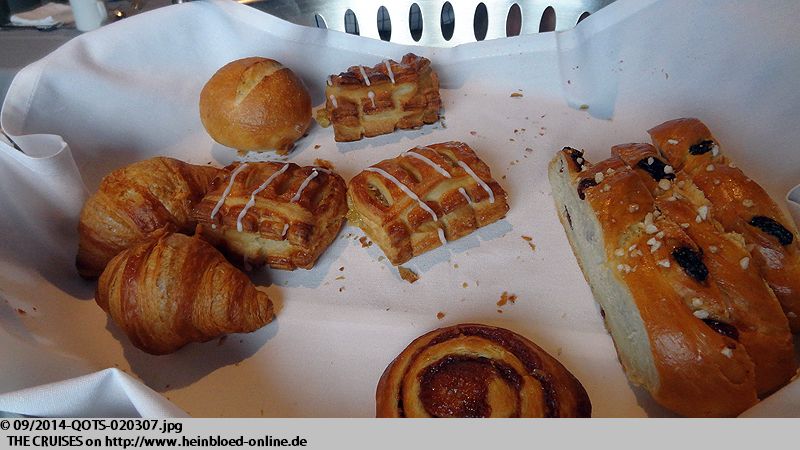 As guest, you were always happy, if you have a selection of the remainders...

New: there were no more assistant waiters. There was a delivery service pool. Each of them was responsible for the transport between galley and service stations. But they were not tied to a dedicated service station and just left in the order of availability of the food in the kitchen. New: all orders were recorded with the tablet. Special requests needed to be entered manually in a particular remark form. In the past, the waiter could just make a note of it and told the assistant waiter what he should pay attention to. That did not work anymore.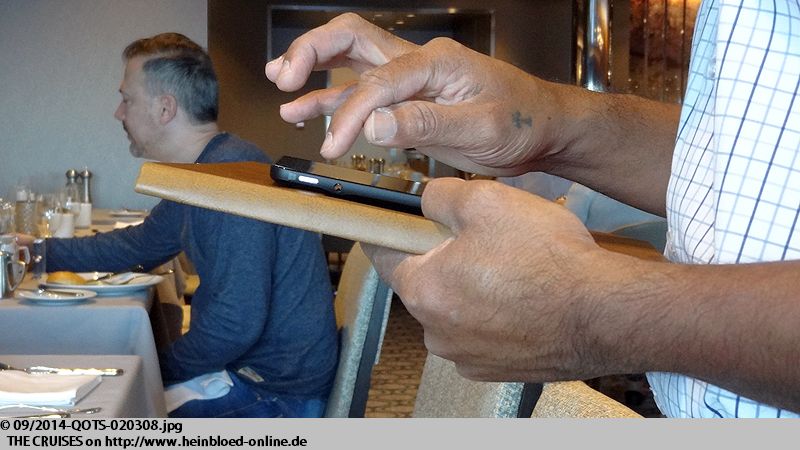 Neu: es gibt keine Hilfskellner mehr. Es gibt einen Fahrdienst-Pool. Der jeweils für die Transporte zwischen Galley und Servicestationen zuständig sind. Sie sind aber nicht an eine Servicestation gebunden und fahren einfach in der Reihenfolge der Verfügbarkeit in der Galley ab. Neu: alle Aufträge werden mit dem Tablet erfasst. Sonderwünsche müssen manuell in einem Sonderfeld eingegeben werden. Früher konnte der Kellner einfach das notieren und dem Hilfskellner sagen, was er beachten soll. Das funktioniert nicht mehr.
Butter kommt in dem Glasbehälter.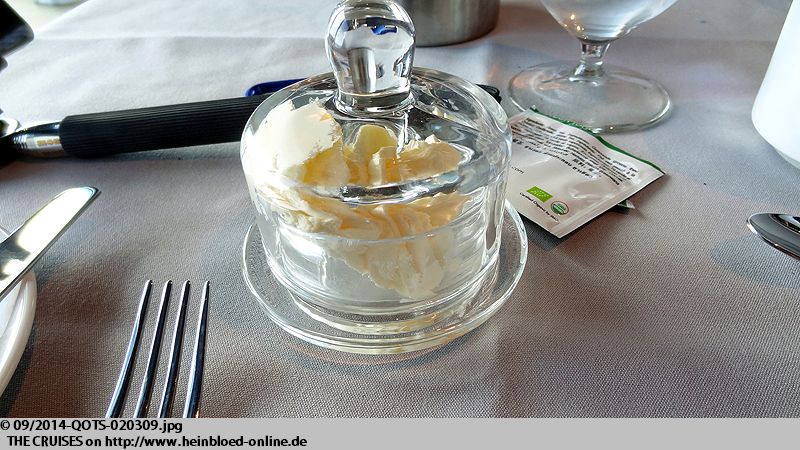 Butter was served in a glass container.

The omelet of my father came as he ordered.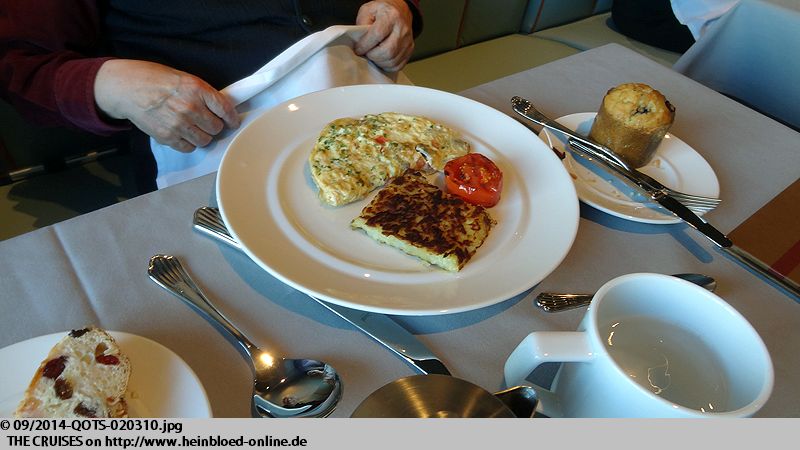 Das Omelette meines Vaters kommt so wie bestellt.
Mein "Oatmeal" (Haferbrei) - leider ohne Beilagen wie Rosinen und Zimt-/Zuckermischung. Schmeckt überhaupt nicht.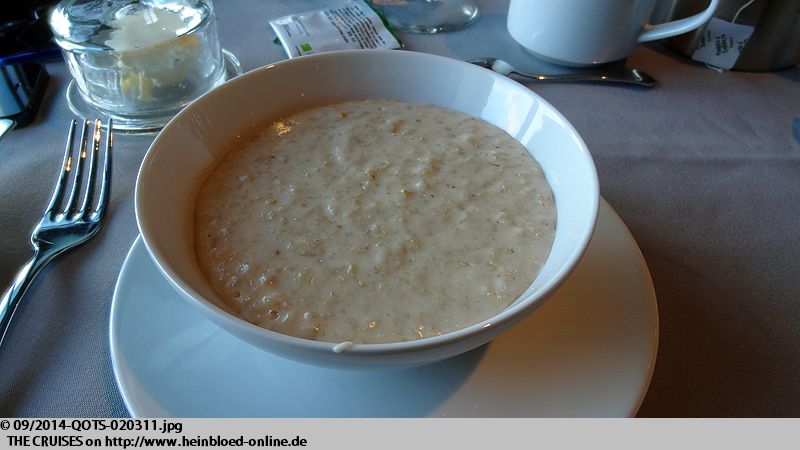 My oatmeal came without condoments like raisins or cinemon-sugar-mixture. Did not taste at all.

My banana was served this way.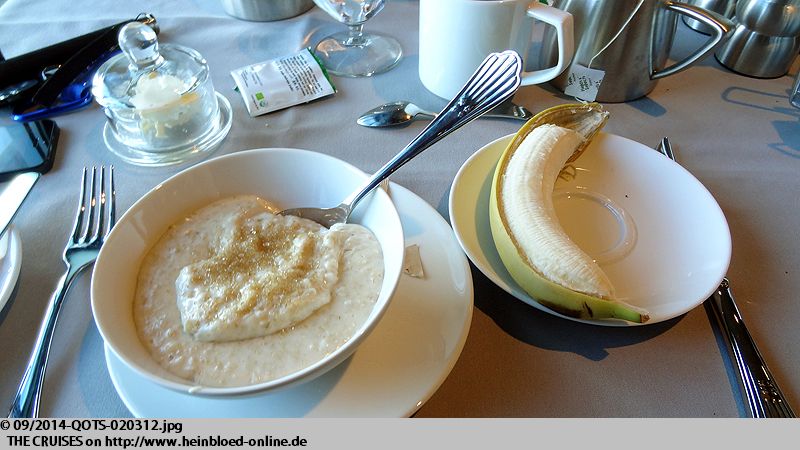 Meine Banane wird so serviert.
Meine Mutter hat eine gemischte Fruchtplatte bestellt...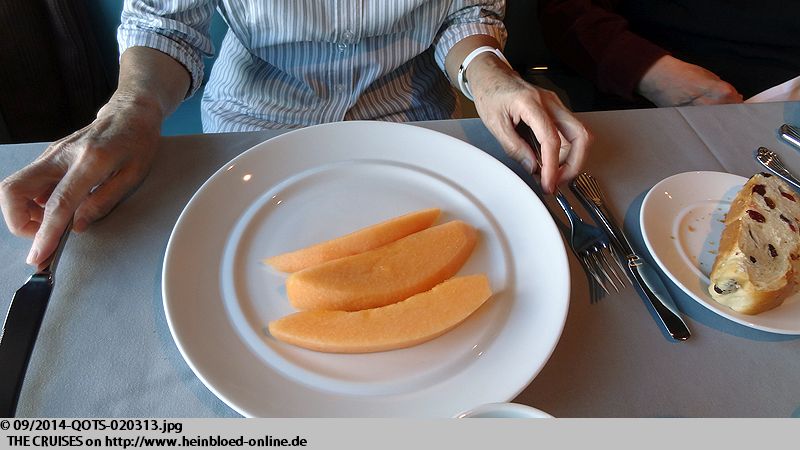 My mother ordered a mixed fruitplate...

After a talk with a Maître, it looked different. At least we could get some green tea, which was not always possible on NAVIGATOR OF THE SEAS 2009.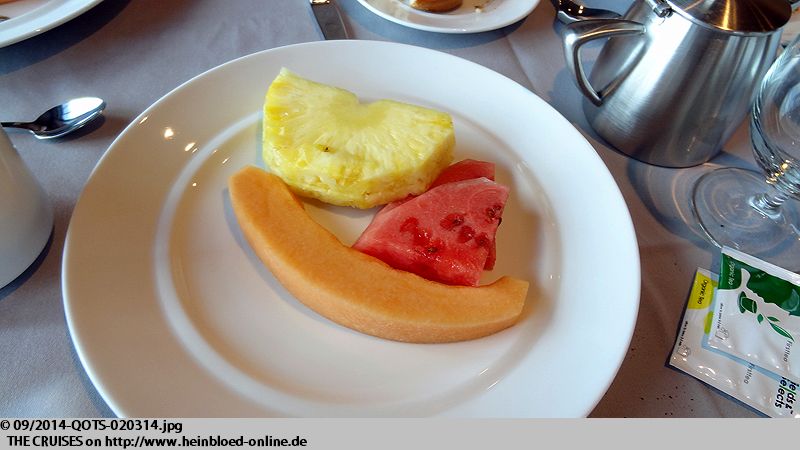 Nach Rücksprache mit einem Maître sah er dann so aus. Aber wenigstens gibt es jetzt grünen Tee, den wir damals auf der
NAVIGATOR OF THE SEAS 2009
nicht immer bekommen haben.
Mein Tomatensaft wird nicht mit dem Tablet erfasst, aber das setzt dann wieder voraus, dass er nicht vergessen wird.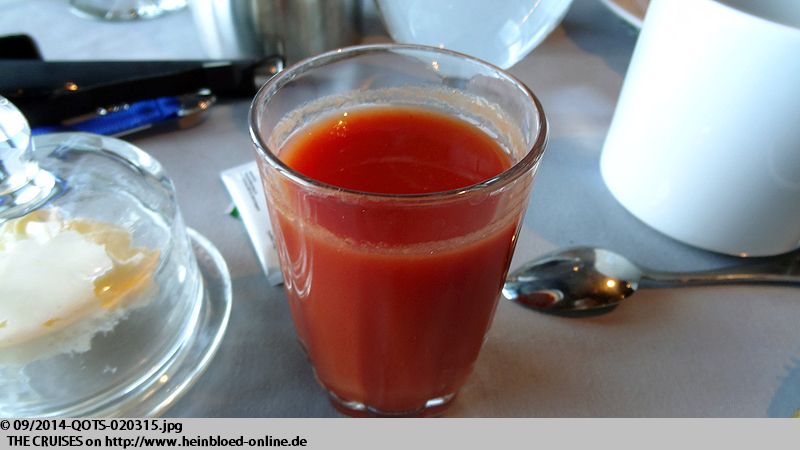 My tomato juice was registered on the tablet, but that would presuppose that it would not be forgotten.

I ordered one single scrambled egg made of on FRESH egg. It was impossible. They had only frozen eggs from a container. Somehow, I had only one wish: to leave the ship...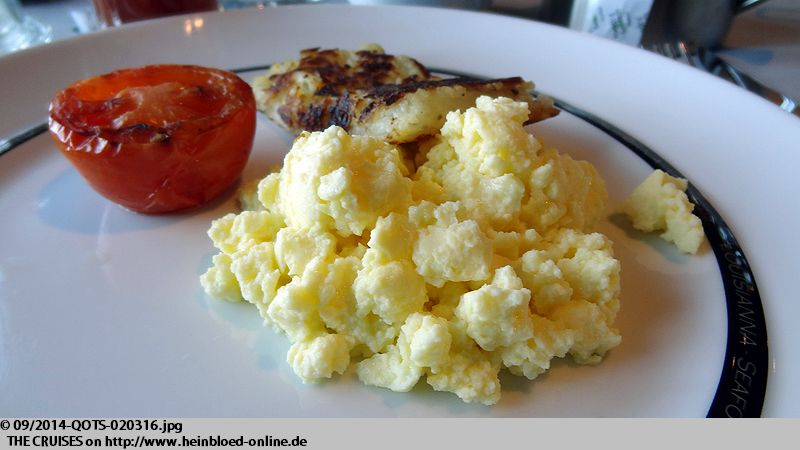 Ich hatte ein Rührei aus einem FRISCHEN Ei bestellt. Ist nicht möglich. Es gibt nur gefrorene Eier aus der Tetrabox. Irgendwie habe ich bloß einen Wunsch: aussteigen...
Wir haben keine ruhige See. Erinnert mich an unsere Transatlantik damals auf der
QUEEN VICTORIA 2008
. Den höchsten Wert messe ich im Laufe des Tages mit 5,3.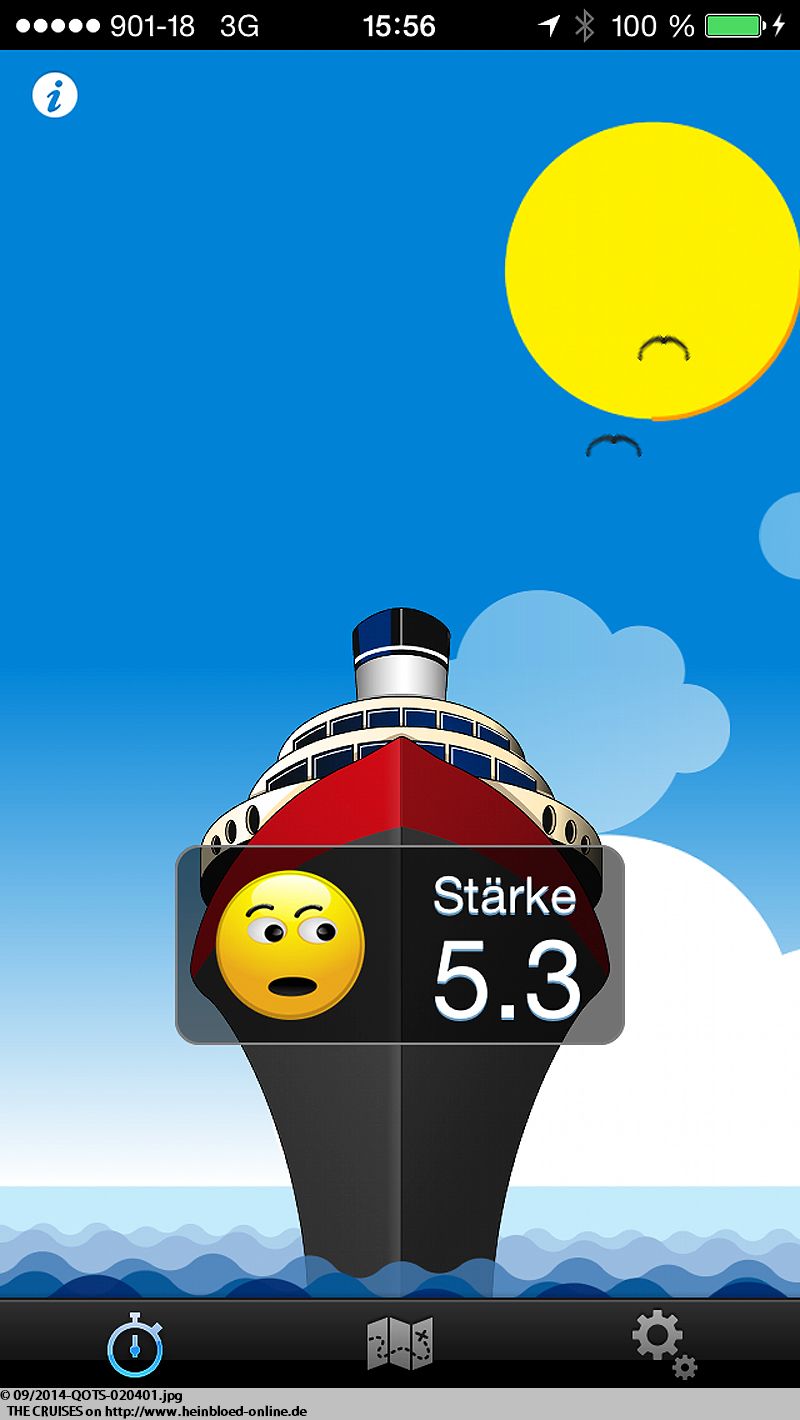 We had no calm sea. It reminded to our Transatlantic crossing on QUEEN VICTORIA 2008. The highest value, I could scale during the day was 5.3.

Since I might react differently after the surgery than before, I had a cup at a hook with me to be safe. I could find any seasickness bags on the ship.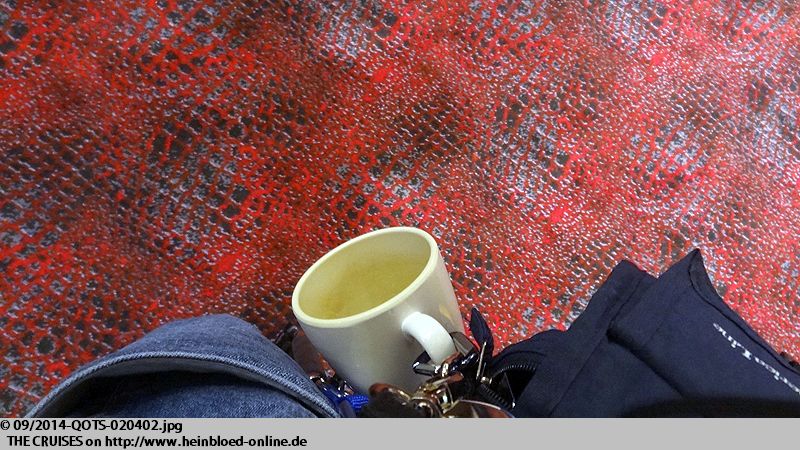 Da ich möglicherweise nach der Operation anders reagiere als vorher, hänge ich eine Tasse vorsichtshalber an meinen Karabinerhaken. Denn ich finde nirgendst Spucktüten an Bord.
Ich versuche mich in der Bordklinik wiegen zu lassen, aber man sagt mir, dass keine Messung bei Seegang möglich ist. So bekomme ich eine Tendenz. Irgendwo zwischen 102,8 kg...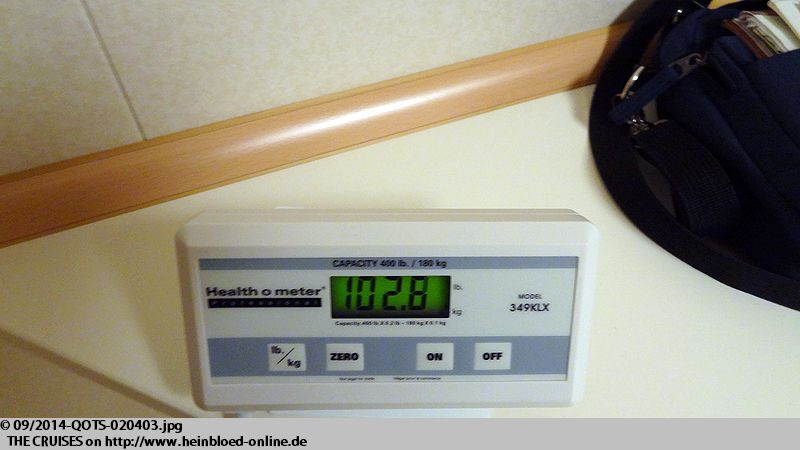 I tried to the medical center weigh me, but I learned that it would be impossible to weigh. So all I could get was a tendency. Some between 227 lbs....

... and 218 lbs. - so in the middle around 223 lbs.... so from tendency lower than I had recently on NORWEGIAN JADE 2014 (2)...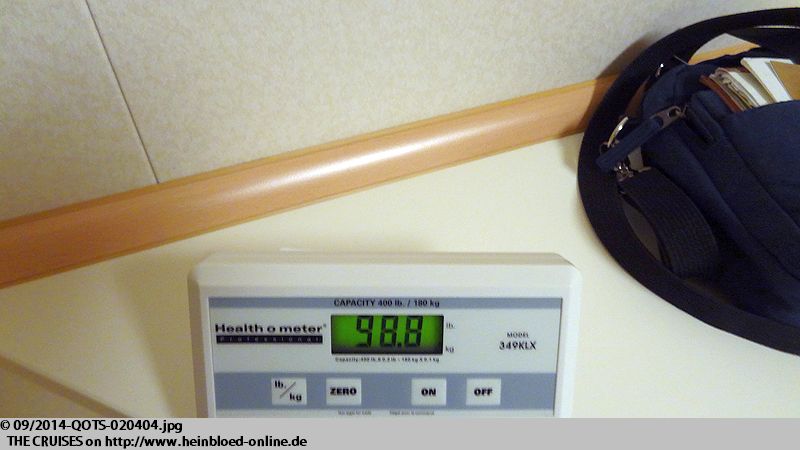 ... und 98,8 kg - also so in der Mitte 100,8 kg... also tendenziell weniger als zuletzt nach der
NORWEGIAN JADE 2014 (2)
...
Bei den Guest Services herrschen immer noch katastrophale Zustände. Es gibt nur wenige Schalter und wieder Gästebetreuer, die zwischendurch in der Wartezone stehen und bei denen bilden sich zusätzliche Gästeschlangen. Royal Caribbean hält nichts von einer zentralen Schlange, die dann nacheinander abgearbeitet wird. Noch sind nicht alle Schalter mit einem PC angeschlossen und es gibt ein Telefon für alle Gästebetreuer. Wenn die mal für einen mit einer anderen Abteilung telefonieren, kann man nur hoffen, dass sie auch ja bald wiederkommen. Manchmal führen die Gästebetreuer Gäste zu den Sitzlandschaften und wenn man als nächster in der "Schlange" davor stand, kommt man sich dann reichlich blöd vor.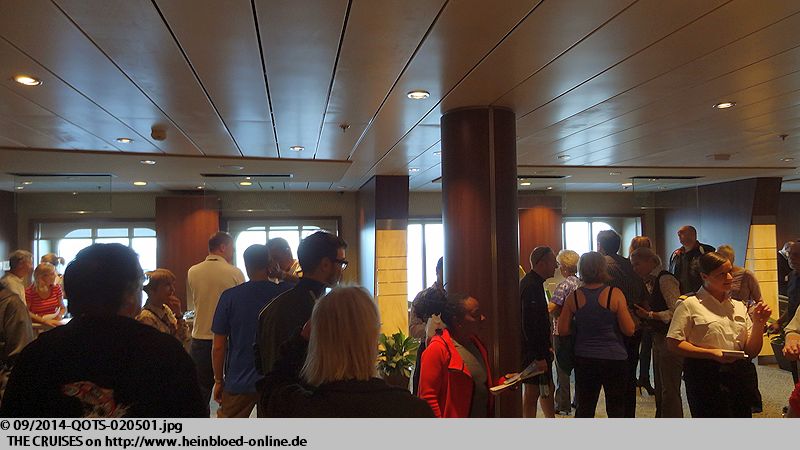 The Guest Services were still catastrophic. There were only a few counters and again guest relations, in between standing in the waiting area and in which form additional guest queues. Royal Caribbean did not believe in a single queue, which was then processed sequentially. Not all counters were connected by PC, and there was one single telephone for the entire guest relation. If they call one for another from a different department, you could only hope that they would reply soon. Sometimes the agents escorted guests to the seating areas, and when you were the next in the "queue" in front of it, you felt foolish.

In the Royal Esplanade (not anymore Royal Promenade) they had some rehearsals.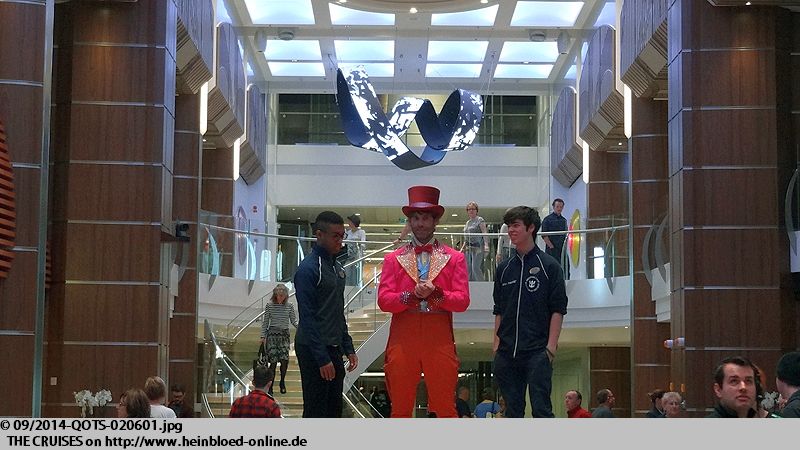 In der Royal Esplanade (also nicht mehr Royal Promenade) wird etwas geprobt.
Leider sehe ich später kein Ergebnis.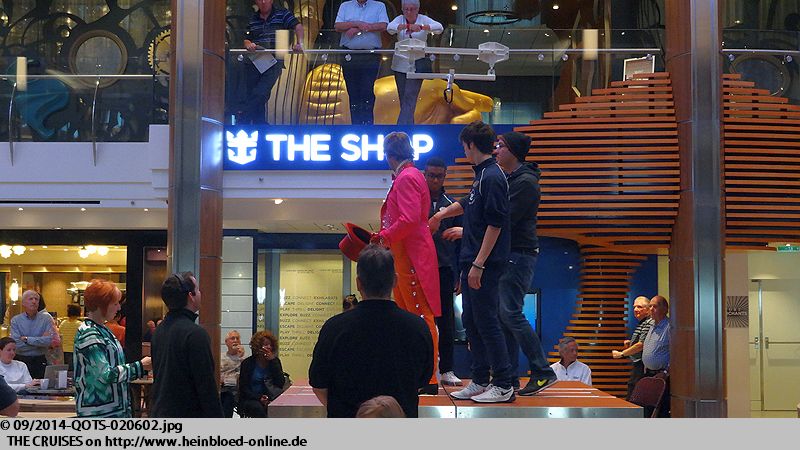 Unfortunately, I had no chance to see the results.

Unfortunately, it was not possible to check pictures. Not all terminals had RFID scanners. So it was not possible to look at this terminal. The employees preferred to deal with themselves, and nobody could come by to guide someone to a terminal where they could see something.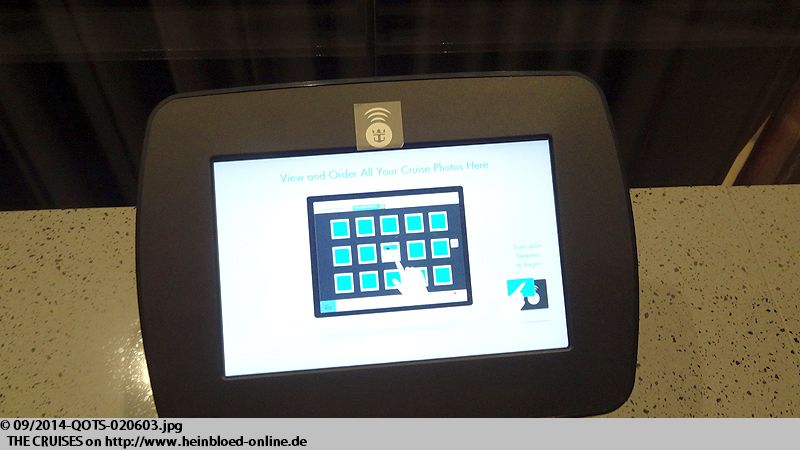 Bilder gucken ist leider auch nicht. Denn nicht alle Terminals haben RFID-Leser. So ist es an diesem Terminal nicht möglich sich etwas anzusehen. Die Mitarbeiter beschäftigen sich lieber mit sich selbst und es kommt keiner vorbei, um jemanden an einen Terminal zu leiten, bei dem man auch etwas sehen kann.
Eine kleine Serie mit Selfies. Das Internet funktioniert - irgendwie. Sogar Uploads auf Facebook sind möglich. Leider sind keine VPN-Zugänge erlaubt.

A small serial with selfies. The internet worked - somehow. Even uploads to Facebook were possible. Unfortunately, no VPN-access was allowed.

On the one side of the Royal Esplanade, you could get in the Café Promenade (why not actually Café Esplanade?) the Seattle's Best coffee (was acquired by Starbuck's) and some breakfast pastries too.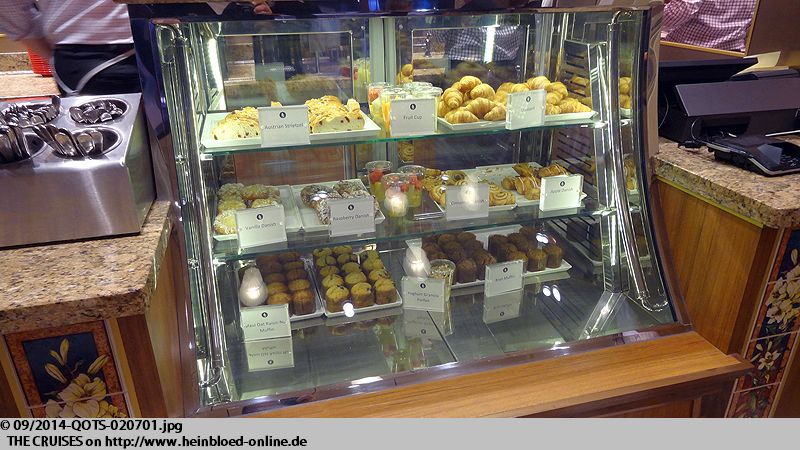 Auf der einen Seite der Royal Esplanade bekommt man im Café Promenade (wieso eigentlich nicht Café Esplanade?) den
Seattle's Best
Kaffee (wurde von
Starbuck's
übernommen) und auch das Frühstücksgebäck.
Gegenüber in der "La Patisserie" mit
Starbuck's
kostet alles Geld. Ein entkoffeinierter Cappuccino mit Soja-Milch schmeckt echt scheußlich. Leider gibt es keine laktosefreie Milch an Bord. Ich bezahle zum ersten Mal mit dem WOW-Band und kann auch ein Trinkgeld am Terminal dazugeben.

Opposite, in "La Patisserie" with Starbuck's, everything was charged. A decaf cappuccino with soy-milk tasted truly terrible. Unfortunately, they had no lactose-free milk onboard. I paid the very first time with the WOW-wristband, and I could also tip at the terminal.

In my cabin, they set up little Bruno upright.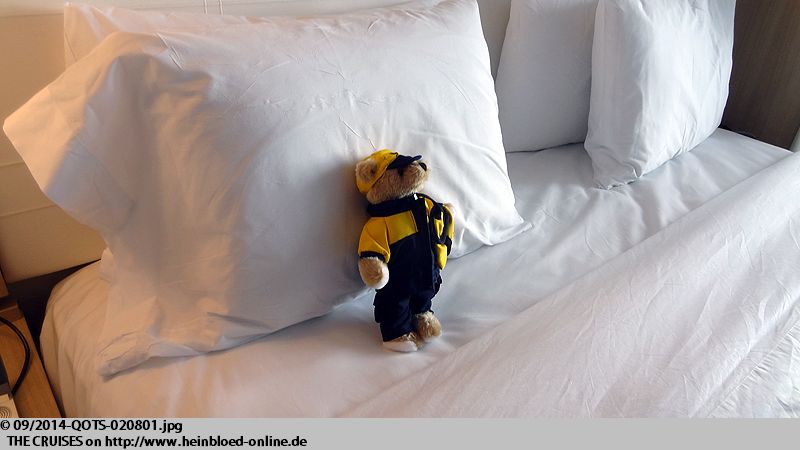 In meiner Kabine wurde entsprechend der kleine Bruno aufrecht aufgestellt.
Leider hat die Bettwäsche Polyester. Allerdings ist sie noch so neu, dass alles sehr glatt ist und ich nirgendst hängen bleibe. Normalerweise fühle ich mich sehr unwohl, aber hier geht es.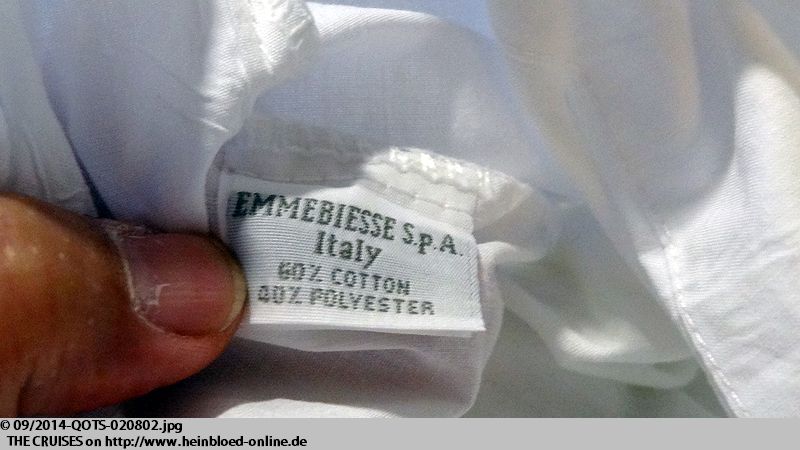 Unfortunately, the linen had polyester. But it was so new that it felt quite plain and I did get stuck. Normally, I did not feel comfortable, but here, it worked.

For the night, I got a towel animal, a book, which we could take with us as a gift and an advise for the time change. But it was the notice, we should get the day before.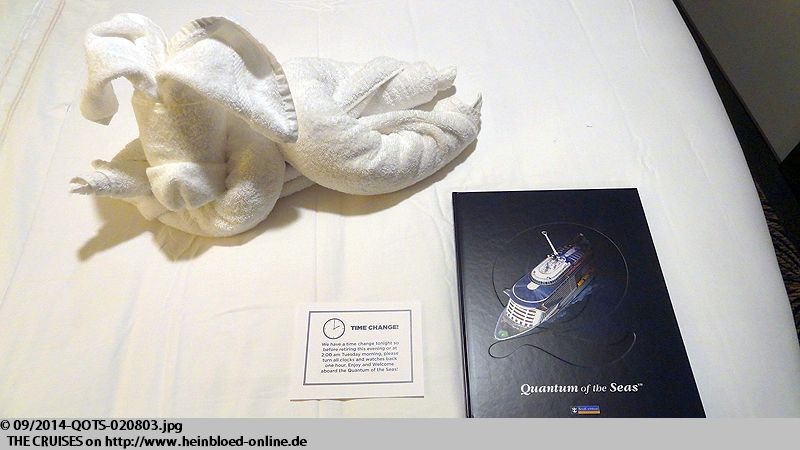 Abends bekomme ich ein Handtuchtier, ein Buch, das wir als Geschenk mitnehmen dürfen und ein Hinweis, dass Zeitumstellung ist. Nur ist es der Zettel, den wir hätten gestern bekommen müssen.
Anscheinend bekommen manche doch einen Eiskübel.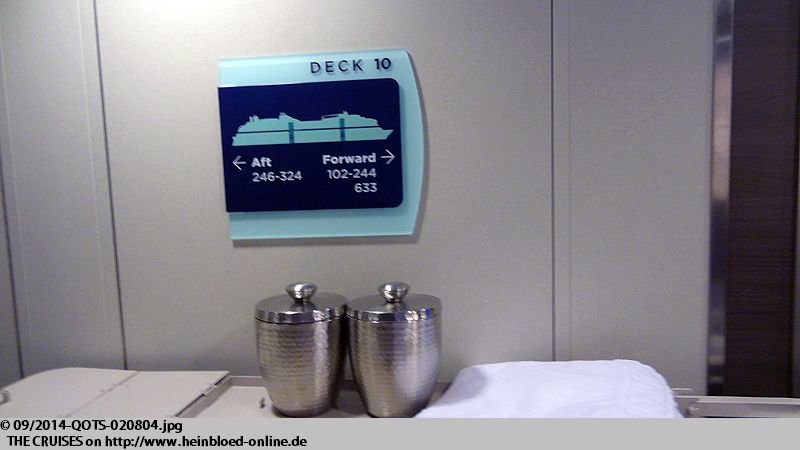 Obviously, some got an ice-bucket.

By the way, that was my charming cabin stewardess Camila Vendramin. She did everything for me. But she refused to come working in a samba-costume from her home Brazil... it was a pity...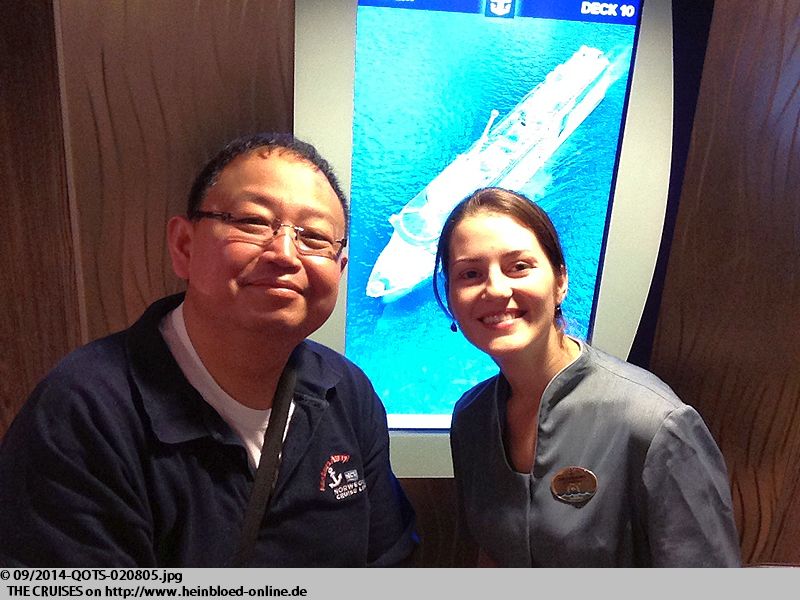 Das ist übrigens meine bezaubernde Kabinenstewardess Camila Vendramin. Sie hat mir jeden Wunsch erfüllt. Nur in einem Sambakostüm aus ihrer Heimat Brasilien wollte sie nicht zum Dienst kommen... Schade...
Wir haben ja erst Tag 2/9... und schon bekommen wir einen Brief... 25% des aktuellen Preises der Reise als Gutschrift für eine spätere Reise...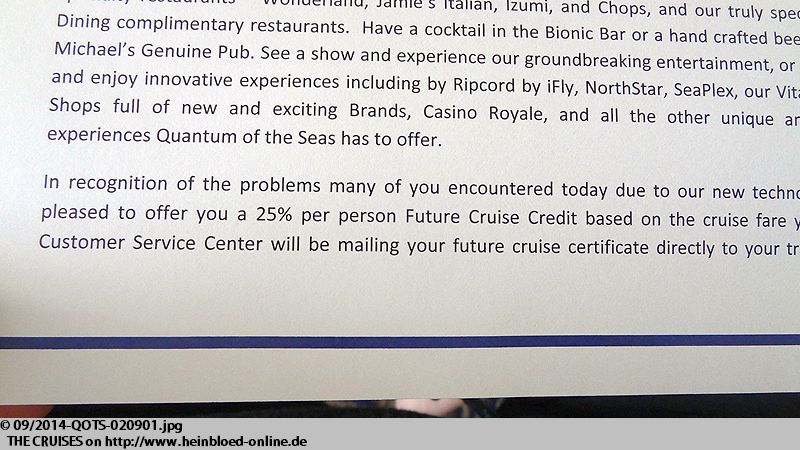 We had the 2/9 days... and already we received a letter... 25% of our actual rate, we would get a credit for a future cruise...

And 300 USD on-board-credit for every cabin (here for a balcony cabin - others got more). Surplus credit would be transferred to the credit card. Well, they bought my goodwill, but I did not start to complain... And so far, I was only active in my Happy World Facebook, and so I did not begin to write something negative of this voyage...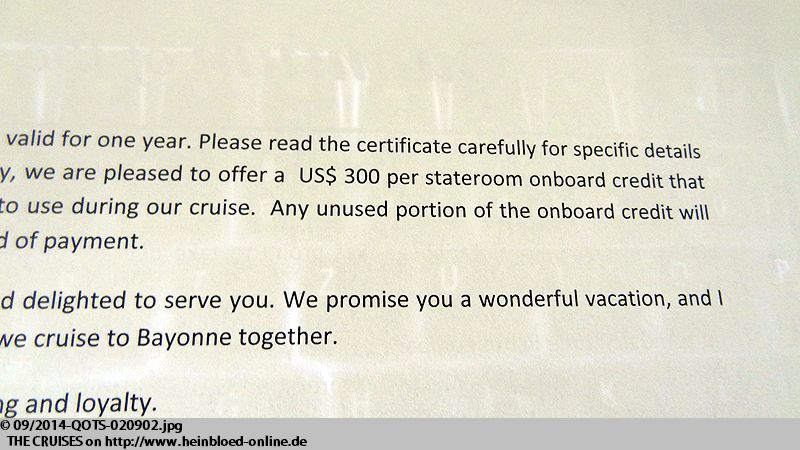 Und 300 USD On-Board-Credit für jede Kabine (in unserem Fall Balkonkabine - andere haben wohl mehr bekommen). Überschüssige Guthaben werden auf die Kreditkarte überwiesen. O. K. sie haben sich damit unser Wohlwollen erkauft, dabei habe ich noch gar nicht angefangen mich zu beschweren.... Und bisher war ich nur in meiner Happy World Facebook aktiv und habe daher noch gar nichts negatives zu der Reise geschrieben...
Ich gehe kurz hoch zum Windjammer Café und probiere die Gurken
KALT
schale. Das KALT ist KALT, weil wohl Eis in die Suppe geschabt wurde.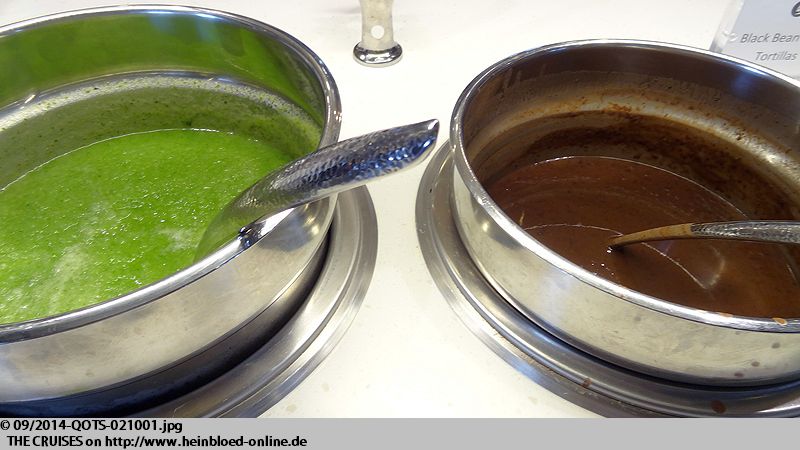 I went quickly up to the Windjammer Café and tried the CHILLED cucumber soup. The CHILLED was CHILLED because they shaved ice into the soup.

I could not stand today at all the black bean soup or the chili con carne. Maybe I became more sensitive since the surgery.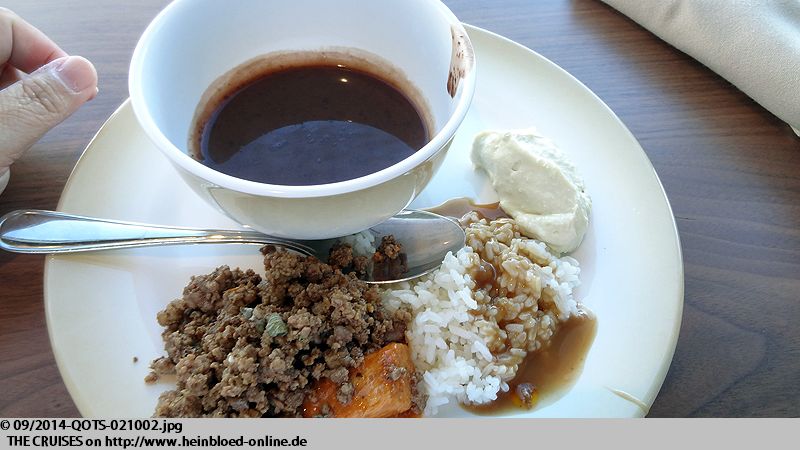 Die schwarze Bohnensuppe und das Chili con Carne vertrage ich heute überhaupt nicht. Vielleicht bin ich jetzt einfach empfindlicher geworden seit der Operation.
Ich bereite mich für das
cruisecritic.com-Meet & Mingle
vor. Mal gucken, ob ich sofort rausgezogen werde.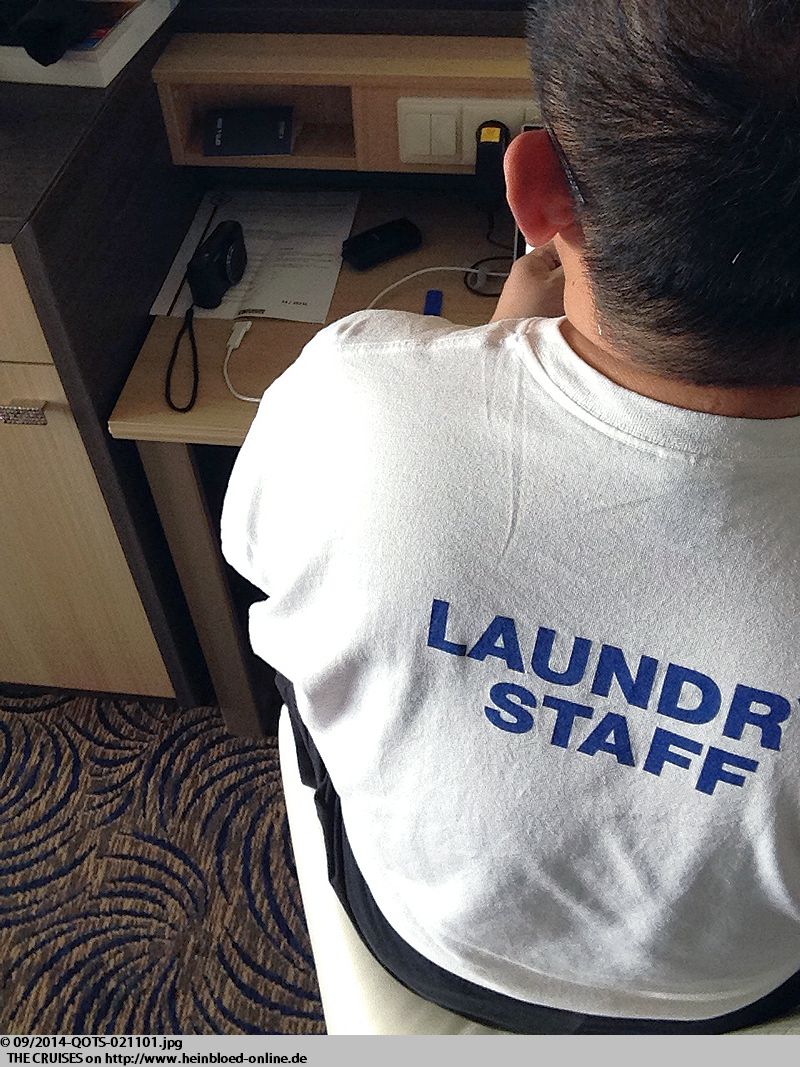 I prepared myself for the cruisecritic.com-Meet & Mingle. I was curious, if they would eleminate me immediately.

Hats off! Compared to this event, all Meet & Greet events so far (generally - no matter how they were called on board) were like children's birthday parties. I have never experienced such a great experience: with a buffet of canapés, more than just coffee, tea, juice and water, lots of gifts and half the board of Royal Caribbean. First and foremost was Lisa Lutoff-Perlo, one of the Vice Presidents of Royal Caribbean. The organizers of the roll call were honored. Carolyn Spencer-Brown from cruisecritic.com also spoke. And I was outrageous: in the question time, I just said that my most excellent experience with Princess at Glacier Bay National Park was when the ship turned 360 degrees so that every guest can see everything. I think it would be a pity if the vessel would turn left directly to Bayonne, NJ. I was wondering if Royal Caribbean could do it better than Princess and maybe would make a loop in front of the skyline of Manhattan's southern tip so everyone could see the Statue of Liberty and Manhattan's skyline. I was registered for the cabin tour, but I felt so bad that I decided not to participate.

Hut ab! Gegen die Veranstaltung sind alle bisherigen Meet&Greet-Veranstaltung (allgemein - egal, wie sie an Bord heißen) Kindergeburtstagsfeiern gewesen. So toll habe ich es noch nie erlebt: mit einem Buffet mit Canapés, mehr als nur Kaffee, Tee, Saft und Wasser, jede Mengen Geschenken und dem halben Vorstand von Royal Caribbean. Allen voran Lisa Lutoff-Perlo einer der Vice Presidents von Royal Caribbean. Die Organisatoren des Roll-Calls wurden geehrt. Auch Carolyn Spencer-Brown von cruisecritic.com kam zu Wort. Und ich war unverschämt: in der Fragestunde meinte ich bloß, dass mein tollstes Erlebnis mit Princess im Glacier Bay National Park war, als das Schiff sich um 360° gedreht hat, damit jeder Gast alles sehen kann. Ich fände es sehr schade, wenn das Schiff direkt links nach Bayonne abbiegt. Ich habe gefragt, ob Royal Caribbean es besser als Princess hinbekommt und vielleicht eine Runde vor der Skyline der Südspitze Manhattans drehen könnte, damit alle die Freiheitsstatue und die Skyline Manhattans sehen können. Ich war für den Kabinenrundgang angemeldet, aber mir ging es so schlecht, dass ich auf die Teilnahme verzichtet habe.
Auf jeden Fall freue ich mich Carolyn und ihren Mann Teijo Niemela (Herausgeber der Zeitschrift
Cruise Business
).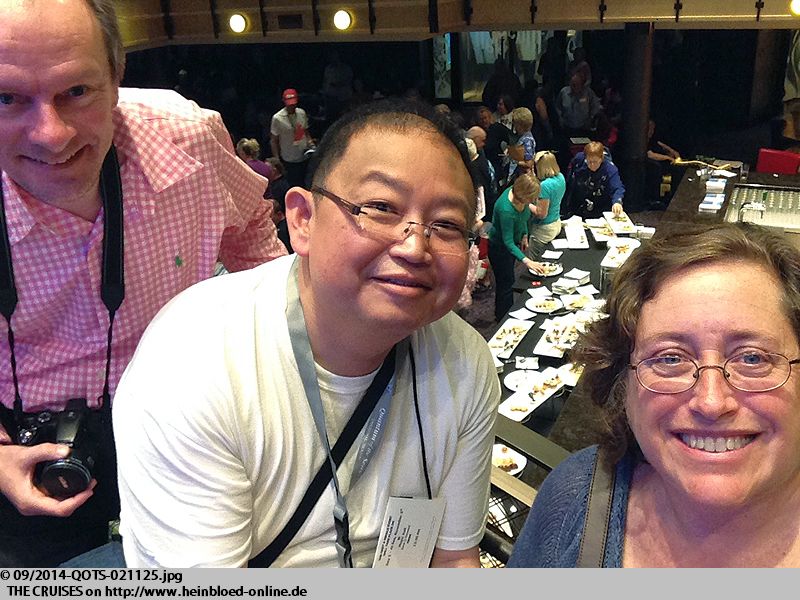 On anyway I was looking forward to seeing Carolyn and her husband Teijo Niemiela (Publisher of the magazine Cruise Business) again.

A message waited for me. Only, unfortunately, there was no information, how to listen to the notes.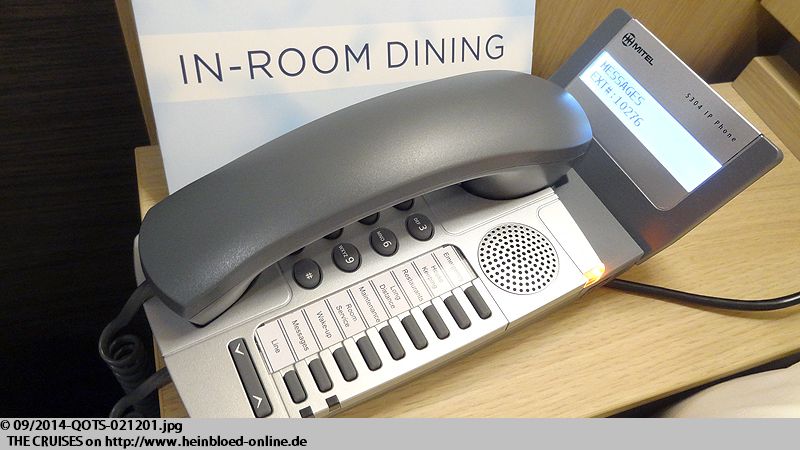 Eine Nachricht wartet auf mich. Nur leider gibt es keine Hinweise, wie man die Nachrichten abhört.
Man versteht kaum die Ansagen.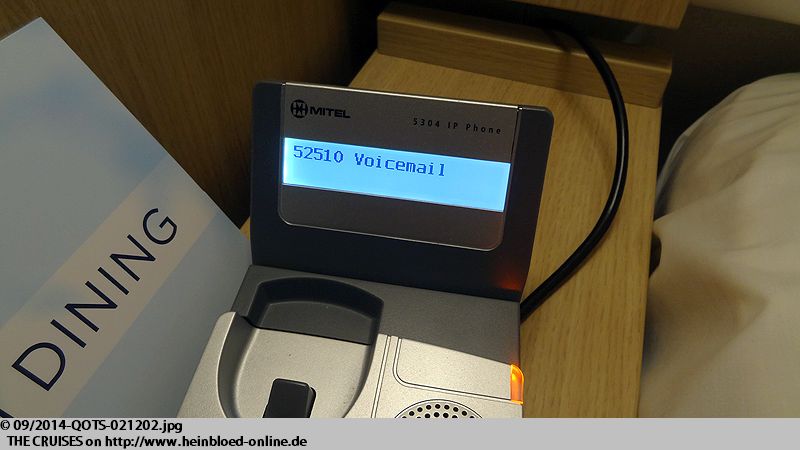 It was difficult to understand the annoucements.

To erase the message, you needed to dial "D", what would mean, that you had to dial "4".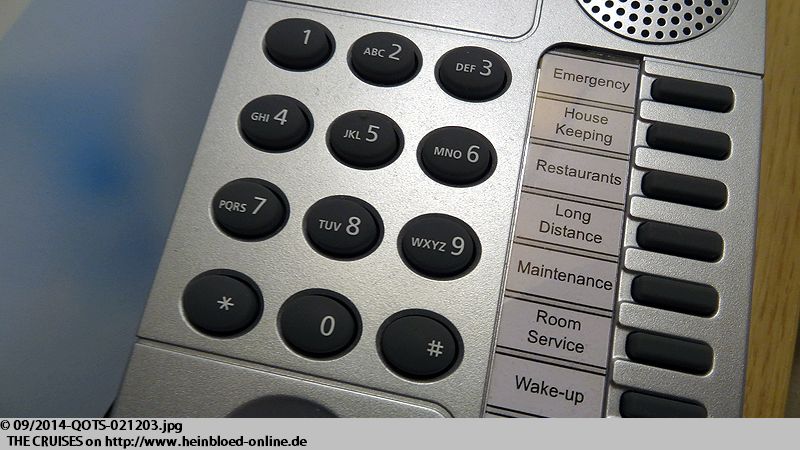 Um die Nachricht zu löschen soll man "D" wählen, was so viel bedeutet, wie die "4" wählen.
Nach dem ich mittags nichts bei mir behalten habe, bestelle ich mir ein Angus-Burger und eine Maiscremesuppe.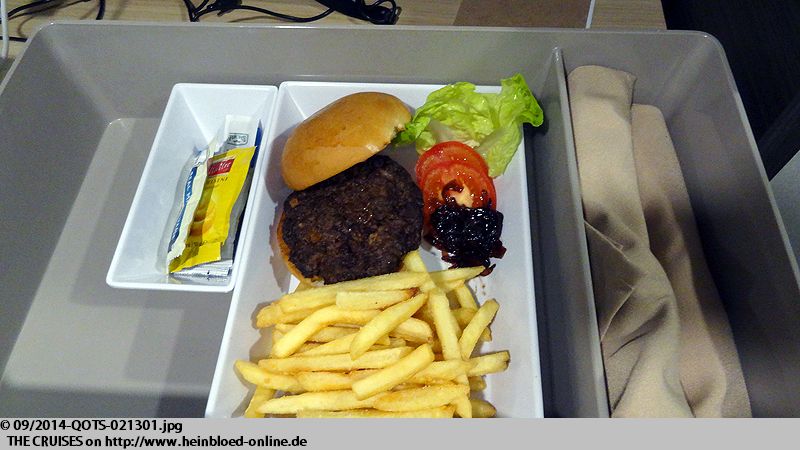 Since nothing stayed with me after lunch, I had to order an angus-burger and a cream of corn soup.

I could eat very well the soup.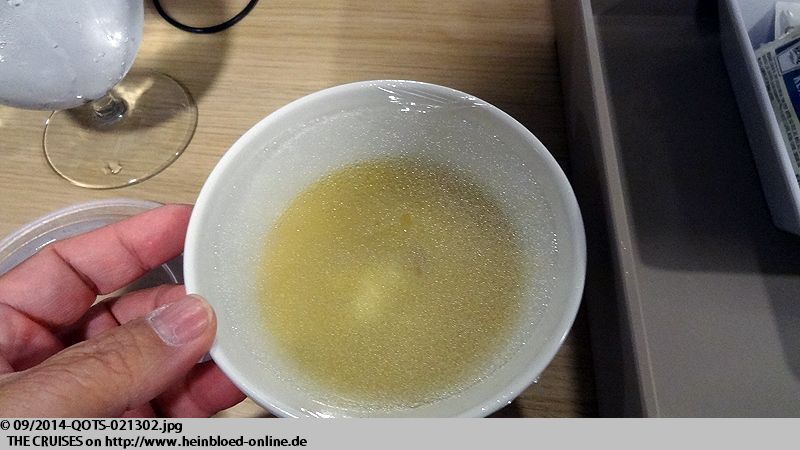 Die Suppe kann ich sehr gut essen.
Der Burger ist leider nicht weich genug, aber die Zwiebeln kann ich gut essen und die Pommes Frites sind wieder aus Kartoffelbrei hergestellt und so zerfallen sie im Mund.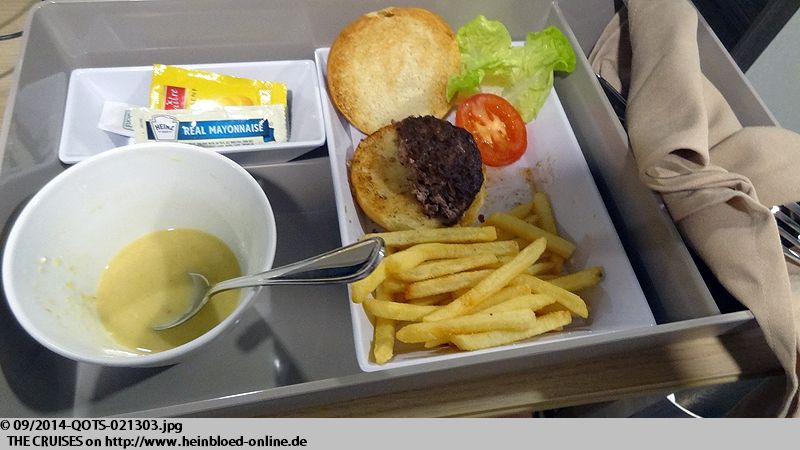 The burger was not soft enough, but it was easy to eat the onions and the French fries which were made of mash potatoes, and so they decayed in the mouth.

Since we had sea movements, they canceled and postponed today's show of Mamma Mia to tomorrow. For this, you could get any tickets anymore and actually, a notary public should record this broadcast of the announcement. They requested all of us to stay in the cabins.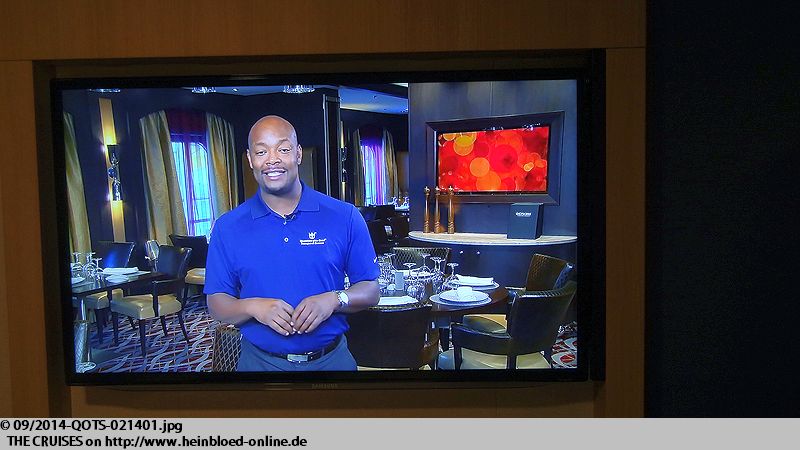 Aufgrund des Seegangs wurde die heutige Vorstellung von Mamma Mia abgesagt und auf morgen verlegt. Dafür bekommt man natürlich keine Karten mehr und eigentlich hätte ein Notar hier die Ausstrahlung aufzeichnen müssen. Auf jeden Fall sollen wir bitte alle in den Kabinen bleiben.
Damit es uns in der Kabine besser aushalten, sind alle bisher kostenpflichtige Filme kostenlos freigeschaltet worden. Und sogar die Filme für Erwachsene.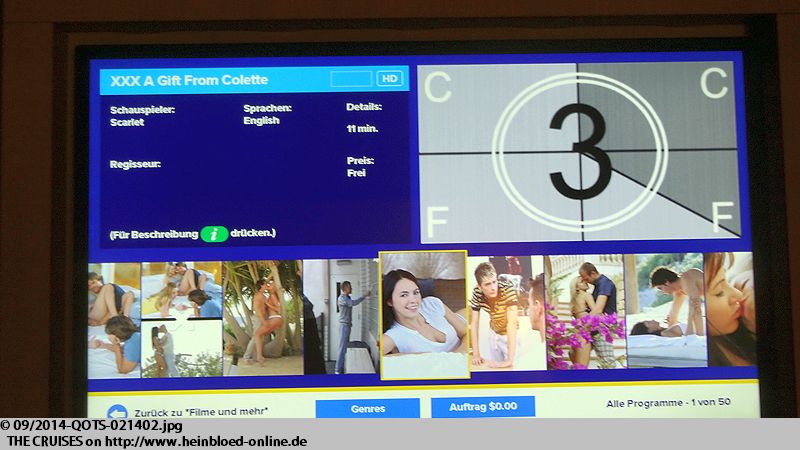 To have it more comfortable in the cabin, they also open all pay-per-view movies for free viewing. Even adults only movies.

And to my great surprise, and something which I never expected for sure: even adult movies for gays, which, however, were very dull. But now I understood why the delivery of the cabin service took a long time: many of them were following the recommendation to stay in the cabins, watched the movies and ordered something to eat in the staterooms ...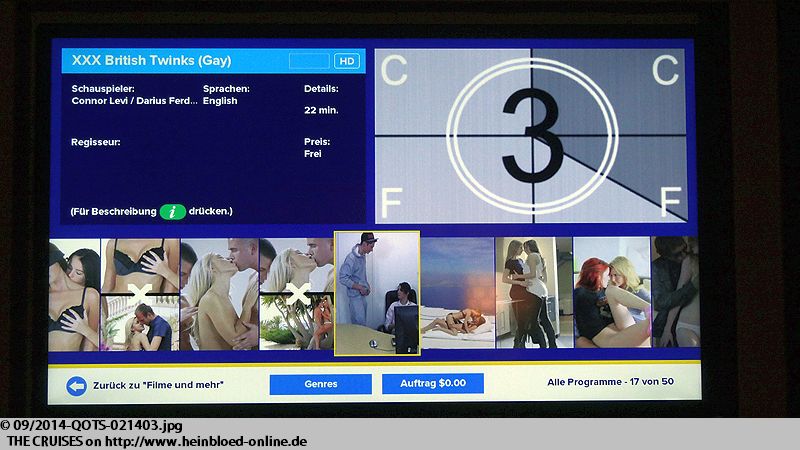 Und zu meiner großen Überraschung und womit ich nie im Leben mit gerechnet hätte: sogar Erwachsene-Filme für Schwule, die allerdings sehr langweilig waren. Nun verstehe ich aber, warum die Lieferung vom Kabinenservice besonders lange dauerte: es sind bestimmt viele der Aufforderung gefolgt, in den Kabinen zu bleiben, sich die Filme anzugucken und sich etwas zu Essen auf die Kabine zu bestellen...
Abends geht es ins Restaurant Grande. Das formelle Restaurant. Ein Jacket ist erforderlich. Irgendwie kann ich selbst etwas Salat (geht sehr gut), Paté, Fisch und etwas Käsekuchen essen. Meine Eltern bestellen sich den Hummer. Sie bitten darum, dass jemand ihn aus der Schale trennt. Ein Maître kommt und sie bekommt wirklich Schweißtropfen, weil sie mit ihm kämpft. Er will nicht raus. Sie erklärt uns, dass es mit der Frische des Hummers zu tun hätte. Nur ein alter Hummer lässt sich einfach aus der Schale holen, lernen wir an diesem Abend... Einmal aus der Schale raus, blieb mal eine Großgarnele übrig... Honi soit qui mal y pense... Ein Schelm, der arges denkt... Es gab aber schöne Momente: z. B. ein halbes Glas Sekt für jeden Gast und die schönen Gläser.

In the evening went to the Grande Restaurant. The formal restaurant. A jacket was required. Somehow I could eat some salad (went very well), pate, fish and some cheesecake. My parents ordered the lobster. They requested that someone should separate it off the shell. A Maître came and got really sweat drops because she fought on it. It did not want to go out. She told us it was about the freshness of the lobster. Only an old lobster could be easily removed out of the shell, we learned that evening ... Once it was out of the shell, only a giant shrimp was left ... Honi soit qui times y pense.... But there were nice moments: like a half glass of sparkling wine for each guest and the beautiful glasses.

Es geht an der Bionic Bar, die vielleicht an wenigen Stunden während der gesamten Woche lief. Meistens sah man doch Techniker, die an den Robotern ihre PCs angeschlossen haben. Nun bekamen wir sogar eine Kostprobe eines Cocktails. Übrigens auch hier muss man 15% Service-Charges auf die Getränkeumsätze zahlen, auch wenn es ein Roboter ist, der einen bedient.
Die anderen Reisen in diesem Blog/
The other voyages in this blog: