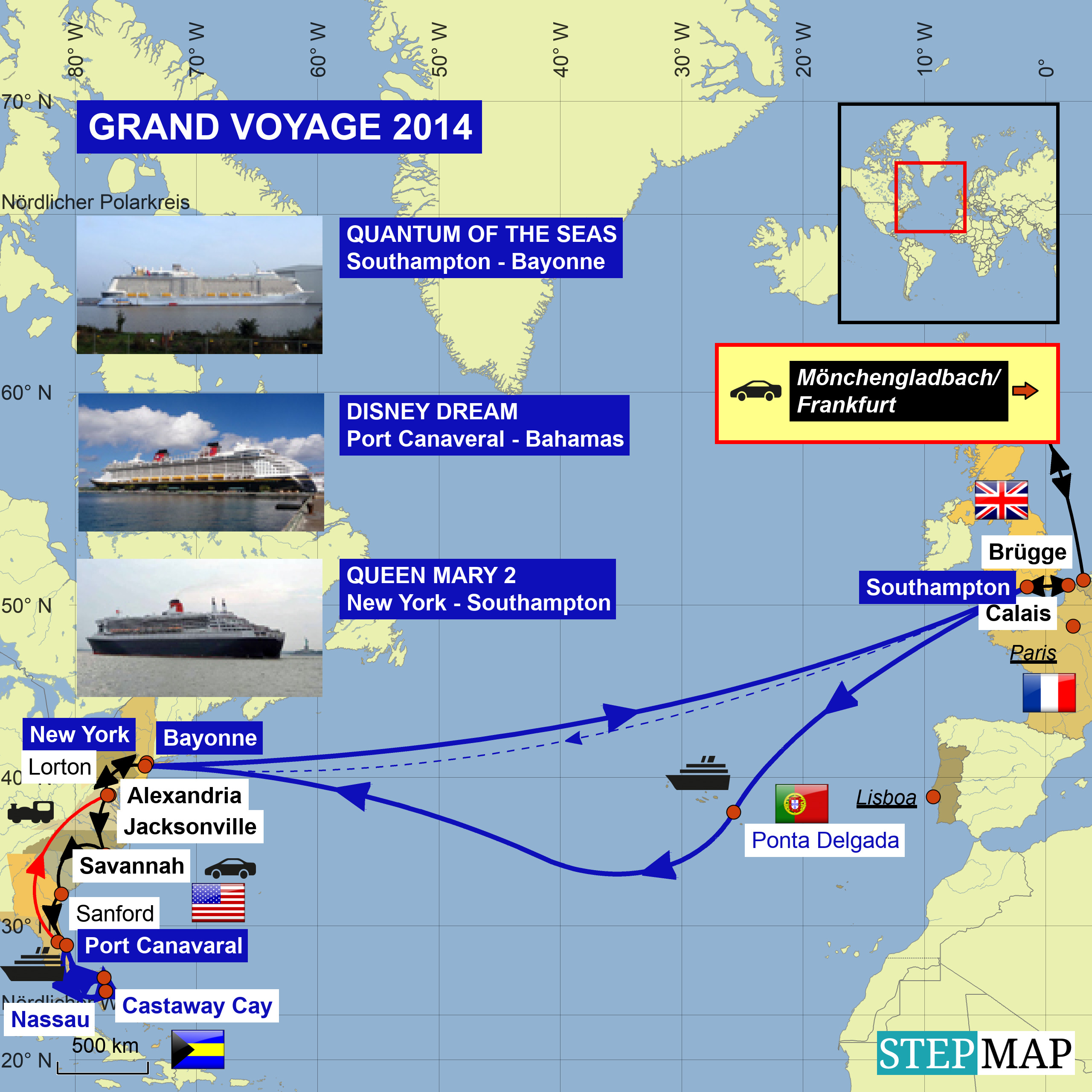 >

Die Internet-Verbindung ist so gut, dass wir es schaffen, sogar meine Schwester und meine Nichte über FaceTime zu erreichen.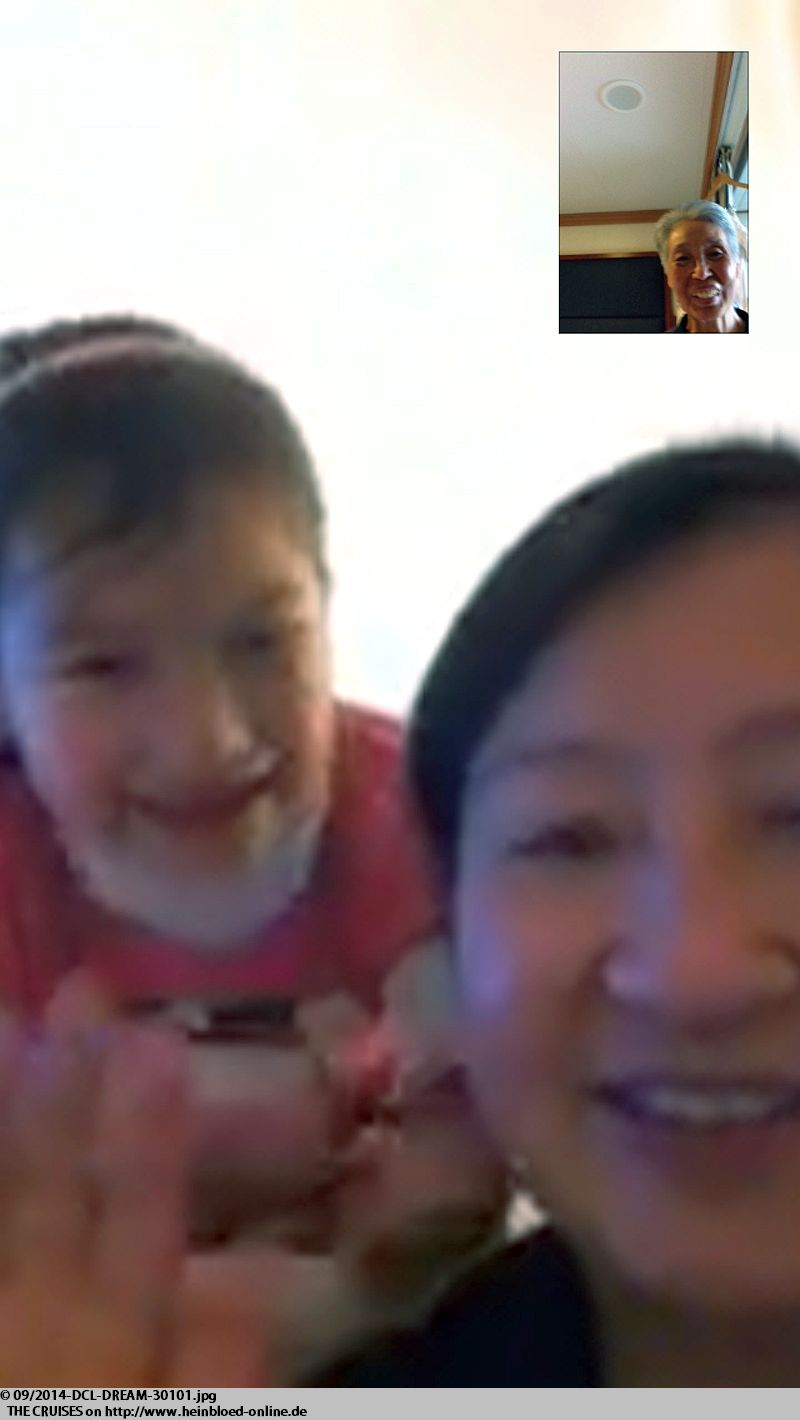 The internet-connection was so well, that we could reach my sister and my niece by FaceTime.

On the TV-screen you could check for the daily programme. My parents got a hanging monkey. To allow kids, who could not read numbers yet, to differ between starboard and port side, they had fishes or seahorses at the cabin numbers. The disembarkation information came. The baggage tags were exciting: no numbers but just colors and Disney characters. The only point I disliked: obviously, you needed to have breakfast at fixed time slots at the time you visited the night before. For our first seating, I meant 06:45 hrs. They had only an offer in the Cabanas who had to leave very early and booked an appropriate transfer, and you could not follow the schedule of the restaurants. In the evening I discovered the coffer which could be used as a table. My laundry was back, and so I could start packing and put it out.

Im Fernsehen kann man auch gut das Tagesprogramm nachlesen. Meine Eltern bekommen einen hängenden Affen. Damit auch Kinder, die noch keine Zahlen lesen können, zwischen Backbord und Steuerbord auseinander halten können, gibt es Fische und Seepferdchen an den Kabinennummern. Es kommen dann auch die Ausschiffungsinformationen. Die Gepäckanhänger begeistern: keine Nummern oder bloß Farben, sondern die Disney Charakteren. Das einzige, das mich stört: offensichtlich muss man am letzten Morgen zu festen Tischzeiten frühstücken und zwar im Restaurant, das man zuletzt abends besucht hat. Für uns mit der 1. Tischzeit bedeutet das 06:45 Uhr. Ein Angebot im Cabanas gibt es nur für Gäste, die sehr früh von Bord müssen, weil ein entsprechend früher Transfer gebucht ist und man dann sich nicht an die Zeiten in den Hauptrestaurants halten kann. Abends entdecke ich noch die Truhe, die als Tisch genutzt wird. Meine Wäsche ist zurück und so kann ich noch rechtzeitig meine Koffer packen und rausstellen.
Im Enchanted Garden wird das Frühstück teilweise als Büffet serviert.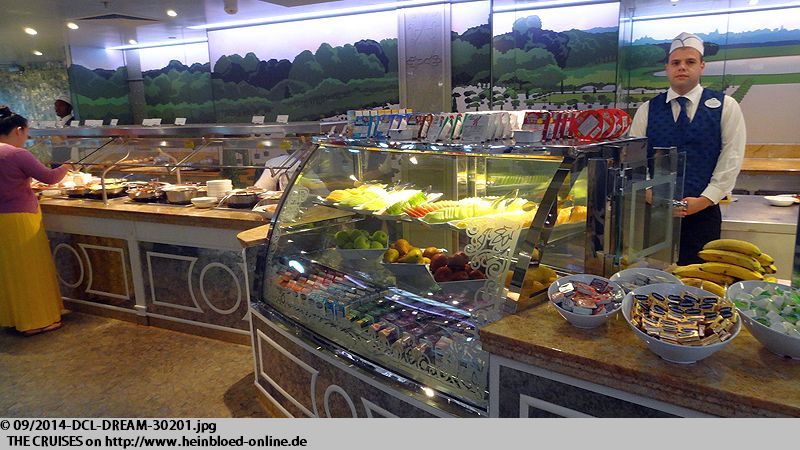 In Enchanted Garden the breakfast was served partly as buffet.

It was such a mix form because most you could get at the buffet and beverages and à-la-carte items you could order at your table.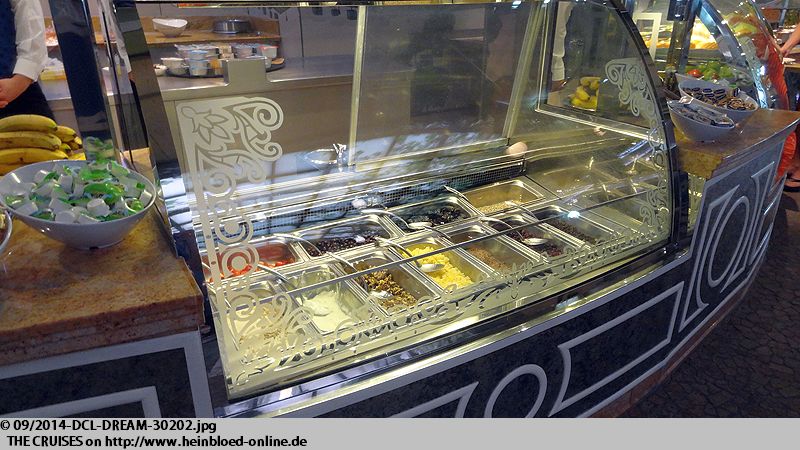 Das ist dann so eine Mischform, weil man viele Speisen am Büffet holt und Getränke und einige à-la-carte-Speisen am Platz serviert.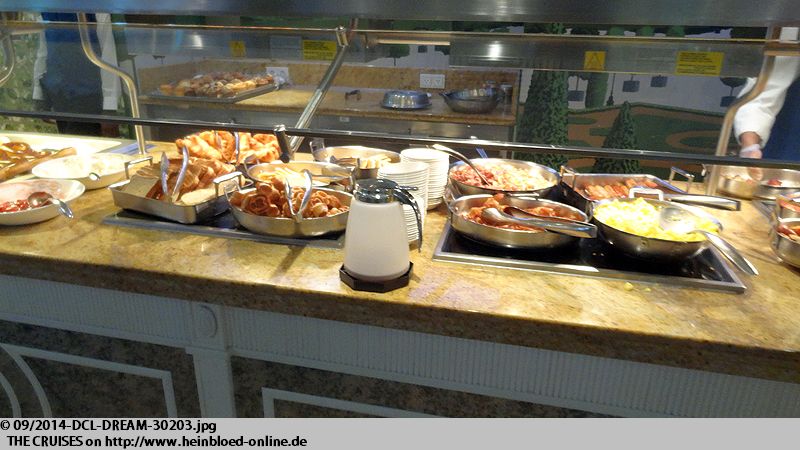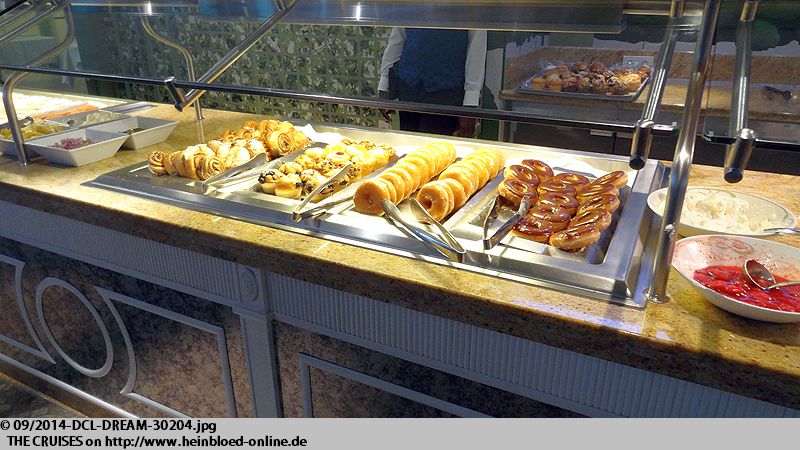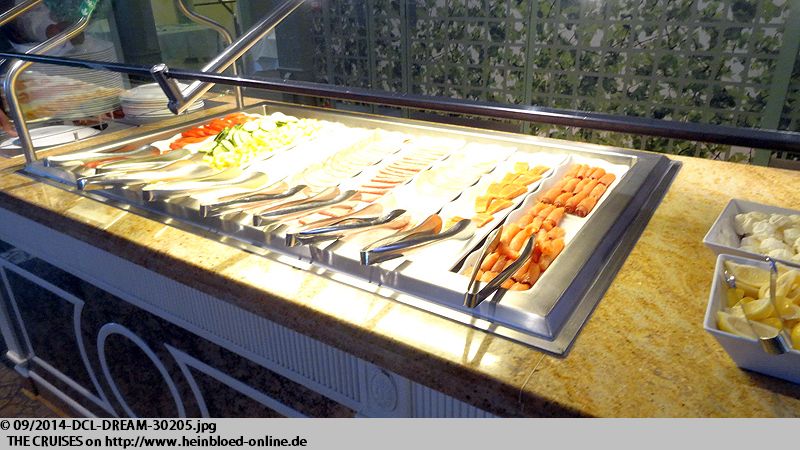 I went again to the Royal Palace and decided again for the buckwheat-omelet with eggwhite-filling. Very healthy and very yummy.

Ich gehe wieder zum Royal Palace und habe mich wieder für den Buchweizen-Omelette mit Eiweiß-Füllung entschieden. Sehr gesund und sehr lecker.
Und wieder wird der Haupteingang für die Disney-Prinzessinnen geschlossen.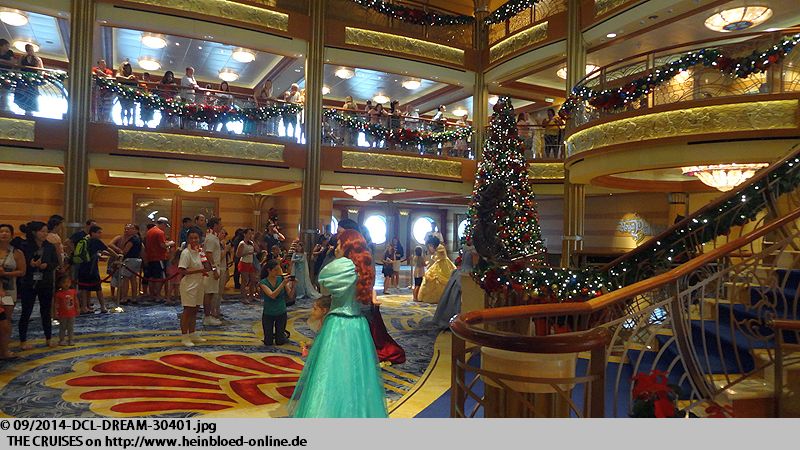 And again they closed the main entrance for the Disney-Princesses.

It was so cute to observe them.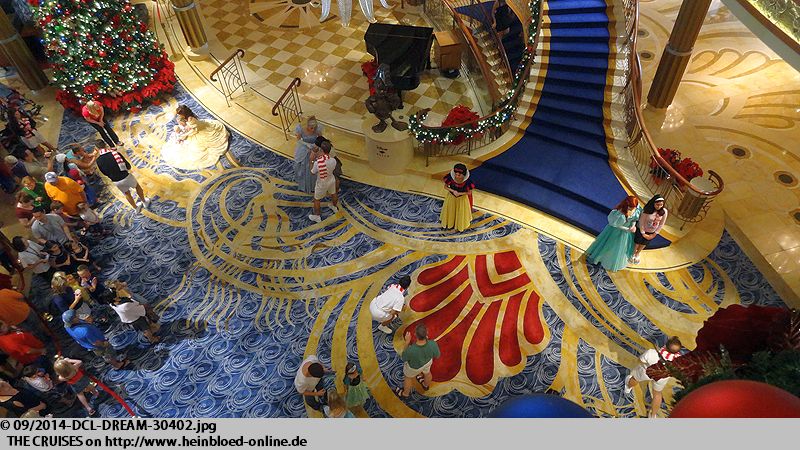 Es ist einfach so schön zu zugucken.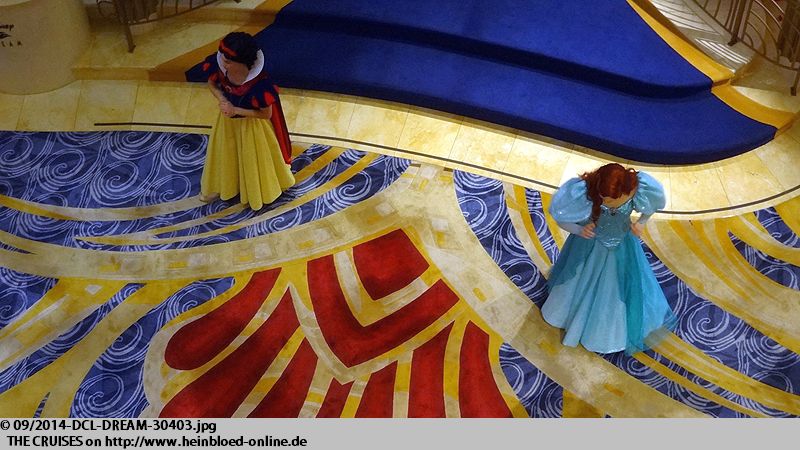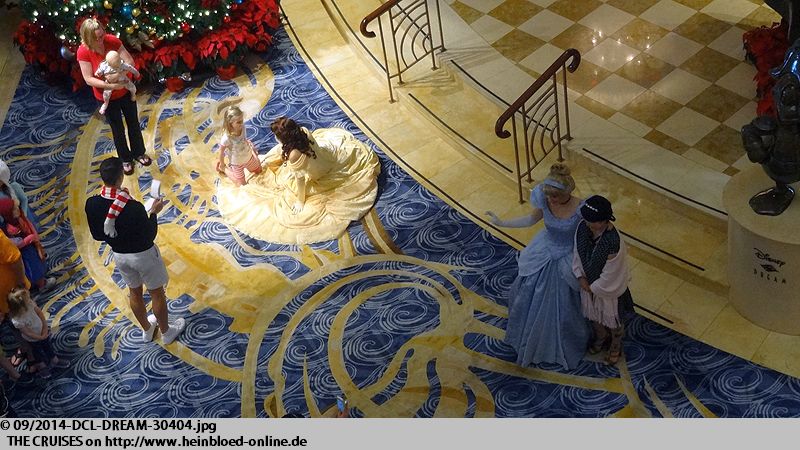 Es regnet noch und es ist weihnachtlich vor dem Schiff. Erinnert mich zu sehr an Deutschland. Da es im Moment noch sehr schwül ist, gehen wir kurzerhand zurück an Bord und gucken uns die Insel vom Schiff aus an.

It was raining again and it was quite christmassy.

Standing onboard was easy. On the big screen on the open deck, they showed "Mary Poppins"...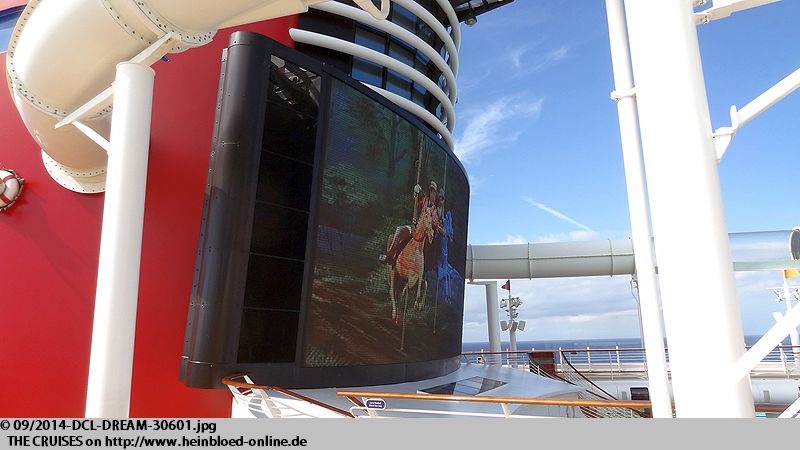 An Bord lässt es sich gut aushalten. Auf dem großen Bildschirm an Deck läuft "Mary Poppins"...
Kein Wunder, dass meine Eltern nicht von Bord wollen. Sie waren ja gestern hier im Cabanas schon zum Mittagessen. Sehr schön: die Türen zu den Außenplätzen gehen automatisch auf, damit man mit vollen Händen gut alles rein- und raustragen kann. Ansonsten mit den Krebsscheren am Mittagsbüffet (Ich rede nicht von einem Gala-Dinner im Hauptrestaurant!) haben sie natürlich ein ganz tolles Angebot in einem SB-Restaurant geschaffen.

No wonder that my parents did not want to leave the ship. They were for lunch yesterday already here. Very nice: the doors to the outdoor seats opened automatically so you could get in and out with full hands. By offering crab claws at the lunch buffet (I was talking of a gala dinner in the main dining room!) they created certainly a great offer in a self-service restaurant.

The aft area of Deck 12 was a kids-free zone for gourmets. Here you had the two alternative restaurants Palo and Remy who shared a lounge. Palo was the rudder of the Venetian gondolas.

Der Heckbereich von Deck 12 ist eine kinderfreie Zone für Genießer. Hier befinden sich die Zuzahlrestaurants Palo und Remy, die eine gemeinsame Lounge sich teilen. Palo ist die Bezeichnung der Ruder der venezianischen Gondilieren.
Remy ist der "rattige" Koch aus dem Film "Ratatouille". Ich würde ja so gerne dahin, aber bei drei Nächten auf eine der drei Hauptrestaurants zu verzichten, wäre schon blöd. Das muss ich mir mal für eine weitere Reise aufheben. Die Zuzahlung ohne passende Weine beträgt 75,00 USD (2014).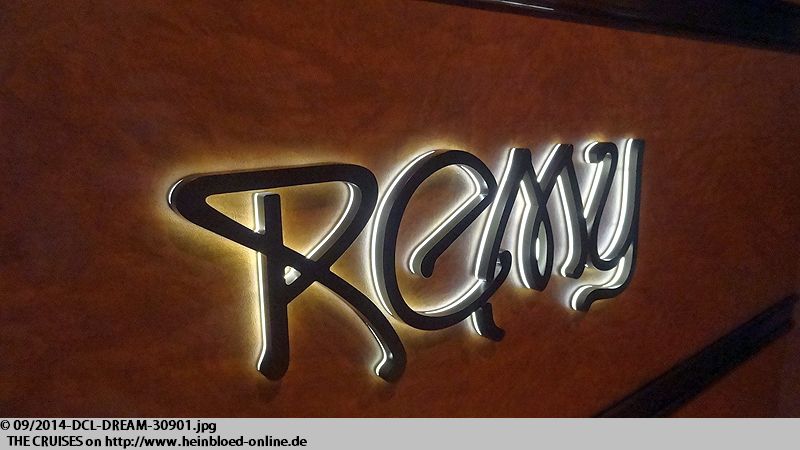 Remy was the "rat" chef from the movie "Ratatouille". I really would love to go but with three nights to waive one of the three main dining rooms would be sad. So I need to save this for another cruise. The cover charge was without pairing wine 75.00 USD (2014).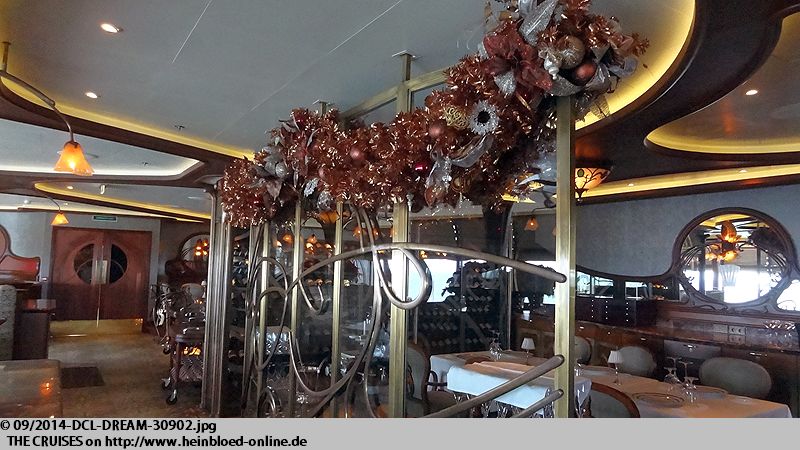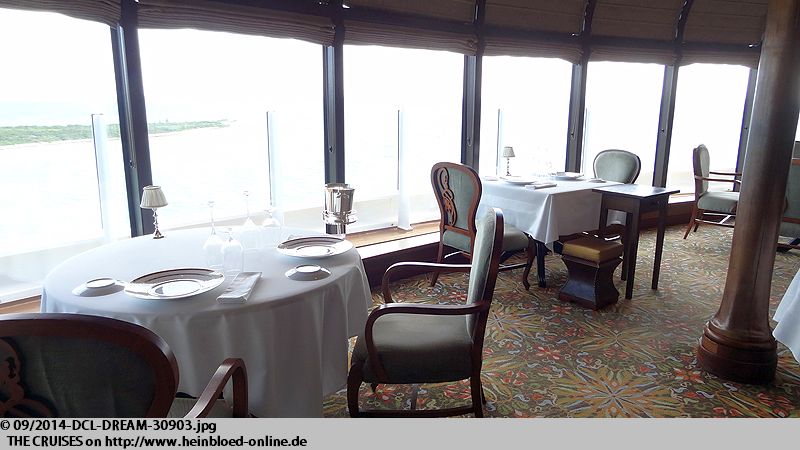 You could enlarge the menu by clicking on the pictures.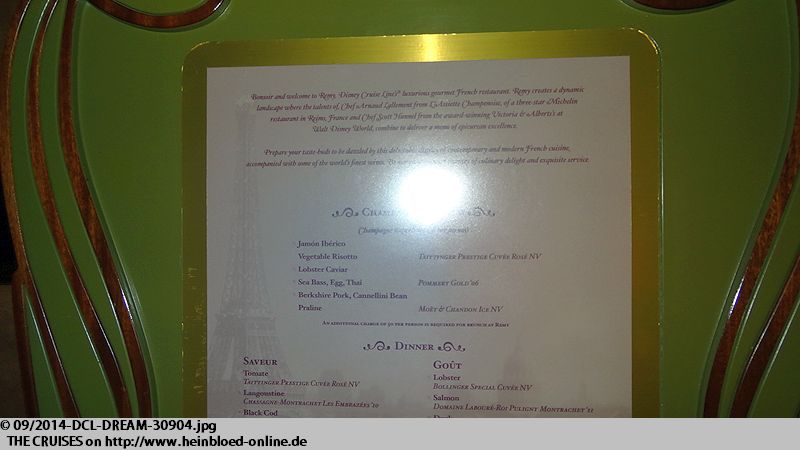 Die Karten lassen sich durch Anklicken der Bilder vergrößern.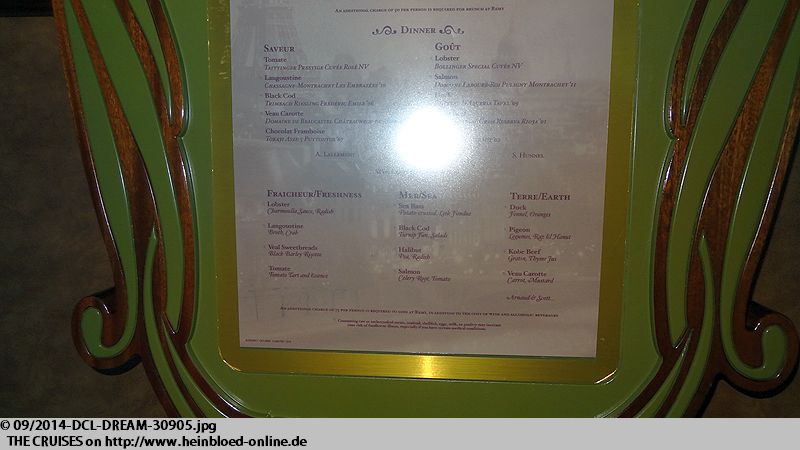 The laundrette could be used without change. It worked all by cruise card.

Die SB-Waschsalons sind ohne Münzen bedienbar. Alles läuft über das Bordkonto.
Ein Blick für die Familien in die Kinderbereiche: so grob: 2/5 des Deck 5 etwa und auch noch auf Castaway Cay. Die zwei Clubs mit die "mittleren" Alter sind miteinander verbunden. Als ich es mir ansehe, ist jedoch nur ein Bereich an Bord geöffnet, weil die meisten ja draußen auf Castaway Cay sind.

A view for the families into the kids' area: roughly: 2/5 of Deck 5 and same on Castaway Cay. The two clubs for the "mid-age" kids were connected. When I was looking around, it was only one area open, because most were outside on Castaway Cay.

For the smallest guests on board, they also had an area of their own.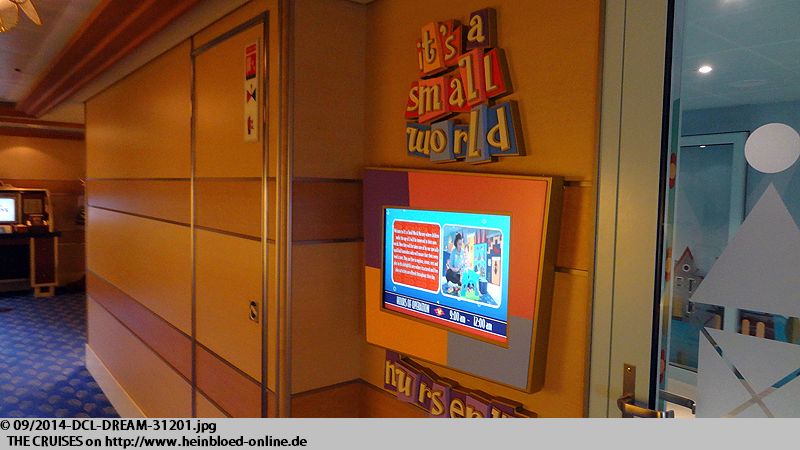 Für die kleinsten Gäste an Bord gibt es ebenfalls einen eigenen Bereich.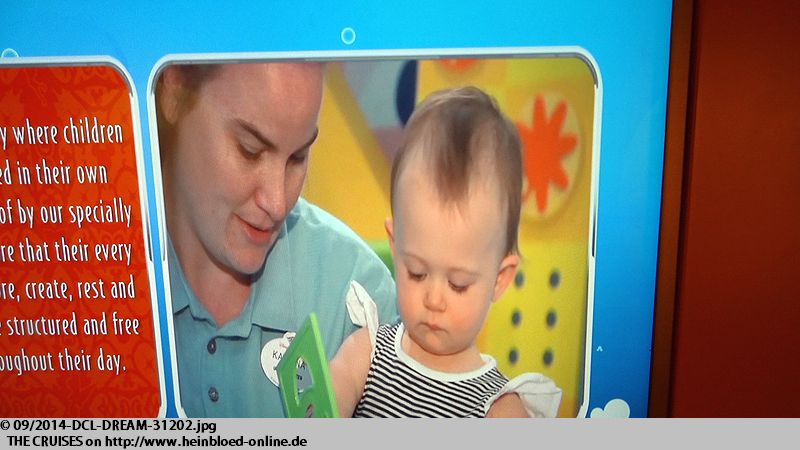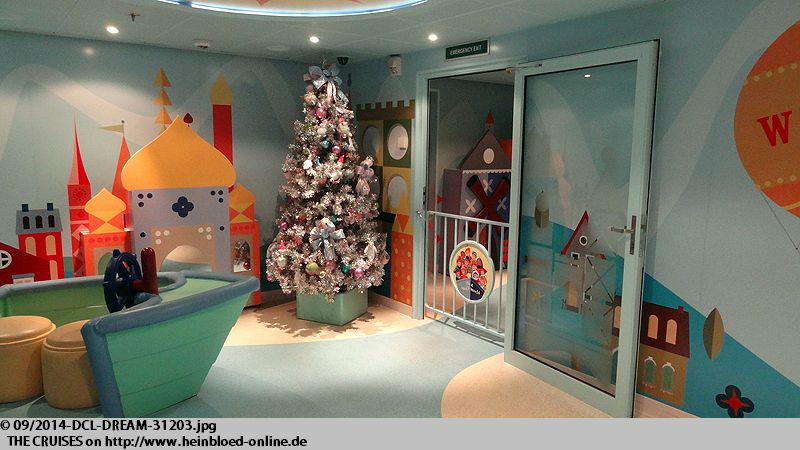 Für die Teenies gab es dann einen eigenen Bereich im Heck, der sich über das Promandendeck erreichen lässt. Ist leider derzeit geschlossen, aber es macht einen farbenfrohen Eindruck.

Für the teens they had an area of their own at the aft which could be reached via the promenade deck. It was currently closed, but it made a vivid impression.

I was browsing around the ship. You could participate in a detective play on board to become familiar with the ship in a playful way. Shore excursions were called "Port Adventures" and for my taste, they seemed to be more expensive than with the others. Very nice were the "historical" sea maps. They showed in the Buena Vista Theatre the recent Disney movie hits. You could walk around the promenade deck, but it did not look so good anymore. I bought myself a Disney T-Shirt. And the bottles of alcohol were delivered to the cabins.

Ich sehe mich noch ein wenig auf dem Schiff um. Man kann sich an einem Detektiv-Spiel an Bord beteiligen, um das Schiff spielerisch kennen zu lernen. Ausflüge heißen hier "Port Adventures" und ich empfinde sie als einiges teurer als bei anderen. Schön sind jedoch die "historischen" Seekarten. Im Buena Vista Theatre werden die neuesten Disney-Kinohits gezeigt. Die Außenpromenade kann man rund herum laufen, nur sieht es dann leider nicht mehr so schön aus. Ich kaufe mir ein Disney-T-Shirt. Und die Alkohol-Flaschen in die Kabinen zugestellt.
Mal gucken was es in den drei Essensausgaben am Pool Deck (Flo's Café) alles zum Mittagessen gibt:

Let me check what the three food outlets on the pool deck (Flo's Café) offered for lunch: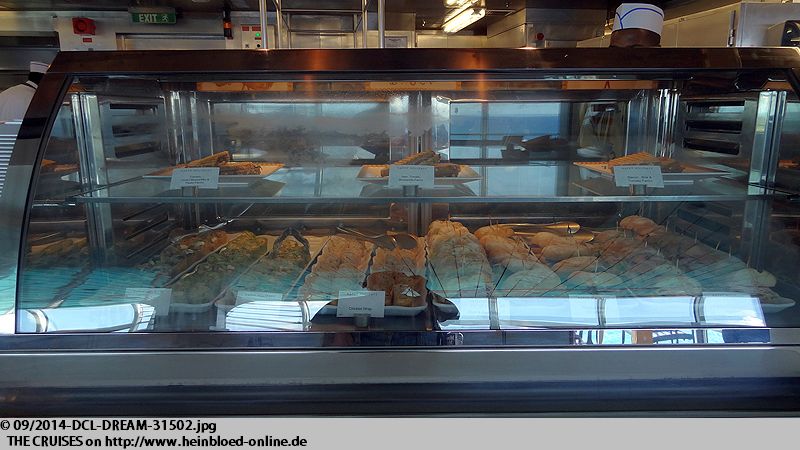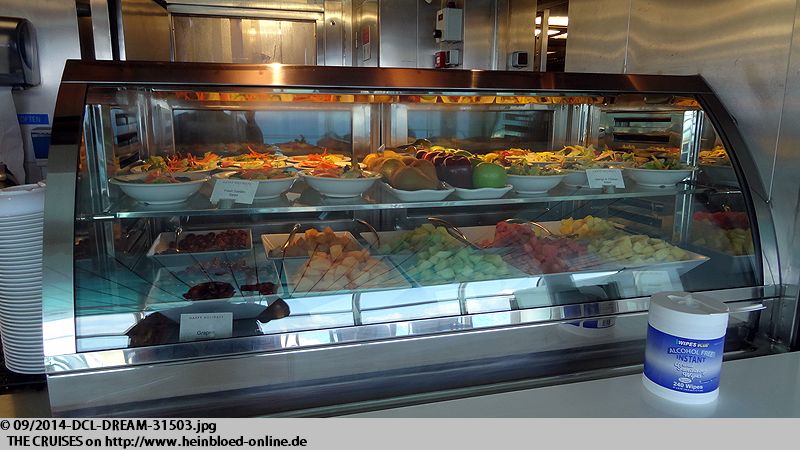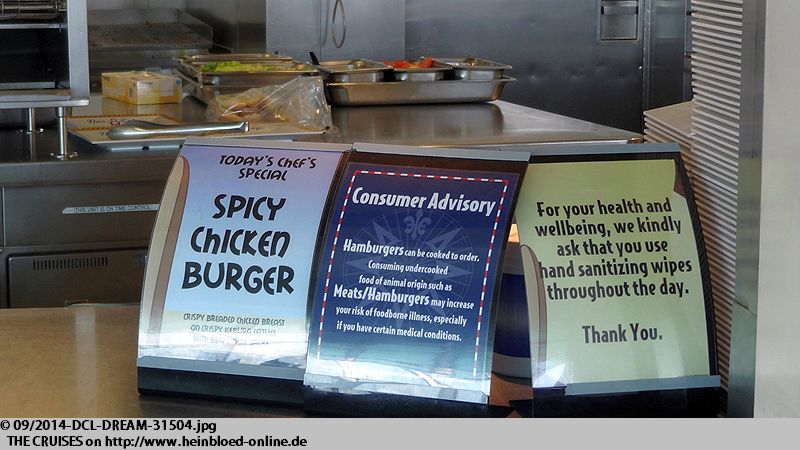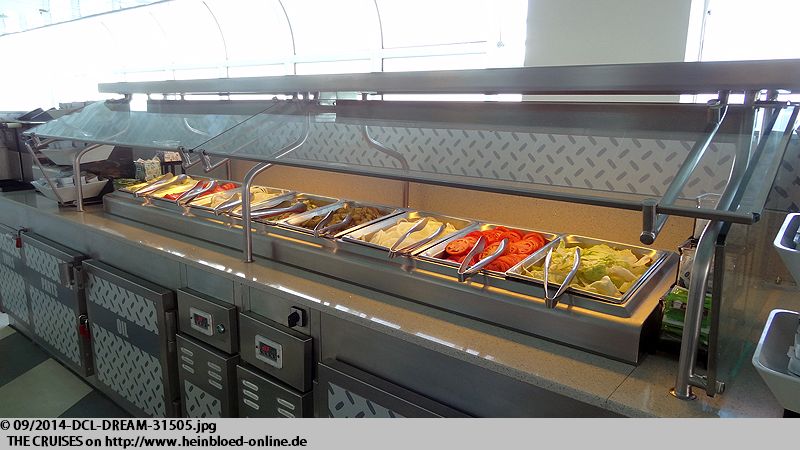 I was wet, when I returned from AquaDuck. Because mostly everyone was ashore, I had to wait only eight minutes. Unfortunately, there were no pictures made of this event. Carrying a camera with you was strictly forbidden and they checked it. Even hiding in the brand new pocket of Royal Caribbean was not helpful. Unfortunately there were no lockers for valuables around.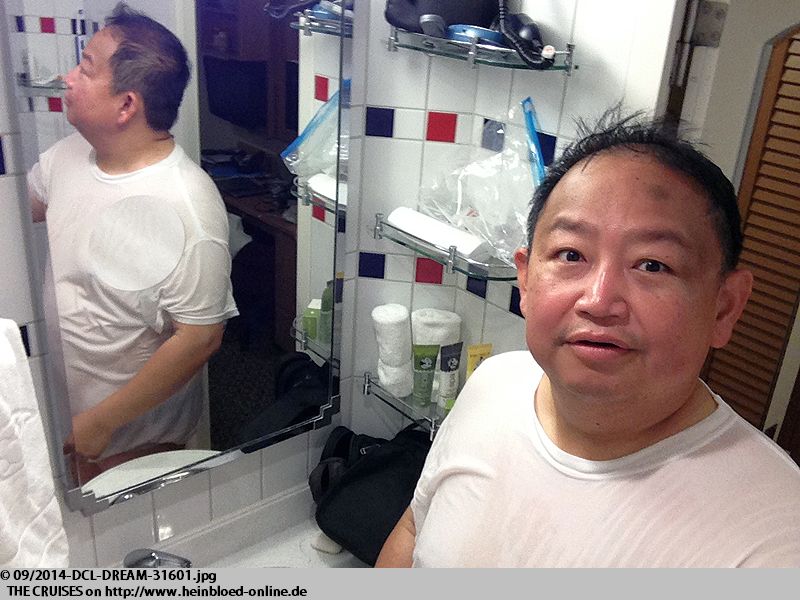 Ich bin klatschnass, weil ich vom AquaDuck wiederkomme. Weil alle an Land sind, habe ich gerade mal ca. acht Minuten gewartet. Leider gibt es keine Bilder davon. Die Mitnahme einer Kamera ist streng verboten und wird auch entsprechend kontrolliert. Auch das Verstecken in meiner neuen wasserdichten Tasche von Royal Caribbean hilft nichts. Leider gibt es auch keine Schließfächer für die Wertsachen.
Insgesamt hat es sehr viel Spaß gemacht.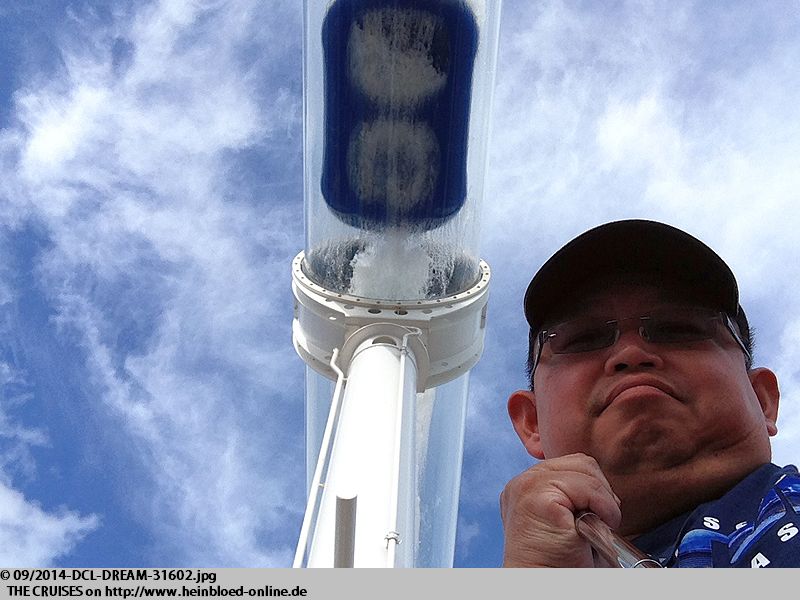 Generally spoken, it made a lot of un.

That we were partly above the sea (or here above the pier), you did not notice it at all.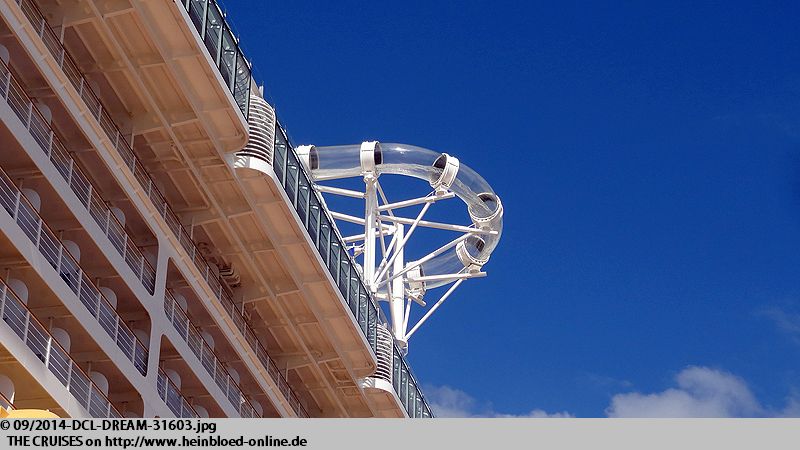 Dass man über der See (in dem Fall über dem Pier) ist, bekommt man selbst kaum mit.
2. Versuch des Landgangs. Weil es zwei Ausgänge gibt, schaffe ich es nicht meine Verwandten anzutreffen. Für Gäste, die eine private Cabana auf der Insel gebucht haben, steht ein besonderer Shuttle-Service zur Verfügung.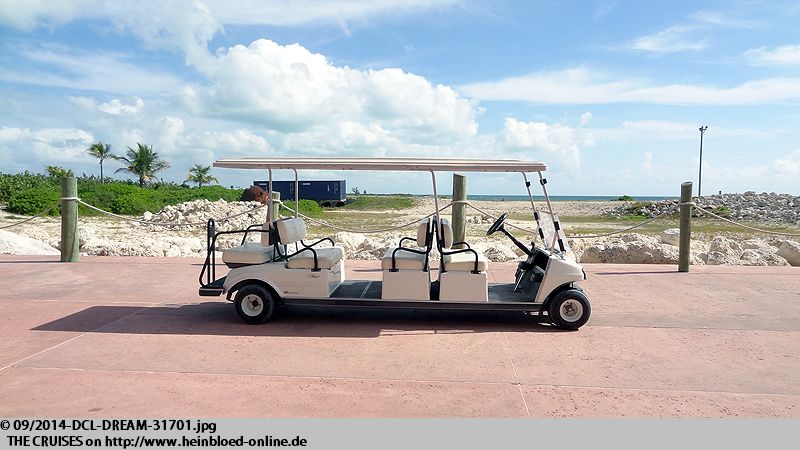 2nd trial to go ashore. Because they had two exits, I did make to meet my relatives. For guests who booked a private cabana on the island, they provided a special shuttle-service.

Since the wind blew away the humidity, it was well to stay here. Unfortunately, I had no shorts with me. That would be perfect: Pictures in shorts in front of a Christmas tree with blue sky.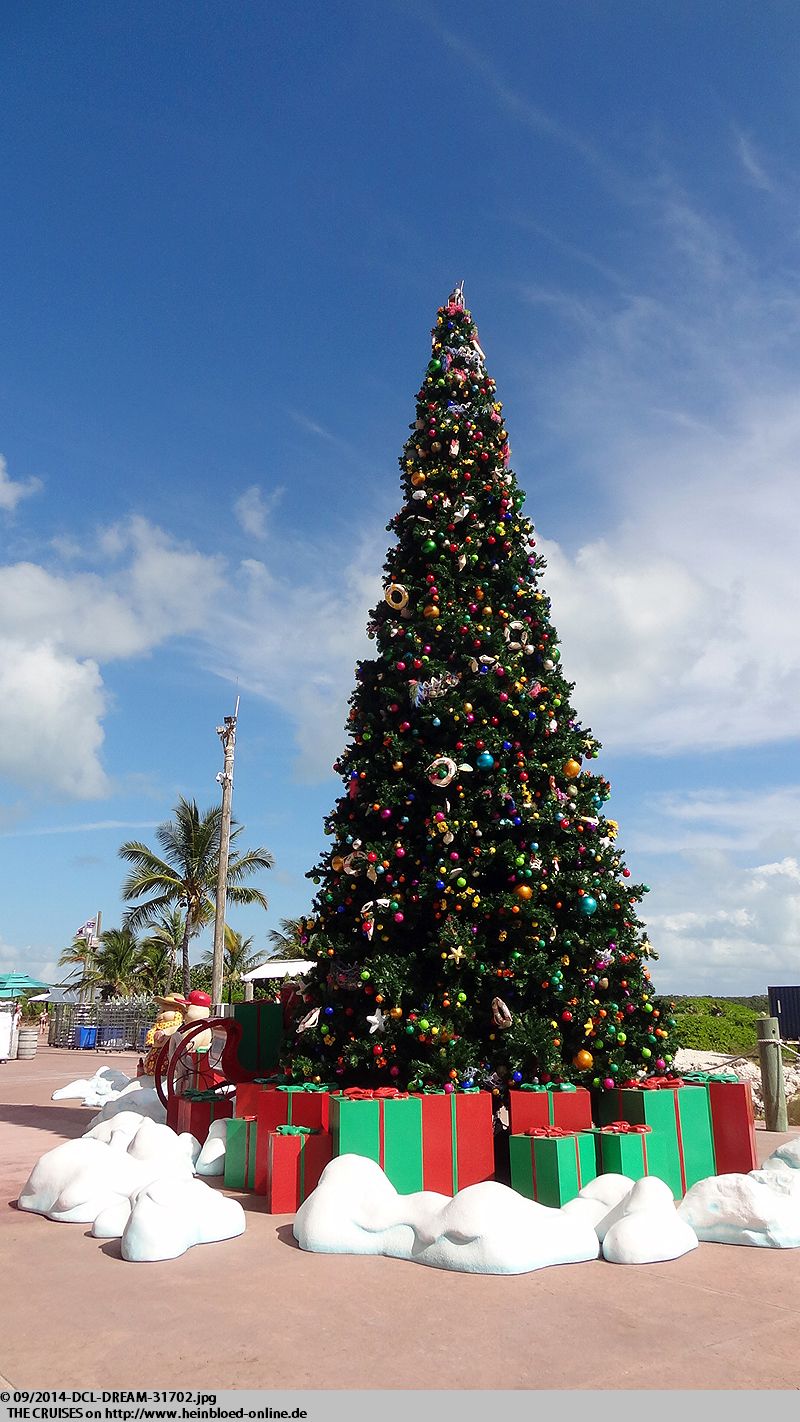 Da der Wind die Schwüle weggeblasen hat, lässt es sich hier gut aushalten. Leider habe ich keine kurzen Hosen mit. Das wäre es gewesen: Bilder in kurzen Hosen vor einem Weihnachtsbaum mit blauem Himmel.
Auch auf der Insel gibt es Aktivitäten, die man gegen Entgelt buchen kann. Man wird mit einer "Bahn" zu den wichtigsten Punkten der Inseln gefahren. Und am Schluss wenn man wieder an Bord kommt, gibt es das gleiche Angebot, als wenn man von einem anderen Landgang wiederkommt.

Also on the island they offered activities against fee. You were taken by a "train" to the most important spot of the island. And when you finally returned to the ship, you find the same offers as you know from another trip ashore.

A few selfies were a must.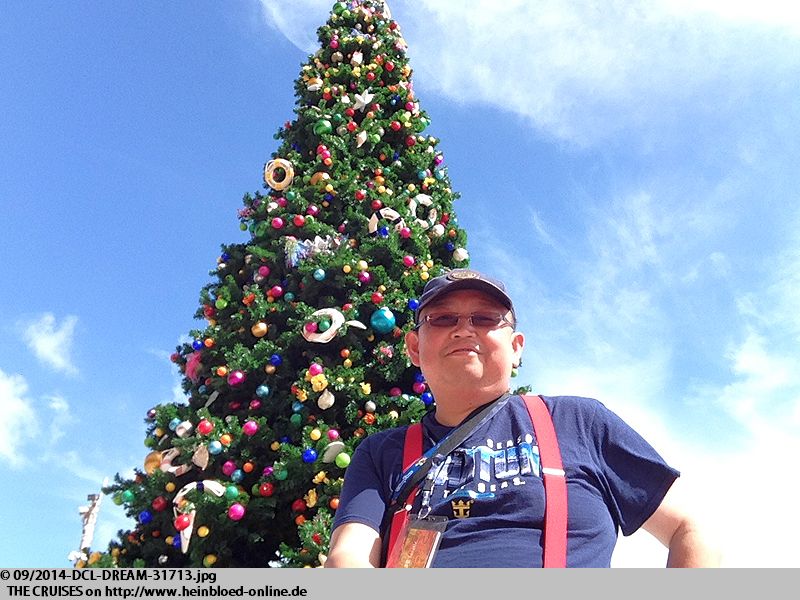 Ein paar Selfies müssen sein.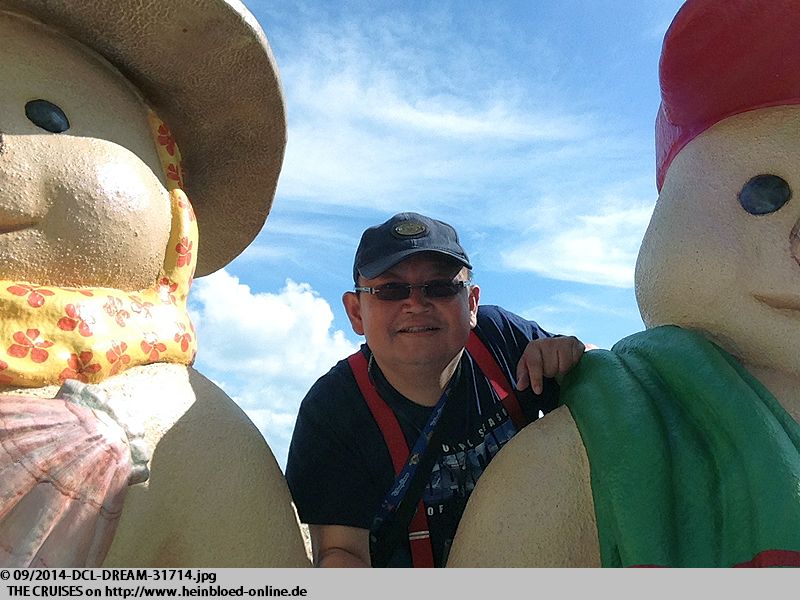 My favorite selfie with Olaf, the snow man from "Frozen".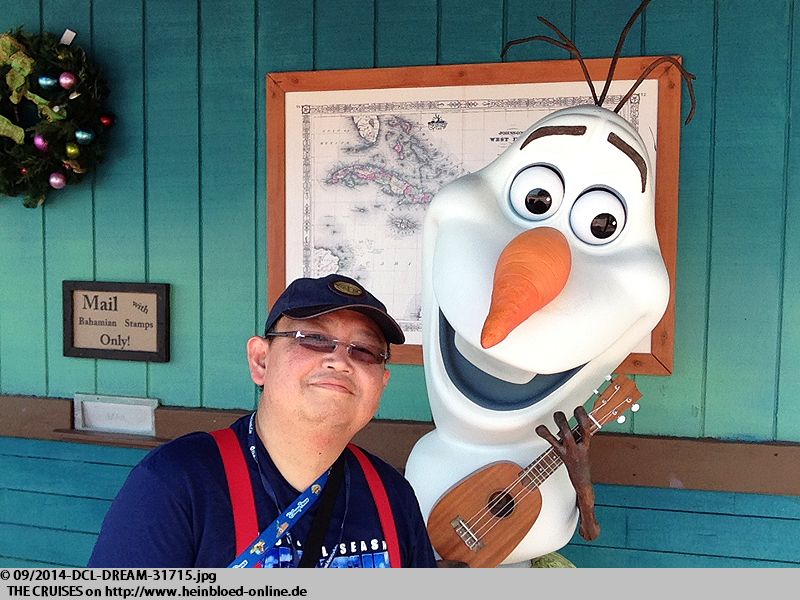 Und mein Lieblings-Selfie mit Olaf, dem Schneemann aus "Die Eiskönigin". In der deutschen Synchronfassung von Hape Kerkeling gesprochen.
Es gibt einen Anschlussverkehr zum Erwachsenen-Bereich der Insel: zur Serenity Bay. Hier treffe ich auch meine Verwandtschaft wieder.

The had a connecting transfer to the adult area of the island: the Serenity Bay. Here I met my relatives again.

Here they offered an own barbeque station - but also only for adults. I could not see any kids. The barbeque was typical American. The buffet onboard was better, but I could not make it right on time back. I was surprised to read the expiration date of the chips: January 2013? Later I found out: it stood for January, 13.

Hier gibt eine eigene Barbeque-Station - auch nur für Erwachsene. Kinder sehe ich hier keine. Das Barbeque ist aber sehr typisch amerikanisch. Das Büffet an Bord ist besser, aber leider schaffe ich es nicht mehr rechtzeitig zurück. Verwundert bin ich jedoch über das Mindesthaltbarkeitsdatum der Chips: Januar 2013? Später stellt sich heraus, dass es 13.01. bedeutet.
Vom Strand her sind ein paar gute Aufnahmen vom Schiff möglich.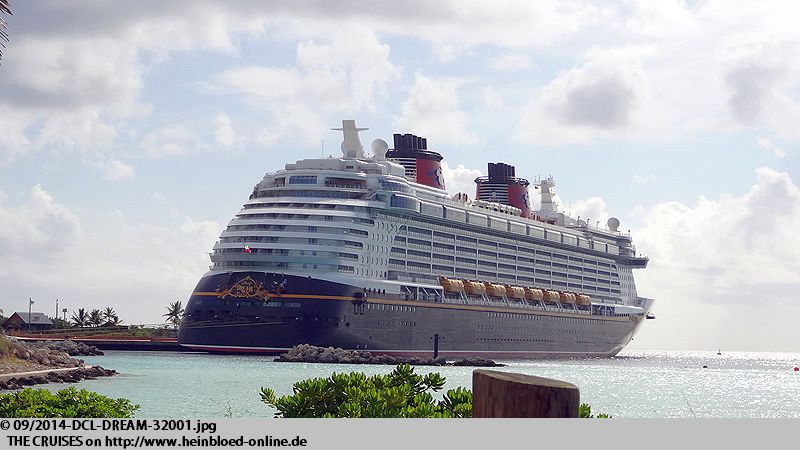 From the beach you could take some great shots of the ship.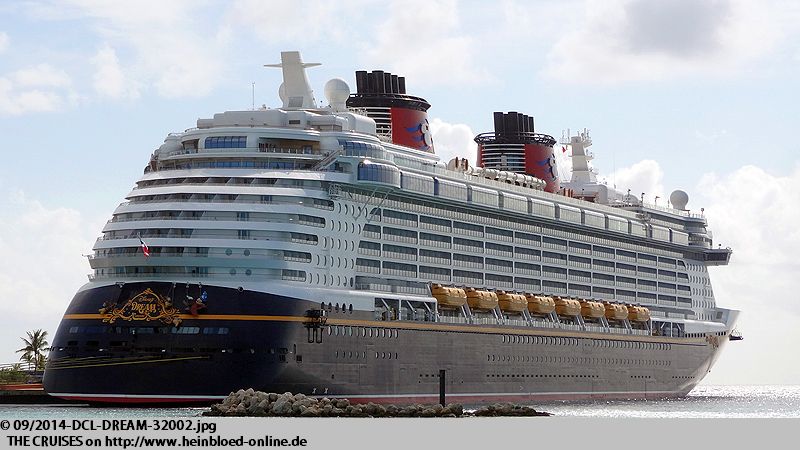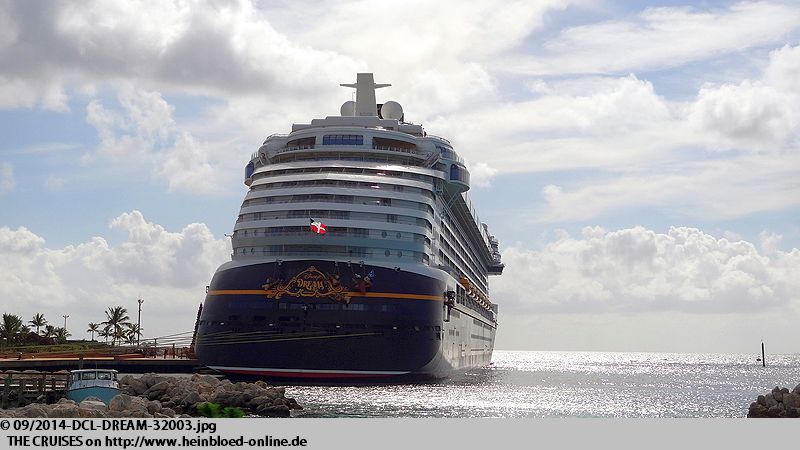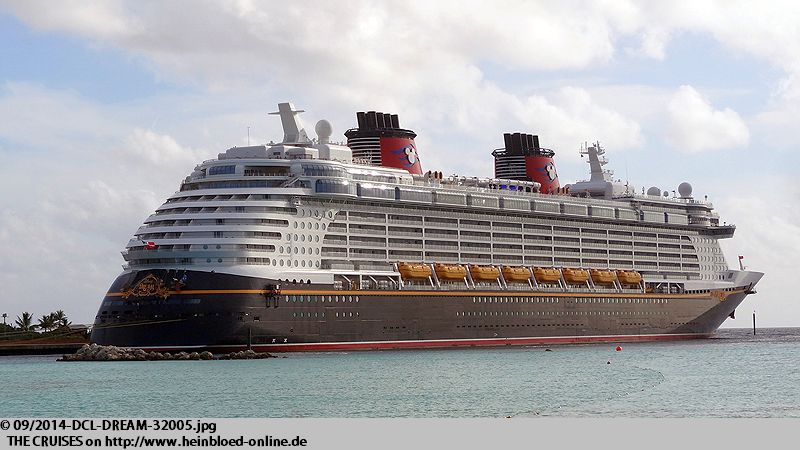 I ordered some food from the room service. So sad, that both soups were so good at all.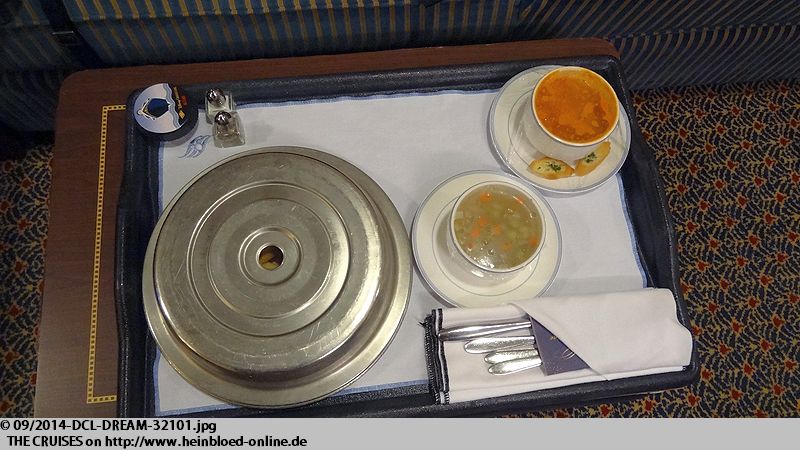 Ich bestelle mir etwas vom Zimmerservice. Schade, dass beide Suppen nicht so gut sind.
Da helfen dann oft 3-4 Pommes, die im Mund wieder zu Kartoffelbrei zerfallen und ein paar Scheibchen feines Rind aus dem Steak-Sandwich. Nur ist das leider kein Philly-Cheese-Steak-Sandwich und daher wird ein Minuten-Steak wie vom real verwendet, so dass ich das nicht essen kann. Beim nächsten Mal gehe ich erst nach dem Mittagessen von Bord.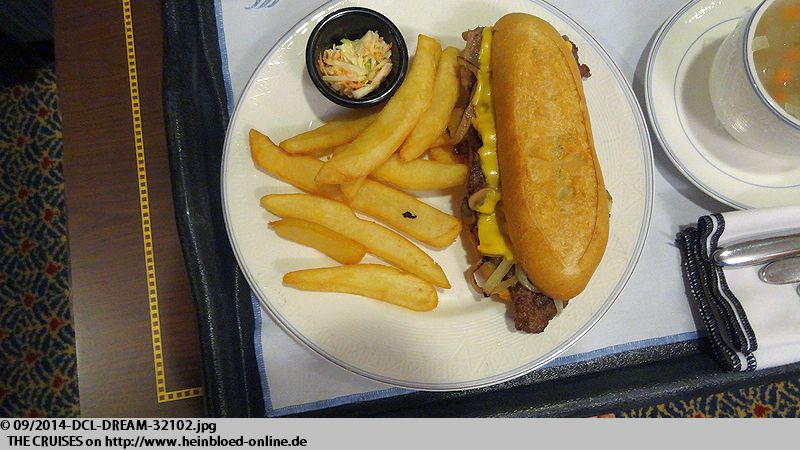 So 3-4 French fries were helpful which were formed again to mash potatoes is your mouth and a few thin slices of beef from the steak sandwich. But it was not a Philly-Cheese-Steak-Sandwich, and they used a minute-steak like you had at Wal-Mart which I could not eat. Next time I would leave the ship after lunch onboard.

I called to have the tray collected, but they told me just to leave it in front of the door like in a typical American Motel/Hotel. Something I did not like.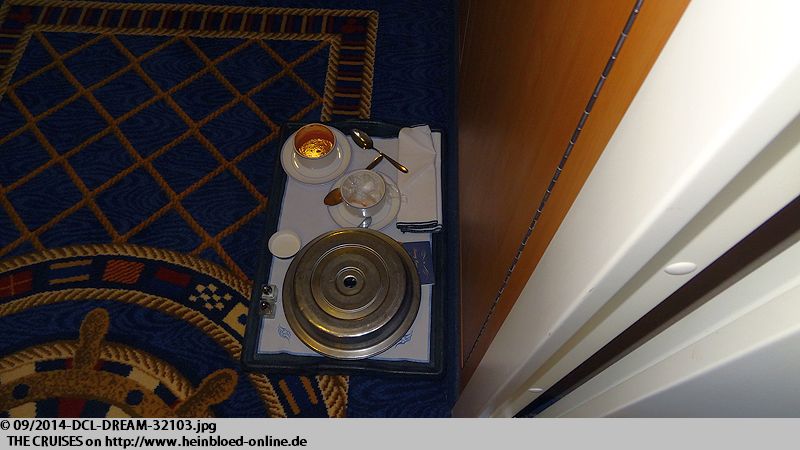 Ich rufe an, damit das Tablett abgeholt wird, aber mir wird gesagt, dass ich es einfach, wie in einem amerikanischen Motel/Hotel üblich vor die Tür stellen soll. Das mag ich ja gar nicht.
Eine 3. Runde Landgang folgt. Später sieht man auch die abgesagten Angebote. Matt Bruno tut mir sehr leid. Er spielt so toll, aber irgendwie für das falsche Publikum: es ist kein Mensch da, der zuhört, weil alle schon wieder im Aufbruch sind. Die Insel ist ansonsten voller Verkaufs- und Verzehrsbuden. Ich lasse mich am Schluss des Landgangs nochmals mit Ahörnchen und Behörnchen fotografieren.

A third-round ashore followed. Later I could also see the offers they had to cancel. I felt sorry for Matt Bruno. He was playing so wonderful, but it was for the wrong audience: nobody was around to listen because everyone was on the jump. The island was full of sales and food outlets. At the end I let them take a picture of Chip'n'Dale and me.

It was also possible to deliver the kids here at the kids' club and to amuse without the kids then.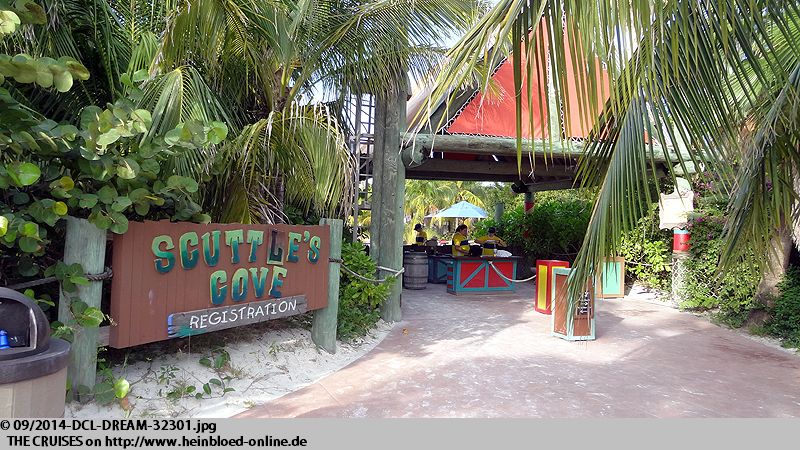 Man kann auf der Insel auch seine Kinder hier im Kinderclub abgeben und sich dann ohne Kinder amüsieren.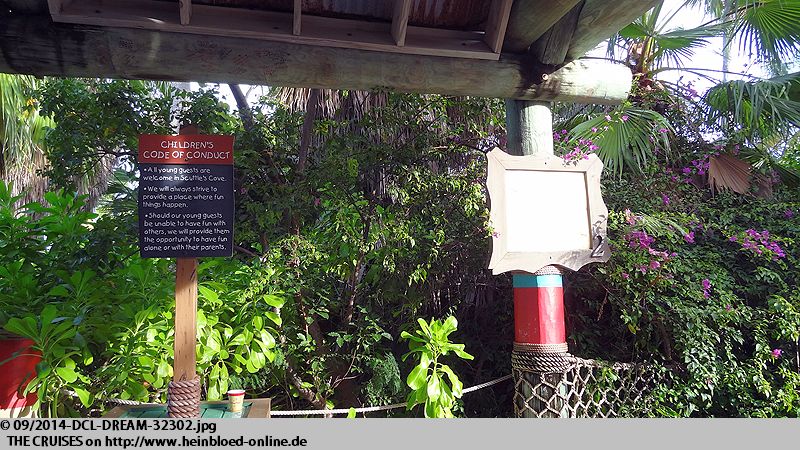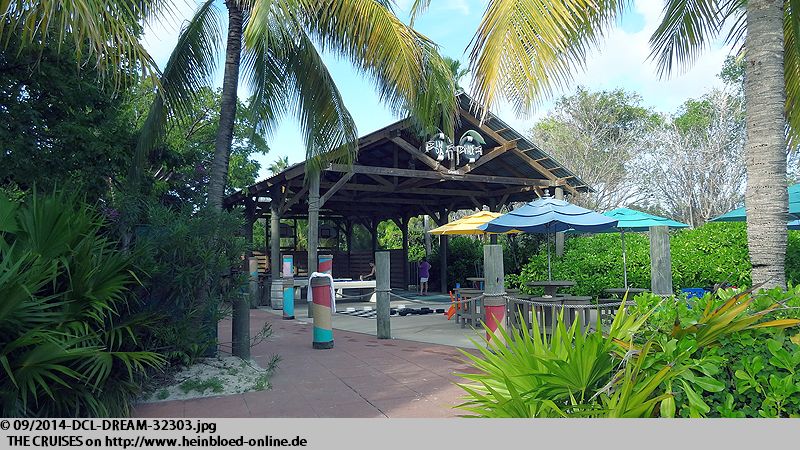 Zum Abendessen geht es in das Animator's Palate. Es ist denjenigen gewidmet, die die Disney-Zeichentrick-Charakteren zum Leben erweckt haben. Heute erleben wir einen perfekten Abend: auch heute sind wir wieder zu fünft an einem 8-er Tisch. Nur ist er dieses Mal nur für fünf gedeckt und so ist es um einiges gemütlicher. Heute ist nicht der Wurm drin und alles wirklich perfekt. Am Schluss wird getanzt. Nicht nur die Kellner sollen den Anweisungen vom Bildschirm folgen, sondern auch die Gäste. Beim Dessert erwartet mich eine Überraschung: passend zum Thema des Restaurants: ein kulinarischer Malkasten. Man weiß eigentlich nicht, wie man sich auf das Essen konzentrieren soll, weil an der Wand so viel passiert. Für den nächsten Morgen bekommen wir als Erinnerung eine Karte mit unserer Frühstückszeit.

For dinner we went to Animator's Palate. It was dedicated to those who awaken the lives of the Disney-Cartoon-Characters. Tonight we experienced the perfect evening: again we were five at a table of eight. But this time they only set up for five, so we felt much more comfortable. That night everything went perfectly well. Finally, they were dancing. Not just the waiters who had to follow the instructions from the screens but also the guests. I had a nice surprise with my desert: it was the appropriate dish to the theme of the restaurant: a culinary palate. No idea how to concentrate on eating when so much happened at the wall. For the next morning, we got the notice to remember to have here our breakfast.

Everyone was caught by the magic which was reigning on the ship. It was nothing wrong by calling Disney the "Magic Kingdom". I could persuade my family to queue up for a photo with Micky Mouse. The waiting time flew. Enharmoniq played again in the Atrium, and everyone between 2 and 80 was swinging, dancing, singing, clapping. It was merely fantastic how they heated up the atrium. Downstairs the senior-officers were standing around in their beautiful uniforms. If someone asked for a picture with kids, they went down to their knees that the kids would appear reasonable on the images. We got our pictures with Micky Mouse. Also, the little Bruno was part. Anyhow, we had a lot of pleasure. Later, when Micky Mouse disappeared above, the Christmas singer came in historical costumes, while here above the Disney-Characters were joining in the singing. It did not play any role that it was outside that day 68F and you had a tropical feeling with sun, beach, and palms during the day: that night everyone believed in the magic of Christmas and that a Disney-ship would be the most beautiful place on earth to celebrate Christmas.

Alle sind gefangen durch die Magie, die auf dem Schiff herrscht. Nicht um sonst spricht man bei Disney von "Magic Kingdom". Ich kann meine Familie überreden, dass sie gemeinsam mit mir für ein Foto mit Micky Mouse anstehen. Die Wartezeit vergeht wie im Flug. Enharmoniq spielt wieder im Atrium und alle zwischen 2 und 80 schwingen, tanzen, singen, klatschen mit. Das ist einfach fantastisch, wie sie das Atrium einheizen. Unten stehen wieder die Senior-Offiziere in ihren schönen Uniformen bereit. Wenn sie gebeten werden, ein Bild mit Kindern zu machen, gehen sie in die Knie, damit die Kinder im Mittelpunkt der Bilder gut aussehen. Wir bekommen unsere Bilder mit Micky Mouse. Auch der kleine Bruno ist mit dabei. Auf jeden Fall haben wir sehr viel Spaß. Auch später, als Micky Mouse oben weg ist, kommen die Weihnachtssänger in historischen Kostümen, während oben die ganzen Disney-Trickfiguren mitsingen. Es spielt gar keine Rolle, dass heute eigentlich draußen 20°C und tropisches Feeling mit Sonne, Strand und Palmen tagsüber war: heute Abend glaubt jeder an die Magie von Weihnachten und dass ein Disney-Schiff der schönste Ort der Welt ist, um Weihnachten hier zu erleben.
Die letzte Show dieser Fahrt ist "Disney's Believe". Und natürlich wird auch in dieser Show vermittelt, dass es andere Werte geben muss, als nur "Arbeit und Geld" und das Glück in der Familie einen hohen Stellenwert hat. Aber es werden auch sehr viele schöne Lieder aus Disney-Produktionen in die Show eingearbeitet, so dass es sehr viel Spaß macht sie zu sehen. Wenn sie heute Abend noch "Der König der Löwen" als Musical gezeigt hätten, wäre ich vermutlich bis zum bitteren Ende geblieben. Wie auch bei den Shows zuvor: hoch professionell inszeniert. Dazu gibt es den letzten alkoholfreien Cocktail auf der DISNEY DREAM. Würden sie nicht überkreuzt Show und Abendessen anbieten (d. h. die Gäste der 1. Tischzeit gehen in die 2. Show und umgekehrt), hätte ich mir die Show vielleicht nochmals angesehen, aber ich schlafe später einfach vor dem Fernseher mit der Show ein...

The last show on this voyage was "Disney's Believe". And certainly, they carried in the show the message that there should be more buy "work and money" and the fortune of the family should be at a high level to maintain. But they also included a lot of nice songs of Disney-productions into this show, so it was a lot of fun to see. Should they show tonight "The Lion King" I might stay until the end? Like with the shows before: highly professionally designed. So I had the last alcohol-free cocktail on DISNEY DREAM. Would they offer the show and dinner over-crossed (i.e., guests of the 1st sitting went to the 2nd show and vice versa), I would see the show one more time, but it was easier to sleep in a while watching it again on TV in my cabin.

I also went to buy the pictures of the board photographer. They were not cheap. I got the written approval to have the rights to use the images for further purposes. I did not experience it in such a way before.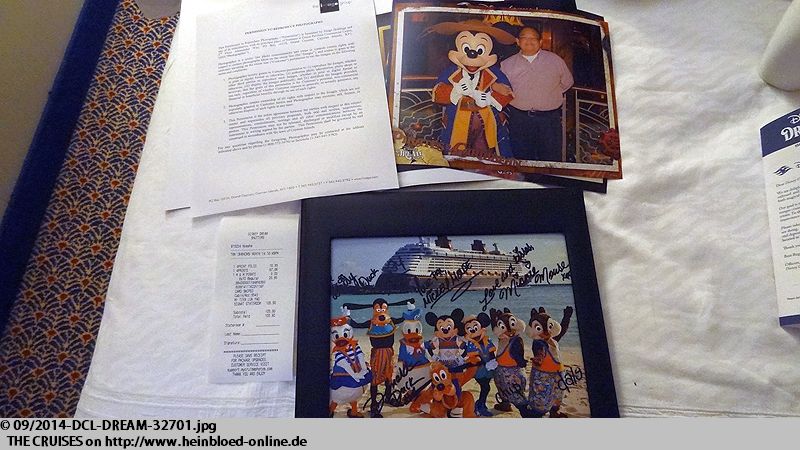 Ich gehe auch die Bilder kaufen, die die Bordfotografen gemacht haben. Sie sind nicht billig. Ich bekomme schriftlich die Rechte an den Bildern für die weitere Verwendung übertragen. Habe ich in dieser Form auch noch nie erlebt.
Allerdings halte ich Bilder für sehr gelungen, so dass ich gerne dafür bezahlt habe.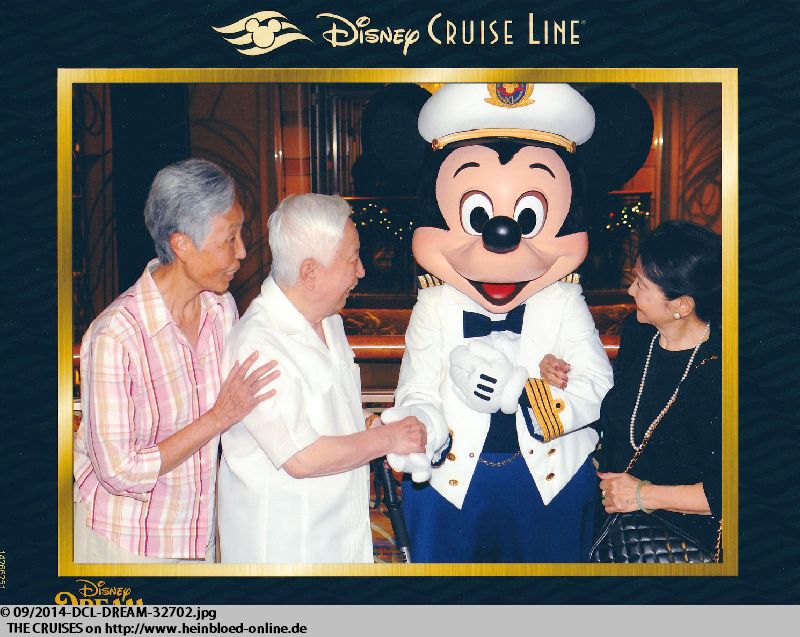 But the pictures were in such good quality that I was willing to pay for them.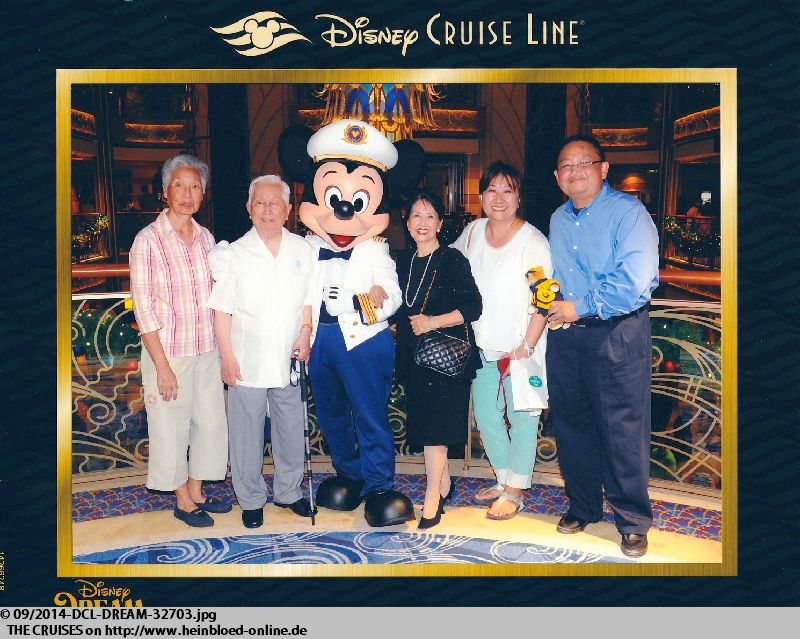 Eine Mission der Reise war die Möglichkeit für meinen Vater meine Tante nochmals wiederzusehen. Sie sind die letzten beiden von acht Geschwistern, die noch leben. Und daher freue ich mich besonders über dieses Bild.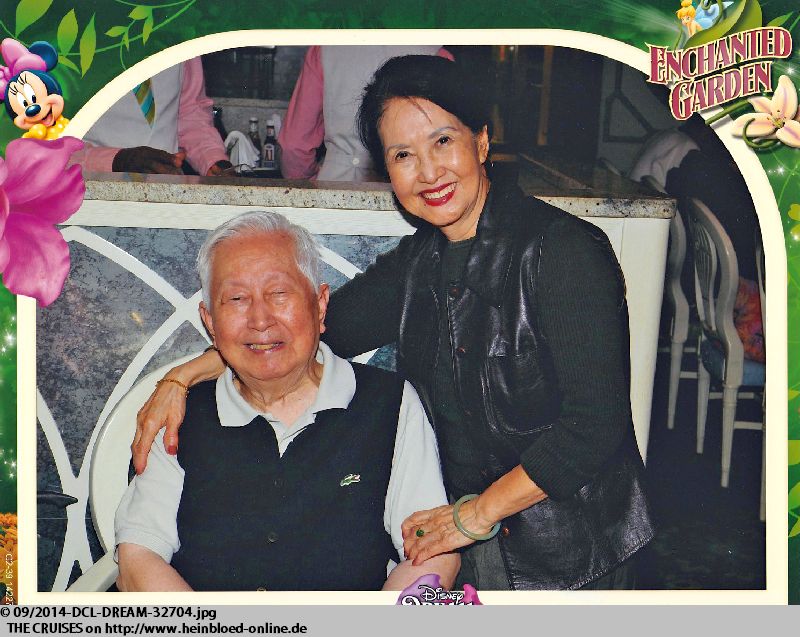 One mission of the voyage was the possibility for my father and my aunt to see them each other again. They were the last of eight brothers and sisters who were still living. So I was happy to have this picture.
Die anderen Reisen in diesem Blog/
The other voyages in this blog: