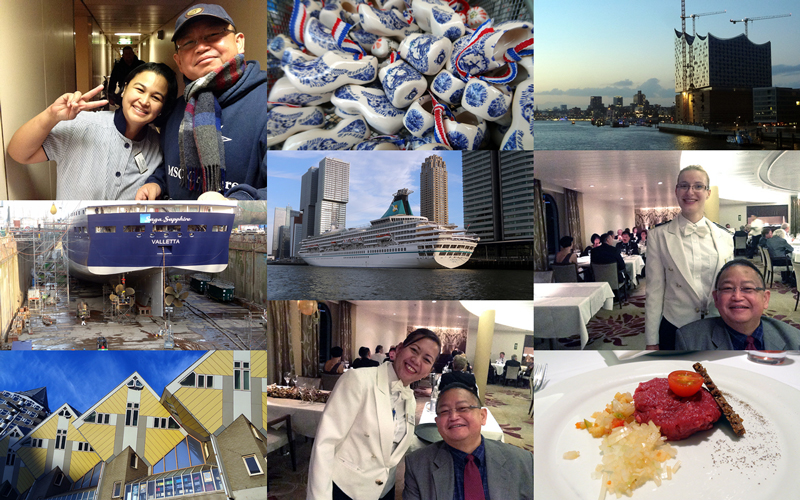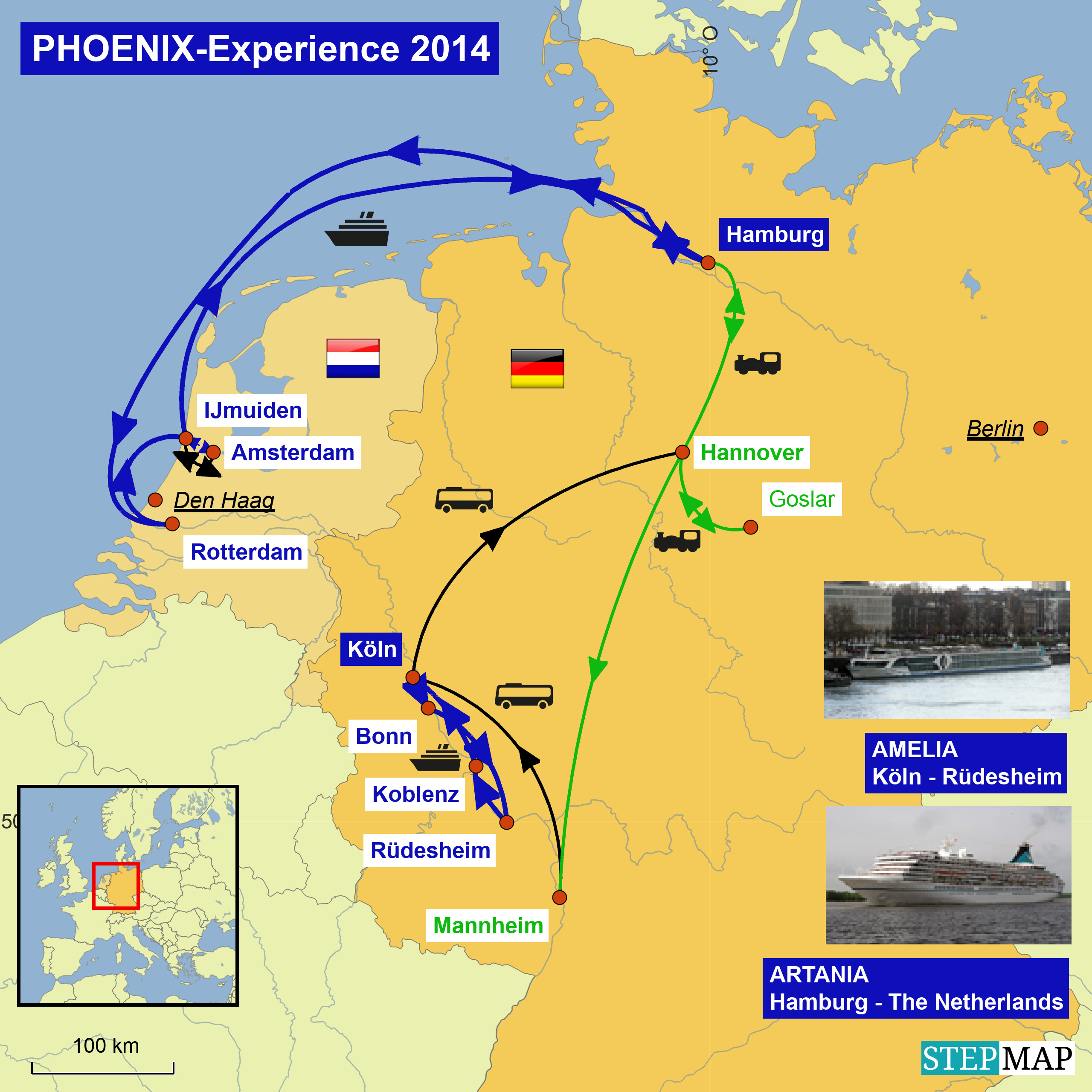 Der Morgen beginnt vielversprechend. Zwei Monate nach der OP bin ich begeistert: Meine Diabetes-Werte: Klasse!!! Meine Erinnerung an
DISNEY DREAM 2014
: Legal erfragt. Ich bekomme die deutsche Zeitung und wieder eine Flasche Sekt, weil ich direkt bei Phoenix-Reisen gebucht habe.

The morning started promising. Two months after surgery, I was thrilled: My diabetes values: great!!! My memory of DISNEY DREAM 2014: Legal requested. I got the German newspaper and again a bottle of champagne because I booked directly with Phoenix.

Raquel was my pearl, who took care of me in a very charming way.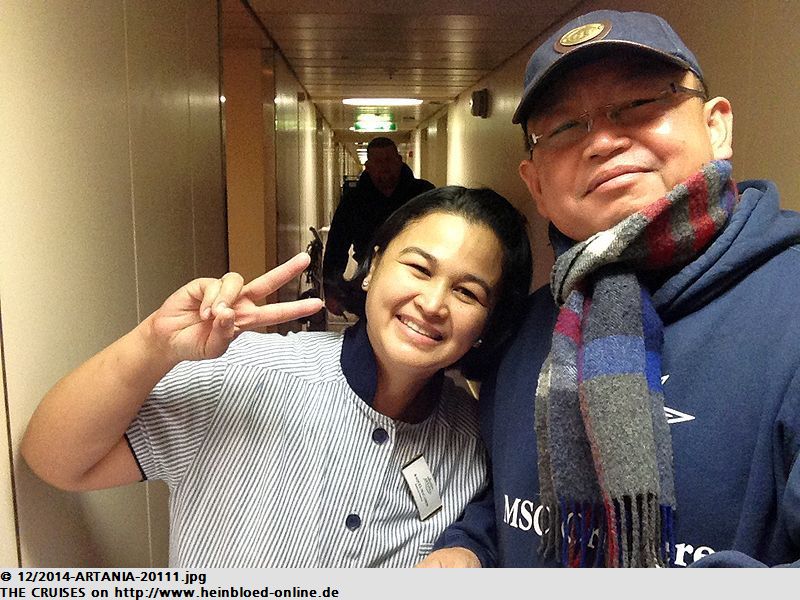 Raquel ist meine Perle, die mich liebevoll versorgt.
Auf geht es zum Frühstück. Leider nicht meins. Ich hasse Frühstücksbüffets... Warme Eierspeisen kann man beim Kellner bestellen. Der bringt mir zwar mein Omelette, aber ich soll dann selbst zum Büffet laufen, um mir ein Würstchen zu holen. Deswegen fahre ich lieber mit amerikansichen Schiffen, bei dem ich einen vollen Frühstücksservice am Tisch bekomme. Oben im SB-Restaurant gibt es auch entsprechende Verhaltensregeln.

Heading for breakfast. Unfortunately not mine. I hated breakfast buffet... You could order hot egg dishes from the waiter. He got me my omelet, but I should then run myself to the buffet to get myself a sausage. That was why I preferred to travel on American ships, where I could get a full breakfast served at the table. Above in the self-service restaurant, there were also appropriate rules of conduct.

I took a series of selfies. It was cold. Even there was sun.

Es gibt eine Serie von Selfies. Kalt ist es. Trotz Sonne.
Blau-Weiß. Ich brauche nicht zu erklären, was auf dem offenen Deck los ist. Die Crew muss passend dazu sich anziehen.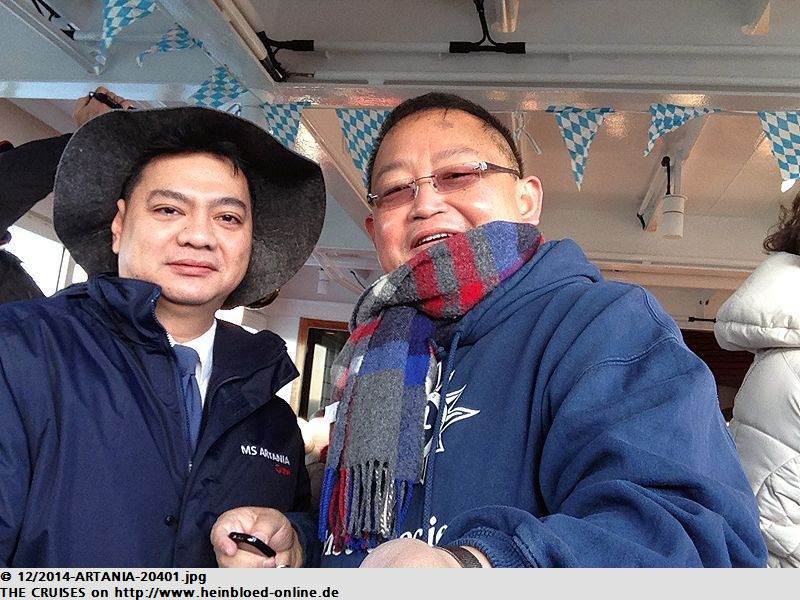 Blue-white (Bavarian national colors). No need to explain what was held on the open deck. The crew needed to dress up appropriately.

For sure, you cannot say that they would not spend any efforts. But Oktoberfest was not my world. Even on international ships, I would generally escape. I was checking what they offered.

Man kann definitiv nicht sagen, dass sie sich keine Mühe machen. Nur ist Oktoberfest nicht meins. Da flüchte ich auch bei den internationalen Schiffen. Ich gucke mir aber mal das Angebot an.
Und noch eine Serie von Selfies. Und endlich auch ein Bild mit
Kapitän Morten Hansen
- bekannt aus der
ARD-Doku-Soap "Verrückt nach Meer"
. Und auch ein paar Bilder mit der Crew.

Another series of selfies. And finally a picture with Captain Morten Hansen - popular in Germany due to a TV-docu-soap "Verrückt nach Meer" (Crazy for sea) on German TV. And a few pictures with the crew.

On our very first cruise on LILI MARLEEN 2006, our table-mates told us of the late morning bouillon. I never saw it so far. But finally.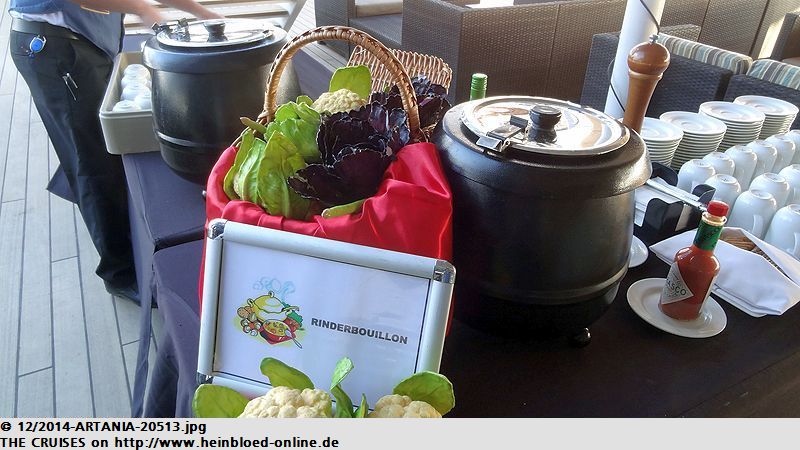 Auf unserer allerersten Kreuzfahrt auf der
LILI MARLEEN 2006
haben uns unsere Tischnachbarn von der Vormittagsbouillon erzählt. Die haben wir bislang noch nie bekommen. Nun endlich.
Es gibt sie auch mit "Schuss"... Gin... wow... kein Wunder, dass sie so beliebt ist. Draußen ist es kalt und dann tut sie so bestimmt gut.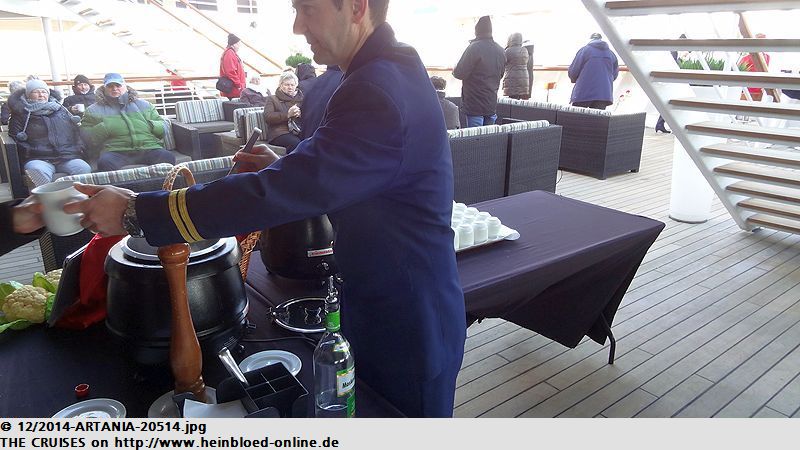 You could also have it with a "shot"... Gin... wow... no wonder, it was so popular. Outside it was cold, and it would do well.

I refrained from the shot.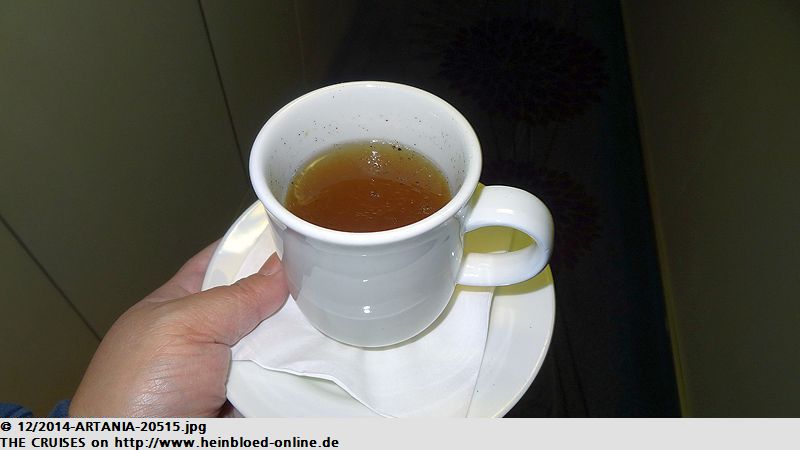 Ich verzichte auf den Schuss.
Ankunft in Rotterdam. Das
Delta-Terminal
ist zu sehen.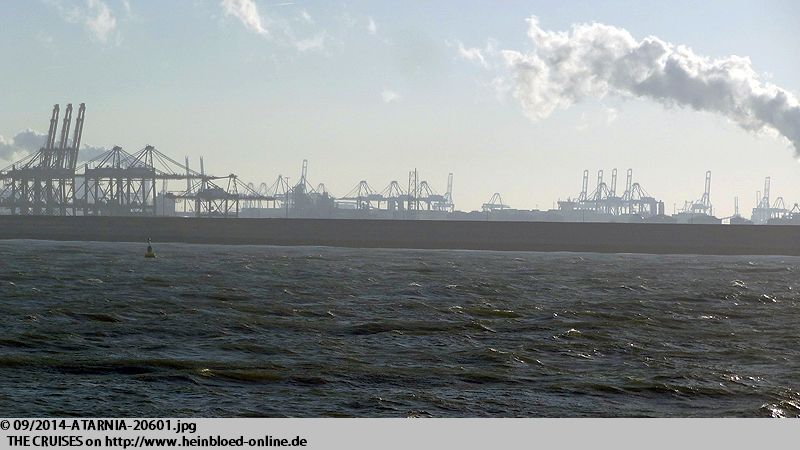 Arriving in Rotterdam, The Netherlands. You could see the Delta-Terminal.

And soon, you had the silhouette of the city in front of your lens.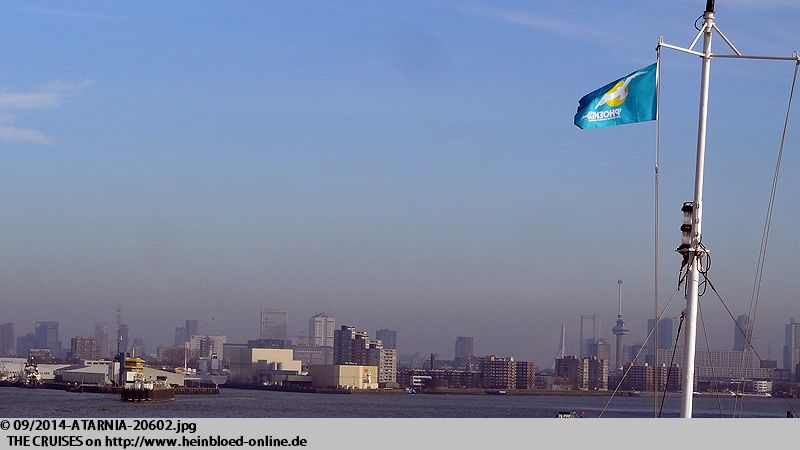 Und bald kommt auch schon die Silhoutte der Stadt vor die Linse.
Ja - wir sind in den Niederlanden.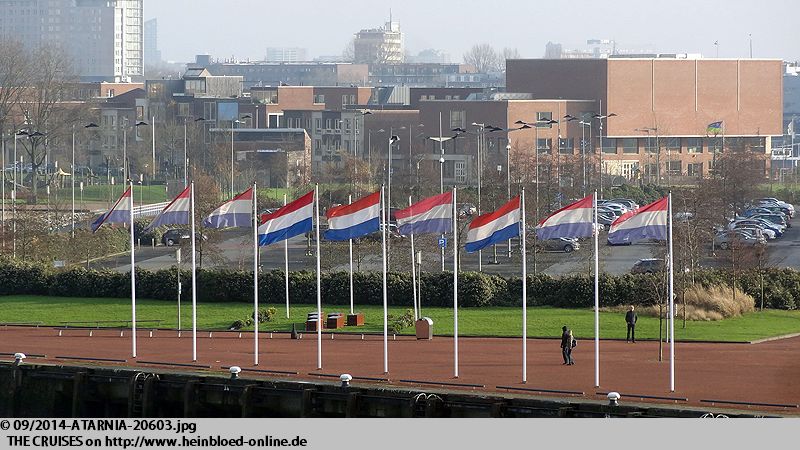 Yes - we were in the Netherlands.

Indeed, I had to take selfies on the river Maas passage.

Selbstverständlich auch Selfies auf der Maas-Auffahrt.
Und dazwischen Meldet sich Bruno und nimmt an der Auffahrt teil.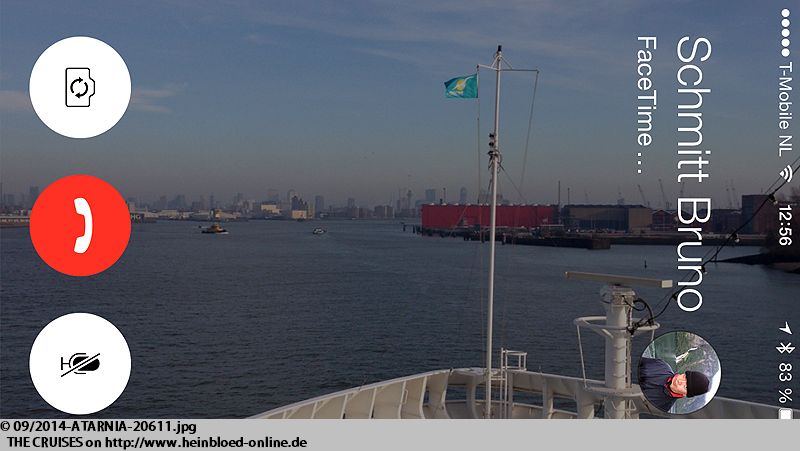 And meanwhile Bruno was calling and joined the approach.

I went meanwhile for lunch.

Ich gehe zwischendurch zum Mittagessen.
Wenn die
SS ROTTERDAM
(V/1959) in Sichtweite ist, dann ist das Kreuzfahrtterminal nicht mehr weit.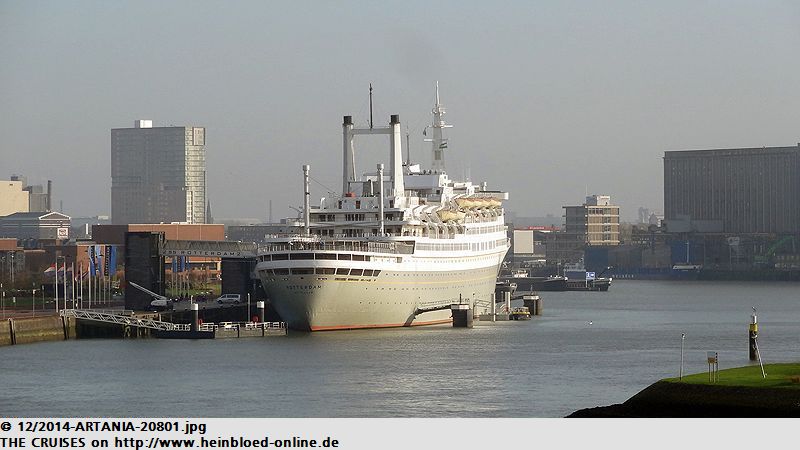 When SS ROTTERDAM (V/1959) in sight, the Cruise Terminal could not far away anymore.

There, you could park your car as a cruise ship passenger.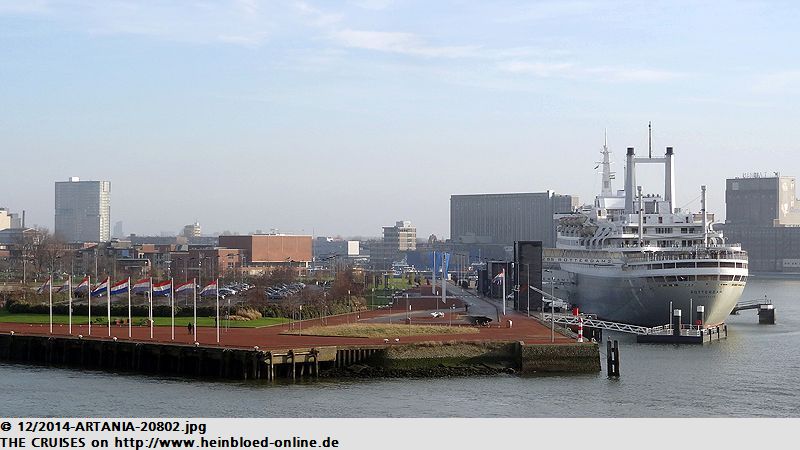 Dort kann man übrigens als
Kreuzfahrer parken
.
Hotel New York
. Die ehemalige Zentrale der Holland America Line.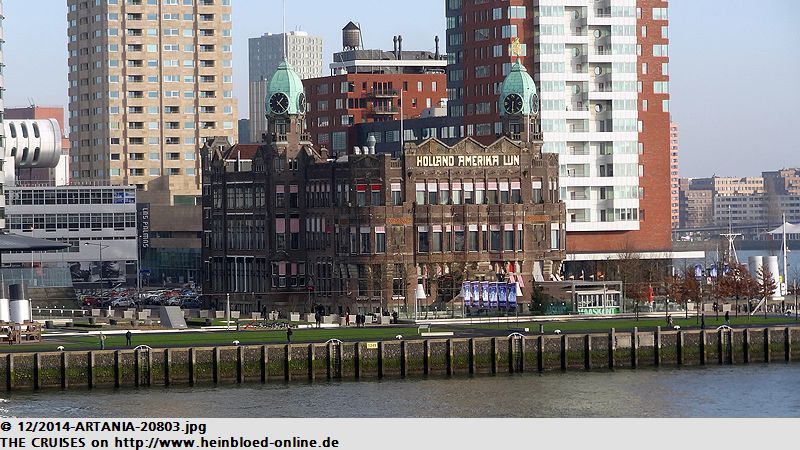 Hotel New York. The former corporate office of Holland America Line.

We arrived: The Cruise Terminal in Rotterdam.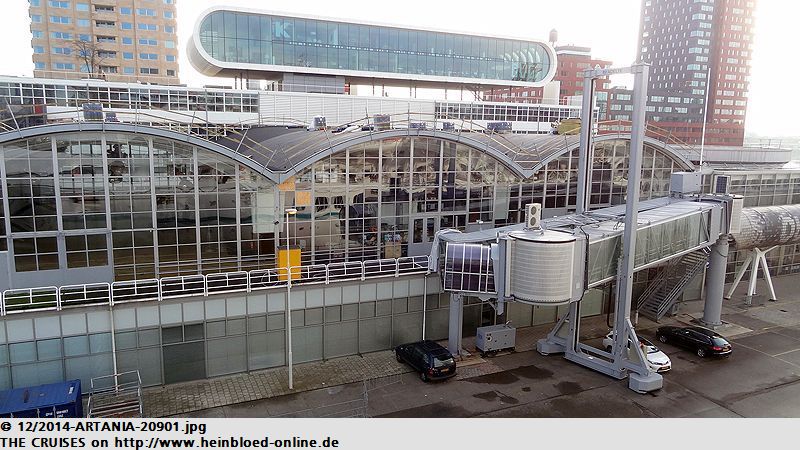 Wir sind da: Das
Kreuzfahrtterminal
in Rotterdam.
Obwohl man eigentlich nur über die Erasmus-Brücke muss: es wird ein Shuttle angeboten.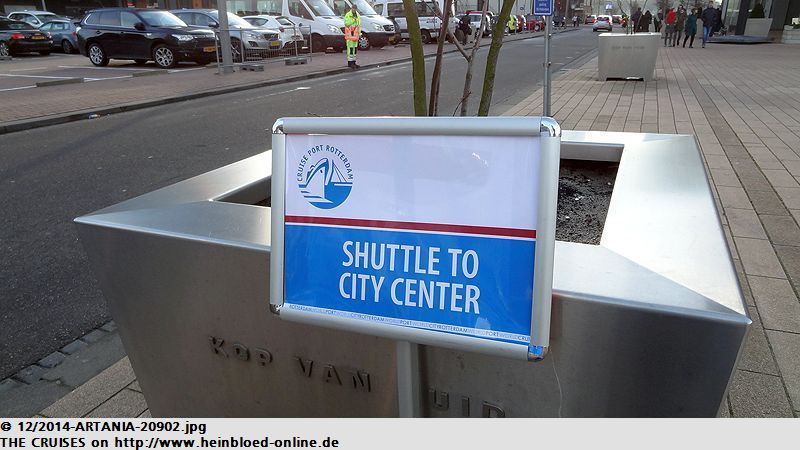 Although you only needed to cross actually the Erasmus-Bridge: they offered a shuttle.

Here you could find the shuttle to SS ROTTERDAM, for those who parked their cars there.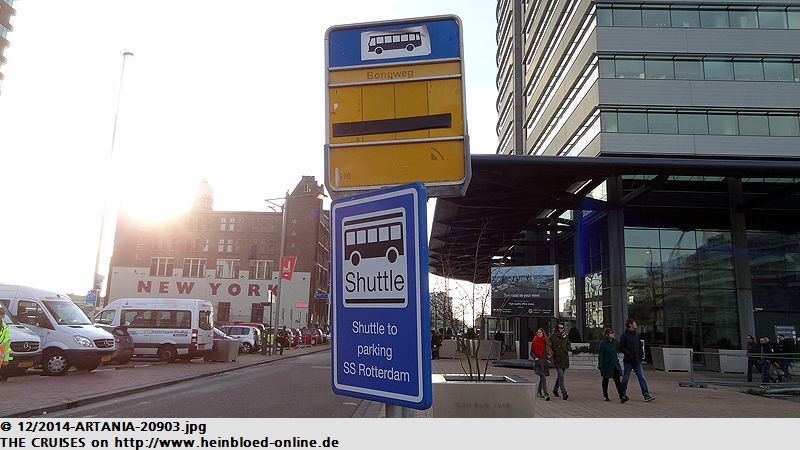 Hier geht es zum Shuttle zur
SS ROTTERDAM
, für diejenigen, die dort ihren Wagen geparkt haben.
Uns später geht es hier wieder rein. Wir müssen nicht durch das Terminal durch, weil die Brücke gar nicht ausgefahren ist.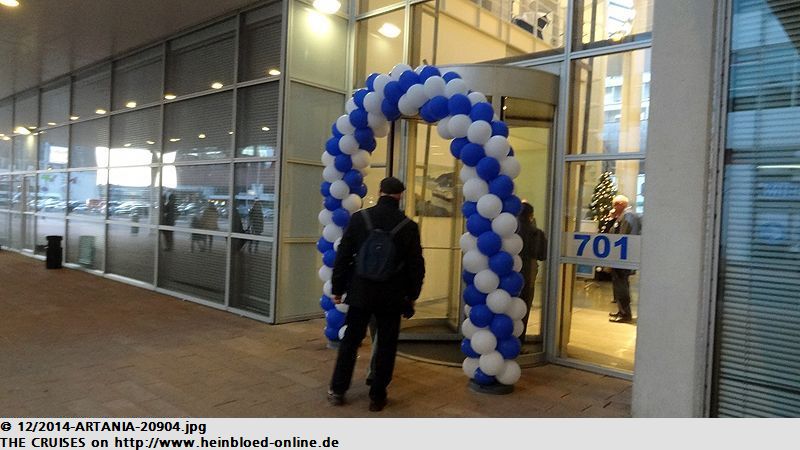 And later, we could walk in here to return. We must not cross the terminal since the bridge was not docked.

So the sales outlet needed to present themselves here down under.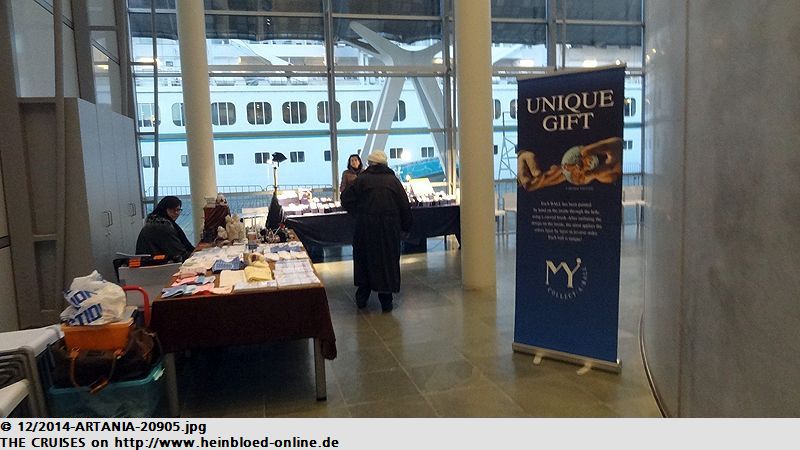 Daher müssen die Stände hier unten sich präsentieren.
Ich laufe direkt zum
Wassertaxi
-Stand direkt hinter dem
Hotel New York
. Dort habe ich wirklich Glück, weil ich einen tollen Fahrer finde, der mich dahin bringt, wo ich will und für mich etwas tolles arrangiert, in dem er ein paar Flussschiffer-Familie fragt, ob ich über ihr Schiff laufen darf.

I walked directly to the water taxi stand just behind the Hotel New York. I was fortunate there because I found a great driver to take me to where I wanted. He arranged something great for me by asking a few river-boat families if I was allowed walking over their ship.

Of course, it was great that I could go straight to the Damen dry dock and took pictures of SAGA SAPPHIRE here.

Das ist natürlich total klasse, dass ich direkt zum
Damen Trockendock
kann und hier Aufnahmen von SAGA SAPPHIRE machen kann.
Eine Serie von Selfies von meinem
Wasser-Taxi
.

A series of selfies of my water-taxi.

A few more views of Rotterdam from the rest of the day. Attached to the cruise terminal, a new hotel nhow opened. I did not stay there yet.

Noch ein paar Ansichten von Rotterdam vom Rest des Tages. Neben dem
Kreuzfahrtterminal
hat ein neues Hotel aufgemacht
nhow
. Ich habe dort aber noch nicht gewohnt.
Vor rund 25 Jahren war ich schon mal gucken: Die
Kubushäuser
.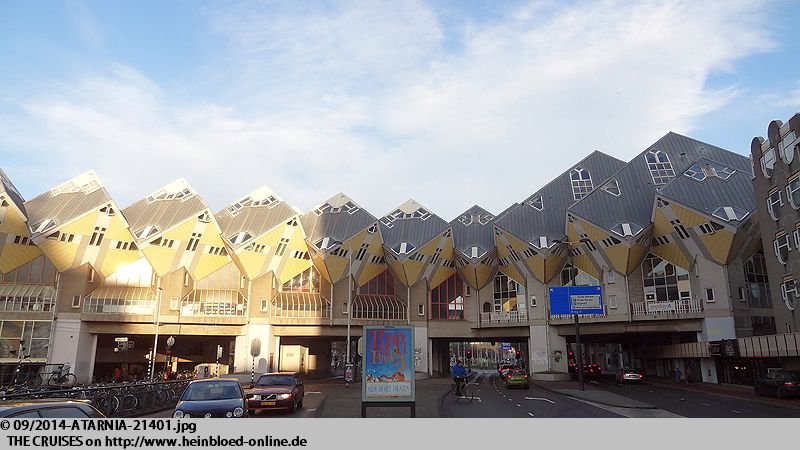 About 25 years ago I went touring: The Kubus Houses.

Since Rotterdam was severely destroyed by the Nazis, there were only very few historical buildings in Rotterdam.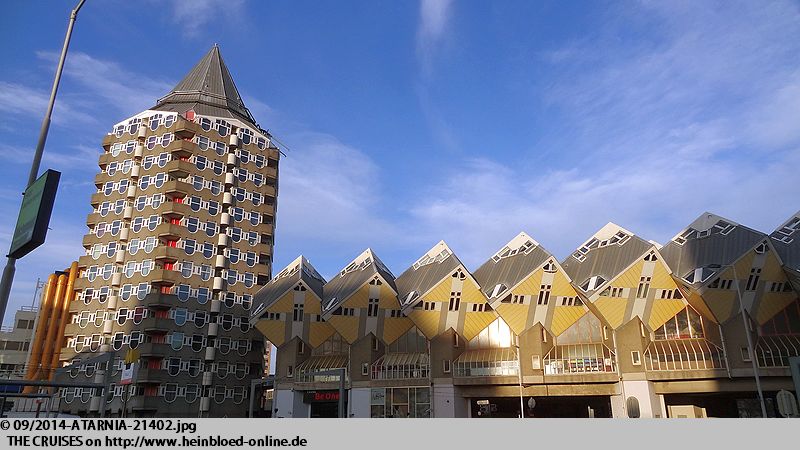 Da ja Rotterdam durch die Nazis stark zerstört wurde, gibt es wenig historische Bebauung in Rotterdam.
Deswegen haben sich hier die Architekten ausgetobt.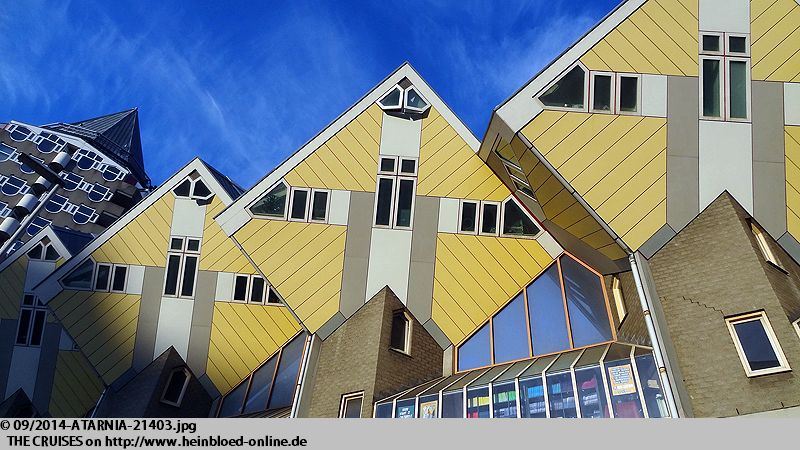 That was why the architects let off steam here.

Beautiful to make a jump back to childhood. When the houses were built, I was still at school, and I remembered that a friend, the son of an architect, was very enthusiastic about it. It was a pity that somehow, I did not get the idea to see the Kubus house from the inside. One was open to visitors.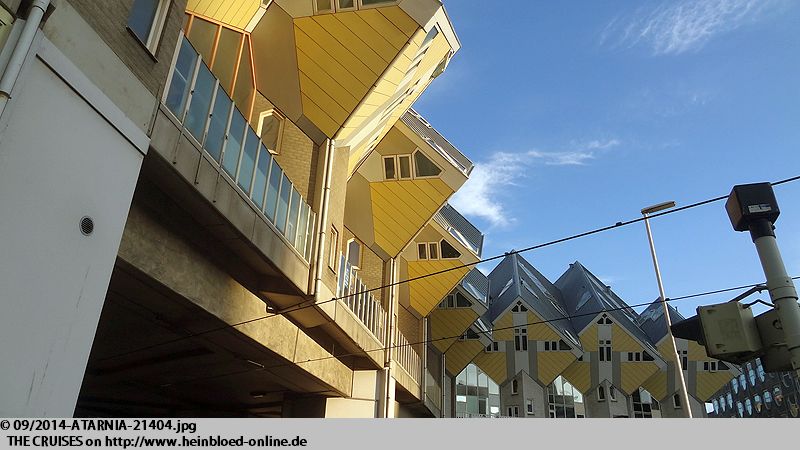 Schön mal wieder einen Sprung zurück in die Kindheit gemacht zu haben. Als die Häuser entstanden war ich noch in der Schule und ich weiß noch, dass ein Freund, der Sohn eines Architekten ist, sehr begeistert davon gesprochen hat. Sehr schade, dass ich irgendwie nicht auf die Idee gekommen bin, dass
Kubus-Haus
auch von innen zu sehen. Eines ist für Besucher geöffnet.
Die anderen Reisen in diesem Blog/
The other voyages in this blog: