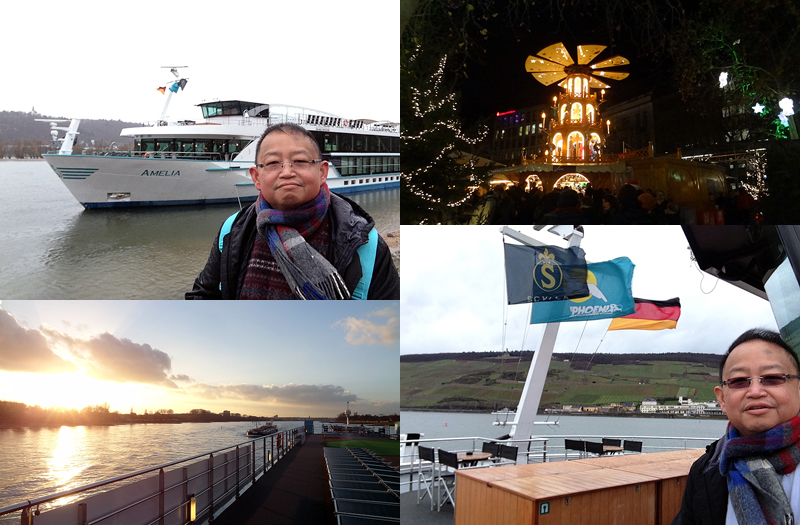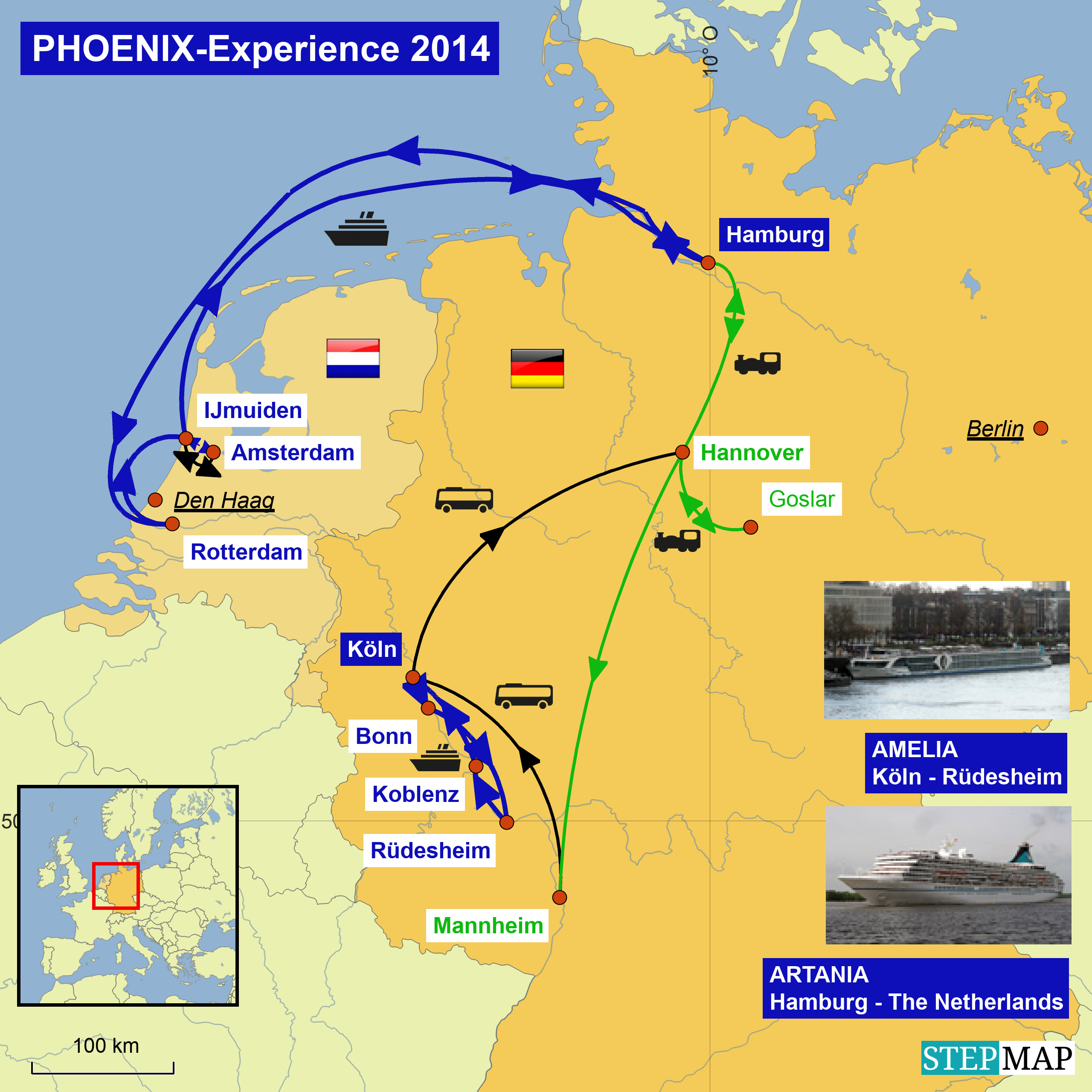 Ich hasse Besucherritzen! Alles für die Ausschiffung. Einen leichten Herzinfarkt bekomme ich beim Anblick der Internet-Nutzungspreise. Im Fragebogen erwähne ich, dass ich den Bar/Lounge-Bar-Service sehr unstetig finde. Man kann durchaus auch mal lange sitzen, ohne dass man angesprochen wird und dann auch mal versuchen muss, ein Bein zu stellen, bevor man etwas bestellen kann. Oft bin ich dann selbst zur Bar gelaufen. Das Publikum ist furchtbar. Viele Cliquen, die in meinen Augen sehr rücksichtslos sind. Ich kreuze an, dass ich weder Katalog noch Newsletter möchte, aber das wird NICHT respektiert.

I hated the gap between two mattresses! Everything for the disembarkation. A mild heart attack I got when I saw the internet usage prices. In the questionnaire, I mentioned that I found the bar/lounge bar service very unsteady. You could also sit for a long time, without being addressed and then had to try to put a leg before you could order something. Often I then went to the bar myself. The audience was awful. Many cliques that were very reckless in my eyes. I ticked that I did not want a catalog or newsletter, but this was NOT respected.

One last breakfast. Indeed I got an omelet made of one single egg.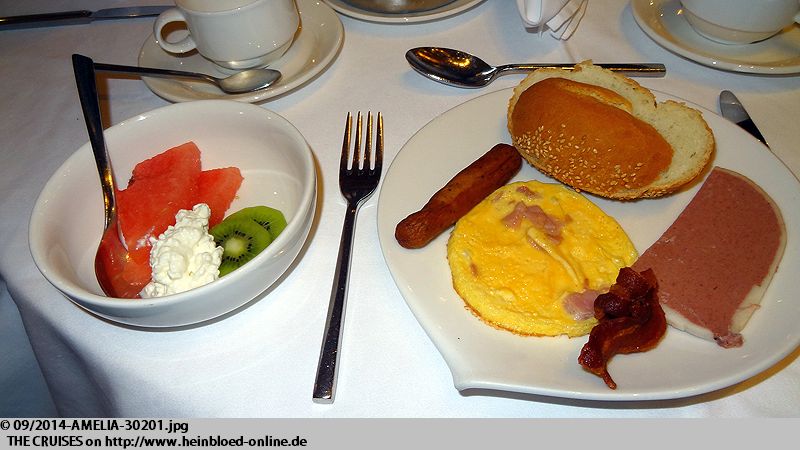 Noch ein letztes Frühstück. In der Tat bekomme ich ein Omelette aus einem Ei.
Vielen Dank nochmals an Maître d'Hotel Sava, dass er dafür gesorgt hat, dass ich das aus der Küche bekommen habe, was ich gut vertragen konnte.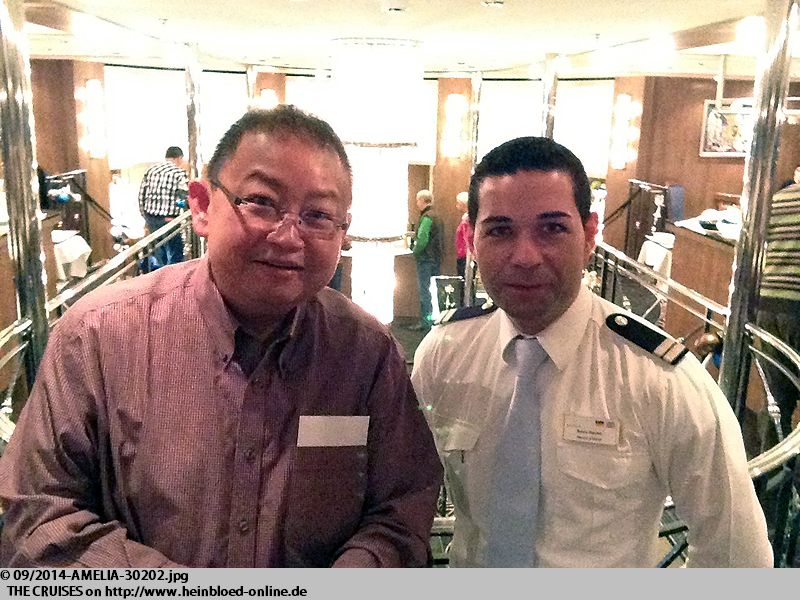 Thanks again to Maître d'Hotel Sava, who ensured that I got something from the galley, which I could stand well.

Arrival in Cologne, Germany.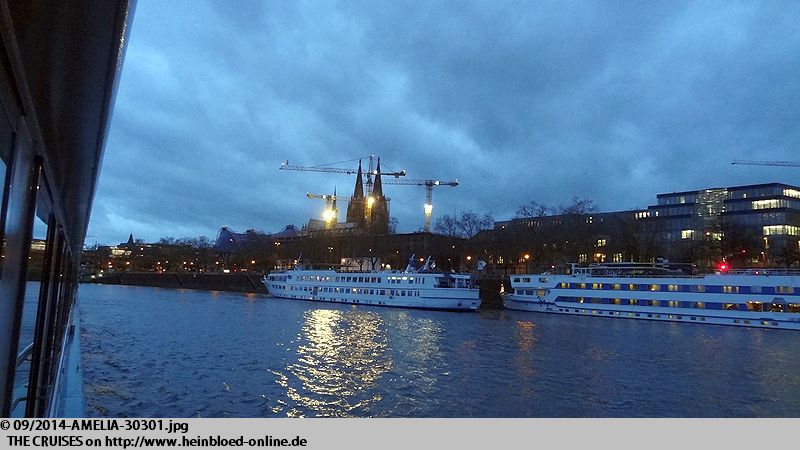 Einfahrt in Köln.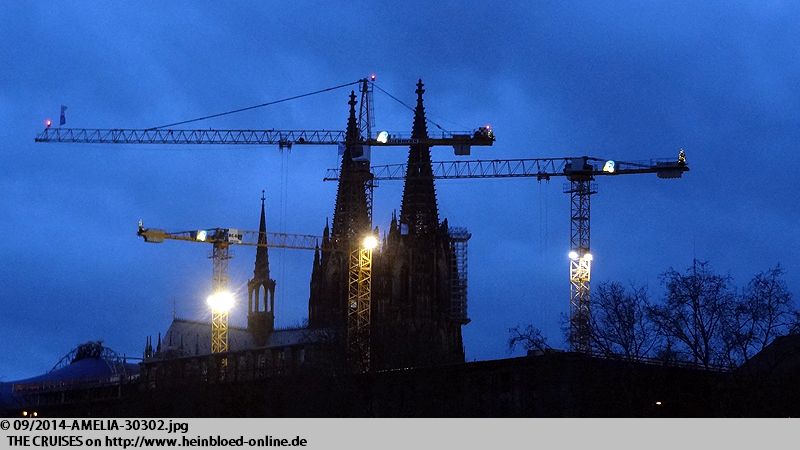 Baggage service... in charge was the galley-crew.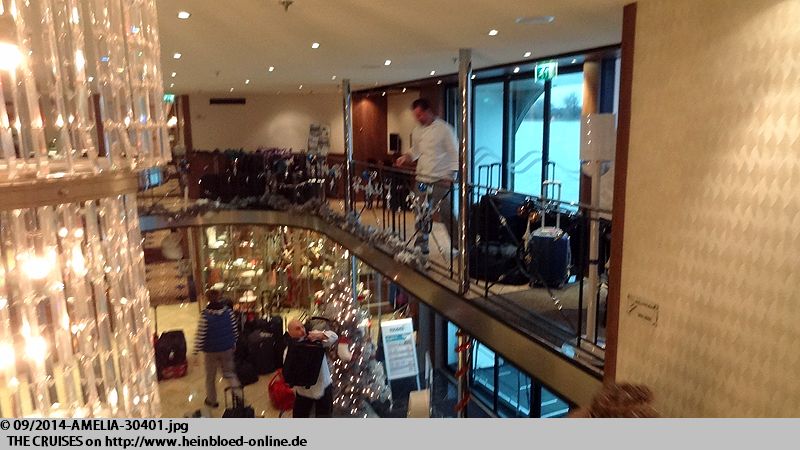 Gepäckservice... Zuständig die Galley-Crew.
Und es geht in einer Menschenkette.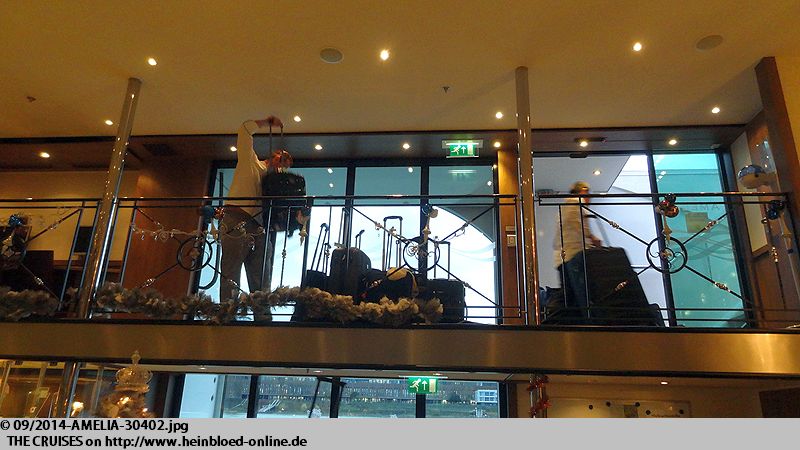 And it worked with the human chain.

And all worked without a cruise terminal.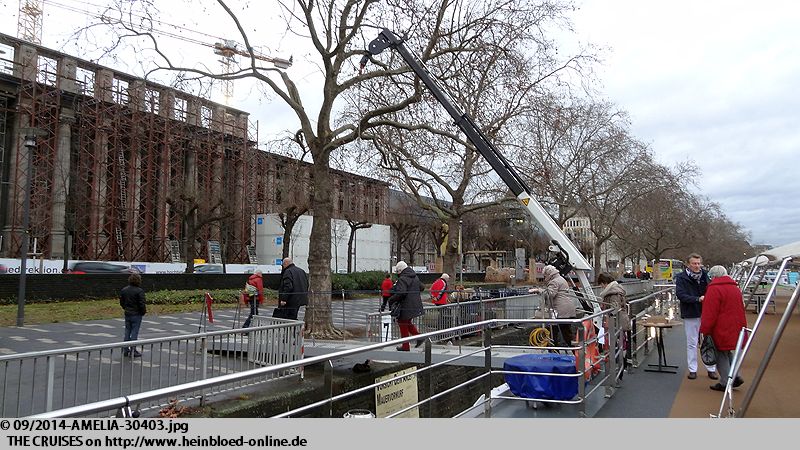 Und das ganze ohne Cruise-Terminal.
Einfach auf die Straße.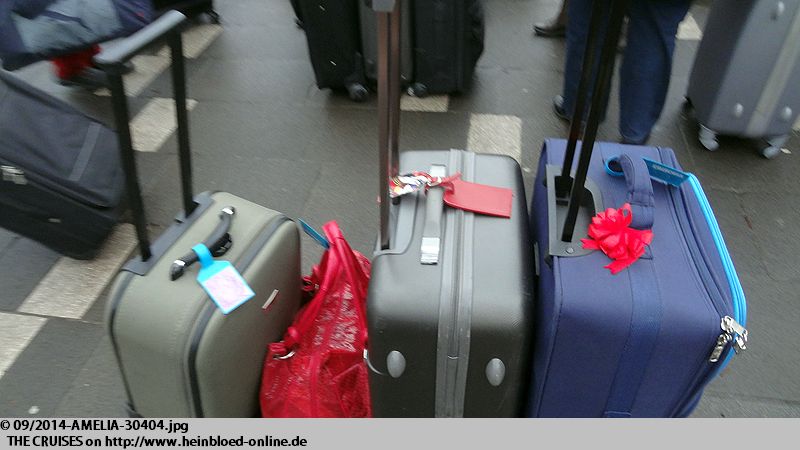 Simply on the road.

Initially, I did not want to go on AMELIA. So I ordered two vouchers on Sonnenklar TV, a German travel TV channel. But they were not exchangeable. So I just watched what I missed.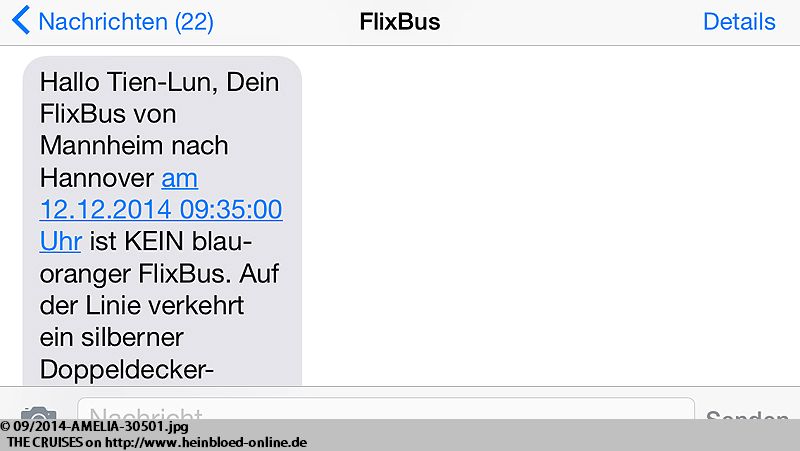 Ursprünglich wollte ich ja nicht auf die AMELIA. Also hatte ich mir zwei Gutscheine über
Sonnenklar TV
bestellt. Aber sie waren nicht umtauschbar. So habe ich einfach zugesehen, was ich verpasst habe.
Im wahrsten Sinne des Wortes. 110 Minuten Verspätung.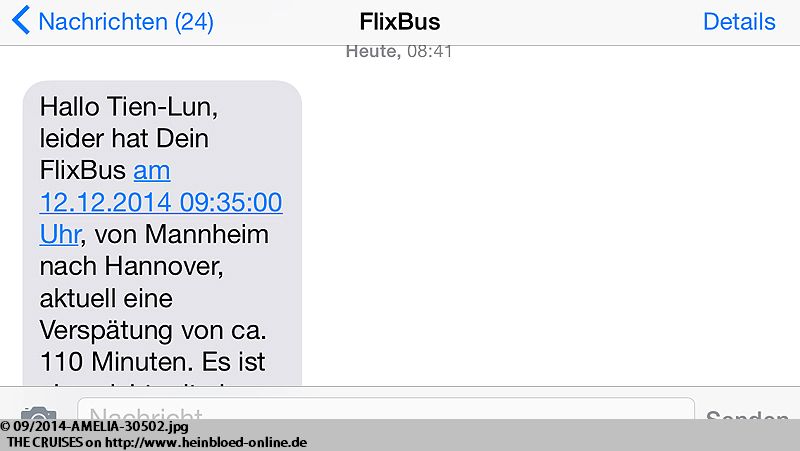 Missing in the reality. 110 minutes delay.

I booked ADAC Postbus (today: FlixBus). Departure: in the middle of nowhere on the other side of the river Rhine. Just as stupid as a pier on the Rhine. Only there was usually the ship, and you could wait inside if it would rain. There was nothing here. Surprised: a mobile baggage handling. And the equipment on the bus was reminiscent of Lufthansa. Everything to be happy was available: especially legroom.

Ich habe ADAC-Postbus (heute:
FlixBus
) gebucht. Abfahrt: Gummersbacher Straße in Köln-Deutz - mitten im Nirgendwo. Genauso blöd, wie ein Anleger am Rhein. Nur das dort schon meistens das Schiff steht und man sich dort unterstellen kann, wenn es mal regnet. Hier gibt es gar nichts. Überrascht: eine mobile Gepäckabfertigung. Und die Ausstattung im Bus erinnert an Lufthansa. Alles vorhanden zum Glücklich sein: vor allem Beinfreiheit.
Ich bin begeistert. Endlich Platz für mein Netbook mit Strom und WLAN.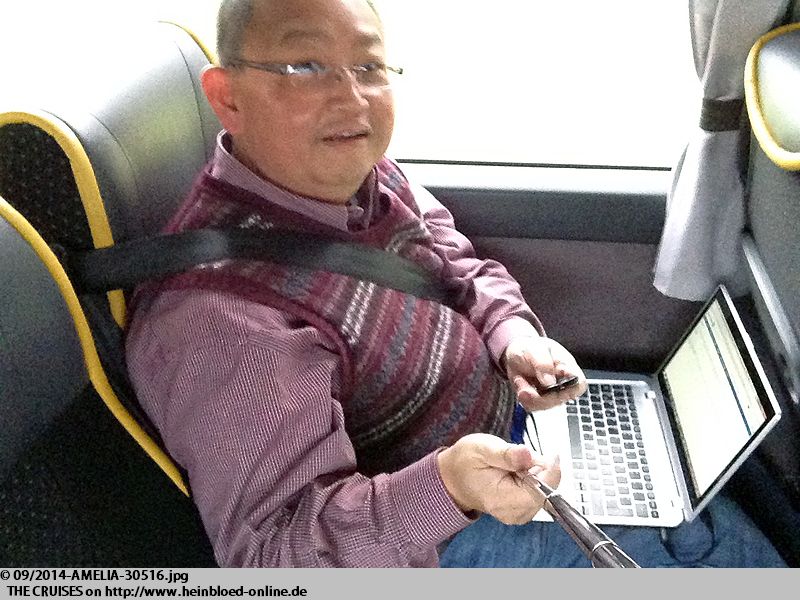 I was excited. Finally space for my netbook with electric power and WiFi.

I was delighted. An excellent way to stand a journey on a long-distance coach.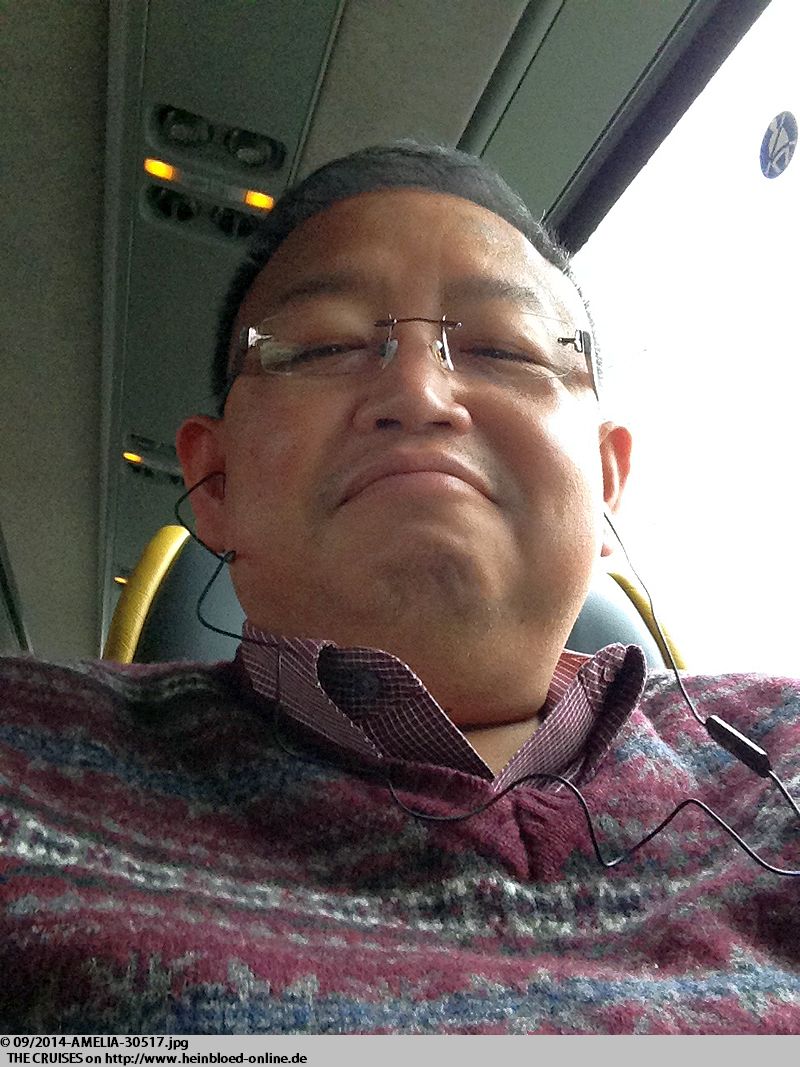 Ich bin hochzufrieden. So lässt sich Fernbus-Fahren aushalten.
Ankunft in Hannover am ZOB am Raschplatz. Wir sind ziemlich pünktlich.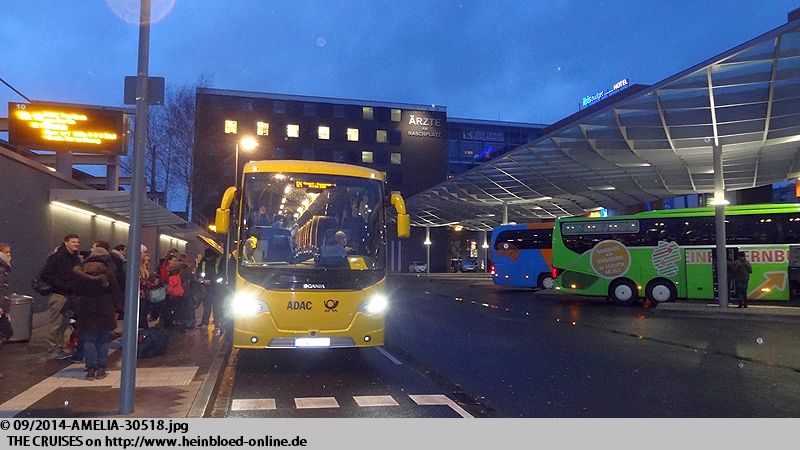 Arrival in Hanover, Germany at the bus terminal. We were quite on time.

As an early unemployed person, you could only stay somewhere at the expense of your old company. Luckily, I accumulated enough points during my business trips. It was enough for the Crowne Plaza Hanover. It was a nice hotel, but it was still getting old. I was getting a nice room because I was a status customer. This did not benefit me at check-in because a lady who only wanted to go to the sauna as an external guest said that she was entitled to treatment as a status customer. Personally, I would have preferred a new housekeeper. Let me see if the 2.00 EUR tip (otherwise it was great ...) would be noticed on the hair of my predecessor...

Als baldiger Arbeitsloser kann man nur noch auf Kosten seiner alten Firma irgendwo wohnen. Zum Glück habe ich genügend Punkte während meiner Geschäftsreisen angesammelt. Es reicht für das
Crowne Plaza Hannover
. Es war mal ein schönes Hotel, aber es ist doch in die Jahre gekommen. Ich bekomme ein schönes Zimmer, weil ich Statuskunde bin. Das hat mir aber auch nichts beim Einchecken genützt, weil eine Dame, die nur in die Sauna als externer Gast wollte, meint, dass sie Anspruch auf die Behandlung als Statuskunde hätte. Ich persönlich hätte mir lieber eine neue Hausdame gewünscht. Mal gucken, ob die 2,00 EUR Trinkgeld (sonst war es schon toll...) auf dem Haar meines Vorbewohners auffallen...
Auf geht es in die
Holländische Kakaostube
.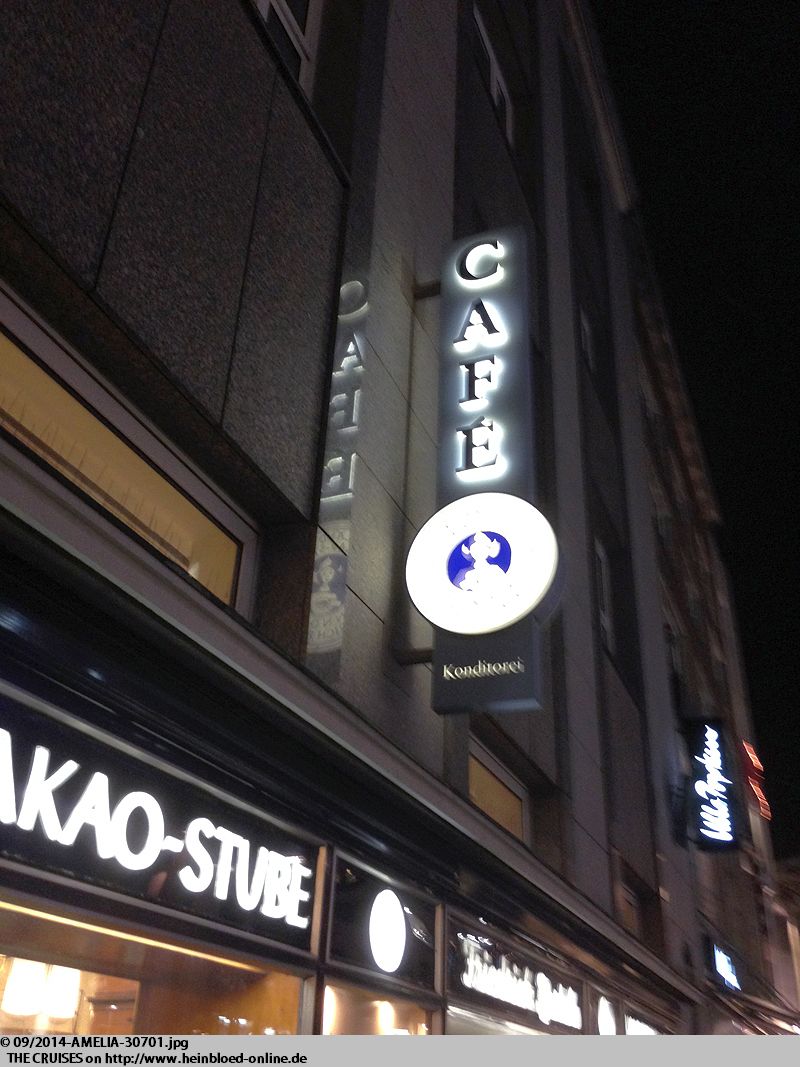 Heading to the Holländische Kakaostube (Dutch cacoa room).

A must, whenever you were in Hanover.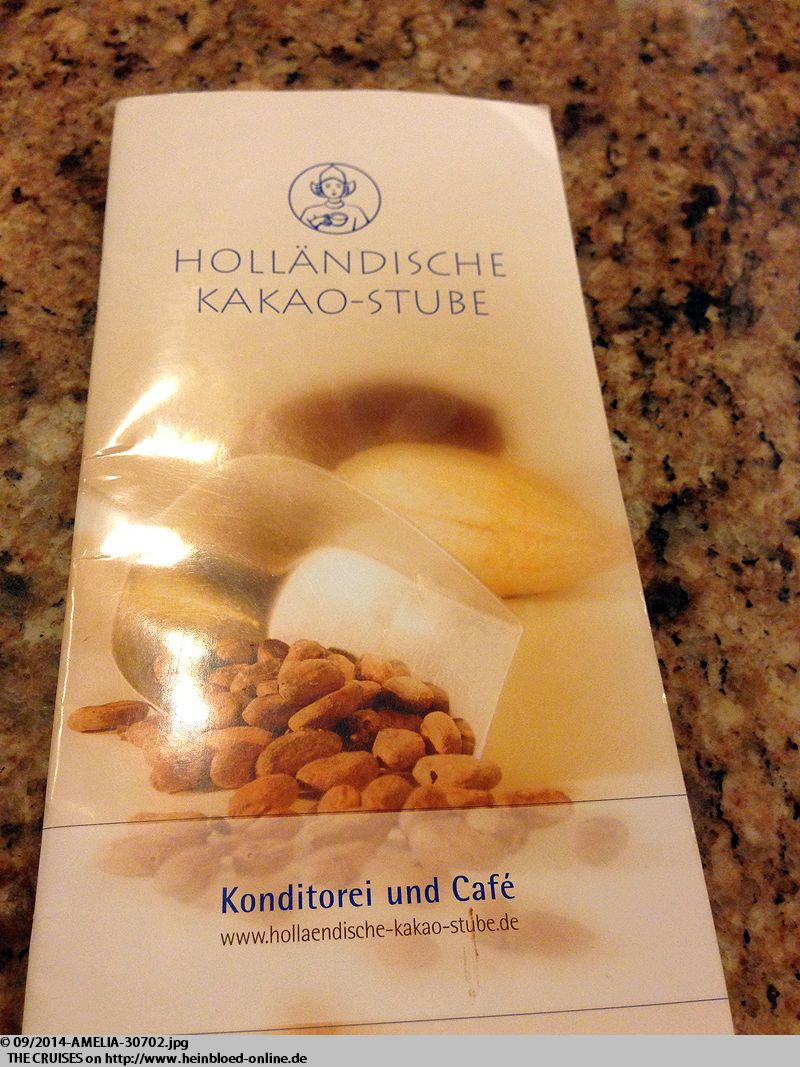 Ein Muss, wenn man in Hannover ist.
Ich bin glücklich: Cranberry-Schorle. Eine echt tolle hausgemachte Bouillon. Und natürlich Rheinische Baisertorte. Genau das richtige, um mich aufzupäppeln. Im Moment kann ich ja essen, was ich will (irgendwie passiert nichts) und wieviel ich will (das heißt, dass meistens die Hälfte stehen bleibt und ich meinen Kopf trainieren muss, dass das eigentlich für zwei Mahlzeiten reicht.)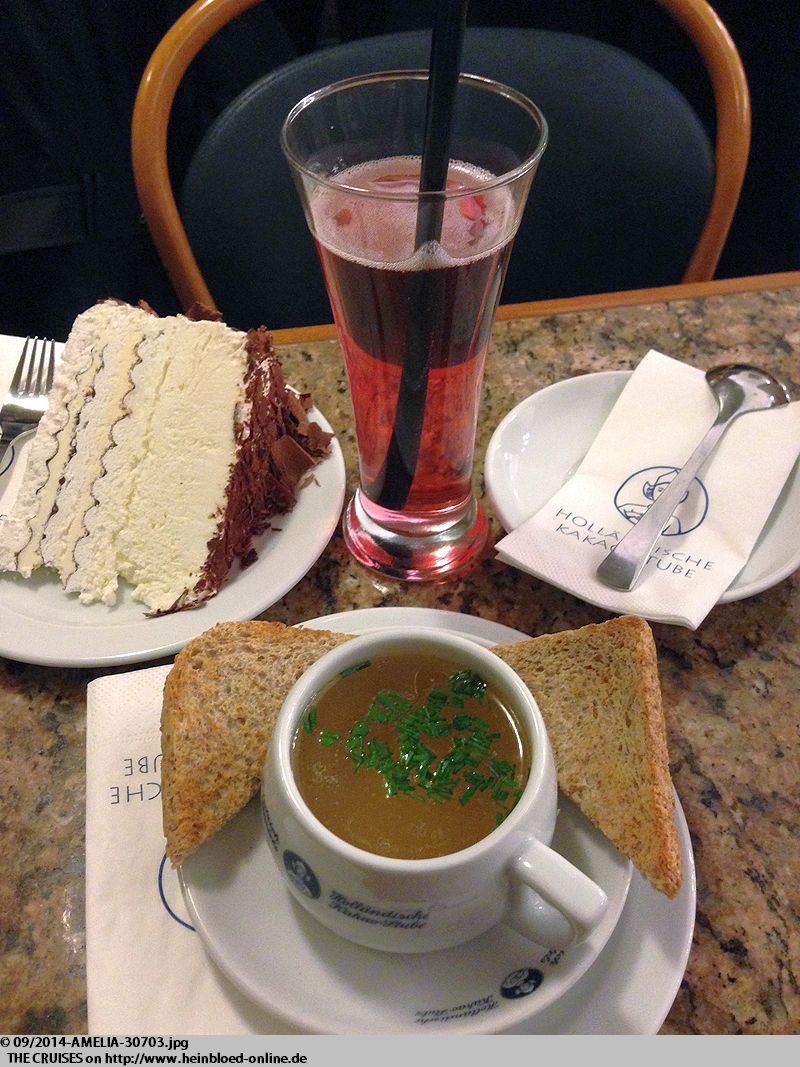 I was happy: cranberry spritzer. A really great homemade bouillon. And of course Rhenish meringue pie. Exactly the right thing to prepare me. At the moment I could eat what I wanted, but somehow nothing happened. And I could eat how much I wanted. It meant that most of the time, I could eat half of the ordered quantity. I had to train my head, that would be enough for two meals.

For dinner, I went to a Syrian restaurant: Al-Dar.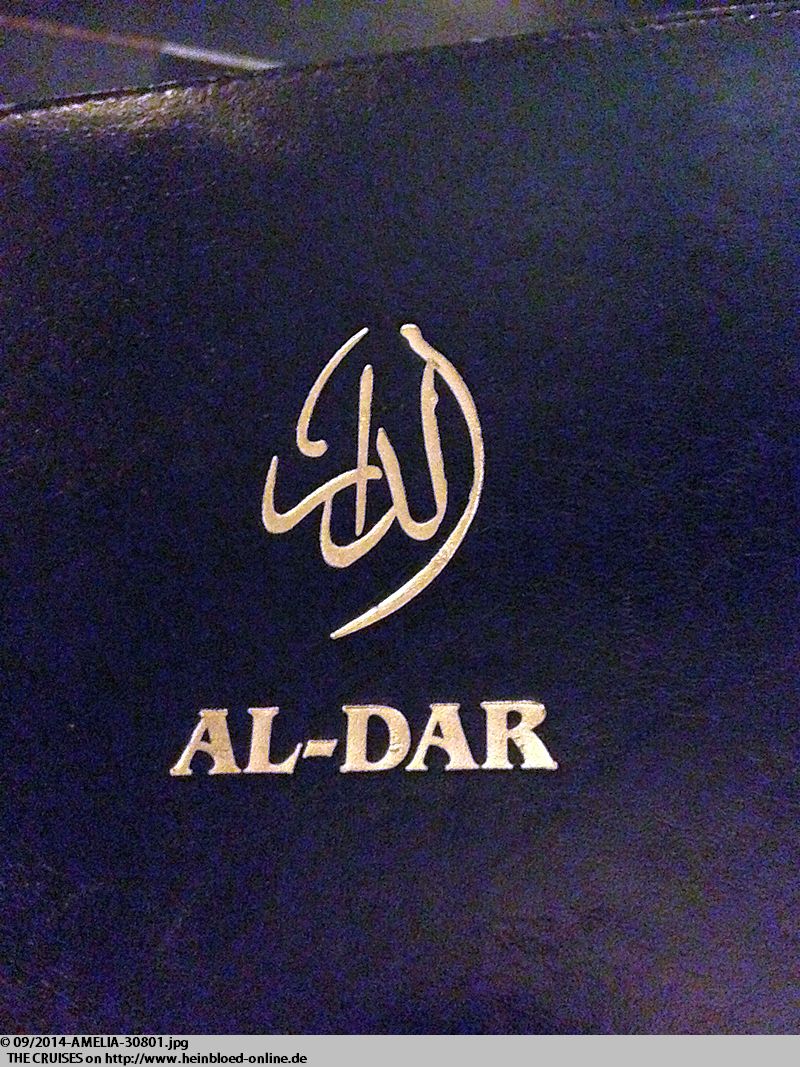 Abends geht es in ein syrisches Restaurant:
Al-Dar
.
Mangels freiem Tisch und weil ich es eh nicht alles aufessen kann, nehme ich etwas mit. Mir wird die syrische Gastfreundschaft anteil und ich bekomme während der Wartezeit einen Tee.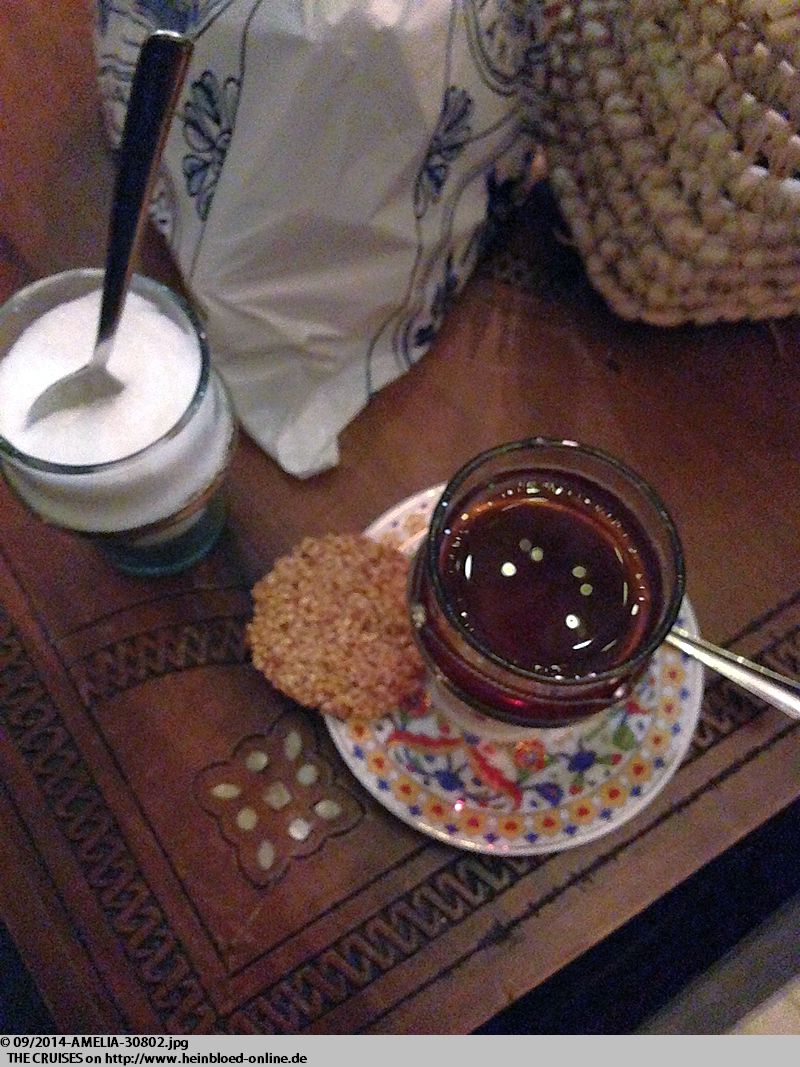 Due to lack of empty table and because I could not eat it at all, I took it to my hotel. They granted me Syrian hospitality, and I got tea while I was waiting for my food.

The food was the absolute dream. It was so much that it even lasted for a midnight snack and a small breakfast. And those I wanted to visit the next day had to deal with this great scent.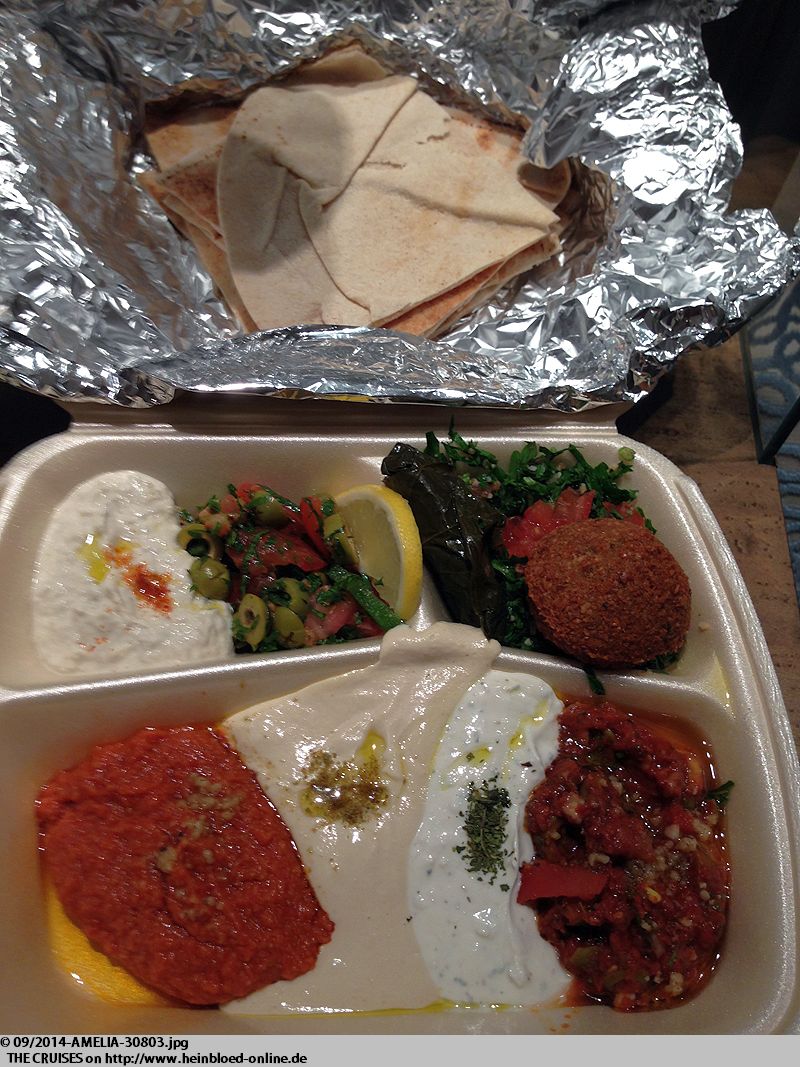 Das Essen ist der absolute Traum. Es ist soviel, dass es sogar noch für einen Mitternachtssnack und für ein kleines Frühstück reicht. Und diejenigen, die ich am nächsten Tag besuchen will, müssen sich mit diesem tollen Duft herumschlagen.
Die anderen Reisen in diesem Blog/
The other voyages in this blog: