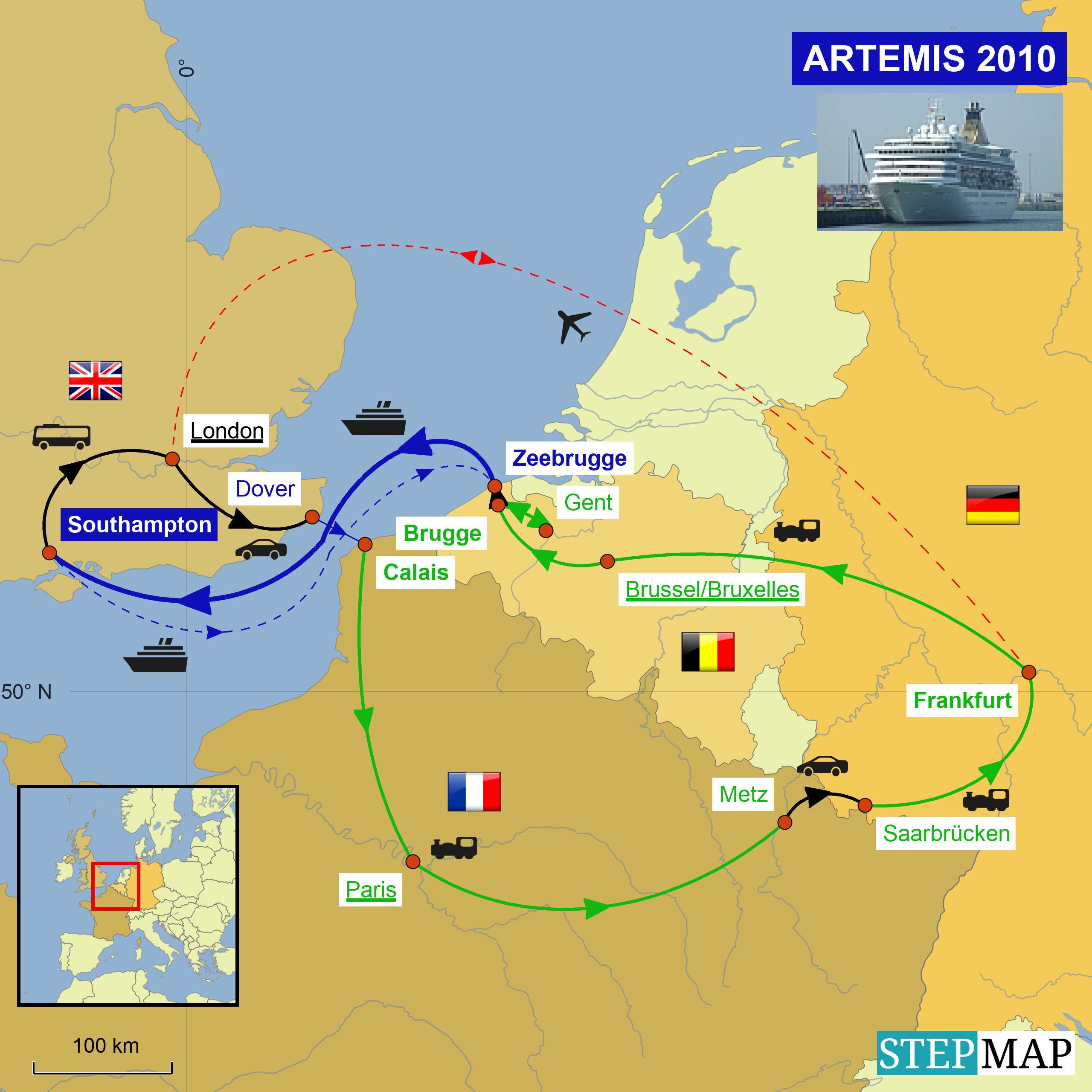 Gegen 10.00 Uhr sollten wir von Bord sein. Es machte aber auch keinen Sinn für uns viel früher von Bord zu gehen, weil
National Express
den Takt nach Heathrow auf alle zwei Stunden umgestellt hat. Zum ersten Mal im Leben machen wir Self-Debarkation und tragen unser Zeug selbst raus. Draußen müssen wir die Pick-Up Zone suchen.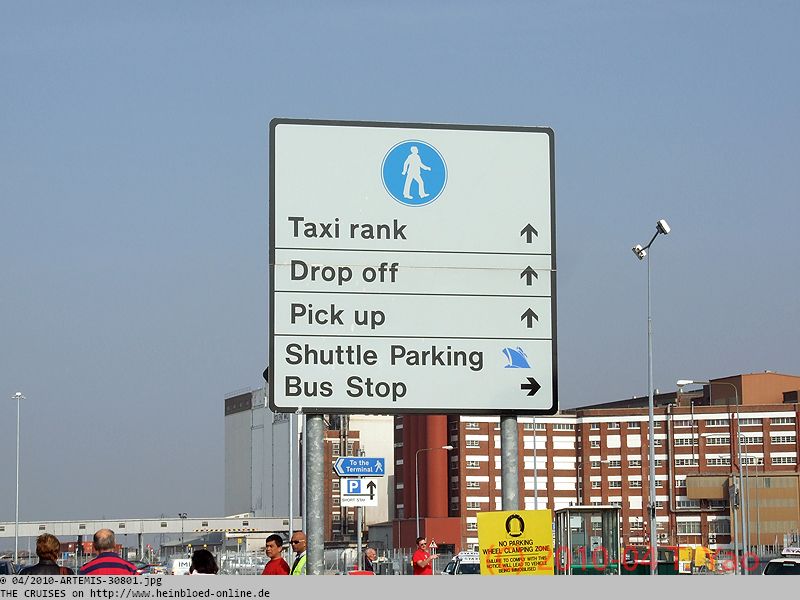 Around 10.00 hrs we need to be from the ship. It did not make too much sense to leave earlier because National Express amended the frequency from Southampton to Heathrow to a bi-hourly service. The very first time in our life we did self-debarkation and carried our bags ourselves out. Outside the terminal, we need to find the pick-up zone.

Here you can see the official taxi-tariffs.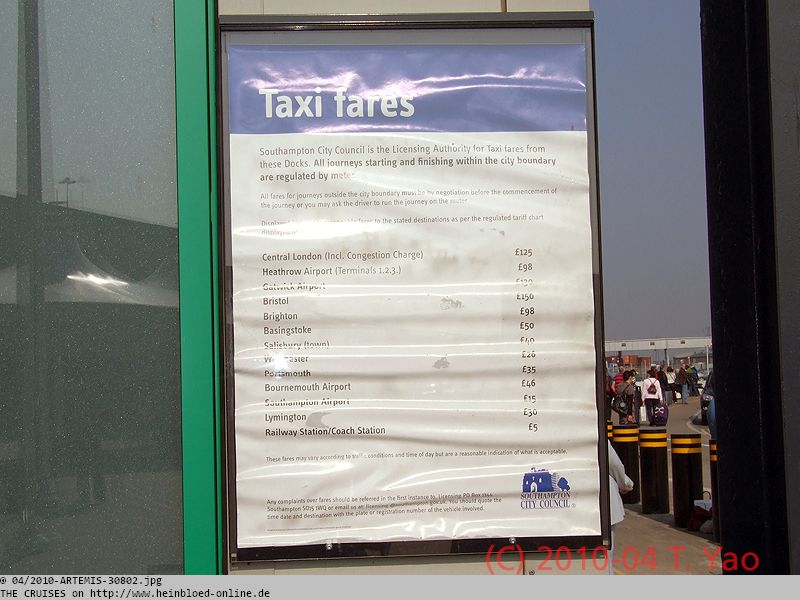 Hier kann man sich über die aktuellen offiziellen Taxitarife informieren.
Dort stehen sie auch und warten. Weil jedoch viele mit dem Auto angereist sind, gibt es für sie wenig zu tun. Wenn wir dann aber im Juni mit der NORWEGIAN JADE ankommen, dürfte mehr zu tun sein.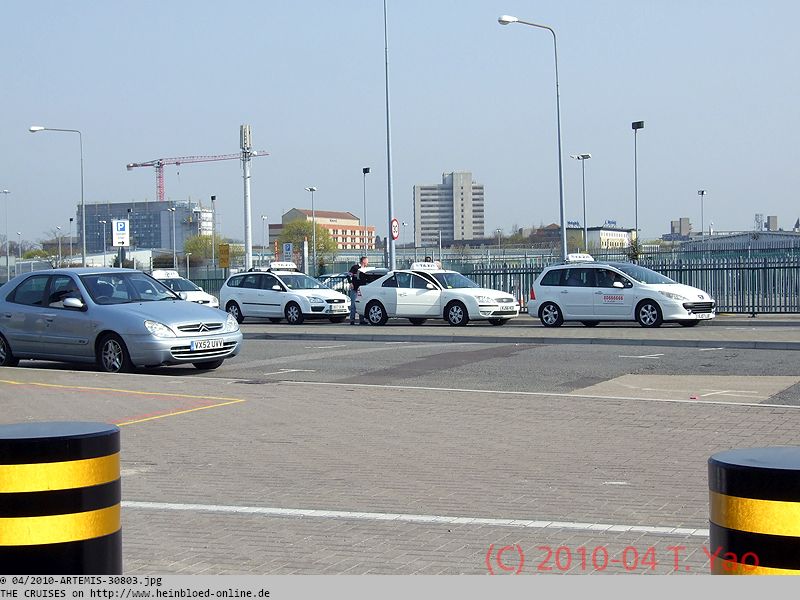 There they were waiting. Because many came with their cars, there was not so much business for them. When we come again on NORWEGIAN JADE in June, it will become quite busy.

We booked our car with West Quay Cars. Within the city, they used the meter. But for destinations outside the city, you can negotiate a fixed rate. The booking confirmation came very quickly by mail.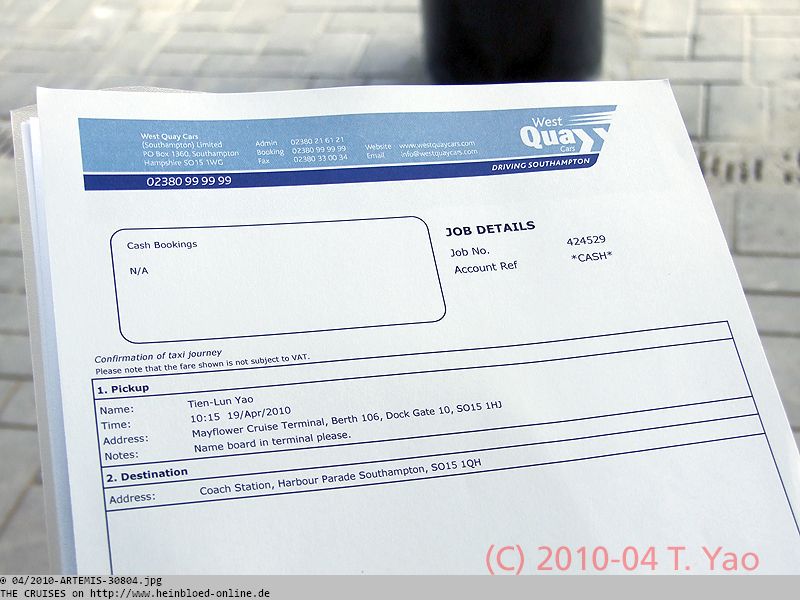 Wir haben unseren Wagen bei
West Quay Cars
gebucht. Innerhalb der Stadt fahren sie nach Taximeter. Für Ziele außerhalb der Stadt kann man etwas vereinbaren. Die Buchungsbestätigung kam auch ziemlich schnell.
Wenn ich den Blackberry nicht auf lautlos stehen hätte, hätte ich sogar den Informationsanruf mitbekommen, dass das Fahrzeug vor dem Cruise Terminal steht und auf mich wartet.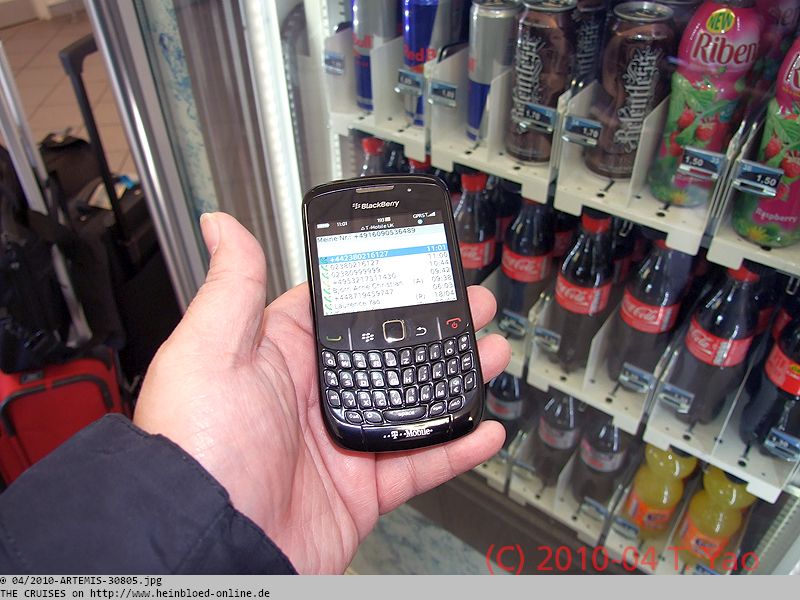 I put my Blackberry on silent mode, so I did not hear the information call that the car is in front of the cruise terminal and waited for me.

How cute: they sent a car which makes advertising for cruising.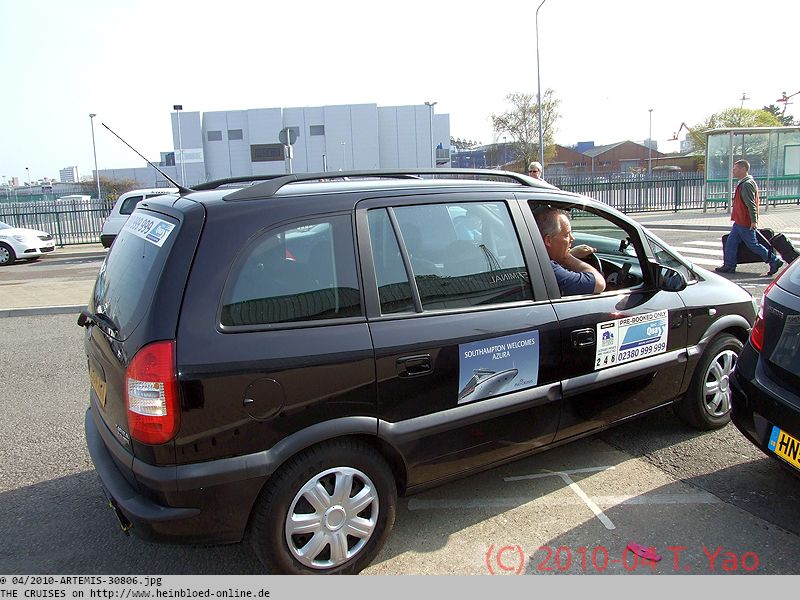 Wie schön: sie schicken ein Fahrzeug, das für Kreuzfahrten wirbt.
Die Fahrt zum Busbahnhof von National Express vom City Center Terminal kostet weniger als 5 GBP.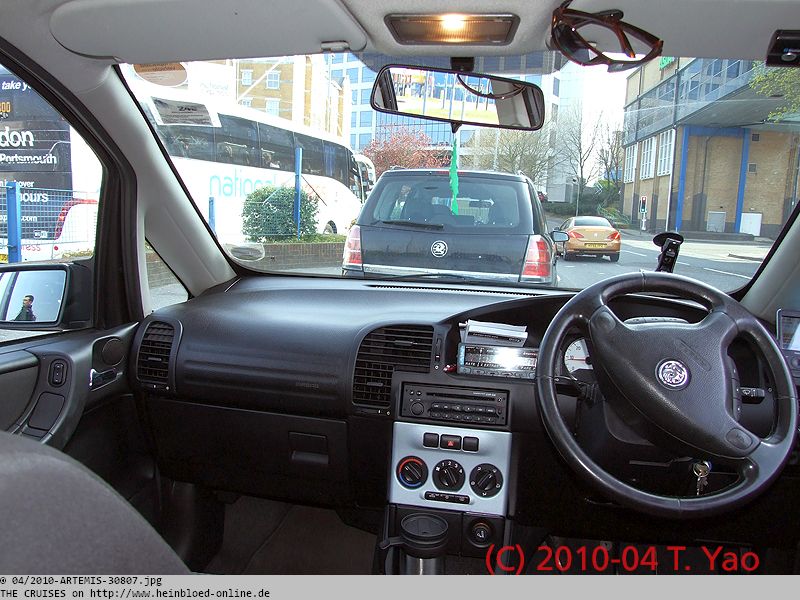 The ride to the National Express Bus Station from the City Center Terminal was less than 5 GBP.

Welcome to National Express Bus Station.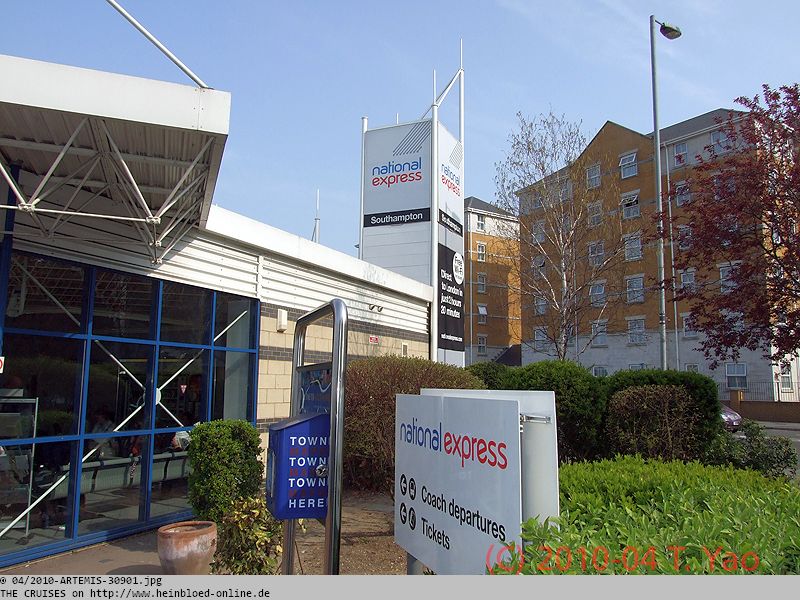 Willkommen am Busbahnhof von National Express.
Gegenüber ist ein großer ASDA-Markt (britischer Ableger von Wal-Mart) - hier kann man sich evtl. auch die Zeit totschlagen.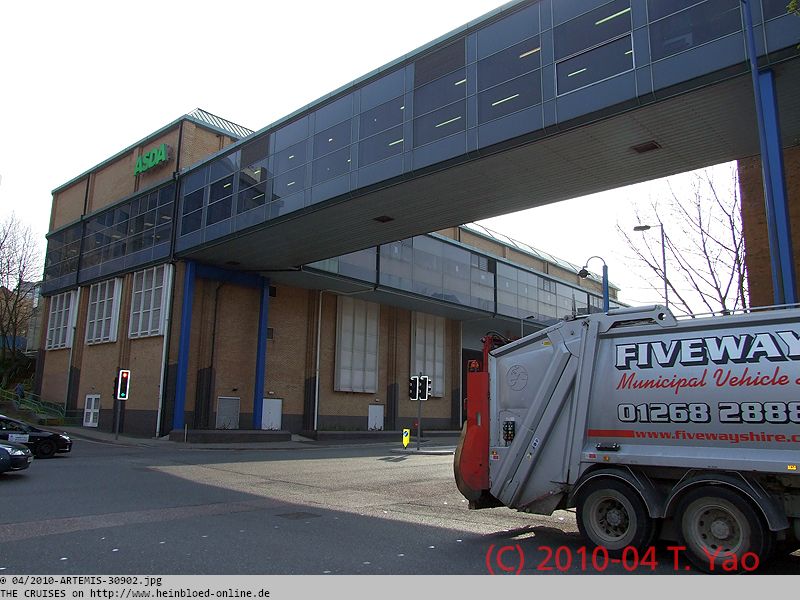 Opposite there was a big ASDA Market (a British subsidiary of Wal-Mart) - here you can also spend your waiting time.

That's the way to the train station.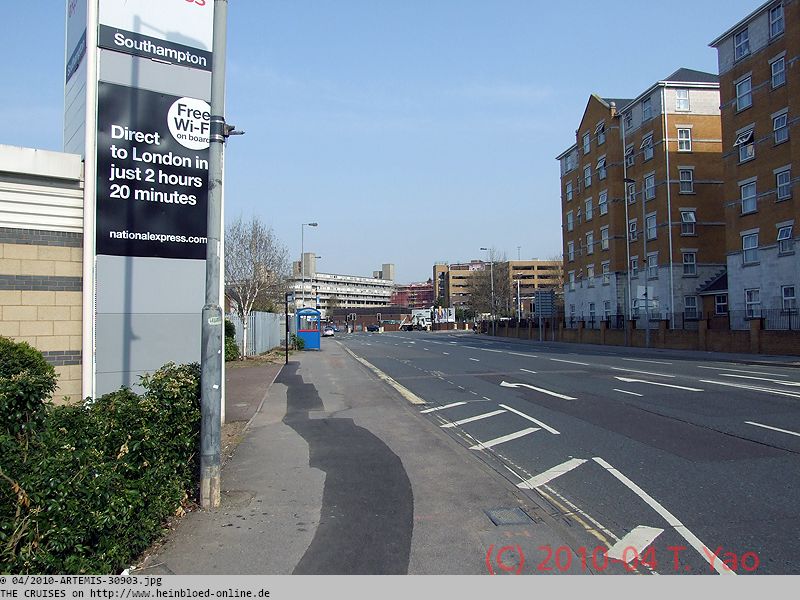 Dort hinten kann man zum Bahnhof laufen.
Und in Richtung IKEA kommt man zum Hafen. Das City Center Terminal liegt ja auf der Höhe von IKEA nur am Wasser.

And towards the IKEA you get to the port. The City Center Terminal is located adjusted to IKEA at the water.

In the bus station, you find two ticket machines and one information counter. The next available seat for a Germany-bound bus would be Friday. We could get to Paris the same night. I asked for buses which are calling the cruise terminals directly: only Fred Olsen when they chartered buses. And how about Dover: only when there are embarking/debarking ships some coaches call the cruise terminal additionally.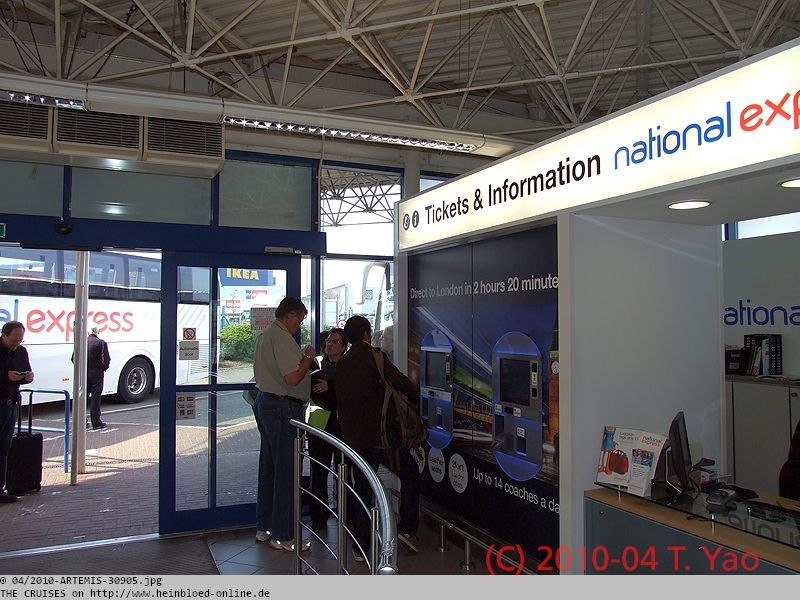 Im Busbahnhof gibt es zwei Fahrkartenautomaten und einen Informationsschalter. Der nächste freie Platz nach Deutschland wäre am Freitag. Wir könnten aber heute nachts nach Paris kommen. Ich informiere mich über Busse, die direkt zu den Cruise Terminals fahren: nur Fred Olsen auf Charterbasis. Und was ist mit Dover: nur bei Schiffen, die einen Fahrgastwechsel haben, wird auch zusätzlich das Cruise Terminal von einigen Bussen angefahren.
Der Dienst, der Heathrow mit Southampton verbindet ist die Linie 203, die weiter nach Portmouth geht.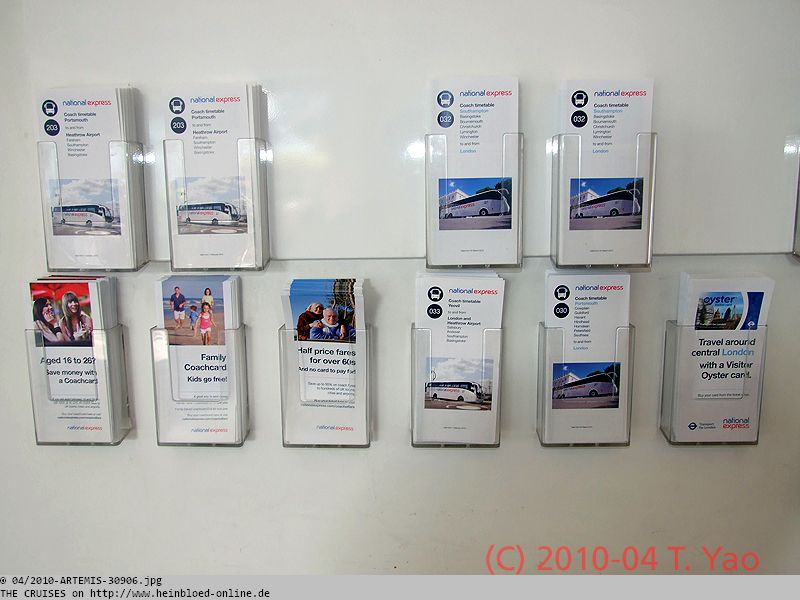 The service which connects Heathrow with Southamtpon is route 203 which continues to Portsmouth.

There was no more facilities but the vending machines for beverages and snacks.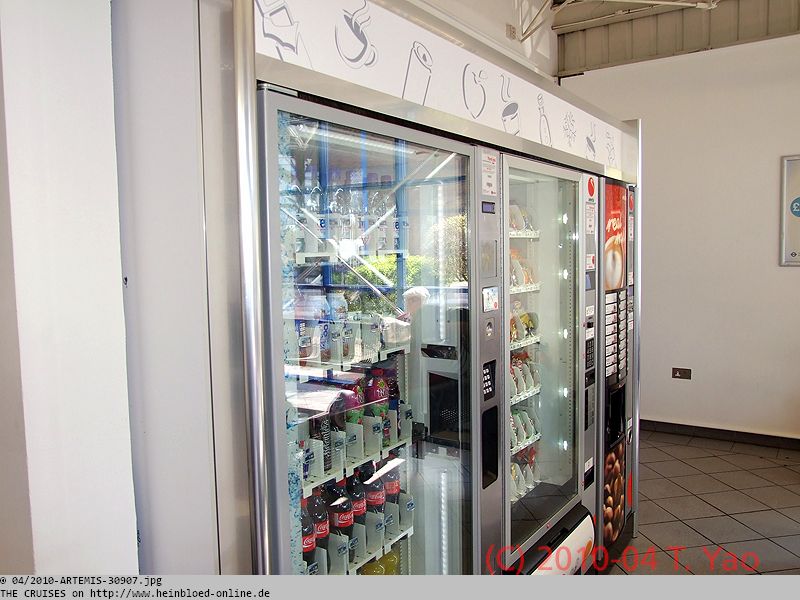 Mehr als diesen Getränke- und Snackautomaten gibt es nicht.
Für den Besuch der Toilette braucht man 20 Pence.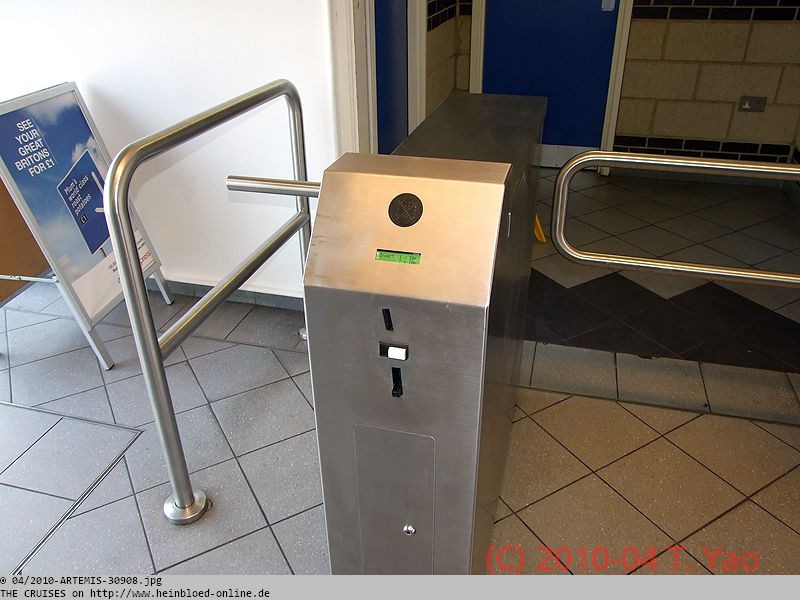 If you need to see the toilets you need 20 Pence.

So you should stay as long as possible on the ship and come as late as possible as also the seats in the waiting zone are minimal.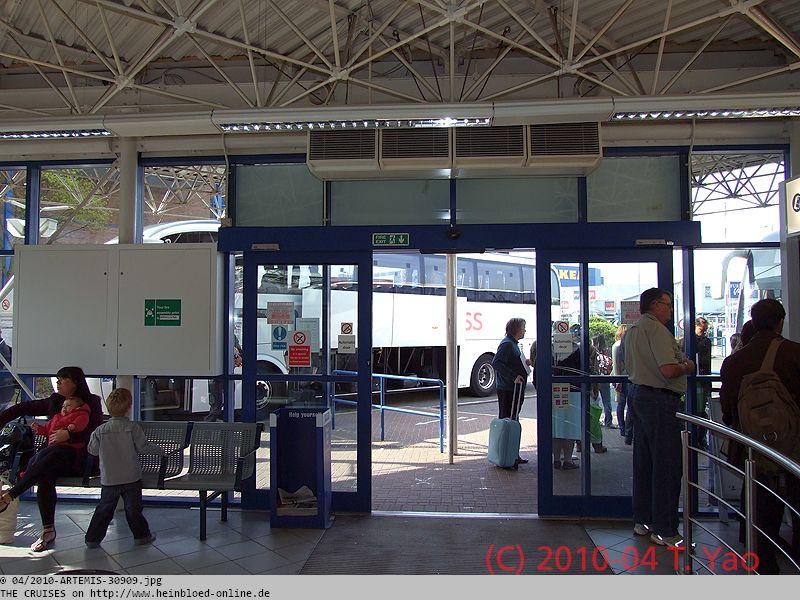 Also sollte man möglichst lange auf dem Schiff bleiben und möglichst spät sich ein Taxi nehmen zumal die Anzahl der Sitzmöglichkeiten im Wartebereich stark begrenzt ist.
Unsere Tickets habe ich im Internet bestellt. 15,00 GBP pro Strecke von Southampton nach Heathrow. Zzgl. Kreditkartengebühr von 1,00 GBP.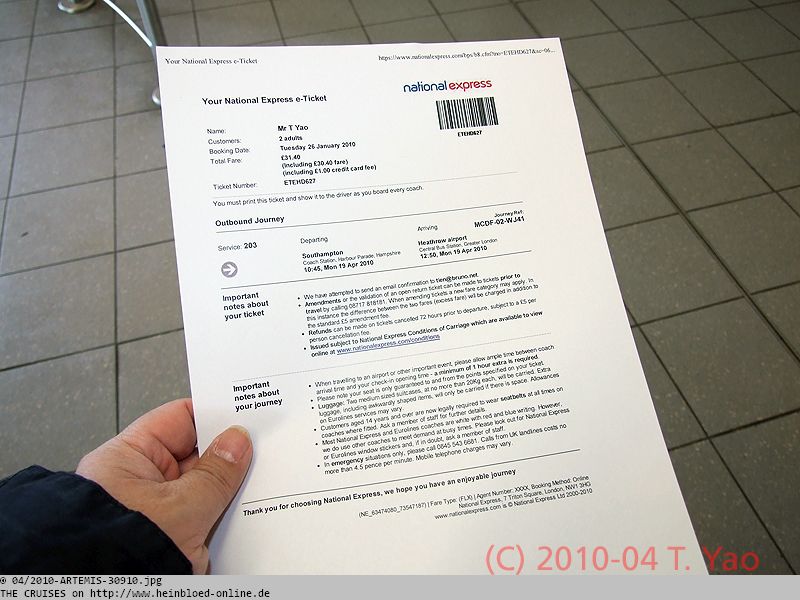 We ordered our tickets in the internet. 15.00 GBP per person from Southampton to Heathrow plus credit card usage of 1.00 GBP.

You were queuing up for boarding. Not a knot of people like in Germany.

Man stellt sich auch für den Einstieg brav an. Keine Menschentraube, wie in Deutschland.
Das Gepäck wird beim Fahrer abgegeben und unten verladen. Vielleicht haben sie eine Waage im Arm eingebaut um nachzuwiegen, ob es schwerer als die erlaubten 20 kg ist...

The baggage was handed over to the driver who loaded it into the lower compartments. Maybe they had an installed scale in their arm to check if your bags were heavier than the allowed 20 kgs...

To have more legroom, we went to the last room at the emergency exit.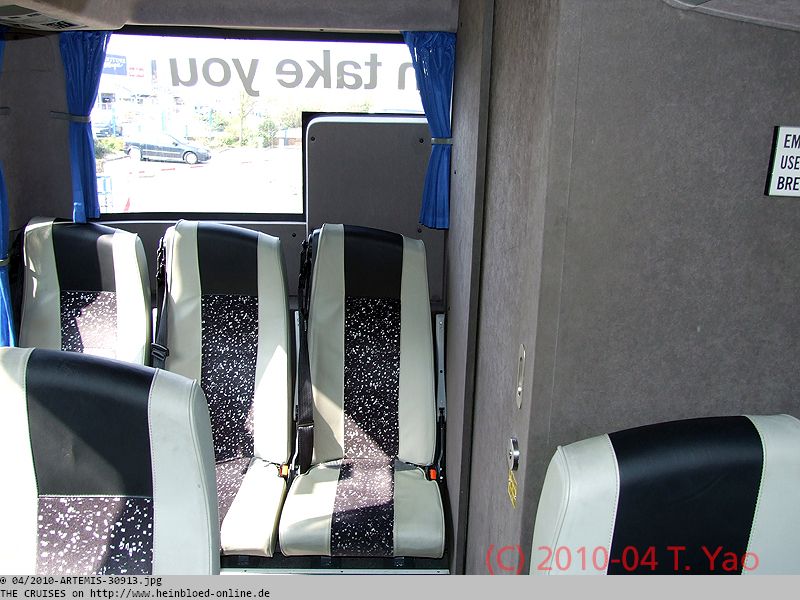 Wir schnappen uns die letzte Reihe am Notausgang wegen der Beinfreiheit.
Alle sitze sind schon mit Sicherheitsgurten ausgerüstet, die auch angelegt werden müssen. An Bord gibt es kostenlos WLAN. Aber für den Upload von Bildern war das nichts.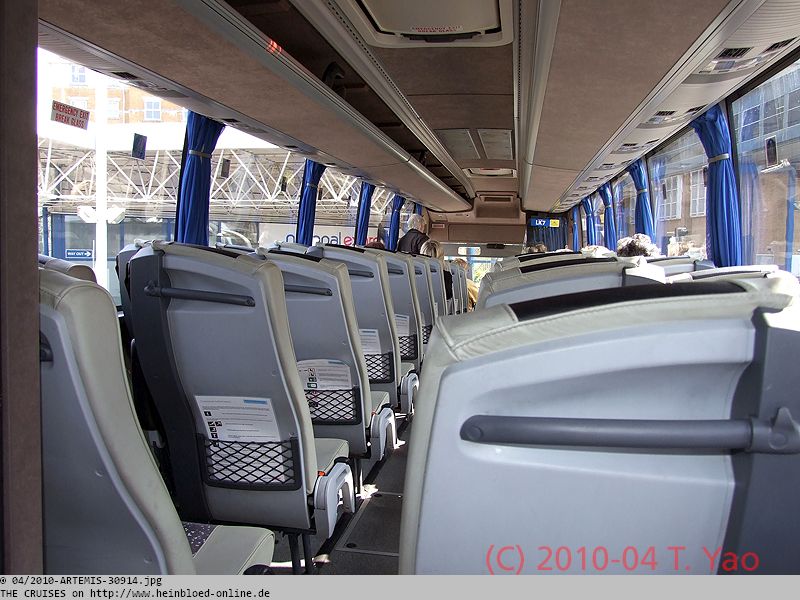 All seats had seat belts which you must wear. You had free WiFi on board. But nothing for the upload of pictures.

The last row was advantaged for those who had caught the norovirus... and a disadvantage for those sitting next: The price you had to pay for more legroom.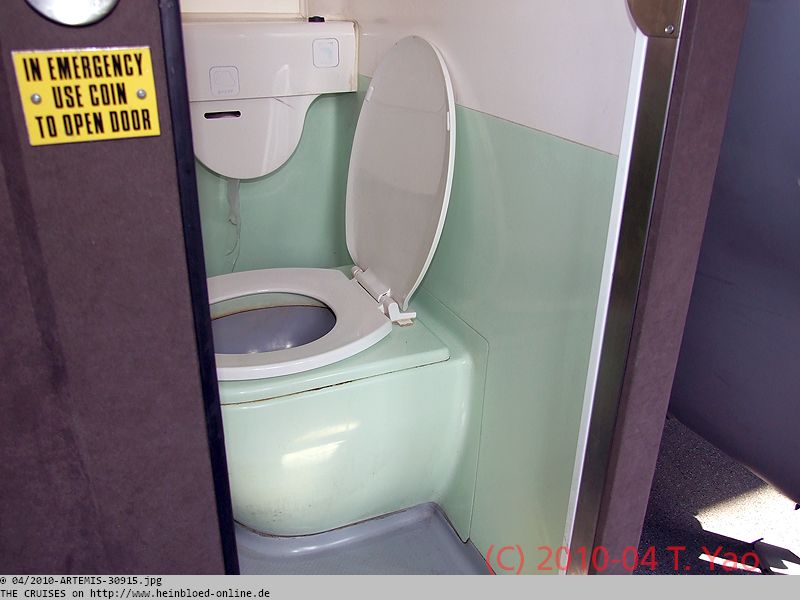 Die hinterste Reihe hat einen Vorteil, für die sich den Norovirus eingefangen haben... und einen Nachteil für die die direkt daneben sitzen: Das ist der Preis der zusätzlichen Beinfreiheit.
Aber auch vorne hätte es einen Bereich für Rollstuhlfahrer gegeben mit mehr Beinfreiheit.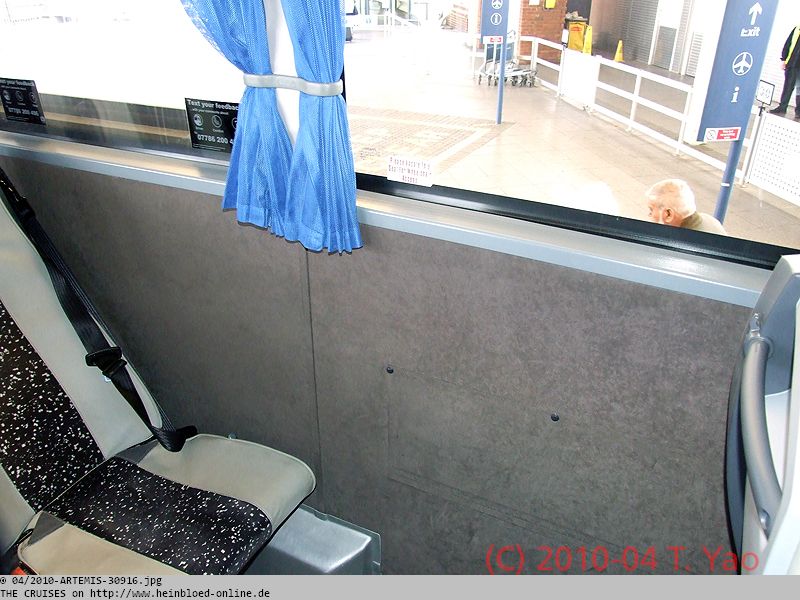 There was also an area in the front for wheelchair customers with more legroom.

They also provided child seat supports.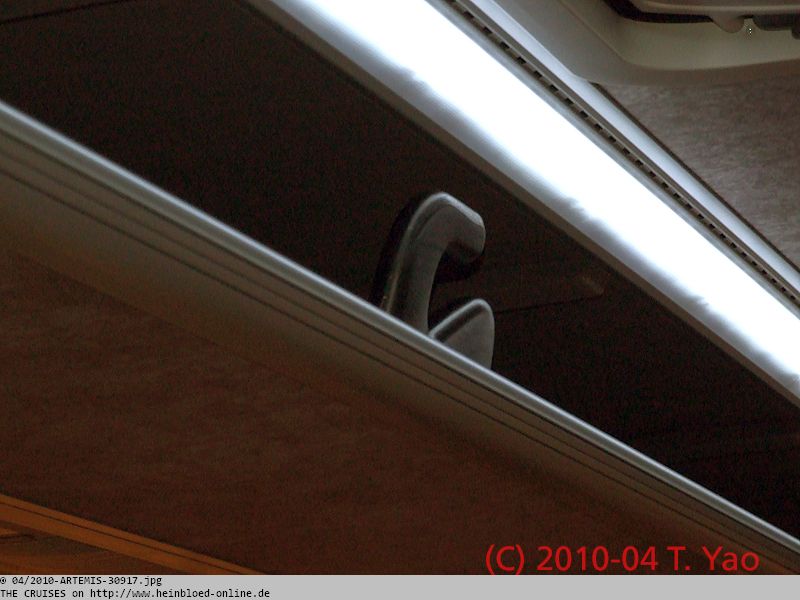 Sogar Kindersitzauflagen werden gestellt.
Nach fast zwei Stunden sind wir am Terminal 5. Terminal 4 und Terminal 5 werden nur angefahren, wenn es auch Fahrgäste gibt, die für diese Ziele Tickets gelöst haben. D. h. wenn man also bucht und an diesen Terminals raus muss, muss auch das entsprechende Ziel gebucht werden. Auf der Fahrt zur Endstelle sehen wir, dass sich alle internationalen Fernsehnetze sich vor dem Renaissance Hotel aufgebaut haben, um die gespenstisch ruhige Szenerie vollkommener Ruhe auf dem Flugfeld am Flughafen Heathrow einzufangen.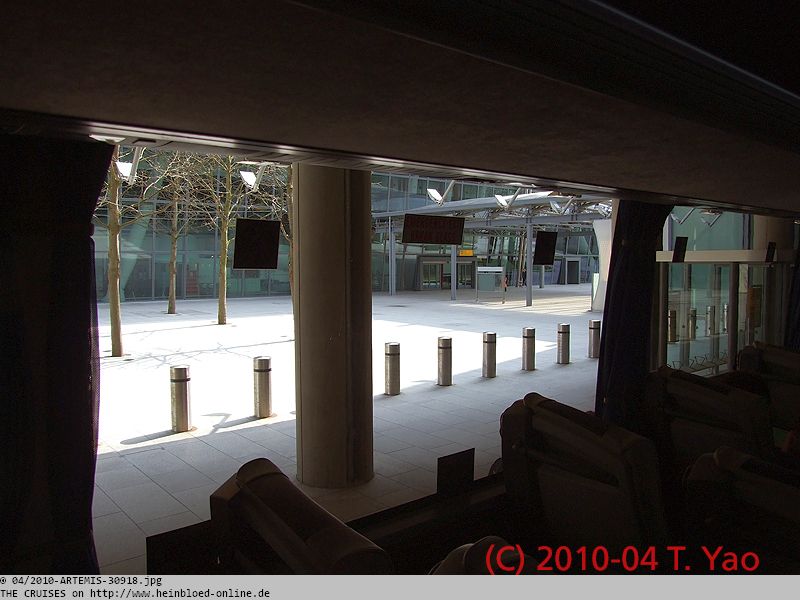 It took nearly two hours before we reached Terminal 5. They only call Terminal 4 and Terminal 5 when there are ticketed passengers i. e. you must have tickets to these terminals if you want the bus to stop there. On the way to the terminal, we see all international broadcast network in front of the Renaissance Hotel to catch the haunting atmosphere at Heathrow airport without any move on the airfield.

So they released you to the bus terminal which is connected by subway to Terminal 1 and Terminal 3. Terminal 2 is closed.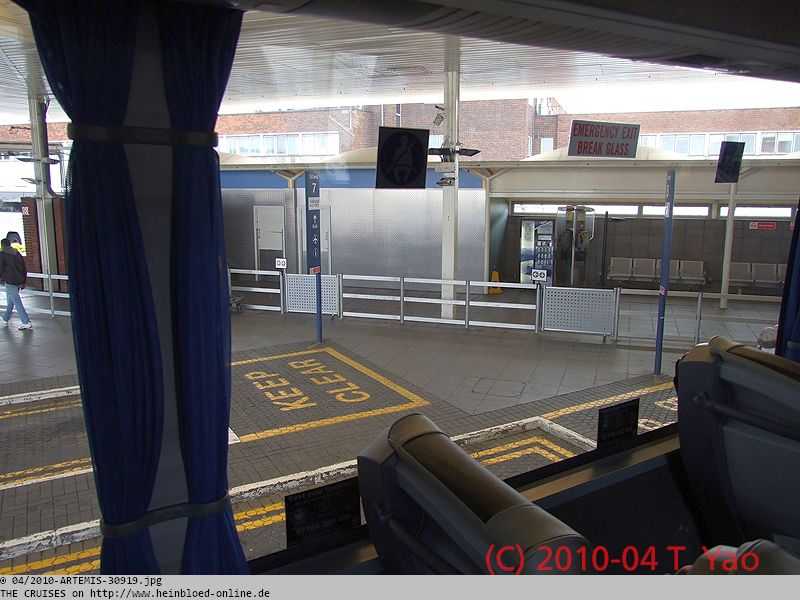 Ansonsten wird man am Busbahnhof des Flughafens herausgelassen, der mit den Terminals 1 und 3 unterirdisch verbunden ist. Terminal 2 ist geschlossen.
Und wenn man umbuchen muss, weil man zu früh oder zu spät da ist??? Der Spaß kostet 5 GBP vorbehaltlich Verfügbarkeit.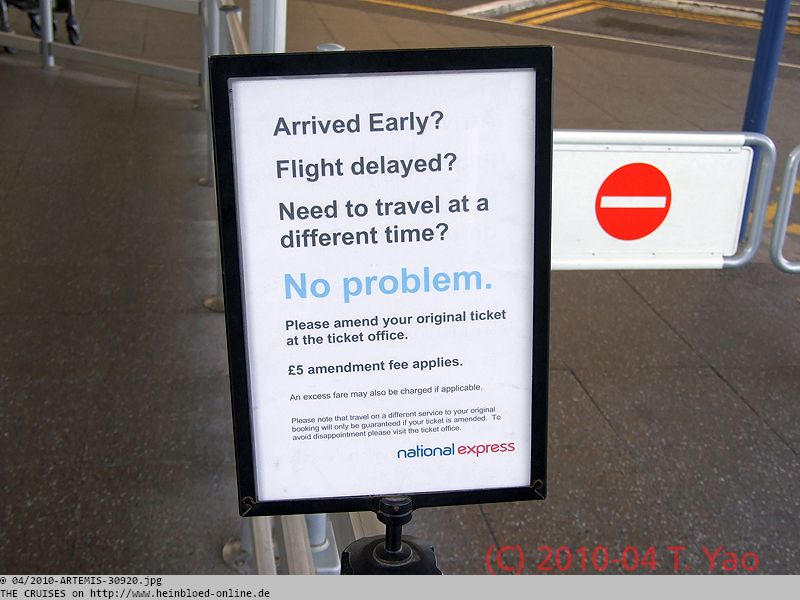 And if you need to rebook because you are too late or too early??? Change fee 5 GBP subject to availability.

Who needed to get to the subway (Underground) and were necessary to get from Terminal 1 to Terminal 3 anyway required to get under the bus station.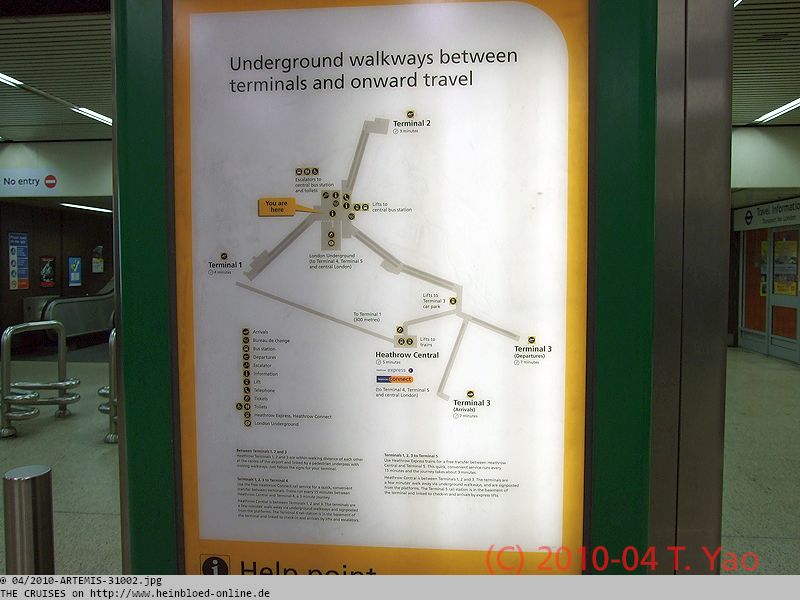 Wer zur U-Bahn will oder von Terminal 1 nach Terminal 3 muss eh unter dem Busbahnhof darunter.
So schön leer habe ich Heathrow noch nie erlebt. Lufthansa hat die Losung ausgegeben: Es wir niemandem geholfen. Der persönliche Rat: versuchen Sie es mit National Express... Eine kleine Initiative startet, dass noch Mitfahrer für einen Minibus nach Paris gesucht werden. Für 125 EUR und keine Ahnung wann und wo man ankommt und die überhaupt die acht Leute zusammenkommen: Nicht meins.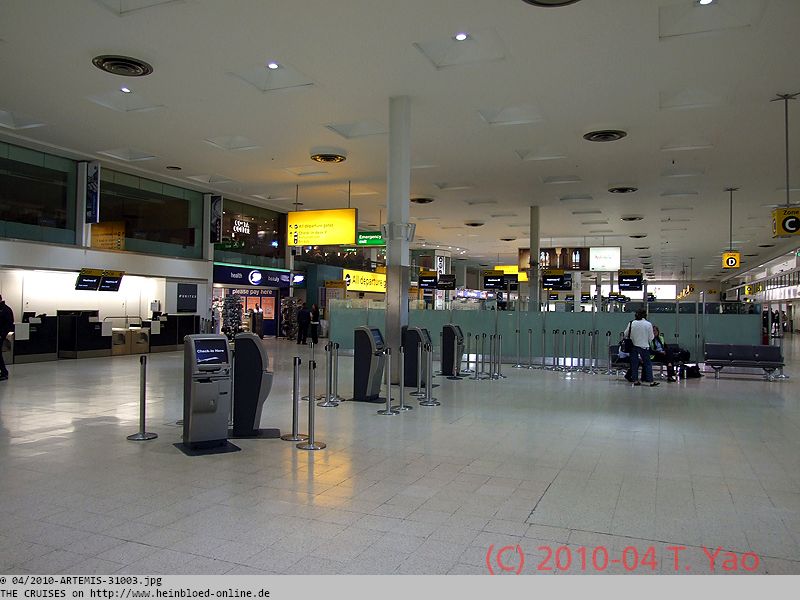 Never experienced Heathrow before so nice and calm. Lufthansa gave the following instruction: Do not help anybody. The personal advise: try it with National Express... A small initiative started to arrange a shared ride in a mini-bus to Paris. For 125 EUR and no idea when and where you will arrive and when eight persons are available and willing to book: not mine.

We booked a car with Enterprise who had a location in the ferry terminal of Dover. But they wanted the double price of the normal charges. Company corporates were just ignored. The other as well but also have no business.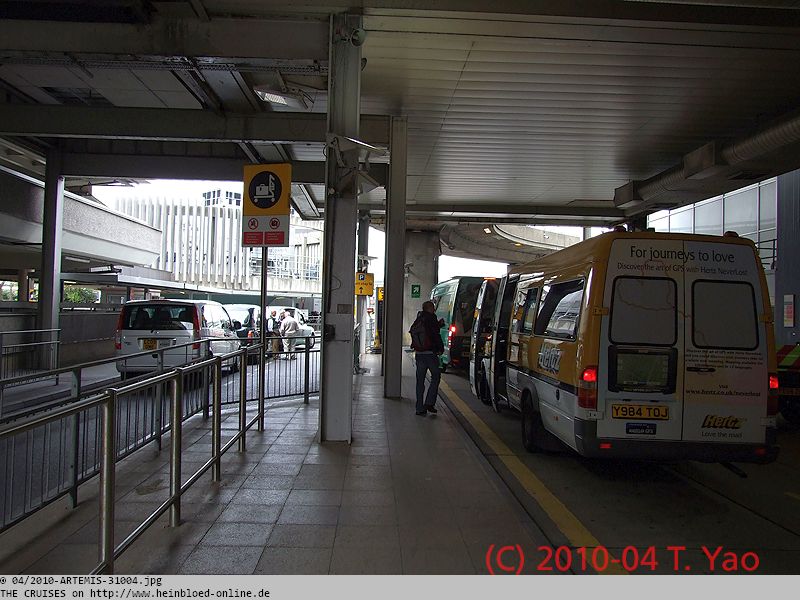 Wir buchen einen Mietwagen
Enterprise
, die über eine Abgabestation im Fährterminal in Dover haben. Allerdings nehmen sie das doppelte von dem, was sie normalerweise nehmen. Auch Firmenkonditionen nützen nichts. Die anderen Mietwagengesellschaften machen das gleiche und haben auch nichts zu tun.
Und dann kommt auch schon unser Bus, um uns abzuholen. Für 77,05 GBP bekommen wir einen Polo. Normalerweise zahlen wir die Hälfte für einen Golf.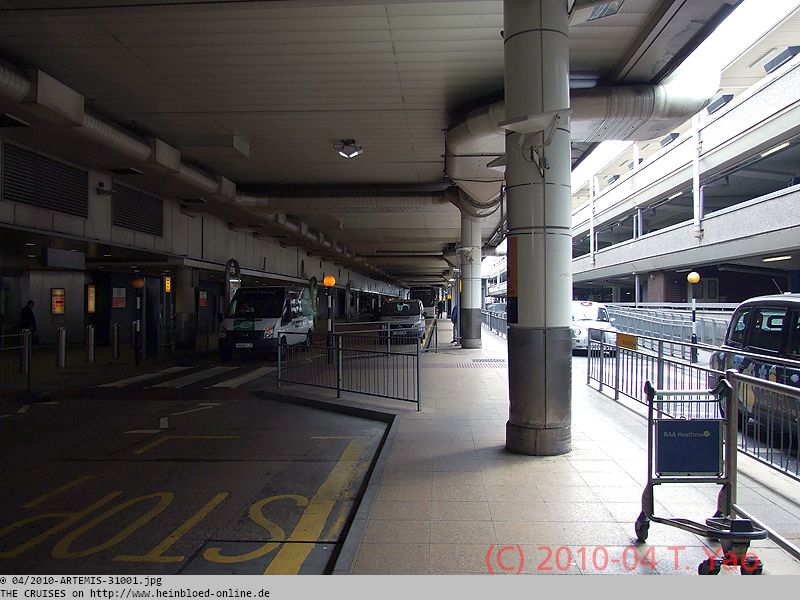 The van came to collect us. For 77.05 GBP we got a Polo. Normally we pay half for a Golf.

On the way to Dover, we met my childhood again. On a service station alongside the motorway, we found a Wimpy. But this was not the same anymore like my childhood. In Dover, we parked first the car because we excepted here jam-packed in the waiting hall. But nothing.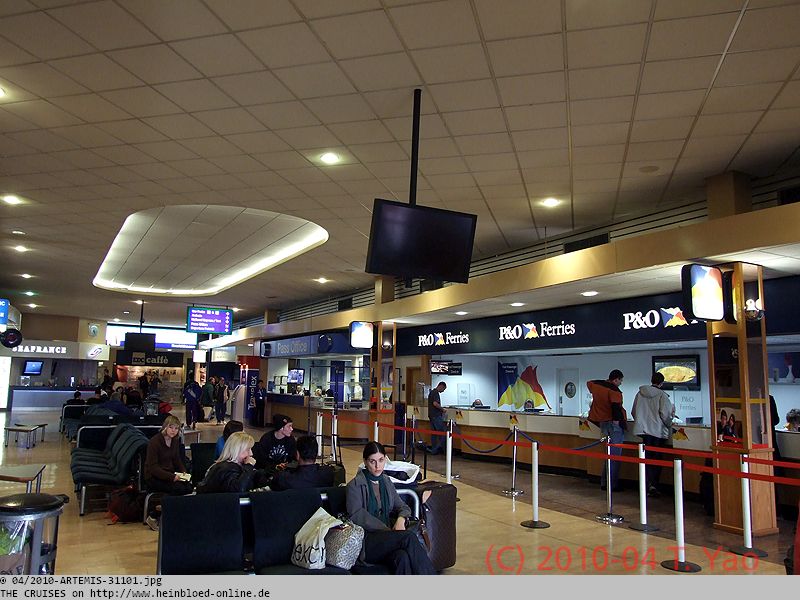 Auf dem Weg nach Dover stoßen wir auf meine Kindheit. An einer Autobahnraststätte gibt es noch Wimpy. Aber das hat leider mit Kindheit nichts mehr zu tun. In Dover parken wir zunächst mal den Wagen. EIgentlich haben wir hier mit Menschenmassen gerechnet. Aber hier ist nichts los.
Für 50 GBP statt 26 EUR normal dürfen wir in einer Stunde bei
P&O Ferries
mit. Seafrance nimmt normalerweise keine Fußpassagiere mehr mit. Hier haben sie es wohl getan. Die Schlangen bei denen waren ziemlich lang.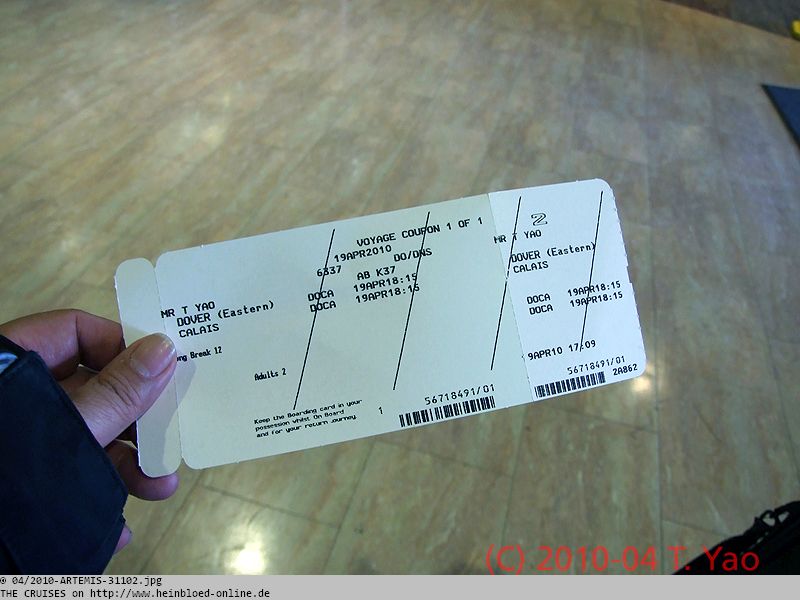 For 50 GBP instead of normally 26 EUR we can go in our hour with P&O Ferries. Seafrance normally does not accepted anymore foot passengers but they did it under the special circumstances. But their queue was somehow long.

Now we tried to return the car as quickly as possible.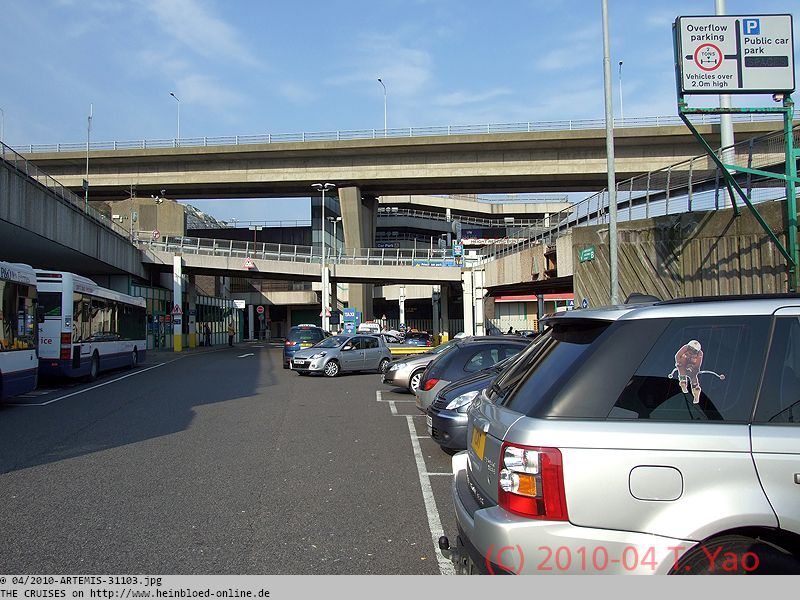 Nun versuchen wir schnell unseren Wagen loszuwerden.
Hier könnten wir auch noch mit dem Nachtbus nach Paris. Aber mir langten schon die zwei Stunden von Southampton nach Heathrow.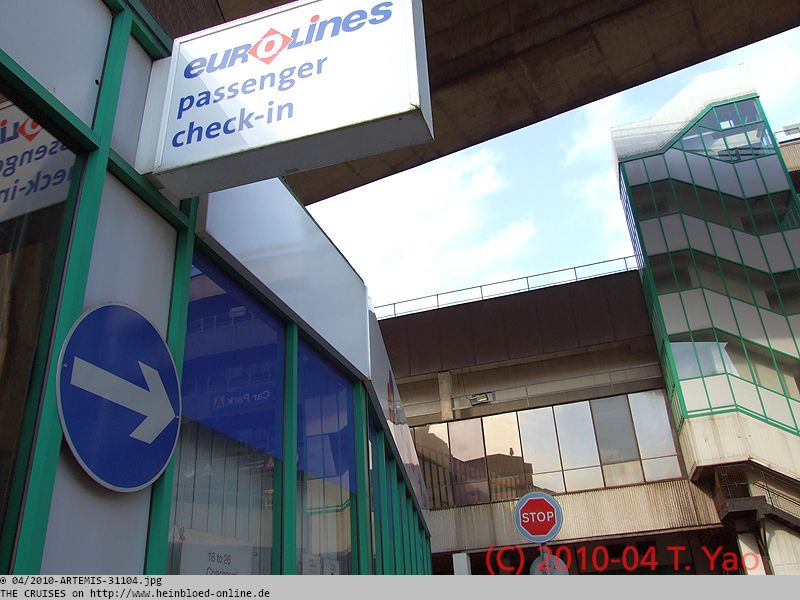 From here we can still get on the night bus to Paris. But the two hours from Southampton to Heathrow were already enough.

We used the chance to inform us about the prices and talked a little bit with the drivers. A ride from Dover to Gatwick will be around 130 GBP and to Heathrow around 160 GBP.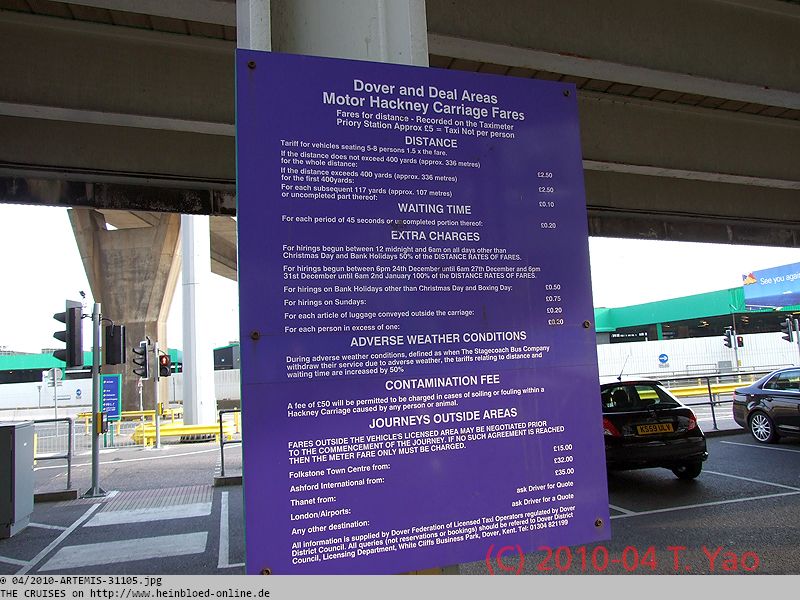 An der Taxistation nutzen wir die Chance uns über die Preise zu informieren und kommen mit den Taxifahrern ins Gespräch. Eine Fahrt von Dover nach Gatwick kostet um die 130 GBP und nach Heathrow um die 160 GBP.
Wir müssen in die Ankunftshalle rüber, um Enterprise zu suchen.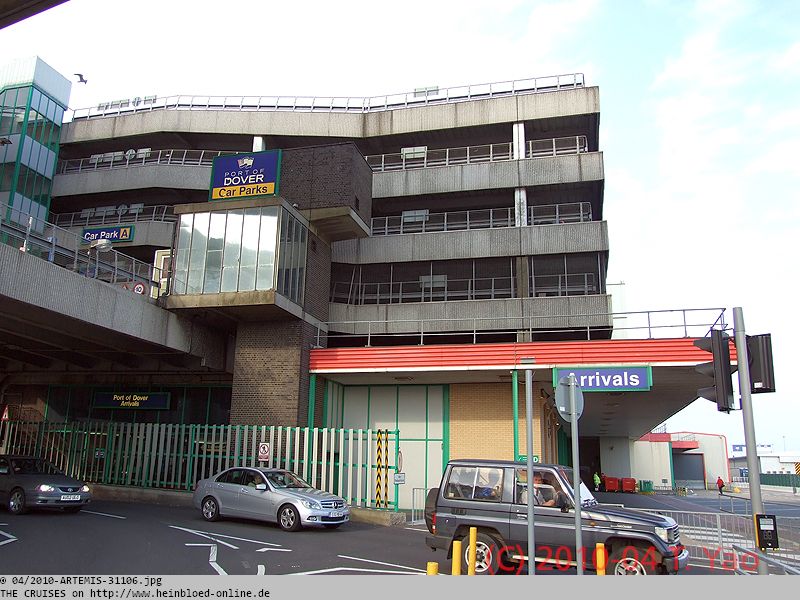 We need to get over to the arrival hall to find Enterprise.

Enterprise offers to collect/deliver you at the Cruise Terminal but not at the weekends. AVIS is also here available. But they are not available at the weekend as well.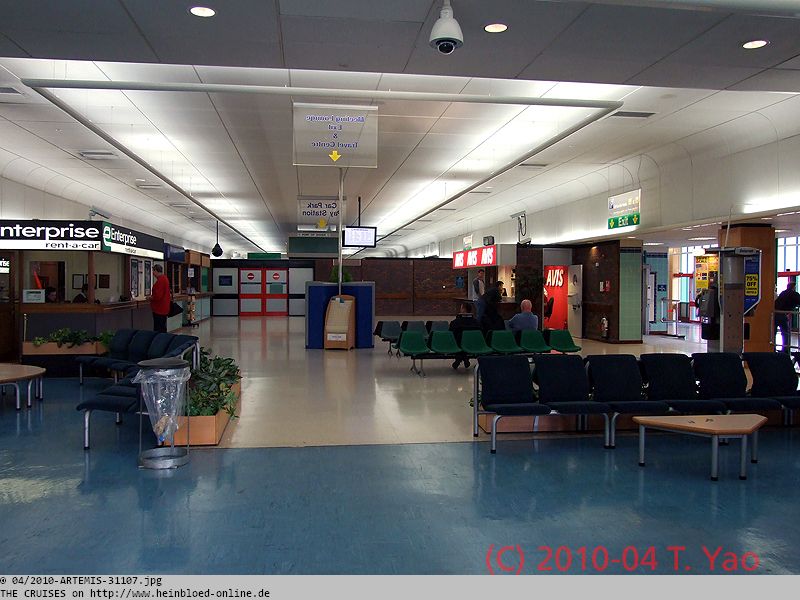 Enterprise bietet an, dass man am Cruise Terminal abgeholt oder hingebracht wird, aber nicht am Wochenende. AVIS ist hier auch noch vertreten. Aber auch sie sind am Wochenende nicht erreichbar.
Ein Bus verbindet den Fährhafen mit dem Bahnhof, aber dann hätten wir in London einen Bahnhofswechsel gehabt. Mit Gepäck zu viel Stress.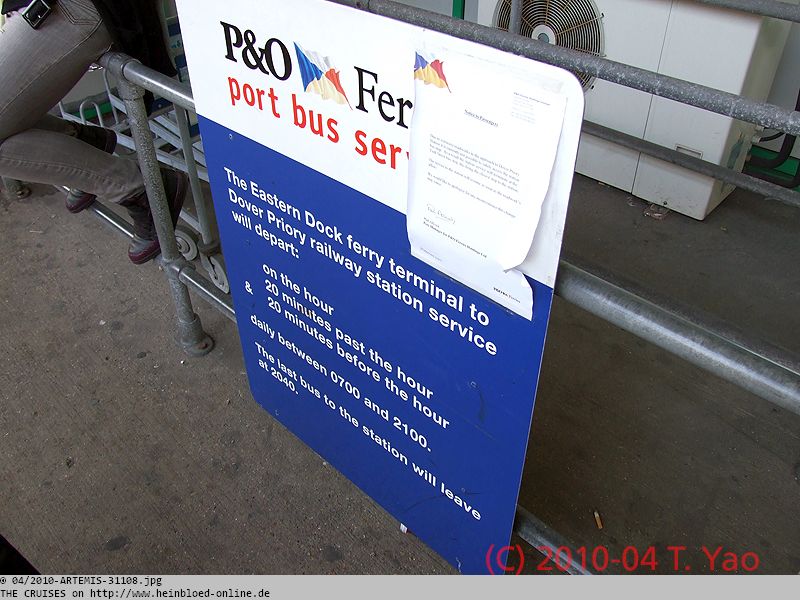 A bus connects the ferry terminal with the train station but then we need to change the train station within London. Too much stress with all the bags.

Here you need to pay attention because the bus to the ship also starts here. It was not very convenient. On the way to the ship, you were necessary to get all off without baggage to pass the French immigration. After few yards again with all your bags for security screening. They took us directly on the ramp to the car deck of the ship and released us in front of a two-deck long steep stairway to get to the passenger's deck.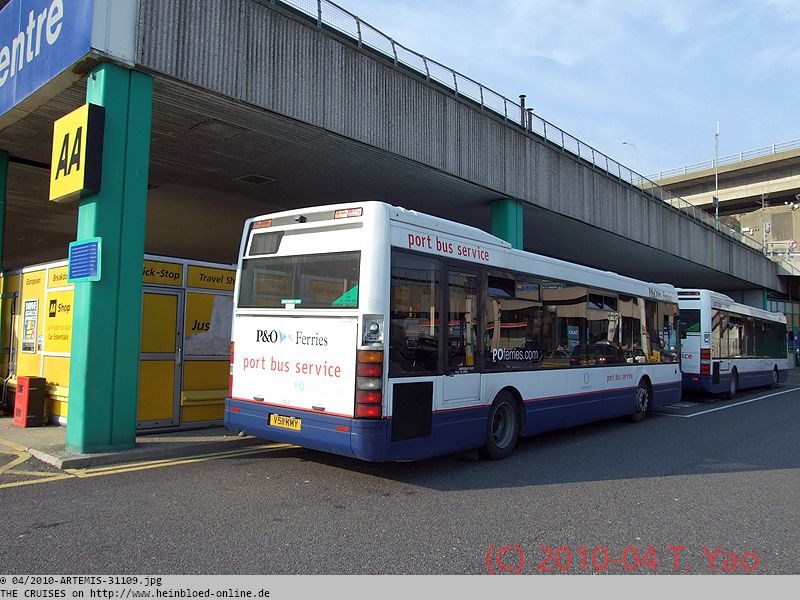 Hier muss man aufpassen, weil hier auch die Busse abfahren, zu denen man zu den Schiffen gebracht wird. Das war alles andere als angenehm. Zunächst mussten alle auf dem Weg zum Schiff ohne Gepäck raus, um durch die französische Einreiseprozedur zu laufen. Dann nach wenigen Metern nochmals mit Gepäck durch die Sicherheitskontrolle. Man wurde jetzt direkt auf das Schiff gebracht, d. h. der Bus fuhr die Laderampe auf ein Autodeck hoch und setzte uns vor einer langen Treppe ab, die über zwei Decks führte, um auf die Passagierdecks zu kommen.
Willkommen auf der PRIDE OF BURGUNDY. Zum Glück dauerte die Überfahrt nur etwas mehr als eine Stunde. Länger hätte ich es hier auch nicht ausgehalten.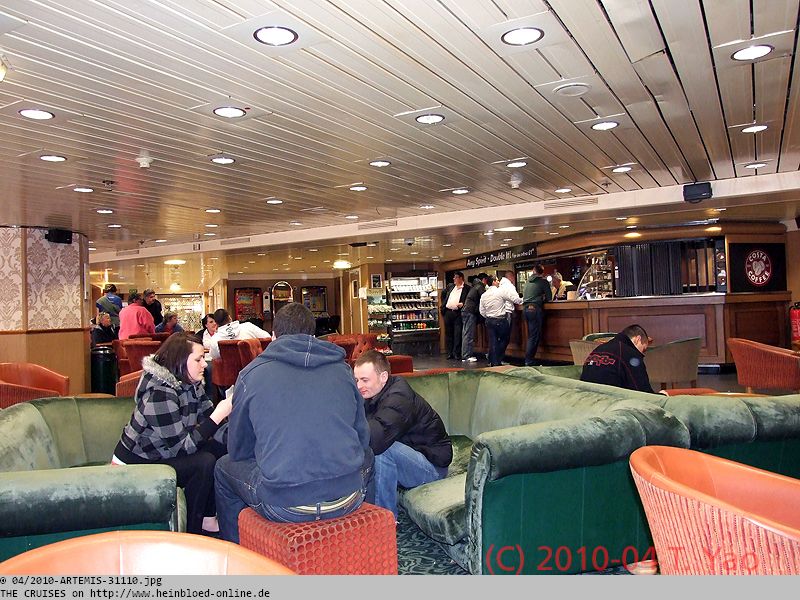 Welcome to the PRIDE OF BURGUNDY. But the ride was only an hour. Much longer I really did not want to stay there.

I Calais you need to get off the ship over this endless long passenger bridge and again into a bus.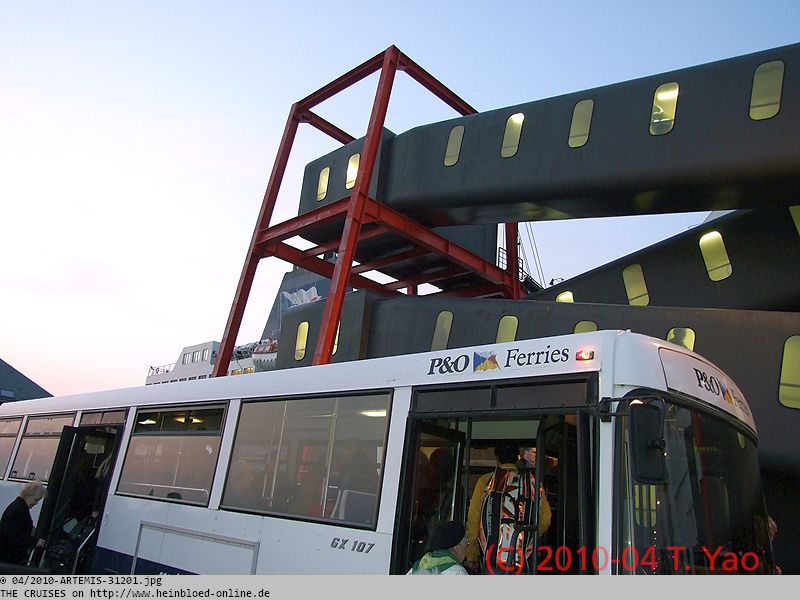 In Calais ging es erst mal samt Gepäck diese ewig lange Passagierbrücke runter und wieder in den Bus.
Zum Glück hatten wir keinen Mietwagen bestellt. Alle waren schon zu und wir wären eh nicht dahin gekommen, weil die Fußpassagiere schon bis in die Ankunftshalle standen. Vermutlich hätten sie uns eh abgezockt.

We were lucky that we did not order a car. All had closed anyway, and we would not have a chance to get to their offices as the departing foot passengers were already queuing in the arrival hall. I guess they would not be nicer than in the UK with their price policy.

Oops... no more buses according to this schedule. And no taxi around.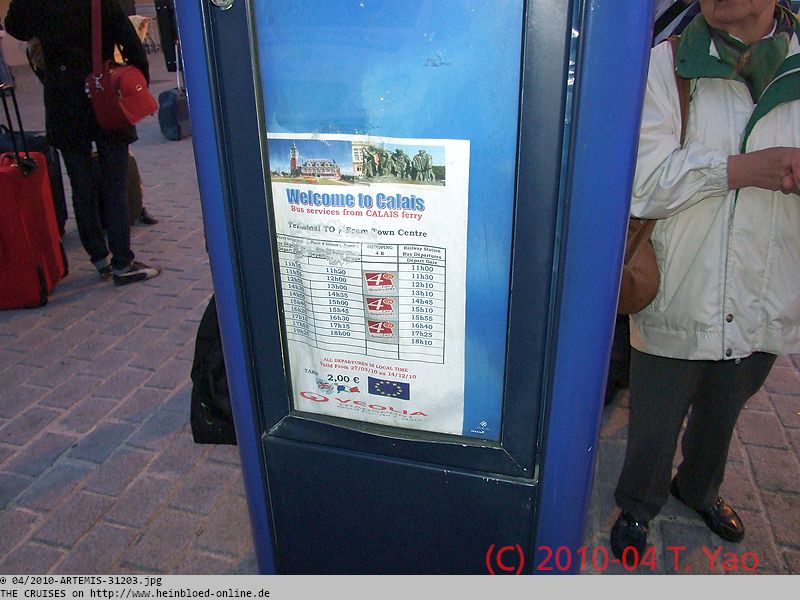 Oh - ein Bus fuhr laut Fahrplan wohl auch nicht mehr - und ein Taxi war weit und breit nicht zu sehen.
Dann kam noch ein Bus vom Bahnhof und brachte jede Menge neuer Fußpassagiere, die schon nun draußen anstanden. Daher konnte der Bus nicht mehr dort halten, wo er normalerweise hielt. Und vor dem Platz Fernsehteams aus aller Welt.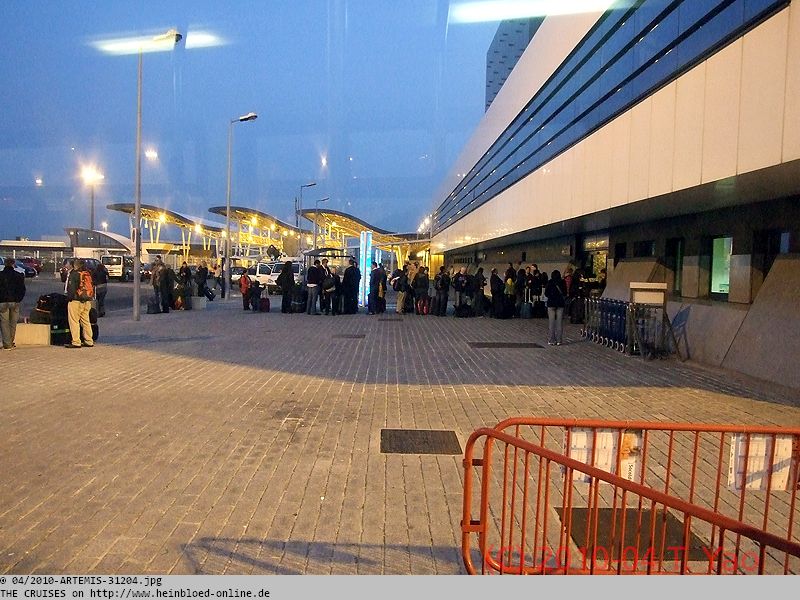 But then one more bus came and more foot passengers arrived who need to queue up outside the terminal. The bus was not able to stop anymore where it should stop. In front of the square all the international networks.

For 2 EUR we got a lift to Calais Ville train station.

Für 2 EUR pro Person werden wir noch zum Bahnhof Calais Ville gefahren.
Dort erfahren wir, dass die SNCF den Betrieb nach dem Streik gegen 06.00 Uhr morgens wieder aufnehmen will. So kaufen wir zwei Karten nach Metz für 175,80 EUR. Es lebe die Kreditkarte. Was machen eigentlich Menschen ohne Kreditkarte und in eine solche Situation geraten???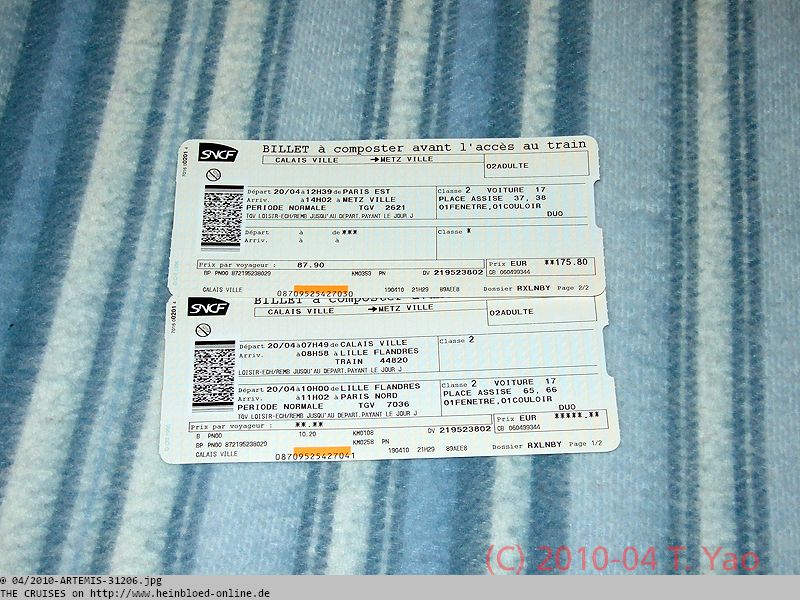 There we learned that SNCF French Railways will resume the service at 06.00 hrs the next morning. So we bought two tickets for Metz (at the French-German border) for 175.80 EUR. Long live the credit card. What are people doing without a credit card and get in such a situation???

We decided to make it to Calais somehow, and so we booked already a room and paid. We got the last room in Hotel Metropol which was situated only two minutes walking from the train station of Calais Ville. They helped four other ferry-mates to find accomodation for the night as there were no taxis available to continue the travel due to the strike of the French railway's workers. Ihh... wool blankets with linen... But this night we were just tired and did not take too much attention on them.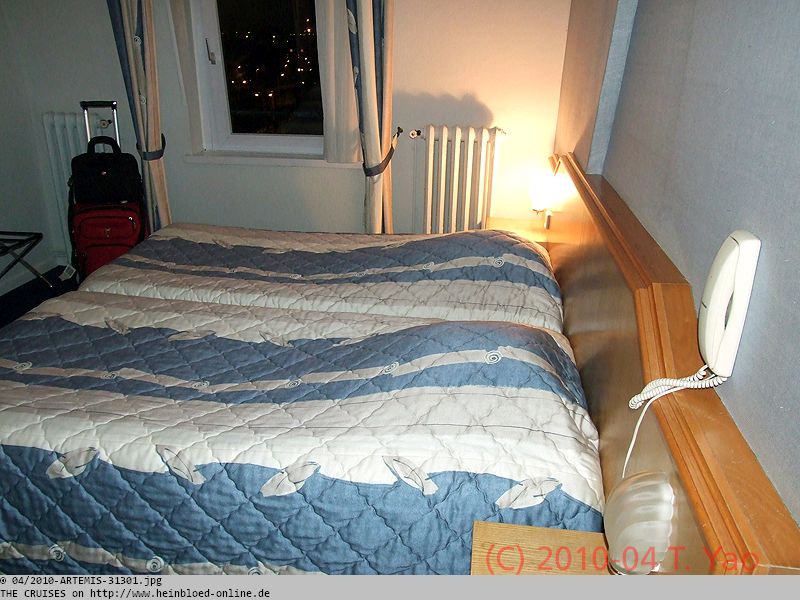 Wir hatten uns fest vorgenommen, dass wir es zumindst bis Calais schaffen wollten und daher haben wir schon ein Zimmer bestellt und bezahlt. Wir haben das letzte Zimmer bekommen. Das
Hotel Metropol
lag zum Glück nur 2 Minuten vom Bahnhof Calais Ville weg. Vier Mitreisenden haben sie dann auch noch geholfen eine Unterkunft zu bekommen, weil es in Calais wegen des Eisenbahnerstreiks kaum Taxen da waren. Nun gut, auch wenn es wieder Wolldecken mit Laken sind... Igitt... Aber heute Nacht war uns eh alles egal.
Im Bad war alles da.

You had everything in the bathroom.

Only the French single-sheet toilet paper which was appreciated by smokers who were still rolling their cigarettes.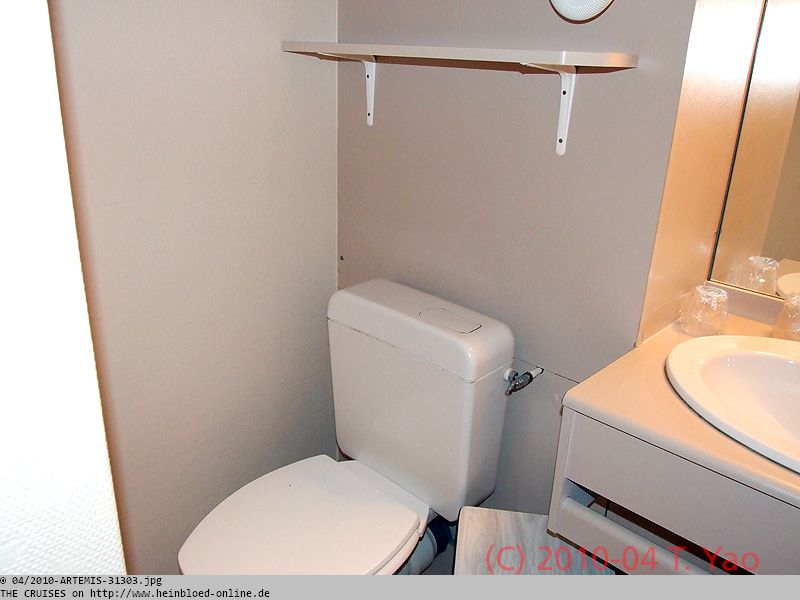 Nur das französische Einzelblatt-Toilettenpapier, das sicherlich reißenden Absatz bei Rauchern findet, die sich selbst die Zigaretten drehen.
Auf Fernsehen hatten wir keine Lust mehr. Wir wollten am nächsten Morgen raus und nach Hause.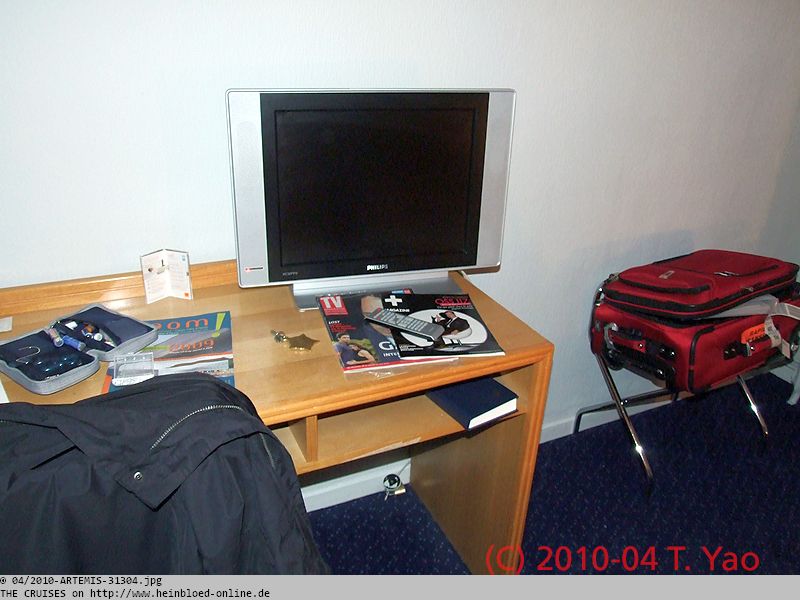 We did not want to watch any TV as we need to wake up the next morning very early and wanted to get home.
Die anderen Reisen in diesem Blog/
The other voyages in this blog: