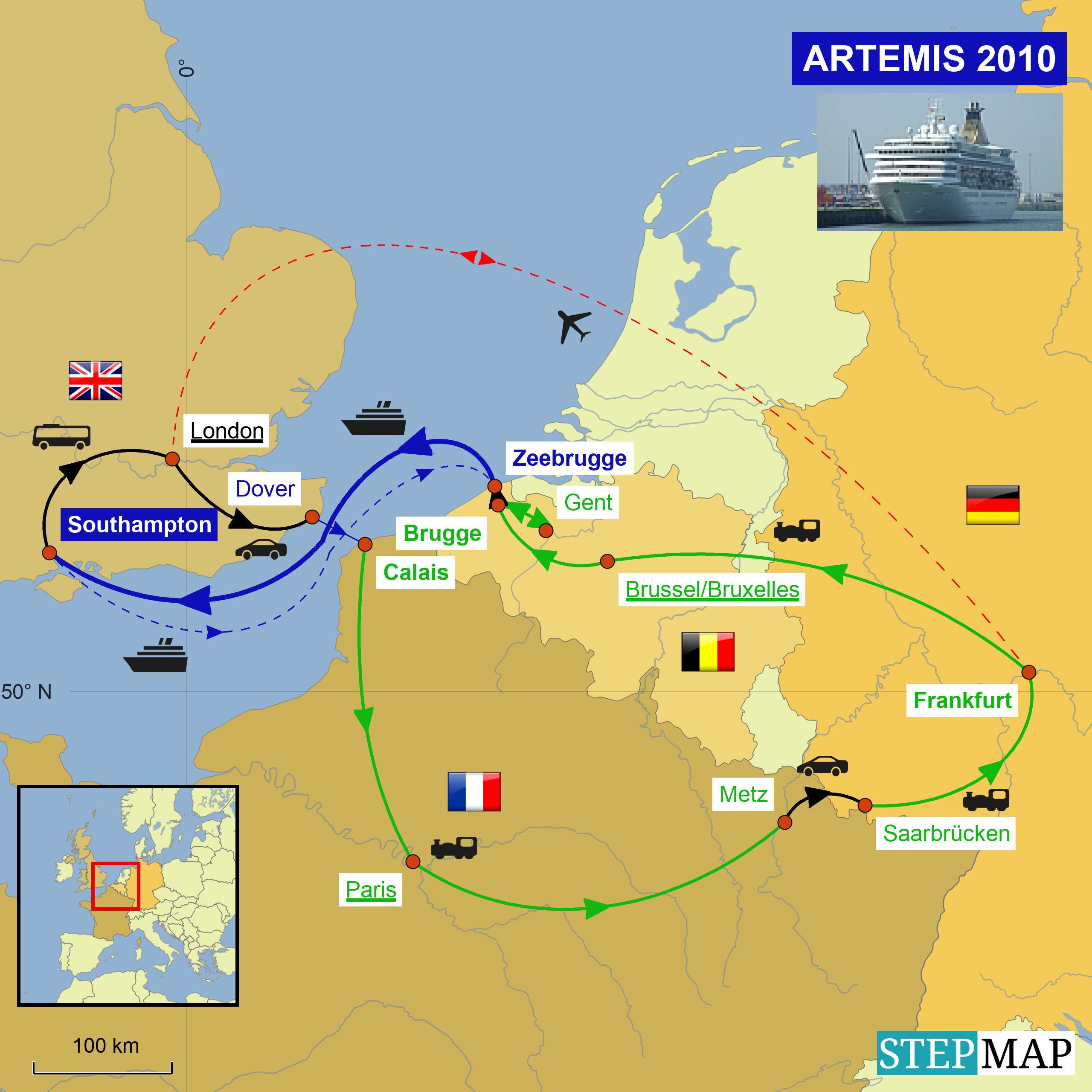 Auf dem Zand werden zwischenzeitlich die Marktstände abgebaut, als wir zum Bahnhof durchlaufen.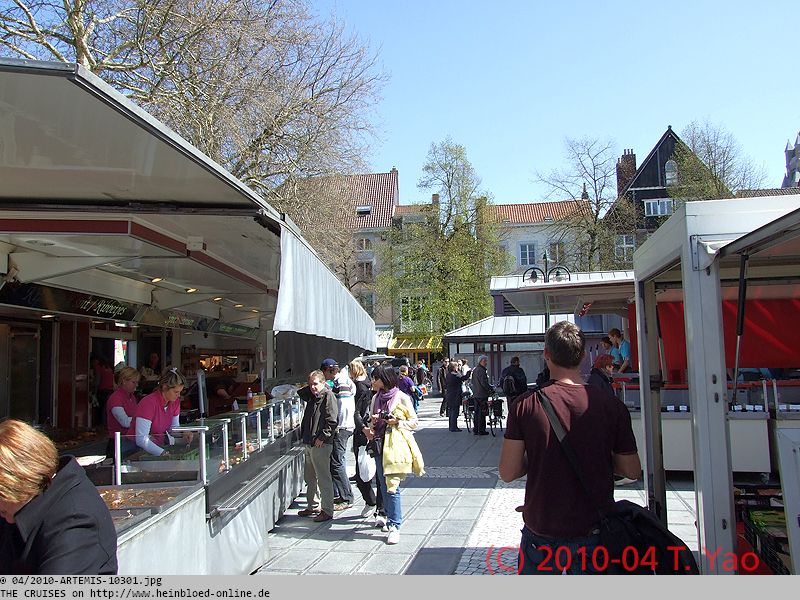 The market dealers on Zand started to pack their goods when we passed to get to the train station.

To say it in advance: we made a big mistake by walking on the right side of Zand towards the train station. So we could walk below the street level and see backward how far we are already away from Zand.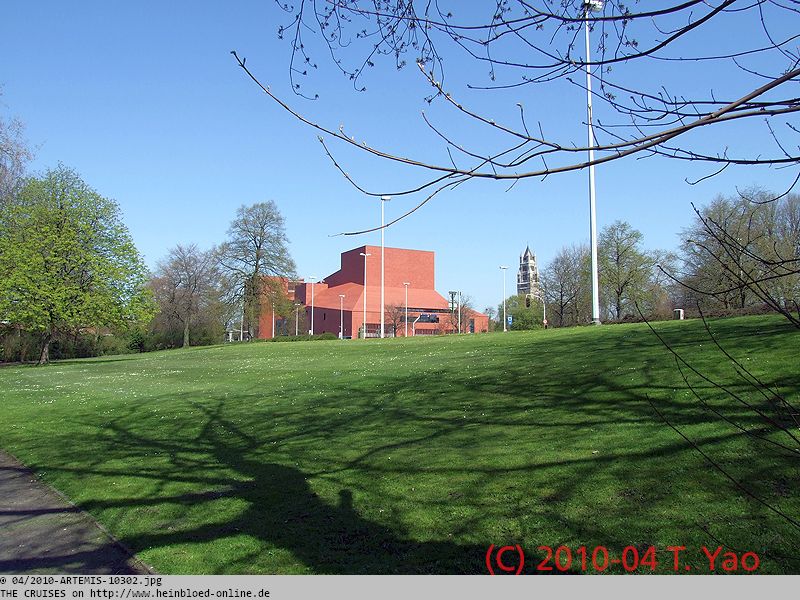 Um es vorabzusagen: wir machen den Fehler, wenn man vom Zand Richtung Bahnhof will die rechte Seite zu nutzen. So können wir unterhalb der Straße laufen und gucken nach hinten, wie weit wir uns schon von Zand entfernt haben.
Denn auf einmal sind wir an einem Kreisverkehr und kommen nur durch eine Unterführung auf die Bahnhofsseite.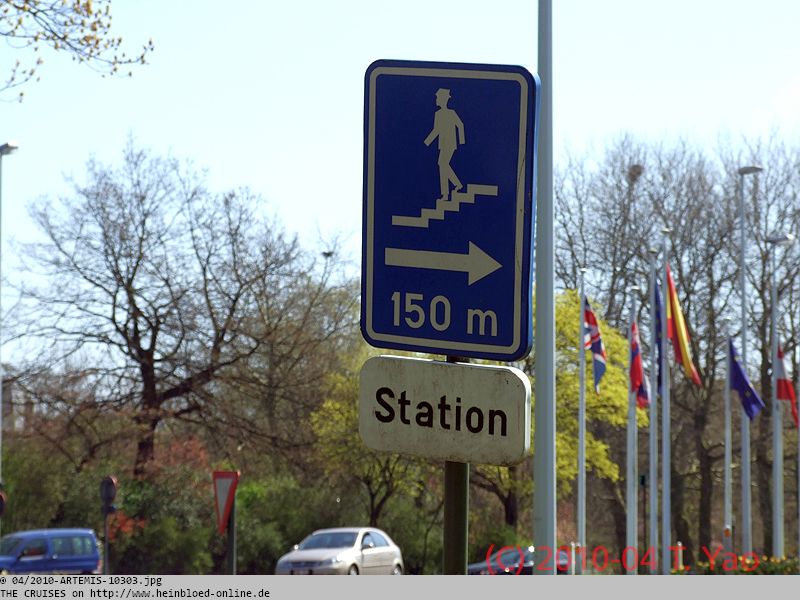 But then we found ourselves at this rotary/roundabout, and there was only a subway to pass to get towards the train station.

You could see it, but it was still far away.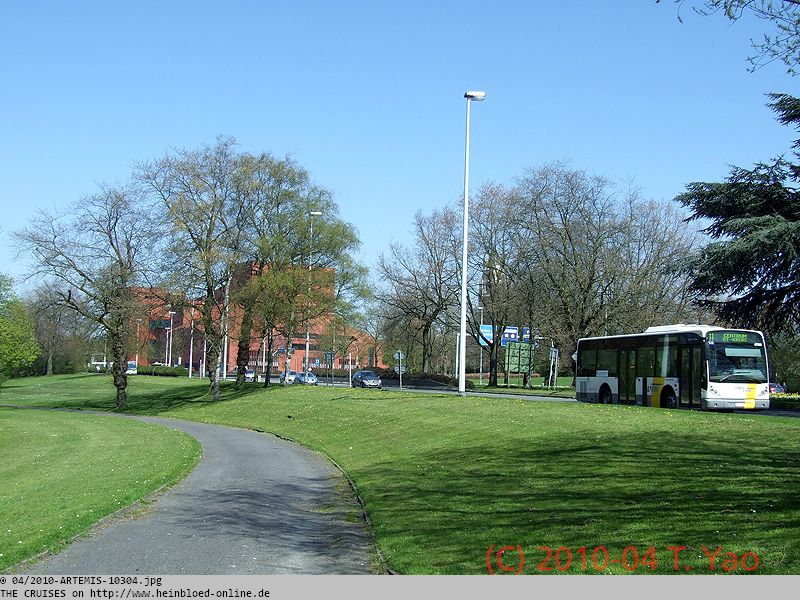 Alles in Sichtweite und doch so weit weg.
Hinter den Bäumen ist schon der Bahnhof zu erkennen.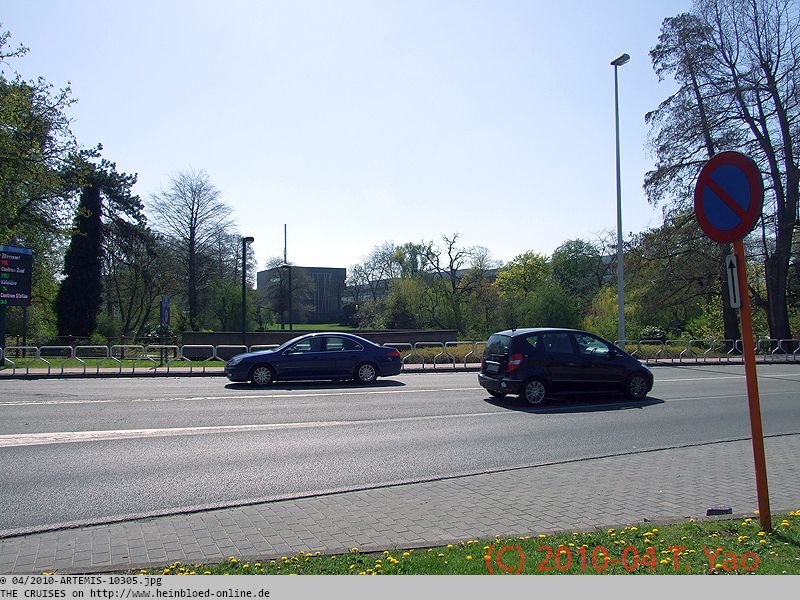 Behind the trees you see already the train station building.

So we need to walk a 3/4 loop like with a clover-leave intersection before we arrived at the lower level. Another option would be to walk a small detour to reach this subway directly.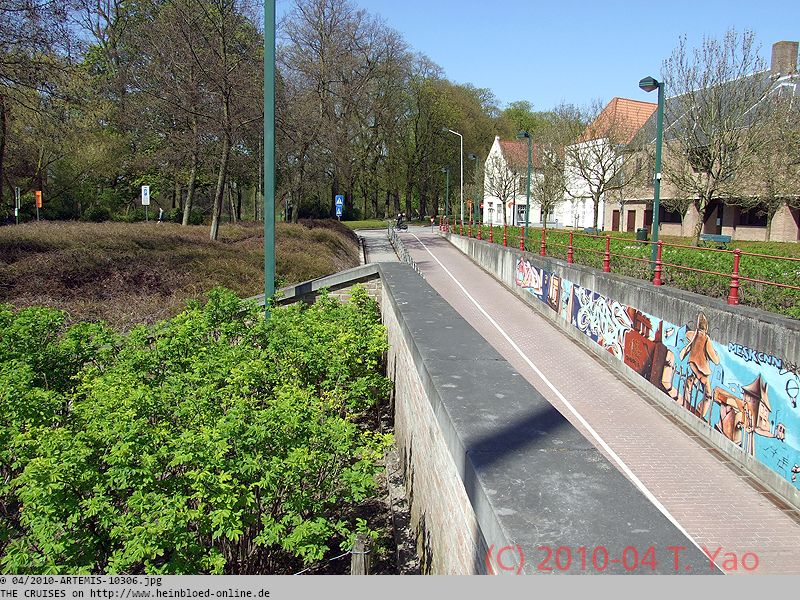 Also müssen wir wie bei einem Autobahnkreuz in Kleeblattform einen 3/4 Kreis laufen, bevor wir unten durchkommen. Die Alternative wäre ein kleiner Umweg gewesen, um von der Stadt aus direkt in die Unterführung zu kommen.
Und wenn man aus dem Tunnel kommt und in die Stadt will: 3/4 Kreis hoch, bis dass hier vor dem Kreisverkehr steht.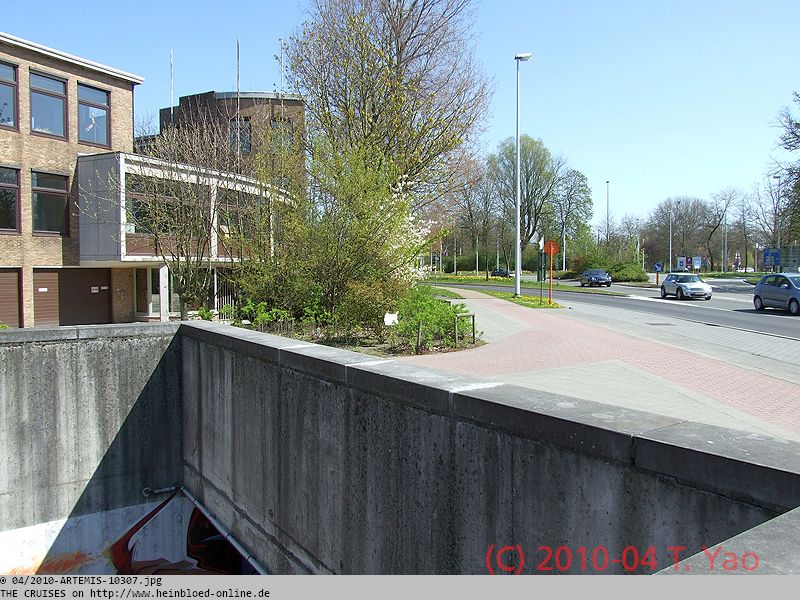 And if you want to get to the city: 3/4 loop upwards and you are in front of the rotary/roundabout.

But it's well signposted - somehow.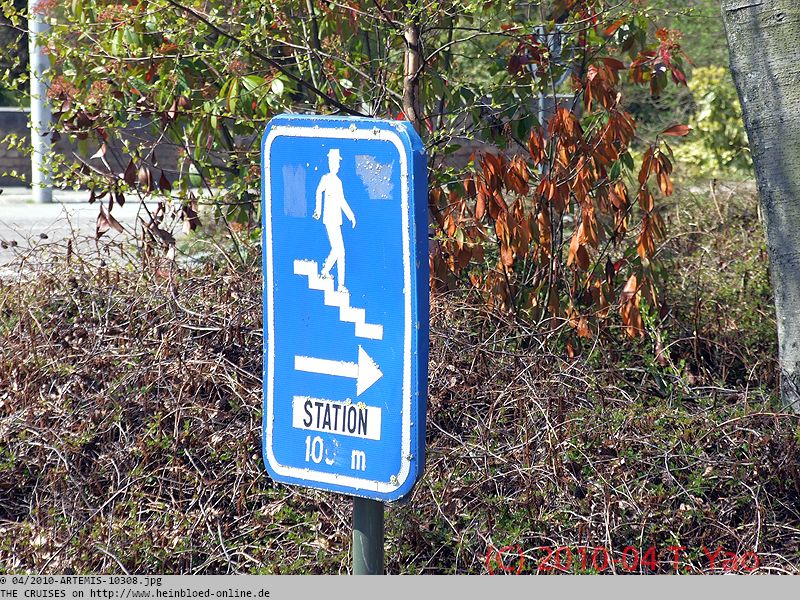 Wenigstens ist es mehr oder minder gut ausgeschildert.
Und es führen von hier nur Treppen rauf und runter. Also kein guter Weg für Mobilitätseingeschränkte.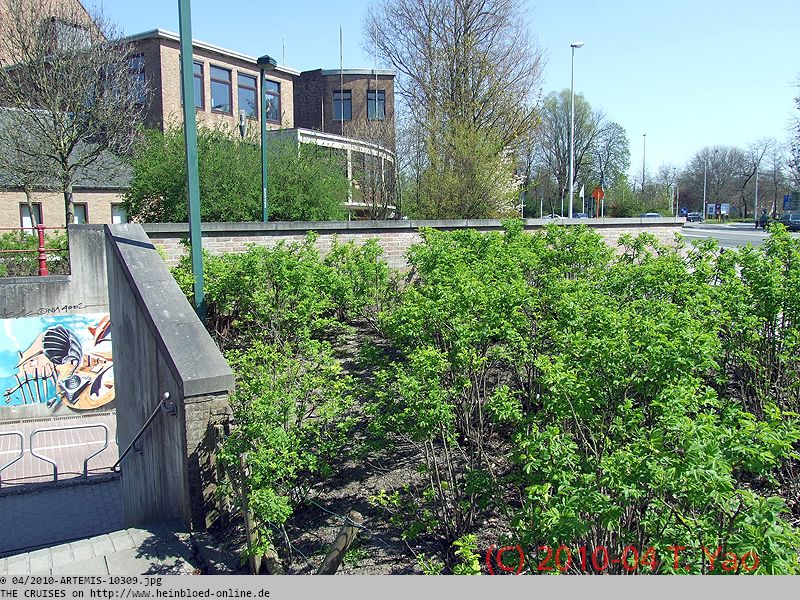 Only stairs up or down. So no good choice for mobility reduced people.

But you were well protected from the bike-riders.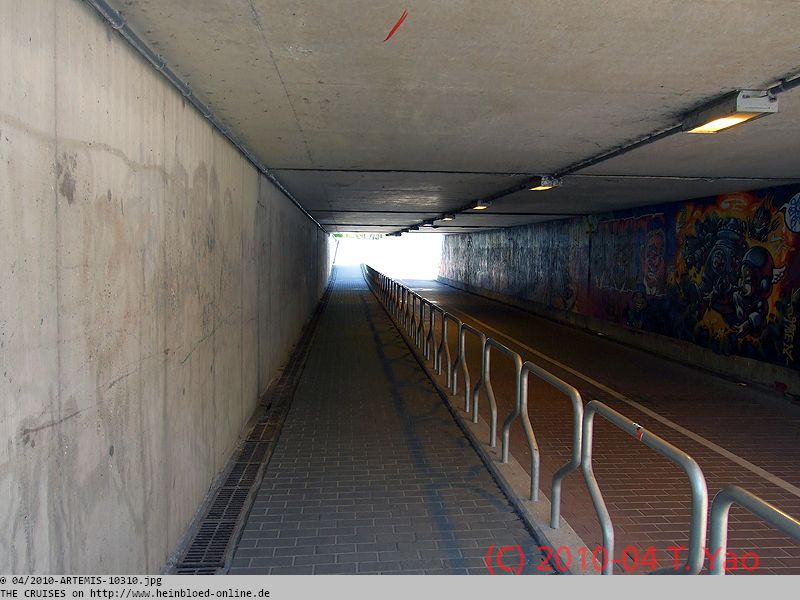 Aber man ist gut von den Radfahrern abgeschirmt.
Die Sicht von der Bahnhofsseite.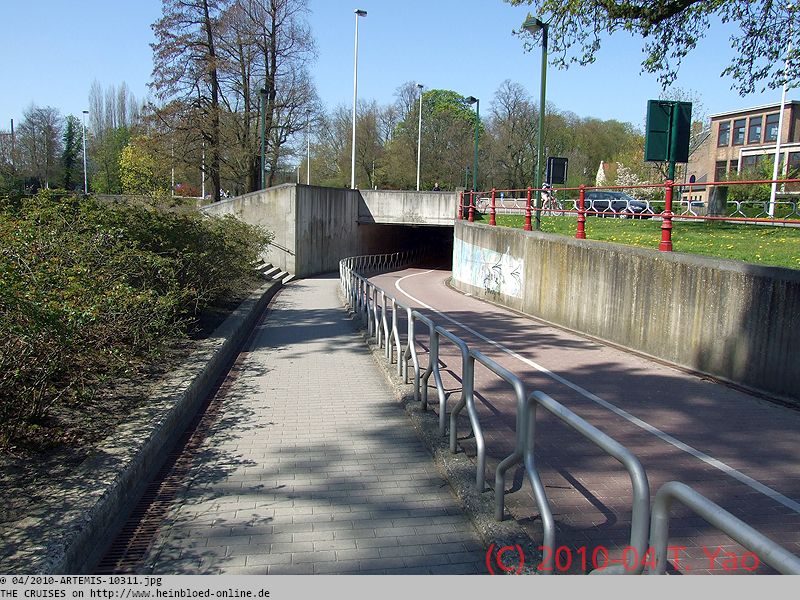 The view from the train station side.

Or you rent a bike to discover the city. It's possible at the train station.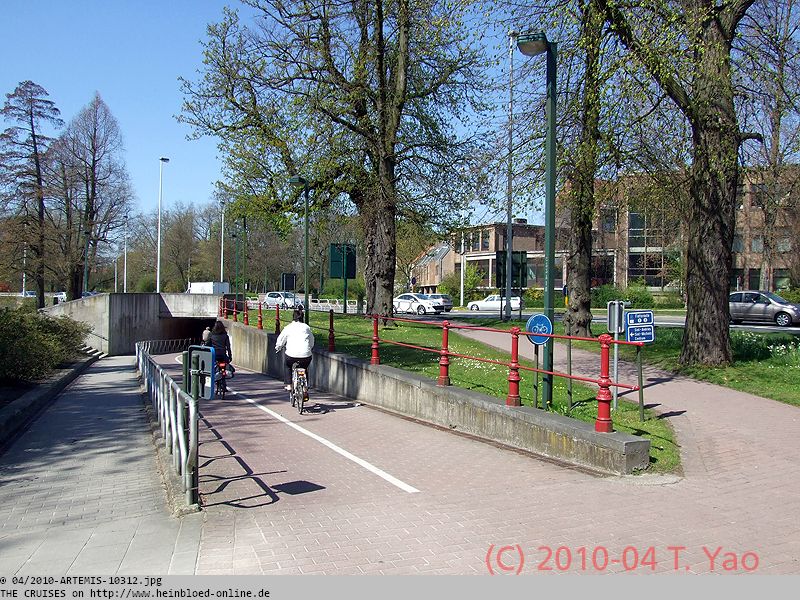 Oder man mietet sich ein Rad, um die Stadt zu entdecken. Geht am Bahnhof.
Diejenigen, die nicht durch den Tunnel wollen: einfach hier rechts rüber und praktisch rechts entlang Richtung Zand gehen. Das geht dann ohne Stufen und Unterführung.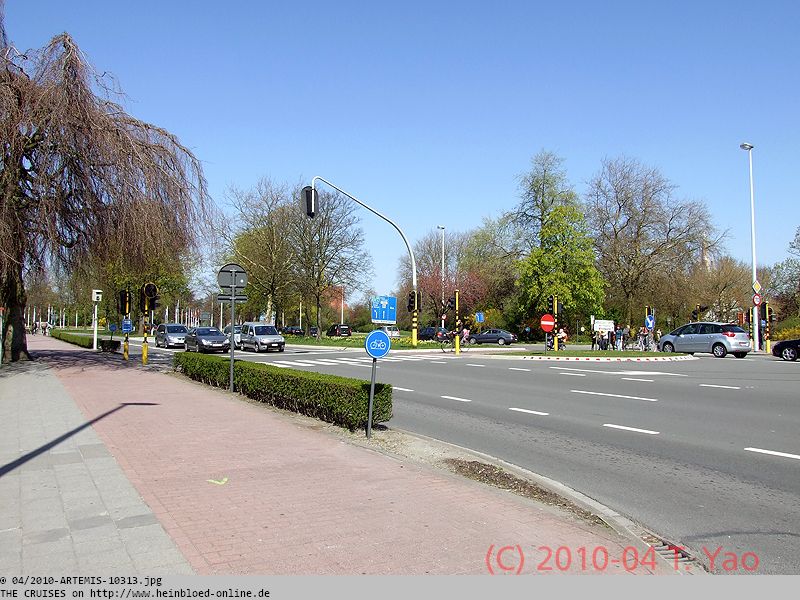 Who does not like to walk through the subway should keep right and walk on the right side Zand-bound. There are no stairs and no subway.

Alternatively: a cab to the market square for about 8.00 EUR.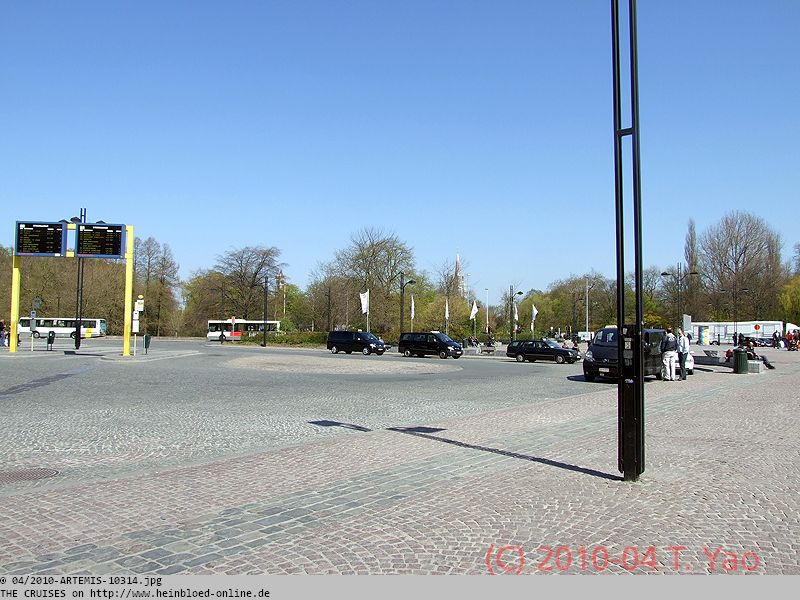 Alternativ: für ca. 8,00 EUR mit dem Taxi bis zum Marktplatz.
Oder für 1,20 EUR (im Vorverkauf = Automat oder 2,00 EUR beim Fahrer - 2010-Preise) mit dem Bus.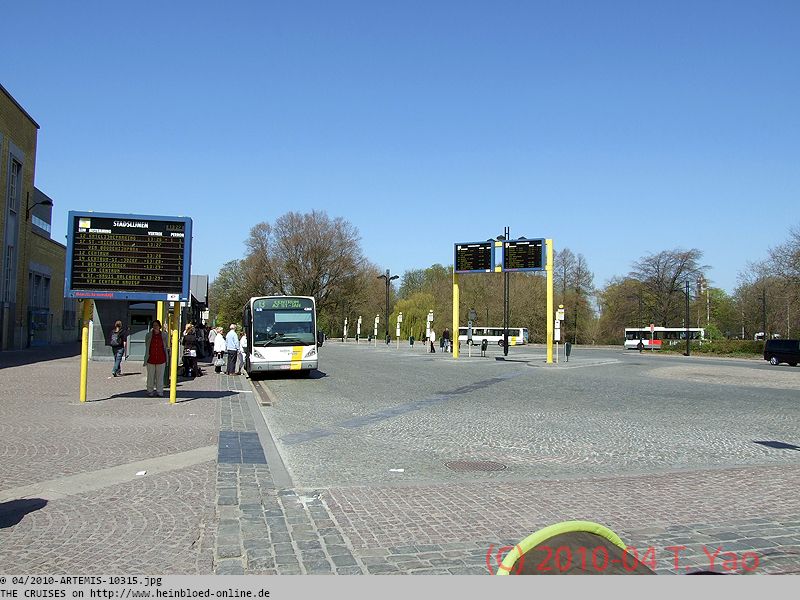 Or by bus for 1.20 EUR (pre-purchase at the machine or 2.00 EUR with the driver - prices of 2010).

All city center-bound buses will call Zand and Market Square.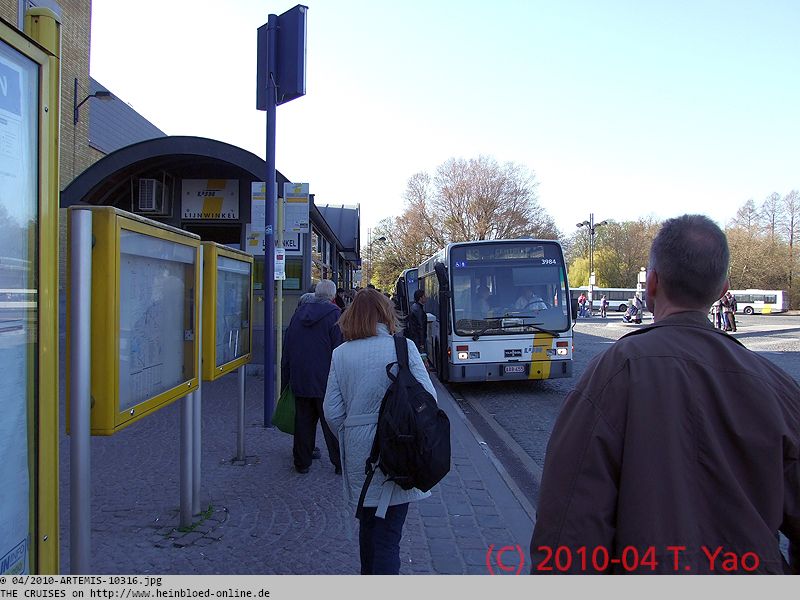 Alle Busse in Richtung Centrum fahren zum Zand und Markt.
Ich kaufe ja lieber am Automaten.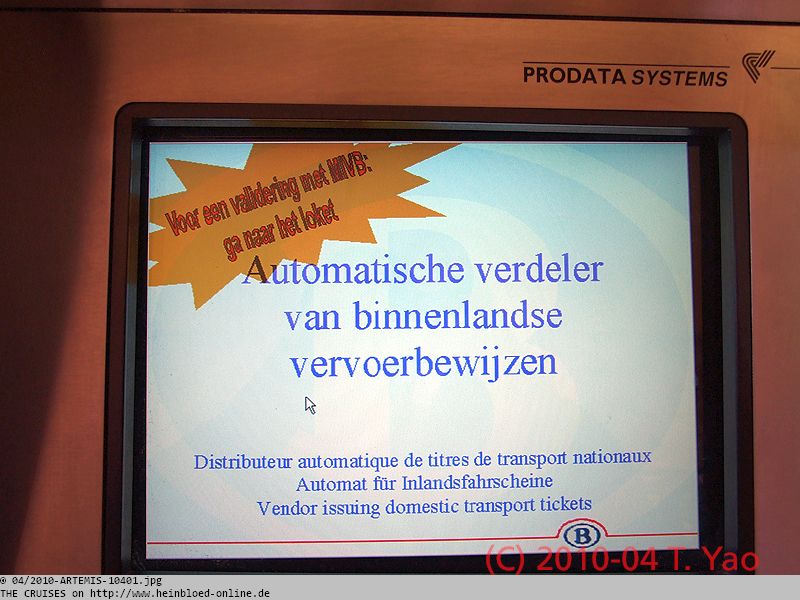 I preferred to buy at the machine.

Especially if they are multilingual.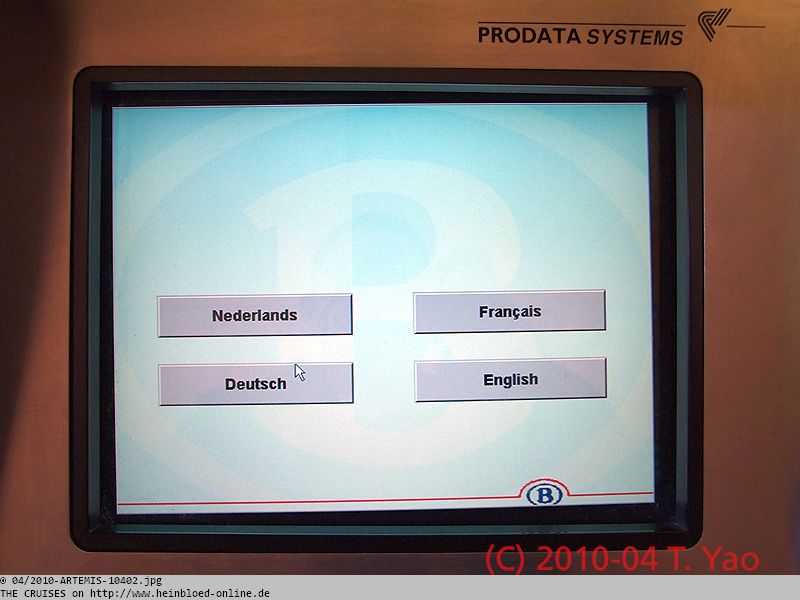 Speziell, wenn sie so vielsprachig sind.
Tickets...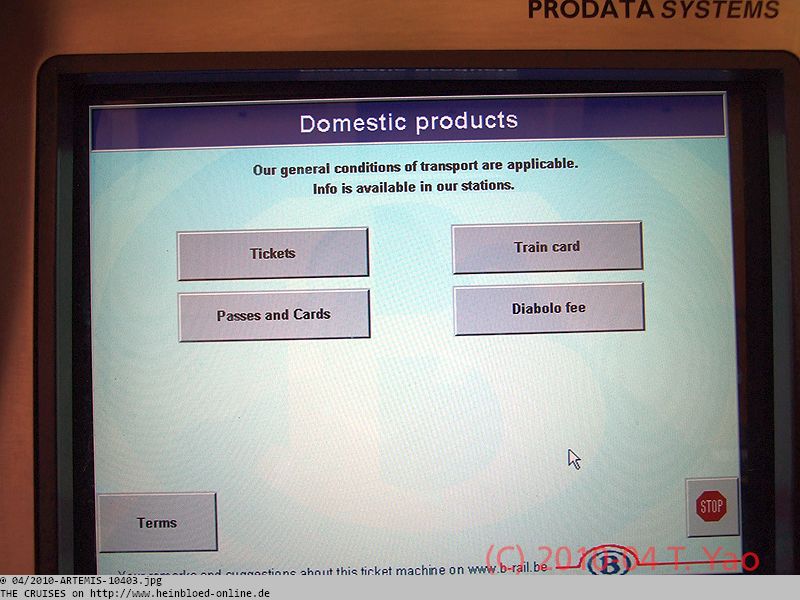 Tickets...

Weekend Tickets... it's a Saturday...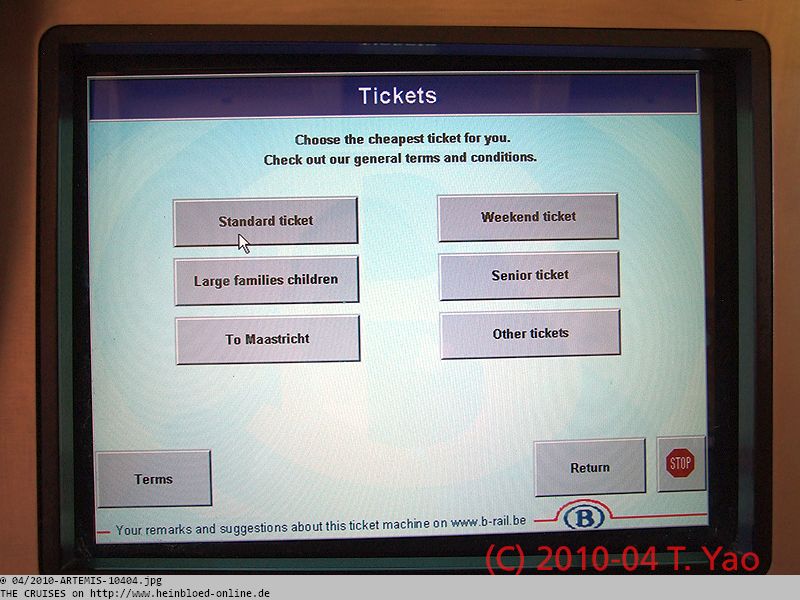 Weekend Tickets... ist ja Samstag...
Wieso Oostende... da will ich ja gar nicht hin...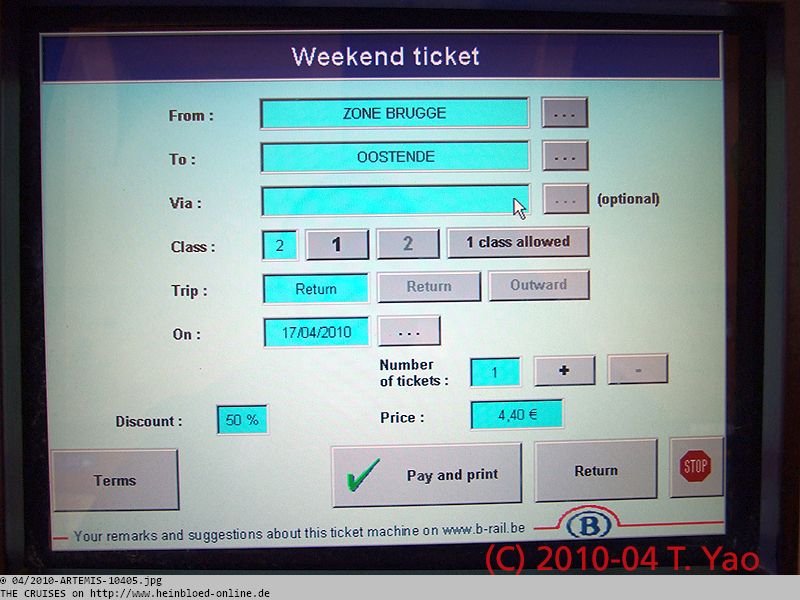 Why Ostend... I do not want to go to...

So I need to find the place by myself. Tomorrow we need to get to the ship so a B like Blankenberge...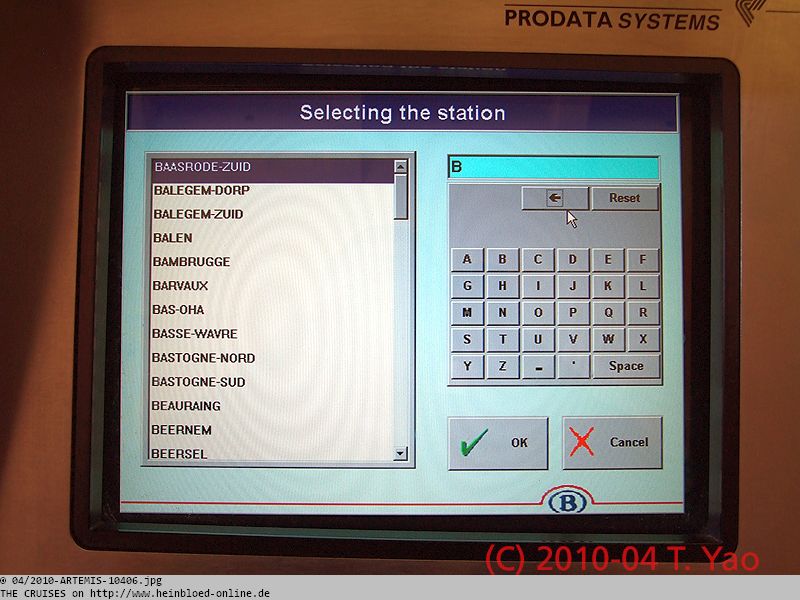 Also selbst mal den Ort raussuchen. Morgen müssen wir ja zum Schiff, also B wie Blankenberge...
und dann ein L... und da kommt es auch schon...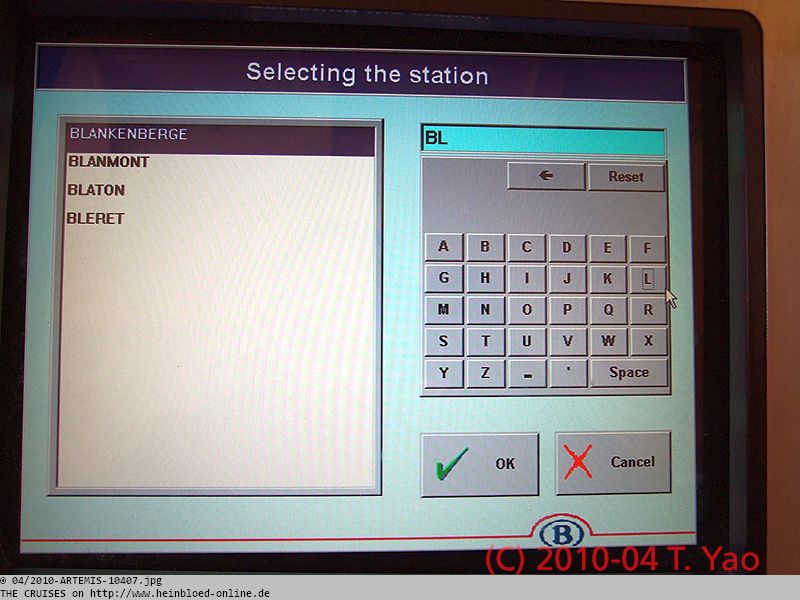 Then an L... and now it appeared...

Interesting: 3.80 EUR for a return ticket. So weekend tickets are not available as single tickets, and you get back for nearly nothing.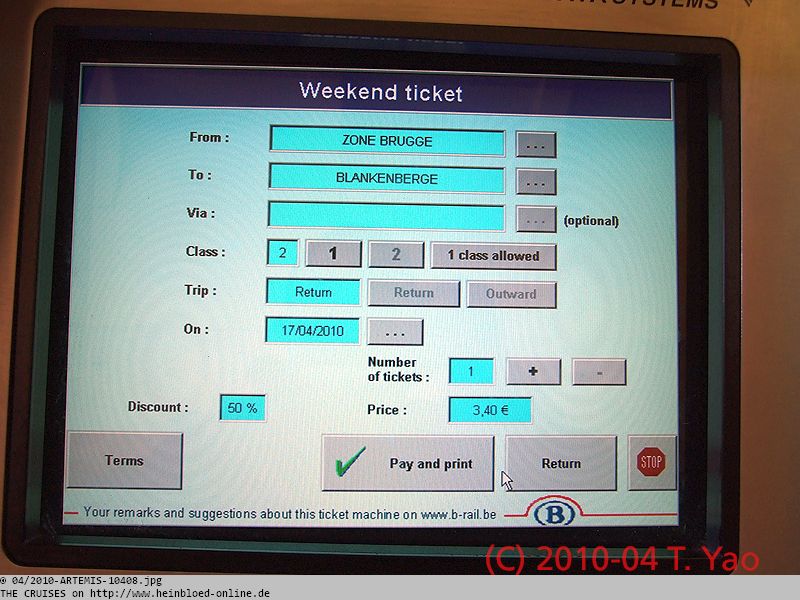 Interessant: 3,80 EUR hin- und zurück. Wochenendkarten gibt es also nicht als Einzelkarten und man kommt fast umsonst zurück.
Mit der "+"-Taste gibt es noch mehr...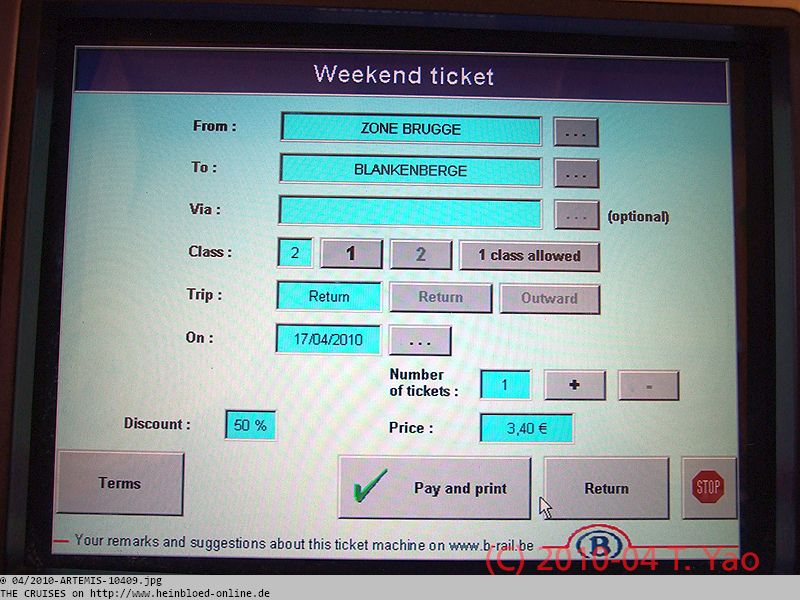 With the "+"-key you can get more...

Did not work... This machine only accepts Belgian bank cards and no cash.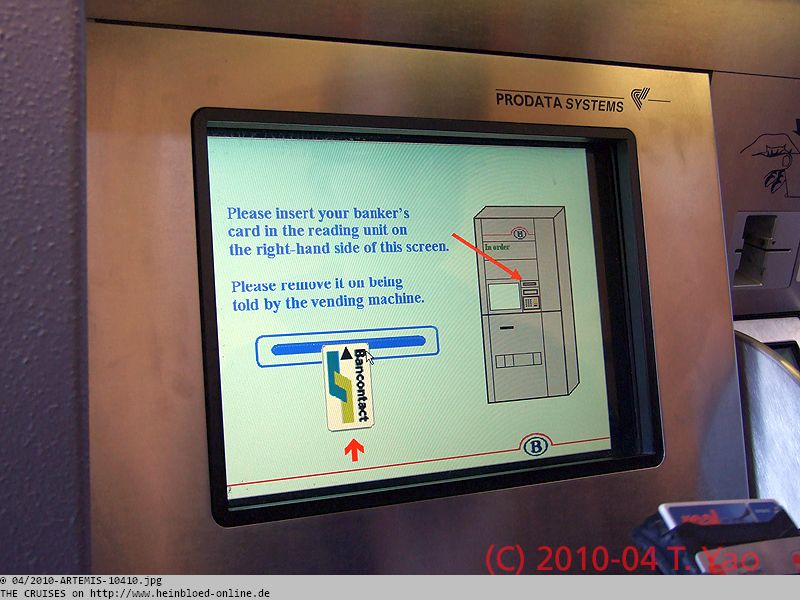 Dumm gelaufen... Der Automat nimmt nur belgische Bankkarten an und auch kein Bargeld...
Rein interessehalber: Blankenberge - Brüssel 14,80 EUR (einfach - 2010)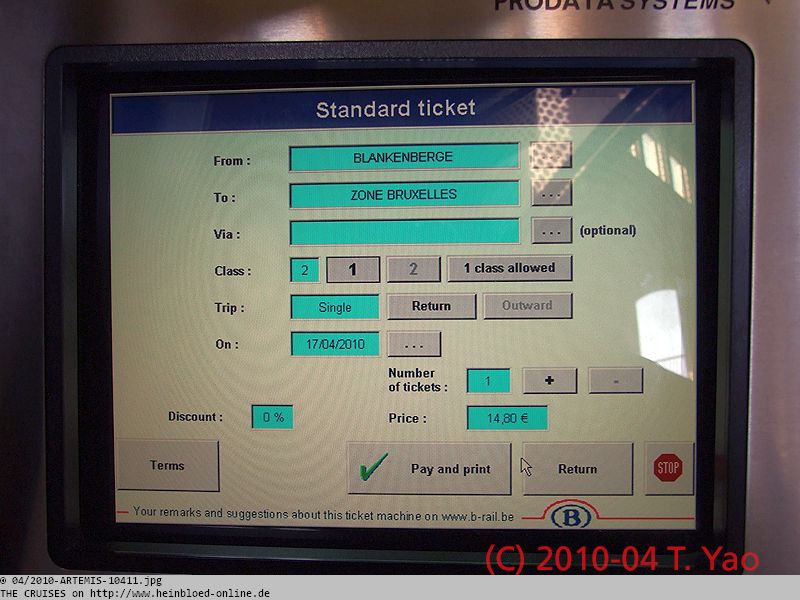 Just interesting: Blankenberge - Brussels 14.80 EUR (single - 2010)

Blankenberge - Bruges 2.70 EUR (single)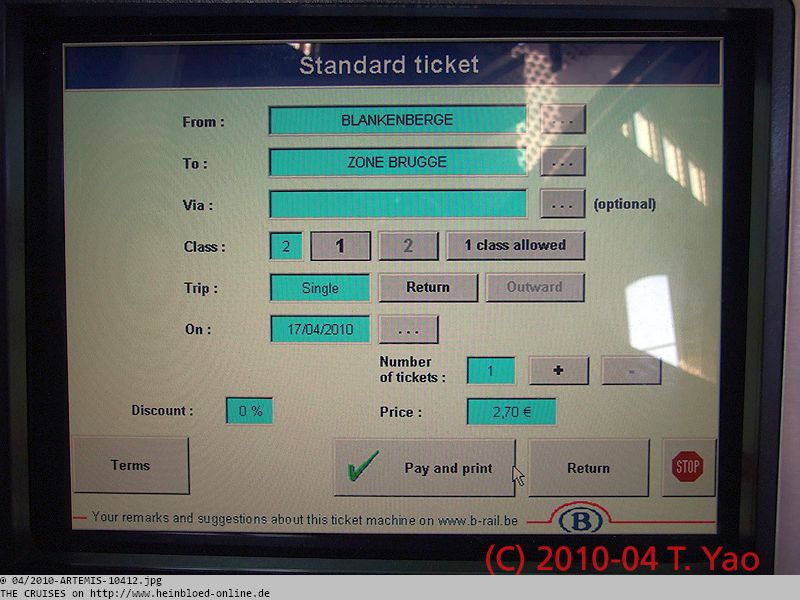 Blankenberge - Brügge 2,70 EUR (einfach)
Blankenberge - Gent 7,70 EUR (einfach)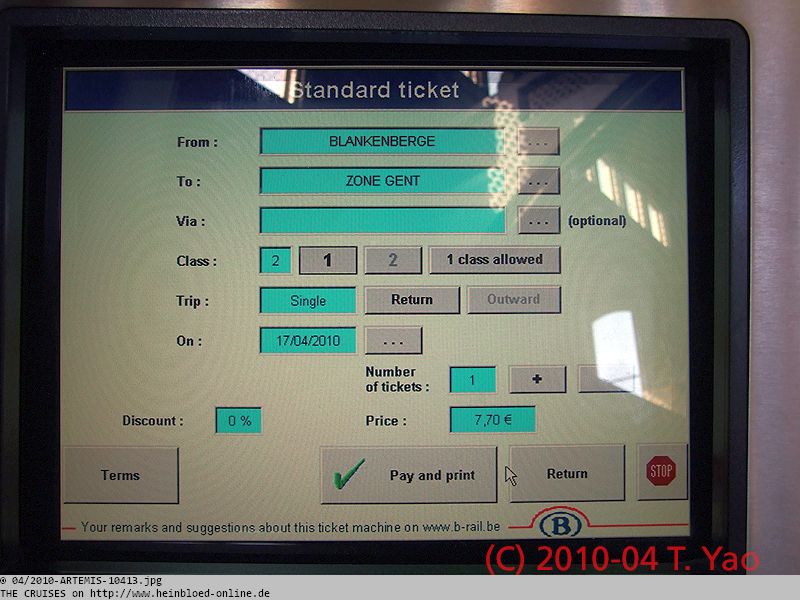 Blankenberge - Ghent 7.70 EUR (single)

We need to buy our tickets in cash or by credit card, so we missed the InterCity train.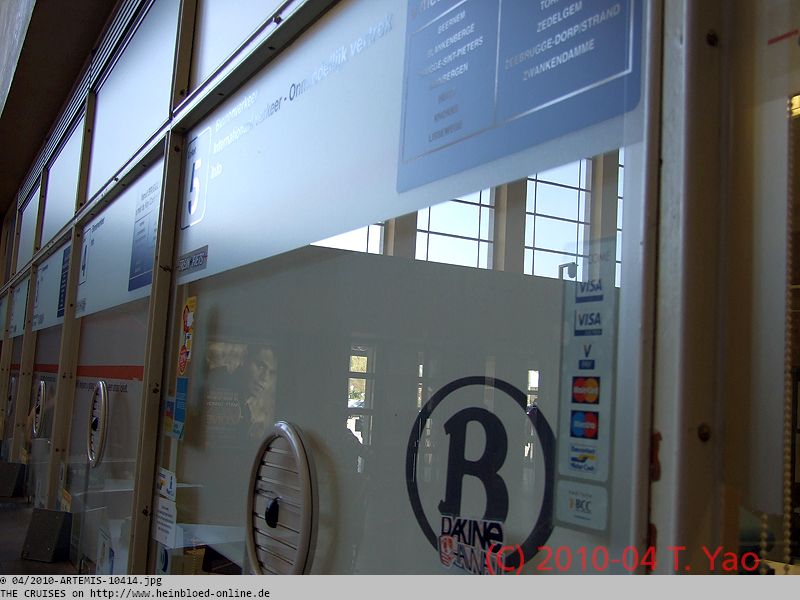 Um in bar oder mit der Kreditkarte unsere Fahrkarten zu kaufen, haben wir nun den InterCity verpasst.
In der Regionalbahn stellen wir fest, dass wir auch im Zug mit Kreditkarte hätten die Tickets kaufen können.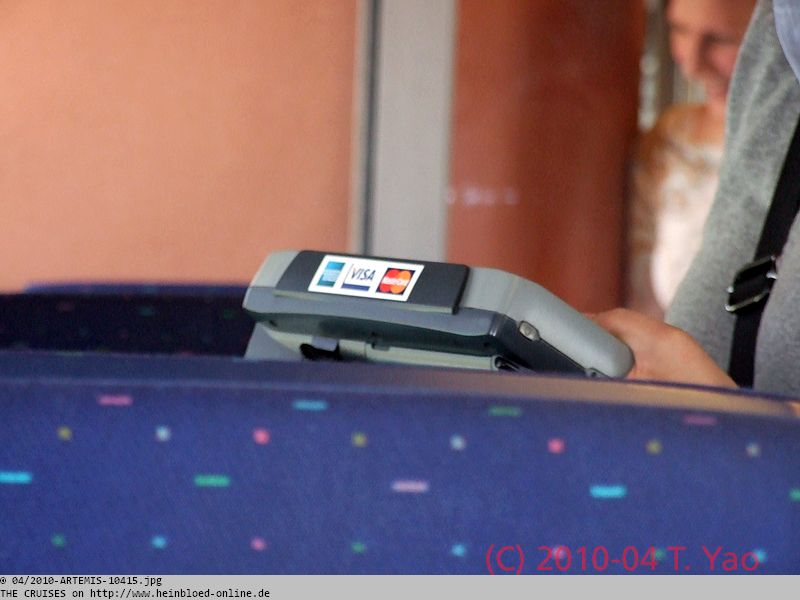 In the regional train we found out that you can buy tickets with a credit card with the conductor.

So we paid 6.60 EUR for a weekend return ticket.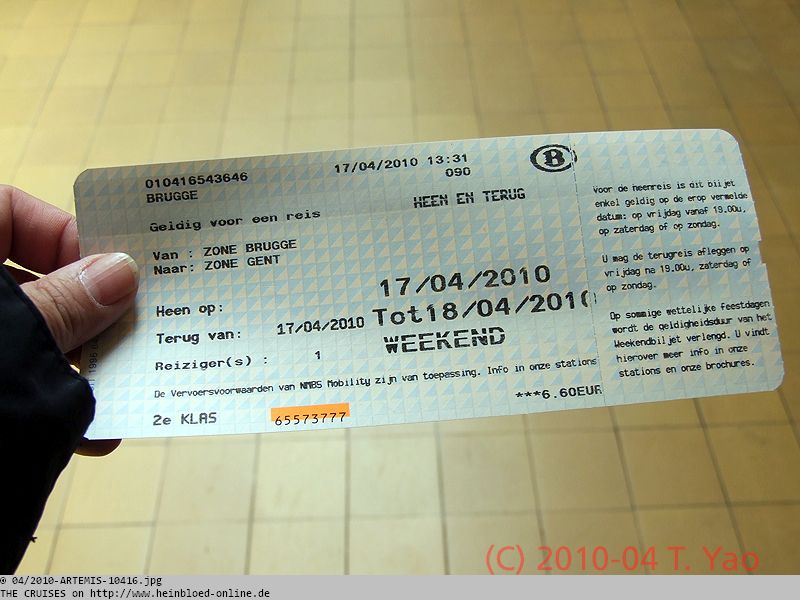 So zahlen wir mit der Wochenendkarte 6,60 EUR für hin- und zurück.
Was den Komfort der Züge betrifft, hat Belgien z. T. Deutschland ziemlich eingeholt.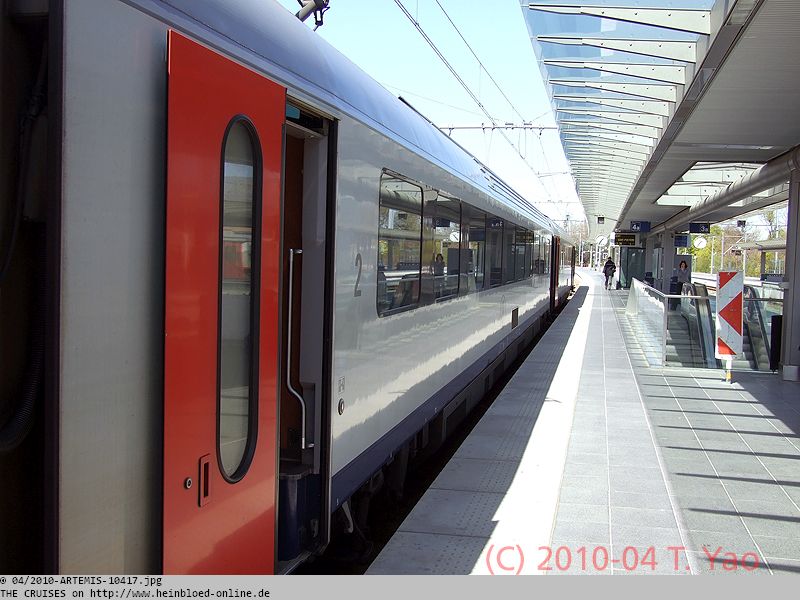 Regarding the comfort Belgian Railways has upgraded a lot compared to German Railways.

Their 2nd class looked more like our 1st class on regional trains in Germany...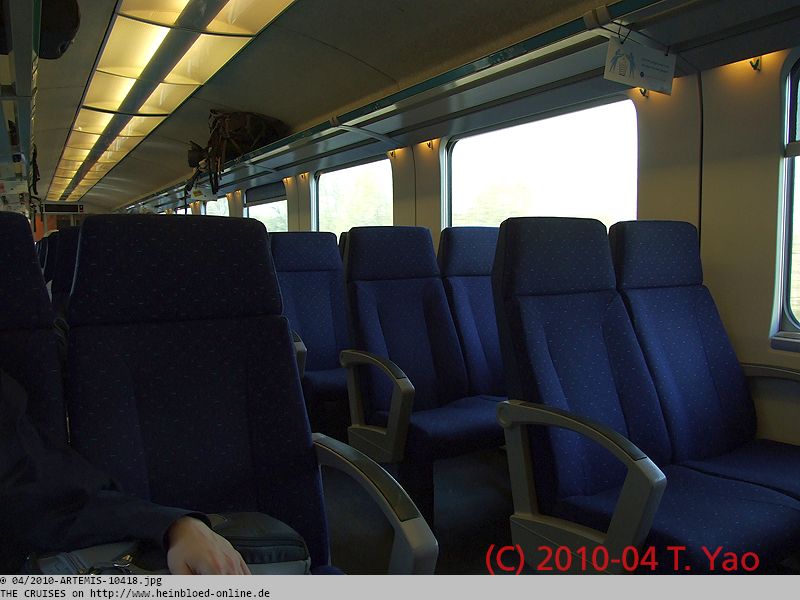 Wirkt ja schon fast wie die 1. Klasse bei uns in der Regionalbahn bei uns... deren 2. Klasse...
Nachteil ist deren Mehrsprachigkeit. Im flämsichen Teil wird nur in Flämisch angezeigt. Aber immerhin.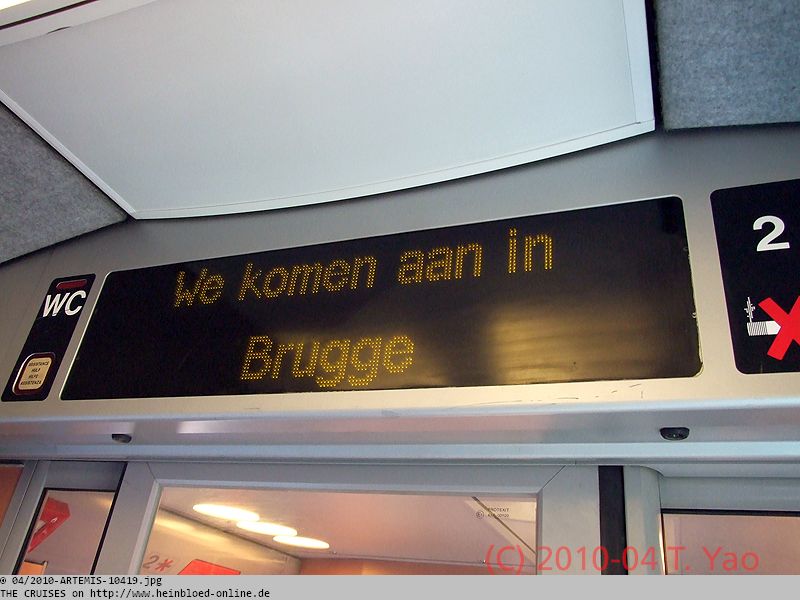 Disadvantage of the multilingual country: in the Flamish part they only display in Flamish. But they did.

We get off at Ghent-St. Peter Station.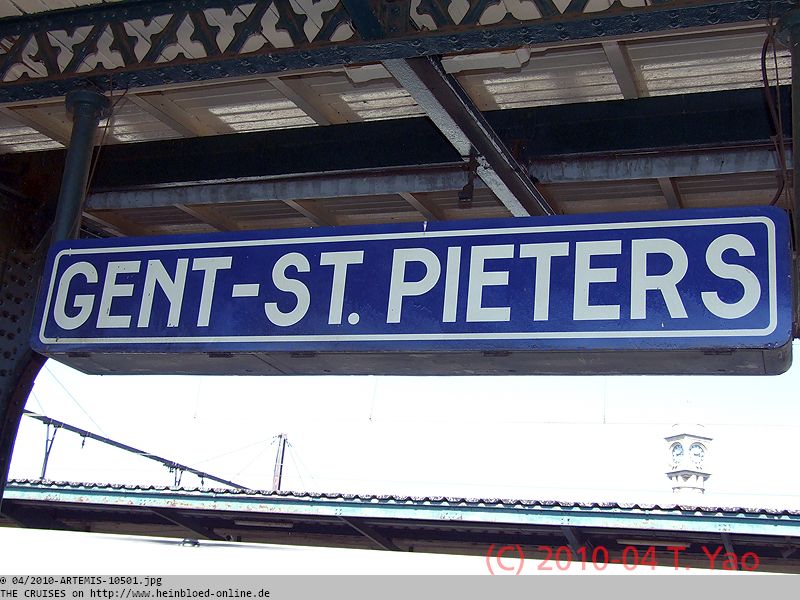 Wir steigen in Gent-St. Pieters aus.
Der Bahnhof liegt leider nicht so fußläufig in die Stadt, wie in in Brügge. Man muss daher zur Straßenbahn.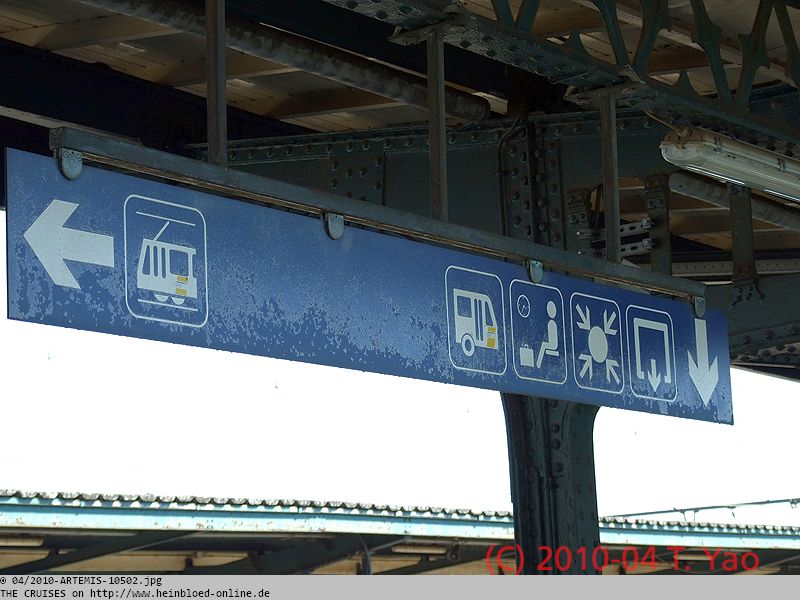 The location of the train station is not very convenient for those who like to walk to the city center like in Bruges. You need to get to the tram.

She has separate access from the platform.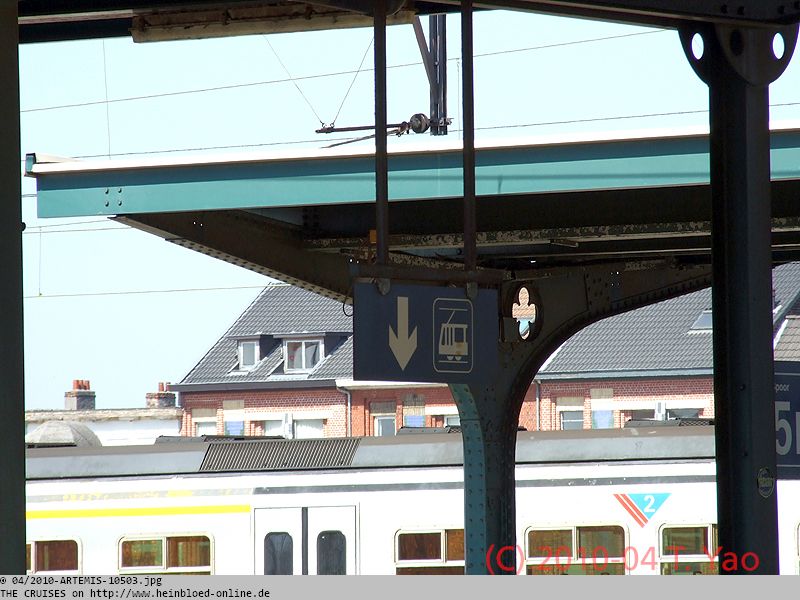 Die hat jedoch einen separaten Zugang.
Ziemlich eng und nur Rolltreppe rauf...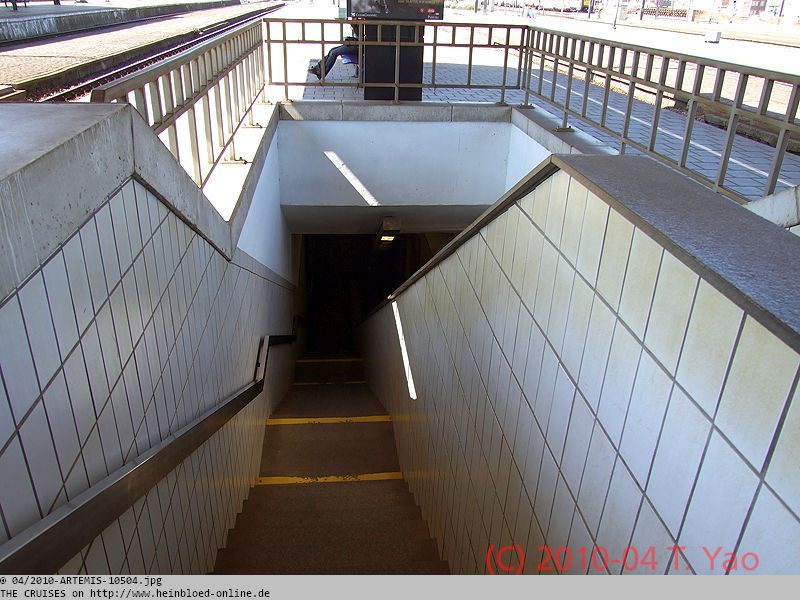 Somehow narrow and only one escalator upwards.

And only for one direction. But we arrived at the side for the city-center-bound trams. Opposite tram came from the city center.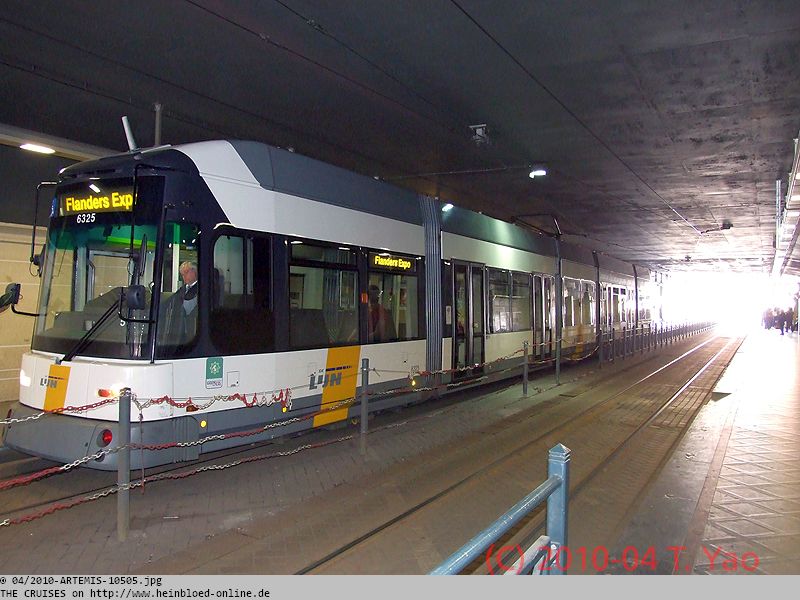 und auch nur zu einer Seite. Aber wir kommen auf der Seite aus, in der die Bahnen Richung Stadt fahren. Gegenüber kommt gerade aus der Stadt.
Im Moment scheint aber die Bahn gar nicht zu fahren oder???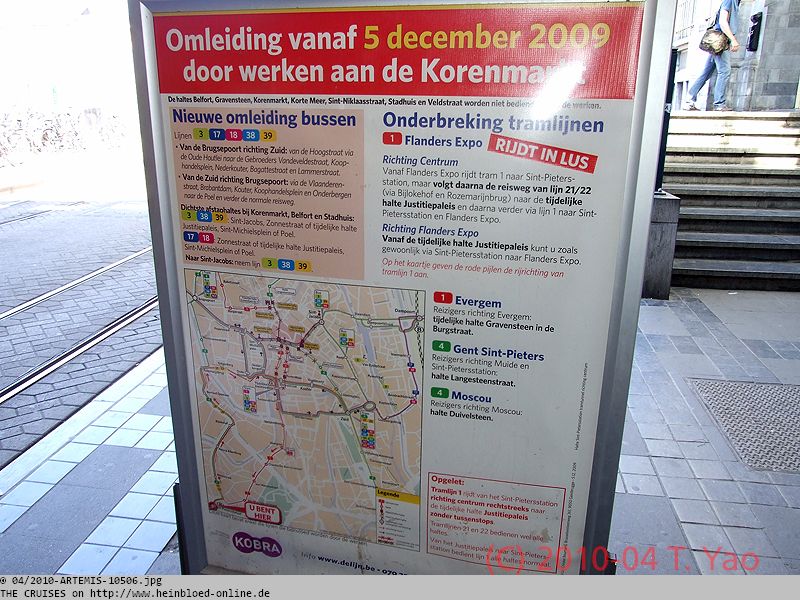 Looked like a disruption that the tram did not go.

Tram 1 could not go into the heart of the city right now.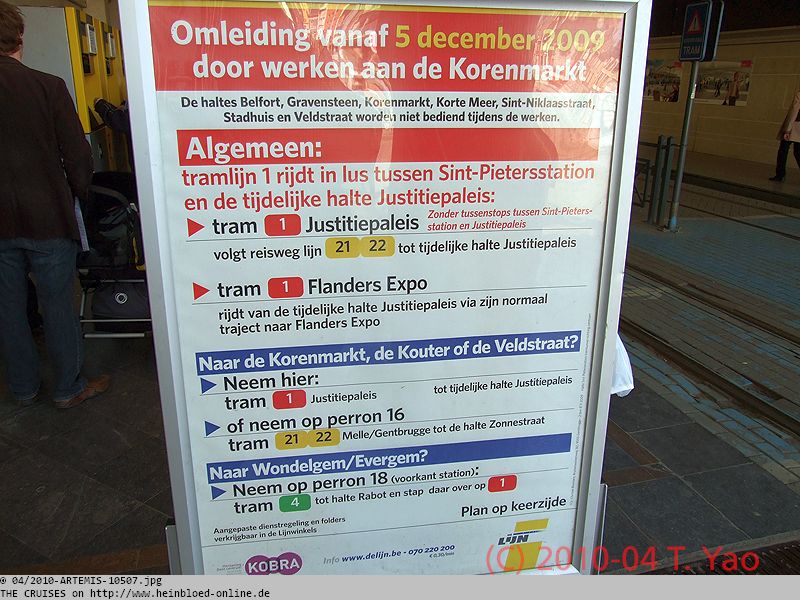 Tram 1 kann also momentan gar nicht in die Stadt fahren.
Von links kommt sie und ab Gent St. Pieters fährt sich ohne Zwischenhalt eine Riesenschleife in die Stadt. Der Bereich in der Mitte in der Stadt wird nicht bedient. Und ein Restbetrieb rechts aufrecht erhalten.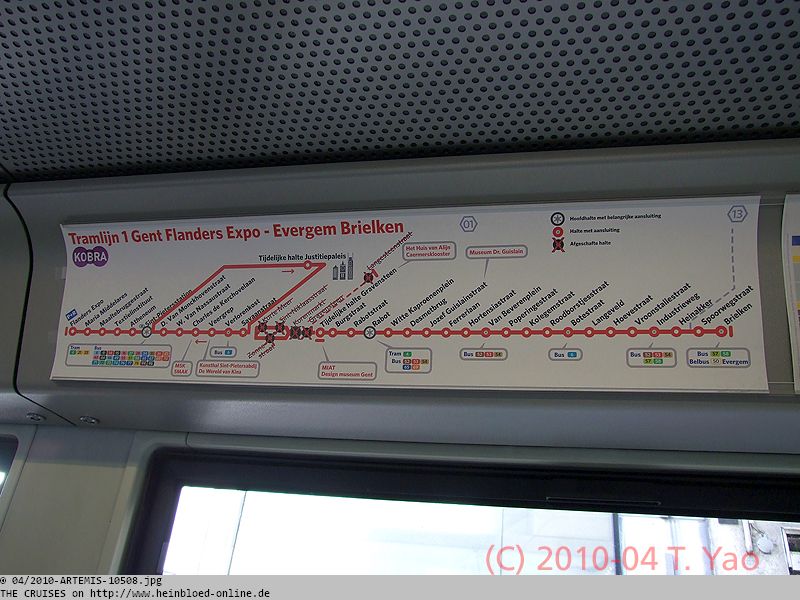 The tram comes from the left and from Ghent St. Peter she goes without a stop in a big loop to the city center. The area in the center in downtown is suspended. And service from the right is offered.

So take Tram 1 to Justitiepaleis and walk from here.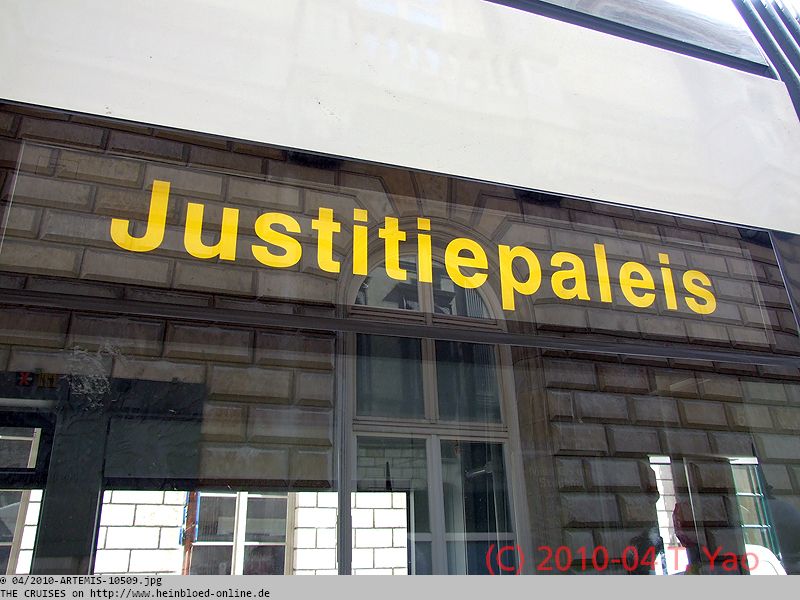 Also mit der Tram 1 nach Justitiepaleis fahren und von dort aus laufen...
1,20 EUR in die Stadt im Vorverkauf, sonst 2,00 EUR beim Fahrer.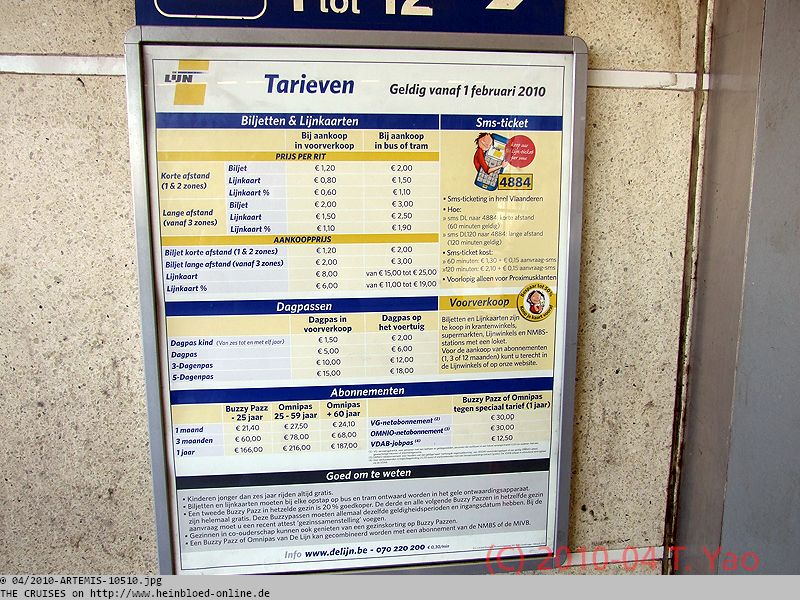 1.20 EUR to the city center if you pre-buy it. Or 2.00 EUR with the driver.

Also, these machines are multilingual. Let's choose English.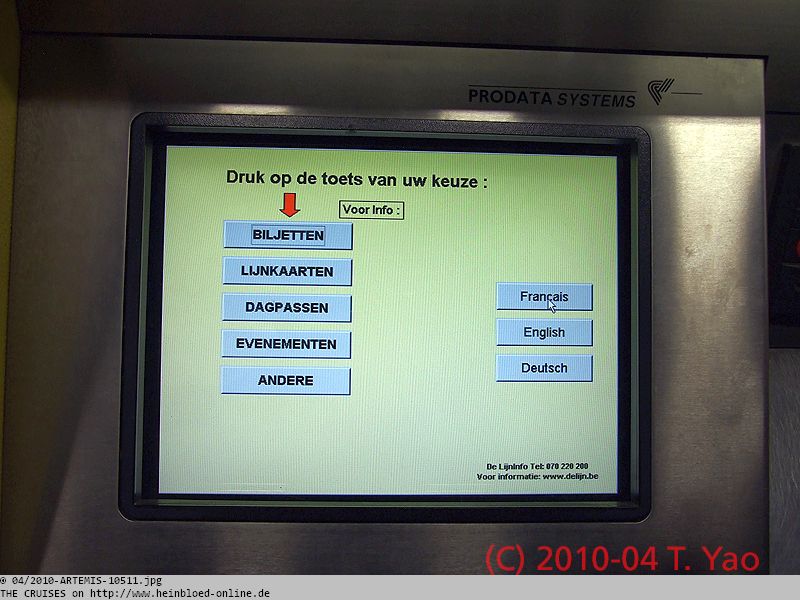 Auch diese Automaten sind mehrsprachig. Nehmen wir mal Englisch.
Tickets...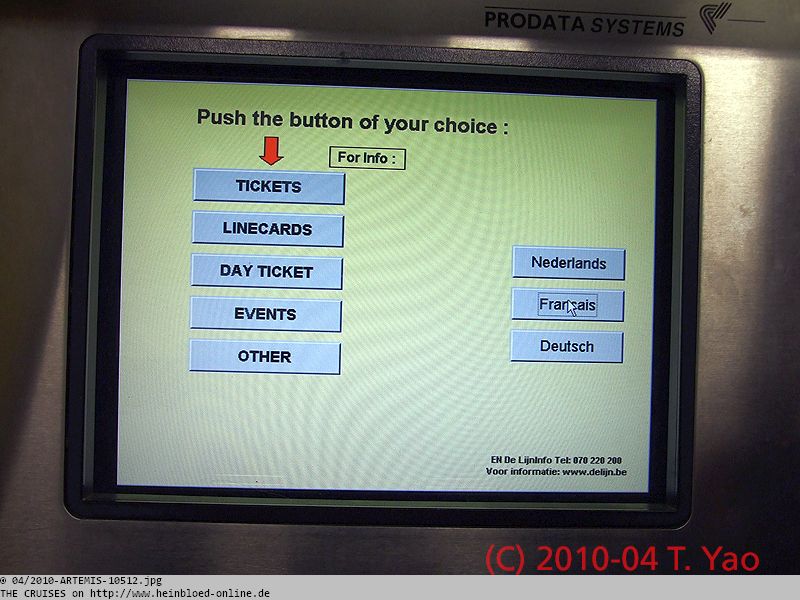 Tickets...

1-2 zones...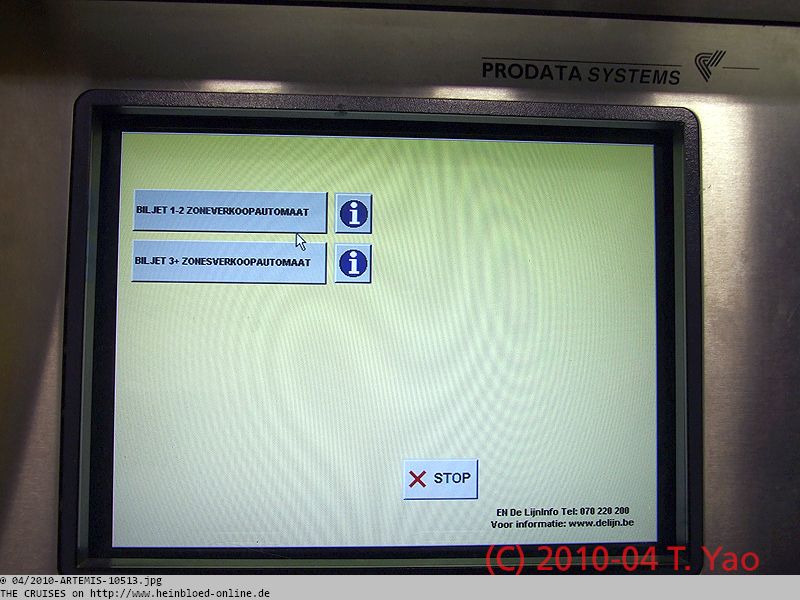 1-2 Zonen...
Ich fahre ja nicht alleine...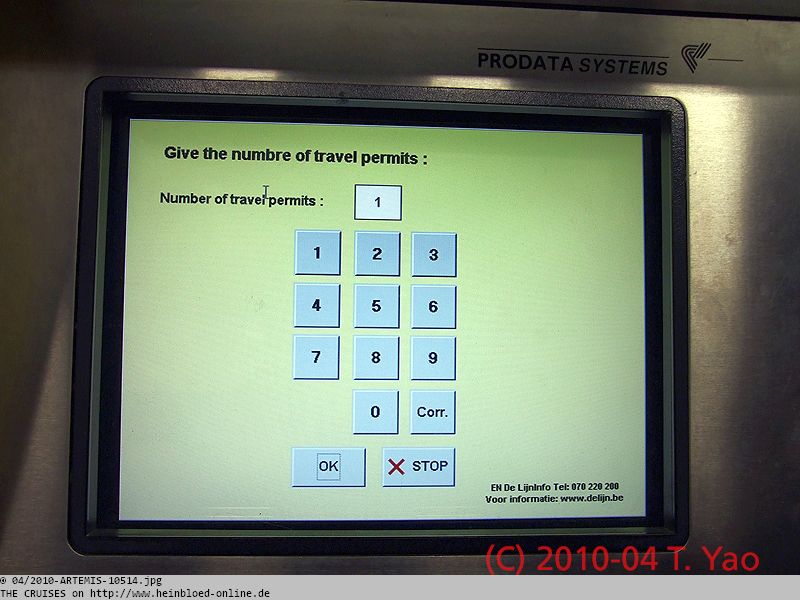 I did not go alone...

So 2...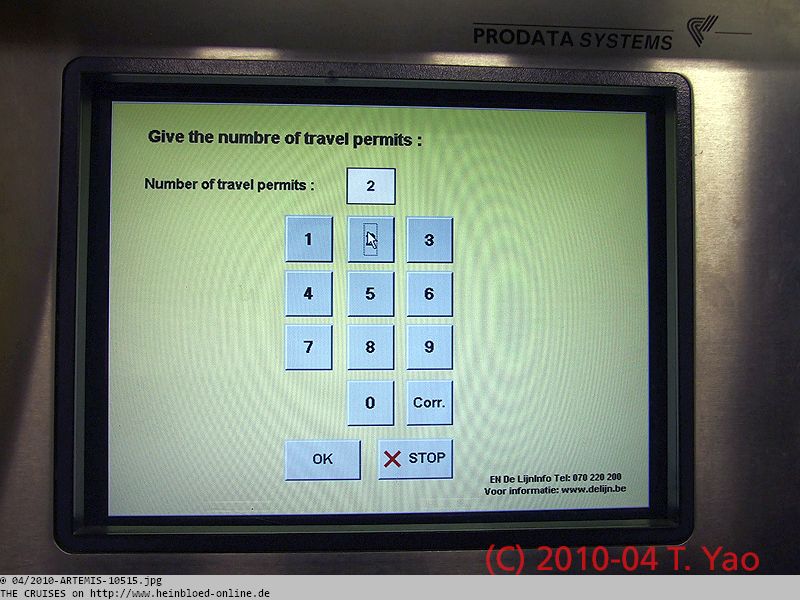 Also 2...
3,40 EUR mit belgischer Bankkarte oder bar...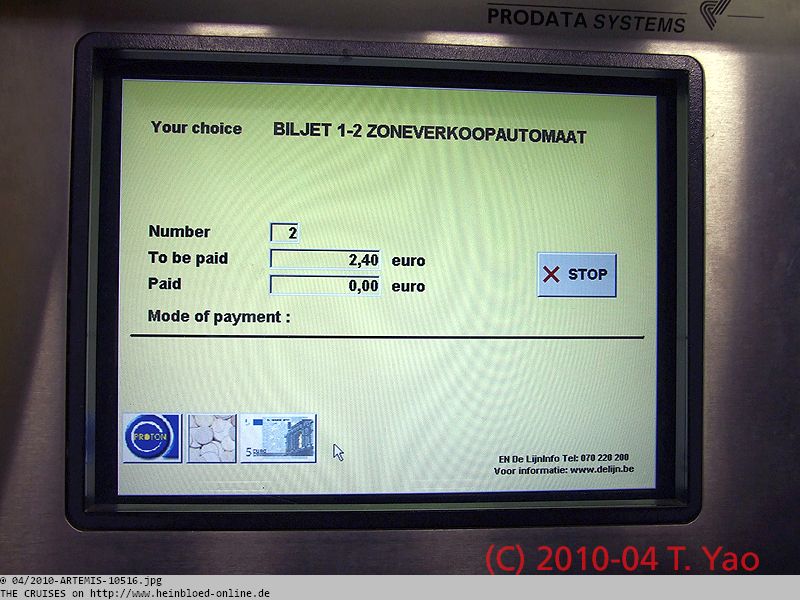 3.40 EUR cash or Belgian bank card...

5 EUR-bills were also accepted...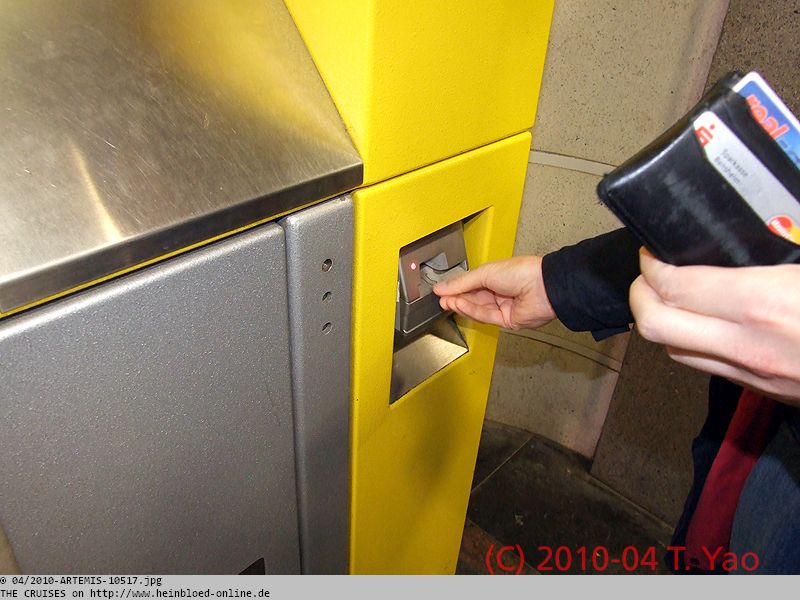 Sogar 5-EUR-Scheine werden akzeptiert...
Und so kommen zwei Tickets raus...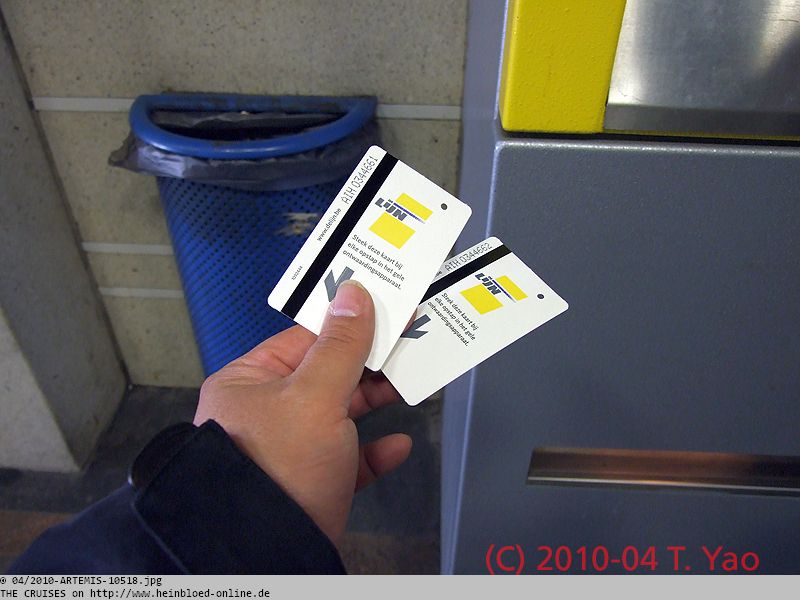 So two tickets were released...

... which need to be canceled/validated/punched in the tram.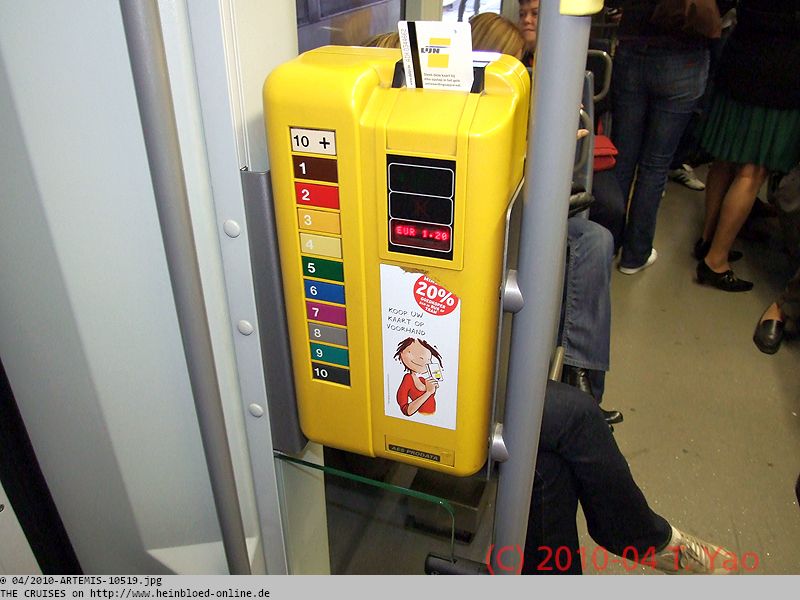 ... die aber in der Tram noch entwertet werden müssen.
Zurück gibt es nur Automaten, in denen man Geld einwirft und auf den grünen Knopf drückt. Sie verkaufen nur die 1,20 EUR-Tickets. Wir hatten es passend.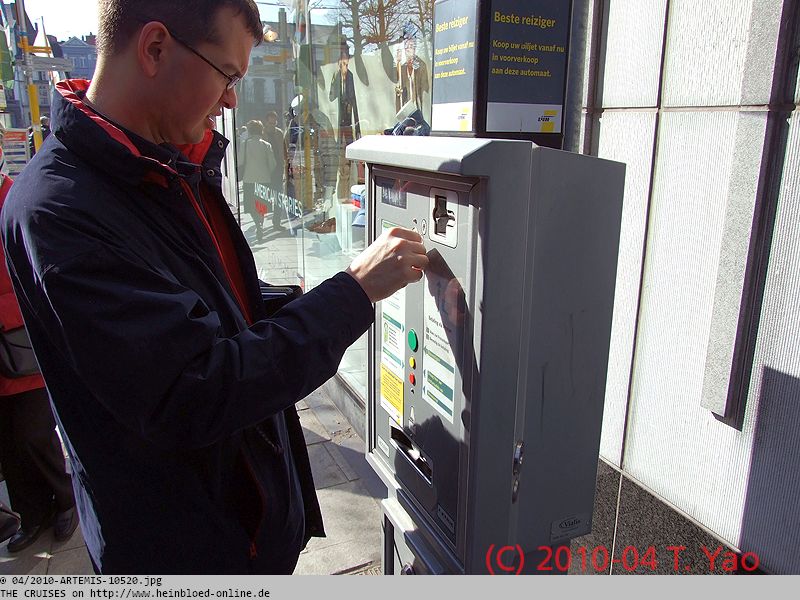 On the way back we only found this type of machine where you need to insert the money and press the green button. Only 1.20 EUR tickets were available. We had exact change.

But we used back Tram 21/22 to arrive just in front of the train station.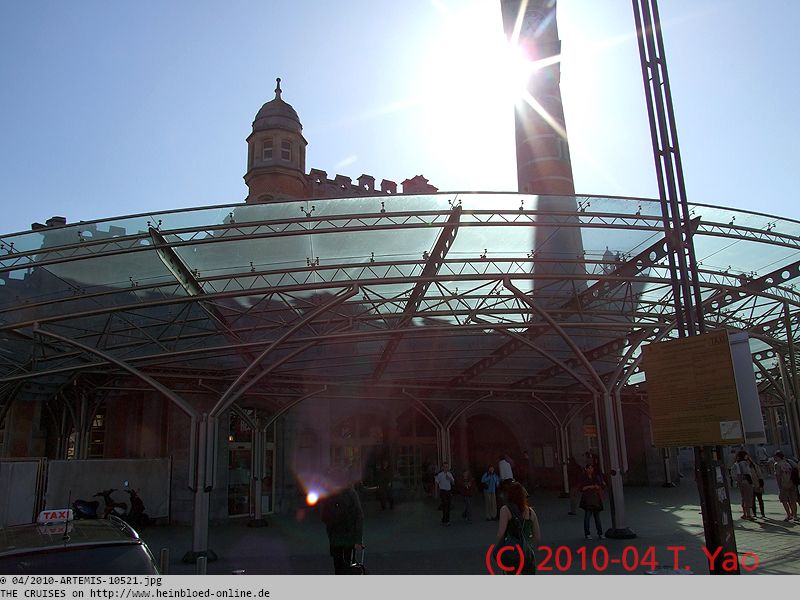 Zurück haben wir jedoch die Tram 21/22 genutzt, damit wir direkt vor dem Bahnhof ankommen.
Taxigäste werden direkt auf die offiziellen Taxitarife hingewiesen und haben keine Verhandlungsmöglichkeiten...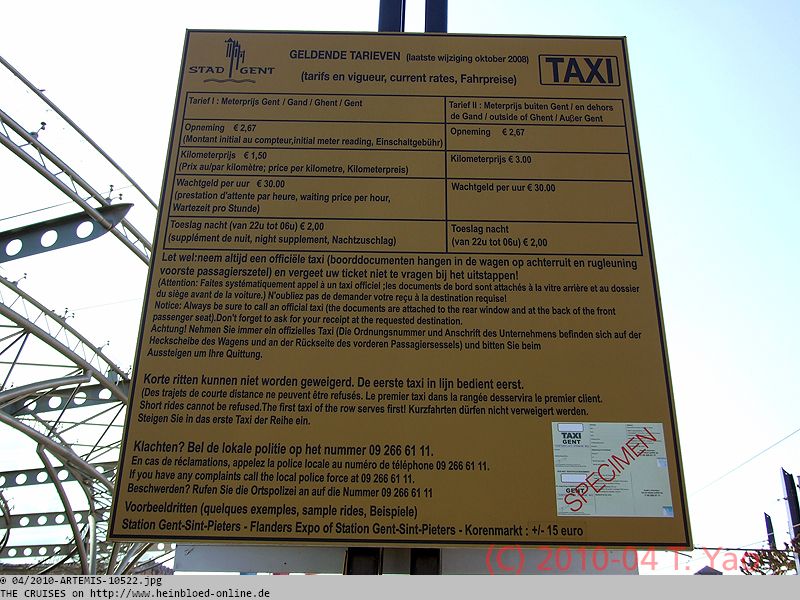 Taxi passengers were attracted to the official taxi tariff. No freedom for negotiations.

Who still has some time left before the return train starts: Bruno said that the cappuccino was perfect and I said look above to the ceiling...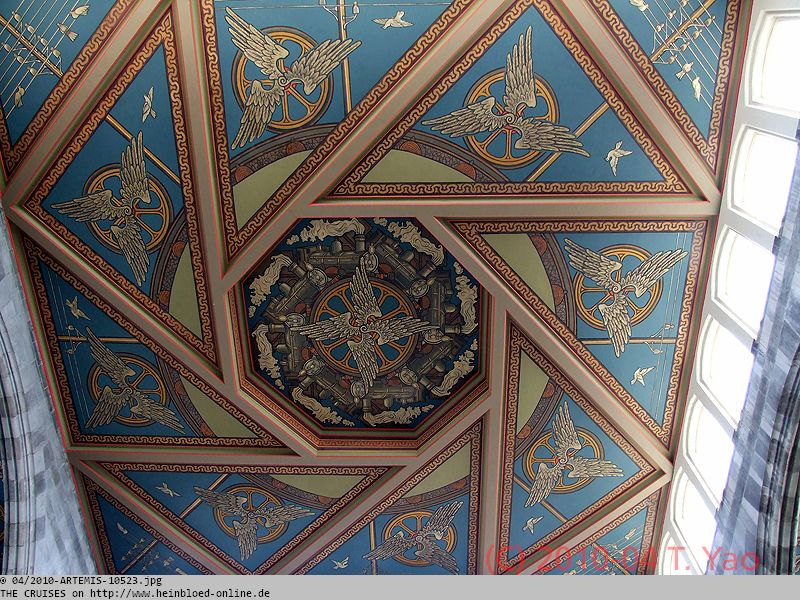 Und wer ein bisschen Zeit noch hat bevor der Zug fährt: Bruno sagt, dass der Cappucino sehr gut ist und ich sage, dass man mal nach oben auf die Decken schauen sollte.
Die anderen Reisen in diesem Blog/
The other voyages in this blog: