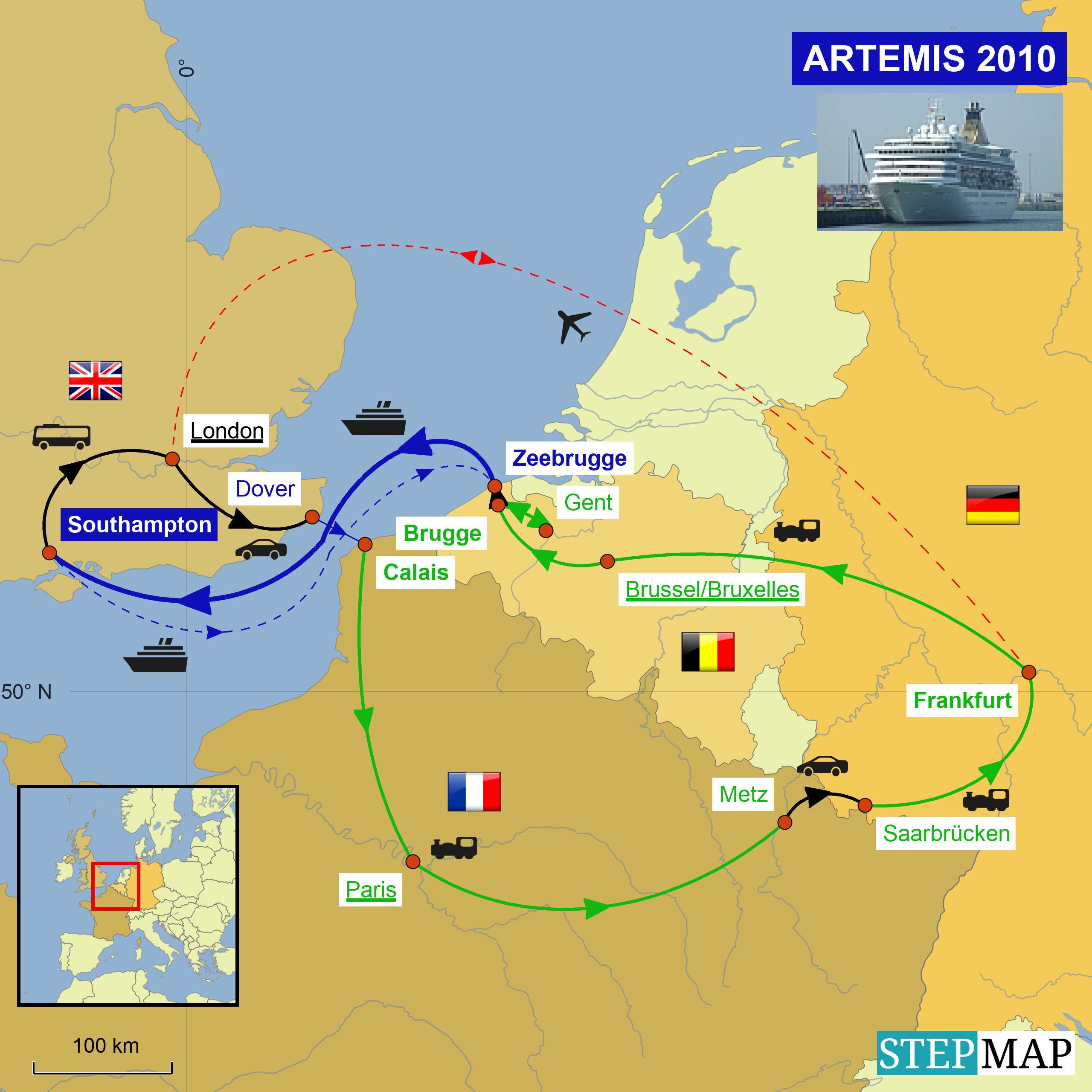 Morgens kam dann auch die übliche Rechnung. Bei P&O gibt es die Servicecharge nur für Teilnehmer des Freedom Dinings. Alles andere wird klassisch noch in bar abgewickelt. Auch gibt es keine Servicecharge auf die Getränke.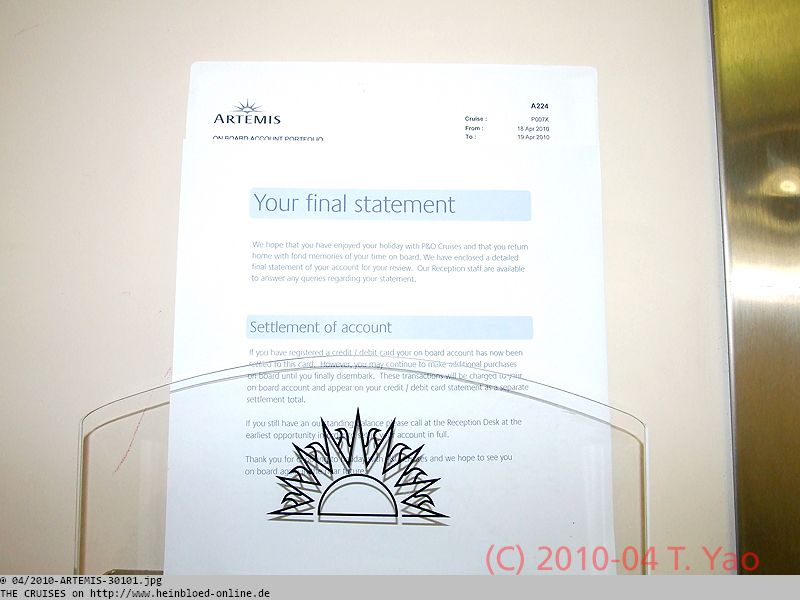 In the morning the final bill came as usual. There is no service charge if you are not participating in Freedom Dining. So you are tipping classical by cash allocations to your waiters and stewards. There was no service charge on beverages.

As 25 GBP Shareholder-OBC were missing it was necessary to speak with the reception desk. The first one had no idea what I was talking about. Therefore I should return at 06.30 hrs again.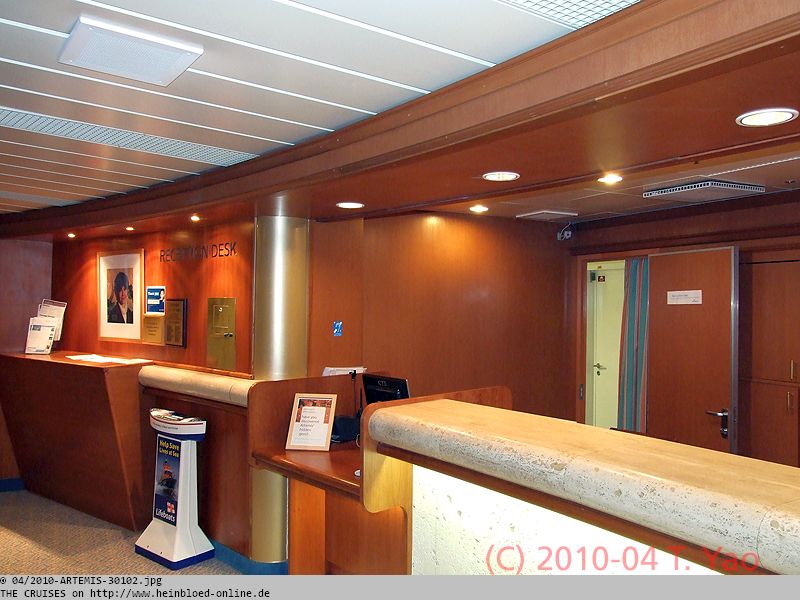 Da die 25 GBP Shareholder-OBC fehlten, war es leider notwendig nochmals bei der Rezeption vorzusprechen. Der 1. Mitarbeiter wusste überhaupt nicht worum es ging. Ich sollte daher um 06.30 Uhr wiederkommen.
Die Wartezeit nutze ich, um zu fotografieren. Mal gucken, wer dann als Taufpatin dann hier hängt.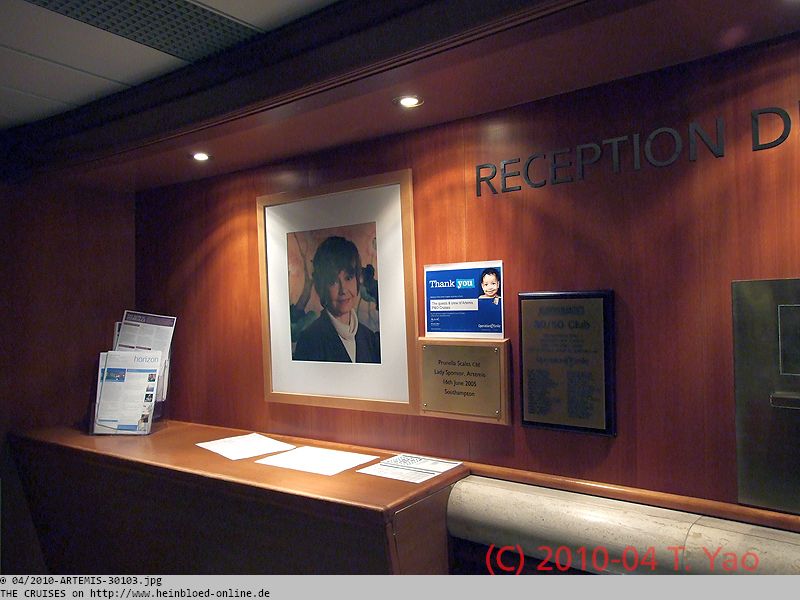 I used the waiting time to take pictures. Let's see who was the godmother here on this picture.

But anyhow the reception desk kept information ready how you can discover the places without booking of a shore excursion. So you can still find the schedules for the Bruges-, Brussels-, Ghent- and Antwerp-bound trains. There was no way to help us on board. The OBC is advised but cannot be transferred into the accounting system. The second person told me that we should care too much and just book the next cruise and we get 25 OBC on top... This was not the answer I wanted to hear... I did not see a need why they made their obviously technical problem to our problem, and we should claim it with Carnival UK. My suggestion was that they should credit us 25 GBP to our onboard account and solve internally how they get back 25 GBP back to their ship's account. The Financial Controller explained that they were not allowed to credit more than 5 GBP and all other amounts need to be approved ashore. He will take care of it, and we should relax and let him do. Let's be curious how this story will end up.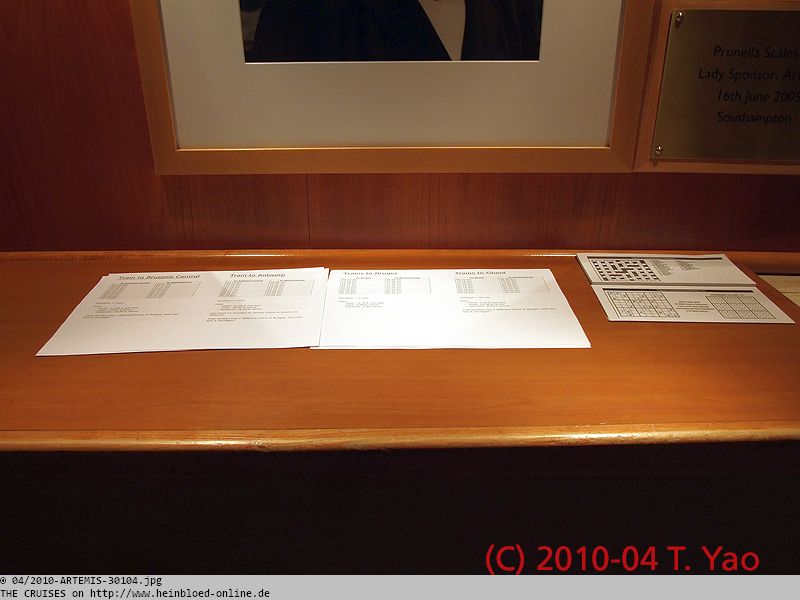 Ansonsten gab die Rezeption auch immer bereitwillig Auskünfte, wie man ohne gebuchte Ausflüge wegkommt. So liegen hier auch die Fahrpläne für die Züge bereit, um nach Brüssel, Brügge, Gent oder Antwerpen zu kommen. An Bord konnte man mir nicht helfen. Der OBC is avisiert, aber nicht ins Buchungssystem überführbar. Der 2., der versuchte mir zu helfen, meinte, dass das noch nicht schlimm sei und wir beim nächsten Mal eben 25 GBP mehr hätten... Das war wohl die falsche Stellungnahme... Ich sah keine Notwendigkeit, dass sie das technische Problem, das sie haben zu unserem Problem machen und wir hinterherrennen sollten. Mein Vorschlag: sie sollten uns einfach die 25 GBP gutschreiben und selbst hinterher rennen, wenn sie ein technisches Problem haben. Mir hat dann der Finanzcontroller erklärt, dass sie leider nur max. 5 GBP gutschreiben dürften, und alles andere an Land entschieden werden müsste. Man würde sich darum kümmern... Mal gucken, wie das endet...
Wir werden nochmals an den Safeschlüssel erinnert....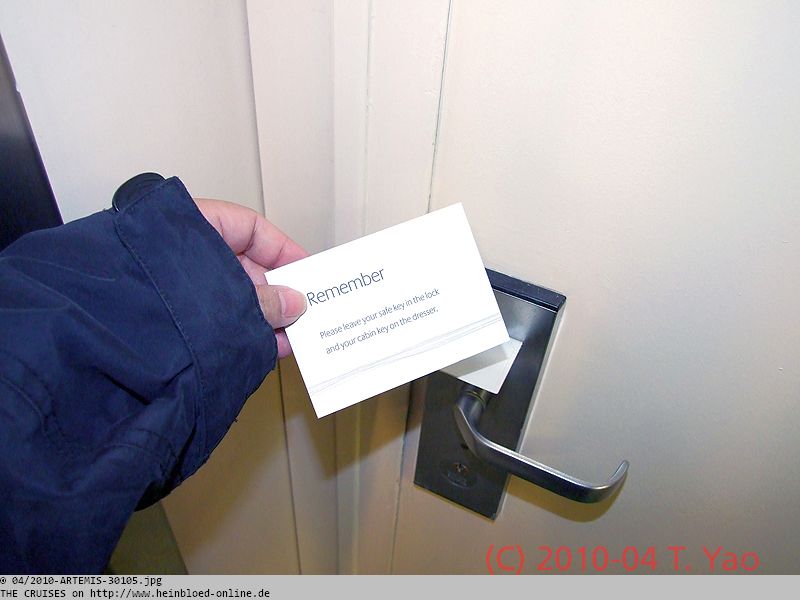 They reminded us to the safe key...

As we did not like to pack last night our bags, we now found out that they used menu cards to fold the polo-shirts into good shape... That was green handling by P&O Cruises... Nothing was for waste deposit.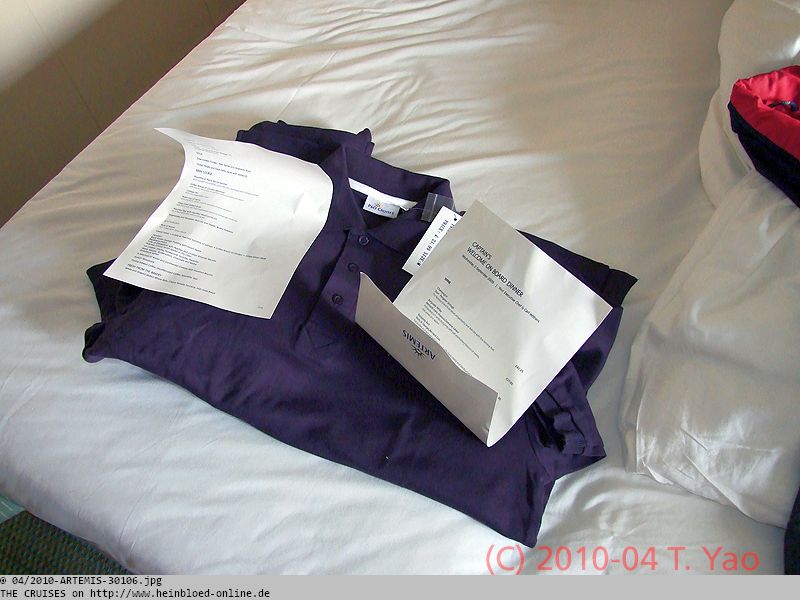 Da wir gestern Abend keine Lust mehr hatten noch Koffer zu packen, stellen wir erst jetzt beim Packen fest, dass man die Polo-Shirts, die wir gekauft haben mit alten Speisekarten verstärkt hat... Umweltbewusstsein à la P&O Cruises.... Nichts wird weggeworfen...
Ich gucke mich immer noch ein wenig auf dem Schiff um...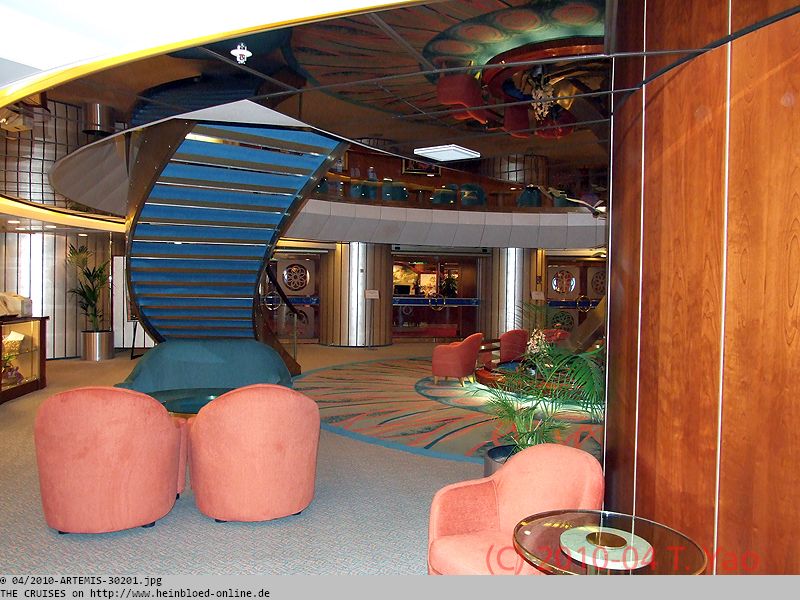 I was still looking around the ship...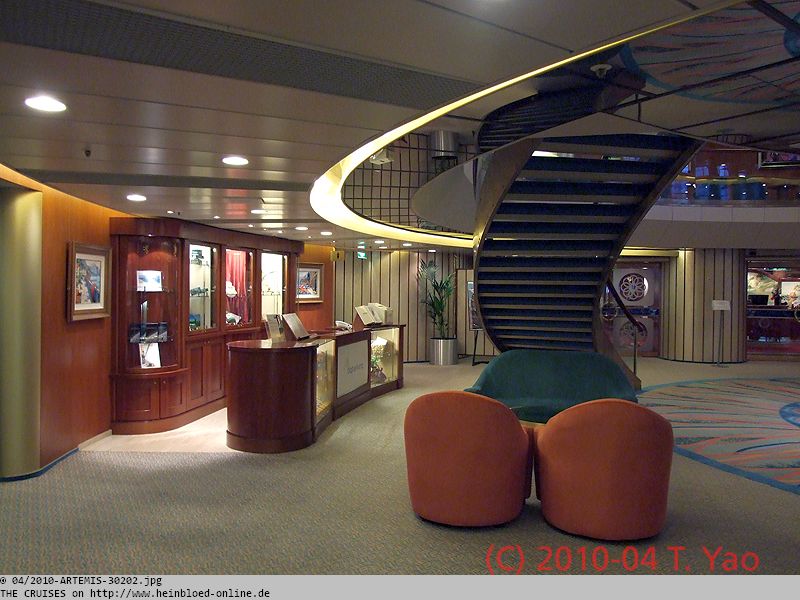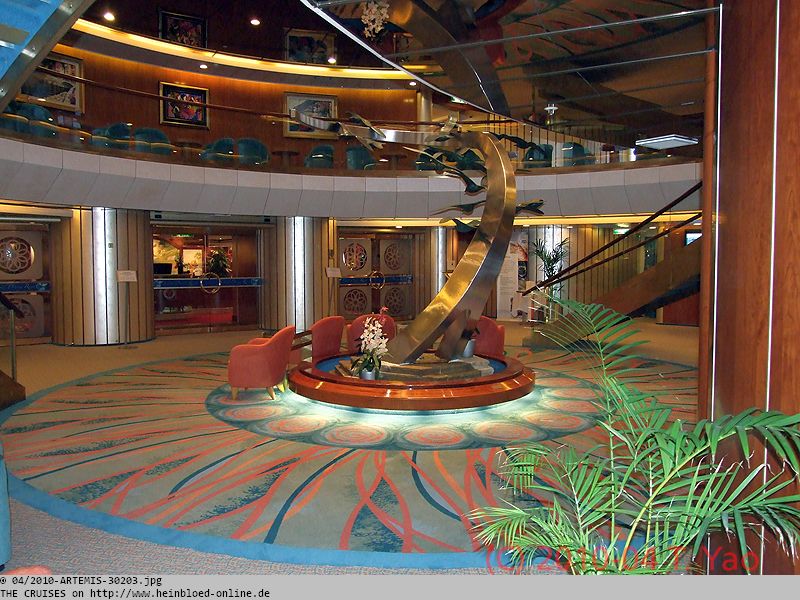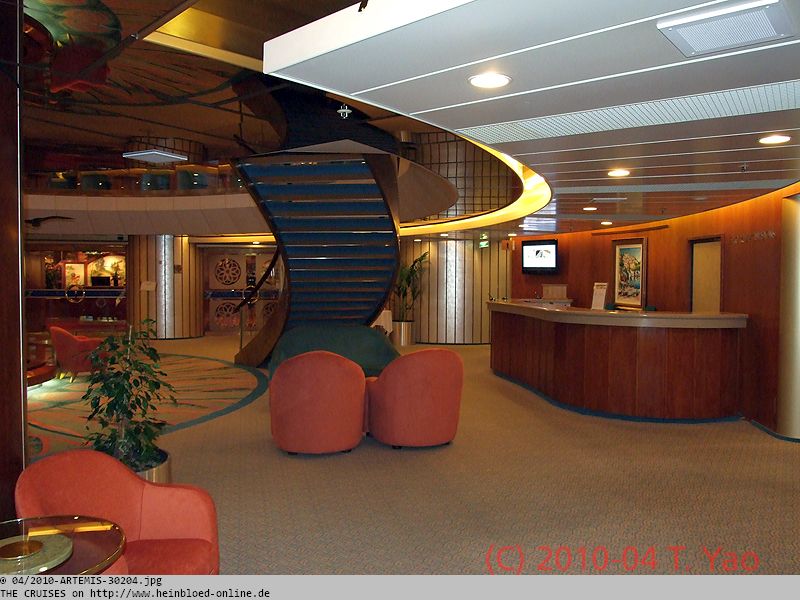 The water play calmed down my nerves. Maybe it was because of this that I did not ask for the Captain to solve our OBC-problem while we were still onboard... but it's a good occasion to write P&O and to check other things too.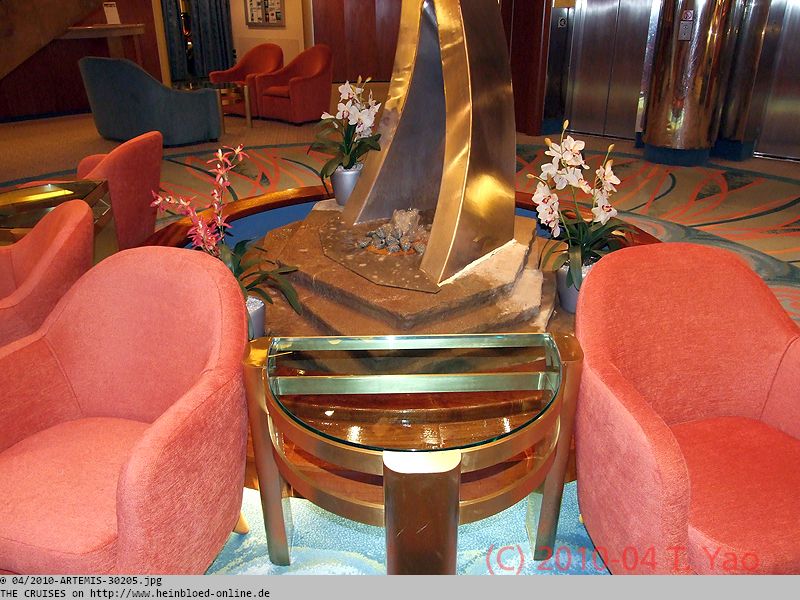 Das Wasserspiel beruhigt die Nerven. Vielleicht lag es daran, dass ich nicht noch den Kapitän gerufen habe, um das OBC lokal zu lösen... Es ist aber auch ein guter Anlass P&O zu schreiben und noch ein paar andere Dinge zu regeln...
Abschließend habe ich auch noch das Monte Carlo Casino gefunden.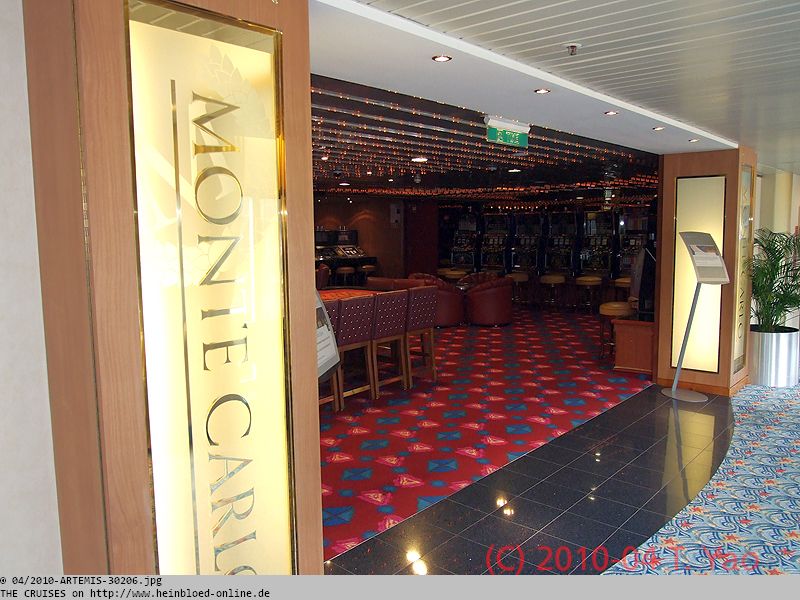 Finally I found the Monte Carlo Casino.

It should become the Casablanca-Lounge later.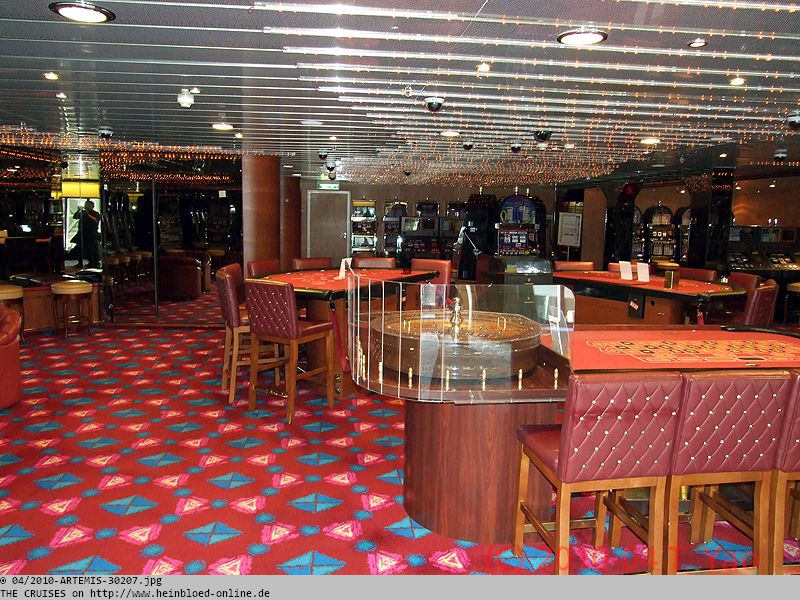 Hieraus wird die Casablanca-Lounge später.
Also wird es anscheinend auf der ARTANIA kein Casino geben...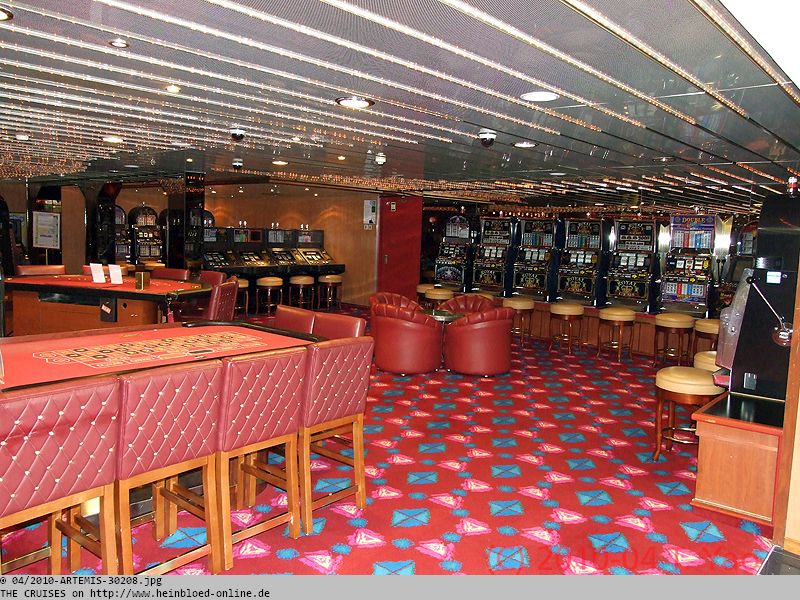 So ARTANIA will not have a casino anymore.

While we were discussing the OBC, I was asked to show up at 08:10 hrs upstairs at Trump's to collect my passport and to do immigration to the UK. But this would be a time conflict to the breakfast time of the 2nd seating. So we found out that they forgot to print this information to the daily programme.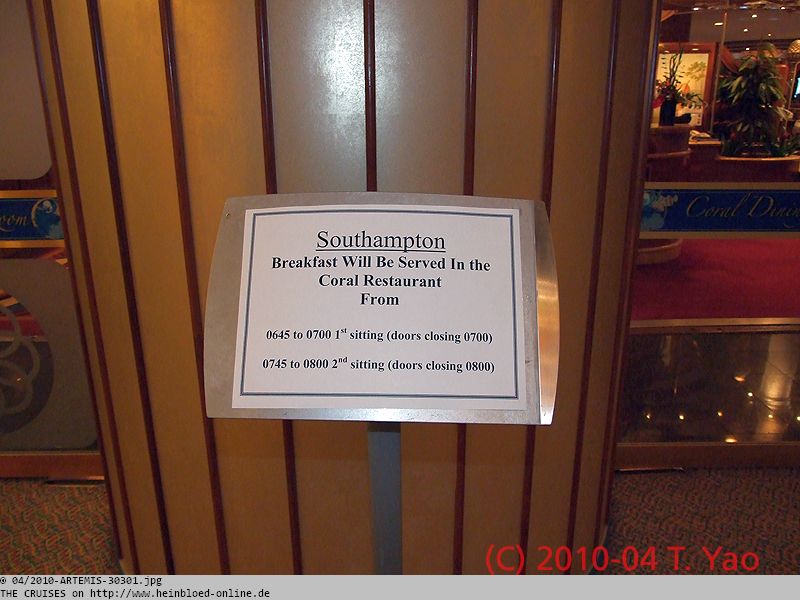 Während der Gespräche mit dem OBC wurde ich noch hingewiesen, dass ich um 08:10 Uhr oben im Trump's erscheinen müsse, um meinen Pass abzuholen und offiziell einzureisen. Das kollidiert aber mit dem Frühstück der 2. Tischzeit, die wir offiziell haben. Dabei stellte sich heraus, dass man wohl auch vergessen habe, die Frühstückszeiten in das Tagesprogramm einzudrucken.
Es stellte sich jedoch heraus, dass wir auch heute Morgen nicht herausfinden würden, wer unsere Tischnachbarn gewesen wären, da es eine offene Sitzung ist. Da ich heute Morgen schon genug geredet hatte, wollte ich keinen Tisch mit Konversationszwang und bat um einen 2-er Tisch, den wir auch anstandslos bekamen.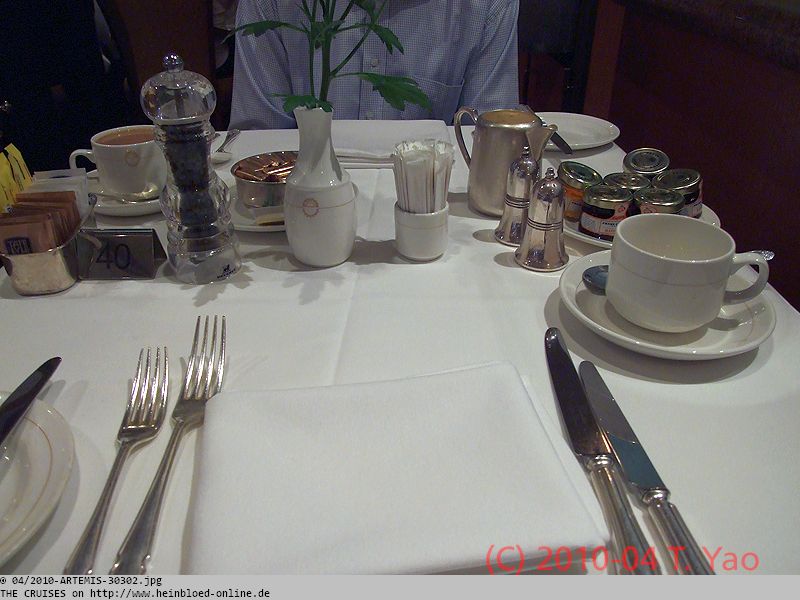 So this morning we had to chance to find out who were our table mates because it was open seating during the 2nd seating. As I had more discussion than planned, I was happy to get a table without conversation: a table for two just for us which we received without any problems.

Bruno was very excited that he his muesli which was not oversweetened like Americans preferred it.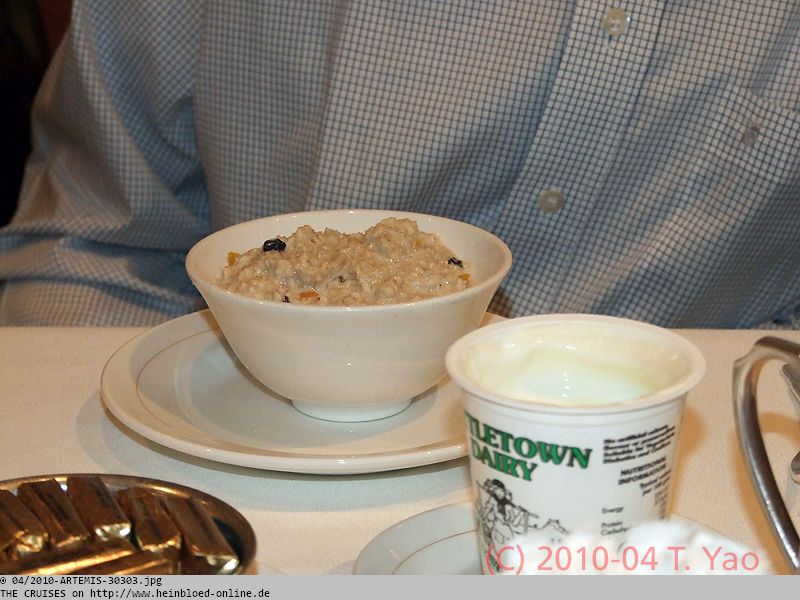 Bruno war auch wieder ganz begeistert, dass er sein Müsli bekam, dass nicht amerikanisch überzuckert ist.
Auch ist es schön zu sehen, wieviel Obstauswahl auf der Speisekarte sich befindet.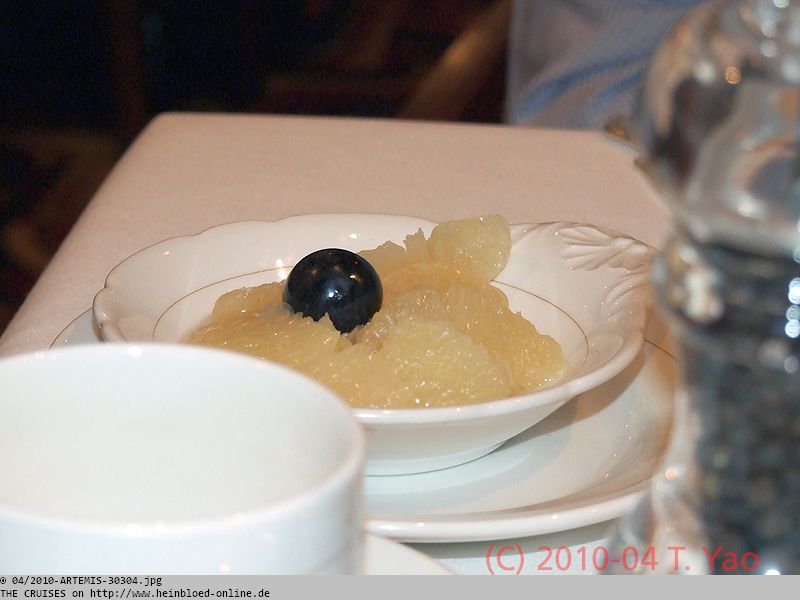 It's also very good to see how many variations of fruit dishes were on the menu.

And this was my melon plate. I was missing a little green like a leave of mint or something like this, and it would be like on a 5*-ship...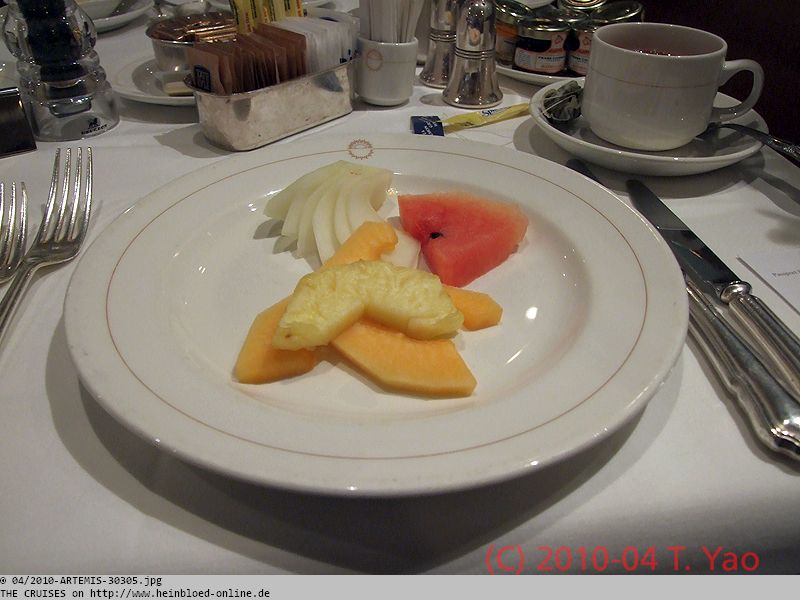 Und so sah mein Melonenteller aus. Ein bisschen Grün noch, so ein Minzblatt o. ä., und es wäre wie auf einem 5*-Schiff...
Ich nehme am Schluss nochmals ein Omelette.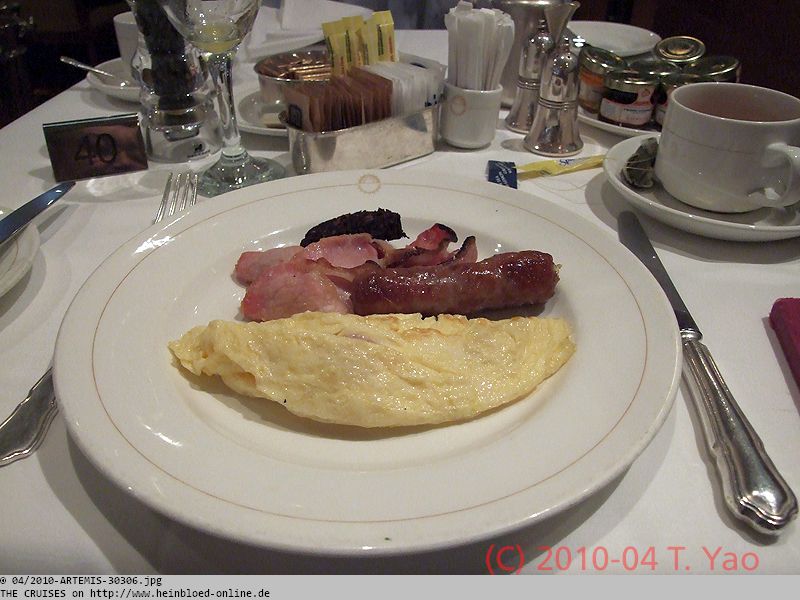 For the last day I took an omelette.

One reason why I was so early up was, of course, our attempt to reach Lufthansa and to take some pictures.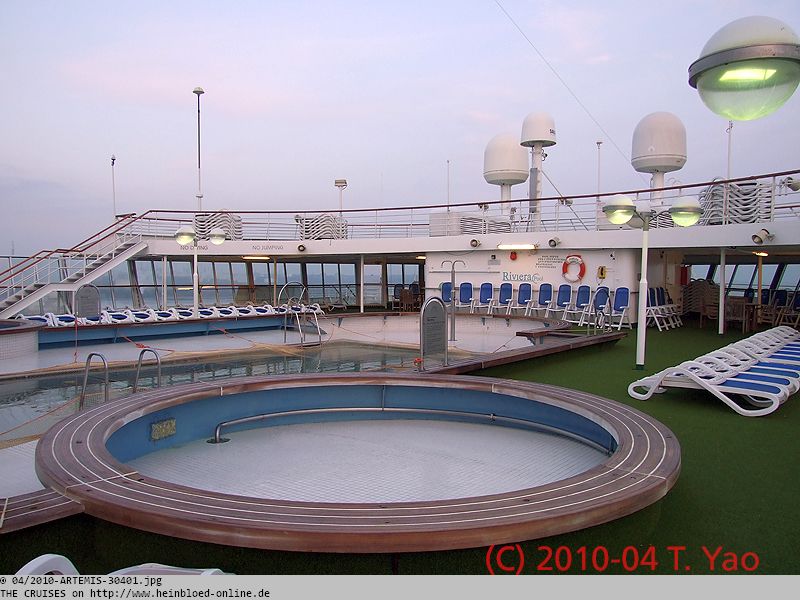 Ein Grund, dass ich so früh überhaupt auf war, war natürlich der Versuch, Lufthansa zu erreichen und aber auch nochmals ein wenig zu fotografieren.
Das Heck hatten wir gestern gar nicht entdeckt.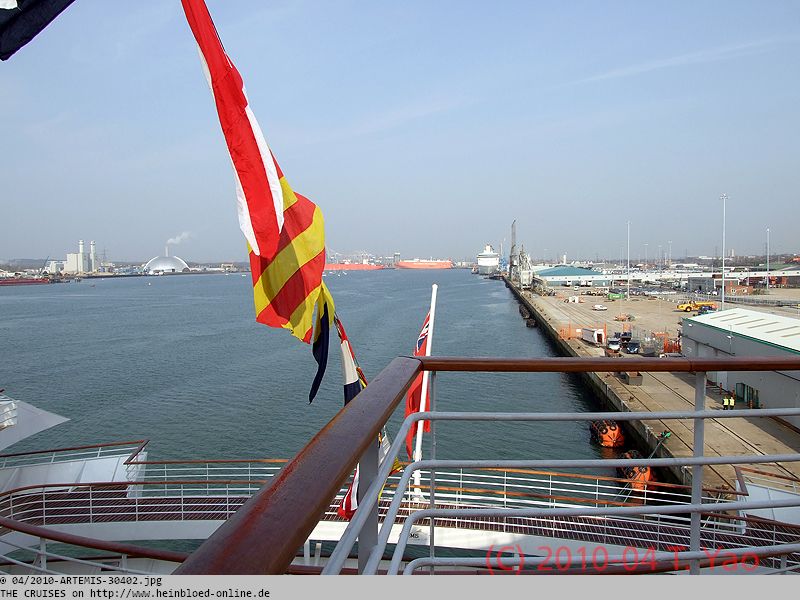 We did not discovered this stern the day before.

Reminded to QUEEN ELIZABETH 2 or QUEEN MARY 2 or NORWEGIAN SPIRIT somehow.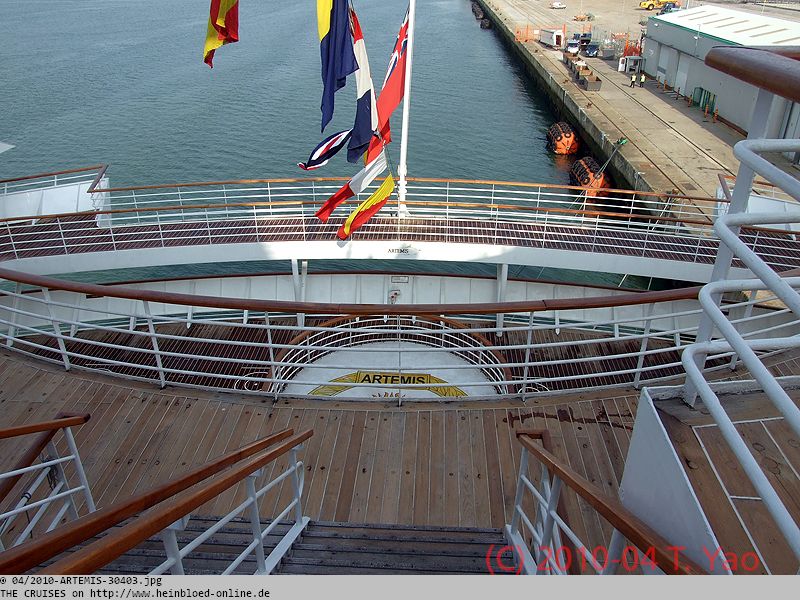 Erinnert sehr an QUEEN ELIZABETH 2 bzw. QUEEN MARY 2 oder NORWEGIAN SPIRIT irgendwie.
Mal gucken, was dann hieraus wird.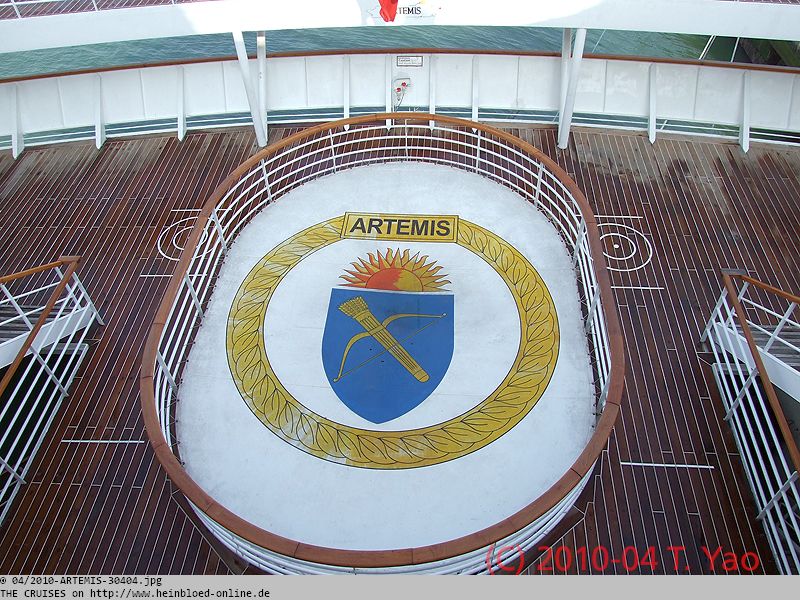 Let's see what they will make of this.

Arriving in Southampton was always a little annoying because in the early morning there was nobody there to wave us welcome...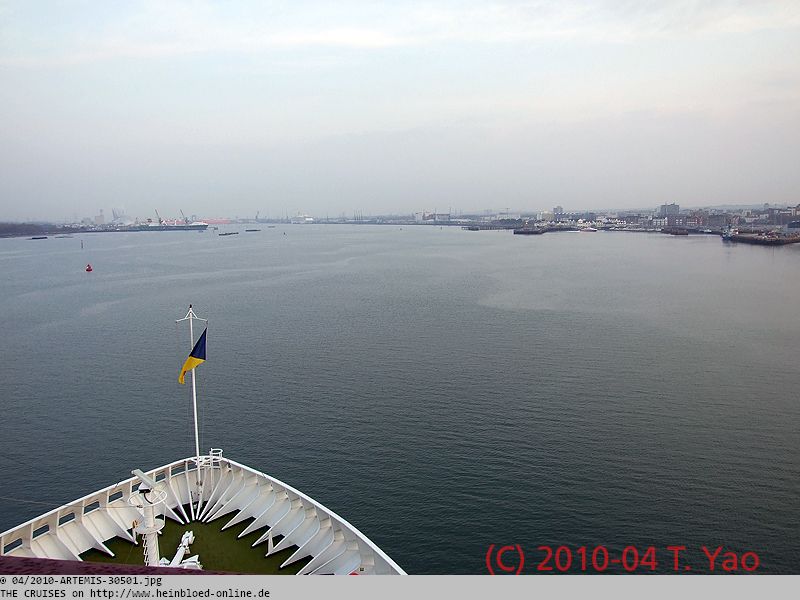 Einlaufen in Southampton ist ja immer ein wenig langweilig, weil morgens in der Frühe niemand da ist, zum Winken...
Wieder benötigen wir Schlepperhilfe, damit wir drehen können.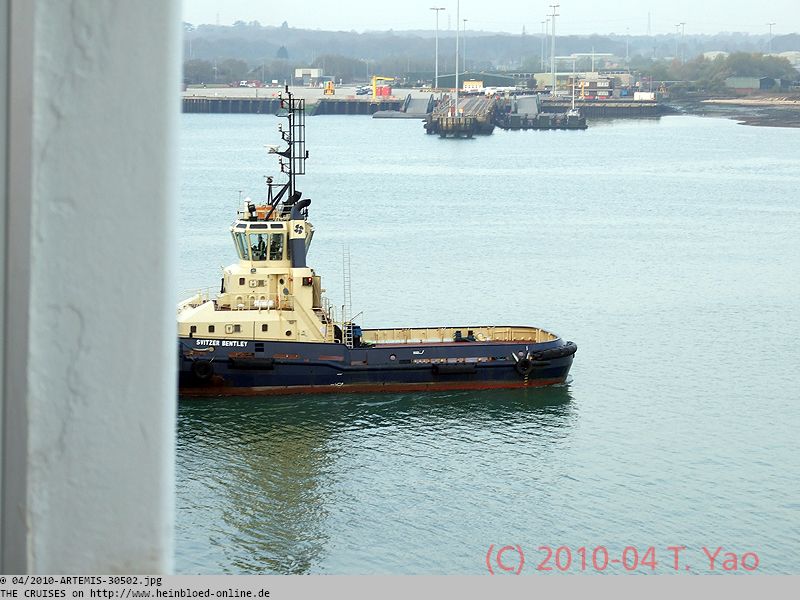 We need the support of a TUG to turn around.

Initially, we were informed that we should arrive at the Ocean Terminal (right), but our berth is today at the City Center Terminal (left).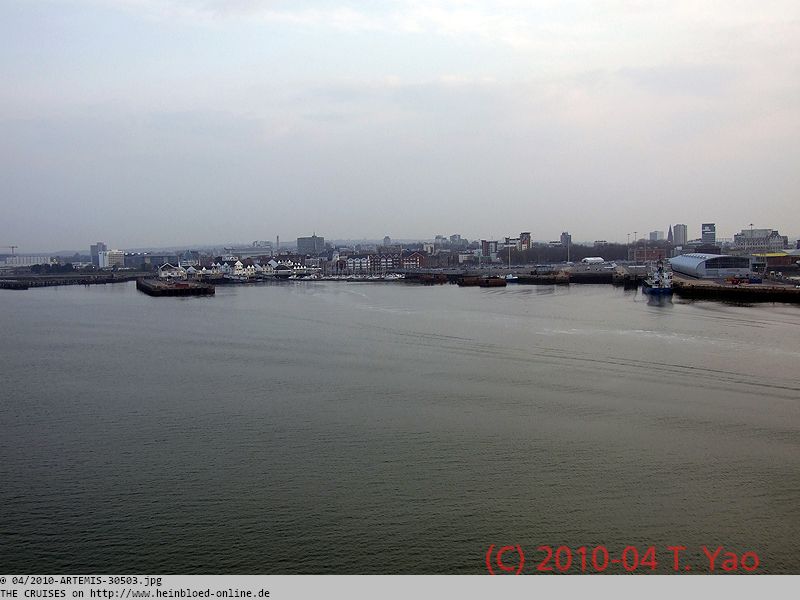 Ursprünglich wurden wir informiert, dass wir am Ocean Terminal anlegen (rechts), aber wir werden am City Center Terminal (links) anlegen.
Die Abfahrt erfolgte ursprünglich vom Mayflower Terminal (links), so dass alle Gäste, die dort geparkt haben, mit Bussen kostenlos zu ihrem Parkplatz gebracht werden.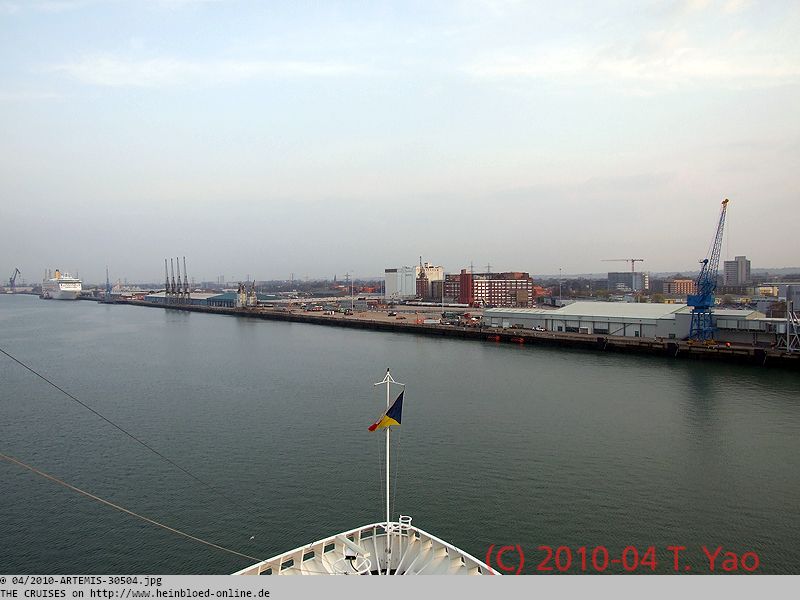 Sailing was out of the Mayflower Terminal (left), so all guests parked their car there and need to be shuttled back to this terminal for free.

The Devere Grand Hotel is on the right side. You can store your bags there for 5 GBP per bag. You get a voucher for consumption of 5 GBP in the hotel. In the center, there is the Holiday. Here you also find the AVIS-location. There is Gate 8 in front. If you are lucky, it's open, and you walk quickly from the City Center Terminal to there.

Rechts ist das Devere Grand Hotel, in dem man für 5 GBP seinen Koffer unterstellen darf. Die 5 GBP werden mit einem Verzehr im Hause verrechnet. In der Mitte ist das Holiday Inn. Hier befindet sich auch die AVIS-Station. Dazwischen ist Tor 8. Wenn man Glück hat und es offen ist, kann direkt vom City Center Terminal dahinlaufen.
Hinter dem Holiday Inn sieht man so schön auch den Grund, warum es im letzten Jahr keine Dividende von Carnival gab. Wir mussten ja dieses Gebäude mit finanzieren... Vielleicht sollten wir gleich vorbei gehen, um uns die 25 GBP auszahlen zu lassen...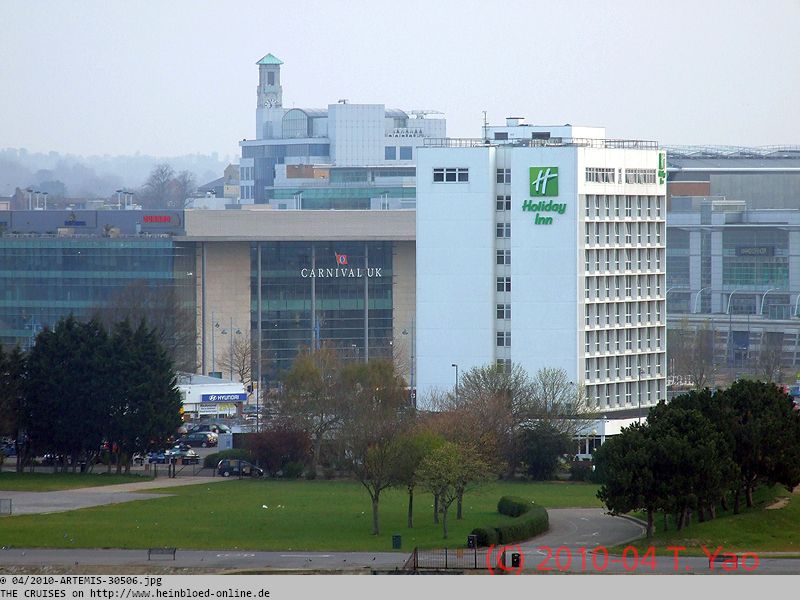 Behind the Holiday Inn you can see the reason why you did not get any dividend from Carnival last year... We had to finance this new building. Maybe we should go and stop by there to collect our 25 GBP...

From this distance you can see the Ibis- and the Etap-Hotel. There behind is the train station. Who likes to walk... please...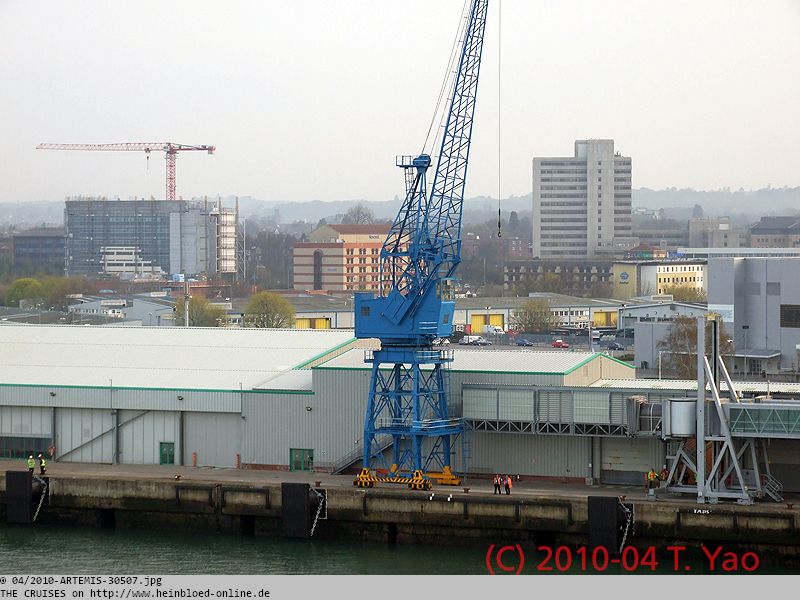 In Sichtweite zum City Center Terminal das Ibis-Hotel und das Etap-Hotel. Dahinter befindet sich auch der Bahnhof. Wer laufen mag... bitte...
Im Hintergrund ist das Parkhaus von IKEA. Dazwischen sieht man vielleicht die Europcar-National-Station. Davor ist das Dach vom City Center Terminal.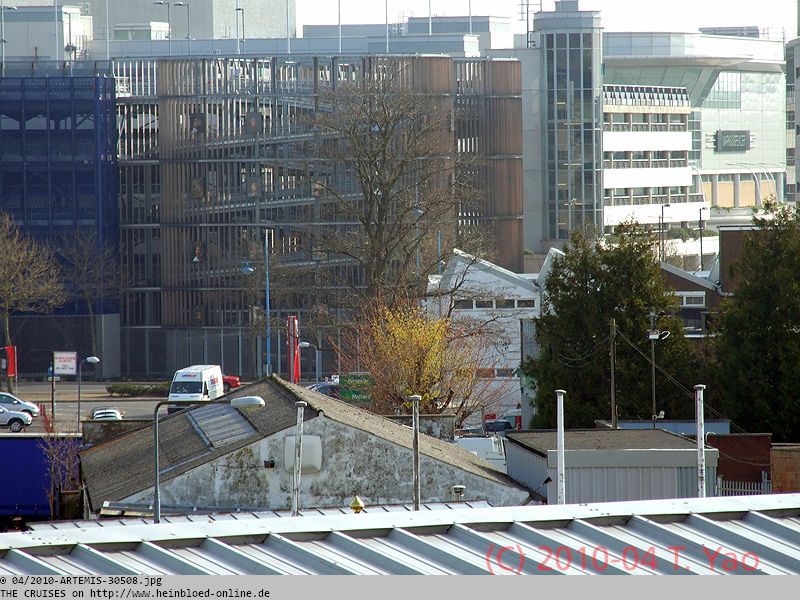 In the background you see the parking lots of IKEA. In between, you maybe can identify the Europcar-National-location. The roof in front is part of the City Center Terminal.

Another reason to be so early up was AURORA which I wanted to take pictures of and who was the reason that we cannot berth at Mayflower Terminal.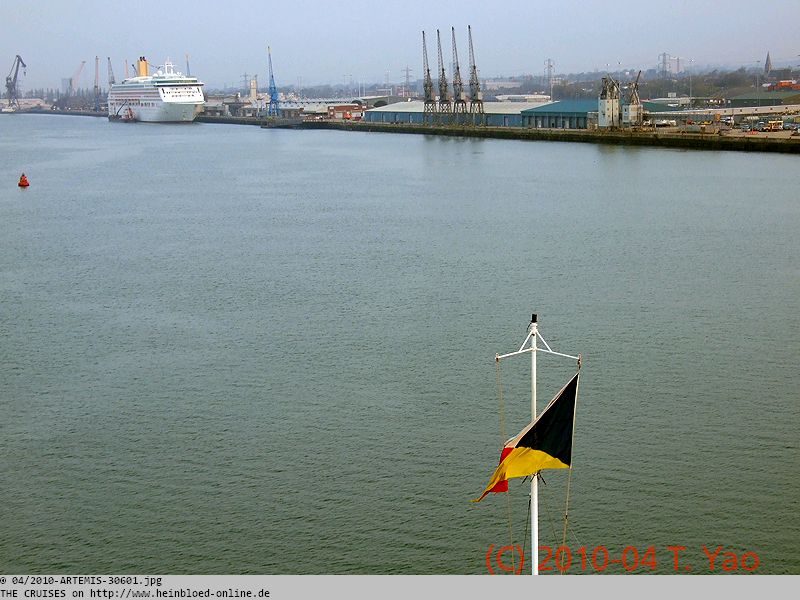 Ein weiterer Grund, warum ich so früh auf war, war die AURORA, die ich fotografieren wollte und die uns den Platz am Mayflower Terminal streitig gemacht hat.
Ich wusste gar nicht, dass das Schiff nach einer Teilnehmerin im Forum genannt wurde...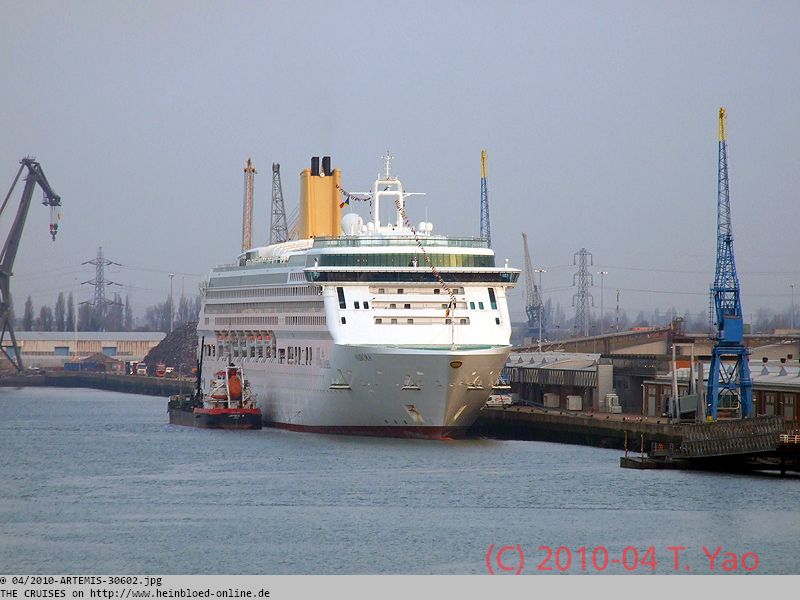 I did not know that the ship was named after the member of a German cruise-internet-forum...

When we go again on P&O, we would like to go ADONIA or ARCADIA... Somehow it was sweet without kids on board. Let's see what Louise from Cruise Thomas Cook - The Cruise Store have when we ask for excellent offers.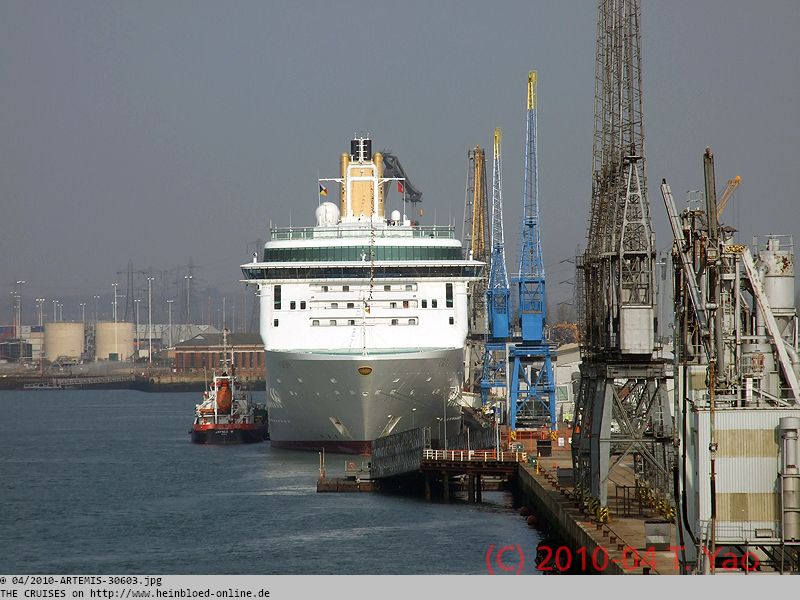 Wenn wir wieder P&O Cruises fahren, dann ADONIA oder ARCADIA... Irgendwie war es schön ohne Kinder an Bord. Mal sehen, was Louise von Cruise Thomas Cook - The Cruise Store für uns bereit hält. 150 EUR die Nacht waren sicherlich nicht überteuert...
Die anderen Reisen in diesem Blog/
The other voyages in this blog: