Scroll down for English explanations - alternates with German explanations.

Die Sonne lacht über Bergen und unsere Tischzeit haben wir eh versäumt. Bis 21.00 Uhr zurück zu sein, um am Büffet zu essen haben wir auch keine Lust.
Die Fløi-Bahn liegt ja fast auf halbem Weg vom Bahnhof zum Cruise Terminal: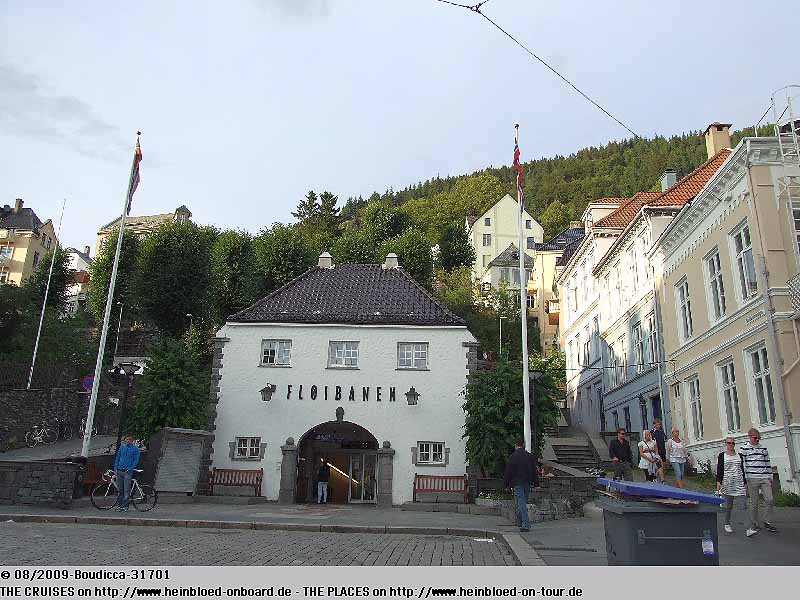 The sun was still shining over Bergen and we missed our dinner-seating anyway. We did not feel comfortable to be back for the buffet until 21.00 hrs.

The Fløi-Funicular-Railway is on the half way from the train station to the Cruise Terminal.To walk downhill there was not enough time left. So we purchased a return ticket for 70 NOK per person.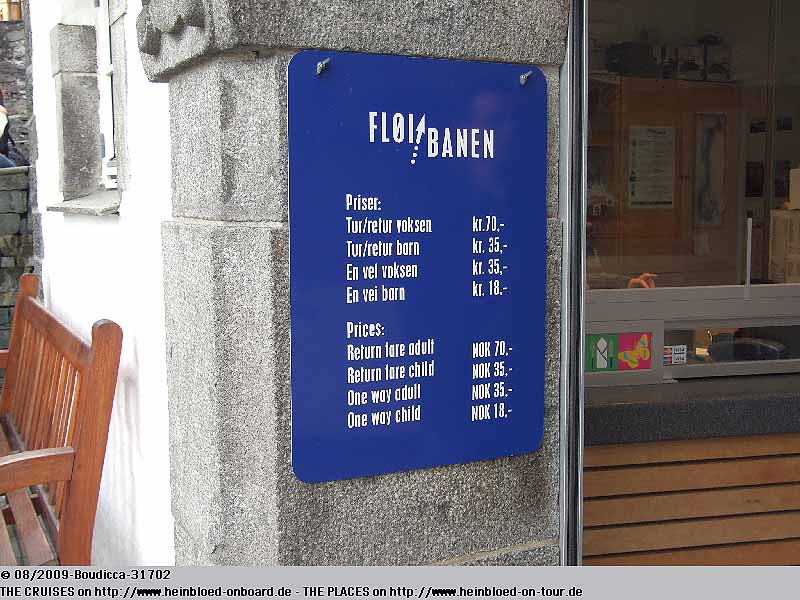 Zum Runterlaufen reicht die Zeit nicht mehr, so dass wir für 70 NOK eine Hin- und Rückfahrkarte kaufen.
Es handelt sich hierbei um eine sogenannte Standseilbahn.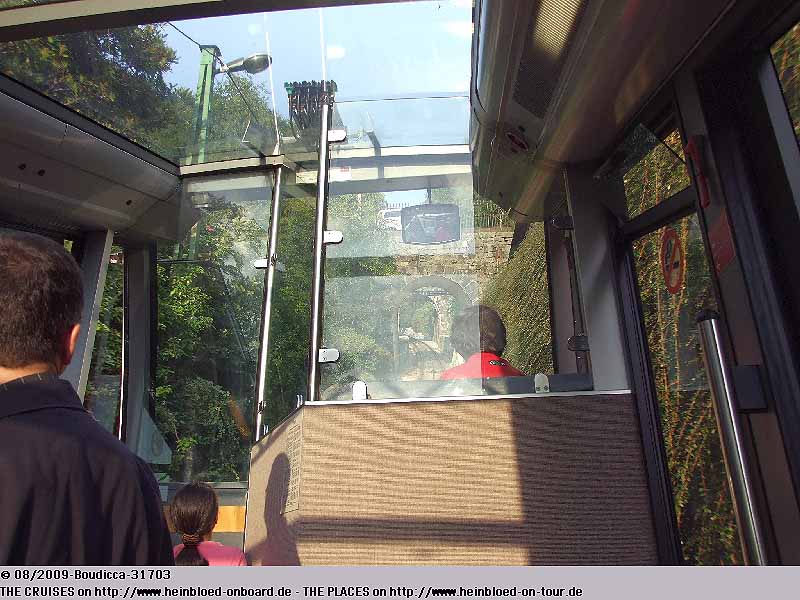 It's a Funicular Railway...

you need to wait until another car will come down because the same rope is pulling one car upwards and let one car riding downwards. Very safe as long as the rope is fine.

... bei der irgendwann mal etwas entgegenkommt, weil ja eben an einem Seil die eine Bahn raufgezogen und die Bahn runtergelassen wird. Sehr sicher, solange das Seil nicht reisst.
Von unterwegs genießen wir den Ausblick auf Bergen.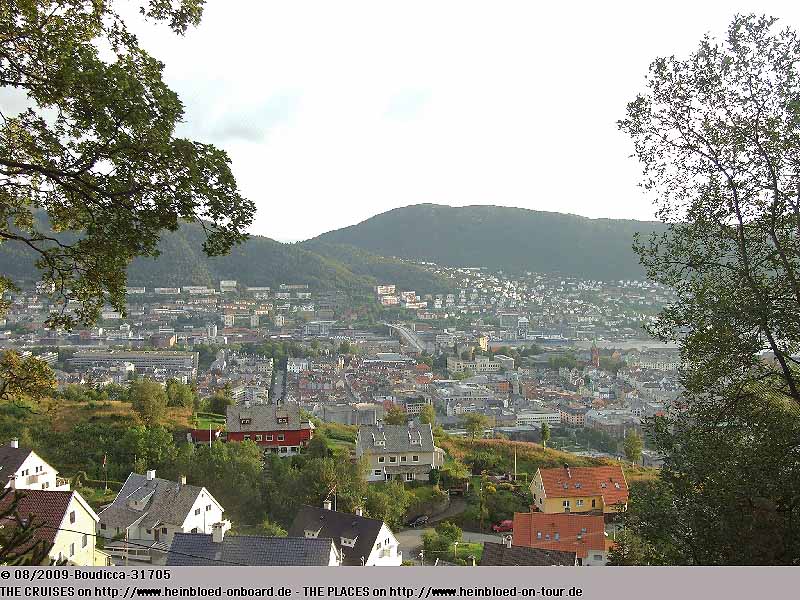 We just enjoyed the view from the cars.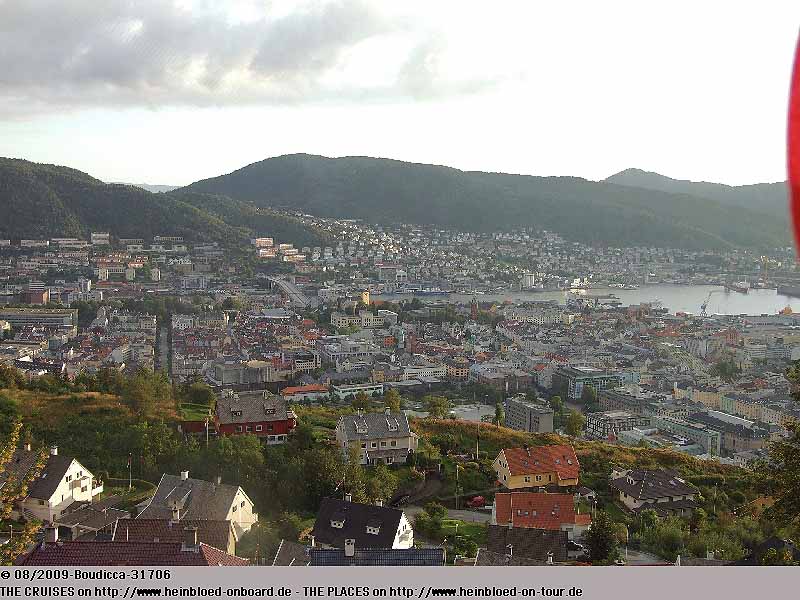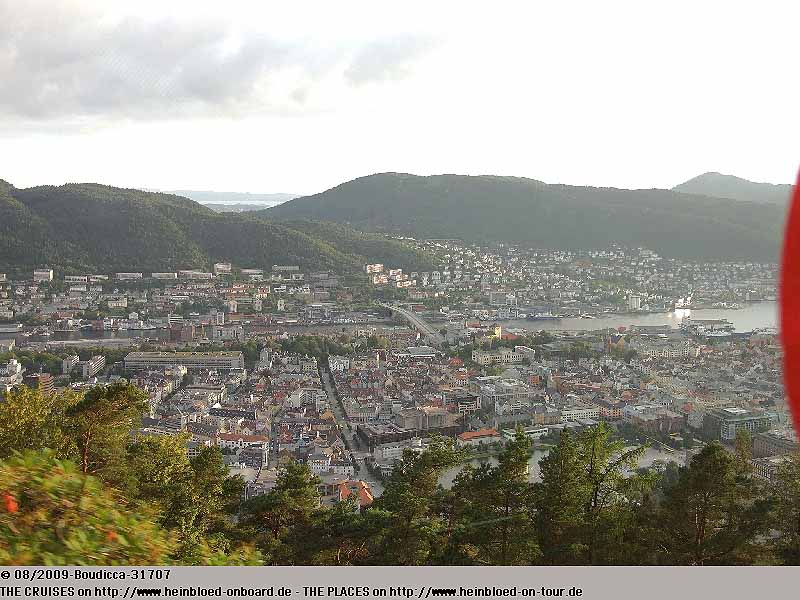 After few minutes we reached the station at the top.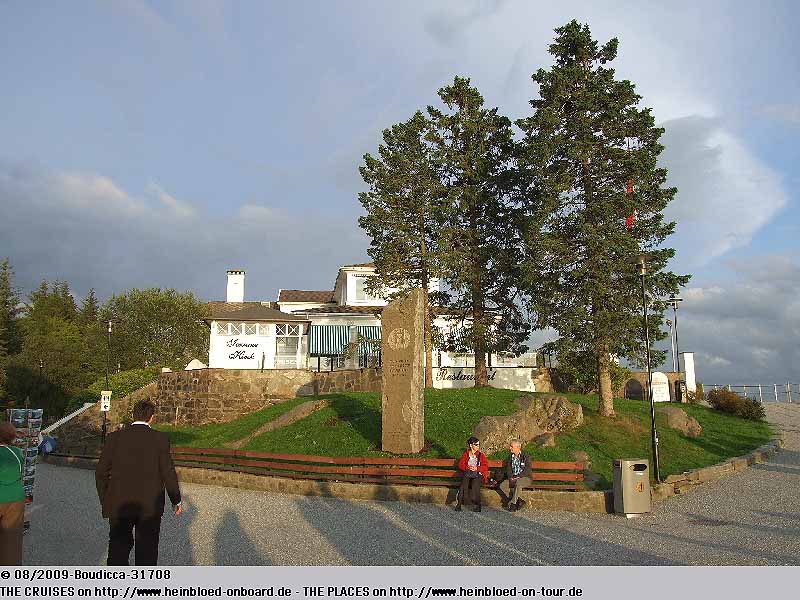 Nach wenigen Minuten kommen wir oben an der Bergstation an.
So weit müssten wir also noch laufen...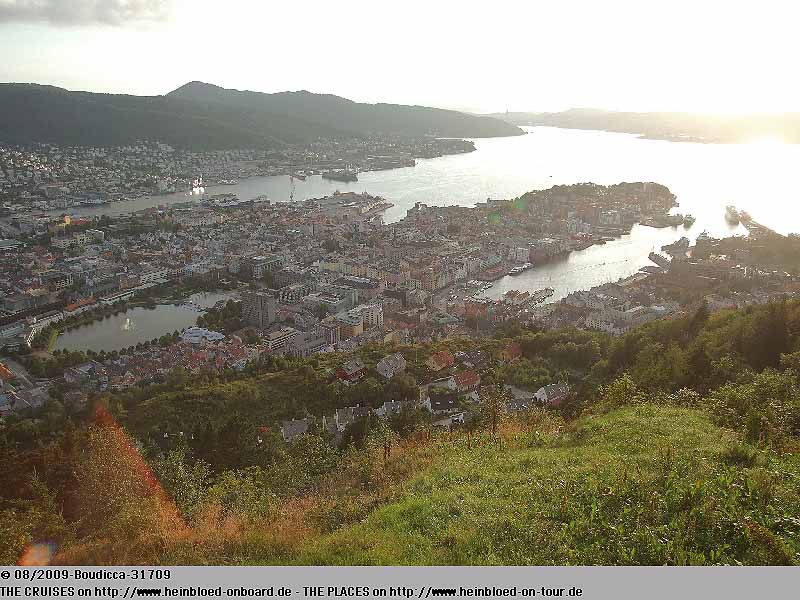 That's the distance to walk down...

Somewhere there we spent our day.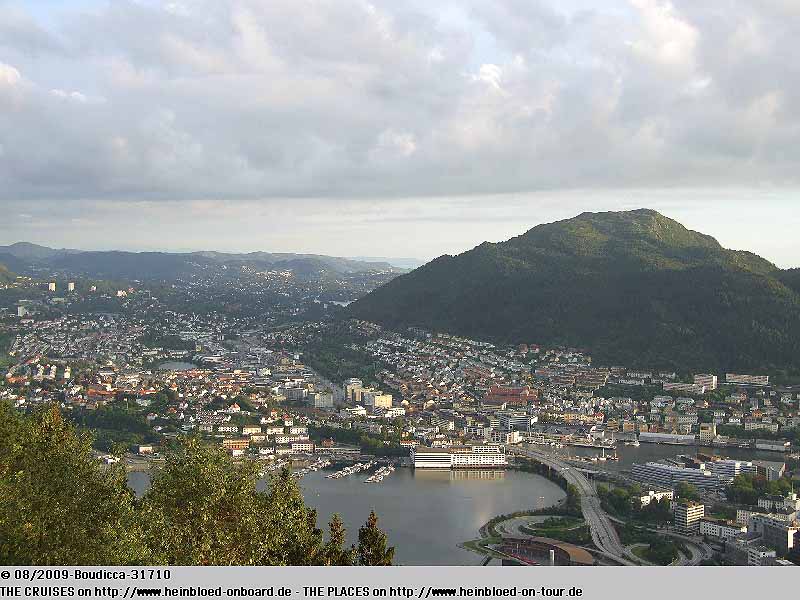 ... und irgendwo dahinten waren wir unterwegs.
Zwischen den Bergen entdecken wir die Fjorde.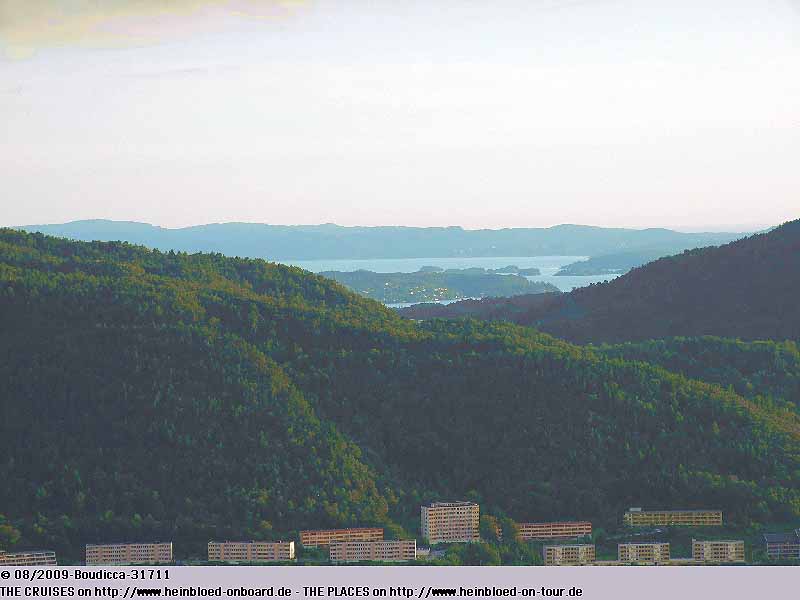 Between the mountains you see the fjords.

We enjoyed the stay although we had only few minutes time to stay.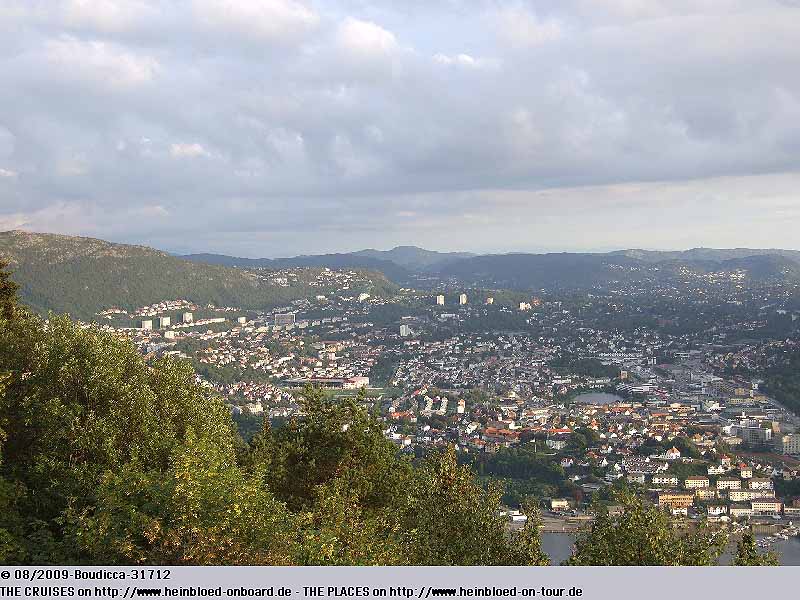 Wir genießen den Aufenthalt, der leider nur wenige Minuten dauert.
Dort wären also die Hurtigrutenschiffe abgefahren, wenn wir Zeit gehabt hätten, noch an denen vorbei zu laufen.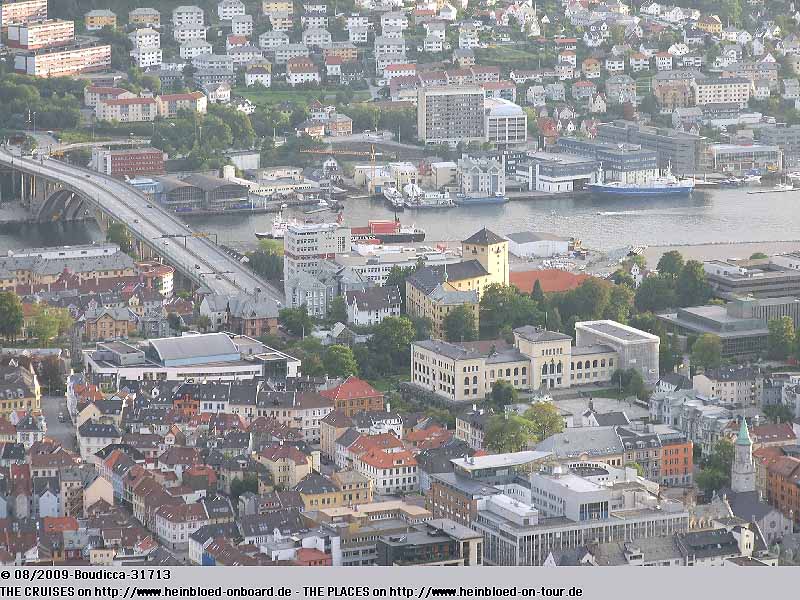 Somewhere there is the Hurtigruten (Norwegian Coastal Line)-Terminal but we had no time to see.

Slowly the sun was going on to disappear.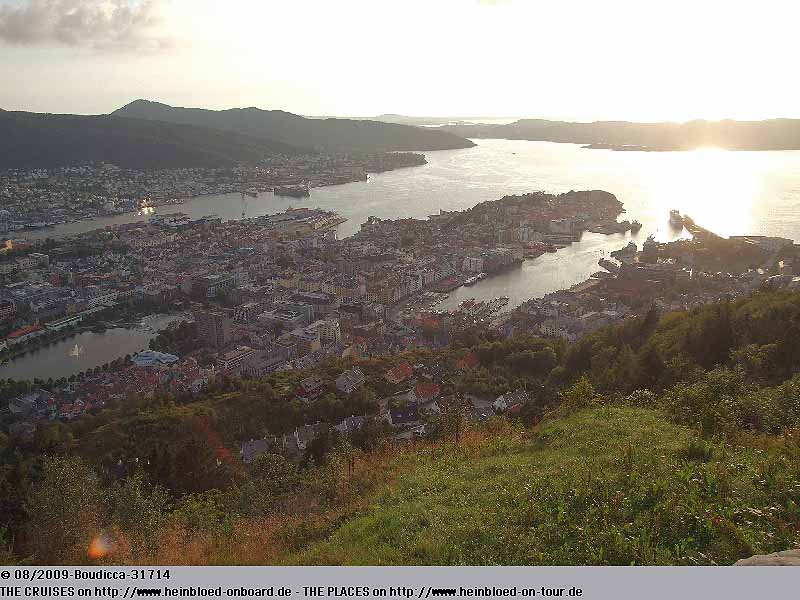 Langsam geht die Sonne unter.
Und wir verabschieden uns auch langsam wieder vom Berg.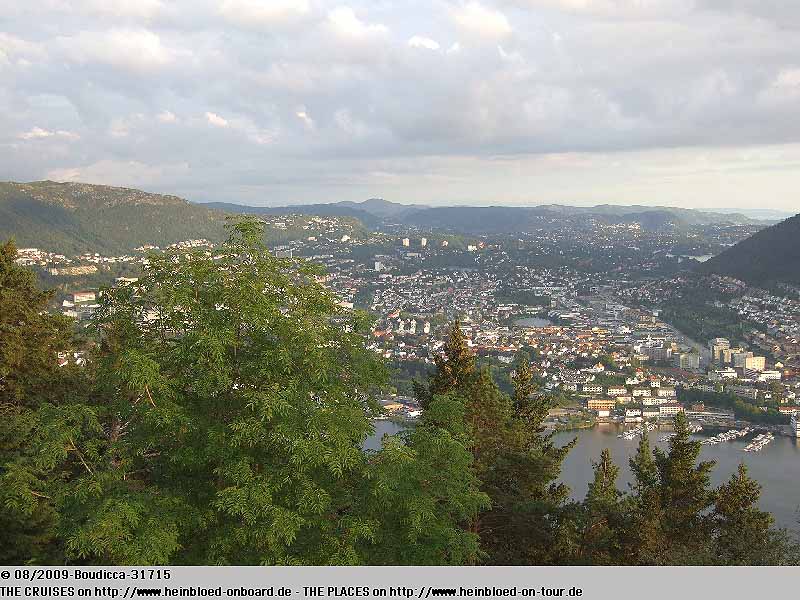 So it was time to say good-bye to the mountain.

Subject we had more time there is Mt. Ulriken and the ropecar.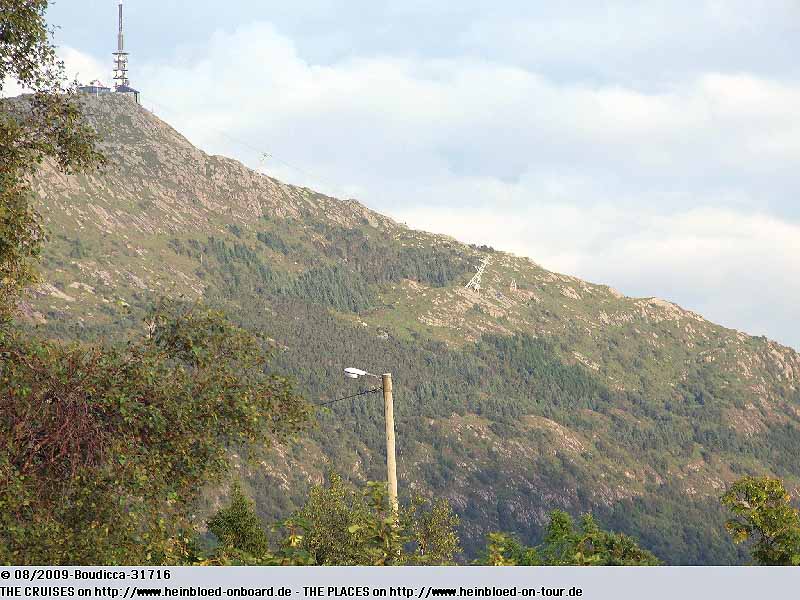 Da wäre also der Ulriken gewesen, wenn wir die Seilbahn genommen hätten.
Zwischenzeitlich fahren die Bahnen nur noch alle 15 Minuten, so dass wir gucken müssen, dass wir die nächste Bahn erwischen. Um 22.15 Uhr müssen alle an Bord sein.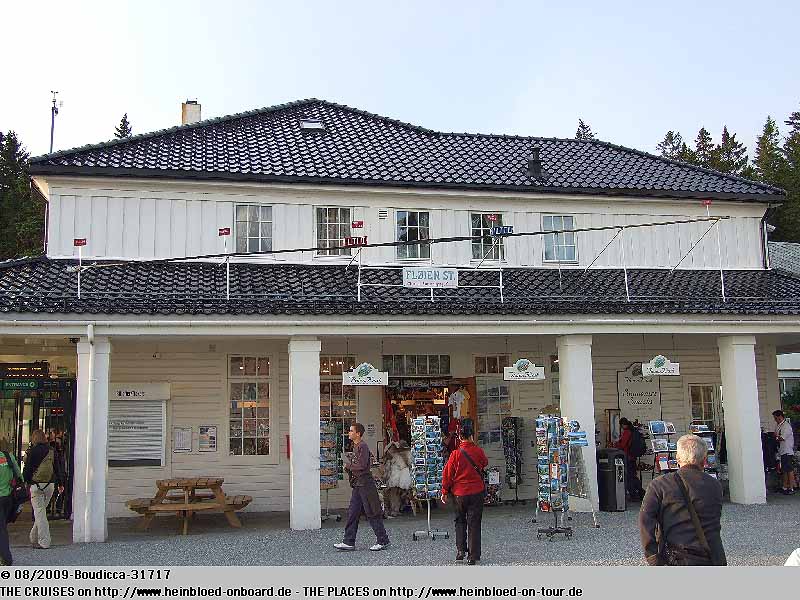 Meanwhile the service was now every 15 minutes so we need to catch the next ride. At 22.15 hrs we need to be back onboard.

It was shame that we had no more time but we definately would have missed something.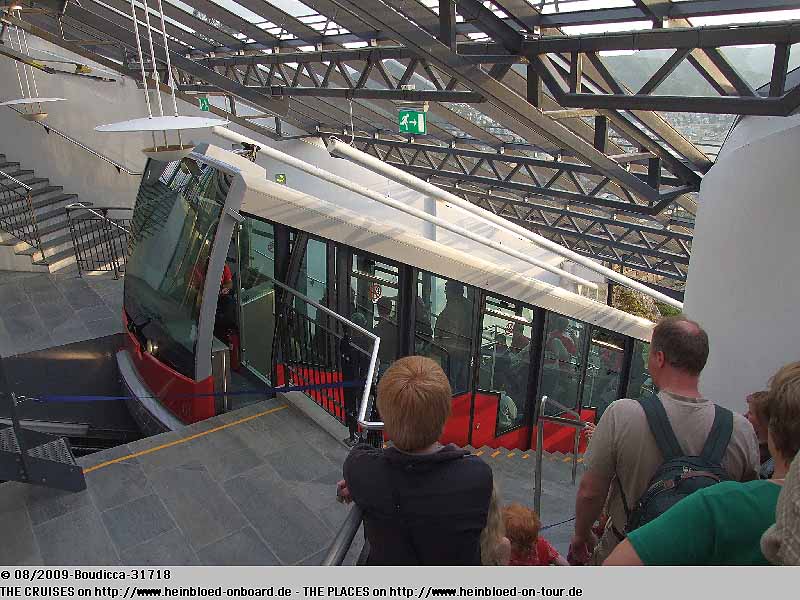 Schade, dass der Aufenthalt nur so kurz war, aber es hat sich trotzdem gelohnt.
Die Sonne senkt sich immer weiter. Mal gucken, ob wir es noch bis zum Cruise Terminal im Hellen schaffen.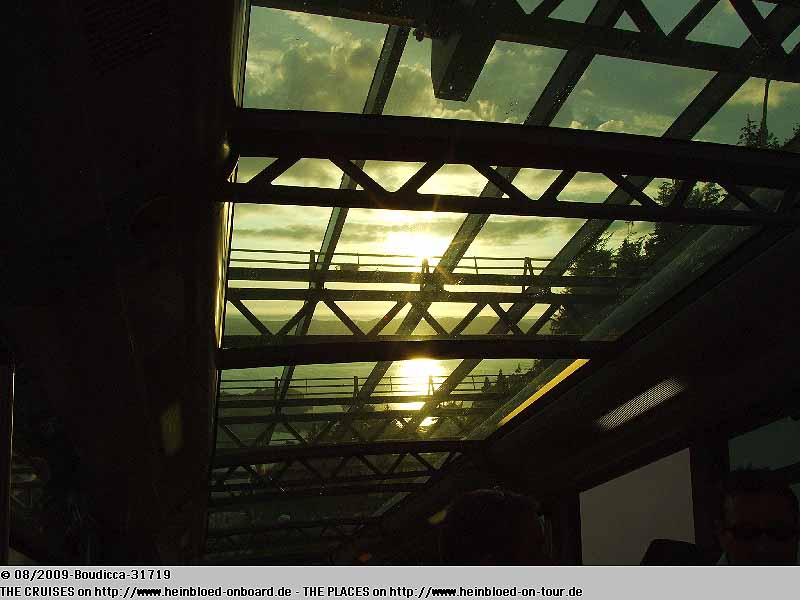 As the sunset went very fast we were curious if we would reach the cruise terminal as long as it was light.

On the way back we tried to catch the feelings around.

Unterwegs fangen wir die Stimmung ein.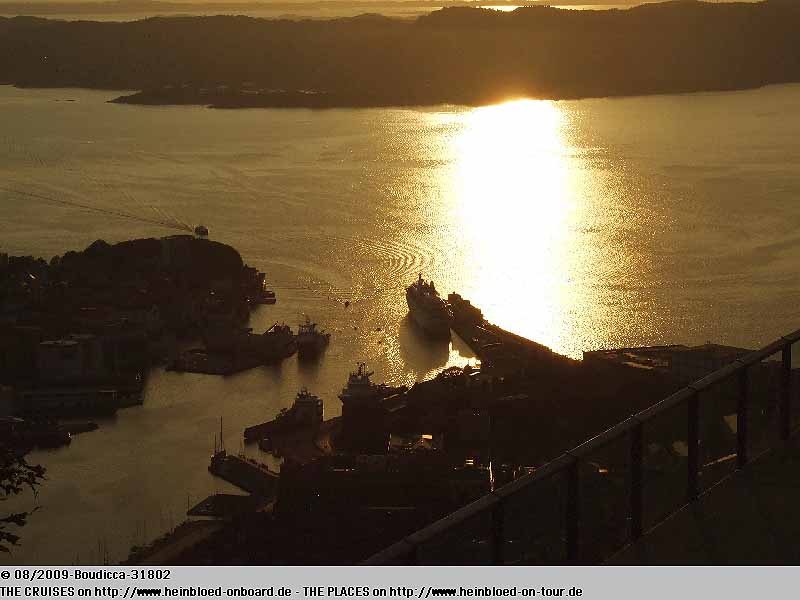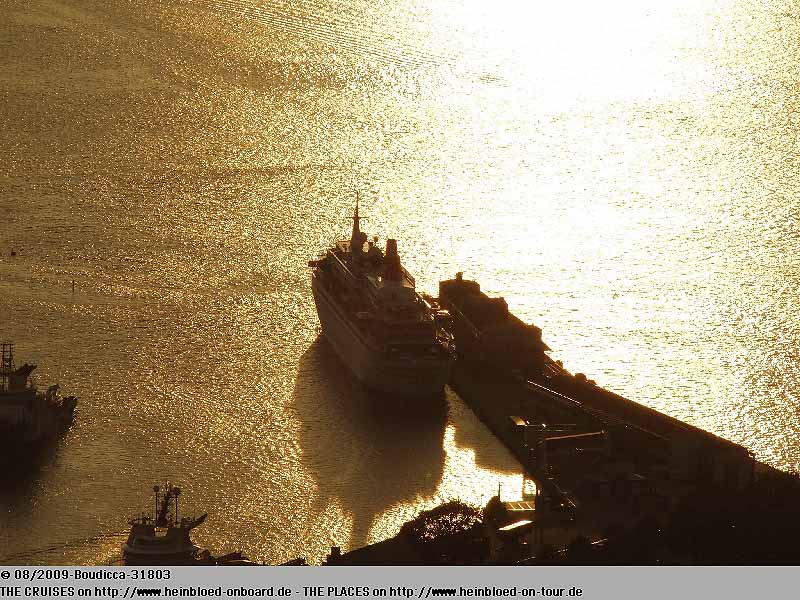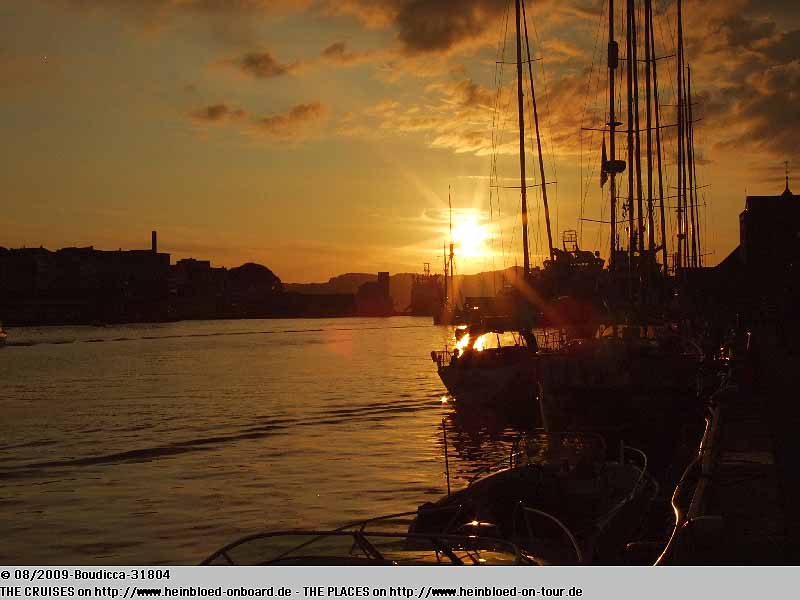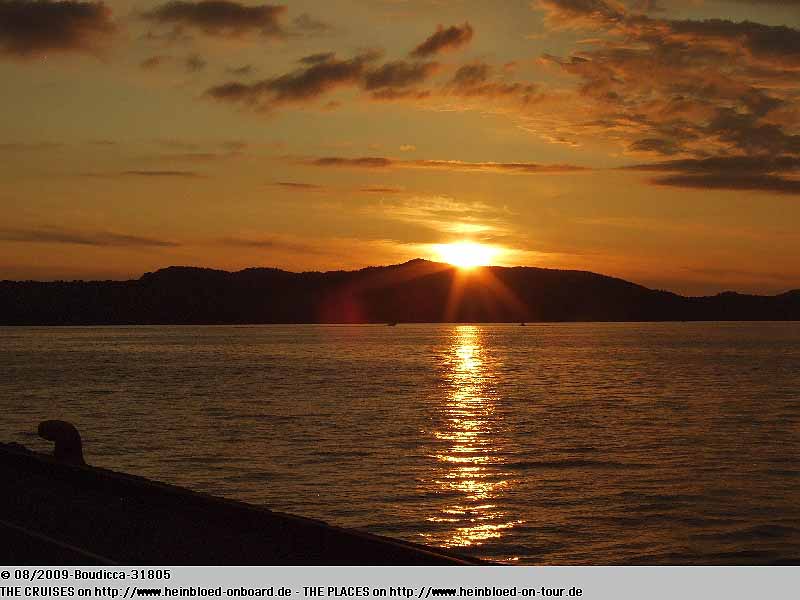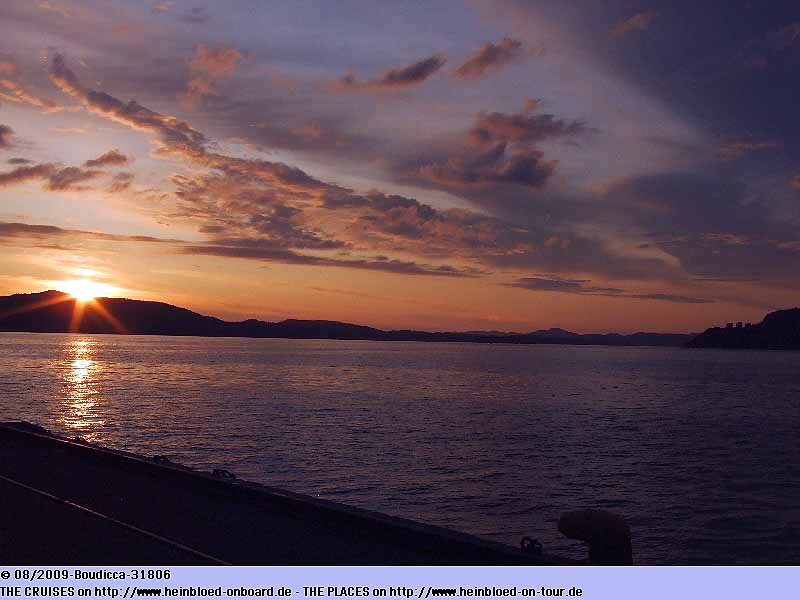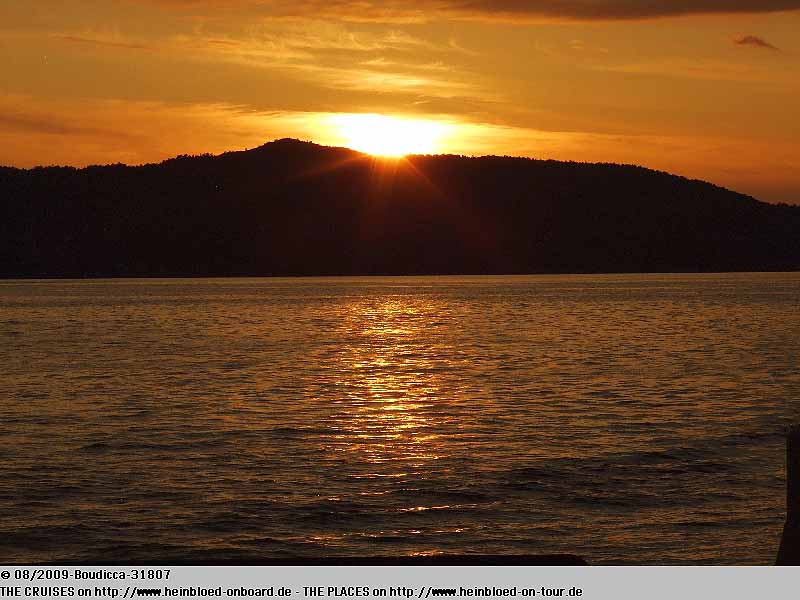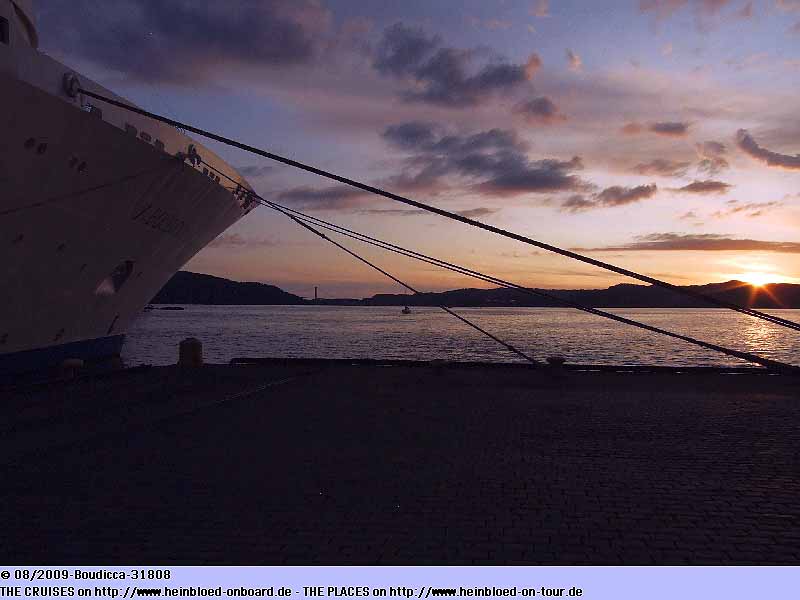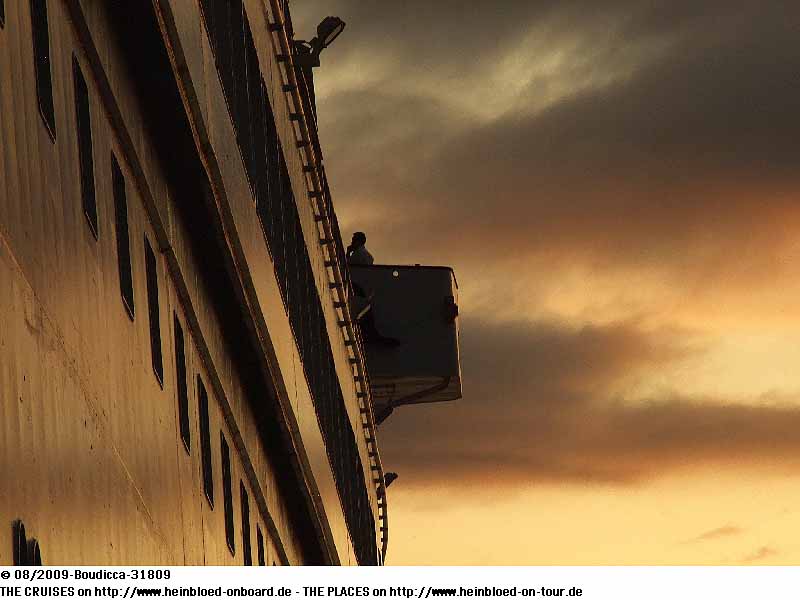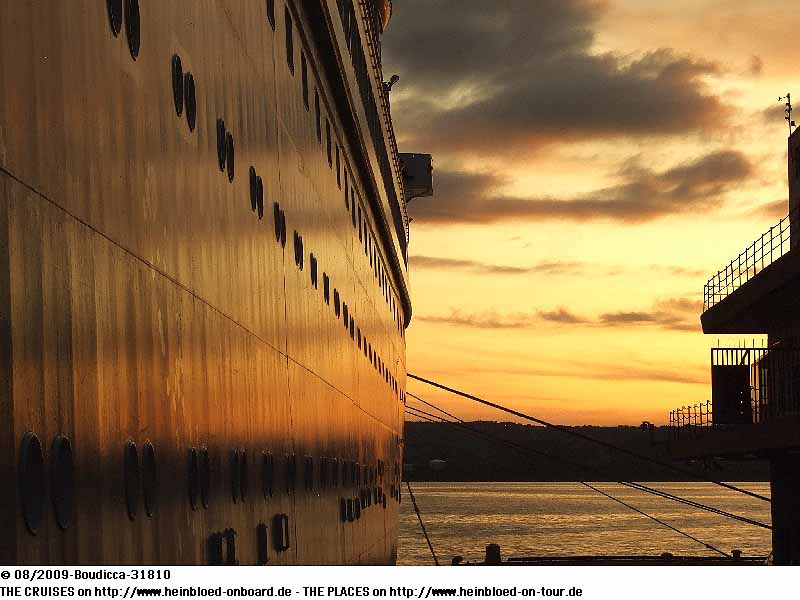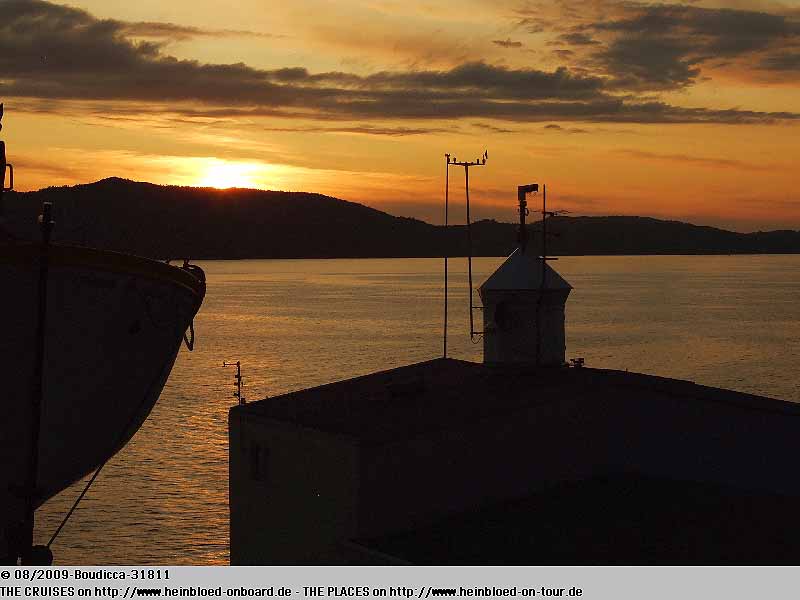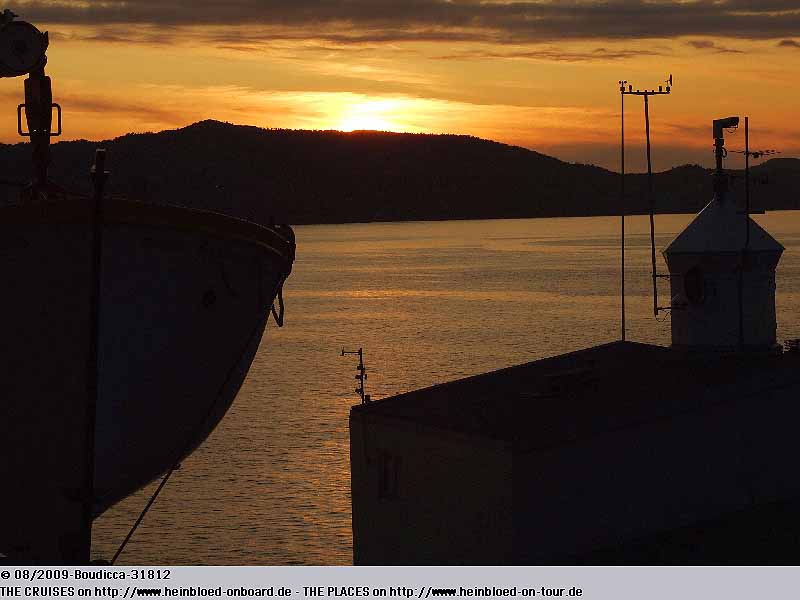 As the sun was now shining on Bryggen we experienced the colors of the houses in another way than in the morning.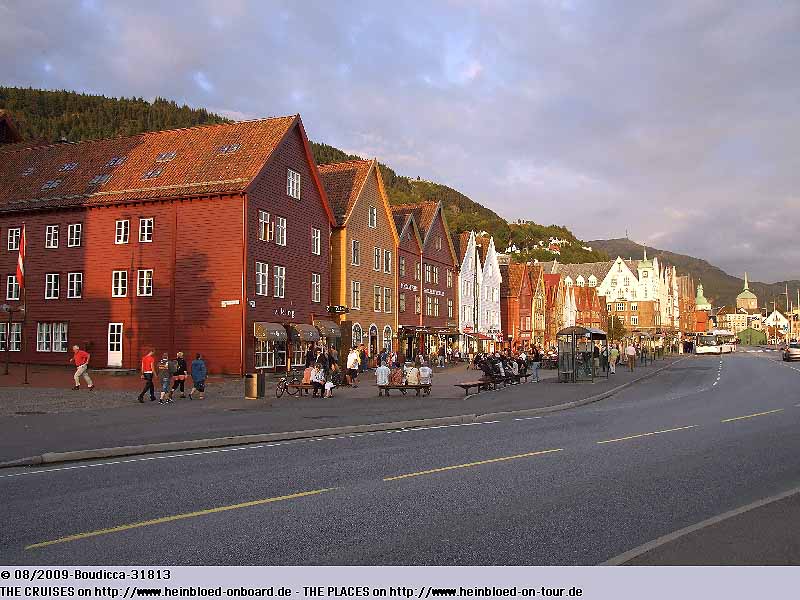 Da die Sonne jetzt direkt auf Bryggen scheint, erleben wir die Häuser in anderen Farben als morgens.
An Bord nutzen wir den Kabinenservice. Auf das Mitternachtsbüffet um 23.00 Uhr haben wir keine Lust zu warten. Da liegen wir längst im Bett. Die Hühnerbrühe ist wieder richtig lecker. Genauso wie der Roastbeef-Sandwich.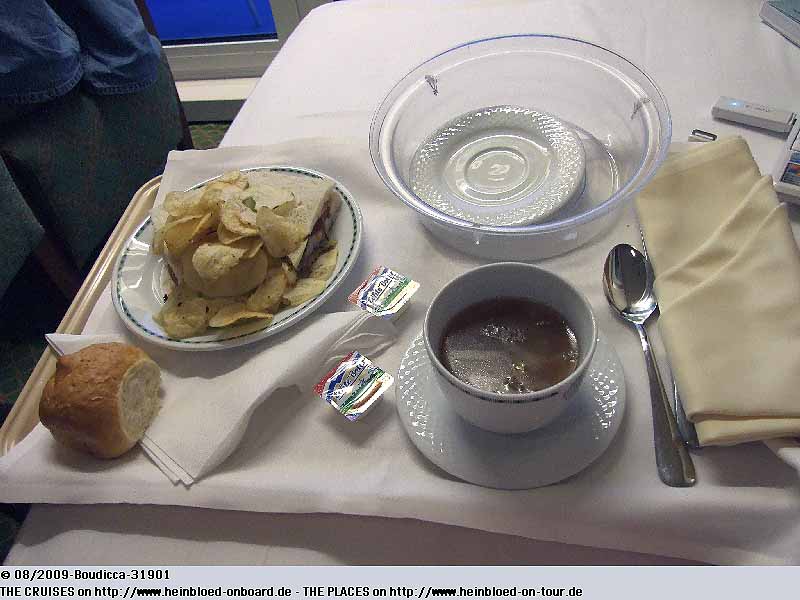 We used the cabin service as we did not want to wait for the midnight buffet at 23.00 hrs. We were so tired... The chicken brooth was just great as well as the roastbeef-sandwich.

When we left Bergen at 23.00 hrs it was already dark.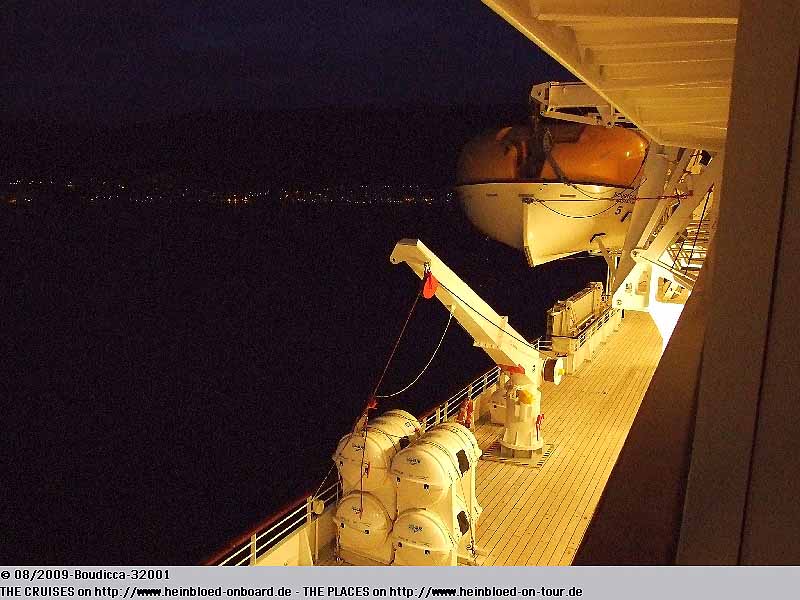 Als wir in Bergen um 23.00 Uhr ausfahren ist es bereits dunkel.
Abendrot verheißt doch gutes Wetter - oder???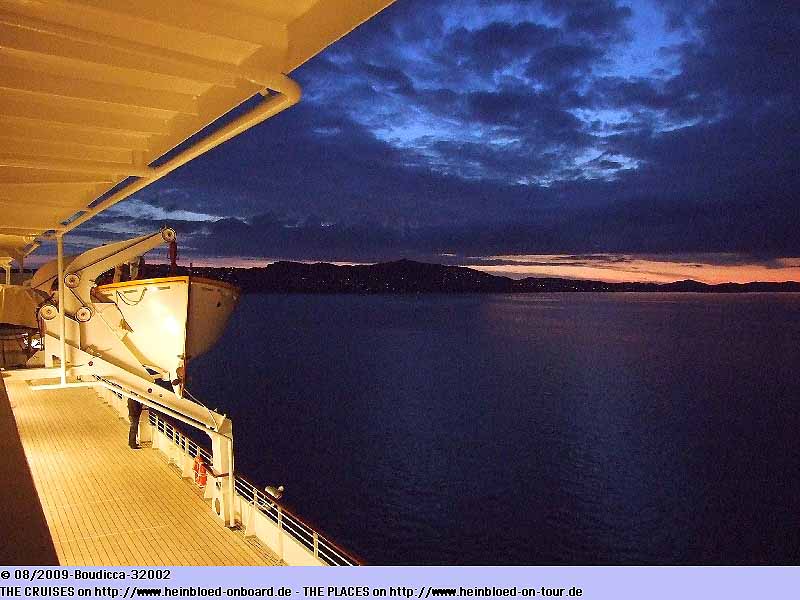 Afterglow means good weather - or???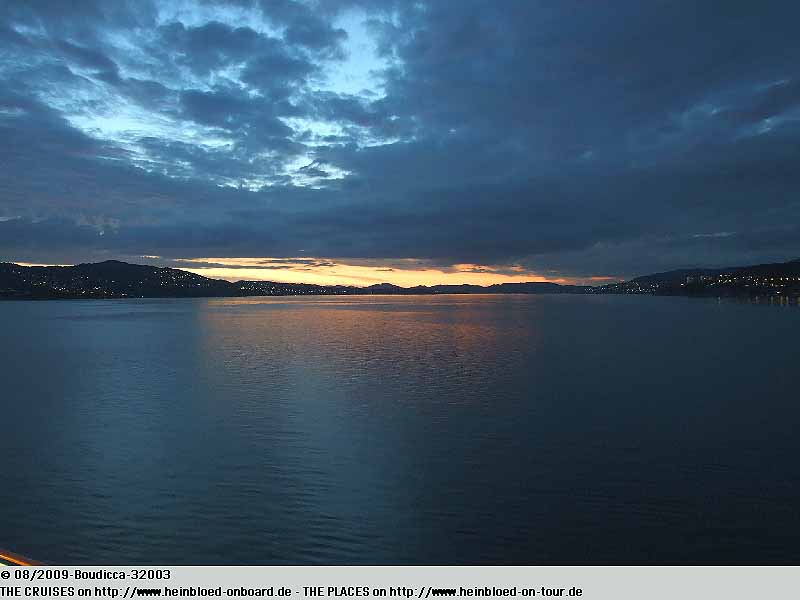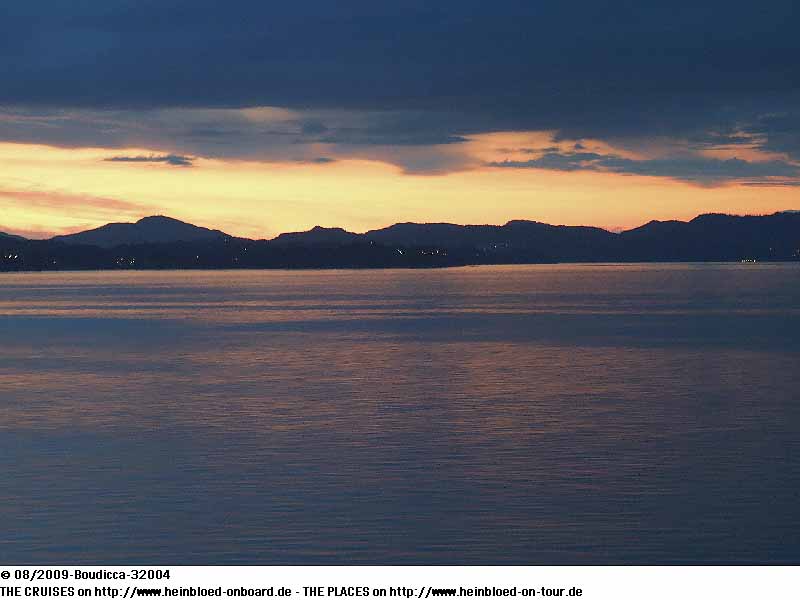 Anyhow we are looking forward for next year again in Norway. It was gorgeous.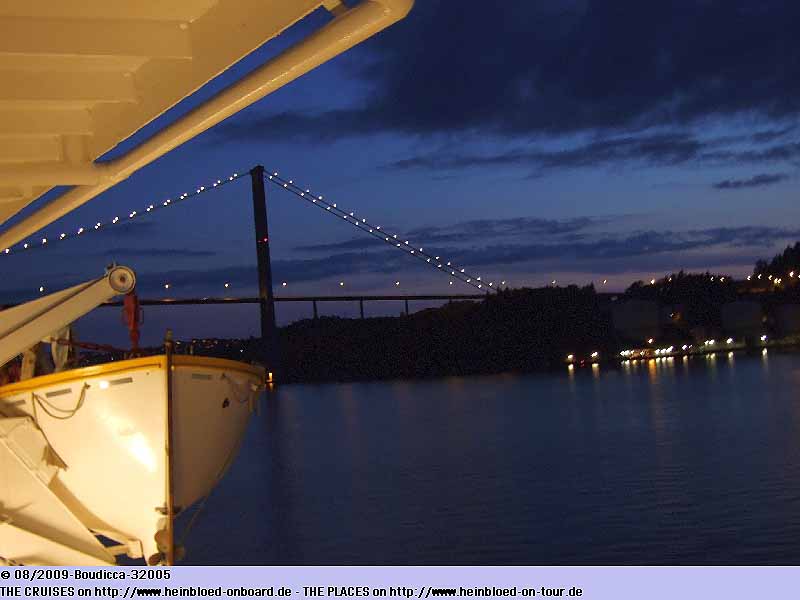 Auf jeden Fall freuen wir uns wieder auf Norwegen im kommenden Jahr. Es war wunderschön.