Scroll down for English explanations - alternates with German explanations.

Eigentlich wollten wir die Schiffstour buchen. Aber ich wollte unbedingt auf dem Wasser von Flåm nach Gudvangen durch den Nærøyfjord fahren.
Das ist auch ein UNESCO-Weltkulturerbe:
https://whc.unesco.org/en/list/1195
Bei Fjordtours (
https://www.fjord-tours.com/default.asp
) - ein Tocherunternehmen der Norwegischen Eisenbahn NSB - haben wir dann eine Tour gefunden:
935 NOK (= 108 EUR = 92 GBP = 153 USD / August 2009)
Bergen-Bahn von Bergen nach Myrdal
Flåm-Bahn von Myrdal nach Flåm
Fjordfahrt von Flåm nach Gudvangen durch den Aurlandsfjord und Nærøyfjord
Busfahrt von Gudvangen nach Voss
und von hier aus wieder zurück nach Bergen mit der Bergen-Bahn.
Die Tour startet am Bahnhof in Bergen. Vom Cruise Terminal läuft man aber doch ca. 30 Minuten. Alternativ kostet ein Taxi ca. 100 NOK.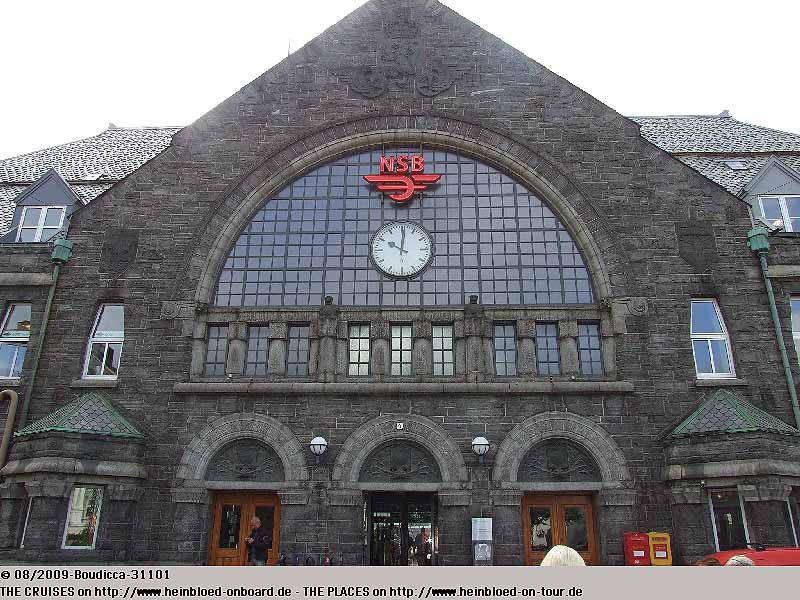 Originally I wanted to book a ship's tour. But I wanted to go on water from Flåm to Gudvangen through the Nærøyfjord.

This is also a UNESCO-World Culture Heritage:

https://whc.unesco.org/en/list/1195

.

With Fjordtours (
https://www.fjord-tours.com/default.asp

) - a subsidiary of Norwegian Railways NSB - we fould a tour:

935 NOK (= 108 EUR = 92 GBP = 153 USD / August 2009)

Bergen-Railway from Bergen to Myrdal
Flåm-Railway from Myrdal to Flåm
Fjordcruise from Flåm to Gudvangen through Aurlandsfjord and Nærøyfjord
Bus ride from Gudvangen to Voss
and from here back to Bergen by Bergen Railway.

The tour starts at the train station in Bergen. From the Cruise Terminal you have to walk approx. 30 minutes. Alternatively you can take a cab for about 100 NOK.

Oops!!! Do they all want to go on the same tour???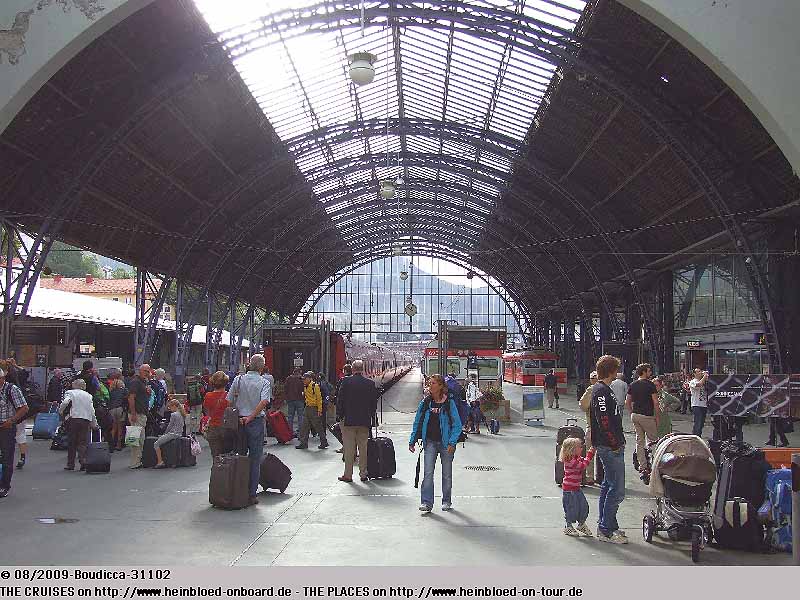 Oh weia: wollen die alle etwa mit und auf diese Tour???
Wir müssen zunächst unsere E-Mail-Bestätigung gegen die Tickets eintauschen.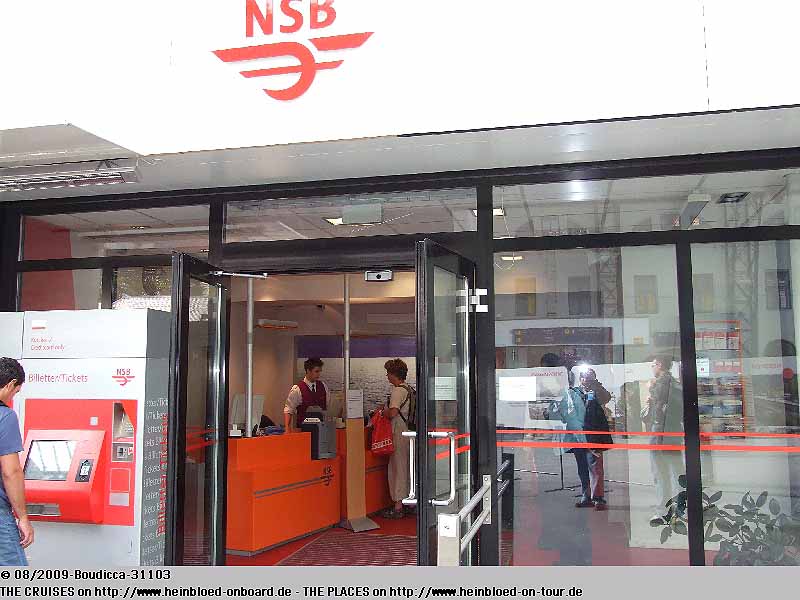 We need to exchange our e-mail-confirmation against tickets.

An NSB-Regional Train is more like a Direct/Express Train and does not stop at every station.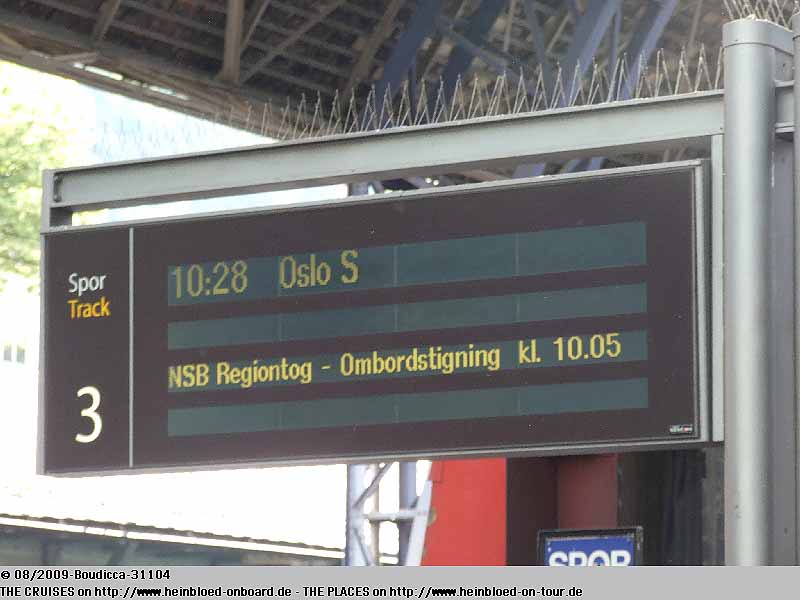 Ein NSB-Regionalzug ist eher ein D-Zug und hält nicht an jedem Bahnhof.
Bis 10.05 Uhr bleibt der Bahnsteig gesperrt. Grund zur Eile besteht nicht, weil der Zug reservierungspflichtig ist.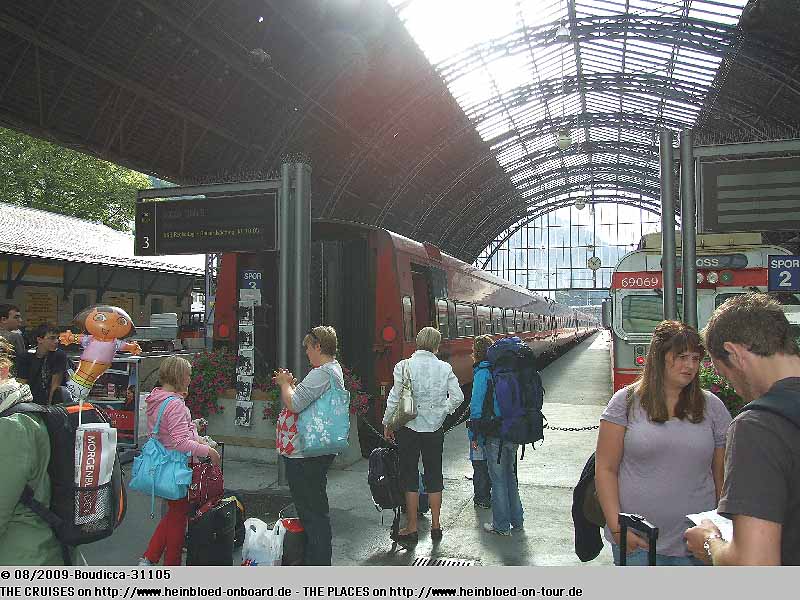 Until 10.05.hrs the platform remained closed. There was no reason for rush as reservation is mandantory on this train.

Our ticket looks very elegant.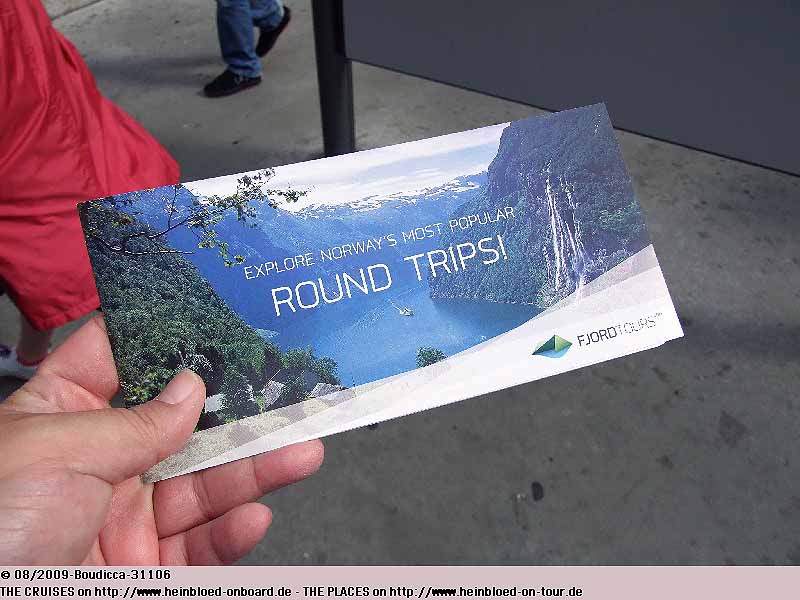 Unsere Tickets sehen richtig edel aus.
Der Zug ist endlos lang. Viele Wagen sind für Gruppen reserviert, aber in unserem Zug ist keine Kreuzfahrtgruppe dabei. COSTA LUMINOSA und AIDAaura waren ja so früh da, dass sie noch den 08.40 Uhr-Zug bekommen haben.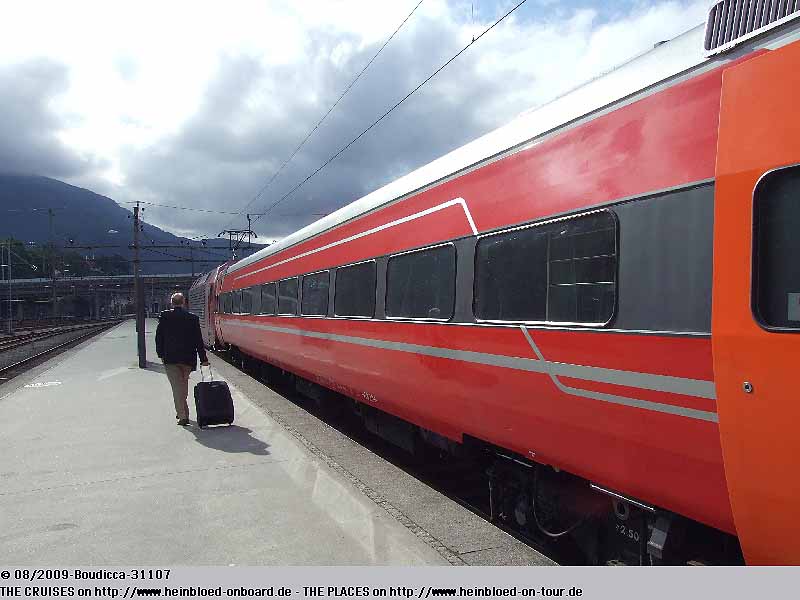 The length of the train is endless. Many cars were reserved for groups. But there were no cruise groups with us. COSTA LUMINOSA and AIDAaura were earlier in town that they made the 08.40 hrs-train.

These were our seats.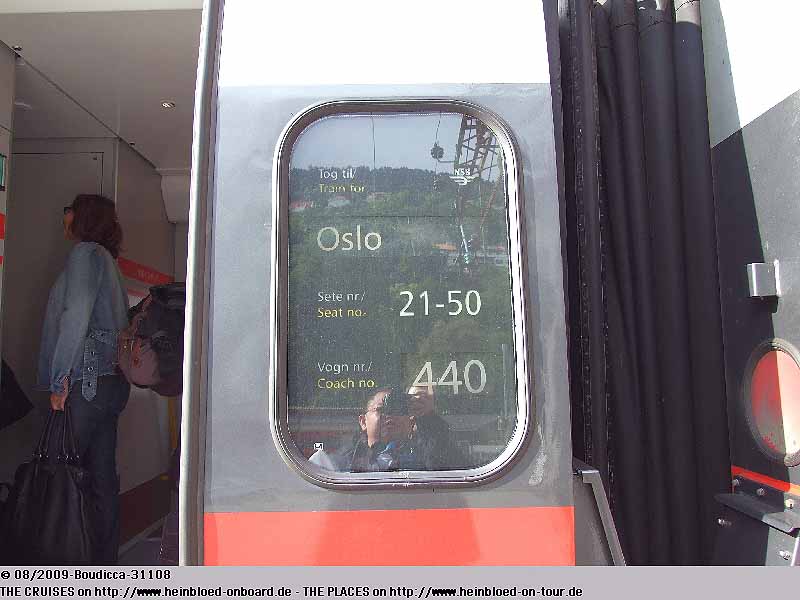 Hier sind also unsere Sitze.
Für 90 NOK pro Person mehr fahren wir NSB Komfort (= 1. Klasse). Dort gibt es Kaffee, norwegische Zeitungen und eine Steckdose für mein Netbook, sowie einen Arbeitstisch.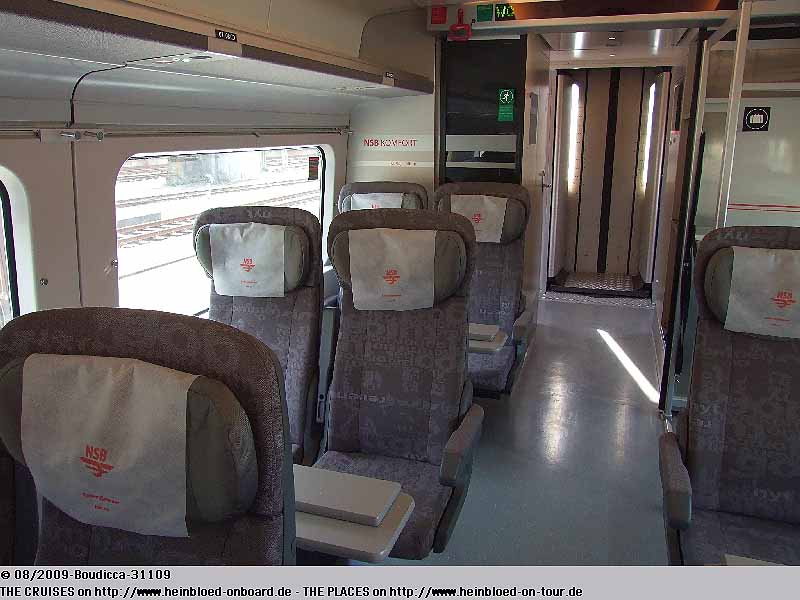 For 90 NOK per persson more we used NSB Komfort (= 1st class). There was free coffee, Norwegian newspapers and electric power outlet for my netbook and a working table.

To guide us ourselves: there was a brouchure available which shows all attractions alongside of the journey.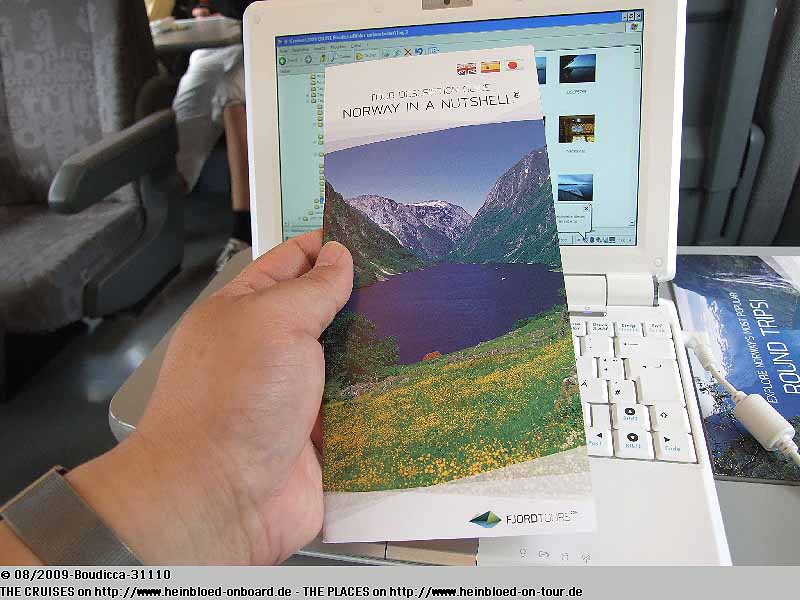 Damit wir uns zurecht finden: Es gibt die Broschüre, die die Attraktionen entlang des Weges ausführlich beschreibt.
Wir fahren am Osterfjord entlang und lassen einfach die Landschaft an uns vorbeiziehen.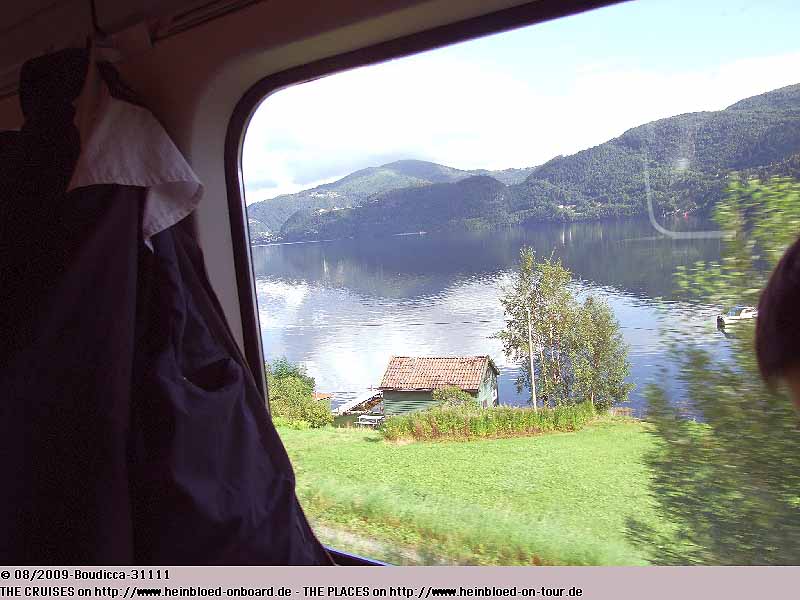 We passed the Osterfjord and just enjoyed the view of the landscape.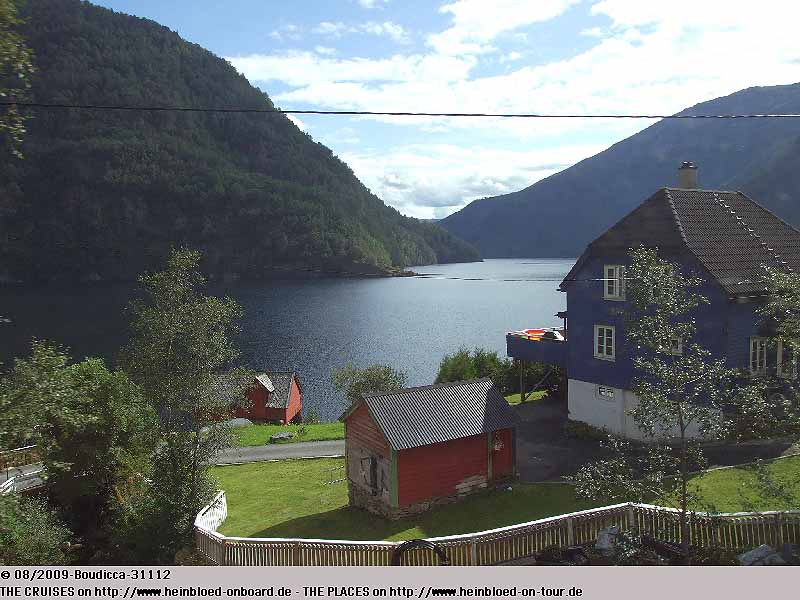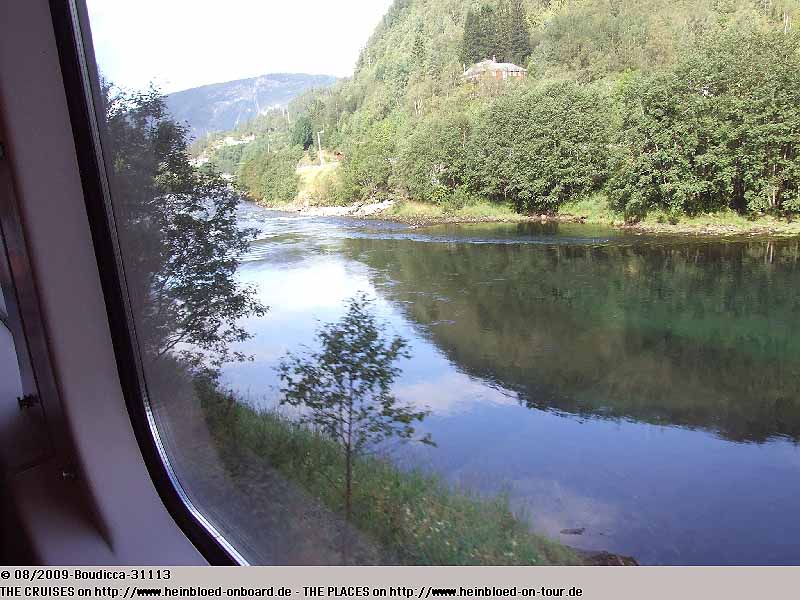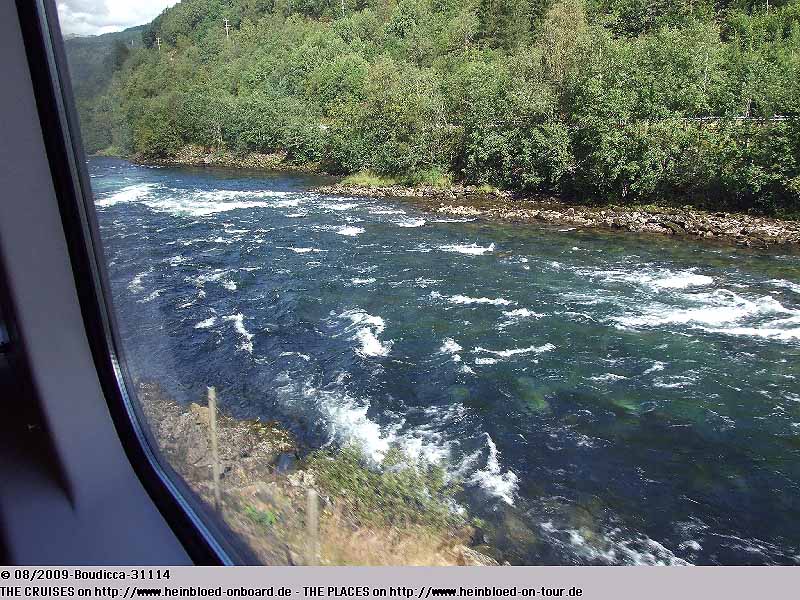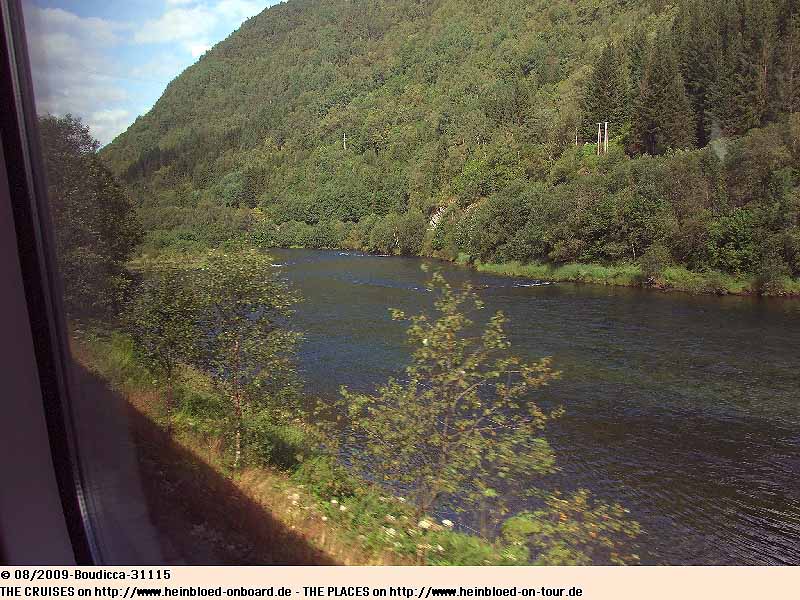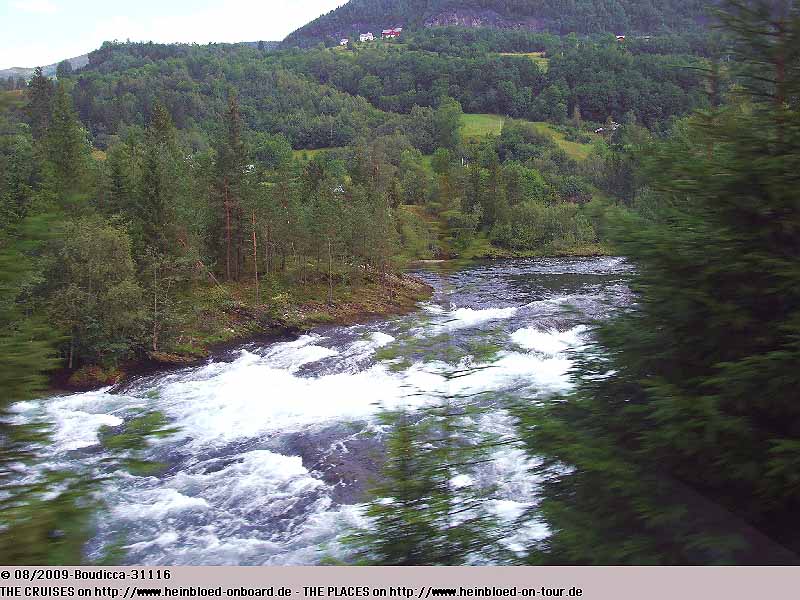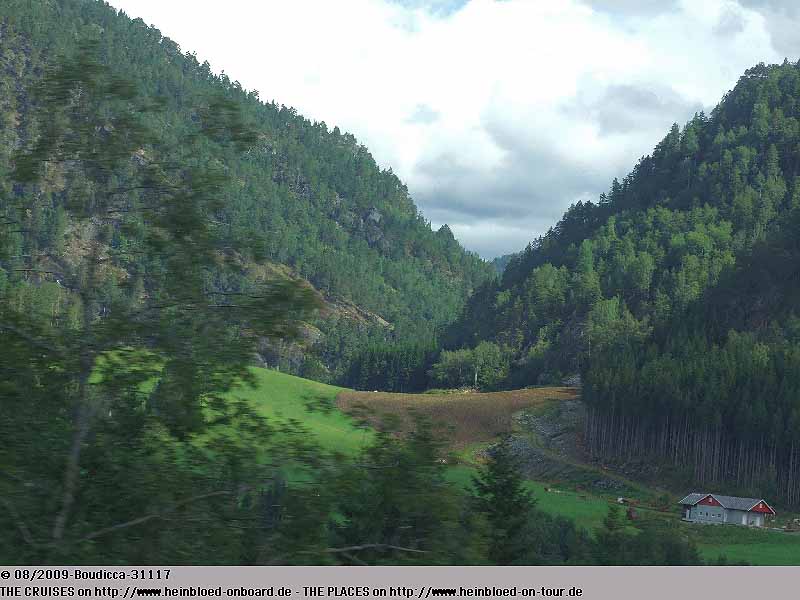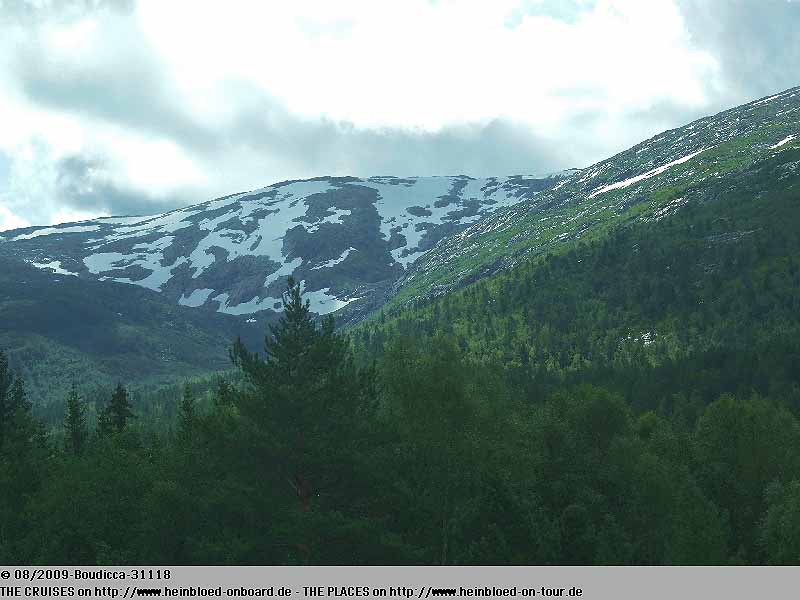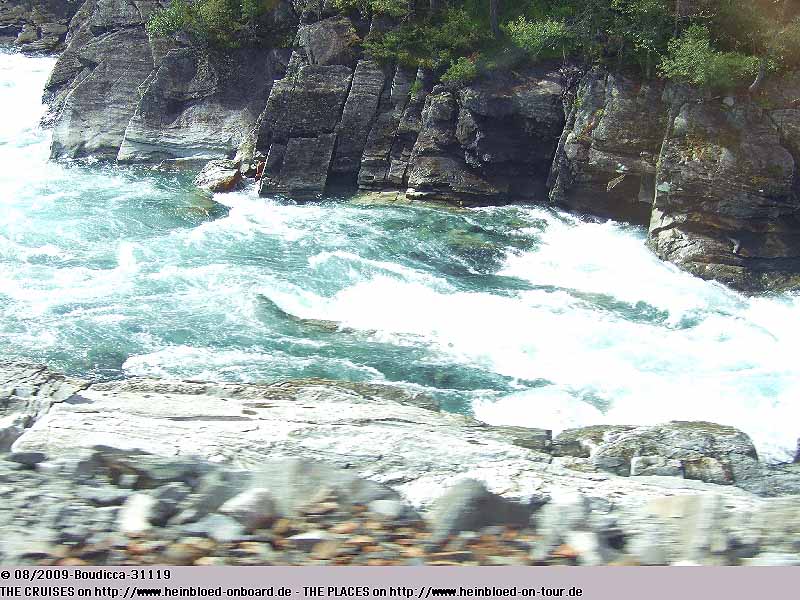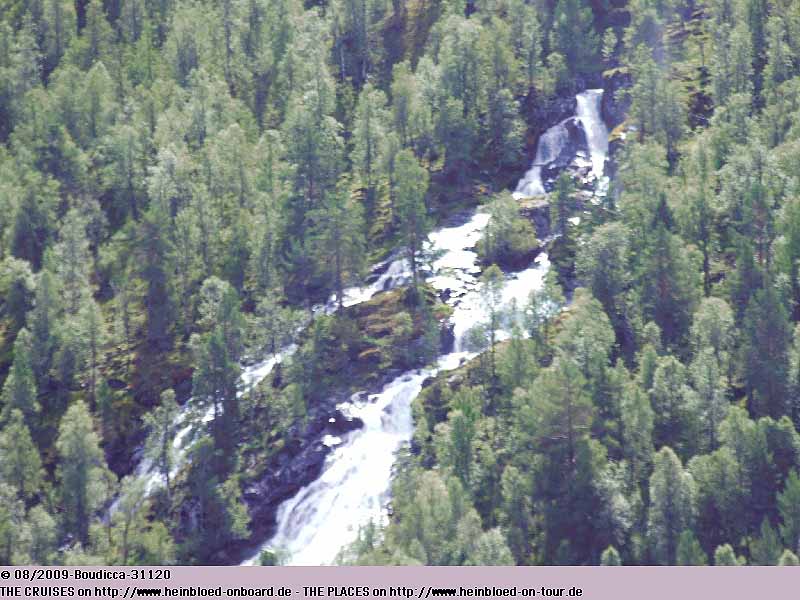 After two hours: We were approaching soon.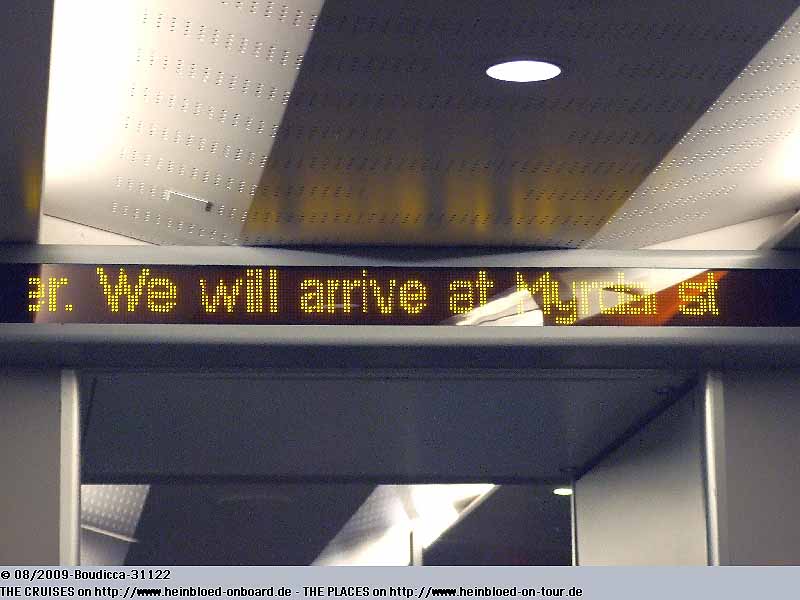 Nach etwa zwei Stunden heißt es: Bald sind wir da.
Von 2 m Meereshöhe in Bergen auf 867 m Meereshöhe.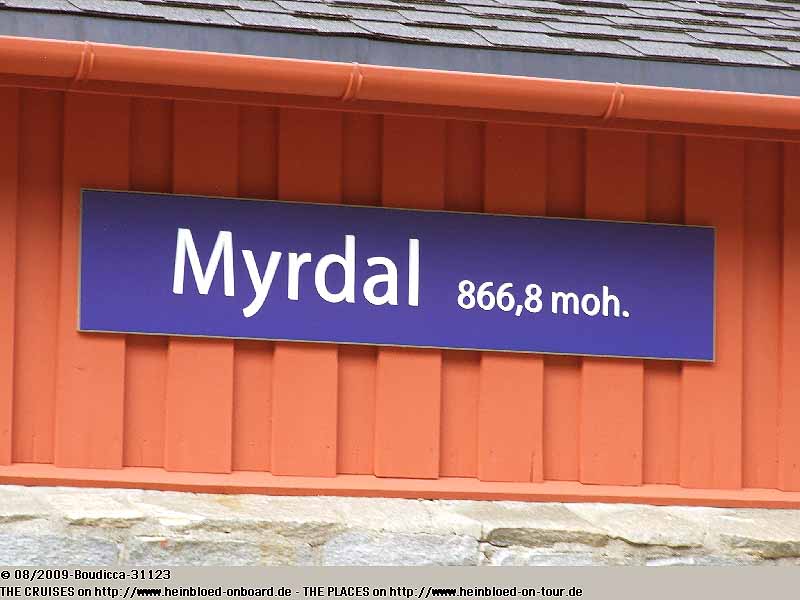 From 2 Meter altitude in Bergen to 867 Meter altitude above sea.

Our train will disappear very soon into the next tunnel.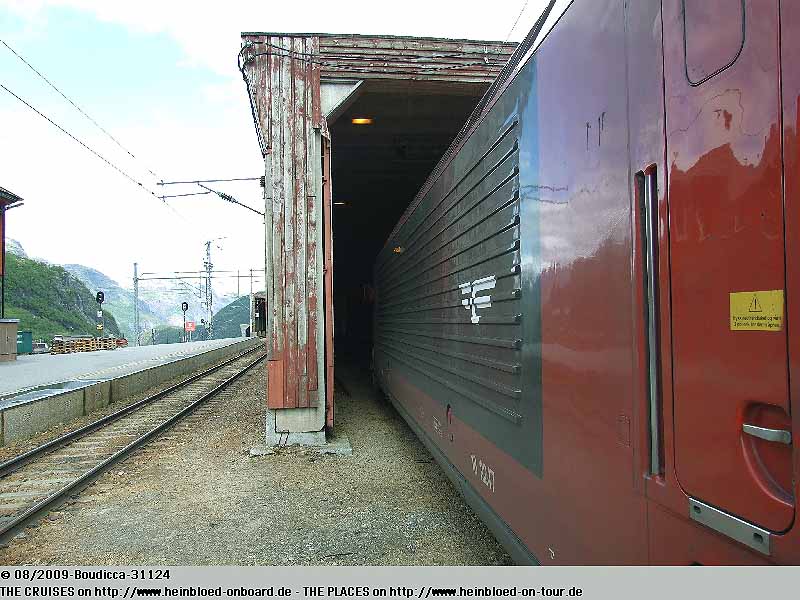 Unser Zug verschwindet direkt am Bahnhof am nächsten Tunnel.
Die meisten steigen kurz aus, um zu fotografieren und frische Luft zu schnappen.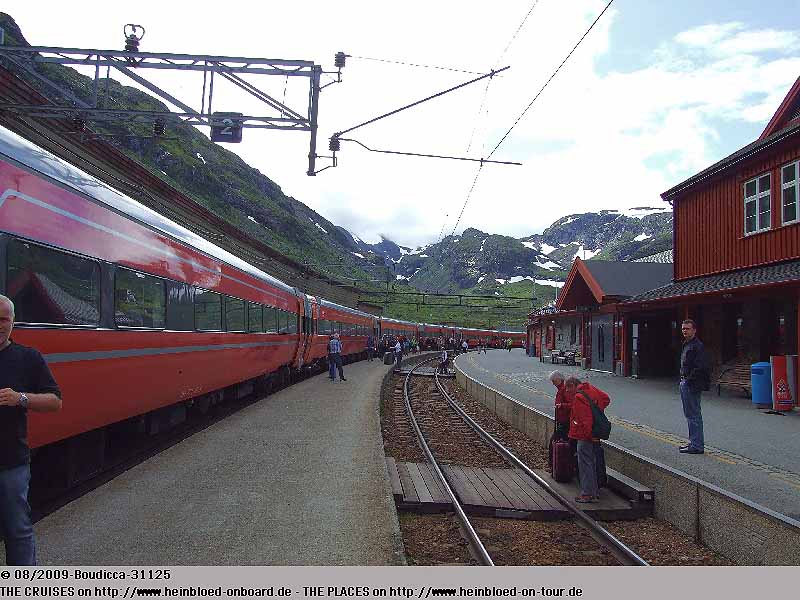 Most passengers try to get some fresh air and nice pictures.

Later we saw that also high-speed-trains were available on this route.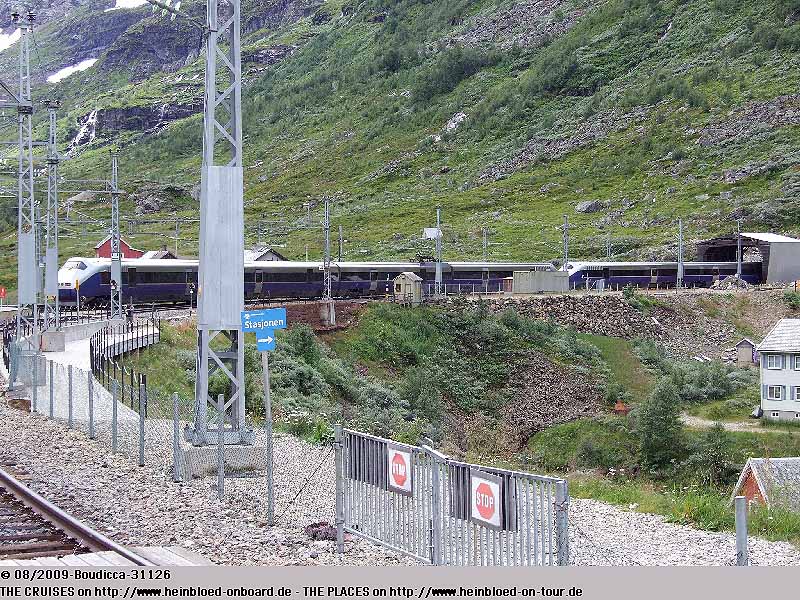 Später sehen wir, dass auch "Hochgeschwindigkeitszüge" auf der Route verkehren.
Hier sieht man auch schon die ersten Hinweise, dass wir richtig sind: am Beginn der Flåm-Bahn.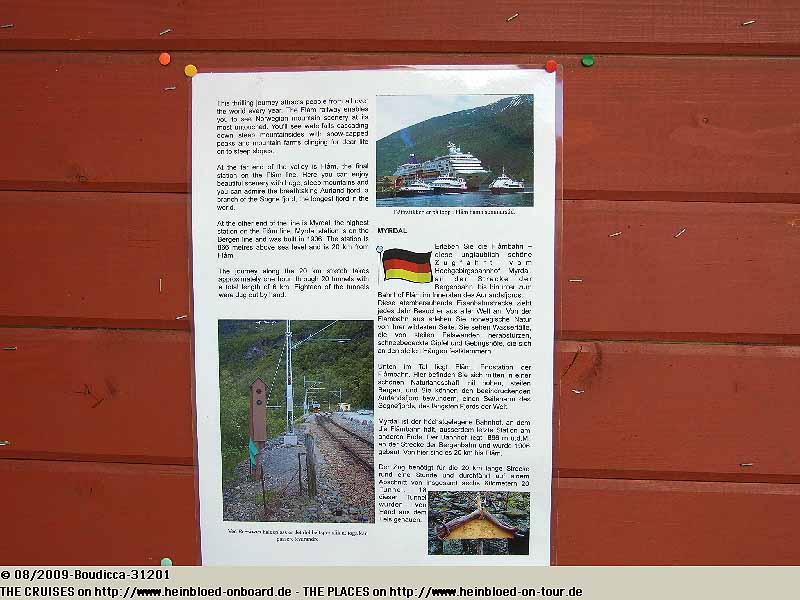 Here you see that were right: the start of the Flåm-Railway.

You cannot see any train so far. 45 minutes more to wait.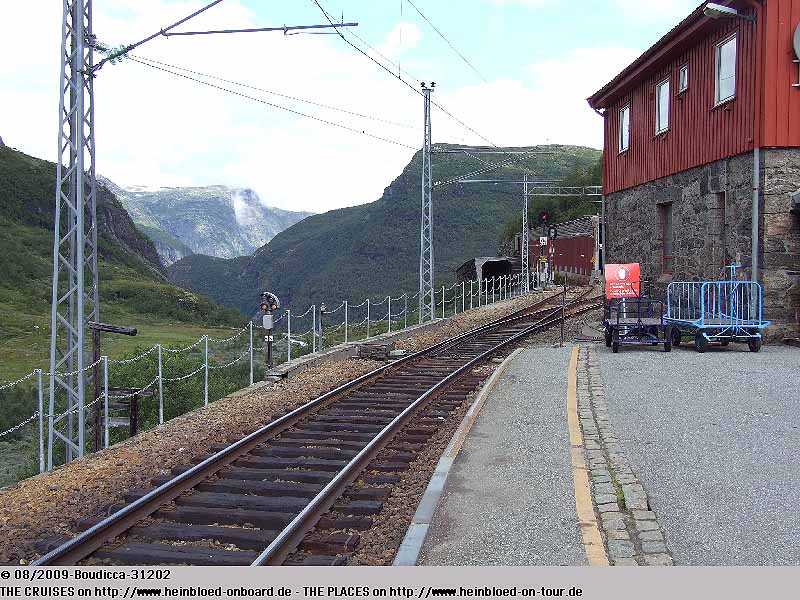 Noch ist der Zug nicht zu sehen. Wir müssen ca. 45 Minuten auf den Zug warten.
Der Ort Myrdal ist nicht besonders aufregend.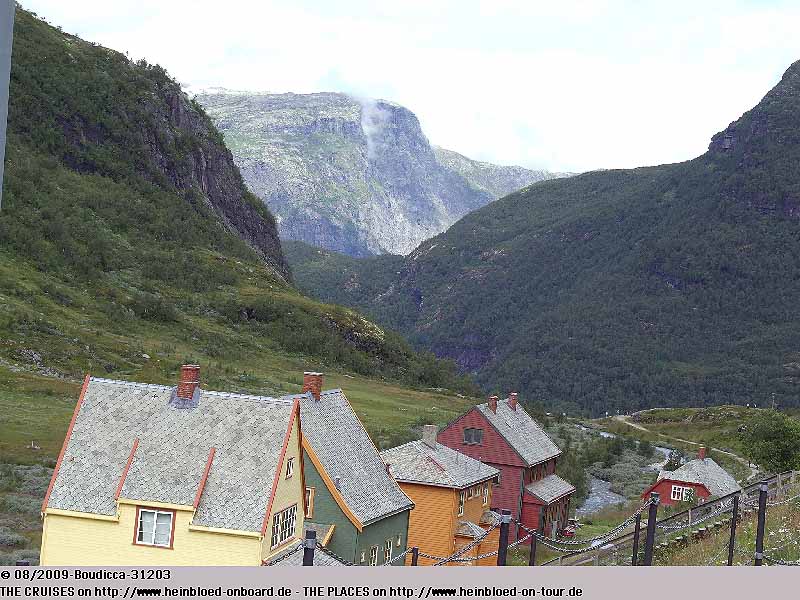 Myrdal itself it's nothing exciting.

While Bruno looked around in the village I stayed on the platform.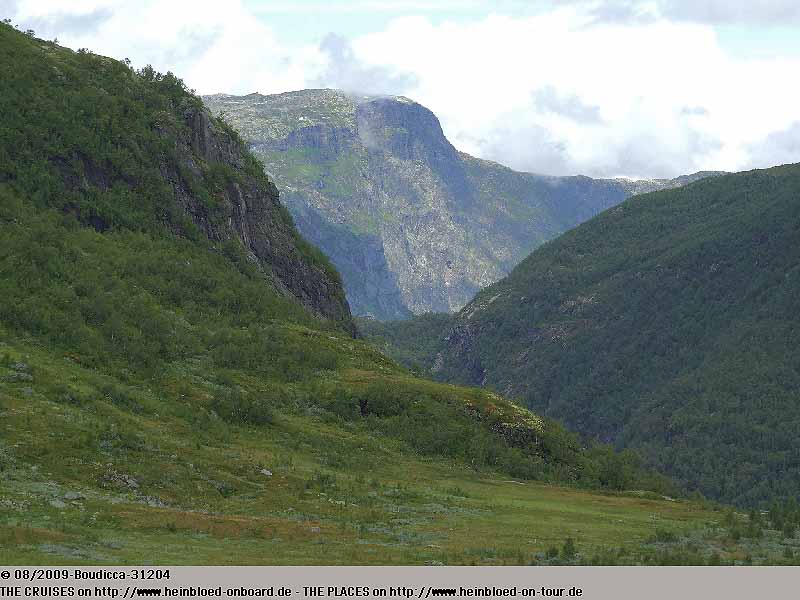 Während Bruno die Zeit nutzt, um sich im Ort umzusehen, warte ich auf dem Bahnsteig.
21 km bis Flåm.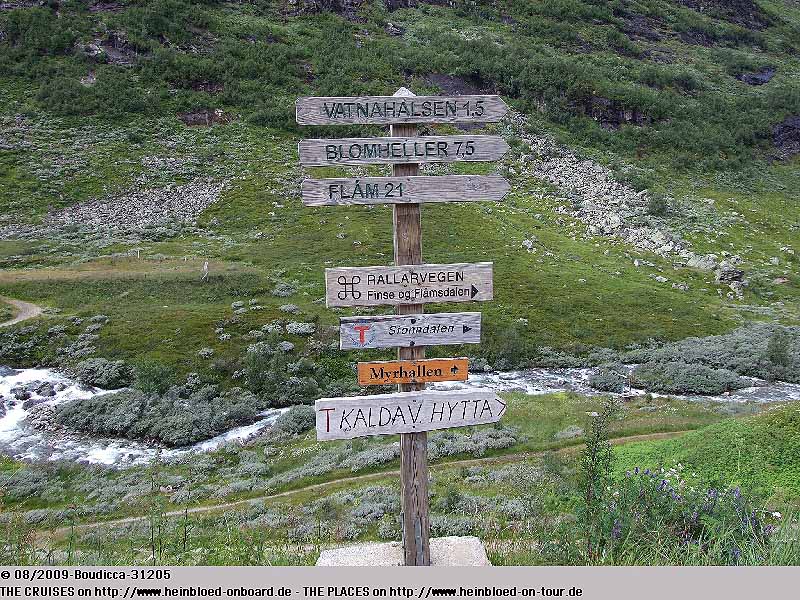 21 km (13 miles) upto Flåm.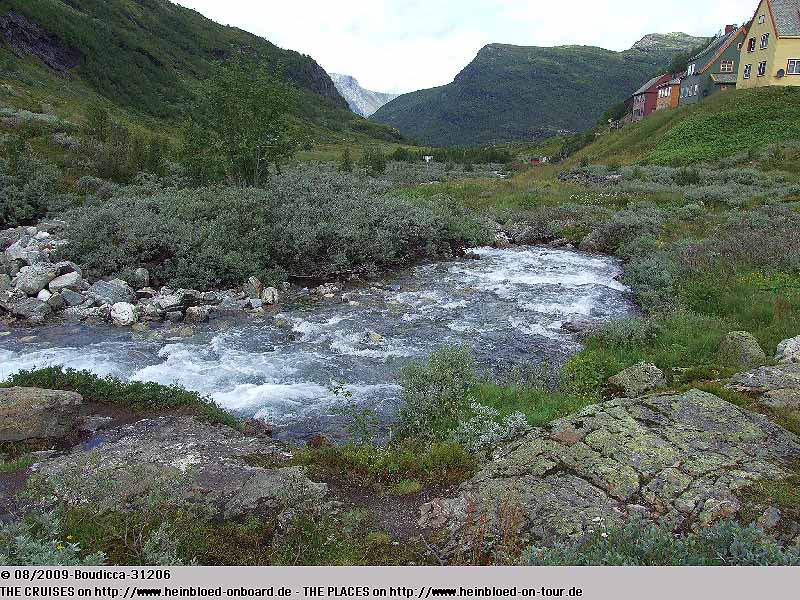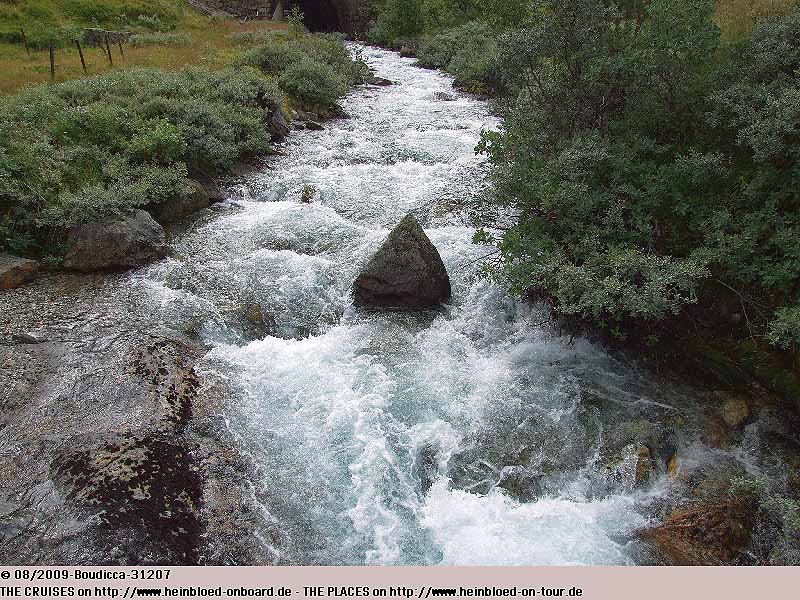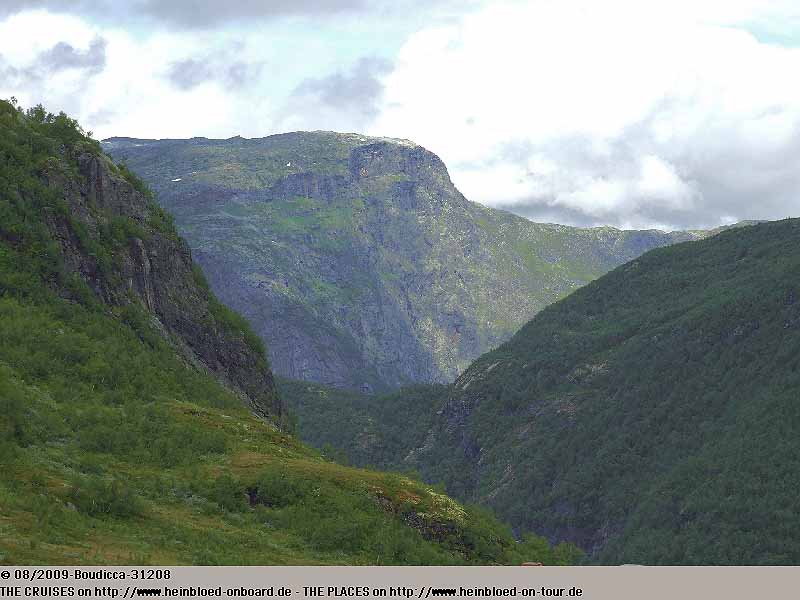 When the train from Oslo arrived a guide for "Norway in a Nutshell" appeared on the platform.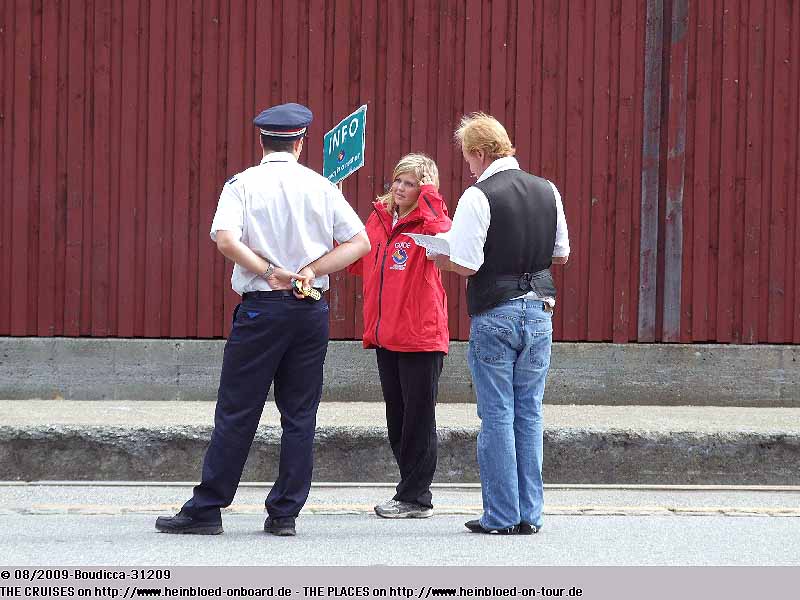 Als der Zug aus Oslo kommt, taucht dann auch eine Führerin für "Norway in a Nutshell"-Gäste auf.
Wir sind geschockt: der Zug aus Oslo spuckt soviele Fahrgäste für die Flåm-Bahn aus, dass wir keine Lust mehr haben. Die Führerin weist uns darauf hin, dass die Eingänge 3 bis 8 nutzen können. Der Rest ist für Gruppen reserviert.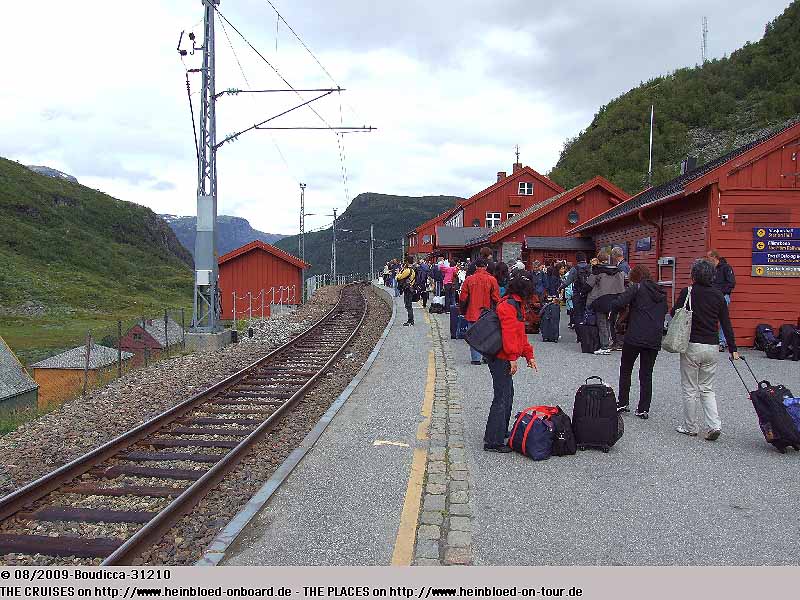 We were shocked: The Oslo-train released so many passengers for the Flåm-Railway that we did not like to go anymore. The guide told us that we can use the entrances 3 to 8 as the others were reserved for groups.

When the train arrived it was like Sodom and Gomorra.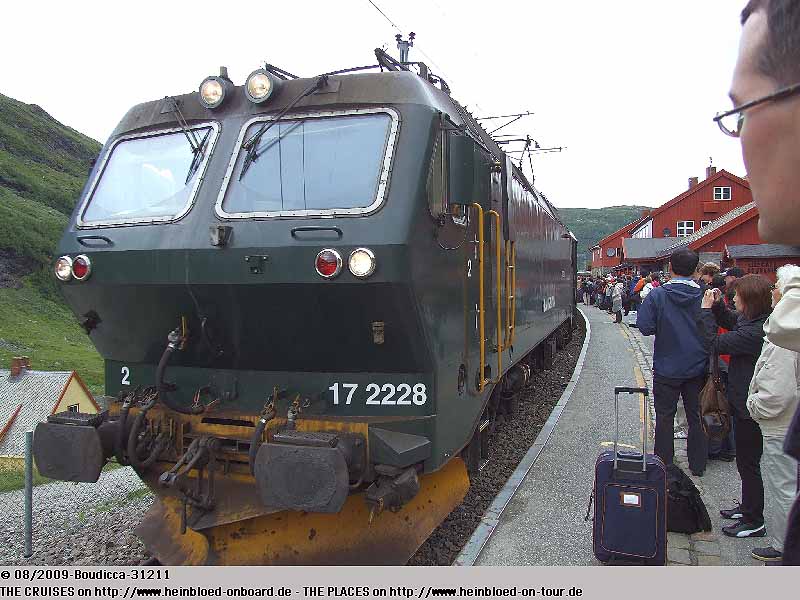 Als der Zug eintrifft, ist Sodom und Gomorra.
Der Zug wird nicht großartig leer, weil viele auch einfach im Zug bleiben und gleich zurückfahren und nur die Seiten wechseln.
Über die Aufteilung 2 und 3 sind wir verwundert.
Zwei ältere Damen aus Deutschland fallen auf, weil sie zunächst Plätze durch ihre Zeitungen belegen und wieder verschwinden, um aufzupassen, dass ja niemand ihr Gepäck aus dem Gepäckfach an der Tür klaut.
Sie ärgern sich zwischendurch, dass sie auf der falschen Seite sitzen, wobei das Quatsch ist: die Attraktionen sind auf beiden Seiten.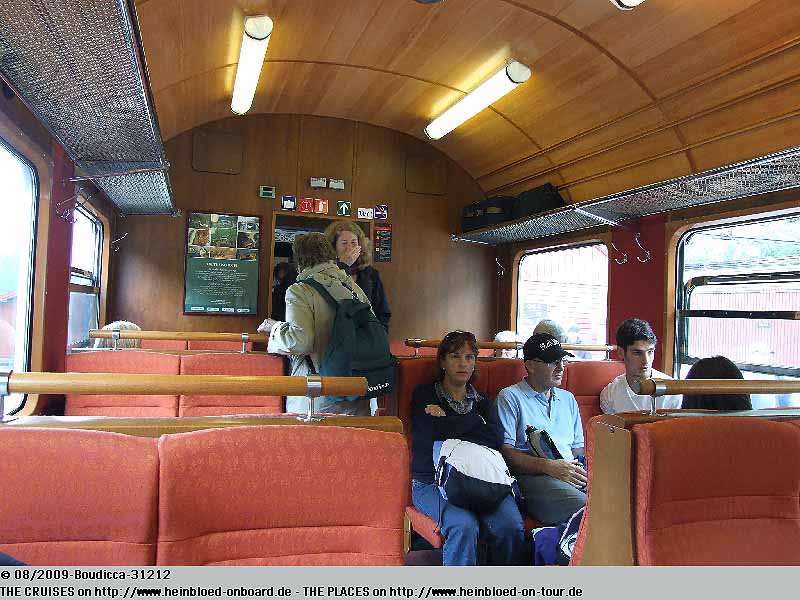 The train did not become very empty because a lot of travellers just stayed int he train to return and change the sides.

We were surprised of the 2-3-seat-configuration.

Two older German ladies attracted everybody's attention: they occupied seats by a German newspaper and disappeared to make sure that none would steal their bags from the racks before the train's departure.

The claimed loudly that they choosed the wrong side of the train. But this was nonsense as all sights were allocated 50:50 to each side.

It was very exicting to have the photostop at Kjofossen-Waterfalls. There was only the platform and no station.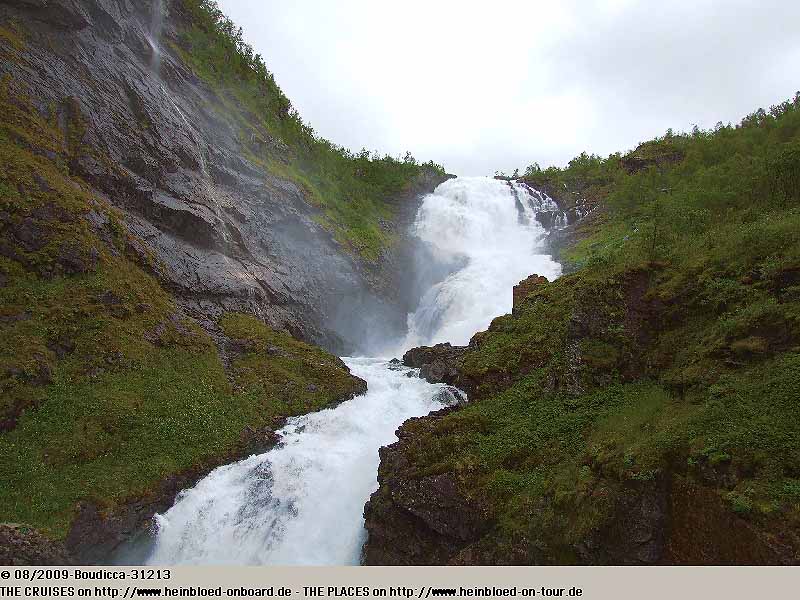 Besonders aufregend ist der Fotostop am Kjofossen-Wasserfall. Es gibt nur den Bahnsteig zum Fotografieren.
Bruno geht raus. Ich verfolge das Gespräch der Damen, die mehrere Minuten brauchen, bis dass sie sich entscheiden, ob sie nun rausgehen wollen oder nicht. Eine entschließt sich doch in letzter Minute und rennt Bruno um, der wieder einsteigen will.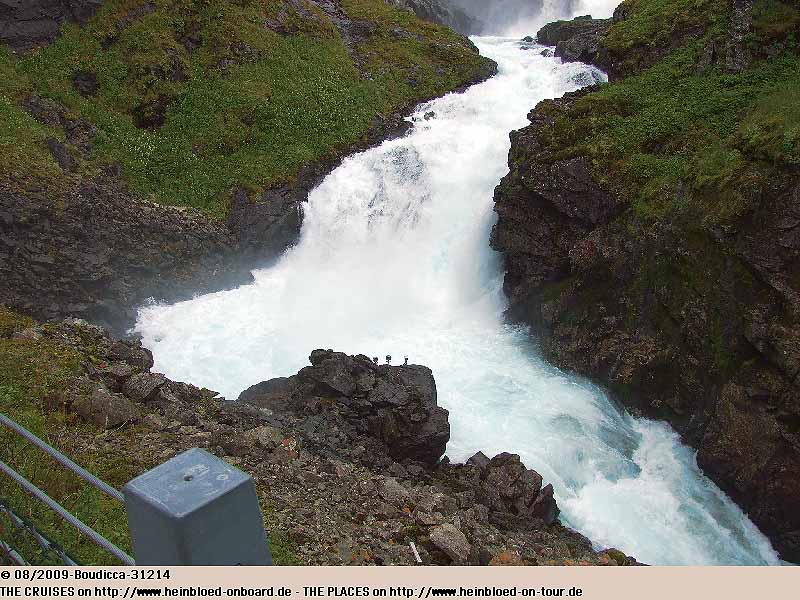 Bruno walked out. I followed the discussion of the ladies which took several minutes to decide if they want to walk out or not. One decided to walk out the very last minute and ran over Bruno who wanted to rejoin the train.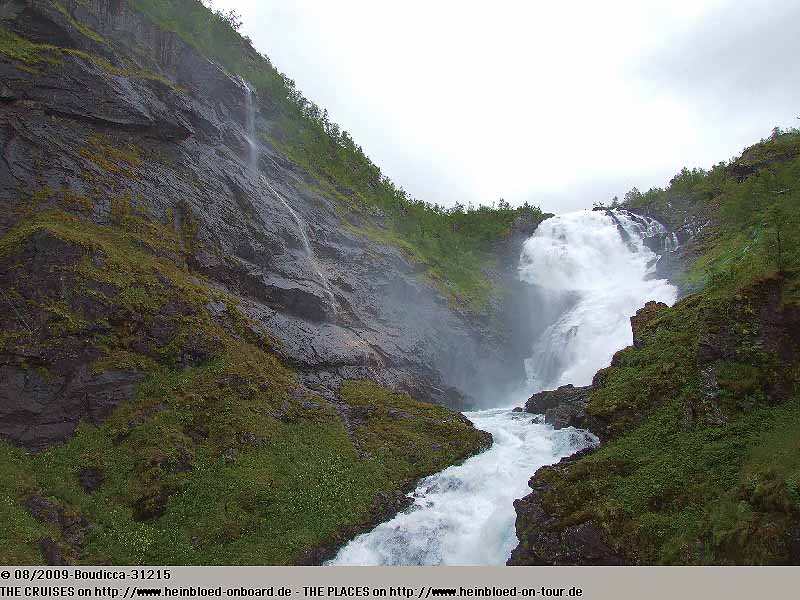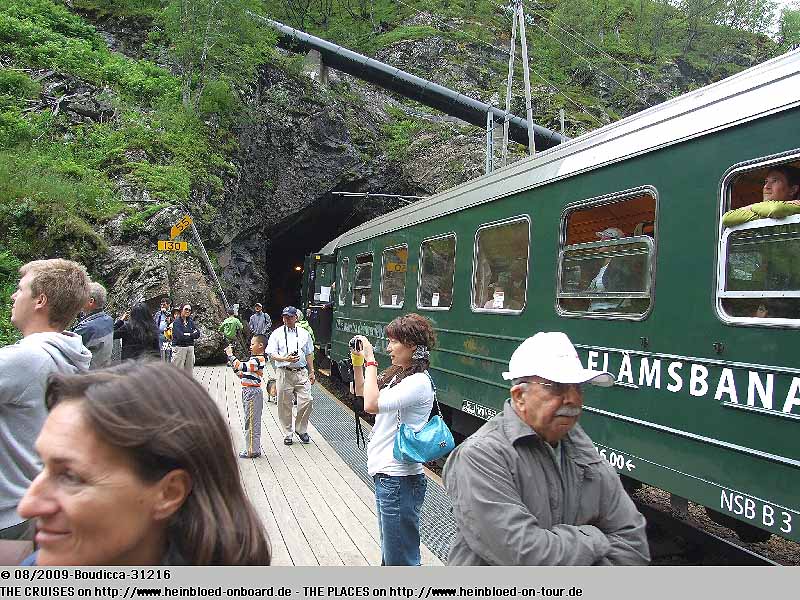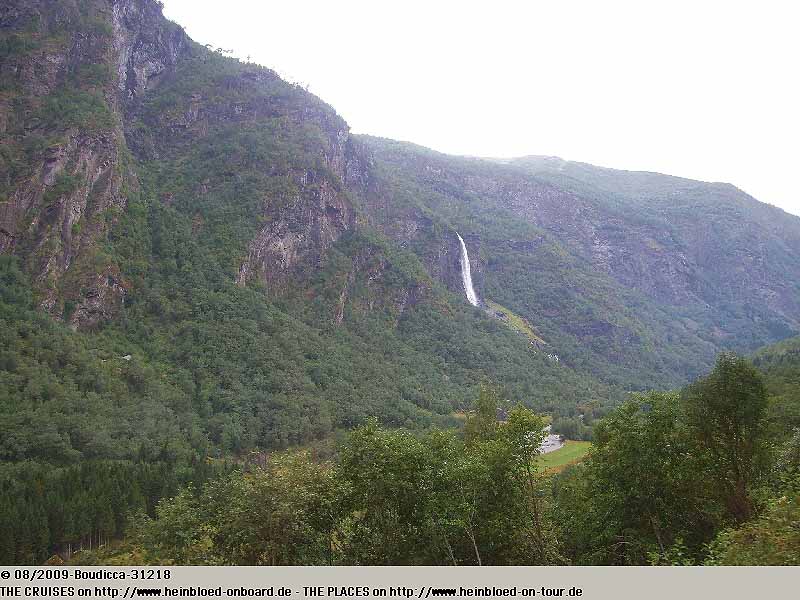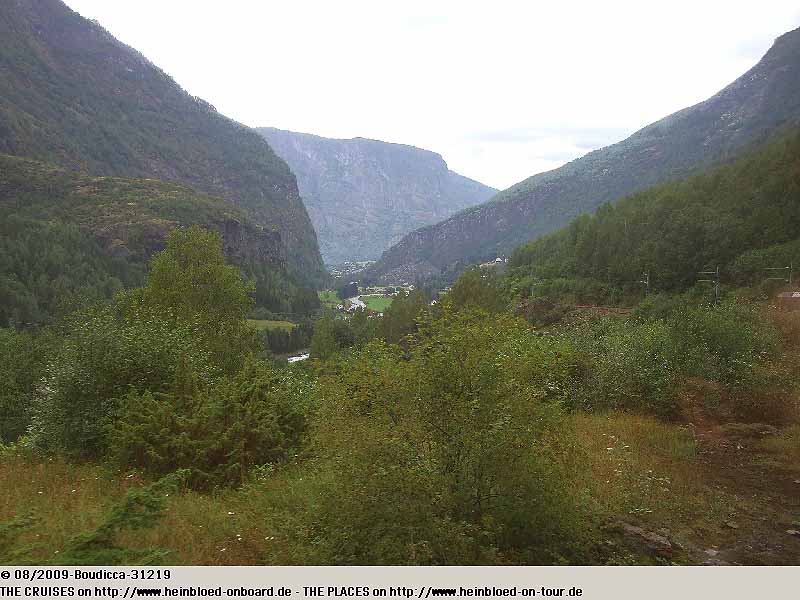 We had a great journey. On the way the train to Myrday passed us and we could see our ship's passenger going anti-cyclic. They got obviously a more or less empty train and had reserved seats. So ship's tours have also their advantages. We were surprised to see some groups from CELEBRITY EQUINOX who were standing in a station in nowhere.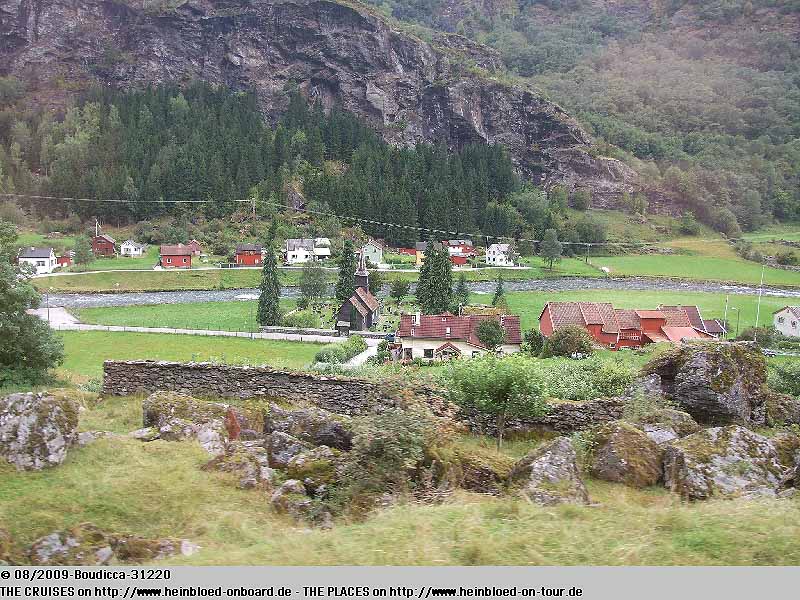 Wir erleben eine tolle Fahrt. Unterwegs kommt uns ein Zug nach Myrdal entgegen und sehen, dass wohl unsere Schiffstour antizyklisch gefahren ist. Die sind in einem relativ leeren Zug und haben ja ihre reservierten Plätze. So haben Schiffstouren auch ihre Vorteile. Erstaunt sind wir über mehrere Gruppen von der CELEBRITY EQUINOX, die mittendrin in der Pampa stehen.
Ursprünglich steht auf der Homepage von Fjordtours der Vorschlag etwa vier Stunden in Flåm zu verbleiben. Aber das Örtchen ist voll auf die Flåm-Bahn- und Kreuzfahrer ausgerichet. Eine echte Cruise Industry.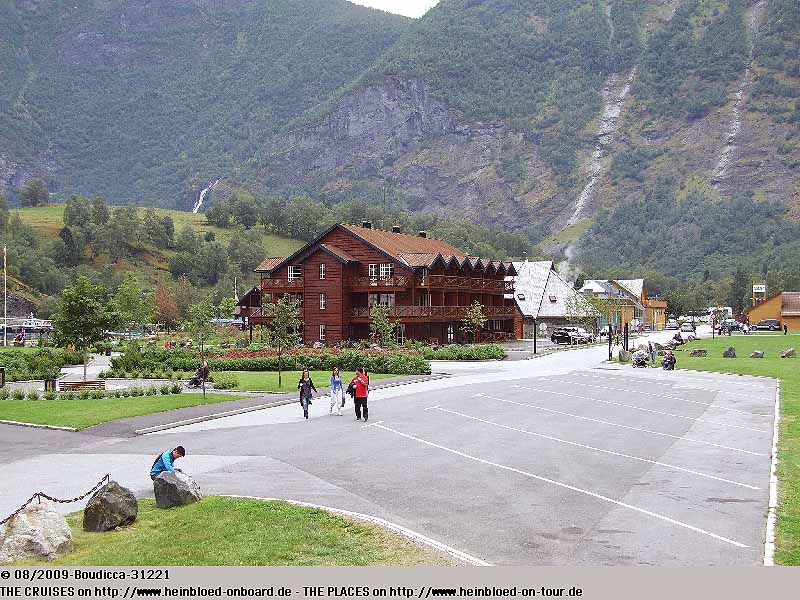 Originally Fjordtours published on their website to stay four hours in Flåm. But this little place is dedicated to Flåm-Railway and Cruise guests. A true cruise industry.

Our stay was a little short but sufficient.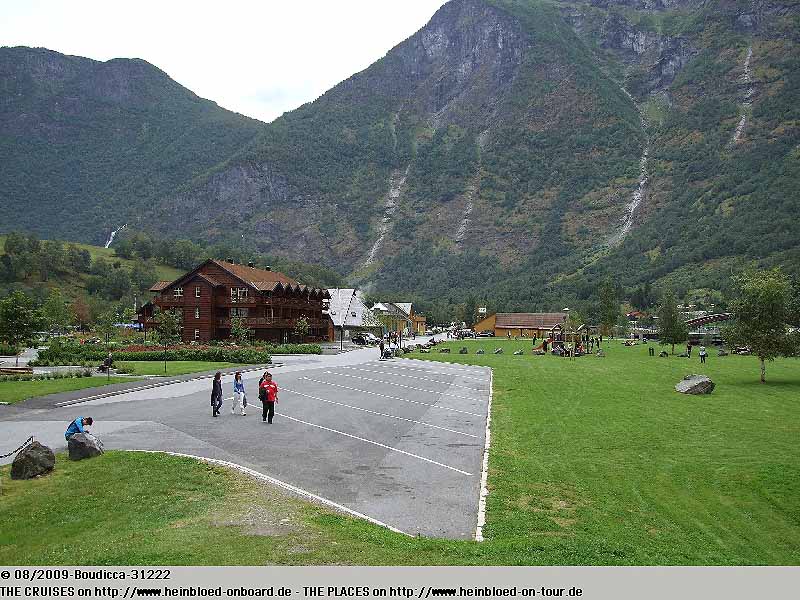 Unser Aufenthalt ist ein wenig kurz, aber ausreichend.
Wir informieren uns schon für unsere Reise auf der WESTERDAM nächstes Jahr.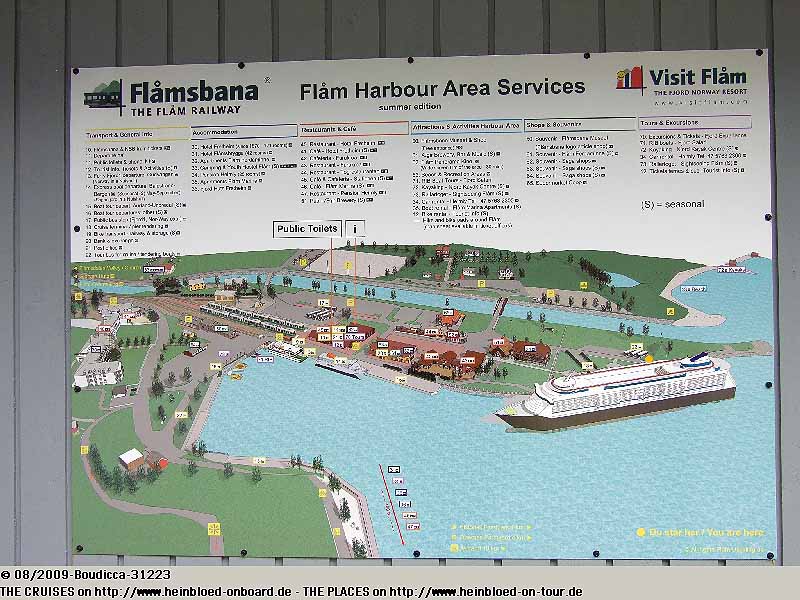 We already inform ourselves for our next year journey on WESTERDAM.

The location of this place is just gorgeous.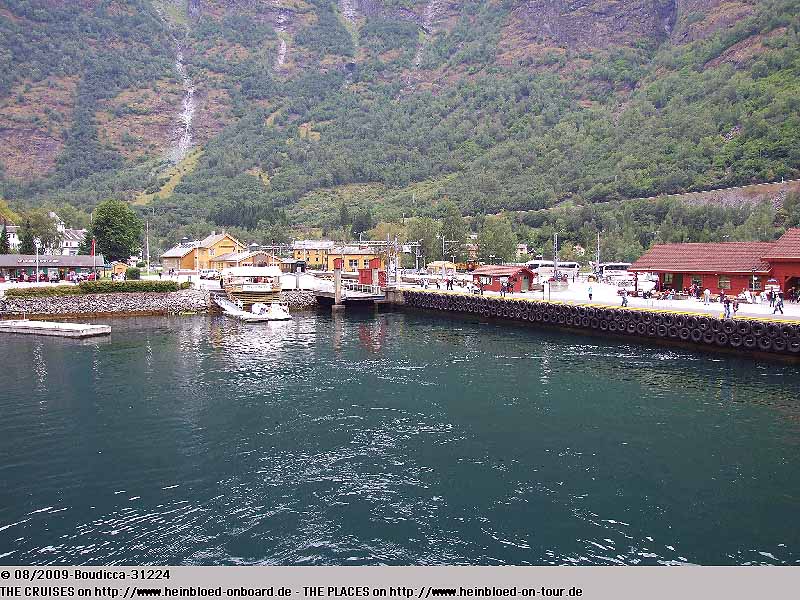 Die Lage des Ortes ist unbeschreiblich schön.
Wir freuen uns auf jeden Fall wieder auf nächstes Jahr in Flåm. Weiter geht es im nächsten Teil.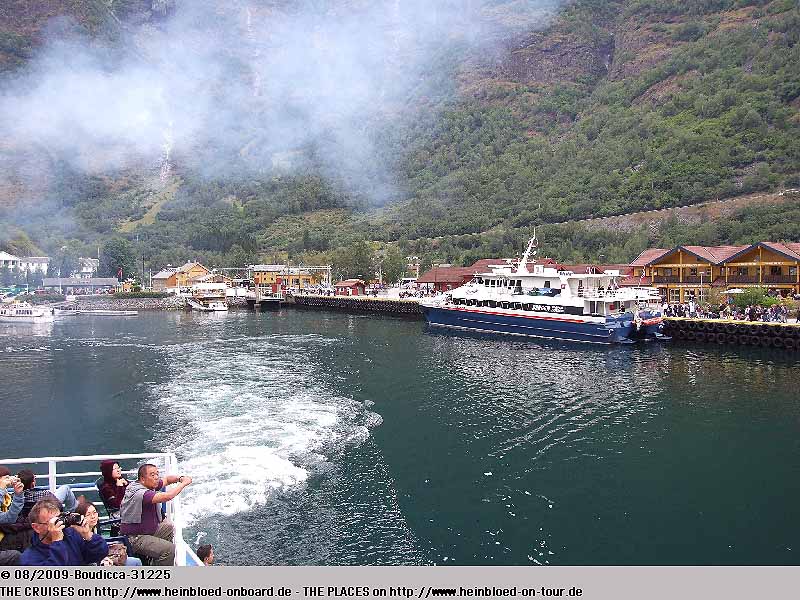 We are looking forward to our next year's stay in Flåm. We continue in the next part.