Scroll down for English explanations - alternates with German explanations.

Auch in Lerwick ist es nicht gelungen, mal eine schöne Ansicht von vorne zu ergattern...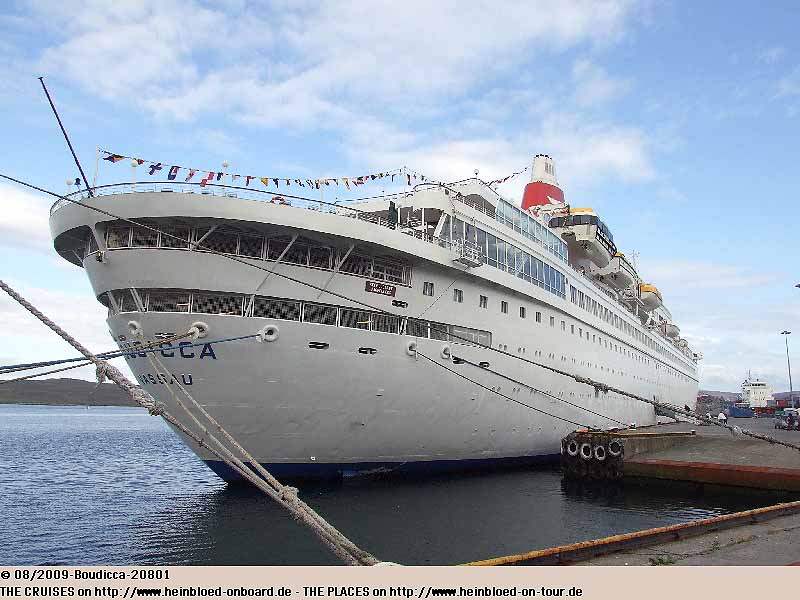 It's impossible in Lerwick either to get a great shot of the ship from the front.

I need to hire a water-taxi but we will set-sail very soon.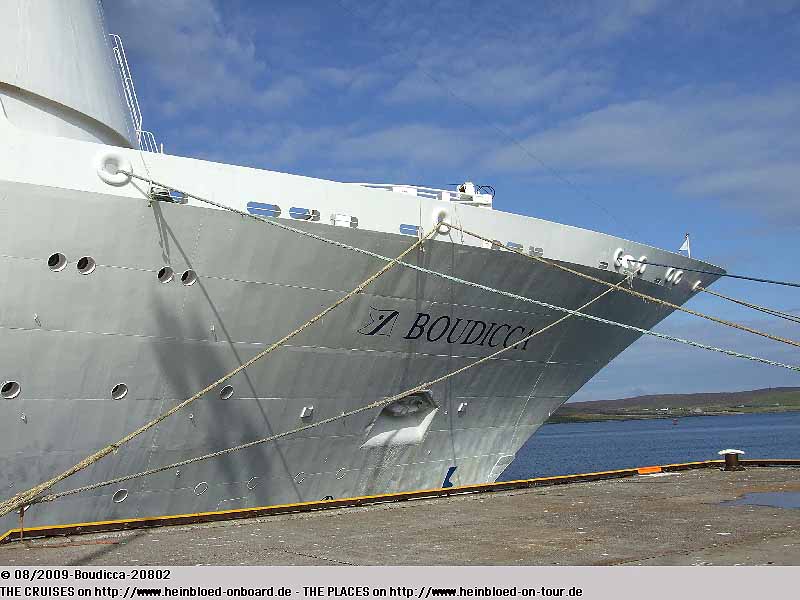 Schon wieder müsste ich mir ein Wasser-Taxi mieten, aber wir laufen ja in Kürze aus.
So bleibt also nicht mehr die Zeit zum Fotografieren.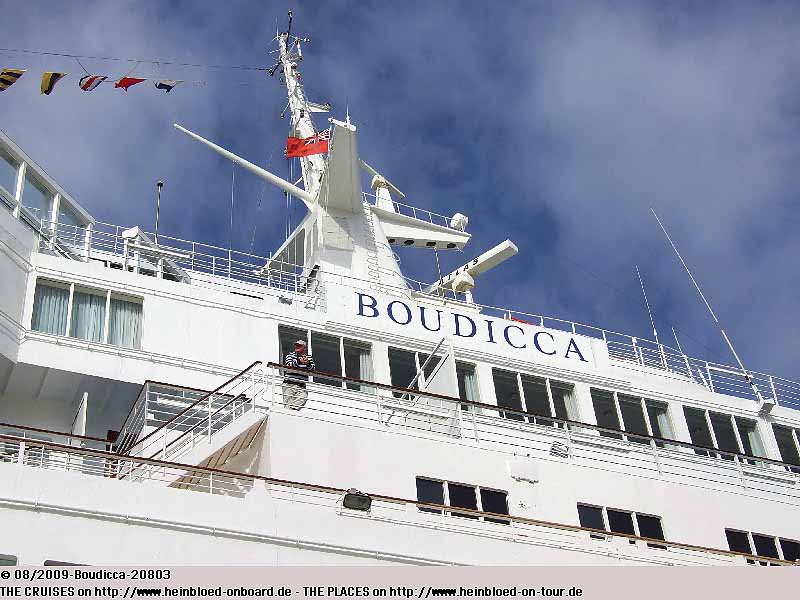 So there was no more time to take pictures.

17.15 hrs is last return and 17.30 hrs is already Captain's reception.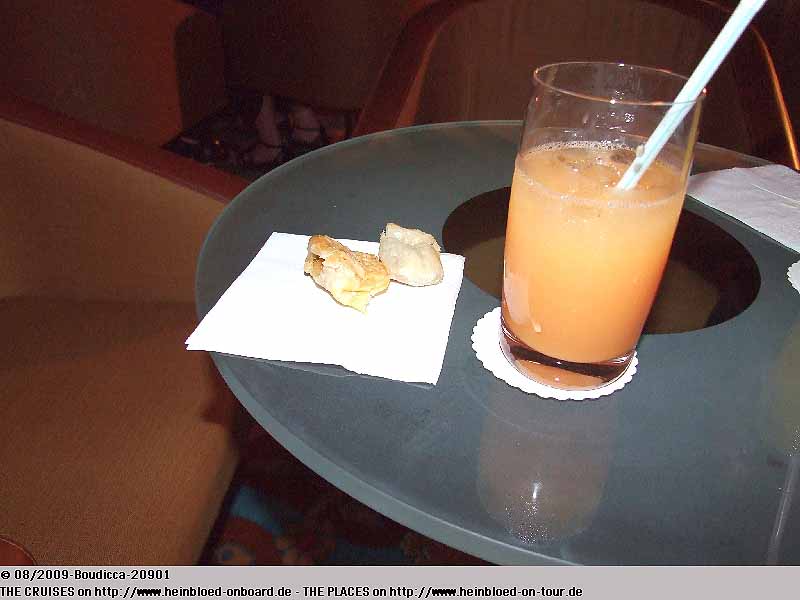 Denn um 17.15 Uhr war Ende der Rückkehr und um 17.30 Uhr bereits der Kapitäns Empfang.
Aber irgendetwas ist passiert zwischendurch. Die Firmenleitung von Fred Olsen war ja an Bord. Es ist ja der 2. des Monats. Ob die Gehaltsabrechnungen bekommen haben oder einen neuen Tarifvertrag.
Das ganze Schiff ist irgendwie "entzaubert": Die Wärme ist weg und Extrameilen gibt es auf einmal nicht mehr.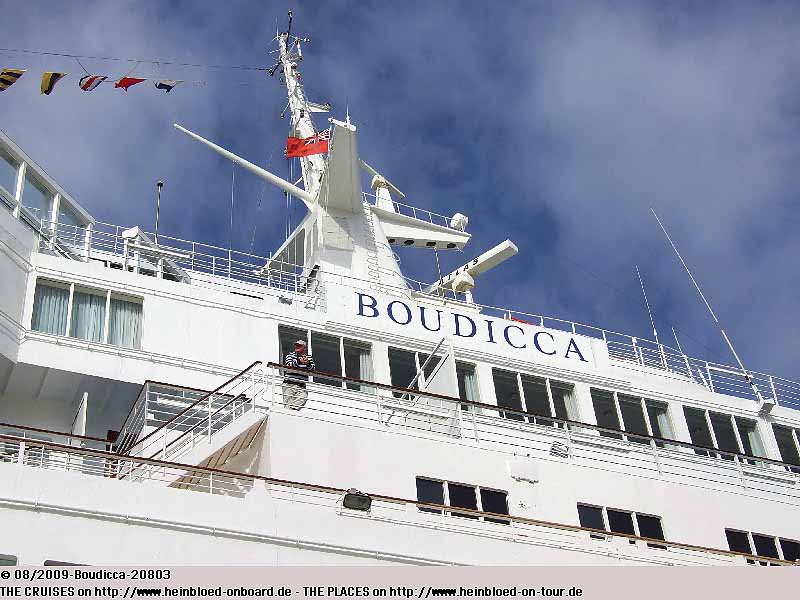 But something happened while we were in Lerwick. The management of Fred Olsen was onboard. It's the 2nd of the month. Did they get their income statement or do they have a new working contract. The ship is "enchanted". No human warmth and no extra miles.

As the captain was here on duty since July 23, 2009 on this ship he need to read the names of his officers from his notes.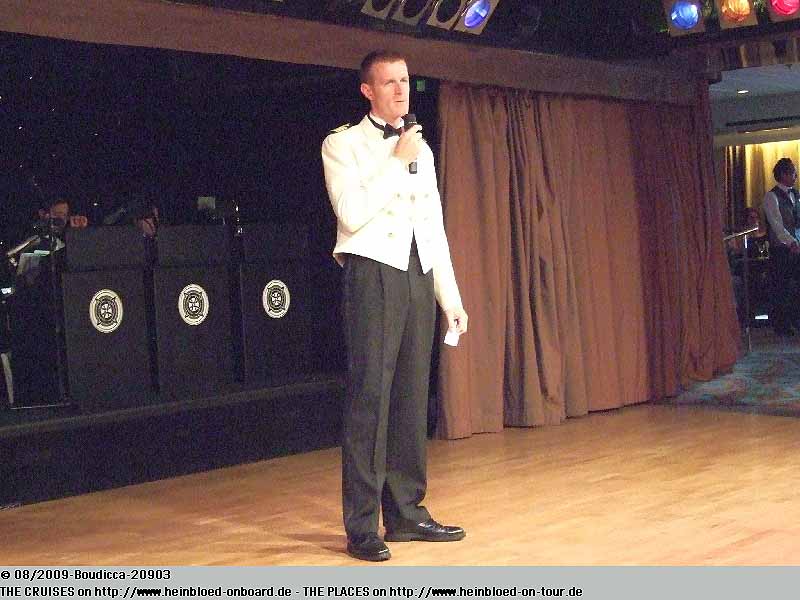 Da der Kapitän auch erst seit 23.07.2009 an Bord ist, muss er noch vom Zettel ablesen, wer überhaupt zu seiner Führungsriege gehört.
Die einzige Frau darunter ist Lindsey, die Hotel Managerin. Und ganz links der deutsche Küchenchef, den die einen oder anderen von euch vielleicht noch Viking River Cruises her kennen.

Bild entfernt auf Wunsch des Executive Chefs /

Picture erased due to request of the Executive Chef

The only woman was Hotel Manager Lindsey. To the left it's the German Executive Chef. Some of you might know him from Viking River Cruises.

With a lot of professionalism Cruise Director Ricky handled the event because the captain left for the bridge. Why cannot you reschedule such an event for one hour?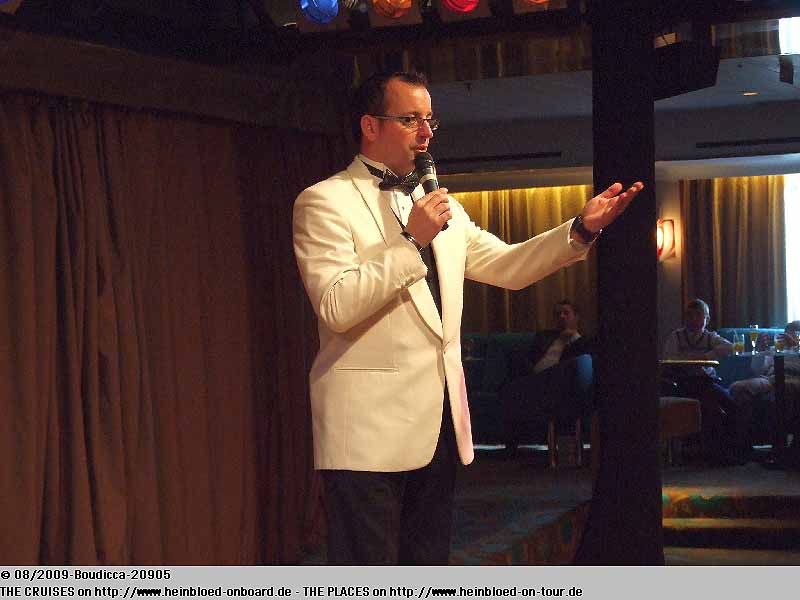 Souverän moderiert Cruise Director Ricky weiter, weil der Kapitän auf die Brücke muss. Warum verlegt man nicht einfach so etwas um eine Stunde nach hinten?
Dann könnte man auch noch miterleben, wie der Geigenspieler an Land die Stimmung seiner Stücke auf das Schiff transferiert...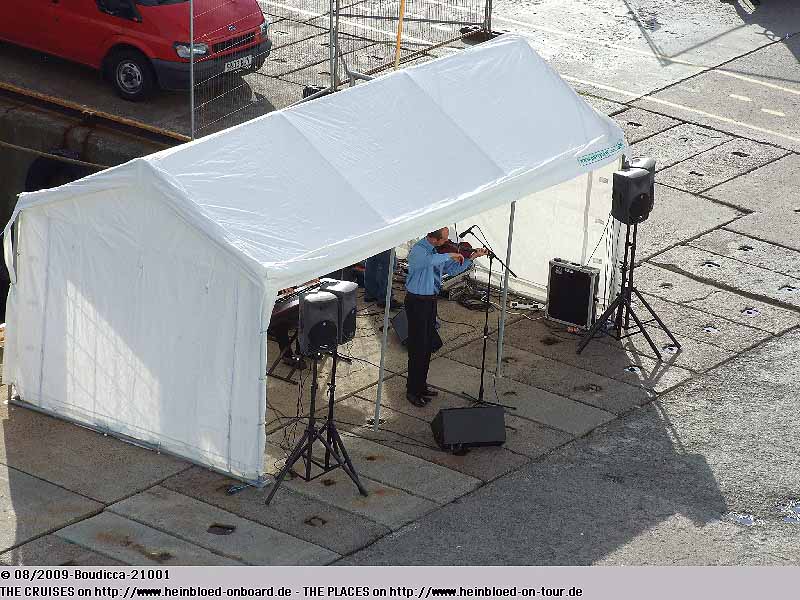 Then you can see how the fiddler transfered the mood of his music from the shore to the ship...

Yes... they were dancing on the ship...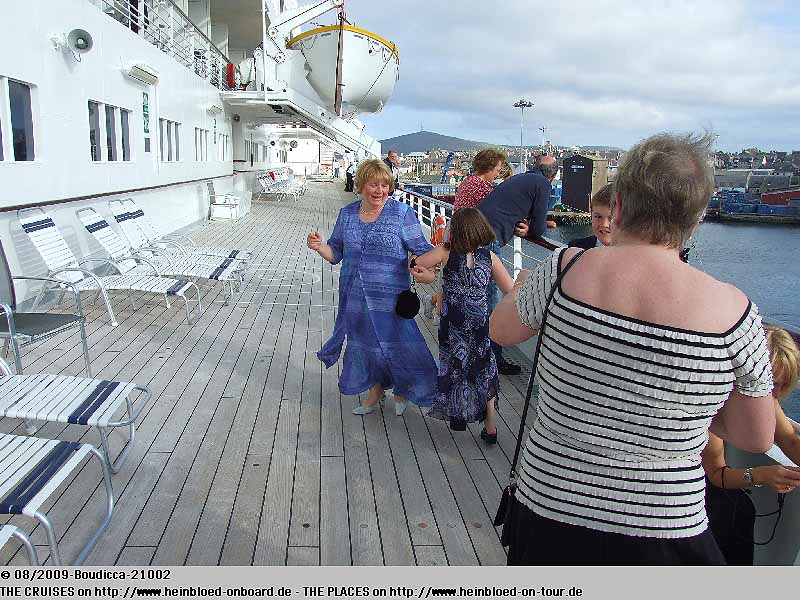 Jawohl, oben wird getanzt.
Irgendwie schade, dass schon ein Teil in der Veranstaltung ohne Kapitän sitzt, ein anderer Teil schon auf dem Weg zur 1. Tischzeit ist und vermutlich ein Teil schon längst im SB-Restaurant sitzt und isst.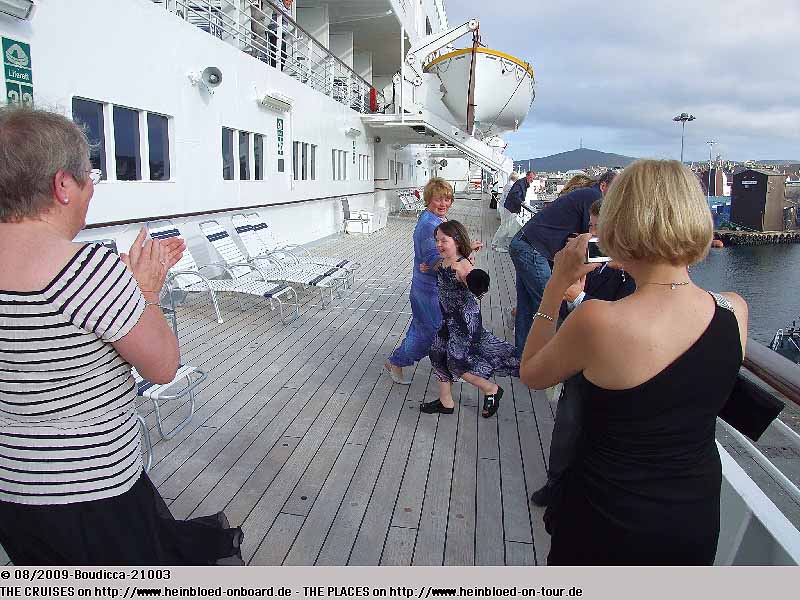 It was really a shame: one part of the guests were sitting without a Captain at the Captain's reception. One part was on the way to the first seating and one part was already in the self-service restaurant and had dinner.

So we experienced how we left Lerwick with beautiful sunshine.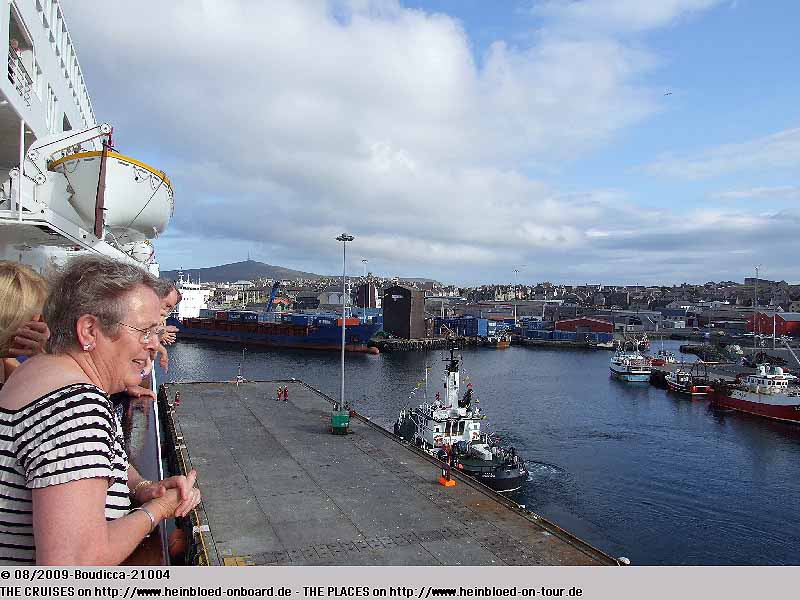 So erleben wir noch bei strahlendem Sonnenschein die Ausfahrt aus Lerwick.
Und gucken dem Kapitän noch ein wenig zu.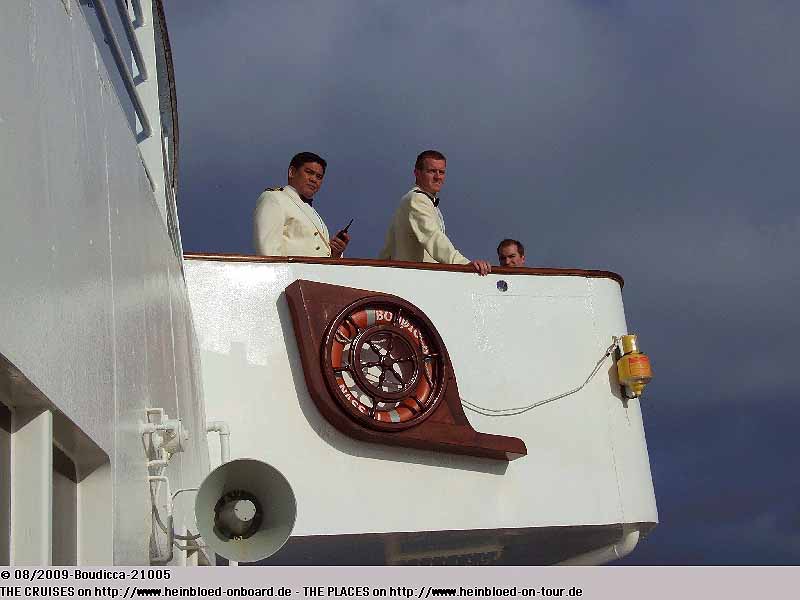 And we watched how our Captain worked.

It was very nice on Shetland-Island. It's a shame that they are not on the major cruise routes.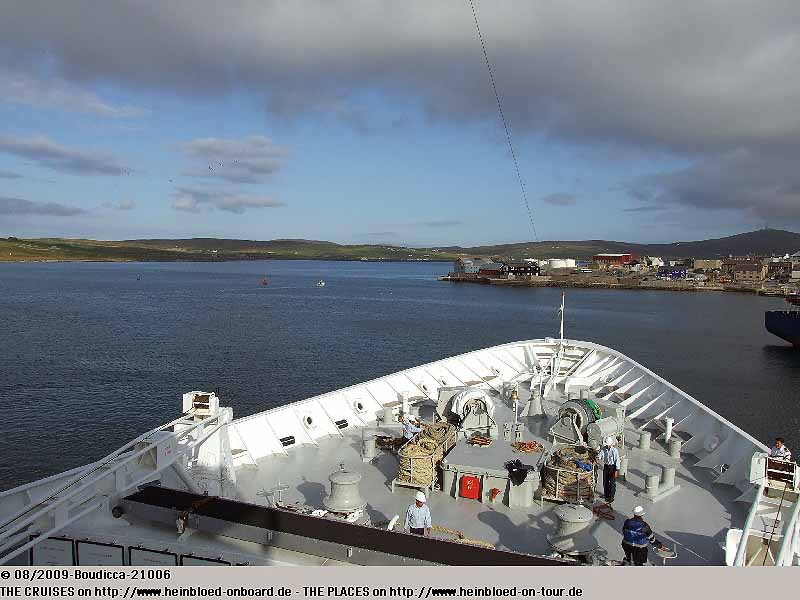 Es war schön auf den Shetland-Inseln. Schade, dass sie nicht auf den Haupt-Kreuzfahrtrouten liegen.
An Bord sehen wir, wie sofort alles wieder überstrichen wird, damit es schön aussieht.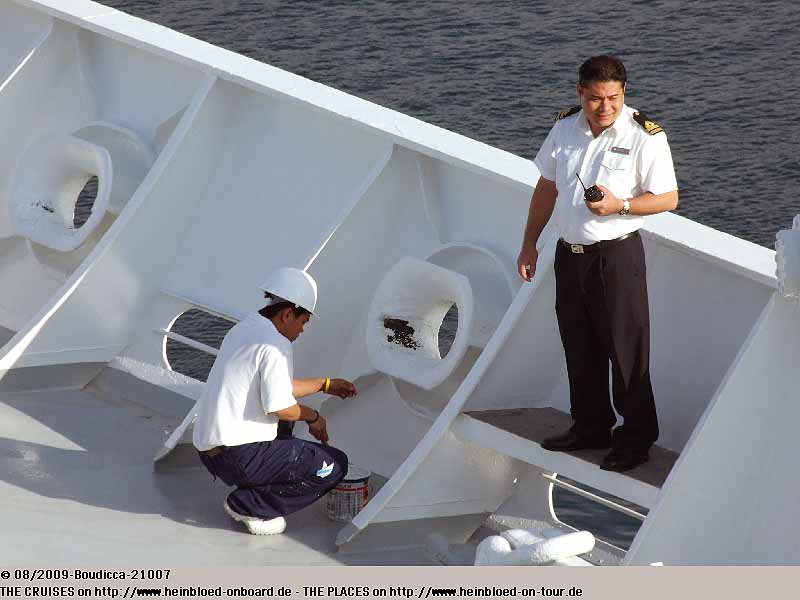 On board we can see how they paint everything to look good.

Good-Bye Lerwick.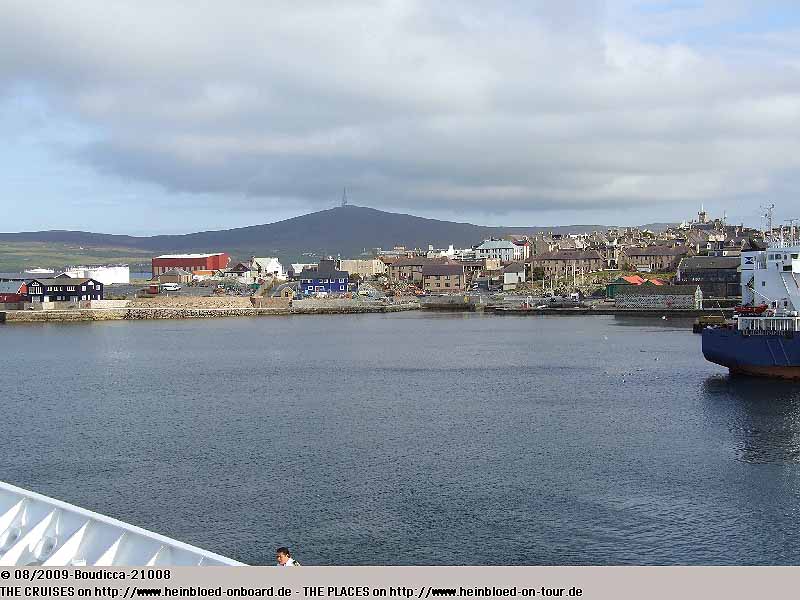 Good-Bye Lerwick.
Bis zum nächsten Mal hoffentlich.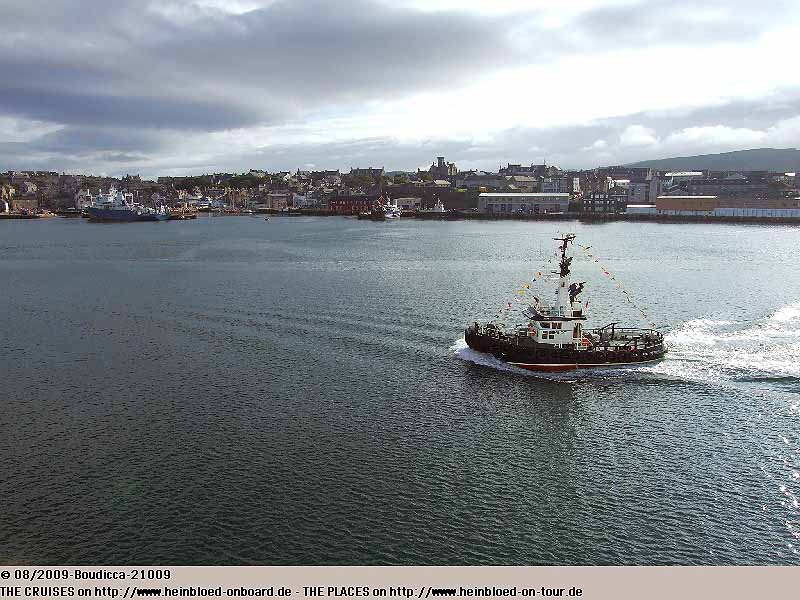 See you soon hopefully.

A bad surprise was waiting for us. The table we should get was already occupied. In the computer system it was vacant, so someone acted without proper documentation.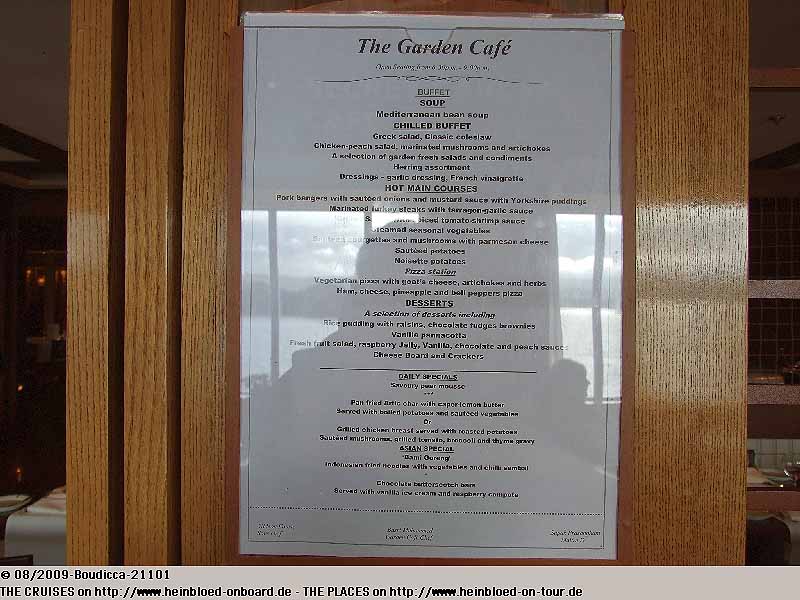 Uns erwartet eine böse Überraschung: der Tisch, den wir heute Abend bekommen sollten, ist bereits besetzt. Im Computer steht er als frei, aber da hat wohl jemand selbständig gehandelt, ohne sich an die Regeln zu halten.
Da wir jetzt nicht noch zwei Stunden auf die 2. Tischzeit warten wollen und auch unser einziges Interesse darin besteht, zu sehen, wie sie angezogen sind, gehen wir zum SB-Restaurant.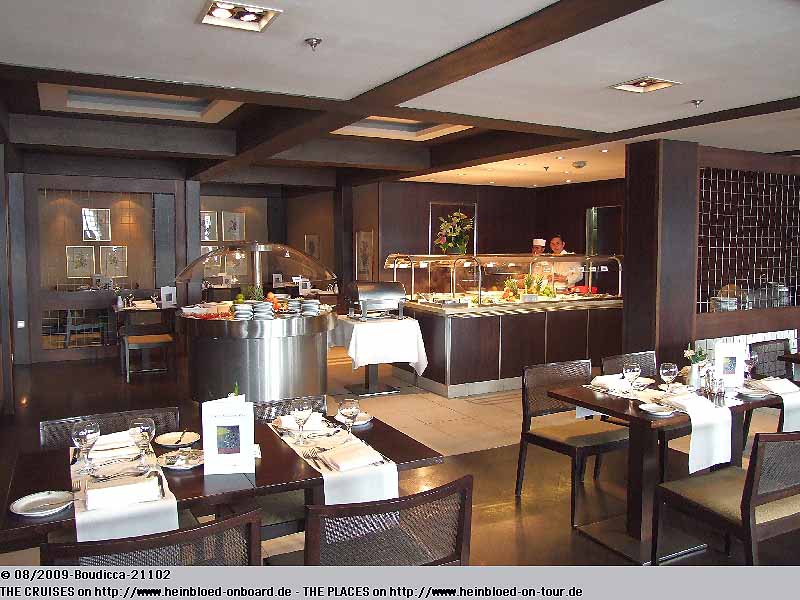 We did not want to wait another two hours. All we wanted to know was if they had suitable clothes for a formal night. So we went to the self-service restaurant.

It always looked elegant - not like our company's canteen. Only our table for four looked somehow already taken as napkins were missing or on the chairs. The Maître told that all seats are vacant. Two further guests were placed to us. A nice Scottish couple which were first time with Fred Olsen and need some recovery from P&O.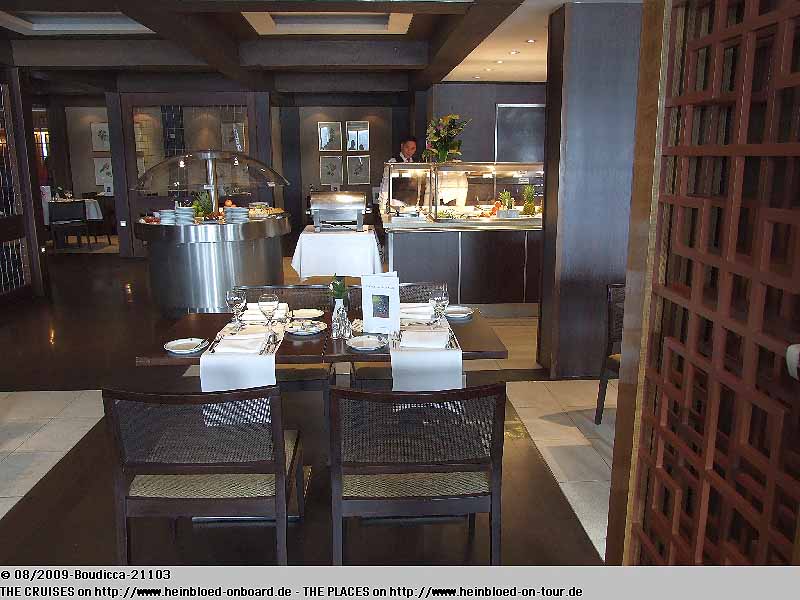 Es sieht immer edel eingedeckt aus. Eigentlich wirkt es gar nicht so wie eine Werkskantine. Nur an unserem 4-er Tisch wirkt es so, als ob schon jemand sitzen würde, weil die Servietten zum Teil fehlen und zum Teil über den Stuhl hängen. Der Maître meint jedoch, dass alles frei sei. Es werden aber noch zwei zu uns platziert. Ein nettes schottisches Ehepaar, die zum 1. Mal bei Fred Olsen sind und sich von P&O erholen wollen.
Die kalten Vorspeisen sind ziemlich gut.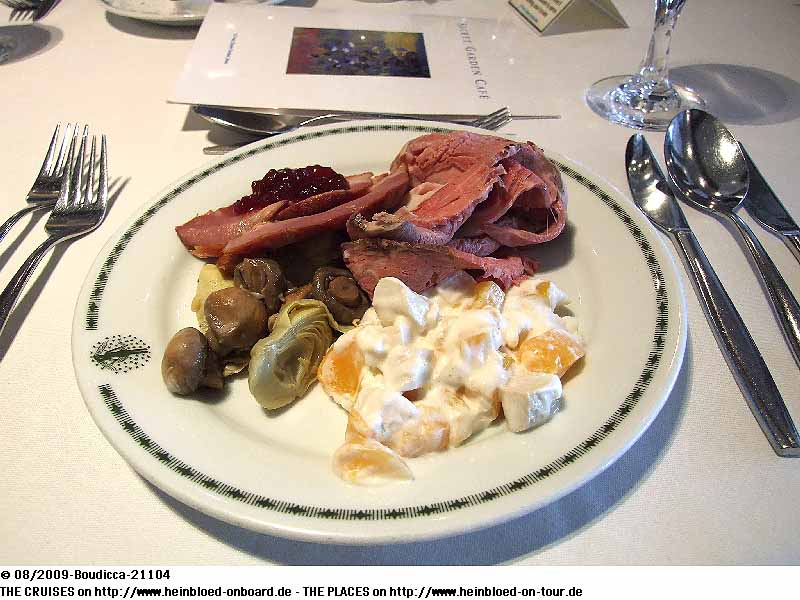 The cold dishes were very good.

Because we did not know again that some dishes will be served and some dishes are self-service my gala-dinner was sausages with potato balls or what ever it was.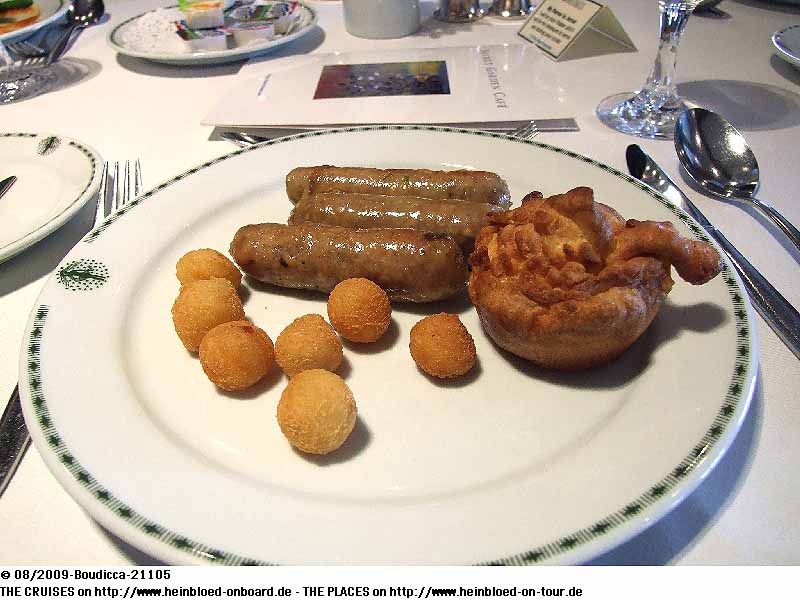 Mangels Kenntnisse, dass nur ein Teil als SB zur Verfügung steht und ein Teil von der Karte bestellt werden muss, besteht also mein Gala-Dinner aus ein Würstchen mit Kartoffelbällchen und was-auch-immer...
Auf das Dessert verzichten wir. Auch bekommen wir eigentlich keinen Full-Service: weder fragt man uns nach Getränkenwünschen noch werden die benutzten Teller adäquat abgeräumt. Meinen Teller drücke ich mit Gewalt dem Maître in die Hand, nachdem wirklich minutenlang keiner erscheint.
Mir gefällt es nicht. Morgen ist es eh egal, weil wir in Bergen unterwegs sind und nicht zu den Tischzeiten zurück sind. Aber am Dienstag müssen wir uns eine neue Strategie ausdenken, weil auch mittags feste Tischzeit ist.
Da wir mitlerweile schon herausbekommen haben, dass die Kaffeespezialitäten in der Lido Lounge besser sind als bei uns in der Secret Garden Lounge gehen wir hoch. Oben findet aber noch die Kinderbespaßung statt. Neptune Lounge und Secret Garden Lounge scheiden aus, weil dort noch der Verkehr zum Kapitänsempfang der 2. Tischzeit läuft. Und die Observatory haben wir im Moment komplett vergessen, dass es das ja auch noch gibt. Aber da merkt man eben die Grenzen eines kleinen Schiffes, das eben keinen eigenen Kinderbereich bietet.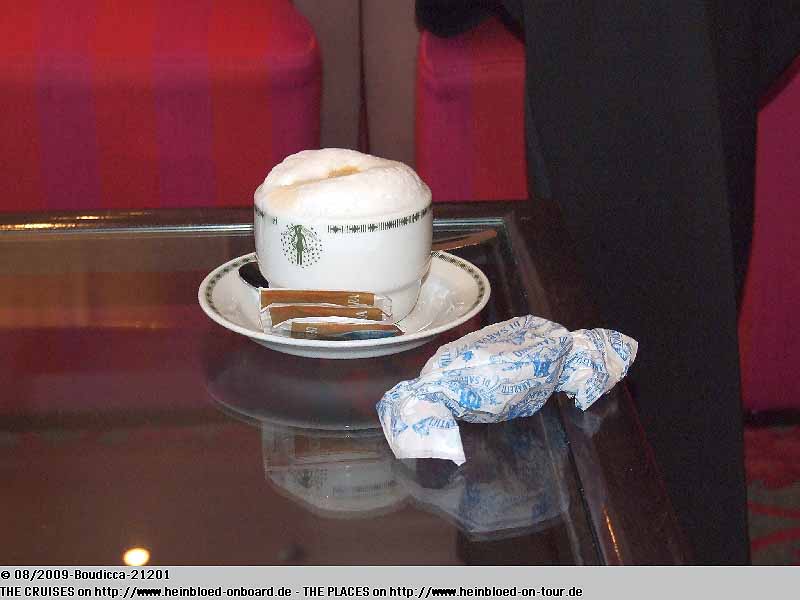 We did not want any desert anymore as there is no full service available. None offered beverages and none were able to clear the table appropiately. After none was coming to clear I handed over my dirty plates to the Maître.

I did not like it. For the next day it's fine as we are the whole day in Bergen. But for Tuesday we need to find a new strategy.

As we found out that the coffee at Lido Lounge was much more better than in Secret Garden we went upstairs to have our coffee. But there was children entertainment. Neptune Lounge and Secret Garden Lounge were unavailable due to Captain's reception for 2nd seating. We totally forgot that there was also The Observatory available. But here you see clearly the limits of a smaller ship without a children area of its own.

Due to time difference and our wish to see early the entrance to Bergen we went early to bed. British Comedians are not our taste.

Good Night.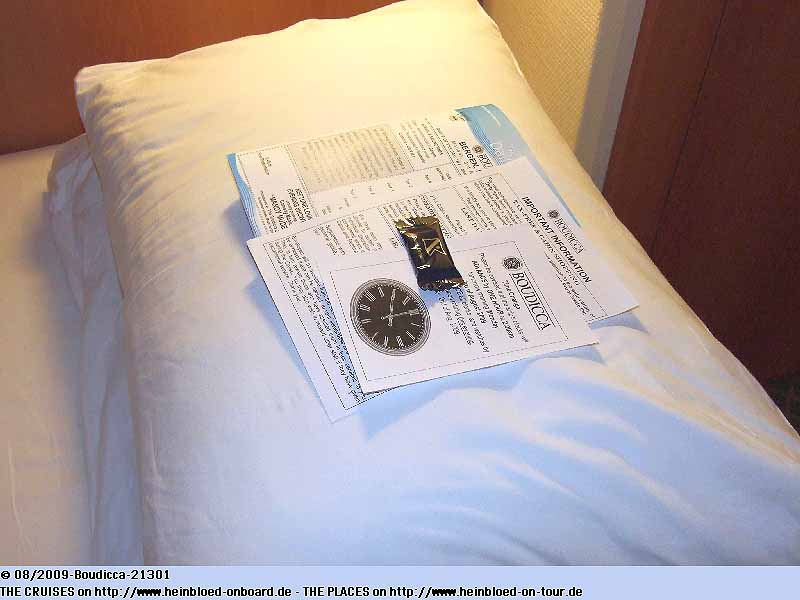 Da ja wieder Zeitumstellung ist und wir sehr früh rauswollen, um die Einfahrt in Bergen nicht zu verpassen, gehen wir früh ins Bett. British Comedians sind ja eh nicht unser Ding.
Gute Nacht.