Scroll down for English explanations - alternates with German explanations.

Eigentlich haben wir immer gedacht, dass eine Flasche Wasser wieder bereitsgestellt wird, wenn eine geöffnet. Das war nicht der Fall.
So suche ich auf dem Schiff nach Wasser, das ich um 06.00 Uhr morgens kaufen kann. Alle Bars haben zu und so bleibt also nur der Kabinenservice, der jedoch innerhalb von drei Minuten nach dem Anruf auch schon vor der Tür steht. Da es keine kleine Flaschen gibt, kaufen wir uns zwei große, da wir eine mit unterwegs mitnehmen wollen.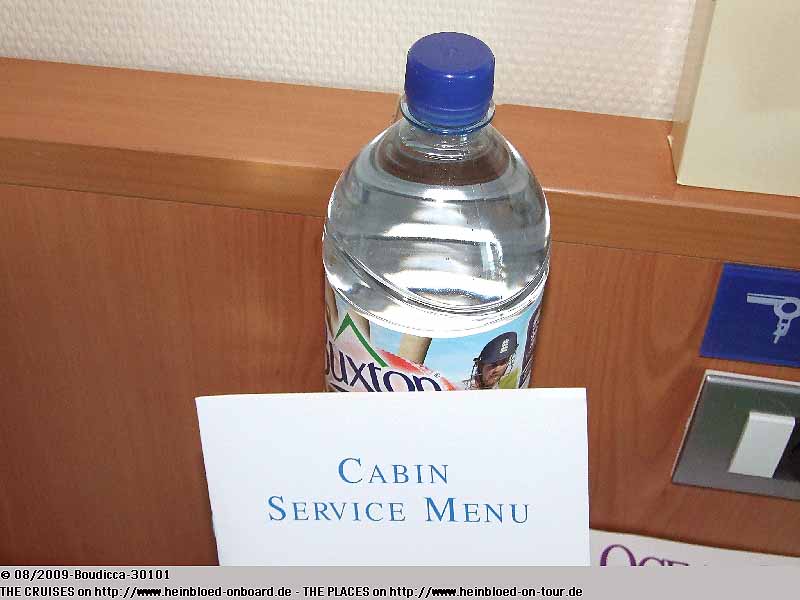 I thought that we always get a new bottle once we opened a bottle. But that was not.So I was looking for a place to buy water at 06.00 hrs in the morning. All bars were closed and only stateroom service was avaialble. But three minutes after the call the waiter was delivering the water. As there were no small bottles available we bought two large bottles.

Later the day also smaller bottles were sold for the shore excursions. Due to prices in Norway it's better to buy on the ship and take ashore.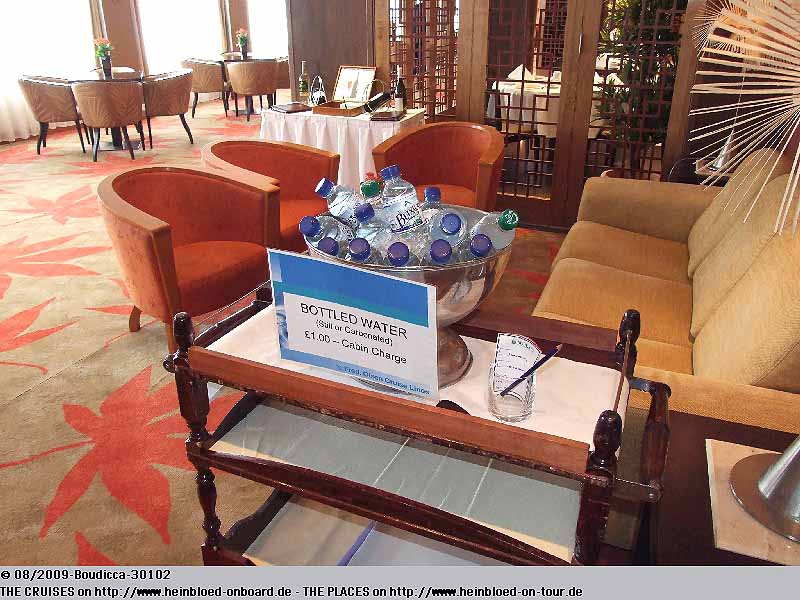 Die kleinen Flaschen werden allerdings erst später verkauft. Angesichts der Preise in Norwegen sicherlich der bessere Weg, vorher an Bord zuzugreifen.
Wir hoffen eigentlich, dass es im Hafen ein offenes WLAN-Netz gibt, damit wir endlich mal Bilder übertragen können. So wie in Kopenhagen. Das war genial.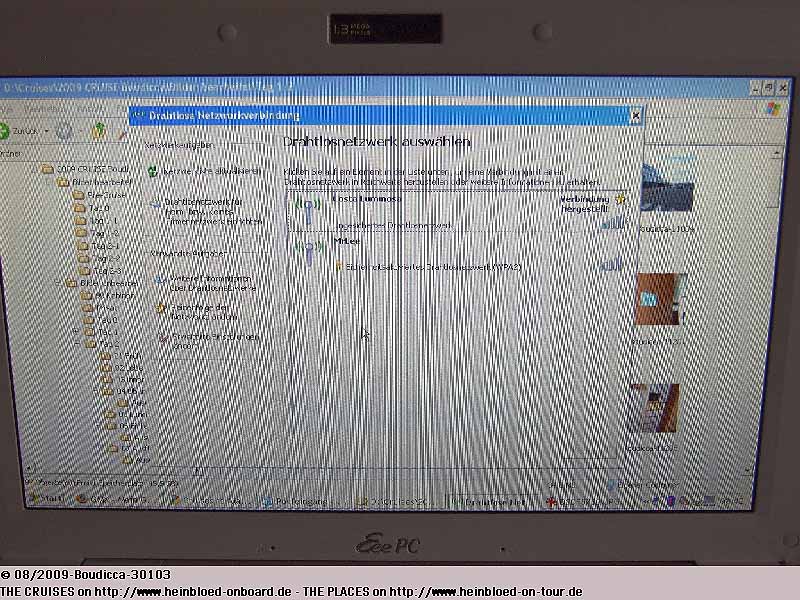 We hoped to find an open WiFi-Network to transfer the pictures. Like in Copenhagen which was great.
And indeed we got one: from the ship next to us: COSTA LUMINOSA.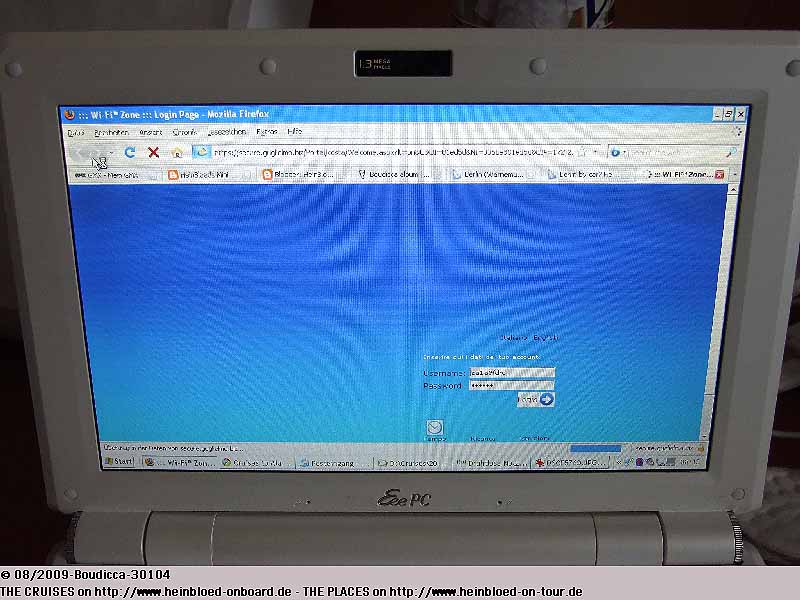 Und in der Tat erwischen wir eines: von der COSTA LUMINOSA, die neben uns liegt.
Spaßeshalber verbinde ich mich mit, weil ich denke, dass gleich sowieso Ende ist, weil ich entweder eine Bordkarte oder meine Kabinennummer abgefragt werden. Aber stattdessen ist eine Kennung voreingestellt, die ich mitnutzen kann. Sie sieht nicht nach einer typischen Kabinenkennung aus, wie IntitialNachnameKabinennummer, sondern irgendwie nach einem Costa-Werksanschluss...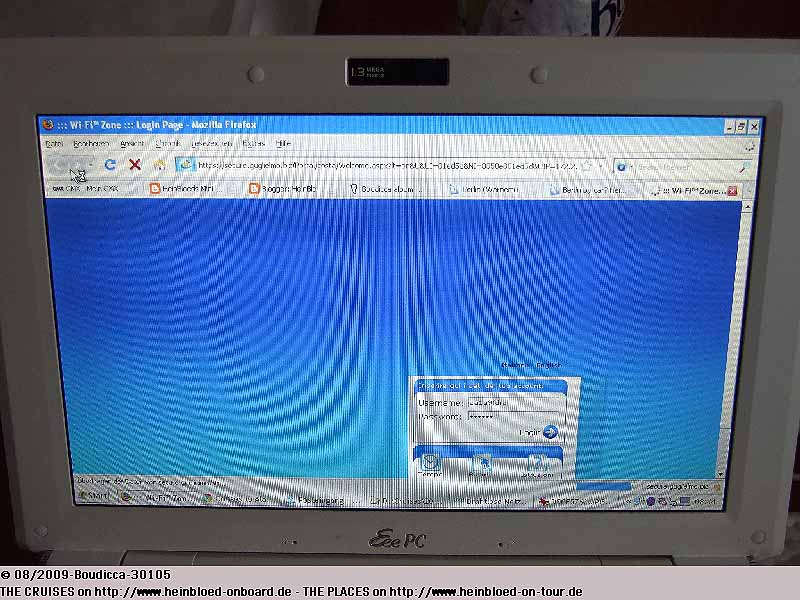 To complete the section: Life onboard: The night we could requested the VAT-Refund onboard (as Norway is not part of the EU).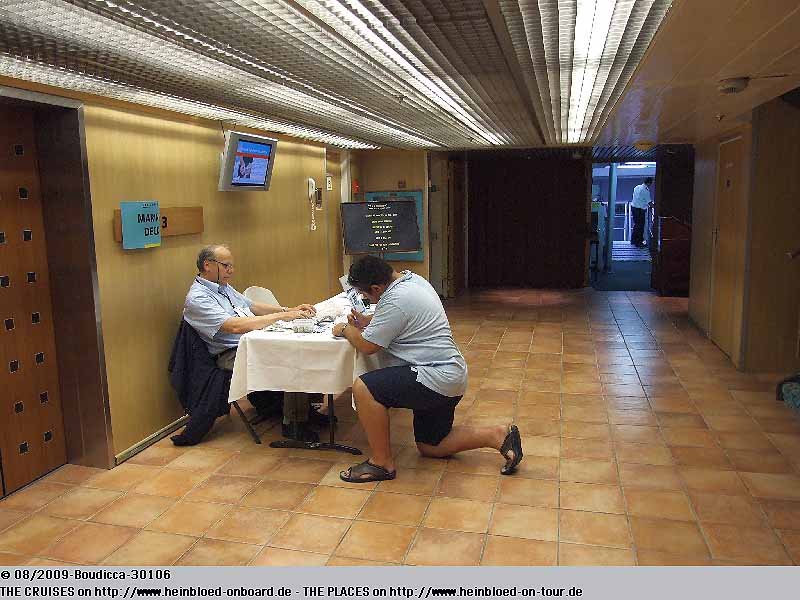 Um das Leben an Bord des Tages abzuschließen: Abends konnten wir auch noch die Mehrwertsteuerrückerstattung an Bord vornehmen lassen (da Norwegen nicht Teil der EU ist).
Beim Thema Costa fällt mir noch die COSTA CLASSICA ein. Man kann durchaus die Lederösen als Türgriff verwenden und man kann sie auch instandhalten...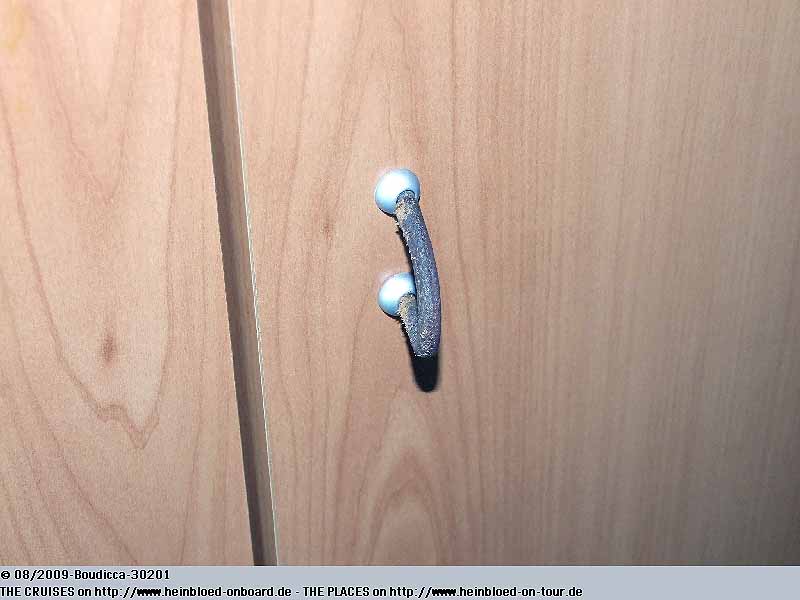 Regarding Costa I remember COSTA CLASSICA: You can use the leather hooks and you can mantain them.

And when we returned: perfect as always. We should have tell Jona that we would have not return before night-service.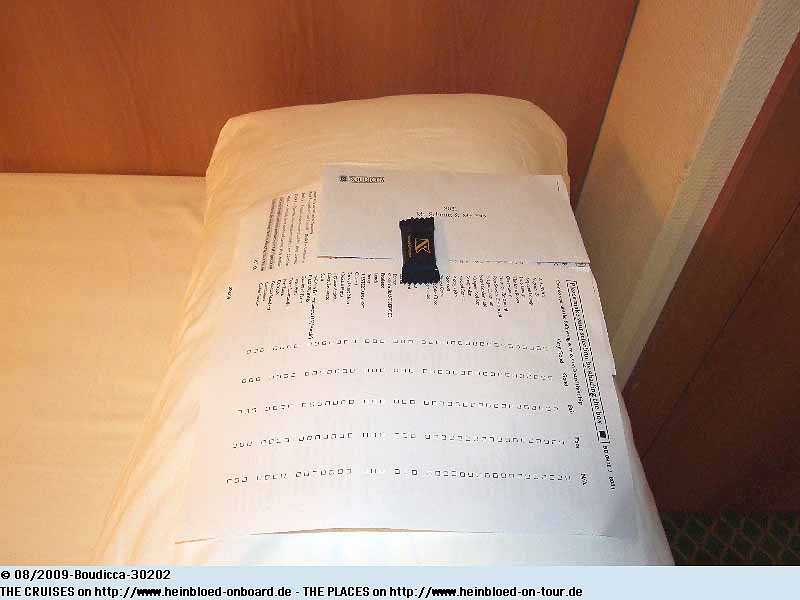 Und abends, als wir wiederkamen: perfekt wie immer. Wir hätten aber Jona noch sagen sollen, dass wir vor dem späten Abend nicht zurückkommen.
Aber nun erst mal zum Frühstück. Das hat mich einfach mal interessiert...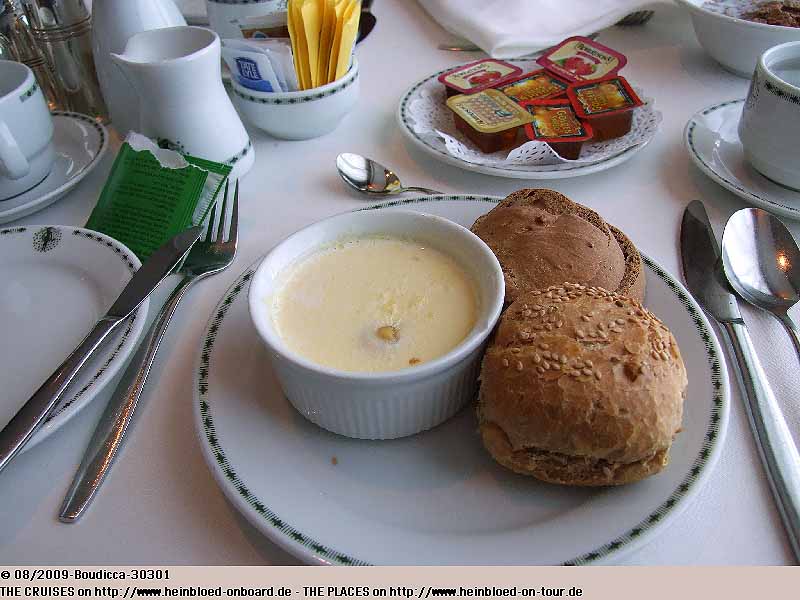 Let's have breakfast. This looked somehow interesting to me.

The rest remained unchanged.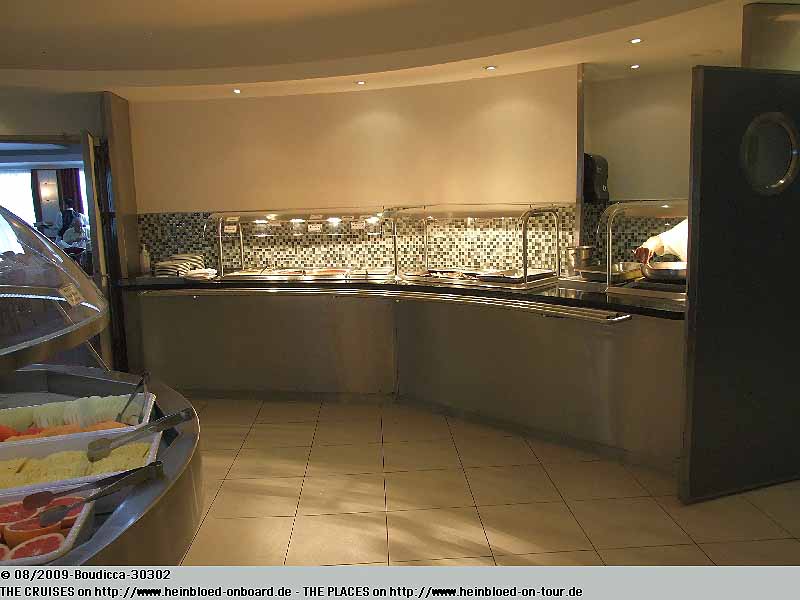 Ansonsten wie sonsten.
Nur sollte es mich stutzig machen, dass immer noch erst eines fehlt: das von mir!!!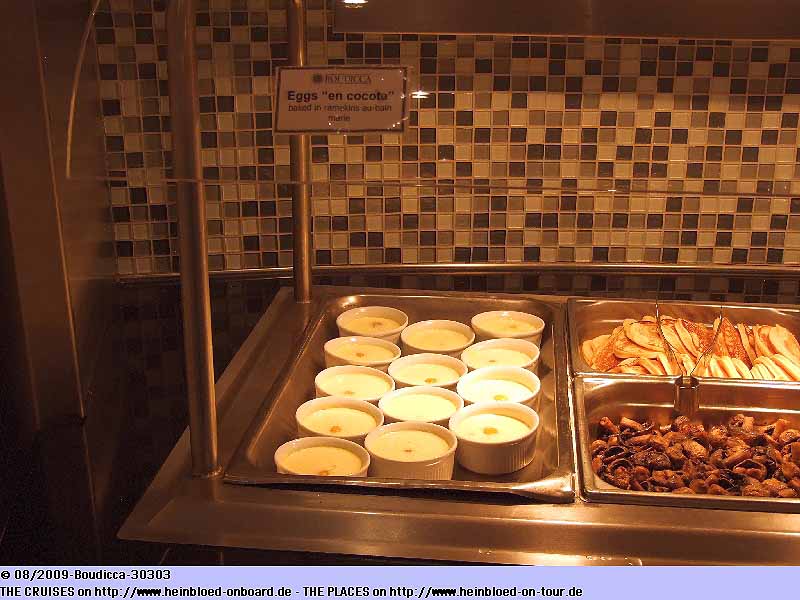 I should have seen that there was still only one which was taken away. The one I took away.

Egg en cocote... Hmm... The egg yolk was still liquid and I had the impression that they put the vanilla sauce by mistake over the egg und forgot to coagolate the bowls in a hot water bath. So I knew it from Jamie Oliver... Herbs, cold cuts etc. and liquid egg and coagolate in a water bath in a oven with some cheese au gratin and some Worcestersauce... but this I returned after one test spoon.

Egg en cocote... Hmm... also das Eigelb war noch ganz flüssig und ich hatte den Eindruck, dass man irrtümlich die Vanille-Sauce darübergegeben hat und vergessen hat, es in einem Wasserbad fest werden zu lassen. So kenne ich es zumindest von Jamie Oliver... Kräuter, Reste vom Aufschnitt usw. und dann flüssiges Ei und dann im Wasserbad im Ofen stocken lassen, mit Käse überbacken und ein Spritzer Worcestersauce darauf... aber das habe ich nach einem Probelöffel zurückgegeben...
Halten wir uns lieber an die leckeren Brötchen und Aufschnitt..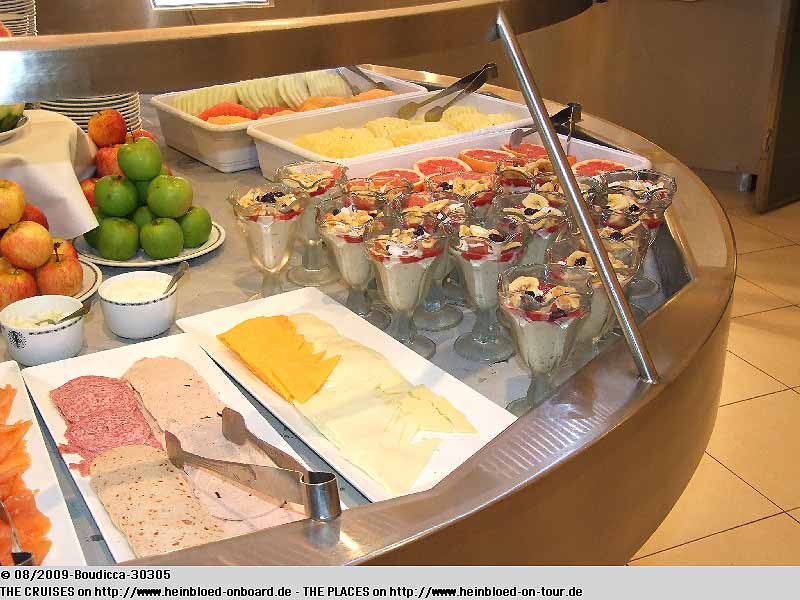 Let's keep it on with the great rolls and cold-cuts.

Or poached eggs... although no Egg Benedigt was avaiilable onboard...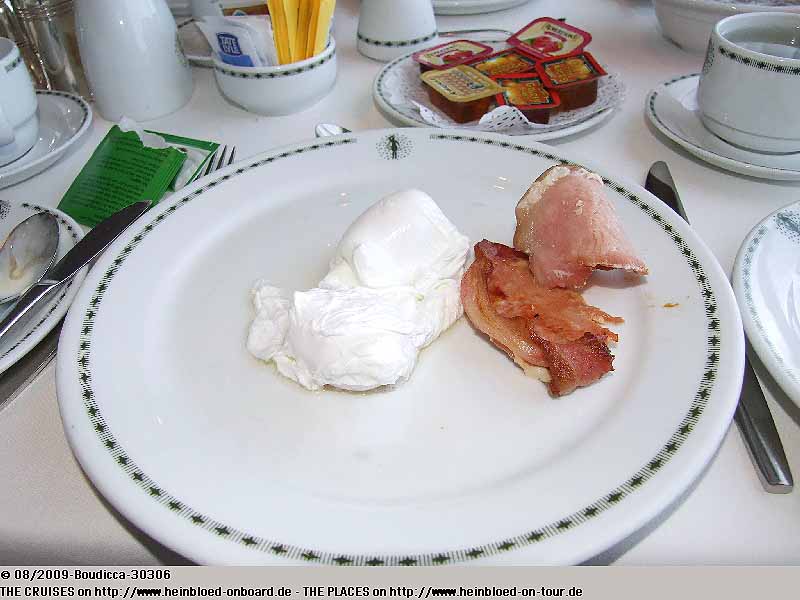 oder an pochierten Eiern... auch wenn es kein Egg Benedict an Bord gibt...
Man kann eigentlich sehr gemütlich von drinnen in "The Observatory" alles beobachten.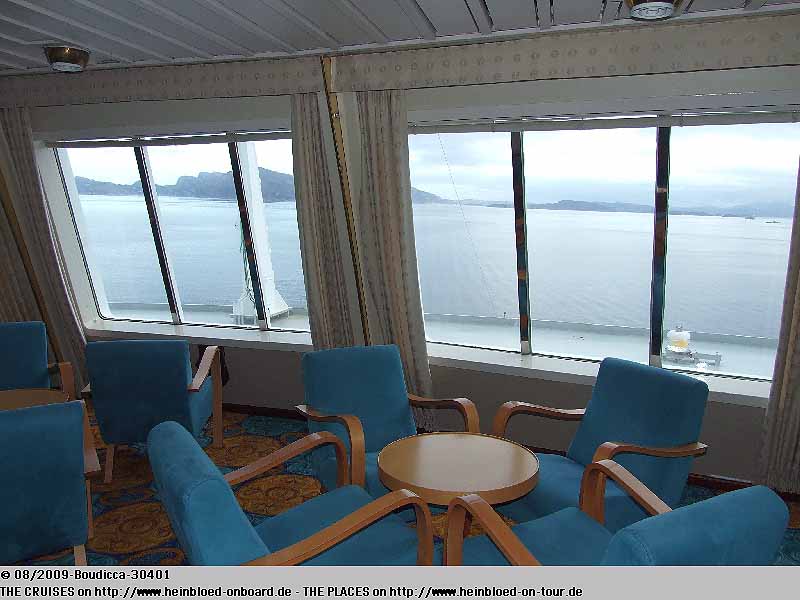 It was very comfortable to sit inside and enjoy everything from The Oberservatory.

A very nice view to the front without having booked a Yacht Club Suite.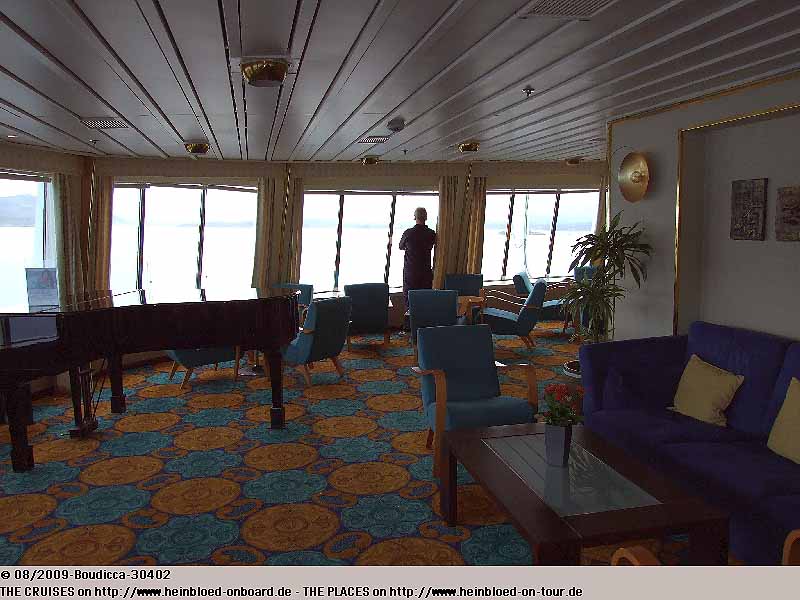 Schöner Ausblick nach vorne, ohne dass man eine Suite im Yacht Club gebucht haben muss.
Vor allem: man muss nicht mal eigene Ferngläser mitbringen.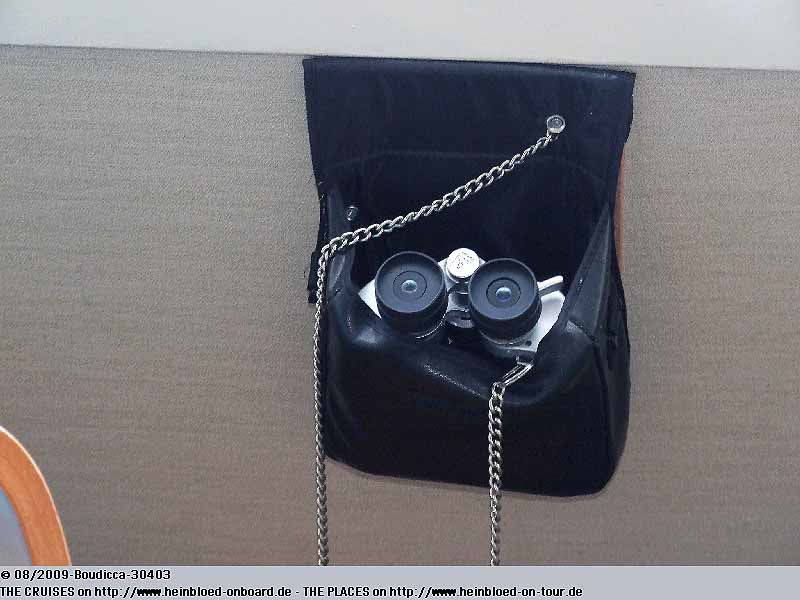 Especially: you do not need to have your binocular of your own with you.

If I remember properly: Aurora means bad weather - or???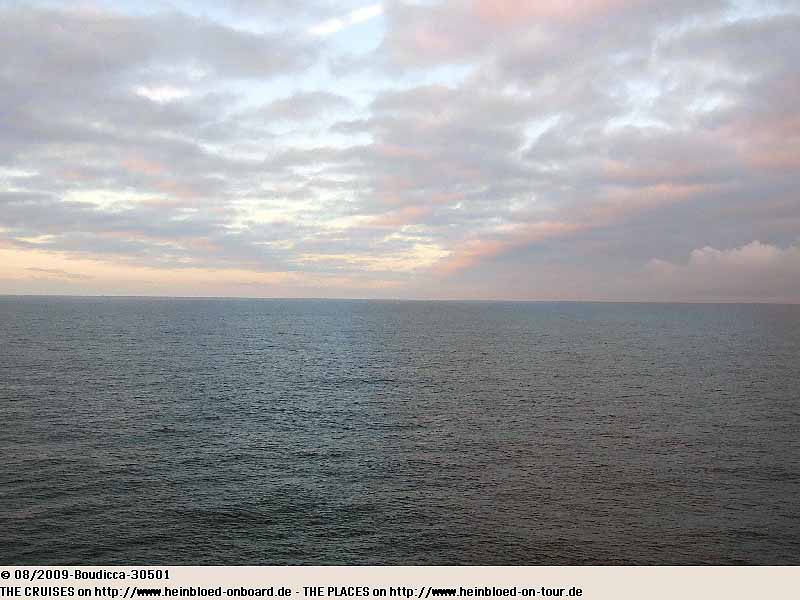 Wie war das: Morgenröte bringt ja schlechtes Wetter...
Endlich Land in Sicht...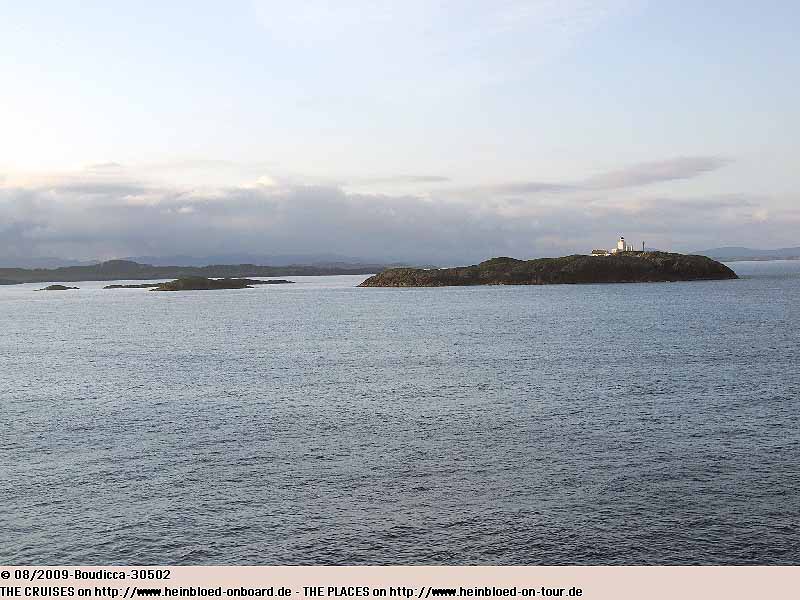 Finally land in sight...

We had to slow down to pass the islands.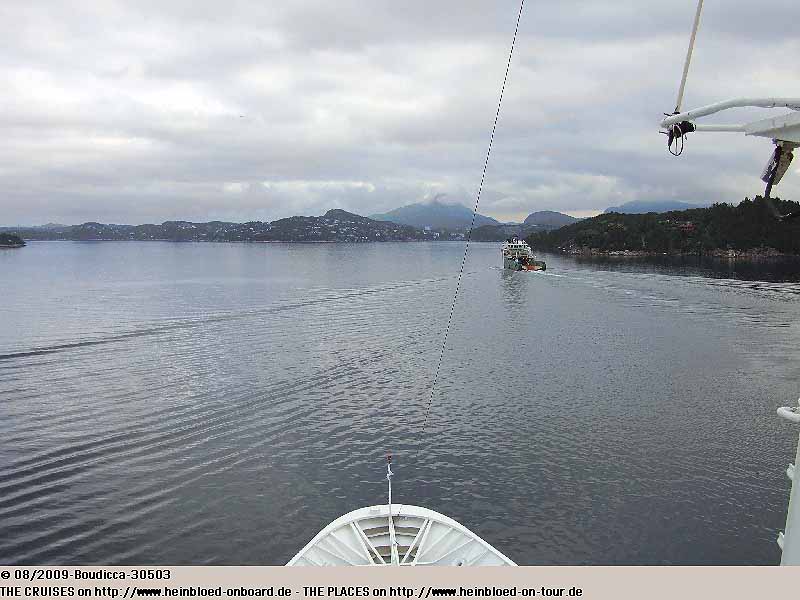 Wir fahren langsam zwischen den Inseln durch.
Uns überholt ein "Pick-Up" (Was ist das??? Vor allem der komische Bug???).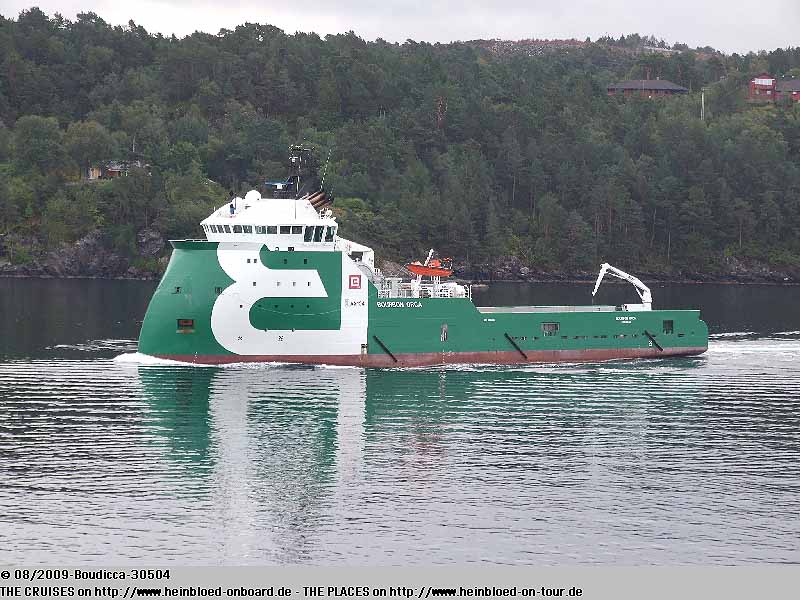 A "pick-up" passed us (What is this??? Especially the strange bow???)

As there are fast ferries coming and leaving: we need to be close to a larger port.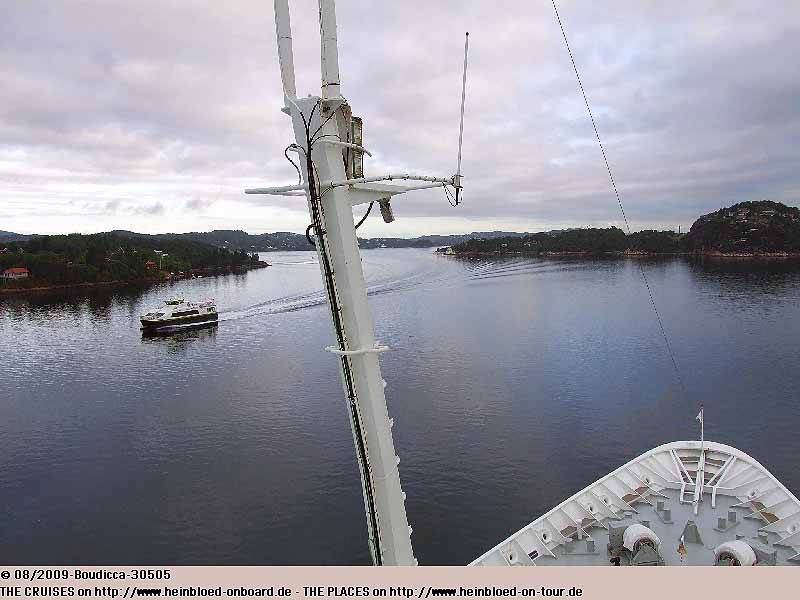 Da immer mehr Schnellfähren auftauchen, müssen wir schon in der Nähe eines großen Hafens sein.
Hier könnte ich mir vorstellen, meinen Ruhestand zu verbringen und den Schiffen beim Ein- und Auslaufen zuzugucken... So für den Sommer und im Winter immer noch Bermudas...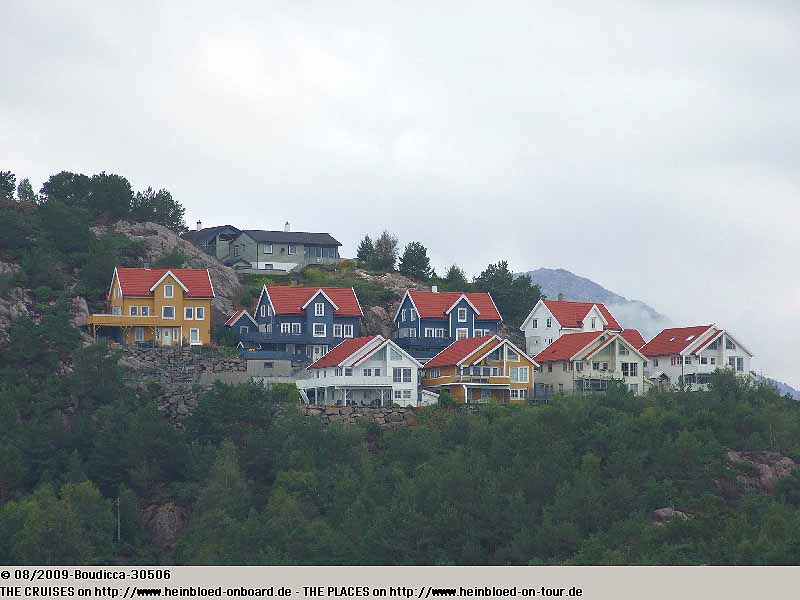 I think that this is nice place for retirement to watch the ships arrving and leaving... For the summer and in the winter still on Bermudas.

Again a fast ferry...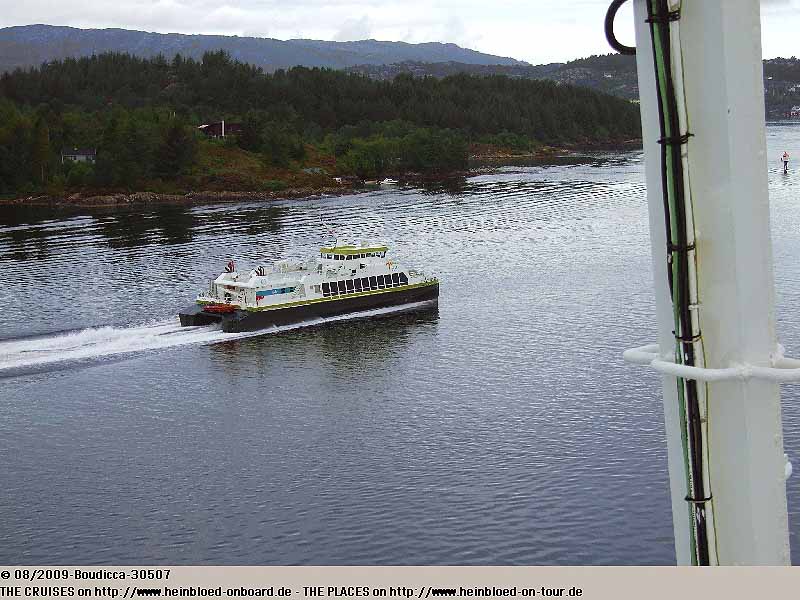 Schon wieder eine Schnellfähre.
Oder wäre das für den Ruhesitz mit eigenem Leuchttürmchen besser geeignet???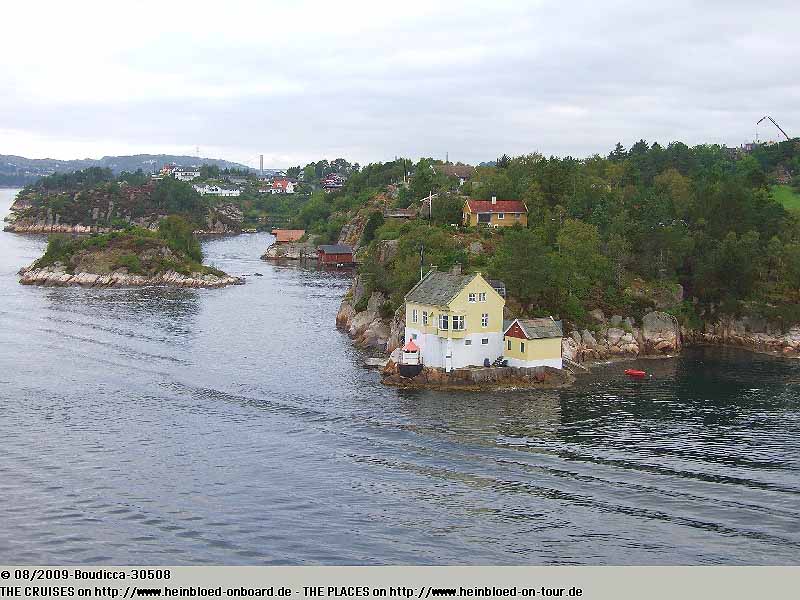 Or maybe this is better for retirement... with a small lighthouse of its own???

And again a fast ferry...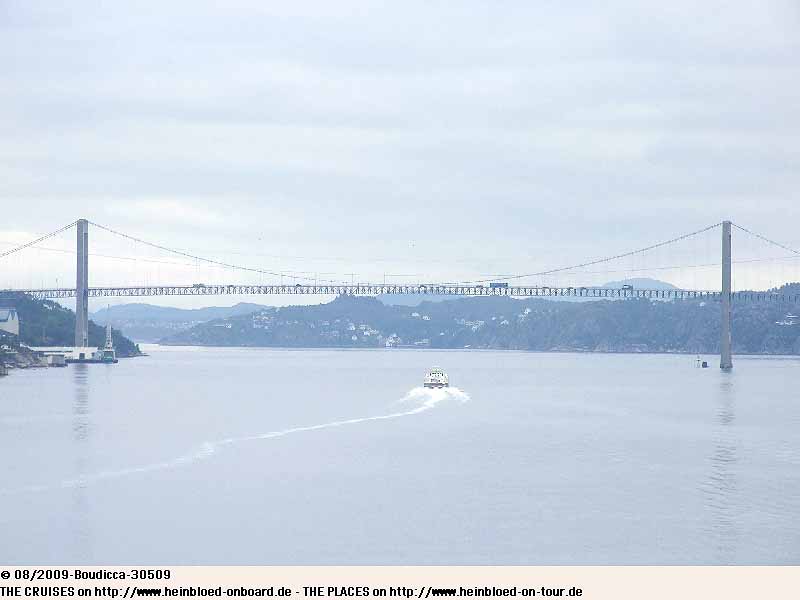 Und wieder eine Schnellfähre...
Langsam wird es urbaner...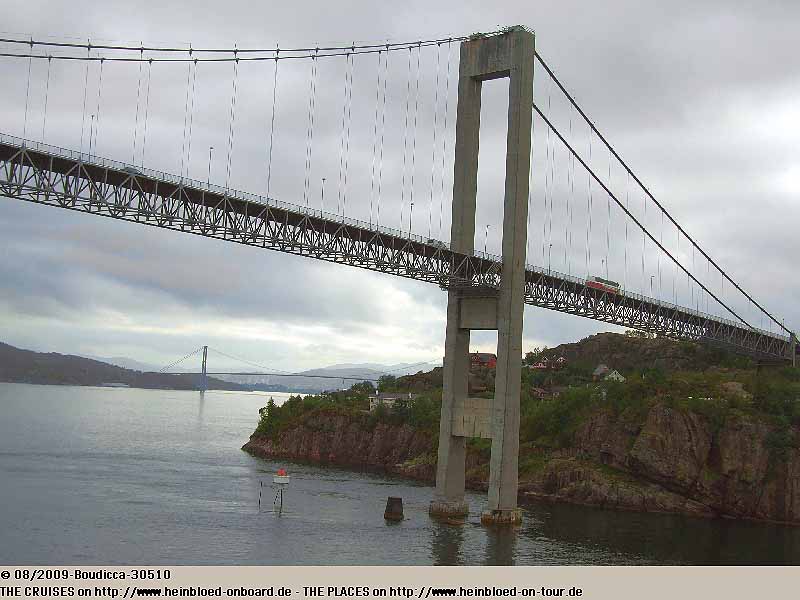 It became more urban and urban...

...and behind the second bridge you see Bergen with the mountains in the clouds...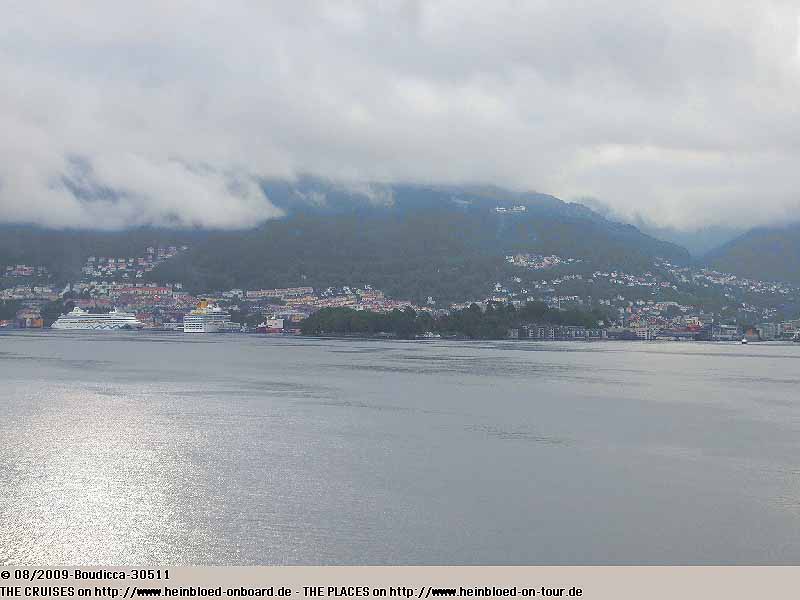 ... und nach der zweiten Brücke sieht man Bergen und leider die Berge in Wolken...
... ein AIDA- und ein COSTA-Schiff warten bereits im Hafen. Der Schiffsform nach zu urteilen: EURODAM, QUEEN VICTORIA und jetzt COSTA LUMINOSA.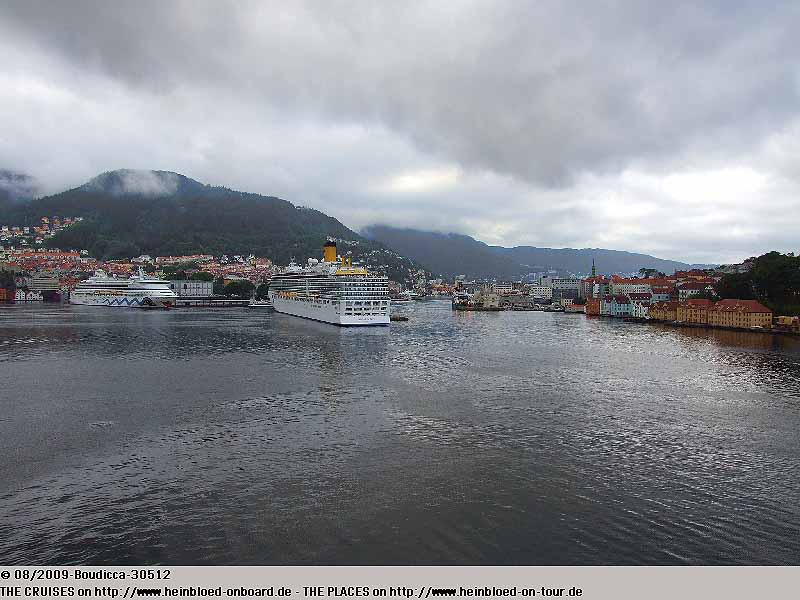 ... an AIDA and a COSTA-ship were waiting already in port. The ship's shape looks like: EURODAM, QUEEN VICTORIA and now COSTA LUMINOSA.

The shore side looks very inviting.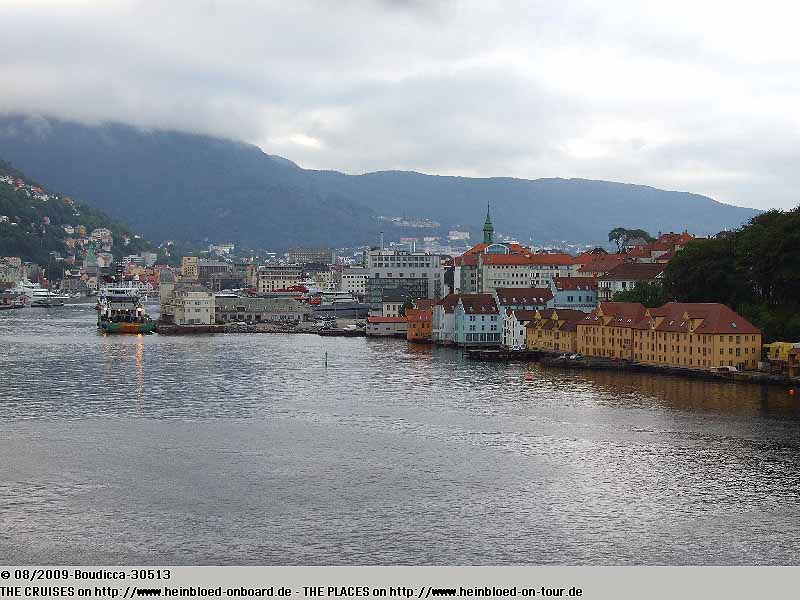 Das sieht doch schon mal vom Land her sehr interessant aus.
Gegen 09.00 Uhr legen wir an und nutzen die Zeit für ein paar Aufnahmen von der AIDAaura...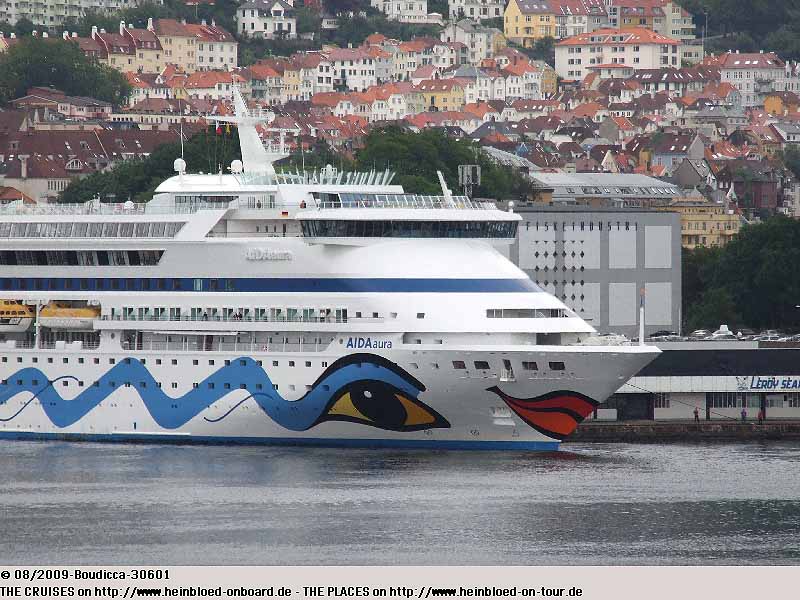 Around 09.00 hrs we berthed and we used the time for some pictures of AIDAaura...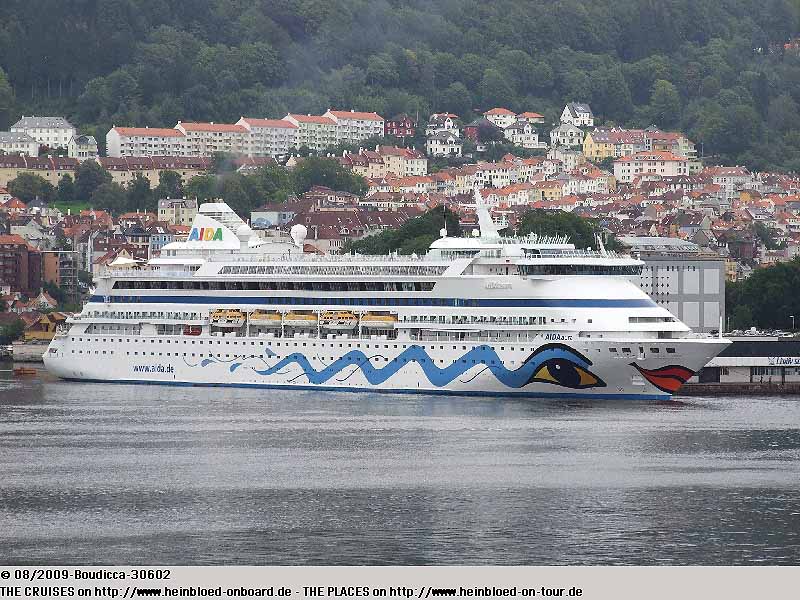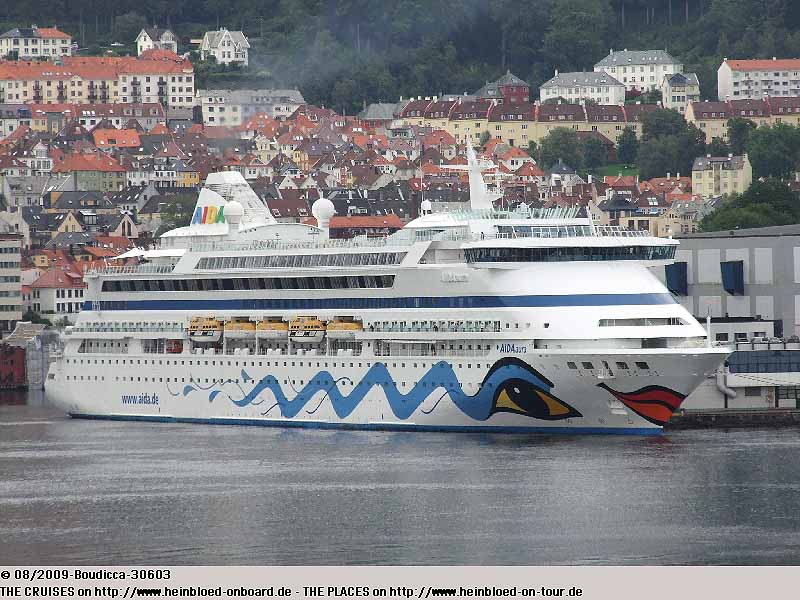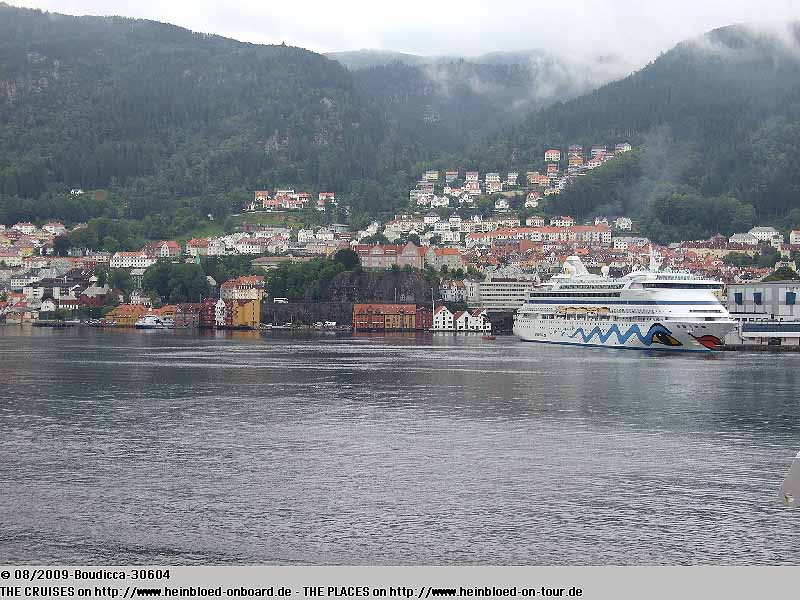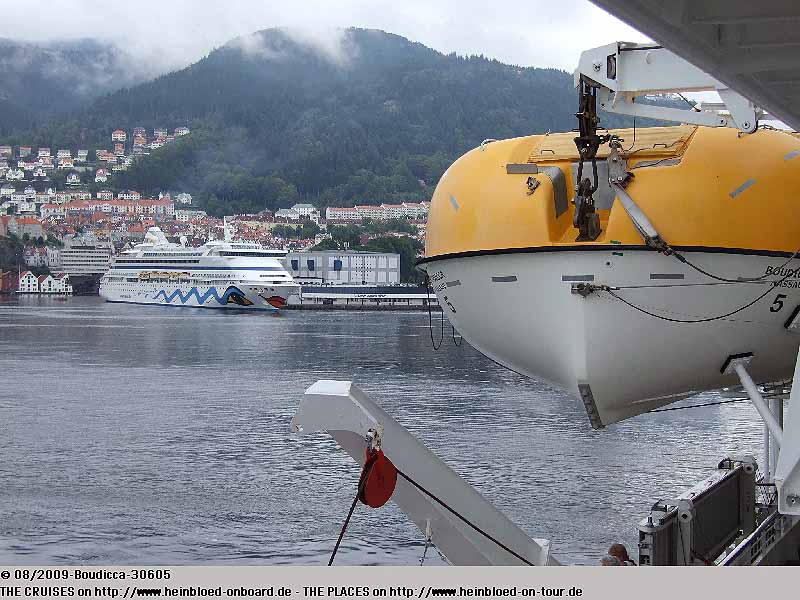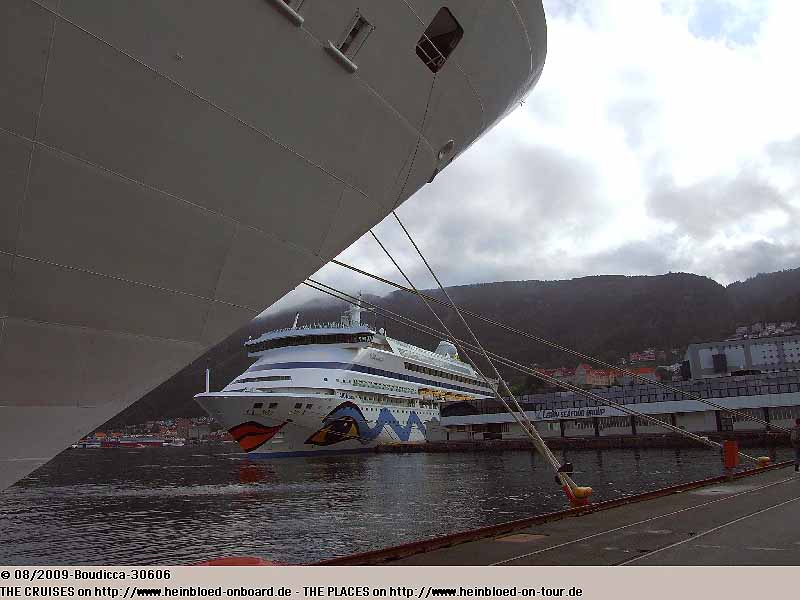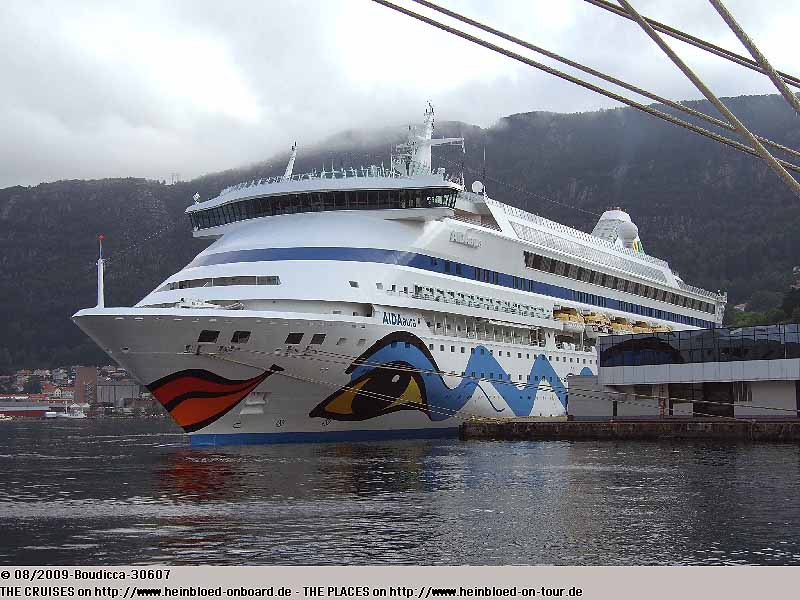 ... und COSTA LUMINOSA...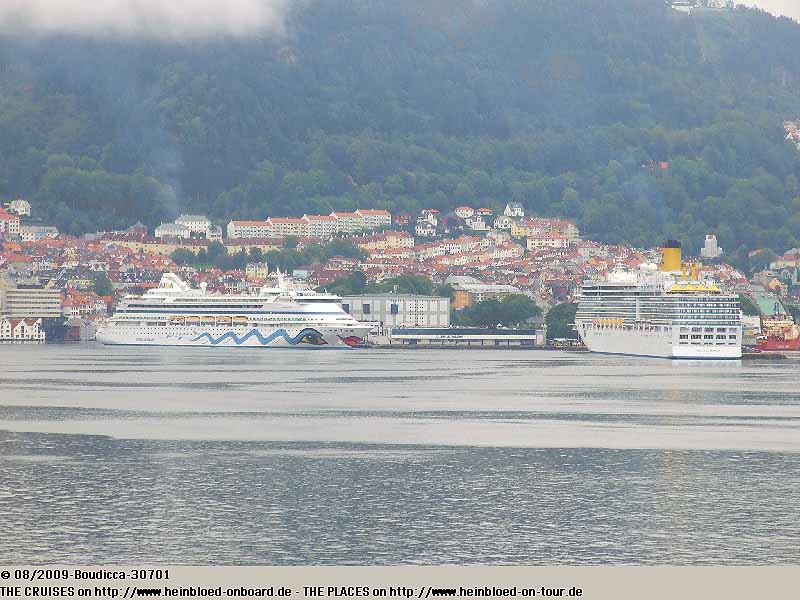 ... and COSTA LUMINOSA...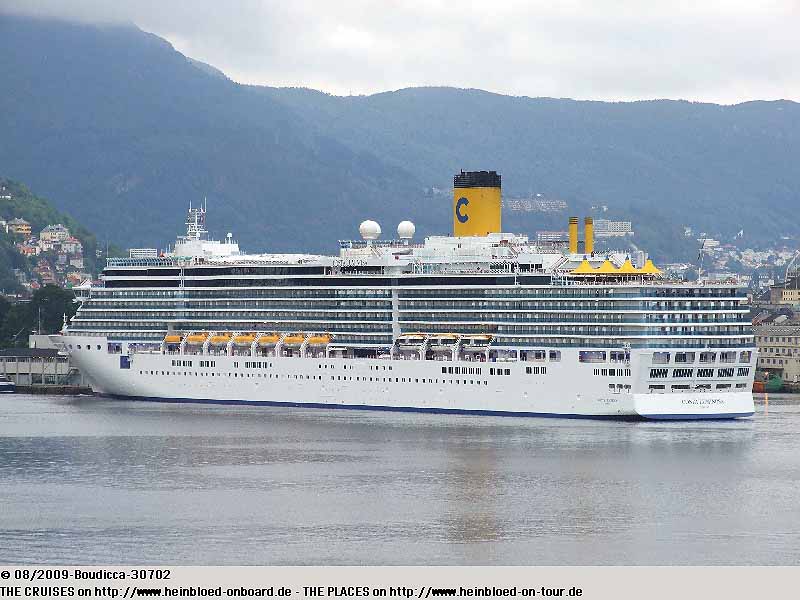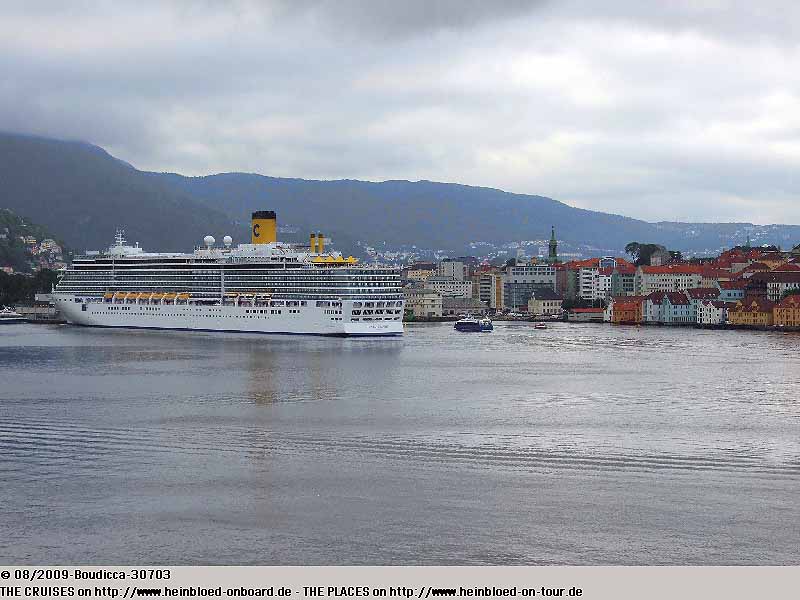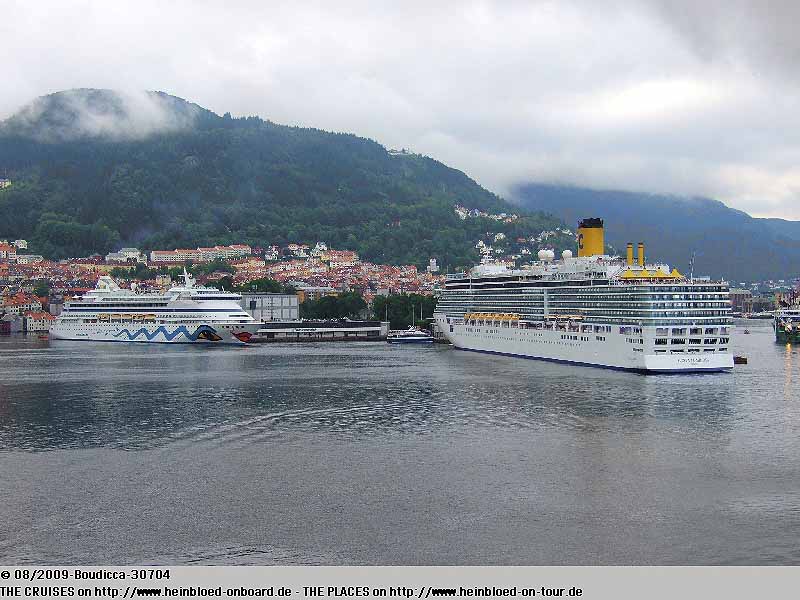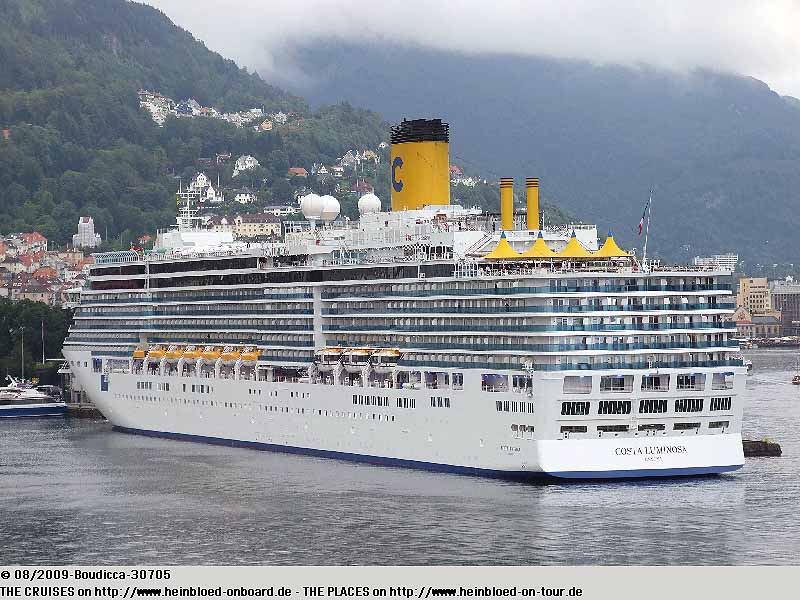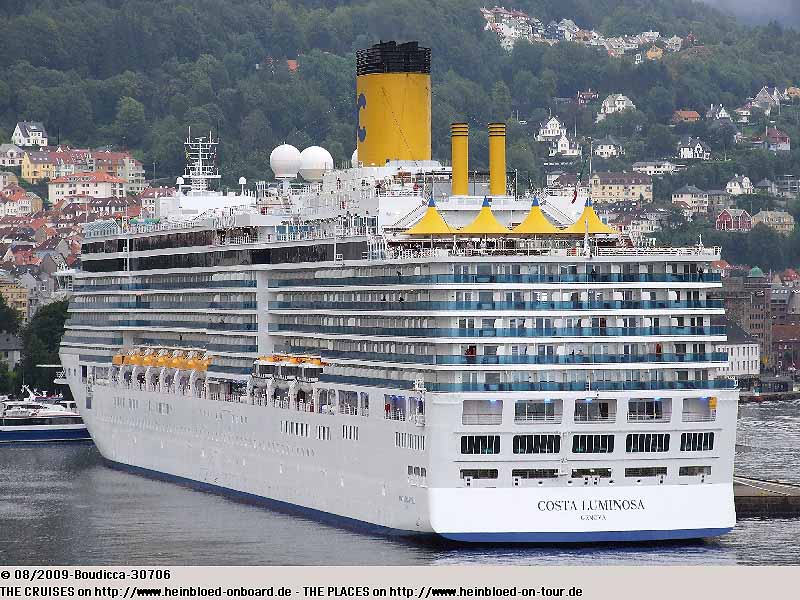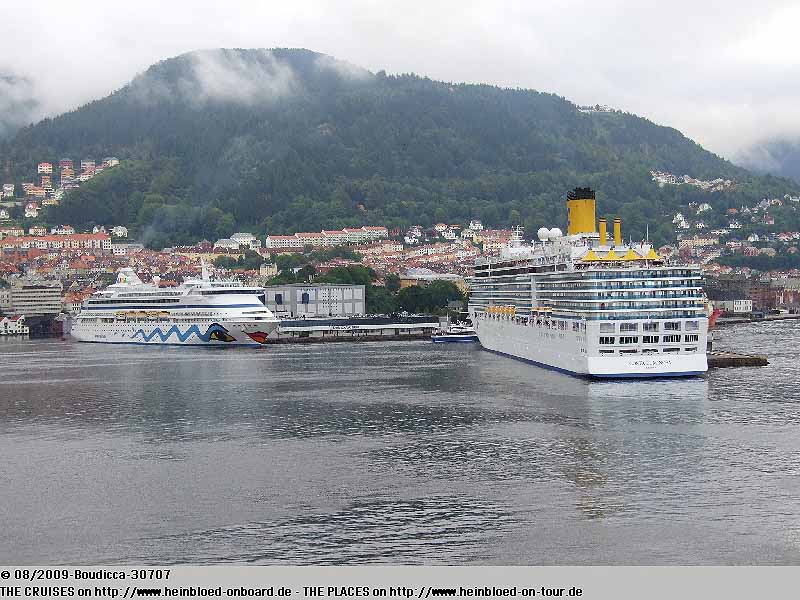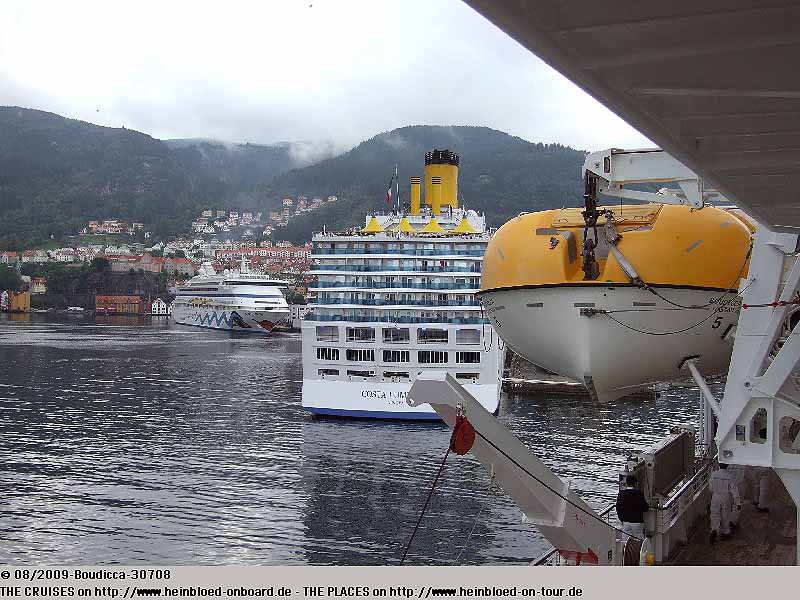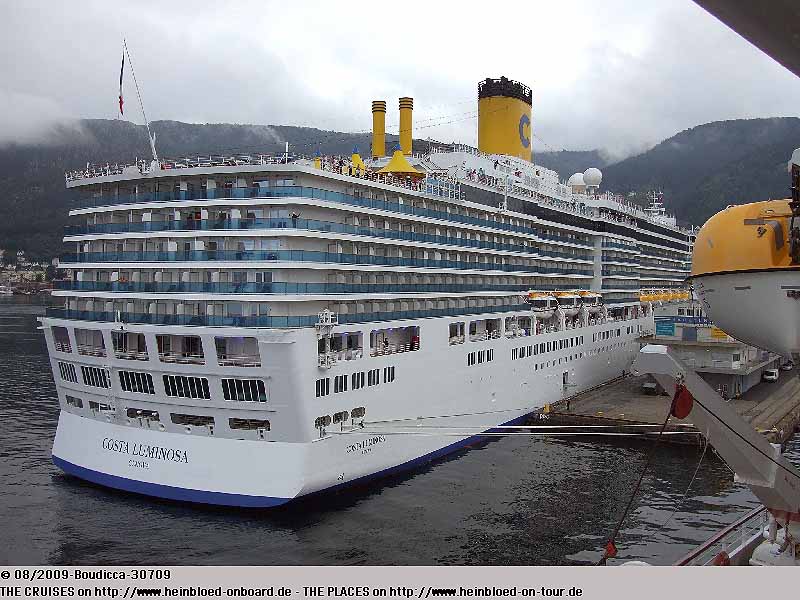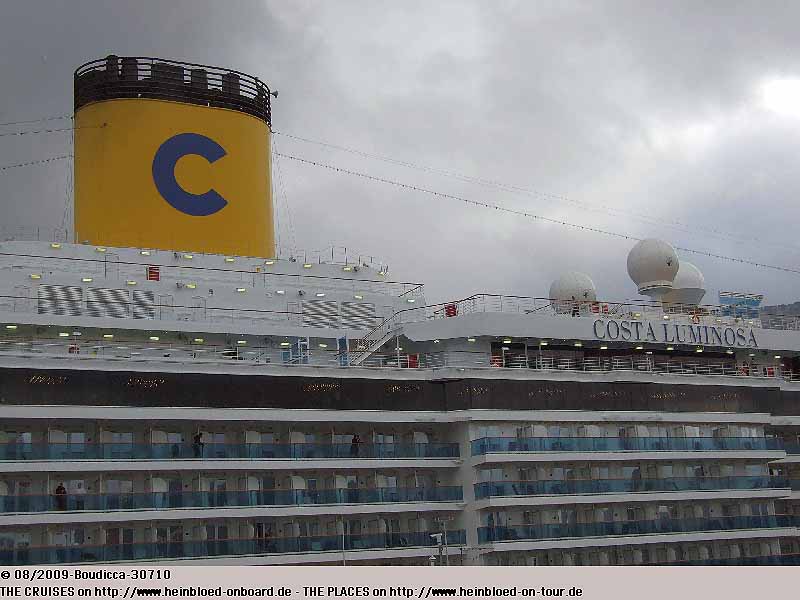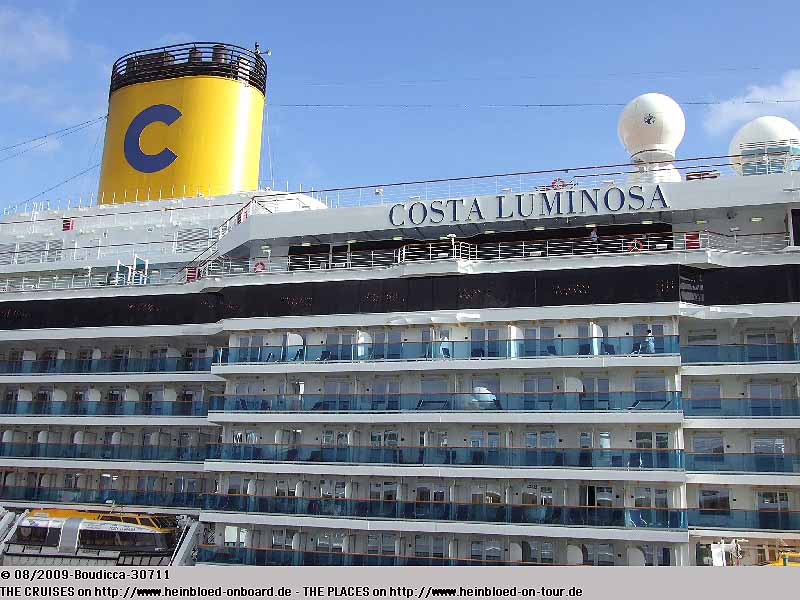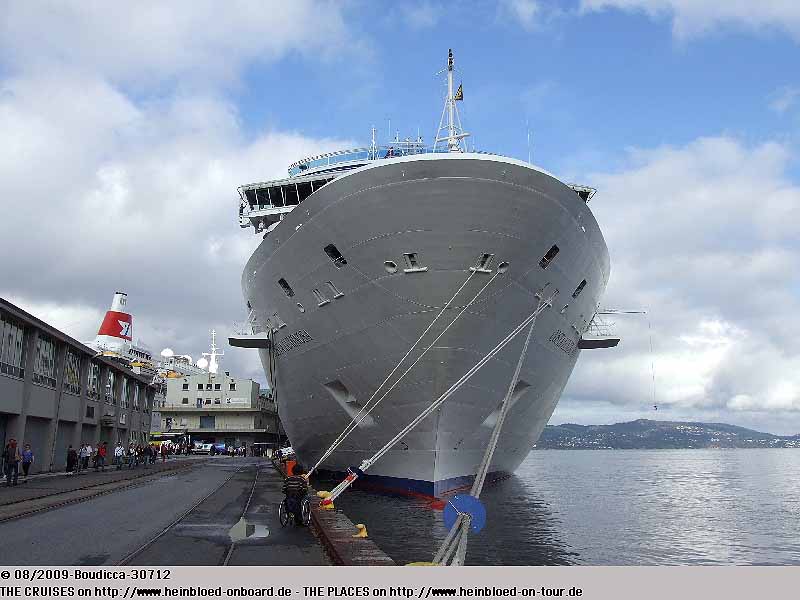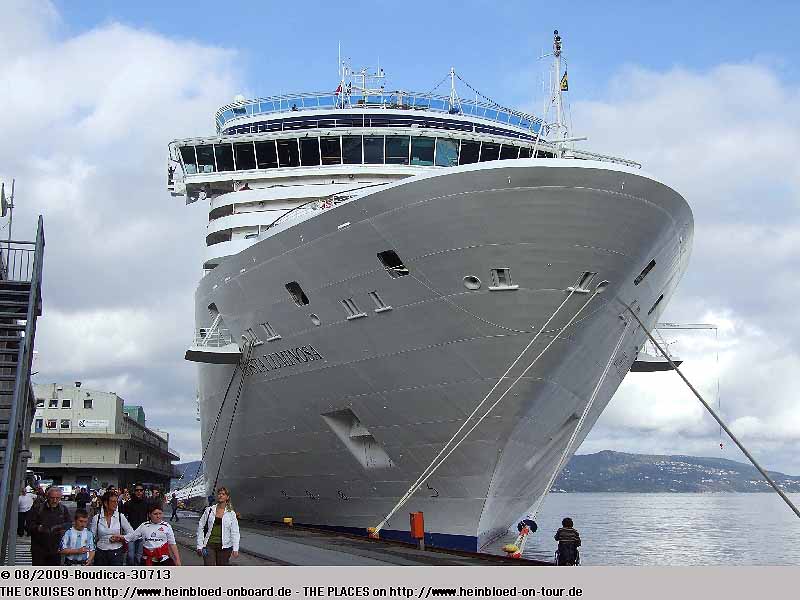 Bloß unser Schiff bekomme ich auch hier in Bergen nicht fotogen auf das Bild.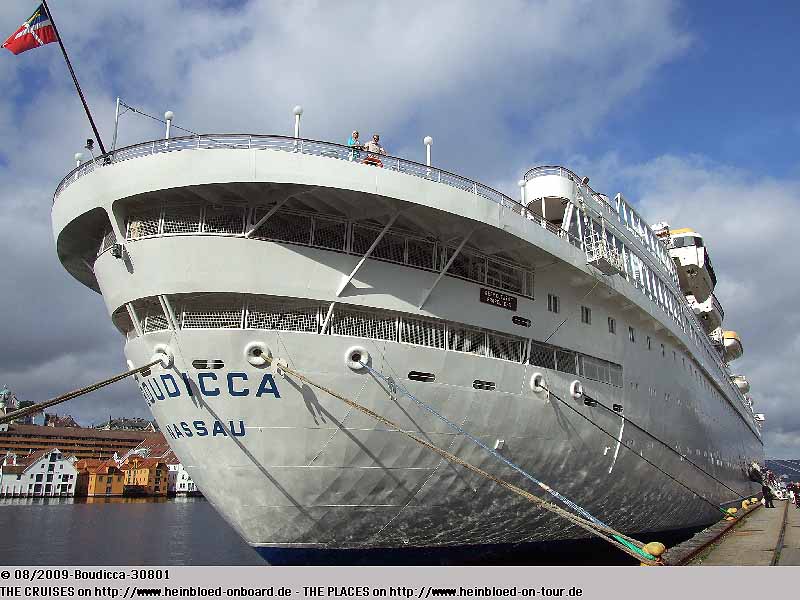 And again I cannot our ship in a good position on my pictures.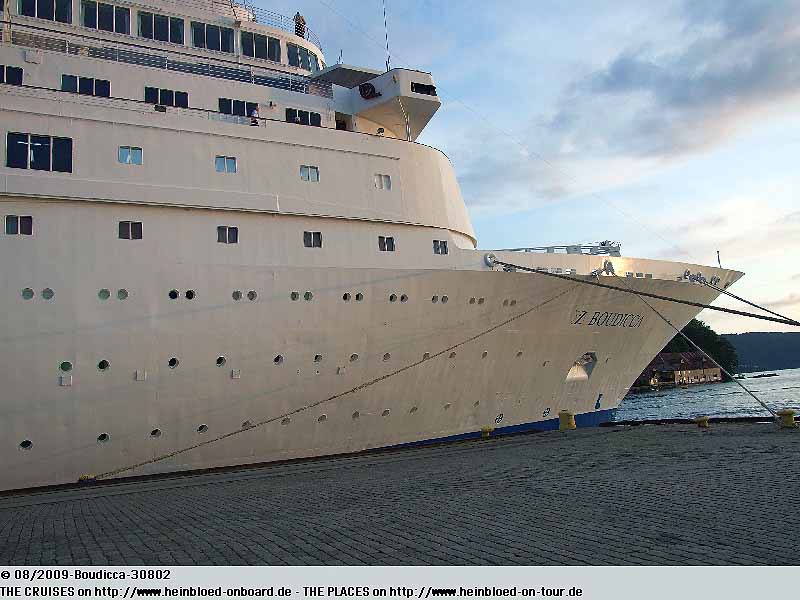 It's a shame that I had no chance to take pictures of our ship from the front.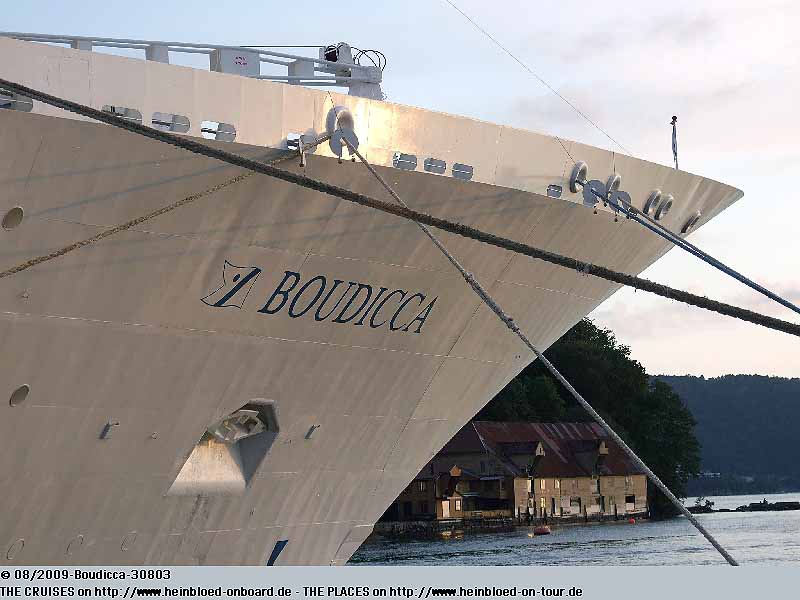 Schade, dass ich bislang noch nicht einmal Gelegenheit hatte, das Schiff vernünftig von vorne zu fotografieren.
Kurz nach 09.00 Uhr wird bereits das Schiff freigegeben und wir begeben uns zum Ausgang.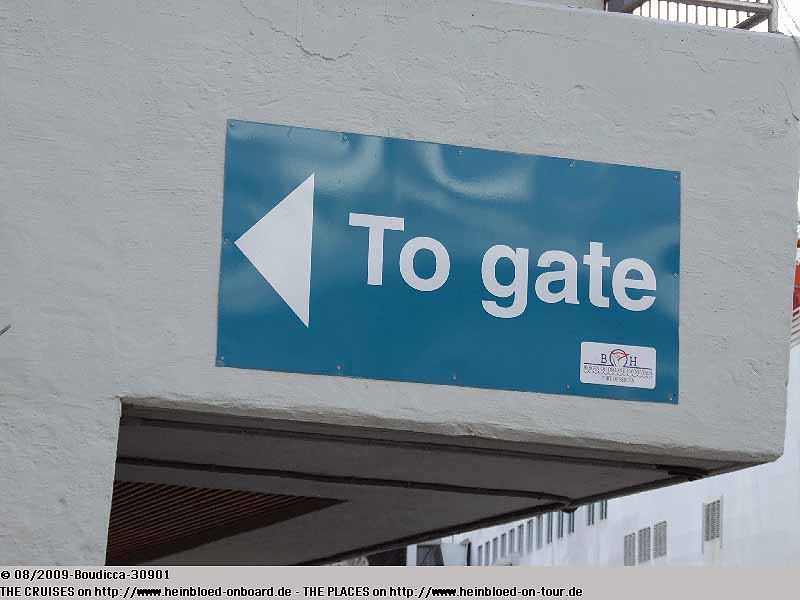 Few minutes after 09.00 hrs the ship was cleared and we went to the exit.

The waiting lounge looked like it had a good internet access. Maybe we will have a chance to see it tonight when we are back.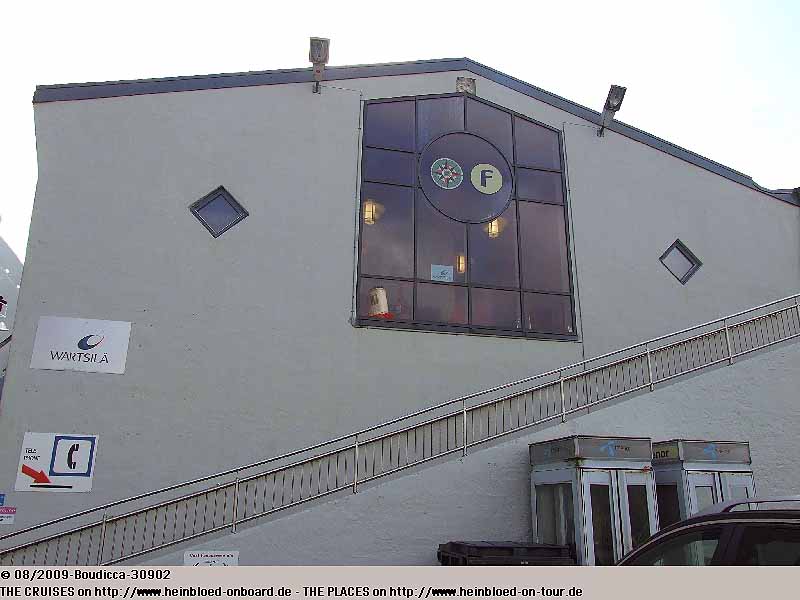 Dieser Wartesaal oben hat doch bestimmt einen guten Internetzugang. Vielleicht kommen wir ja mal abends noch hin.
Es gibt sogar ein interessantes Geschäft, aber leider schloss es bereits um 18.00 Uhr, obwohl wir erst um 23.00 Uhr auslaufen.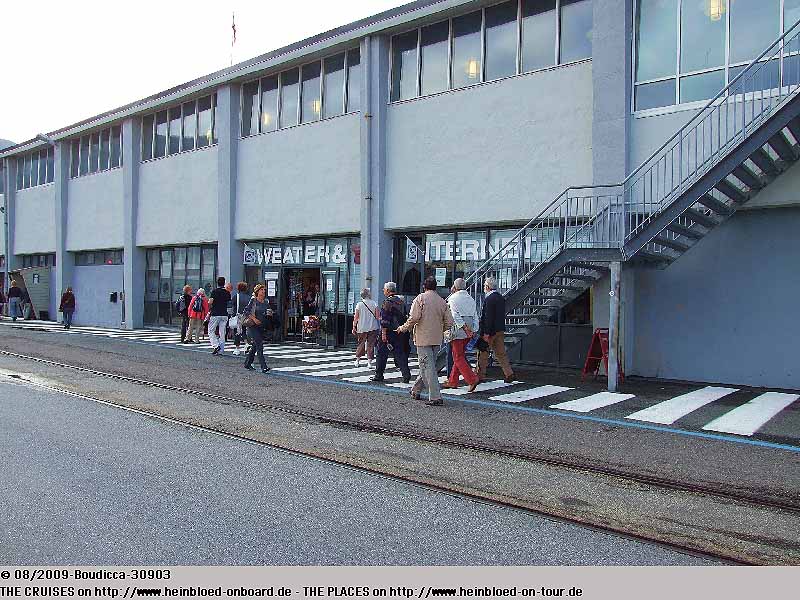 There was also an interesting shop but it closed at 18.00 hrs although we are leaving at 23.00 hrs.

Right at the terminal building you need to walk in.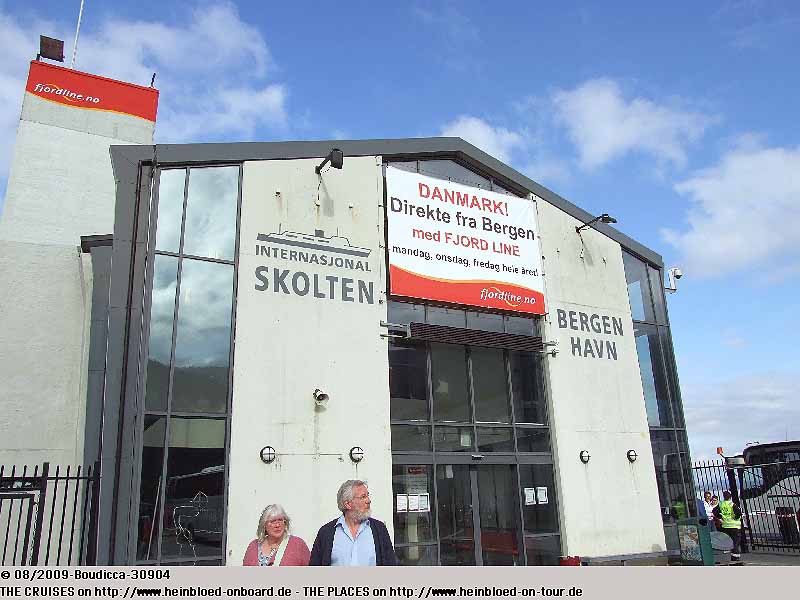 Rechts am Terminal geht es rein.
Später als wir zurückkommen entdecken wir ein weiteres Internet-Café direkt an unserem Hafengebäude, an dem wir angelegt haben. Nur hat es bereits auch schon zu.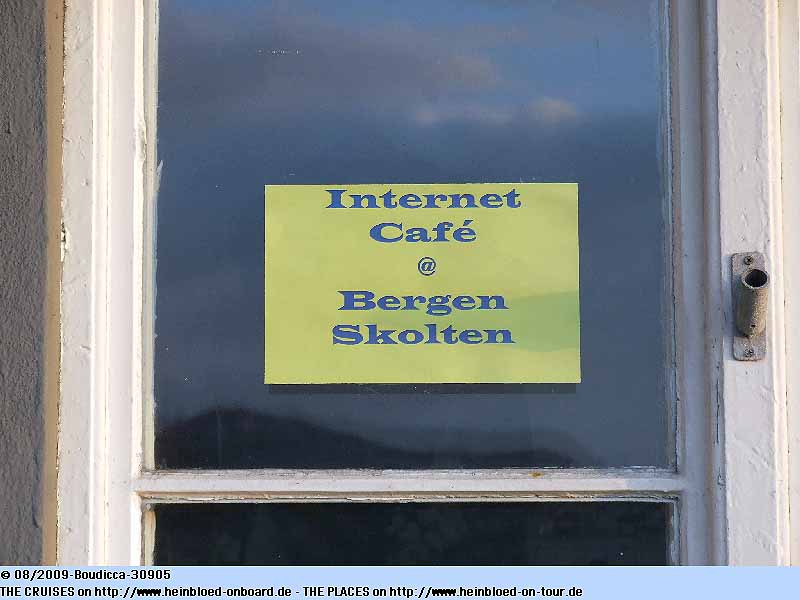 Later when we were back we discover another internet-café in this port building we berthed next to. But it's also closed now.

Outside the terminal building we could have transfered to the Mt. Ursula double decker bus.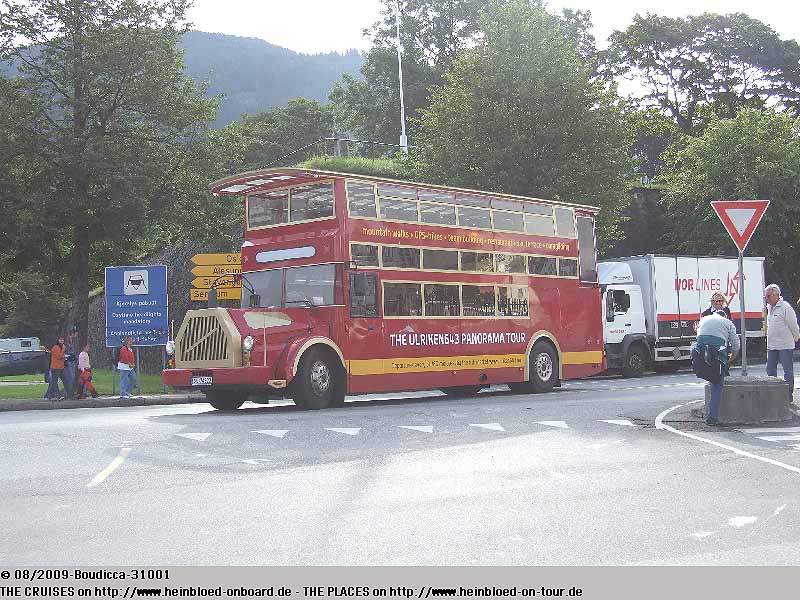 Draußen hätten wir also direkt in den Doppeldecker zum Mt. Ursula einsteigen können.
Wenn man weiterläuft, dann sieht man, dass es noch ein Alternativangebot gibt.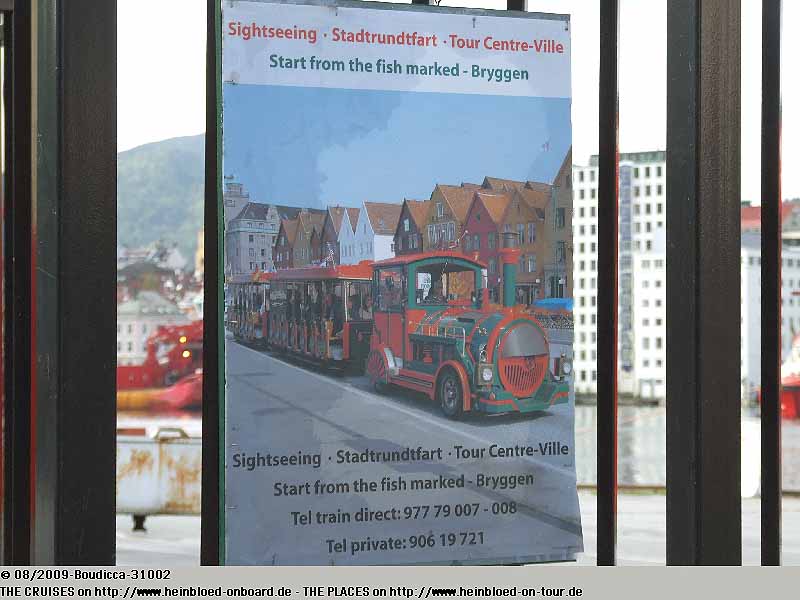 When you continue to walk you see alternatives.

Bryggen is so close: just round the corner and you see it.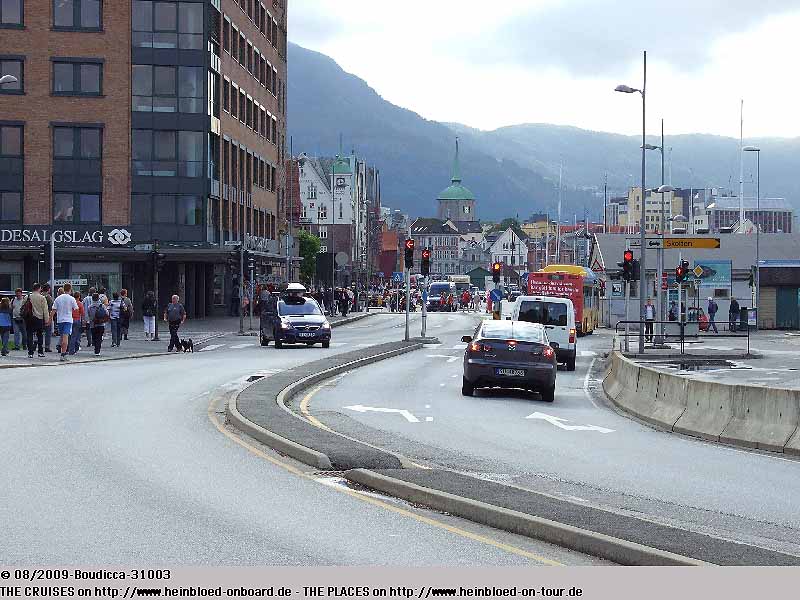 So nah ist also Bryggen. Einmal um die Ecke und schon sieht man es.
Und auch der Fischmarkt ist auch schon am Ende des Hafenbeckens zu sehen.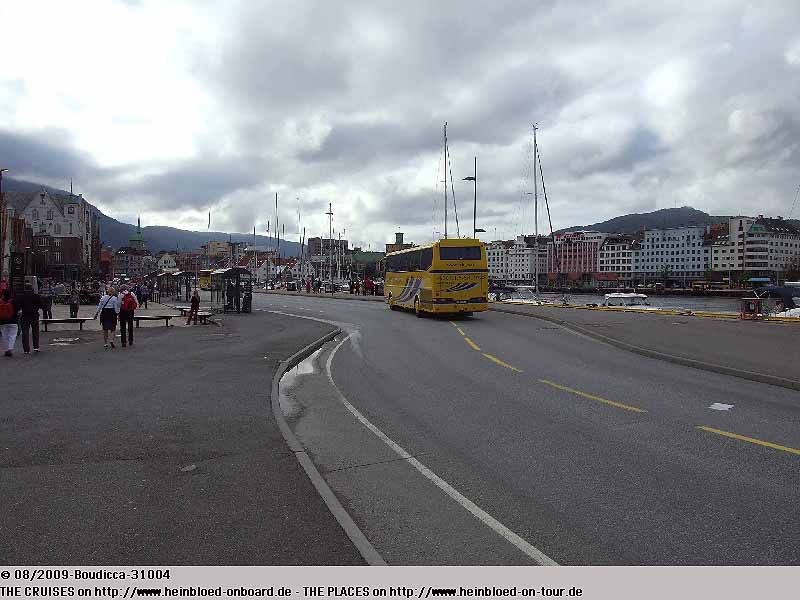 And at the end of the bay: you can see already the Fishmarket.

Unesco-World Culture Heritage:
https://whc.unesco.org/en/list/59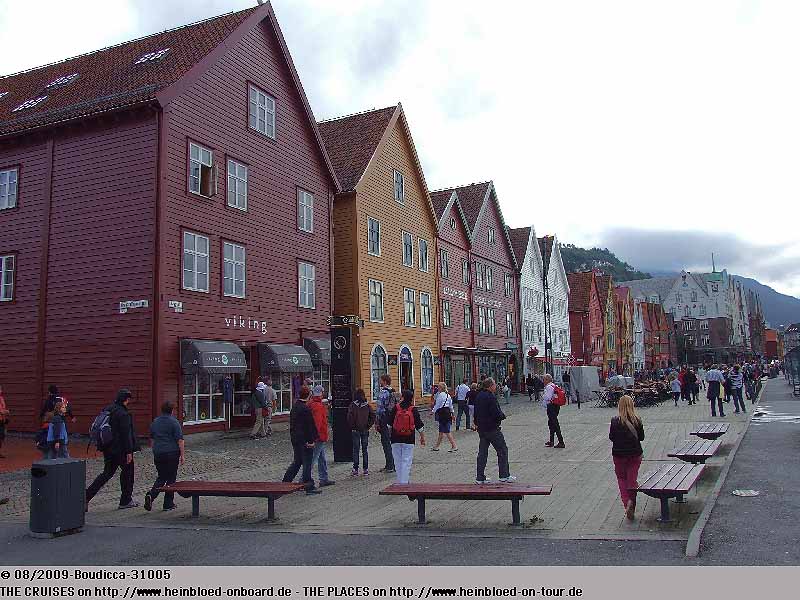 Unesco-Weltkulturerbe:
https://whc.unesco.org/en/list/59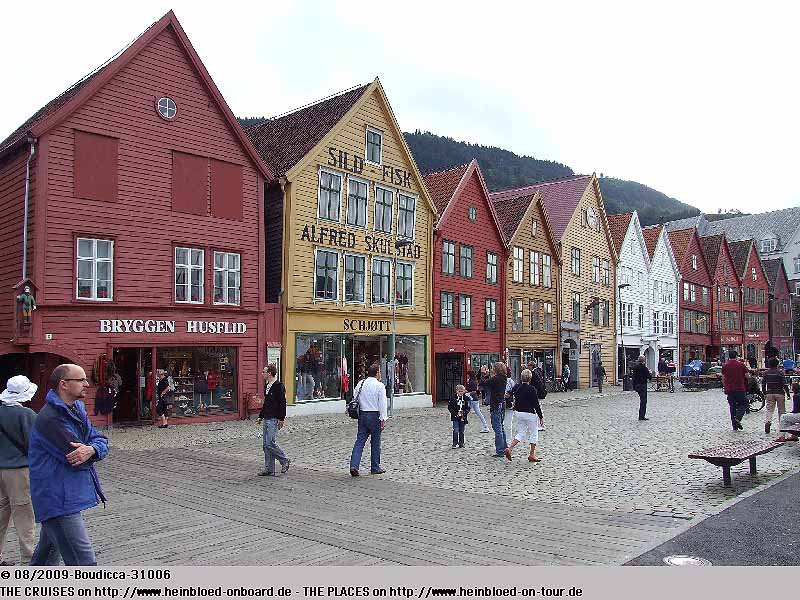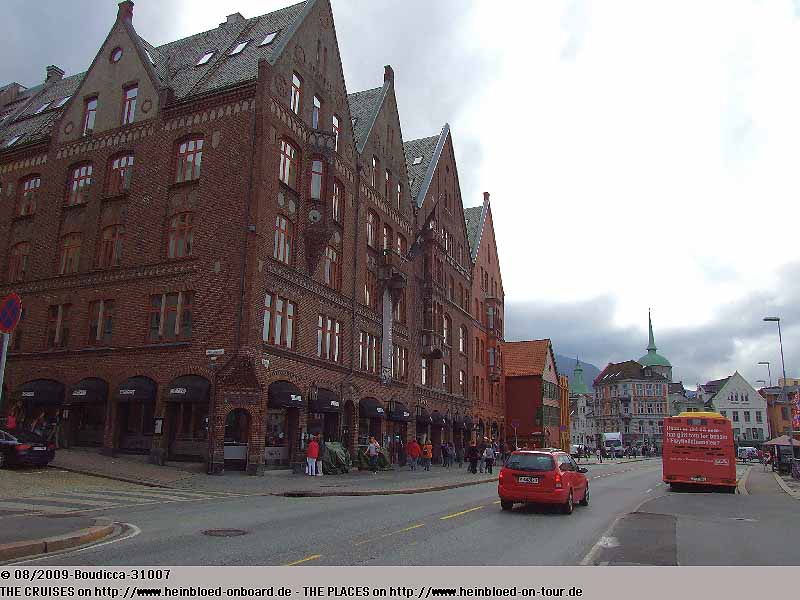 Hier startet also die kleine Bahn.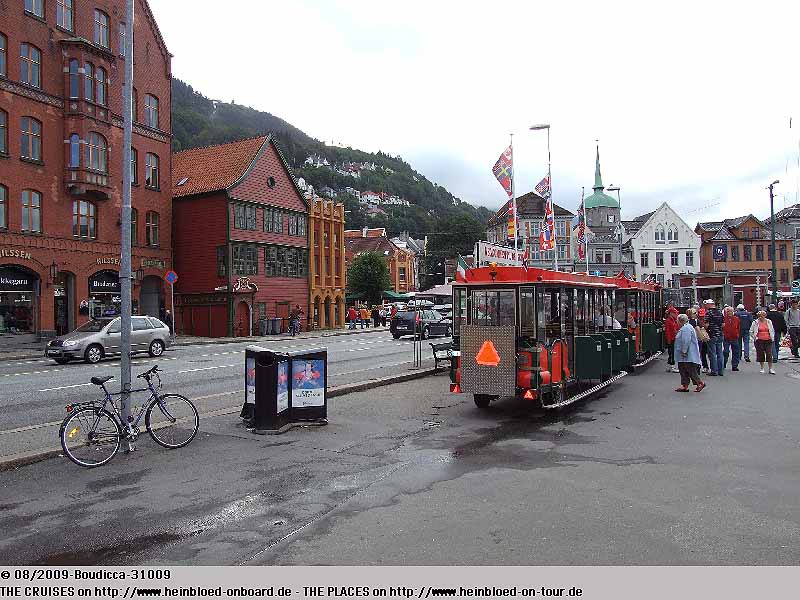 Here starts the little train.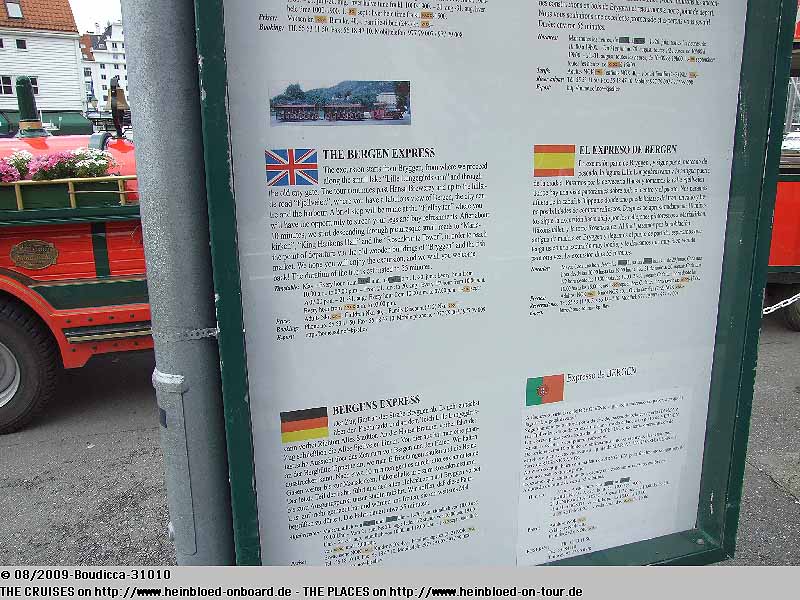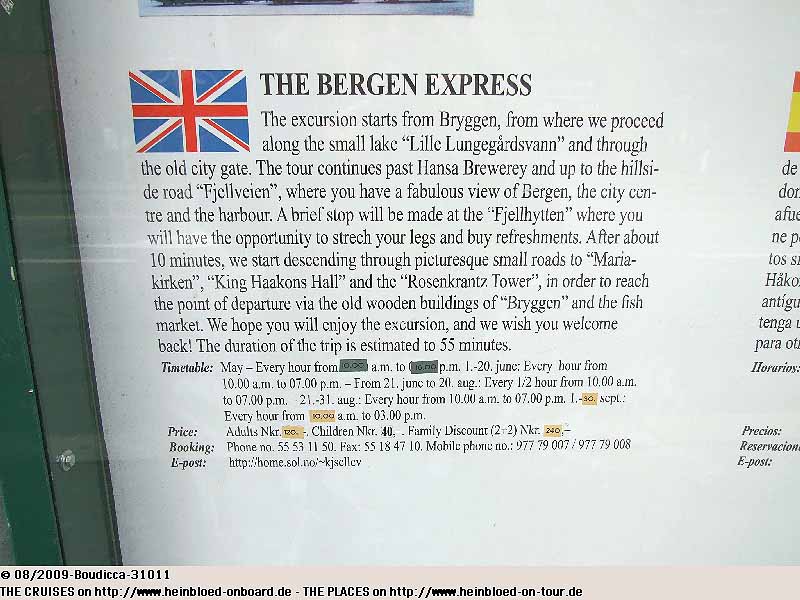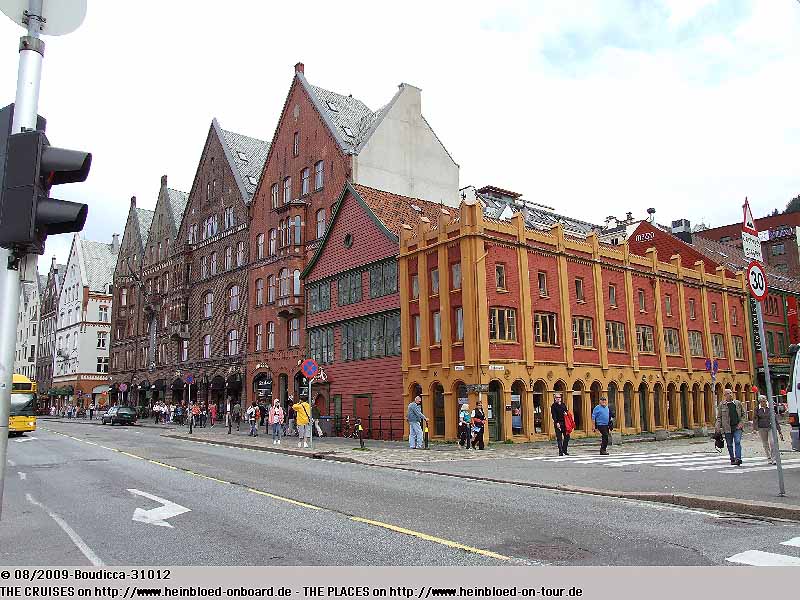 Leider haben wir keine Zeit für einen Bummel über den Markt, da wir schnell zum Bahnhof müssen.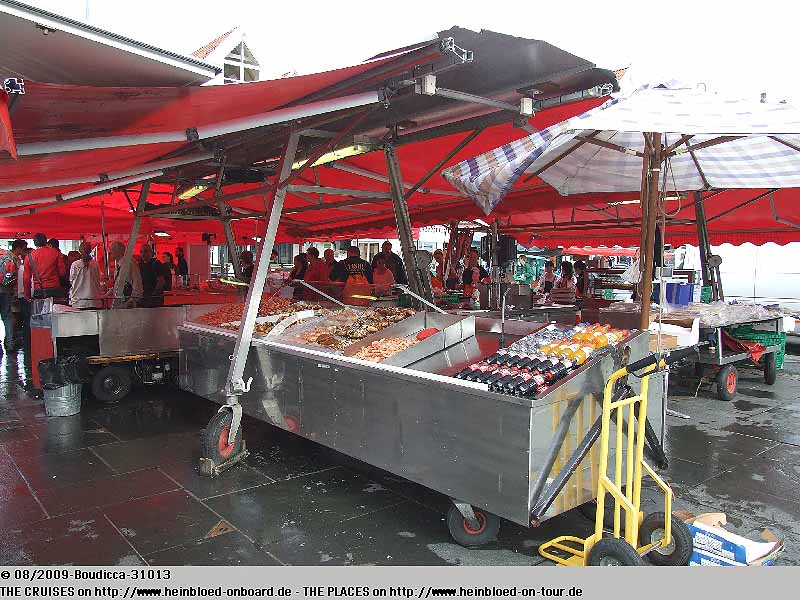 Unfortunenately there was not enough time for an intensive walk trough the market as we need to get as soon as possible to the train station.

So we passed the tourist office...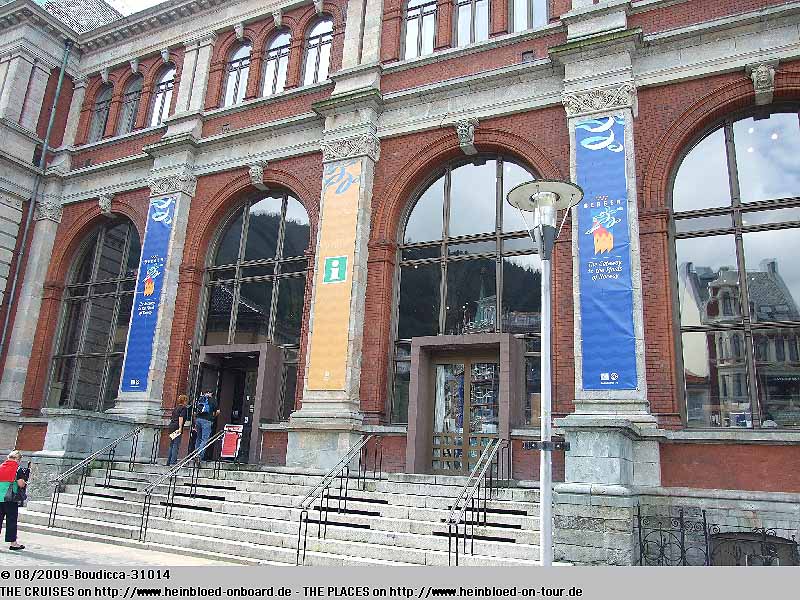 So laufen wir noch an der Touristen-Information vorbei...
und das hier, was immer es auch ist...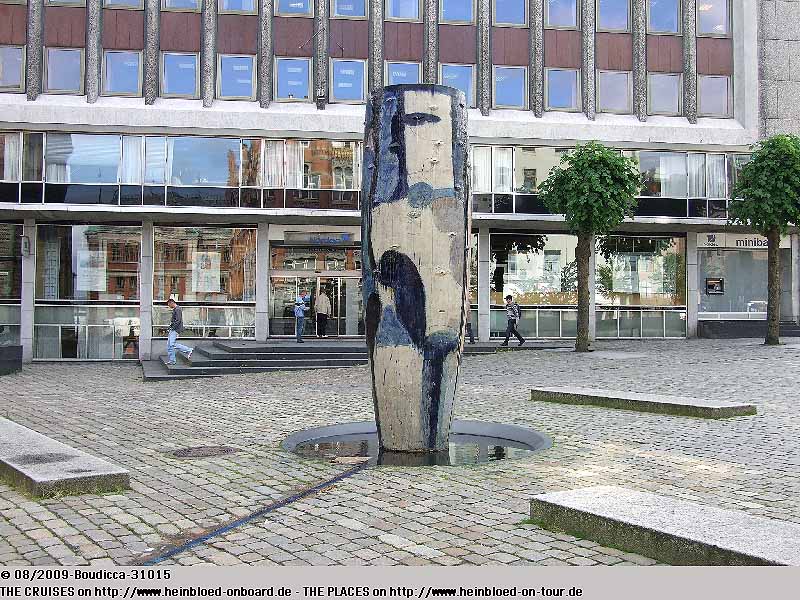 ... and whatever this is...

And even a global acting company like McDonald's need to adjust their appearance to the stlye of the Old Town.

We need to continue. Our train for our "Norway in a Nutshell" tour was waiting. And that's what you need to do too.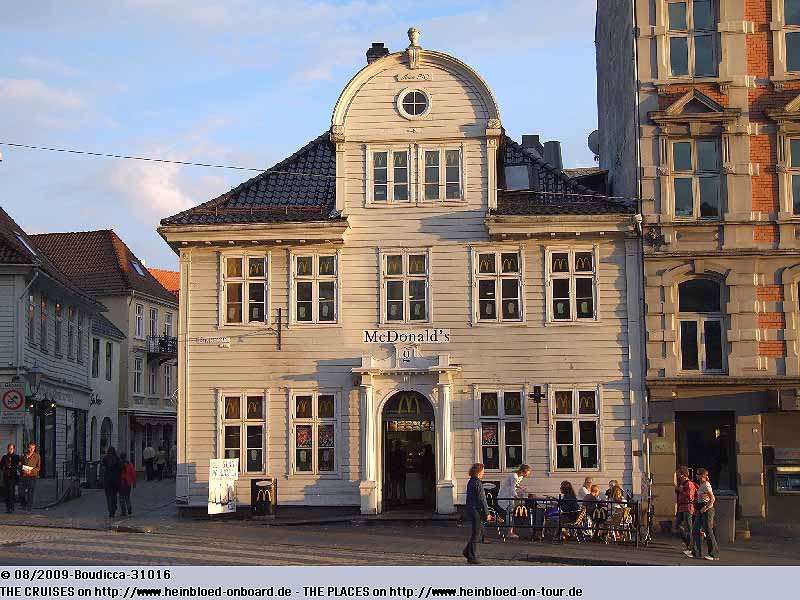 Und sogar ein Weltkonzern wie McDonald's muss sich äußerlich an die Altstadt anpassen.
Wir müssen weiter. Unser Zug für unsere "Norway in a Nutshell" wartet. Ihr müsst leider auch auf den nächsten Teil warten.