Scroll down for English explanations - alternates with German explanations.

Wir haben Glück: obwohl wir nicht die ersten im Bus sind: die erste Reihe ist noch frei - also nutzen wir das.
Da wir eh die einzigen Deutschen an Bord sind, hätten wir vielleicht unser Badetuch mitnehmen sollen, um auch alle Vorurteile zu pflegen.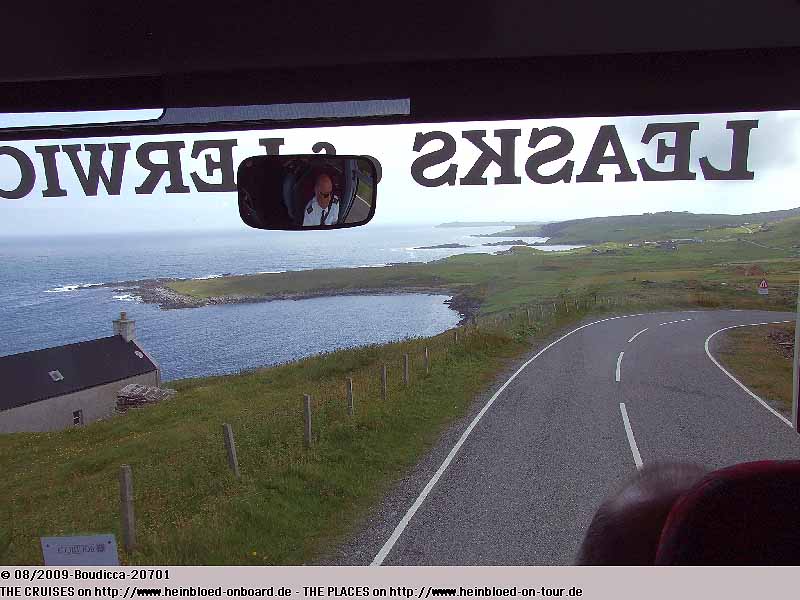 We were lucky: we were not the first in the bus but the first row was still vacant so we took it.

To mantain the prejudice against Germans we should have some towels with us for the seats.

No - the picture has not been shrinked. The street is so narrow.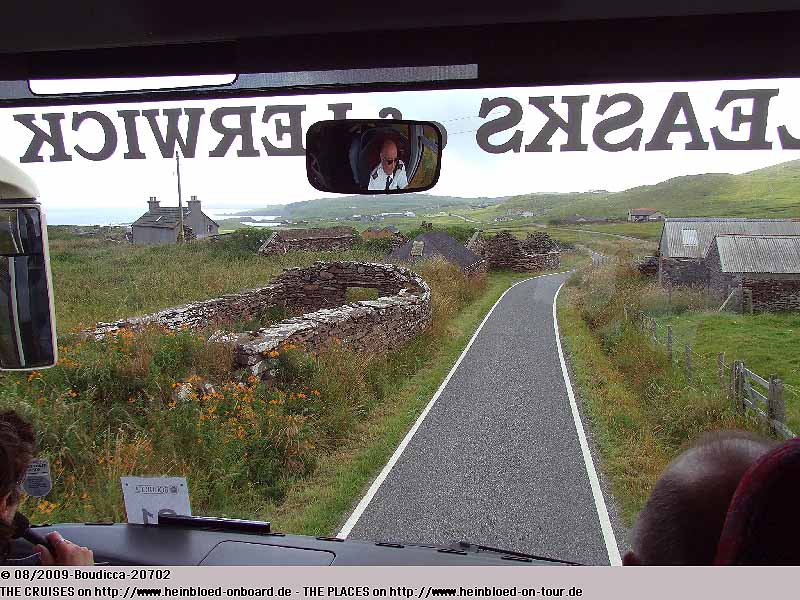 Nein - das Bild ist nicht geschrumpft worden. Die Straße ist tatsächlich nur so breit...
Als unsere Fremdenführerin Nath etwas entdeckt, macht sie spontan einen Fotostop. Nicht der Strand ist das Ziel unserer Neugier...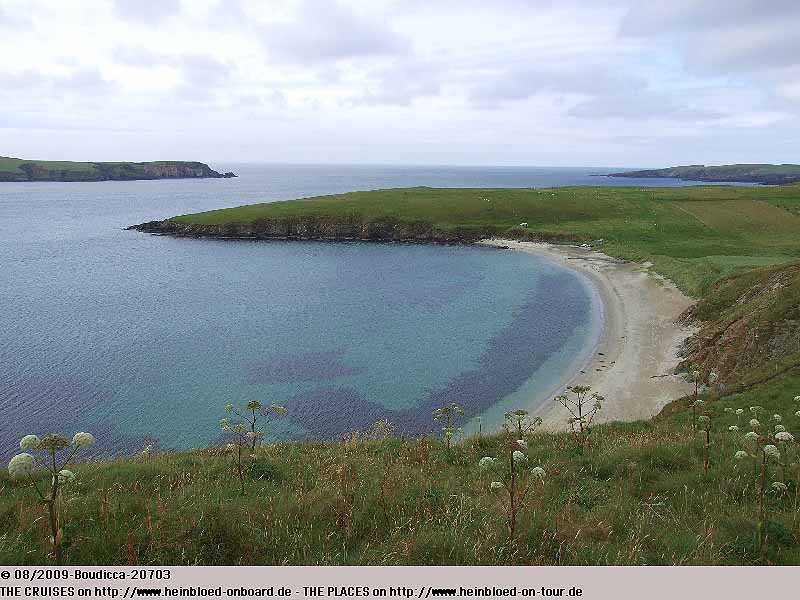 When Nath saw something she stopped for some pictures. It was not the beach she wanted us to see...

but some seals (no idea which concrete) which just enjoyed the sun and the beach.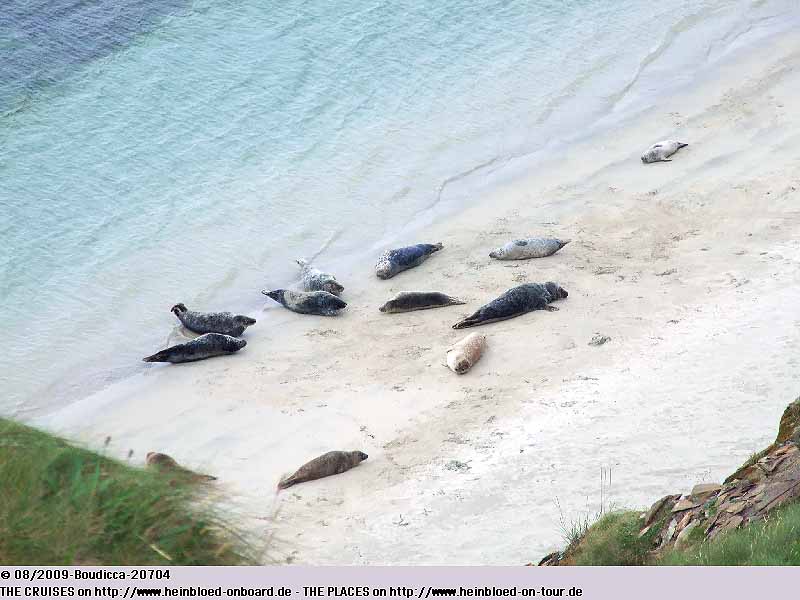 ... sondern die Robben (keine Ahnung welche genau...), die hier die Sonne und die Ruhe des Platzes einfach ausnutzen.
Nach einer guten Stunde erreichen wir das Sumburgh Hotel. Hier besteht die erste Möglichkeit die Toiletten aufzusuchen, obwohl Nath immer angeboten hat, zwischendurch zu halten, falls man es nicht mehr aushält. Das hat sich wohl keiner getraut, weil das Land einfach zu flach war, bis dahin.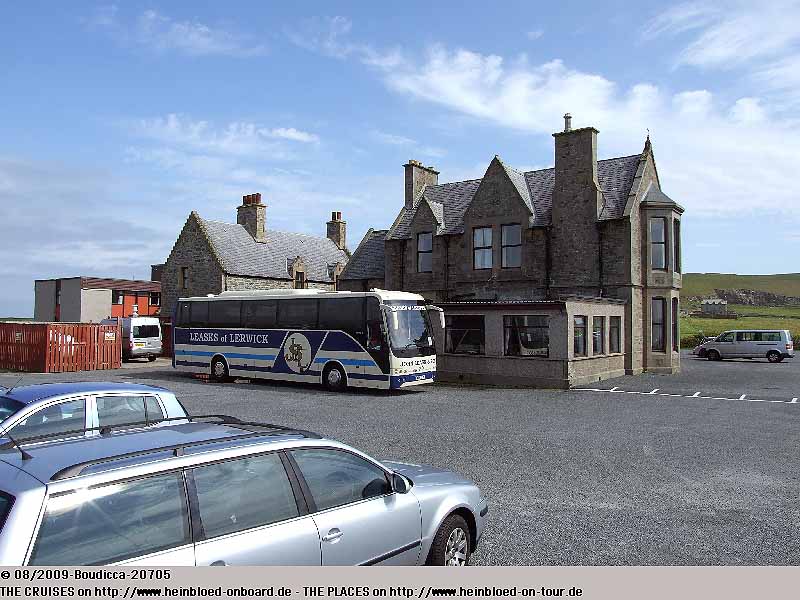 After one hour we reached the Sumburgh Hotel. Nath offered to stop in case of urgency. But the countryside was so flat that none dared to do it.

I did not want a sheepskin but some wool gloves which are in use by members of the Royal Family. They showed me a picture to prove.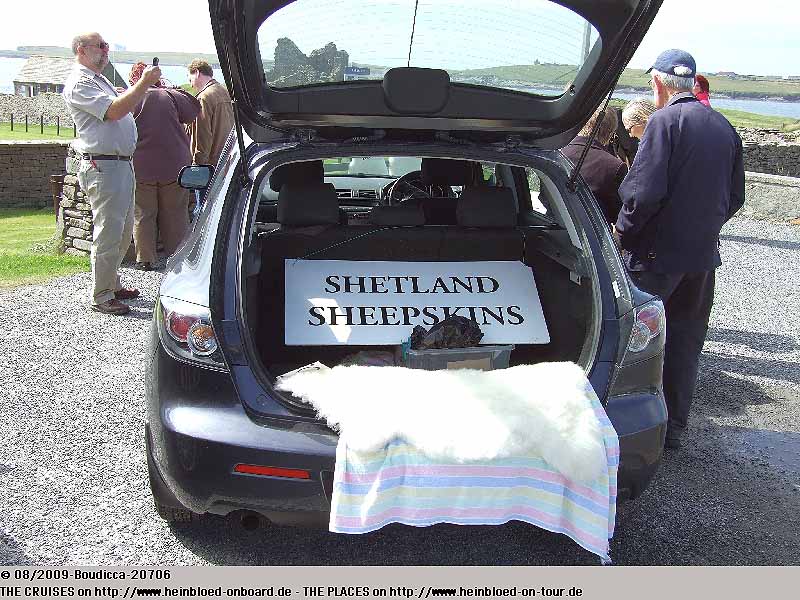 Ein Fell wollte ich mir jedoch nicht kaufen. Aber ich habe mir ein paar Wollhandschuhe gegönnt, die auch im Königshaus getragen werden. Es wurde mir sogar ein Beweisfoto festgelegt.
Jarlshof liegt direkt daneben.
https://www.historic-scotland.gov.uk/propertyresults/propertyoverview.htm?PropID=PL_162&PropName=Jarlshof%20Prehistoric%20And%20Norse%20Settlement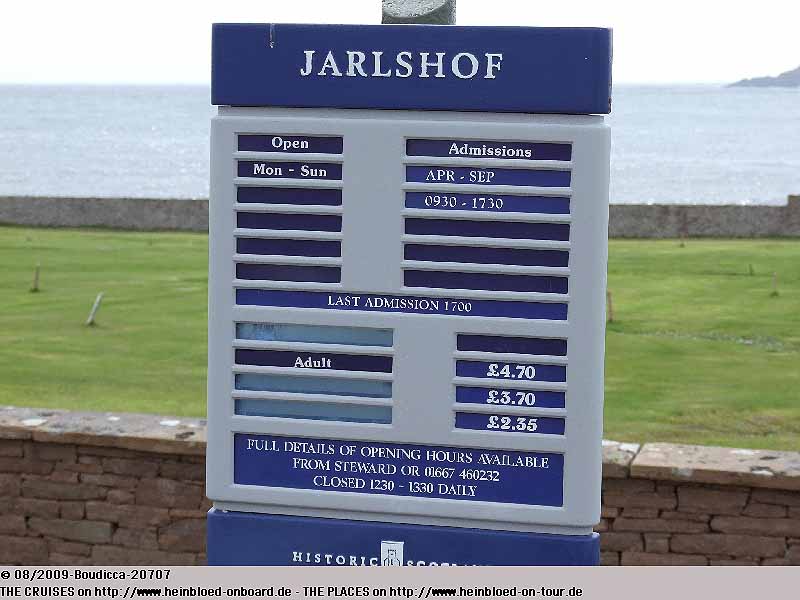 Jarlshof is just next.

https://www.historic-scotland.gov.uk/propertyresults/propertyoverview.htm?PropID=PL_162&PropName=Jarlshof%20Prehistoric%20And%20Norse%20Settlement

So historic that a modern toilet would not fit to the bronze-aged venue.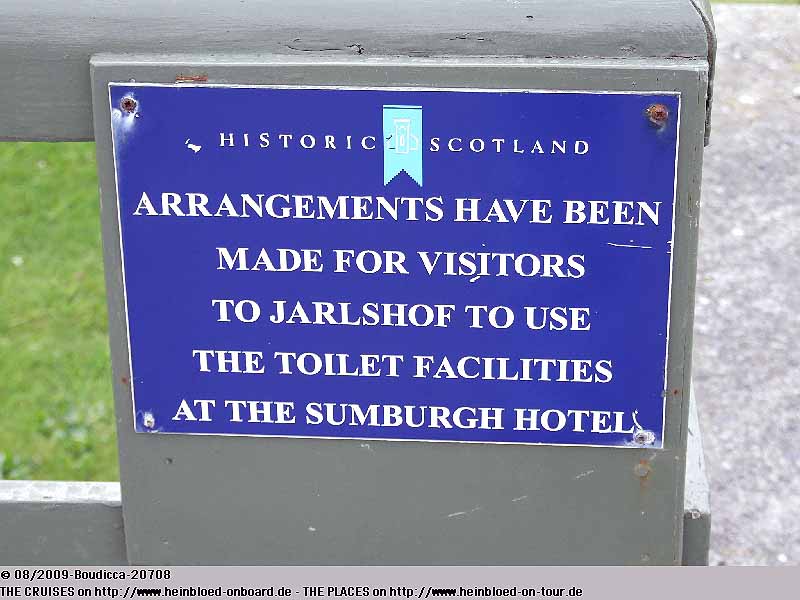 So historisch, dass nicht mal eine Toilette, die nicht aus der Bronzezeit stammt, dahin passt...
aus der die Siedlung stammt.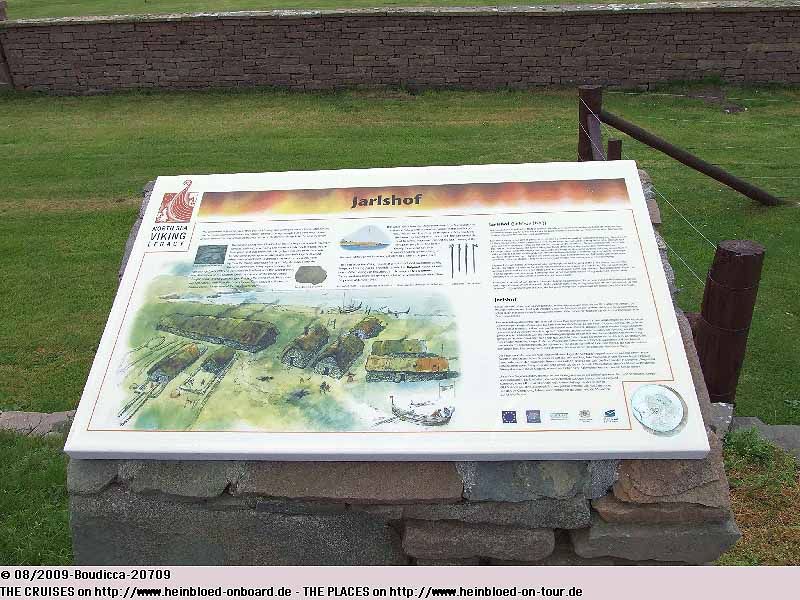 ... very very historic...

There were also explainations in German and Norwegian available.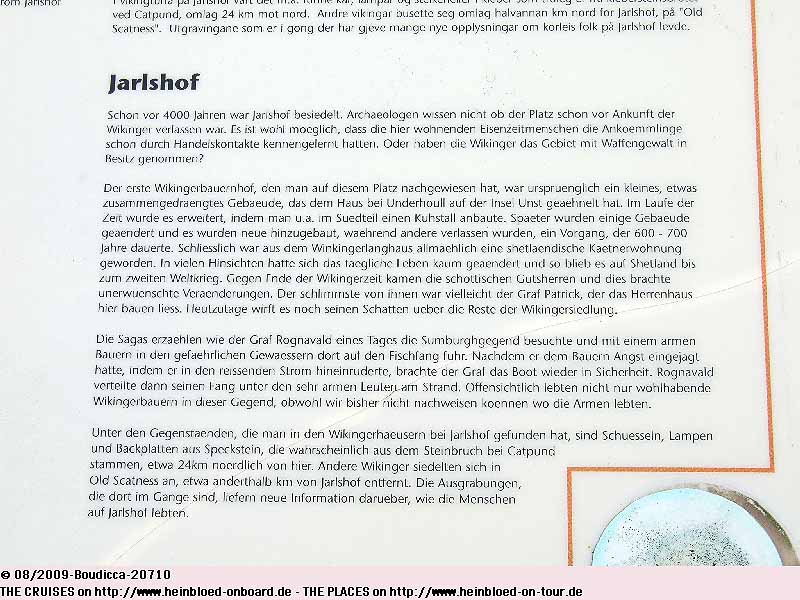 Neben Norwegisch gibt es auch Erläuterungen in Deutsch.
Bronzezeit heißt wohl Bronzezeit, weil man Bronze schmieden konnte... oder???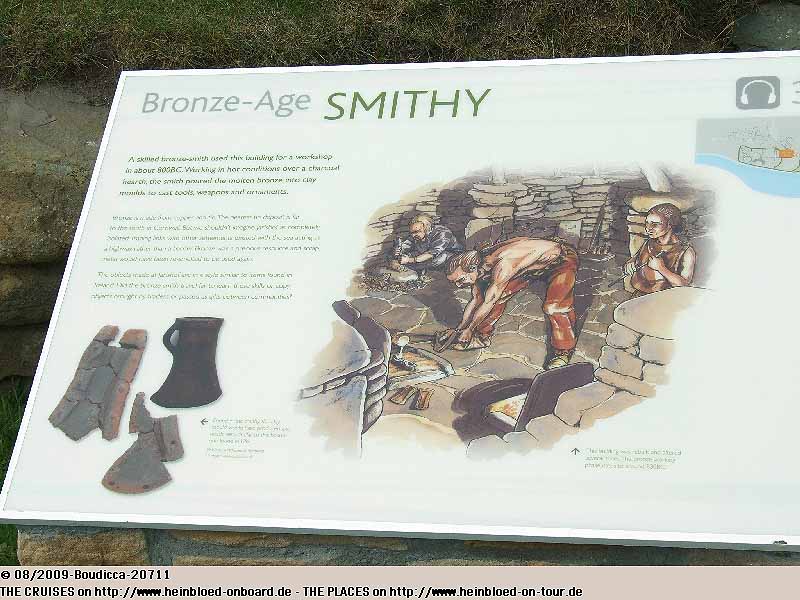 Does Bronze-Age means Bronze-Age because you can blacksmith bronze???

This reminded me too much to Stonehenge and temples on Malta.

I prefered to enjoy a cup of coffee and some sunshine.

Da mich das zu sehr an Stonehenge oder Tempelanlagen auf Malta erinnert:
Ich genieße lieber eine Tasse Kaffee und die Sonne.
So muss Bruno alleine rein: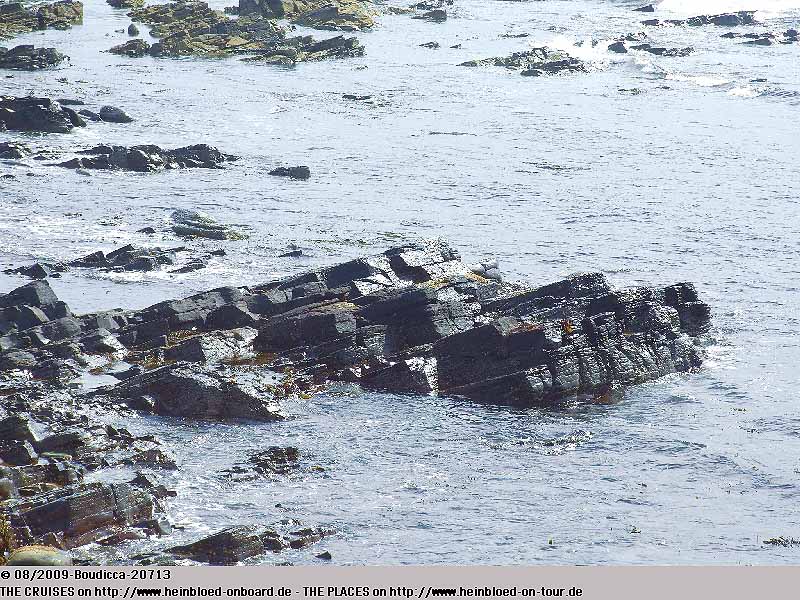 So Bruno had to visit it by himself.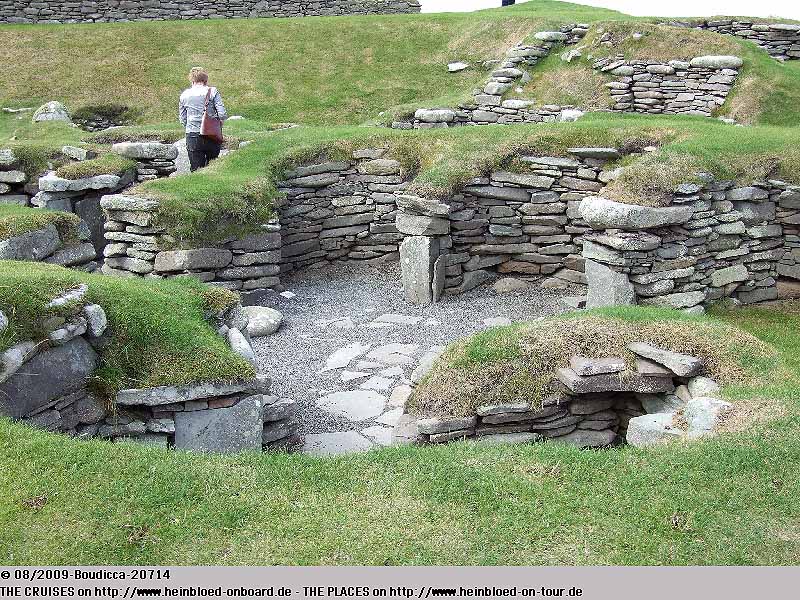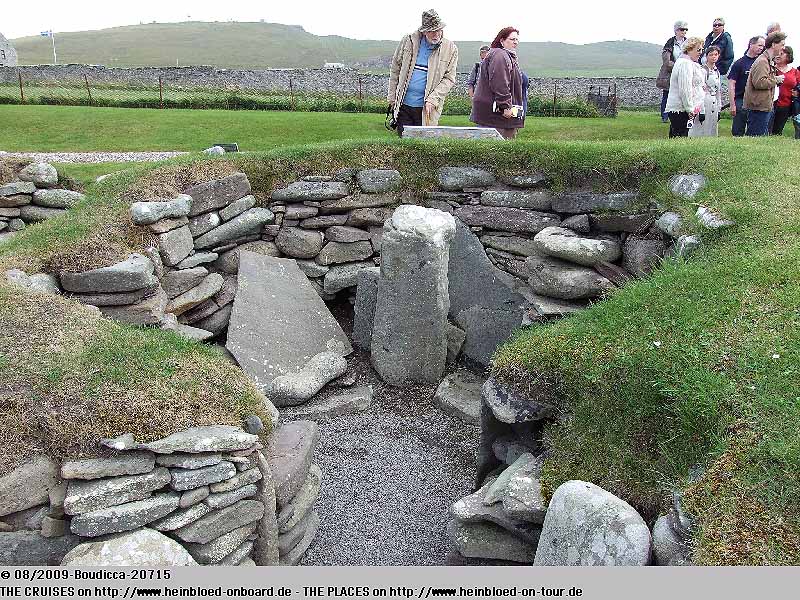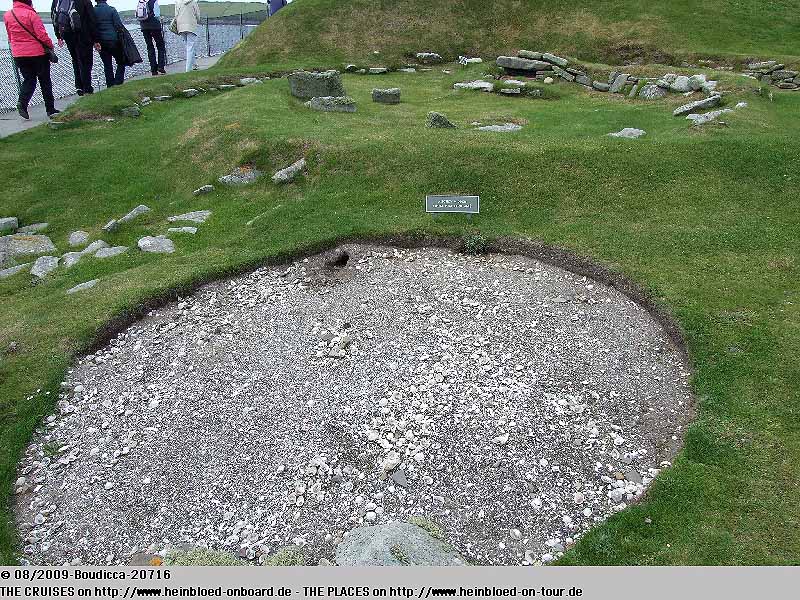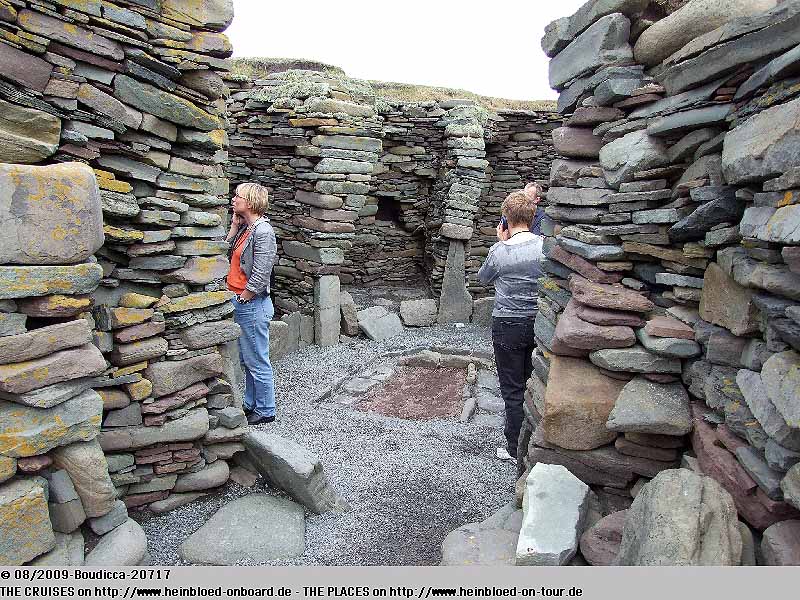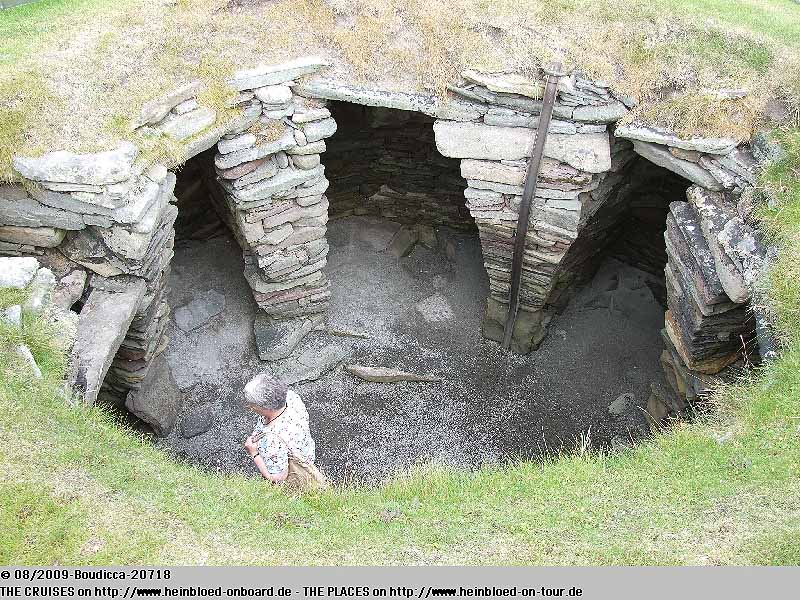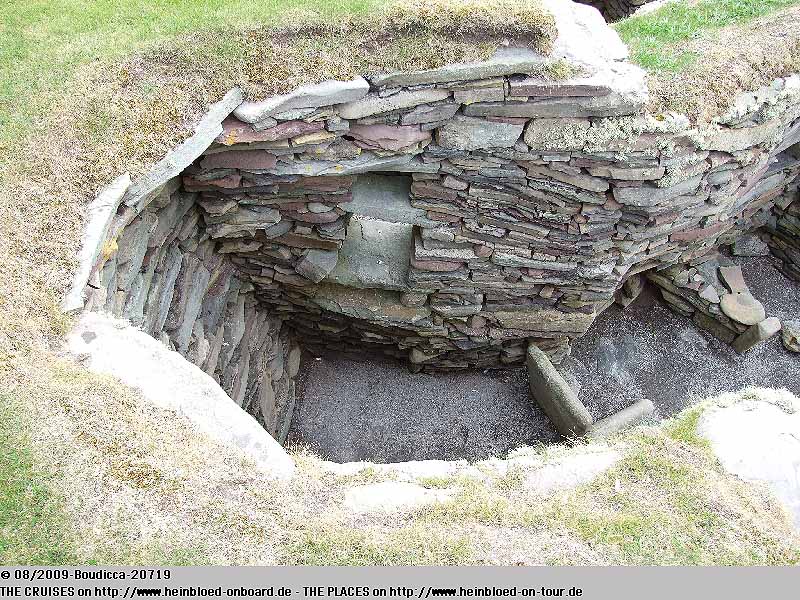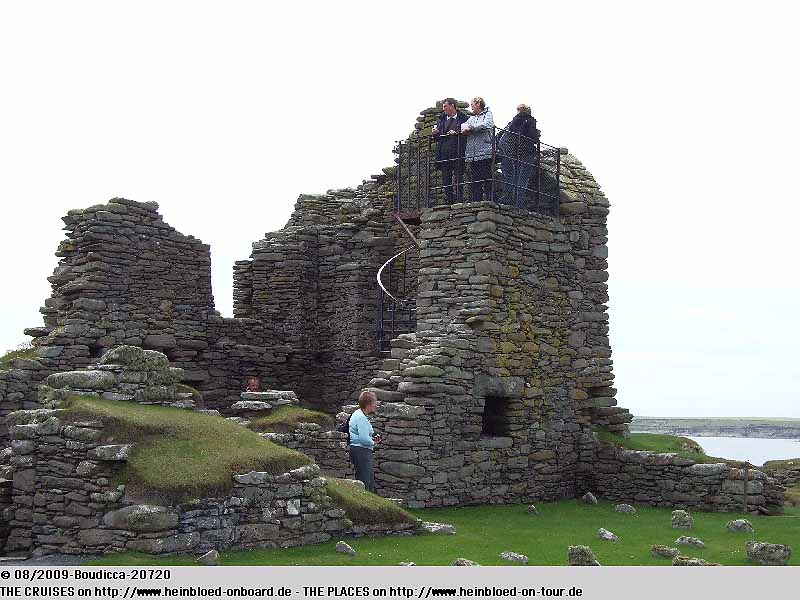 I was jealous on the cows who choosed the nicest place between North Sea and Atlantic Sea.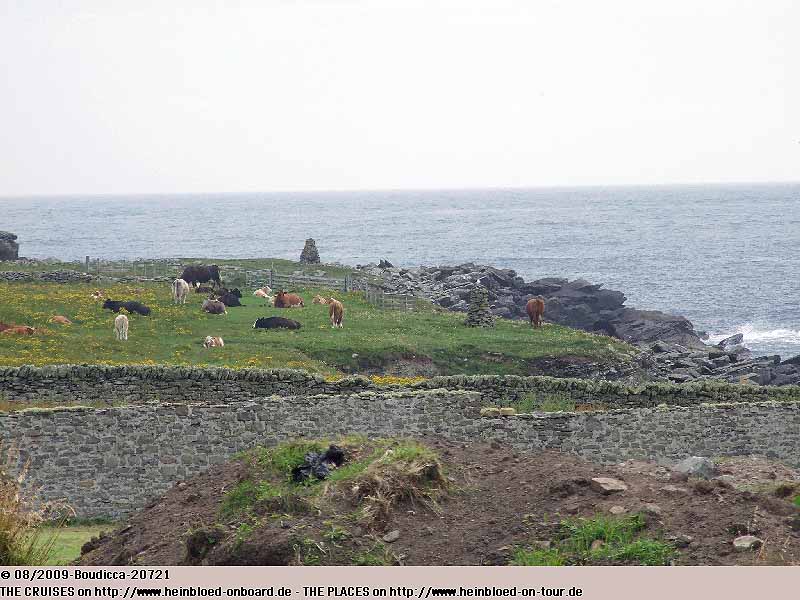 Ich beneide lieber die Kühe, die zwischen Atlantik und Nordsee sich den schönsten Platz ausgesucht haben.
Zwischenzeitlich wird es immer enger und ich denke an die Meldungen von Kreuzfahrern, die in den Bussen während ihrer Ausflüge verunglücken...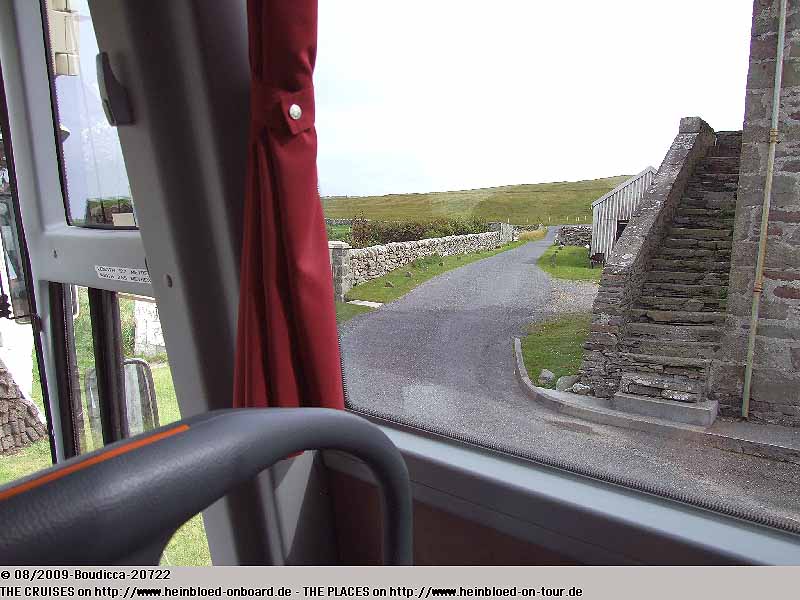 More narrow and narrow and I was thinking about the news from injured cruisers on shore excursions...

A beautiful garden for variety on the way.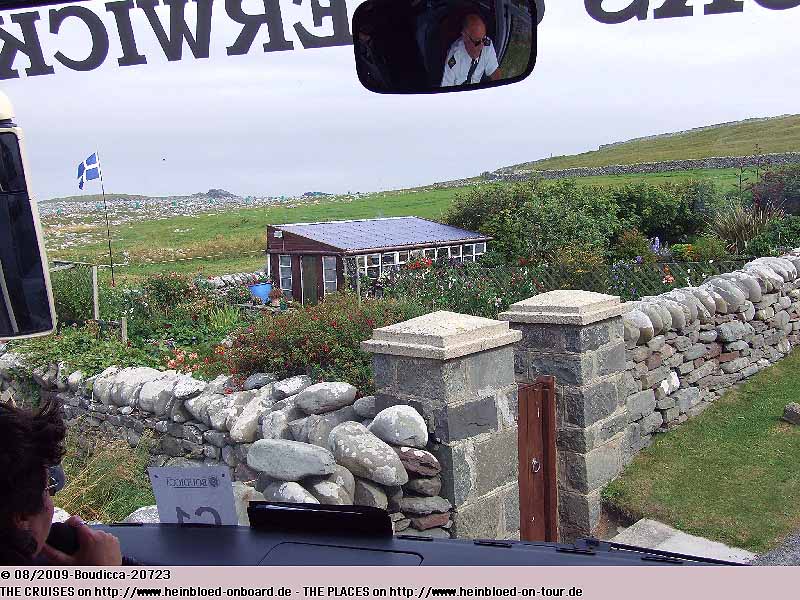 Für eine Abwechslung sorgen immer schöne Gärten und endlich
Shetland Ponies...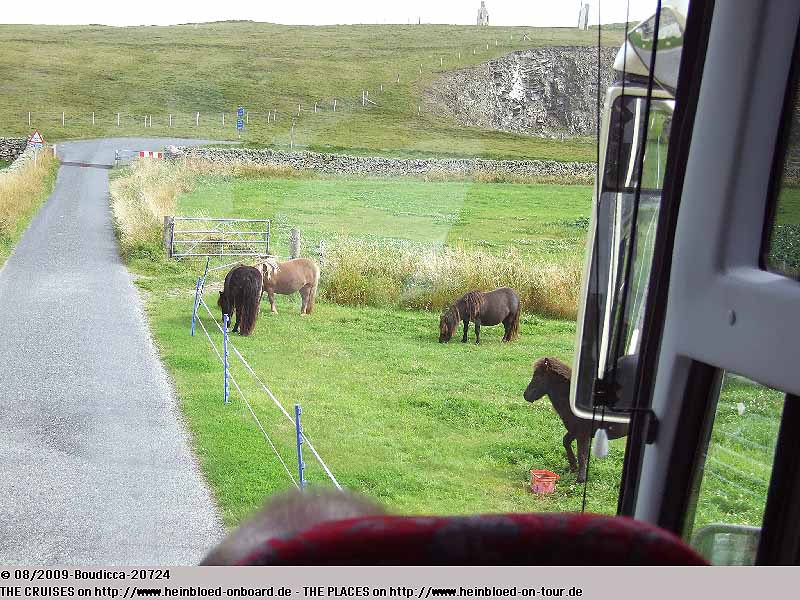 Shetland Ponies...

It became so narrow: no chance for two vehicles.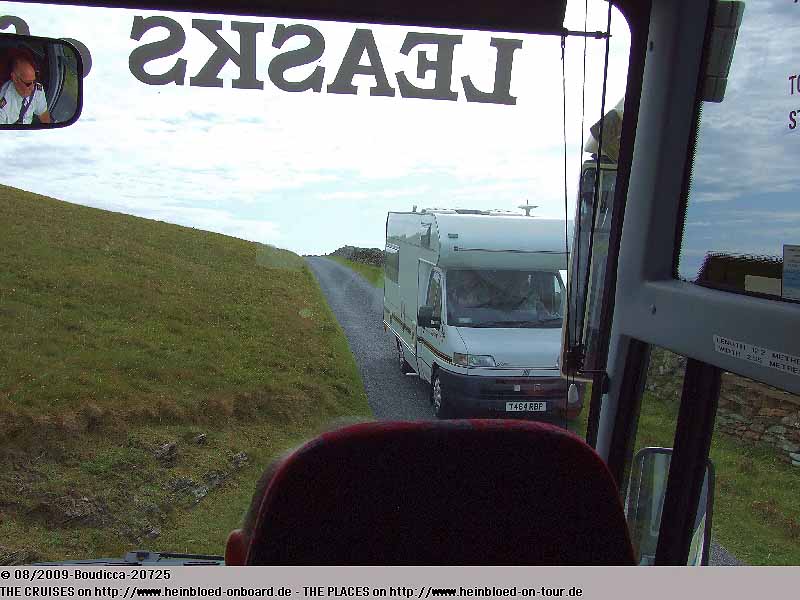 Es wird zwischenzeitlich so eng, dass nicht einmal mehr zwei aneinander vorbeikommen.
Irgendwie fällt mir auf, dass es so viele Lammgerichte an Bord gab. Nur Shepherd's Pie habe ich bislang noch nicht bekommen... Ich bekomme Appetit...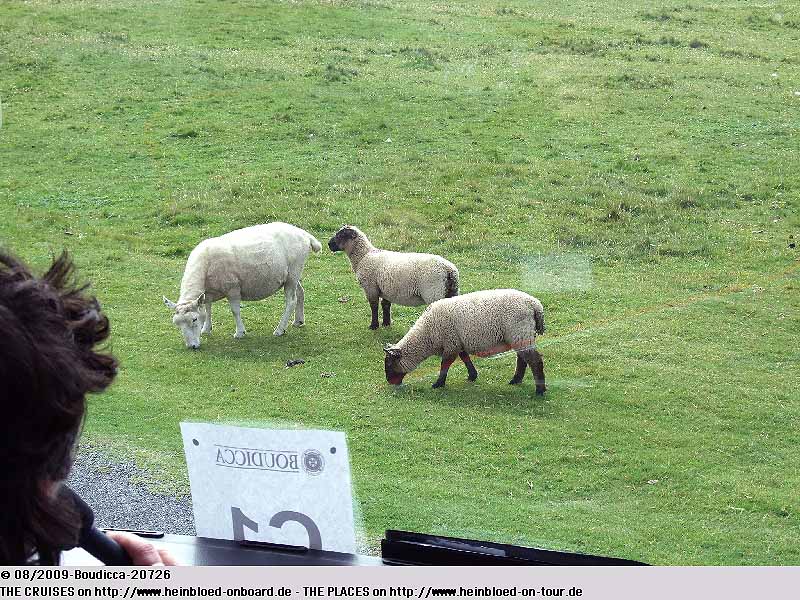 Somehow I found it very strange why we had so many lamb-dishes... But I did not get any Shepard's Pie... Somehow I became hungry...

Finally we made to Sumburgh Head.

https://www.rspb.org.uk/reserves/guide/s/sumburghhead/index.asp

But all reminded me to the Pyramids of Gizeh... all the poops from the sheeps...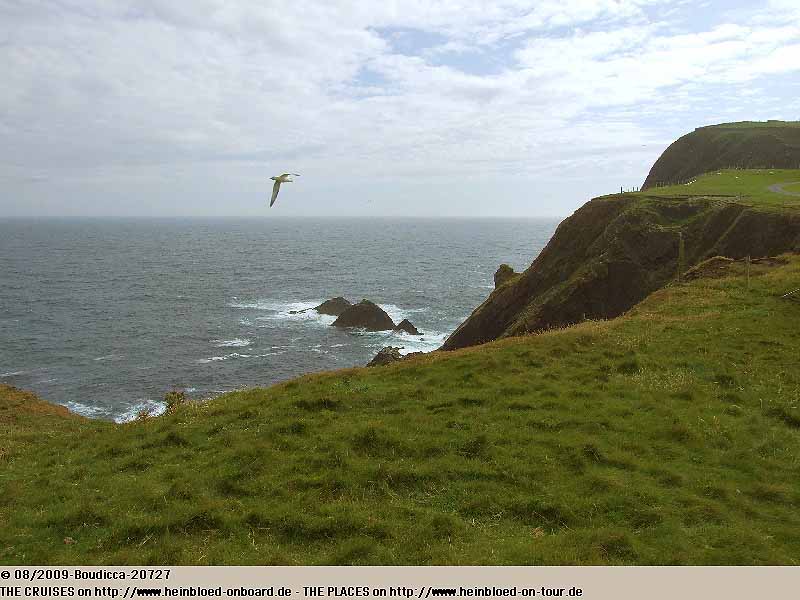 Endlich haben wir Sumburgh Head erreicht.
https://www.rspb.org.uk/reserves/guide/s/sumburghhead/index.asp
Das ganze erinnert an die Pyramiden von Gizeh... Überall Häufchen von den Schafen...
Aber wir sind ja hier, um Flora und Fauna zu sehen...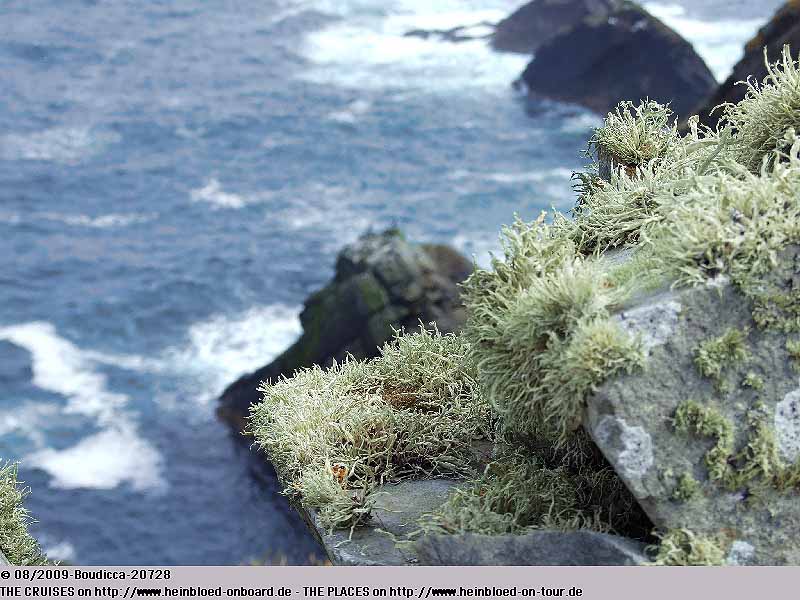 But we were here to see flora and fauna.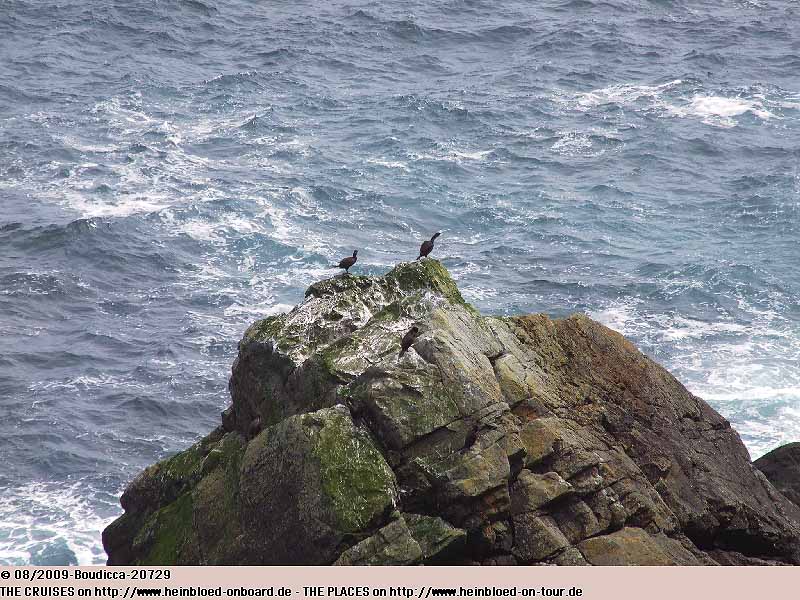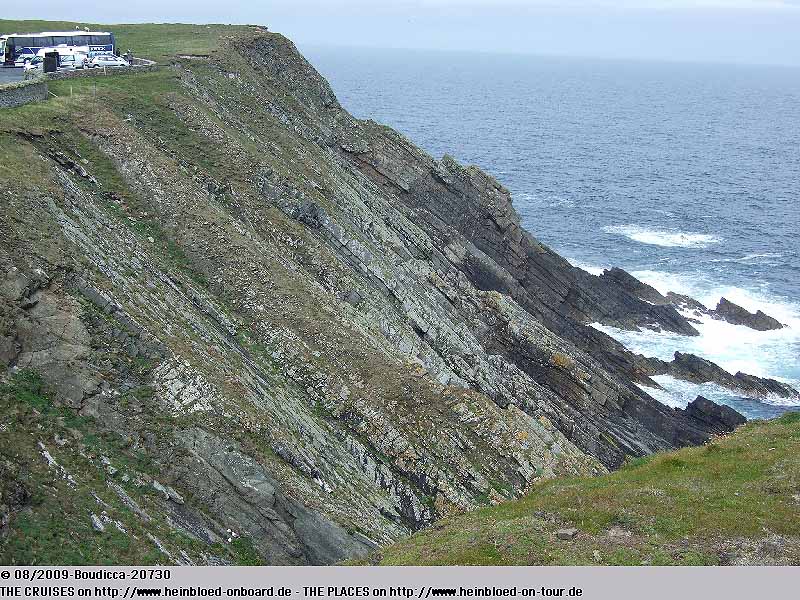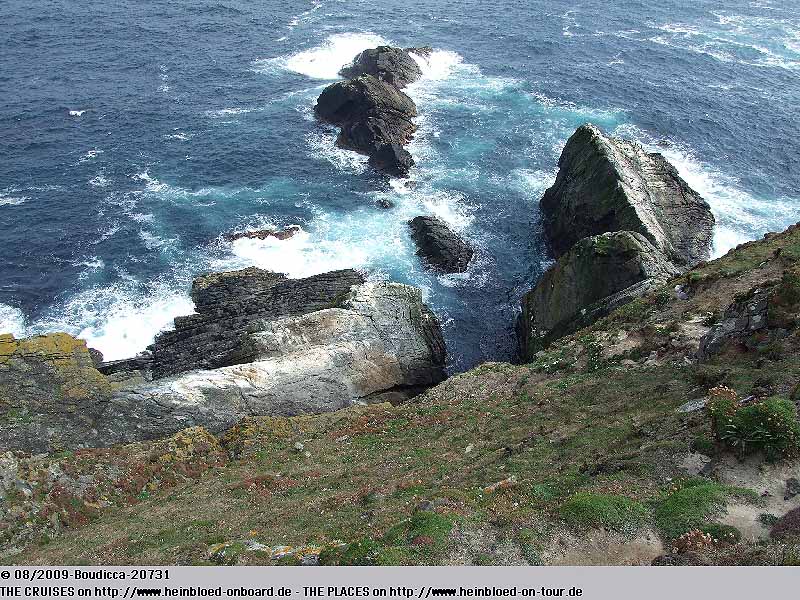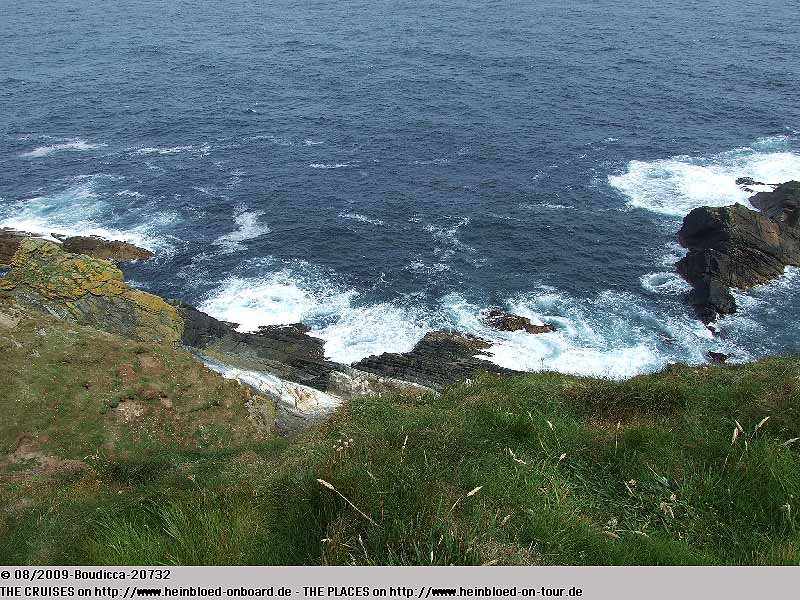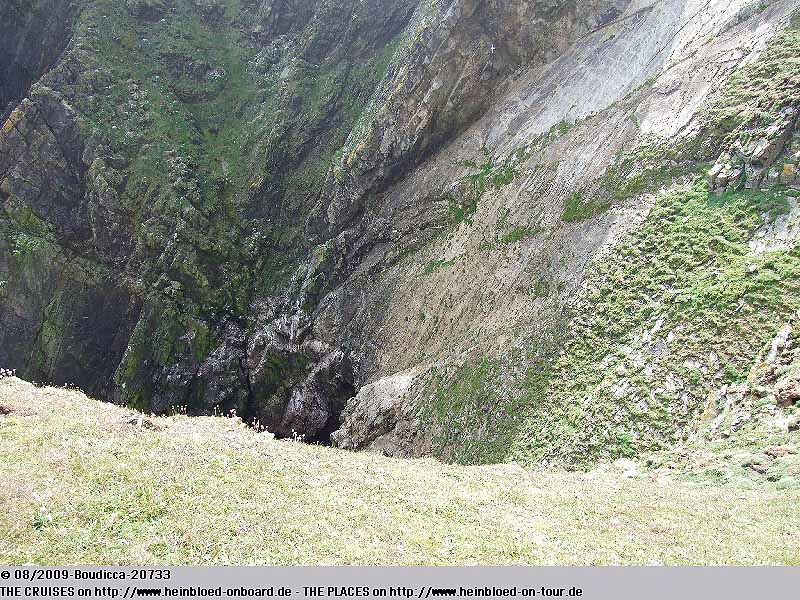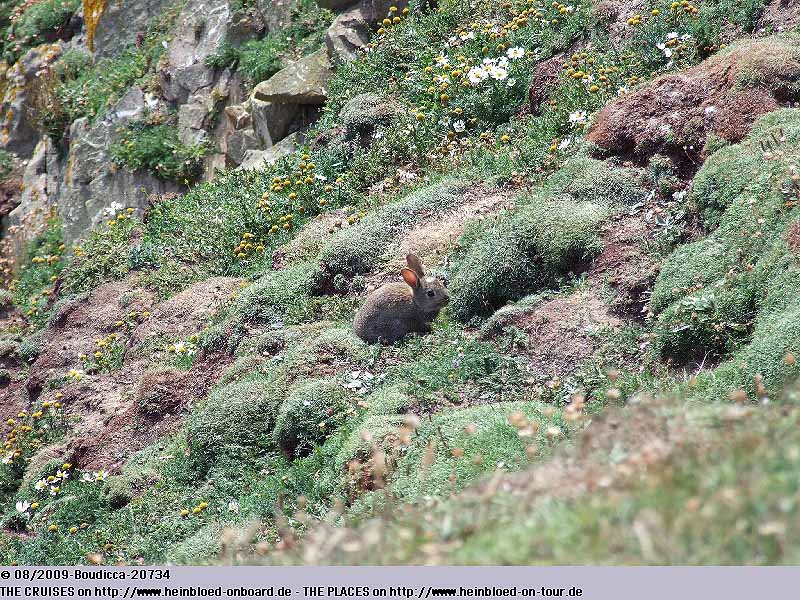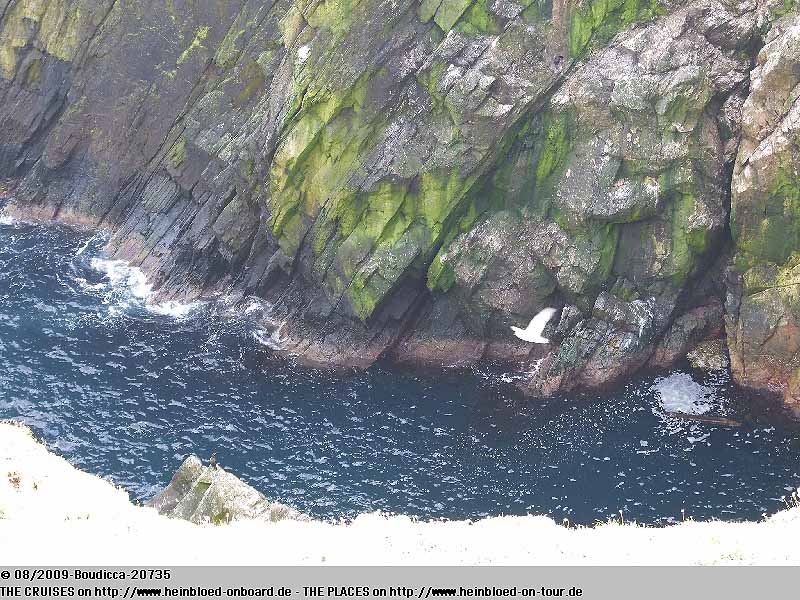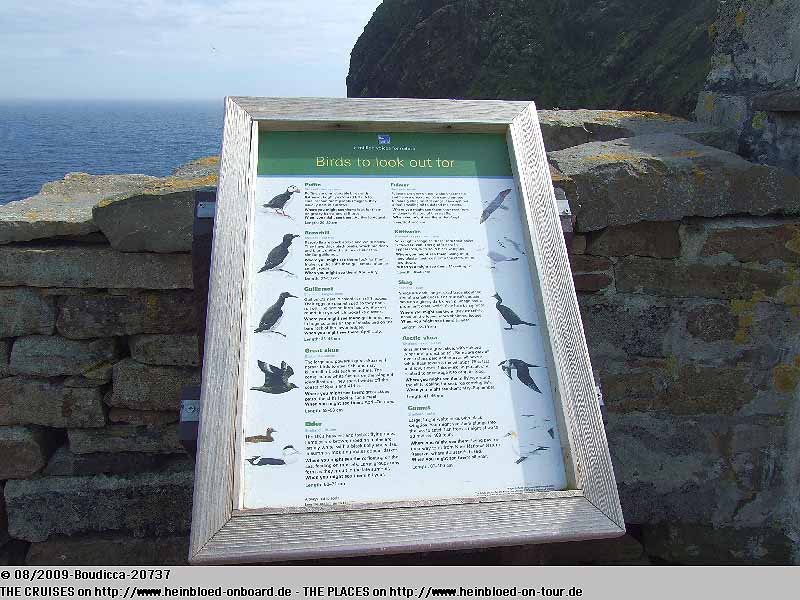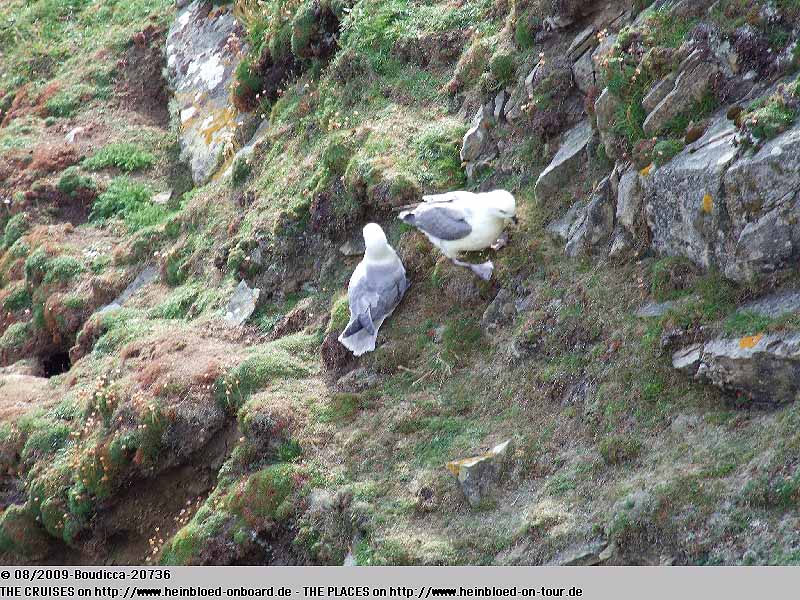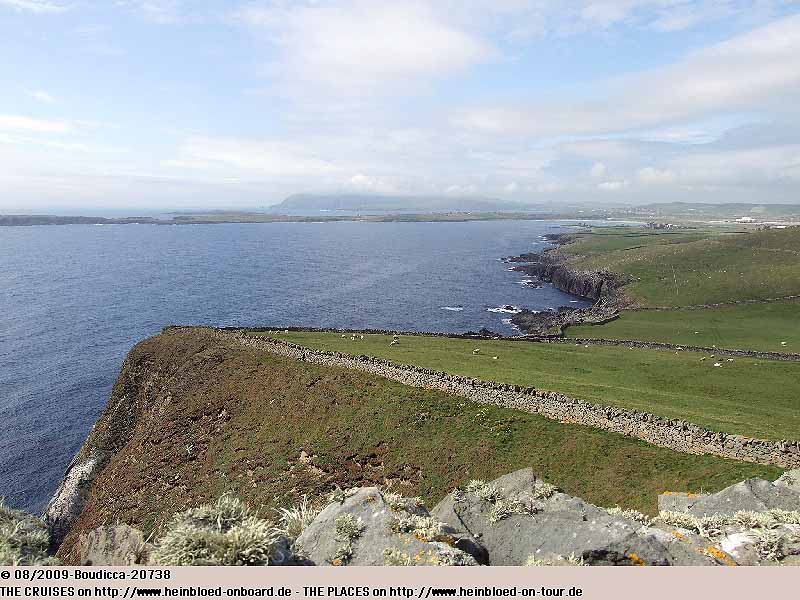 How did the whale make it up the hill?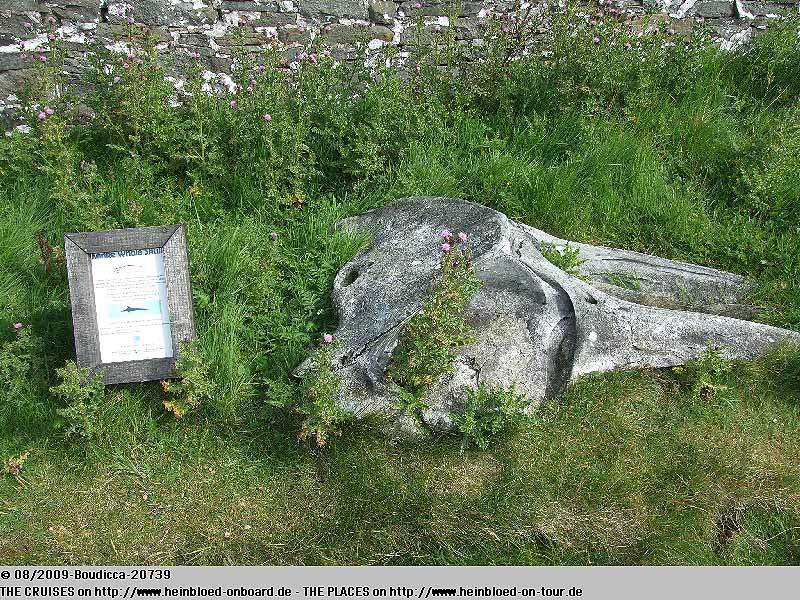 Wie kommen Wale hier auf den Hügel???
Und das ist doch nicht der einzige Puffin (= Papageientaucher), der hier zu sehen ist, oder???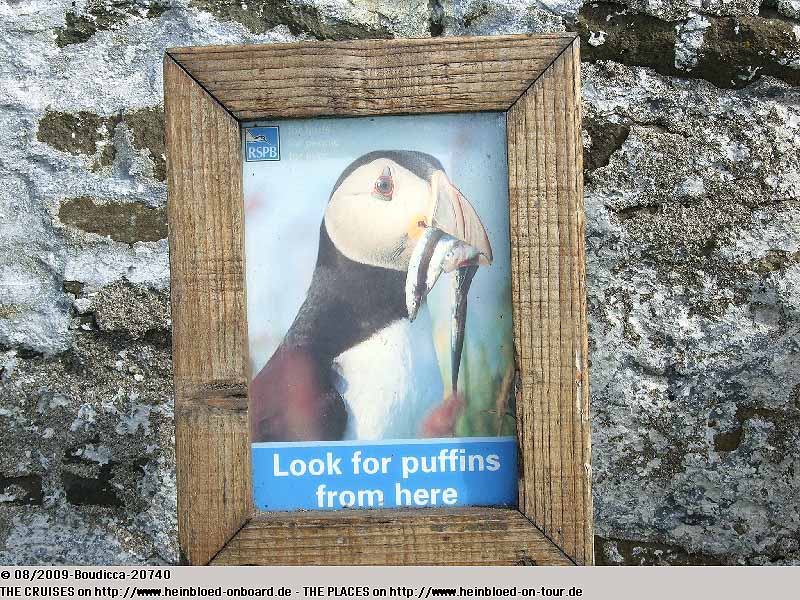 It cannot be that this might the only puffin we see on whole island.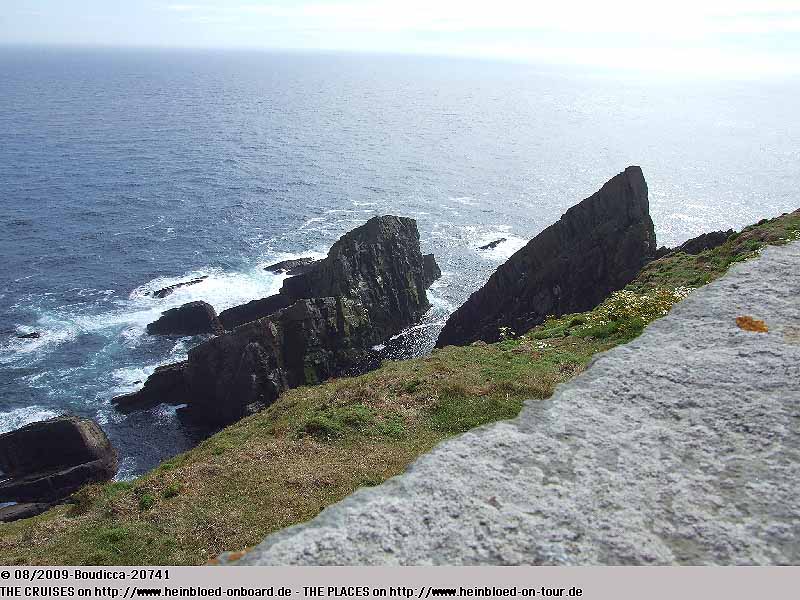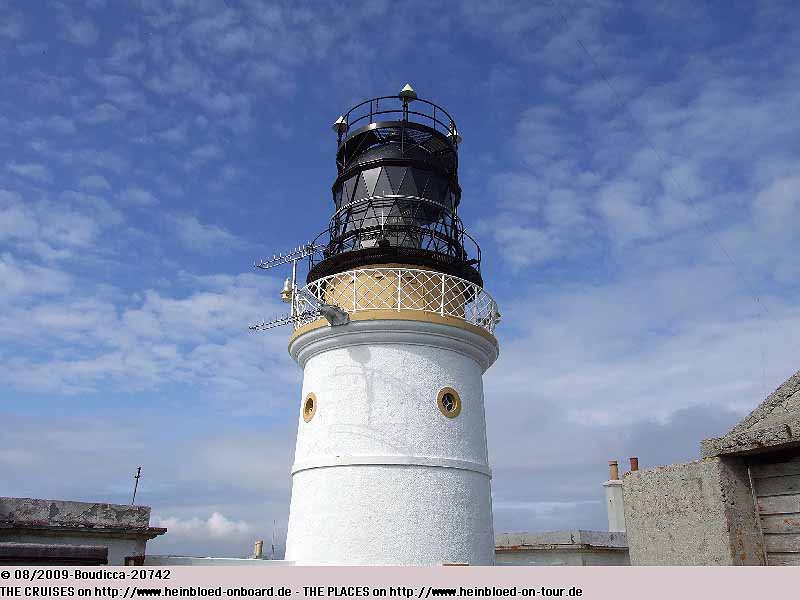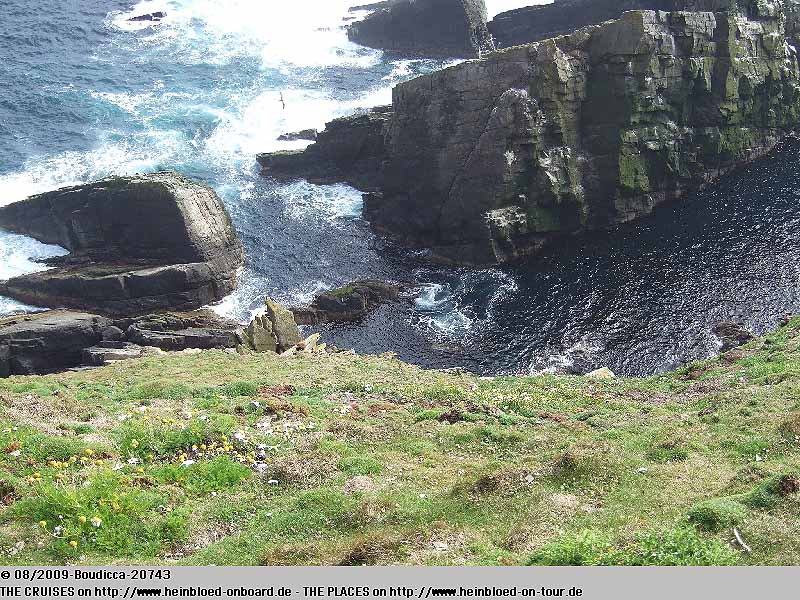 Endlich: Wir wurden für den Aufstieg zum Leuchtturm belohnt: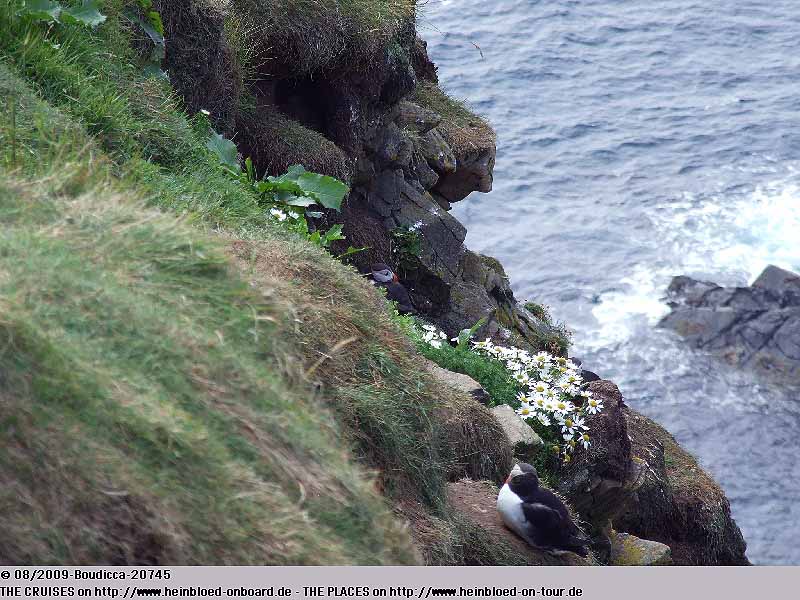 Finally: our ascent to the lighthouse was rewarded: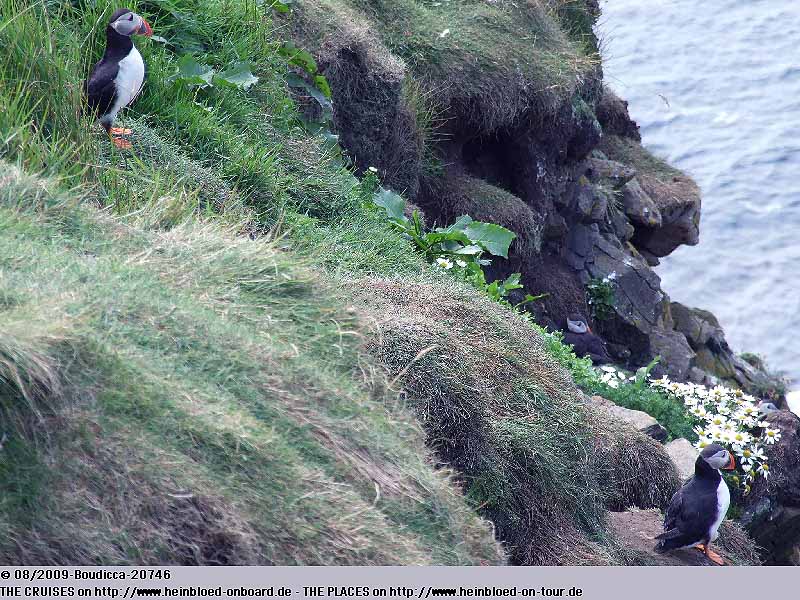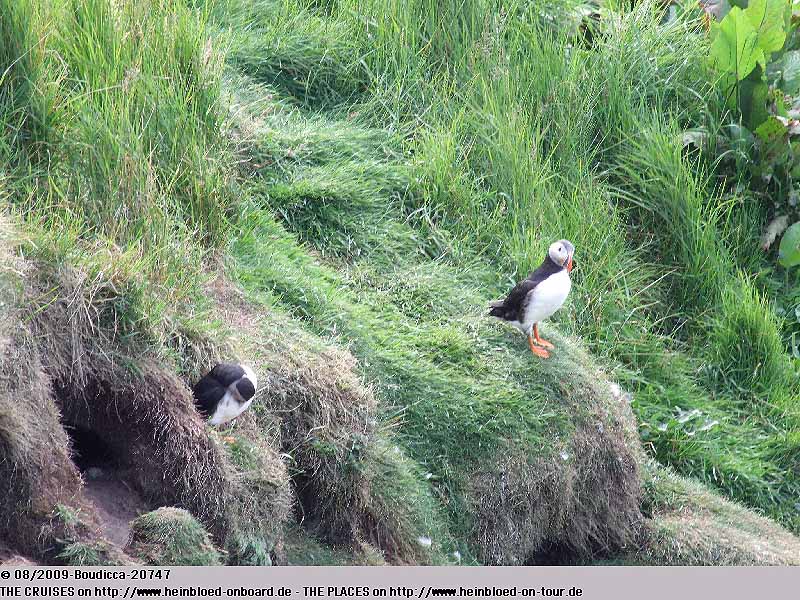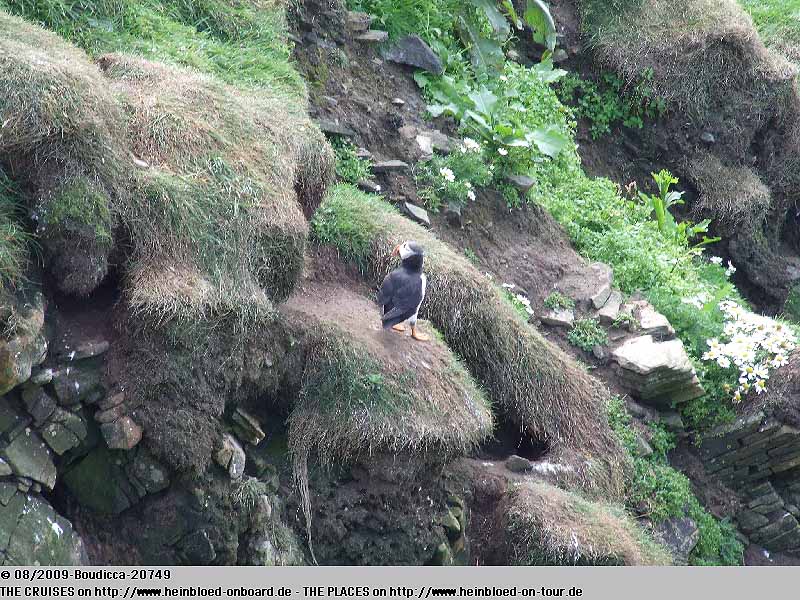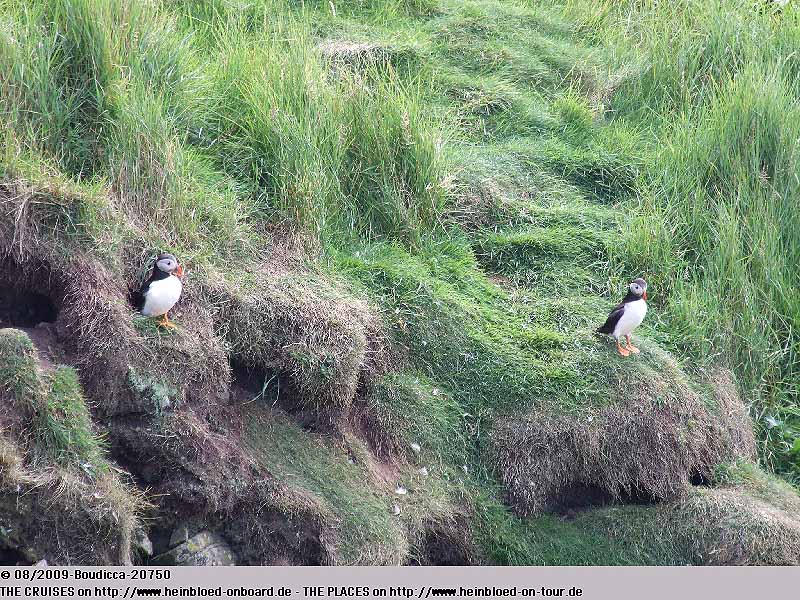 Nun hat sich der Aufstieg bis zum Leuchtturm doch gelohnt.
Während die Puffins gen Süden ziehen werden die Bruthöhlen kurzerhand im Winter an die Kaninchen "untervermietet". Im Frühling ziehen die Puffins (monogame Paare) wieder ein und schmeißen die Kaninchen wieder raus.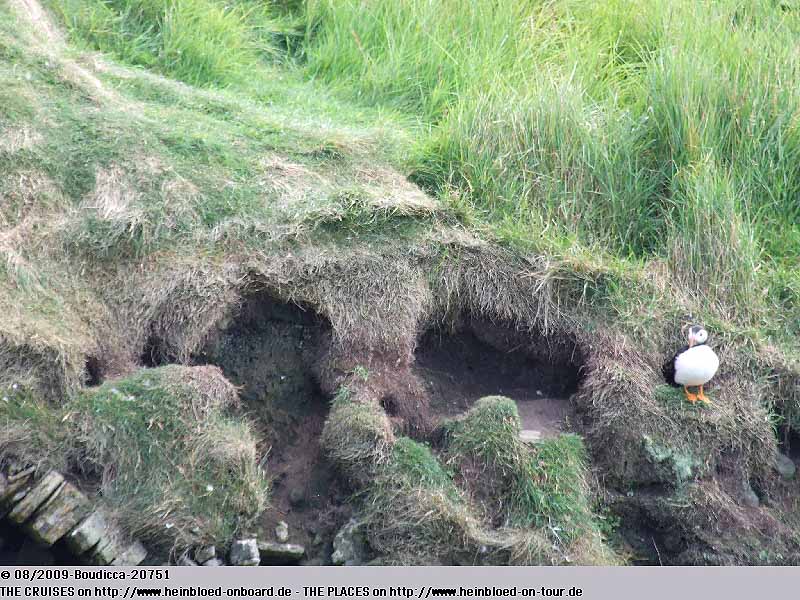 While the puffins went southbound the breeding holes are "subleased" to the rabbits for the winter seasons. Once the monogam couples return they reoccupy their breeding holes and fire the rabbits.

It was just beautiful there.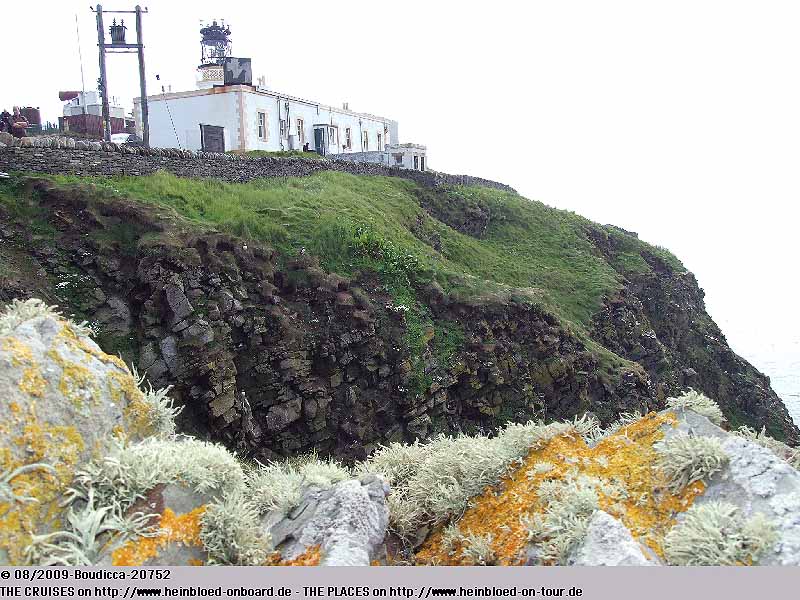 Es war einfach schön da.
Die Landebahn des Flughafens wird bei Bedarf einfach für den Transitverkehr gesperrt. Automatische Sperren gibt es nicht: der Mitarbeiter wurde gerade vor uns abgesetzt, weil eine Landung in Kürze erwartet wird.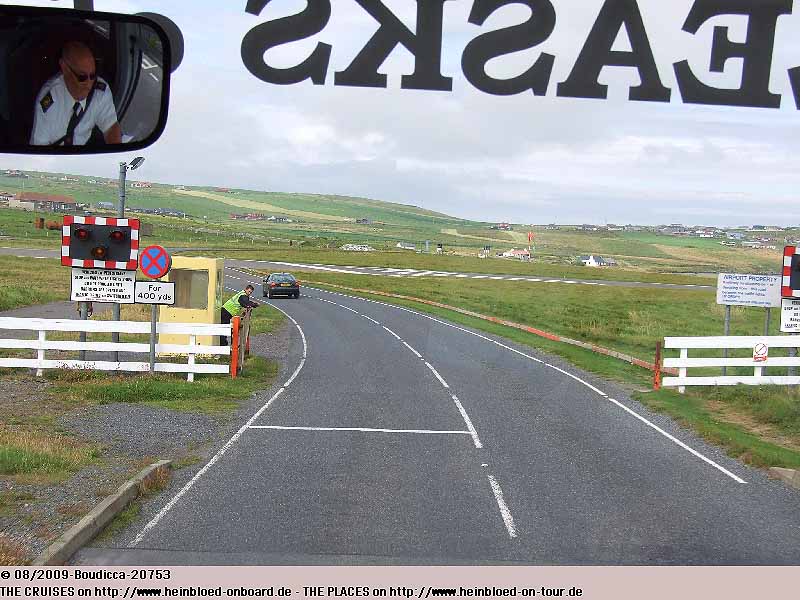 If they need the runway they just close the street. There is no automatic system: so staff members were delivered to the places to close as a landing was expected soon.

Here you see the crossing of runway and highway.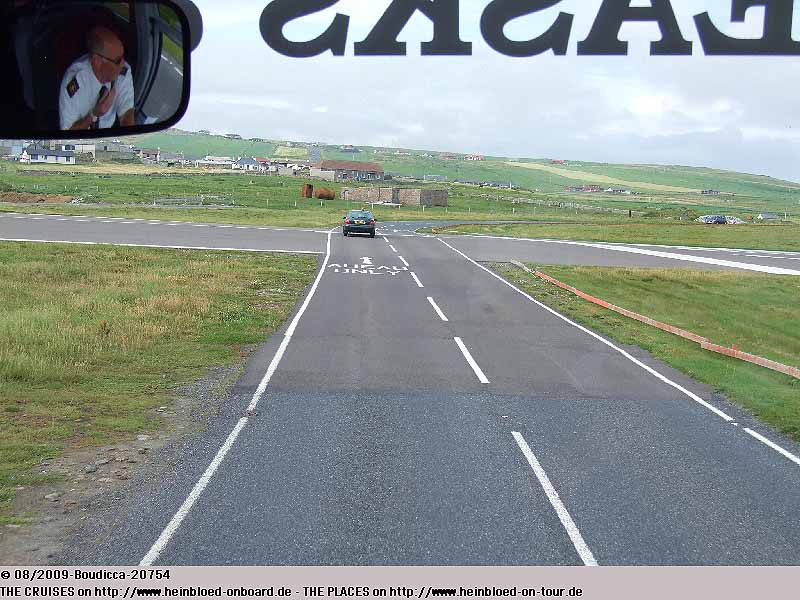 Hier sieht man, wie sich Landebahn und Straße kreuzen.
Unsere Fremdenführerin zeigt uns einer ihrer Lieblingsplätze noch: den Mousa-Sund.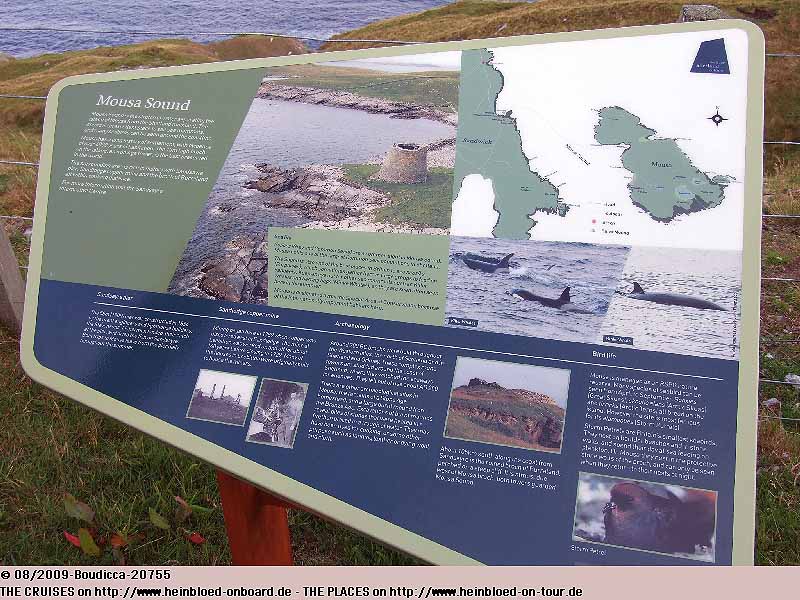 Our tour guide showed us one of her most favorite places: the Mousa-Sound...

but this will be too calm for me - so not mine.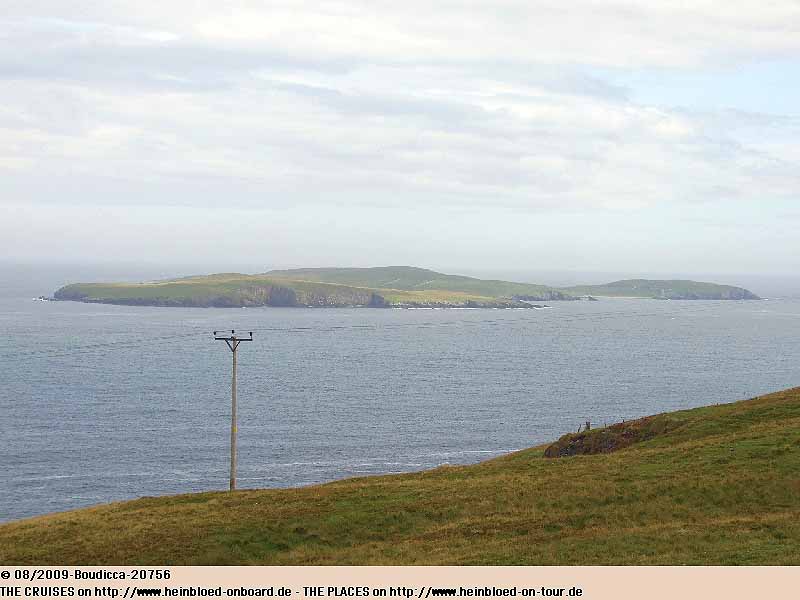 Für mich wäre es vermutlich nicht.
Da wir keine Gelegenheit hatten, uns den Ort Lerwick anzusehen, meint Nath, dass wir mal durch den Ort zum Hafen fahren sollten.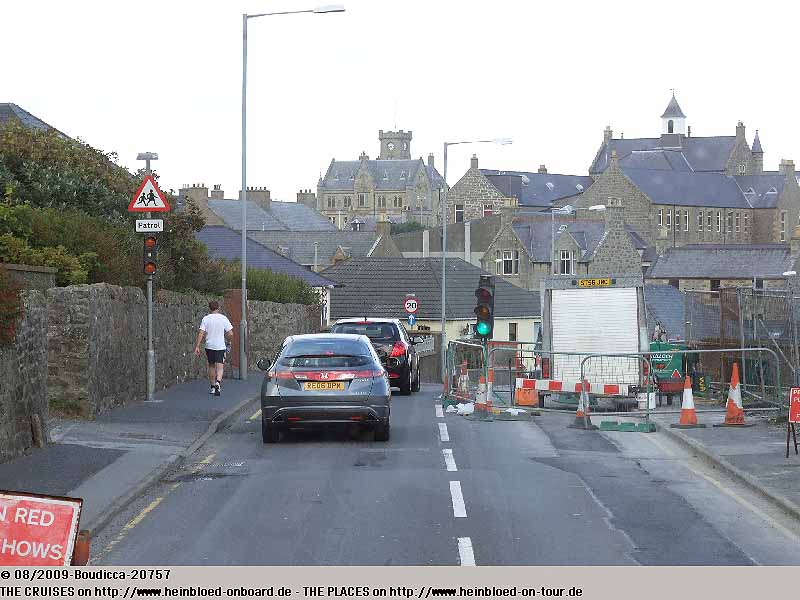 As we had to time to see Lerwick, Nath arranged our ride back through the city center.

And this would have been our prize, if we would have tendered.

In few minutes we need to be back on our ship.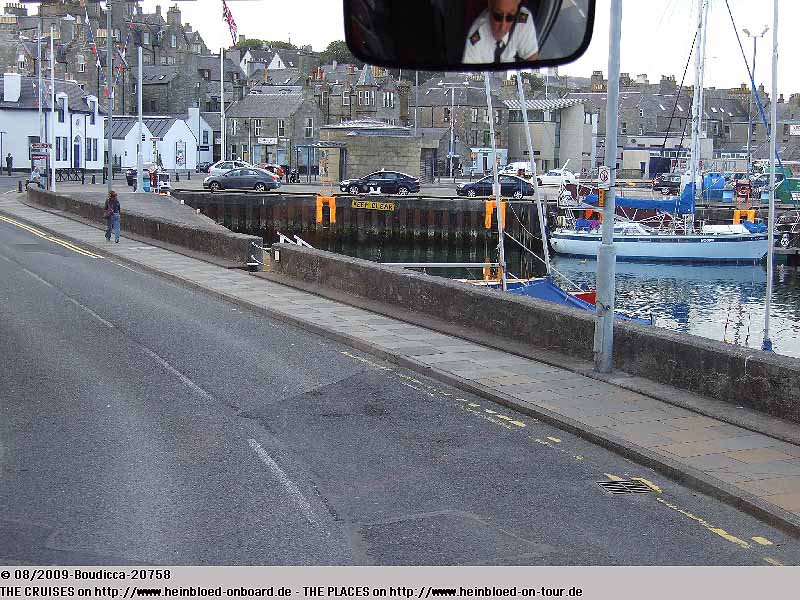 Und das wäre also unser Preis gewesen, wenn wir getendert wären.
Es geht gleich wieder auf das Schiff.