Scroll down for English explanations - alternates with German explanations.

Weiter ging es mit einem Fjord 1-Schiff.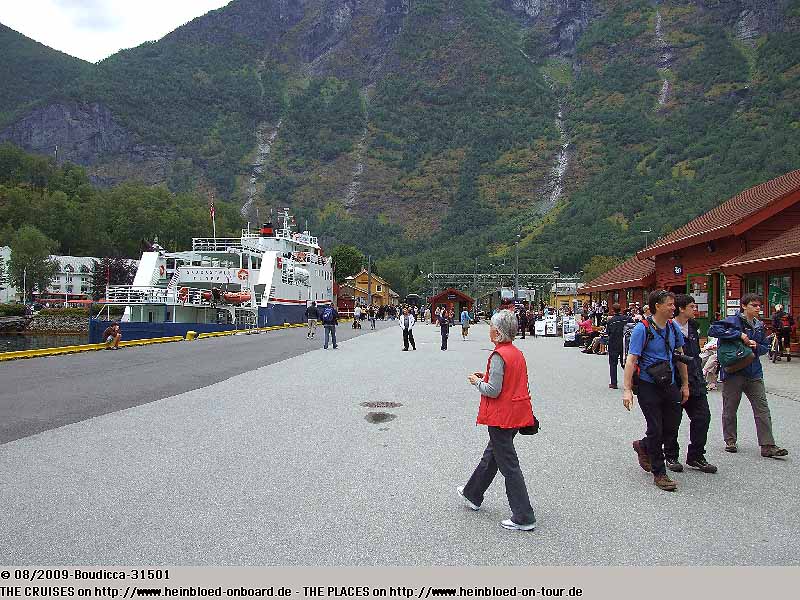 We continued on a Fjord 1-Ship.

Now you get a reason not to book a private tour: the way Fjord 1 treated the "Norway in a Nutshell"-guests: They let us go onboard when all groups had taken their seats and no seats were left. I had the SUBJECTIVE impression that more tickets were sold than seats were avaialble. A lot of passengers sat on the stairways because of the missing seats.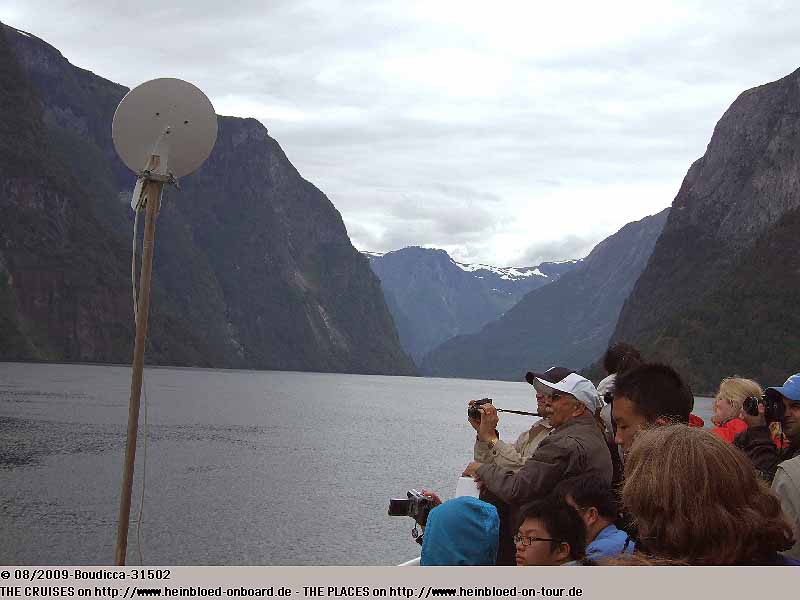 Was jetzt wiederum gegen die private Tour gesprochen hat, war die Behandlung der "Norway in a Nutshell"-Teilnehmer bei Fjord 1: Wir wurden erst an Bord gelassen, als alle Gruppen untergebracht waren und dann keine Sitzplätze mehr übrig waren. Ich hatte schon den SUBJEKTIVEN Eindruck, dass mehr Karten verkauft wurden, als Plätze vorhanden waren. Viele saßen auf den Treppen, weil es nicht genügend Sitze gab.
Es gibt auch nur einen einzigen Blick nach vorne: in der Caféteria.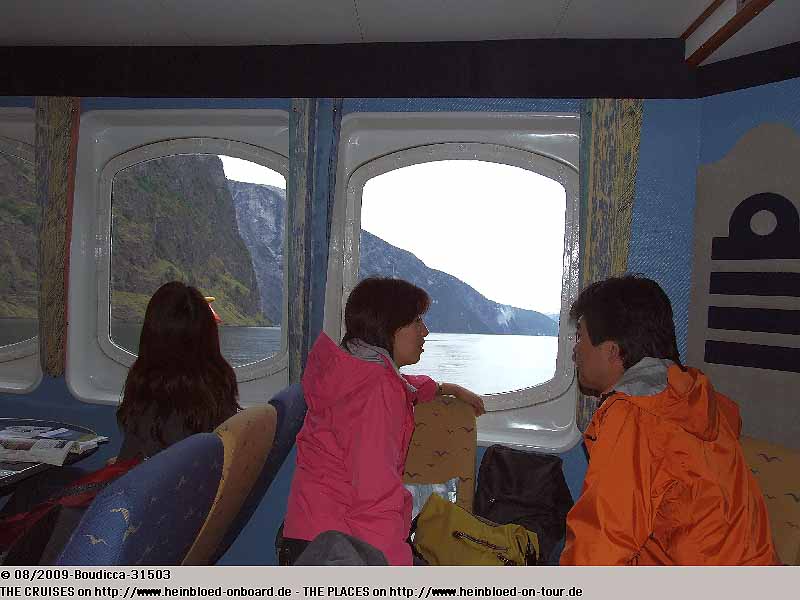 There in only one view to the front on the whole ship: in the caféteria.

But the journey itself was beautiful.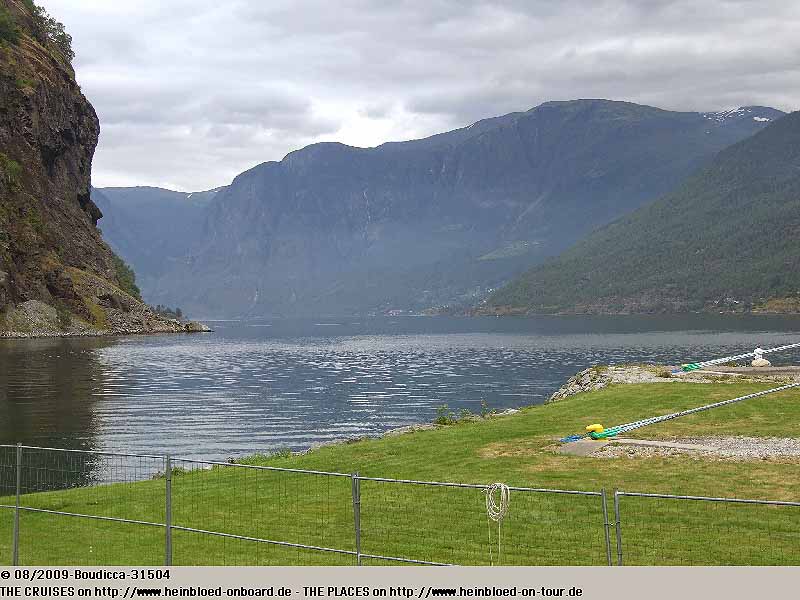 Ansonsten war die Fahrt selbst sehr schön.
Wir haben an Bord zwei US-Touristen kennengelernt, mit denen wir uns angefreundet haben. Weil wir sowieso ja nächstes Jahr mit der WESTERDAM wieder hier sind, konzentrieren wir uns auf den Teil Nærøyfjord (der Teil, der nach Gudvangen führt), den wir ja nicht mit der WESTERDAM befahren können.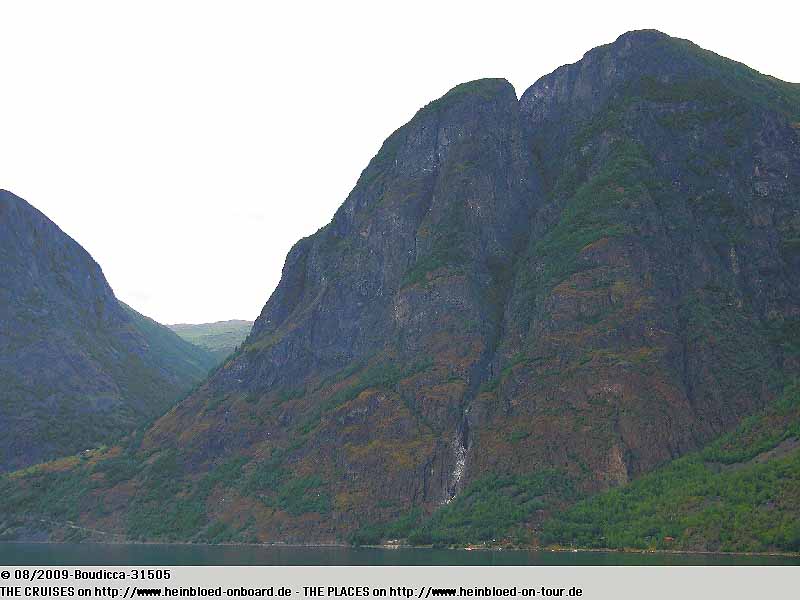 We made friendship with two American tourists. Because we will return next year on WESTERDAM we concentrated for the part of the Nærøyfjord (that's the branch to Gudvangen) which WESTERDAM cannot go.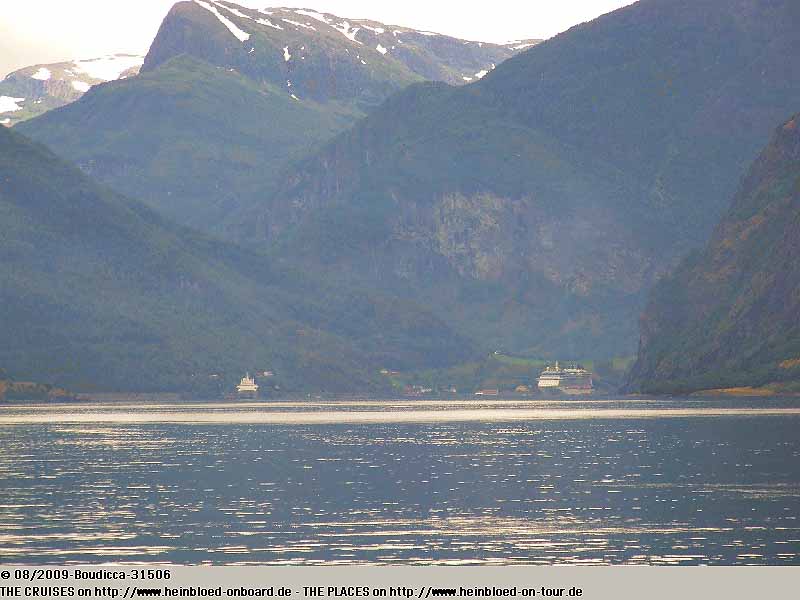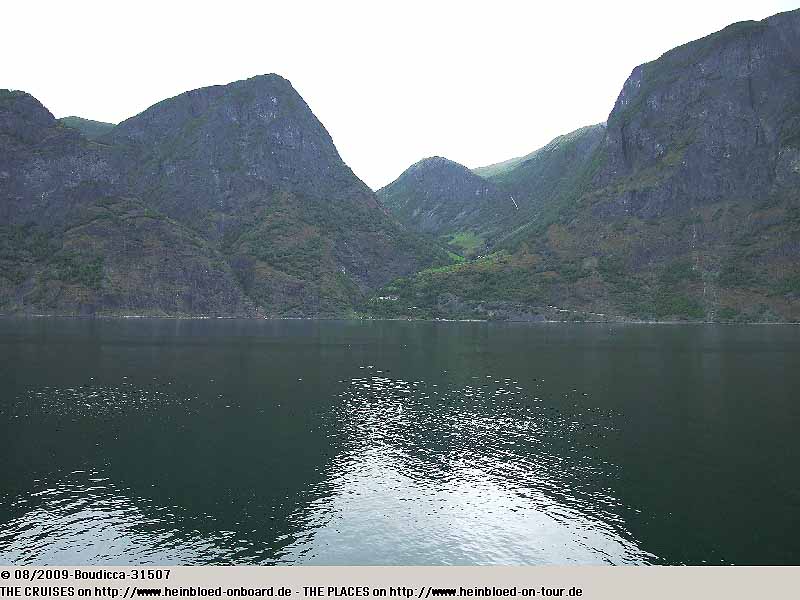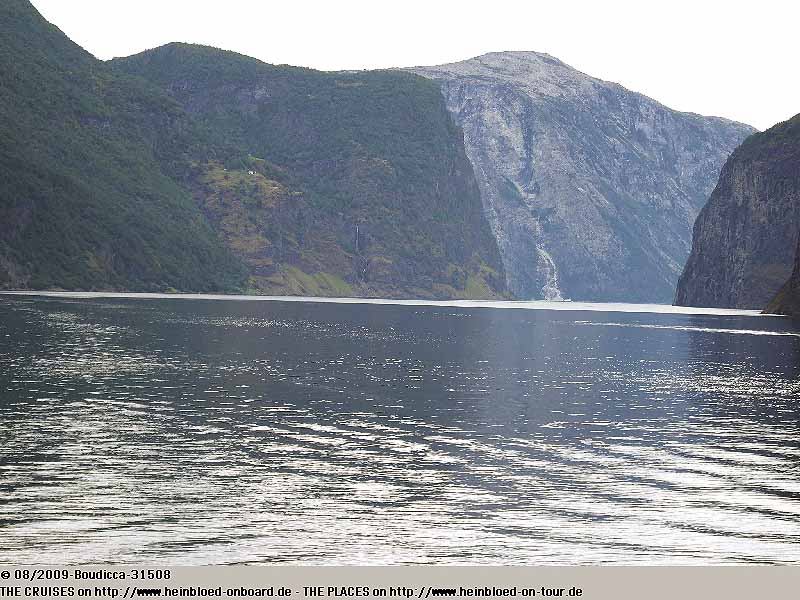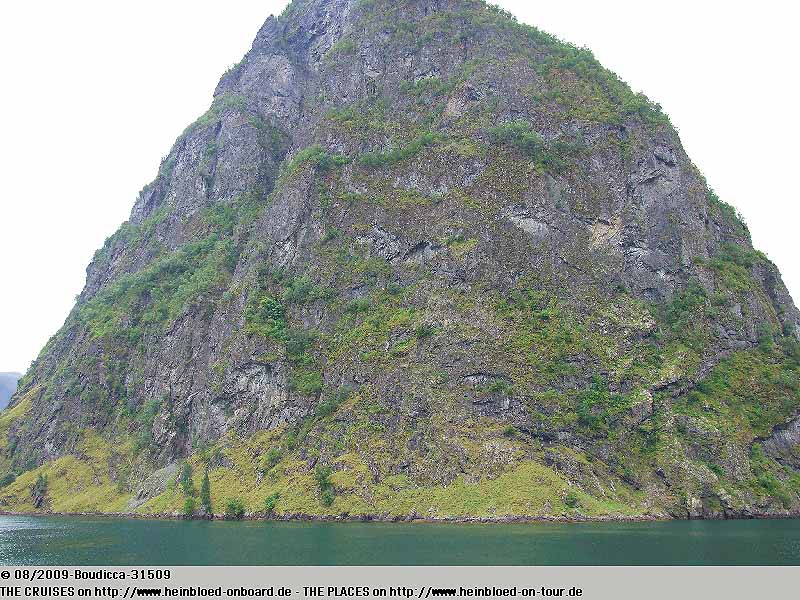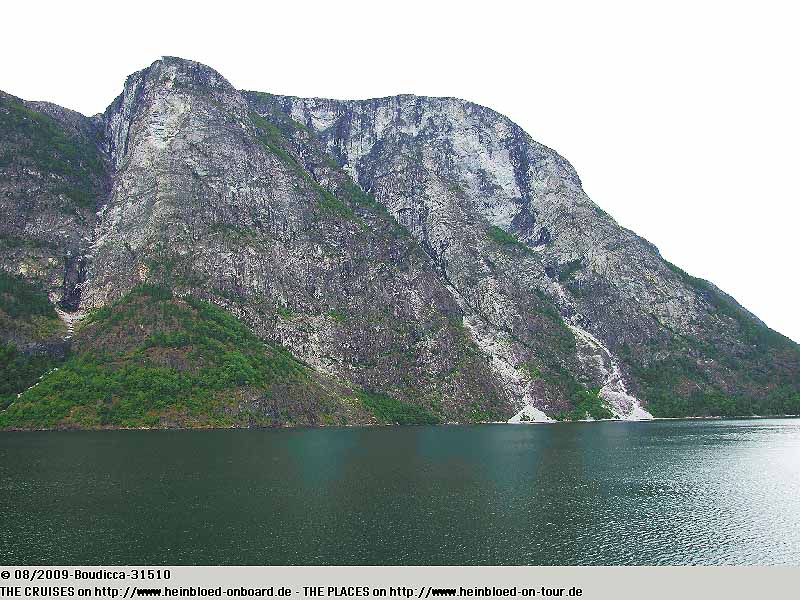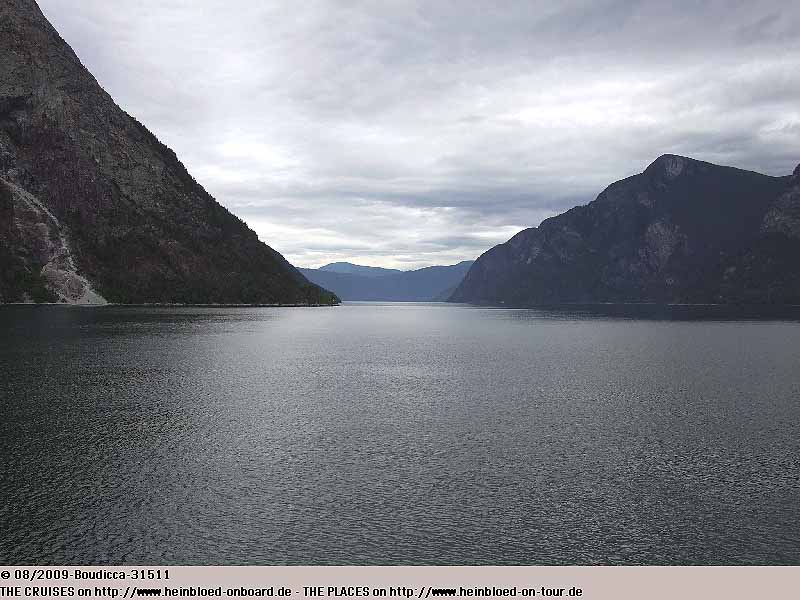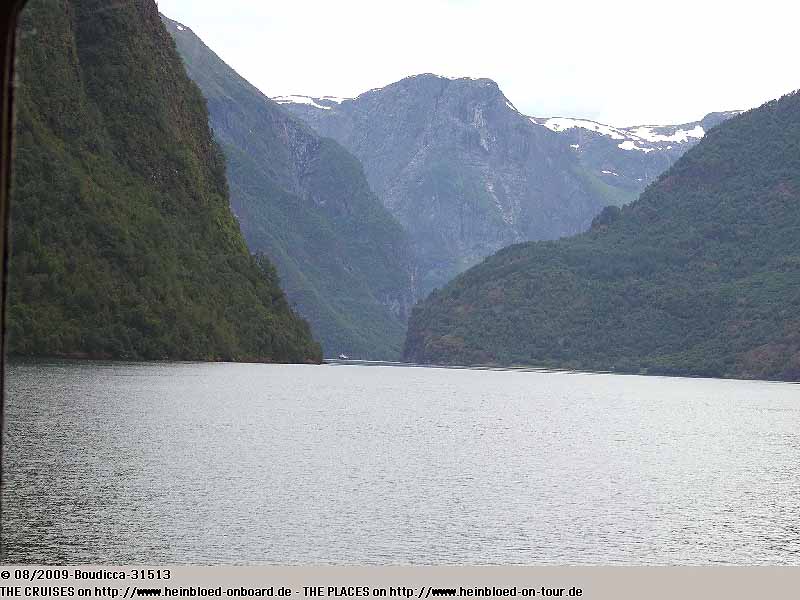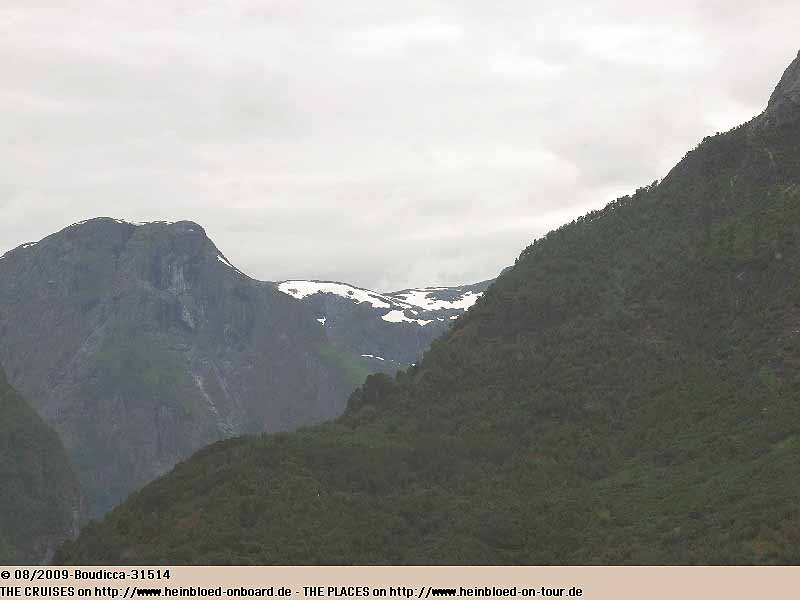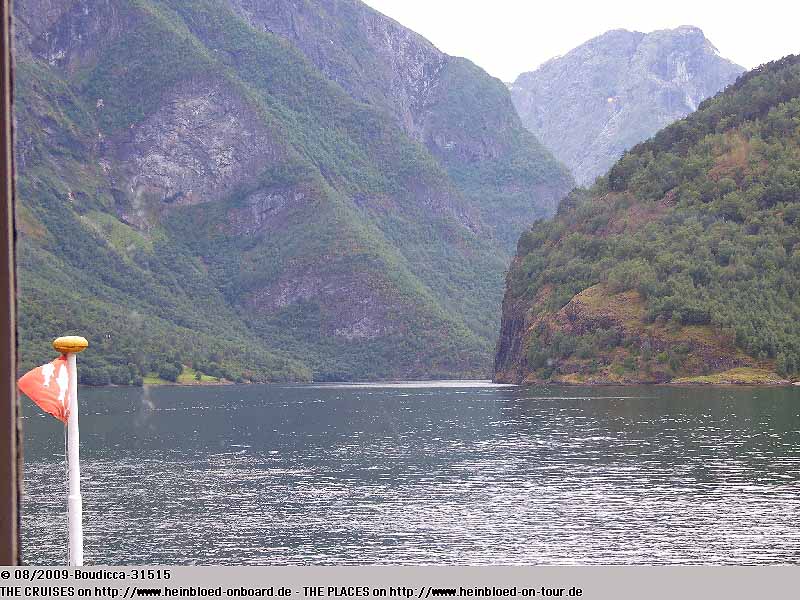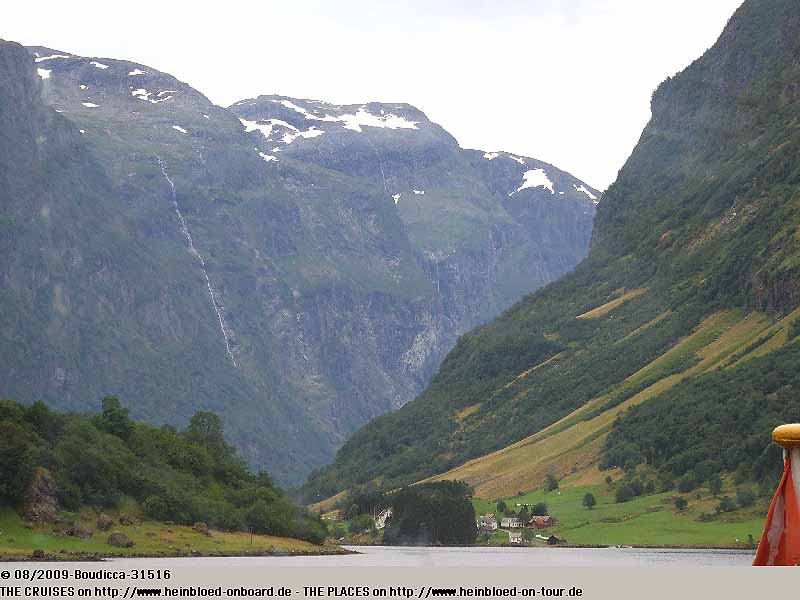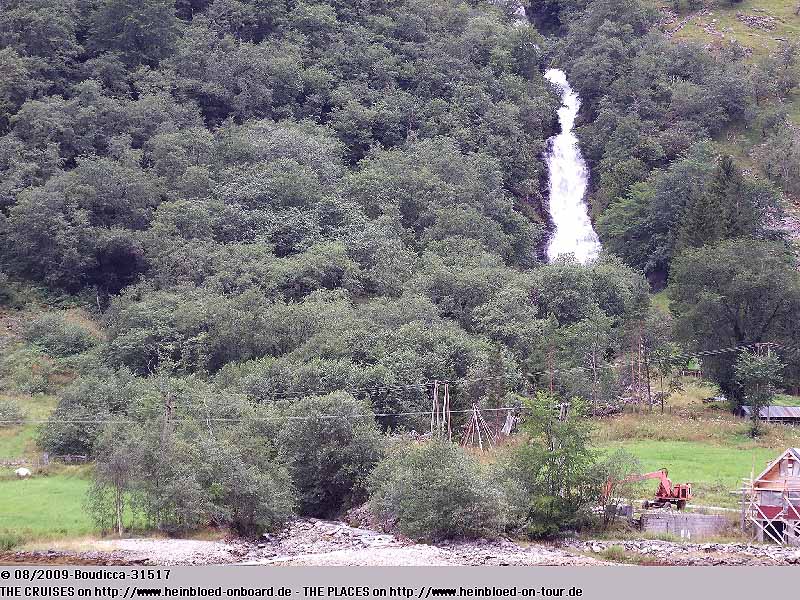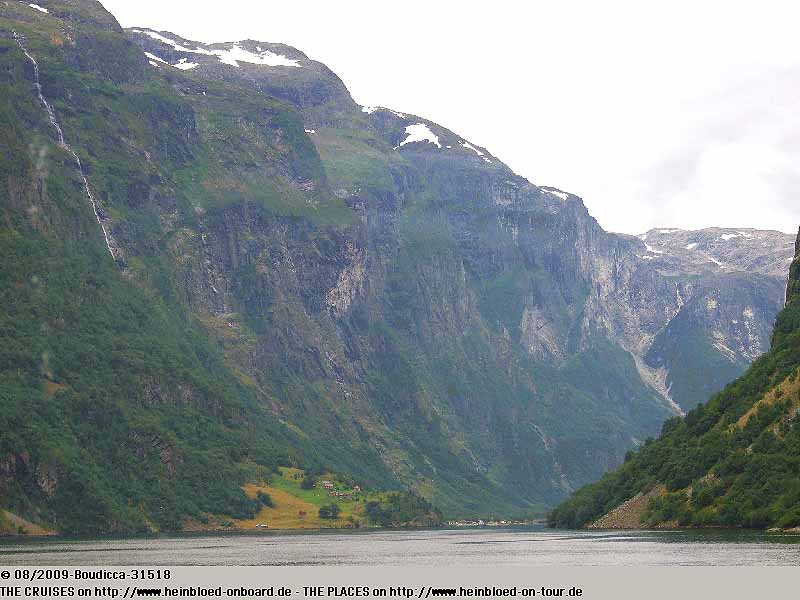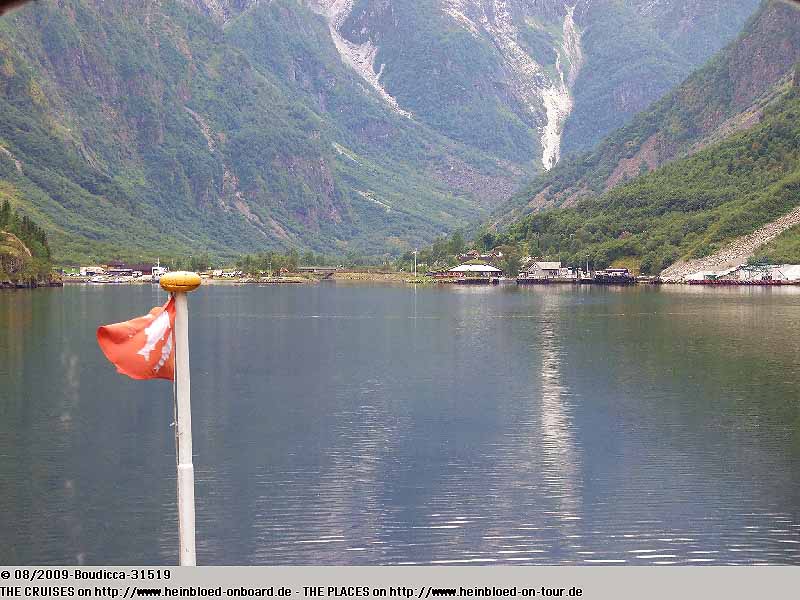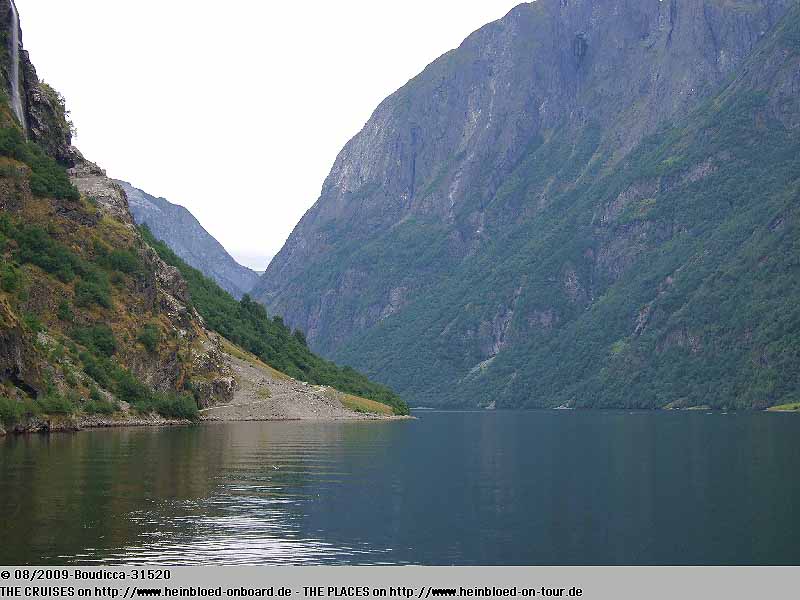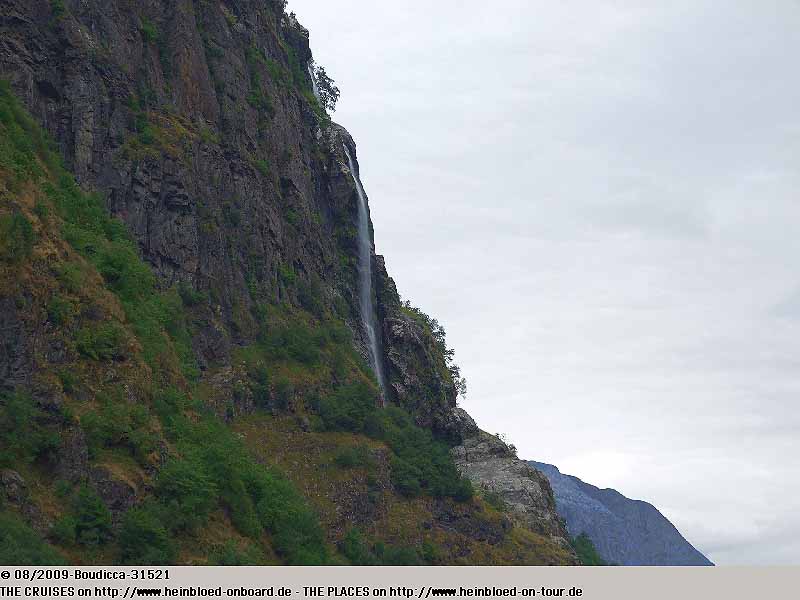 The ships are also used as ferries (for 4 upto 6 cars), so we need to exit via the front hedge.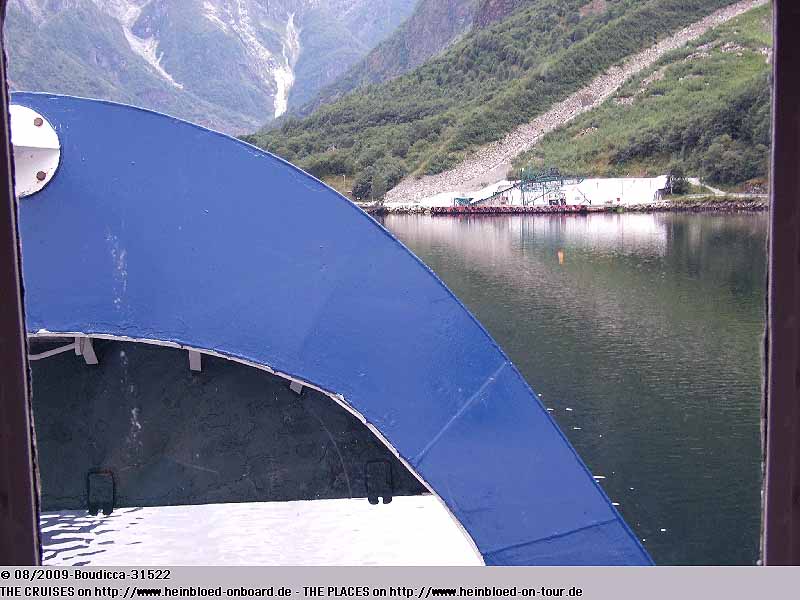 Da die Schiffe auch mal als Fähren eingesetzt werden (so vier bis sechs Autos...), müssen wir durch die Bugklappe raus.
Nach zwei Stunden erreichen wir Gudvangen.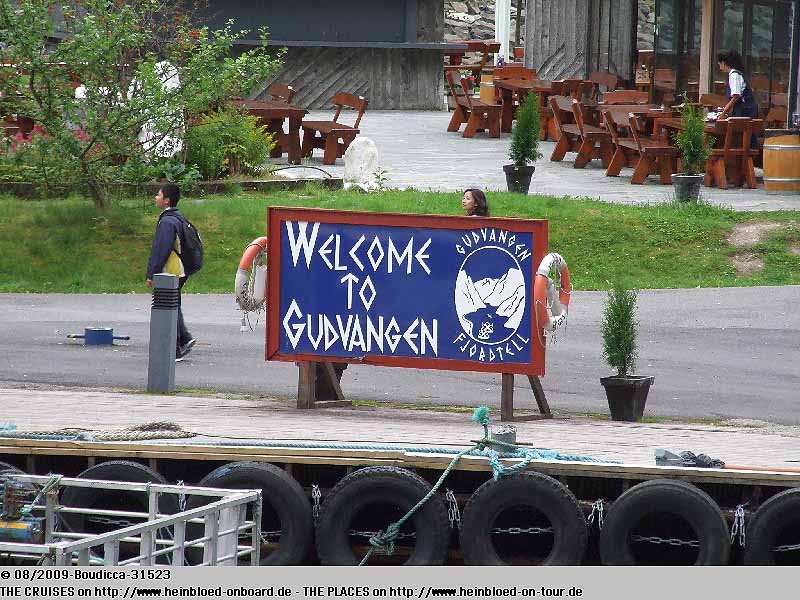 After two hours we reached Gudvangen.

Same like in Flåm - but due to missing Flåm-Railway and cruisers, not so crowded.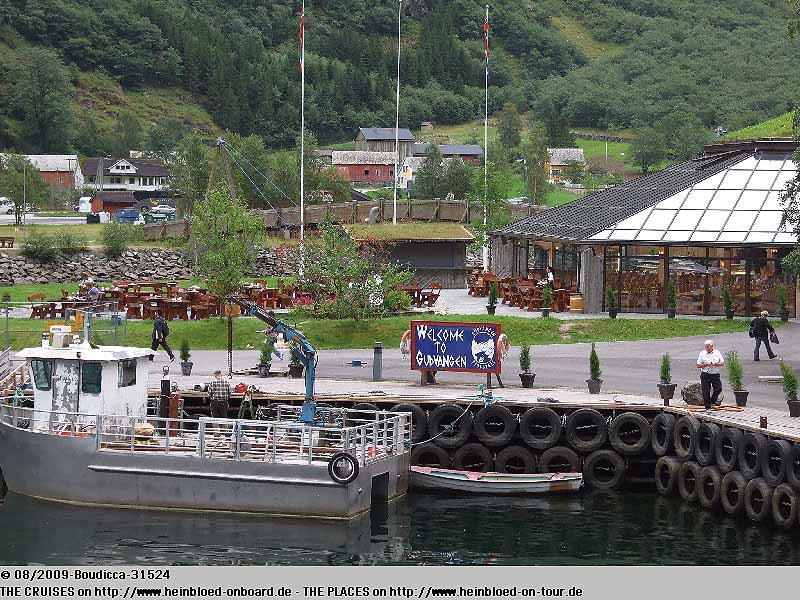 Das gleiche wie in Flåm - nur durch die fehlende Flåm-Bahn und die Kreuzfahrtschiffe, nicht so extrem.
Es hieß immer, dass wir in Linienbussen nach Voss gefahren werden. Aber es standen zum Glück drei Busse zur Verfügung.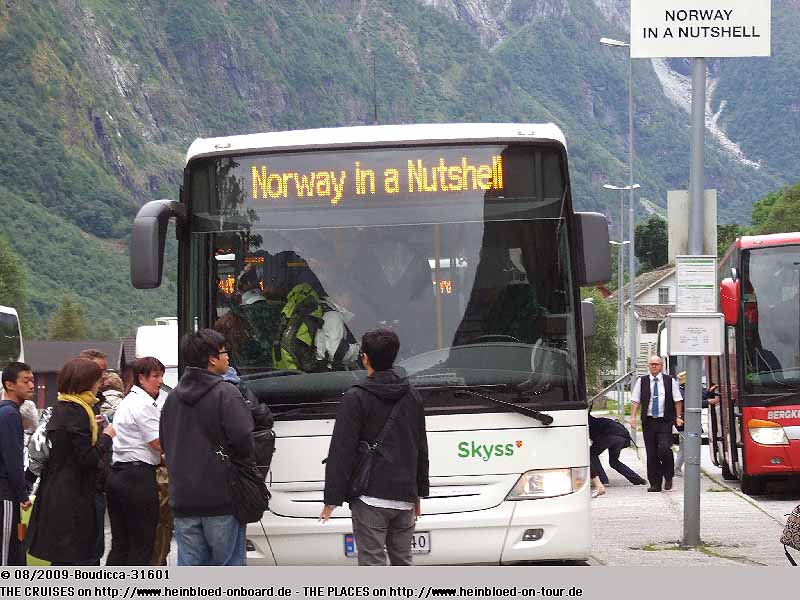 We were told that this was a liner service to Voss. But there were three buses available for us.

A lot of space for each of us.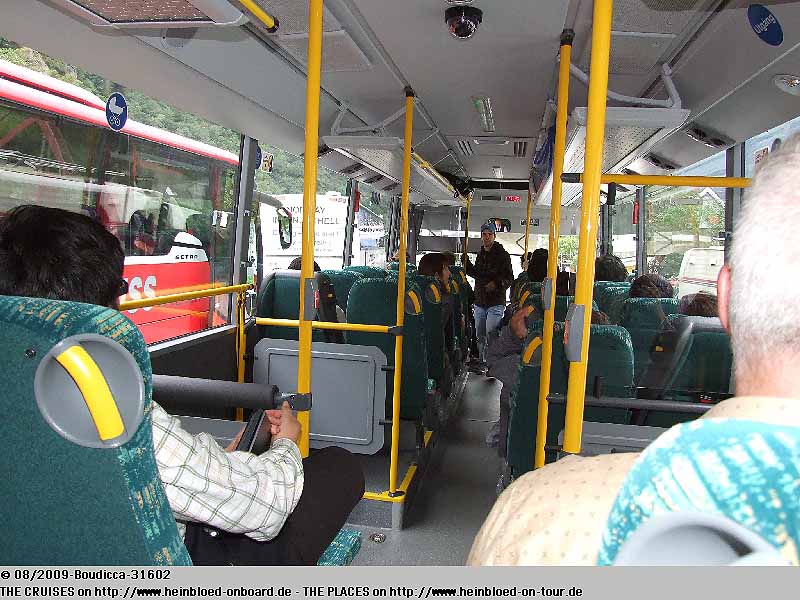 Diese verfügten sogar über sehr viel Platz.
Wir fuhren auch am Hotel Stalheim vorbei, an dem ja wohl unsere Schiffsgruppe mittags dort ihr Essen hatte.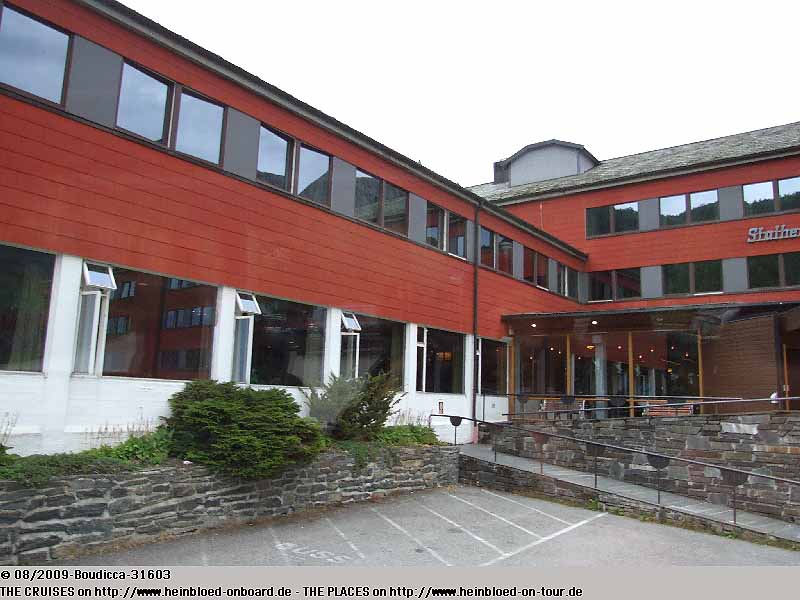 We also passed at Stahlheim Hotel where our ship's group had their lunch.

First I thought it was wasting time.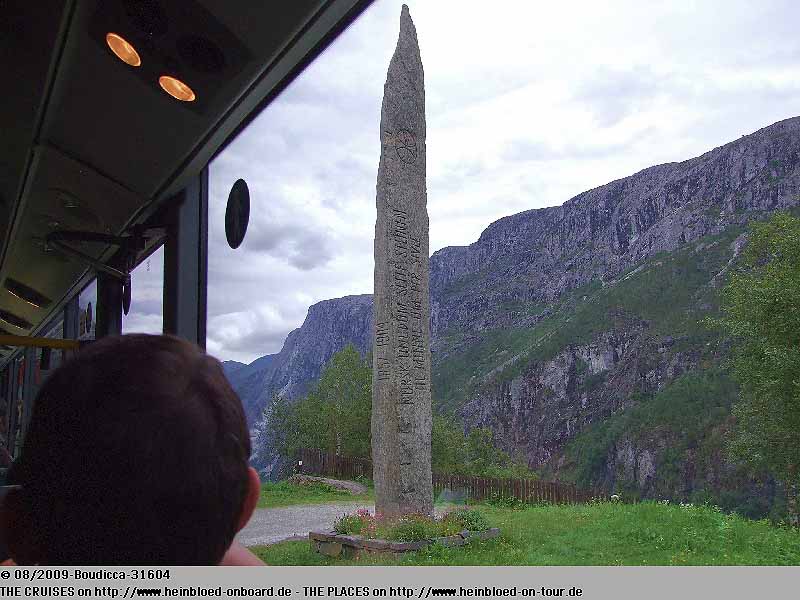 Zunächst hielt ich es für Zeitverschwendung.
Zumal wieder ein alter Stein in die Höhe getrieben, auch nicht meines ist...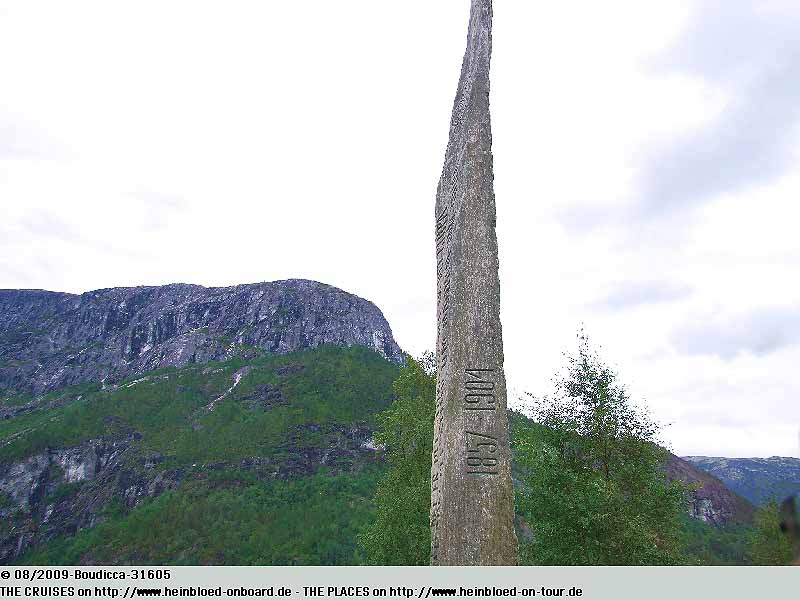 And again an old rock which was not my world.

But then we had to descent the serpentine road.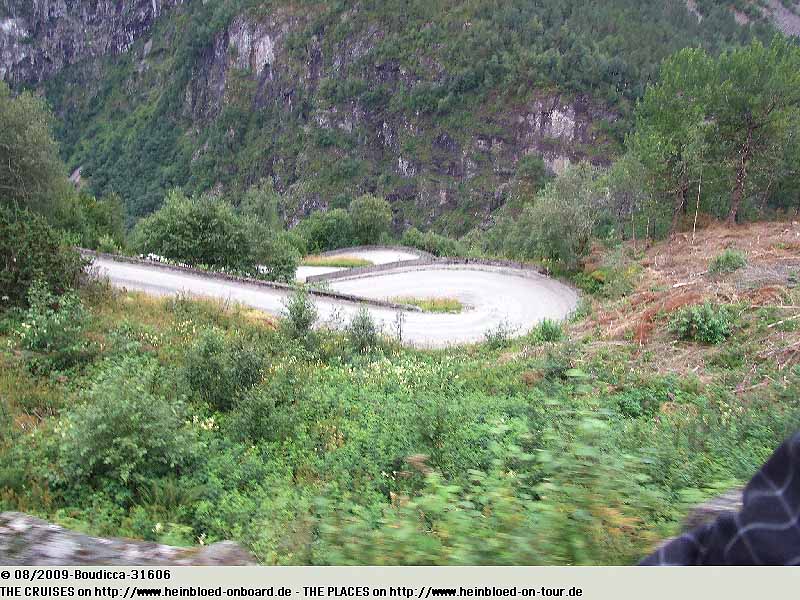 Und dann ging es die Serpentinenstraße wieder runter...
im Stillen hoffst du nur, dass Norwegen so eine Institution wie TÜV kennt und auch erfolgreich etabliert hat...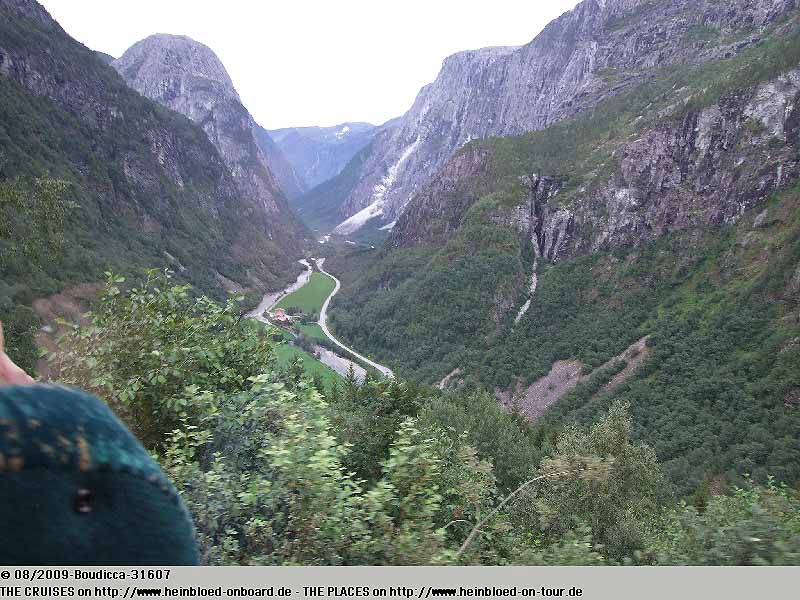 My only concern was if Norway hat a technical inspection for vehicles and if it works successfully.

But this loop we made was worth the time.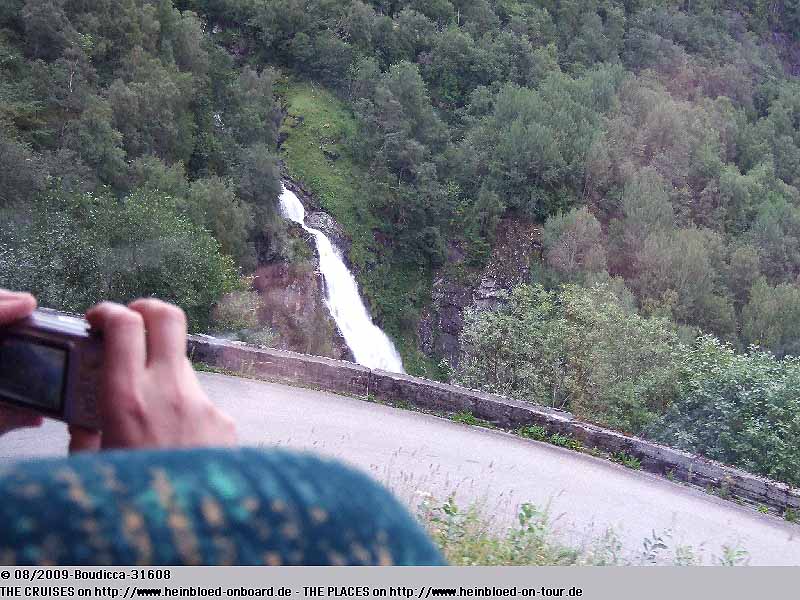 Aber diese Schleife hat sich sehr gelohnt...
... auch wenn man unterwegs Blut und Wasser schwitzt, aus dem vermutlich dieser Bach gespeist wird...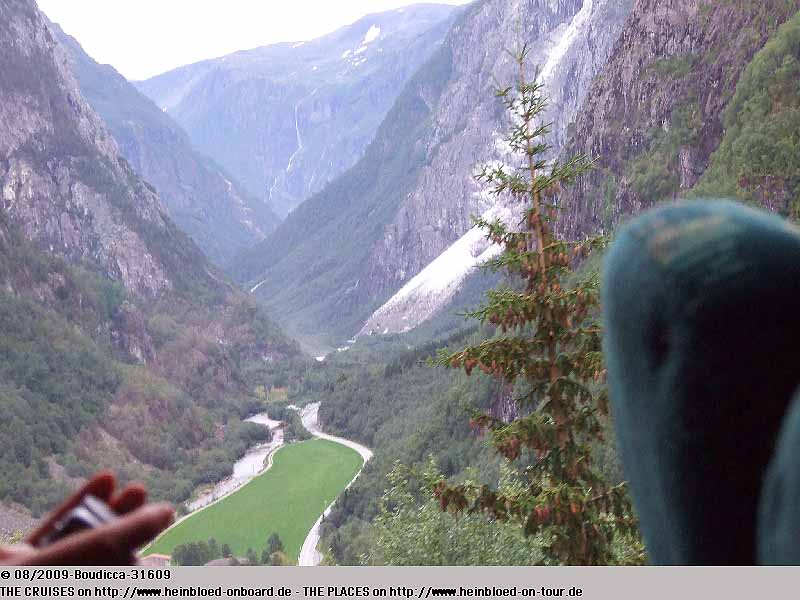 All my blood, sweat and tears were feeding the stream.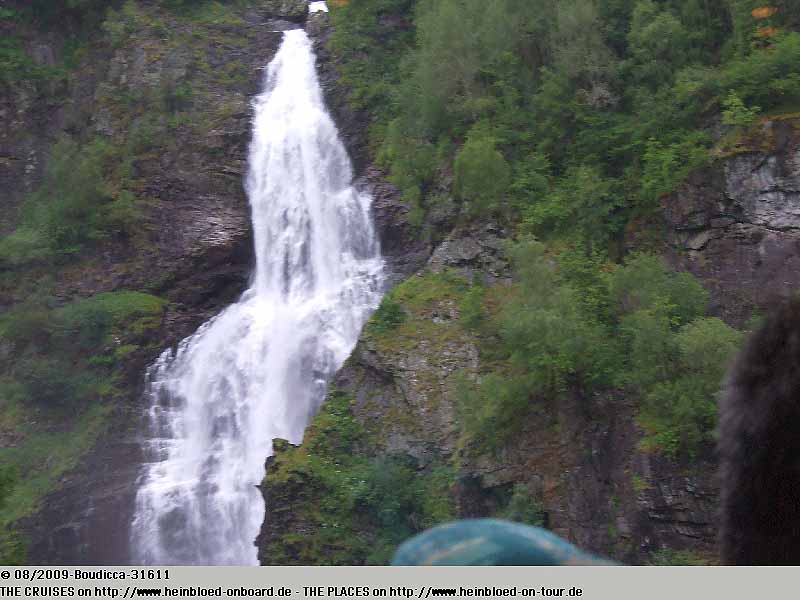 The bus ride was about one hour until we were in Voss. On the way it was truly a liner service for the local traffic.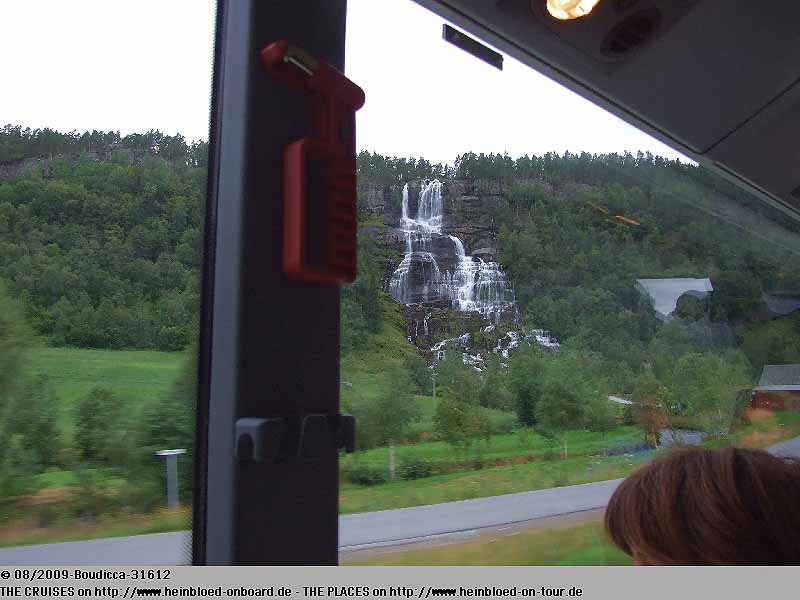 Die Fahrt dauert ca. eine Stunde, bis dass wir in Voss sind. Unterwegs hält der Bus tatsächlich für die lokalen Liniendienste.
Wie üblich werden wir von einem Troll hier am Bahnhof Voss verabschiedet. Zeit für Voss bleibt nicht, zumal es auch zum ersten Mal am Tag ein klein wenig regnet. Da wir ja sowieso unsere Tischzeit nicht erreichen werden, da wir erst um 20.34 Uhr am Bahnhof in Bergen ankommen, kaufen wir uns ein Sandwich für unterwegs und picknicken mit unseren neuen US-Freunden in der Bahn.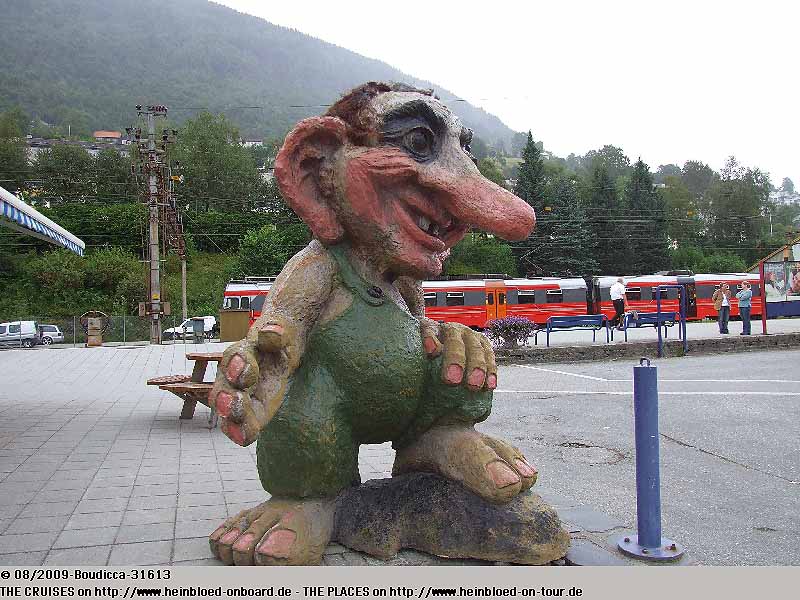 A troll bidded farewell to us at the Voss train stattion. There was no time left for Voss as I started to rain a little we did not worry about. Due to arrival in Bergen at 20.34 hrs none of the seatings will be caught on time: so we bought some sandwiches and had a picknick in the train with our new US-friends.

Again 2-3 seat configuration like on Flåm-Railway. It was a local train which need approx. one hour to get back to Bergen. As we saw already everything we let our new US-friends have the window seats.

The beautiful day has not ended yet. More in the next part.

For those who recommended to go on Flåm-Railway: thanks again for your advices.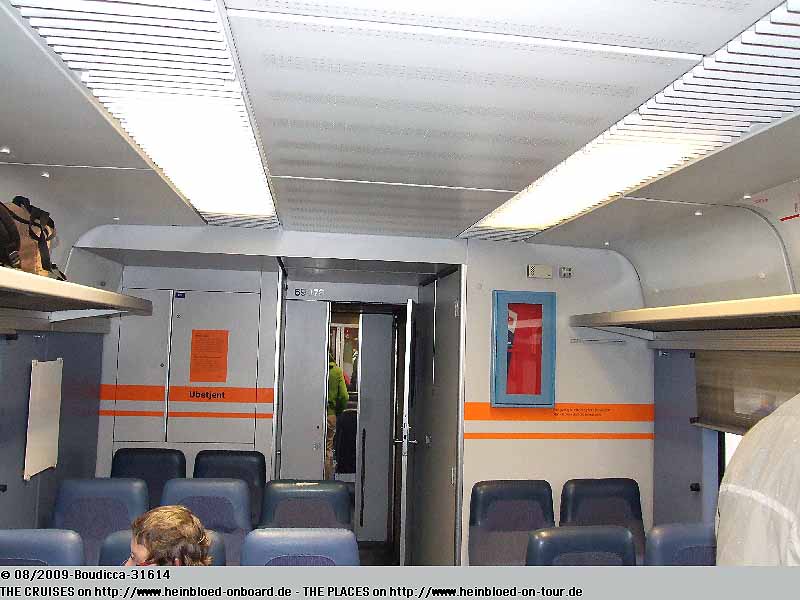 Schon wieder eine 3-2 Bestuhlung wie auf der Flåm-Bahn. Im Lokalzug (Nahverkehr) geht es in ca. einer Stunde nach Bergen zurück. Wir verzichten auf die Fensterplätze, da wir ja schon am Morgen alles gesehen haben.
Der schöne Tag geht noch nicht zu Ende, als wir Bergen erreichen. Mehr davon im nächsten Teil.
Allen, die uns geraten haben, unbedingt die Flåm-Bahn zu nutzen: Herzlichen Dank für den Tipp.