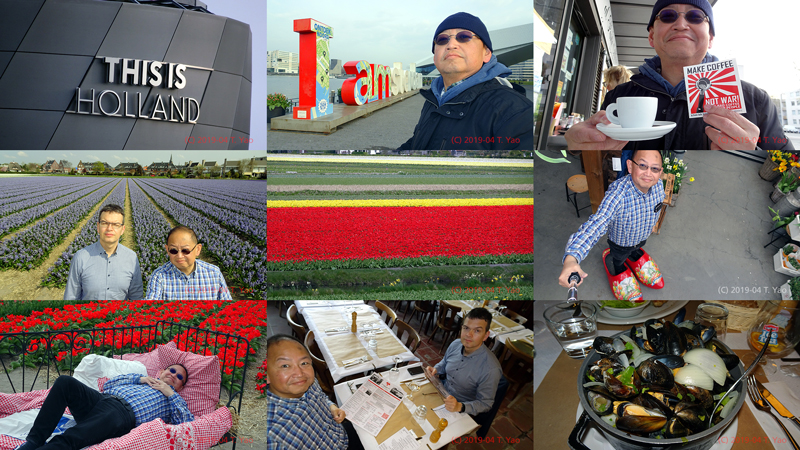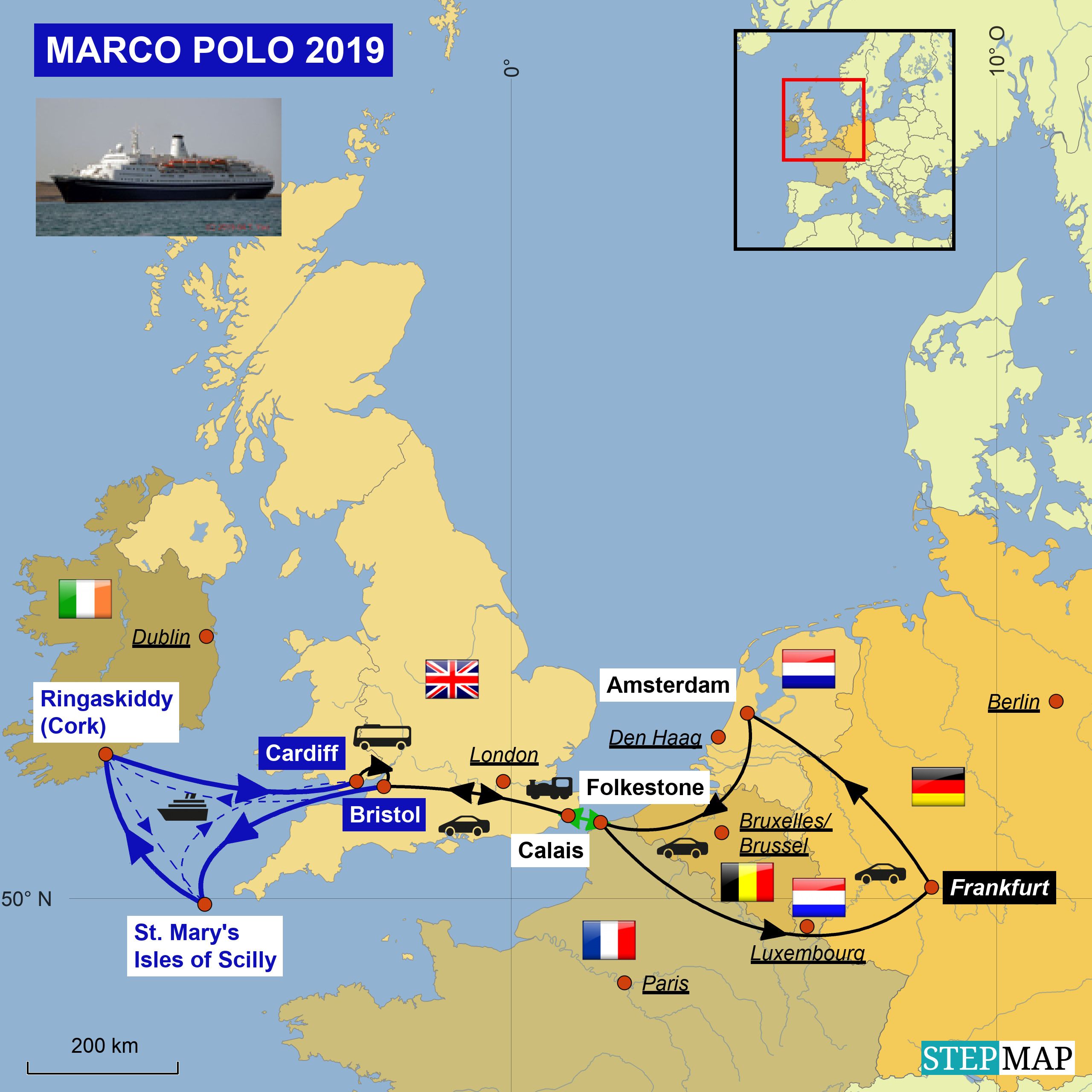 Frühmorgens in Amsterdam. Eine Stadt erwacht zum Leben. Bruno möchte ins Fitness-Studio und ich möchte nochmals zur VIKING SKY. Deswegen geht es wieder mit der
GVB-Fähre
über den IJ. Zunächst zum Fotografieren zum Anleger Buiksloterweg. Und später nochmals zum Anleger IJplein. Die Fähren fahren zum Teil im 3-Minuten-Takt und einige Linien die ganze Nacht durch.

Early in the morning in Amsterdam, The Netherlands. A city came to life. Bruno wanted to see the gym, and I wanted to go back and see VIKING SKY. That was why I headed back across the IJ on the GVB ferry. First, to take pictures to the Buiksloterweg pier. And later again to the IJplein pier. The ferries went up to every 3 minutes and some lines during the entire night.

Now after I arrived here, I now saw in the light that an "I amsterdam" was set up and I had a chance photographing myself in front of it. There was still no time for This is Holland. Here was a Shipspotter-friendly hotel: Sir Adam Hotel. Here I should stay in next time. Or should I prefer Botel? But from now fewer ships would call Amsterdam, it might not be worthwhile.

Hier angekommen habe ich jetzt im Hellen gesehen, dass ein "
I amsterdam
" aufgestellt ist und ich habe ich Chance in Ruhe mich davor zu fotografieren. Für
This is Holland
ist immer noch keine Zeit. Hier ist aber ein Shipspotter-freundliches Hotel mit untergebracht:
Sir Adam Hotel
. Hier muss ich das nächste Mal darin wohnen. Oder doch lieber mal im
Botel
? Aber jetzt wo weniger Schiffe in Amsterdam anlaufen lohnt es sich vielleicht nicht.
Da der IJplein zu umständlich zu erlaufen ist, weil ein Hafenbecken dazwischenliegt, nimmt man besser die Fähre zurück zum Hauptbahnhof und dann wieder mit der anderen Fähre hin. Am IJplein selbst gibt es den besten Espresso mit Ausblick am
Café al Ponte
. Das teste ich gerne und schließe mich deren Kampagne an: "Macht Kaffee - keinen Krieg! Kämpft gegen schlechten Kaffee - nicht gegen andere Menschen!". Das gefällt mir.

Since the IJplein was too cumbersome to walk to because a harbor basin was on the way, it was better to take the ferry back to the central station and then back on the other ferry. At the IJplein itself, they offered the best espresso with a view at Café al Ponte. I liked to test that and joined their campaign: "Make coffee - not war! Fight bad coffee - not other people!". I like that.

And finally VIKING SKY at the PTA below the Mövenpick Hotel. I used that before for Shipspotting 2017 to photograph the KONINGSDAM, but then she just docked in the VCK Waterland Terminal in the Western port, and so I could just take some photos of CELEBRITY SILHOUETTE here. "Next" to VIKING SKY, her river cruise "sister" VIKING EINAR docked.

Und endlich die VIKING SKY am
PTA
unterhalb des
Mövenpick Hotels
. Dort habe ich zuletzt zum
Shipspotting 2017
gewohnt, um die KONINGSDAM zu fotografieren, aber da lag sie dann einfach im
VCK Waterland Terminal
im Westhaven und so konnte ich bloß die CELEBRITY SILHOUETTE hier fotografieren. "Neben" der VIKING SKY liegt die "Schwester" VIKING EINAR bei den Flusskreuzfahrtschiffen.
Da ich durch den
Hauptbahnhof
durch muss, bewundere ich den Tunnel für Fußgänger und Radfahrer mit den Delfter Fliesen. Als ich zum Bahnhof komme, fahren hier nur einzelne Fahrräder. Als ich den Bahnhof wieder 30 Minuten später verlasse, geht es hier zu wie auf einer Autobahn. Und hier finde ich schon das erste "Tulpenfeld", in dem ich mich fotografieren kann. Hier hätte es auch ein schön gelegenes Pfannkuchenrestaurant
Pancakes
gegeben, um direkt am Wasser zu essen. Leider hat es zum Frühstück noch nicht geöffnet.

Since I had to go through the central station, I admire the tunnel for pedestrians and cyclists with the Delft tiles. When I came to the station, only a few cyclists drove here. When I left the station again 30 minutes later, it was like a highway. And here I already found the first "tulip field", in which I could photograph myself. There would be a nicely located pancake restaurant Pancakes to eat right at the waterfront. Unfortunately, it did not open for breakfast yet.

Back to the hotel's restaurant Wyers. It was right above our room. In our room, we could smell, that they fried the bacon for breakfast in the morning. I found the selection rather disappointing. There were not even Dutch chocolate crumbles (Hagelslag). Unfortunately, there was no menu with the hot breakfast options. You had to ask yourself. Unfortunately, they were not as courteous and friendly here as in the rest of the hotel. It should suppose to be more Dutch, but the pancakes were more American for me. For 24.00 EUR I was somewhat disappointed. Then I would rather have breakfast at the Crowne Plaza in Neuss, Germany. The way to the restaurant was a bit obscure because they had construction works and the electricity was turned off. There were no signs or staff to guide you through the construction site.

Zurück geht es die das hoteleigene Restaurant
Wyers
. Es ist direkt über unserem Zimmer. In unserem Zimmer können wir riechen, dass morgens für das Frühstück schon Speck gebraten wird. Die Auswahl finde ich eher enttäuschend. Es gibt nicht einmal holländische
Schokoladenstreusel (Hagelslag)
. Eine Karte mit den warmen Frühstücksoptionen gibt es leider nicht. Man muss sich schon selbst durchfragen. Hier sind sie leider nicht genauso nett und freundlich, wie im Rest des Hotels. Es soll holländischer sein, aber die Pfannkuchen wirken auf mich mehr amerikanisch. Für 24,00 EUR bin ich eher enttäuscht. Dann lieber doch wieder im
Crowne Plaza in Neuss
frühstücken. Der Weg ins Restaurant ist etwas im Dunkeln, weil umgebaut wird, und der Strom ist dabei abgestellt. Es fehlen Schilder oder Mitarbeiter, die einen durch die Baustelle lotsen.
Rundum hätte es ja auch viele Bars und Restaurants mit Frühstücksangebot gegeben. Aber, wenn ich Punkte einlöse, mache ich meistens doch etwas Umsatz mit Frühstück in dem Hotel.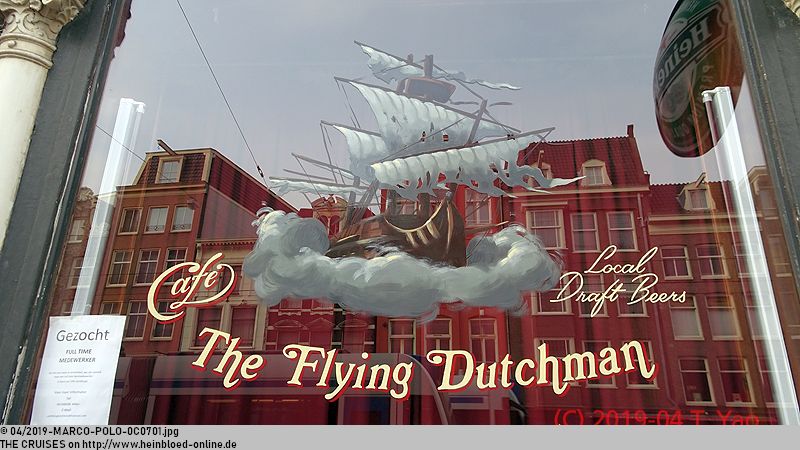 Here around you had plenty of bars and restaurants with breakfast options. But when I was redeeming my points, I normally had some revenue with breakfast in the hotel.

On our way, a horse carriage of the brewery Heineken passed.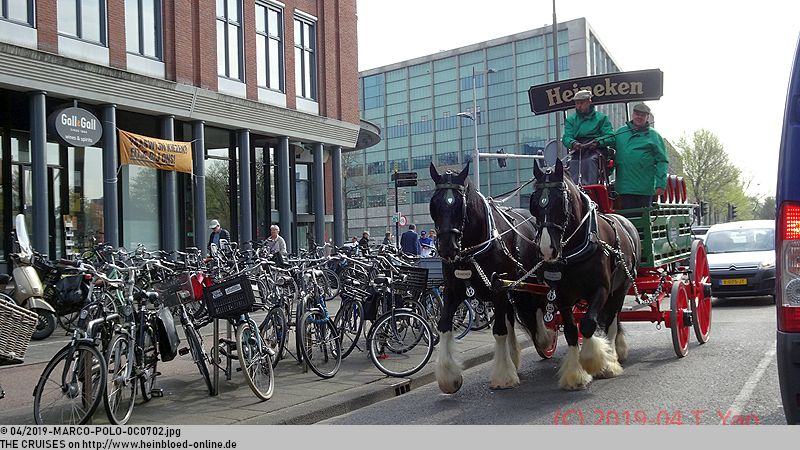 Unterwegs kommt uns eine Bierkutsche von
Heineken
entgegen.
Unterwegs typisch holländische Landschaft mit Kanälen und Zugbrücken.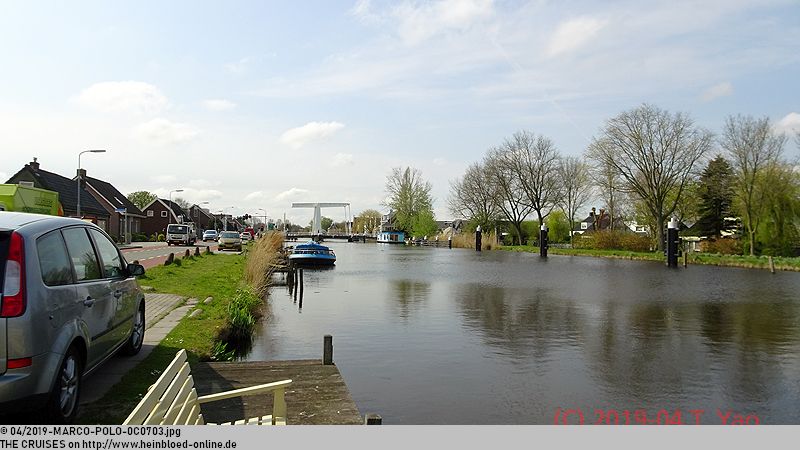 On our way typical Dutch landscape with canals and drawbridges.

Just gorgeous.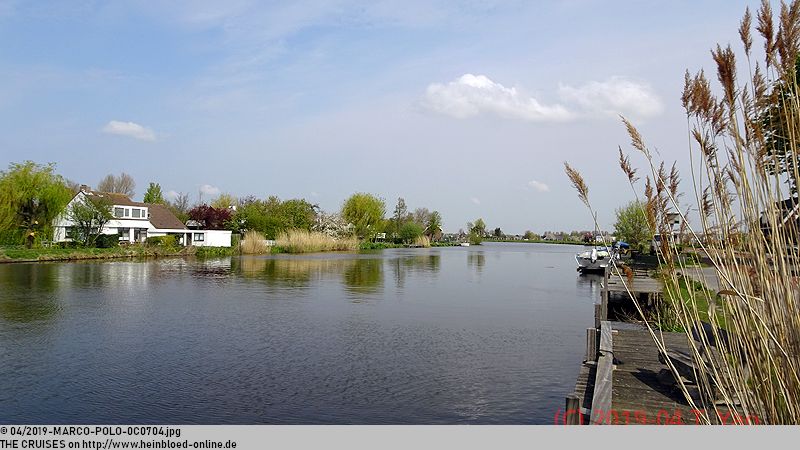 Einfach nur schön.
In unserem Freundeskreis haben wir nachgefragt, wo wir am besten die Tulpenblüte erleben, wenn wir nicht zum
Keukenhof
fahren wollen. Dort waren wir damals vor der
NORWEGIAN BREAKAWAY 2013
. Einer der Tipps, uns in
Hillegom
umzusehen, stammt von Aad und Nicoline, die wir von unserer Fahrt auf der
GRAND PRINCESS 2013
,
NORWEGIAN BREAKAWAY 2013
und
KONINGSDAM 2016
kennen. Aad betreibt auch die Seite
https://www.cruisefans.nl
. Hier sind wir schon mal richtig.

In our circle of friends, we asked where we would best experience the tulip blossom season if we did not want to see Keukenhof. There we went before we joined NORWEGIAN BREAKAWAY 2013. One of the tips to look around Hillegom, The Netherlands, came from Aad and Nicoline, whom we knew from our sailings at GRAND PRINCESS 2013, NORWEGIAN BREAKAWAY 2013 and KONINGSDAM 2016. Aad also runs the site https://www.cruisefans.nl. Here we were pretty right.

The other tips from Joan, Marco, and Thomas too see around Lisse, The Netherlands, where ever the Keukenhof was, or between Noordwijkerhout, The Netherlands, and Sassenheim (Teylingen), The Netherlands. The link to Bollenstreek, The Netherlands, came from Ine and there was a specific reference to De Tulperij in Voorhout (Teylingen), The Netherlands, which was located between Noordwijkerhout and Sassenheim. Indoor, the family, ran a tulip shop and offered its homemade stroopwafel (syrup waffles) and apple pie. That meant a break to try out!

Die anderen Tipps von Joan, Marco und Thomas rund um
Lisse
zu sehen, wo eh schon der
Keukenhof
ist, bzw. zwischen
Noordwijkerhout
und
Sassenheim
(Theylingen). Von Ine stammt der Link zu
Bollenstreek
und hier gibt es einen konkreten Hinweis auf
De Tulperij
in
Voorhout
(Teylingen), das zwischen Noordwijkerhout und Sassenheim liegt. Innen betreibt die Familie einen Laden rund um Tulpen und stellt selbst Stroopwafel und Apfelkuchen her. Das bedeutet eine Pause zum Ausprobieren!
Und draußen: Farb- und Dufttherapie, so wie ich es mir gewünscht habe und ich kann mich mitten zwischen den Tulpen auf einem Bett platzieren. Viele Tulpen sind eben Ausstellungsstücke für den Blumenzwiebelverkauf.

And outdoor: Color and aromatherapy, as I wished me to see and I could place myself on a bed in the middle of the tulips. Many tulips were just exhibited for the flower bulbs sale.

We did not like to go on a congested highway and drove closer to the coast. Now we needed a boost. At the Hotel Bom in Burgh-Hamstede, The Netherlands, I finally got my Bitterbollen, which I had recently at KONINGSDAM 2016. Around the corner, a shop offered the typical Dutch national dresses of Mrs. Antje (The ambassador of the Dutch dairy industry for exportation to Germany). Too bad that Janice was no longer with us. I would like to have her tried it.

Wir haben keine Lust auf verstopfte Autobahn und fahren näher an der Küste entlang. Nun brauchen wir eine Stärkung. Im
Hotel Bom
in Burgh-Hamstede bekomme ich endlich meine Bitterbollen, die ich zuletzte auf der
KONINGSDAM 2016
hatte. Um die Ecke bietet ein Geschäft die typische holländische Tracht von
Frau Antje
. Schade, dass wir Janice nicht mehr bei uns ist. Zu gerne hätte ich sie das ja anprobieren lassen.
Wir kommen am
Deltapark Neeltje Jans
vorbei. Es ist zu diesig um mal kurz zu halten und das Sperrwerk zu fotografieren. Außerdem wollen sie für das Parken 7,50 EUR haben. Kurzerhand lassen wir es. Für das nächste Mal merken wir uns schon mal das Meeresfrüchte-Restaurant
Proef Zeeland
vor. Heute passt es nicht in unsere Pläne: wir haben ja gerade erst gegessen und wir essen ja gleich wieder.

We passed the Delta Park Neeltje Jans. It was too hazy to have a brief stop and to photograph the barrage. Besides, they wanted to charge 7.50 EUR for parking. Without further ado, we left it. For the next time, we should remember the seafood restaurant Proef Zeeland. Today it did not fit into our plans: we just ate, and we should eat soon.

Soon, we reached Zeebrugge, Belgium.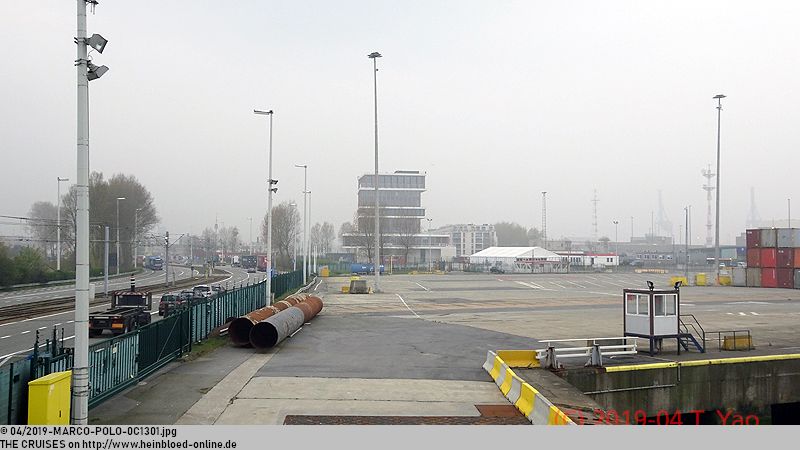 Bald erreichen wir Zeebrugge.
Hier gibt es einen kleinen Aussichtspunkt neuerdings.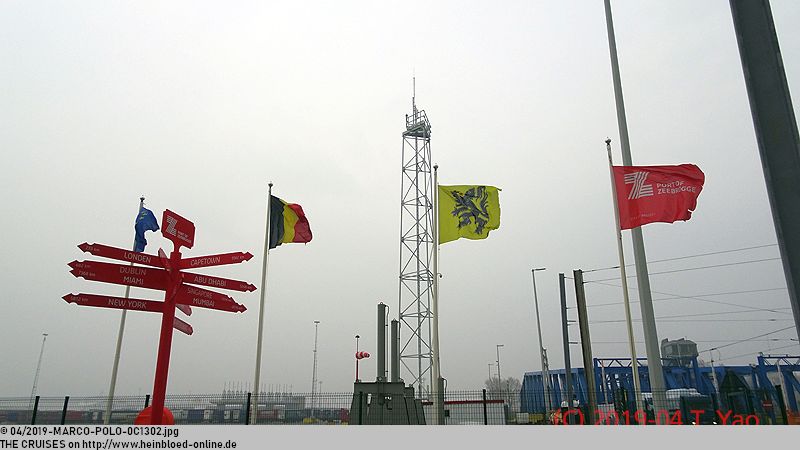 Recently, they had a small observation point.

It was a nice setup.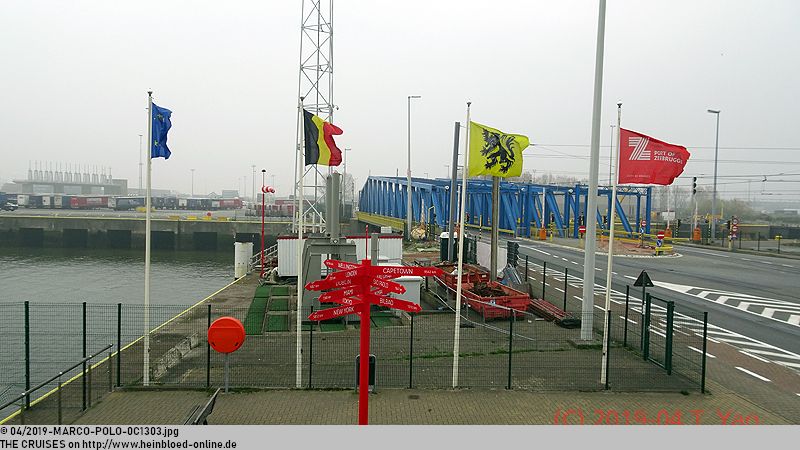 Nett gemacht.
Für einen Shipspotter wie mich.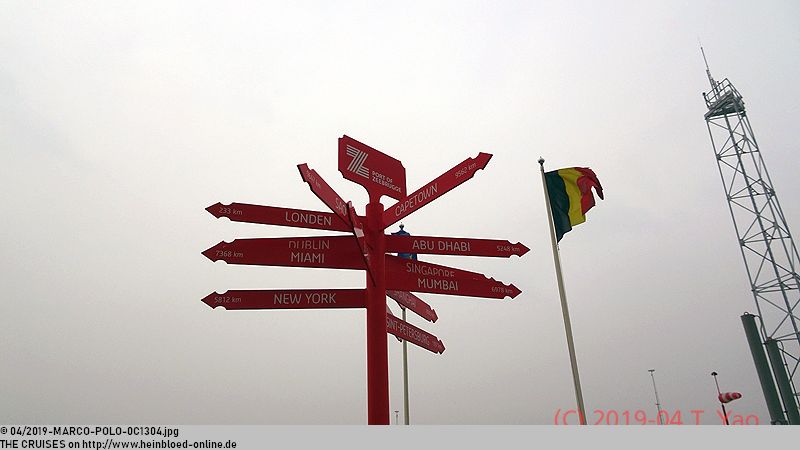 For a shipspotter like me.

Bruno tried to have a selfie.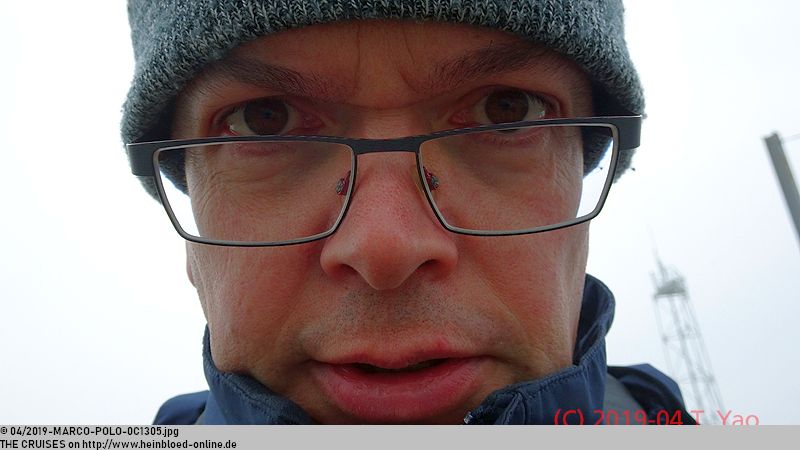 Bruno versucht sich hier an einem Selfie.
Das blöde ist nur: In
Zeebrugge
ist ja der Anleger für Kreuzfahrtschiffe mitten im Industriehafen am Schwedischen Kai. Und wenn ein Frachtschiff zwischen einem Kreuzfahrtschiff und dem Aussichtspunkt liegt, ist das irgendwie blöd: AIDAmar.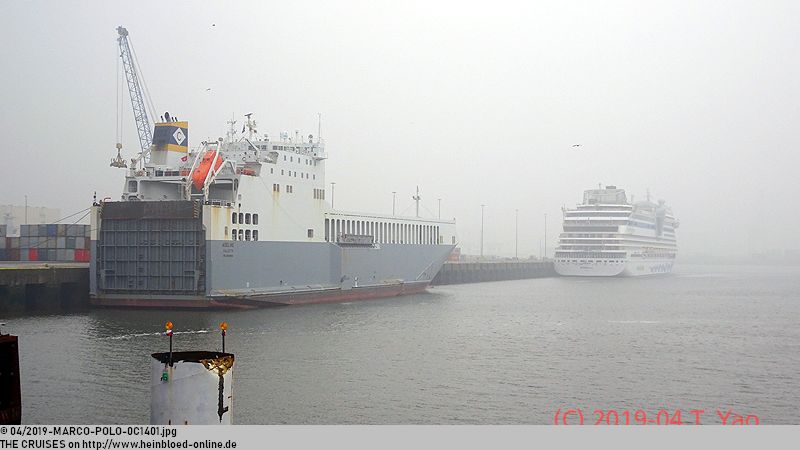 The stupid was only: In Zeebrugge, the pier for cruise ship Swedish quay was in the heart of the industrial port. And if a freight ship docked between a cruise ship and the observation point, it was somehow stupid: AIDAmar.

Actually, we were initially booked on her. But I could not overcome myself yet and rebooked without further ado: in the next chapter here in the blog we go in the summer on AZAMARA PURSUIT.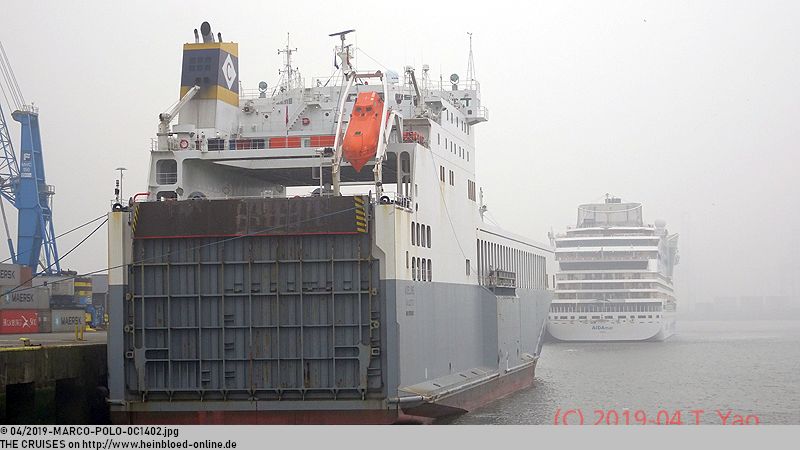 Eigentlich waren wir ursprünglich auf ihr gebucht. Aber ich konnte mich doch noch nicht überwinden und habe kurzerhand umgebucht: im nächsten Kapitel hier im Blog geht es im Sommer auf die AZAMARA PURSUIT.
Wenn man sich ein wenig weg vom Aussichtspunkt auf die Brücke Kustlaan Ecke Zeesluisstraat bewegt, bekommt man die doch noch. Leider eben nur im Nebel.

If you move a little away from the observation to point to the bridge Kustlaan at intersection Zeeslusstraat, you could catch her. But unfortunately, only in fog.

Unfortunately, she was heading for Hamburg, Germany.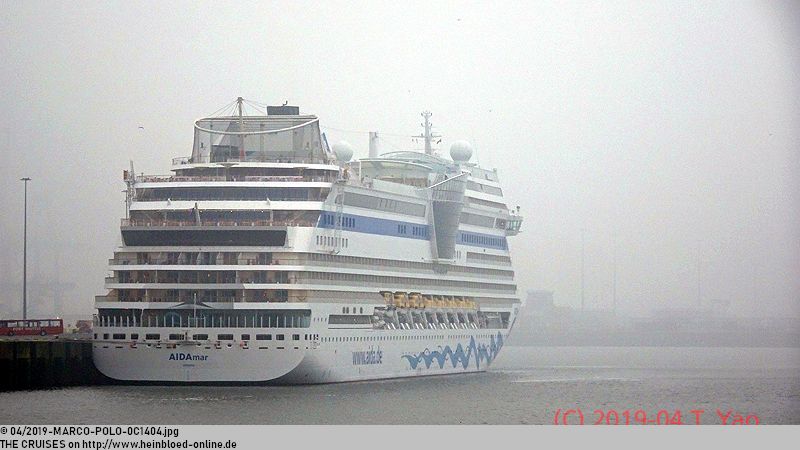 Leider fährt sie weiter nach Hamburg.
Also keine Chance sie morgen evtl. nochmals in Dover bei besserem Wetter zu erwischen.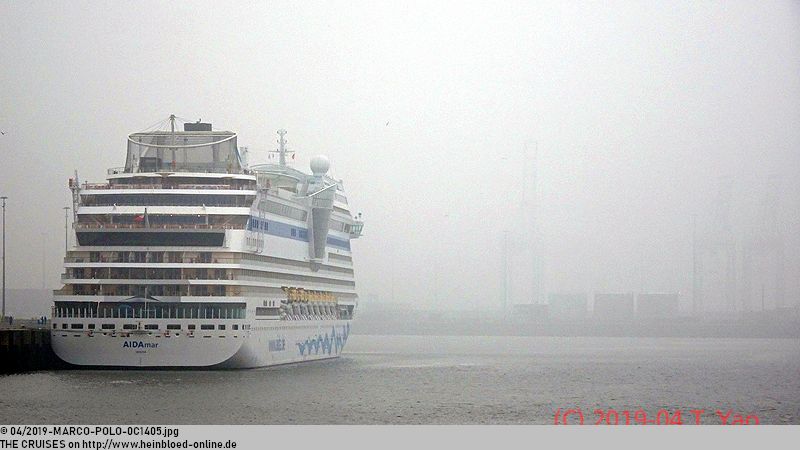 So no chance, maybe to see her again in Dover, England, probably with better weather.

I was trying to get my table, which I reserved to celebrate my 50th birthday during my BRITANNIA 2016 trip. Here I wished to meet with my family. The terrorist attacks in Brussels, Belgium intervened, and our ship was diverted to Le Havre, France. Unfortunately, I could only get a new table in the restaurant Oesterput in Blankenberge, Belgium. A place for friends of fresh seafood. The lobster bisque here with lobster pieces beat every lobster bisque on any cruise ship. Here I got my mussels: they were delicious, but somehow lacked the final touch. Somehow I had better memories of them in the Strandpavillon Zuidpier (today: Zan Diego) Ijmuiden, The Netherlands before going on KONINGSDAM 2016, and in the Bar André in La Rochelle, France on our VENTURA 2018 trip. Probably the expectations were simply too high since the restaurant was recommended by our former division manager, who came from this area.

Ich versuche meinen Tisch zu bekommen, den ich anlässlich meines 50. Geburtstages während meiner
BRITANNIA 2016
-Reise reserviert hatte. Hier hätte ich mich gerne mit meiner Familie getroffen. Die Terroranschläge von Brüssel kamen dazwischen und unser Schiff nach Le Havre umgeleitet. Leider gibt es nur einen neuen Tisch im Restaurant
Oesterput
in Blankenberge. Ein Laden für Freunde frischer Meeresfrüchte. Die Hummercremesuppe hier mit Hummerstücken schlägt jede Lobster Bisque auf irgendeinem Kreuzfahrtschiff. Hier bekomme ich meine Muscheln: sie sind sehr gut, aber irgendwie fehlt der letzte Pfiff. Irgendwie hatte ich sie im
Strandpavillon Zuidpier
(heute Zan Diego) in Ijmuiden vor der
KONINGSDAM 2016
-Reise und in der
Bar André
in La Rochelle auf unserer
VENTURA 2018
-Reise in besserer Erinnerung. Wahrscheinlich sind einfach die Erwartungen zu hoch, da das Lokal von unserem ehemaligen Bereichsleiter empfhohlen wurde, der aus der Gegend stammt.
Als wir das Restaurant verlassen, laufen wir mal kurz zum Strand. Aber von hier haben wir keine Chance das Auslaufen der AIDAmar zu sehen, obwohl es jetzt nicht mehr so neblig ist.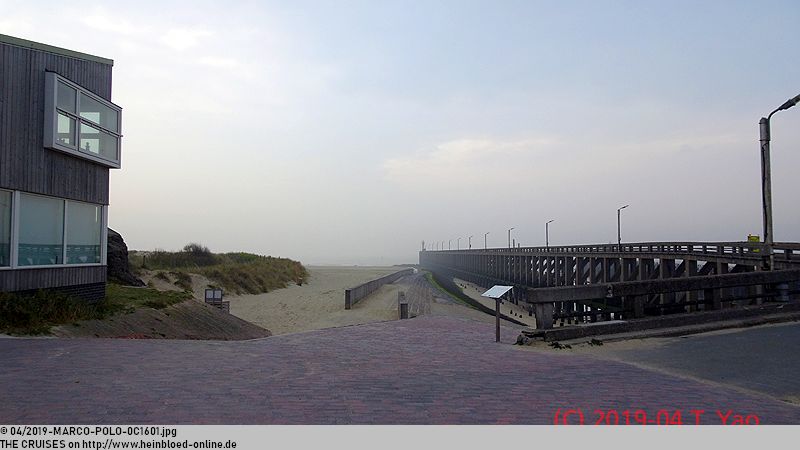 When we left the restaurant, we walked briefly to the beach. But from here we have no chance to see the set sail of AIDAmar, although it was not so foggy now anymore.

We were no longer in Zeebrugge, but Blankenberge. That was too far to see ships in the English Channel.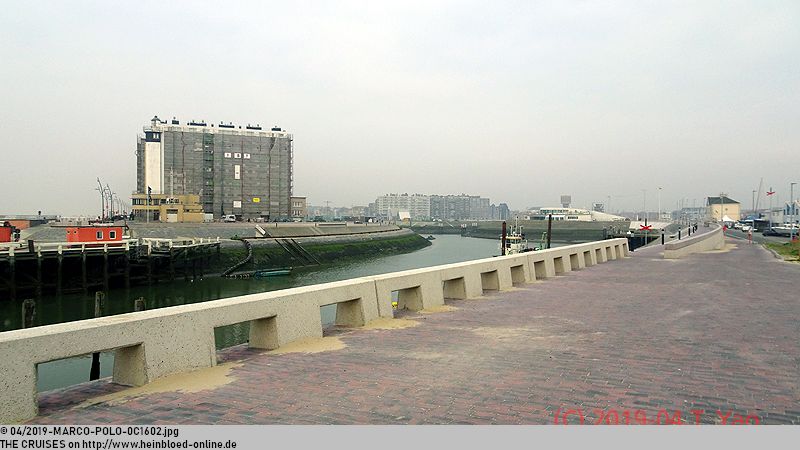 Wir sind ja nicht mehr in Zeebrugge, sondern Blankenberge. Das ist doch zu weit weg, um Schiffe im Ärmelkanal zu beobachten.
Eigentlich könnten wir einfach am Wasser immer gerade aus weiterfahren.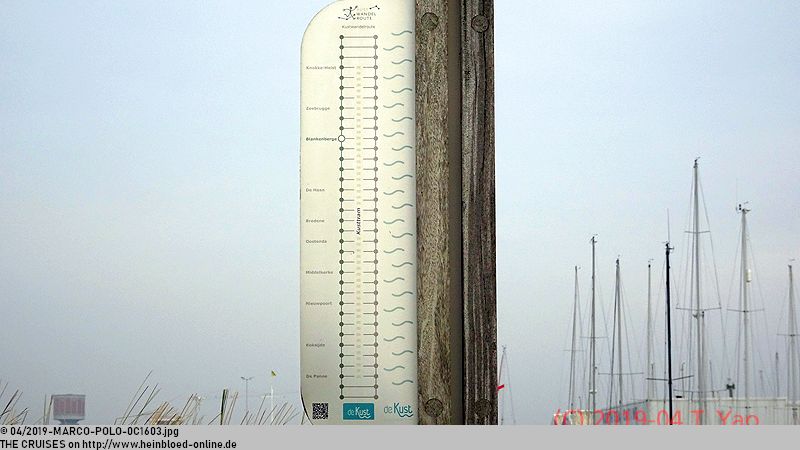 Actually, we could just head along the waterfront.

We arrived in Calais, France. Our hotel was located in the heart of the city center of Calais.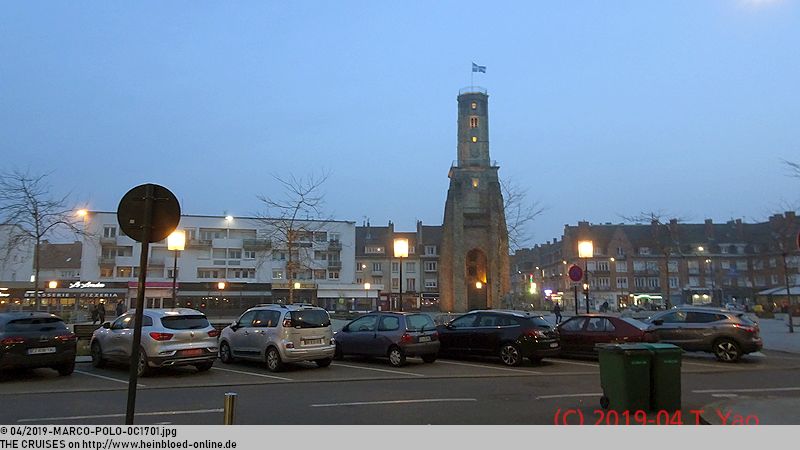 Wir kommen in Calais an. Unser Hotel liegt mitten in der Innenstadt von Calais.
Ich will dieses Mal das
Holiday Inn in der Innenstadt
ausprobieren. Vor der QUANTUM OF THE SEAS 2014-Reise war in dem anderen in
Coquelles
an der Zufahrt zum
Eurotunnel
.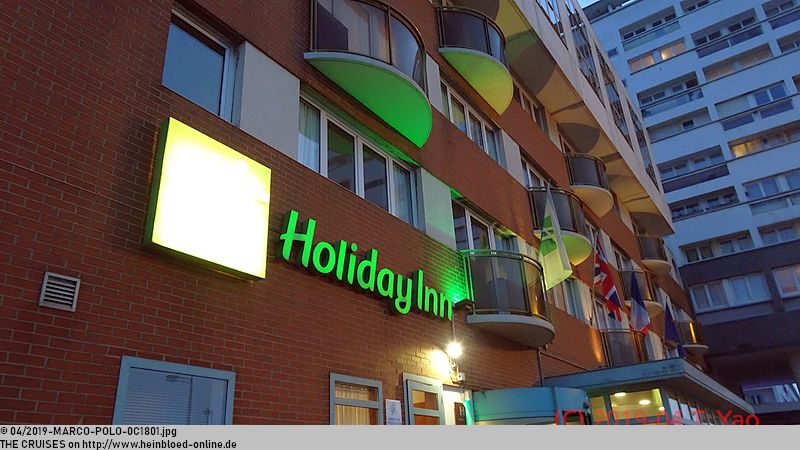 I wanted to try the Holiday Inn in the city center this time. Before we joined QUANTUM OF THE SEAS 2014, we stayed in the other one in Coquelles right at the access to the Eurotunnel.

I did not like to park on the street although there were many vacant parking lots. For 12.00 EUR I took a parking lot. That did not look very trustworthy: maybe I better should stay in the other Holiday Inn.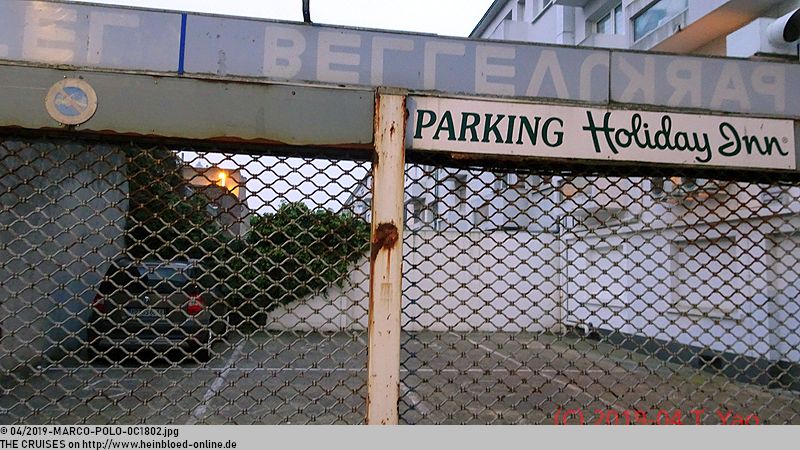 Ich möchte nicht auf der Straße parken, obwohl es sehr viele freie Parkplätze gibt. Für 12,00 EUR nehme ich einen Parkplatz. Das sieht aber nicht besonders vertrauenswürdig aus: ich sollte vielleicht doch lieber in dem anderen Holiday Inn übernachten.
Aber ich fasse den Mut und checke hier ein. Die Mitarbeiter sind alle sehr nett und freundlich.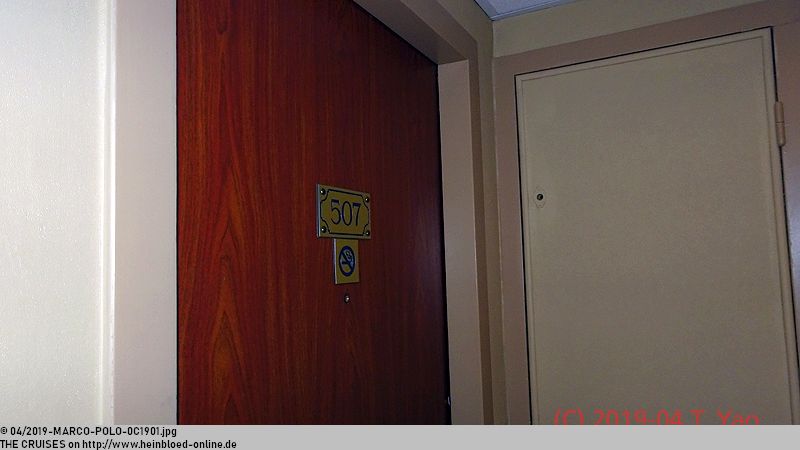 But I was couraged enough and checked-in here. The staff members were all very nice and friendly.

We got our separate beds.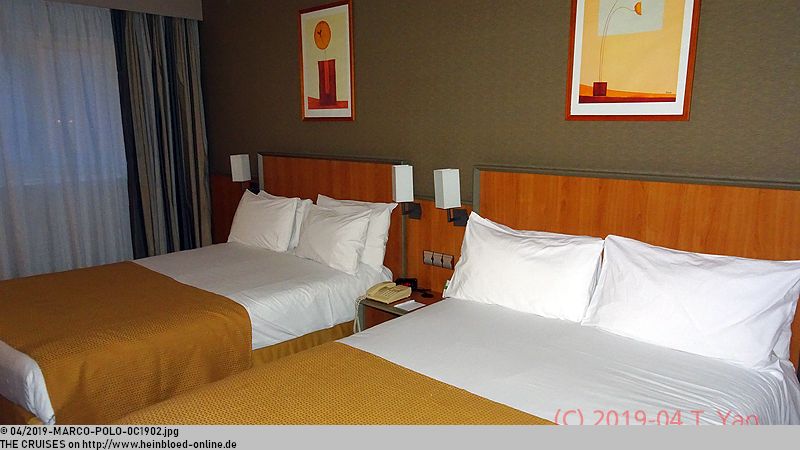 Wir bekommen unsere getrennten Betten.
Als
IHG Rewards Club
-Mitglied bekomme ich eine lokale Limonade von La Gosse als kleine Aufmerksamkeit. Auch müssen wir für die Flasche Wasser, die wir an der Bar holen, nichts bezahlen. Das einzige, das ich als störend wahrnehme: dass man leider nicht wirklich alles renoviert hat, z. B. die Sicherungskette.

As an IHG Rewards Club member, I got a local soda from La Gosse as a small treat. Also, we did not have to pay for the bottle of water we got at the bar. The only thing that I found annoying: that unfortunately not everything was renovated, like the security chain.

In the bathroom everything was clean.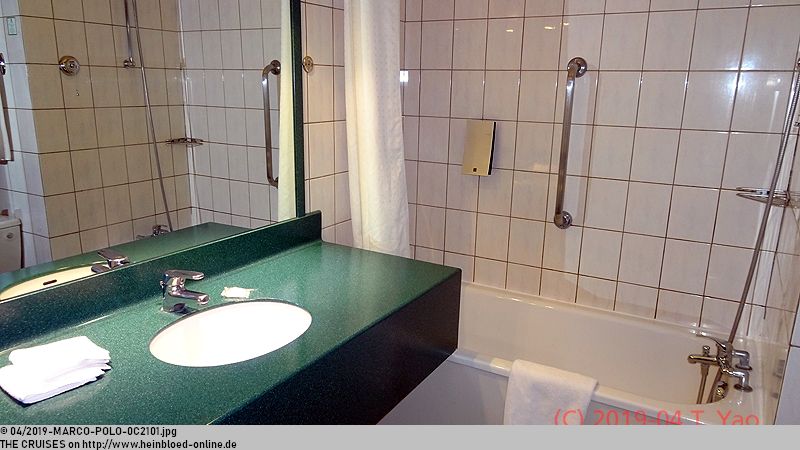 Im Bad ist alles sauber.
Aber eben nicht mehr alles auf den neuesten Stand.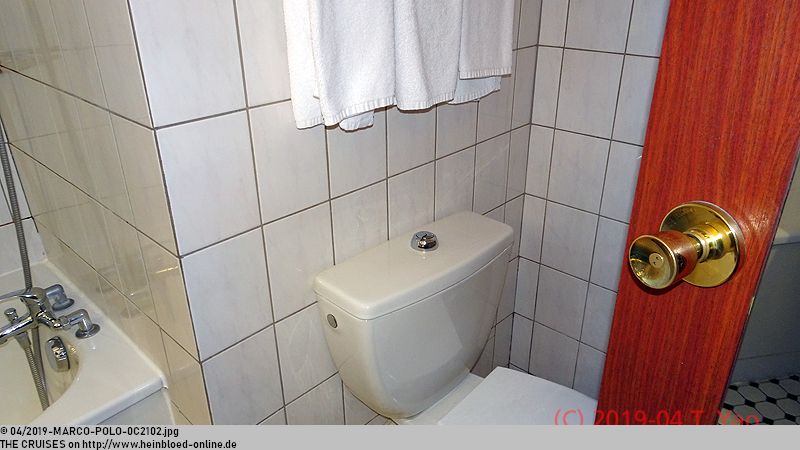 But it was not state of the art technically.
Die anderen Reisen in diesem Blog/
The other voyages in this blog: