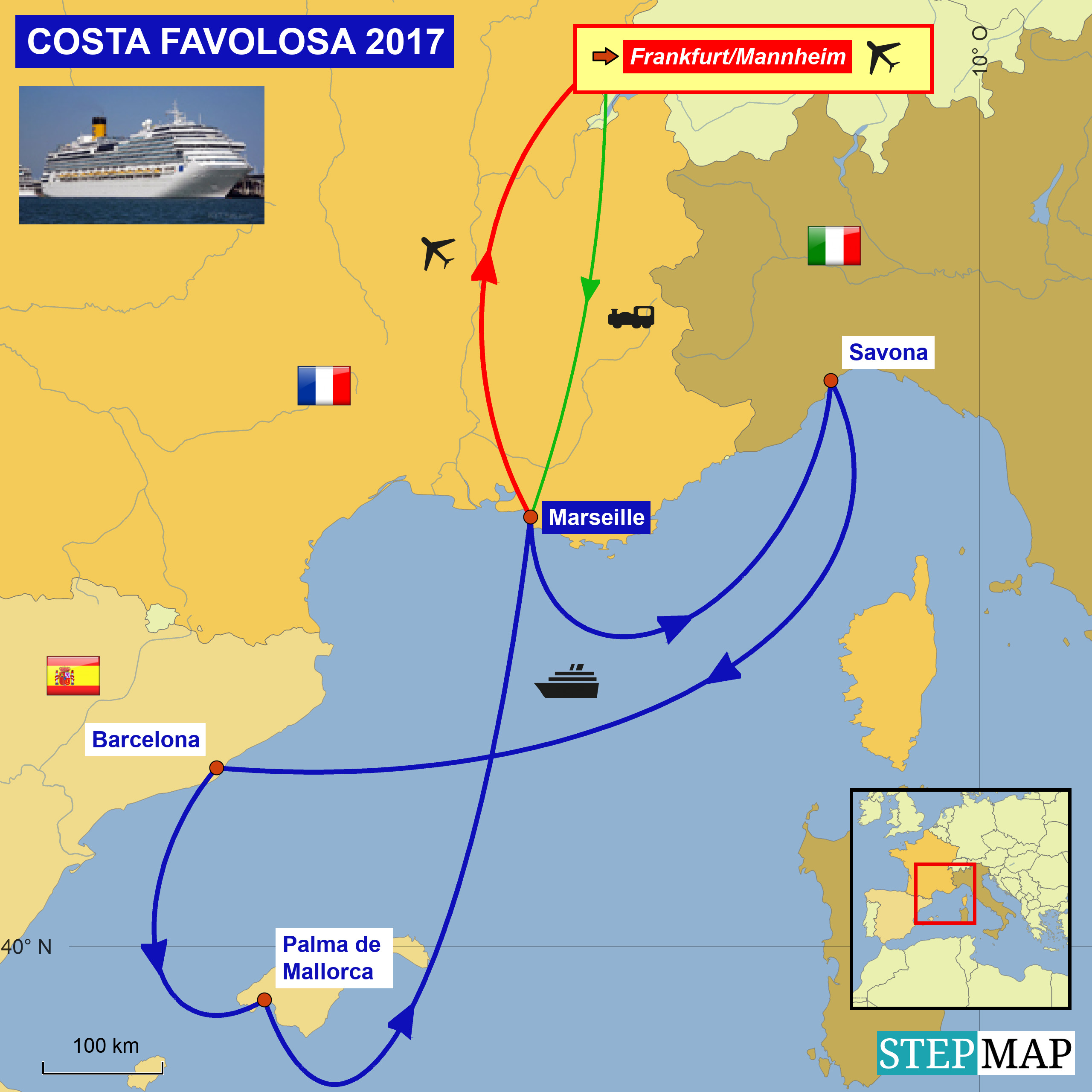 Bruno hat Urlaubssperre wegen eines SAP-Projektes. So bekommt er nur einzelne Tage frei. So müssen folgende Kritierien erfüllt sein: Start des Seeteils am Karfreitag. Start möglichst an einem Hafen, den wir per Bahn erreichen können und für 19,00 EUR einfach die Tickets wieder stornieren könnten. So fängt unsere Reise am
Mannheimer Hauptbahnhof
bei
Dean & David
zum Frühstück an.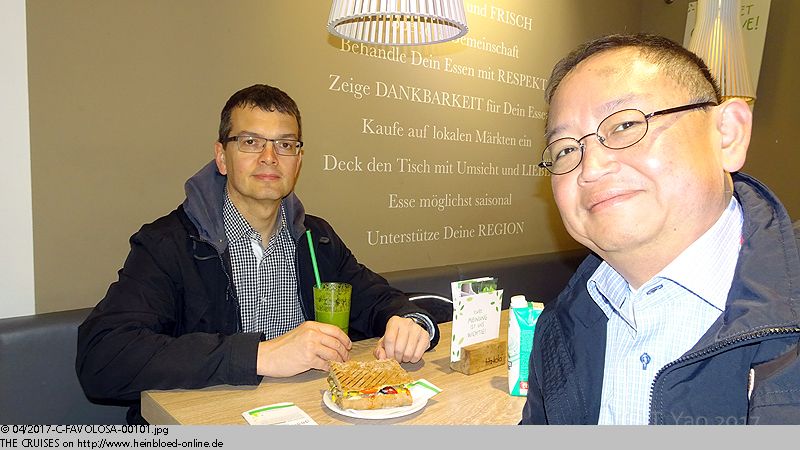 Bruno would not get any longer vacation due to an IT-project. So he only could get single days off. So we needed a cruise with few criteria: the start of the cruise on Good Friday. Start in a port which we could reach by train and easily could cancel for 19.00 EUR the tickets. So our voyage started at Mannheimer Central Station, Germany with a breakfast with Dean & David.

We wanted to get to Marseille, France. The direct French high-speed-train TGV would go in the afternoon with an arrival after 21.00 hrs. So we left already in the morning but need to change in Strasbourg, France. Recently the faster Paris-bound trains went via Strasbourg. At the platform I was reminded for my work: Basle, Switzerland.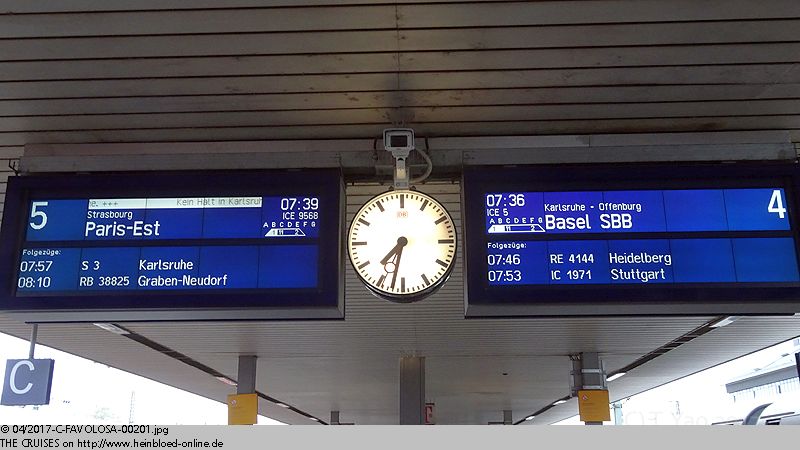 Wir wollen nach Marseille. Leider fährt der direkte TGV erst am Nachmittag mit Ankunft nach 21.00 Uhr. So fahren wir bereits morgens und müssen in Straßburg umsteigen. Neuerdings fahren ja die schnelleren Züge nach Paris über Straßburg. Am Bahnsteig werde ich bereits wieder an Arbeit erinnert: Basel SBB.
Im ICE ist es ruhig und wir bekommen daher einen eigenen 4-er Tisch für uns. Essensservice in der 1. Klasse, wie wir ihn von der Fahrt zur
NORWEGIAN EPIC 2012
nach Frankreich her kennen, ist leider abgeschafft worden. Ich hatte meine BahnCard vergessen: kostete mich 30,00 EUR. Dabei betrug die Ersparnis nur 5,00 EUR, wenn man sie vorlegt.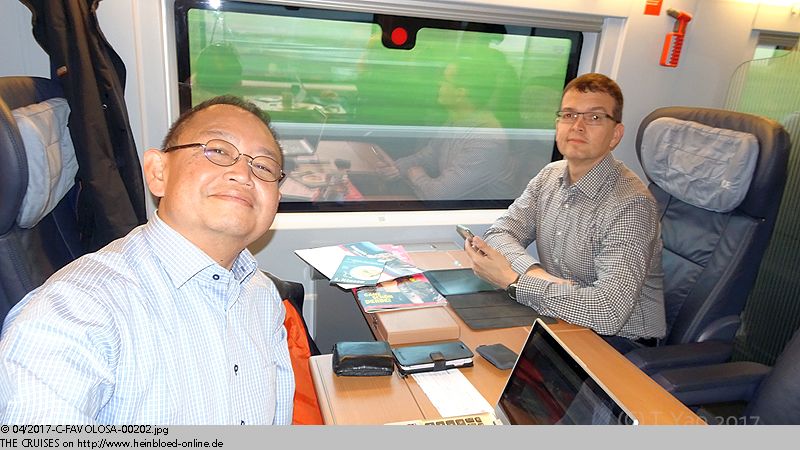 In the German high-speed train ICE it was calm and so we could get table for 4 just for us. Food service in the 1st class like we knew from our voyage to NORWEGIAN EPIC 2012 was withdrawn. I forgot my discount pass: was fined 30.00 EUR. The saving was 5.00 EUR only if you could present it.

Arrival in Strasbourg. The prices varies between the German Railways booking engine DB Saver fare and the French Railways booking engine Voyages SNCF and the booking condition as well. With German Railways you could also add a specific route and breaks.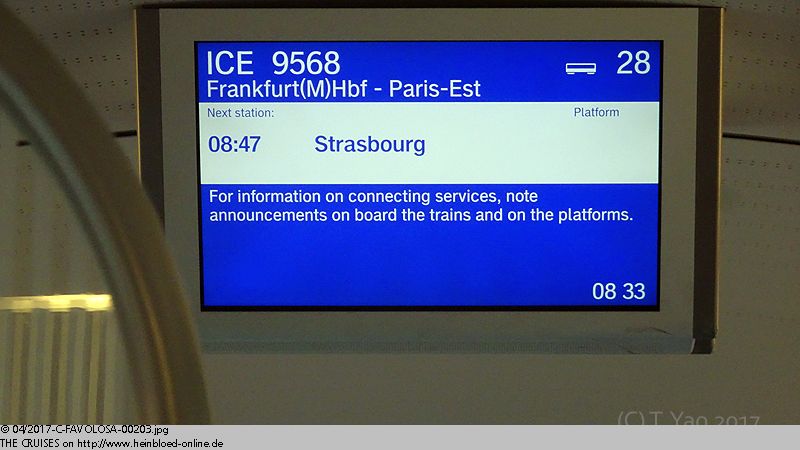 Ankunft in Straßburg. Die Preise zwischen
DB Sparpreis
und
Voyages-SNCF
unterscheiden sich und auch die Buchungsbedingungen. Nur bei DB kann man auch das Routing und Zwischenhalte eingeben.
Als wir ankommen steht nicht fest, von welchem Gleis es weitergeht. Normal in Frankreich. Wir müssen also warten. Danach geht dann eben ein richtiger Lauf mit allen Passagieren los. In Frankreich besteht Reservierungspflicht. Und die DB hatte zwar die Fahrkarten ausgestellt. Wir haben jedoch viele Anfragen bei Facebook, Anrufen in Call-Centern, mehreren Besuchen bei Reisezentren gebraucht, bis dass wir auch zu der Buchung Plätze bekommen haben. Vermutlich wäre es einfacher gewesen, wenn ich von Basel aus schnell nach St. Louis gefahren wäre und direkt bei SNCF gefragt hätte. So richtig Spaß macht es nicht TGV zu fahren. Alles ist viel enger und der Zug ziemlich voll. Es ist irgendwie auf dem Abschnitt ein Bummel-TGV und die Landschaft ist nicht atemberaubend. Nur das Croque Monsieur ist ok. Es gibt keinen am Platz-Service in der 1. Klasse, wie im deutschen ICE. Und wir haben Verspätung. Und in Mülhausen werde ich wieder mal an meine Arbeit in der Schweiz erinnert: ein schweizerischer TGV Lyria fährt vorbei.

When we arrived it was not clear where which track was our connection. Normal in France. We need to wait. Thereafter a run started of all passengers. In France seat reservation was mandatory. And German Railways released the tickets. We need to posts many requests on Facebook, calls in call centers, multiple visits of travel centers until we got finally a booking of seats. It might be much more easier to cross the Swiss-French border in Basle to St. Louis and got my seat assignments with French Railways SNCF. Somehow on this section of our voyage it was slow-speed-train and the scenery was not really breathtaking. Only the Croque Monsieur (hot toasted ham-cheese sandwich) was ok. There was no food-service at your seat like in a German high-speed ICE train. And we had delay. And in Mulhouse, France I was reminded again for my work in Switzerland since a Swiss high-speed TGV Lyria train was passing by.

We interrupted our voyage in Lyon, France. I always wanted to see that place. I had somehow still the words of Paul Bocuse in my ear who said that Lyon was the secret capital of French Gourmets.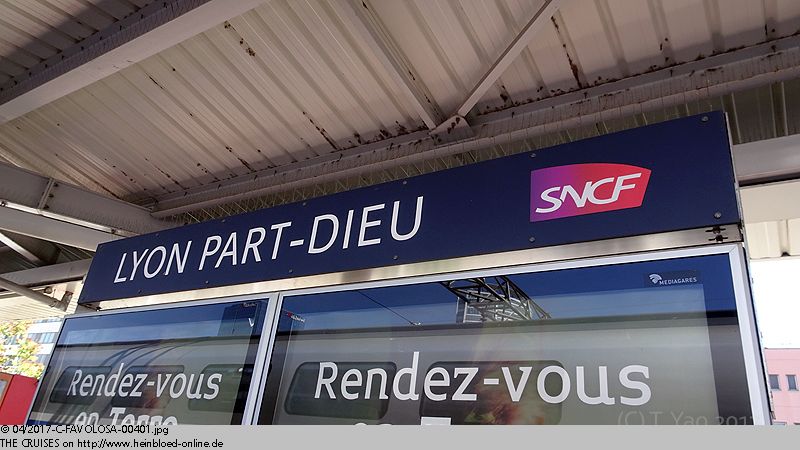 Unsere Fahrt unterbrechen wir in Lyon. Hier wollte ich schon immer mal hin. Irgendwie habe ich noch die Worte von
Paul Bocuse
im Ohr, dass Lyon die heimliche Gourmet-Hauptstadt Frankreichs sei.
Wir kommen leider erst gegen 13.00 Uhr an.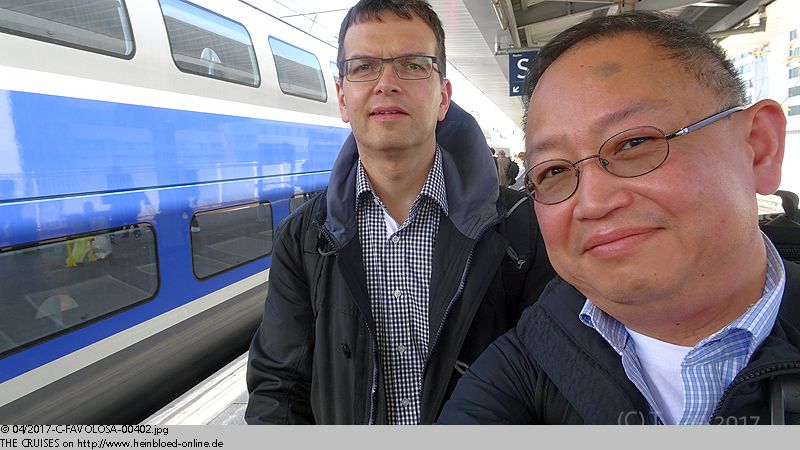 So we arrived around 13.00 hrs.

First of all, we need a chance to get rid of my bags. In front of each baggage lockers, you had a baggage screening which was really time-consuming.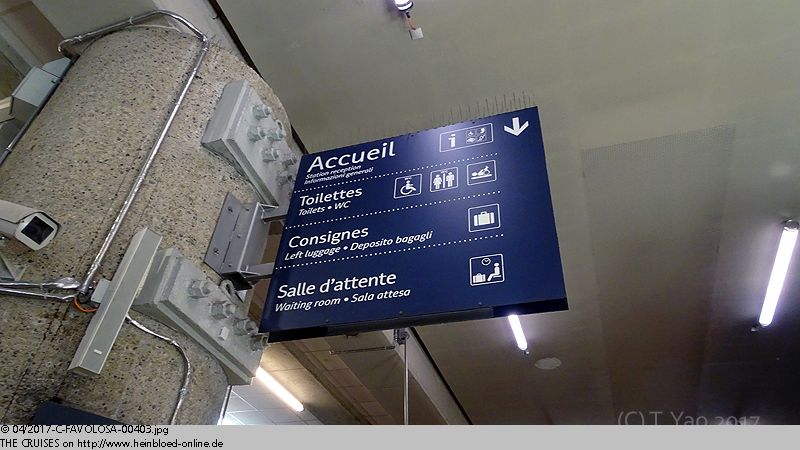 Zunächst müssen wir unser Gepäck loswerden. Es gibt in Frankreich vor jeder Schließfachanlage eine Gepäckkontrolle, die doch sehr zeitaufwändig ist.
Das erklärt auch, warum die Nutzung eines Schließfaches so teuer ist.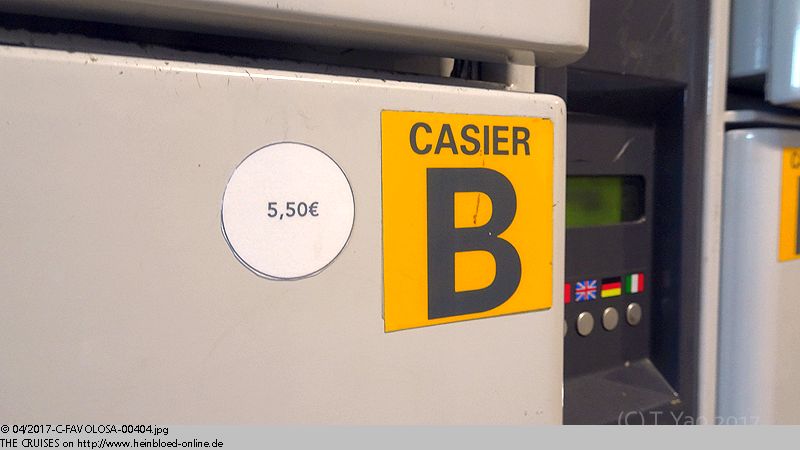 That would explain why the use of a locker was so expensive.

Unfortunately, we had to take two because there was no more super size one available.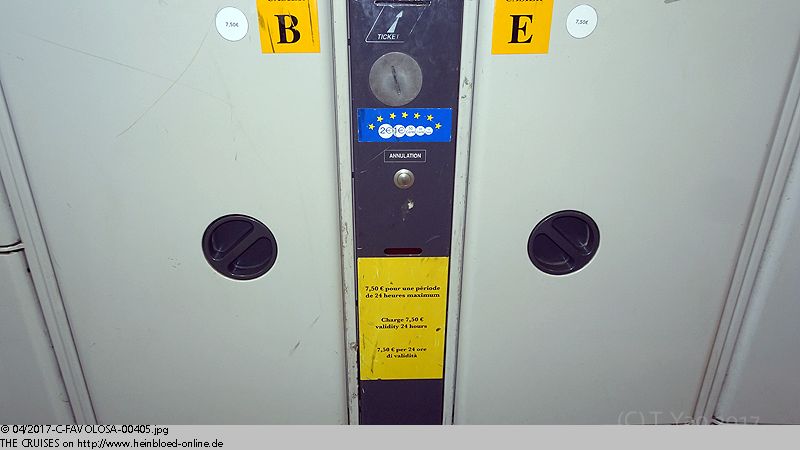 Leider müssen wir zwei Fächer nehmen, weil kein ganz großes mehr frei war.
In Bahnhofsnähe habe ich über
Tripadvisor
zwei Lokale ausgemacht, die ich interessant finde. Zum Danton hätten wir es kaum geschafft, pünktlich noch reinzukommen. Das wäre die Nr. 9 in Lyon lt. Tripadvisor gewesen. Auch Paul Bocuse hätte um 13.45 Uhr geschlossen.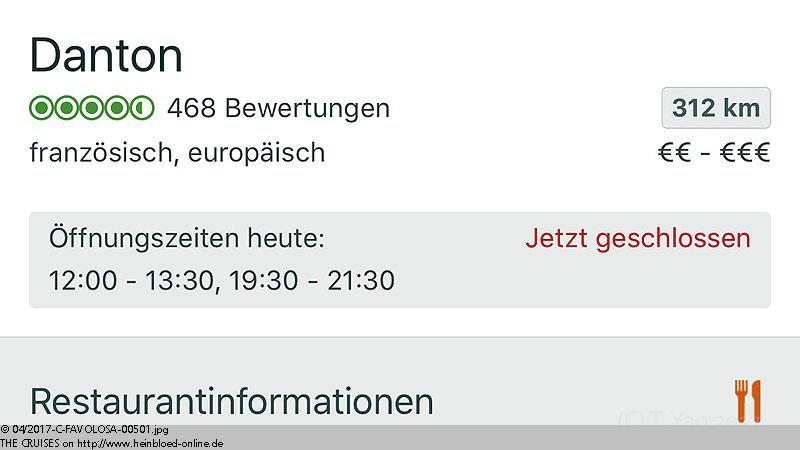 Close to the train station I identified two restaurants on Tripadvisor which I was interested to see. For Danton, we barely could not make it right on time. They would No. 9 in Lyon according to Tripadvisor. Even Paul Bocuse would close at 13.45 hrs.

L'Argot was No. 6 in Lyon. We made it there by 13.45 hrs, but they had no table anymore for us and rejected us when we requested for the next available table.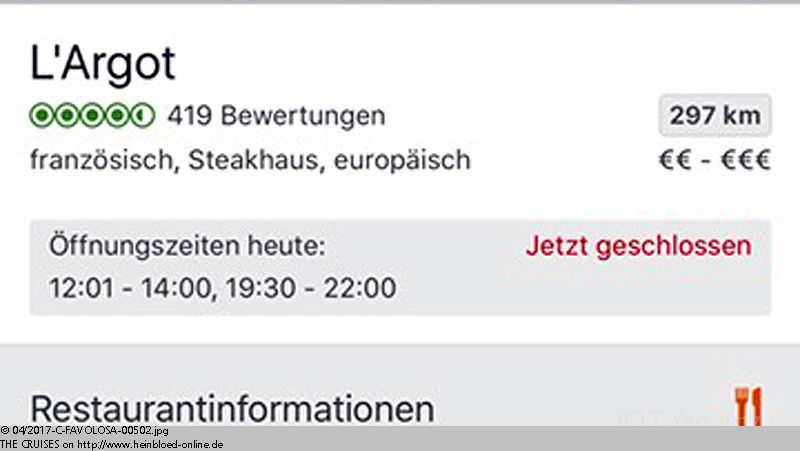 L'Argot ist Nr. 6 in Lyon. Wir schaffen es bis 13.45 Uhr da zu sein, aber sie haben keinen Tisch mehr für uns und weisen uns ab, als wir nachfragen, ob wir auf den nächsten freien Tisch warten können.

Es duftet nämlich total toll darin. Es ist nämlich eine Metzgerei mit Restaurantbetrieb.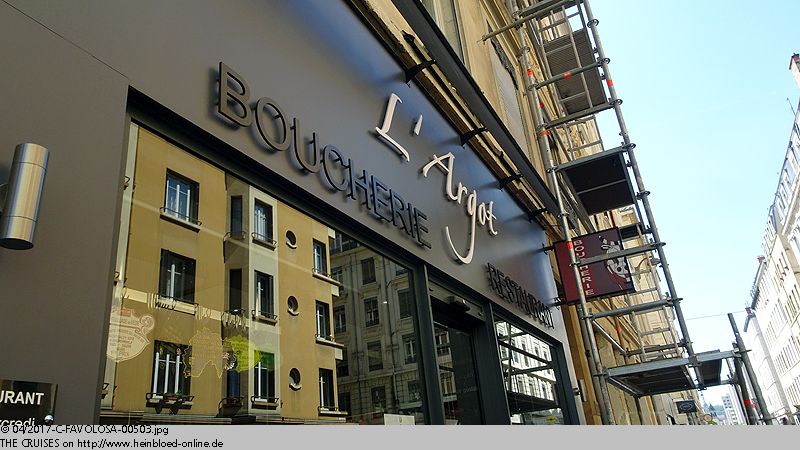 It was smelling very well inside. It was a butcher with a restaurant part.

Officially they had open until 14.30 hrs. But now I have the phone number to make a reservation next time.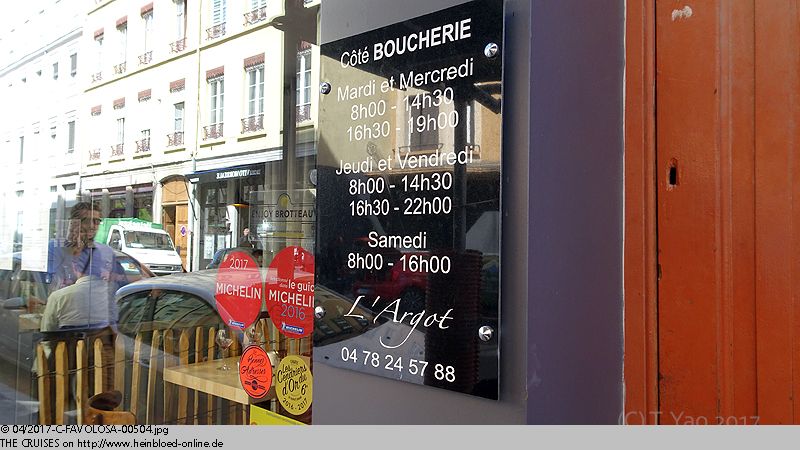 Sie hätten ja sogar bis 14.30 Uhr aufgehabt. Aber nun habe ich ja die Telefonnummer, um das nächste Mal zu reservieren.
Ein paar Meter weiter ist ein kleiner Platz. Wir könnten draußen sitzen, aber wir ziehen es vor drinnen zu essen und es ist sehr schön angerichtet:
Cousins Cousines
. Sie sind bereit uns noch etwas zu essen herzurichten. Bruno hat Glück mit seinem Fisch. Ich hatte Pech mit meinem Lamm. Es wird aber nicht berechnet, weil es auch keinen Sinn macht, mir eine neue Portion zu machen. Daher können wir gerne es nochmals versuchen, wenn wir wieder in Lyon sind. Einen neuen Begriff lernen wir: Café Noisette für einen Espresso mit heißem Milchschaum.

Few yards away there was a small square. We could sit outside to eat, but we preferred to do it inside, and it was really nicely set: Cousins Cousines. They were willing yet to prepare some food for us. Bruno had luck with his fish. I had unluck with my lamb. They did not charge it because it made no sense to prepare a new portion. So we can try it one more time when we will be back in Lyon again. We learned a new expression: Café Noisette for an espresso with hot milk foam.

We walked through Lyon. They had points which remembered the former socialist architecture using prefabricated modules. But in total Lyon made a great impression. It was worth to come back and to discover more.

Wir laufen durch Lyon. Es gibt ja Punkte, die erinnern an die Plattenbauten in Berlin-Hohenschönhausen erinnern. Aber insgesamt macht Lyon einen tollen ersten Eindruck. Es lohnt sich bestimmt mal wieder zu kommen und mehr zu entdecken.
"
Aux Merveilleux de Fred
" lockt uns mit seinen Auslagen.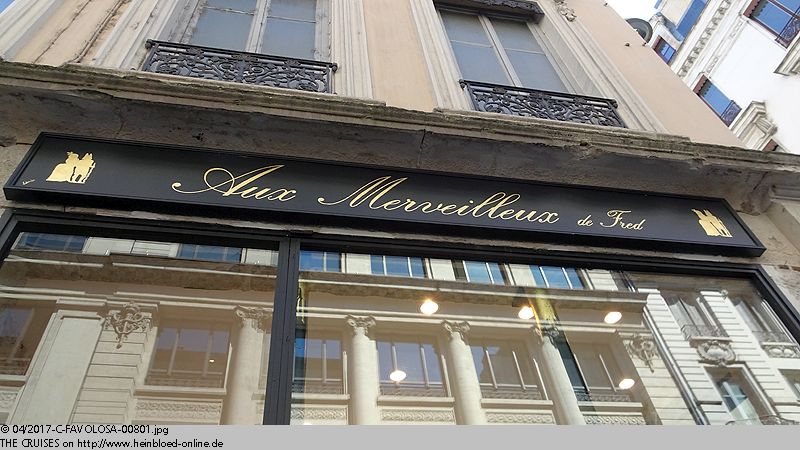 "Aux Merveilleux de Fred" was attracting our attention with their displays.

It looked fascinating and very yummy.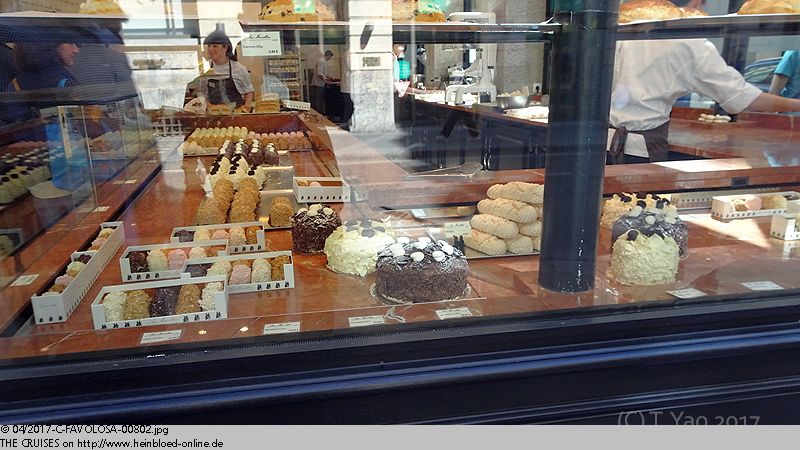 Das sieht sehr interessant und lecker aus.
Wie wir später feststellen: gibt es sogar in New York und Berlin.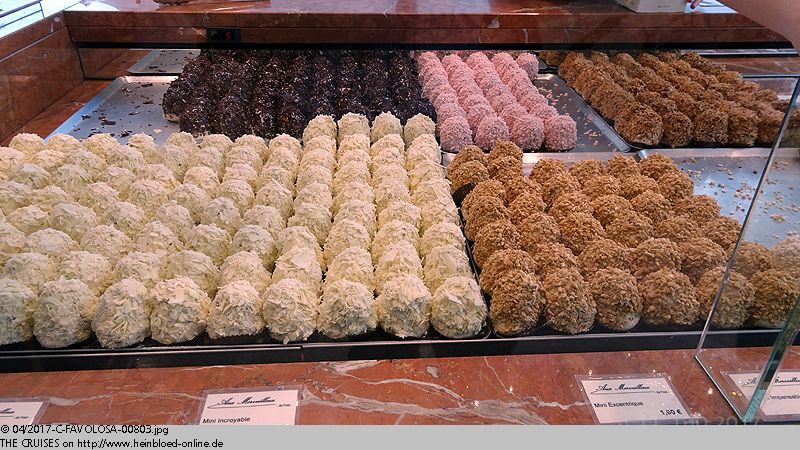 As we found out later: you had them in New York and Berlin as well.

Here they prepared everything fresh.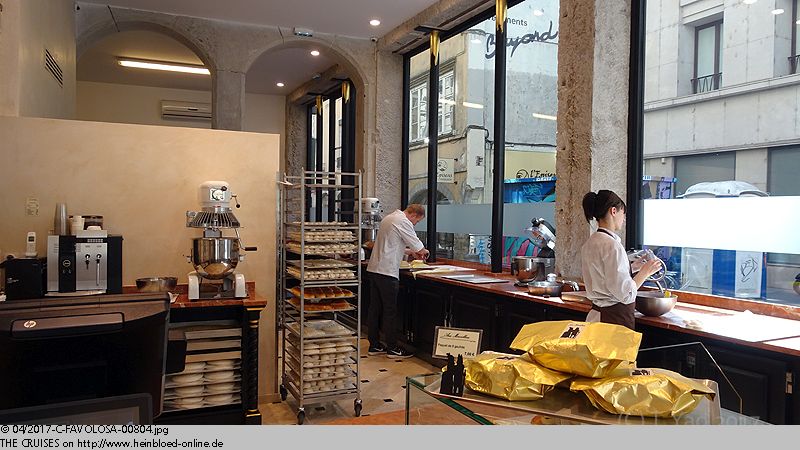 Hier wird wohl alles frisch zubereitet.
Wir nehmen ein paar zum Mitnehmen mit. Wir werden allerdings darauf hingewiesen, dass man sie sofort essen oder kühlen muss. Die Information kommt nun leider zu spät.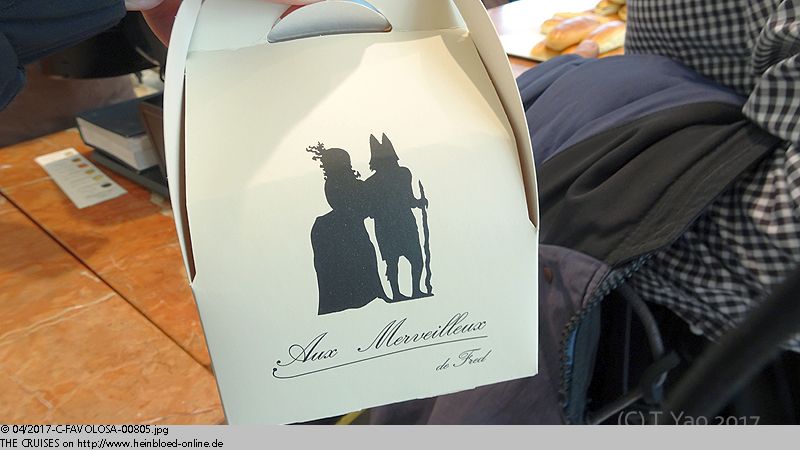 We took some away. We were told to eat them right now or to keep them refrigerated. That information came too late.

At Vieux Lyon (Old Lyon) we boarded into the TCL Metro. Here they had some charming assistants who helped to find your ways around and explained how we get back to Part-Dieu train station and to buy the right tickets. Down at the platform level, everything reminded me to Paris Metro since they were using rubber tires too and Tokyo Metro with the marks on the platform. At the Part-Dieu station, a wall picture attracted my attention which I knew already: "La Marche de l'Homme" (The movement of the man) by Étienne-Jules Marey. Somehow I was reminded to Expo 2000 in Hanover, Germany.

Bei Vieux Lyon (Alt-Lyon) steigen wir in die
Metro der TCL
. Hier sind reizende Assistentinnen, die einem helfen, sich zurecht zu finden, erklären uns den Weg zum Bahnhof Part-Dieu und die richtigen Tickets zu kaufen. Unten am Bahnsteig erinnern mich der Wagen an die Metro in Paris, die auf Gummireifen fährt und der Bahnsteig an die Metro in Tokio mit den Markierungen auf dem Bahnsteigen. Am Bahnhof Part-Dieu fällt eine Wandfotografie aus, die ich meine schon zu kennen: "La Marche de l'Homme" (Die Bewegung des Menschen) von
Étienne-Jules Marey
. Irgendwie erinnert mich das ganze an die
Expo 2000 in Hannover
.
Zurück am Bahnhof Part-Dieu müssen wir erst wieder unser Gepäck holen.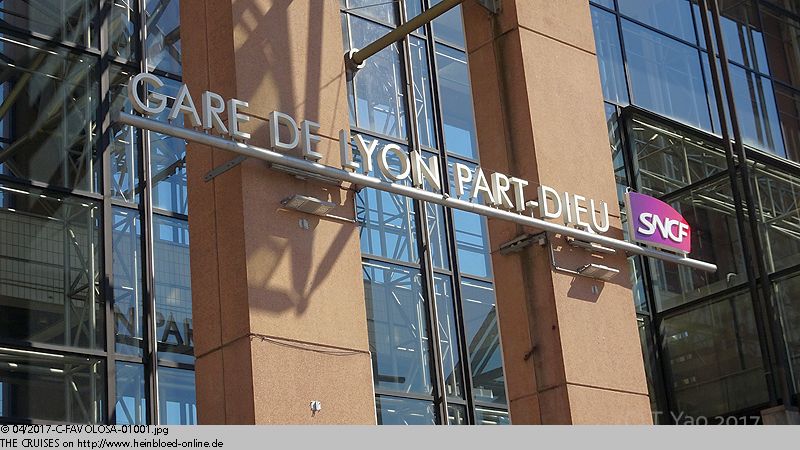 Back at Port-Dieu train station we need to collect our bags first.

We could not book an intermediate stop. So our tickets of German Railways terminated in Lyon. For the section Lyon - Marseille we booked with Voyages SNCF. In France, you must validate your tickets before entering the platforms.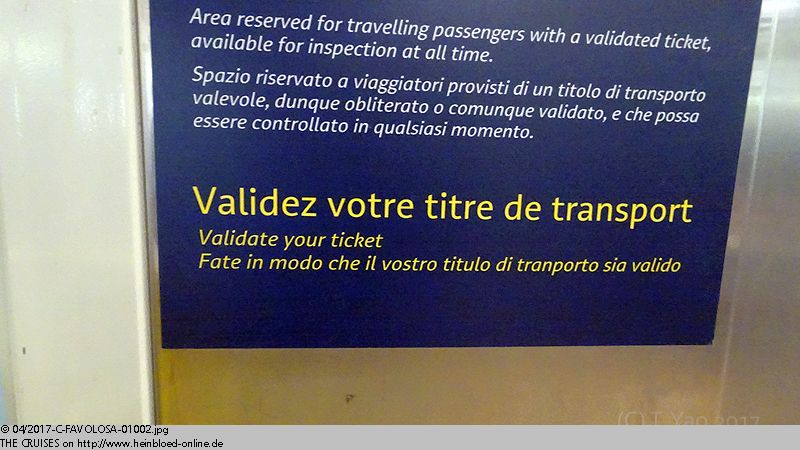 Ein Zwischenaufenthalt konnte nicht gebucht werden. So enden unsere Fahrkarten der DB in Lyon. Für den Abschnitt Lyon - Marseille haben wir Karten bei Voyages-SNCF gebucht. In Frankreich muss man die Fahrkarten vor Betreten des Bahnsteigs entwerten.
Ich habe eTickets auf meinem iOS App... aber mein iPhone will nicht rein. Bruno meint, dass einige Mitarbeiter der SNCF Zeugen meines Versuches sind und sich kaputtgelacht haben oder sich beraten haben, ob sie nicht doch versuchen sollten, ich in eine geschlossene Anstalt einzuweisen. Also die Entwertungspflicht gilt nur für Fahrkarten, die an einem Schalter oder Fahrkartenautomat gekauft wurden.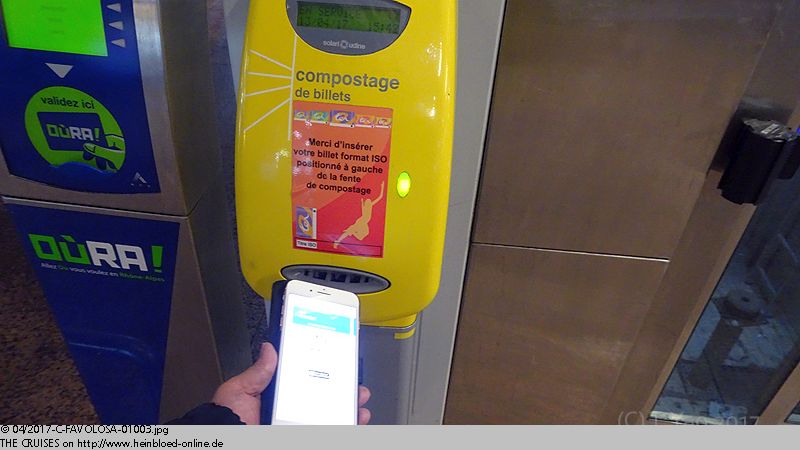 I had eTickets on my iOS App... but my iPhone did not not fit for the slot. Bruno said that some rail workers of French Railways SNCF became a witness of my trial and started to laugh out loud or consulted to find me some vacancy in a loony bin. But the duty to validate was restricted to tickets only which you but at a counter or at a vending machine.

Oh great: the BB 7200 of SNCF with the "broken nose". A railwayman was part of every man.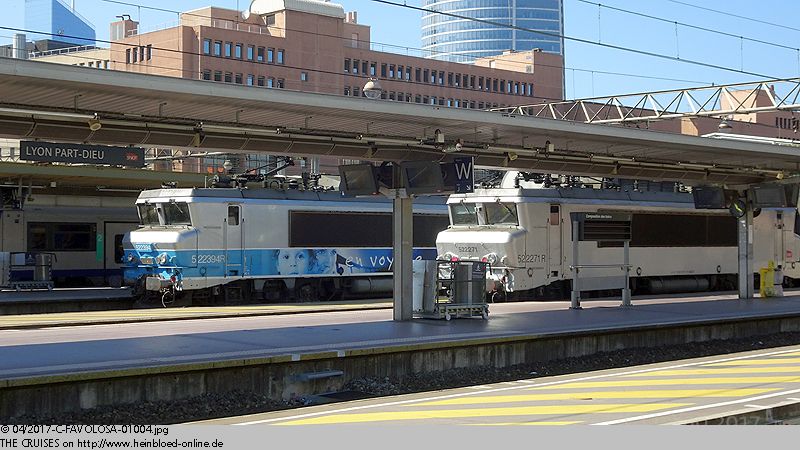 Oh Klasse: die BB 7200 der SNCF mit der "gebrochenen Nase". Ein Eisenbahner steckt in jedem Mann...
Je nach Fahrtrichtung ändern sich die Platznummern. Wir probieren die Spezialitäten, die wir gekauft haben, aber ganz ehrlich: wir werden in Berlin nicht extra vorbeifahren, um die anderen Sorten zu probieren. Die Creme ist uns zu weich (das lag an der Temperatur möglicherweise), zu fettig und alles zu süß. Die Pain au Chocolat (Schokolandenbrötchen) ist mehr wie ein holländisches Softbrötchen beschaffen. Die Strecke ist nicht besonders spannend. Selbst in großen Städten wie Avignon oder Aix-en-Provence halten wir weit ab der Innenstädte, so dass wir außer Atomkraftwerke nicht viel zu sehen bekommen.

Depending to the direction of circulation they changed the number of the seats. We tried the specialties which we bought and honesty: we would never make a detour via Berlin to try the other flavors. The creme was too soft (that might be because of the temperature), too greasy and totally too sweet. The Pain au Chocolat (Chocolate Roll) was more a Dutch soft roll style one. The route was not very exiting. Even in bigger cities like Avignon or Aix-en-Provence you stopped far away from the city centers that there was not so much exiting we could see but some nuclear power plants.

Hollywood or Marseille?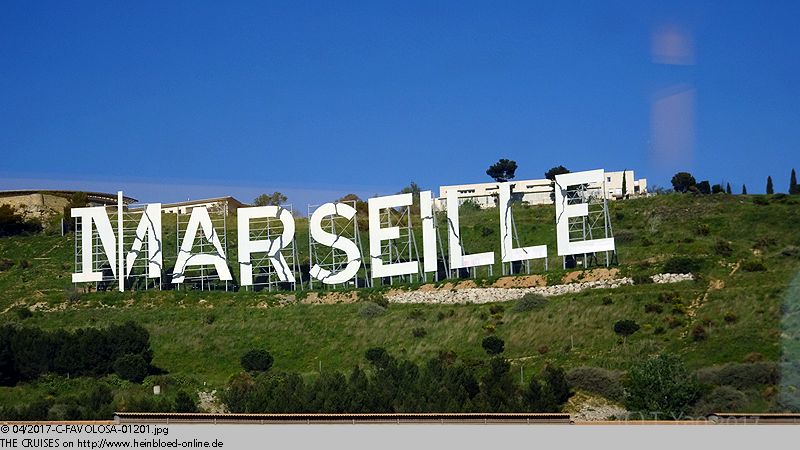 Hollywood oder Marseille?
Ankunft am Bahnhof Marseille St Charles.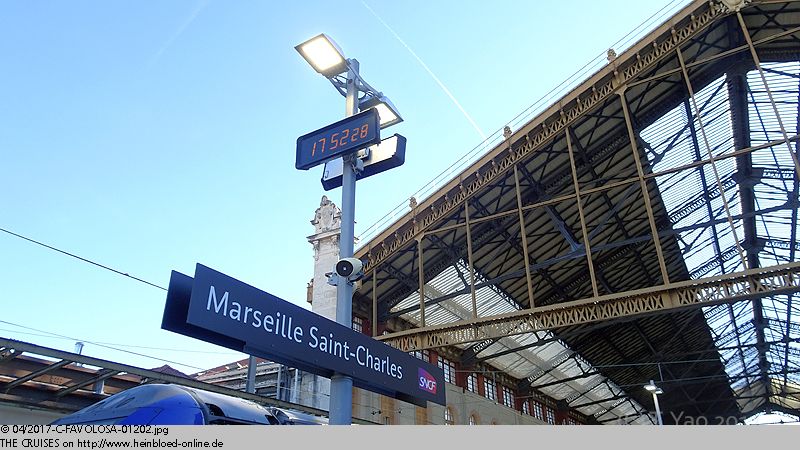 Arrivat at the Marseille St Charles train station.

As then when we went on NORWEGIAN EPIC 2012:
unchanged.

Wie damals als wir zur
NORWEGIAN EPIC 2012
unterwegs waren: unverändert.
Irgendwie konnte ich mich nicht dazu entschließen, die Metro bis zum Hotel zu nutzen. Also gehen wir wieder runter zum Taxistand. Leider können wir nicht auf Chantal zurückgreifen, die wir von unseren Reisen auf der
NORWEGIAN EPIC 2012
und
MSC PREZIOSA 2013
her kennen. Hier hatte sie damals unser Leben gerettet, weil ein anderes vorbestelltes Taxi nicht gekommen ist. Unser Glück. Sie ist selbst im Urlaub.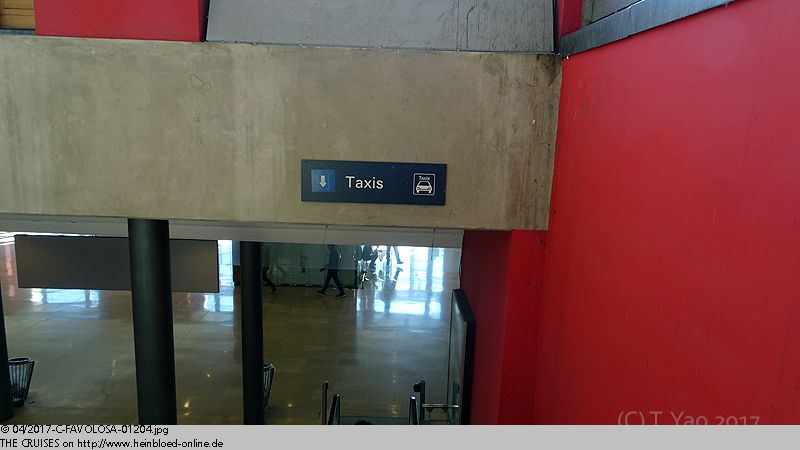 Somehow we could not become friends of the idea to use the Metro to the hotel. So we went down to the taxi rank. Unfortunately we could not catch Chantal whom we knew from our voyages on NORWEGIAN EPIC 2012 and MSC PREZIOSA 2013. Here she saved our life because another pre-booked taxi did not show up. Our luck. She was now her self on vacation.

But here everything was ruled anyhow very strictly. And we were not in Málaga, Spain.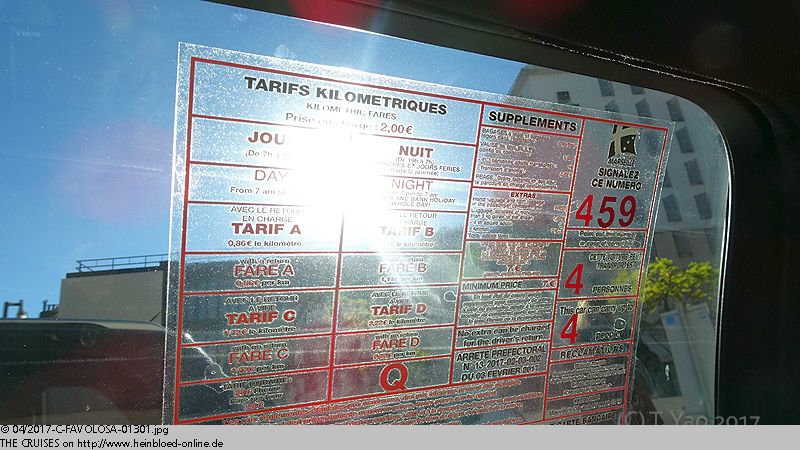 Aber hier ist eh alles reglementiert. Und wir sind nicht in Málaga.
Mein Punktekonto bei
IHG Reward Club
reichte aus, damit ich mir ein Zimmer mit Zuzahlung gönne. Ich finde es lohnt sich nicht, das Zimmer nur mit Punkten zu bezahlen. Also steigen wir im
InterContinental Marseille Hotel Dieu
ab. Nach dem Flop zuletzt anlässlich meines Geburtstags im InterContinental Düsseldorf wollte ich zwar nicht mehr, aber es zeigt sich wie bei den Schiffen: ein anderes Hotel, anderes Personal und es kann komplett anders sein. Hier stimmte alles: vom Check-In bis zur Auswahl des Zimmers. Der charmante Empfang durch Chiraze lässt mich Düsseldorf sehr schnell vergessen. Ich kann jetzt Marseille in einem Atemzug mit Hong Kong Grand Stanford (siehe
CELEBRITY MILLENIUM 2014
), Singapur Bugis (siehe
ZAANDAM 2012
und
DIAMOND PRINCESS 2016
) und Yokohama (siehe
DIAMOND PRINCESS 2016
) nennen, die uns zuletzt sehr begeistert haben. Miami (
EURODAM 2014
/
NORWEGIAN SKY 2015
) war auch toll. Nur konnte ich mit dem Club dort nichts anfangen. Übrigens hätte ich auch keine Lust gehabt, das Gepäck hoch zu tragen, aber auch dafür gab es eine Lösung: ein Knopfdruck und ein Golfwagen kommt sofort runter.

My points were filled on my IHG Reward Club-account and it was enough to spend for a night with paying some extra. I do not think that it was worth to spend points only for a room. So we stayed at Marseille InterContinental Hotel Dieu. After the flop in the Düsseldorf InterContinental, Germany where I stayed recently due to my birthday I did not want anymore, but it was like with the ships: another hotel, another team and it could be totally different. Here everything was perfect: from the check-in to the selection of the room. The charming welcome of Chiraze let me forget Düssedorf very quickly. I could list now Marseille on my list of favorites who made us very exiting like Hong Kong Grand Stanford (see CELEBRITY MILLENIUM 2014), Singapur Bugis (see ZAANDAM 2012 and DIAMOND PRINCESS 2016) und Yokohama (see DIAMOND PRINCESS 2016). Miami (EURODAM 2014/NORWEGIAN SKY 2015) was also nice. But the Club was not no good somehow. By the way, I also had no intention to carry all my bag upwards, but they had for that a solution too: just ring the bell and a golf car would come down to you and pick-up.

As upgrade we got a room with a view on the old port directly to Notre Dame de la Garde.

Als Upgrade gab es dann eine Zimmer mit dem Blick über den alten Hafen direkt auf
Notre Dame de la Garde
.
Nur wenige Minuten zu Fuß vom Hotel fährt die
Fähre im alten Hafen
. Die Überfahrt kostet nur 0,50 EUR (2017), allerdings zahlt man noch für die Trägerkarte, die man wieder aufladen kann.

Only few minutes by walk from the Hotel you had the Ferry in the Old Port. The passage was only 0.50 EUR (2017), but you had to pay for the ticket card itself which you can reload (like Metro Card with MTA in New York, NY or Oyster Card in London, England)

I love the movie Love... actually. There was a scene in a Portuguese restaurant in Marseille, where Jamie (Colin Firth) made to Aurelia (Lúcia Moniz) a proposal in Portuguese, and she answered in English. The film was set 2003 in the today's Bar de la Marine. Nobody in the bar was familiar with the movie. Nobody showed up to take our orders. No exciting menu (only pizza and such snacks - no Portuguese food). So when we asked, we got only a table under a loud-speaker. So we took only the photos and disappeared again.

Ich liebe den Film "
Tatsächlich... Liebe
". Es gibt eine Szene in einem portugiesischen Restaurant in Marseille, in dem Jamie (Colin Firth) Aurelia (Lúcia Moniz) einen
Heiratsantrag
auf portugiesisch macht und sie in englisch antwortet. Diese Szene wurde 2003 in der heutigen Bar de la Marine gedreht. Den Film kennt keiner hier in der Bar. Es kommt niemand, um unsere Bestellung aufzugeben. Eine interessante Speisekarte gibt es auch nicht (nur Pizza und so - kein portugiesisches Essen). Und als wir nachfragen, wird uns nur ein Tisch unter einem Lautsprecher angeboten. Wir fotografieren und verschwinden wieder.
Wir sehen uns noch im alten Hafen herum. Ist wirklich schön hier. Speziell, als es später noch dunkel wird. U. a. liegt das an dem beleuchteten Riesenrad. Auch die beleuchtete Kirche St-Ferréol trägt zu einer sehr schönen Stimmung bei.

We browsed around the Old Port. It was very nice there. Especially when it became dark later. It was because like the illuminated giant wheel. Also, the illuminated church St-Ferréol was part of the nice atmosphere.

In La Crêpe au Carrée we had our dinner, and we learned new expressions in French: galette au sarrasin: Buckwheat waffle. That was the basis for a salty-hearty version. Crêpe was only sweet. I wanted mine with endives and ham. A little strange but also yummy. Reminded me to DISNEY DREAM 2014/DISNEY DREAM 2015, when I had my buckwheat pancake for breakfast. You just leave a little tip on the little plates, when you had a nice service.

Im
La Crêpe au Carrée
essen wir zu Abend und lernen einen weiteren neuen französischen Begriff: galette au sarrasin: Buchweizen Waffel. Das ist die Grundlage für ein salziges Angebot. Crêpe ist nur süß. Ich wollte einen mit Endivien und Schinken. Ungewohnt, aber auch lecker. Erinnert mich an
DISNEY DREAM 2014
/
DISNEY DREAM 2015
, als ich Buchweizen-Pfannkuchen zum Frühstück hatte. Wie in Frankreich üblich: wir bekommen die Rechnung auf dem Tellerchen. Wir klemmen unser Geld dazwischen. Das Restgeld kommt zurück. Man lässt etwas Trinkgeld auf dem Tellerchen, wenn man einen guten Service hatte.
Die anderen Reisen in diesem Blog/
The other voyages in this blog: