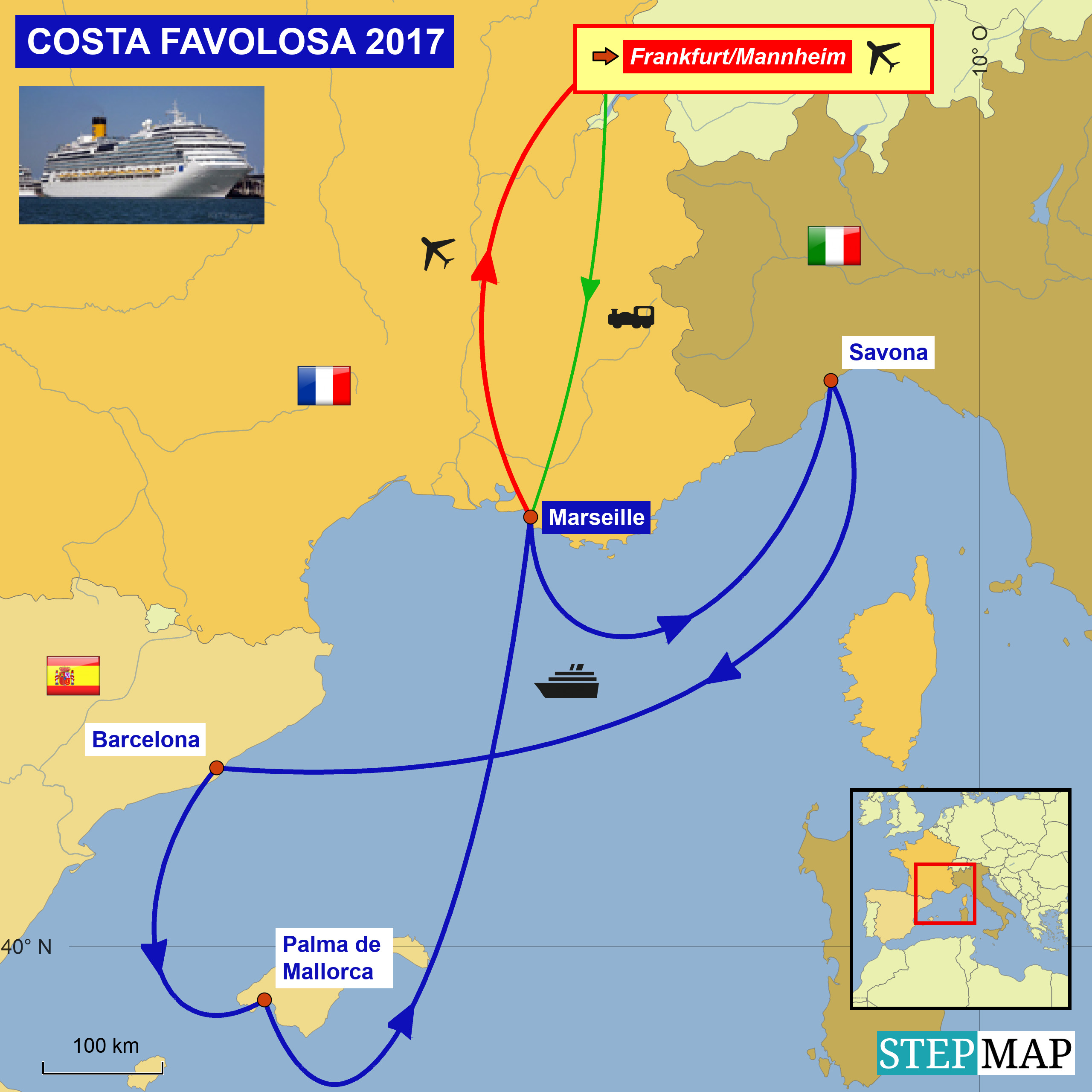 Für Transitreisende gibt es heute wieder kein Tagesprogramm in Deutsch. Es gibt also nur Unterlagen für aussteigende Gäste und für zusteigende Gäste in Deutsch. Ansonsten bekommen wir alle Informationen für Transitreisende wieder in Englisch.

For transit guests they again no daily programme in German. So they had only paperwork for debarking and embarking guests in German. So we got all the information for transit guests in English.

They had two different breakfast offer in the cabin: one complimentary (Continental) and one for 5.00 EUR per person (2017) with interesting warm dishes (like steak). I asked at the front desk: they would waive the 5.00 EUR due to our premium-booking. But I cannot confirm if it was worth to pay and if they would have charged it. Our cabin was nicely decorated for Easter.

Das Frühstücksangebot für die Kabine gibt es zweifach: einmal ein kostenloses (kontinentales) und einmal für 5,00 EUR pro Person (2017) auch mit interessanten warmen Sachen (z. B. Steak). Ich habe an der Rezeption gefragt: aufgrund der Premium-Buchung wären uns wohl die 5,00 EUR erlassen worden. Aber ich kann nicht bestätigen, ob es die 5,00 EUR Wert ist und ob uns das berechnet worden wäre. Unsere Kabine wird für Ostern dekoriert.
Einfahrt in Savona. Über den Fernseher können wir unsere aktuelle Position nicht ermitteln. So eine schlechte Seekarte haben wir noch nie gesehen. Die Seekarte im Costa-Bordportal ist nicht erreichbar. So greife ich auf
marinetraffic.com
. Hat Aldi jetzt eigene Schiffe und bietet jetzt auch Kreuzfahrten an?

Arrival in Savona, Italy. On TV we cannot find out our actual position. Never have had such a bad marine map before. The marine map on the Costa-on board portal was not available. So I had to use marinetraffic.com. Did Aldi (German food discounter) also now have own ships and offered cruises?

The internet was even for Facebook terrible.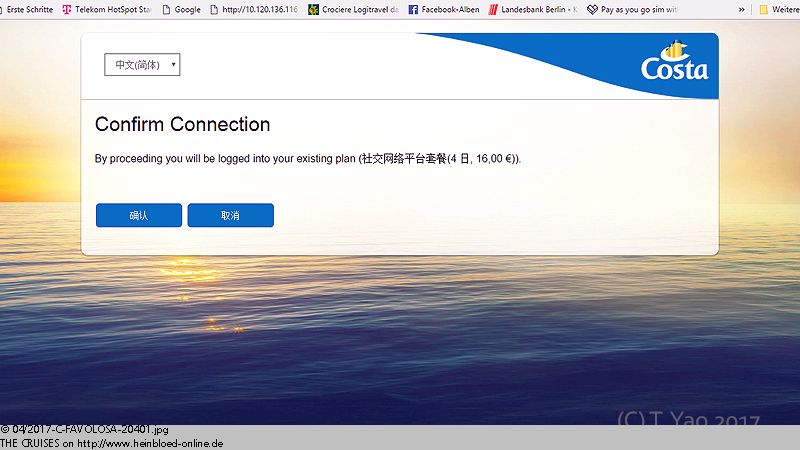 Das Internet ist selbst für Facebook grauenhaft.
Das Hochladen der Bilder gelingt nicht perfekt: sehr viele Fehler und jede Menge in falscher Reihenfolge.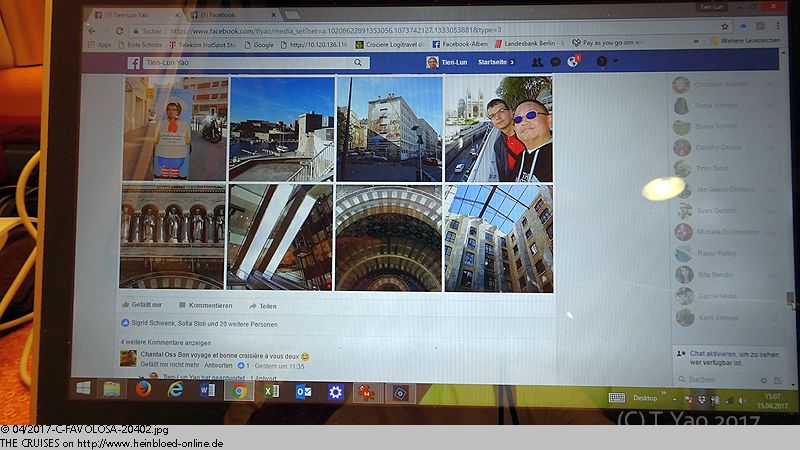 Uploading of pictures to Facebook did not work correctly: many errors and most of them in the wrong order of row.

We went to the Club-Restaurant above the self-service restaurant on Deck 11. It was normally limited to Diamond and suite-guests. For 10.00 EUR (2017 / person) you were allowed to have breakfast here. A calendar day in the Club-Restaurant would be 40.00 EUR (2017 / person) and a full week in the Club-Restaurant would be 220.00 EUR (2017 / person). We found out that their processes were completely different like we were used to knowing from the US ships. So we had on the Breakaway-Class with Norwegian an own restaurant (NORWEGIAN BREAKAWAY 2013), or on the Jewel-Class you could have as Suite-guest breakfast and lunch in the Cagney's. Also with Princess you could have breakfast with Sabatini if you booked a suite (GRAND PRINCESS 2010) and with Holland America you could have breakfast in the Neptune Lounge or in a separate part of the Main Dining Room or with Pinnacle Grill (depending to the ship / RYNDAM 2013). Also Cunard has a own restaurant for Suite-guests: Princess and Queens Grill (QUEEN ELIZABETH 2012). We will make acquaintance with MSC Yacht Club in fall 2017. They had a buffet and another menu with hot breakfast dishes. The menu reminded very much of Holland America. But the offer on Holland America appeared more authentical for me. The coffee was unenjoyable, but as we had a beverage package, we could also order some Cappucino. Ice water was no standard here on board. The selection for breakfast was very good, and it was really yummy. A nightmare was the butter affair. With every meal, you had to ask for butter. They could not remember that I liked to have some butter for breakfast. Bruno was happy to have his freshly sliced papaya.

Wir gehen in das Club-Restaurant am Heck überhalb des SB-Restaurants auf Deck 11. Es ist normalerweise nur den Diamant- und Suiten-Gästen vorbehalten. Für 10,00 EUR (2017 / Person) dürfen wir hier auch frühstücken. Ein Kalendertag im Club-Restaurant für 40,00 EUR (2017 / Person) und eine ganze Woche im Club-Restaurant kostet 220,00 EUR (2017 / Person). Wir stellen fest, dass hier die Abläufe anders sind, wie wir es von den US-Schiffen gewohnt sind. So gibt es ja auf der Breakaway-Klasse bei Norwegian ein eigenes Restaurant (
NORWEGIAN BREAKAWAY 2013
), das wir kennen oder auf der Jewel-Class darf man im Cagney's als Suitengast zum Frühstücken und zum Mittagessen. Auch bei Princess darf man im Sabatinis frühstücken, wenn man eine Suite gebucht hat (
GRAND PRINCESS 2010
) und bei Holland America in der Neptun Lounge oder in einem separaten Teil des Hauptrestaurants oder Pinnacle Grill (je nach Schiff /
RYNDAM 2013
). Auch bei Cunard gibt es eigene Restaurants für Suiten-Gäste: Princess und Queens Grill (
QUEEN ELIZABETH 2012
). Den MSC Yacht Club lernen im Herbst 2017 kennen. Es gibt ein Büffet und noch eine Karte mit dem warmen Frühstücksangebot. Die Karte erinnert sehr an Holland America. Allerdings wirkt das Angebot bei Holland America authentischer. Der Kaffee ist ungenießbar, aber da wir über ein Getränkpaket verfügen, können wir sogar Cappucino und Wasser haben. Eiswasser ist kein Standard hier an Bord. Die Brotauswahl ist sehr gut und es schmeckt auch sehr gut. Ein Drama ist jedoch die Sache mit der Butter. Bei der Mahlzeit bitte ich um Butter. Sie merken sich nicht, dass ich sie gerne morgens zum Frühstück hätte. Bruno freut sich über die frische Papaya, die jeden Morgen aufgeschnitten wird.
Während des Frühstücks laufen wir ein und so muss ich zwischendurch immer wieder raus, um die COSTA DIADEMA zu fotografieren.

During the breakfast we entered the port, so I from time to time need to leave quickly to take pictures of COSTA DIADEMA.

And also of COSTA MEDITERRANEA.

Und auch die COSTA MEDITERRANEA.
Eine Kleinigkeit bekommt man auch immer an den Kaffeebars.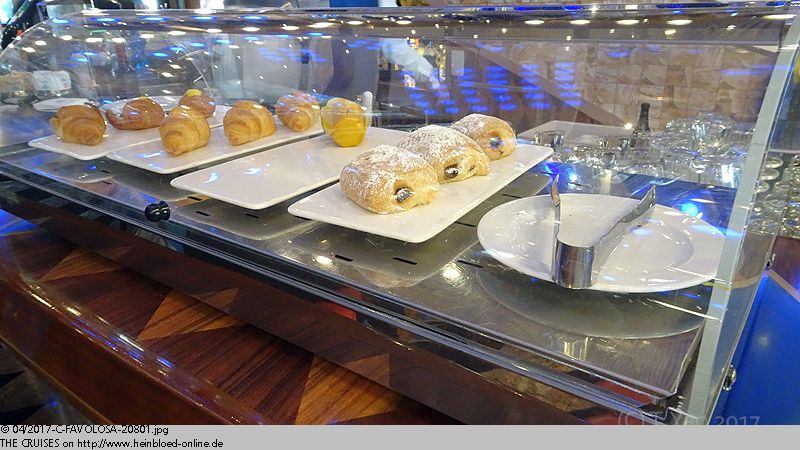 You could always get a quick bite with the coffee bars.

With our beverage package, we could only have water by the glass. But you can always ask for a large glass. And you could still have water to every beverage order (like coffee).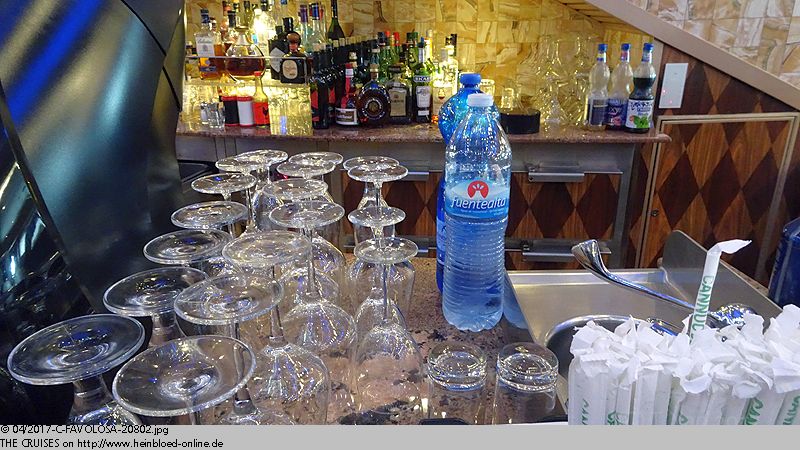 Mit unserem Getränkepaket bekommen das Wasser immer nur glasweise. Man kann aber immer auch direkt um ein großes Glas bitten. Und Wasser gibt es auch gerne zu jedem Getränk dazu (z. B. zum Kaffee).
Ungewöhnlich: große Warnhinweise zu den Themen Allergien und Alkoholausgabe an Jugendliche.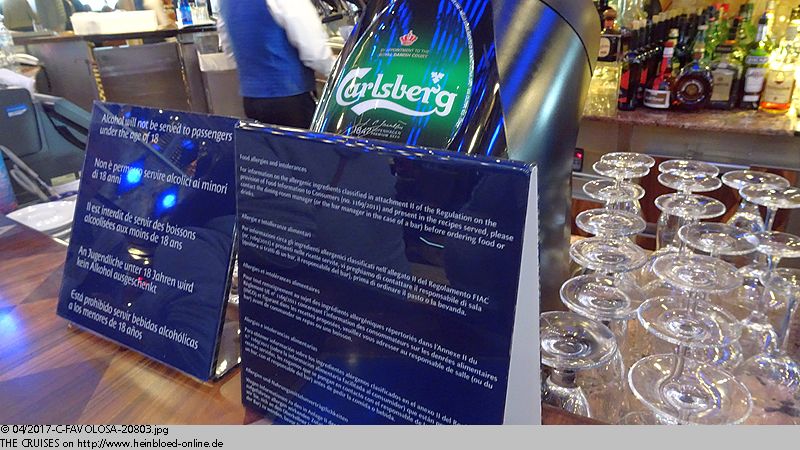 Unusual: large warnings on subjects like allergies and alcohol policy for juveniles.

The coffee was always right.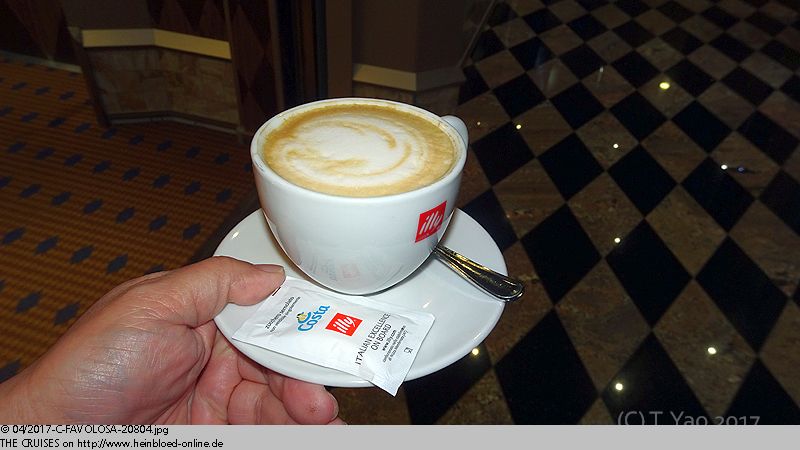 Der Kaffee ist immer gut.
Wir nutzen die Chance in eine Suite zu gucken, die sich auf unserem Deck 7 befinden. Noch nicht ganz fertig für die neuen Gäste.

We used the chance to have a look into a suite which were allocated on Deck 7. Not yet ready to welcome new guests.

Welcome to the Costa-Terminal Palacrociere. But not for COSTA MEDITERRANEA. No space for her as she was the third ship of the day. The handling it was itself was in the terminal, and they were shuttled by bus to the ship. Just in front of the terminal, you could find the tourist office. For us as transit guests, there was different access..

Willkommen im Costa-Terminal Palacrociere. Nur nicht für die COSTA MEDITERRANEA. Sie hat als drittes Schiff keinen Platz mehr. Die Abfertigung findet jedoch selbst im Terminal statt und man wird zum Schiff umgefahren. Direkt vor dem Terminal ist die Touristeninformation. Für uns als Transitgäste gibt es einen anderen Zugang.
Drei Schiffe mit geschätzt 10.000 Passagieren in der kleinen Stadt mit 62.000 Einwohner. Das Herumlaufen macht keinen großen Spaß. Wir gehen kurz in eine Apotheke. Etwas Wasser kaufen (das darf man mit an Bord nehmen). Apple Museum wäre sicherlich interessant, aber irgendwie können wir uns nicht aufraffen. Auffällig sind die Tupperfrauen, die in der Stadt eine Art Schnitzeljagd machen und daher in der Stadt omnipräsent sind. Meinen Deckel, den ich ersetzt haben müsste, habe ich jetzt gerade nicht dabei. Toll zu sehen: wie die Polizisten den Verkehr lenken. Lustig: die rote Ampel bedeutet für ein paar Shipspotter gar nichts. Sie hören auch nicht die Warntöne und wollen partout ihre Bilder machen und bekommen nicht mit, dass die Brücke schon längst gesperrt ist. Interessant:
Payback in Italien
. Ob ich auch hier mit meiner deutschen Karte sammeln kann?

Three ships with estimated 10,000 passengers in this little city of 62,000 inhabitants. So walking around was not really funny. We went quickly to a pharmacy. We bought some water (which we could take onboard). Apple Museum might be fascinating, but somehow we could not really motivate ourselves. The Tupperware-Ladies attracted a lot of attention because they had a certain kind of paper chase rally and you could feel everywhere their presence. I forgot my lid which needed to be replaced. Great to see: how the policemen guided the traffic. Funny: some ship spotter ignored the red light. They did not hear the acoustic alarm signal and insisted on making their pictures and did not notice that the bridge was already closed. Interesting: Payback in Italia (a German multi-branded loyalty programme). Wondering if I could collect points with my German card too.

At least we could make few shots of COSTA FAVOLOSA in Savona.

Ein paar Bilder gelingen uns doch in Savona von der COSTA FAVOLOSA.
Auf Empfehlung der Touristen-Information gehen wir bei Costa del Sol eine Pizza essen. Nr. 37 von 246 bei Tripadvisor. Zum Personal: keiner hatte Zeit, weil das Restaurant für den Ansturm durch die Tupperfrauen vorbereitet werden muss. Also nicht nur an Bord abgesperrte Bereiche, sondern auch an Land. Zur Pizza: Savona ist nicht Neapel. Zum Salat: richtig lecker. Zum Preis: nicht so billig wie in Neapel aber sehr viel billiger als in Basel, wo ich arbeite. Olivenöl und Balsamessig in Tütchen finde ich doch etwas gewöhnungsbedürftig.

By recommendation of the tourist information we went to Costa del Sol to have a pizza. No. 37 of 246 with TripAdvisor. Regarding waiters: none had time because they were preparing the restaurant for the run of the Tupperware-Ladies. So not only restricted areas onboard but also ashore. Regarding pizza: Savona was not Naples. Regarding salad: really yummy. Regarding price: not as cheap as in Naples but much more cheaper than in Basle, Switzerland where I am working. But olive oil and balsamic vinegar in little bags appeared to me very strange.

Back onboard: finally they were fixing the elevator which was not available the day before. Furthermore, we met a fellow-cruiser whom we know from a German cruise forum in his "Show Room" but he did not like to be part of the blog. That was fine for me.

Wieder an Bord: endlich wird der Fahrstuhl wieder repariert, der gestern auch nicht zur Verfügung stand. Weiter besuchen wir einen Mitreisenden aus Kreuzfahrten-Treff in seinem "Show-Room", der jedoch nicht Teil des Blogs sein möchte. Auch das ist o.k..
Ich habe an der Amarillo Eisbar gesagt, dass ich gerne einen Eiskaffee möchte. Man weiß leider nicht, was ich konkret möchte. Ich bitte darum, dass ich ein Eis und Sahne und eine Tasse Kaffee in einem großen Glas möchte. Sie weigern sich es wie angefragt zu servieren und ich bekomme alles getrennt, so dass ich selbst nichts umfüllen kann. Später lassen wir uns die Karte geben, um zu gucken, was wir noch möchten. Dort entdecken wir den Eiskaffee in der Karte. Unsere Bestellung zieht andere Kunden an. Aber sie bekommen nichts mehr. Die Bar wird geschlossen: Seenotrettungsübung. Wir sollen uns an eine andere Bar wenden. Das Leid der Transitreisende: obwohl wir schon unsere Seenotretttungsübung hinter uns haben: wir bekommen trotzdem keinen Service.

I told at the Amarillo ice parlor that I would like to have an ice coffee cup (something different to iced coffee. The letter "D" made a big difference). They did not know what I wanted for sure. I asked to get ice cream, and whipped cream and a cup of coffee served together in a large glass. They refused to help as requested and served everything separated so I could not have it refilled. Later we asked for the menu to see what we can get next. There we discovered the ice coffee cup. Our order attracted the attention of other guests. But did not get anything anymore. They closed the bar: Life drill. We should see another bar. The sorrow of transit guests: although we had already our life drill we did not get any service.

We moved back to our VIP-area to see the set sail. Set sail music: Time to say Good-Bye (or Con te partirò in Italian). Other used the area, by others, who had no wrist tape. Not nothing so much to do with The Retreat with Holland America (EURODAM 2014/KONINGSDAM 2016) or The Sanctuary with Princess (ISLAND PRINCESS 2013/DIAMOND PRINCESS 2016). That was worse to pay the price. Here you only had robbery.

Wir ziehen uns in den VIP-Bereich zurück, um hier die Ausfahrt zu erleben. Auslaufmusik: Time to say Good-Bye (bzw. Con te partirò auf italienisch). Der Bereich wird wohl genutzt, von anderen, die keine Armbänder haben. Das hat wenig mit The Retreat bei Holland America (
EURODAM 2014
/
KONINGSDAM 2016
) oder The Sanctuary bei Princess (
ISLAND PRINCESS 2013
/
DIAMOND PRINCESS 2016
) zu tun. Der höhere Preis mit denen ist gerechtfertigt. Das hier ist reine Geldmacherei.
Da wir jetzt die 2. Tischzeit haben, gehen wir in die 1. Show "Casino". Für die Suiten und Diamant-Gänste werden die ersten Reihen reserviert. Jedoch wenige Minuten vor Show beginnt für alle freigegeben. So beginnt eine Welle von hinten nach vorne zu rollen. Getränkeservice im Theater gibt es nicht. Nur Selbstbedienung. Die Tupperdamen fallen heute Abend durch ihre Piraten-Kostüme auf und sind sehr einfach zu identifizieren. Die Show beginnt wieder mit Ansagen für den Kinderclub mit Peppa Pig. Die Sänger von der Show sind gut. Die Tänzer zeigen sehr gut, wie unterschiedlich man eine Anweisung des Choreograph interpretieren und umsetzen kann. Inhaltlich One Size Fits all. Nett anzusehen, aber nichts, was einem nicht schon von vielen anderen Shows bekannt ist.

As we had now the 2nd sitting we went to the 1st show "Casino". For Suite- and Diamond-Guests they reserved the first rows. Few minutes before the show started they released the vacant seats for everybody. So you saw a wave moving from the back to the front. No beverage service in the theater. Only self-service. The Tupperware-Ladies attracted our attention with their pirate costumes and so easy to identify. The show started again with announcements for the kids' club with Peppa Pig. The singers on the show were good. The dancers showed that there were more ways to present the original idea of the choreographer. The content was one size fits all. Nice to see but nothing special you did not know from other shows.

Indeed we got the 2nd sitting. Also a table for two. But not in our requested preferred restaurant. But directly at the entrance to the galley.
I tried to check if you could ring for service but it was no ring. Interesting: here at the table you had olive oil and balsamic vinegar. Why they had here more than in the alternative dining venue? No napkin service. The menu for every day: Spaghetti with meatballs, Bolognese (the ingredient for meatballs), cod, and chicken, chicken, chicken... fried, bread-crumbed and grilled, Cesar Salad and vegetarian soup. Also here: great bread. The other items were ok. Was a meat skewer in a deep fried dough a real culinary highlight: you could discuss. They had no smaller portion of pasta. Was not so bad. No freshly ground parmesan. The salad was available as a side dish. Not as an extra course. As we could not find a suitable dessert, we quit. We liked the breadcrumb service.

In der Tat haben wir die 2. Tischzeit bekommen. Auch ein Tisch zu zweit. Aber leider nicht in unserem Wunschrestaurant. Dafür direkt am Eingang zur Galley. Ich probiere aus, ob hier nach dem Kellner klingeln an, aber es ist gar keine Klingel. Interessant: hier am Tisch gibt es sowohl Olivenöl und Balsamessig. Warum gibt es hier mehr als im Zuzahlrestaurant? Serviettenservice gibt es auch nicht. Die Karte für jeden Tag: Spaghetti mit Fleischklößchen, Bolognese (also der Bausatz für die Fleischklößchen), Kabeljau, und Hühnchen, Hühnchen, Hühnchen... gebraten, paniert und gegrillt, Cesar Salat und vegetarische Suppe. Auch hier: tolles Brot. Das andere ist in Ordnung. Ob ein Fleischspieß im Backteig ein kulinarischer Höhepunkt ist: kann man sich darüber streiten. Die Pasta gibt es nicht kleiner. Ist gar nicht mal so schlecht. Parmesan gibt leider nicht frisch gemahlen. Salat gibt es als Beilage. Nicht als extra Gang. Da wir kein passendes Dessert finden, lassen wir es. Gut hat uns auch der Krümelservice gefallen.
Die anderen Reisen in diesem Blog/
The other voyages in this blog: