Frühstück im Club-Restaurant. Es gibt hier sogar eine Welt am Sonntag zum Lesen. Für den frischgepressten Orangensaft muss ich 5,18 EUR (inkl. Service-Charge / 2017 - zum Vergleich Norwegian nimmt für einen großen 4.43 USD) drauf zahlen. Das ist in den 10,00 EUR nicht enthalten!!! Man wird aber auch nicht in der Speisekarte hingewiesen, dass es extra kostet. Ich nehme das sog. englische Frühstück. Irgendwie fehlen die Champignons und die gegrillte Tomate. Und woher kommen eigentlich die Kidney-Bohnen? Baked Beans in Tomaten-Sauce sehen anders aus. Und wo sind Würstchen und Speck? Oder war das gar nicht das englische Frühstück??? Es könnte das mexikanische Frühstück gewesen sein. Aber auch das habe ich mir irgendwie anders vorgestellt.

Breakfast in the Club-Restaurant. They even had here a German Sunday Newspaper available to read. For the freshly squeezed orange juice you need to pay 5.18 EUR (incl. service charge / 2017 - to compare Norwegian takes for a large one 4.43 USD) on top. It was not included in the 10.00 EUR!!! No advise in the menu that you had to pay extra. I took the so-called English breakfast. Somehow mushrooms and grilled tomato were missing. And where were the kidney beans from? Baked beans in tomato sauce looked different. And where were sausage and bacon? Or was not this an English breakfast??? It might be a Mexican breakfast. But somehow I expected something different.

Quickly out to wait outside for the opening... enjoying fresh air...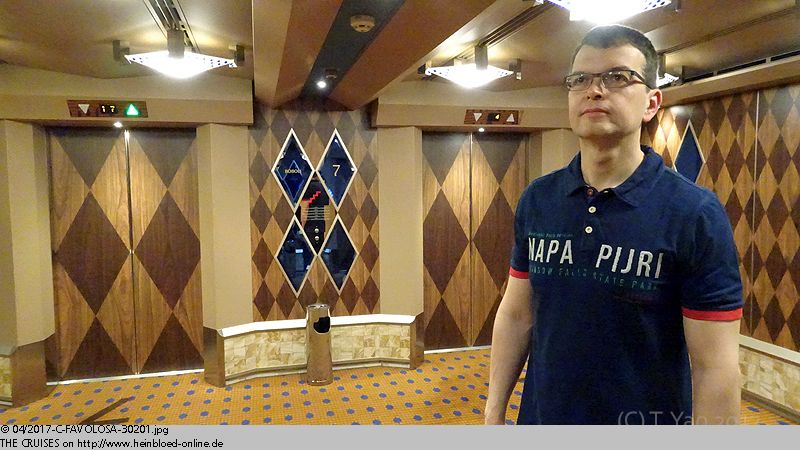 Schnell raus, um draußen auf die Öffnung zu warten... frische Luft genießen...
Geht nicht, wie Bruno feststellt. Der Ausgang ist gesperrt.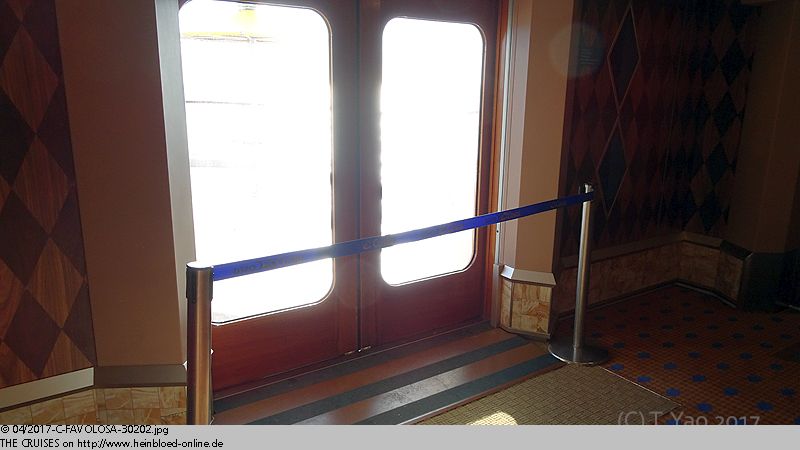 Did not work as Bruno found out. The exit was locked.

We should dock at 14.00 hrs in Barcelona, Spain. Before we had wonderful weather. But they did not set up the VIP-area and alter??? Later they did not place any towels. For me it was like a fraud: taking money without any performance. Anyhow I did not like to go from Deck 14 to Deck 3 to the front desk. No service on this deck.

Wir legen um 14.00 Uhr ist Ankunft in Barcelona. Vorher ist wunderbares Wetter. Nur der VIP-Bereich ist gar nicht aufgebaut worden und später??? Später haben sie keine Handtücher ausgelegt. Das ist für mich schon fast Betrug: Geld nehmen und keine Gegenleistung. Auf jeden Fall habe ich keine Lust von Deck 14 runter zu Deck 3 an die Rezeption zu gehen. Service an Deck ist Fehlanzeige.
Wir gehen runter und finden die Ecke mit dem Formel 1-Simulator.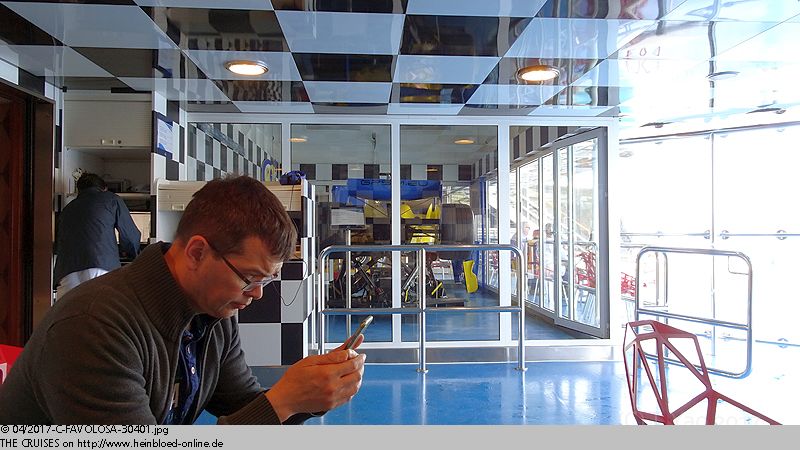 We went down and found a corner at the Formula-1-simulator.

Here you could drive some rounds.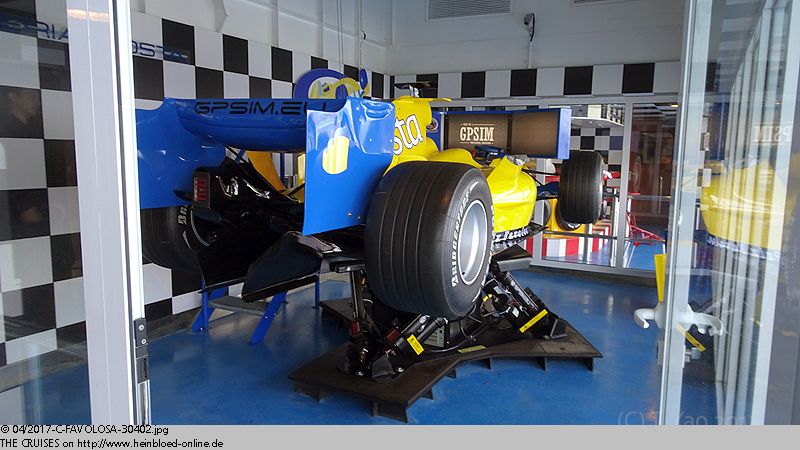 Hier kann man auch seine "Runden drehen".
Es wird auf die Fernseher übertragen.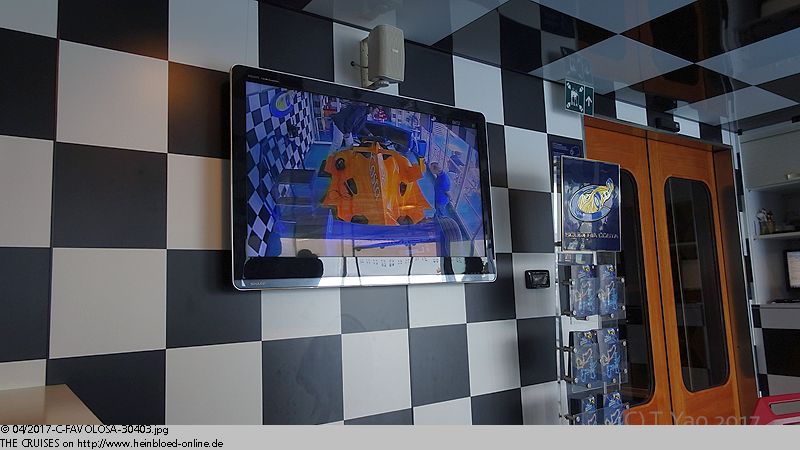 It was broadcasted on the TV-screen.

The moment one started everybody came around to see.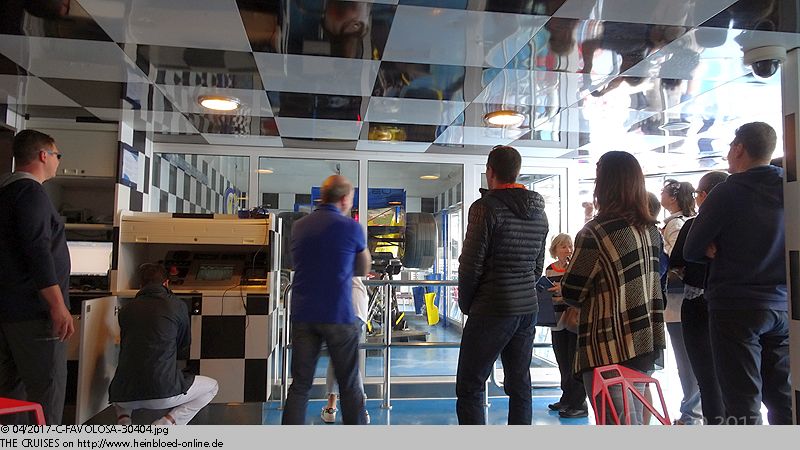 Sobald einer bereit ist, gucken alle neugierig zu.
Wir hatten versucht eine ruhigere Ecke zu finden, die nicht ganz so sonnig und laut ist. Das ist gar nicht mal so einfach. Zunächst findet hier ein Tanzkurs statt. Dann wird nahtlos Ostern für die Kinder gefeiert. Ich habe alle Warnungen in den Foren gelesen, was mich bei Costa erwartet. Darauf bin ich vorbereitet. Nur haben wir beide unseren Gehörschutz vergessen.

We tried to find a calmer corner which was not so sunny and so loud. That was not so simple. First they had here dance lessons. Then an Easter party for kids followed. I read all warnings in the forum what I supposed to expect on Costa. I was well prepared. But we forgot our ear plugs.

The day cover for 40.00 EUR (2017) for the Club-Restaurant was only available for one calendar day. So you could not go today for breakfast, tomorrow for lunch and the day after tomorrow for dinner for that price. As our call was scheduled for 14.00 hrs it was a good occasion to use the offer today as we would stay for lunchtime onboard. The lunch was nice. We got finally a receipt showing our open balance: "2 Burger and 2 pizzas".

Das Tagesangebot für 40,00 EUR (2017) für das Club-Restaurant gilt nur für einen Kalendertag. Man darf also nicht heute zum Frühstück, morgen zum Mittagessen und übermorgen zum Abendessen für den Preis. Da wir heute erst um 14.00 Uhr anlegen, bietet es sich an, dass wir heute das Angebot nutzen, weil wir ja heute Mittag wir an Bord. Das Essen mittags ist gut. Wir bekommen am Schluss auf dem Beleg unser Restguthaben: "2 Burger und 2 Pizzen".
Anlauf in Barcelona.

Arrival in Barcelona, Spain.

In the port: MAJESTIC PRINCESS.

Im Hafen: MAJESTIC PRINCESS.
VIKING SKY.

VIKING SKY.

And the VIKING SEA too. And here onboard was Cherryl which we knew from NORWEGIAN SPIRIT 2013. Sad that we did not know it earlier because otherwise we could send again some goodies to the ship. As guests of the Cherryl you were always treated as King.

Und auch die VIKING SEA. Und hier an Bord ist Cherryl, die wir von der
NORWEGIAN SPIRIT 2013
kennen. Schade, dass wir es vorher nicht wussten, weil wir sonst wieder etwas Leckeres rübergeschickt hätten. Als Gast von Cherryl warst du immer König.
Jetzt lernen wir auch den Kinderclub kennen und können
Peppa Pig
(deutsch Peppa Wutz) in Zusammenhang bringen. Man möge mir verzeihen: aber Cartoon Network ist einfach nicht mein Sender.

Now we also made acquaintance of the kids' club and could see the relationship to Peppa Pig. You should forgive me: but Cartoon Network was never part of my TV network.

We were lucky since they were far away from our cabin.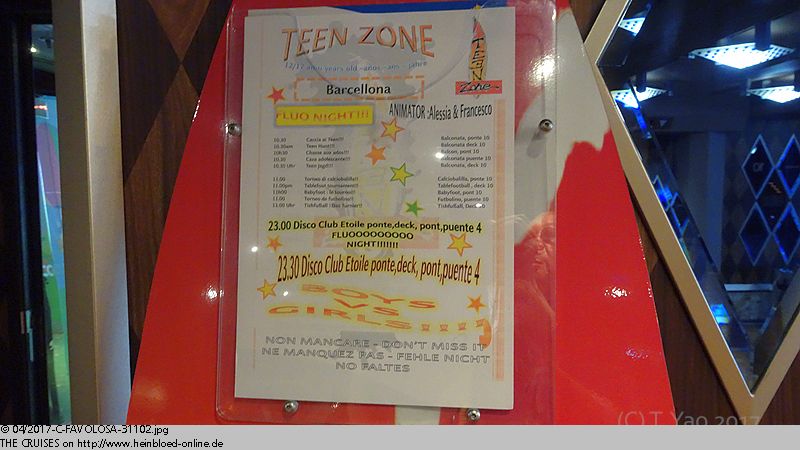 Aber die sind zum Glück schön weit weg von unserer Kabine.
Bis Mitternacht! Wow!!!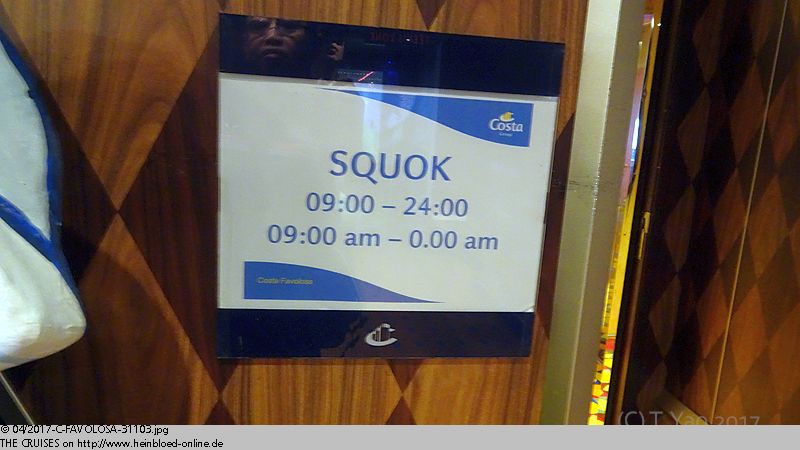 Until midnight! Wow!!!

Merchandising?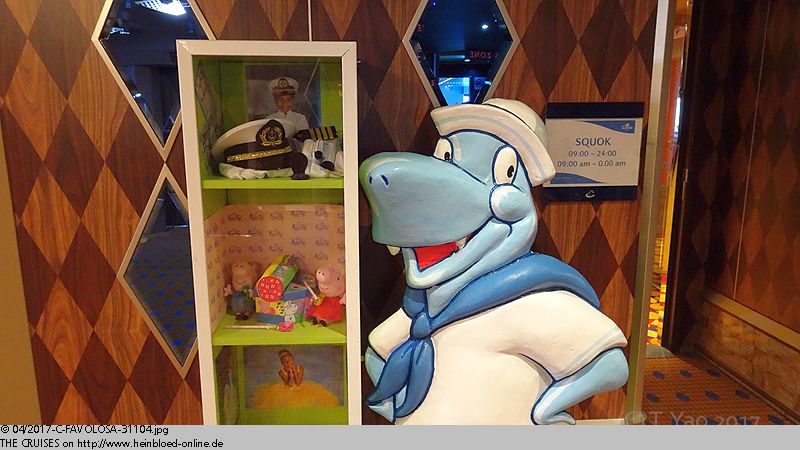 Merchandising?
Auch in Barcelona findet jetzt Einschiffung statt. Hier ist alles unverändert: alles gut organisiert.

In Barcelona was now also embarkation. Here everything was unchanged: well organized.

The ship offered a shuttle for 6.95 EUR (2017). It took you to the World Trade Center. The public port bus took 4.00 EUR (2017 / single ride 3.00 EUR) to the Columbus-Monument (around the Customs Building). I. e. you paid more with Costa and your were more apart of from the city center. Wow.

Der Schiffssshuttle wird für 6,95 EUR (2017) angeboten. Er führt zum World Trade Center. Der öffentliche Portbus fährt für 4,00 EUR (2017 / einfach 3,00 EUR) zum Columbus-Denkmal (Höhe Zollgebäude). D. h. zu zahlst mit Costa mehr und bist noch weiter weg von der Innenstadt. Wow.
Die Agentur in Palma? Sind hier die richtigen Notkontaktdaten eingedruckt worden?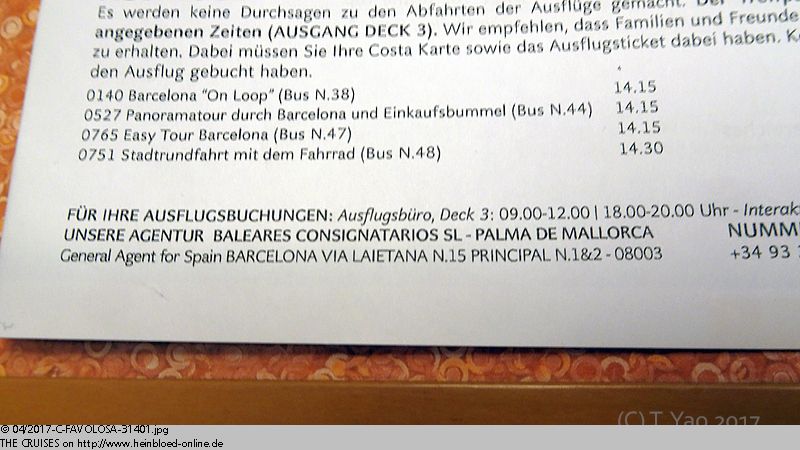 The agency in Palma? Were the correct contact information published?

Few excursion they also offered for German-speaking guests.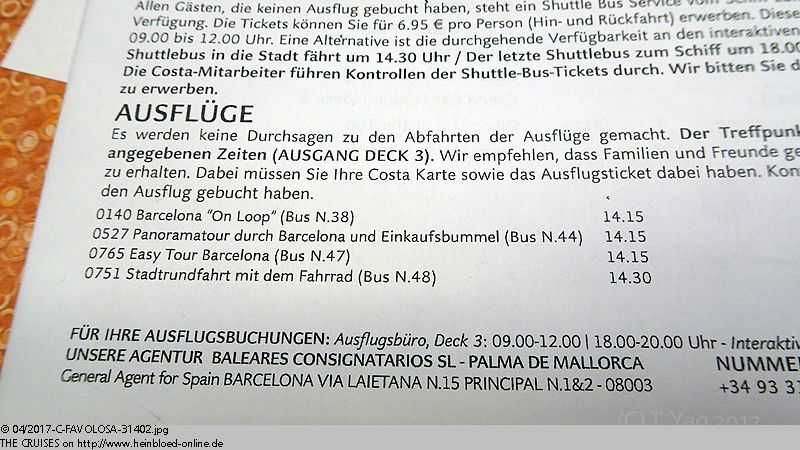 Ein paar Ausflüge finden für deutschsprachige Gäste statt.
In anderen Sprachen (z. B Englisch) finden offensichtlich noch weniger Ausflüge statt. Montserrat fand beispielsweise statt: auf Französisch.

In other languages (like English) they arranged obviously less tours. Montserrat was offered for example in French.

Our taxi was waiting.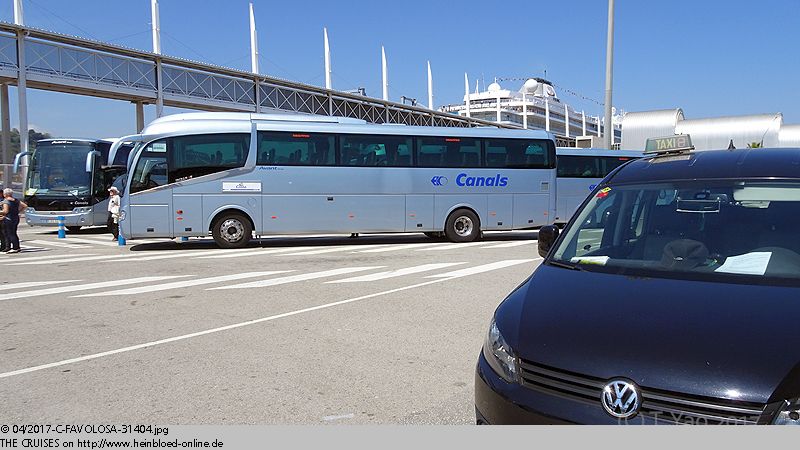 Unser Taxi wartet.
Anscheinend muss ich mich mal näher mit den neuen Techniken befassen oder ich lasse es, weil ich ja eigene Kontakte zu Taxifahrern habe.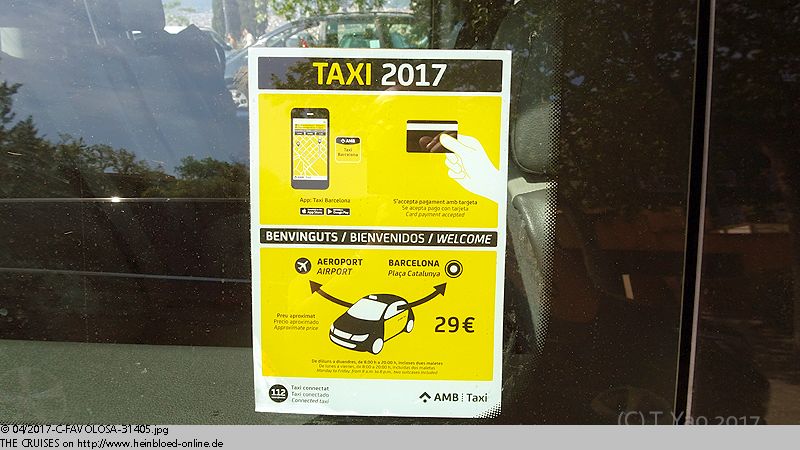 Obviously I need to check the new techniques or I leave it since I have contacts of my own to taxi drivers.

We went to our usual points which were always nice to come and see: Montjuic, square in front of Hotel Miramar, the Fortress and Mirador.

Wir fahren zu den üblichen Punkten, da es immer wieder schön ist: Montjuic, Platz vor dem
Hotel Miramar
, die
Festung
und
Mirador
.
Weil unsere Taxifahrerin meint, dass wir unbedingt Mirador hinmüssen, können wir tatsächlich tolle Aufnahmen von der COSTA FAVOLOSA machen.

Because our taxi driver said that we had to go to Mirador we were able to take great pictures of COSTA FAVOLOSA.

Eva was not allowed to drive today. But she tood care that we got again someone nice and liable: Beny. She told us that we should see Mauri to have coffee and cake. Unfortunately we had no luck: they were closed that day. So we let her drive us again to Farga. Was nice again too. New they had petit fours. Allowing us to try more different items.

Eva darf uns heute nicht fahren. Aber sie hat dafür gesorgt, dass wir wieder jemand nettes und zuverlässiges bekommen: Beny. Von ihr bekommen wir den Tipp, dass wir unbedingt zum Kaffeetrinken
Mauri
aufsuchen müssen. Leider haben wir Pech: sie haben heute geschlossen. Also lassen wir uns wieder zu
Farga
fahren. Ist auch wieder richtig nett. Neu sind die Petit-Fours. Erlaubt uns mehr Sorten zu probieren.
Wir laufen über den Placa Catalunya und Ramblas zurück zum Hafen. Ziemlich voll die Stadt. Schade:
La Boqueria
hat geschlossen.

We walked back to the port via Placa Catalunya and Ramblas. The city was very crowded. Sad: La Boqueria was closed.

With Las Golondrinas we made a harbour cruise again. Was a must. Shispotting.

Mit
Las Golondrinas
geht es wieder auf Hafenrundfahrt. Muss sein. Shipspotting.
Ein weiteres Kreuzfahrtschiff liegt in der Stadt: OCEAN NOVA. Ein Expeditionsschiff, dass im Douglas Ward-Führer nicht erwähnt wird.

Another cruise ship was in town: OCEAN NOVA. An expedition ship which was not listed in the Douglas Ward-Guide.

For our cabin we had a new cabin steward. He was obviously so good: he collected our receipts in a galss. The Douglas Ward was back. And we had no animal towel but made from the bed cover. For 39.00 EUR (2017 / per person) we were invited to join the night-sauna. But 39.00 EUR for two hours was quite high for my feeling.

Für unsere Kabine haben wir einen neuen Steward. Der ist anscheinend so gut: der sammelt unsere Belege in einem Glas. Der Douglas Ward ist zurück. Und es gibt wohl kein Handtuchtier, sondern aus der Tagesdecke. Für 39,00 EUR (2017 / pro Person) dürfen wir quasi in die Nacht-Sauna. Aber 39,00 EUR für zwei Stunden finde ich doch recht heftig.
Wir sehen uns noch ein wenig auf dem Schiff um. Immer haben wir noch nicht alles gesehen. In der Disco wird für eine Oster-Kinder-Veranstaltung am späten Abend etwas vorbereitet. Nur im Fahrstuhl stimmt etwas nicht. Dauernd fahren wir auf Deck 11, weil es dauerblinkt. Ob es geregnet hat?

We were browsing around the ship. Still we have not discovered everything. In the Disco they prepared a surprise for a kids' event later in the night. Only something was wrong with the elveator. We always went to Deck 11 as it was flashing permanently. Looked like it rained?

We went to the presentation of the senior officers. Interesting: like on TV they introduced all persons in charge for this show: arranged like apps on a smartphone. Commercial for ice cream like in the cinema. The lightning like in a horror movie. Who made these light arrangemnts. Close to the end they need to speed up that you even cannot read anymore who was standing in the semi-darkness. The show which followed was Ross in "It's Me". It was o.k. until the moment he started to sing "Mamma" (from the year 1940 by Beniamino Gigli. No idea how the show ended. We wanted to cry loud while leaving the show but we left more in a discreet and silent way the show. That was not our taste of music. I had a large variation of music for my ladies from Aqua-Fitness in Switzerland... but nothing like that.

Wir gehen zur Vorstellung der Senior-Offiziere. Interessant: wie beim Fernsehen werden die Beteiligten der Show vorgestellt: angeordnet wie die Apps auf einem Smartphone. Eis-Werbung wie im Kino. Eine Beleuchtung wie in einem Horror-Film. Wer hat das so inszeniert? Am Schluss muss es so schnell gehen, dass man nicht mal lesen kann, wer dort im Halbdunkeln vorgestellt wird. Die Show, die danach folgt ist Ross in "That's Me". Es ist eigentlich alles o.k., bis dass er "Mamma" sind (aus dem Jahr 1940 von
Beniamino Gigli
- gab es früher in einer
deutschen Fassung von Heintje
bzw. Hein Simon Ende der 60er/Anfang der 70er Jahre). Wie die Show ausgegangen ist, wissen wir nicht. Wir wollen schreiend rauslaufen, aber wir verlassen lieber still und diskret die Show. Das ist einfach nicht unser Musikgeschmack. Ich habe ja eine große und vielfältige Musikauswahl für meine Damen aus dem Aqua-Fitness beim SLRG in Muttenz... aber nicht so etwas.
Ein toller Sonnenuntergang.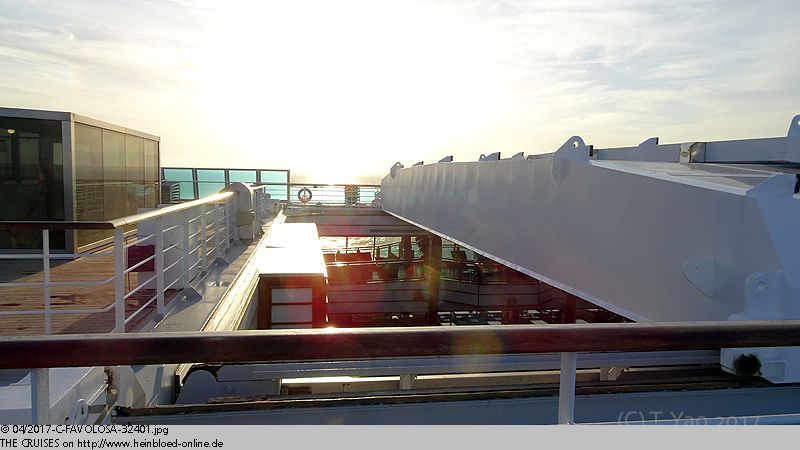 A great sunset.

A good occassion to change the side.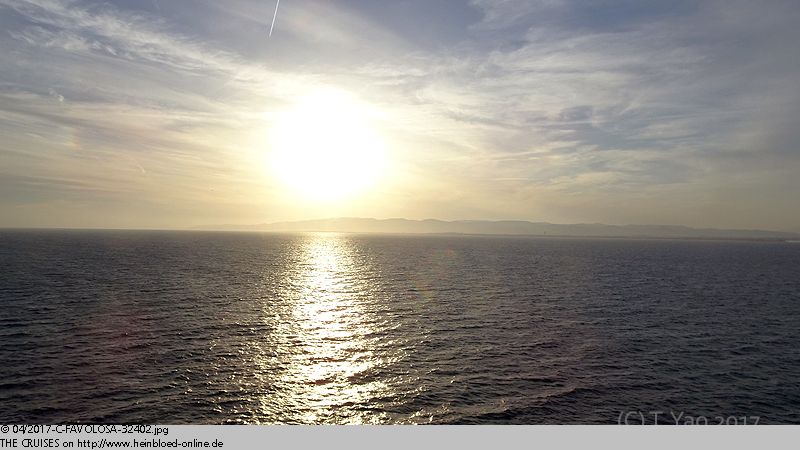 Gute Gelegenheit die Seite zu wechseln.
Schade, dass man in einer so tollen Stadt wie Barcelona nur fünf Stunden bleibt. Gute Gründe doch mit Gesellschaften zu fahren, die länger hier verbleiben, damit man auch unabhängig nach
Montserrat
(siehe Blog
NORWEGIAN JADE 2011
) oder
Figueres
(vorgesehen für Februar 2018) fahren kann.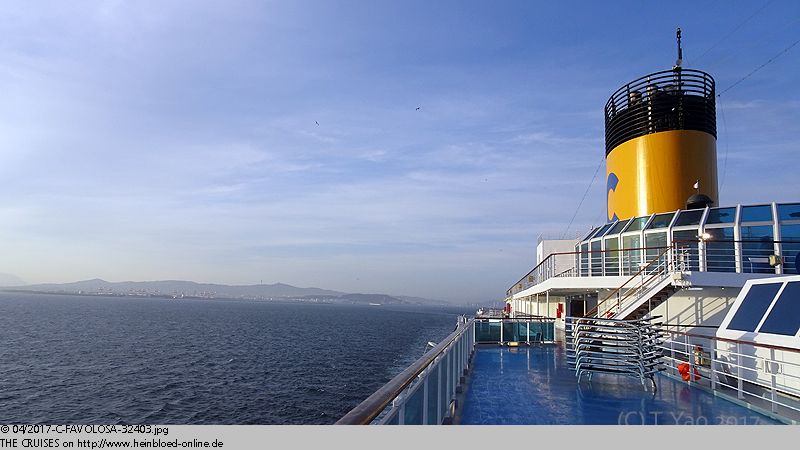 Sad that you had only five hours in a great city like Barcelona. Good reasons to go with companies who were staying longer that you could also see indepently places like Montserrat (see Blog NORWEGIAN JADE 2011) or Figueres (planned for February 2018).

It was too windy. We took our suits with us. But without ties. We could easily leave them home. Nobody was interested: neither the other guests nor the crew. Actually we were somehow overdressed.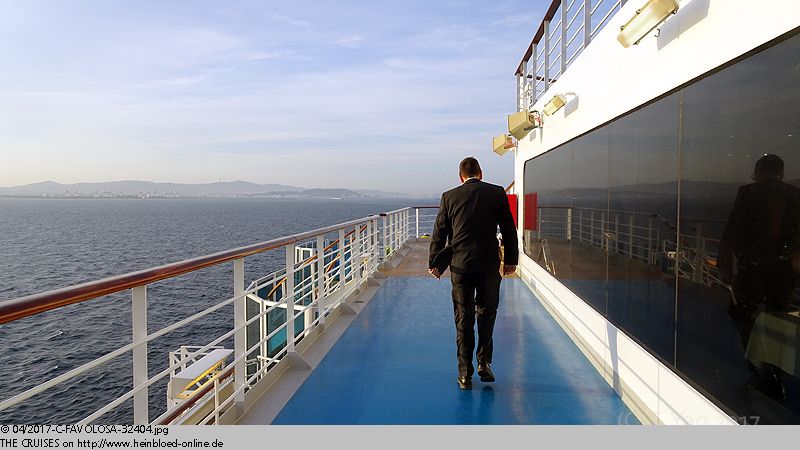 Nur viel zu windig. Wir haben unsere Anzüge mitgenommen. Allerdings ohne Krawatten. Wir hätten uns das auch bequem sparen können. Hat eh keinen interessiert: weder bei den anderen Gästen, noch bei dem Personal. Eigentlich schon fast overdressed.
Zum Abendessen geht es ins Club-Restaurant. Die 20,01 EUR für das Frühstück bekommen wir gutgeschrieben. Wir hatten ja vorgeschlagen, dass wir einfach am nächsten Tag zum Frühstück wiederkommen und es dann nicht berechnet wird. Zum Gala-Menü gibt es auch einen Servietten-Service. Cross-Selling:
Barilla
wird als Nudelpartner beworben. In einem Zuzahlrestaurant auf einem italienischen Schiff wird die Pasta nicht selbst gemacht? Das Essen ist nicht schlecht, aber unter Gala-Menü stelle ich mir doch eine andere Auswahl vor - speziell zu Ostern: Lamm gibt es und es ist gut. Es gibt unaufgefordert einen speziellen Nachtisch: Schokolade und so eine Art Panettone, den es auch zu Weihnachten immer gibt: Colomba Pasquale (Osterntaube). So wie wir vermutlich die Schoko-Nikoläuse wieder zu Schoko-Osterhasen recyclen, machen die Italiener aus dem Panettone vermutlich dann Colomba Pasquale. Schmeckt sehr ähnlich. Nur ohne Rosinen und den anderen Kladerradatsch (Ich backe deswegen auch meinen Christstollen selbst... ohne Kladerradatsch). Warum kommt der abgepackt aus der Fabrik von
Melegatti
und backt ihn nicht selbst an Bord? Ist das nichts, was jede italienische Hausfrau als Rezept mit der Muttermilch aufnimmt? Der Käse am Schluss ist gut. Sehr überraschend: wir laufen durch das Hauptrestaurant, um zu sehen, was wir hier bekommen hätten. Speisekarten hängen leider nicht öffentlich aus: wir hätten fast das gleiche bekommen, wie im Club-Restaurant. Mit einer Ausnahme: es gibt eine Empfehlung des Chefkochs noch zusätzlich im Club-Restaurant: es gibt Kabeljau als Fischgang statt Seebarsch im Hauptrestaurant. Zusätzlich steht täglich statt Hühnchen, Hühnchen, Hühnchen im Hauptrestaurant hier im Club Restaurant kein Hühnchen, aber gegrilltes Rinderfilet und gegrillte Shrimps zur Auswahl. Sonst ist das Angebot identisch. Die Zuzahlung lohnt sich schon, wenn man eben die ruhigere Atmosphäre und das Ambiente mag und direkt weiß, dass man sich auf das tägliche Angebot stürzen sollte, damit es sich lohnt.

For dinner we went to the Club-Restaurant. We got a credit of 20.01 EUR for the breakfast. We made the suggestion to keep the money and let us have breakfast the next day without charging again. For the gala menu they had napkin service. Cross-Selling: Barilla was advertised as noodle partner. In a cover-charge restaurant on an Italian ship and you had no house-made pasta? The food was not so bad but I had different expectations regarding the selection - especially for Easter: They had lamb and it was good. Without request we got a special desert: chocolate and a certain kind of Panettone which you normally get for Christmas: Colomba Pasquale (Easter pigeon). As we might recycled our Chocolate Santa Clauses to Easter Rabbits the Italians might recycled their Panettone to Colomba Pasquale. Tasted somehow very similar. But no raisins and other ingredients (That was why I bake my German Christmas cake always by myself... without the typical ingredients). Why was it packed from a manufactory Melegatti and did not prepare it here on board? No recipe every Italian housewife got with the mother milk? The cheese at the end was good. Very surprising: we walked through the Main Dining Room to check what they had here. No menu card was published: we mostly would get the same like in the Club-Restuarant: We had cod as fish course but sea barse in the Main Dining Room. In addition you did not have every day chicken, chicken, chicken like in the Main Dining Room but the Club-Restuarant offered no chicken but a grilled filet of beef or shrimps as additional options. Everything else was same. So paying the cover charge was worth if you like to enjoy more in a calm atmosphere and ambience and you should pick the daily option to make your visit valueable.

At the self-service kiosk we got tickets for the 4-D-Cinema. When entering the cinema they had a major discussion why smaller children were not allowed to join. Because we had already tickets they supposed to oversee that we did not get any glasses. Now COSTA FAVOLOSA was not Universal Studios. So you should not have the same expectations if you go and see. They charged only 4.50 EUR (2017) for losing 6-8 minutes of your life.
If you never have not made it before it might be funny. If you made this before in one of the major theme parks you might be very disappointed.
Maybe it was the movie selection: no dialogue was cheaper than one in Italian language. No good idea to carry any beverages with you: our very nice bar tender and waitress in the Salon Molière recommended us to leave our glasses there. We did not return because the bar was so far in the aft and the 4-D-Cinema was very hidden in the casino area more or less right at our stairway back to our cabin. The next day we tried to get back to make a picture but it was closed for the public due to an event for the Tupperware-Ladies. Very sad! If we would knew this before we might stay longer in the bar to exchange few more words with the waitress and bar tender instead of watching the 4-D-movie. That day the Ballroom Pompadour was closed for the public due to the Tupperware-Ladies. Before that we were "thrown out" of the Piano-Bar Camelot: We really would love to stay to listen to the piano music but we were told that this was a Champagne-Bar (Brand Ferrari Trento) and they would not serve anything else. In the Salon Molière the waitress only said: "We do not have Ginger Ale at this bar but I got you some from another bar". That was the way we were familiar from the US-ships and also that you must not find yourself beverages in the theater or on the sundecks. Maybe Costa was taken over by easy.cruise? No - then we would not get the onboard credit for shareholders.

An dem Selbstbedienungskiosk holen wir uns Karten für das 4-D-Kino. Beim Einlass gibt es eine ziemliche Diskussion, warum kleine Kinder nicht hineindürfen. Weil wir jedoch schon Karten haben, wird fast übersehen, dass man uns keine Brillen gibt. Nun ist die COSTA FAVOLOSA nicht Universal Studios. Deswegen sollte man nicht unbedingt mit dem gleichen Anspruch hingehen, wenn man das besucht. Es sind aber auch nur 4,50 EUR (2017), die man für 6-8 Minuten seines Lebens verliert. Wenn man es noch nie gemacht hat, dann ist es vielleicht ganz witzig. Wenn man schon mal das in einen der großen Themenparks eines Unterhaltungskonzerns gemacht hat, dann ist das doch sehr enttäuschend. Vielleicht lag es ja auch an der Auswahl des Filmes: ohne Dialog ist es etwas billiger als einer in italienisch. Die Mitnahme von Getränken ist übrigens keine gute Idee: unsere sehr netten Barkeeper und Kellnerin im Salon Molière hatten zuvor gesagt, dass wir die Gläser besser da lassen sollten. Wir sind leider nicht zurückgegangen, weil die Bar ganz hinten ist und das 4-D-Kino ziemlich versteckt im Casino liegt und wir direkt am Treppenhaus sind, das direkt zu unserer Kabine führt. Am nächsten Tag hätten wir gerne noch ein Bild mit denen beiden gemacht, aber da war die Bar wegen der Tupperdamen für die Öffentlichkeit geschlossen. Schade! Wenn wir das vorher gewusst hätten, wären wir sicherlich länger in der Bar geblieben, die wir für uns ganz alleine hatten und hätten weiter uns nett mit der Kellnerin und dem Barkeeper unterhalten, statt in das 4-D-Kino zu gehen. Heute ist der Ballsaal Pompadour wegen der Tupperdamen für die Öffentlichkeit gesperrt. Zuvor hat man uns aus der Piano-Bar Camelot "rausgeworfen": Gerne wären zur schönen Piano-Musik dort geblieben, aber man sei eine Champagner-Bar (Marke
Ferrari Trento
) und würde nichts anderes servieren. In dem Salon Molière meinte nur die Kellnerin: "Ginger Ale haben wir hier an der Bar nichts, aber ich habe es einfach Ihnen von einer anderen Bar besorgt". Irgendwie kennen wir das so von den US-Schiffen und wir sind diesen Stil gewohnt und auch, dass wir uns im Theater oder in einem VIP-Deckbereich uns nicht selbst versorgen müssen. Oder hat easy.cruise zwischenzeitlich Costa aufgekauft? Nein - dann hätten wir ja keine Bordguthaben für Aktionäre bekommen.