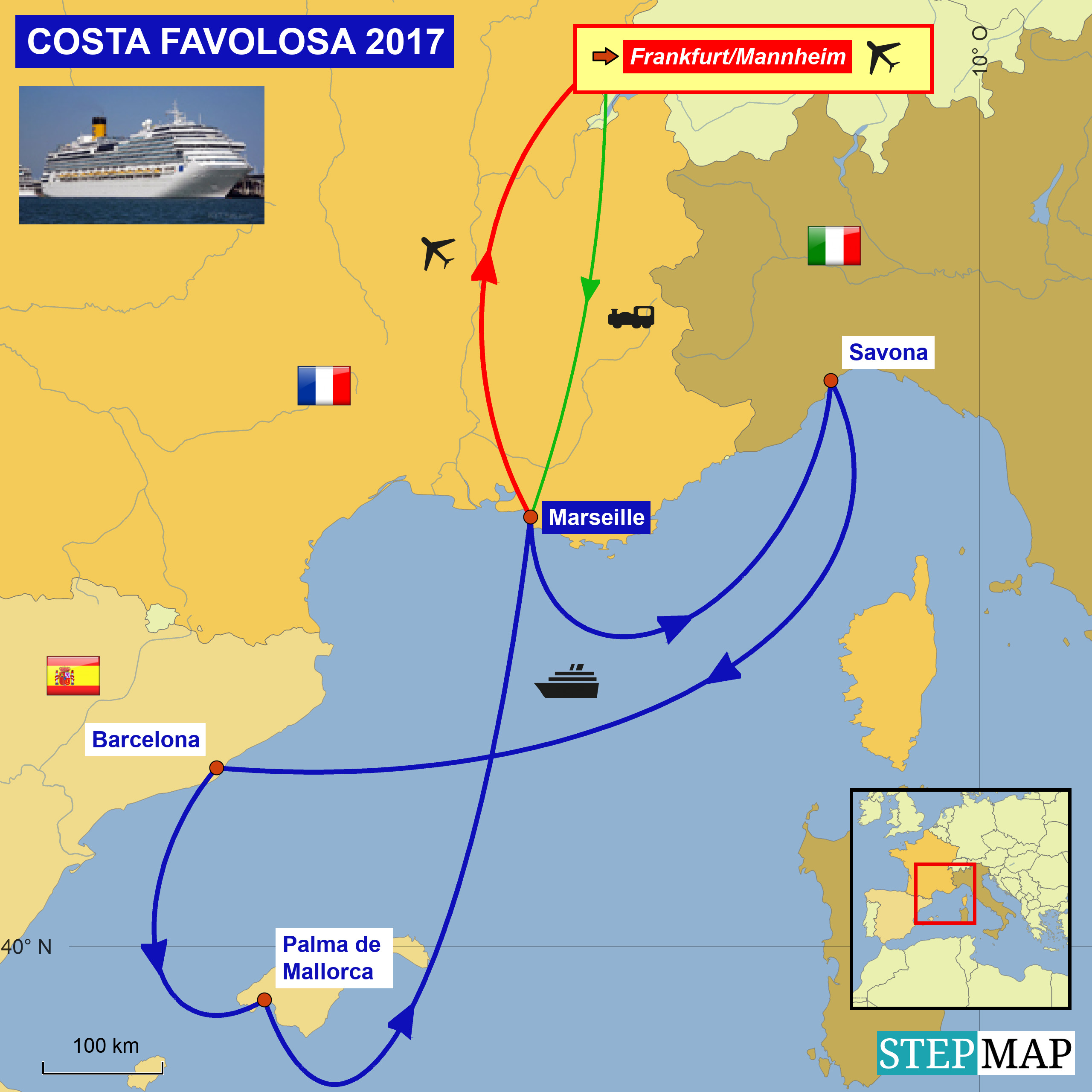 Zeit zum Shipspotten. Musst das sein, dass sich COSTA FAVOLOSA und ROTTERDAM ein Wettrennen im Mittelmeer liefern? Also muss ich noch früher aufstehen. Das Hotel hält für Frühaufsteher wie mich ein kleines Stehfrühstück bereit. Jean-Marc hat von Chantal den Auftrag bekommen, mich abzuholen. Im Internet wird der Bahnhof Mourpiane als toller Shipspotting-Punkt genannt. Leider ist der Bahnverkehr eingestellt worden. Aber Jean-Marc ruft um die Zeit kurzerhand seine Freunde an, die ihm die guten Punkte nennen zu fotografieren. Zur zweiten Runde Shipspotting per Boot kommt es jedoch nicht mehr, weil das Boot noch nicht fährt.

Time to go shipspotting. Was there a really a need that COSTA FAVOLOSA and ROTTERDAM had a race in the Mediterranean Sea? So I had to wake up earlier. The hotel kept ready some quick bites for early risers. Jean-Marc had the order from Chantal to pick me up. In the internet, someone named the train station Mourpiane as a great point for ship spotters. Unfortunately, the train operation was ceased. But Jean-Marc called at this time of the day some friends who told him were to go to take great pictures. I was planning to go the second round by boat, but I did not go since the boat service was not resumed yet.

COSTA FAVOLOSA.

COSTA FAVOLOSA.
ROTTERDAM - auch später bei der Ausfahrt. Ich finde sie seit dem Umbau leider absolut hässlich.

ROTTERDAM - also later when she set sail. I thought she was ugly since her refurbishment.

As I was quite early I was checking for the public bus which started from the cruise terminals to the city center: Bus 35. At the bus stop, you found an announcement that the other lines would not call this bus stop anymore. If you did not like to spend the effort to arrange tickets for the pre-sales: For 2.00 EUR (2017) you could get them with the bus drivers. From here you need to wait for 1 1/4 miles to the cruise terminal. We were not allowed to enter the port area yet.

Da ich noch sehr früh dran bin, sehe ich mich zumindest mal bei dem öffentlichen Bus um, der vom Kreuzfahrtfahrtterminal in die Innenenstadt fährt:
Bus 35
. An der Haltestelle findet sich ein Hinweis, dass die anderen Linien die Haltestelle nicht bedienen. Wenn man sich nicht die Mühe machen will, um die Fahrkarte im Vorverkauf sich zu beschaffen: Für 2,00 EUR (2017) gibt es sie beim Busfahrer. Von hier aus sind es noch 2 km bis zum Kreuzfahrtterminal zu laufen. In den Hafenbereich reinfahren dürfen wir noch nicht.
Zurück zum Hotel.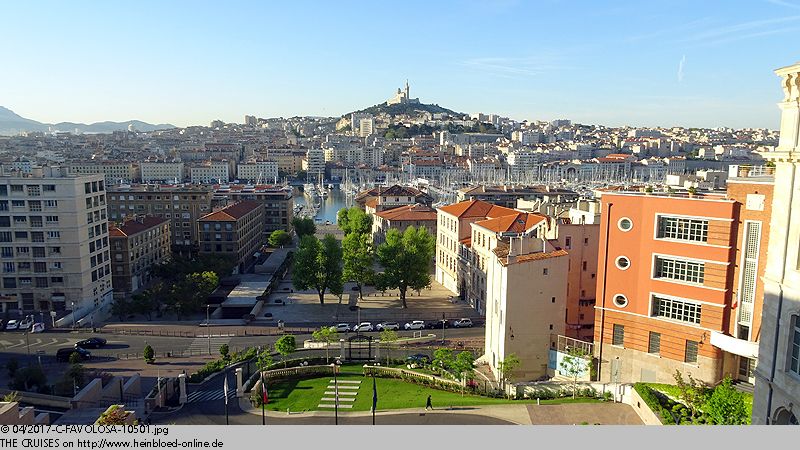 Back to the hotel.

In the hotel, they had a few very good gourmet-restaurants.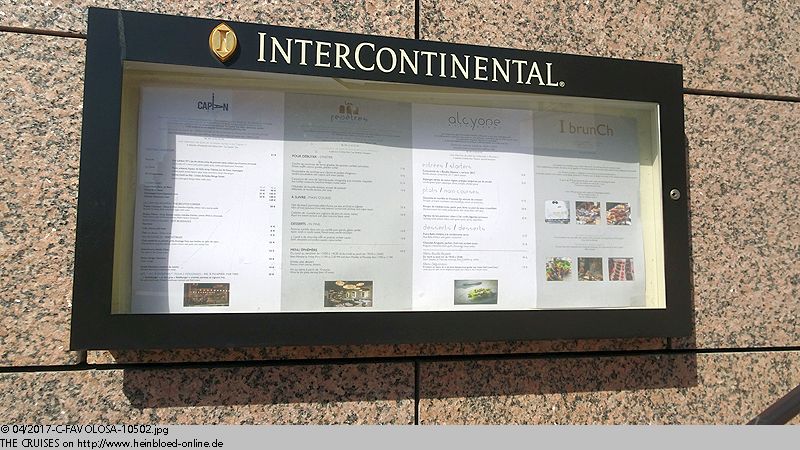 Hier gibt es ein paar sehr gute Gourmet-Restaurants im Hotel.
Bruno stellt fest, dass ich wohl ein Wäschezeichen falsch aufgebügelt habe. Mir macht es nichts aus, weil ich meine Poloshirts in der Hose trage. Er wohl nicht.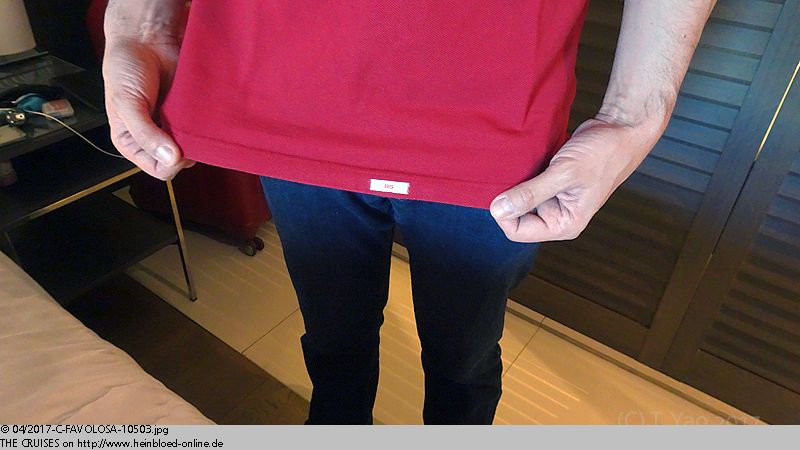 Bruno found out that I obviously ironed a name-tape with a mistake. I did not care because I always wear polo-shirts in my pants. He obviously did not.

A friend of mine explained that you never can have poached eggs prepared in advance and you could be sure that everything was prepared freshly.
After I paid with the InterContinental Düsseldorf, Germany 35.00 EUR for a poached egg which was kept warm I decided never try an experiment in any European or American InterContinental again. So we went to No. 4 of all cafés in Marseille and no. 27 of all food places in the city of Marseille according to Tripadvisor: Maison Geney. Five minutes walking distance from the hotel. Unfortunately, we came slightly too early. So we had only a yummy but extremely sweet breakfast. Just when we left the little store again, they also had the hearty items for breakfast. We bought something for Charize because she treated us so nice last night.

Eine Freundin hat mir erklärt, dass man pochierte Eier niemals vorher zubereiten kann und dass man sich so sicher sein kann, dass immer alles frisch zubereitet ist. Nachdem ich zuletzt im InterContinental Düsseldorf 35,00 EUR für ein pochiertes Ei bezahlt habe, das nur warmgehalten wurde, wollte ich nicht mehr in einem anderen europäischen oder amerikanischen InterContinental experimentieren. Daher sind wir zur Nr. 4 der Cafés in Marseille, insgesamt Nr. 27 aller Lokale in Marseille lt.
TripAdvisor
gegangen:
Maison Geney
. Nur fünf Gehminuten vom Hotel. Leider kommen wir einen Tick zu früh. So gibt es nur leckeres, aber nur sehr süßes Frühstück. Erst als wir den kleinen Laden wieder verlassen, gibt es auch herzhafte Sachen zum Frühstück. Wir kaufen aber etwas für Charize, weil sie uns gestern so toll behandelt hat.
Da wir erst für 12.00 Uhr das Taxi zum Hafen bestellt haben, laufen wir noch ein wenig herum. Vorbei bei
Les Navettes des Accoules
von dem das Gästegeschenk im InterContinental stammt. Dann weiter bei der St.-Laurent-Kirche und mit tollem Blick auf den alten Hafen auf der Höhe von der Festung St-Jean, das heute Teil des
MUCEM - Museum der Zivilisation Europas und des Mittelmeers
ist und der
Villa Méditerranée
. Seit unserem ersten Besuch in Marseille damals mit der
NAVIGATOR OF THE SEAS 2009
hat sich sehr viel getan: Marseille war 2013 zwischenzeitlich Kulturhauptstadt Europas. Immer gute Gründe für Bauaktivitäten und Stadtentwicklung. Von hier aus sehen wir auch das Kreuzfahrtterminal für die großen Kreuzfahrtschiffe und den Neubau
CMA CGM Towers
. Etwas stimmt jedoch nicht: die 31°C, die wir unterwegs auf einer Anzeige sehen.

As we ordered the cab for 12.00 hrs for going to the port we walked a little around. We passed Les Navettes des Accoules where the InterContinental got their gifts for their guests. Then we headed to St-Laurent-Church with a great view to the Old Port at the level of the Fortress St-Jean which was today part of MUCEM - Museum of the Civilisation of Europe and the Mediterranean Sea. Since our first visit in Marseille by NAVIGATOR OF THE SEAS 2009 a lot has changed: meanwhile Marseille was 2013 European Capital of Cultures. Always a good reason for building activities and city development. From you also see the cruise terminal for the larger ships and the new build CMA CGM Towers. Something was wrong: 88F which we saw on display on our way.

Also a very nice view was the La Major Cathedrale. As we were here before 10.00 hrs, we had no chance to see her interiors.

Ein sehr schöner Anblick auch die
Kathedrale La Major
. Da wir vor 10.00 Uhr hier sind, können wir sie leider nicht von innen sehen.
La Joliette ist ein Stadtteil von Marseille, in dem der Bus 35 der RTM endet. Auch hier irgendwo soll der kostenlose Shuttle enden. Wir haben uns eine halbe Stunde in ein Straßencafé gesetzt, um mal zu gucken, wohin die Busse fahren. Wir haben den Shuttle von Costa zwei Mal vorbeifahren sehen. Den von Holland America einmal. Und dann gab es noch einen neutralen Bus, der es gewesen sein könnte und an der Hafengesellschaft rechts abgebogen ist. Später haben wir die Haltestelle im Hafen gefunden (je nach Lage läuft man auch bis zu 10 Minuten vom Schiff bis zur Haltestelle). Aber hier haben beim Vorbeifahren nie jemanden an der Haltestelle gesehen. Noch haben wir je dort einen Bus gesehen. Ein Fahrplan hängt dort auch mit der Angabe der Verkehrstage und der Intervalle. Einen weiteren Bus haben wir auch noch gesehen der zum Hafen fährt, aber auch der ist kostenpflichtig. Demnach ist es gut, dass wir ein Taxi bestellt haben. Ich habe keine Lust, mit dem Gepäck dort herumzuirren, und dort den Bus zu suchen.

La Joilette is a neighborhood of Marseille where also Bus 35 terminates. Somewhere here around the complimentary shuttle should terminate too. We went for a half hour in a street café to check where the buses were going. We saw the Costa Shuttle twice passing us. The one of Holland America we saw once. And then there was a neutral bus which might be the one and made a right turn at the port authorities. Later we found the bus stop in the port area (depending on where your ship docks it might take up to 10 minutes to walk from the ship to the bus stop). But we had never seen anyone waiting at the bus stop when we passed by. Nor have we ever seen a bus there. There was a scheduled displayed showing the dates of operation and the frequency. We saw another bus there around which went to the port, but it was against a fee. So it was good that we ordered a taxi. I did not like the idea to walk around with our bags and trying to find the bus stop.

We went quickly to Les Terrasses du Port.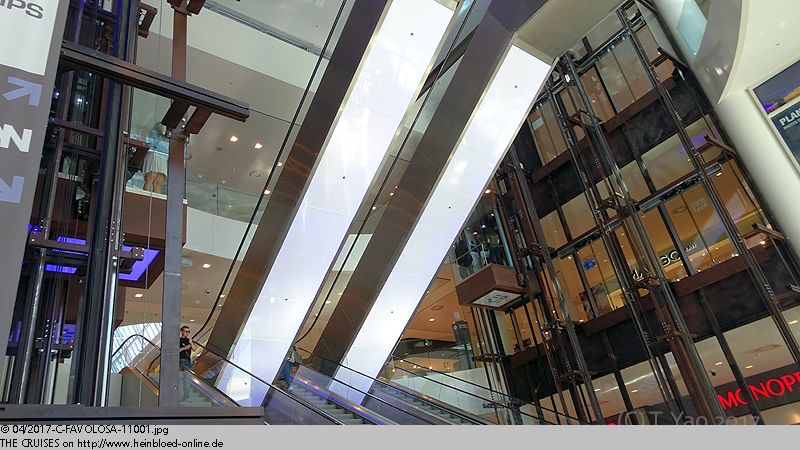 Wir gehen kurz in
Les Terrasses du Port
.
Hier erwacht das Leben. Und man kommt nur hinein, wenn man sich durchsuchen lässt.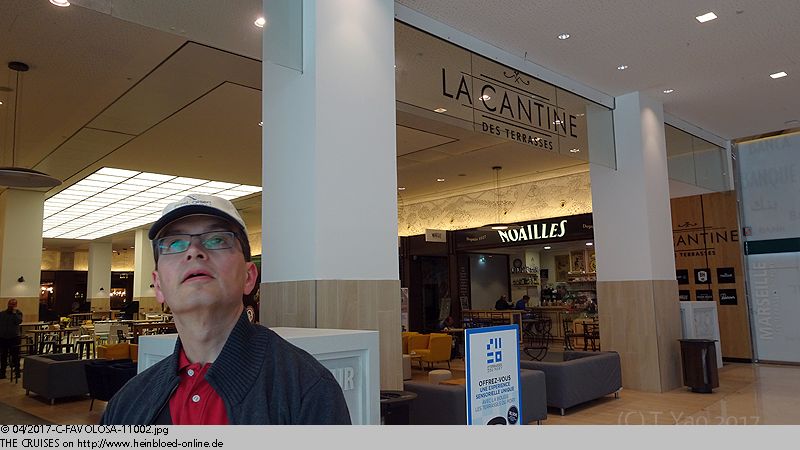 Here life was rising up. And they only let you in after they checked you.

Just opposite it was more relaxed in Les Docks de la Joliette.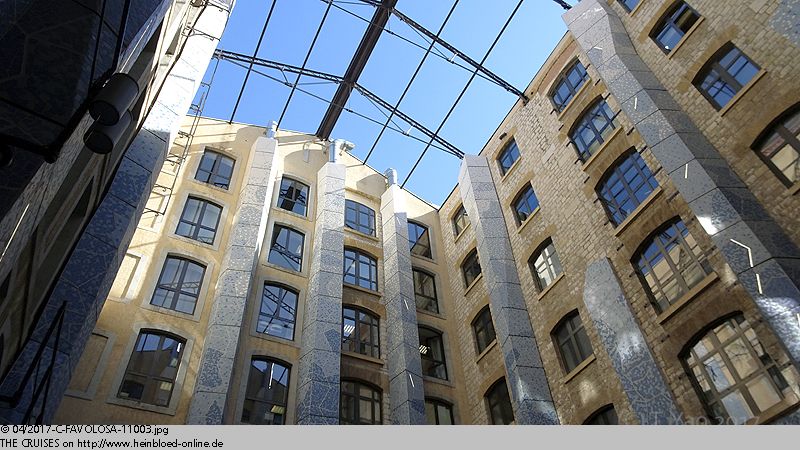 Lockerer geht es gegenüber in
Les Docks de la Joliette
.
Dort wird man nicht durchsucht.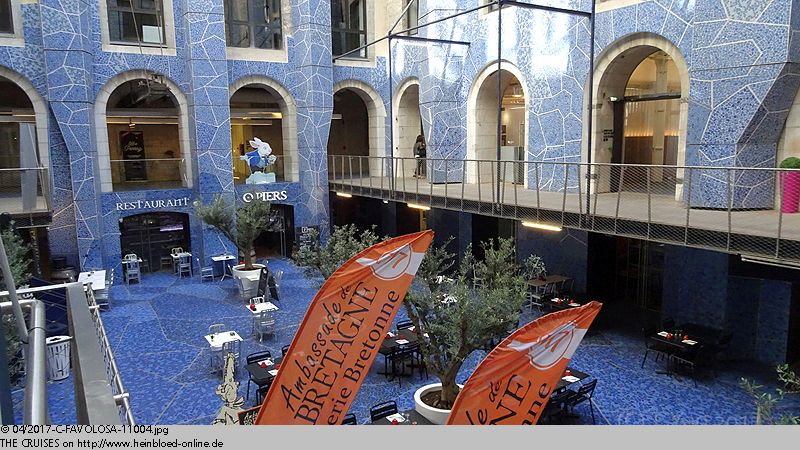 There no checks were made.

Here you found also the German Consulate.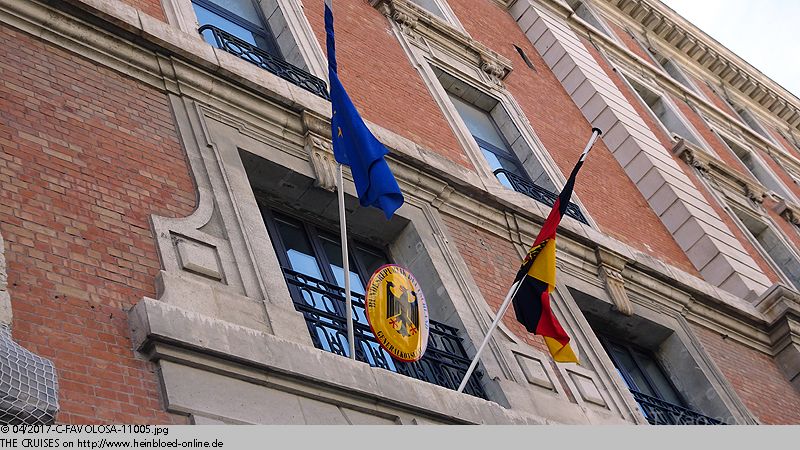 Hier ist auch das
deutsche Generalkonsulat
untergebracht.
Seit dem ich in der Schweiz arbeite und mein Gehaltskonto in CHF geführt wird, muss ich mich ja wieder mit dem Thema befassen: wie bekomme ich günstig im Euro-Raum Euros. So gehe ich zu einem Geldautomaten, um dort Euros abzuheben.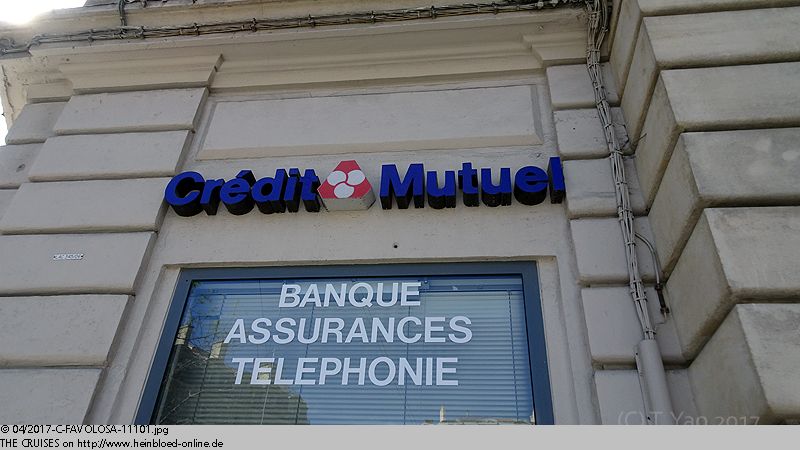 Since I was working in Switzerland my account was managed in CHF (Swiss Franks) I need to handle that subject: how do I get on a cheap way Euros when I am in the Euro-Area. So I went to an ATM to withdraw some Euros.

The operator of the ATM offered me to get 150.00 EUR for the "advantaged conversion rate" for 170.54 CHF. So my bank would not charge any more for conversion. Maybe they would charge on top for the use in a foreign country even they would charge in CHF. It happened as well in many restaurants, hotels or shops when they asked you at the end of the transaction: "Do you like to be charged in the currency your account is managed". Or Royal Caribbean and Celebrity loved to ask this question on their manifest form.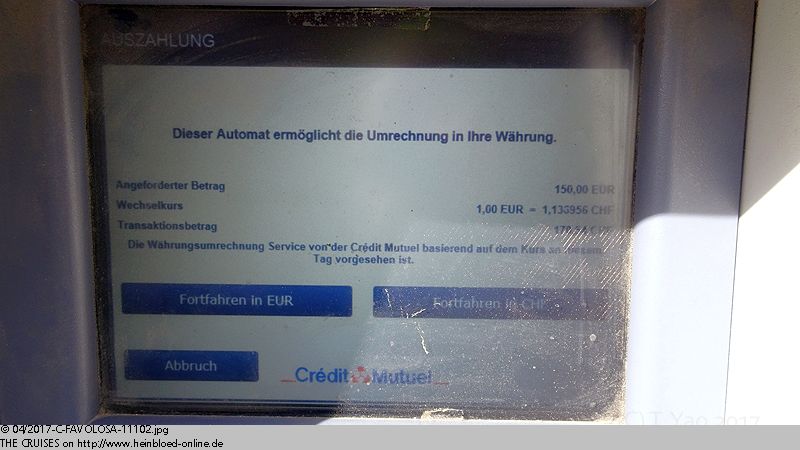 Der Betreiber des Geldautomaten bietet mir an, 150,00 EUR zum "günstigen Kurs" für 170,54 CHF zu beziehen. Dafür würde meine Bank nichts mehr für das Umrechnen berechnen. Lediglich wenn sie einen Auslandseinsatz feststellen, obwohl in CHF abgerechnet, würde meine trotzdem etwas draufschlagen. Das passiert auch in vielen Restaurants, Hotels der Geschäften, wenn am Schluss der Transaktion gefragt wird: "Möchten Sie es in Ihrer Währung abgerechnet haben, in dem Ihr Konto geführt wird". Oder man wird bei Royal Caribbean und Celebrity gerne das auch im Manifestbogen gefragt.
Da kann man bloß hoffen, dass man zuvor auf "Nein" geklickt hat. Meine Bank berechnet mir für die 150,00 EUR nur 160,51 CHF. Deswegen auch an Bord darauf achten, dass in Bordwährung abgerechnet wird und auch nicht beispielsweise über die Unternehmenszentrale, die außerhalb des Euro-Raums sitzt, wie früher einmal MSC über ihre Zentrale in Genf, Schweiz. Dann kam nochmals ein Auslandseinsatz darauf, obwohl an Bord in Euro abgerechnet wurde.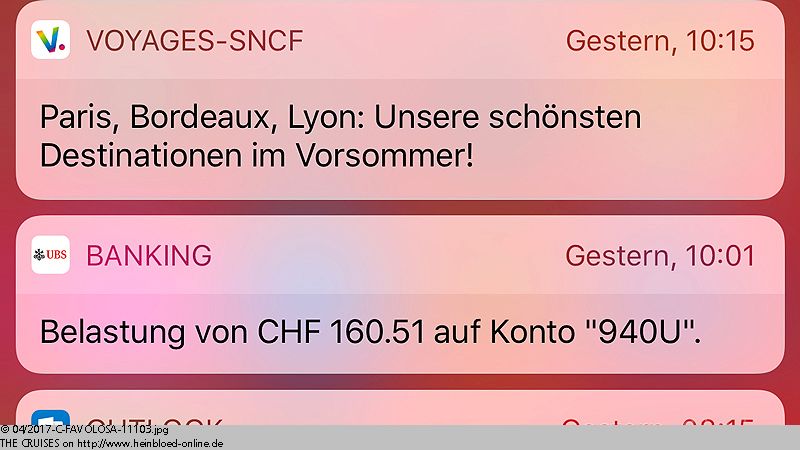 You can only hope that you pressed before "No". My bank charged only for 150.00 EUR only 160.51 EUR. That was important when you were onboard and check if they charged you in the board currency and did not charge you through their corporate office which might be outside the Euro-Area like MSC did before through Geneva, Switzerland. Then you had on top a charge for using outside Euro-Area although it was charged in Euro.

Embarkation at Marseille Provence Cruise Center. We arrived around 12.15 hrs there. They accepted already our bags, but they were too lazy to carry it. They dragged my bag over the floor. As they assumed that were traveling with others, they only explained the others that you could go upstairs, but the embarkation would start at 13.00 hrs. As they were using flags of COSTA DIADEMA, we might be wrong there. But not that was the only reason why felt to be at the wrong place.

Einschiffung am
Marseille Provence Cruise Center
. Wir sind gegen 12.15 Uhr da. Das Gepäck wird angekommen, aber sie haben keine Lust zum Schleppen. Mein Duffel wird kurzerhand über den Boden bezogen. Da sie davon ausgehen, dass wir mit anderen zusammen reisen, hat man nur denen erklärt, dass man schon hoch darf und die Einschiffung erst um 13.00 Uhr beginnt. Da mit den Fahnen von COSTA DIADEMA geworben wird, sind wir möglicherweise falsch. Aber nicht nur deswegen fühlen wir uns falsch am Platz.
Im Wartebereich stellt sich der Spa-Bereich vor. Die Kellner, die eigentlich wohl die Getränkepakete bewerben sollen, nutzen lieber das kostenlose WLAN. Für die Einschiffung selbst wurden wir noch durch eine Hostess vorbereitet, die uns die FAQs auf Französisch und Englisch mitgegeben hat, weil sich ja so viele Abläufe bei Costa seit unserer letzten Fahrt mit
COSTA CLASSICA 2007
verändert hätten. Zwischendurch gab es dann keine weitere Kreuzfahrten mit Costa mehr, weil es einen saublöden Antwortbrief von Costa damals noch in Neu-Isenburg gab. Unser Geld können wir auch bei anderen Kreuzfahrtgesellschaften anlegen. Seitens
Sonnendeck Seereisen
wurden wir sehr gut vorbereitet. Allerdings soviel Papier habe ich schon lange nicht mehr bekommen. Aber nochmals allerdings... keine andere Gesellschaft braucht tatsächlich soviel Papier zur Einschiffung wie Costa. Auf den Papieren standen noch der Nachweis, dass wir Brinidiamo-Getränkepakete (so lange eine Bar bzw. Restaurant geöffnet hat und der entsprechende Farbpunkt am Getränk seiner Wahl in der Karte steht) und die Zufriedenheitsgarantie (Satirefu-Soddisfatto o Rimborsato) noch haben. Spaßeshalber habe ich an Bord gefragt, ob ich die Garantie in Anspruch nehmen darf. Da wurde mir erklärt, dass ich schon sehr gut begründen müsse, um sie in Anspruch zu nehmen. Die Tatsache, dass es mir nicht gefällt, reicht übrigens nicht. Nach Erhalt der Unterlagen wurde die Abfahrtszeit vorgezogen. So bekamen wir kurz hintereinander die Information von Costa, per E-Mail vom Reisebüro und sicherheitshalber auch nochmals per Telefon, um ja sicherzustellen, dass wir es mitbekommen und nicht zu spät einschiffen. An der Buchung waren noch mehrere Reisebüros beteiligt, weil Costa Deutschland den Zustieg in Marseille nicht anbietet und ich keine Lust hatte, direkt in Frankreich zu buchen. So gut ist dann mein Französisch auch nicht. Es lief dann über
Cruisopolis in Luxemburg
und deren französischer Vertriebbüro der Muttergesellschaft
Sales Lentz
.

In the waiting lounge the Spa-area was introducing themselves. The waiters who should advertise the beverage packages preferred to use the complimentary WiFi. For the embarkation itself, some hostesses were preparing us by handed out some FAQs in French and Englisch because they had so many changes with Costa since our last voyage on COSTA CLASSICA 2007. Meanwhile, we had no further cruise with Costa because I got a damn stupid answer by the Costa-Office in Germany. We could spend our money easily with other cruise companies. By our travel agent Sonnendeck Seereisen, Hamburg, Germany we were taken care very well. But indeed we did not get so much paper documents for embarkation for a while. But again indeed... no other line still need so much paper like Costa. On the paper, you could find the proof that we had the Bridiamao-Beverage-Package (as long as a bar and restaurant is open, and you find the colored dot on the beverage menu) and the satisfaction guarantee (Satirefu-Soddisfatto o Rimborsato). Just for fun, I asked later on board I could apply to use the guarantee. There I was told that I need to have excellent reasons to apply for it. The fact that I did not like it was not sufficient. After we got all the documents, they moved the sailing time forward. So we got quickly one after the other by Costa, by e-mail from our travel agent and to be safe by phone to make sure that we will note it and not show up too late for embarkation. Multiple travel agents were involved as Costa Germany does not offer the embarkation in Marseille, France and I was not interested in booking directly in France. My French language skills were not sufficient. It went via Cruisopolis in Luxembourg and their French sales office of their mother company Sales Lentz.

Interior cabin. We did not want. But there was not anything else we could book. Only as Spa-Cabine.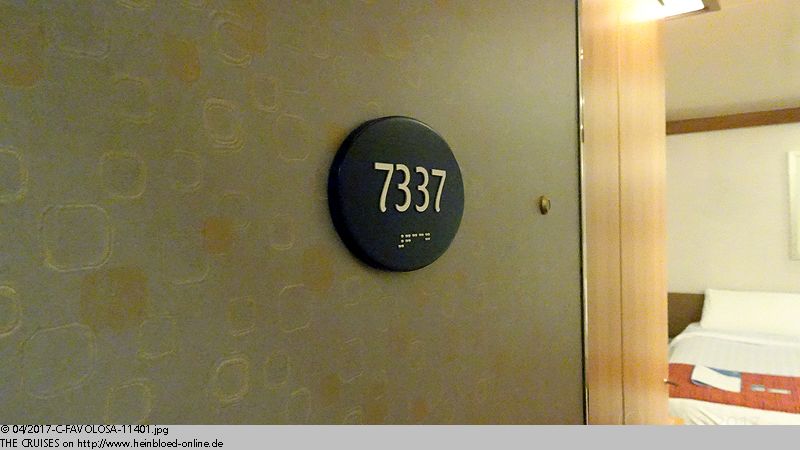 Innenkabine. Wollten wir eigentlich nicht. Aber es gab einfach nichts anderes, was wir buchen konnten. Höchstens noch als Spa-Kabine.
Getrennte Betten hat schon mal geklappt.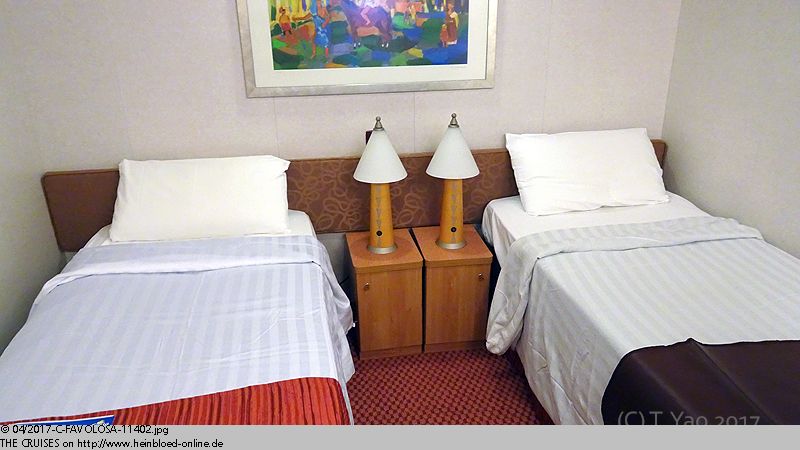 Seperated beds worked properly.

We found our ship cards in the cabin. We were on an Italian ship but no need for so much Italian flair. Not so many public German TV available.
Need to tape some of the air condition. I did not believe that we have to pay extra for the cabin service since we booked the premium fare. As we were Costa Club Members (although 1 point only), we got one bottle of mineral water. What we did not like so much: the wool blanket with the linen. We had the day luck. For one night we really got a great cabin steward: Princess. She accepted our request and exchanged the wool blankets against Central European duvets like we knew from other companies. Unfortunately, she left one day later in Savona, Italy for crew exchange.

Unsere Bordkarten finden wir in der Kabine. Wir sind auf einem italienischen Schiff, aber soviel italienischer Flair muss nicht sein. ARD gibt es nur als Tagesschau 24. Die Klimanlage müssen wir abkleben. Für den Room-Service müssen wir wohl nichts bezahlen, da wir einen Premium-Tarif gebucht haben. Als Costa Club Mitglieder (auch wenn wir nur 1 Punkt haben) bekommen wir immerhin eine Flasche Mineralwasser. Worüber wir wenig begeistert sind: diese Wolldecken mit dem Laken. Hier haben wir Glück. Für eine Nacht haben wir eine tolle Kabinenstewardess: Princess. Sie entspricht unserer Bitte und tauscht unsere Wolldecken gegen mitteleuropäische Steppdecken, wir sie auch von anderen Gesellschaften gewohnt sind. Leider verlässt sie einen Tag später beim Crew-Wechsel in Savona das Schiff.
Duschen haben sogar flexiblen Duschkopf. Duschgel ist im Spender.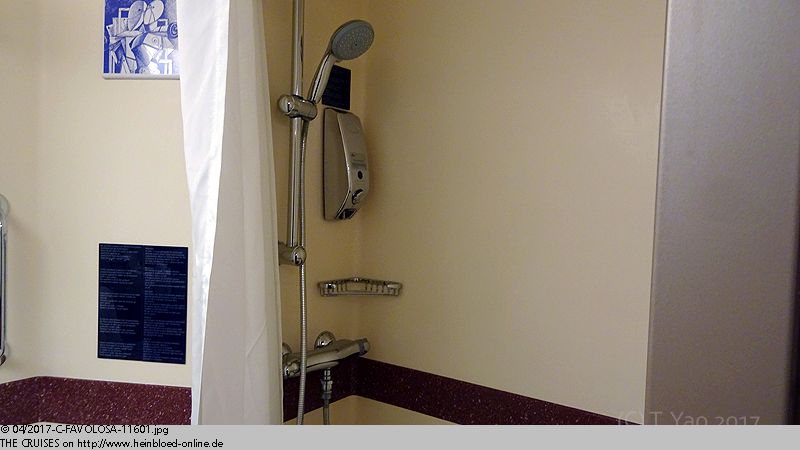 Showers had even flexible shower heads. Shower gel in the dispenser.

No more but a soap bar at the sink.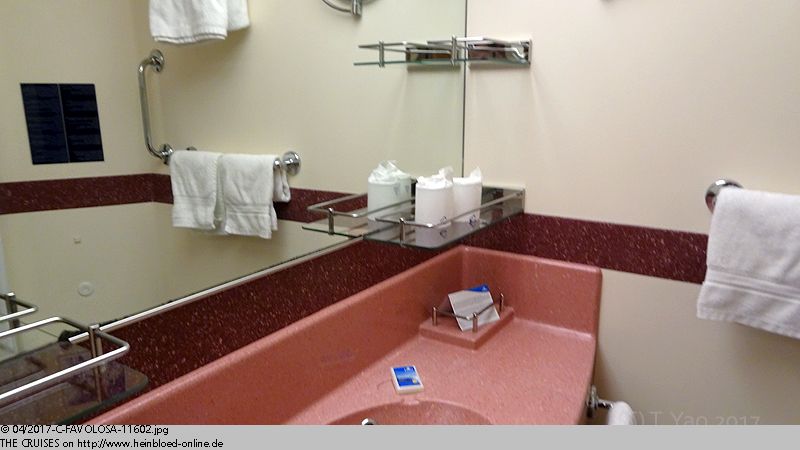 Mehr als die Seife gibt es am Waschbecken nicht.
Auffällig sind die ganzen Gläser in Papier. In der Mini-Bar übrigens auch.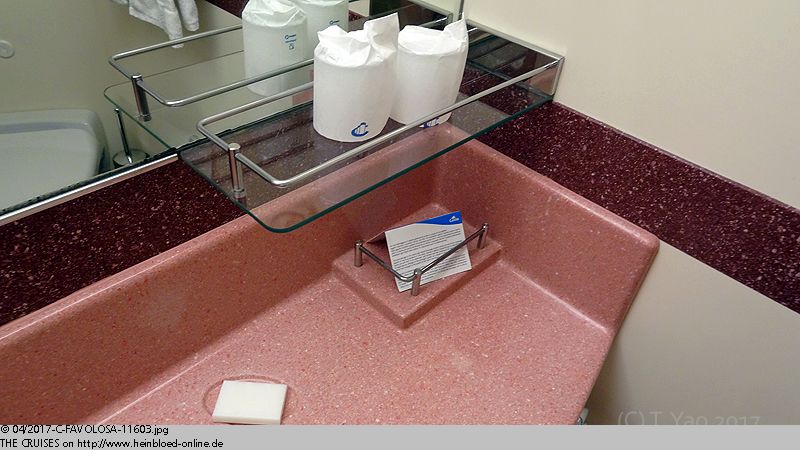 The paper wrapped glasses attracted our attention. Same with the mini-bar.

We missed the little towels somehow.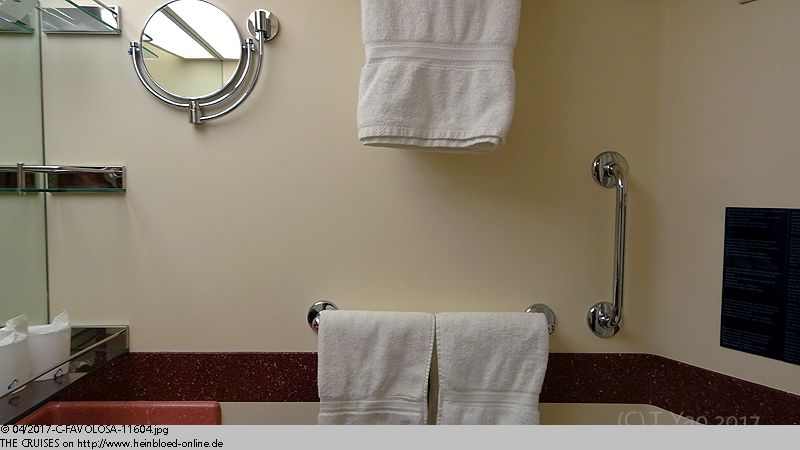 Auch Waschlappen fehlen irgendwie.
Körperlotion gibt es wohl in der Buchungsklasse auch nicht.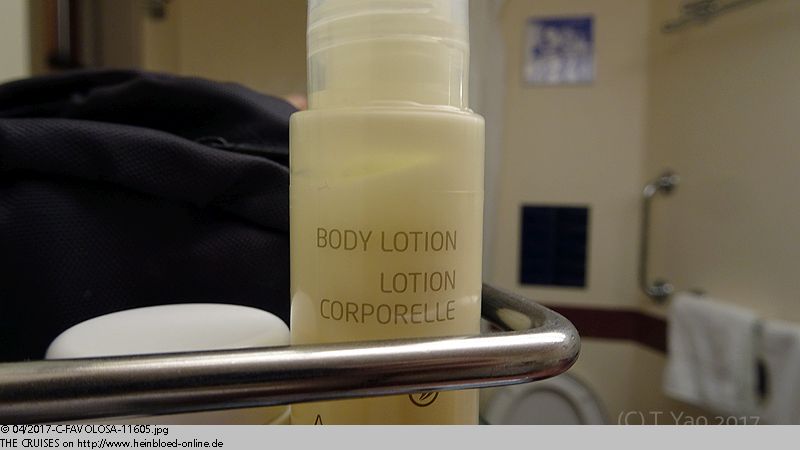 In this booking class they had no body lotion obviously.

The use of the internet was not immediately available. It took a while until all data were transferred into the system so you could register yourself.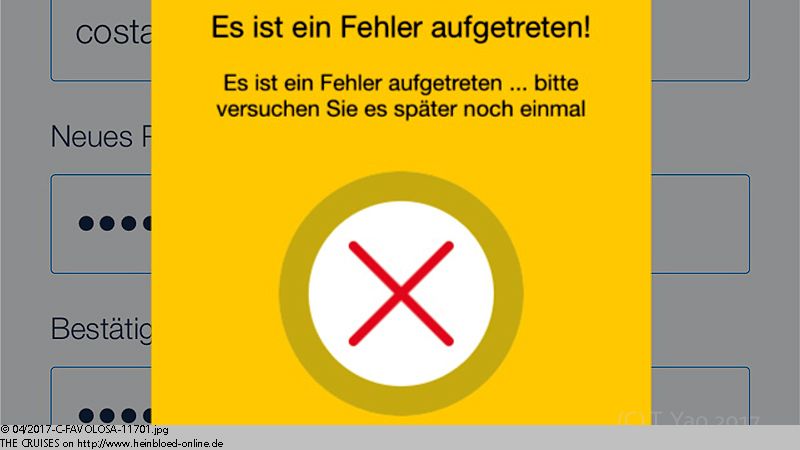 Internet-Nutzung ist nicht sofort verfügbar. Es dauert, bis dass alle Daten ins System überspielt werden, damit man sich anmelden kann.
Da ich größtenteils sowieso nur für meine Facebook Freunde die Bilder zeitnah hochlade, genügt mir die Social Media-Pass für 16,00 EUR (2017).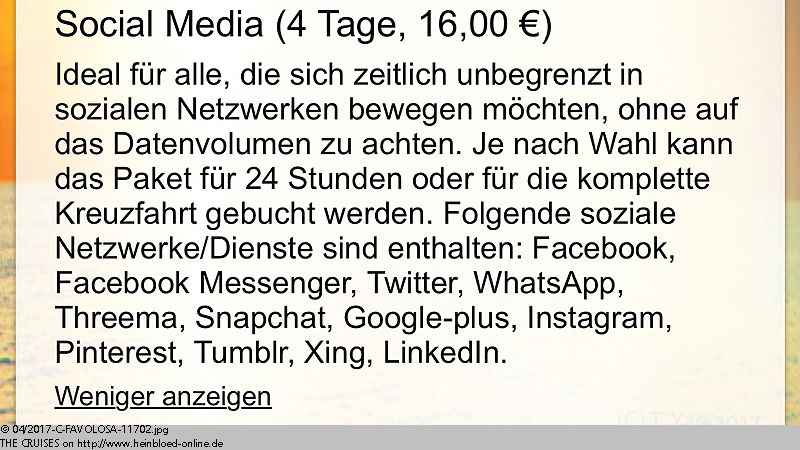 Mostly I wanted to use anyway to upload contemporary my pictures for my Facebook friends, so the Social Media-Pass for 16.00 EUR (2017) was enough.

The first round of walk was beautiful. For American taste, the artwork might be a little too liberal. As many were in Marseille, it was entirely onboard. They did not try to eliminate appearances of wear quickly. Like the handrail: rapidly just to be ground and painted with transparent lacquer would let it shine immediately. But it was not.

Der erste Rundgang ist ganz in Ordnung. Für amerikanische Verhältnisse ist die Kunst vielleicht etwas zu freizügig. Da viele in Marseille unterwegs sind, ist es sehr ruhig noch. Man bemüht sich nicht so Verschleißerscheinungen frühzeitig zu beseitigen. Beispielsweise so am Handlauf: Eben mal schleifen und Klarlack hätte die Sache wieder glänzen lassen. Aber dem ist leider hier nicht so.
Wir gehen in das SB-Restaurant, da es sehr ruhig ist. Viele haben noch nicht so früh eingeschifft und viele sind in Marseille. Der Vorteil, wenn man eben nicht im Haupteinschiffungshafen zusteigt. Ein paar Sachen fallen sehr schnell auf: Es ist alles sehr eng gestellt, im Vergleich zu anderen Schiffen, die wir kennen. Man sitzt extrem niedrig. Ggfls. muss man sich auch ohne Tablett nach oben bewegen. Es gibt (zunächst) keine Stoffservietten, sondern nur Papierservietten aus dem Spender, wie in einer Mensa/Kantine/Hamburger-Buden/SB-Restaurants in einem Kaufhaus. Überhaupt darf man als Gast auch nichts bei den Maitres erfragen. Die laufen hier größtenteils mit einem nicht-sichtbaren "Bitte nicht stören"-Schild herum. Auch muss man sich das Besteck selbst vom Büffet mitnehmen. Es ist alles sehr weit verteilt. Suppen gibt es beispielsweise egal ob Sterbord oder Backbord nur am Heck. Man bekommt seine Getränke in kleinen Gläsern an der Bar, wenn man ein Getränkepaket hat und muss halt mehrfach laufen, wenn man Durst hat. Die Auswahl ist o.k. - man wird halt satt. Gesund ist etwas anderes - auch nicht in der "gesunden Ecke".

We went to the Self Service Restaurant which was very calm. Many did not embark so early, and many were in Marseille. The advantage if you do not board at the main embarkation port. Few points attracted our attention very quickly: It was set up very narrow compared to other ships which we knew. You sat extremely low. Eventually, you need to move upwards without having a tray. (First) They had no textile napkins, but paper napkins from a dispenser like you knew from your canteen/Hamburger restaurants/ self-service restaurants in department stores. Anyway, you were not allowed to ask anything with the Maîtres. They mostly moved around with an invisible sign "Please do not disturb". You must take yourself silverware from the buffet. You sit a little lower. It was spread out very widely. You can get soups only at the aft - mo matter you were on starboard or port side. You can get beverages in small glasses at the bar if you have a beverage package and you need to walk multiple times if you are thirsty. The selection was o.k. - you should become full. Healthy was something different - even not in the "healthy corner".

We booked the premium rate. A beverage package was included of 103.92 EUR value if you would book it ahead of travel on the internet. If you book it onboard, it was 105.06 EUR (so 2.04 EUR more than on the internet). Crucial was the colored dots in the beverage menu what you can get. I took a Shakerato of illy. No lactose-free milk was available on board.

Wir hatten die Premium-Rate gebucht. Darin ist das Getränke-Paket im Wert von 103,92 EUR, wenn es im Internet vorab bucht, inkludiert. Bucht man erst an Bord kostet es 105,96 EUR (also 2,04 EUR mehr als im Internet). Entscheiden sind die Farbmarkierungen in der Getränkekarte, was man bekommt. Ich nehme ein Shakerato von
illy
. Laktosefreie Milch bekomme ich keine an Bord.
Wir hatten die Premium-Rate gebucht, damit wir selbst festlegen konnten, welche Tischzeit wir wollen, welche Tischgröße und welches Restaurant. Was ich defitiv nicht wollte: Duca di Borgogna (keine Fenster), 1. Tischzeit. Nur der Tisch für zwei wurde bestätigt.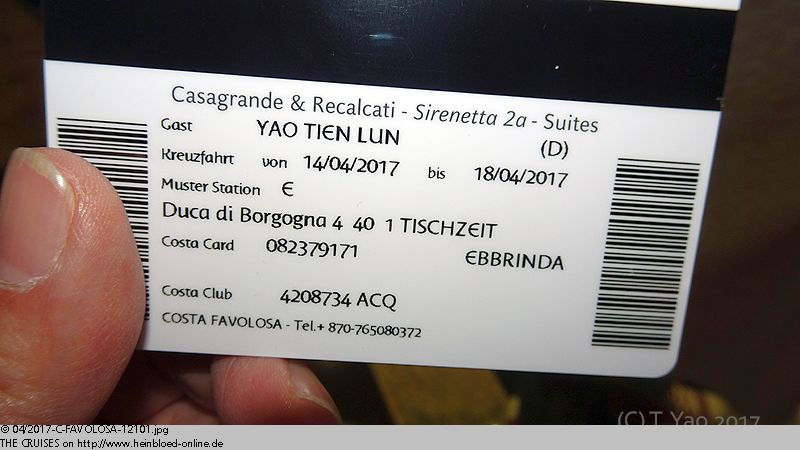 We booked premium rate so we can decide ourselves which sitting, which size of table and which restaurant. What I did not want for sure: Duca di Borgogna (no window), 1st sitting. Only the table for two was confirmed.

Now we could see why only inside cabins can be booked just, why we were not taken as individual guests during embarkation in Marseille and why we cannot get our preferred table at our preferred time in our preferred restaurant: for 1,000 French Tupperware-Ladies incl. families they need the space and time in Duca d'Orleans.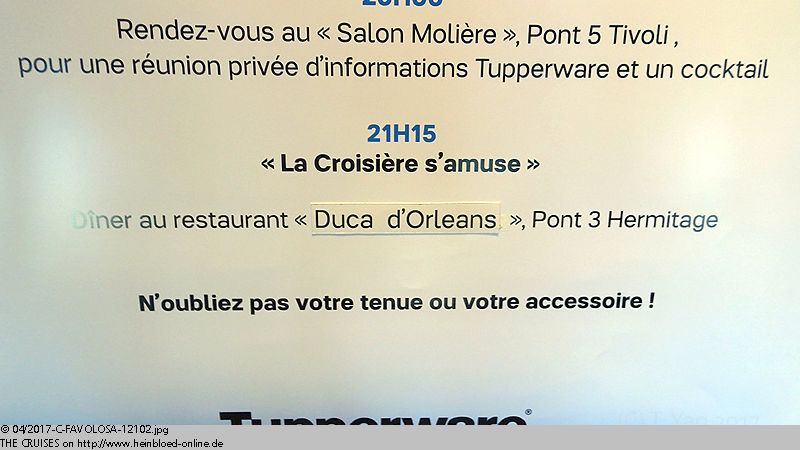 Hier sehen wir dann auch, warum wir nur noch Innenkabinen buchen konnten, bei der Einschiffung in Marseille nicht als Individualgäste wahrgenommen wurden, und warum wir keinen Tisch zu unserer bevorzugten Tischzeit in unserem bevorzugten Restaurant bekommen konnten: Für 1.000 französische Tupperfrauen inkl. Anhang wurde der Platz und der Tischzeit im Duca d'Orleans gebraucht.
Für die Änderung der Tischzeit muss beim Maître vorsprechen. Pünktlich kommen wir, aber da ist keiner. Später entdecken wir: er hat sich bewusst so versteckt hingesetzt, dass ihn kaum einer finden konnte, der nicht etwas tiefer ins Restaurant gegangen ist und vielleicht enttäuscht wieder abgedreht ist. Für heute kann uns nicht mehr umsetzen. Man versucht uns für den folgenden Tag umzusetzen.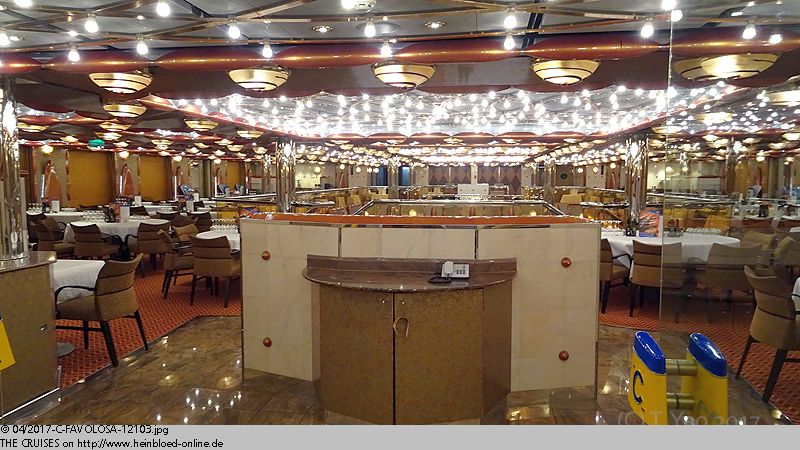 For the changes of the sitting you need to speak with the Maître. We arrived on time, but nobody was there. Later we discovered: he was hidden in a corner nobody could find unless you did not go more further into the restaurant and leave disappointed by turning away. On that day it was not possible anymore to get us a new table. They would try to get us another table for the next day.

18.45 hrs and 21.15 hrs were the sittings. With flexible dining, we preferred to dine around 19.30 hrs/20.00 hrs.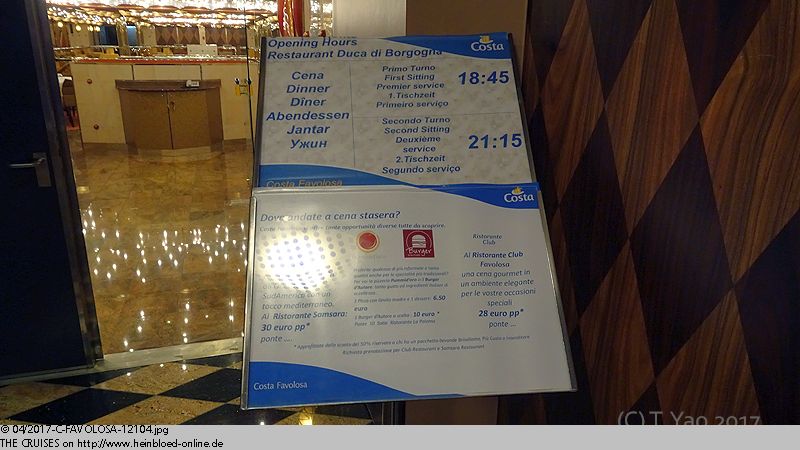 18.45 Uhr und 21.15 Uhr lauten die Tischzeiten. Bei flexiblen Tischzeiten gehen wir am liebsten gegen 19.30 Uhr/20.00 Uhr.
Und wenn man etwas Besonderes möchte, was bei einigen anderen im Preis inbegriffen ist? Gegen Aufpreis gibt es sogar Hummer für 15,00 EUR (2017). Aber nicht nur bei Hauptgängen, sondern auch bei Vorspeisen und Nachspeisen 5,00 EUR (2017). Und das ist bei 145,00 EUR/Nacht (Feiertagssaison mit Getränkepaket) nicht inkludiert??? Wenn ich mir vorstelle, dass ich mit der
EURODAM 2014
über Silvester gerade mal 13,00 EUR mehr pro Nacht gezahlt hatte und meine Außenkabine mit Sichteinschränkung hatte und was für ein tolles Essen und Service wir hatten, so ist für mich Costa selbst bei dem kostenlosen Getränkepaket komplett überteuert. Für jemanden, der gerne und viel trinkt, kann die Rechnung komplett anders ausfallen. Wir legen nun mal auf gutes Essen sehr viel Wert und das würden wir bei Costa nicht bekommen, ohne dass wir nochmals an Bord etwas draufzahlen müssten.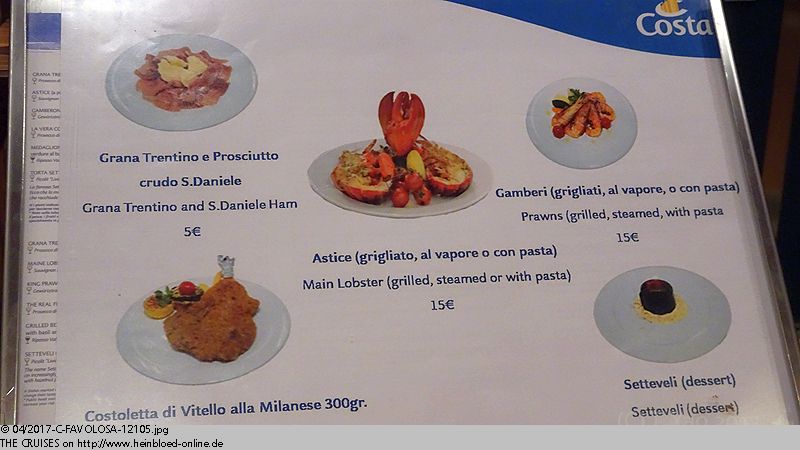 And if you wanted something special which was included in the price with some others? Against surcharge, you can even get some lobster for 15.00 EUR (2017). But not just for entrees but also for starters and deserts 5.00 EUR (2017). And those would not include in 145.00 EUR/night (festive season incl. beverage package)??? If I picture it that we went on EURODAM 2014 on New Year's Eve for just 13.00 EUR more per night, and we had an oceanview cabin with obstructed view and really great food and service: Costa appeared to be totally overpriced even you had a complimentary beverage package. For someone who loves to drink a lot the calculation might be entirely different. We prefer more to have better food, and that was something we could not get on Costa without paying something extra.

Italy without ice cream was like America without Hamburger. But if you like ice cream with Costa, you need to pay for. The first scope was 1.50 EUR and each more 1.00 EUR (2017). They also had with Holland America an ice cream offer for a fee but also a complimentary.

Italien ohne Eis ist wie Amerika ohne Hamburger. Aber wenn man Eis bei Costa will, muss man dafür bezahlen. Die 1. Kugel kostet 1,50 EUR und jede weitere 1,00 EUR (2017). Es gab auch bei Holland America ein kostenpflichtiges Eisangebot, aber auch ein kostenfreies.
Da nicht bei der Einschiffung die Kreditkarte eingelesen wird, muss man irgendwann an einem Kreditkartenterminal vorbei, und die Kreditkarte selbst registrieren.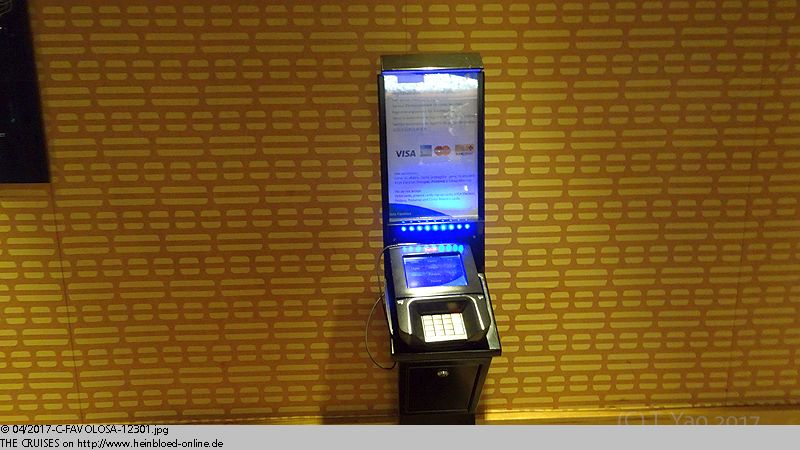 As none registered your credit card when you embarked you need to see one of the credit card terminals and to register yourself the credit card.

In the cabin, we got a French daily programme for embarking guests. At the front desk, we could get an English version. We were the only German customers who started in Marseille. So we had no daily programme. We were told that we should have a letter in German. But there was not any.
Very angry: there were only two receptionists. Ahead of me, another Italian guest was served who occupied more than one front desk agents. The receptionists allowed it but to intervene and to ask her to keep one agent busy only.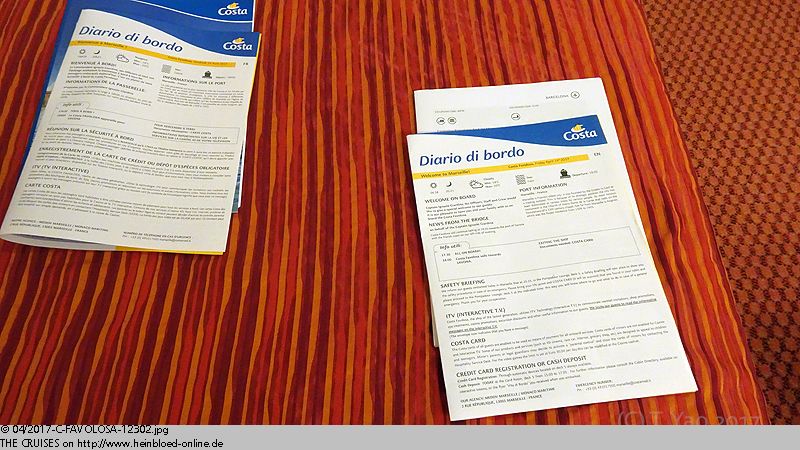 In der Kabine bekommen wir ein französisches Tagesprogramm für zusteigende Gäste. An der Rezeption erhalten wir zumindest eine englische Fassung. Wir sind die einzigen deutschen Kunden, die in Marseille zusteigen. Daher gibt es für uns kein Tagesprogramm. Angeblich sollten wir aber ein Schreiben in deutsch haben. Aber hier liegt nichts. Sehr ärgerlich: es gibt nur zwei Rezeptionisten. Vor mir ist ein italienischer Gast an der Reihe, die gleichzeitig mehrere Rezeptionisten beschäftigt und sie lassen dich das bieten, statt einzuschreiten und sie zu bitten, einfach sich an eine zu halten.
Ich habe einige Leistungen im Voraus bestellt. Es wird uns nicht sofort berechnet. An Bord finden wir keine Hinweise zu den gebuchten Leistungen und fragen nach.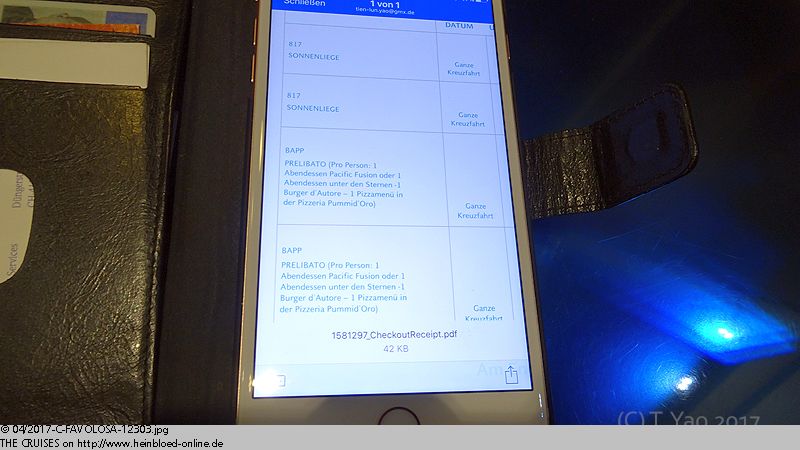 I ordered some services in advance. It was not charged immediately. We did not find on the ship any information on my booked services, and so we asked.

For 20.00 EUR (2017) for the entire cruise, we booked two reserved deckchairs. We had a written confirmation (in German). But the front desk said no. It was a NOT BINDING booking which must be accepted onboard. They were not willing to give the deck chairs for the whole cruise because it was 10.00 EUR per day * person. So they only give me the tapes for two days. The print-out showing printing "entire cruise" (in German) was not accepted because none at the front desk spoke German. I refer to one co-worker who had a German flag on her name tag and recommended to ask her. They went to the back office and came out with the print-out of the actual online offer. Today I could book for 35.00 EUR for the items if I would book today and they would like to charge me 35.00 EUR. I refused because I booked before the last day of booking online the service officially. That was April 10, 2017. I was not interested to know the condition for today. We had a discussion with their supervisor. After we mutually roared on us, I got my eight tapes. Half-hearted they explained to us where to find the dedicated area. We could not see it. In the Spa, they told us that they had nothing to do with these tapes and they could not tell us where to find the dedicated area. We met a Senior Officer in the elevator and asked him if he could help. In a very unfriendly and testy way, we were directed to Deck 9. There we met a pool boy who did not know anything. At the front desk, they marked the area on a deck plan. I asked them to escort us. They refer to the long queue of guests. I was the only, and they were seven behind the counters. So they accompanied us. We found the reason: on the deck plan there was no Deck 14, and they marked everything on Deck 12. On Deck 14 we found the area: completely no sun protection. No care. If other guests used the area without paying (no tape): did not bother anyone. And they were wondering what I was asking to use their satisfaction guarantee to get back to Marseille, France. Something sweet: Deck 14 was named Dorothy. Named after my Dorothy? That time she was not involved in this booking. Or a particular reserved area for us gays???

Für 20,00 EUR (2017) für die gesamte Kreuzfahrt haben wir zwei Liegestühle reserviert. Das haben wir schriftlich. Das wird aber von der Rezeption bestritten. Es ist nur eine UNVERBINDLICHE Reservierung, die an Bord erst angenommen werden muss. Hier ist man nicht bereit, uns für die gesamte Kreuzfahrt die Liegestühle zuzuteilen, weil es 10,00 EUR pro Tag * Person kostet, sondern gibt uns nur Bänder für zwei Tage. Der Ausdruck mit dem Aufdruck "gesamte Kreuzfahrt" wird nicht anerkannt, weil keiner an der Rezeption deutsch kann. Ich verweise auf eine Kollegin, die auf ihrem Namensschild eine deutsche Flagge hat und schlage vor, sie zu fragen. Sie gehen in das Backoffice und kommen mit einem aktuellen Ausdruck von meinen Online-Angeboten wieder. Heute könnte ich für 35,00 EUR die gesamte Kreuzfahrt die Dinger buchen und sie würden mir gerne 35,00 EUR in Rechnung stellen. Ich weigere mich, weil ich sowieso zu den Konditionen vor dem letzten Tag der Online-Buchungsmöglichkeiten gebucht habe. Der letzte Tag war der 10.05.2017. Wie die Konditionen heute sind, interessiert mich überhaupt nicht. Es gibt dann eine Diskussion mit einer Vorgesetzten. Nach dem wir uns gegenseitig angebrüllt haben, bekam ich insgesamt acht Bänder. Uns erklärt man halbherzig, wo wir den ausgewiesenen Bereich finden sollten. Wir finden es nicht. Im Spa teilt man uns mit, dass sie mit den Bändern nichts zu tun haben und uns auch nicht sagen könnten, wo wir den ausgewiesenen Bereich finden sollten. Im Fahrstuhl treffen wir einen Senioroffizier und fragen nach, ob er uns weiterhelfen könnte. Wir werden unfreundlich und unwirsch auf das Deck 9 verwiesen. Dort fragen wir einen Poolboy, der auch nichts weiß. An der Rezeption zeichnet man uns das im Deckplan ein. Ich bitte darum, dass man uns hinführt. Man verweist uns auf die Gäste, die in der Schlange stehen. Ich bin jedoch der einzige und sie sind sieben hinter der Theke. Also begleitet man uns. Das Rätsel ist gelöst: es fehlt das Deck 14 auf dem Deckplan und man hatte alles auf Deck 12 eingezeichnet. Auf Deck 14 finden wir den Bereich: komplett ohne Sonnenschutz. Keine Betreuung. Und wenn andere Gäste den Bereich unbezahlt (ohne Band) nutzen: das interessiert auch keinen. Und die wundern sich, dass ich frage, ob ich die Zufriedenheitsgarantie nutzen kann, um nach Marseille zurückzukommen. Etwas Positives: Deck 14 trägt den Titel Dorothy. Etwa nach meiner Dorothy benannt? Dabei hat sie dieses Mal nichts mit der Buchung zu tun. Oder ein speziell reservierter Bereich für uns Schwule???
Wir sitzen im Café als eine französische Ansage kommt. Es findet wohl die Seenotrettungsübung statt. Irgendwie haben wir doch im englischen Programm etwas von 20.15 Uhr gelesen. Sicherheitshalber fragen wir nach: 17.45 Uhr ist nur für französische Gäste. Mangels Platz, findet die englische um 20.15 Uhr erst statt. Wir fragen an der Rezeption nach: wir als deutschsprachige Gäste sollen um 18.00 Uhr uns bei der deutschsprachigen Gästebetreuung melden. Dort erklärt man uns alles und zeigt uns den Weg zur Sammelstation E. Mehr gibt es nicht. Einschiffung in Marseille macht schon Spaß. Allerdings haben wir nicht den Eindruck, dass man bei Costa etwas aus den Ereignissen mit der COSTA CONCORDIA gelernt hat: es heißt in unserem Schreiben, dass die Pflicht VOR DEM ABLEGEN DES SCHIFFES besteht, an der Rettungsübung teilzunehmen. Wir wurden ja informiert, dass wir bereits um 18.00 Uhr abfahren. 17.45 Uhr, 18.00 Uhr und 20.15 Uhr??? Ob das wirklich rechtzeitig VOR DEM ABLEGEN DES SCHIFFES ist???

We were sitting in the Café when they made an announcement in French. They had a life drill. Somehow I read in the English version of 20.15 hrs. To be safe, we asked: 17.45 hrs only for French-speaking guests. Due to lack of space, the English version was 20.15 hrs. We asked at the front desk: we as a German-speaking guest should report at 18.00 hrs with German hostess. There they explained everything and showed us the way to the muster station E. Nothing more. Embarking in Marseille was somehow a pleasure. But I did not have the impression that Costa really learned of the incidents on COSTA CONCORDIA: you read in our letter that you had an obligation to participate the life drill BEFORE SET SAIL OF THE SHIP. We were informed that we already set sail at 18.00 hrs. 17.45 hrs, 18.00 hrs, and 20.15 hrs??? Was that really BEFORE SET SAIL OF THE SHIP???

What I liked very much here onboard: sensor-controlled door openers. So you could not spread out germs by using the handles of the doors.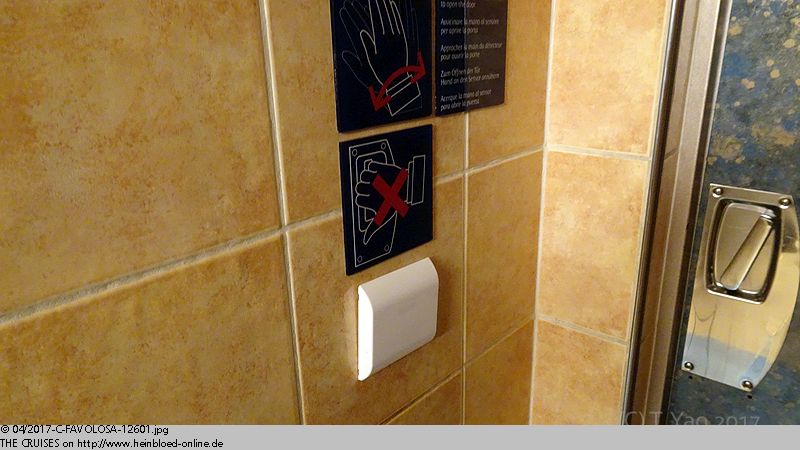 Was ich wirklich gut hier an Bord finde: Sensorgesteuerte Türöffner. So können sich kaum Bakterien über den Türgriff weiter verteilen.
Stoffhandtücher. Klasse.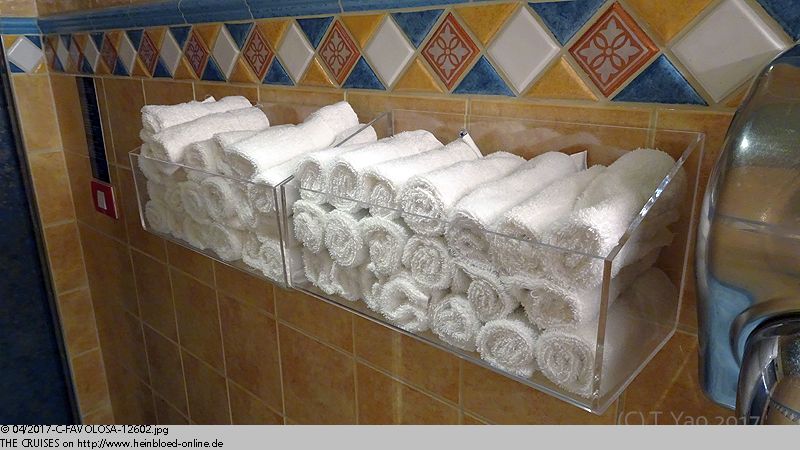 Textile towels. Wonderful.

Such a small group like here from Switzerland was o.k.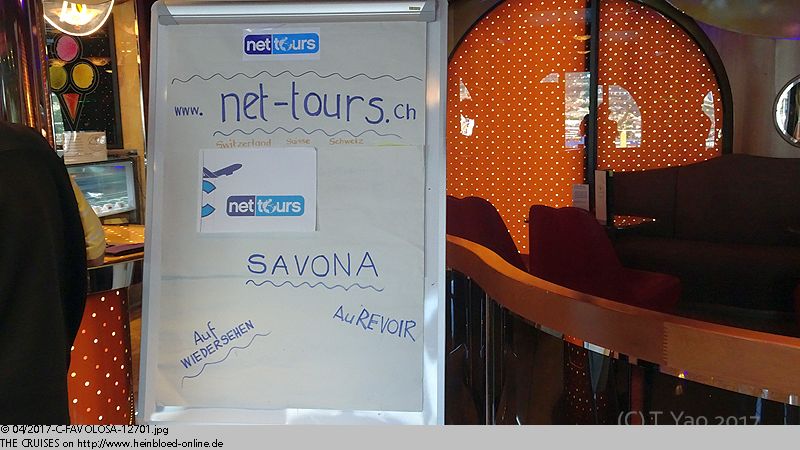 So kleine Reisegruppen, wie hier aus der Schweiz, ist ja ganz o.k.
Aber eine Gruppe mit 1.000 französischen Tupperfrauen, für die dann ganze Lounges abgesperrt werden. Auch ein Flügel des Eiscafés ist für sie als Stützpunkt dauerhaft reserviert.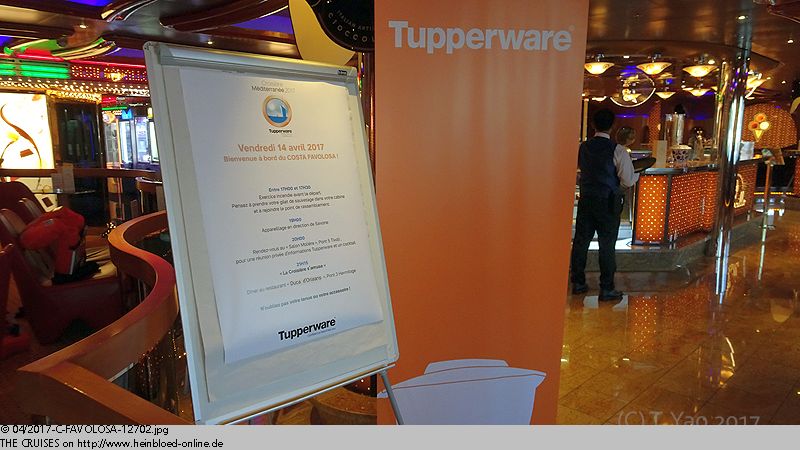 But a group of 1,000 French Tupperware-Ladies for whom they closed a complete lounge. Also, a wing of the ice café was closed for their base during the cruise.

We knew the open atrium also from other ships.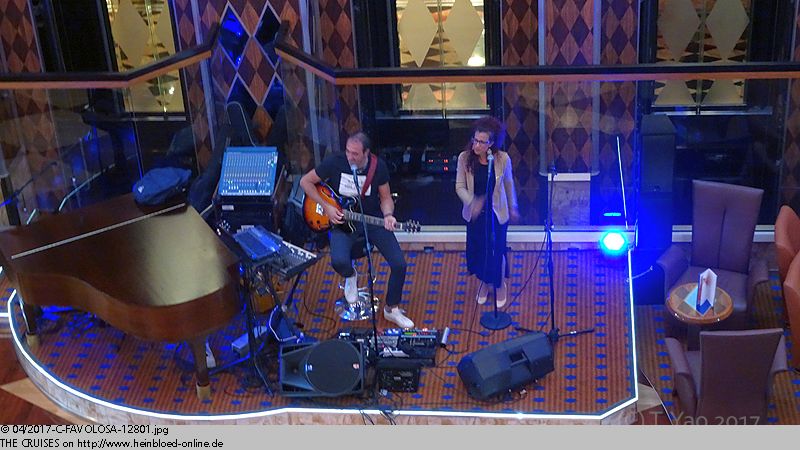 Das offene Atrium kennen wir auch von anderen Schiffen.
Im Gegensatz zu anderen Schiffen, wird hier aber extrem laut musiziert. Auch zu Zeiten, in denen in Deutschland schon Nachtruhe gilt und alles auf Zimmerlautstärke beschränkt wird.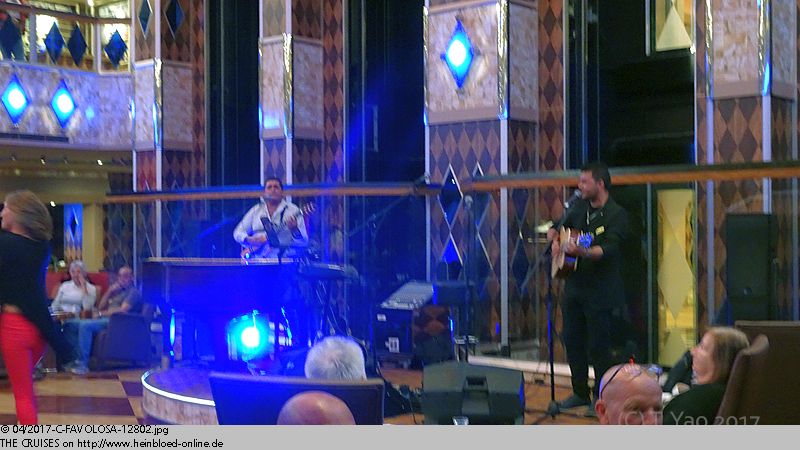 Compared to other ships they made extreme loud music. Even with times which would be count as rest period in Germany (after 22.00 hrs) and volume was limited to room volume.

So they closed the steel doors.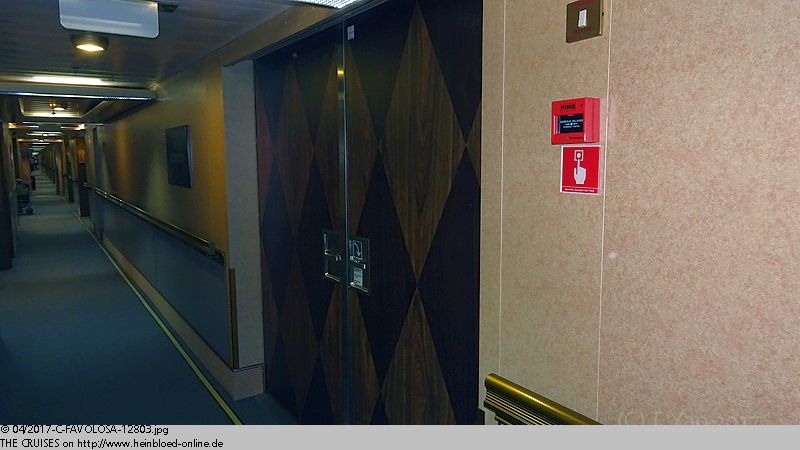 Daher werden auch dann auch die Stahltüren geschlossen.
Aber die helfen nicht wirklich gegen Lärm. Die Kabinen sind extrem hellhörig und so bekommen wir auch jedes Gespräch auf dem Flur mit. So müssen wir auch die Türen nicht öffnen, wenn es Ansagen gibt. Es gibt keinen Kanal in der Kabine, auf der die Ansagen in die Kabinen übertragen werden. Wir haben eine Kabine in der Nähe zum Treppenhaus, die wir wegen der kurzen Wege sehr schätzen. Ab jetzt kommt jedoch noch das Kriterium dazu: Treppenhaus frei zum Atrium scheiden künftig jedoch aus. Dieses Mal sind wir zum Glück an einem anderen Treppenhaus.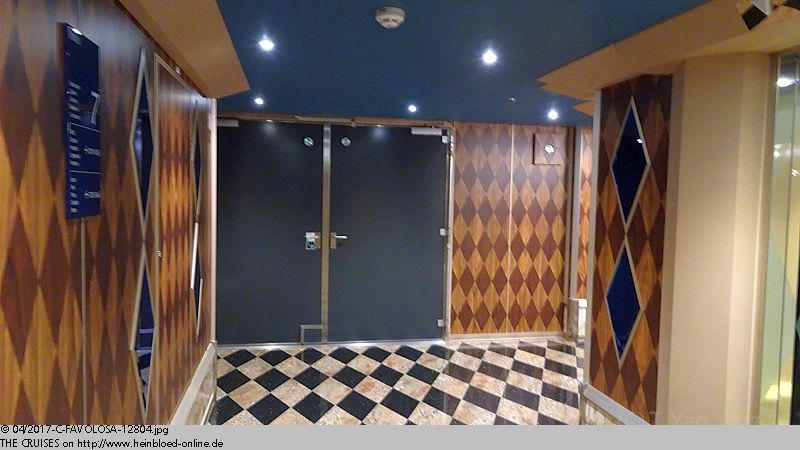 But they were not really helpful against noises. The cabins were extremely poorly soundproofed, and so we could follow every conversation in the hallway. So no need to open the door when they had public announcements. They had no channel in the cabin to broadcast the announcements into the cabins. We had a cabin close to the stairways which we appreciated due to the short distances. But now we have new criteria: stairways attached to an open atrium will be excluded in the future. But that time we had the luck to be located at a different stairway.

Who were the people who were on our account? Should we have revenue of strangers in our cabin? Checking their revenues said they had zero balance.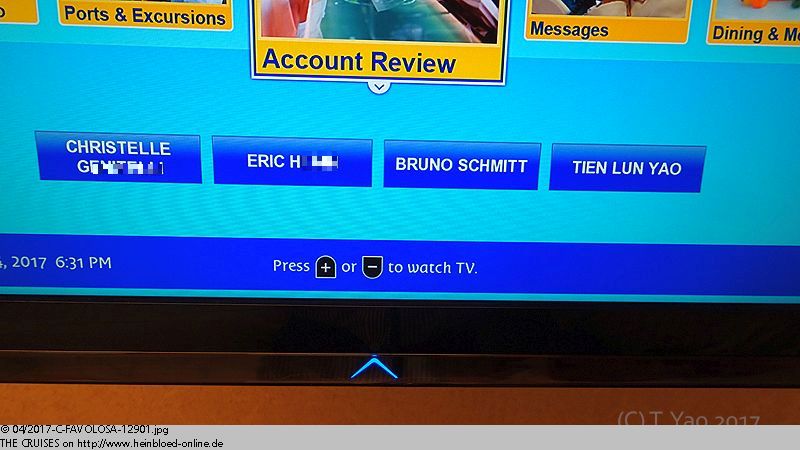 Wer sind diese Leute, die auf unserem Konto laufen? Ob wir fremde Umsätze bei uns auf der Kabine haben? Die Prüfung ergibt, dass Null-Umsätze haben.
Später sind sie weg.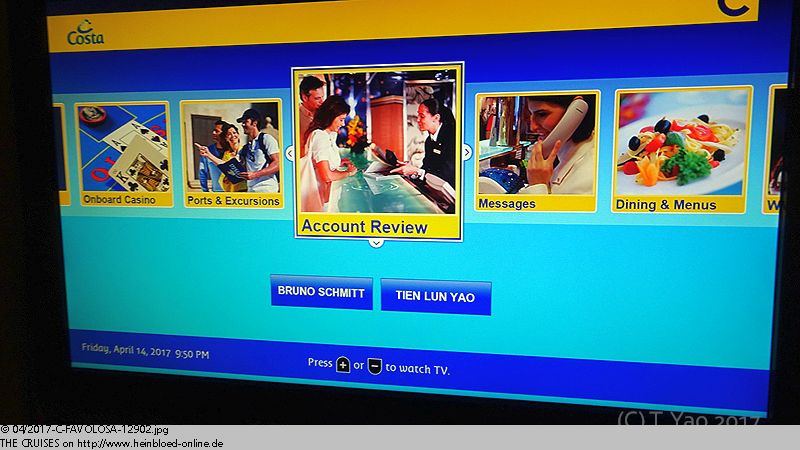 Later they disappeared.

40 EUR: the Onboard-Credit for Carnival-Shareholders. We were used that our US travel agent took care of everything. Here we had to fax it ourselves. E-Mail-Attachments were not allowed. 1st attempt:
Technical transmission error. Days later we could get the telefax trough. Double check with one of the involved travel agent to check with our booking: nothing. Request in English: no reply. An Italian friend helped me and wrote a letter in Italian. We sent this by regular mail to Genoa, Italy because they did not react to any e-mail requests. Finally, we got a confirmation by e-mail from Genoa that the amount was booked.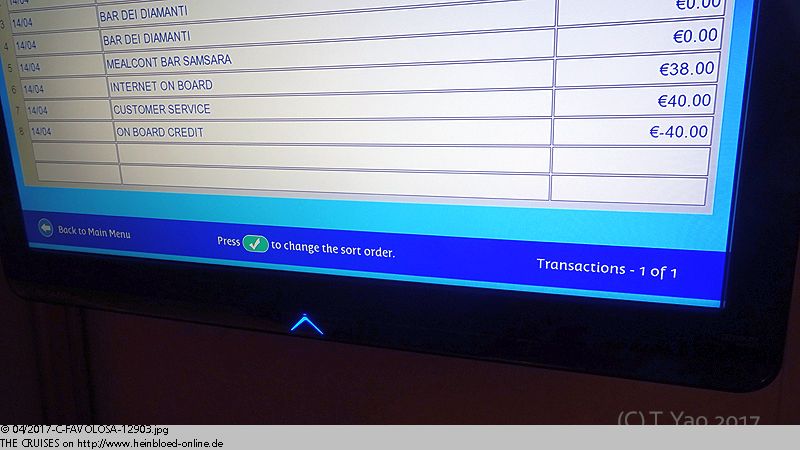 40 EUR: das
Bordguthaben für Carnival-Aktionäre
. Von unserem US-Reisebüro sind wir es gewohnt, dass die sich um alles kümmern. Hier sollten wir selbst faxen. E-Mail-Anhänge sind nicht zugelassen. 1. Versuch: technisches Übertragungsproblem. Erst Tage später läuft das Fax durch. Rückfrage bei einem der beteiligten Reisebüros, mal in die Buchung gucken zu lassen: Nichts. Anfrage in Englisch: keine Antwort. Ein italienischer Freund hilft mir und schreibt mir einen Text in Italienisch. Den schicken wir als Brief nach Genua, weil auf E-Mails nicht reagiert wird. Dann kommt auch eine E-Mail-Bestätigung aus Genua, dass der Betrag gebucht ist.
Für die Zuzahlrestaurants wird sehr viel geworben. Allerdings nur stumm. Ich kann mich noch an die
JEWEL OF THE SEAS 2007
erinnern. Dort fuhr ein Koch mit einer mobilen Kochstation durch die Gegend und kochte etwas und ließ Passagiere probieren. Er hatte die Speisekarten als Minis dabei und Kunden aktiv angesprochen. Hier hatte ich bereits ein 3-er-Paket gebucht: Samsara, Burger und Pizza für 38,00 EUR (2017 - man bekommt quasi die Pizza umsonst). Das Abendessen unter den Sternen, das als Alternative zum Samsara im Internet geboten wird: Hier an Bord weiß hierüber keiner Bescheid, wenn man danach fragt. Ab 18.30 Uhr soll das Samsara geöffnet sein. Wir warten und kommen nicht rein. Alles zu. Das Samsara ist Teil des Duca d'Orléans-Restaurants. Das öffnet erst um 18.45 Uhr. D.h. um 18.30 Uhr kommt man gar nicht rein. Wir bekommen einen tollen Tisch. Die Karte macht einen guten Eindruck. Die Kerzen sind leider Attrappen. Die Musik ist etwas zu laut. Schade: für die Zuzahlung sollte es doch eine Pfeffermühle auf dem Tisch geben - oder??? Auch nach Butter oder Olivenöl sollte man nicht extra fragen müssen. Das sind eben solche Kleinigkeiten, die so ein wenig das Niveau runterreißen. Ich bin kein Austern Fan. Die habe ich irrtümlich bestellt. Aber die sind gut und nehmen mir die Angst mich weiter an Austern zu probieren. Leider ist die Ente nicht so gut. Auch ein Steak-Messer hilft nichts. Kein Durchkommen ohne Trennflex. Ich möchte eigentlich nichts mehr, aber der Oberkellner schlägt mir Lende vor, die dann butterweich ist. Ein tolles Team hat eine solide Leistung erbracht: Danke an Lucas, Amar, Sanket, Jose, Rina, Vikas, Syed. Es ist allerdings ein großer Fehler am ersten Abend hier her zu gehen. Man sollte sich das für den Schluss als Höhepunkt der Reise aufheben.

They advertised a lot for the alternative dining venues. But only very silent. I remembered well on JEWEL OF THE SEAS 2007. They had a chef and went with his mobile cooking station around and prepared some food and let the guests try it. He had all menus as mini-print and addressed actively to the guests. Here I booked 3-item-package: Samsara, Burger, and Pizza for 38.00 EUR (2017 - so more or less you get the Pizza for free). On the internet they advertised for Dinner under the Stars as an alternative to Samsara: But here onboard nobody knew about when I asked. Samsara should be open after 18.30 hrs. We waited and could not get in. Everything was closed. The Samsara was part of the Duca d'Orléans restaurant. This supposed to open at 18.45 hrs. So, i.e., no chance to get in at 18.30 hrs. We really got a great table. The menu made a great impression. The candles were fake. The music was slightly too loud. Sad: for such a cover charge you should have a pepper mill on your table - or??? Even you should not also request for butter or olive oil. So many small things which pulled the level a little bit down. I was no friend of oysters. I ordered them by mistake. But they were good and took away my fierce to try more oyster dishes. Unfortunately, the duck was not so gut. Even a steak knife could not solve the problem. No cut unless you had a disc grinder. I did not want anything more than the head waiter suggested trying the beef loin which was really extremely delicate. A great team delivered a solid performance: Thanks to Lucas, Amar, Sanket, Jose, Rina, Vikas, Syed. But it was a big mistake to see it in the first night: You should keep that for the end as a highlight of the voyage.

Somehow annoying: you need to walk away from the stairway to the hallway to find orientation.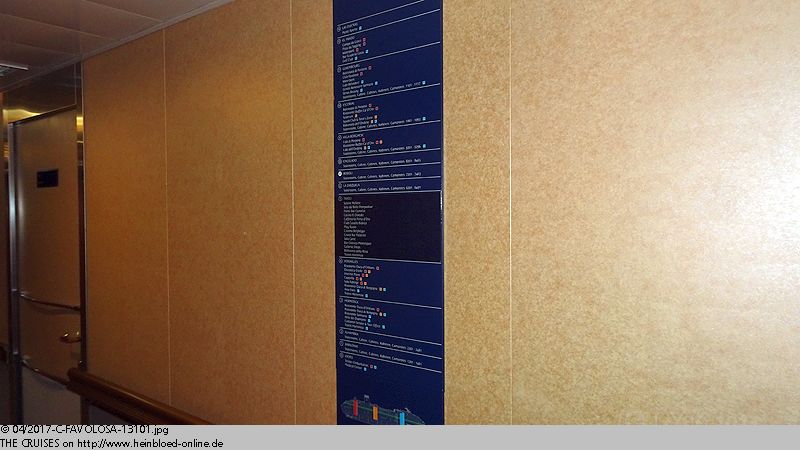 Etwas nervig: man musste immer erst vom Treppenhaus in einen Kabinengang laufen, um sich zu orientieren.
Dafür sehr gut: die Treppenhäuser sind unterschiedlich farblich gekennzeichnet.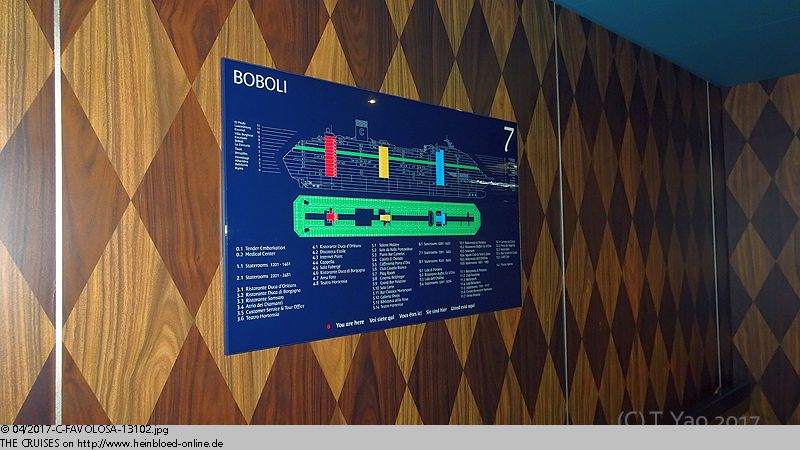 But very well signposted: the stairways had different colors to identify.

And here that was really signposted exemplarily.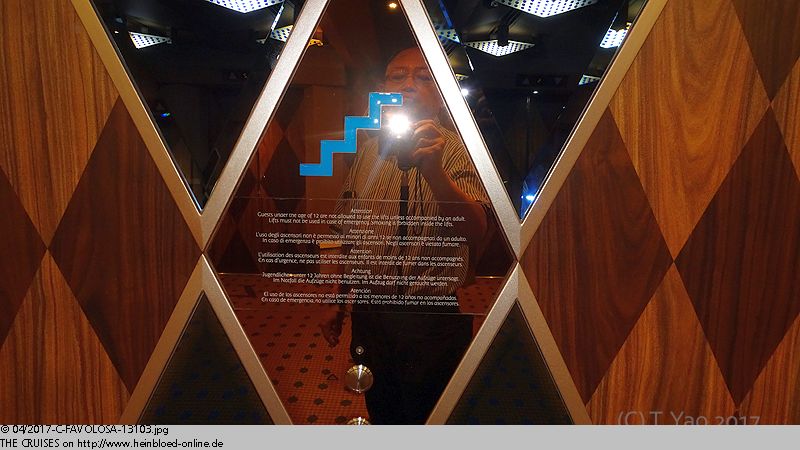 Und dort ist dann wiederum die Beschilderung vorbildlich.
Die anderen Reisen in diesem Blog/
The other voyages in this blog: