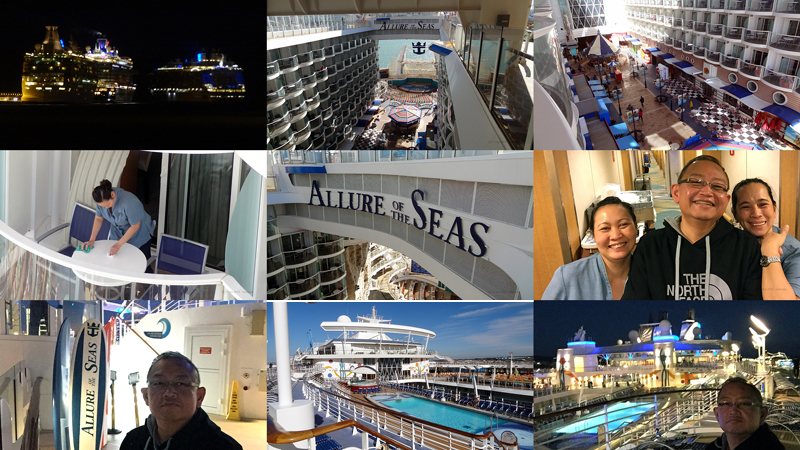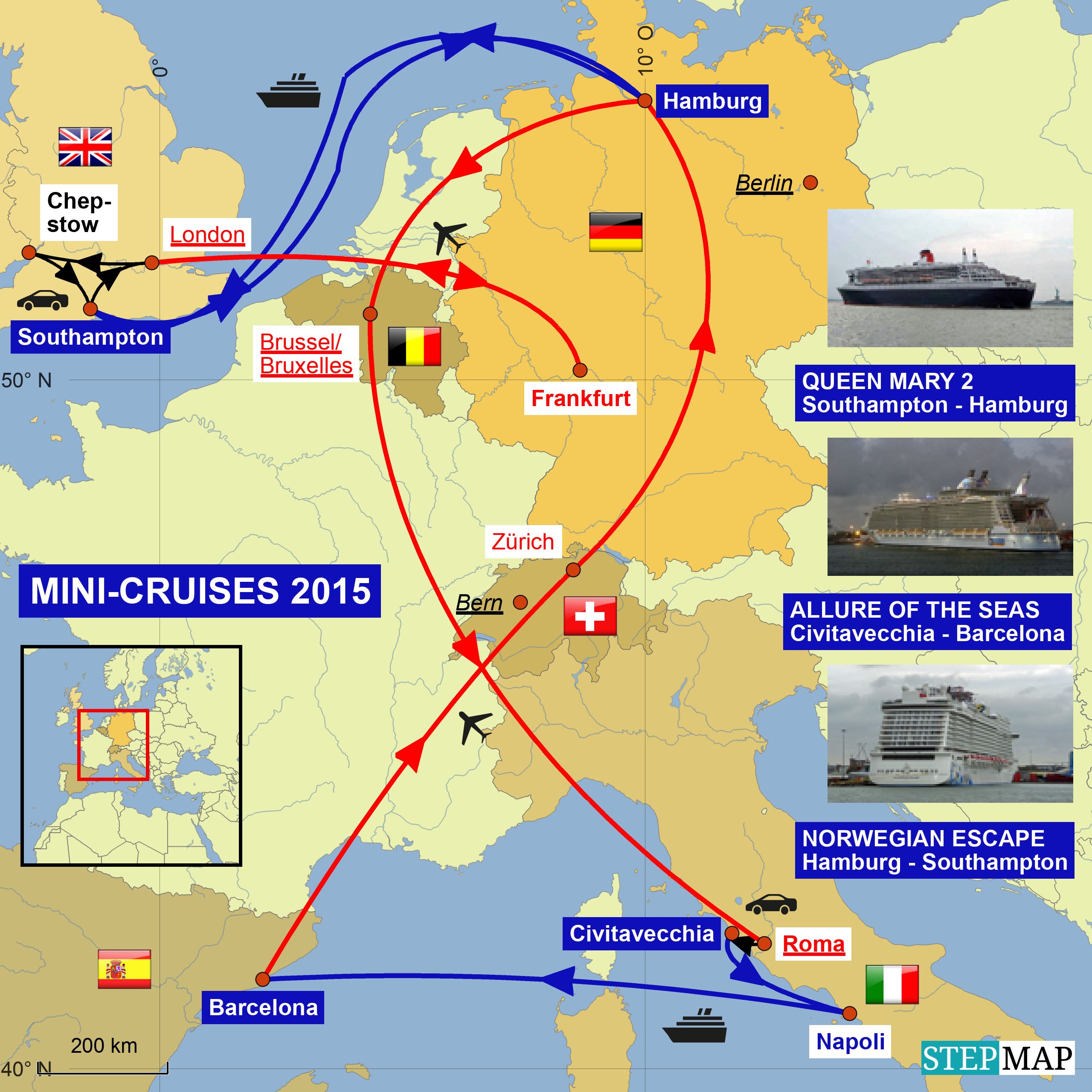 Immer noch zu. Wir gehen weiter spazieren.

Still closed. We went promenading.

From Deck 15, we saw already our cabin.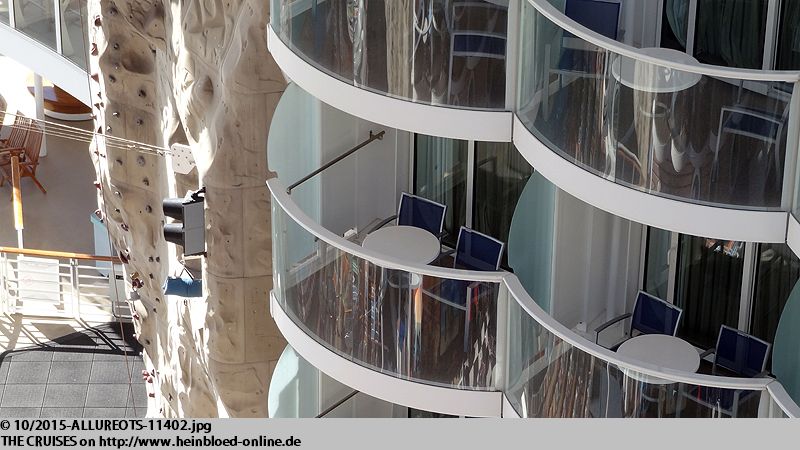 Von Deck 15 sehen wir uns schon mal unsere Kabine an.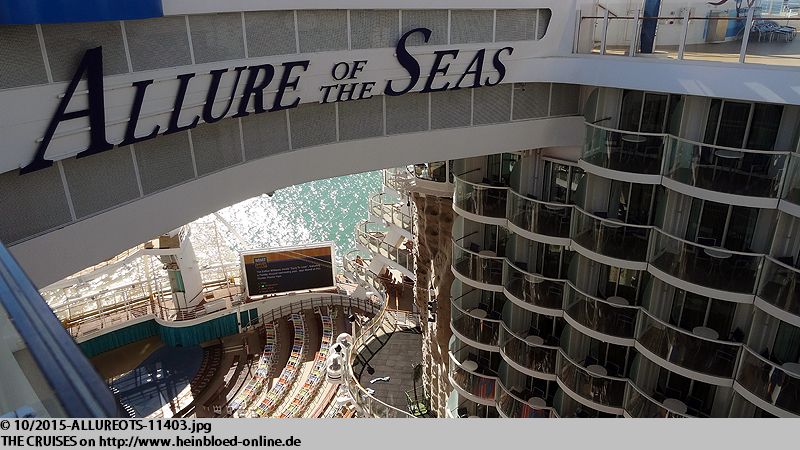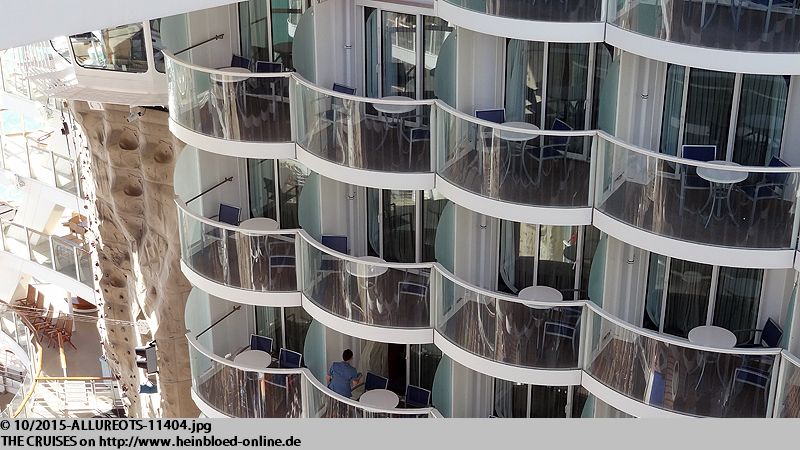 Direkt neben unserer Kabine wird der Balkon gereinigt.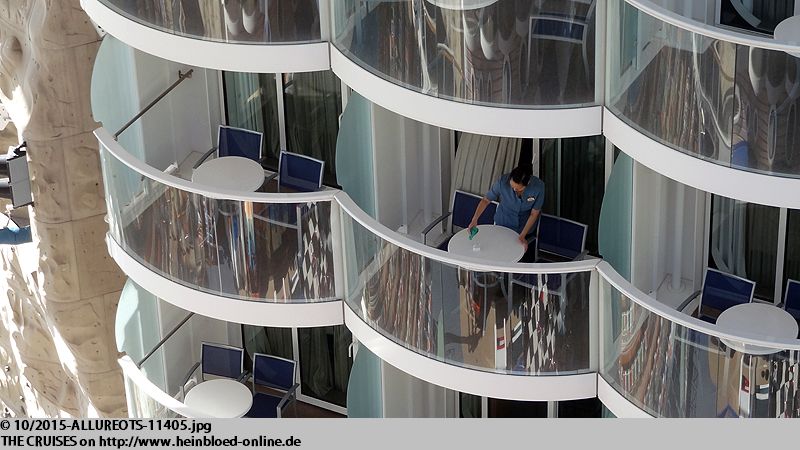 Next to our cabin, someone was cleaning the balcony.

This must be our stateroom attendant.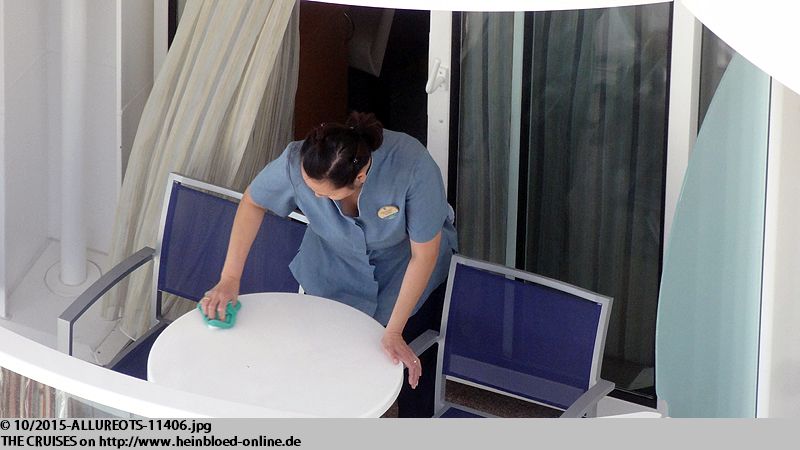 Das muss wohl unsere Kabinenstewardess sein.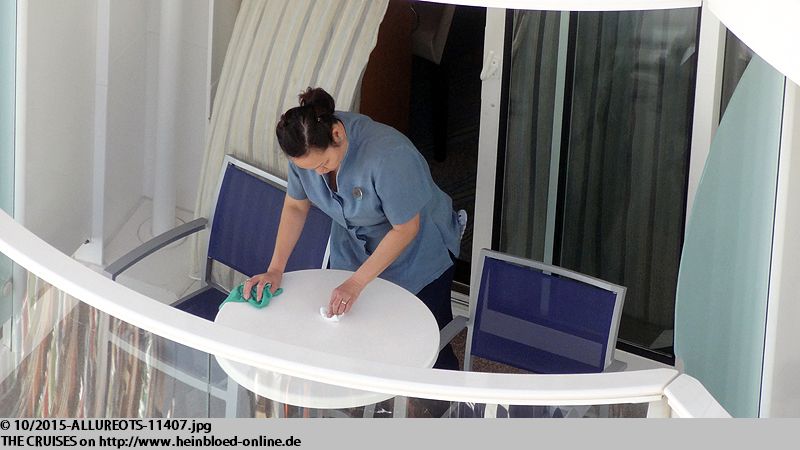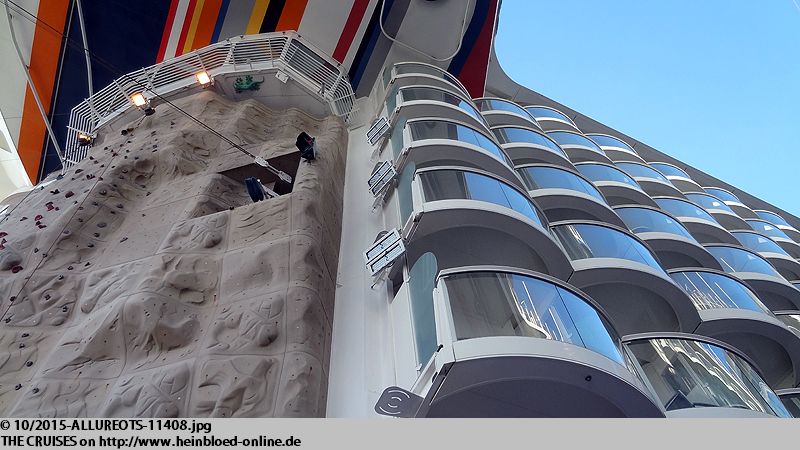 Das ist ja praktisch: wir können uns an der roten Ampel orientieren, um unsere Kabine zu finden und offensichtlich, können wir uns von hier direkt Zip-Line machen.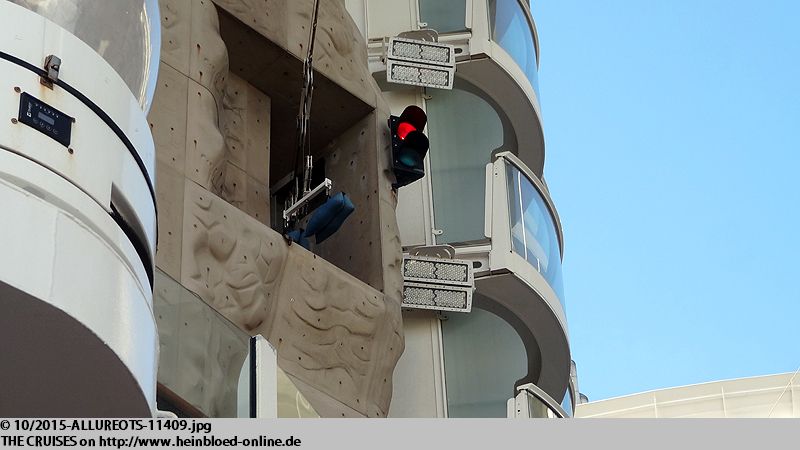 That was very practical: we could find orientation with the red traffic light to find our cabin. And, obviously, we could start ziplining right here.

The view from this balcony later was fantastic.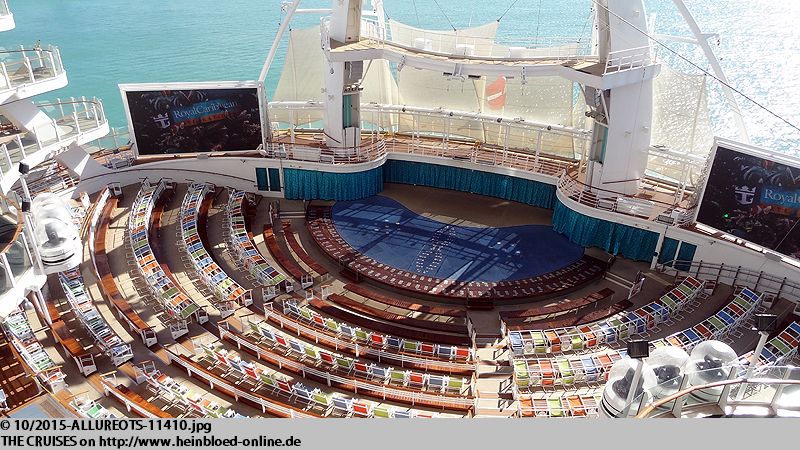 Der Blick vom Balkon später ist fantastisch.
Sie liegt am Boardwalk.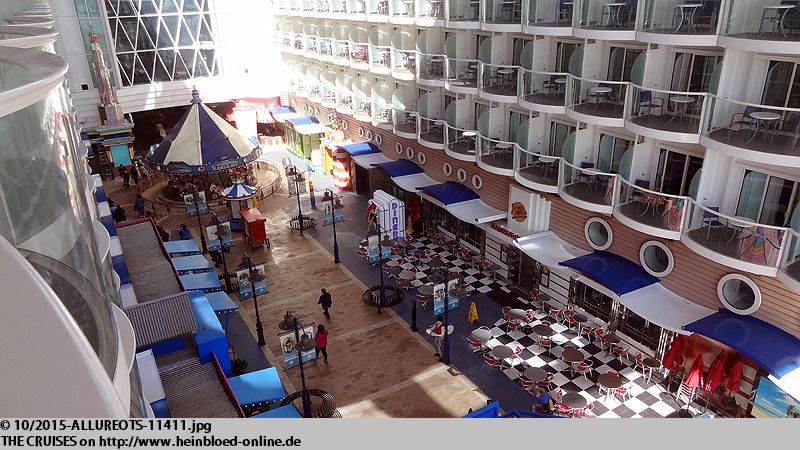 Located right at the Boardwalk.

You could not see the heaven above.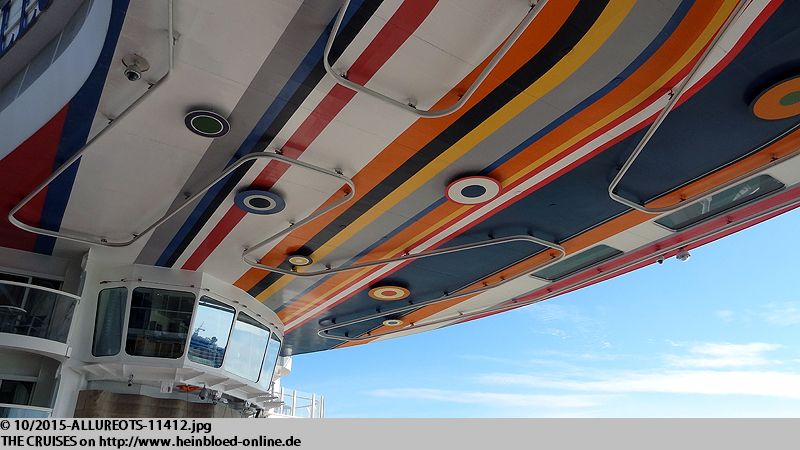 Nach oben hin kann man gar nicht den Himmel gucken.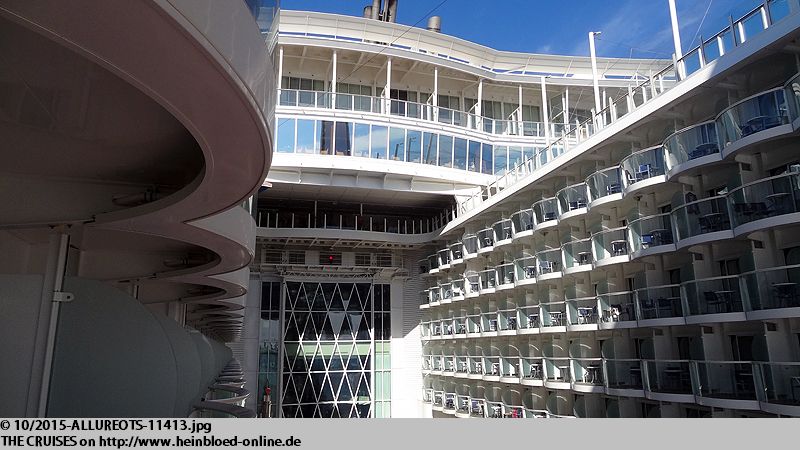 We had cabin 10329. The very last balcony cabin at the aft facing the Boardwalk.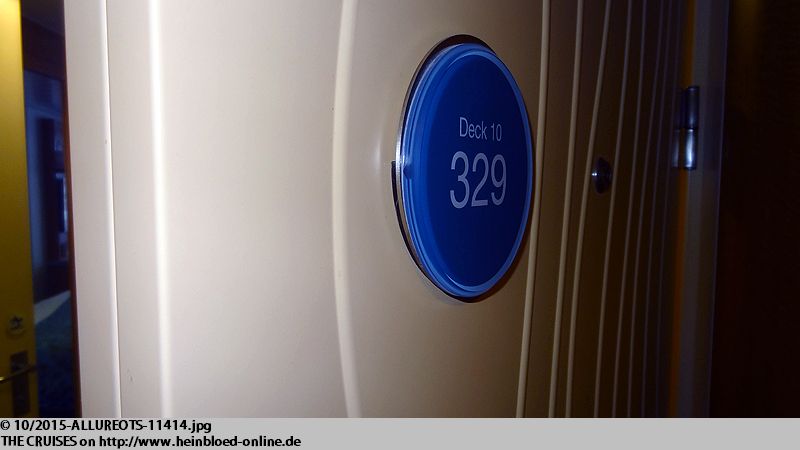 Wir haben die Kabine 10329. Die allerletzte Balkonkabine am Heck zum Boardwalk hin.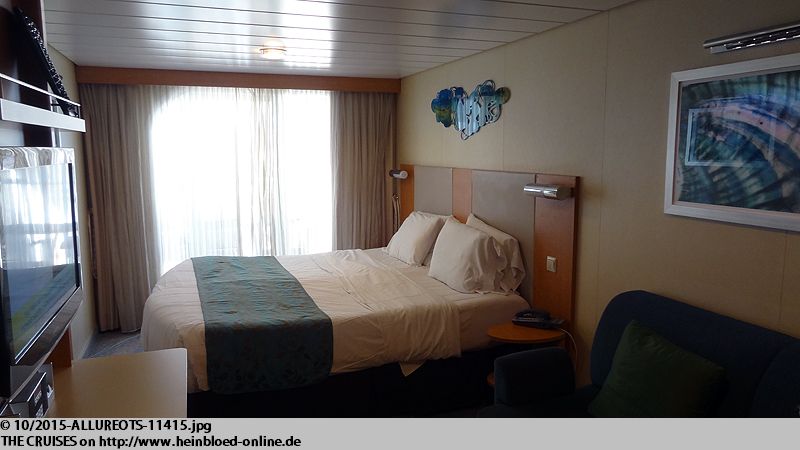 No Lightning connection. Who still had an iPhone 4S and lower?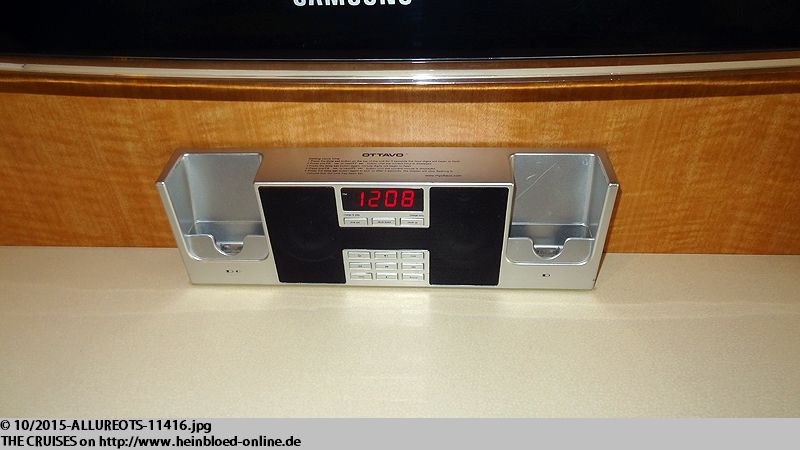 Keine Lightning-Verbindung. Wer hat noch ein iPhone 4S und abwärts?
Drei sehr enganliegende US-Stecker - oben quer ist KEIN Euroflachstecker.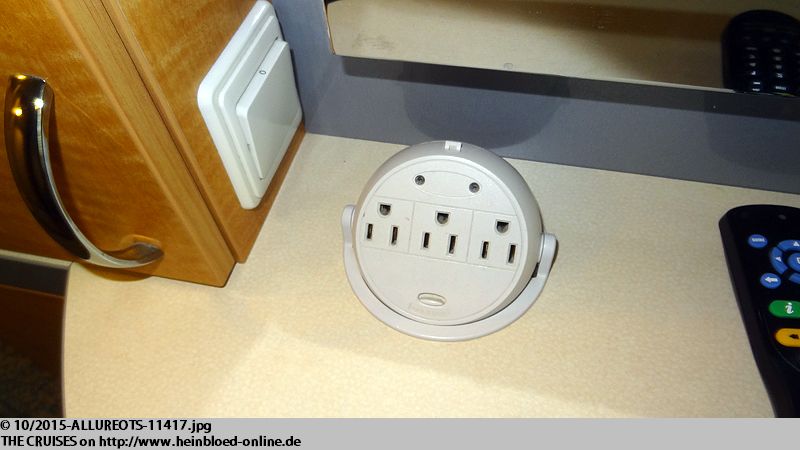 Three very narrow US-power outlets - crosswise on the top, it was no European flat power outlet.

I liked the bathroom.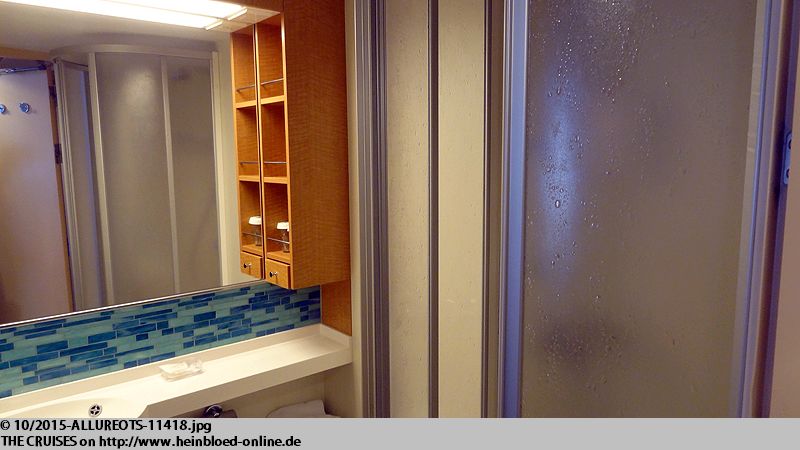 Das Bad gefällt mir.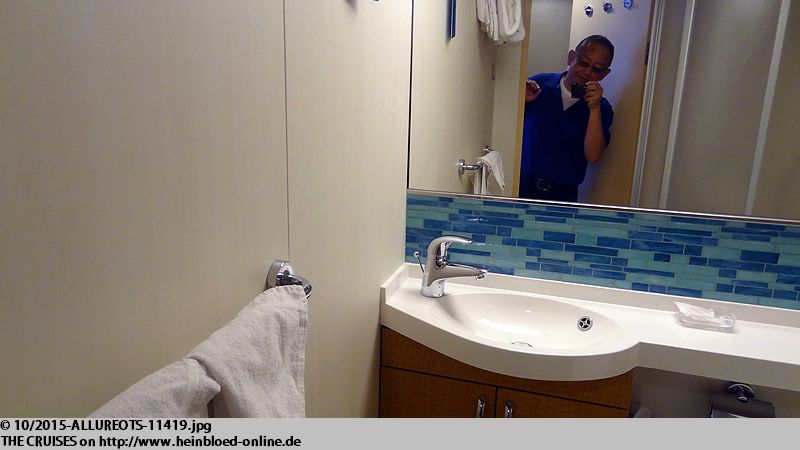 To be safe, also in our language.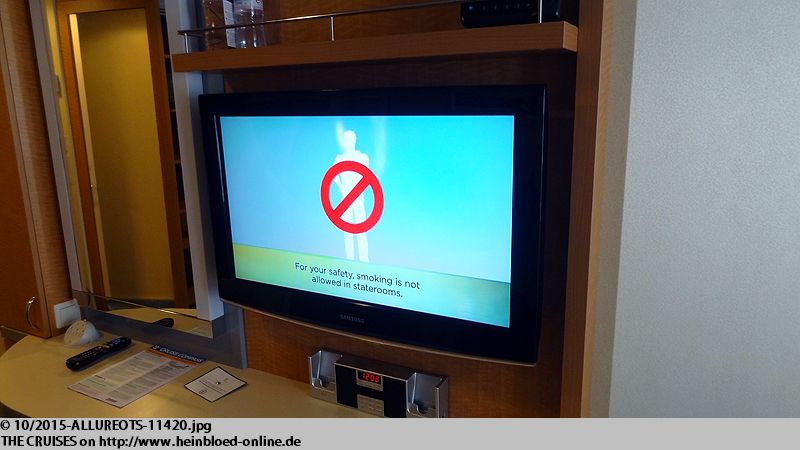 Sicherheitshinweise in unserer Sprache.
Und ich bekomme Nadel als Platinum-Mitglied.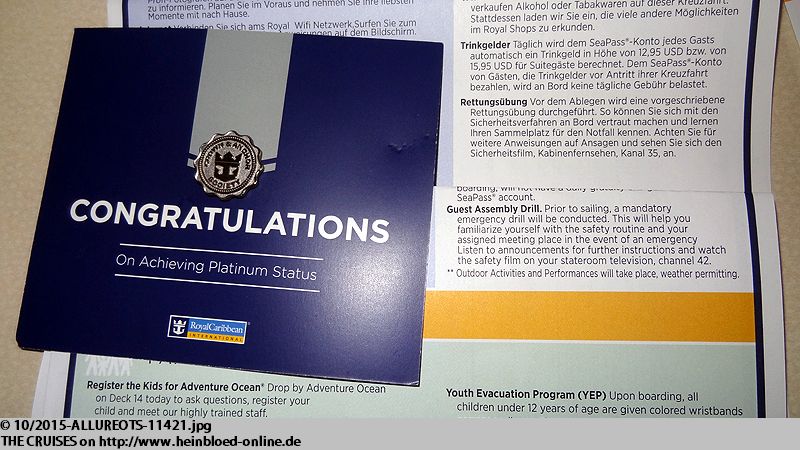 And I got the pin as Platinum-Member.

The classical way with little signs.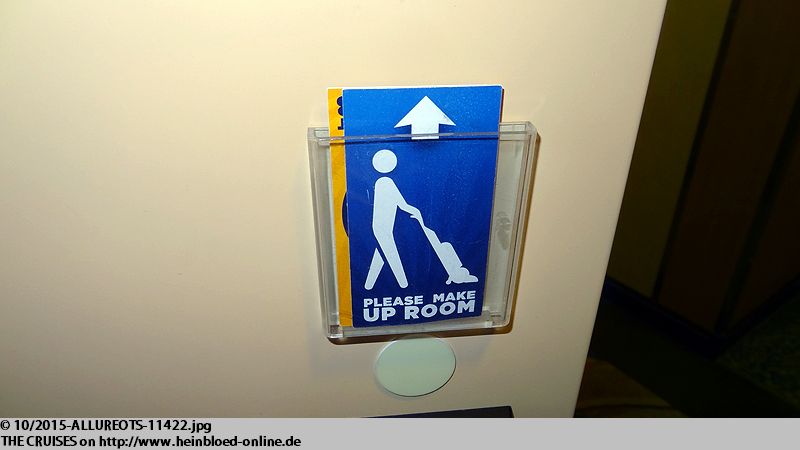 Ganz klassisch mit Schildchen.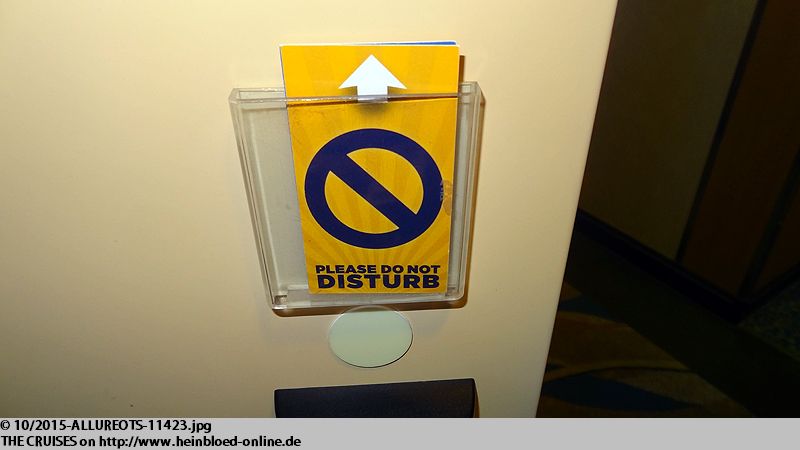 11.95 USD (2015) for one movie.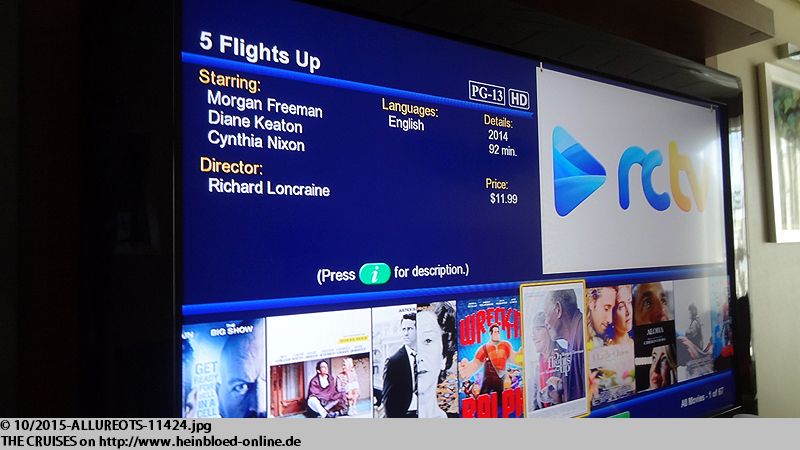 11,95 USD (2015) für einen Film.
Wir suchen den Mülleimer und der steht hier unter dem Tisch.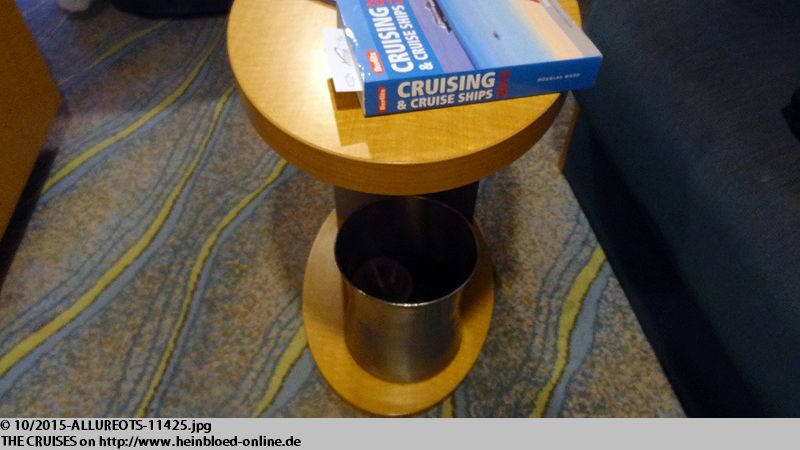 We looked for the waste bin, and it was under the table.

So, we discovered more power sockets under the table incl. a European power outlet.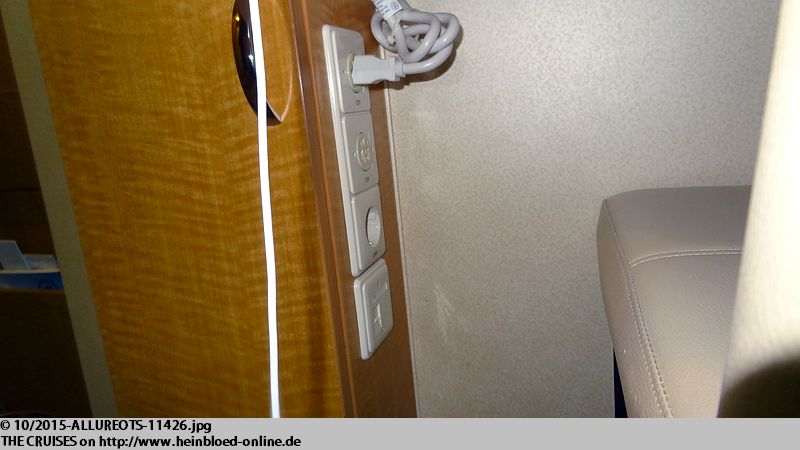 So entdecken wir auch weitere Steckdosen unter dem Tisch inkl. einer Euro-Schutzkontaktsteckdose.
Abends kommt dann auch das Programm.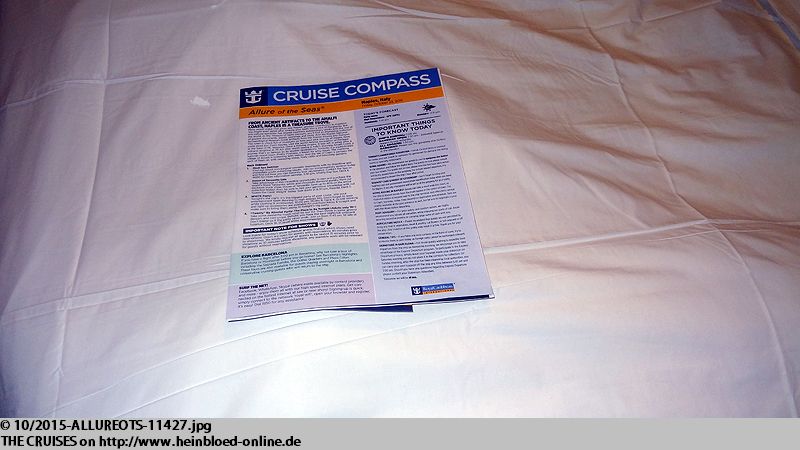 In the evening the program came.

And in the evening, we could see the movies from our balcony, which were shown in the Aqua-Theater.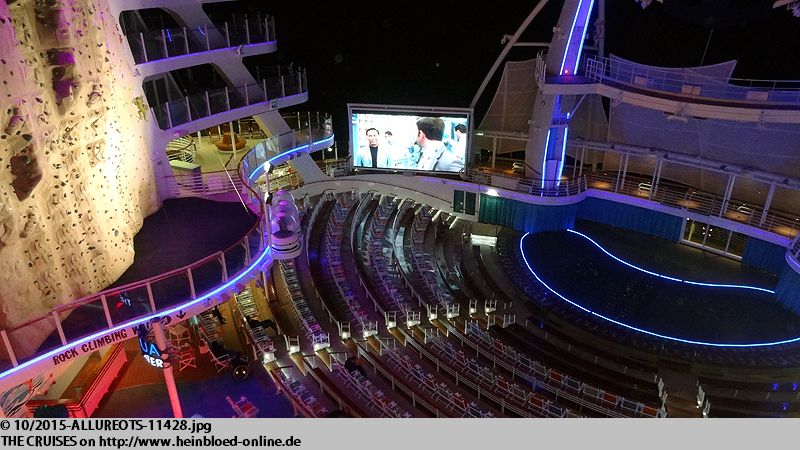 Und abends können wir vom Balkon Filme gucken, die im Aqua-Theater gezeigt werden.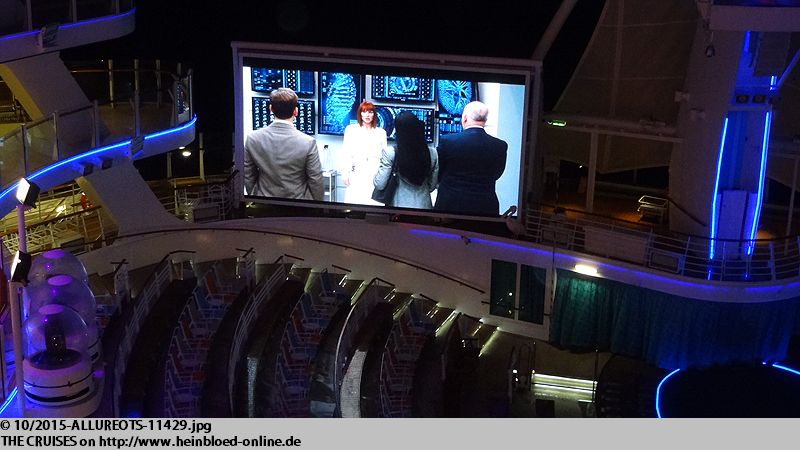 There was no Sir Samuel's on board. Premium coffee = Starbucks, i.e. to get it yourself.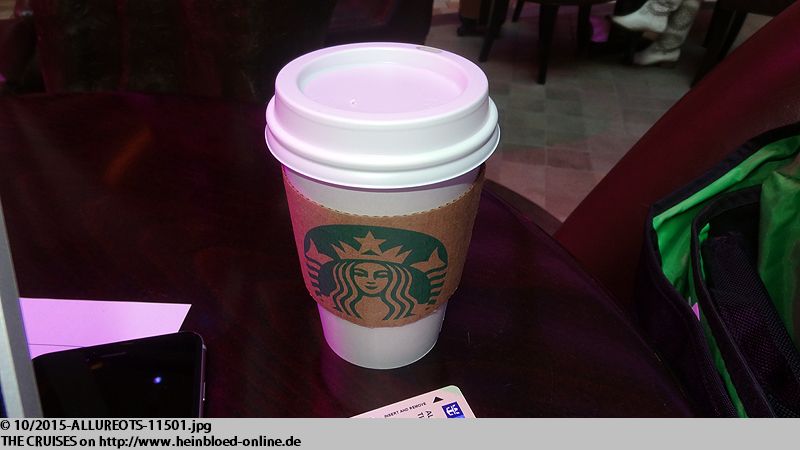 Ein Sir Samuel's gibt es an Bord nicht. Premium Kaffee =
Starbucks
, d.h. zum Selbstholen.
Und leider gelten die Rabatte für Gold- und Platinum-Mitglieder nicht bei
Starbucks
.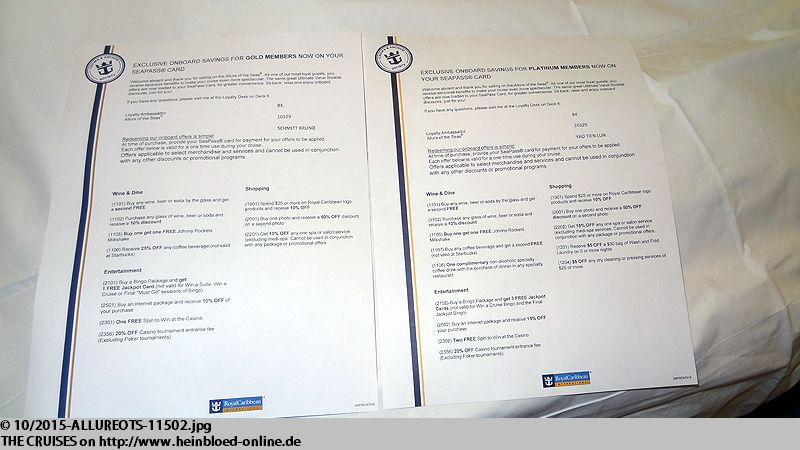 The discounts for Gold- and Platinum-Members did not apply with Starbucks.

Self-service: 18% service charge on top and another extra tip?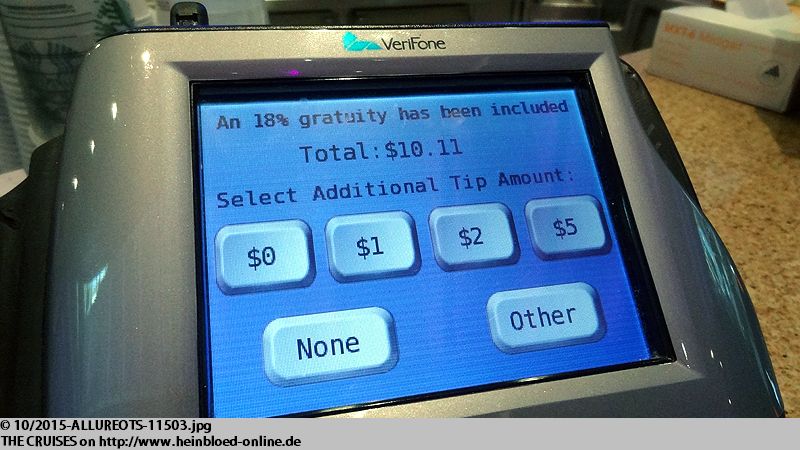 Selbstbedienung: 18% Service-Charges drauf und noch ein Zusatztrinkgeld?
Sehr gut: das Internet an Bord. High-Speed-Internet (Q-Band) ist wohl auch in Europa verfügbar. Das ist echt WOW: 22,50 USD pro Tag unbegrenzt für zwei Geräte pro Kabine. Es klappt super. Nicht nur in Landnähe: 100 Bilder Upload auf Facebook in fünf Minuten! Uns wird erklärt, dass ich es besser über meinen Account laufen lassen soll, weil ich als Platinum Rabatt auf den Internetdienst bekommt.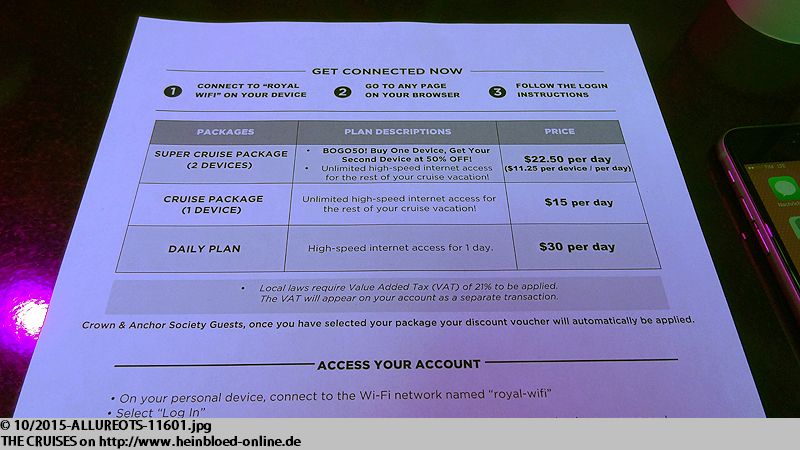 Very good: the internet onboard. High-Speed-Internet (Q-Band) was also available in Europe. That was a real WoW: 22.50 USD per day unlimited for two devices per cabin. It worked very fine. Not just close to the shoreside: 100 pictures upload on Facebook in five minutes! They explained to me that it would be better to book through my account because I could get the discount for Platinum-Members for internet services.

We browsed a little around on the Royal Promenade. But it was too loud and too bright.

Wir sehen uns noch ein wenig auf der Royal Promenade herum. Aber das ist uns zu laut und zu grell.
Die Restaurants Silk, The Grande und American Icon kenne ich von der
QUANTUM OF THE SEAS 2014
. Im Rahmen des Dynamic Dinings (man wechselt jeden Abend das Restaurant und jedes Restaurant hat eine andere Karte. Auf der
QUANTUM OF THE SEAS 2014
endete das System in ein Chaos.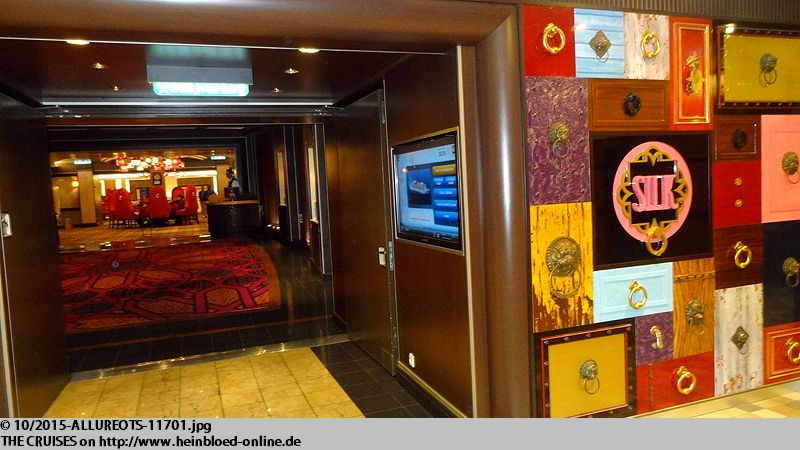 I knew the Restaurants Silk, The Grande and American Icon from my sailing on QUANTUM OF THE SEAS 2014. When they introduced Dynamic Dinings (you went every night in a different restaurant, and each of the restaurants had a menu of their own. On QUANTUM OF THE SEAS 2014, it terminated in chaos.

Everything was rebuilt on ALLURE OF THE SEAS. The former main dining room was divided into three restaurants and was connected by the open construction with each other. On QUANTUM OF THE SEAS 2014, all restaurants were separated.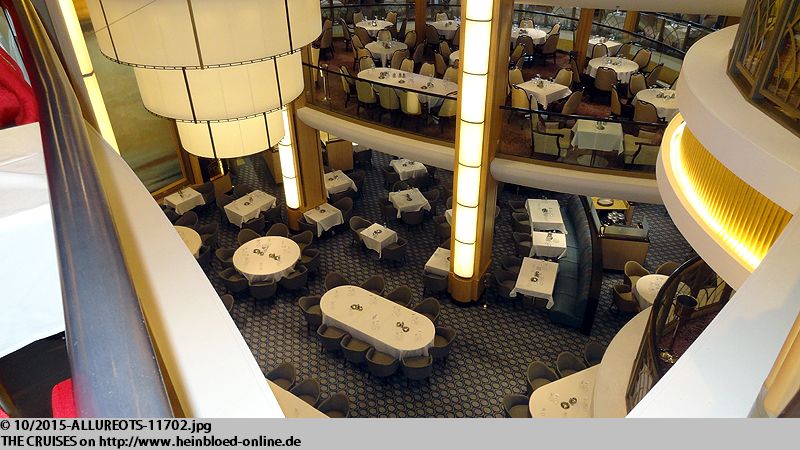 Auf der ALLURE OF THE SEAS ist dafür alles umgebaut worden, d h. das ehemalige Hauptrestaurant wurde in die drei Restaurants eingeteilt und sind durch die offene Bauweise mit einander verbunden. Auf der
QUANTUM OF THE SEAS 2014
waren alle Restaurants abgeschlossen.
Im Silk findet die Sprechstunde für Gäste statt, die an der festen Tischzeit teilnehmen.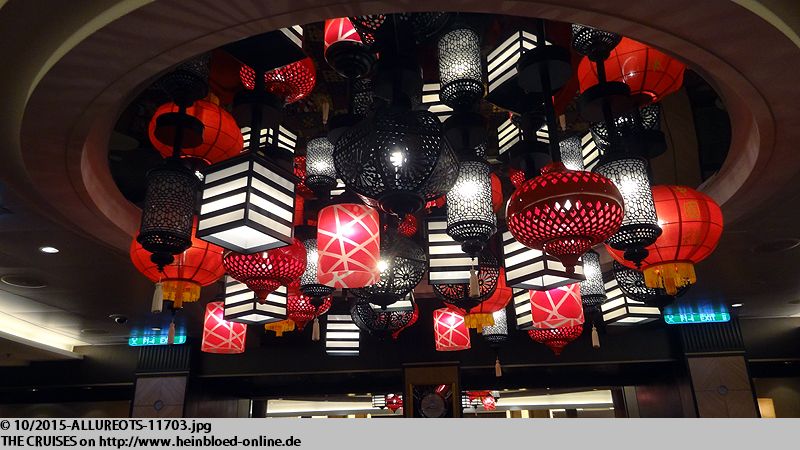 In the Silk, they had consulting times for guests, who liked to participate in the fixed dining.

I booked 1 1/2 years ago. At that time it was called Dynamic Dining. So, I did not specify any table times. When it was clear that it would not be inaugurated, I definitely switched to MyTime-Dining, but I was just packed to a big table at the late seating. There was no more capacity for MyTime-Dining. At least they could guarantee only a table for two, but it would not fit my show bookings anymore. And I did not want to go to Le Grande. My memories from QUANTUM OF THE SEAS 2014 were not the best. But with all the theater rebookings, I felt familiar. Unfortunately, Mamma Mia ran only from Barcelona, Spain to Civitavecchia, so I missed it again.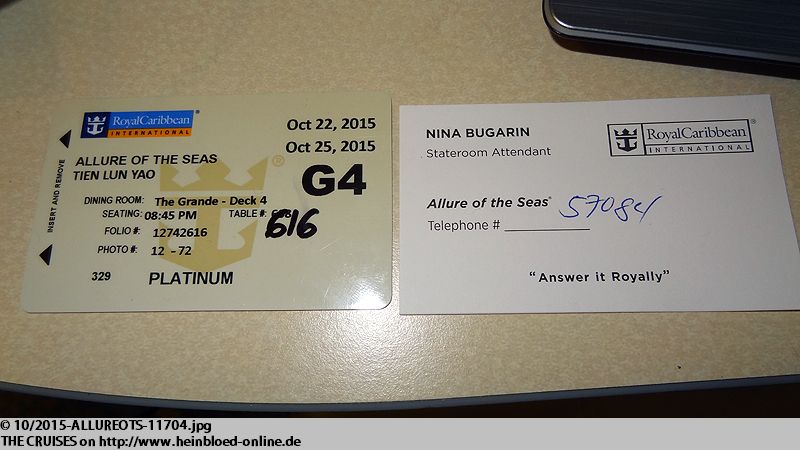 Vor 1 1/2 Jahren habe ich gebucht. Damals hieß es Dynamic Dining. Also keine Tischzeit angegeben. Als feststand, dass es nicht kommt, habe ich auf jeden Fall auf MyTime-Dining umstellen lassen, aber ich werde einfach an einen großen Tisch in die 2. Tischzeit gepackt. Platz im MyTime-Dining gibt es nicht mehr. Wenigstens kann man mir noch einen 2-er Tisch zusichern, aber es passt nichts mehr zu meinen Theaterbuchungen. Und in Le Grande will ich nicht. Damit verbinden mich nicht die besten Erinnerungen von der
QUANTUM OF THE SEAS 2014
. Aber mit den ganzen Theaterumbuchungen kommt mir bekannt vor. Mamma Mia lief ja leider nur von Barcelona nach Civitavecchia angeboten, also verpasse ich es wieder.
Unterwegs zurück zur Kabine entdecke ich unsere Koffer. Allerdings nicht vor unserer Kabine.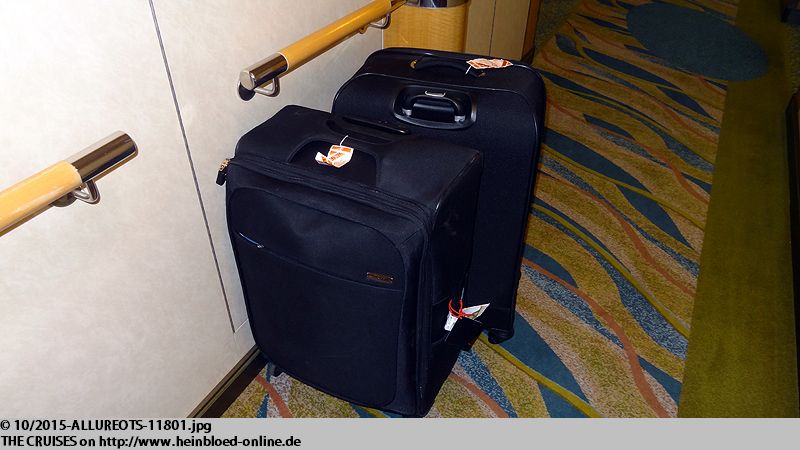 On the way back to our cabin, I discovered our suitcases. But they did not make it to our stateroom.

10293 - but we have 10329... Someone did not like anymore or was unable to read.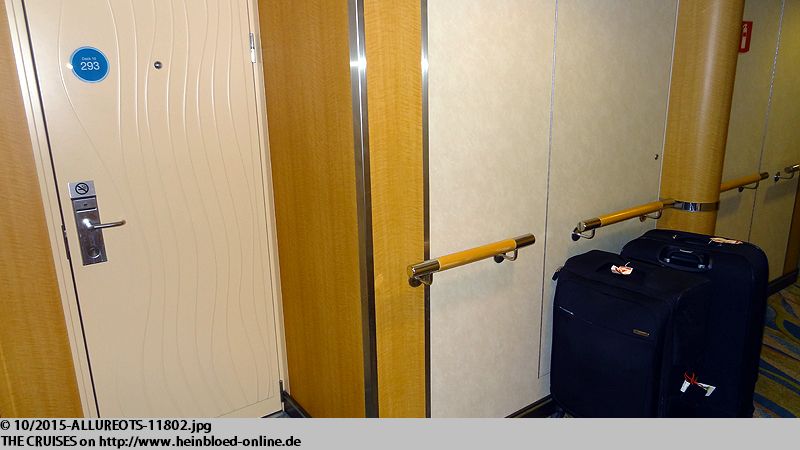 10293 - wir haben aber 10329... Irgendjemand hatte entweder keine Lust oder konnte nicht lesen.
Ein Punkt, den ich damals auf der
QUANTUM OF THE SEAS 2014
sehr geärgert hat, war der Kabinenservice. Aber das lief hier sehr gut. Und es gab auch wieder warme Gerichte ohne Aufpreis.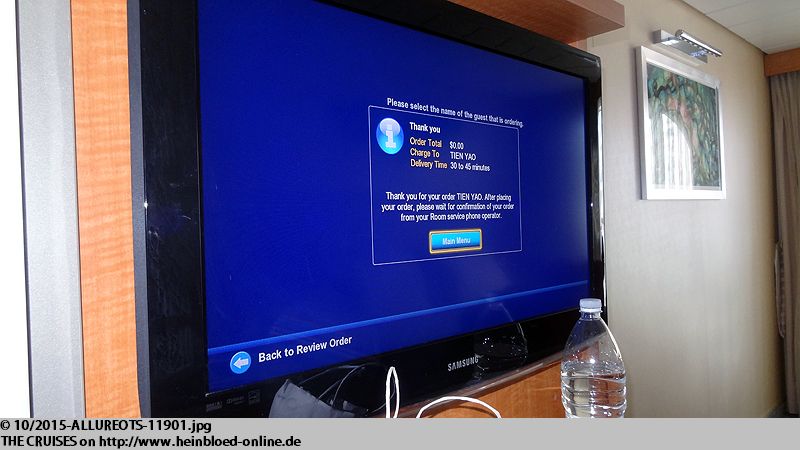 The cabin service was one item, which annoyed me on QUANTUM OF THE SEAS 2014. But it worked here pretty well. And it

Cream of chicken soup.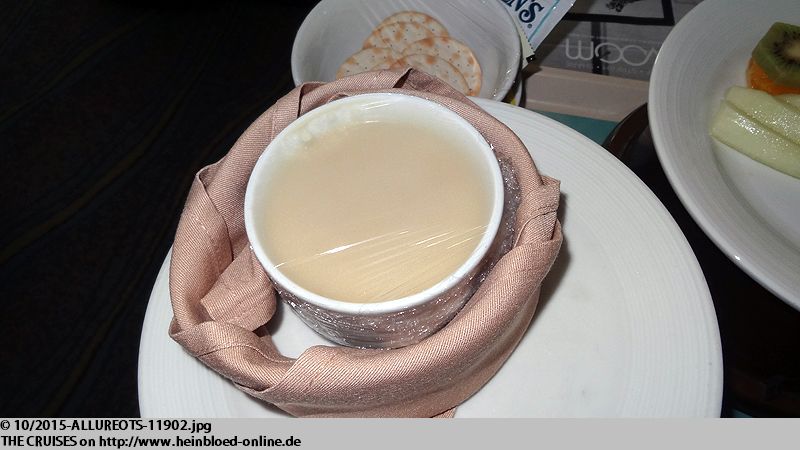 Hühnercremesuppe.
Hühnchensalat - ich muss Eiweiß zu mir nehmen.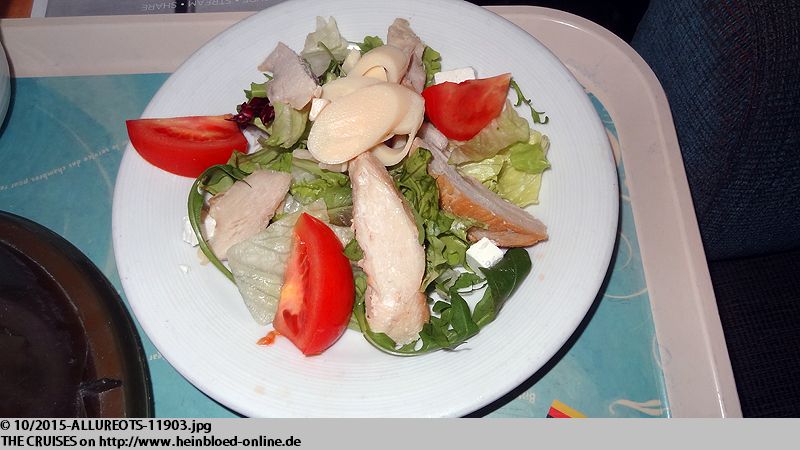 Chicken salad - I had to eat a lot of protein.

Such a pity: no steak sandwich like in Philadelphia, PA. A Wal-Mart minute steak was too tight.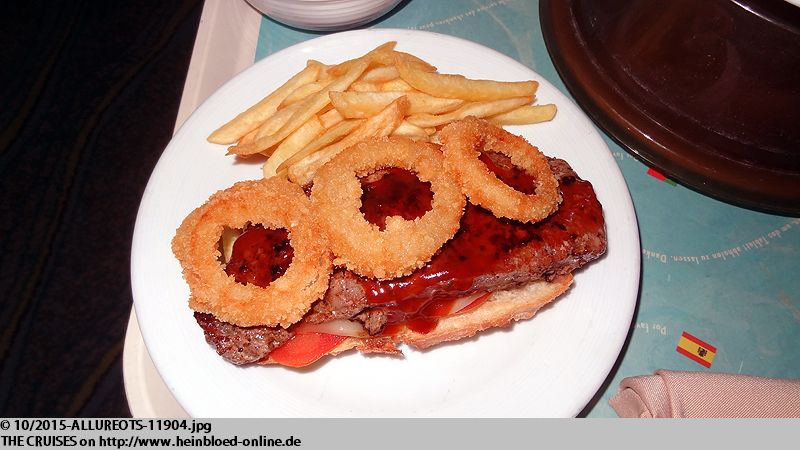 Schade: keine Steak-Sandwich wie in Philadelphia. Das real-Minuten-Steak ist mir zu hart.
Bruno möchte nur einen Obstteller. Irgendwie wirkt es so, als ob ein Anfänger in der Galley am Werk ist. Schön ist etwas anderes...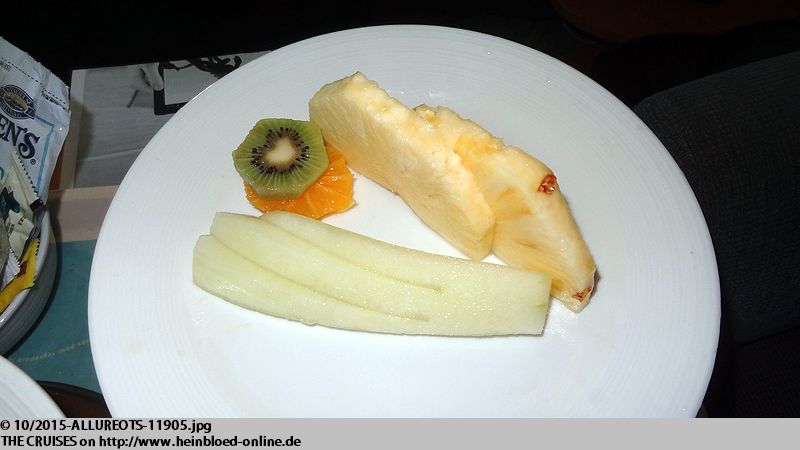 Bruno only wanted a mixed fruit plate. It looked, like a beginner in the galley prepared it. Beautiful was not it at all...

We needed to attend the life drill. It was conducted in the Aqua-Theater. At the end of the boardwalk.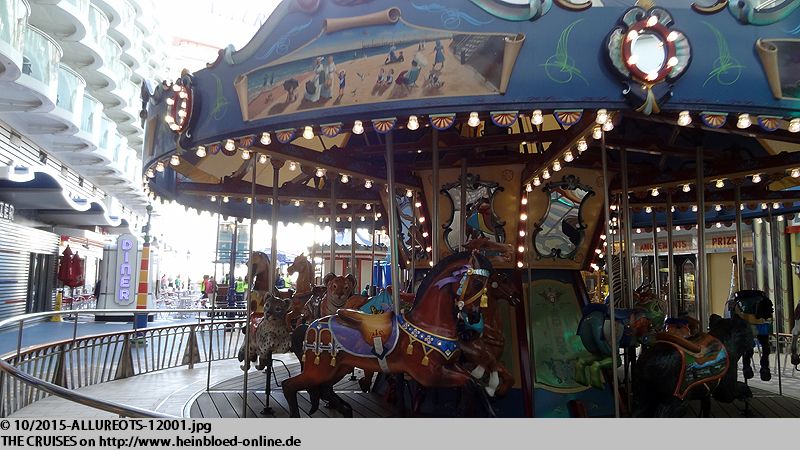 Wir müssen zur Seenotrettungsübung. Sie findet im Aqua-Theater statt. Am Ende der Boardwalk.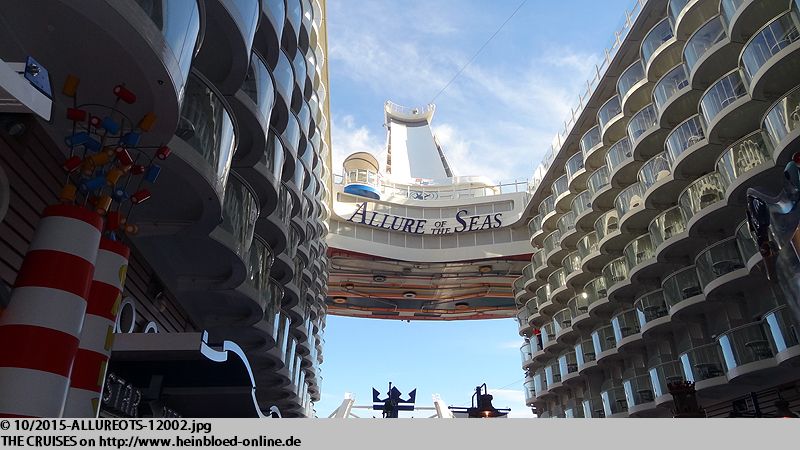 A classic Johnny Rocket. On QUANTUM OF THE SEAS 2014, there was only one sales booth with additional payment. Here it was still classic.

Ein klassisches Johnny Rocket. Auf der
QUANTUM OF THE SEAS 2014
gab es ja nur noch ein Verkaufsstand mit Zuzahlung. Hier ist es noch klassisch.
Auf der
NAVIGATOR OF THE SEAS 2009
habe ich es in guter Erinnerung. Nur esse ich kaum noch Burger, so dass sich das uns nicht lohnt.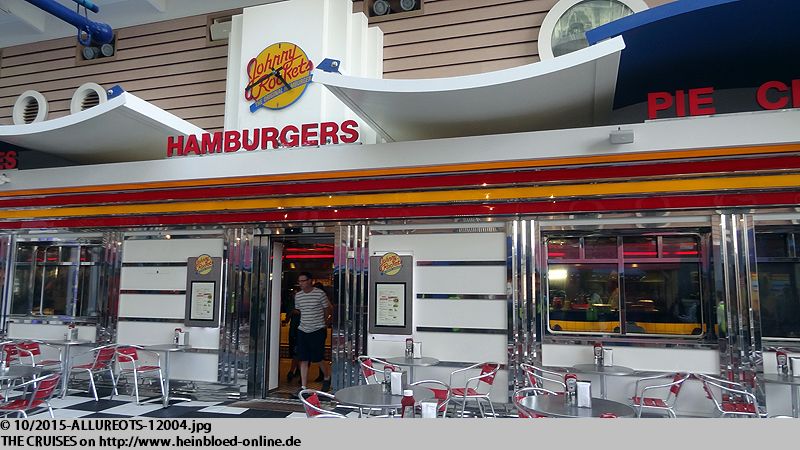 I had a good memory on NAVIGATOR OF THE SEAS 2009. Only I barely ate burgers, so that was not worth it.

I needed new glasses ... Somehow I had hallucinations ... I saw an African Violet on the tablecloth. Missing only the fence around the yard and a garden gnome like in Germany.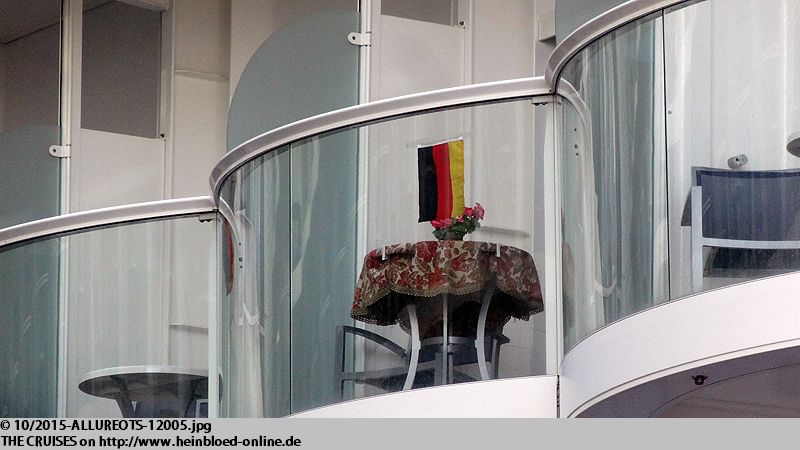 Ich brauche eine neue Brille... Irgendwie habe ich Halluzinationen... Ich sehe ein Usambaraveilchen auf einer Tischdecke. Fehlt bloß noch der Jägerzaun und ein Gartenzwerg.
Rettungswesten werden an der Sammelstation ausgegeben. In der Kabine gibt es keine.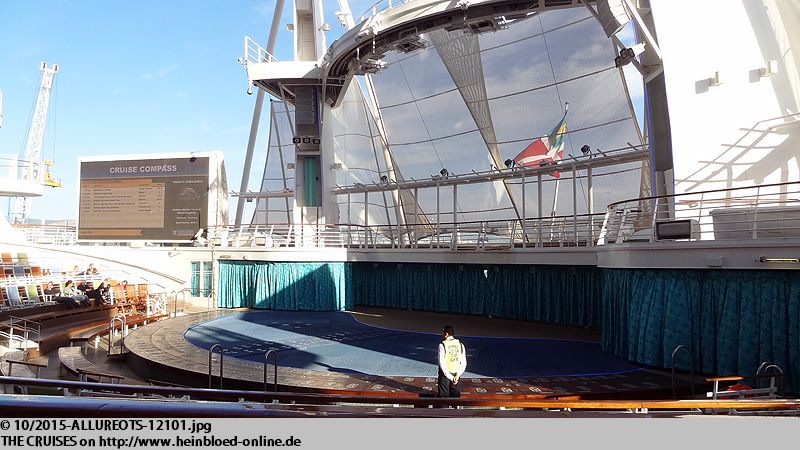 Life jackets were distributed at the muster stations. There were none in the cabins anymore.

They recorded the participation.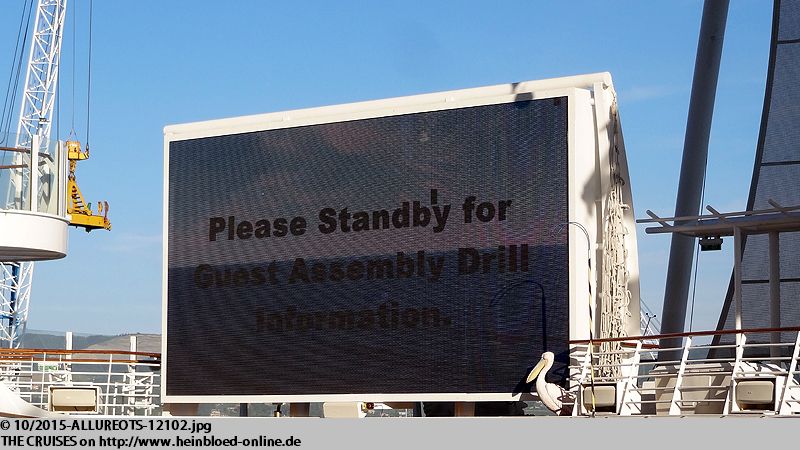 Die Teilnahme wird dokumentiert.
Es läuft ein Video zum Thema Händewaschen.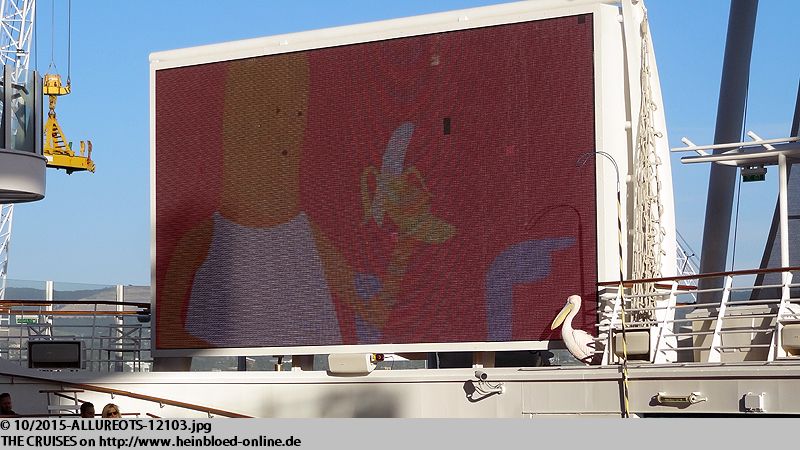 They showed a video on the subject washing hands.

The exercise only took place in English. Guests were advised in Italian, Spanish, Portuguese, French and German that they should see the video in their own language in the cabin.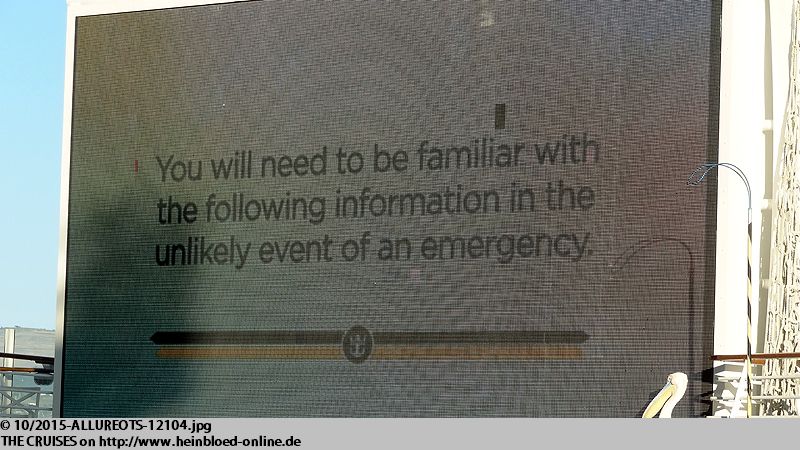 Die Übung findet nur in Englisch statt. Die Gäste werden in italienisch, spanisch, portugiesisch, französisch und deutsch hingewiesen, dass sie sich bitte in der Kabine das Video in deren Sprache ansehen sollen.
Und schon ist es zu Ende.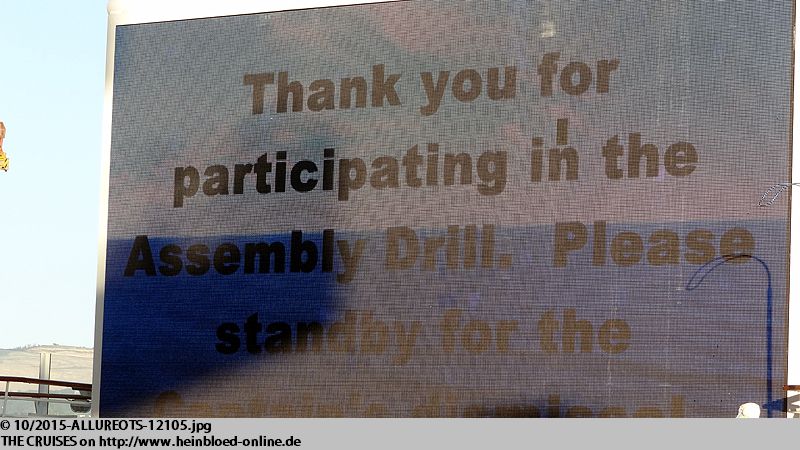 And it came fast to the end.

Honestly: sh... muster station. Today, we had no rain... but it was still cold.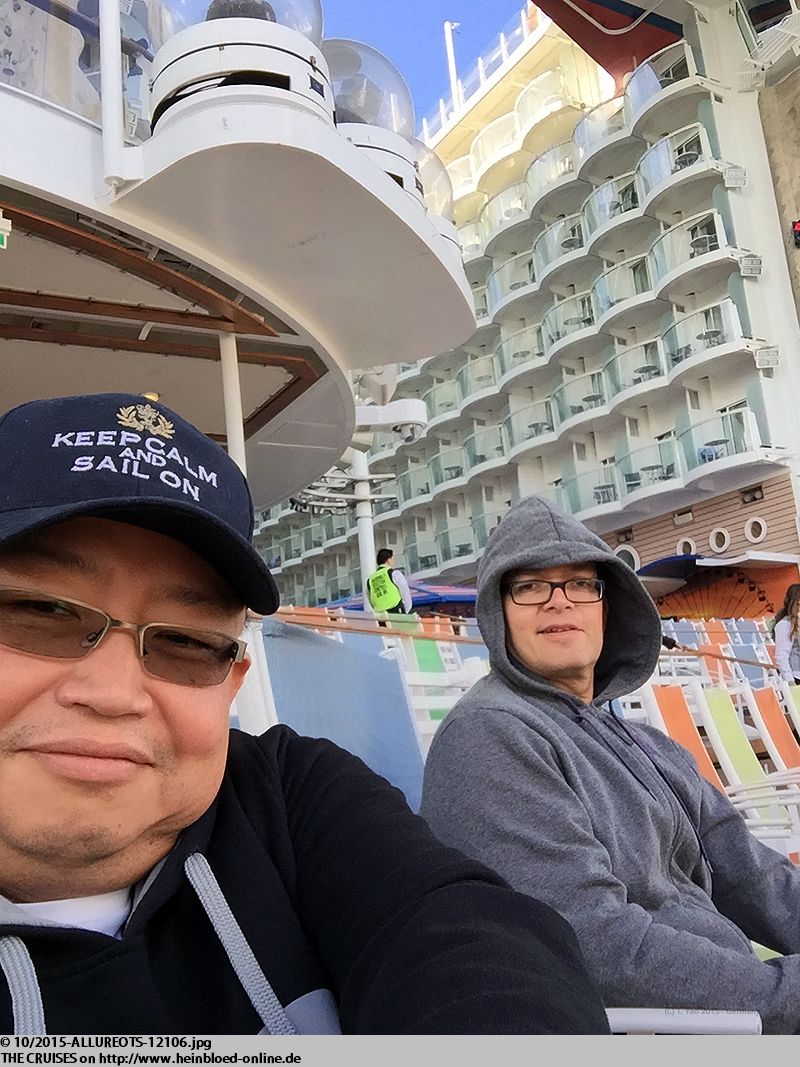 Ganz ehrlich: Sch... Sammelstation. Heute hat es ja nicht geregnet... kalt war es trotzdem.
Während Bruno sich in das Fitnessstudio geht, gehe ich weiter Schiffe fotografieren. MEIN SCHIFF 3.

While Bruno went for the gym, I headed on again, to phograph further ships. MEIN SCHIFF 3.

And VISION OF THE SEAS was setting sail.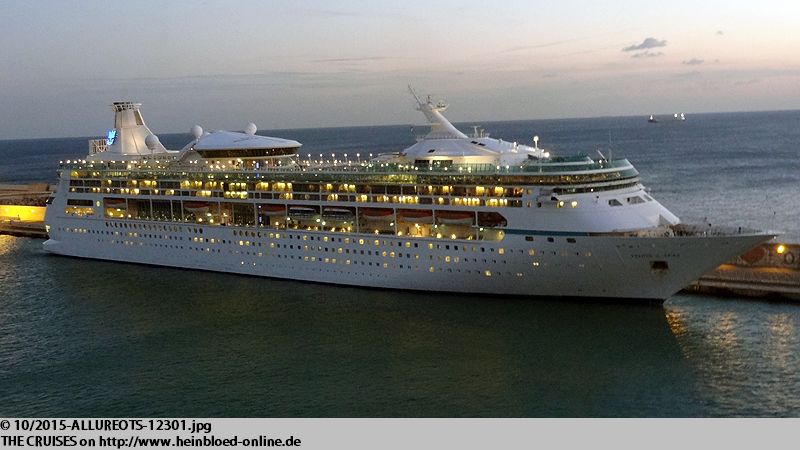 Und die VISION OF THE SEAS legt ab.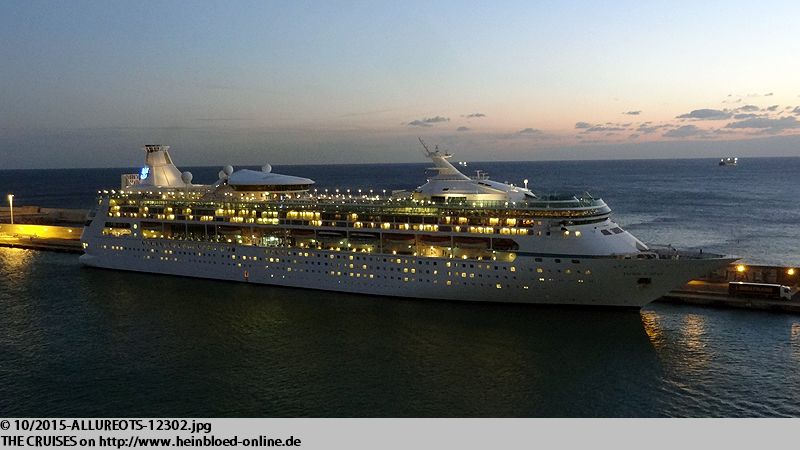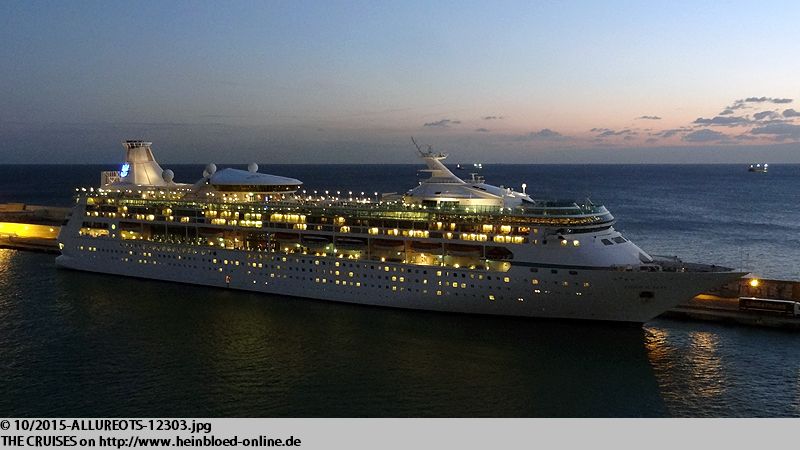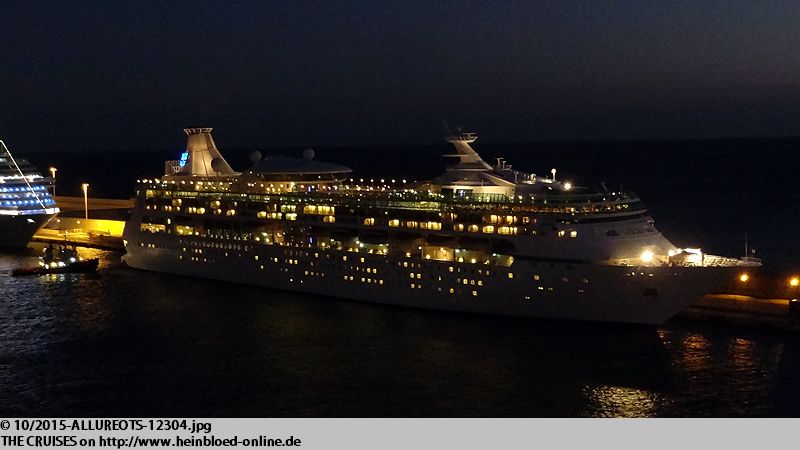 And COSTA FAVOLOSA followed, and she had right in this moment her festive illumination on.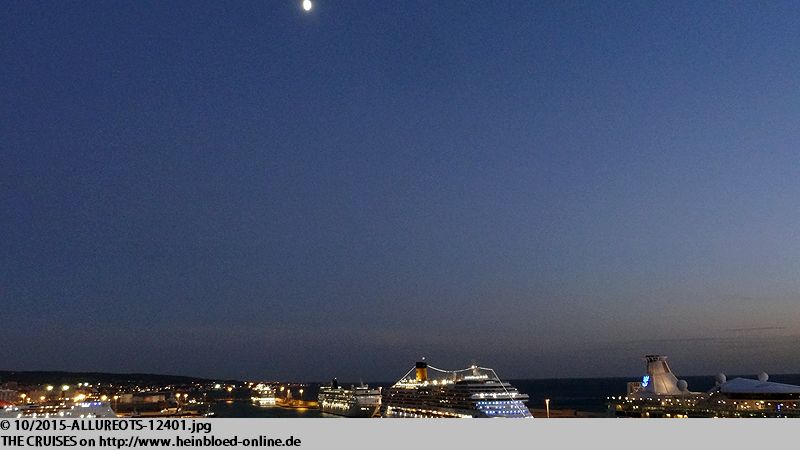 Und weiter geht es zur COSTA FAVOLOSA, die im Moment auch ihre Festbeleuchtung an hat.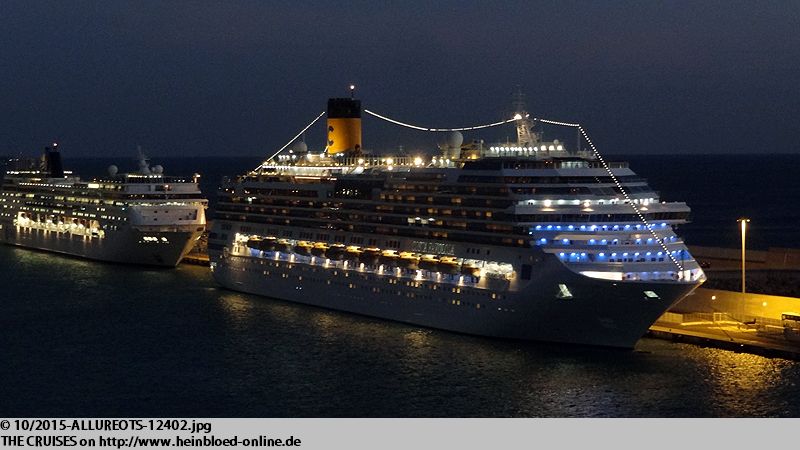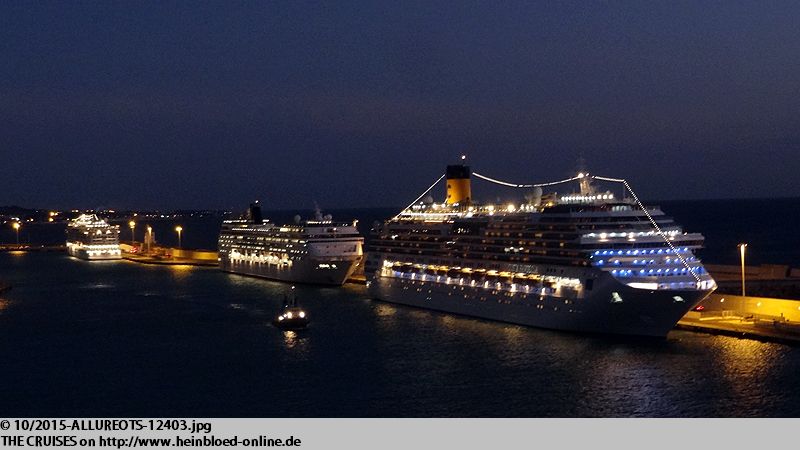 Später ist wieder alles dunkel.

Later it was all dark again.

A last view on MSC SINFONIA.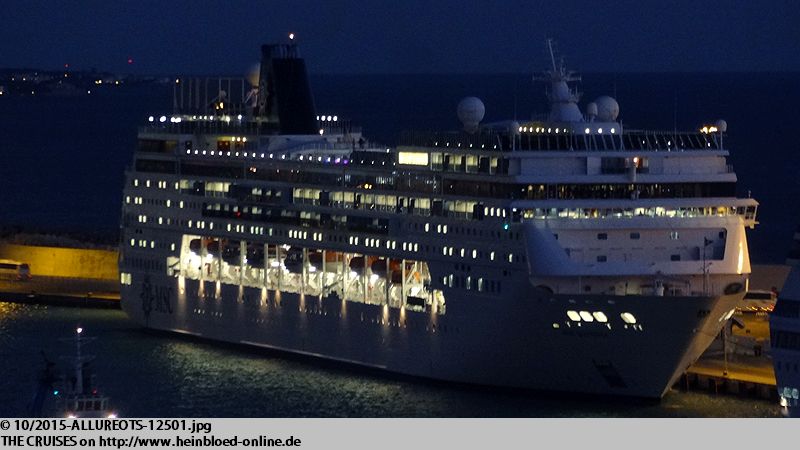 Ein letzter Blick noch auf die MSC SINFONIA.
Und ein letztes Good-Bye an Cherryl an Bord der VIKING STAR.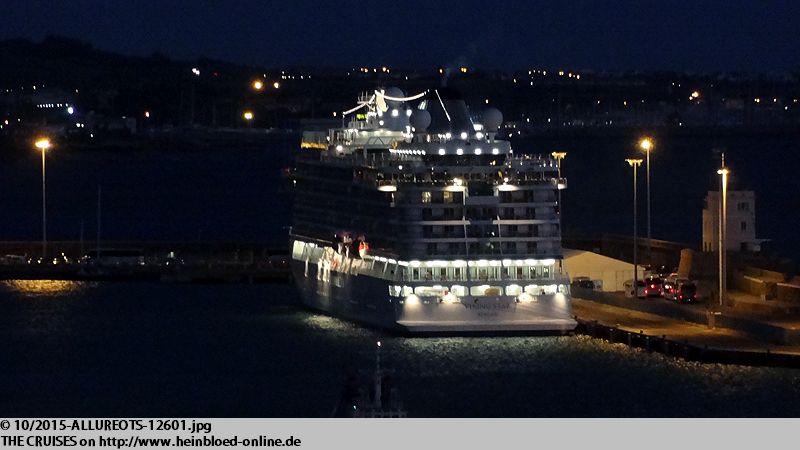 And a last Good-Bye to Cherryl on board of VIKING STAR.

For a while, I watched the ZIP-Line. The boardwalk was somehow too bright for me. I could not imagine that I would book a boardwalk cabin again. Heading on for the reception. But you hardly get there because another spectacle was taking place on the Royal Promenade. I realized that all this was nothing for me.

Ein bisschen gucke ich beim ZIP-Line zu. Der Boardwalk ist mir irgendwie zu hell. Ich kann mir nicht vorstellen, dass ich nochmals eine Boardwalk-Kabine buche. Weiter geht es nochmals zur Rezeption. Aber man kommt kaum dort hin, weil wieder ein Spektakel an der Royal Promenade stattfindet. Ich merke, dass das alles nichts mehr für mich ist.
Ich warte auf Bruno an der Vitality Bar, die im Eingangsbereich des Spas zu finden ist. Hier gibt es mein geliebtes
VitaminWater
. Hier steht auch ein Entsafter. Wir dürfen das Obst so zusammenstellen, wie wir es mögen. Rückwärts umgefallen bin ich allerdings beim Preis: Und ich dachte, dass es hier in Schweiz teuer wäre. Man sieht hier aber sehr schön den Unterschied beim Ergebnis. Hier gibt es keinen Slow-Juicer wie im Bio-Laden in Civitavecchia. So entsteht sehr viel Schaum. Die Becher kamen mir bekannt vor:
Seattle's Best Coffee
...

I was waiting for Bruno at the Vitality Bar, which could be found in the entrance area of the spa. Here, they had my beloved VitaminWater. There was also a juicer. We were allowed to put the fruits together in a way we like it. But I felt backward when I noticed the price: And I thought that it would be expensive here as in Switzerland. But you could see the difference in the result very nicely. There was no slow juicer here like the organic shop had in Civitavecchia. This one created a lot of foam. The cups were familiar to me: Seattle's Best Coffee ...

Alternative dining venues with Royal Caribbean, we had either in very good and in terrible memory. Chops Grille was first class on JEWEL OF THE SEAS 2008 and rather disappointing on NAVIGATOR OF THE SEAS 2009. Portofino was absolutely amazing on NAVIGATOR OF THE SEAS 2009. And on QUANTUM OF THE SEAS 2014, the Devinly Decadence was just great that we even had dinner there several times. So I was interested in trying 150 Central Park, and I paid the 40 USD (2015) additional cover charge in advance. At noon, we asked for the dress code. And in the evening it was like the Plaka district in Athens, Greece: someone stood in front of the restaurant and pulled guests into the place. Here on board, however, the reception was not very cordial, and we were simply sent in. There, a few waiters passed by but ignoring us. And then somebody came by and led us to a table.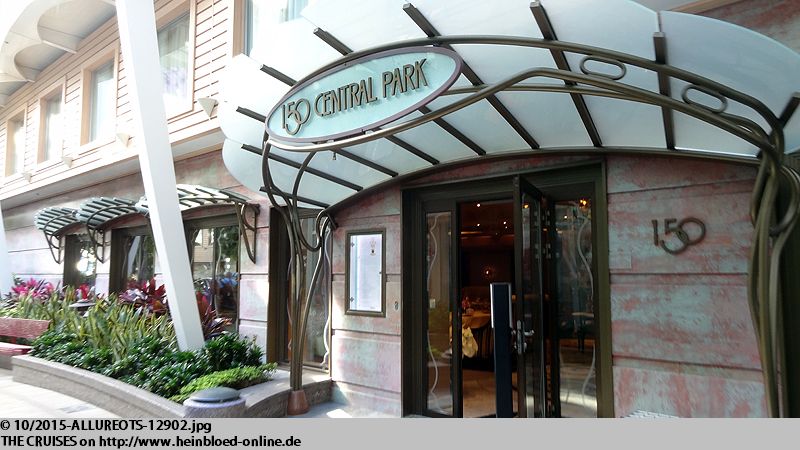 Zuzahlrestaurants bei Royal Caribbean haben wir entweder in sehr guter und in sehr schlechter Erinnerung. Chops Grille war auf der
JEWEL OF THE SEAS 2008
erstklassig und auf der
NAVIGATOR OF THE SEAS 2009
eher enttäuschend. Portofino war auf der
NAVIGATOR OF THE SEAS 2009
absolut super. Und auf der
QUANTUM OF THE SEAS 2014
war das Devinly Decadence einfach klasse, dass wir sogar mehrfach dort essen waren. So hat mich doch das 150 Central Park interessiert und ich habe die 40 USD (2015) Zuzahlung im Voraus entrichtet. Mittags erkundigen wir uns nach den Kleiderempfehlungen. Und abends war es so wie in der Plaka in Athen: Jemand stand vor dem Restaurant, um Kunden reinzuziehen. Hier an Bord ist jedoch der Empfang nicht besonders herzlich und wir werden einfach reingeschickt. Dort laufen ein paar Kellner vorbei, die uns ignorieren und irgendwann kommt dann doch jemand vorbei, der uns zu einem Tisch führt.
Bis wir an den Tisch geführt werden, gucken wir uns in Ruhe die Blumendekoration an: alles sehr schön.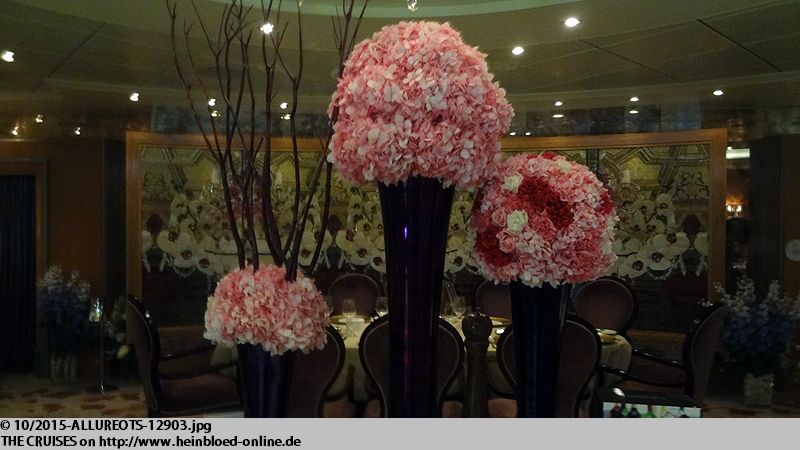 Until we were escorted to our table, we had plenty of time to see the flower decoration: very nice everything.

We got a napkin which was fitting to our pants. So far, we knew this only from Norwegian.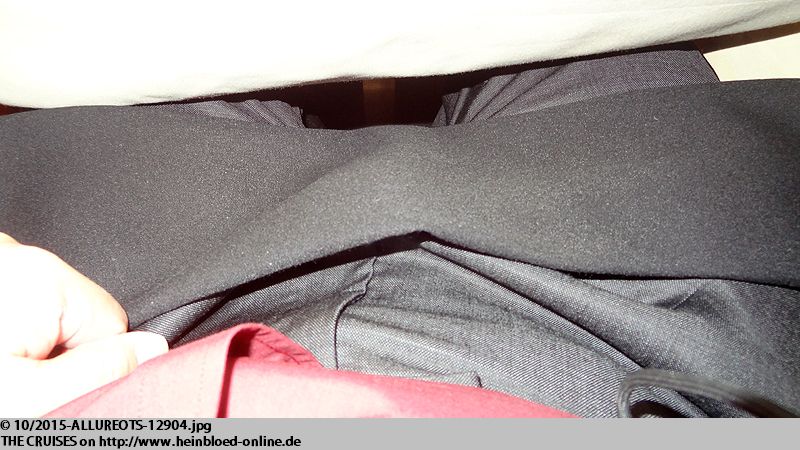 Wir bekommen eine Serviette passend zur Hose. Das kannten wir bislang nur von Norwegian.
Als Souvenir bekommen wir eine kleine Ausgabe der Speisekarte heute Abend. Etwas ärgerlich: im Willkommensvideo wird ein anderes Menü beworben, als heute Abend angeboten wird: ähnlich wie Mamma Mia: zwischen Barcelona und Civitavecchia gibt es ein anderes Menü als zwischen Civitavecchia und Barcelona.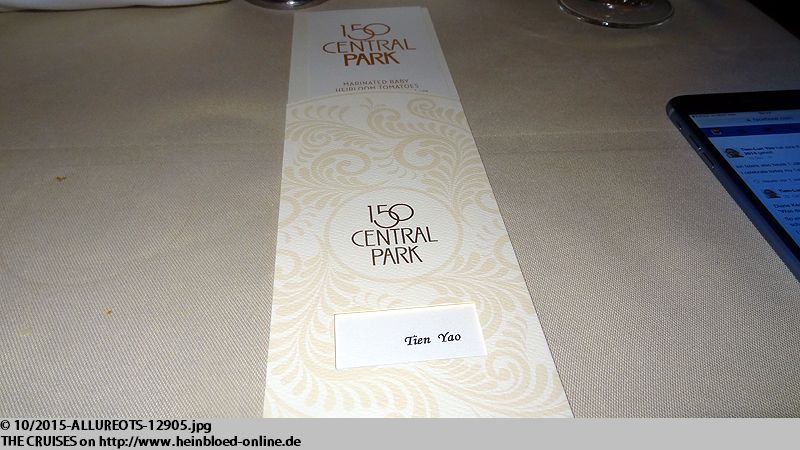 As a souvenir we got a small edition of the menu tonight. Somewhat annoying: in the welcome video, another menu was advertised than offered this evening. Similar to Mamma Mia: between Barcelona and Civitavecchia, there was a different menu than between Civitavecchia and Barcelona.

Very lovely plates.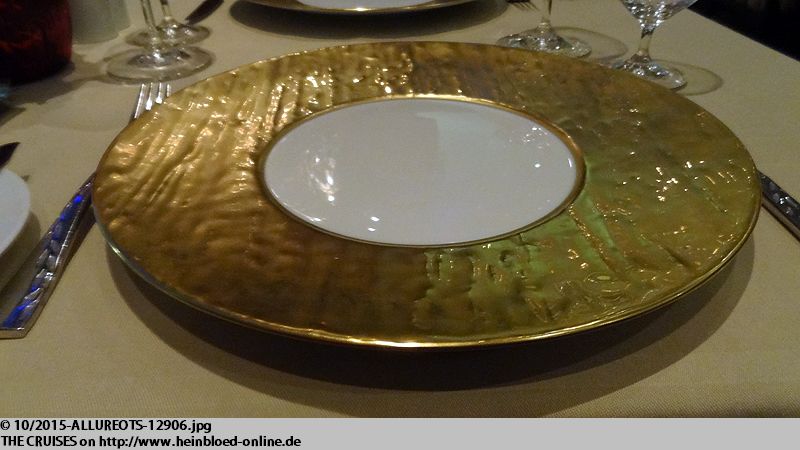 Sehr schöne Teller.
Sehr schöne Speisekarte.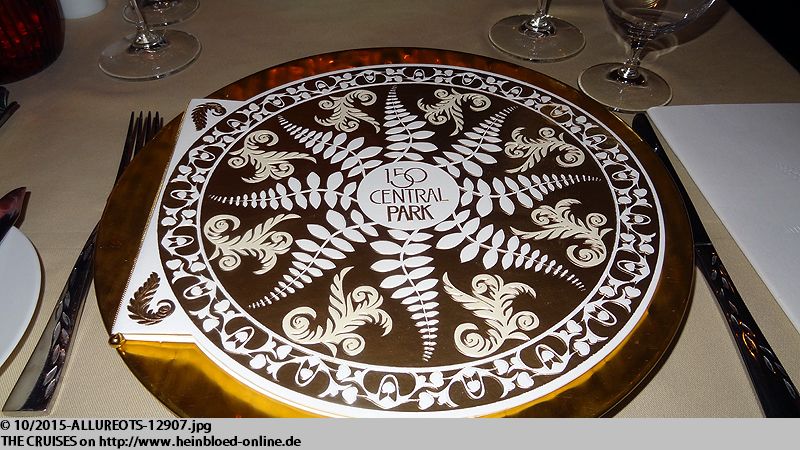 Very beautiful menus.

A 6-course menu without options. No intention to offer the guest an opportunity. Only Bruno got a substitute for the lamb course because he did not like a lamb.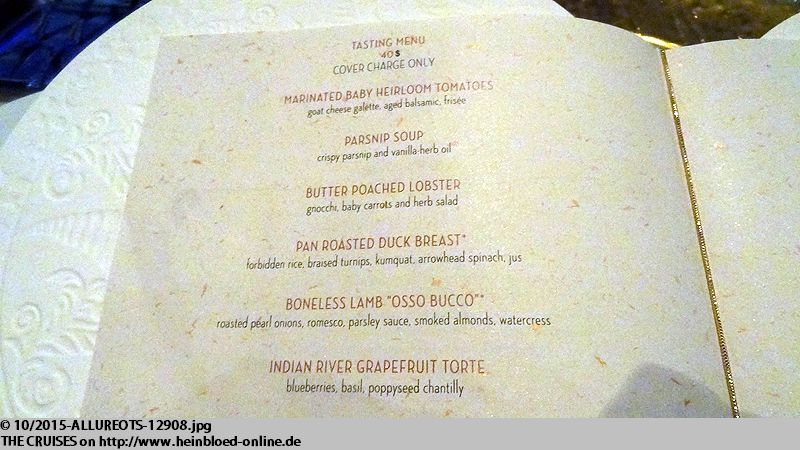 Ein 6-gängiges Menü ohne Optionsmöglichkeiten. Auf die Idee dem Gast eine Optionsmöglichkeit einzuräumen kommt man nicht. Nur Bruno bekommt einen Ersatz für den Lammgang, weil er Lamm nicht so mag.
Für 35 USD (2015) könnten wir noch zusätzlich die passenden Weine dazubuchen.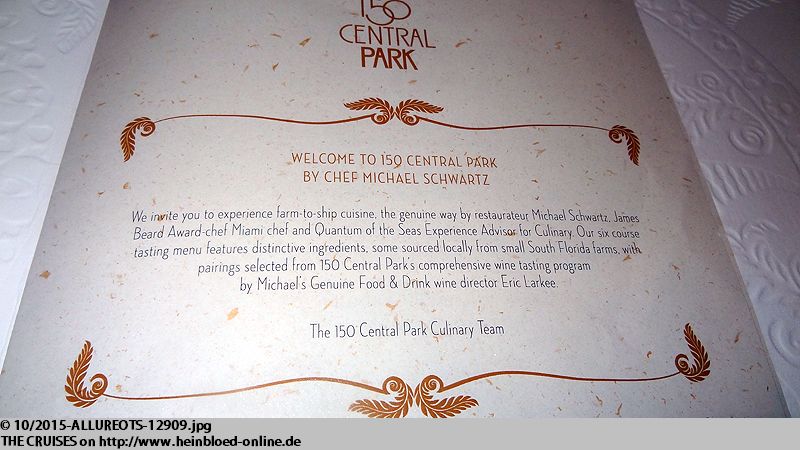 For 35 USD (2015), we could book the pairing wines on top.

The flower decoration was charming.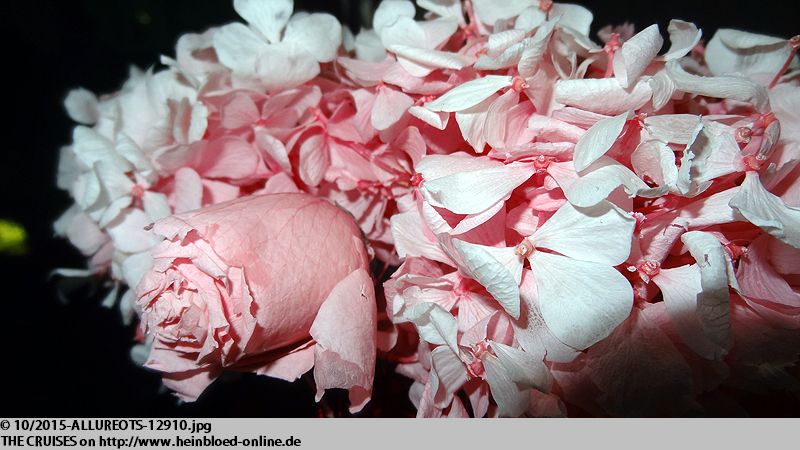 Die Blumendekoration ist echt schön.
Wozu braucht man diese Löffelchen?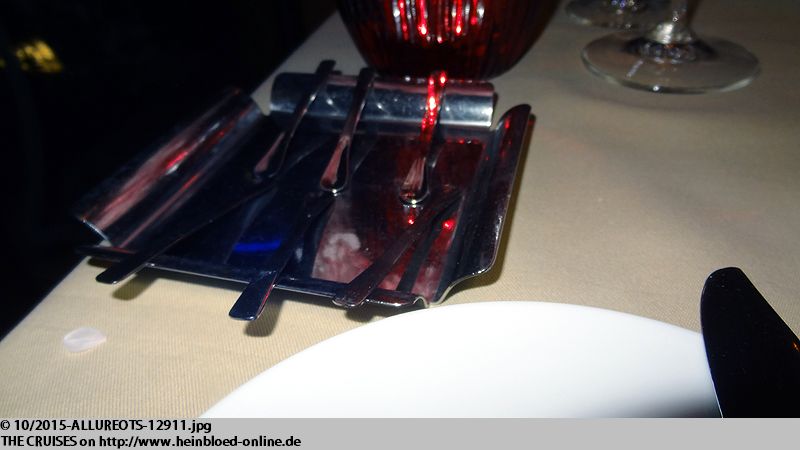 For what would you need those tiny spoons.

For the six salts of the world.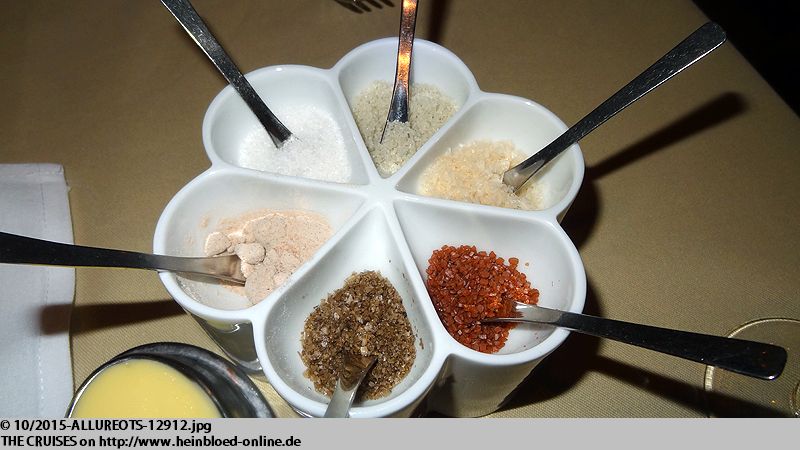 Für die sechs Salze der Welt.
Die Brötchen sind echt lecker. Vor allem das Kümmelbrötchen.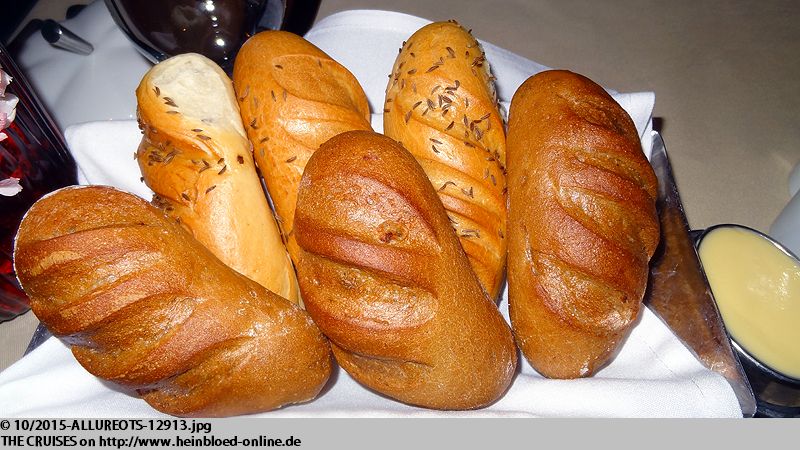 The rolls were very tasty. Especially the caraway roll.

O.K. with the first course I noticed that I ate all four cocktail tomatoes before I could take a picture.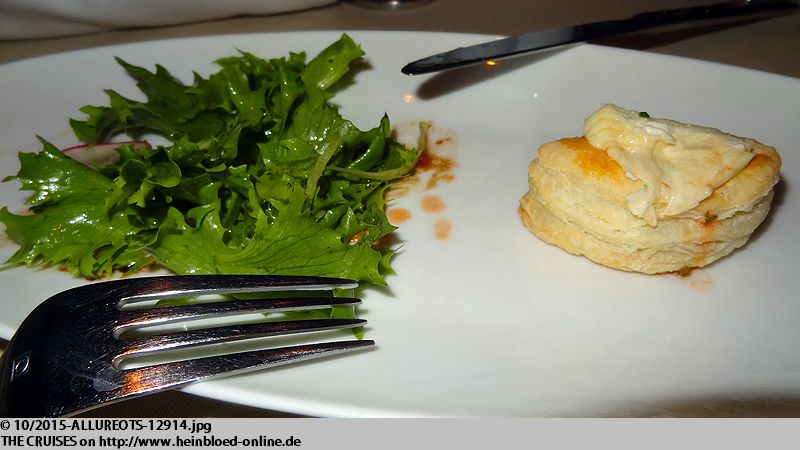 O.K. bei dem 1. Gang habe ich erst nach dem ich alle vier Cocktailtomaten gegessen hatte, gemerkt, dass ich noch nicht fotografiert hatte.
Im Video auf der Kabine wurde für eine weiße Zwiebelcremesuppe geworben. Auf die habe ich mich richtig gefreut. Das klang einfach so toll, wie sie im Video beschrieben wurde. Nun gab es Pastinak-Suppe. Eigentlich liebe ich Pastinak. Aber irgendwie schmeckt sie nicht so gut, wie ich sie zuletzt im BeefClub in der Autostadt in Wolfsburg bekommen hatte. Ich liebe Kresse. Aber leider ist sie mir zu intensiv vom Geschmack her, der den feinen Geschmack der Suppe überlagerte.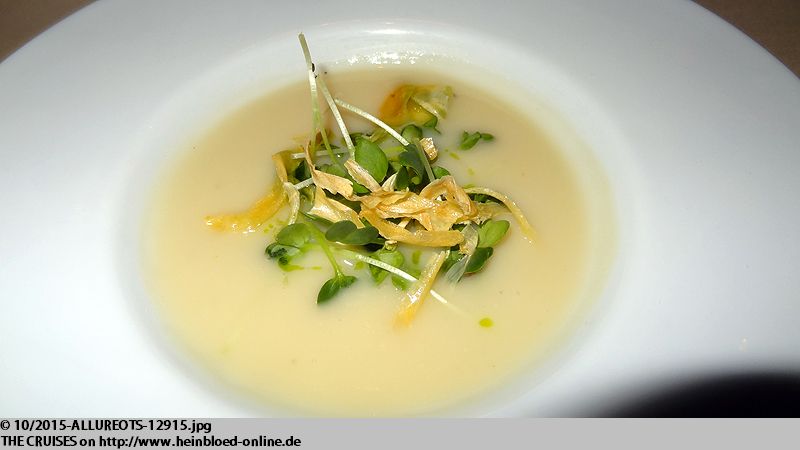 The cabin video advertised a white onion soup. I was really looking forward to it. That sounded just as great as it was described in the video. Now there was parsnip soup. Actually, I loved parsnip. But somehow it did not taste as good as I got her last at the BeefClub in the Autostadt in Wolfsburg. I loved cress. But unfortunately, it was too intense for me, the taste of the soup superimposed.

And with the lobster/scallop course: again, the intensive cress. We asked if there are more courses where the cress should be part of the dish. If so, we asked them to put the cress aside. Our criticism was taken as an opportunity to try the cress. In fact, they agreed and told us that from now on they would reduce the amount of cress.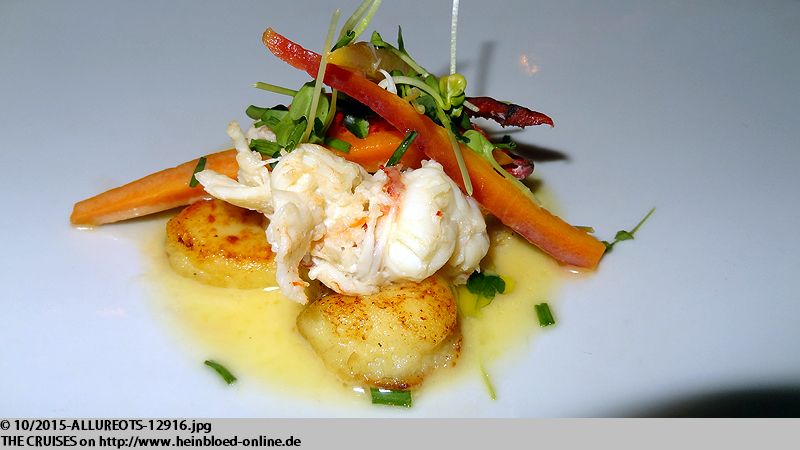 Und beim Hummer-/Jakobsmuschelngang: wieder die intensive Kresse. Wir fragen nach, ob noch weitere Gänge kommen, bei der es die Kresse gibt. Für den Fall, bitten wir darum, die Kresse an die Seite zu legen. Unsere Kritik wird zum Anlass genommen mal die Kresse zu probieren. In der Tat gibt man uns Recht und sagt uns, dass man ab jetzt die Menge der Kresse zu reduzieren.
50 Minuten und wir haben bereits den 4. Gang. Die Entenbrust ist lecker, aber das ganze geht uns viel zu schnell. Wir hatten zuvor schon mal gebeten das Tempo rauszunehmen. Es ist weder Fast Food noch Speed Dining-Event. Aber irgendwie versteht man uns nicht.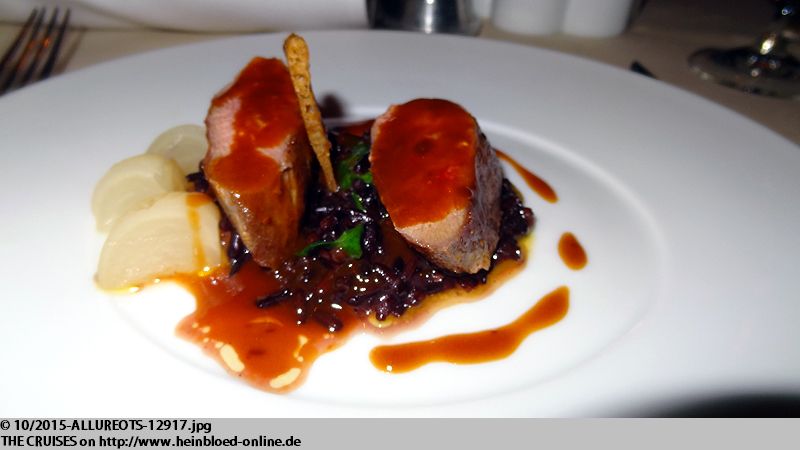 50 minutes, and the 4th course was already served.

Bruno got as 5th course a Filet Mignon which made him very satisfied.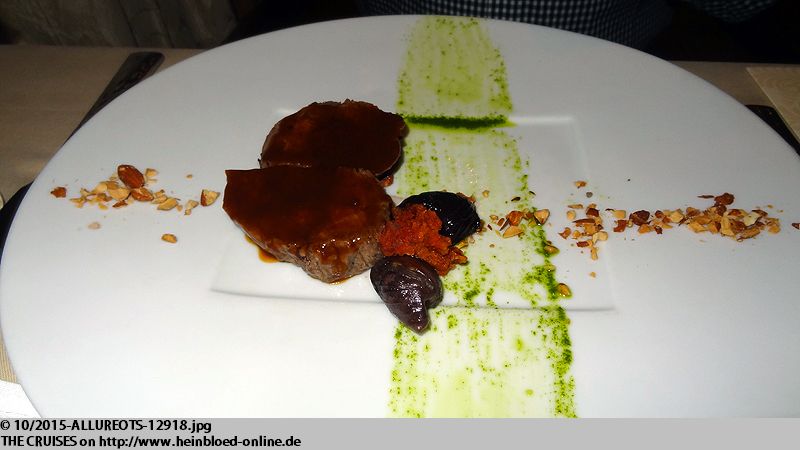 Bruno bekommt als 5. Gang ein Filet Mignon, mit dem er sehr zufrieden ist.
Die Lammhaxe war einfach ein Gedicht. Zart und saftig. Nur etwas schade: weil es kein Sorbet zwischen dem 4. und 5. Gang gab, schmeckt alles eigentlich gleich. Man hätte es noch mehr genießen können.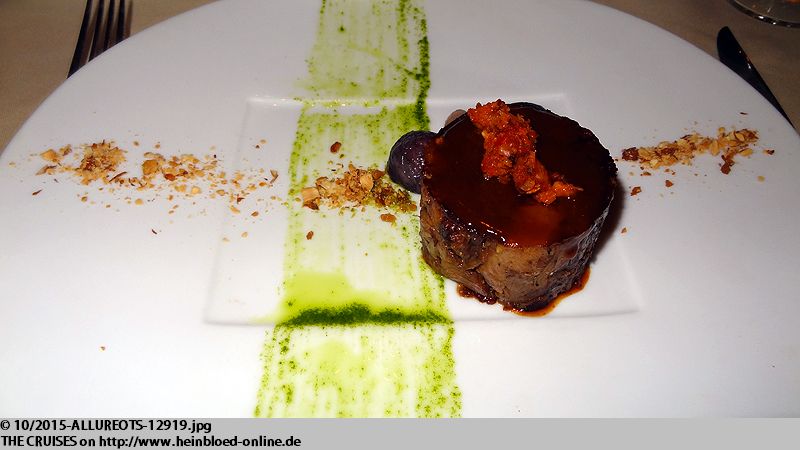 The lamb shank was like heaven. Tender and juicy. That was somehow pity, as they did not offer any sherbet between 4th and 5th course, everything tasted the same. It would be more enjoyable.

For the six sorts of salts, you got six spoons - for the two types of sugar, you got only some on request.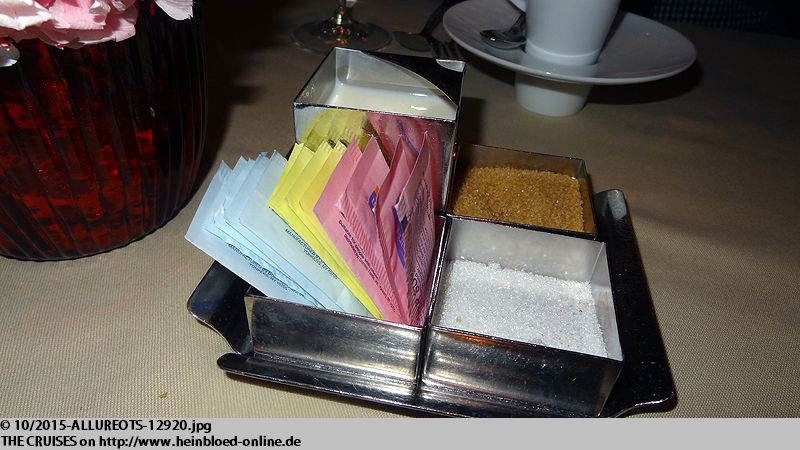 Für die sechs Salzsorten gab es sechs Löffel - für die zwei Sorten Zucker leider erst auf Anfrage.
Die Tässchen sehen toll aus.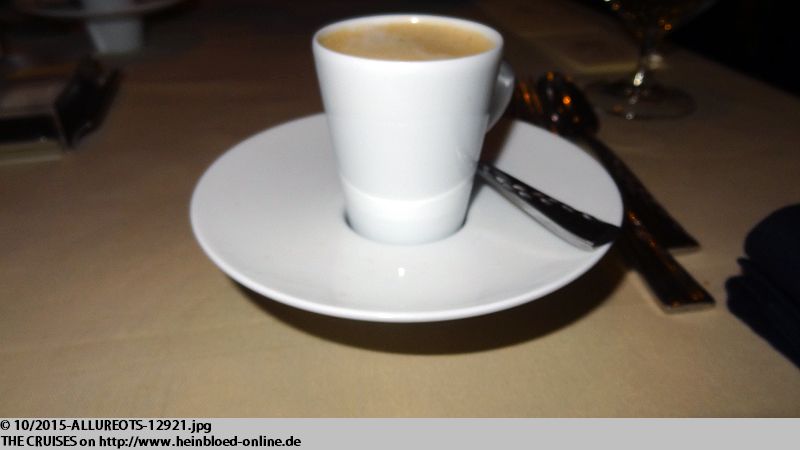 The litte cups looked very pretty.

But they still looked a little awkward.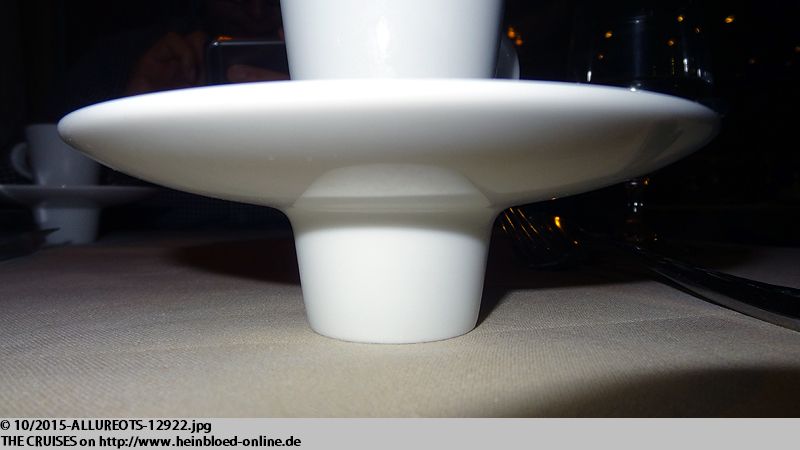 Aber stehen ganz komisch hoch.
Sehr schnell bekommen wir das Dessert: auch das ist sehr gut.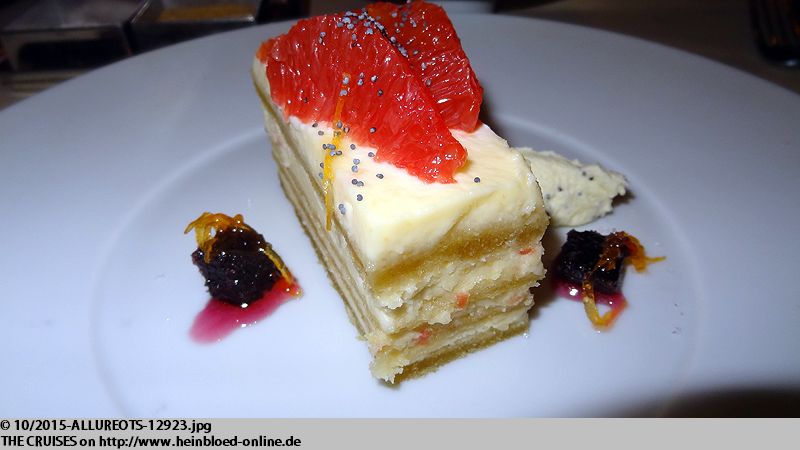 Very fast, we got our dessert: but that was very delicious too.

When I was thinking of Mahmut, and his teams on the NORWEGIAN JADE 2014 (1), I never saw anybody walking empty-handed back into the galley. The waiters always made small detours when they saw that. For example, a guest of another colleague with his plate was finished and took it, as if it would be his own guest. He had also sought eye contact with all guests to be approachable. As a guest, you felt an all-around feeling good. I had the same feeling back then in Positano on NAVIGATOR OF THE SEAS 2009. And I was unlucky, like last time on OCEAN PRINCESS 2015. But unfortunately, it happened here again: My glass was empty, and many waiters walked by and did not notice. I only got more water when our waiter returned from the galley. For example, Bruno looked for the toilet and stood in the entrance area. A waitress came over without asking if she could help. He only received the look that asked why he actually had to stand in the way. Later, the manager spoke to us about specialty dining, and we explained why we did not like it. He asked us to give another specialty restaurant a chance and told us that in his eyes this would not be the standard of Royal Caribbean.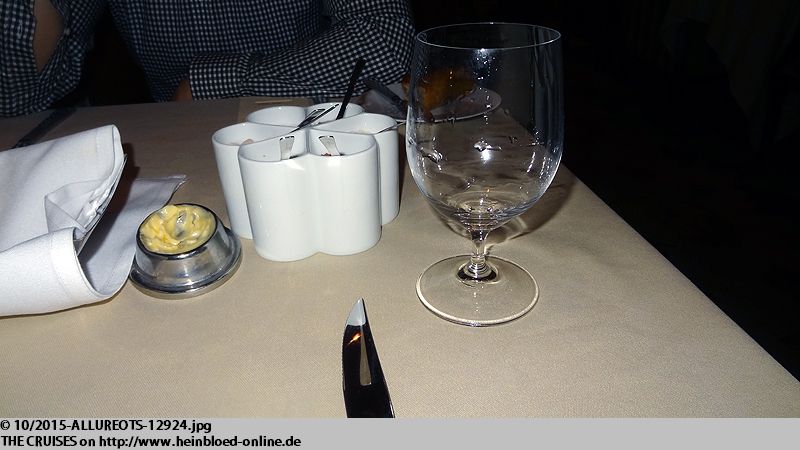 Wenn ich an Mahmut und seine Teams auf der
NORWEGIAN JADE 2014 (1)
denke, dann habe ich niemanden mit leeren Händen zurück in die Galley laufen sehen. Es wurden kleine Umwege gemacht, wenn man sah, dass beispielsweise ein Gast eines anderen Kollegen mit seinem Teller fertig war und hat es mitgenommen, als ob es der eigene Gast wäre. Man hat auch den Blickkontakt zu allen Gästen gesucht, um ansprechbar zu sein. Als Gast empfindet man dabei ein Rundum-Wohlfühl-Gefühl. Das gleiche Gefühl hatte ich auch schon mal damals im Positano auf der
NAVIGATOR OF THE SEAS 2009
geführt. Und ich hatte auch schon Pech gehabt, wie zuletzt auf der
OCEAN PRINCESS 2015
. Aber leider ist es ausgerechnet hier passiert: Mein Glas ist leer und viele Kellner laufen vorbei und bemerken es nicht. Ich bekomme erst wieder Wasser, als unser Kellner aus der Galley kommt. Bruno sucht beispielsweise die Toilette und stellt sich in den Eingangsbereich. Eine Kellnerin kommt vorbei fragt nicht, ob sie helfen kann. Er bekommt nur den Blick, der fragt, warum er eigentlich im Weg stehen muss. Später spricht uns der Manager Speciality Dining an und wir erklären ihm, warum es uns nicht so gefallen hat. Er bittet uns darum, noch einem anderen Spezialitätenrestaurant eine Chance zu geben und sagt uns, dass das auch in seinen Augen nicht der Standard von Royal Caribbean sei.
Am Schluss noch ein paar Selfies des Abends.

At the end, a few more selfies of the evening.

There were Nina and Josie. We already knew Nina. We saw her from deck 15 before. Josie was her kind colleague. Before 13:00 hrs, we could see that the door was open from the stairway to the cabins. So we thought that probably the staterooms were now released and we probably did not hear the announcement. We had to go from the front staircase to the back. We usually greeted the crew members first. Sometimes with reaction, sometimes without response, sometimes with punitive glances and once with the hint, how we could find the exit again. Never a "welcome aboard", as we are used to from Norwegian. The exception was Nina - our cabin stewardess. She saw us and waved to us and tould us: "You are certainly my guests from 10329. Welcome aboard." We asked if we could put our hand luggage in the cabin. She just said that it would not be a problem and asked us to place everything on the sofa because she would need to vacuum in our stateroom. We immediately adopted Nina to our family.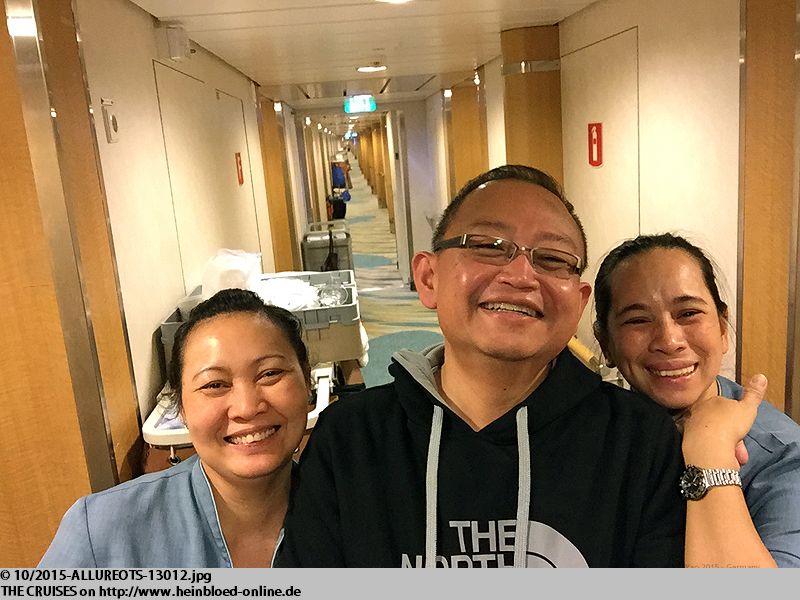 Da wären noch Nina und Josie. Nina kennen wir bereits. Wir haben sie ja schon vorher vom Deck 15 aus gesehen. Josie ist eine nette Kollegin. Vor 13:00 Uhr sehen wir, dass die Tür vom Treppenhaus zu den Kabinen geöffnet ist. So dachten wir, dass wohl die Kabinen mittlerweile freigegeben sind und wir wohl die Ansage nicht bekommen haben. Wir müssen vom vorderen Treppenhaus nach hinten. Wir grüßen die Crew-Mitglieder meistens zuerst. Mal mit Reaktion, mal ohne Reaktion, mal mit strafenden Blicken und einmal mit dem Hinweis, wie wir den Ausgang wieder finden. Niemals ein "Willkommen an Bord", wie wir es von Norwegian her gewohnt sind. Die Ausnahme ist Nina - unsere Kabinenstewardess. Sie sieht uns und winkt uns zu sich und sagte uns: "Sie sind bestimmt meine Gäste aus 10329. Willkommen an Bord." Wir fragen nach, ob wir unser Handgepäck in die Kabine einstellen dürfen. Sie meint nur, dass es kein Problem wäre und bittet uns alles auf das Sofa zu stellen, da sie noch in unserer Kabine saugen müsste. Nina schließen wir sofort in unser Herz.
Die anderen Reisen in diesem Blog/
The other voyages in this blog: