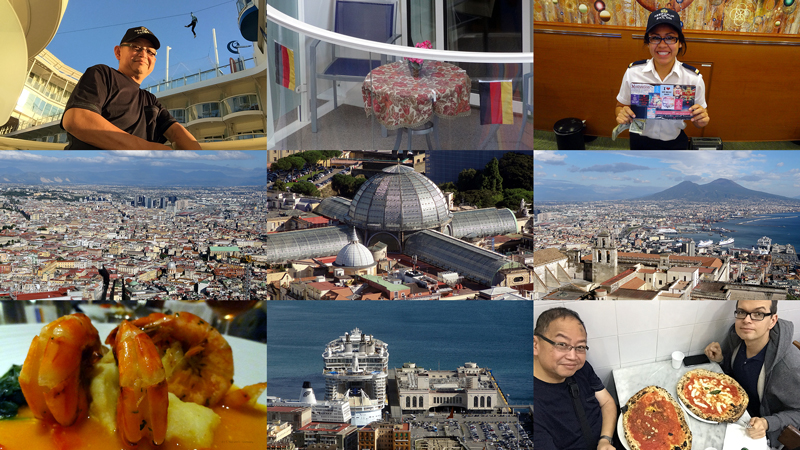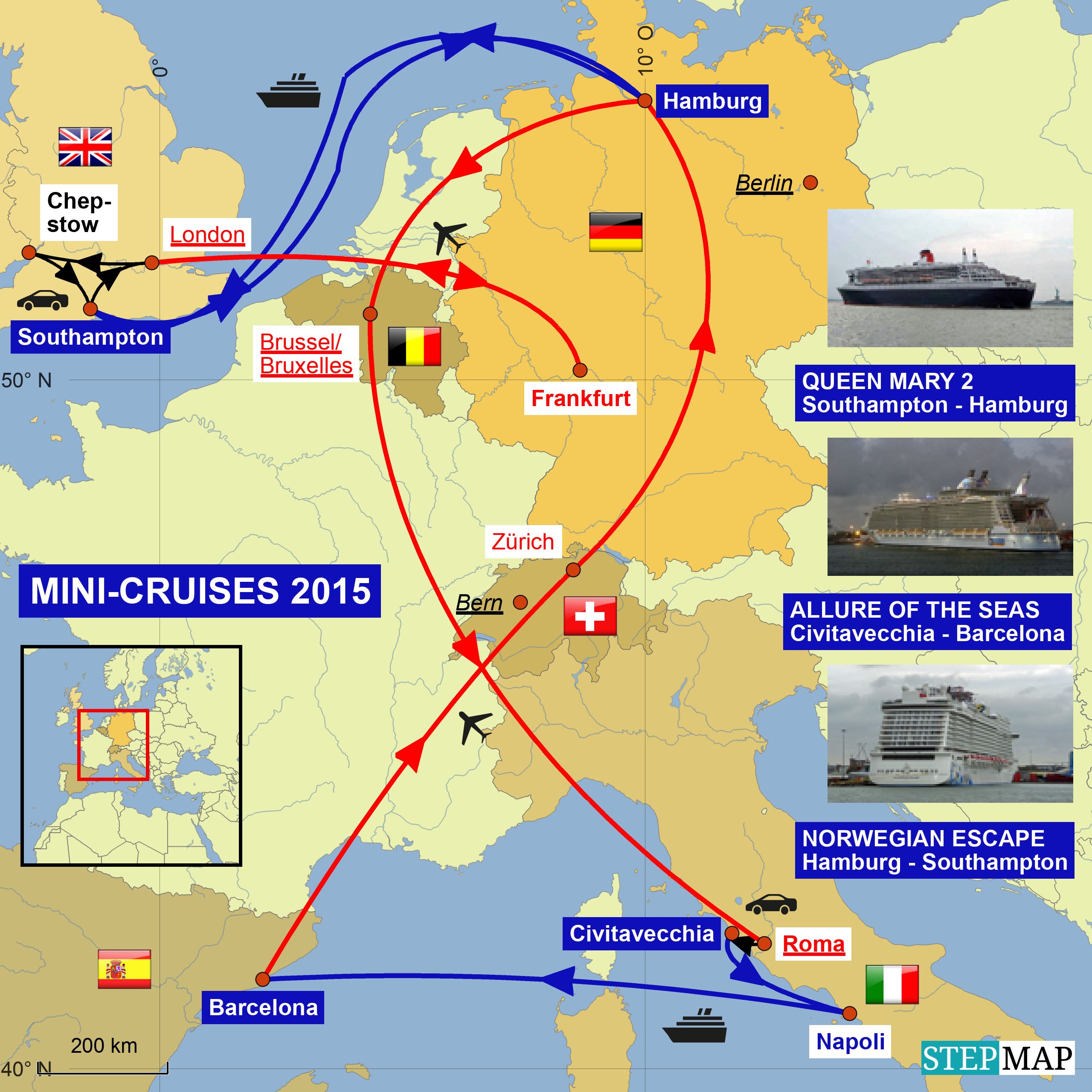 Wie in Neapel üblich: Man kommt an keinem Taxi-Fahrer am
Kreuzfahrtterminal
vorbei, ohne dass man seine persönlichen Pläne für den Landgang erläutert hat. An einer Fahrt zu
Da Michele
hat er natürlich kein Interesse. Selbstverständlich kennt er eine andere Pizzeria in der Nähe von
Pompeij
, die genauso gute Pizza backen würde... Irgendwann gibt er auf und bestätigt, wie gut
Da Michele
wäre. Aber auch sagt er uns, dass wir jetzt (11.30 Uhr) nicht hin sollten, weil jetzt nur Touristen da wären. Italiener würden erst um 14.00 Uhr essen gehen. Wir kommen jedoch zum perfekten Zeitpunkt an.
Da Michele
öffnet um 11.00 Uhr. Wir haben Wartenummer 41 und müssen nur 10 Minuten warten. Innen etwas spartanisch. Es gibt nur alles aus Plastikbechern und nur zwei Sorten Pizza Margherita oder Marinara (also mit oder ohne Käse). Wobei Margherita besser war. Der Teig ist auf jeden Fall unschlagbar gut und den habe ich bislang nirgendst besser bekommen. Und alles zu einem Preis von einem "Appel und Ei".

As usual in Naples: You could not pass any taxi driver at the cruise terminal without explaining your personal plans for tours ashore. Of course, he was not interested for a lift to Da Michele. Of course, he knew another pizzeria near Pompeii, which would prepare pizza in the same quality... At some point, he gave up and confirmed how good Da Michele would be. But he also told us that we should not go now (11:30 hrs), because now only tourists would be there. Italians would not eat before 14:00 hrs. But we arrived at the perfect time. Because Da Michele opened at 11.00 hrs. We got wait number 41 and only had to wait 10 minutes. Spartanic furbished inside. They had only plastic cups and only two types of pizza Margherita or Marinara (with or without cheese). But Margherita was better. In any case, the dough was unbeatably good, and I never got it better. And all for a price of some peanuts.

Even Julia Roberts was here: in the movie Eat, Pray, Love. Now all I had to do was learn how to speak Italian with gestures, as in this movie.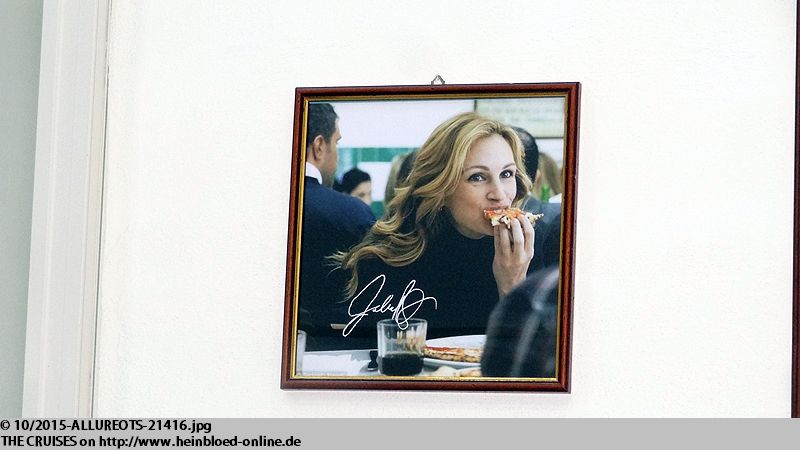 Sogar Julia Roberts war hier: im Film
Eat, Pray, Love
. Nun muss ich nur noch lernen, wie man
Italienisch mit Gesten spricht
, wie sie in diesem Film.
Natürlich brauche ich ein Selfie mit
MEINER
Julia Roberts und mit mir... Für einen Moment fühle ich mich wie Richard Gere...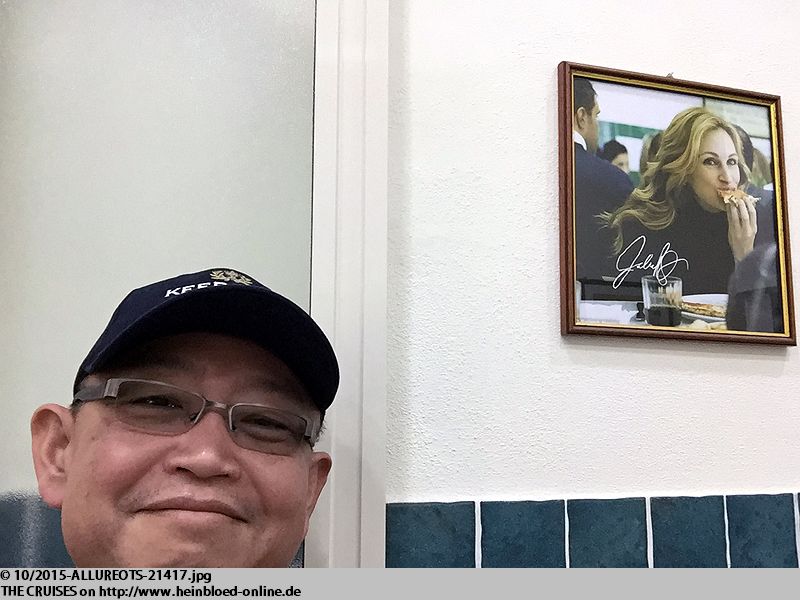 Of course I needed to have a selfie with MY Julia Roberts and with me... For a moment I felt like Richard Gere...

Or would I instead take Bruno and HIS Pizza Margherita??? The choice was difficult.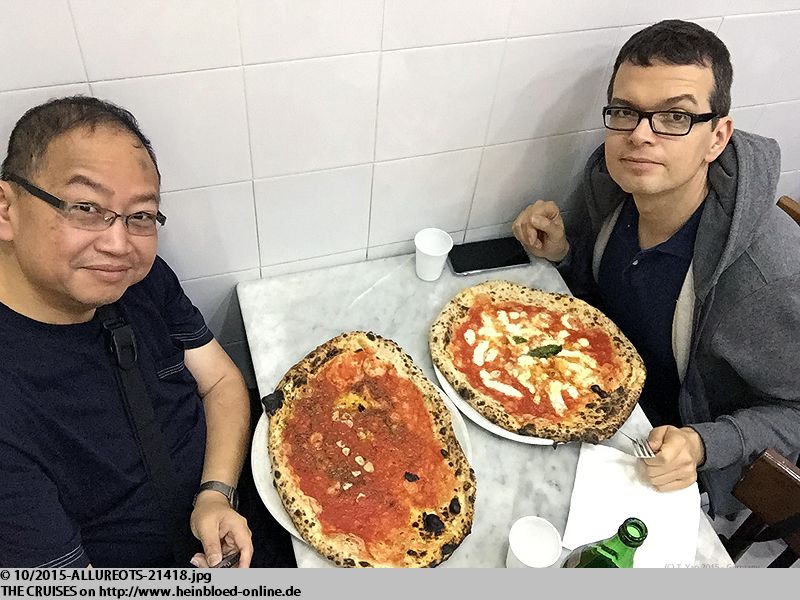 Oder nehme ich doch lieber Bruno und
SEINE
Pizza Margherita??? Die Wahl fällt schwer.
Als wir später rausgehen, meint eine Frau, dass es nicht mehr lange dauern würde. Sie hat die Nummer 71 bekommen.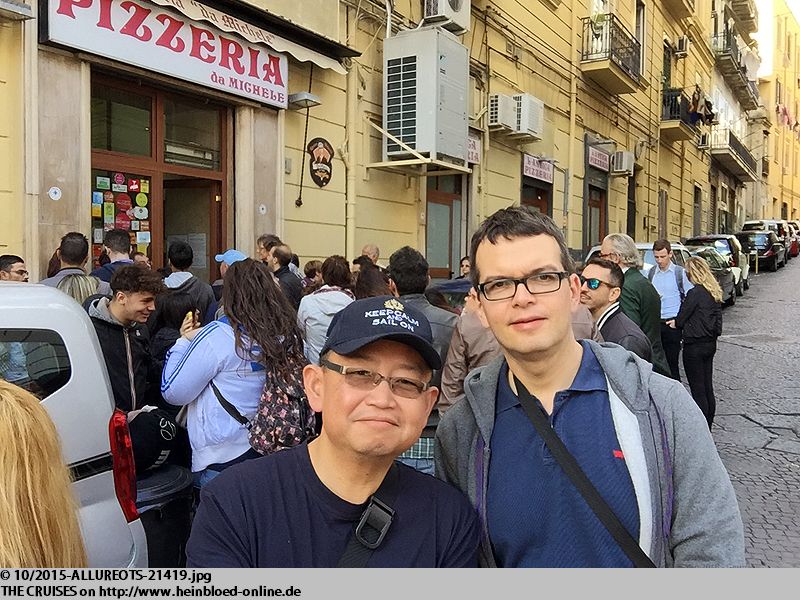 When we left later, a woman said it would not be long. She got the number 71.

The strength of Da Michele was certainly their pizza. We preferred to take an espresso with Dolce Amaro Caffé.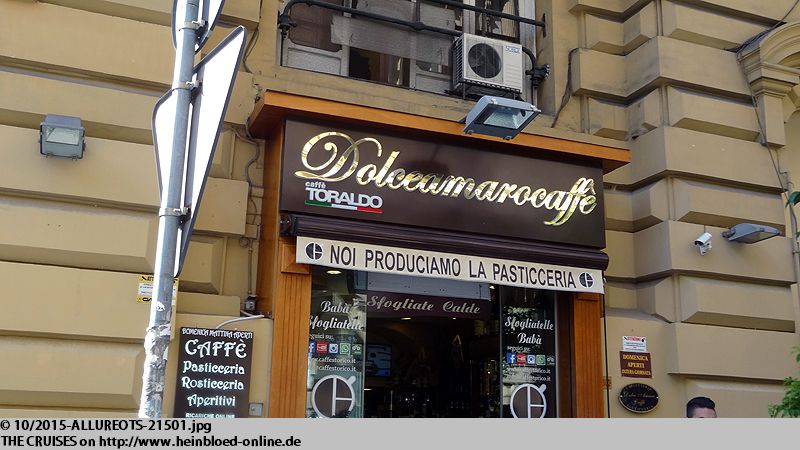 Die Stärke von
Da Michele
ist sicherlich ihre Pizza. Einen Espresso nehmen wir dann doch lieber bei
Dolce Amaro Caffé
.
Da wir sowieso am Platzen waren, bleibt es beim Kaffee, obwohl alles verführerisch präsentiert wurde.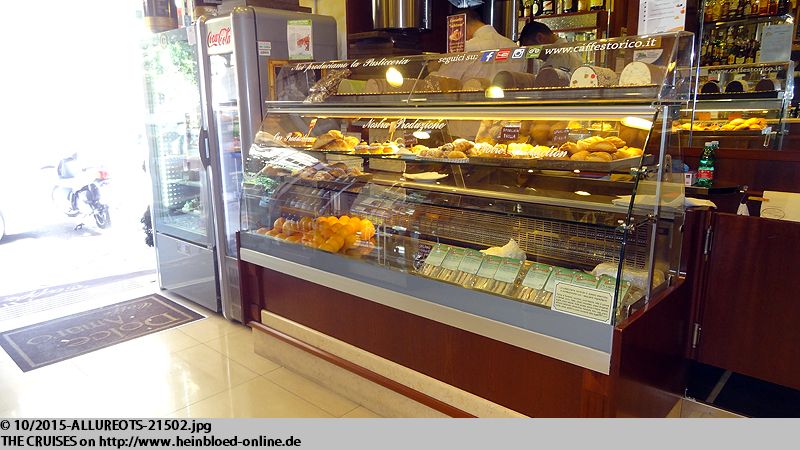 Since we were bursting anyway, it remained with the coffee, although everything was seductively presented.

The gentlemen insisted to be part of my selfie... They wanted it: It appeared on their Facebook page.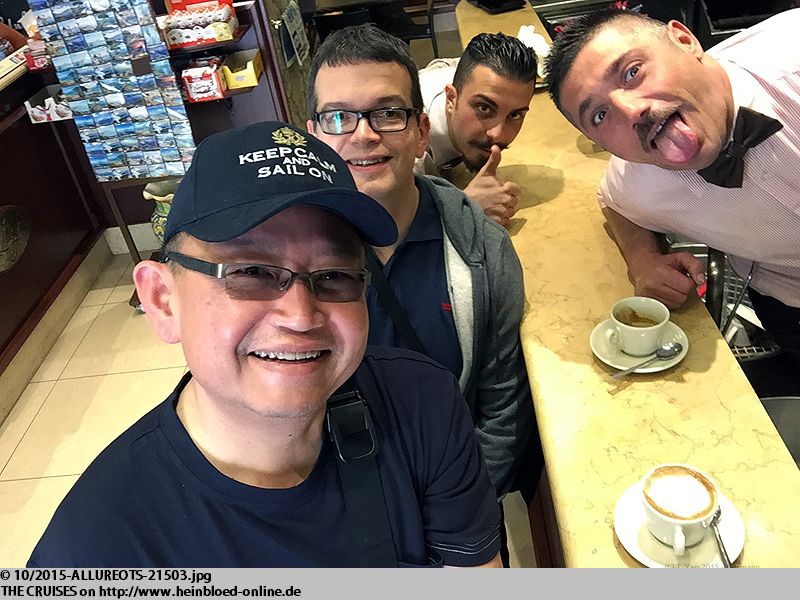 Die Herren wollten partout mit auf das Selfie... Sie wollten es nicht anders: Es ist auf deren
Facebook-Seite
gelandet.
Bei der Universität geht es wieder in die
U-Bahn
. Mich fasziniert die rosa Wand.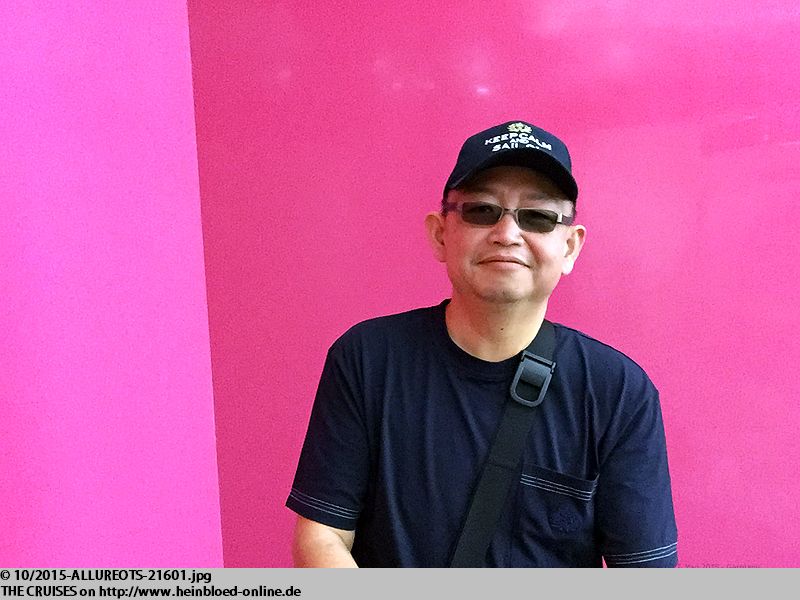 At University, we reentered again the subway. I was fascinated by the pink wall.

I needed to make some selfies immediately.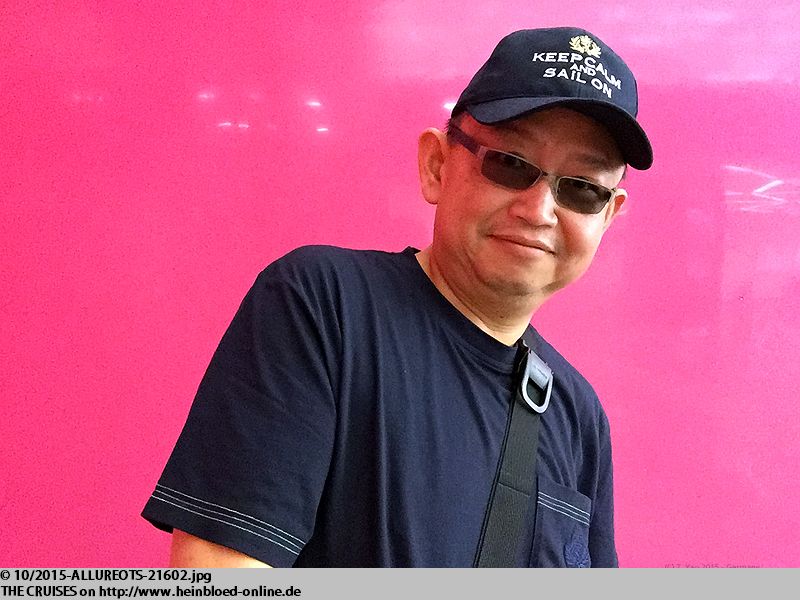 Das muss ich sofort für Selfies nutzen.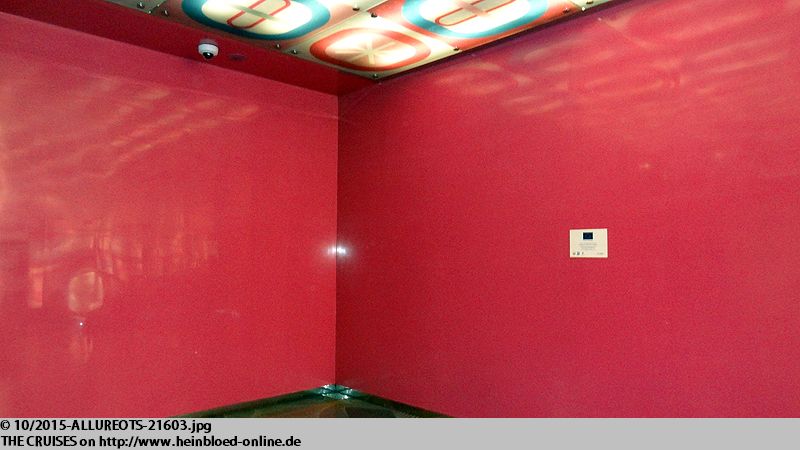 Apart from that, you had to say that the subway stations in Naples were designed great.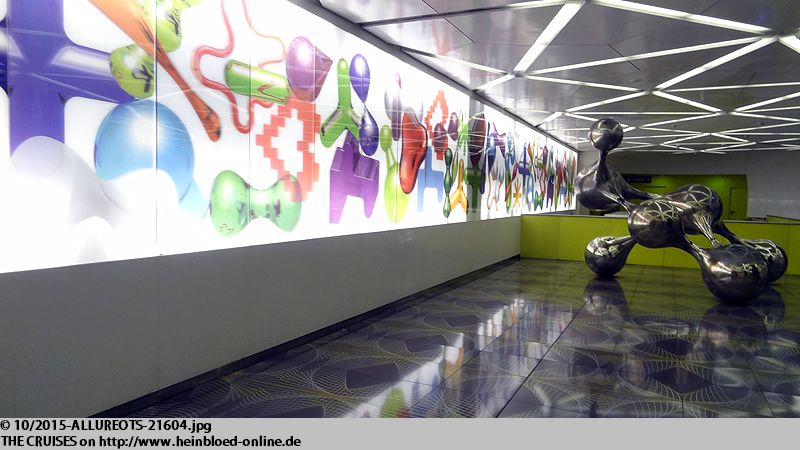 Aber ansonsten muss man sagen, dass die U-Bahnhöfe in Neapel toll gestaltet sind.
Irgendwie hat man hier vergessen die Neueröffnung zu aktualisieren.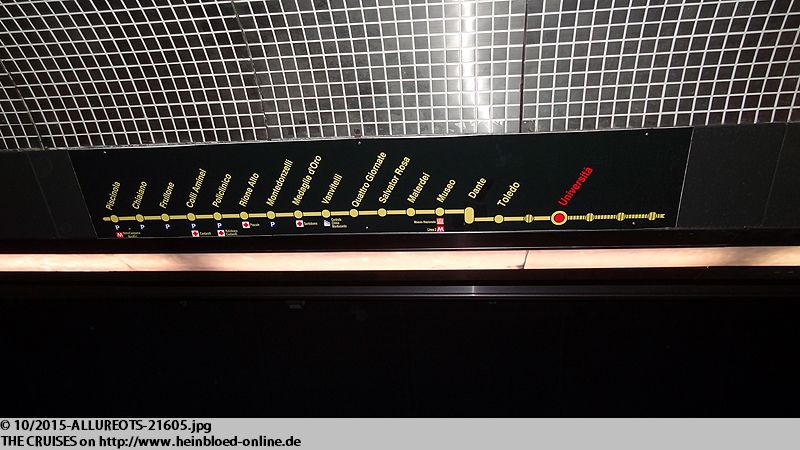 Somehow, they forgot here to update on the new opening.

The station was obviously in operation for a while. So they had already advertising here.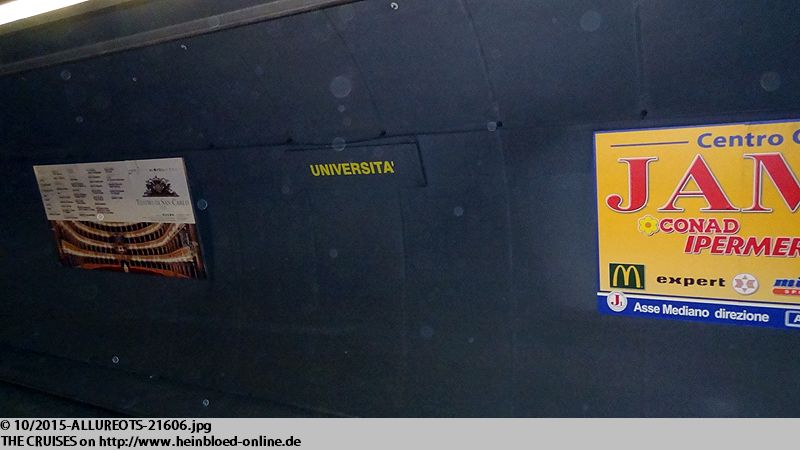 Die Station ist schon länger in Betrieb. Also gibt es hier auch Werbung.
An der Station Vanvitelli steigen wir wieder aus und wundern uns über die Dekoration an der Decke.

We got off at the station Vanvitelli and were surprised on the decoration at the ceiling.

We asked the supervisor and were told that it was the Fibonacci-Sequence.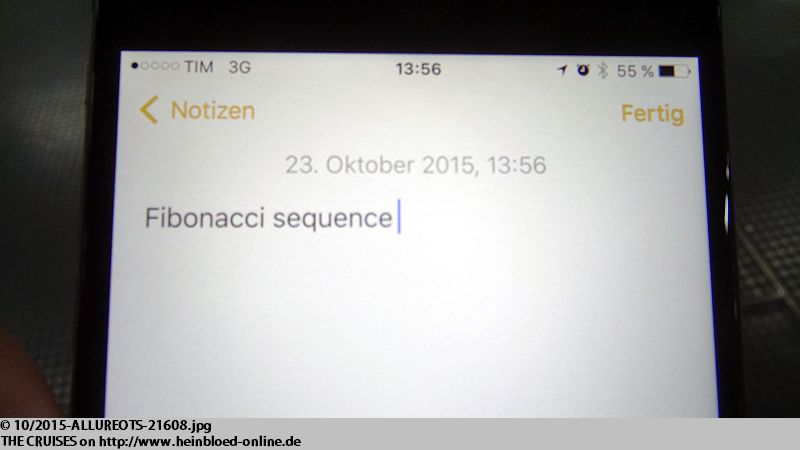 Wir fragen an der Aufsicht nach und man erklärt uns, dass es sich um die
Fibonacci-Folge
.
In unmittelbarer Umgebung gehen starten
drei Seilbahnen
, aber alle führen nur nach unten wieder. Keine weiter nach oben.

Close by, they had three cablecars but all three would take you downhill. None of them was taking you uphill.

The area around Vanvitelli metro station was a good-bourgeois area. Often an escalator led you upwards.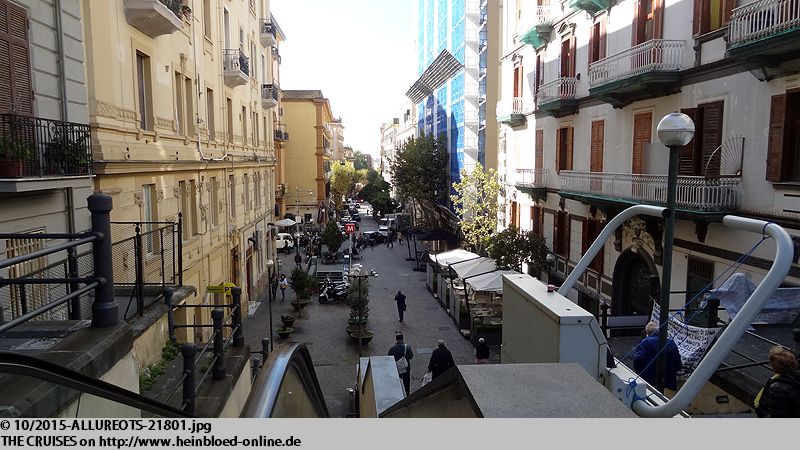 Die Gegend um den U-Bahnhof Vanvitelli ist eine gut-bürgerliche Gegend. Oft führt eine Rolltreppe aufwärts.
Schöne Ausblicke ergeben sich von hier.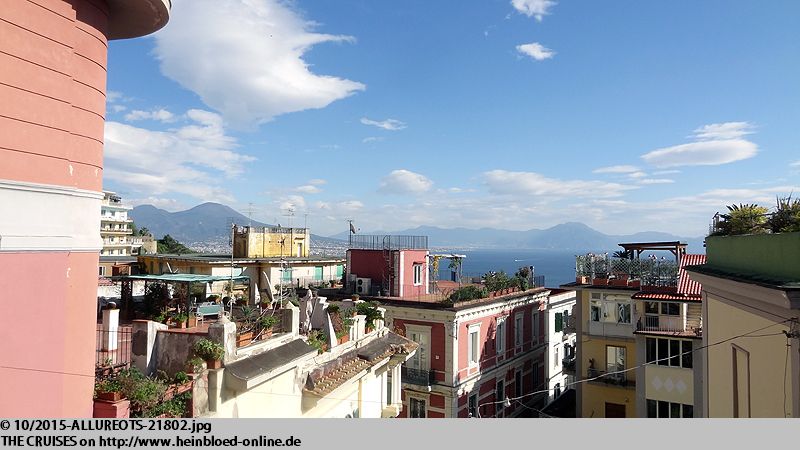 You had nice views from here.

Small shops were inviting you to browse.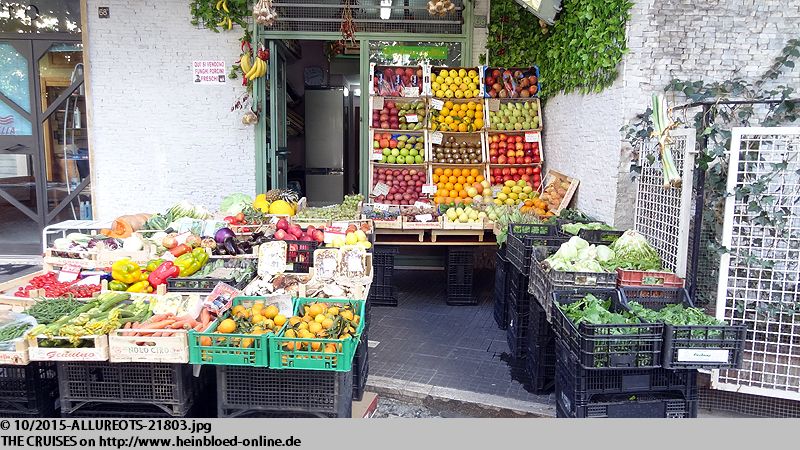 Kleine Geschäfte laden zum Gucken ein.
Aber auch ein großer
Carrefour
-Supermarkt.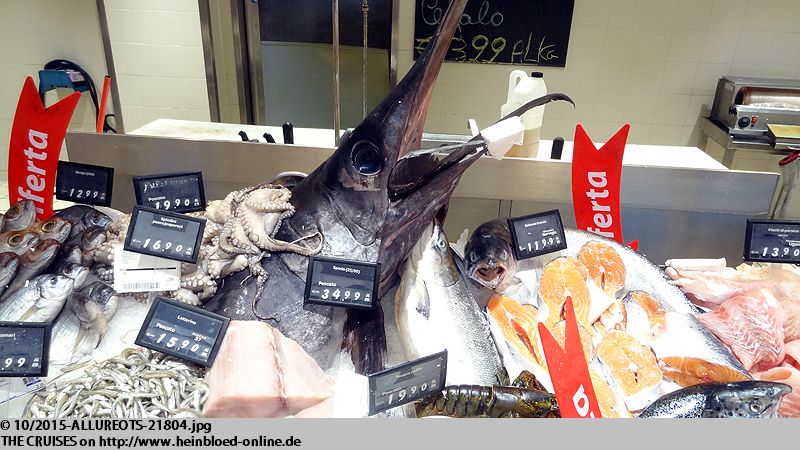 But also a large Carrefour-Supermarket.

There we also found my latest favorite snack Nutella B-ready.

Dort finden wir auch meinen neuesten Lieblingssnack
nutella B-ready
.
Es geht zum
Castel Sant'Elmo
.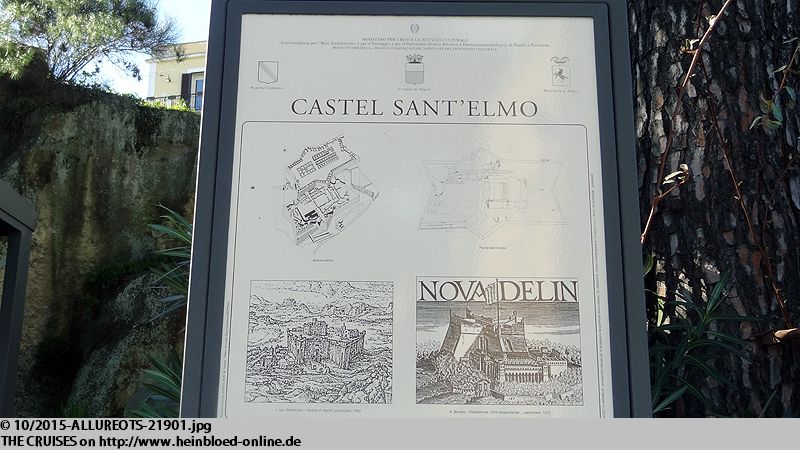 We were heading for Castel Sant'Elmo.

For 5 EUR (2015), you could head upward by an elevator.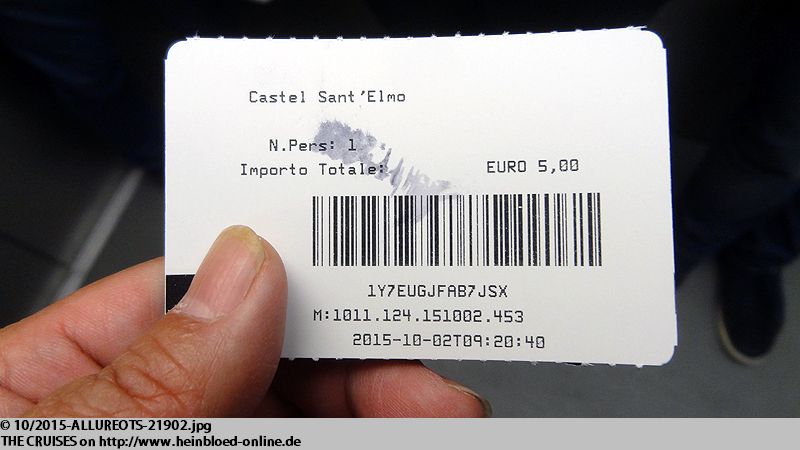 Für 5 EUR (2015) kommt man mit einem Fahrstuhl weiter hoch.
Oben kommen wir erst mal in einer Art Künstler-Dorf an.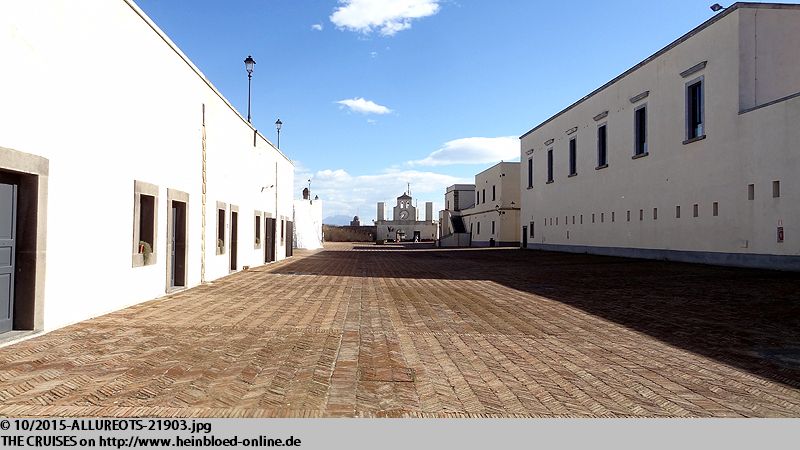 When we arrived up, there was a kind of village of artists.

The clock hands turned against each other, i.e., a part forward and a part backward.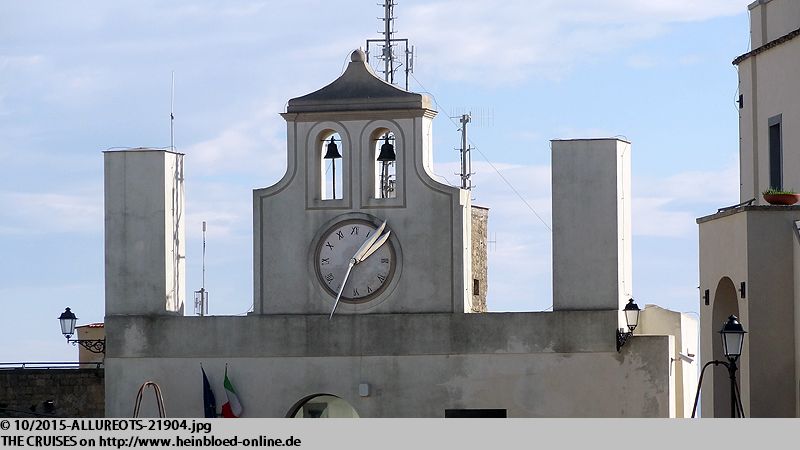 Die Uhrzeiger drehen sich gegeneinander, d.h. ein Teil vorwärts und ein Teil rückwärts.
Der Eintritt ist jeden Cent Wert. Der Ausblick auf den Hafen und auf den Vesuv ist fantastisch.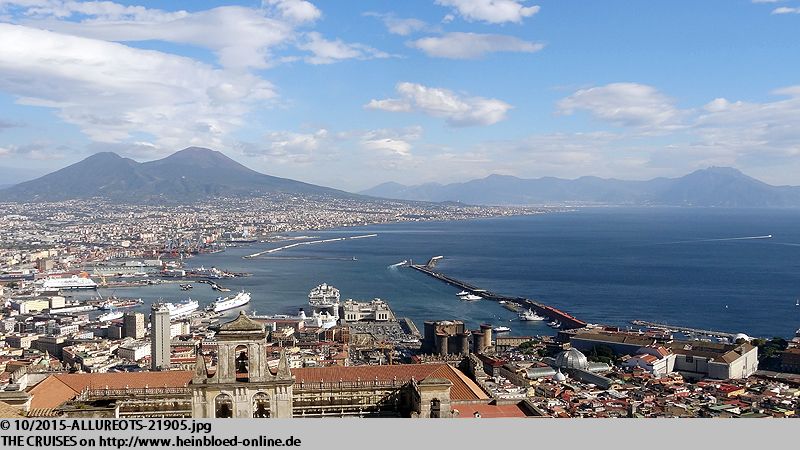 The admission fee was worth each cent. The view to the port and on Mount Vesuv was fantastic.

Opposite was Capri.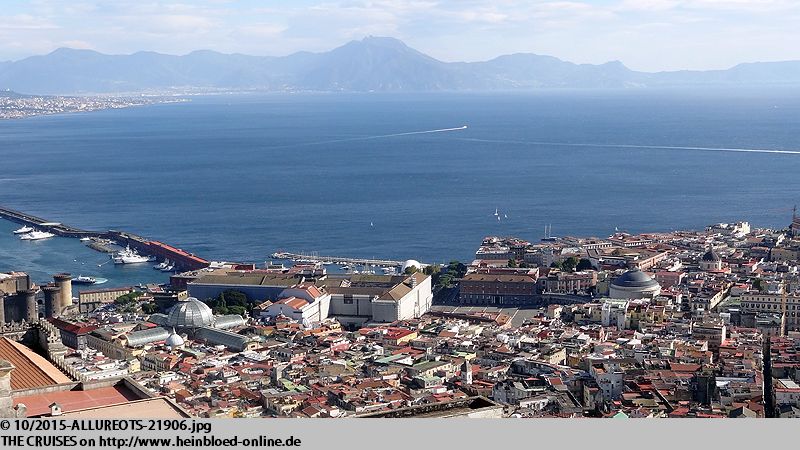 Gegenüber liegt Capri.


Just gorgeous.

Einfach fantastisch.
Ein Gebäude erkennt man immer wieder sofort: Galeria Umberto I.

One building was always easily to identify: Galeria Umberto I.

We did not go to the museum of the fortress: I was not welcome!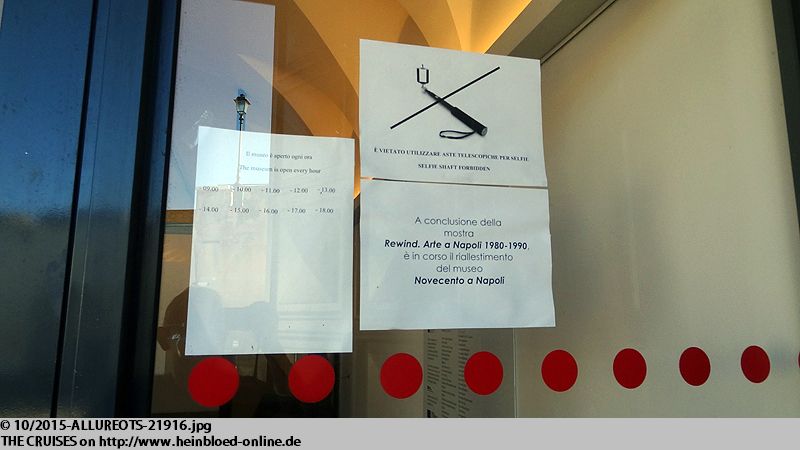 In das Museum in der Festung gehen wir nicht: Ich bin nicht willkommen!
Morgens konnten wir bereits Bilder von der ALLURE OF THE SEAS machen.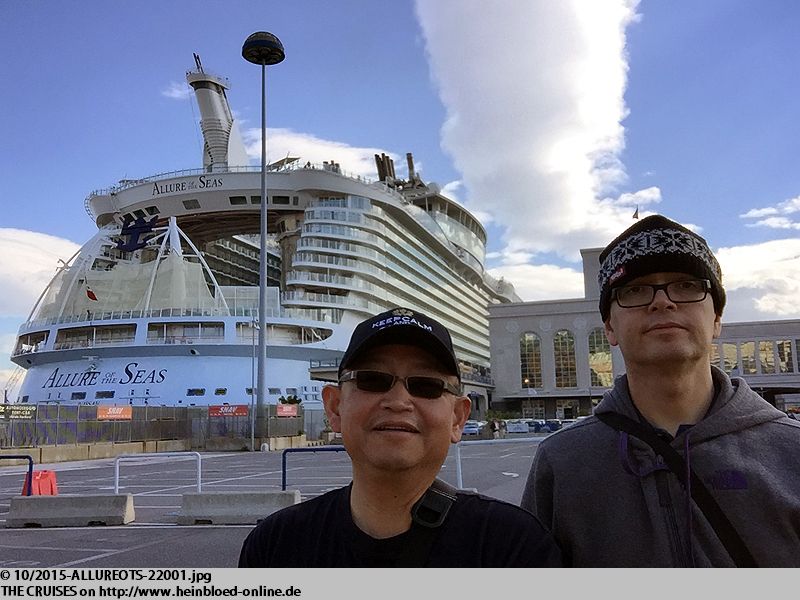 In the mroning we could already take pictures of ALLURE OF THE SEAS.

Somehow, I did not like them.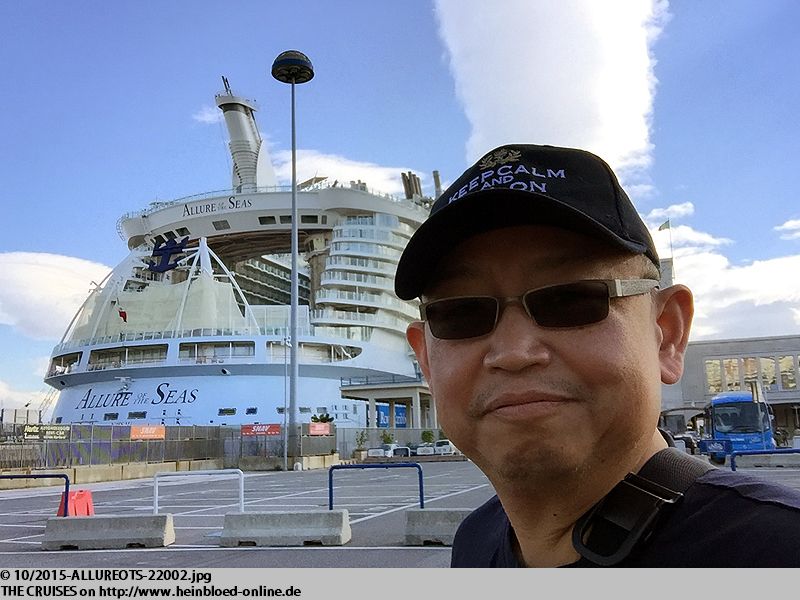 Irgendwie gefallen sie mir nicht.
Aber von hier oben. Und mit dem Vesuv im Hintergrund. Später gibt es nochmals eine kleine Serie als wir zum Schiff zurückkehren.

But from there on the top. And with Mount Vesuv in the background. Later we took another small serial when we returned to the ship.

By Centrale-Rope Car, we went downhill close to the port and Galeria Umberto I. Due to some construction work the lower station was hidden a little bit.

Mit der Centrale-
Standseilbahn
geht es runter in die Nähe des Hafens und der Galeria Umberto I. Durch die Bauarbeiten ist die Talstation etwas versteckt.
Nach wenigen Minuten sind wir auch wieder im
Gran Caffe Gambrinus
. Das kennen wir seit unserem letzten Besuch in Neapel mit der
NORWEGIAN JADE 2014 (1)
. Aber heute ist keine Granita im Angebot. Da uns vom vielen Laufen die Füße weh tun, akzeptieren wir den dreifachen Preis im Bedienteil des Cafés. Wir haben Glück. Wegen einer Privatveranstaltung sind wir die letzten Gäste, die dort noch akzeptiert werden. Alle Gäste nach uns, dürfen nicht mehr in den hinteren Teil des Cafés.

After a few minutes, we were back in the Gran Caffe Gambrinus. We knew this since our last visit to Naples on NORWEGIAN JADE 2014 (1). But today Granita was not offered. Since our feet hurt from walking, we accepted the three times price in the serviced lounge. We were lucky. Because of a private event, we were the last guests who were still accepted there. All guests after us were no longer allowed to join the back part of the cafe.

We were glad we made it. After us, another art-interested German couple came who was upset that both could not stay.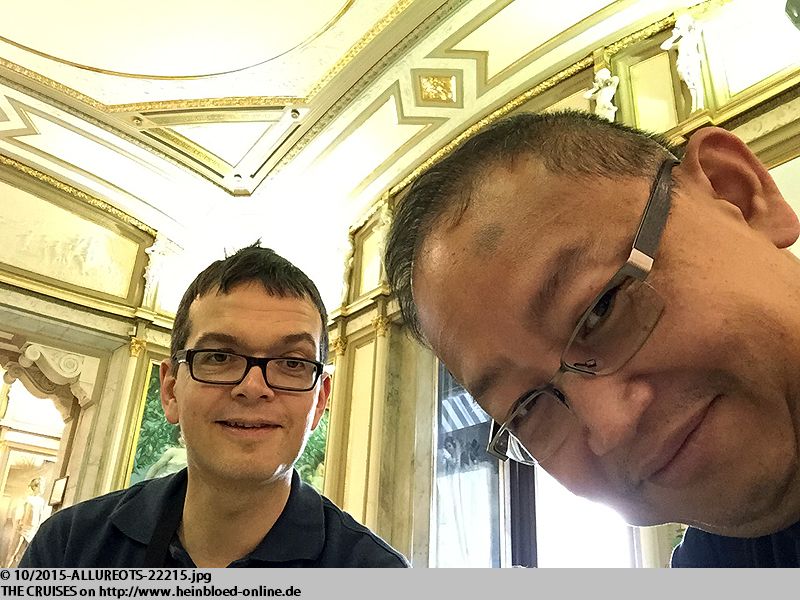 Wir sind froh, dass wir es geschafft hatten. Nach uns kam noch ein anderes kunstinteressiertes deutsches Paar, die sauer sind, dass sie nicht bleiben dürfen.
Bruno ist etwas enttäuscht, weil mit dem ersten Cappuccino nicht alles in Ordnung ist. Der Kellner will zunächst nicht. Aber der Oberkellner entscheidet, dass Bruno einen frischen Cappuccino bekommt, der auch gut ist.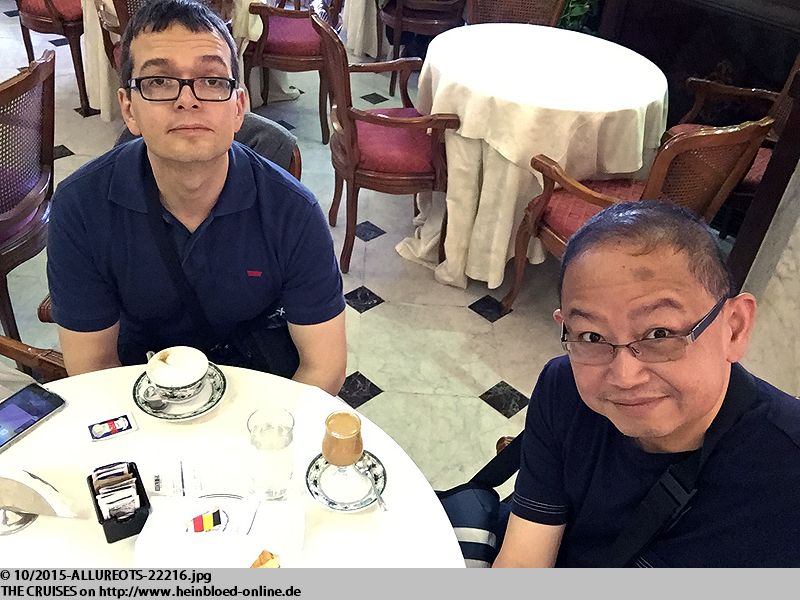 Bruno was a bit disappointed because the first cappuccino was not all right. The waiter ignored it. But the head waiter decided that Bruno should get a fresh cappuccino, which was good indeed.

It was charming.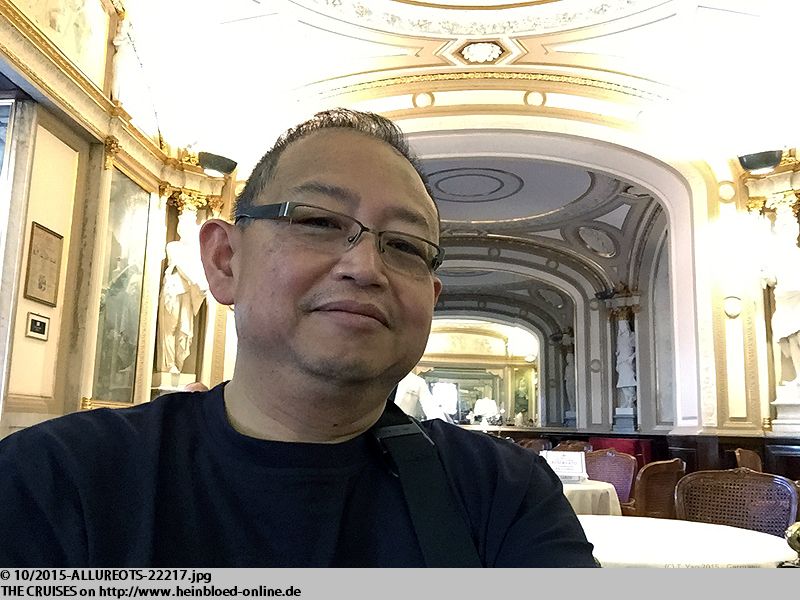 War wirklich nett.
Den Rückweg zum Schiff treten wir über einen anderen Weg an.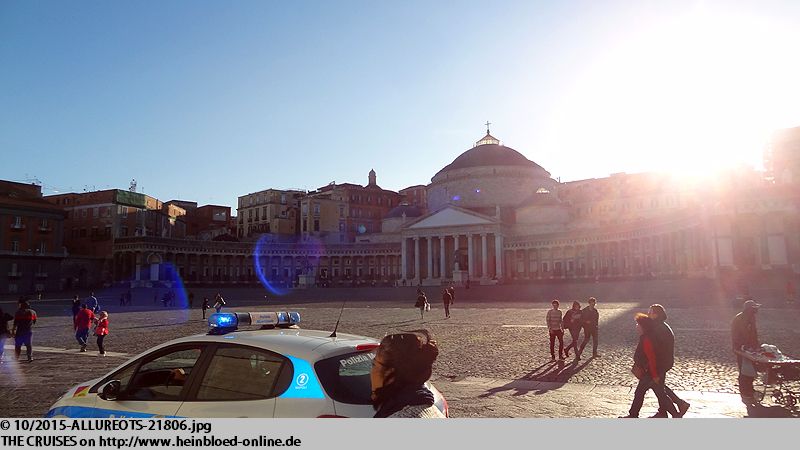 We used a different way to return back to the ship.

So an elevator attracted our attention, which took us directly to the port.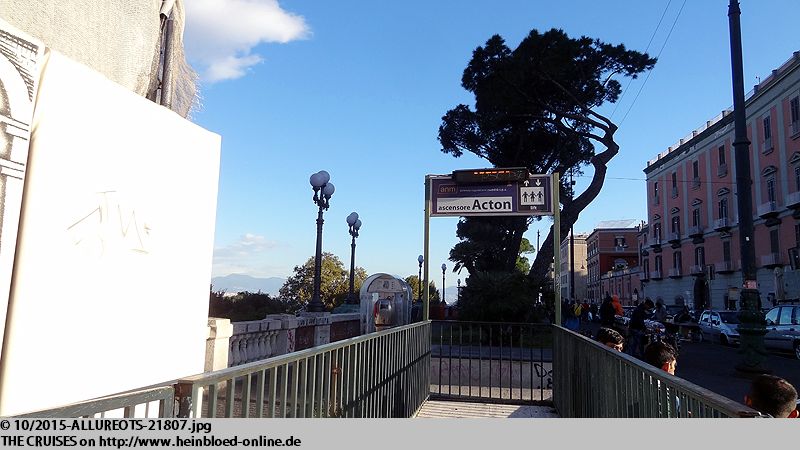 Dabei fällt uns ein Fahrstuhl auf, der direkt zum Hafen führt.
Den darf man auch schon ohne Fahrschein nutzen, obwohl er von den
städtischen Verkehrsbetrieben ANM
betrieben wird.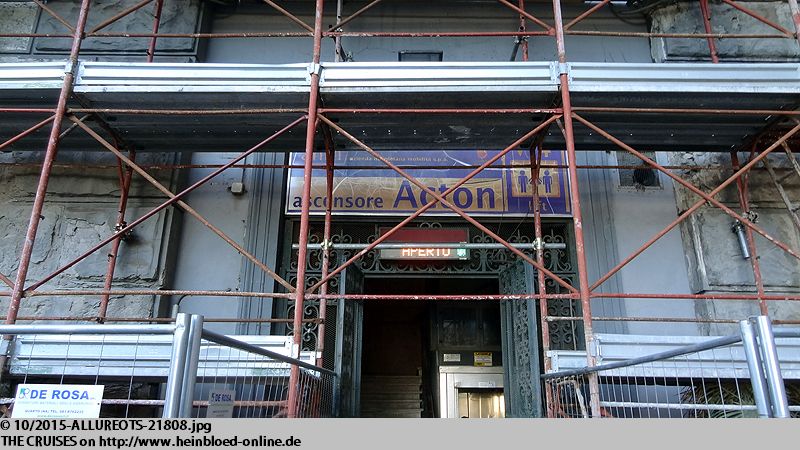 You were allowed to use it without tickets, although it was operated by the city transport company ANM.

Soon, we were back on the ship and watched the crowded board life again.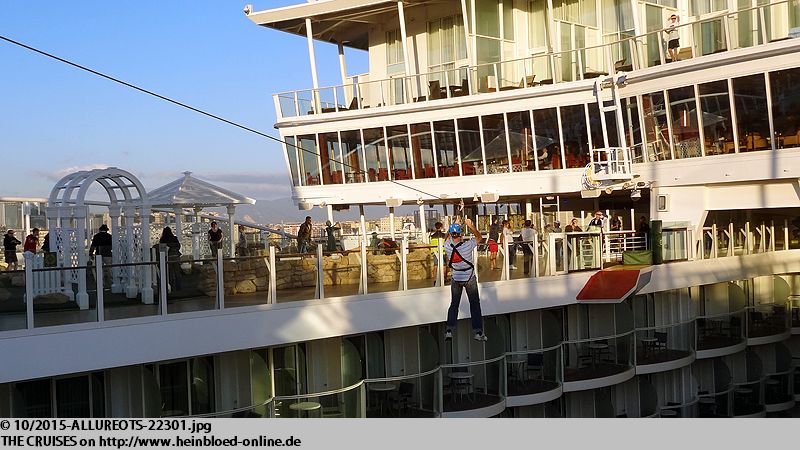 Bald sind wir auch wieder zurück auf dem Schiff und gucken wieder dem Trouble auf dem Schiff zu.
Unten läuft das Karrussel, aber es ist mir zu weit, um dahinzulaufen und einmal mitzufahren.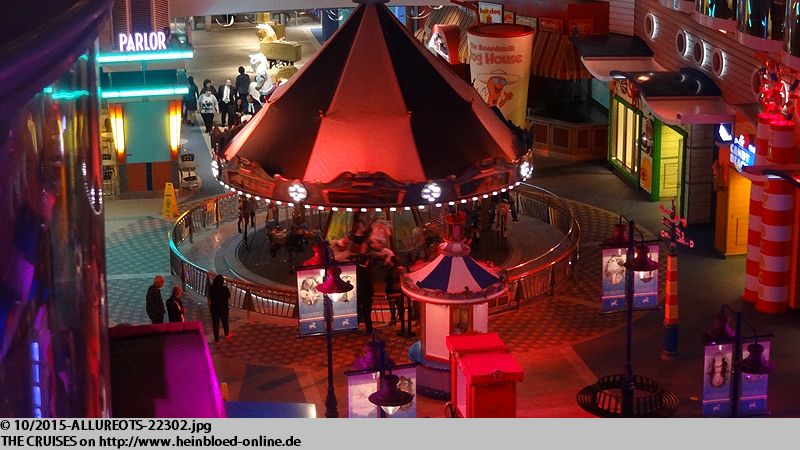 There was the mary-go-round running. But it was too far to walk there and to join for a round.

And soon it was again time for off the anchor.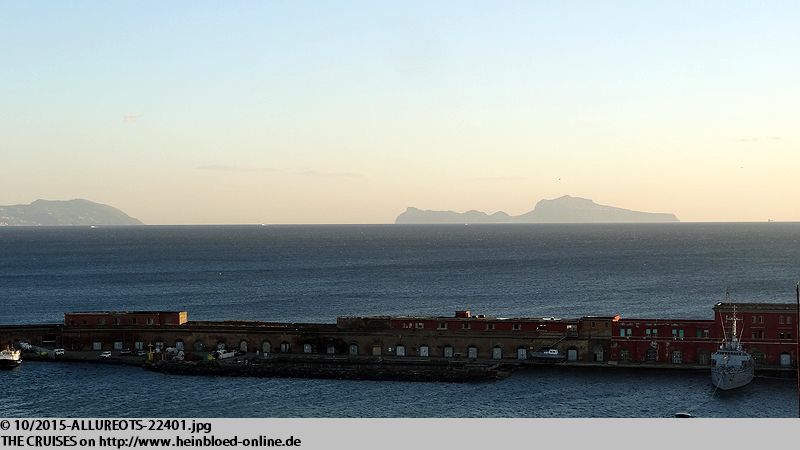 Und dann heißt es auch schon bald: Anker los.
Ciao Bella Napoli.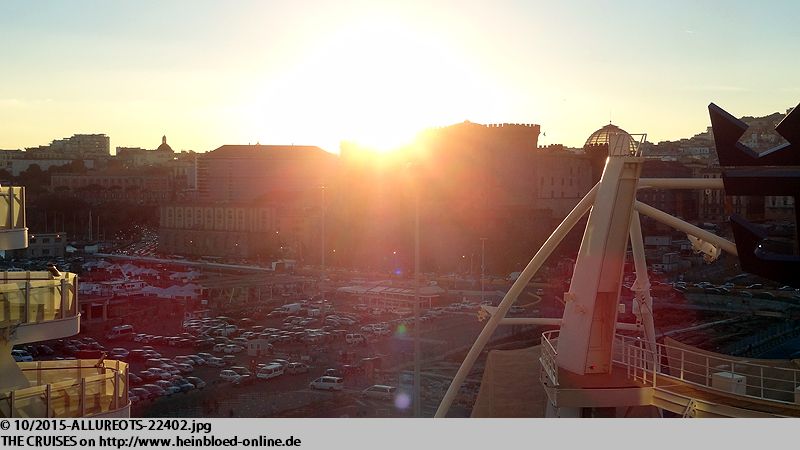 Ciao Bella Napoli.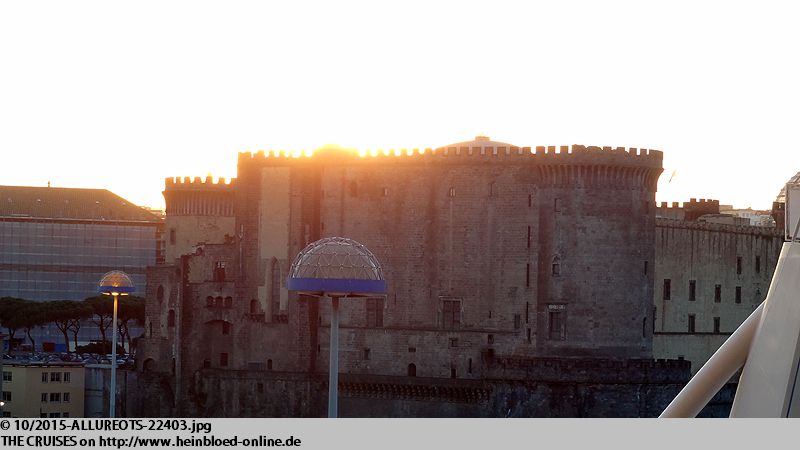 20:45 Uhr = 2. Tischzeit im Grande. Unser Tisch ist etwas versteckt. Typisch bei Royal Caribbean: die 2-er Tische sind nie in einer schönen Lage, wie bei Norwegian. Im Gegensatz wie auf der
QUANTUM OF THE SEAS 2014
sind Grande, Silk und American Icon typische Hauptrestaurants mit täglich wechselnden Menüs. Ärgerlich immer: Surf und Turf kostet 34.95 USD plus 18% (2015) extra. Noch ärgerlicher: Auch bei Norwegian wird diese Unart eingeführt. Was ich bei Royal Caribbean nicht mag: man beginnt immer erst mit dem Service, wenn alle Gäste der Service-Station da sind. Von den bisher 79 Fahrten waren nur 4 mit Royal Caribbean. Deswegen vermissen wir den Service, den
WIR
von den anderen gewohnt sind. Das Essen selbst war ganz gut.

20:45 hrs = 2nd sitting in the Grande. Our table was a bit hidden. Typical of Royal Caribbean: the tables for two were never in a good location, as with Norwegian. In contrast to the QUANTUM OF THE SEAS 2014, Grande, Silk, and American Icon were the main dining rooms with daily changing menus. Always annoying: surf and turf cost 34.95 USD plus 18% (2015) extra. Even more annoying: Even with Norwegian, this nonsense was introduced. What I did not like about Royal Caribbean: they always started with the service, when all guests of the service station were present. Of the 79 trips so far, only 4 were with Royal Caribbean. That was why we missed the service that WE used to from the others. The food itself was quite good.

Since we could only eat in the Grande this evening because of the theater reservations, our waiters got a few dollars in cash. For the next day, we supposed to see if they actually would give us a table during the open sitting.

Da wir wegen der Theaterreservierungen nur heute Abend im Grande essen können, bekommen auch unsere Kellner ein paar Dollar in bar. Morgen wollen wir sehen, ob sie uns tatsächlich einen Tisch während der offenen Tischzeit geben.
An das American Icon verbinde ich ja auch sehr angenehme Erinnerungen von der
QUANTUM OF THE SEAS 2014
her: Dejan, der mir damals den Service gegeben hat, wie ich ihn eben her auch von den anderen Gesellschaften her kenne. Leider hat er gerade Urlaub. Die Production Shows laufen um 21.00 Uhr und 23.00 Uhr. Für uns ist 23.00 Uhr zu spät. Daher müssen wir morgen um 21.00 Uhr da hin und daher nicht nochmals zu unserem Tisch. Aber zum Glück gibt es jetzt auch die Anzeigen über die Restaurantbesetzung, die wir bereits von Norwegian her kennen.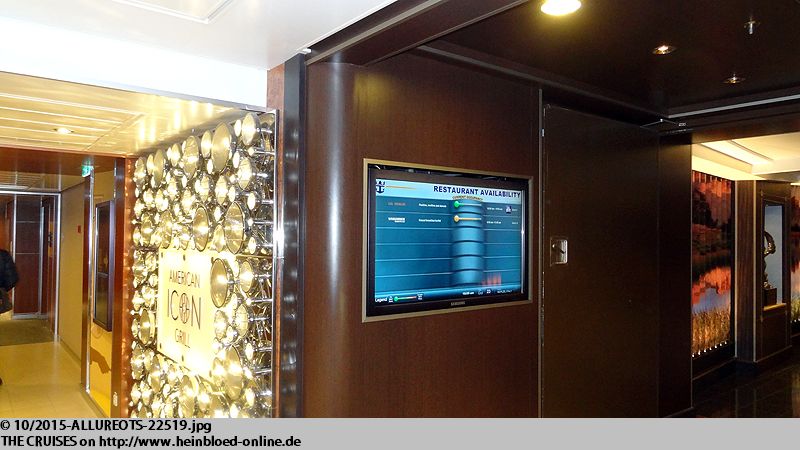 I also associated the American Icon with enjoyable memories of my voyage on QUANTUM OF THE SEAS 2014. Dejan, who gave me the service then, just as I was familiar with other companies. Unfortunately, he was on vacation. The production shows were running at 21:00 hrs and 23:00 hrs. For us, it is 23:00 hrs too late. Therefore we had to go there tomorrow at 21:00 and therefore we would not return to our table. But fortunately, there were now the ads about the occupation of the restaurants, which we already knew from Norwegian.
Die anderen Reisen in diesem Blog/
The other voyages in this blog: