Scroll down for English explanations - alternates with German explanations.

Auch an Bord der DELPHIN VOYAGER gab es ein Frühaufsteher-Frühstück.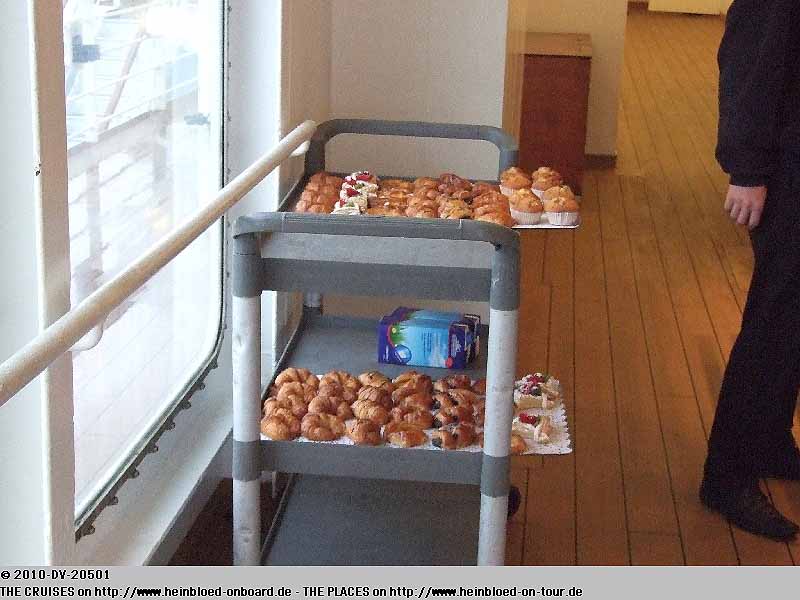 Also on board of DELPHIN VOYAGER you got an early bird breakfast.

But due to lack of an indoor self-service restaurant you got it at the pool deck what was not very comfortable.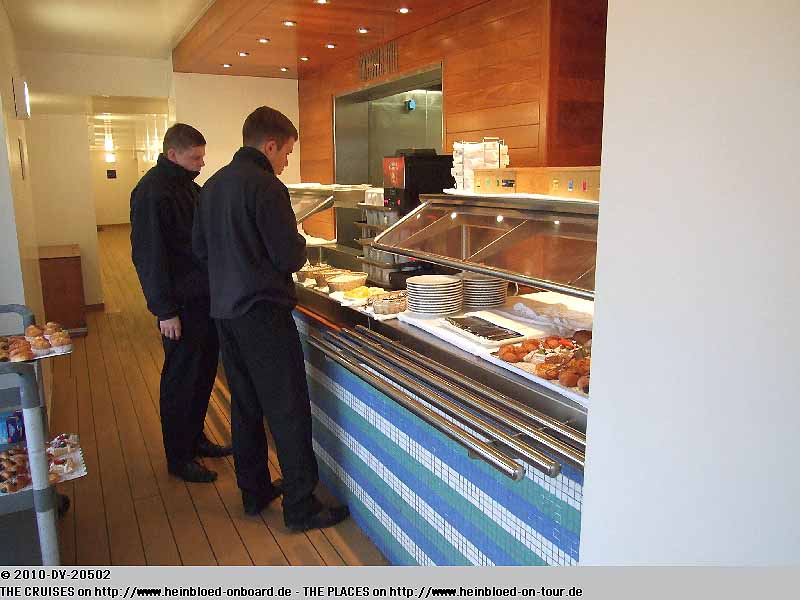 Allerdings mangels innenliegendes SB-Restaurant am Pool-Deck, was nicht besonders gemütlich war.
Aber dick eingemümmelt mit einem Käffchen und einem Hörnchen, ließ es sich auch bei kühler Witterung sich es auf dem Pooldeck aushalten.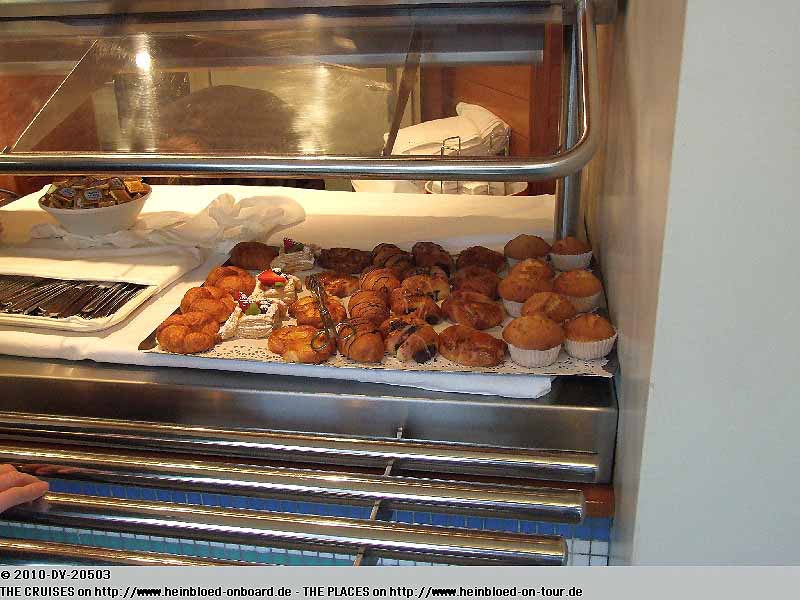 But if you are properly dressed up warm you can enjoy the coffee and croissant even with this colder weather on the pooldeck.

I can become again jealous if I can read already what we will miss once left the ship in Kiel.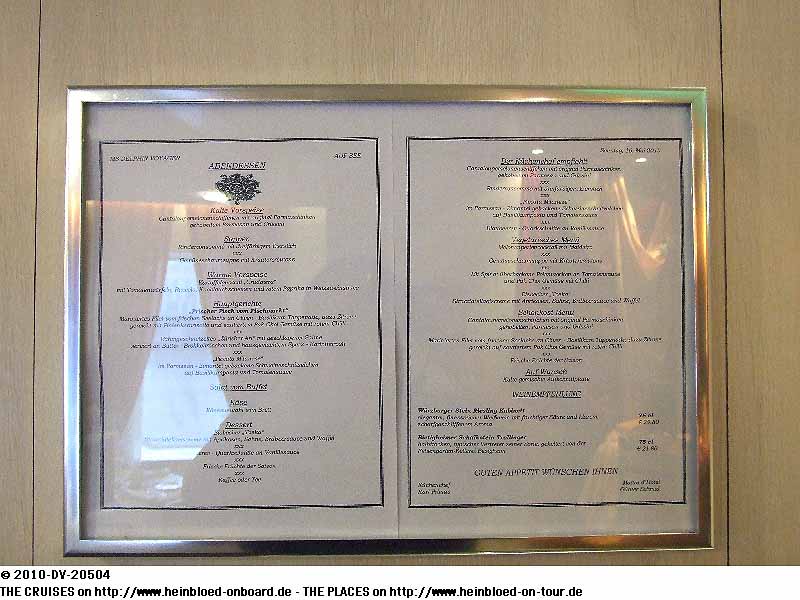 Unten kann ich nochmals neidisch werden, wenn ich erfahre, was wir vermissen werden, wenn wir in Kiel von Bord gegangen sind.
Damit wir das verschmerzen, gibt es morgens schon Sekt oder Sekt-Orange zum Trost.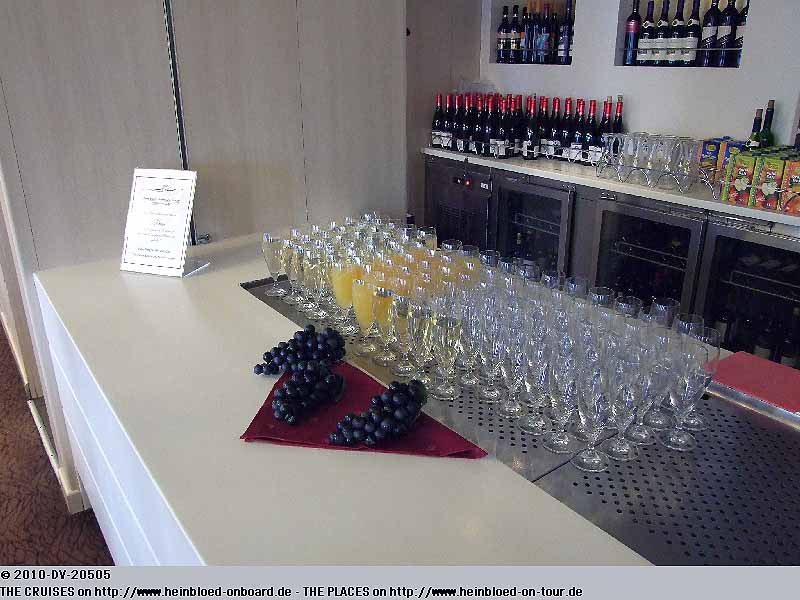 To avoid our pain you had champagne or mimosa.

Who did not find anything occured himself a problem.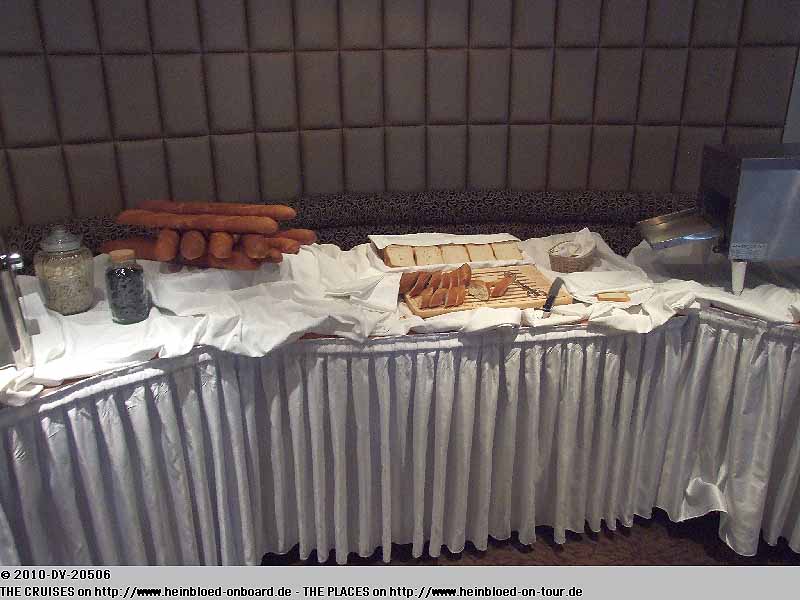 Wer hier nichts fand, war selbst Schuld.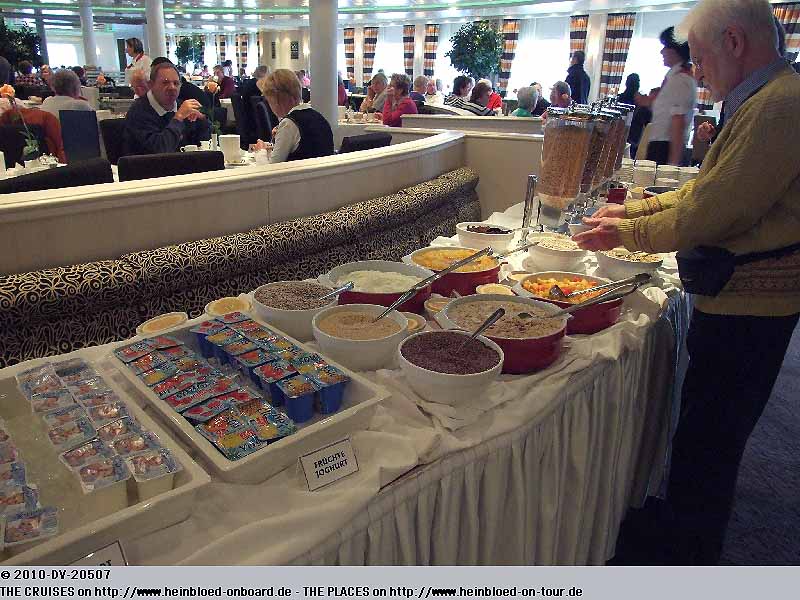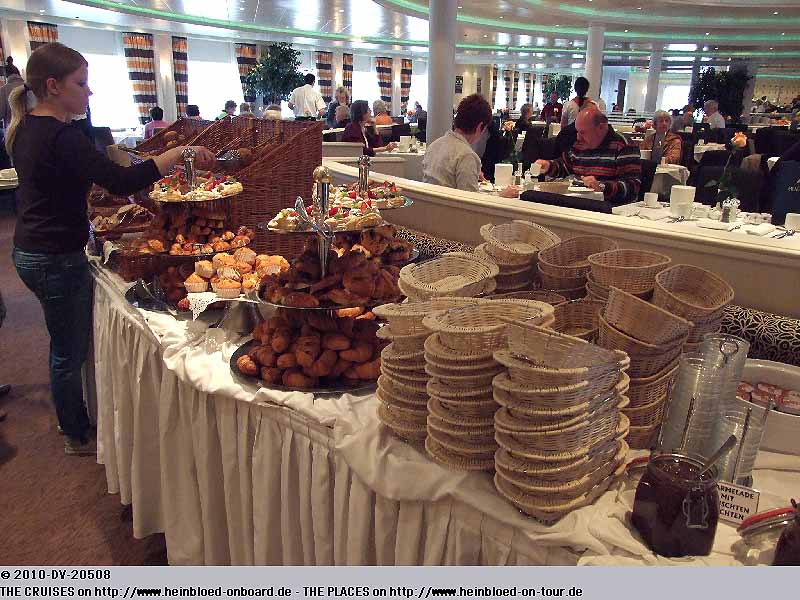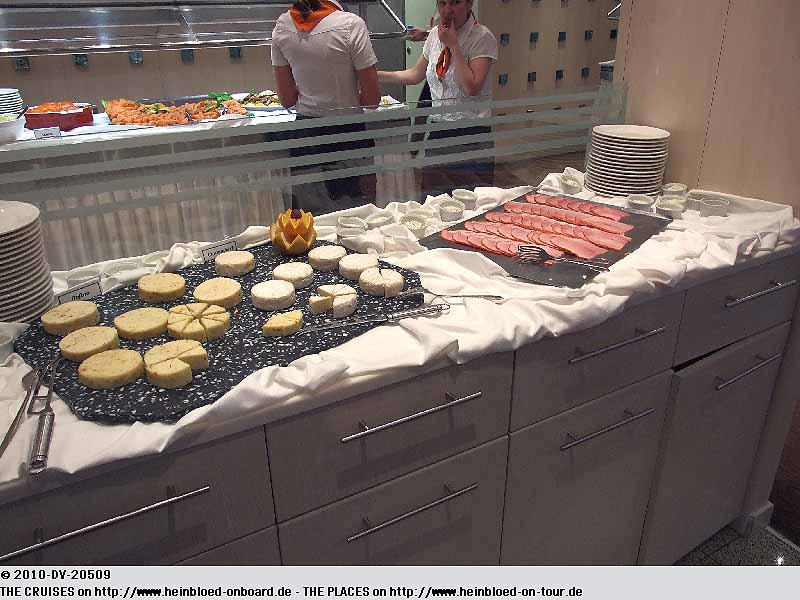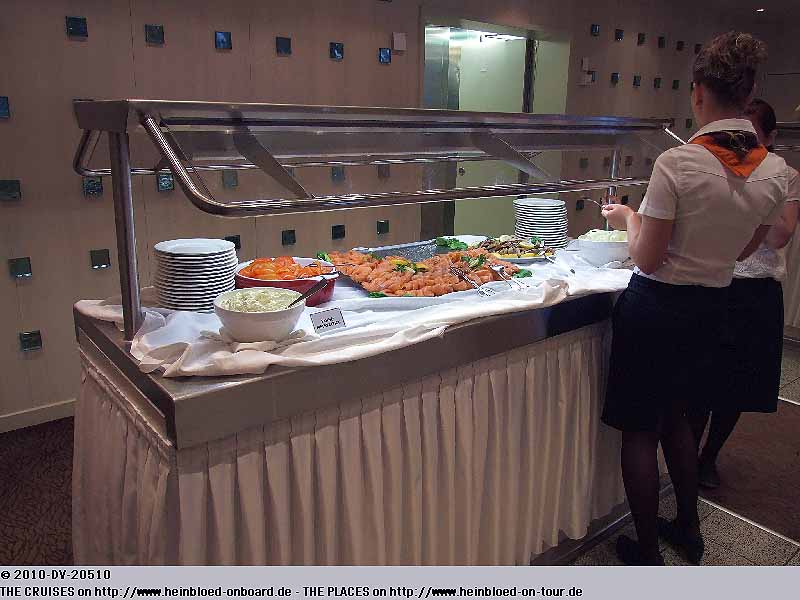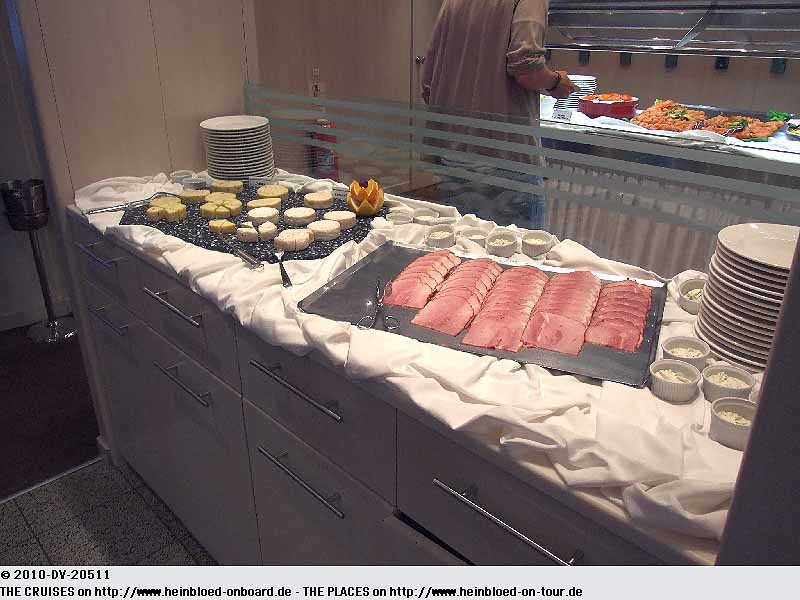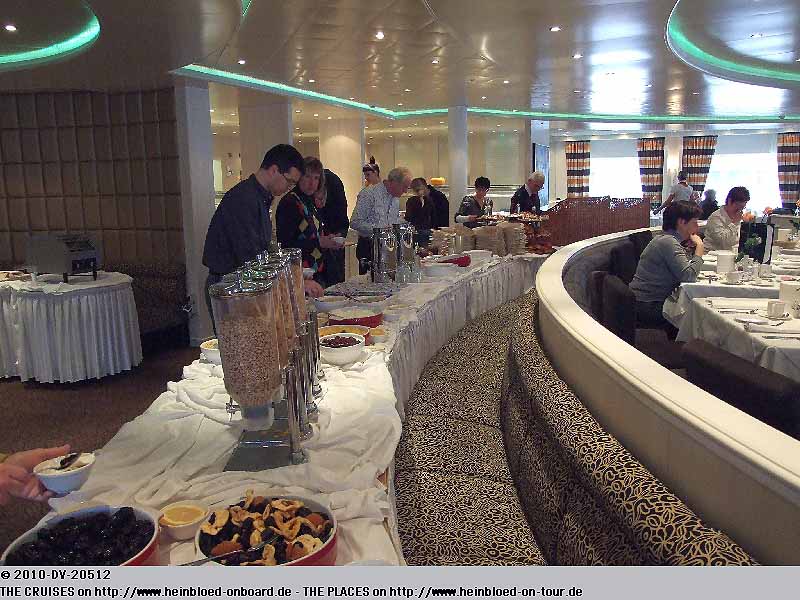 Many cruise lines said that they have exotic fruits but they were talking about melons only.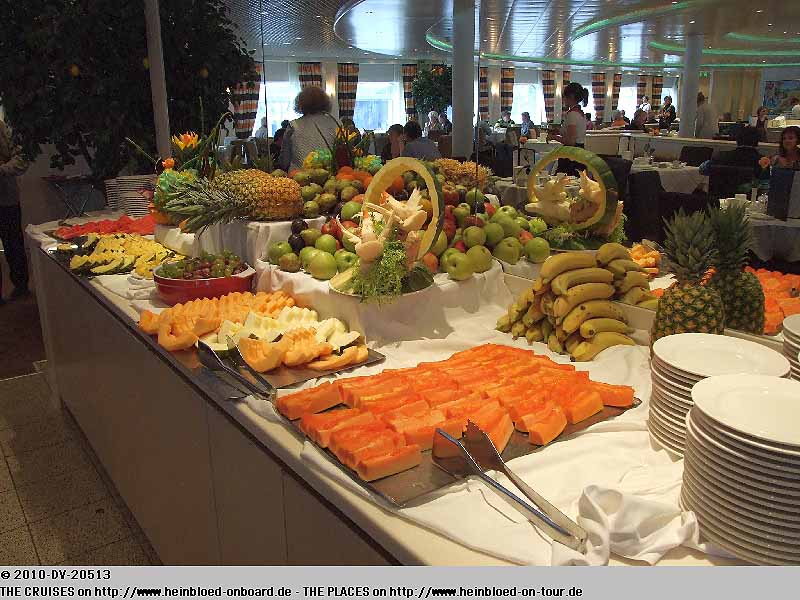 Viele Kreuzfahrtgesellschaften behaupten, dass sie exotische Früchte hätten und dann bekommt man ein paar verschiedene Sorten Melonen.
Bei DELPHIN VOYAGER stimmt es sogar.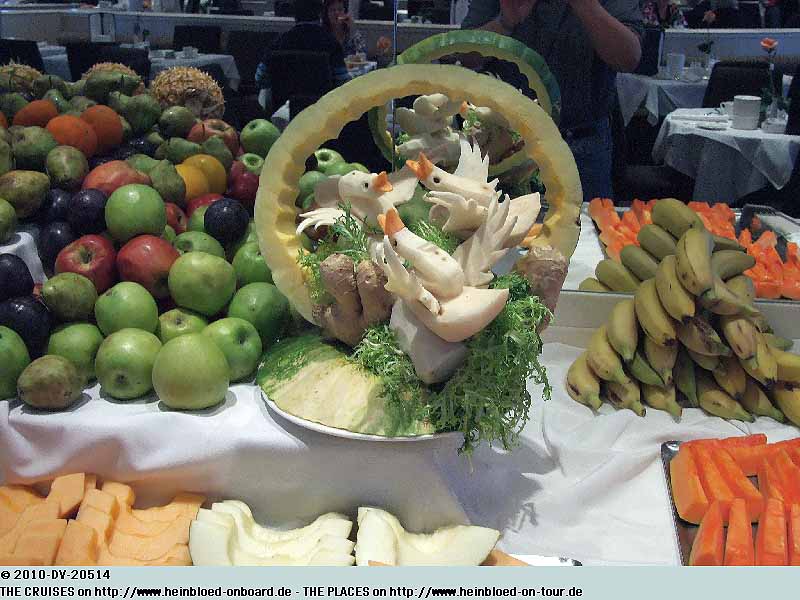 But on DELPHIN VOYAGER they really had.

1. I could not remember when I had such a fruit buffet which was arranged with love and passion...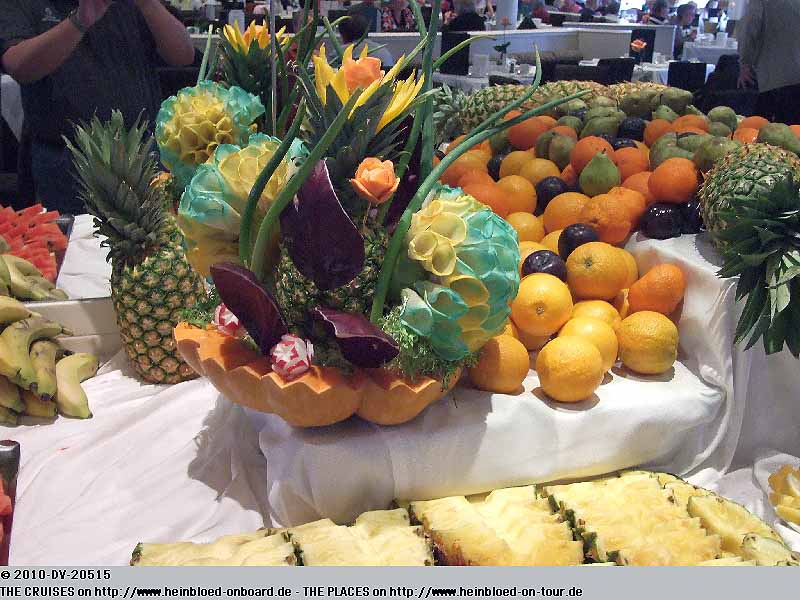 1. kann ich mich nicht daran erinnern, wann ich zuletzt so ein liebevoll errichtestes Obstbüffet gesehen habe...
2. kann ich mich nicht daran erinnern, wann ich überhaupt Papayas auf einem Kreuzfahrtschiff bekommen habe...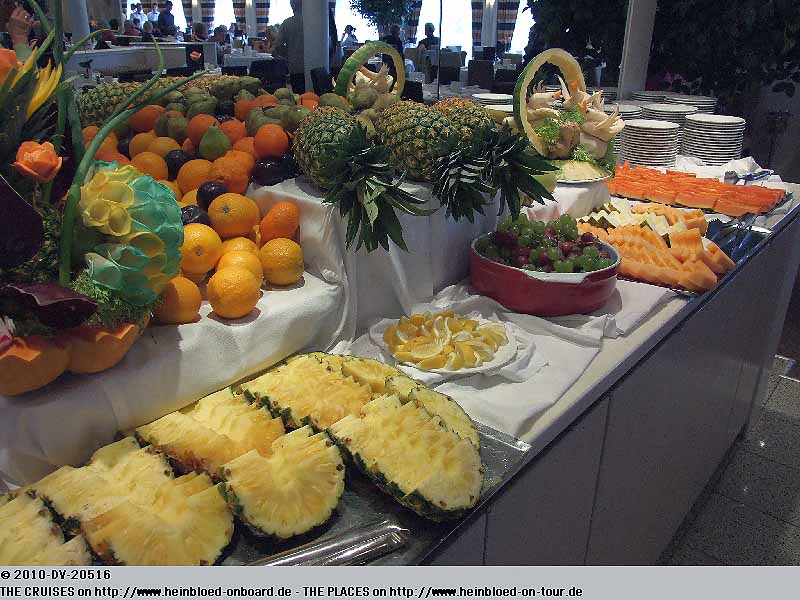 2. I could not remember any cruise where I get some fresh Papayas on a cruise ship.

Who still was unable to find something could order something from the menu.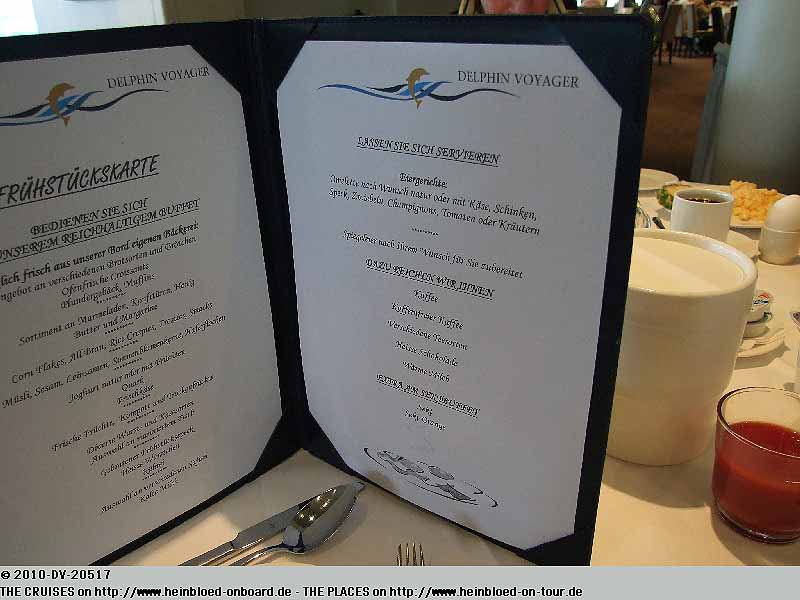 Und wer immer noch nichts gefunden hatte, konnte sich ja immer noch etwas aus der Karte bestellen.
Ich hatte mir noch ein Omelette bestellt. Die Frage nach Egg Benedict auf Lachs zu stellen, habe ich mich doch nicht getraut und ist nun mal eine Sache, die es nur bei NCL gibt.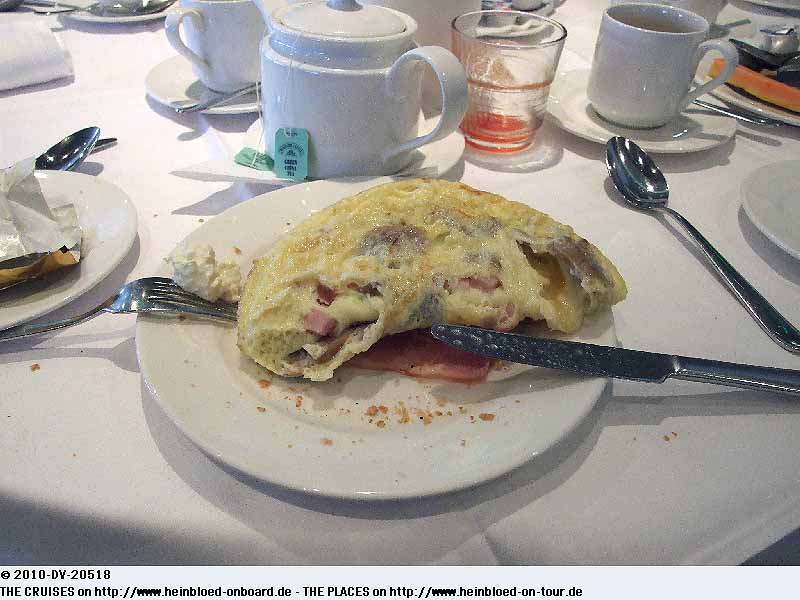 I ordered an omelette. I had not the heart to ask for an Egg Benedict on salmon as this is something you only get on NCL.

I thought it was raining heavily when we had our breakfast. But I was informed that it was the automatic window washer without wiper.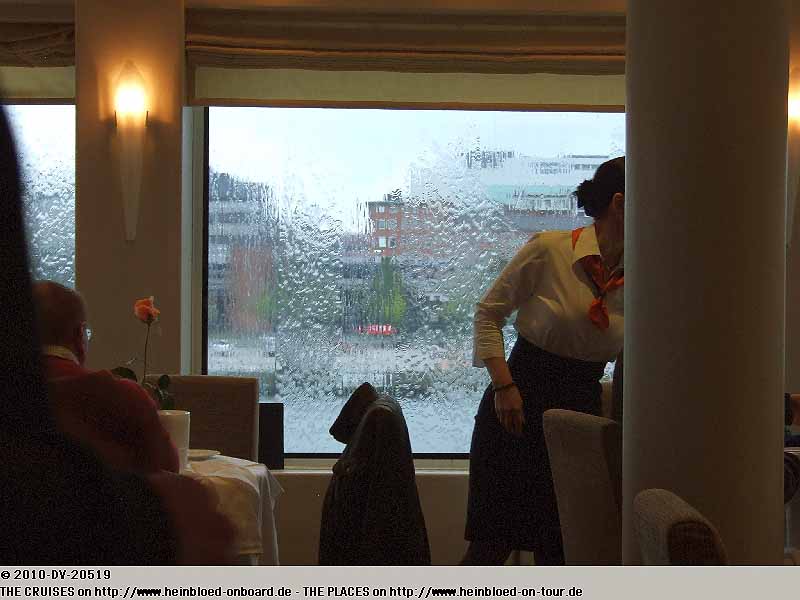 Ich dachte eigentlich, dass es stark regnete während wir beim Frühstück saßen. Allerdings wurde ich aufgeklärt, dass es sich hierbei um die Scheibenwaschanlage ohne Scheibenwischer handelte.
Draußen gab es noch einen Blick auf die MSC ORCHESTRA beim Drehen.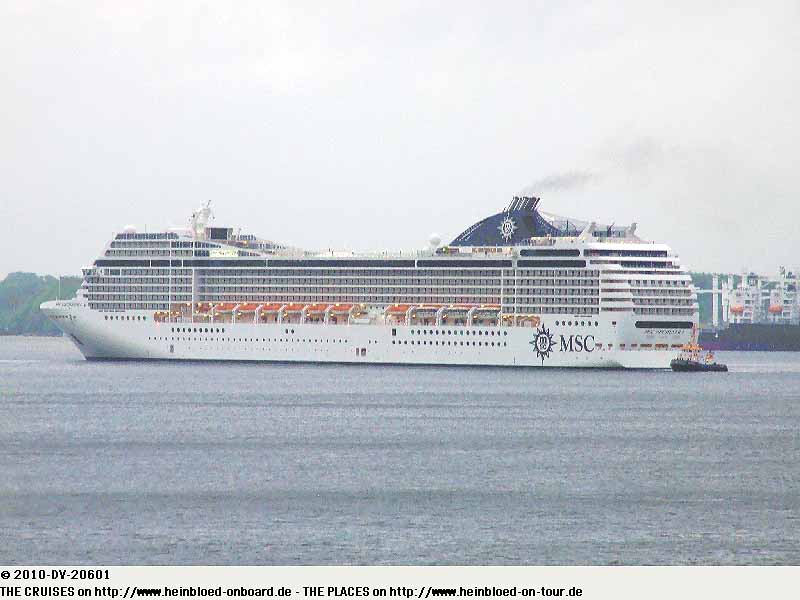 Outside you had a great view to MSC ORCHESTRA who turned around.

But FUNCHAL was so small that I had no chance to get better pictures of her with my camera.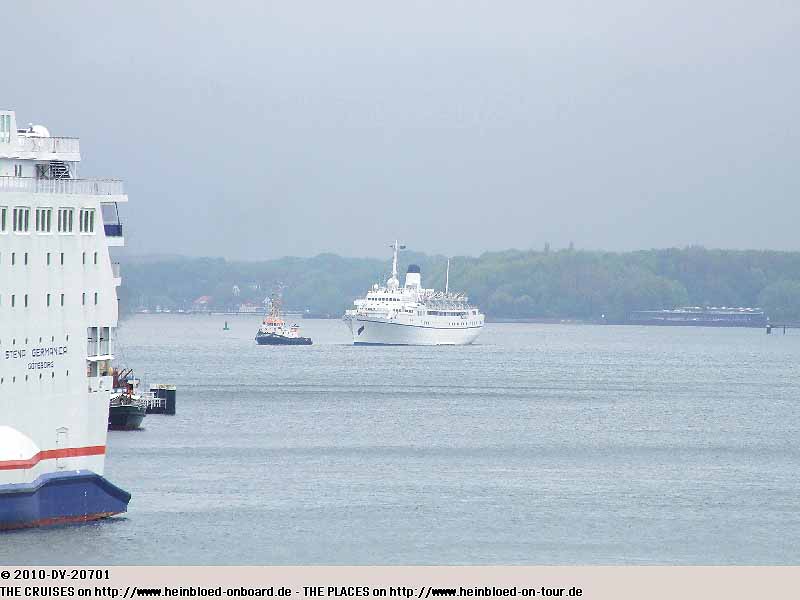 Nur die FUNCHAL ist so klein, dass ich es mit meiner Kamera nicht besser hinbekomme.
Am liebsten hätte schon meine ganze Gruppe vorgeschlagen, dass wir noch ein bisschen Fördefähre fahren, aber da hätte ich mich kaum durchgesetzt...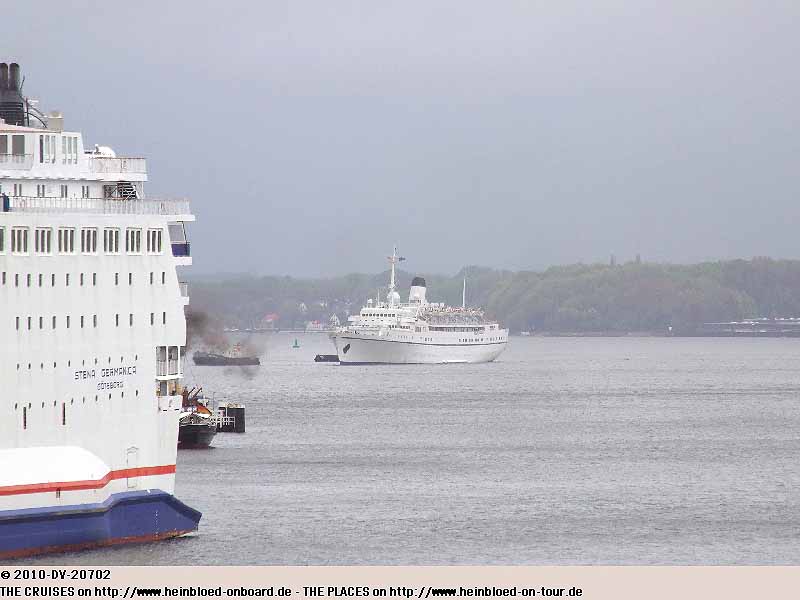 I would liked to propose to use the Kiel Fjord ferry but I did not have a chance to overrule all the others.

We considered to use CIC when we thought about a Red-Sea-Cruise but somehow we cancelled again.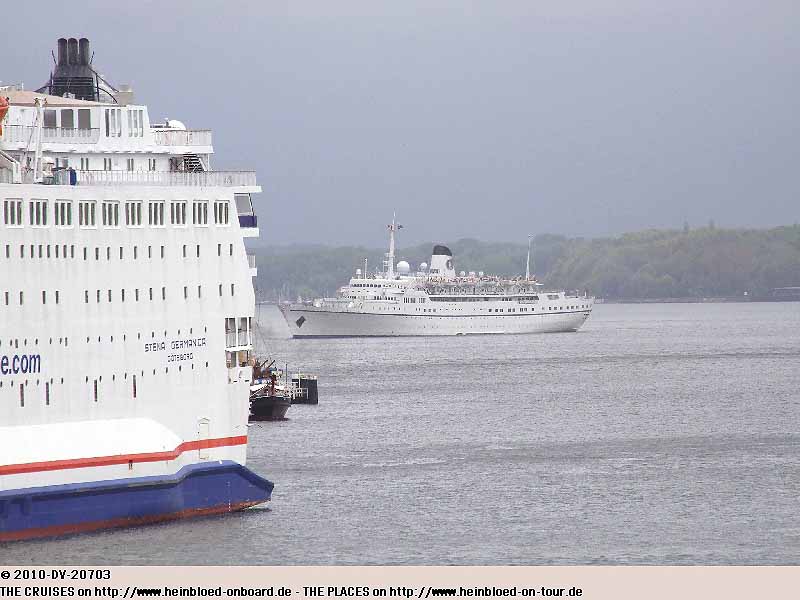 Wir hatten ja mal CIC ins Auge gefasst im Rahmen einer Roten-Meer-Tour, aber irgendwie wieder Abstand gewonnen.
Da ich keine Lust hatte, bis zum Fördefähranleger zu laufen, gibt es heute keine Ganzaufnahme von unserer DELPHIN VOYAGER, die wir verlassen mussten.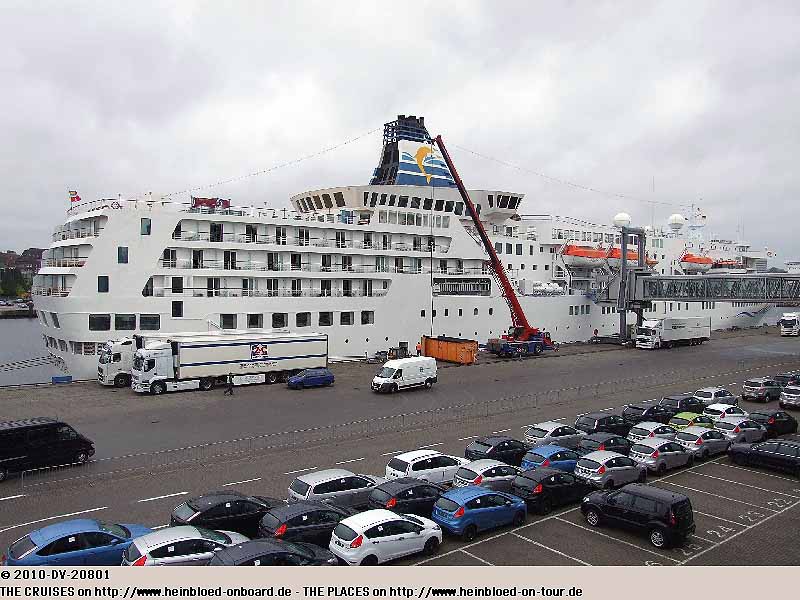 As I did not want to walk to the ferry pier I had no total picutre of our DELPHIN VOYAGER which we need to leave.

Downstairs our bus was waiting for us: the best location you can get at the terminal.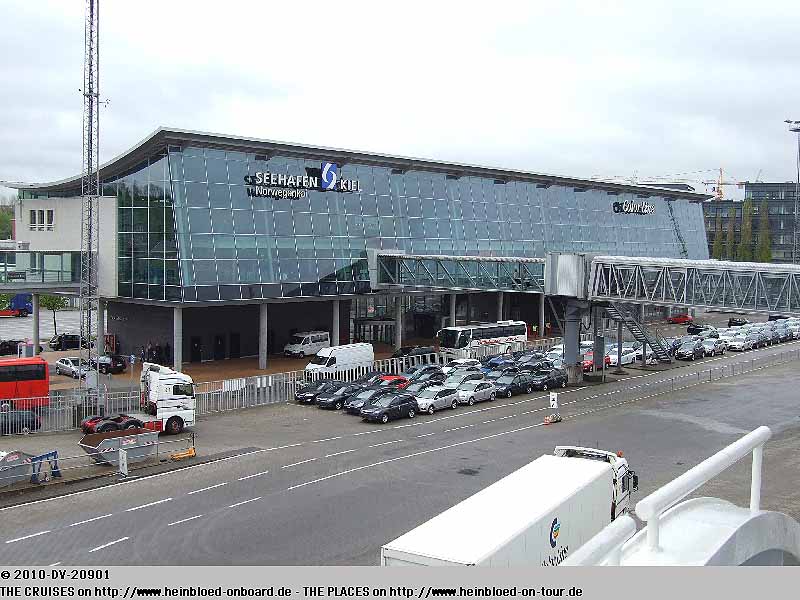 Dort unten wartet schon unser Bus: beste Position am Terminal.
Und was passiert, wenn wir einfach diesem Pfeil folgen???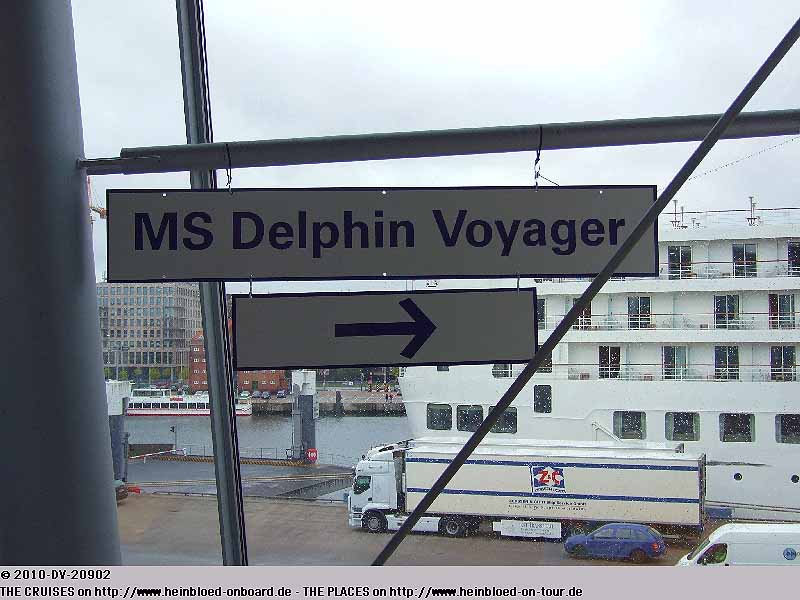 And what happened if we follow the arrow???

We went to Travemünde. On the way it rained dogs and cats but the moment we arrived by bus everything was dry again.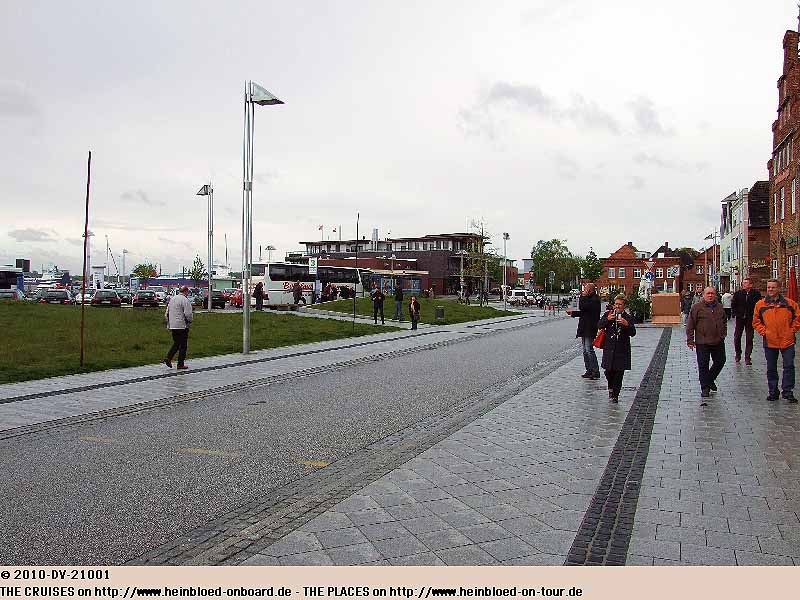 Wir fahren nach Travemünde. Unterwegs hat es in Strömen geregnet, aber in dem Augenblick als wir aus dem Bus steigen, ist alles trocken.
Weil es so windig ist, führt uns der erste Weg zu
Niederegger
.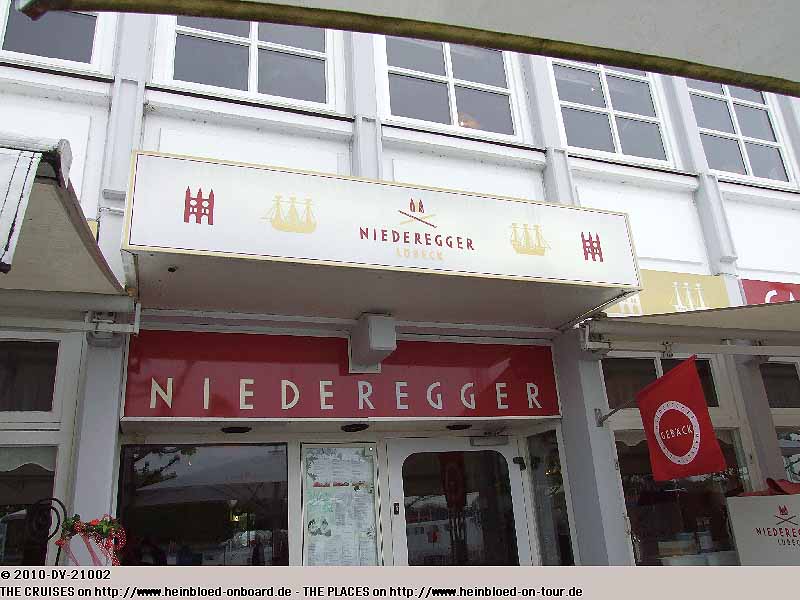 Because it was so windy our first turn took us to Niederegger.

Instead of lunch we had some nice coffee and cake...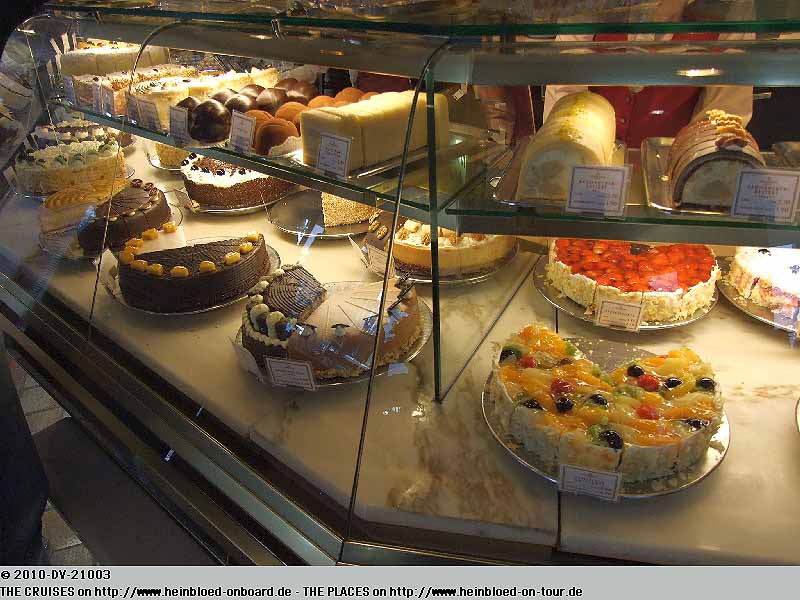 Statt Mittagessen gibt es Käffchen und ein Stückchen Kuchen...
und den Blick auf die ASTOR, ARKONA, ASTORIA oder heute SAGA PEARL II... Bruno meint noch praktischer kann man nicht anlegen: Vom Ostpreußenkai bis hier zu Niederegger schafft es jeder sogar mit seinem Rollator...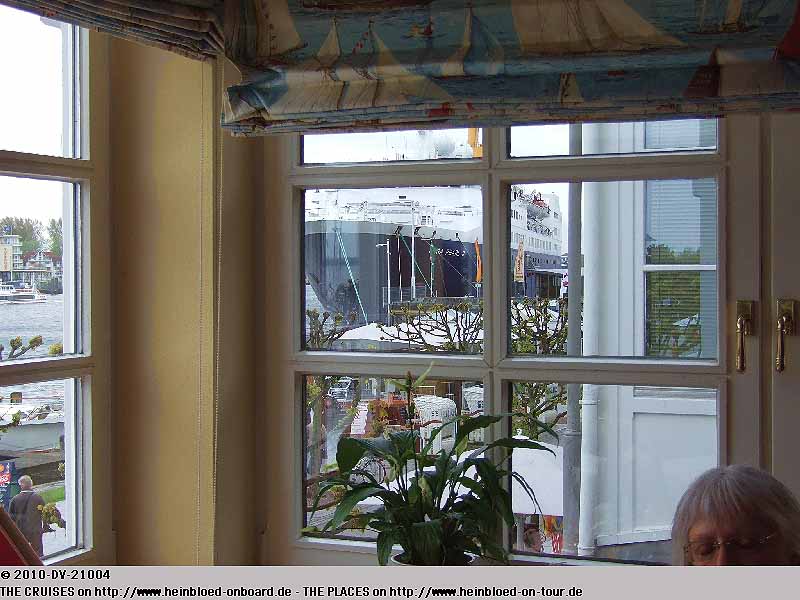 and you had the view to ASTOR, ARKONA, ASTORIA or today SAGA PEARL II... Bruno thought it was very practical to berth there: From Ostpreußenkai to Niederegger you can manage the way even with your own walking wheeled rack...

But Bruno did not want to wait at Niederegger so he had unluck when he had to cross the ferry with me on the other side of the river Trave: the place to take pictures of SAGA PEARL II was quite windy and cold.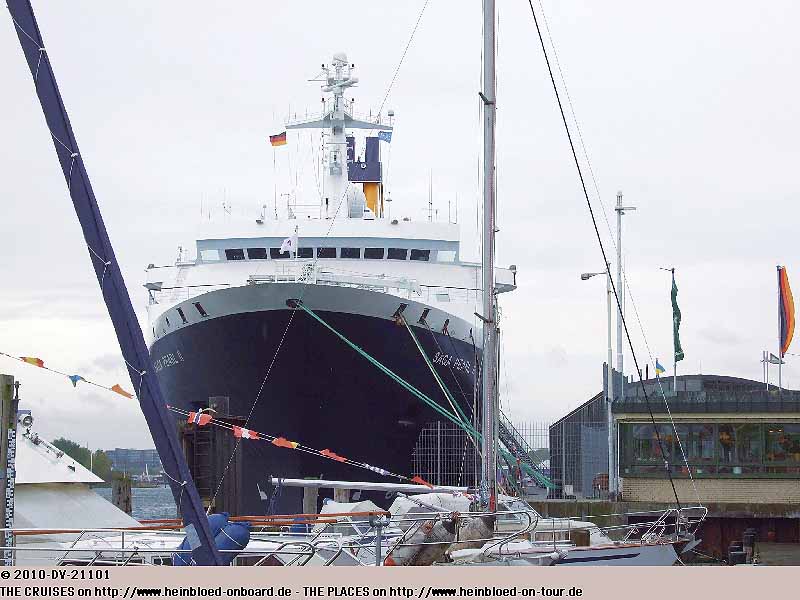 Als Bruno meint, dass er nicht im Niederegger auf mich warten möchte, als ich die SAGA PEARL II fotografieren will, hat er Pech: ich fahre natürlich auch mit der Fähre rüber und dort bläst ein kalter Wind.
Aber das ist doch die Sache Wert, um schöne Bilder von der SAGA PEARL II zu bekommen, wenn ich schon die nächsten sechs Jahre nicht mitfahren darf, es sei denn, dass ich Bruno gegen ein älteres 50+-Modell eintausche...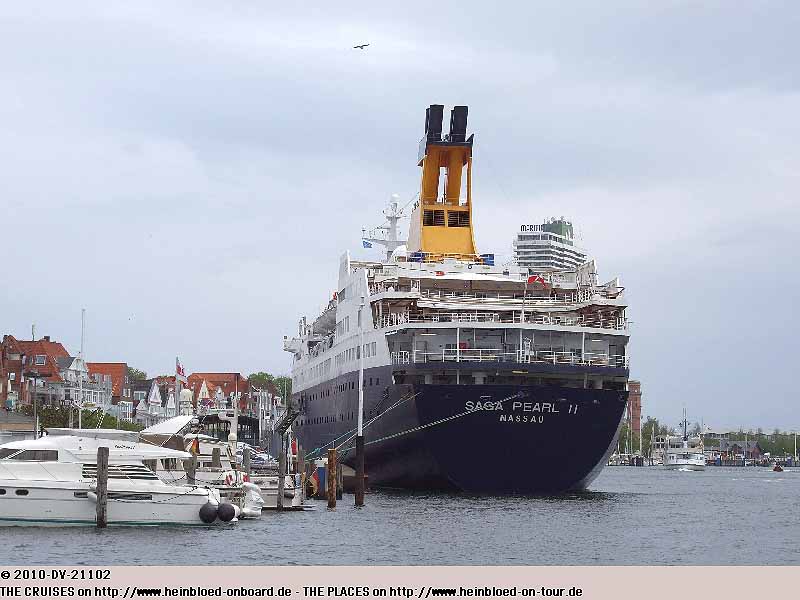 But it was worth to get some so nice pictures of SAGA PEARL II it I am not allowed to sail with her unless I exchanged Bruno against a 50+ model.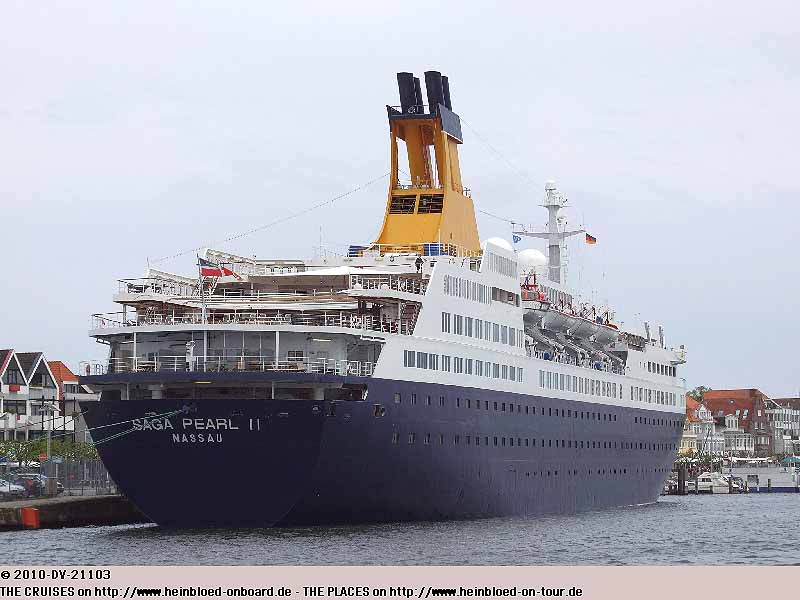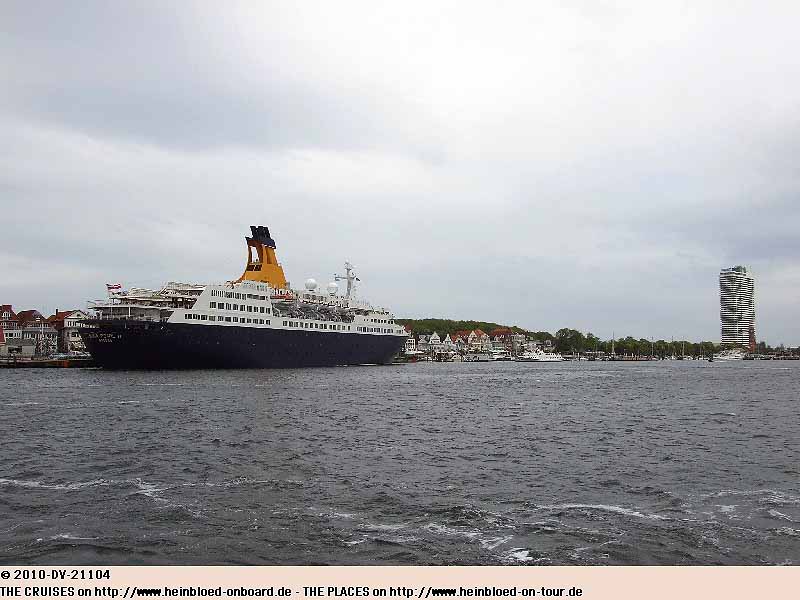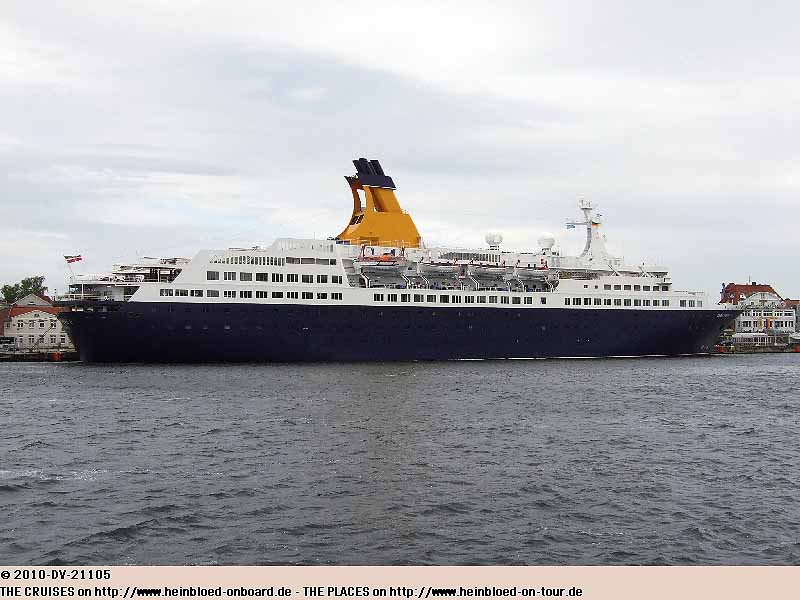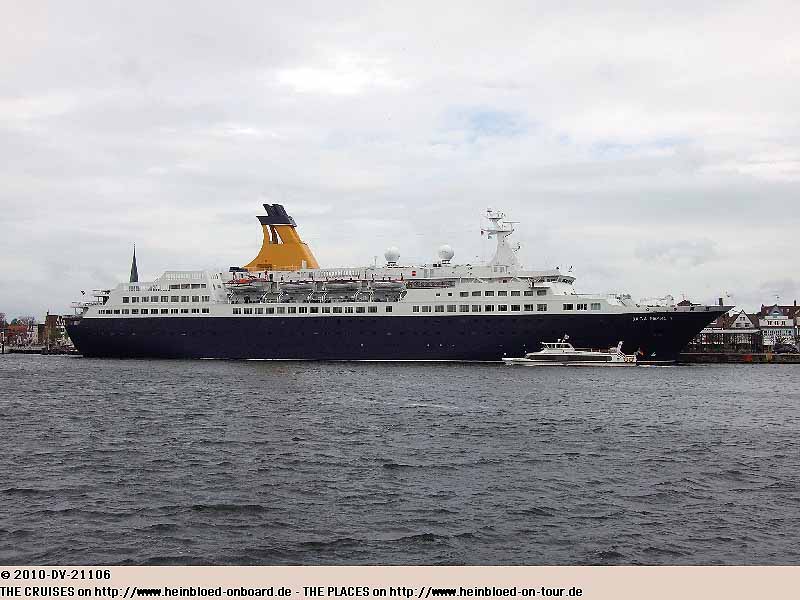 See the flag to see how windy it was.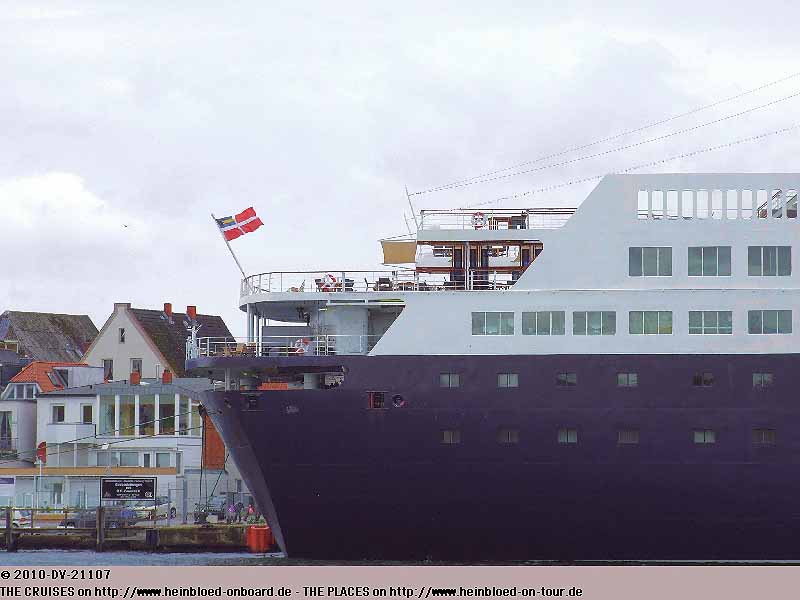 An der Fahne sieht man schön, wie stark der Wind war.
Und irgendwie ist es ungewohnt... dieser Anblick dieses Schornsteins...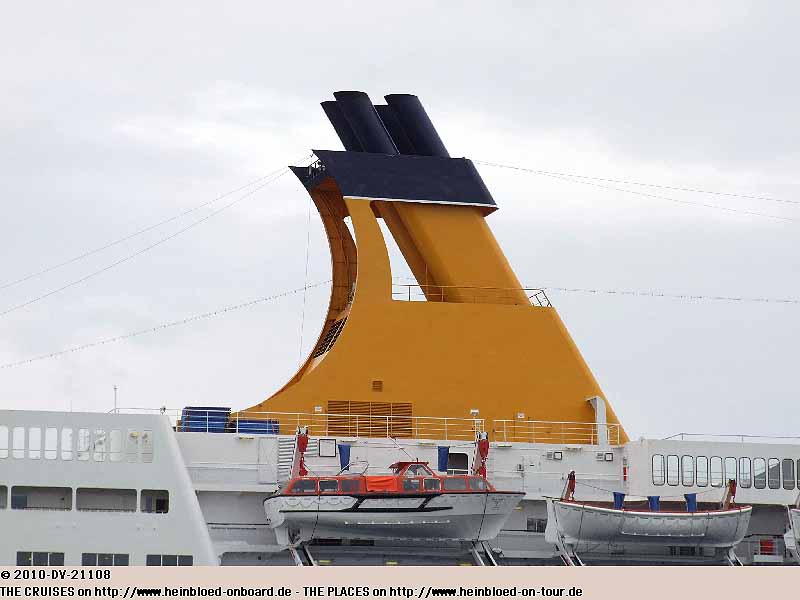 Somehow it was strange to use to see this funnel.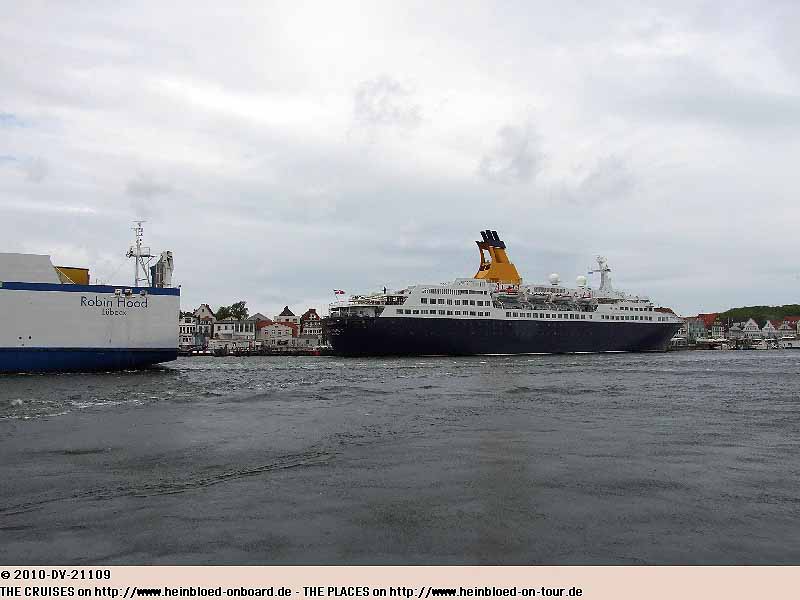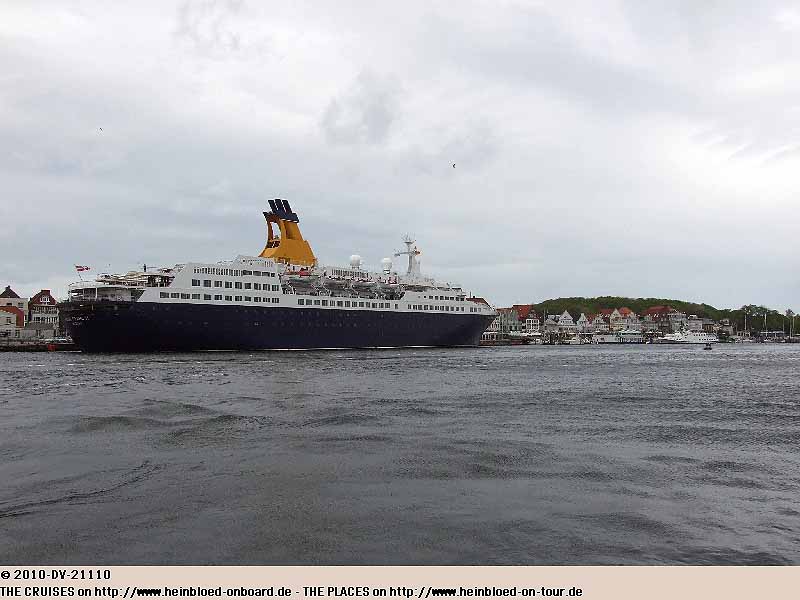 The central location of Travemünde's Cruise Terminal to the promenade is just great.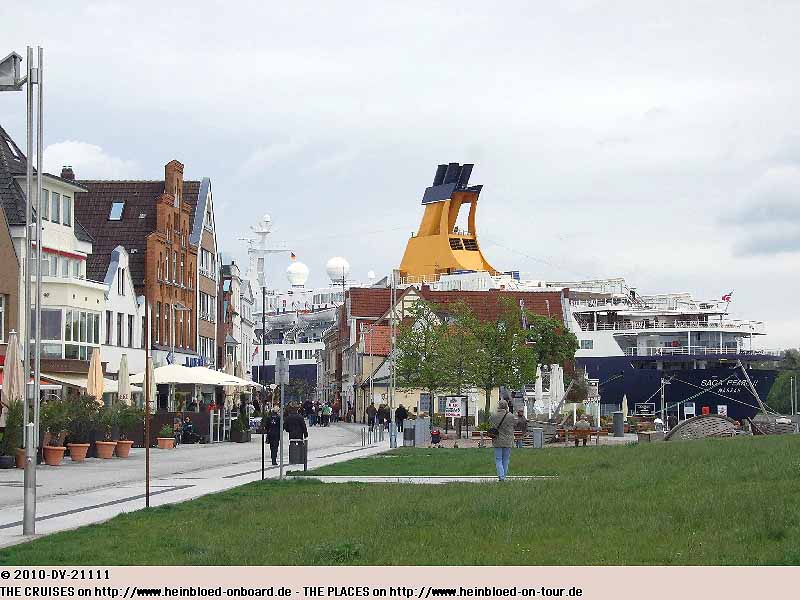 Das tolle an Travemünde ist die zentrale Lage des Kreuzfahrtterminals zur Promenade...
Und das gemeine am Schluss... als wir Lauenburg an der Elbe erreichen, reisst die Wolkendecke auf. Wenige Stunden später endet auch dieser schöne Ausflug. Ein, zwei Stunden mehr auf dem Schiff und es wäre perfekt gewesen. Mir hat alles gefallen, nur das Schiff selbst ist nicht meine Sache im Moment. Eines Tages, wenn wir endlich Ziele anfahren wollen, die wir mit unseren großen Pötten nicht erreichen können, dann kommen wir sicherlich darauf zurück. Aber bis dahin müssen wir noch eine geeignetere Kabine für uns finden. Dafür bieten sich ja die Partynächte an. Nur 2011 leider nicht: weder auf der DELPHIN VOYAGER, die leider von Freitag auf Samstag fährt und ich kann leider als Chef nicht allen freitags ab mittags freigeben... und auch nicht auf der DELPHIN, obwohl wir dankenswerterweise eine Option für zehn Kabinen bekommen haben... Wenn wir behaupten würden, dass es am Programm lag: nicht so abwegig... Letztes Jahr fanden es meine Mitarbeiter besser, weil es peppiger war... aber der wahre Grund ist wieder der Termin. So schön wie Tanz in den Mai wäre... es liegt leider in den Osterferien von Niedersachsen und viele meiner Mitarbeiter sind gar nicht da oder gerade aus dem Urlaub zurück. Schade. Also bleibt nur eines: Ich mag ja die CELEBRITY EQUINOX, aber mit dem Service bin ich ja nicht so klar gekommen... Warum übernimmt nicht Hansa bzw. Delphin Kreuzfahrten die CELEBRITY EQUINOX mit der Crew von DELPHIN VOYAGER und macht mich glücklich??? Dann hätte ich meine flexible Tischzeit und noch ein paar Alternativen zum Hauptrestaurant und eine große Showbühne...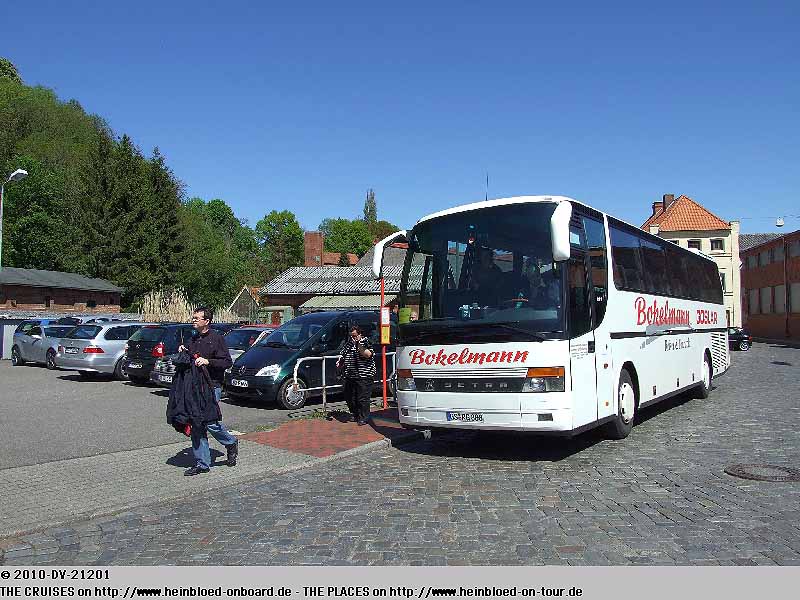 The meanest thing at the end... when we crossed the river Elbe the clouds turned away. Few hours later this wonderful excursion ended. One or two hours more on the ship and it would have been perfect. I liked everything but the ship itself for this time. One day when we are ready to see destinations which you cannot reach with the large ships then we might return. Until then we need to find a more suitable cabin for us. That is a party night is good for. But not in 2011: neither on DELPHIN VOYAGER which goes from Friday to Saturday and I cannot allow all my staff leaving Friday noon nor on DELPHIN although we had an option for ten cabins. If I would say it was due to the entertainment I would not lie. My staff said that the last years entertainment fit more to their taste. But the true reason is the date for the party cruise. How great dance to the May (German tradition to welcome the May is to have a publice dance event on April 30 as May 1 is always public holiday) but next year it's in the Easter school holiday in Lower Saxony and many of our staff are on vacation themselves or just returned. What a pity. So one thing is left: I like CELEBRITY EQUINOX but I do not like the service at all... Why is Hansa or Delphin Cruises not taking over CELEBRITY EQUINOX with their crew of DELPHIN VOYAGER and make me happy??? Then I would have my flexible dining and some alternatives to the main restaurant and a large showstage...