Scroll down for English explanations - alternates with German explanations.

An Bord wurden wir alle persönlich vom Kreuzfahrtdirektor Florian Herzfeld mit Handschlag begrüßt. Wir erinnern uns noch sehr gut an ihn von unserer
ersten DELPHIN-Partynacht damals mit Wencke Myrre
, die uns unvergesslich blieb. Im Spalier standen die Kabinenstewardessen, die uns auf die Kabinen begleitet haben. Leider gibt es davon keine Bilder, weil wir sonst einen Riesenstau verursacht hätten. So werden wir in die Kabine 4003 geführt.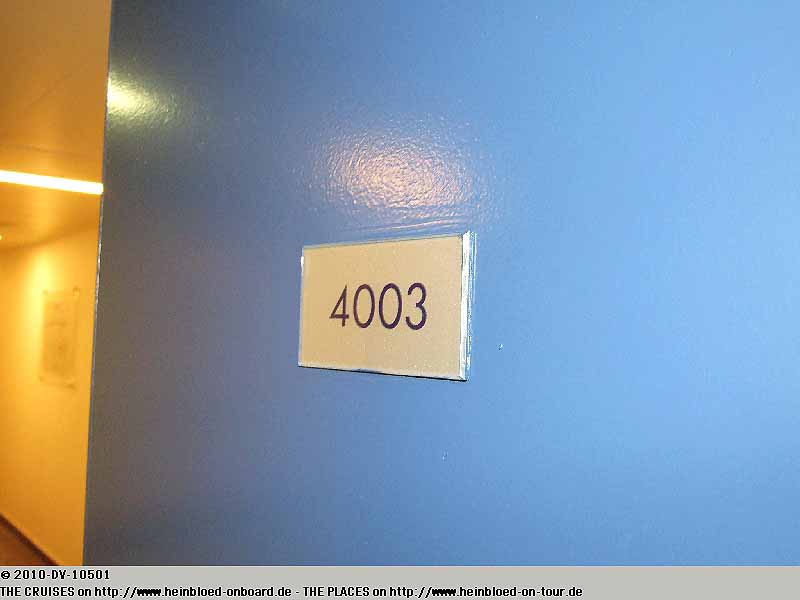 On board everyone of us was welcomed with a personally handshake by the cruise director Florian Herzfeld. We had him in good memories from our very first party unforgettable night on DELPHIN. The cabin stewardesses were waiting for us in one line to escort us to our cabins. There were no pictures taken as I would occur a major congestion. So we were escorted to our cabin 4003.

We picked this cabin for very special reason.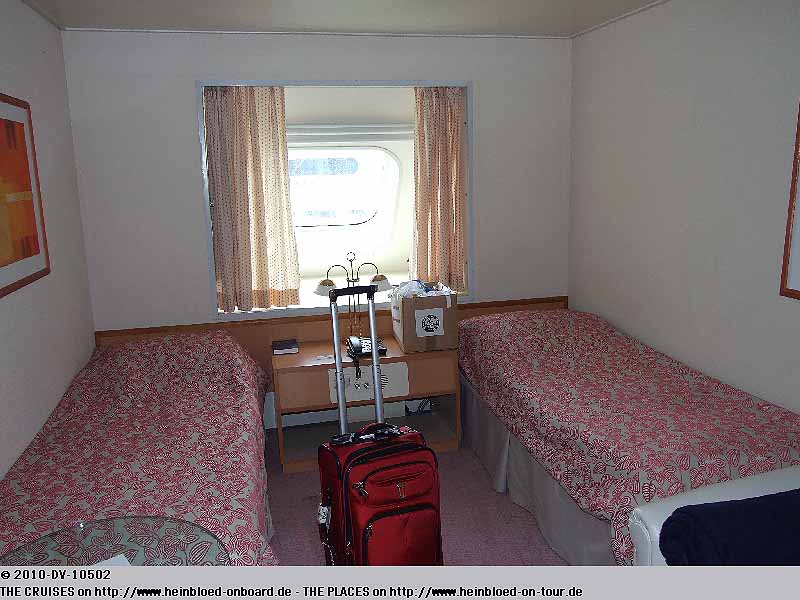 Wir hatten bewusst diese Kabine ausgewählt.
Sie bietet einen Blick nach vorne.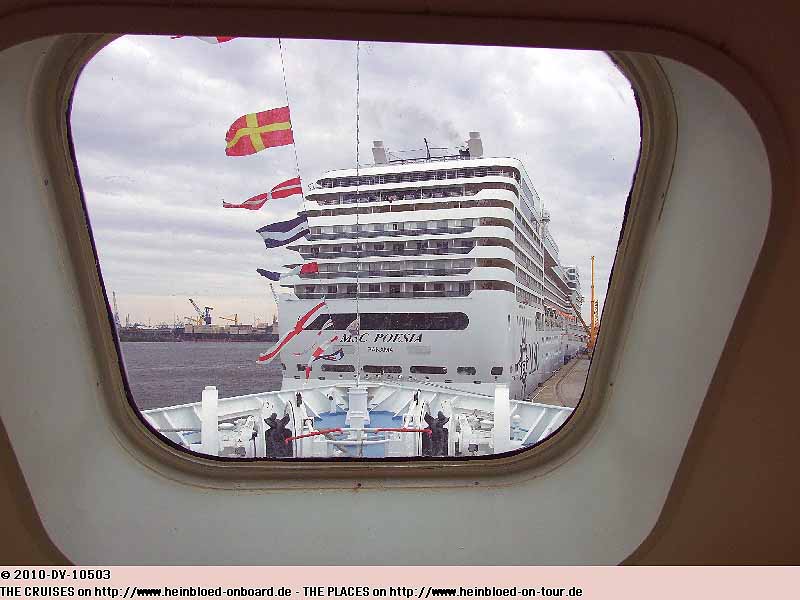 She offered a view to the front.

Experts will see it: The view was great but we get acknowlegement of each manoevre which should follow... not just with our eyes but with our ears...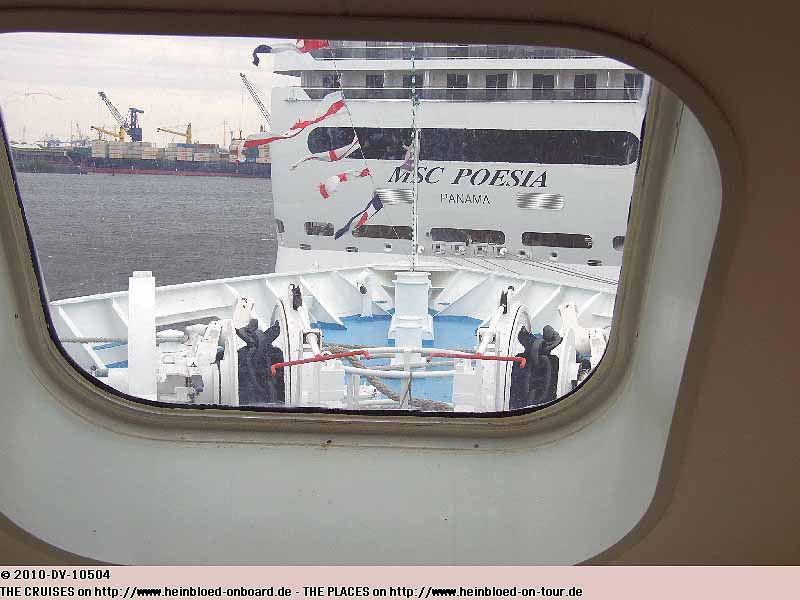 Experten, werden es erkennen. Der Blick nach vorne war so gut, dass wir natürlich auch jedes Manöver mitbekommen, das bevorsteht... nicht nur optisch, sondern vor allem auch akustisch...
Von unserer Schiffsbesichtigung wussten wir ja, dass es zahlreiche renovierte Kabinen gab, aber wir erwischen eine nicht-renovierte, die man daran erkennt, dass man keine Einhandmischbatterie hat. Kleinere Gebrauchsspuren sind sichtbar, aber für das Alter des Schiffes normal und durchaus üblich.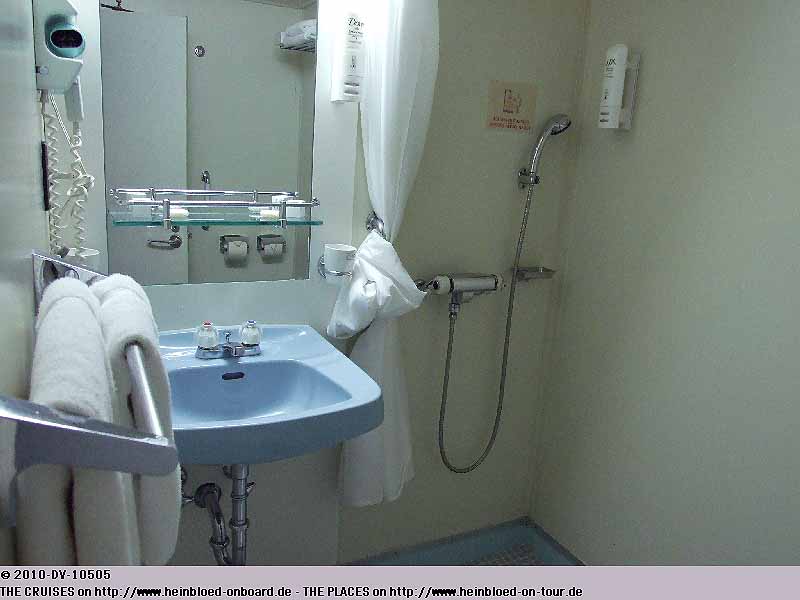 From our ship visit we knew that there were a number of renovated cabins but we got one which was not renovated. It was easy to identify as they do not have one hand-warm and cold water mixer. You see the age of the ship but quite normal for this age of the ships.

The toilet flush made some trouble. There were no information folder so we had some problems to call the reception desk but finally we found the number in the daily programme. Before I could hang up the receiver und tell what happened, someone from the technicians knocked at the door and within minutes all problems were solved.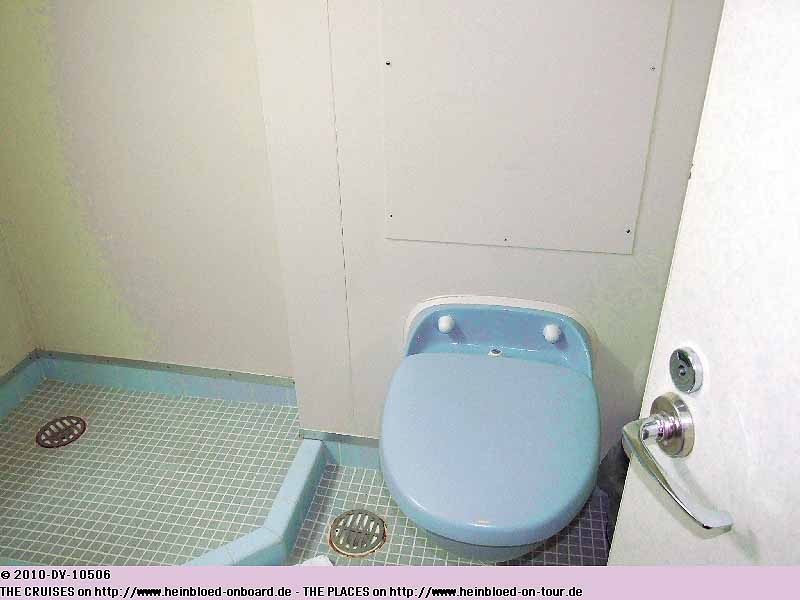 Die Toilettenspülung macht Schwierigkeiten. Da es keine Informationsmappen gab, war es etwas schwierig die Rezeption zu verständigen, aber irgendwann haben wir die Nummer im Tagesprogramm gefunden. Bevor ich so richtig aufgelegt hatte und überhaupt erzählen konnte, was die Rezeption gesagt hat, kopfte es auch schon an der Tür und zwei Haustechniker waren da, die innerhalb von wenigen Minuten das Problem behoben haben.
Zumindest hat man jedoch einen neuen Flachfernseher spendiert. Wir hätten aber unbedingt die US-Adapter und eine Steckdosenleiste mitnehmen sollen. Das war doch etwas wenig.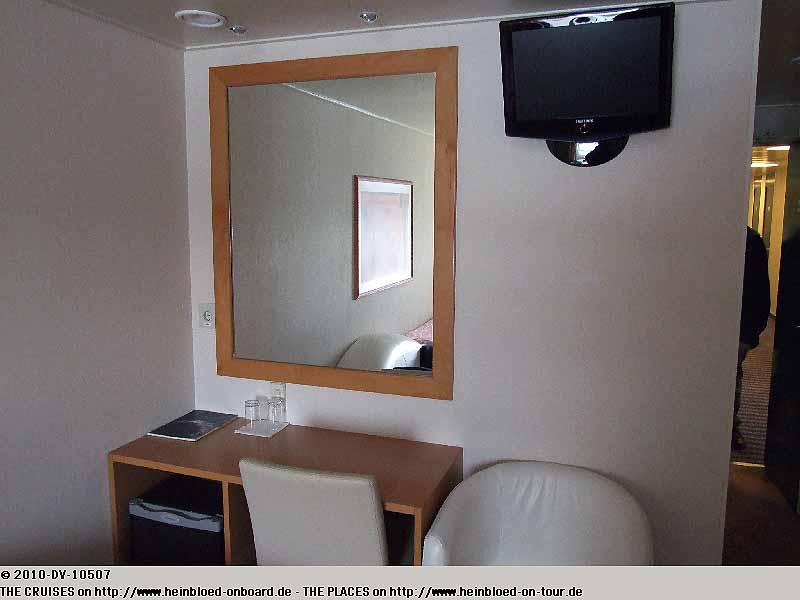 They invested into new flat TVs. We should have our US-adapters and a multiple power socket with us as just one outlet is a little less.

Strange to us: classic keys for the cabin door which you really need to lock by key. Has the advantage you have no trouble when you left your card in the cabin and the door locked.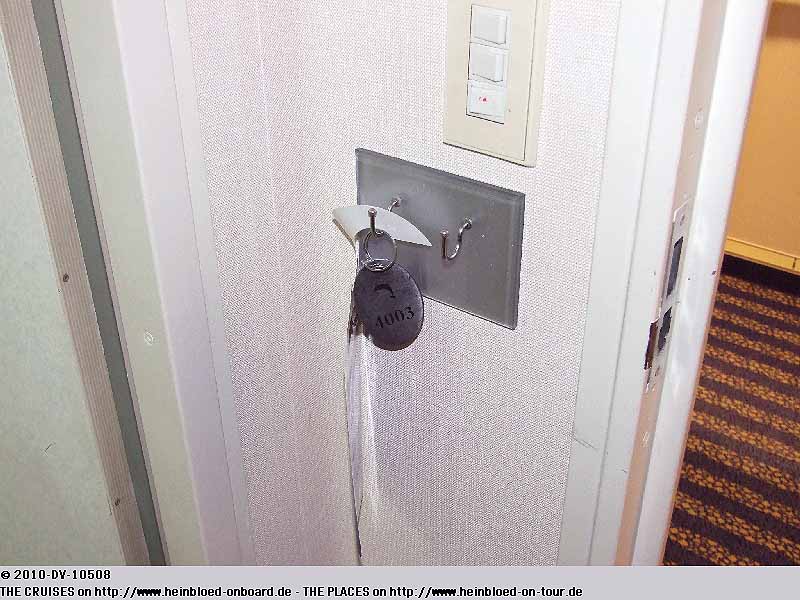 Ungewohnt für uns: klassische Schlüssel für die Kabinentür, die man auch noch klassisch absperren muss. Hat ja den Vorteil, dass man nicht die Karte einschließen kann, wenn die Kabinentür zufällt...
Die Klimaanlage steuert man am Bett sehr praktisch. Nur leider kann man den Luftstrom regulieren. Temperatur wird zentral gesteuert.

The control device for the air condition just next to the bed was very smart but you can only control the volume of the air-stream but not the temperature as this was controlled centrally on the ship.

Something very nice: information to compare DELPHIN VOYAGER with MSC POESIA and on the German TV-network who will broadcast the next day about cruise ships in Kiel which includes the other two ships which were expected in Kiel (FUNCHAL and MSC ORCHESTRA).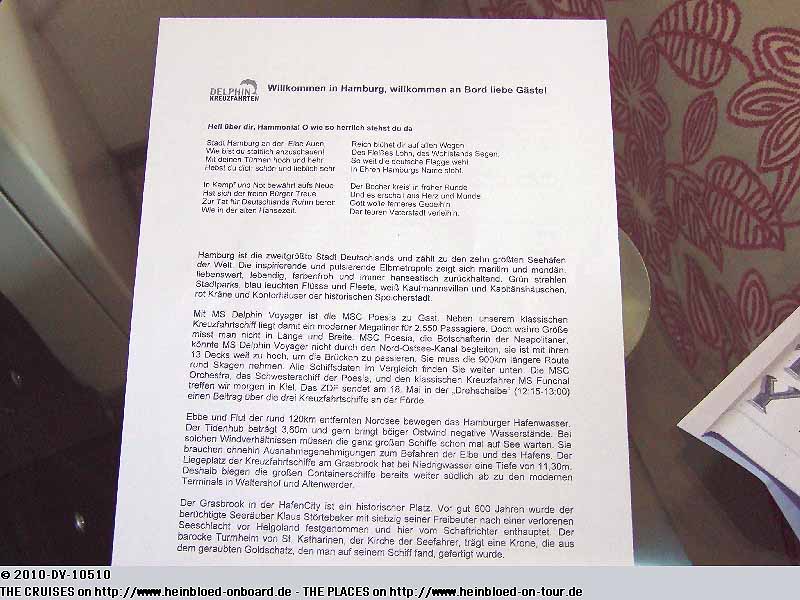 Gut war die Information mit der Gegenüberstellung der DELPHIN VOYAGER mit der MSC POESIA und der Hinweis auf die ZDF-Drehscheibe, die morgen in Kiel einen Beitrag über die drei Kreuzfahrtschiffe in Kiel (FUNCHAL und MSC ORCHESTRA) erstellen will.
Ungewohnt waren die Größe der Schränke. Das Schiff war ja zuvor in japanischer Hand. Die sind ja alle so ein wenig kleiner gewachsen, dass man mit deutschen Kindergrößen zurechtkommt, für die die Schränke gemacht wurden. Wir müssten jedoch erst unsere Büglerin an Bord schicken, um die Schränke zu vermessen und die würde uns bestimmt einen Zuschlag für eine besondere Falttechnik für die DELPHIN VOYAGER in Rechnung stellen, damit unsere Hemden mit Kragenweite 43 hineinpassen.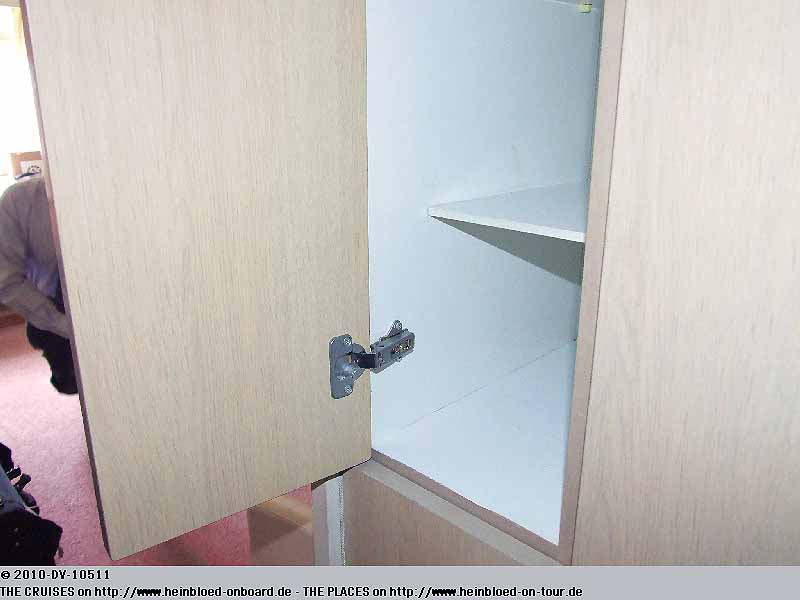 The size of the closet were somehow strange to us. We knew that the ship is Japanese origin. Well they are not so tall like a typical Central European but closets for our children sizes which the closets were obviously made for. We need to send the maid who is doing our ironing to come on board and seize the dimensions of the closets to make sure that she would fold it appropiately for a cruise on DELPHIN VOYAGER. But we expect an extra-charge to make our 16"-sized shirts fitting in this closet.

Our shirts would fit to the upper part of the closets which were occupied by the life vests.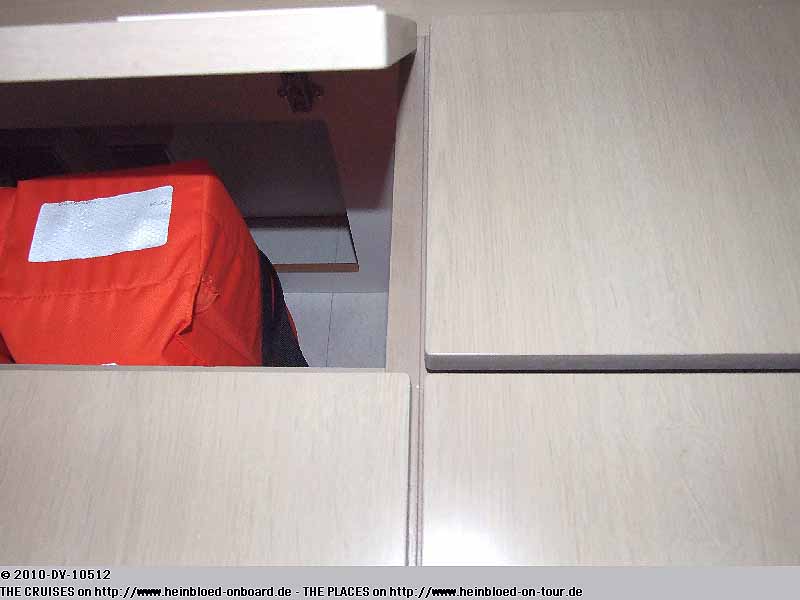 In den oberen Regalen hätten unsere Hemden reingepasst, aber die waren voll mit den Rettungswesten.
Und der kleine Safe hatte auch nur japanische Dimensionen.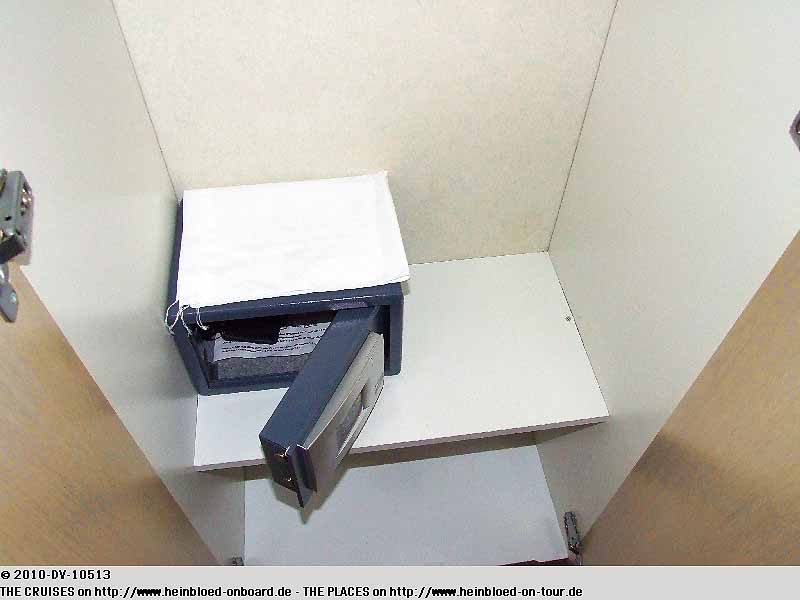 The safe was also build for Japanese.

Before we went to bed the advise not to forget to leave the keys in the cabin.

Abends gab es den Hinweis, dass wir bitte nicht vergessen mögen, die Schlüssel da zu lassen.
Und auch ein Leckerli für die Nacht, das viele große namhafte internationale Gesellschaften schon abgeschafft haben.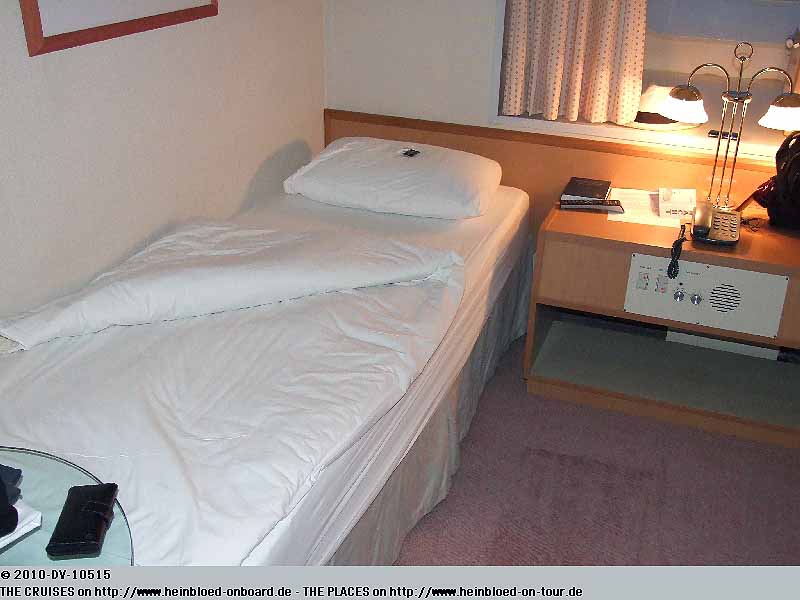 Also a sweet treat for the night which you do not get anymore with major cruise lines.

We looked around the ship. We knew a lot from a visit before but many things were not ready and accessable. The gym.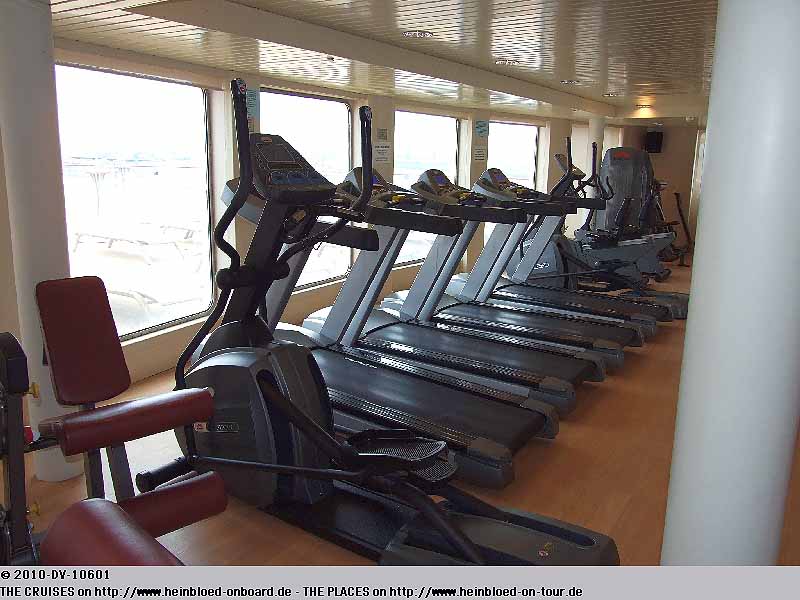 Wir gucken uns auf dem Schiff um. VIeles kennen wir schon, aber auch vieles war damals noch gar nicht zugänglich. Der Fitness-Raum.
Eigentlich komplett unnötig...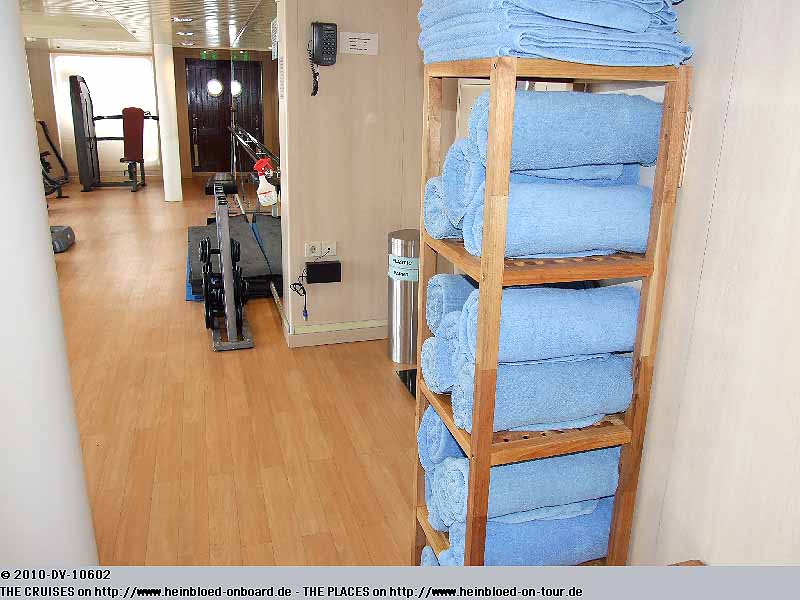 Something you do not need on the ship...

With the hight of the stairs you will have enough exercises made incl. muscle soreness before you would reache the gym. So I could not get my father on this ship as he will have problems to handle the stairs with his body condition.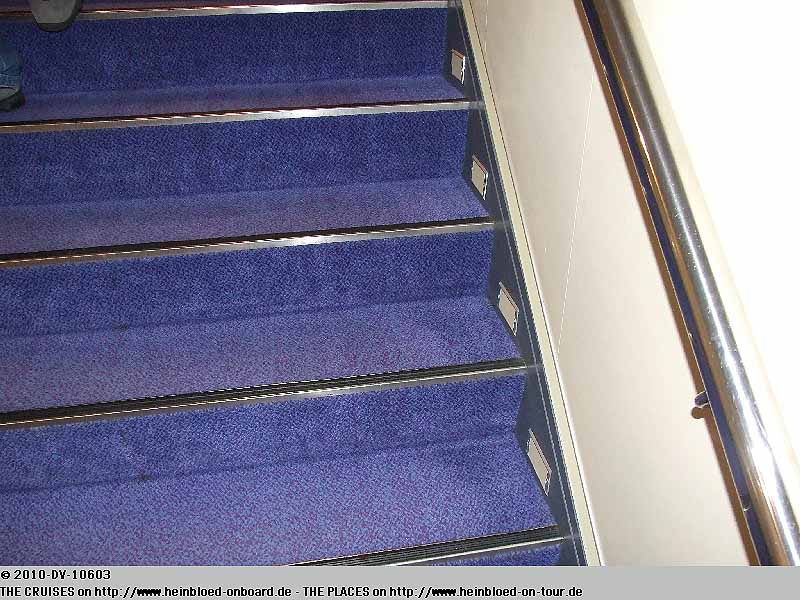 Bei den Stufenhöhen hat man nämlich schon tägliches Trainingspensum inkl. Muskelkater hinter sich, bevor man den Fitness-Raum überhaupt erreicht hat. Meinen Vater würde ich daher auf das Schiff nicht mehr bekommen, weil er das körperlich nicht mehr mitmachen kann.
Das Atrium. Damals mussten wir glaube ich so Überschuhe anziehen, damit wir bloß nichts dreckig machen...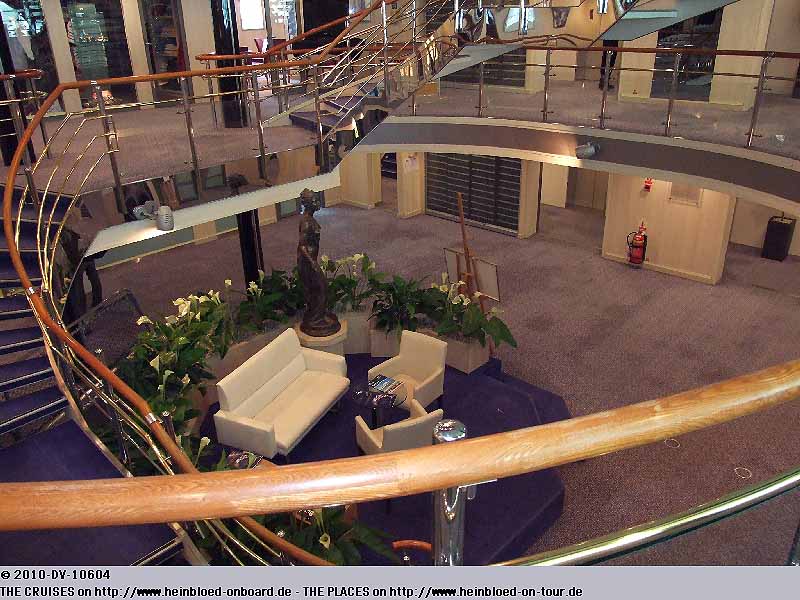 The atrium. We had to wear covers then to avoid any dirt.

But still very elegant.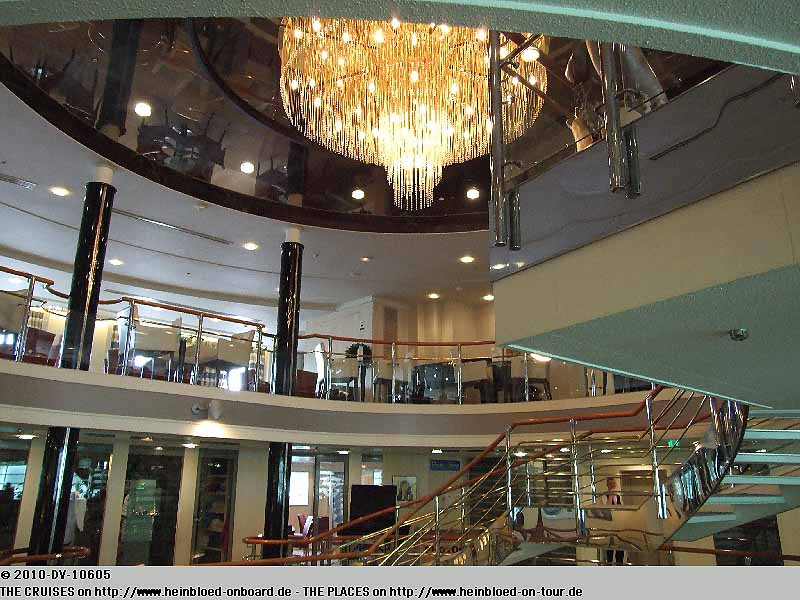 Aber immer noch schön elegant...
Die Panorama-Lounge war damals noch nicht zugänglich. Fast wie die Royal VIking Lounges bei Royal Caribbean, nur (leider) ein Paradies für Raucher. Ein Teil war zwar für Nichtraucher, aber irgendwie nicht so richtig oder doch... wusste man nichts so recht...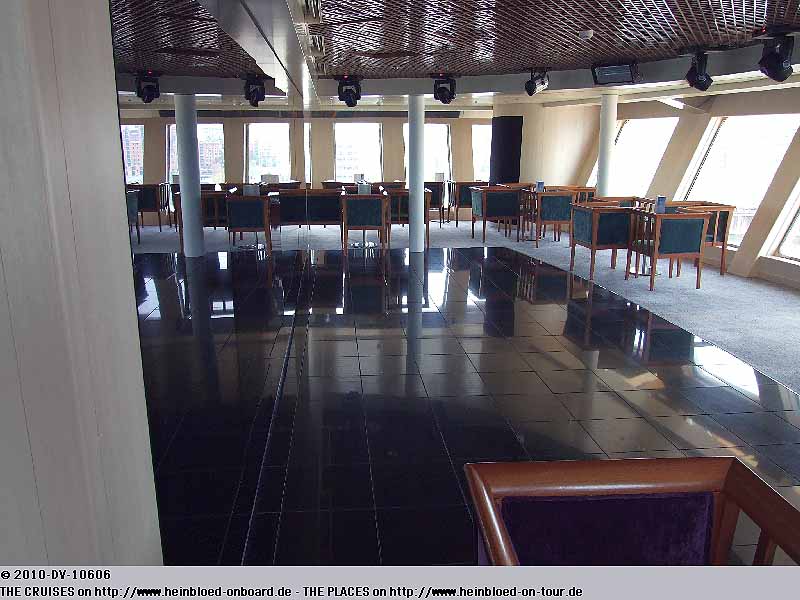 The panorama-lounge was not yet accessible then. A little bit like the Royal Viking Lounges with Royal Caribbean but (unfortunately) a paradise for smoker. A part was for non-smoker as well but not so really... Nobody knows...

Very nice and was not open then as misused as storage: the piano-bar.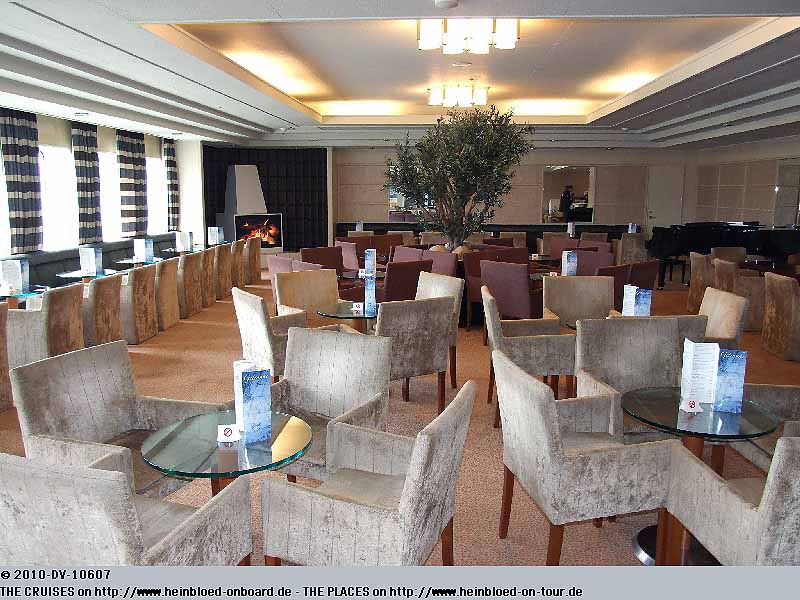 Was sehr schön gelungen ist, und was damals wohl noch nicht offen war, da es als Lager missbraucht wurde: die Piano-Bar...
Schade, dass es keinen echten Kamin gibt...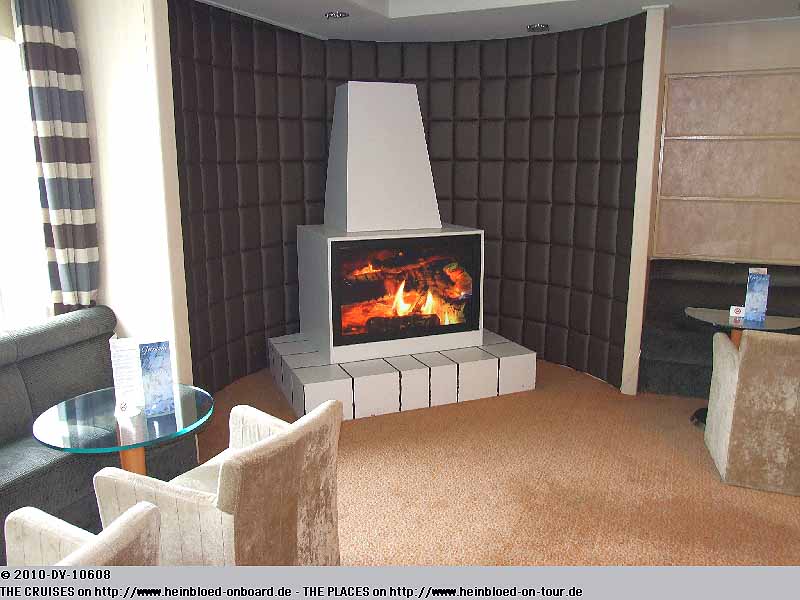 What a shame that this was no real fire-place.

The show-lounge.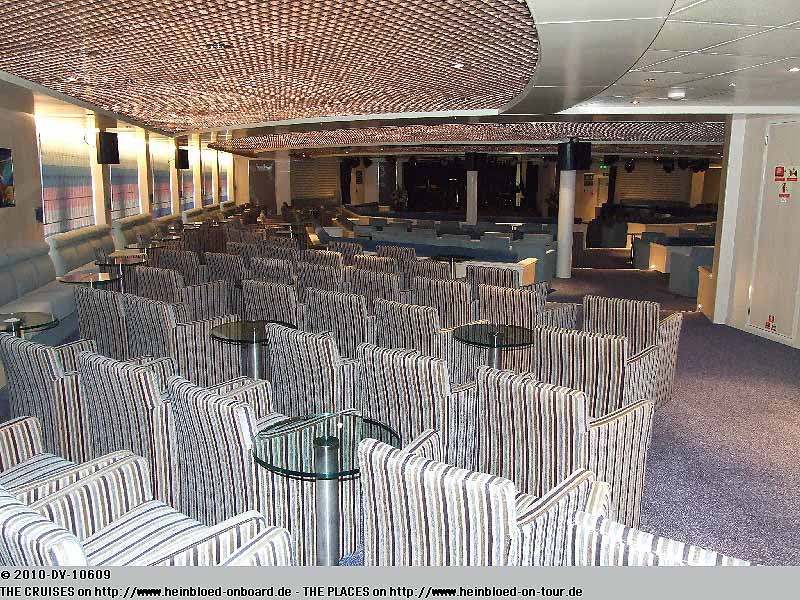 Die Show-Lounge.
Und wie bei einstöckigen Show-Lounges üblich: die Säulen...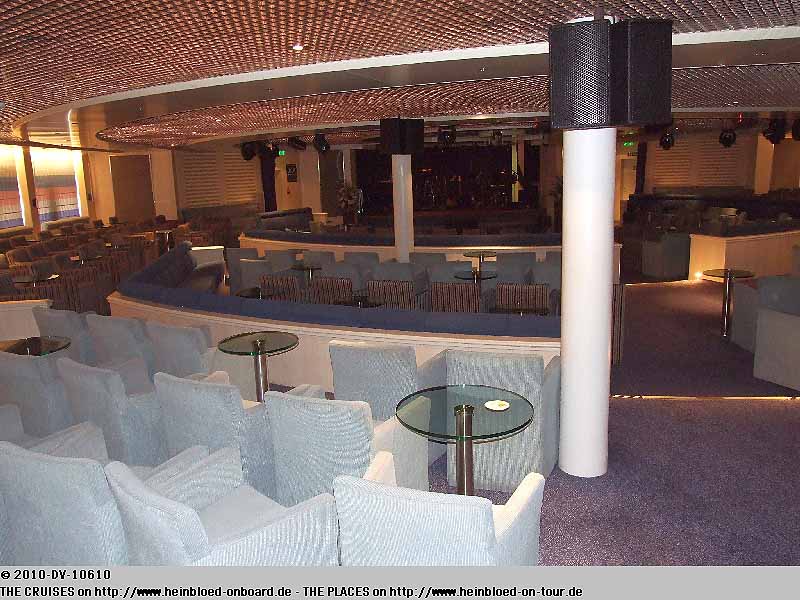 The columns like in all one-tiered show-lounges.

Was very narrow when it was fully occupied but I experienced more narrow on other ships.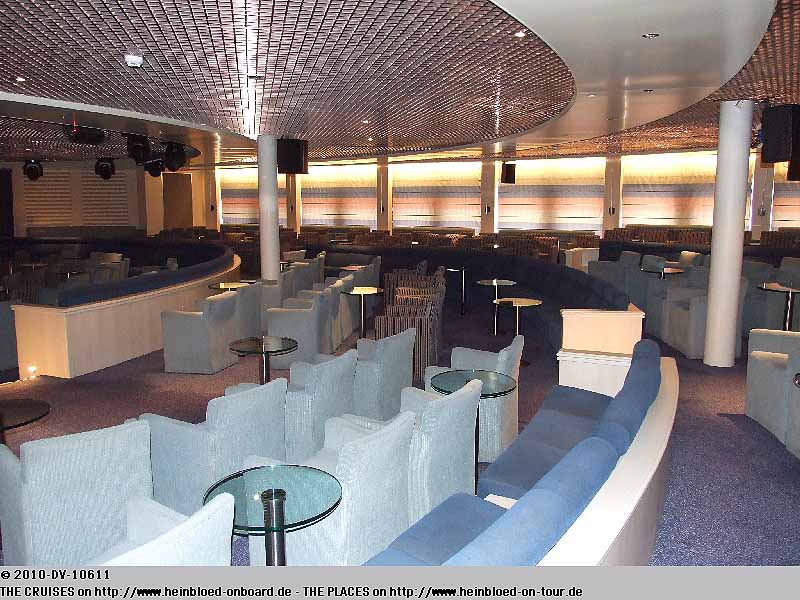 War alles ein bisschen eng, wenn es voll war, aber ich habe es aber auch schon schlimmer erlebt.
Die Außenpromenade führt leider nicht rund um.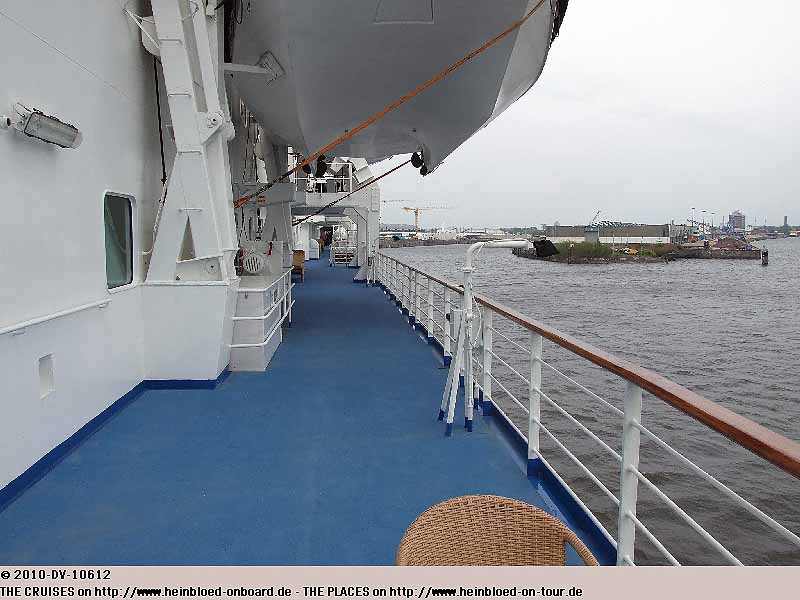 The outside promenade was not round-the-ship.

"Please shut this door silenty. Thank you!" - With older ships you do not have electrically powered glass sliding doors.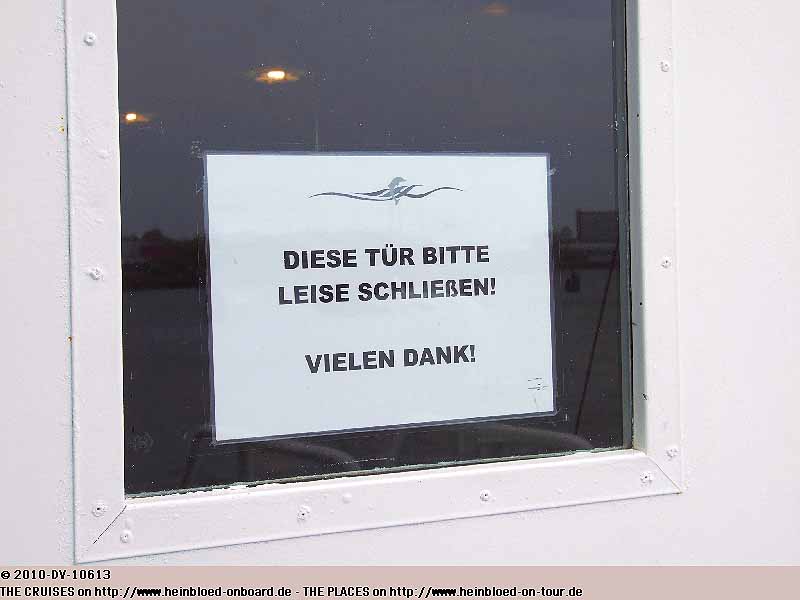 Bei älteren Schiffen gibt es nun mal keine elektrischen Glasschiebetüren...
Das Sonnendeck wäre der Höhepunkt des nachmittäglichen Aufenthaltes geworden, wäre es nicht so windig und kalt gewesen.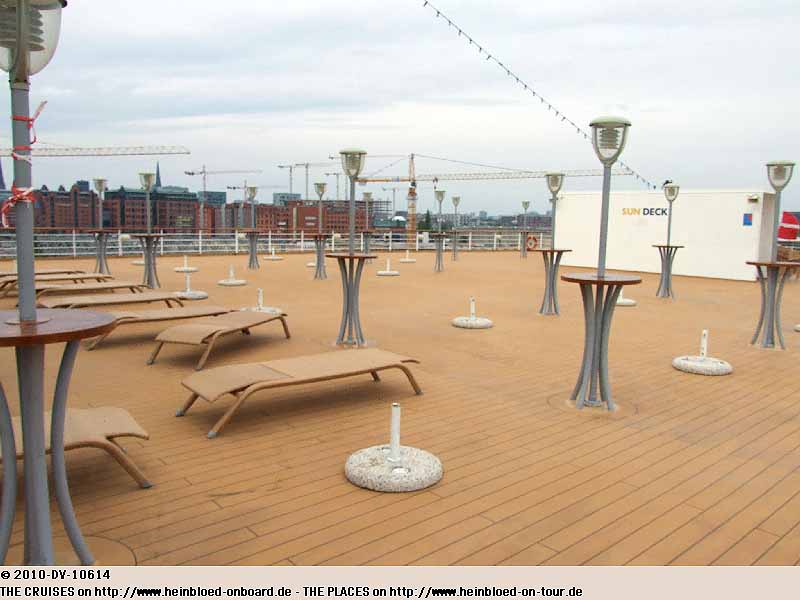 The sun deck would have been the highlight of the afternoon stay if it was not so cold and windy.

On the pooldeck under the jogging track it was quite good to survive. It was only sorry that the wool blankets were in the cabins like pool towels. Otherwise it would have been very cozy and comfy without walking to the cabin.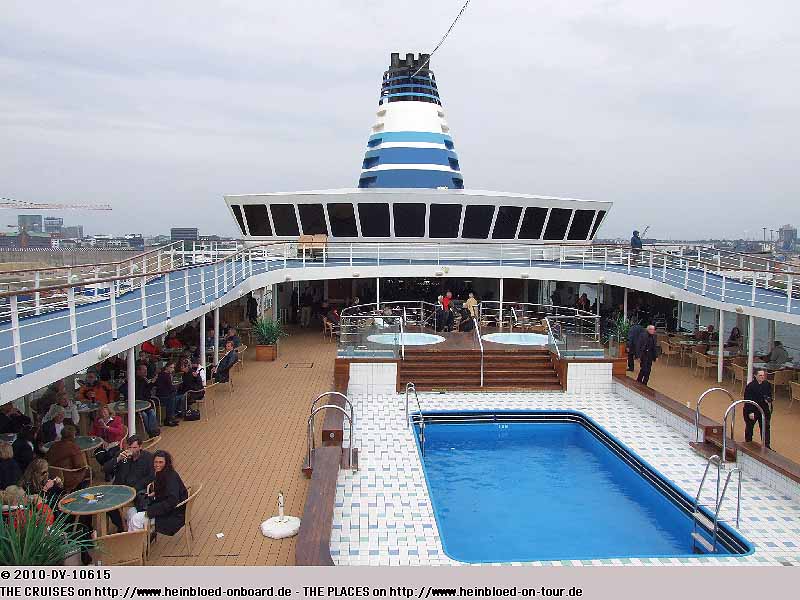 Auf dem Pooldeck ließ es sich unter der Jogging-Bahn ganz gut aushalten. Schade, dass die Wolldecken wie Pooltücher in den Kabinen auslagen. Sonst hätte man es sich hier sehr gemütlich machen können, ohne dass man erst in die Kabine musste.
Das Sonderangebot für Cocktail-Liebhaber: Delphin Spezial. Die Qualität soll jedoch in den unterschiedlichen Bars sehr stark geschwankt haben.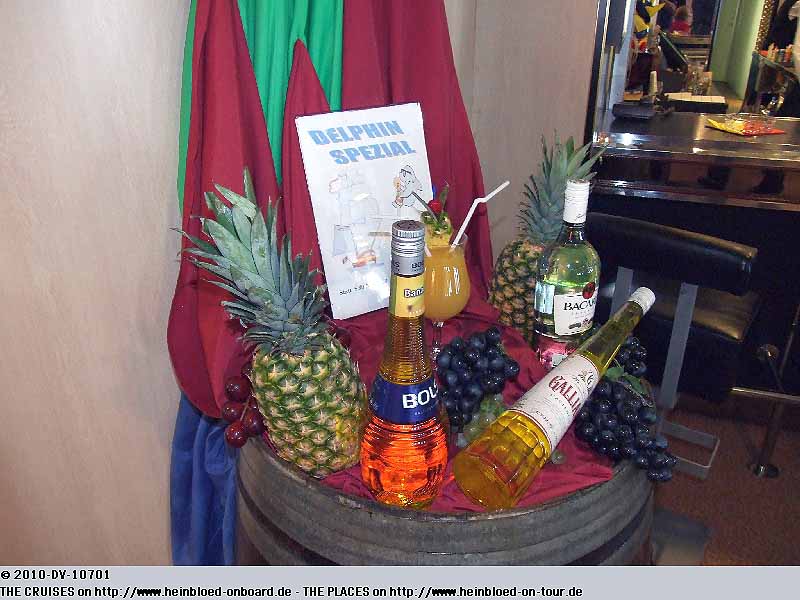 The special for cocktail fans: Delphin Special. The quality in the different bars varied a lot was reported by some cruise-mates.

on the daytime on the pool deck.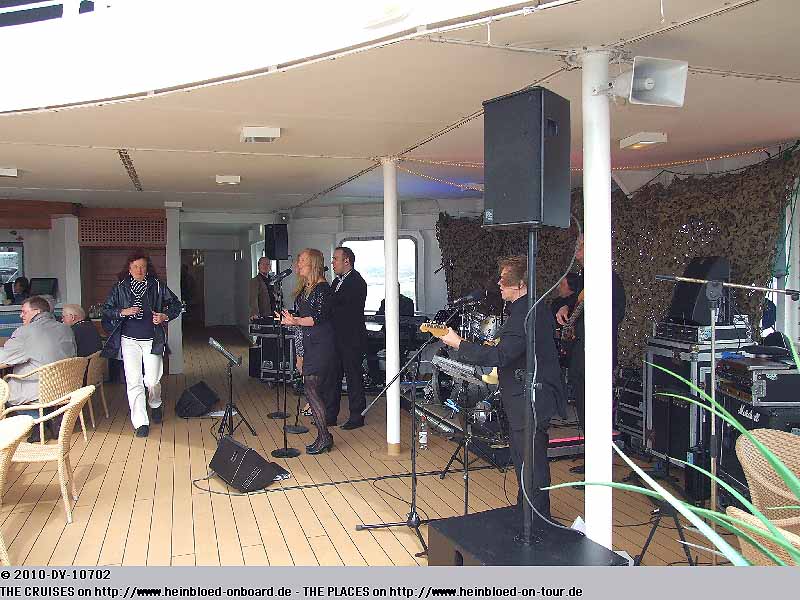 tagsüber noch auf dem Pooldeck...
aber abends leider in der Delphin Lounge, weil es nicht warm genug draußen war. Hätte sonst eine richtig schöne Open-Air-Party mit denen geben können. Abends leider nicht mehr mit gleichen Stimmung wie tagsüber.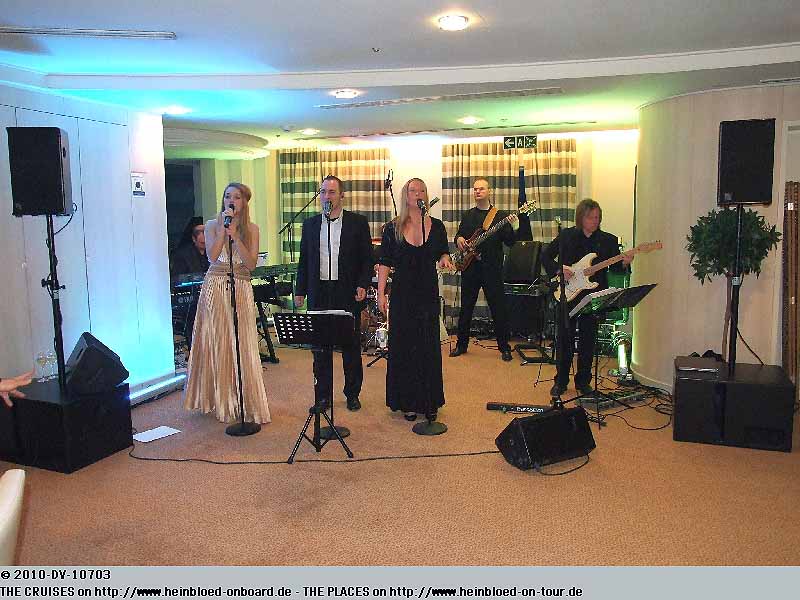 but in the evening in the Delphin Lounge as it was not warm enough for outside. It could have been such a wonderful open-air-party. So not with the same good atmosphere like during the day.

Of course I got my Douglas Ward signed by the captain.

Natürlich bekomme ich meinen Douglas Ward unterschrieben.

Schade bloß, dass der angekündigte Anruf vom Verkaufsleiter nicht kam,...
Es gibt drei Restaurants auf der DELPHIN VOYAGER: Das Atlantic...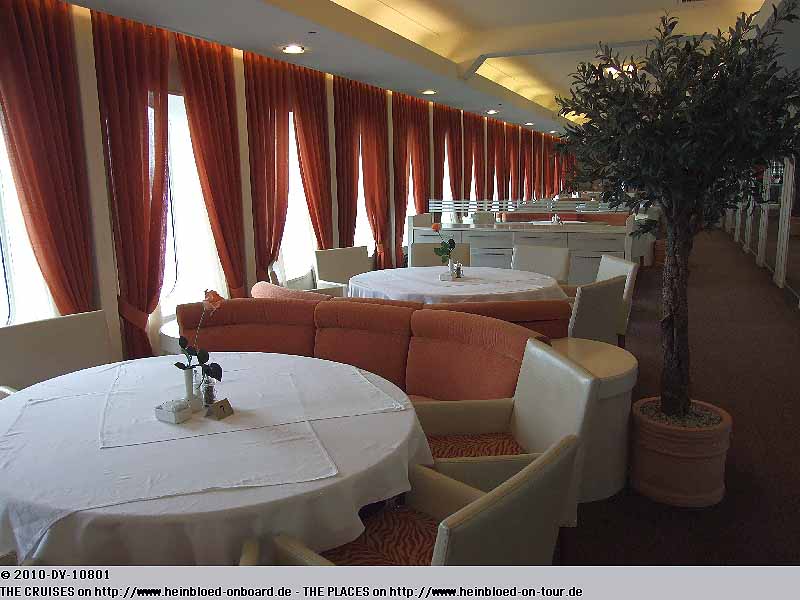 There were three restaurants on DELPHIN VOYAGER: The Atlantic...

We were allocated in the Pacific...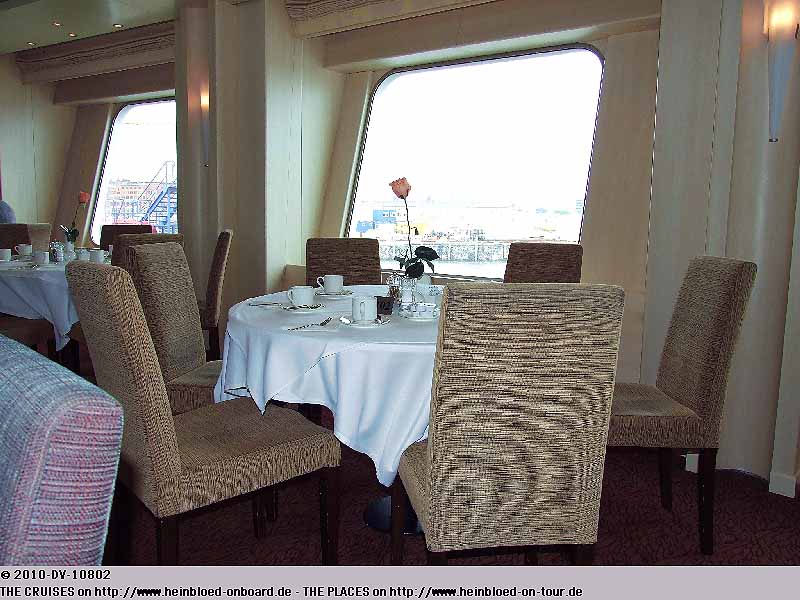 Wir sind im Pacific eingeteilt...
Und das müsste eigentlich Indian heißen, bloss ich habe nicht die leiseste Ahnung, wie das Restaurant heißt...

This one should be the Indian... but I do not have the slightest idea which name the restaurant had.

They opened coffee-time at 16.30 hrs.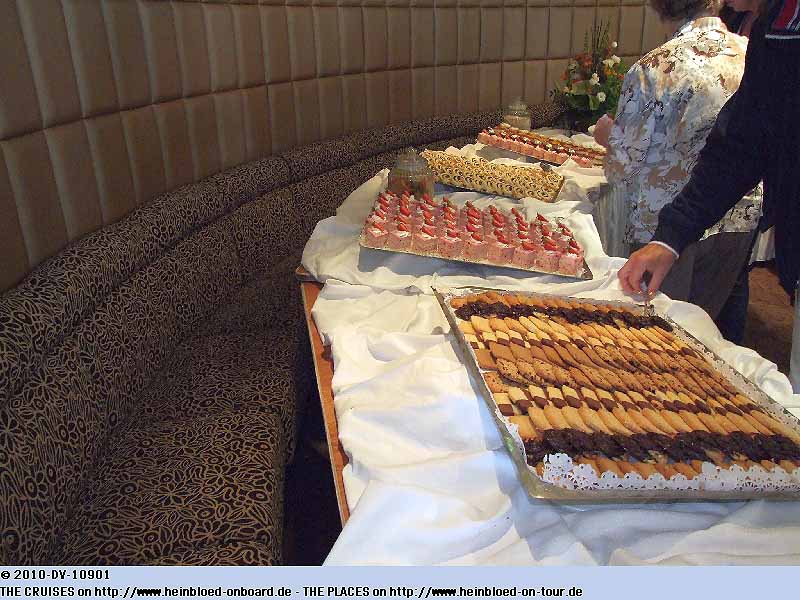 Das Kuchenbuffet wurde um 16.30 Uhr eröffnet.
Es gab eigentlich alles, was das Herz begehrte.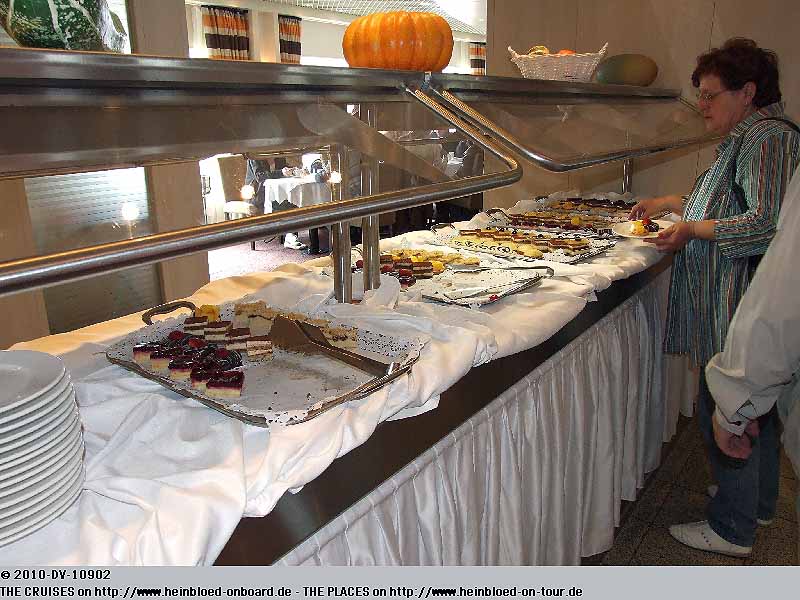 Everything what heart and stomach loves was available.

Even for those who disliked sweet treats... but Britons are the better MCs to celebrate finger-sandwiches...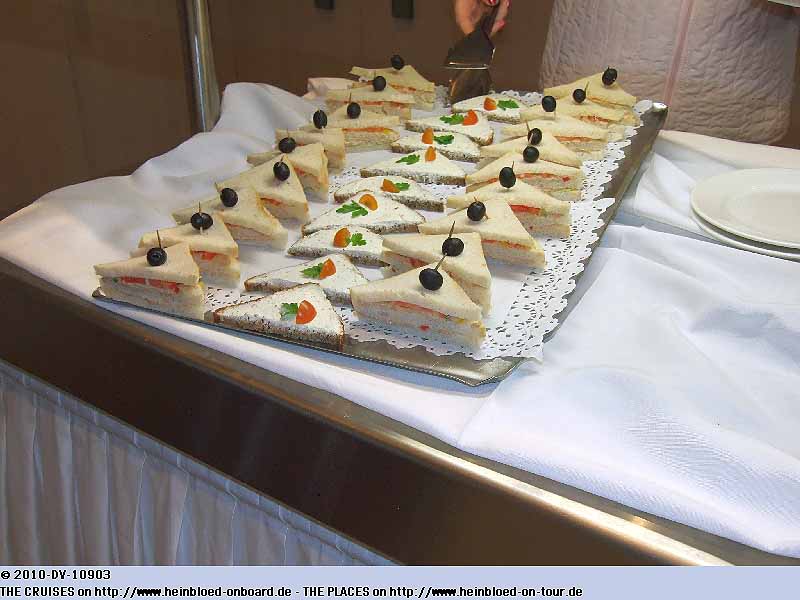 Sogar für denjenigen, der nicht auf süße Sachen steht... nur das können die Briten noch besser... Schnittchen zelebrieren...
Gut, war dass alles so in kleinen Stücken angeboten wurde, somit konnte man mehr probieren.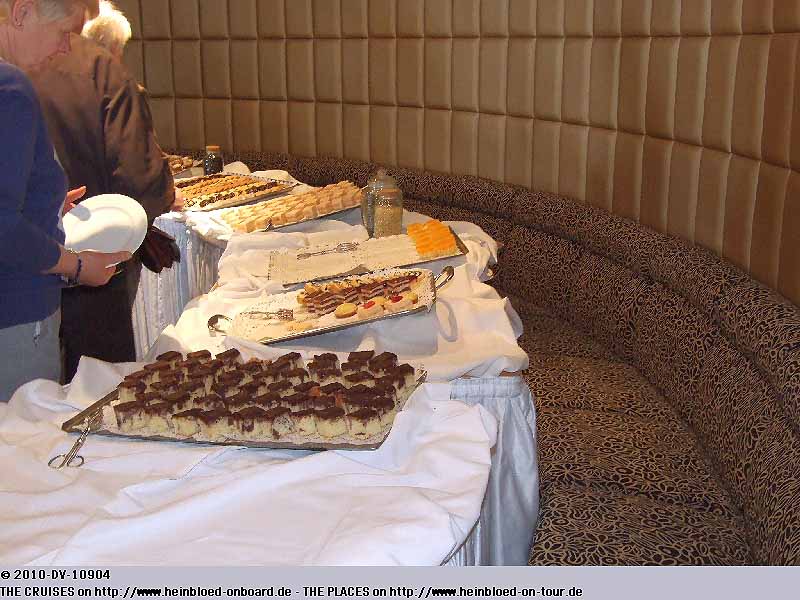 It was good that they offered just little bites so you could try more.

But they refilled everything even shortly before the coffee-time terminated.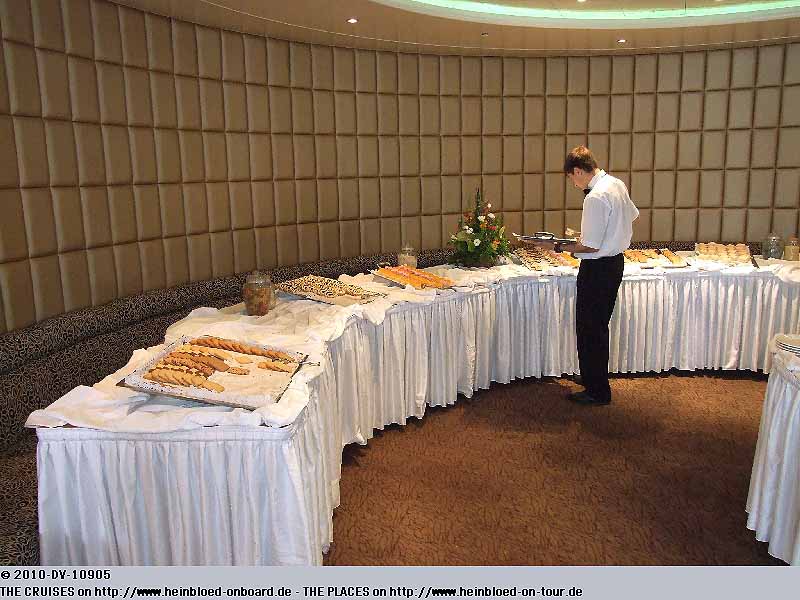 Es wurde aber alles aufgefüllt, auch gegen Ende des offiziellen Kaffeestündchens.
Deswegen: Verhungern muss niemand auf der DELPHIN VOYAGER.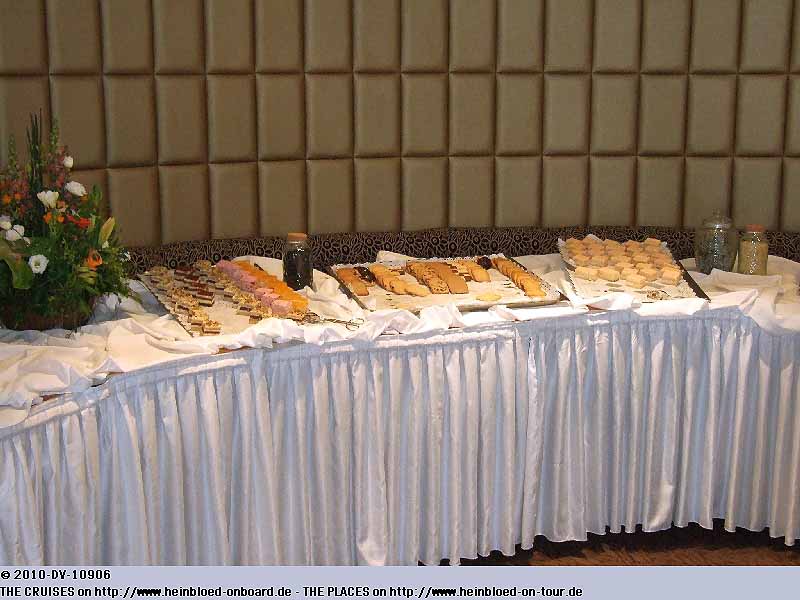 So none must day for hunger on DELPHIN VOYAGER.

During coffee-time it was also set-sail. Somehow it was stress because we did not have more time to relax and enjoy. They waved to us and this part is part of my wishlist for Christmas gifts.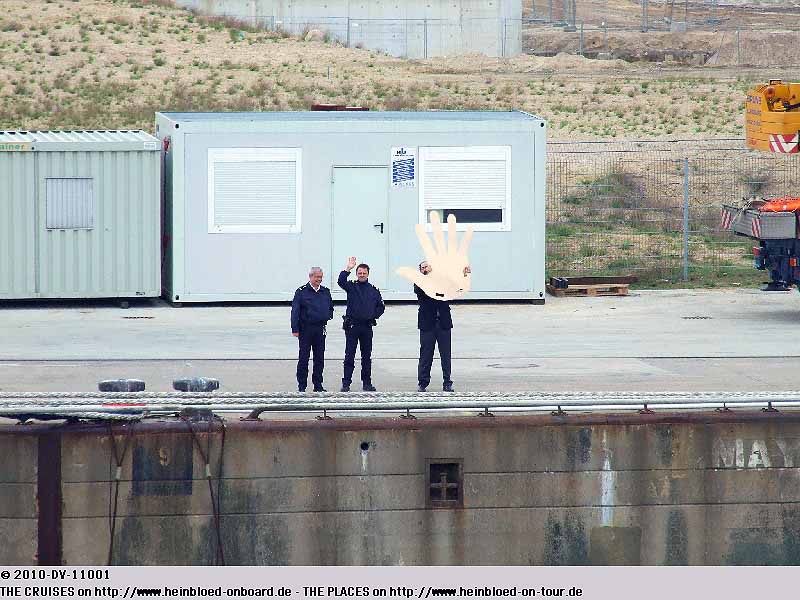 Während des Kaffeestündchens erfolgte auch die Ausfahrt. Es war irgendwie Stress, weil wir nicht mehr Zeit hatten und dadurch konnten wir nicht alles in Ruhe genießen. So wurde uns zugewunken und das Teil steht auf meiner Weihnachtswunschliste...
Da nun kein Hafengeburtstag war und wir nicht die QUEEN MARY 2 standen sehr wenige da, um uns vor dem Unilever-Haus zuzuwinken.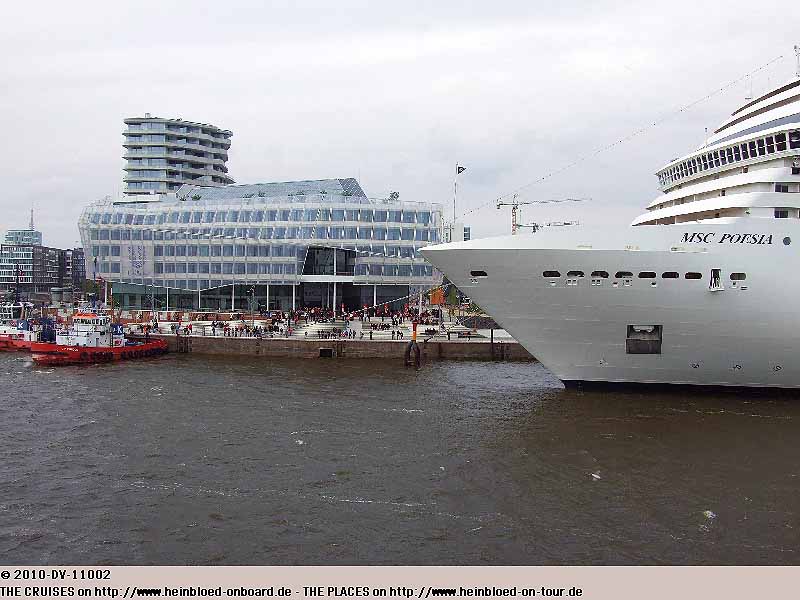 It was no port anniversary and our ship was not QUEEN MARY 2: so only very few came to wave us from the Unilever-building.

They were more there for the products of Unilever but for us.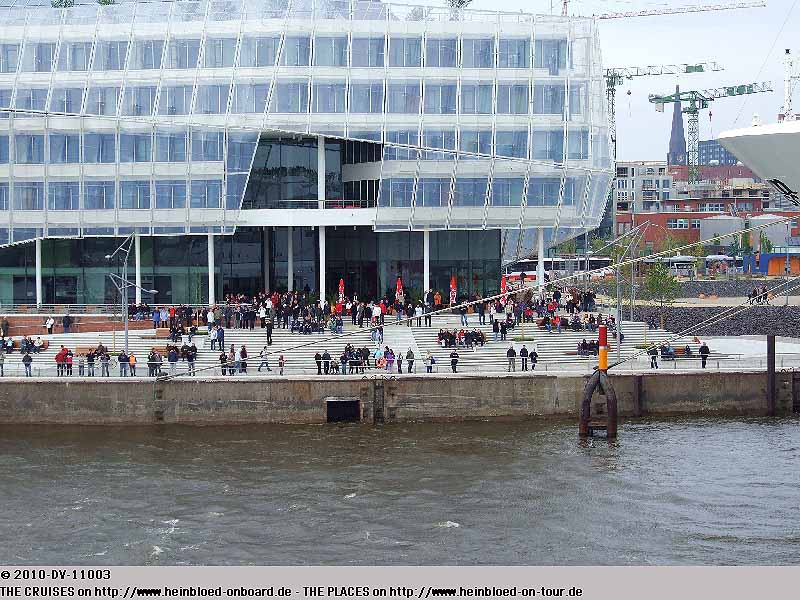 Die waren bestimmt mehr wegen der Unilver-Produkte da, als unseretwegen.
Was mir bei der DELPHIN sehr gut gefallen hat: Aussicht nach vorne, die hier nur denjenigen vorbehalten ist, die diese Ecke gefunden haben.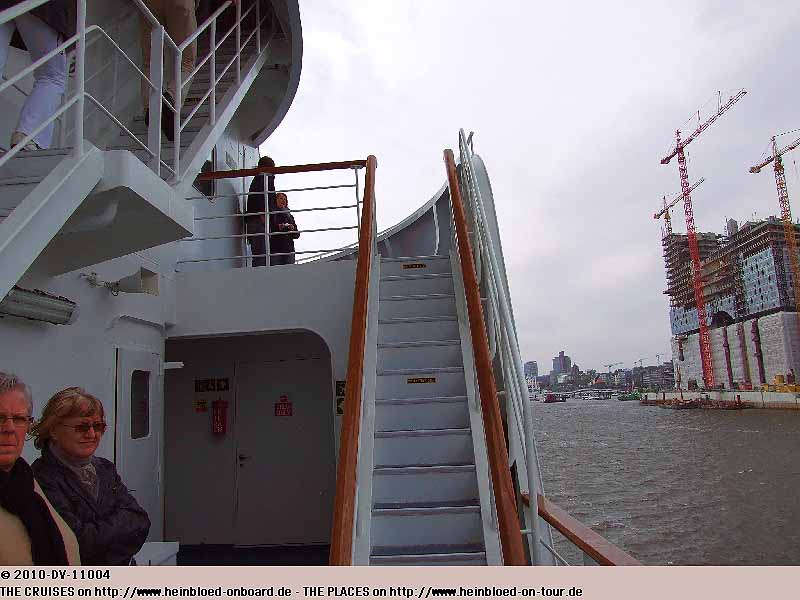 What I liked very much on DELPHIN: Not just the one person who found the corner had a view to the front.

It was too cold and too windy outside... something again we could "claim" with the cruise operator... if there was nothing else we could claim about...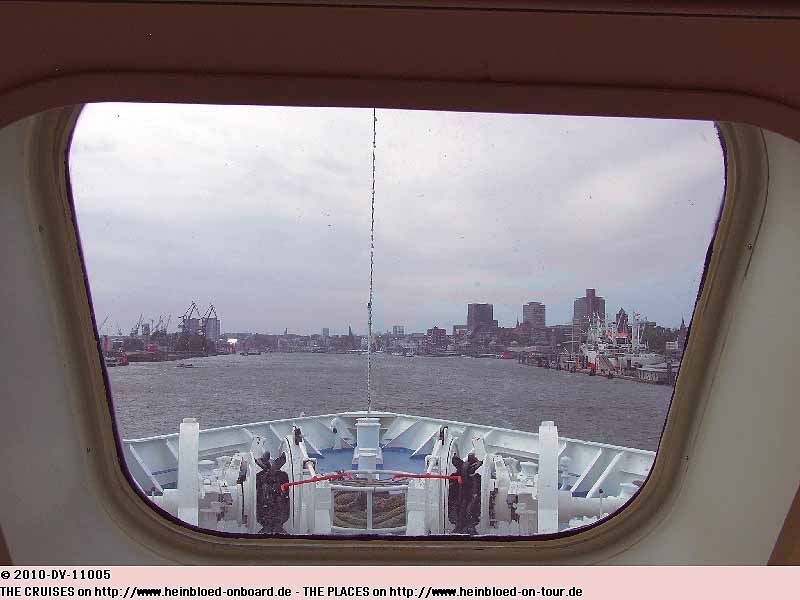 Uns ist es zu kalt und zu windig draußen... wieder etwas, worüber wir uns beim Reiseveranstalter "beschweren" können... wenn wir sonst nichts mehr finden...
Vorbei an den St. Pauli Landungsbrücken, die vor einer Woche noch viel lebendiger während des Hafengeburtstags aussahen.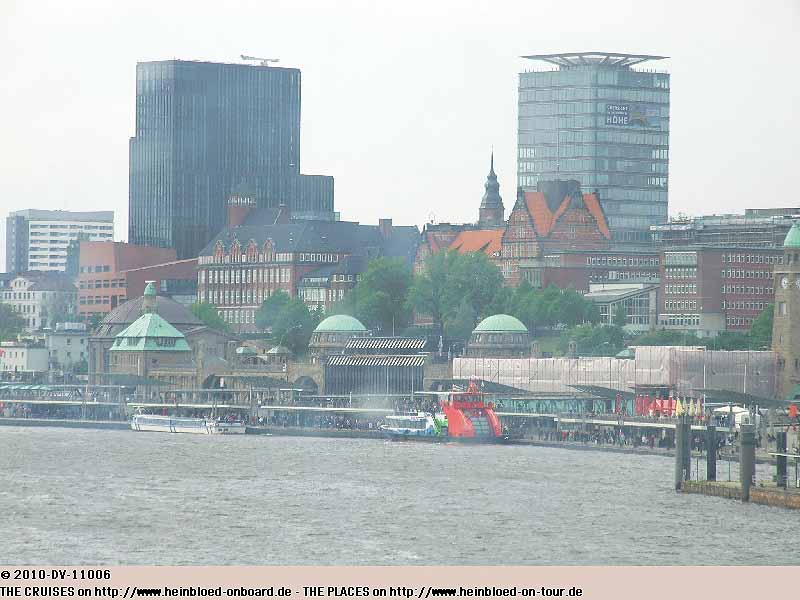 Passing the St. Pauli Landing Stages which were very vivid during the port anniversary the week before.

CAP SAN DIEGO and RICKMER RICKMERS... I cannot believe how busy it was the week before.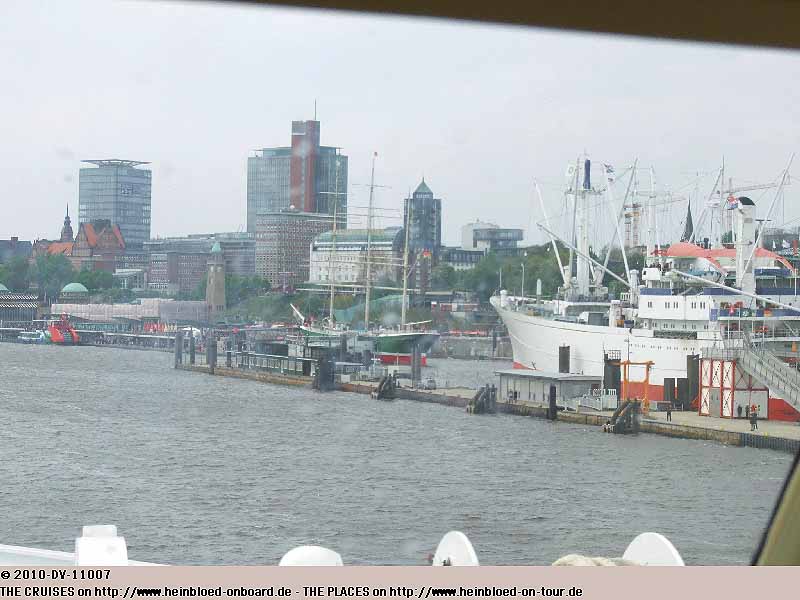 CAP SAN DIEGO und RICKMER RICKMERS... kaum zu glauben, wieviel letzte Woche hier noch los war.
Bruno habe ich den Auftrag gegeben den "Mann im Wasser" zu suchen, der irgendwo auf der Höhe von Övelgönne sein muss. Ich hatte ihn auf einer Elbe-Reise-Sonder-Sendung mit der Maus gesehen und wollte ihn endlich mal in Natur sehen.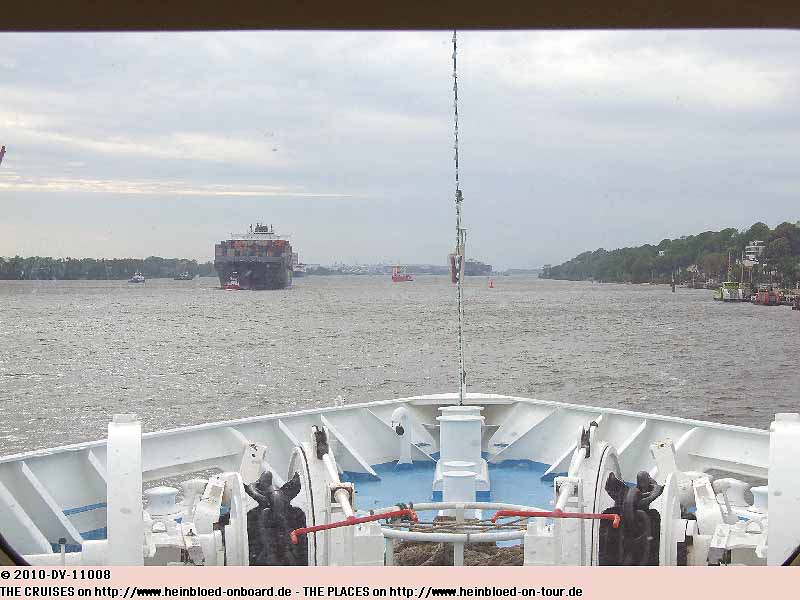 I gave Bruno the order to look for the "man in the water" which should be around the area of Övelgönne. I saw him in a special edition on German children TV and would be very much interested to see him in reality.

Instead I was thinking if the ship had an inbound container for our supply chain...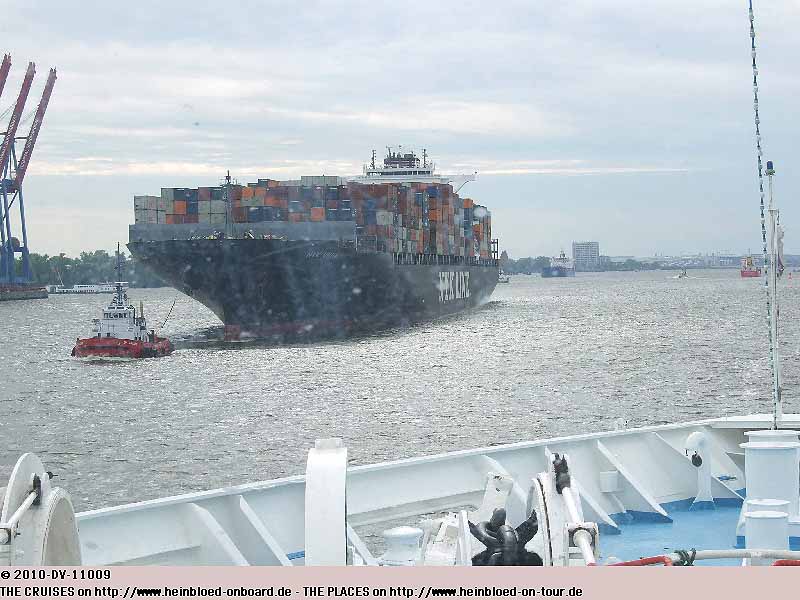 Stattdessen überlege ich mir, ob wir auf diesem Schiff einkommende Container für unsere Produktionsversorgung haben...