Scroll down for English explanations - alternates with German explanations.

Beim Auslaufen erkläre ich meinen Mitarbeitern eine Kreuzfahrt mit MSC... Der Grund, warum diese neuerdings das Motto Wellness-Kreuzfahrten haben: wir haben in 22 Nächsten MSC ca. 2 kg Gewicht verloren, ohne dass wir uns nur einen Milimeter selbst bewegen mussten... Unsere Firma hat ein Gästehaus, das von einem Ehepaar betreut wird, das auch mit uns dabei ist. Sie ist Italienerin. So formuliere ich vorsichtig, dass es immer so wie Urlaub mit ihr wäre: PASTA e BASTA!!! Mamma Mia - es wird das gemacht, was sie sagt...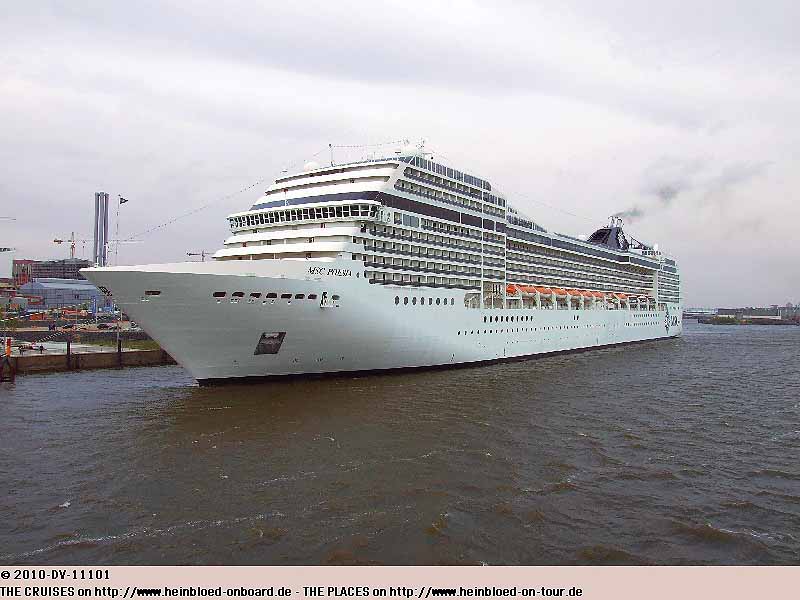 During the set-sail I explained my employees how it works to cruise MSC... The reason why they offer nowadays the theme wellness-cruise: we lost about 4 lbs. in totally 22 nights we made with MSC without moving any inch... Our company has a guest house. The female part of the keepers is Italian origin. Carefully said: it's always vacation with her: PASTA e BASTA!!! Mamma mia - you have to do what she said.

MSC POESIA we saw last time on Grand Cayman.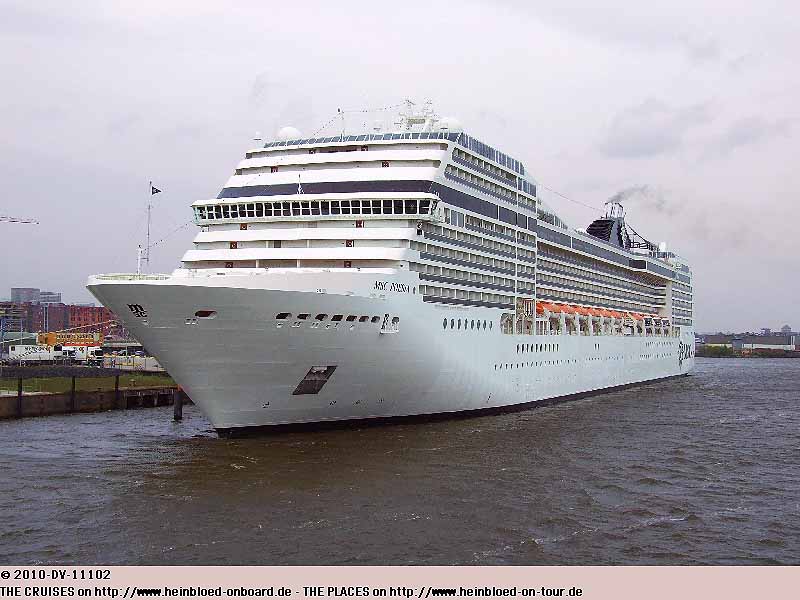 Die MSC POESIA haben wir ja zuletzt auf Grand Cayman gesehen.
Als wir in St. Nazaire waren haben wir sie ja noch in dort auf der Werft bei der Entstehung gesehen.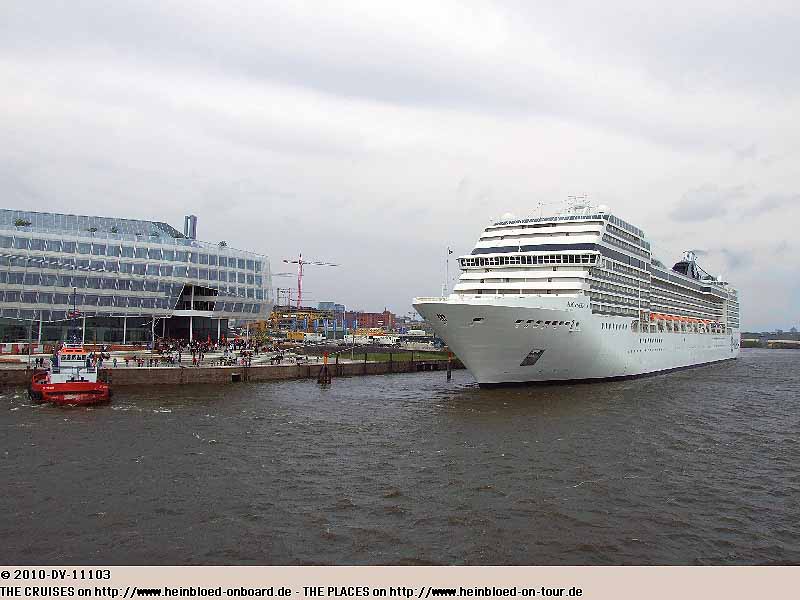 When we were in St. Nazaire we saw her during her construction in the shipyard.

Great hardware but the software is not really my world.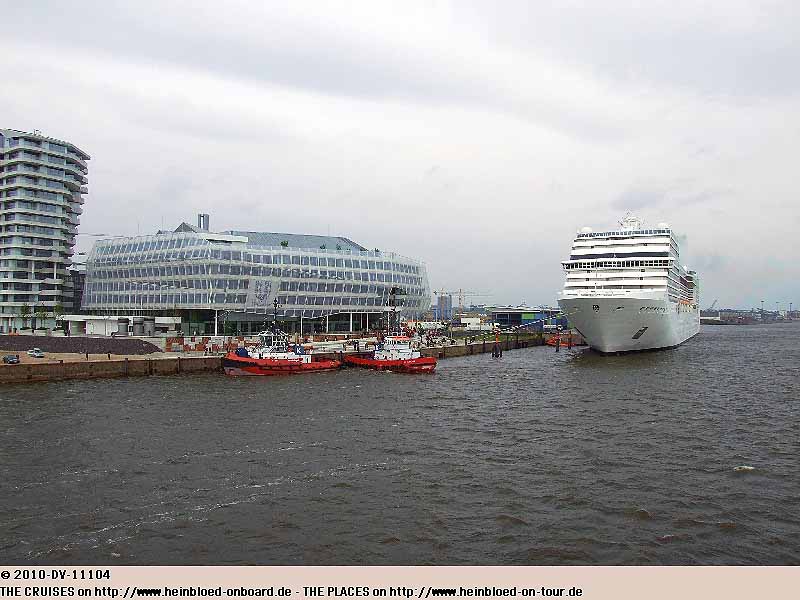 Tolle Hardware, nur mit der Software kann ich persönlich nicht mehr so viel anfangen.
Es war eigentlich Stress. Kaum haben wir mal für ein paar Minuten die Füße hochgelegt, kam auch schon die Ansage des Kreuzfahrtdirektors, dass wir in der Show Lounge zum Willkommenscocktail erwartet werden.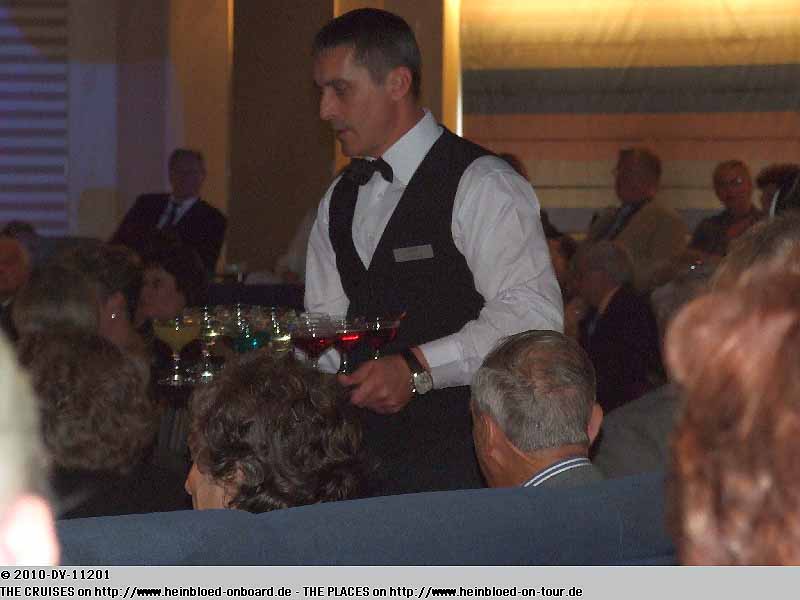 It was somehow stress. We just had the feet on the bed for few moments but then the announcement came that the cruise director was expecting us in the show lounge for a welcome cocktail.

There you got champagne cocktails in all kind of colors. Red hair guests should take a red colored cocktail like here on the picture.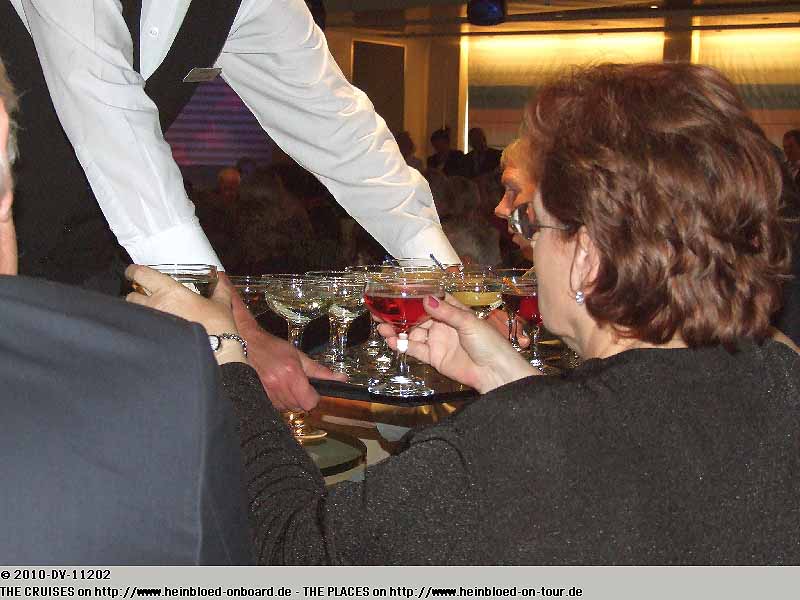 Dort gibt es Champagnercocktails in allen möglichen Farben. Einen roten sollen sich alle Rothaarigen nehmen, wie hier auf dem Bild...
Auf der Bühne werden wir von dem Geschäftsführer der Delphin Kreuzfahrten Hans-Hermann Hey persönlich begrüßt.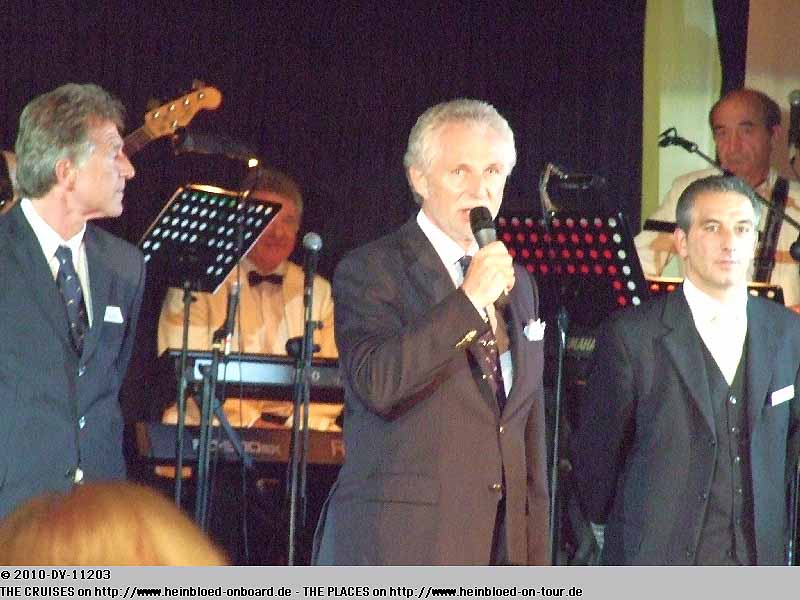 On the stage the General Manager of Delphin Cruises Hans-Hermann Hey welcomed us personally.

We were in the center of his hospitality and learned when we should cheer that the management on the stage did not get anything because the stewards were busy to get drinks for the guests. So he cheered to us without glass and did it later when they had also their drinks.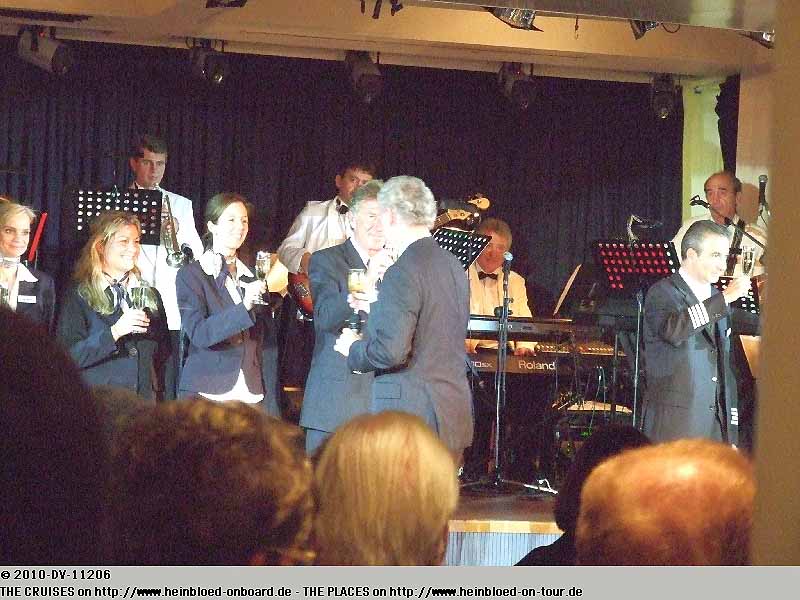 Dass wir als Gäste im Mittelpunkt seiner Gastfreundschaft stehen, merken wir dann, als er anstoßen will und die Crew auf der Bühne nichts bekommen hat, weil die Kellner noch mit den Passagieren beschäftigt ist. So stößt er ohne Glas auf uns an und selbst holt er es nach, als sie endlich auch etwas zu trinken haben.
Und dann werden auch schon in die Restaurants zum Abendessen gebeten. Vorne ist alles als Muster aufgebaut.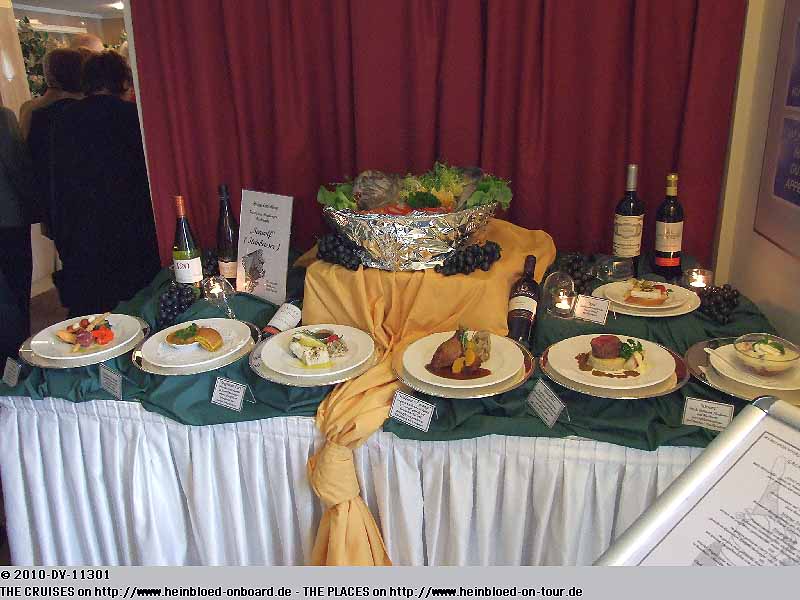 Then we were invited to move to the restaurant to have our dinner. In front of the restaurant you find all dishes as sample plate.

But the loup de mer (wolf fish, catfish - but in German translation: rock biter) looked like he bited a rock and need to see a dentist.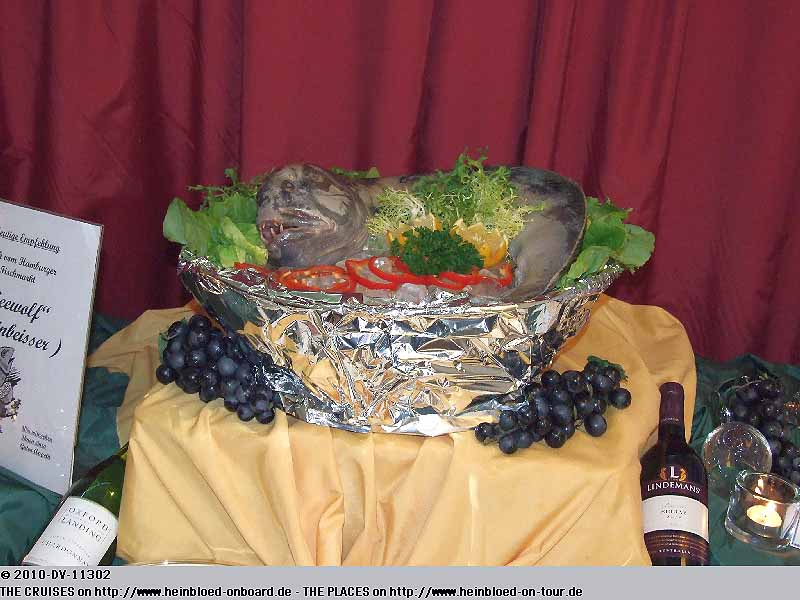 Nur der Steinbeisser (oder auch Seewolf oder Loup de mer) wirkt so, als ob auf einen Stein gebissen hätte und dringendst zum Zahnarzt müsste.
Sanitizer stehen zwar da, aber besteht keine Verpflichtung diese auch zu nehmen.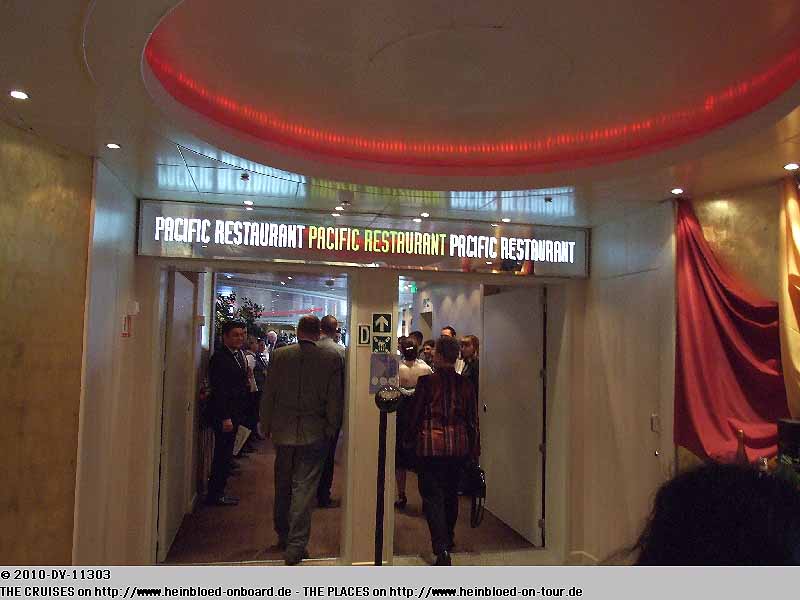 There were sanitizer but it was not mandantory to use them.

At the entrance the stewards waited for us like guards of honour and welcomed us there.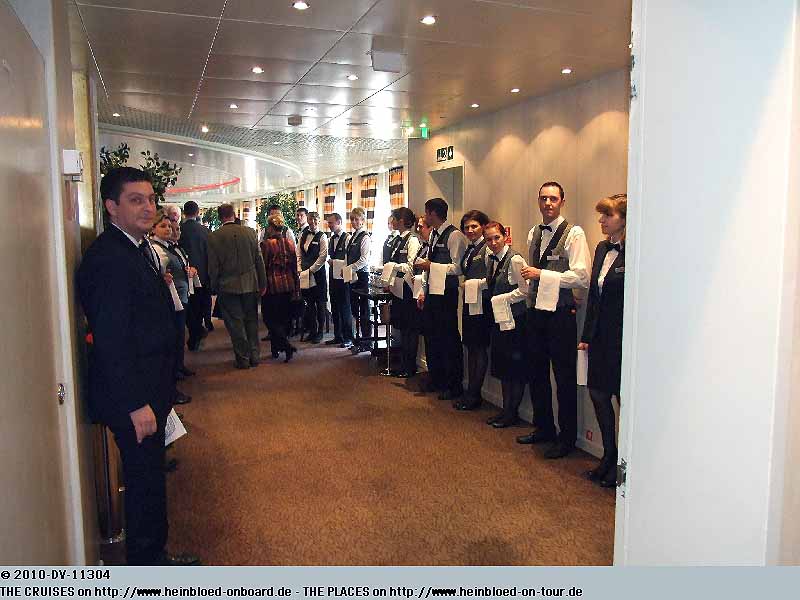 Am Eingang stehen sie im Spalier, um uns auch hier zu begrüßen.
Wir sind eine Gruppe von 26 (nach einem Krankheitsfall nur 25). Da wir nicht auf dem gleichen Deck wohnen, wie die anderen und man mich für die Reiseleitung hält, werden wir an einem 2-er-Tisch platziert. Die mögen wir in der Tat, wenn wir alleine reisen... Am Tisch ist alles genau abgezählt: Brot und Butter. Damit wir aber nicht den Ablauf durcheinander bringen wollen, verzichten wir auf korregierende Maßnahmen.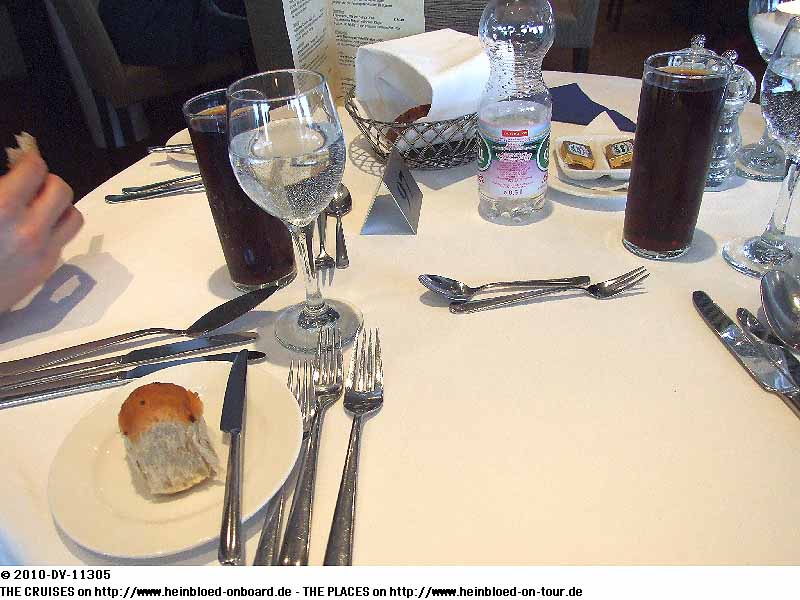 We were a party of 26 (after one was ill only 25). As we did not stay on the same deck like the others and they thought that I was tour guide we got a table for 2. We liked it very much if we travel alone... It's exactly numbered at the table: bread, butter. To avoid any problems with the service we refrained from any actions to make changes.

The starter was just made for our eyes... Each of us were so excited on the eatable blossoms.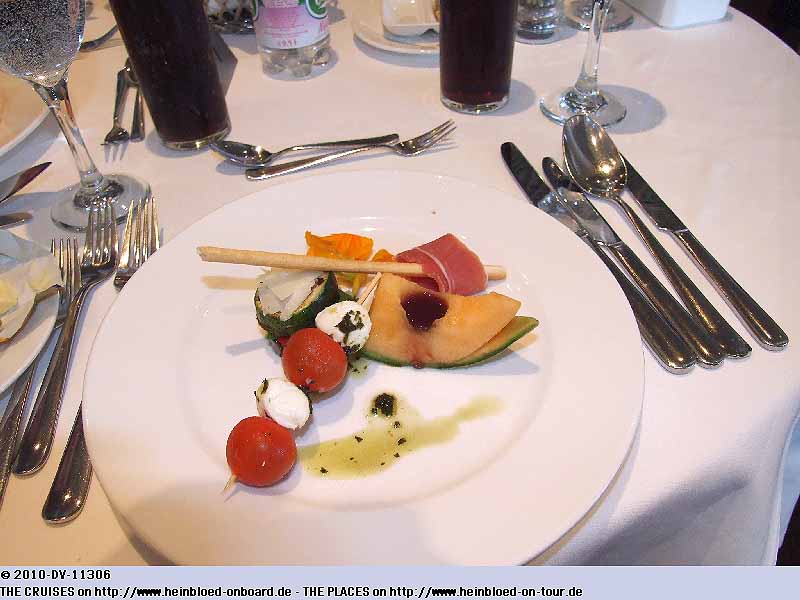 Die Vorspeise wie üblich wieder etwas für das Auge. Meine Mitarbeiter sind von den essbaren Blüten begeistert.
Auch die Suppe: richtig lecker... und sie schmeckte gar nicht, als ob sie sie im Unilever-Haus besorgt hätten, obwohl sie ja fast davor lag...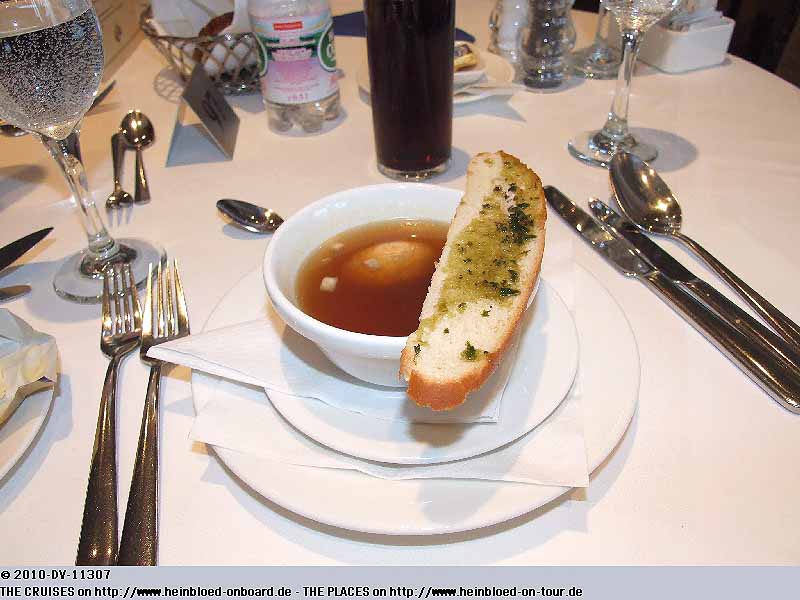 Again yummy: the soup... did not taste like Unilever although our ship berthed just in front of their corporate office...

Also the warm starter was just great.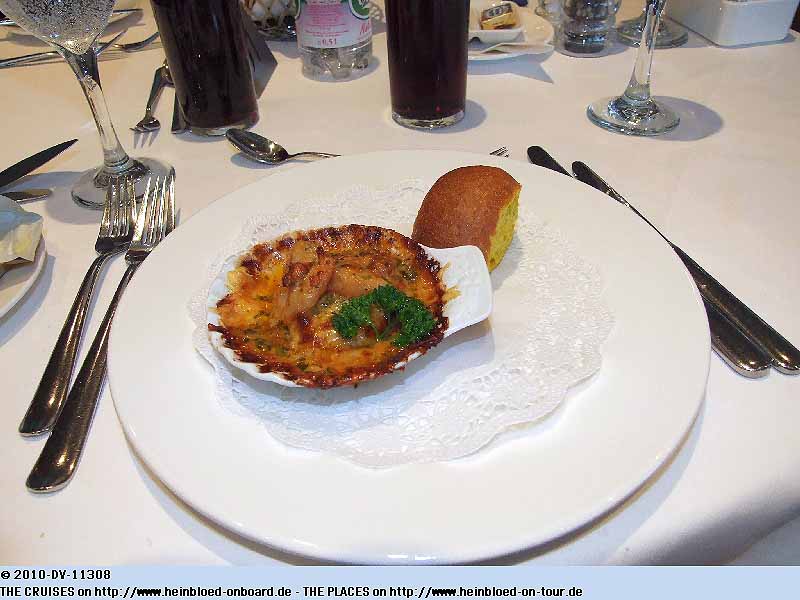 Die warme Vorspeise war wieder sehr gut.
Und der Salat mit Speck wurde auch von Bruno gelobt. Nur wenn ich ihn so zu Hause nachkoche, isst er ihn nicht...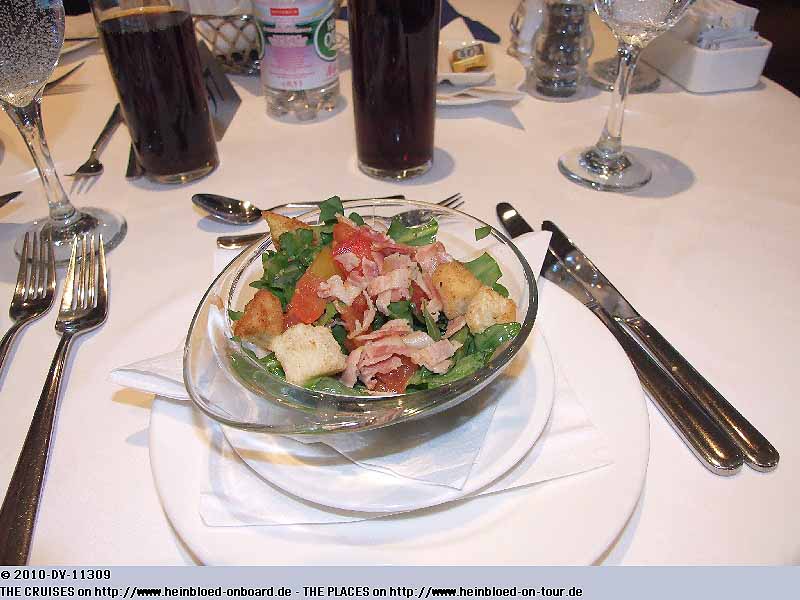 And Bruno liked the salad with the bacon bits. Only if I made it at home then he does not eat it.

I experienced a first class service which I partly missed on CELEBRITY EQUINOX (with one more star...). Somehow I used one fork at a wrong course by mistake. Our waitress saw it on the way to me when she had already the next course for me. So she returned and got me a new fork before she served the course again. All ladies at the table got their dishes first. So far the space allowed they got properly served from the correct side.

Ich erlebe einen erstklassigen Service, wie ich ihn auf der CELEBRITY EQUINOX (immerhin noch mal einen Stern besser...) streckenweise vermisst habe: Irgendwie muss ich einmal wohl eine Gabel irrtümlich genutzt haben, die für diesen Gang nicht vorgesehen war. Unsere Kellnerin bemerkt das auf dem Weg zu mir, als sie schon den nächsten Gang in der Hand hält. Sie geht zurück zur Servicestation und bringt mir zunächst die fehlende Gabel, bevor sie einen erneuten Versuch unternimmt, mir den nächsten Gang zu servieren. Auch bekamen alle Damen am Tisch zunächst ihren Gang. Soweit es technisch möglich war, wurde alles von der korrekten Seite aus serviert.
"Meine Frau hatte wie immer den Fisch und der war gut..." - ein unvergesslicher Spruch, den wir damals in einem täglichen Reisebericht von der MSC MUSICA gelesen haben und nach wie vor nutzen, wenn Bruno den Fischgang wählt.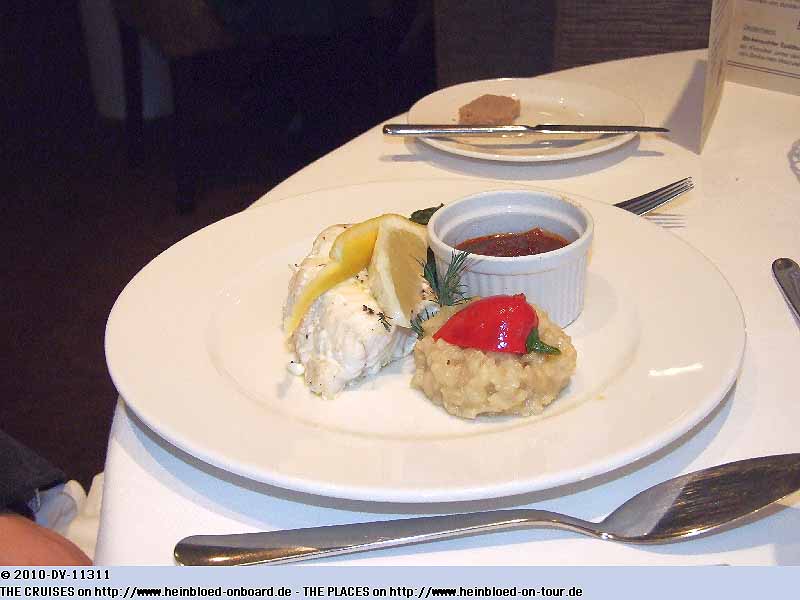 "My wife had fish as ususual and this was great..." - an unforgettable quote from another German cruiser which we read every day from MSC MUSICA and we still used when Bruno choosed the fish course.

Contrary to the last party nights I choosed this time the duck... but I as I am not a very big honey-fan I thought this flavour was too dominant in the orange sauce. But this is a question of personal taste and preferences. I can live very well with this as the other performance was totally outstanding.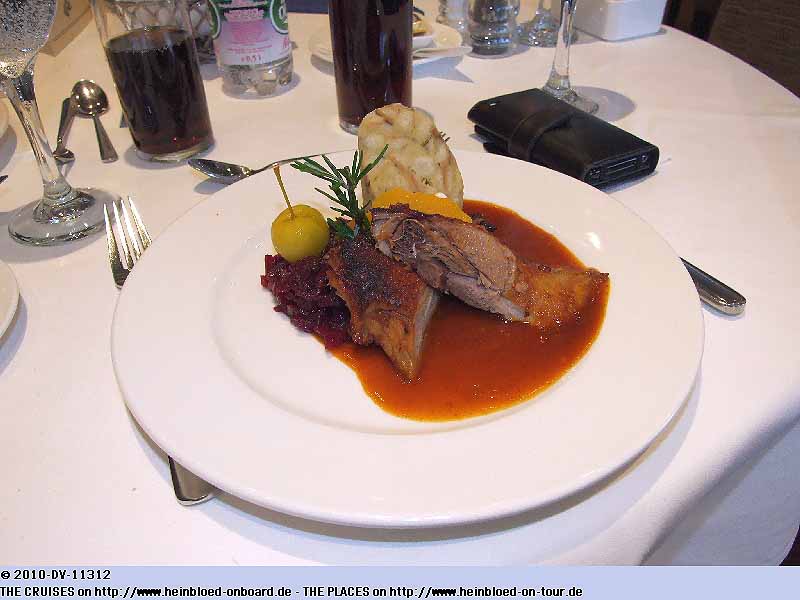 Im Gegensatz zu den letzten Partynächten wähle ich dieses Mal die Ente... da ich nicht so der große Honig-Fan bin, dominierte für meinen Geschmack etwas zu sehr die Honig-Note in der Orangensauce. Aber das ist bekanntlich immer eine Frage des persönlichen Geschmacks. Damit kann ich aber gut leben, angesichts der sonstigen Leistung.
Ich hatte bislang noch nicht die Gelegenheit mit den Ultra-Luxus-Gesellschaften zu fahren. Weder bei Cunard, Celebrity oder Holland America gab es bislang Pittahaya (Drachenfrucht / Straciatella-Frucht) als Garnitur!!!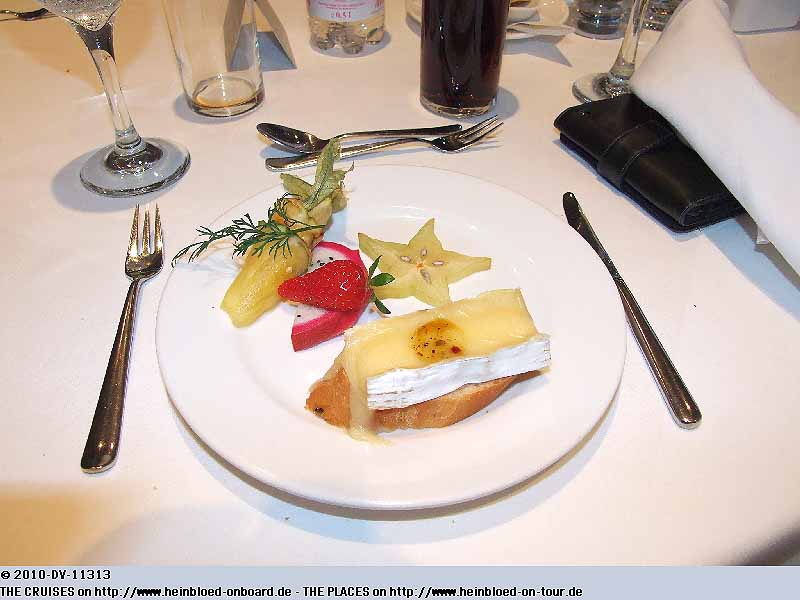 I had no chance so far to go ultra-luxury-lines. But never did I get on Cunard, Celebrity or Holland America any dragon fruit as garnish!!!

Normally there should be a sherbet-course but this was also accepted as alternative course.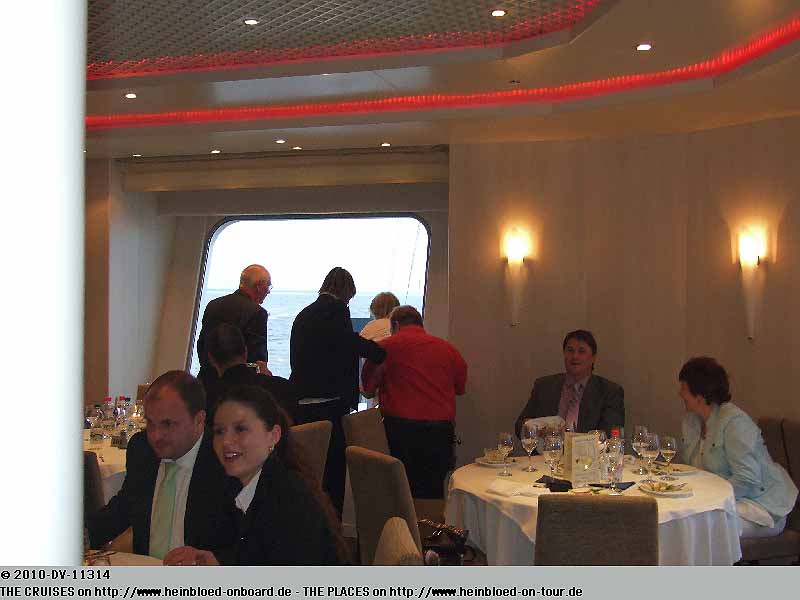 Eigentlich fehlte bloß ein Sorbet-Zwischengang... Dafür gab es aber einen anderen "Zwischengang".
Weil die See durch den Wind doch unruhiger als erwartet ist, werden wir in die richtige Position durch Schlepper gedrückt, bevor wir die Position für die Einfahrt in die Schleuse Brunsbüttel erreichen.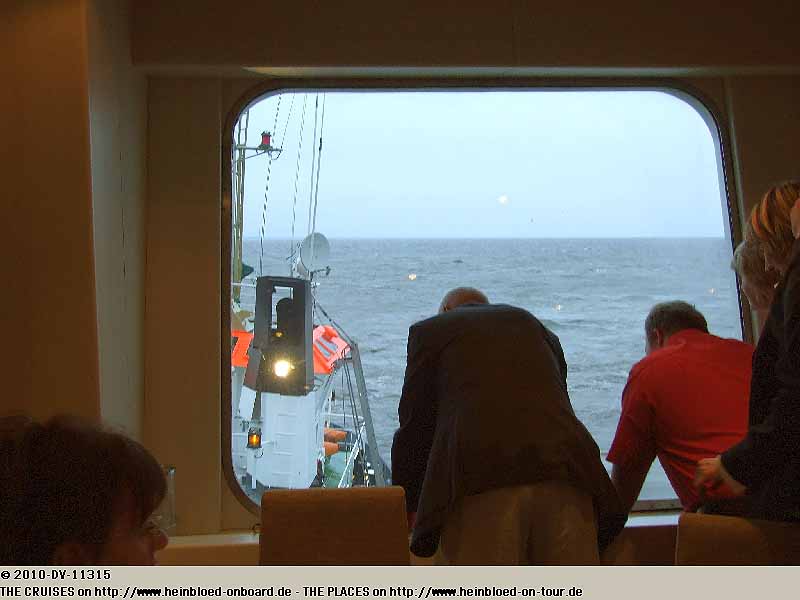 Due to the wind the sea was more rough so a tug must get us to the right position before we can enter the locks of Brunsbüttel.

Most of us accepted this event als dinner entainment.

Das wird auch als Abendunterhaltung zum Dinner von den meisten akzeptiert.
Nach dem wir im vergangenen Jahr nach einem geplanten Dessert noch mit der Baked Alaska überrannt wurden, verzichten wir auch auf eine separate Dessert-Bestellung. Den Obstteller musste ich aber dennoch mal fotografieren: wenn das Cunard-Loge auf der Fahne des Tellers geprankt hätte: ich hätte keinen Unterschied gemerkt, dass ich auf der DELPHIN VOYAGER bin...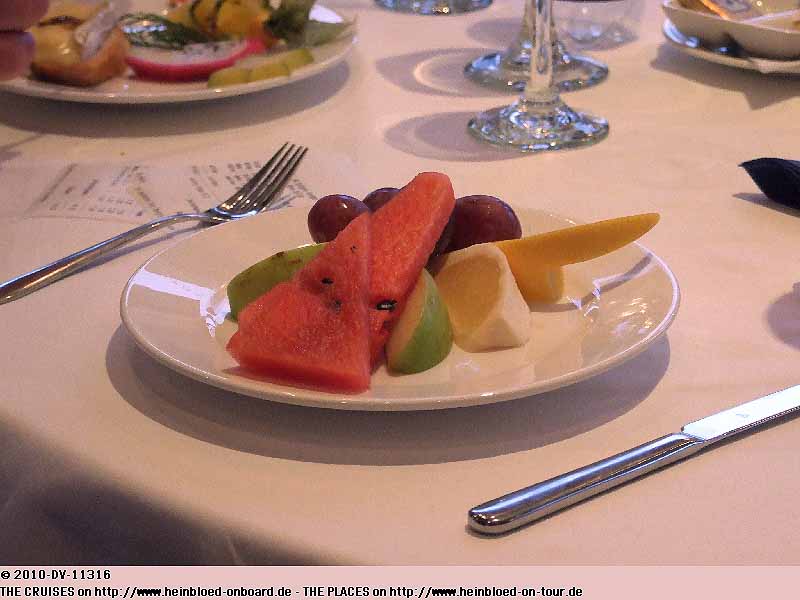 After last year we got after our scheduled dessert another plate of Baked Alaska we did not order any dessert this year. But I need to take a picture of this fruit plate. If there would be Cunard's logo on the plate: I would not see that I was on DELPHIN VOYAGER.

The turned off the light in the restaurant. Music came.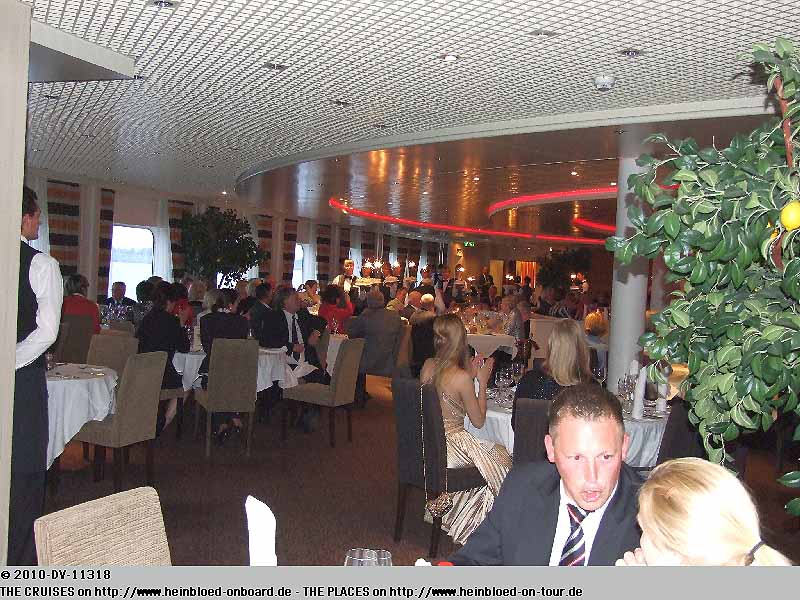 Auf einmal wird es dunkel im Restaurant. Musik ertönt.
Die Baked-Alaska-Parade beginnt...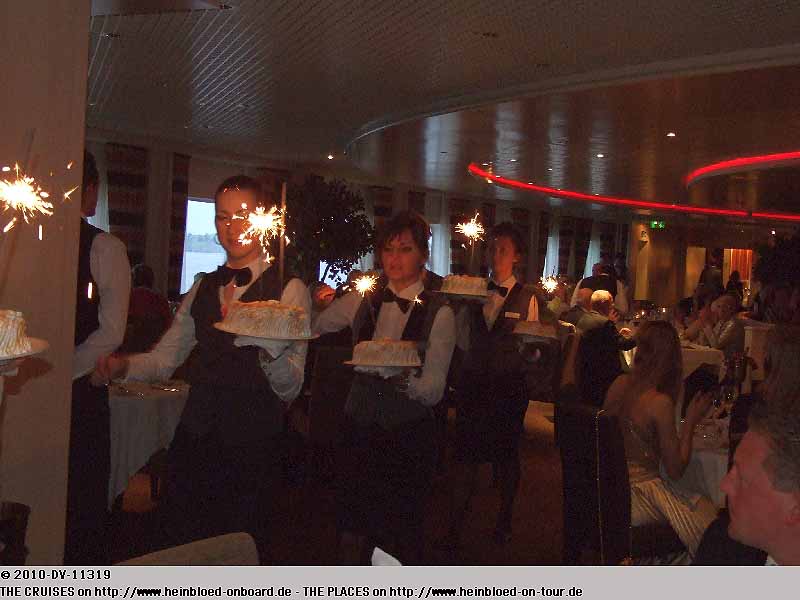 The Baked-Alaska-Parade started.

Let's say it this way: the shape of the restaurant was not the best to have just one parade. Maybe there were few so that in all restaurants there was something to see.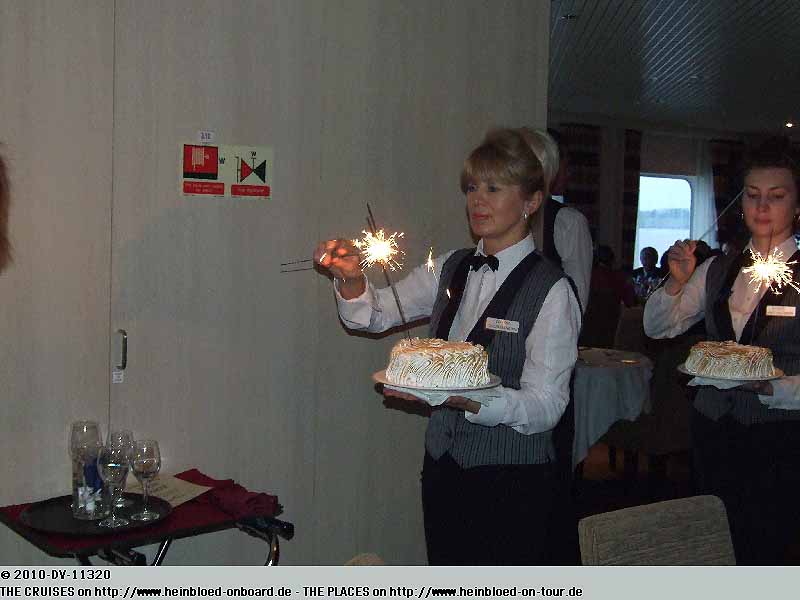 Sagen wir mal so: durch die Form der Restaurants ist es schon ein wenig unglücklich, aber vielleicht fanden ja mehrere Paraden statt, so dass in den anderen beiden Restaurants auch etwas zu gucken gab.
Hier unsere Kellnerin Oksana... die ich vermutlich mal zur Verzweiflung gebracht habe... Anscheinend wurde sie nicht vorgewarnt, was für ein furchtbarer Gast ich doch bin...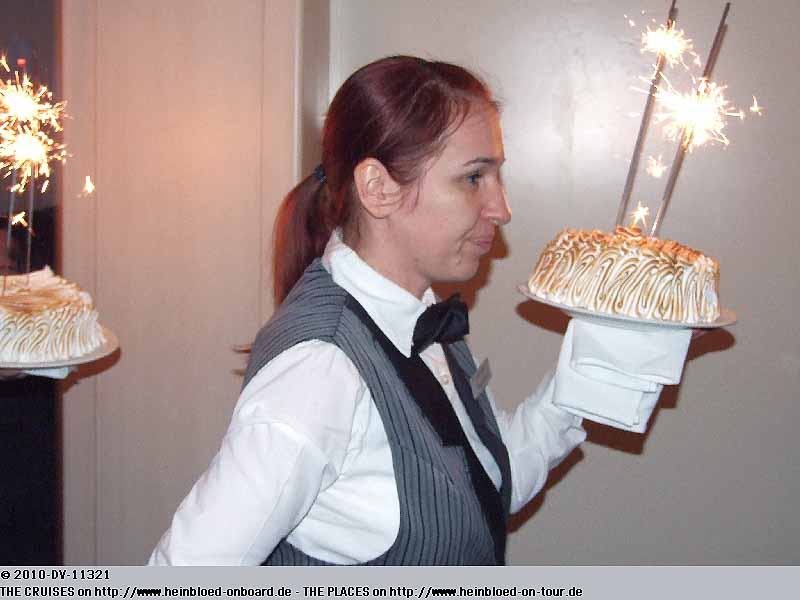 Here our stewardess Oksana... which I made totally despearated... I think they did not give her an alert how bad I could be as guest...

No more joking: a great climax on each cruise which is not so much more celebrated.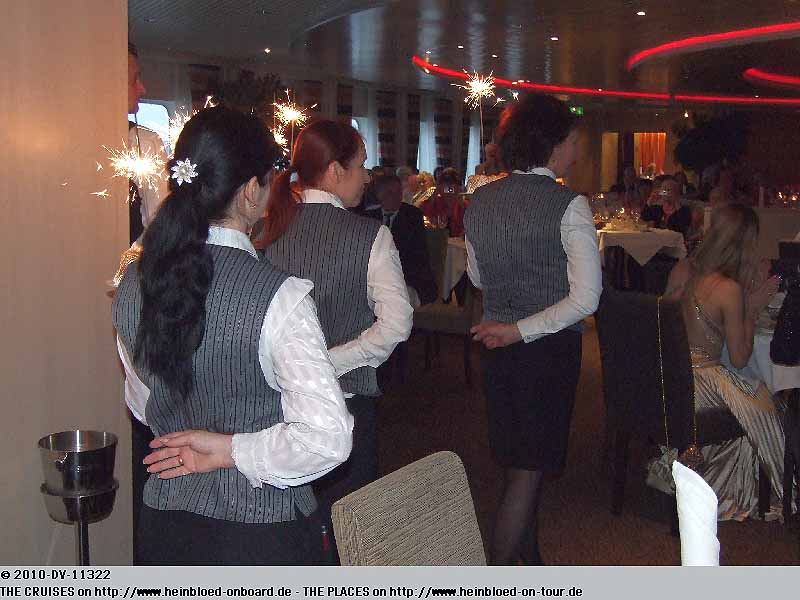 Spaß beiseite: ein schöner Höhepunkt einer Kreuzfahrt, die leider immer seltener zelebriert wird.
Bruno bekommt nichts vom Heidelbeer- und Schokoladenteil... so bedient er sich bei mir.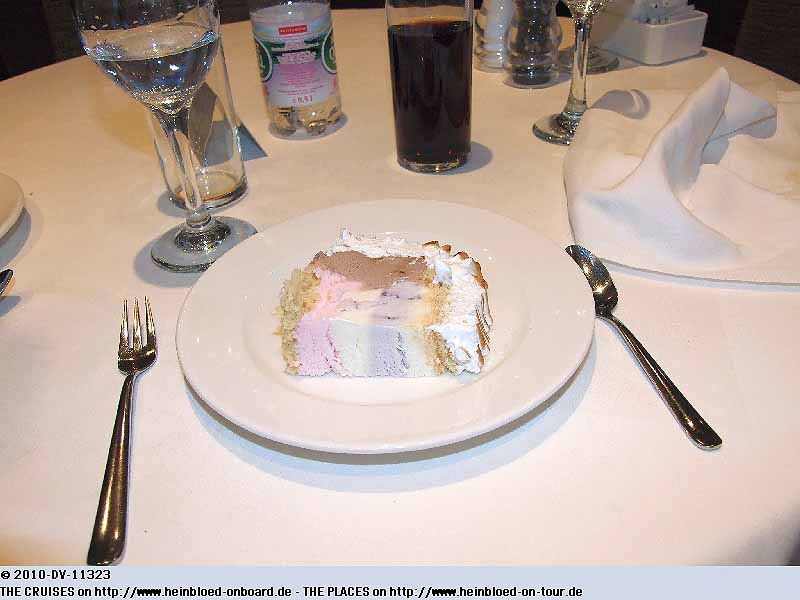 Bruno got a piece without blueberry and chocolate part... so he helped himself with me.

The four great stewards for our group: Oksana, Rita and their assistent waiters the "little" and "big" Alexandr. They deserved a great tipping for a perfect service and they appreciated it. As 12 of our group was with one team and 13 with the other we let them allocate the tip... To tell it before: one waiter was missed the next day at the breakfast...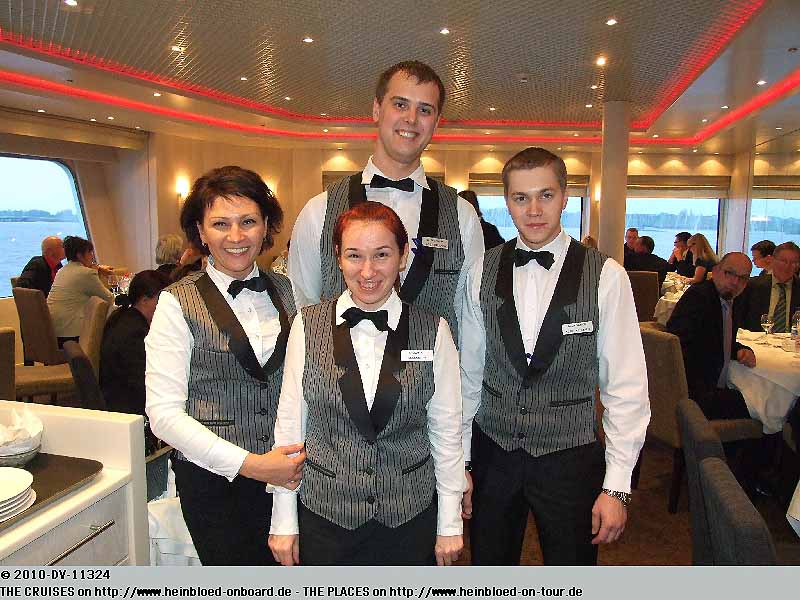 Das sind übrigens die vier guten Geister für unsere Gruppe: Oksana, Rita sowie deren Hilfskellner der "kleine" und der "große" Alexandr. Ein Trinkgeld haben sie sich verdient für den perfekten Service, worüber sie sich auch sehr freuen. Da 12 von uns bei einem Team waren und 13 bei dem anderen überlassen wir ihnen die Aufteilung... Um es vorweg zu nehmen: einen Kellner haben wir am nächsten Tag nicht mehr beim Frühstück gesehen...
Ich wollte immer wissen, was der Chef Steward ist, weil Victor (Sascha Hehn) diesen Titel auf dem ZDF-Traumschiff damals hatte. Günter Schmied, der ihn ebenfalls auf dem Namensschild trägt, erkundigt sich hier nach unserer Zufriedenheit. Er freut sich sehr, dass wir Essen und Service genossen haben. Später lese ich auf einem Dokument, dass er auch als Maître d'Hotel unterzeichnet.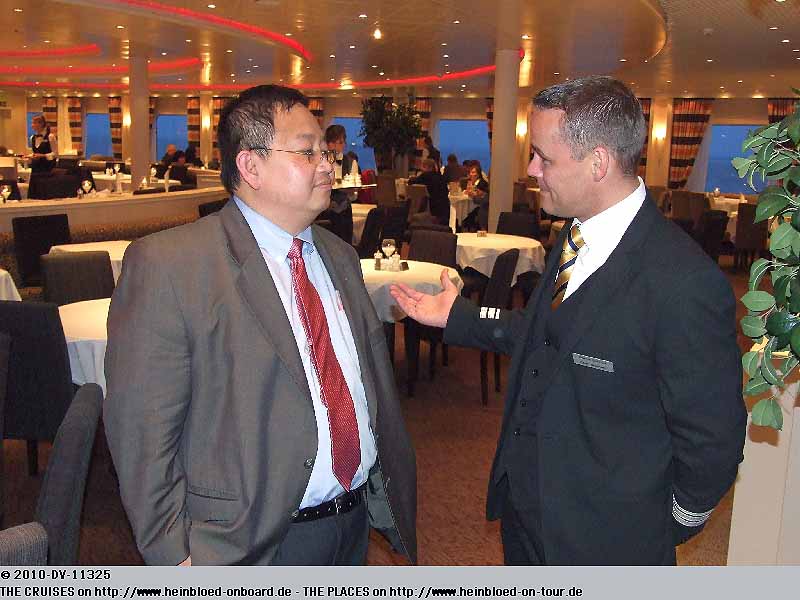 I always wanted to know what was behind the function Chief Steward. When German TV started the German version of "Love Boat" there was the Chief Steward Victor. Günter Schmied had the same title on his name tag and asked for my satisfaction. He was very glad that we enjoyed the food and service. Later I read on another document that he also signed as Maître d'Hotel.

While we entered to the locks of Kiel-Canal in Brunsbüttel the dinner was more or less finished and the evening programme approached. I asked for the expected time of arrival in Kiel-Holtenau which was told for 07.00 hrs to make ASchröder from a German cruiser forum coming to the canal and taking pictures of us if we do not arrive to early and if it is not too rainy.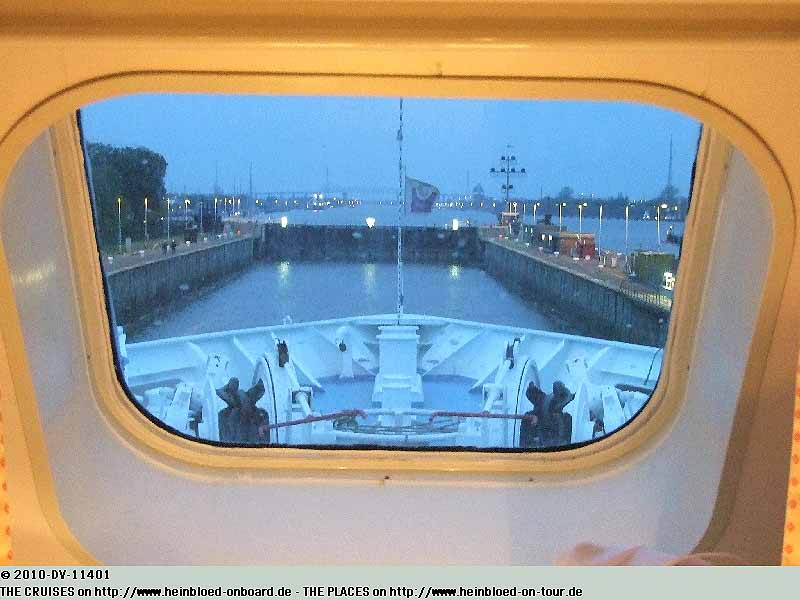 Während wir in Brunsbüttel reinfahren, endet das Abendessen und es geht auch schon bald zum Abendprogramm über. Ich erkundige mich über die voraussichtliche Ankunftszeit in Holtenau, die für 07.00 Uhr angegeben wird, weil
ASchröder
aus dem
Kreuzfahrten-Treff.de-Forum
versprochen hat, uns zu fotografieren, falls wir nicht zu früh kommen und es nicht in Strömen regnet.
Also begeben wir uns zur Show-Lounge. Weil ich fotografieren will, setzen wir uns näher ans Geschehen heran. Das MDR Deutsche Fernsehballet... etwas was die Treunhandanstalt wohl nicht mit abgewickelt hat und somit die Wende überlebt hat...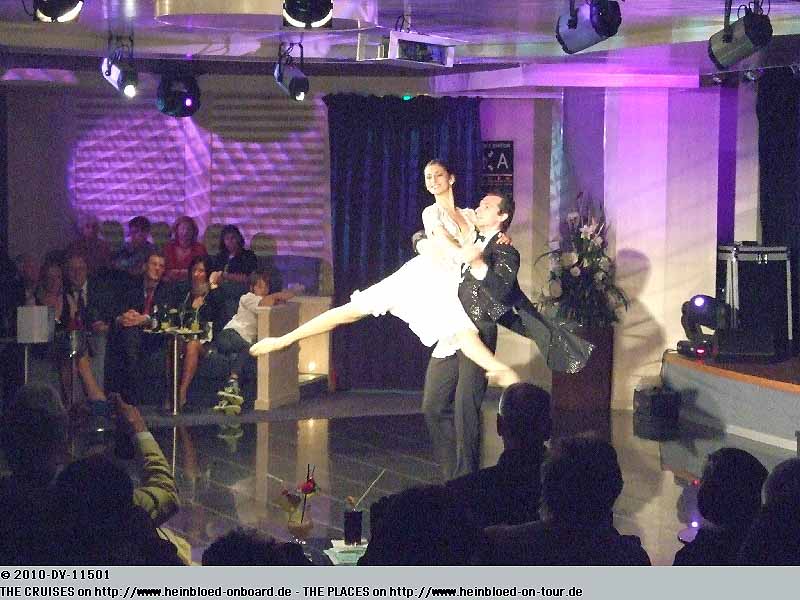 So we went to the show lounge. Because I wanted to take pictures we sat closer to the stage. MDR (Central German Broadcast Station) German TV ballett... something what the Treuhandanstalt (The former German Trust Agency (Privatization Agency) for the former East German enterprises) was not liquidated and so survived the German turnround.

Because the ceiling was not very high we were not so much interested in her artistic perfomance but when she might hit the ceiling to give her a kiss.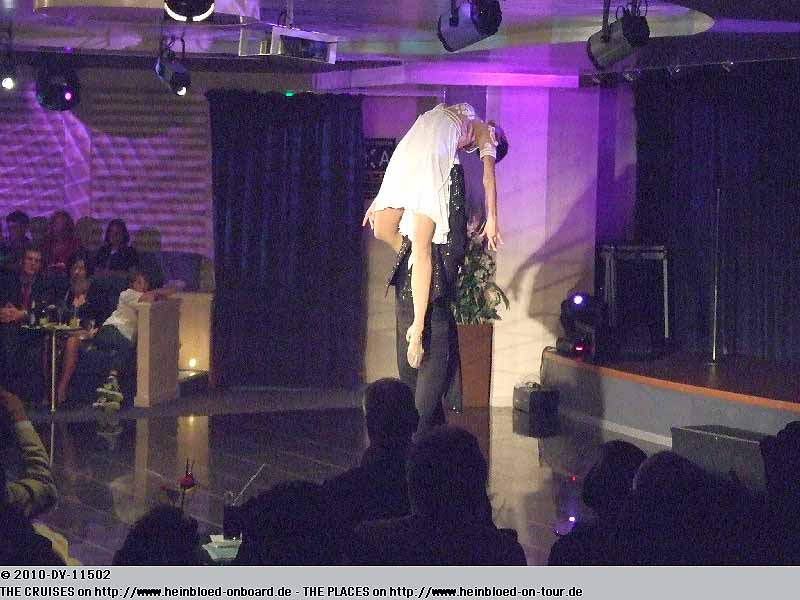 Weil aber die Decke so niedrig ist, befassen wir uns nicht mit der künstlerischen Darbietung, sondern eher mit der Fragestellung, wann die Dame oben die Decke küsst...
Irgendwie wirkt so etwas auf so einer Bühne doch etwas gedrungen.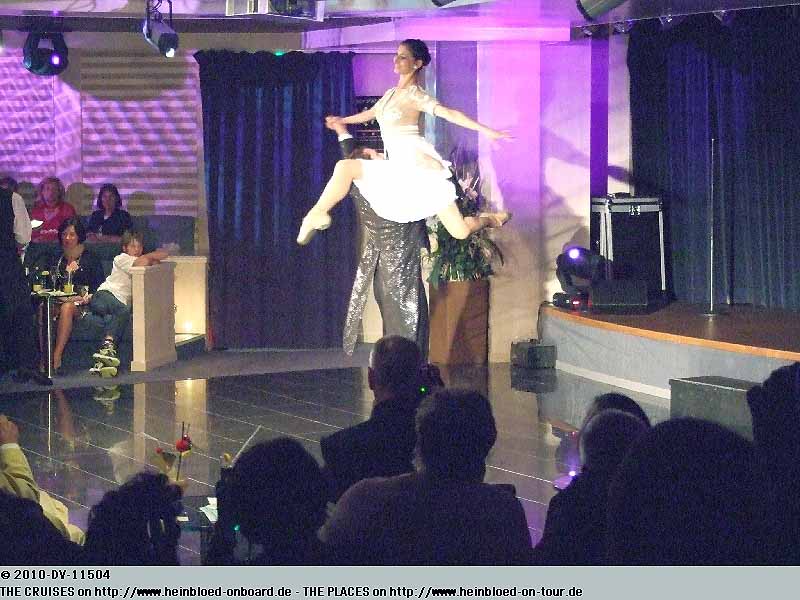 Somehow it appeared a little narrow on the stage.

You need some Las Vegas glamour...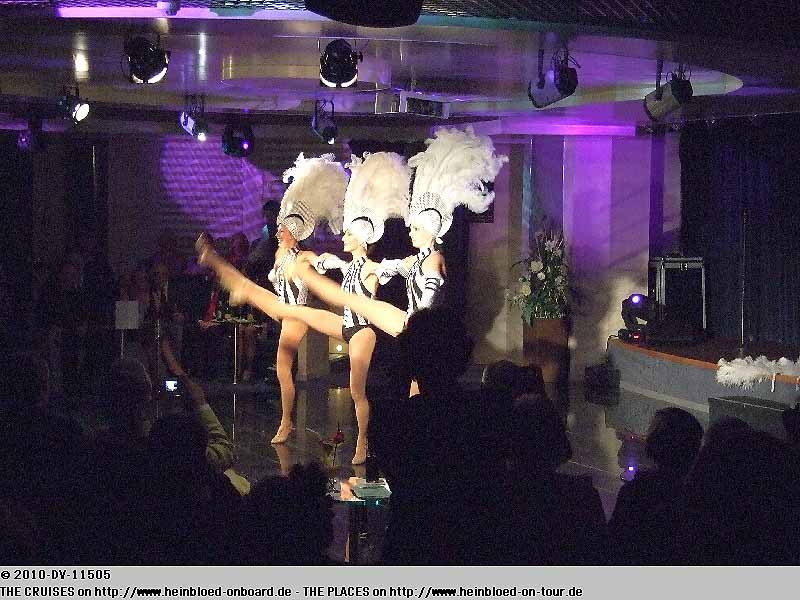 Ein bisschen Las-Vegas-Flair muss schon sein,
um Dieter-Thomas Heck eine entsprechende Umgebung zu bitten. Heute Abend ganz nett, aber 14 Tage auf der WESTERDAM...???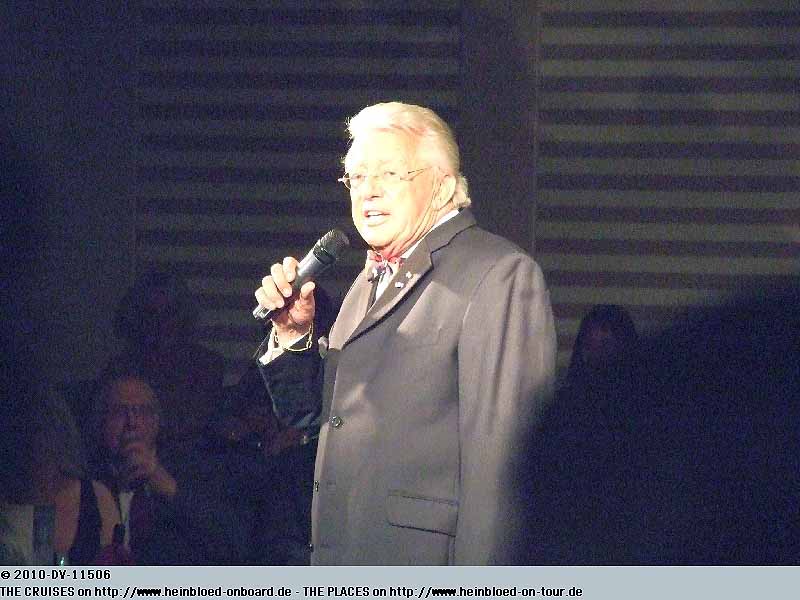 ... to give Dieter-Thomas Heck (a popular German TV-presenter/actor/singer in the 70s, 80s, 90s) an appropiate frame. Tonight very nice but a fortnight on WESTERDAM???

Somehow when we booked it was not clear who should be the special guest. So we booked a pig in a poke without the right to cancel without penalty once they published the stars... Chris Roberts (well popular in the 70s - since then no new activities...)... which occured a scandal in my company: next developement and performance interview: we need to improve their capabilty to suffer and their staying power as targets for the department. If they do not do in future what I want I will continue to sing "Hab Sonne im Herzen..." (Have sunshine in your heart...) or "Du kannst nicht immer siebzehn sein..." (You cannot be all the time seventeen...) until they will do what I want them to do as their boss...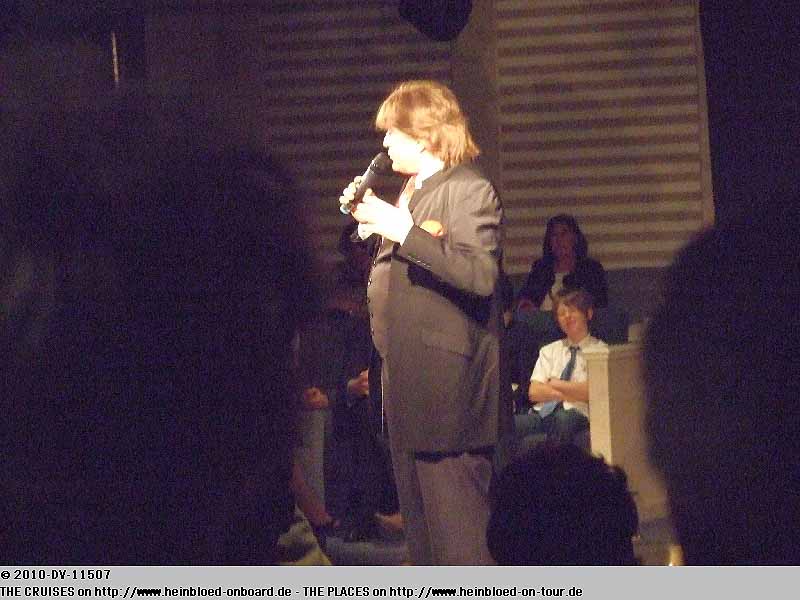 Nun als wir gebucht hatten, standen die Künstler noch nicht fest. Daher gab es bloß die Katze im Sack ohne außerordentliches Kündigungsrecht... Chris Roberts... was zu einem Eklat bei mir in der Firma geführt hat: alle Mitarbeiter von mir werden wir auf der nächsten Mitarbeiterbesprechung nochmals die Eigenschaften: Leidensfähigkeit und Durchhaltevermögen als Abteilungsziele nahe bringen. Wenn die nicht künftig spuren, singe ich so lange "Hab Sonne im Herzen..." und "Du kannst nicht immer siebzehn sein...", bis dass sie machen, was ich als deren Chef will...
Ireen Sheer: "Und heut abend hab ich Kopfweh..."... Nun gut: viele von euch wissen, dass ich im Sendegebiet von NDR 1 Niedersachsen arbeite und das höre (wegen der regionalen Nachrichten inkl. Wetter und Verkehr...), aber jemand mit der Stimme und die Fähigkeit auf die Kreuzfahrt einzugehen, in dem sie aus ihrem neuen Album Rod Stewarts "We are sailing" singt, verdient den höchsten Respekt.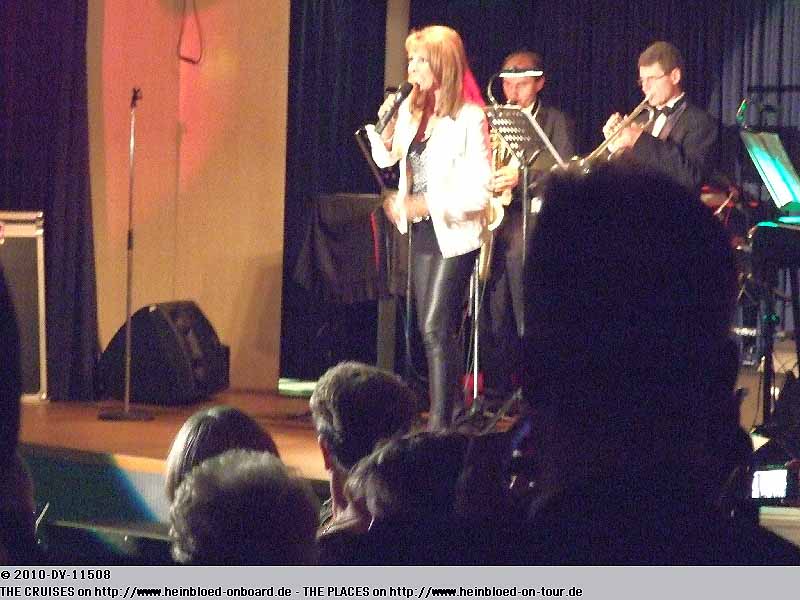 Ireen Sheer (Irish origin but sings mostly in Germany in German): "Und heut abend hab ich Kopfweh..." (and tonight I have headaches...): somehow - most of the German readers know that I am working in the broadcast area of the German radion station NDR 1 North German Broadcast Region Lower Saxony (because of the local news incl. local weather and local traffic information - but too much German songs for the best-agers...)... but someone with this voice and the ability to refer the performance to a cruise by singing out of her new album: Rod Stewart's "We are sailing", deserves my total respect.

We had the patience and stayed until the end experienced a true passionate musician Michael Holm who wanted for us passengers that the orchestra did what he wanted and not vice versa.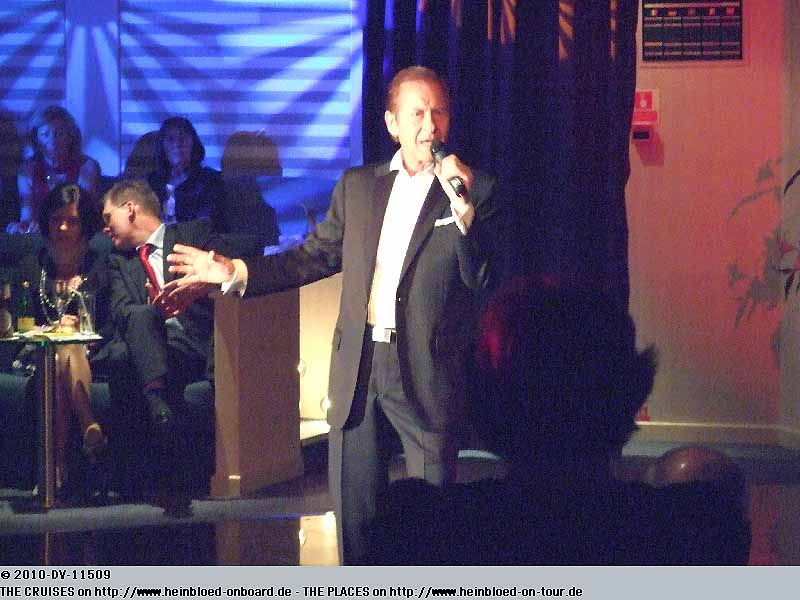 Wer die Geduld bewies und bis zum Schluss blieb, erlebte noch einen echten Vollblutmusiker: Michael Holm, der im Interesse der Passagiere wollte, dass das Orchester das macht, was er will und nicht umgekehrt...
Bei "Tränen lügen nicht" würde ich sagen, dass er eigentlich gar nicht mehr singen musste, weil die gesamte Lounge sang und schluchzte... Daher war es sehr unverständlich, dass es statt einer geforderten Zugabe von ihm, eine Zugabe vom MDR Deutsches Fernsehballett gab, die unnötig den Start des Zeitfenster für das Fotografieren des Mitternachtsbüffets verkürzte.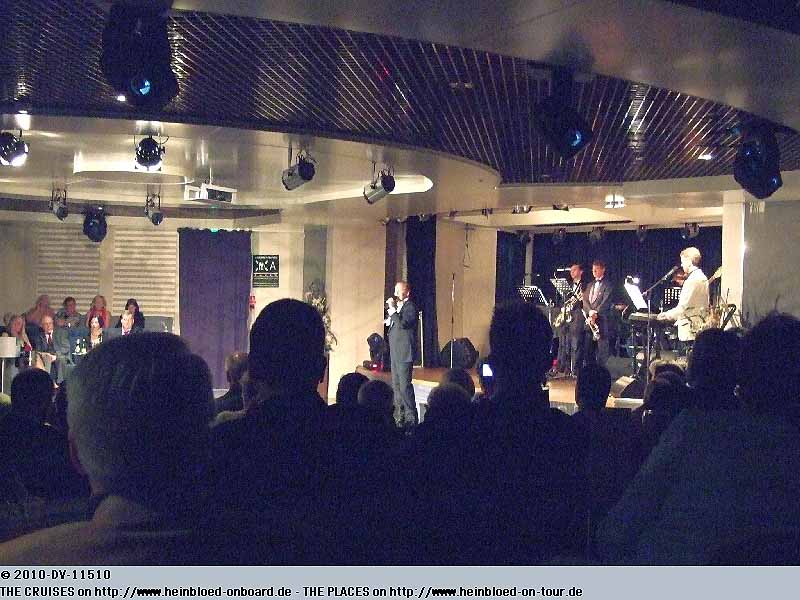 With "Tränen lügen nicht" (= tears do not lie but on melody of the Christmas song "When a child is born") I would say that he need not to sing anymore because the whole lounge was singing and crying... That why none of us understood why we did not get more from him but from MDR German TV ballett which only cut the time for taking pictures of the midnight buffett.

I read what we should have.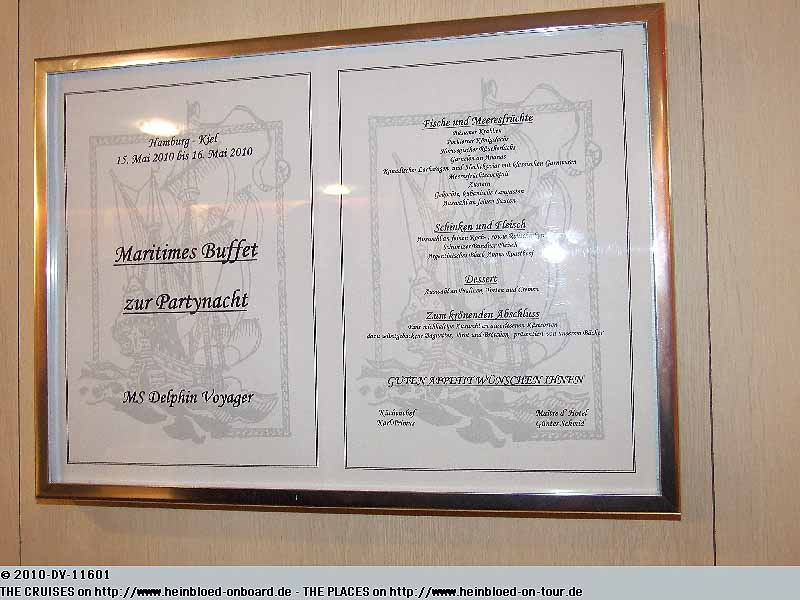 Ich habe noch gelesen, was es alles noch gegeben hätte.
Weil ich müde war, mir zu viele Leute da waren, meine Akkus sowieso mal wieder leer waren, gibt es von mir nur das eine Foto. Günter Schmied fängt mich noch beim Rausgehen ab, und ist ganz enttäuscht, dass ich nichts mehr probieren mag. Aber das wäre bloß Gier gewesen und kein Genuss mehr.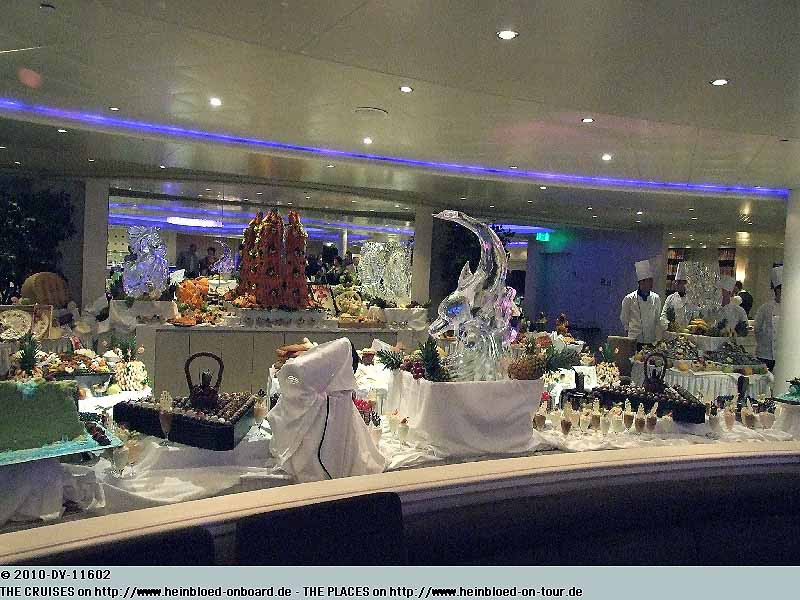 Because I was tired, it was too crowded, my batteries need to be recharged I made only one picture. Maître d'Hotel Günter Schmied stopped me when I left the buffet and was very disappointed that I did not try anything. But it would have been hunger or joy.

When I came back to our cabin I found out that I am the best to recommend others which cabin to pick... But with myself I had really unluck... Until 00.30 hrs we got all the noises from the show-lounge in our cabin... As nice as it is to look out we were quite happy that we stayed here just for one night. Something you can only experience if you cruise and not just visit.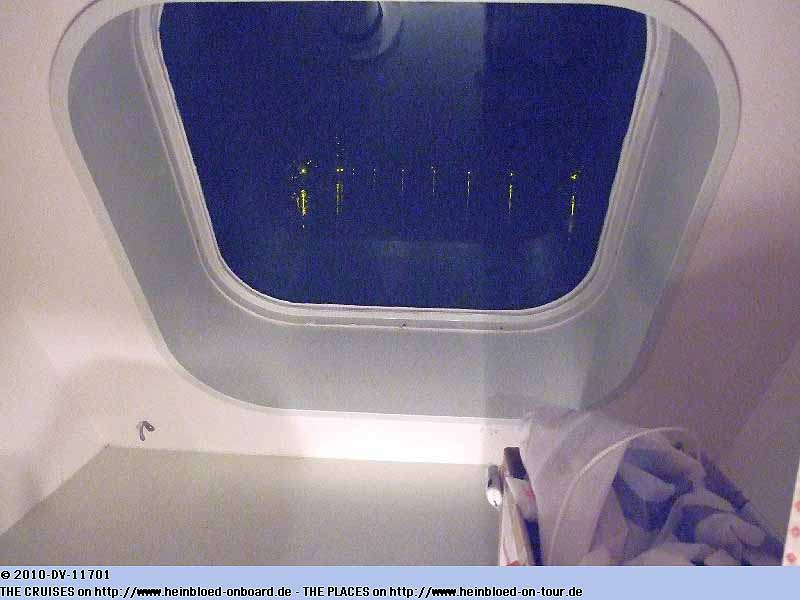 Als ich in die Kabine komme, stelle ich fest, dass ich der beste bin, wenn ich versuche anderen zu raten, welche Kabine sie nehmen sollen... Nur bei mir selbst, habe ich die A-Karte gezogen... Bis ca. 00.30 Uhr bekommen wir noch alles aus der Show-Lounge mit... So schön, wie die Kabine zum Hinausgucken ist, so froh sind wir, dass wir hier nur eine Nacht verbringen. Etwas, was man nur mitbekommt, wenn man mitfährt und nicht nur besichtigt.